Mud-soaked GIs desperately field-stripping jammed guns in failing light.  Businessmen-turned-bureaucrats facing off against dogged Pentagon officials in costly tangles of red tape.  Meanwhile, a brilliant self-taught engineer struggling to maintain his invention's integrity amid old-school bias.  The story of the M16 is as dramatic and memorable as they come.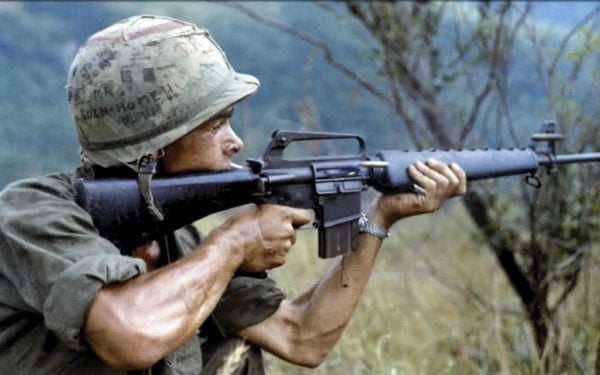 No other gun so captures the human condition, where need, drive and ego met error, ingenuity and hard-earned survival.
It's a story to make your head ache, your heart swell and your eyes blink.  And while it's from decades past, it carries all the markers of an equally conflicted present facing technological leaps and political division.  
The Quest for the All-In-One Military Firearm
Most historians point to the Korean conflict as a change point in defining optimal firepower in battle and in turn, what was then termed the modern battlefield.  
U.S.  infantry soldiers armed with World War II-era semi-automatic M1 Garands and M1 carbines quickly found themselves both outmanned and outgunned.  
Picture it:
An M1 semi-automatic rifle weighed 9½ pounds, was over 43 inches long and relied on en bloc eight-round clips of .30-06 ammo.  It was powerful and accurate but no match for sheer numbers of enemy.

An M1 semi-automatic carbine was lighter—just under 6 pounds—with a 15-round clip of .30-caliber carbine.  The M2 carbine offered selective fire and a 30-round banana clip.  However, neither was able to stop a swarming enemy.
With lessons learned in Korea and the Vietnam conflict building, the Army knew it needed something better.  The challenge was what that "better" would be and how it would be done.
The overall goal was to have an all-in-one, one small arms weapon that—in the words of the M16's creator Eugene Stoner—"could take the place of the M1 rifle, the carbine, the grease gun .  .  .  the .45-caliber submachine gun and the BAR."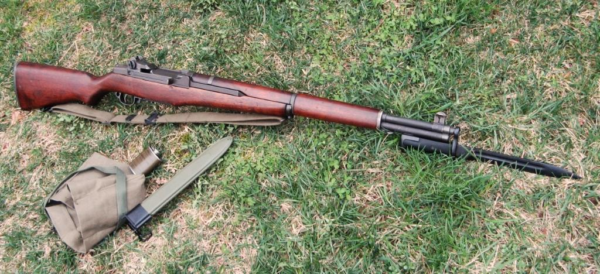 Gee, is that all you wanted?  Why didn't you just say so, right?
Rethinking Effective Range and Caliber
Researchers at Aberdeen Proving Ground's Ballistics Research Laboratories (BRL) had been analyzing the lethality of ammunition, looking at mass and velocity since 1938.  This may seem like dry stuff now, but then, these were radical ideas.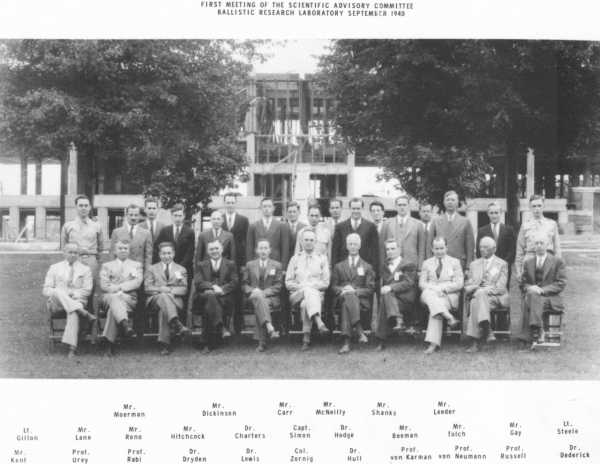 In particular, BRL engineer Donald Hall's Effectiveness Study of the Infantry Rifle released in March of 1952 revealed some unexpected realities unique to the modern battlefield:
The range of rifle fire rarely exceeded 500 yards.

Rifle fire was most effective at about 120 yards or less.

The most lethal bullet would be high-velocity but small-caliber.
To second the motion, Johns Hopkins University's Operations Research Office (ORO) released its Operations Requirements for an Infantry Hand Weapon just three months later.  Known as the Hitchman Report, its results were equally startling:
Military rifles were effective only at 300 yards or less.

Most kills happened at less than 100 yards.

Small-caliber ammunition best performed the task.
Additional ORO research revealed two more crucial facts:
Soldiers aimed only the first of their eight M1 rounds.  

Despite aim, wounds inflicted in battle were not concentrated in targeted body parts but instead were surprisingly randomly distributed.  
Again, the answer seemed to lie not in a long-range, highly accurate step-stopper but in a weapon that would fire a small-caliber bullet with high-velocity lethality—many of them in fact.
M14—The First Try
At first, the story seems simple enough.
Reluctant to accept the idea of small-caliber efficiency, the Army basically remade the M1 into the M14 by attempting to make it fully automatic.  

The M14 had selective fire and a 20-round box magazine.  It used the new 7.62x51mm NATO rounds, but that firepower still meant that a soldier on full automatic could aim only the first round.  After that, recoil steadily forced the barrel up and up.  
To boot, it was long—over 44 inches long—and heavy, weighing in at over 10 pounds loaded.  
Nevertheless, the Army began issuing them in 1959 only to determine a few years later that their performance in the Vietnamese jungles just didn't cut it when facing an enemy armed with AK-47 assault rifles.  By 1963, the Department of Defense was seriously revisiting the M14's former competition, a lightweight known as an AR.

Wait, you say.  "Revisiting?"
Yes.  Revisiting.  You see, the AR had been around for a while, but the casting calls for the high-performing outsider hadn't gone particularly well.
AR Is for ArmaLite
In the 1950s, the Fairchild Engine and Airplane Corporation decided to branch out into small arms.  By 1954, ArmaLite was the start-up division, intent on designing and manufacturing a new generation of small arms from its base in Hollywood, California.  
Its first almost-sale was its AR-5, a .22-caliber bolt-action rifle designed for the Air Force.  It weighed less than 3 pounds and could be broken apart to store the barrel and works in the plastic stock.  It was to be the MA-1, but the sales never really happened.

Wanting to be taken seriously, ArmaLite recruited Eugene Stoner to become its chief engineer.  Using his past experience in the aircraft industry, he'd been experimenting with using strong yet lightweight materials for firearms.
At ArmaLite, he started with the gas-operated AR-10, completing it in 1955.  At barely 7 pounds, it shot 20 rounds of 7.62x51mm NATO and had anodized aluminum receivers and a fiberglass composite stock.  To reduce recoil, the barrel was in line with the stock and the sites raised to eye level.  While the newcomer's novel construction failed to sway ordnance officials in 1955, it didn't disappear.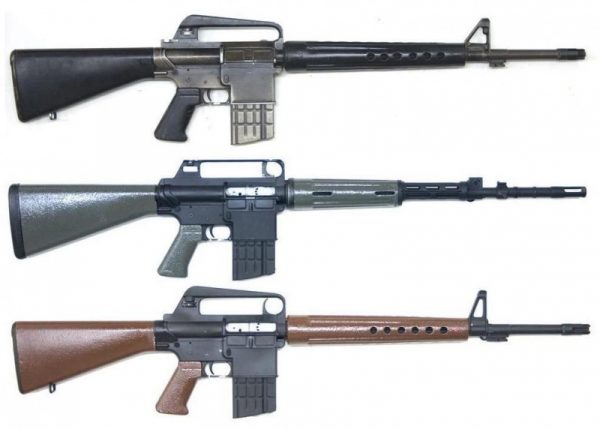 It was simply the first time it fell beneath the heel of the Springfield Armory's T44—or M14.
W Is for Wyman
Meanwhile, General Willard Wyman, a West Point graduate turned four-star Commanding General of Continental Army Command (CONARC), was impressed with ArmaLite's AR-10.  In fact, he was so impressed that in 1957, he visited Eugene Stoner, invited him to try again and offered funding in exchange for proprietary rights to create the AR-15.
Wyman is a name worth knowing in this context because he integrated the Trainfire program and its then-novel ideas of modern warfare—lots of ammo at terrifyingly close ranges—into the Army's basic training.  He even requested delays on the T44 decision to allow time for the AR-15 under development, but it was not to be.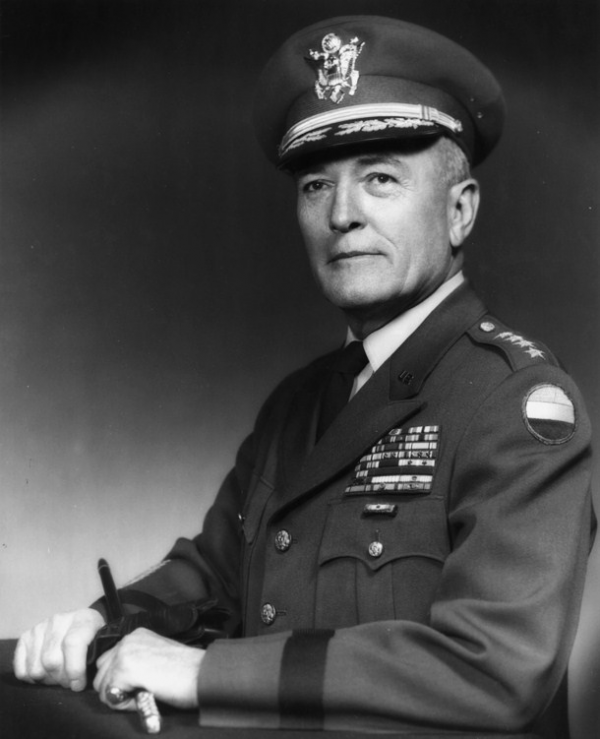 While Wyman ordered 10 of Stoner's AR-15s, Secretary of the Army Wilbur Brucker publicly adopted the T44 as the chosen M14.  Wyman, however, kept the faith, and Stoner and ArmaLite kept working.
In 1958, Wyman ordered the Army to test his AR-15s.
ArmaLite's AR-15
So, you ask, what were they testing?
Stoner's first AR-15 weighed just 6 pounds or so and was 37½ inches long.  The hand guard around the barrel was Bakelite, and a three-pronged flash suppressor graced the tip of the skinny barrel.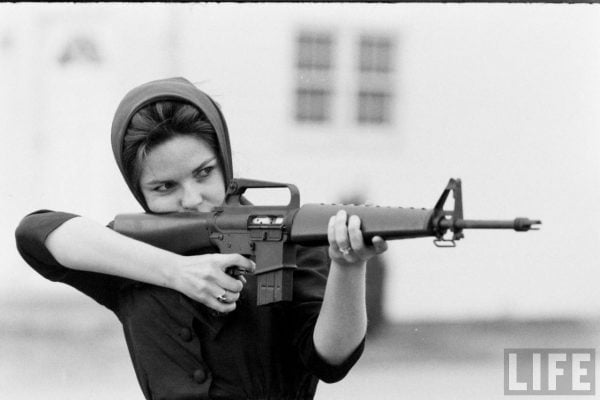 Crafted from fiberglass, hard-anodized aluminum and steel, the AR-15 design was gas-operated.  It cleverly ported gas from the charge through a tube to force the bolt carrier to the rear and eject the spent cartridge so that a fresh round could load.
Selective fire, it had a 25-round magazine but used the smaller caliber .22s, making it highly controllable whether set on semi-automatic or fully automatic.  
Because of the pressures involved, the AR-15 needed a stronger case.  Aberdeen Proving Ground and Robert Hutton helped design the 222 Special—a 55-grain full metal jacket boat-tail bullet made by Sierra Bullet Company and loaded by Remington Arms.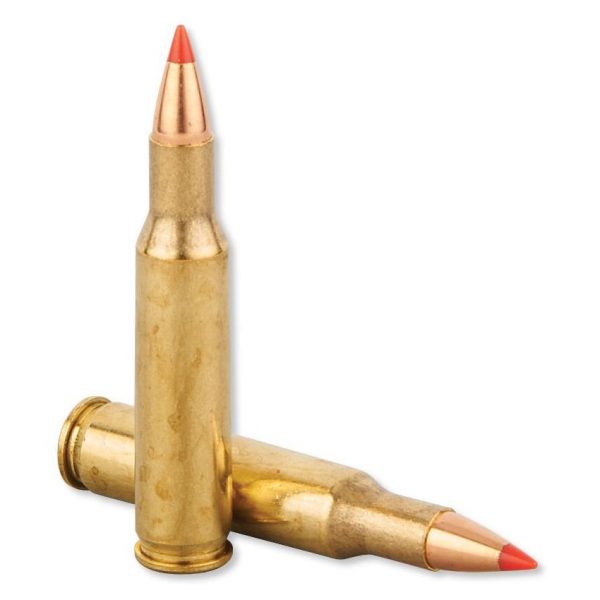 In operation, both the AR-15's selective fire lever and its straight-drop magazine release were easily accessible from the pistol grip.  All it took was the flick of a thumb or the press of a finger.  
The smaller caliber ammunition also helped with weight.  Whereas an M14 and a standard 100 rounds weighed about 17 pounds, for the same load, you could carry an AR-15 and 280 rounds—nearly triple the ammo.
A slick, light weapon plus plenty of rounds—what was not to like?
The Politics of Firearms
New ideas can be problematic, and the AR-15 was no exception.  In addition to General Wyman, several other personalities played significant roles in the M16's path to service.
Dr.  Frederick Carten, head of the Army Ordnance Corps, wasn't exactly enthusiastic about a small-caliber weapon made of plastic that felt—and looked—like a toy.  

By reputation, he was resistant to the idea of a small-caliber weapon developed outside of traditional channels—that is, Springfield Armory—using unproven materials like plastic and aluminum.  He is often credited with obstructing the AR-15's progress during testing and demanding modifications that degraded performance—primarily due to the Army's distaste for a small-caliber weapon.
When the AR-15 was put to the test in the Arctic in 1958, for example, Army Ordnance's words of the day were inaccuracy and malfunction.  
However, when Stoner flew to the location, he found that sites had been purposely disassembled and welding rods put in their place to misalign the firearm.  A senior officer also put him on notice for trying to advance a small-caliber weapon that would surely endanger the soldier carrying it.
Both the Army Infantry Board and the Arctic Test Board—in 1958 and 1959, respectively—recommended that the AR-15 be "considered as a potential replacement for the M14."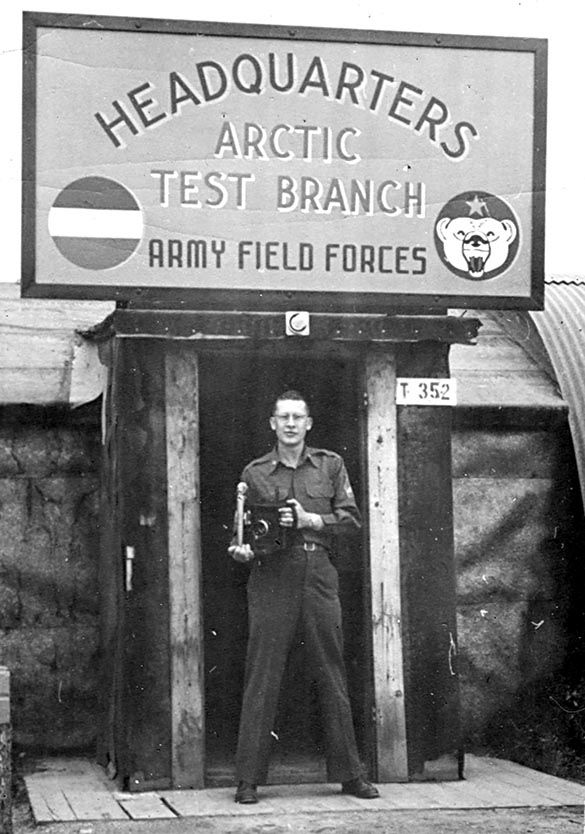 By the end of testing, Carten assessed that the AR-15 "had not demonstrated sufficient technical merit and should not be developed by the Army," In 1959, Army Chief of Staff Maxwell Taylor decided to play it safe, following the Ordnance Corps' lead, and the M14 continued its reign.
Colt Owns the AR-15
The AR-15's future was looking grim.  Fairchild was unhappy with its nearly million-and-a-half-dollar investment.  By the end of 1958, Fairchild had claimed losses well over $17 million.
On February 19, 1959, Fairchild sold the exclusive manufacturing and merchandising rights for the AR-15 to Colt's Patent Firearms Manufacturing Company for $75,000 and a 4.5-percent royalty on future sales.  
In addition, Colt agreed to pay Cooper-MacDonald—a marketing group with ties in Southeast Asia—$250,000 and a 1-percent royalty per weapon as a finder's fee.

No, I didn't mess up any zeroes.  A very discouraged and in-debt Fairchild sold its $1.5-million baby for bird shot.  By the way, Colt was still in the black but not by much, so the AR-15 investment and partnership with Cooper-MacDonald would be a gamble.  
Interestingly, in May of 1959, three months after Army Chief of Staff Taylor's announcement, a report from the Combat Developments Experimentation Center at Fort Ord in California surfaced.  It detailed stunning simulated battlefield test results for the AR-15 and even proposed the "early replacement of current rifles"—the M14s—with AR-15s.
Did Colt have a clue?  Who knows?  What we do know is that Colt put its sales reps to work and petitioned the Ordnance Corps for a retrial.  Initially, Ordnance denied the request, but events continued to stir the pot.  
For one, Colt co-hosted a Fourth of July AR-15-meets-watermelon extravaganza in 1960 that impressed then-Air Force Vice Chief of Staff General Curtis LeMay, who had documented the need for a more effective small arms weapon.  When he became Air Force Chief of Staff in the summer of 1961, he applied his $2-million budget to an order of 80,000 AR-15 rifles to be procured over the next five years.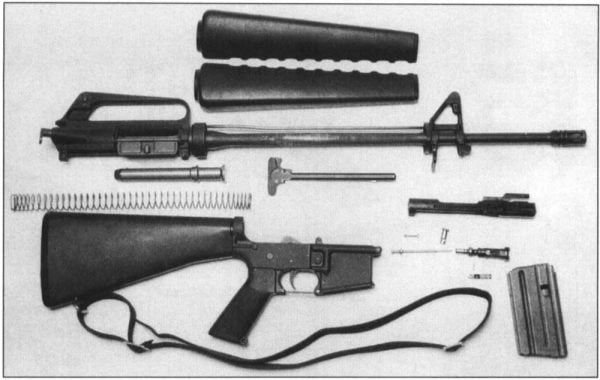 Despite repeated favorable tests, what should have been an in-house no-brainer met opposition from the Pentagon, the House defense appropriations subcommittee and even eventually President Kennedy thanks once again to Army Chief of Staff General Taylor and the Department of Defense's penchant for one large-bore caliber.  
On May 15, 1962, Congress finally granted the Air Force's request.  The Air Force had its AR-15s within 72 hours.  It included orders for more in its budgets for 1963, 1964 and 1965 for the 80,000 total—all this for a firearm it had formally adopted as its standard basic weapon on January 2, 1962.
The Air Force was on board, but the AR-15's story was still developing.
ARPA, AGILE and the AR-15
In 1958, the Defense Department had created the Advanced Research Projects Agency — DARPA — to supply the military with game-changing technology.  
You may be familiar with DARPA from their work with Boston Dynamics on the Spot project:
In 1961, DARPA launched Project AGILE to identify, fund or develop weapons that might prove effective for special operations in Southeast Asia.  
DARPA's William Godel took note of Colt's AR-15s and decided to send 10 to Saigon as a test.  The response was enthusiastically positive, and in 1962, another thousand went to South Vietnam.  Field test results from military advisers and a Ranger battalion praised the weapon's stopping power and the round's devastating effectiveness, citing it as "the best 'all around' firearm in existence."
Initially, the troops liked it!  They really, really liked it!
That alone, however, wouldn't be enough.
The McNamara Factor
The M16's story simply cannot be told without a nod to Kennedy's Secretary of Defense Robert McNamara.  He was aware of conflicting assessments of the AR-15 and the Ordnance Corps' decided lack of impartiality.  As a former Ford executive versed in assembly-line efficiency, he also was an avid proponent of having one universal weapon for all services.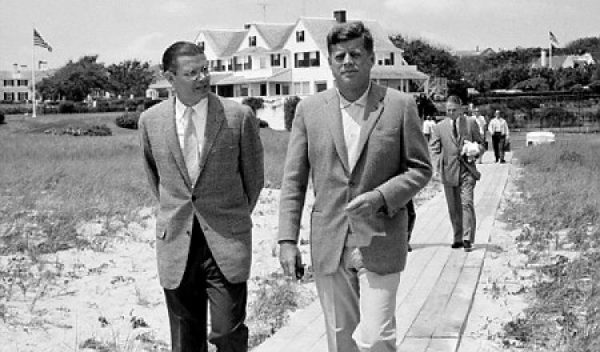 McNamara had authorized the Project AGILE shipment of 1,000 AR-15s to South Vietnam and along with his famous "whiz kids" had determined that the AR-15 should be that universal weapon.
There was also an evaluation of the AR-15 compared with the M14 and AK-47.  While results were mixed and analysis somewhat biased yet again, the report recommended that 1964's budget include
50,000 to 100,000 AR-15s for special forces, airborne and air assault units and

"a sufficient number" of M14s to provide infantry squads with "automatic rifle capability."
It also suggested reducing the M14 program while expediting further development of the AR-15.
McNamara halted M14 production in January of 1963 and adopted the AR-15 in its current state as the weapon of issue for all services.  McNamara designated the Army as the purchasing agent while ordering the services to cooperate.  However, nothing is ever that easy.  That word choice—current state—would come back to haunt everyone.
Over the ensuing months, Ordnance, the services and McNamara's staff haggled over more than 130 changes to the AR-15's current state to launch the M16.
Key among them was that the Army insisted upon a forward assist that would allow a round to be forced into the chamber.  Think about this a minute.  If the gun jammed, the forward assist would give you a way to double down—likely on a dirty or fouled chamber that was causing the problem in the first place.  Anyway, this resulted in two different models—the M16 and the M16A1 with a forward assist.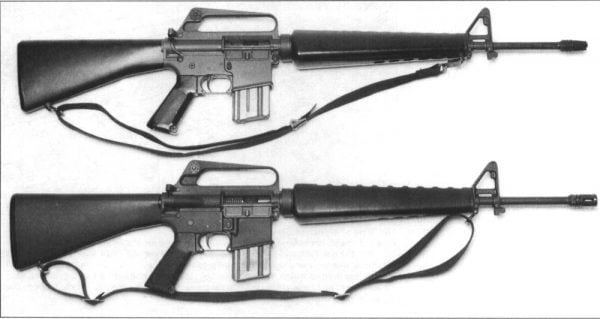 The other significant change affected the ammunition.  Stoner's original design called for IMR 4475 propellant.  However, production issues and that overpowering military need for standardization and more oomph resulted in a 5.56x45mm M194 ball powder cartridge that burned brighter and reached peak pressure faster than the intended IMR 4475 stick powder.  
To compensate for the change in ammunition, the barrel was also altered from a twist rate of one turn in 14 inches to one turn in 12 inches.
Despite these modifications and additional tweaks, other features of the weapon remained unchanged—namely, the chamber remained unchromed.  Remember that these firearms were destined for the humid, steamy Vietnamese climate.
Just go ahead and say it now: "Uh-oh."
Nevertheless, at the beginning of November of 1963, Colt received a $13.5 million tasty government contract for 104,000 rifles—19,000 M16s for the Air Force and 85,000 M16A1s with a forward assist for the Army and Marines.
Hooah!  The AR-15 was all grown up into an M16.  Now, was it ready to serve?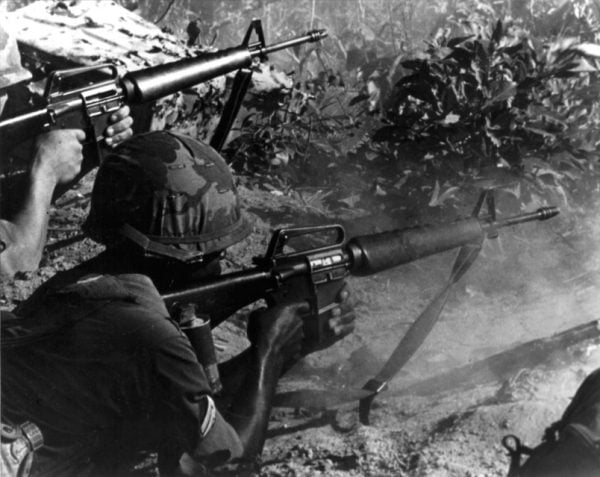 Trial by Fire
By 1963, the U.S.  had between 15,000 and 21,000 advisers and special forces troops in Vietnam.  So far, the approach had been special ops, paramilitary training, and insurgency.  However, the North was determined to expand its power base, and the South was ever more reliant on U.S.  support as the conflict intensified.
When the USS Maddox and USS Turner Joy were "attacked" in the Gulf of Tonkin in August of 1964, Congress quickly passed the Gulf of Tonkin Resolution—giving President Johnson unilateral power to conduct military operations in Southeast Asia.
It wouldn't be until 40 years later that the truth of the USS Maddox incident would come to light. In short, the "attack" never happened.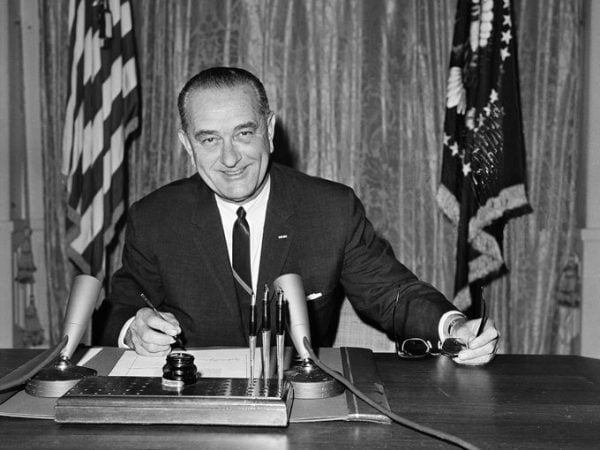 In February of 1965, Johnson ordered sustained bombing on targets north of the 17th parallel.  In March, he dispatched 3,500 Marines.
By January 1966, the U.S.  had 200,000 troops in Vietnam and over the course of the year doubled that number.  All of them needed guns, and Colt was supplying them, at one point turning out 45,000 M16s a month.  
Vietnam became the M16's crucible, and initially, the results weren't pretty.
The weapons became notorious for jamming—a soldier's only option to field strip the M16 on the spot and hope to survive the experience.  Pinned under enemy AK-47 fire, many tried, but it was an impossible task.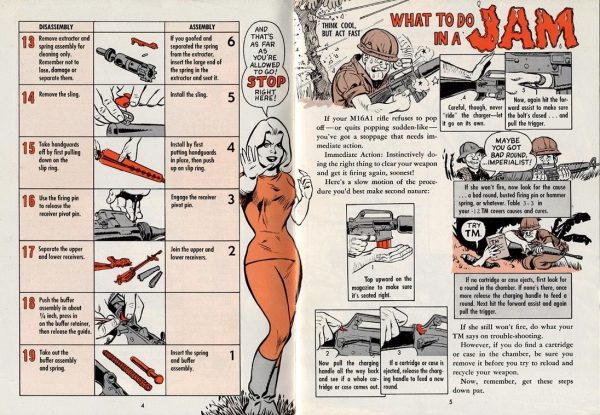 In May of 1967, Representative James J.  Howard of New Jersey presented a letter from a Marine detailing how soldiers killed in the battle for Hill 881 died because their M16s had jammed.  
Additional reports of Marines found dead with cleaning rods in place to clear cartridges that refused to extract haunted the Hill Fights of Khe Sanh.  Morale sank as survivors lost faith in the weapons that were supposed to protect them and instead left them vulnerable.
In a letter, one soldier warned that "50 percent of the rifles fail to work" and cited "two Marines who died within 10 feet of the enemy, with jammed rifles" to prove his point.
Another simply stated, "Practically every one of our dead was found with his rifle torn down next to him where he had been trying to fix it."
As the war progressed, time constraints meant that infantry troops often had insufficient training and experience with the M16 prior to having to use it.  Making matters even worse, the firearm was initially touted as self-cleaning, with cleaning kits few and far between.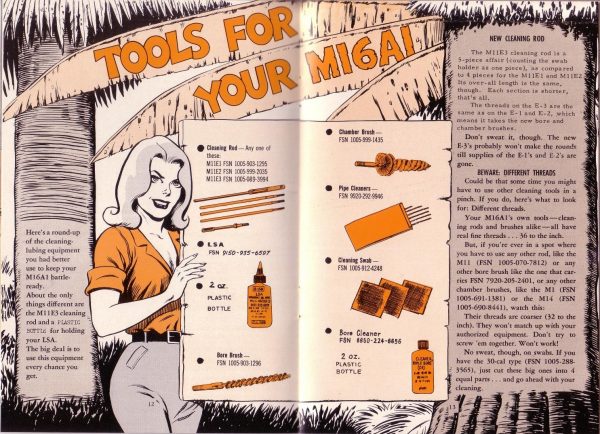 The failures, however, were staggering, with 50-percent malfunction rates and countless requests for replacement weapons and ammunition.  Estimates have attributed up to 90 percent of all malfunctions were due to failures to extract—that is, the bullet flew, but the cartridge remained stuck in place, jammed, and no forward assist was going to fix it.
Something needed to be done—and fast.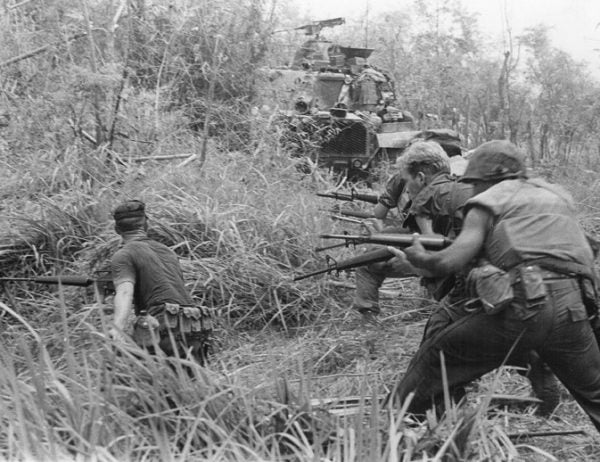 Failure To Extract
Numerous investigations began—some within Colt itself while others began within the Marines, Army and even Congress.  
Some—including generals—claimed nothing was wrong with the M16, going as far as to point the finger of blame and inadequacy at the soldiers themselves.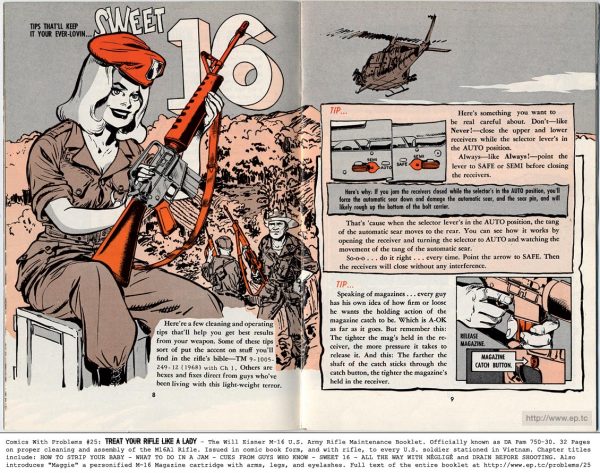 However, certain facts remained, and the Congressional Report of the M16 Review Panel: History of the M16 Weapon System painstakingly and in great detail sussed them out.  Of note was the observation that "over 250 tests [had] been conducted" with "conflicting results," varying validity and often little time.  The battlefield, however, had proved quite conclusive, and the report homed in on two key inadequacies:
 The ball powder burned too fast, fouling the chamber as it pushed the cyclic rate from 700 to 800 rounds per minute to more like 1,000.  It was also moisture-sensitive, swelling or even bursting cartridges in tropical humidity.

 The seemingly cost-saving decision not to chrome-plate the chamber exacerbated the problem as the resulting rust, pitting and corrosion increased the likelihood of a malfunction.
In answer, cleaning kits were widely issued for the once-supposedly self-cleaning rifles, and retrofitting M16s with chrome-plated chambers and then chrome-plated bores as well became a priority.
A few other changes helped to resolve issues and improve the M16 while allowing continued use of the ball powder:
 Lighter firing pins replaced the original, heavier ones that were prone to unintentional slam firing.

 Weights and spacers added to the buffer eliminated the problem of cartridges struck but not fired and helped to slow the cyclic rate.

 Parts like the bolt and disconnector were strengthened to better withstand the high velocities and impacts involved.

 The more expensive 7075 T6 aluminum that Stoner originally intended to use for the receivers replaced the inferior 6061 T6 aluminum that corroded over time.
By 1968, the M16 was finally a gun that a soldier could take into action and depend upon.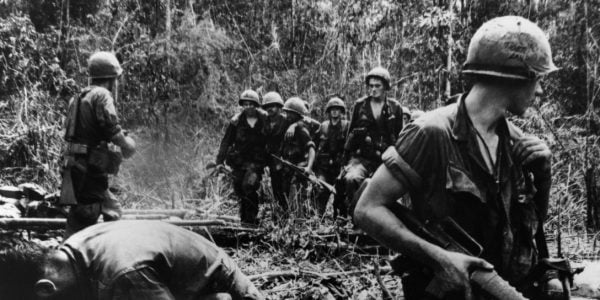 Ammunition Revisited
Throughout the M16's development, ammunition played a key role, and that didn't stop in 1968.
In 1953, the 7.62×51mm NATO rifle cartridge—the round that both the M1 and Eugene Stoner's original AR-10 fired—became the first standard NATO rifle cartridge.  This was a large part of why Army Ordnance proved so resistant to Stoner's AR-15.
To achieve the performance levels required for the AR-15, Stoner worked with Sierra Bullet's Frank Snow, Remington and Robert Hutton to devise the .222 Special, which became the .223 Remington and eventually "Cartridge, 5.56mm Ball, M193."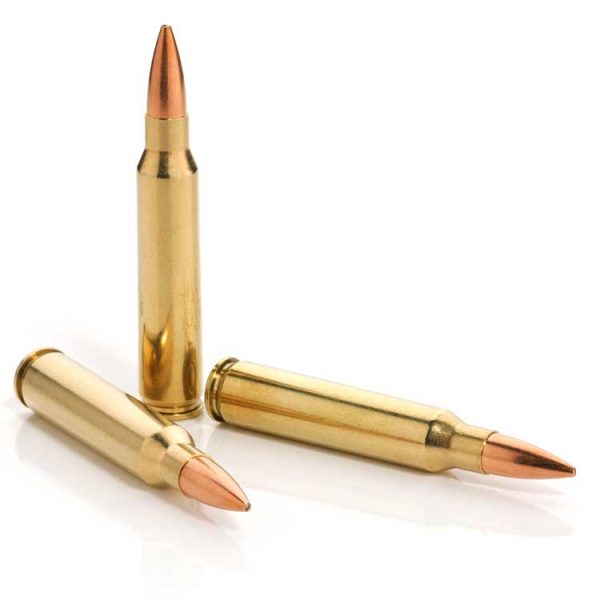 In 1977, NATO decided that it wanted a smaller caliber round to replace the 7.62x51mm cartridge.  The .223 Remington was the inspiration, and the result was of Belgian design thanks to Fabrique Nationale Herstal and what came to be known in 1980 as the 5.56×45mm NATO round.
By 1980, the Marines were requesting modification of the M16A1 so that it could fire the 5.56x45mm NATO round.
The M16A2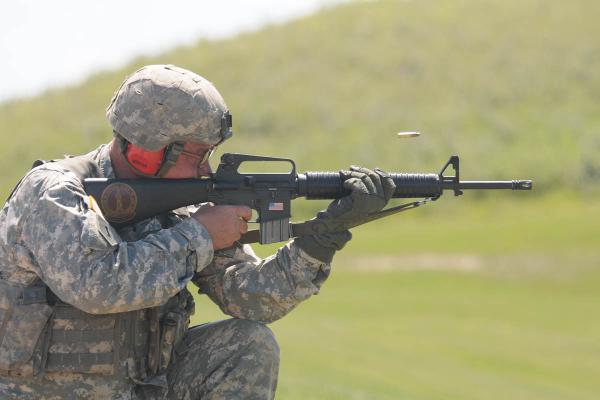 By November of 1983, the Marines had their M16A2, and by May of 1986, the Army had adopted it as well.  The main differences entailed
the option of a three-round burst rather than full automatic selection,

a heavier barrel,

rifling of one turn per every 7 inches,

a muzzle brake with a solid bottom rather than a vented flash suppressor,

a square front sight post,

canted slip ring for easier hand-guard removal,

a brass deflector,

a redesigned rear sight allowing adjustments for windage and elevation, and

a button-style forward assist.
Since Vietnam, the M16 has
seen action in conflicts like Granada, Haiti, Panama, Bosnia, Somalia and Iraq;

gone through changes and iterations, from carbine Commandos to the M16A2; and

served as inspiration for its replacement—the M4.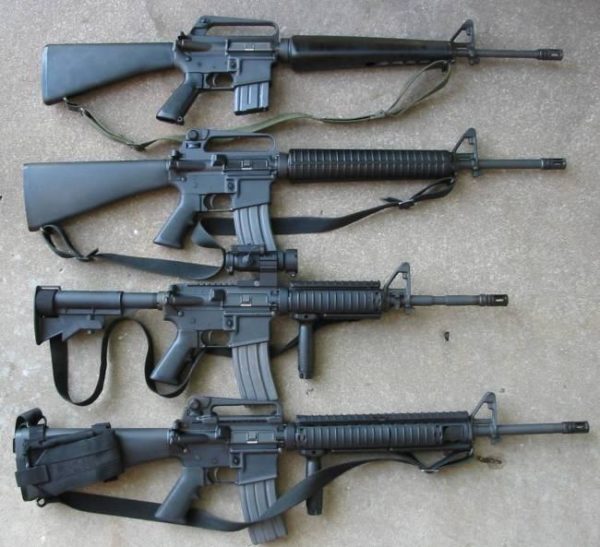 Each new development has demonstrated strengths and weaknesses, triumphs and flaws, yet as a whole, the story remains eternal.  America is but one part of a world powered by conflict and but one player on an ever-changing battlefield.  Innovation often comes at a price, with a learning curve and the impediments of bias.  The M16 is a reminder of the dangers of a house divided against itself and the hope of what can be accomplished in unity.  It is a reminder of the power of one gun in one soldier's hands alone against an enemy who never entirely gives up or ceases to exist.