Looking for the best 3-Gun rifle scope?
The Riton Mod 5 1-4x24mm scope isn't it.
But it does have some kick-ass features that are geared towards hunters that need to work in short distances with varying light.  And at a reasonable price.
First Impressions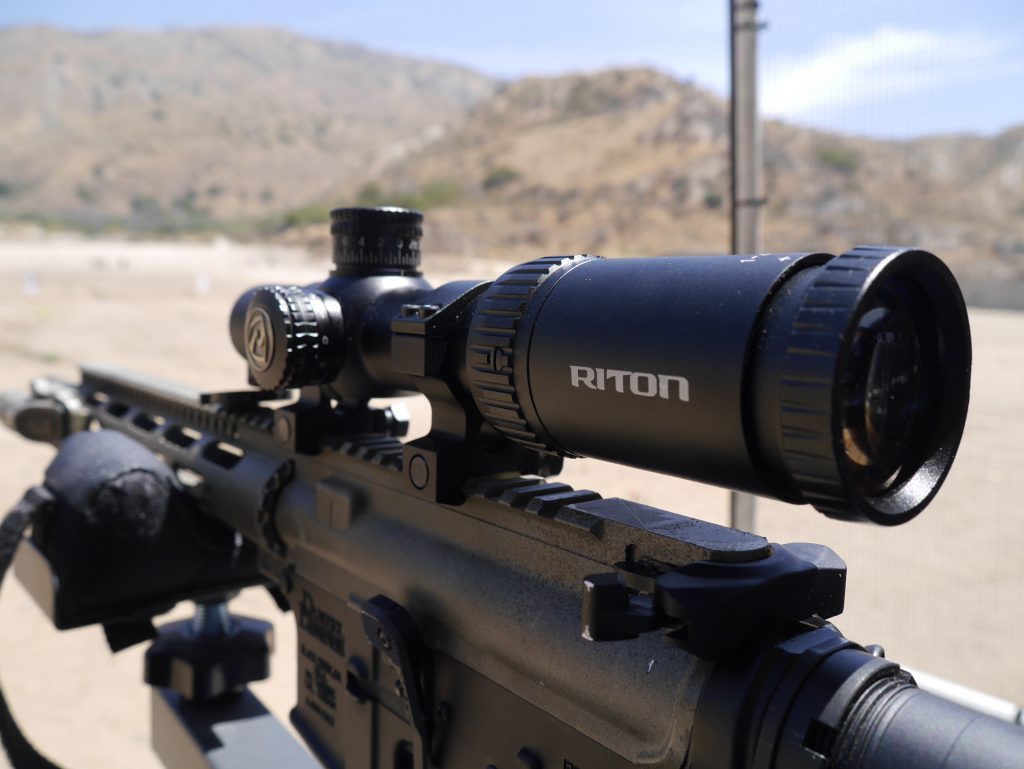 I was asked to do a review on a Riton scope and I chose the Mod 5 1-4x scope because of the combination of features that you see in a much more expensive scope.  It's also a veteran and former Federal law enforcement owned business.  'Murica!
However…the scopes are made in China.  But so are most of all the other affordable ones.
So what were the cool features?
Mainly it was the first focal plane reticle.  In this type of scope, the reticle shrinks and grows with the magnification.  Especially helpful for ranging since hash marks will always cover the same distance regardless of magnification.  Keep an eye out for this during our range test.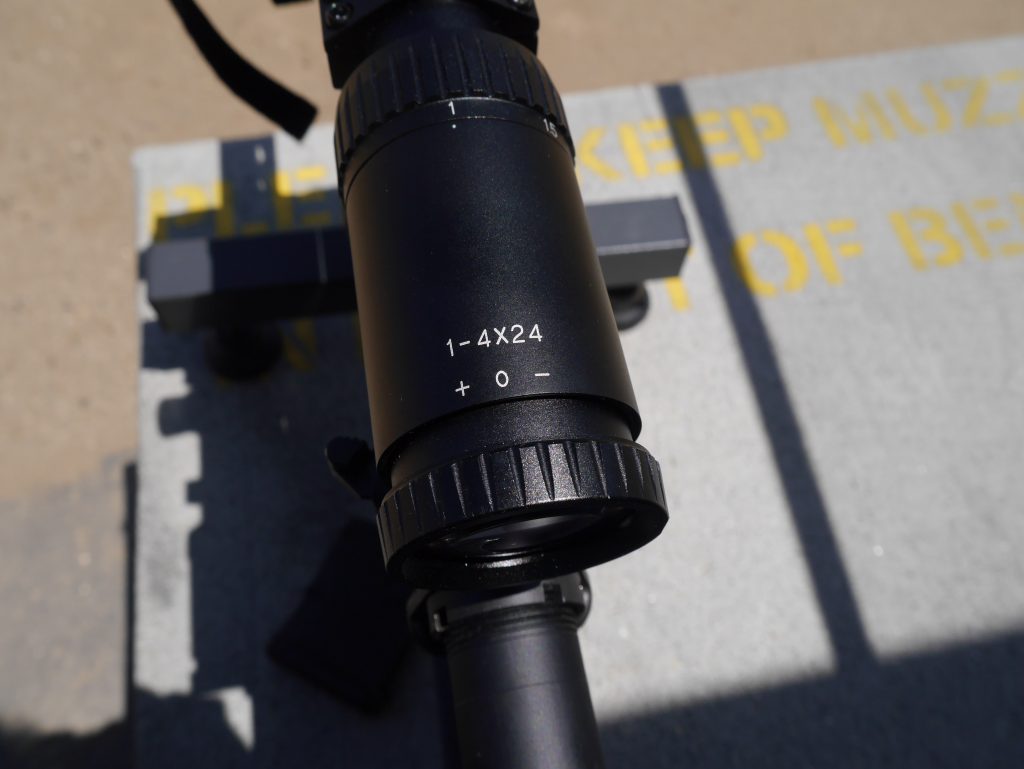 The quality seems very good with clean etching and a nice feeling to the clicks of the turrets.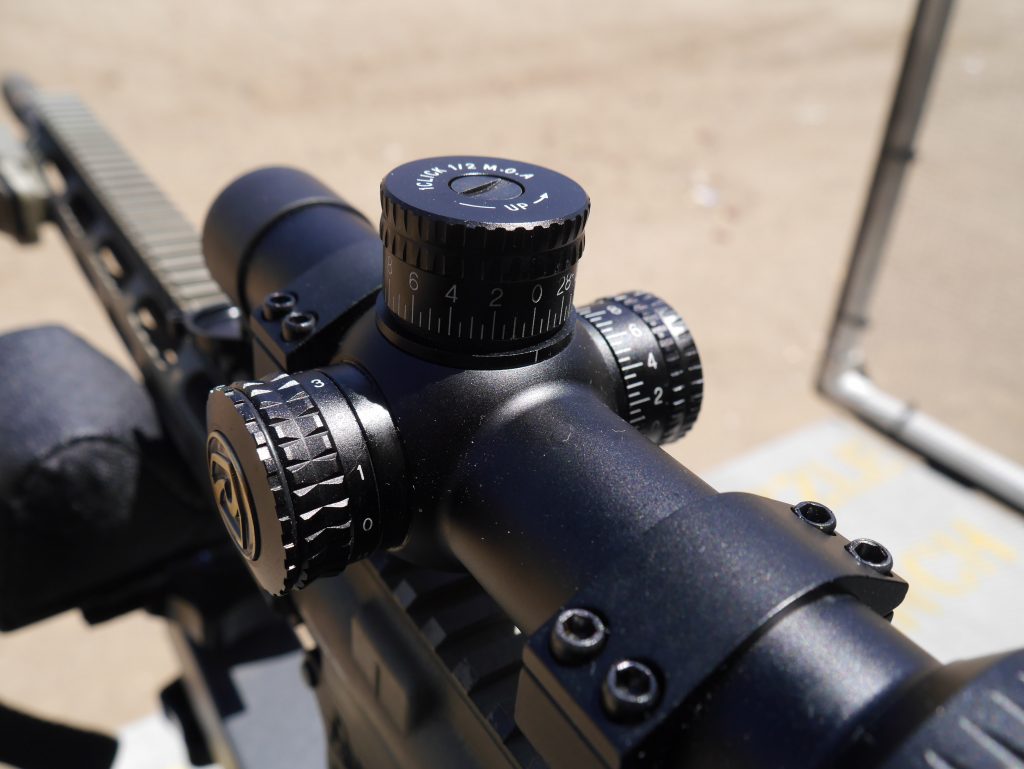 I used their mounts and a double bubble system to level everything out.  If you're not sure how to mount a scope, check out my guide.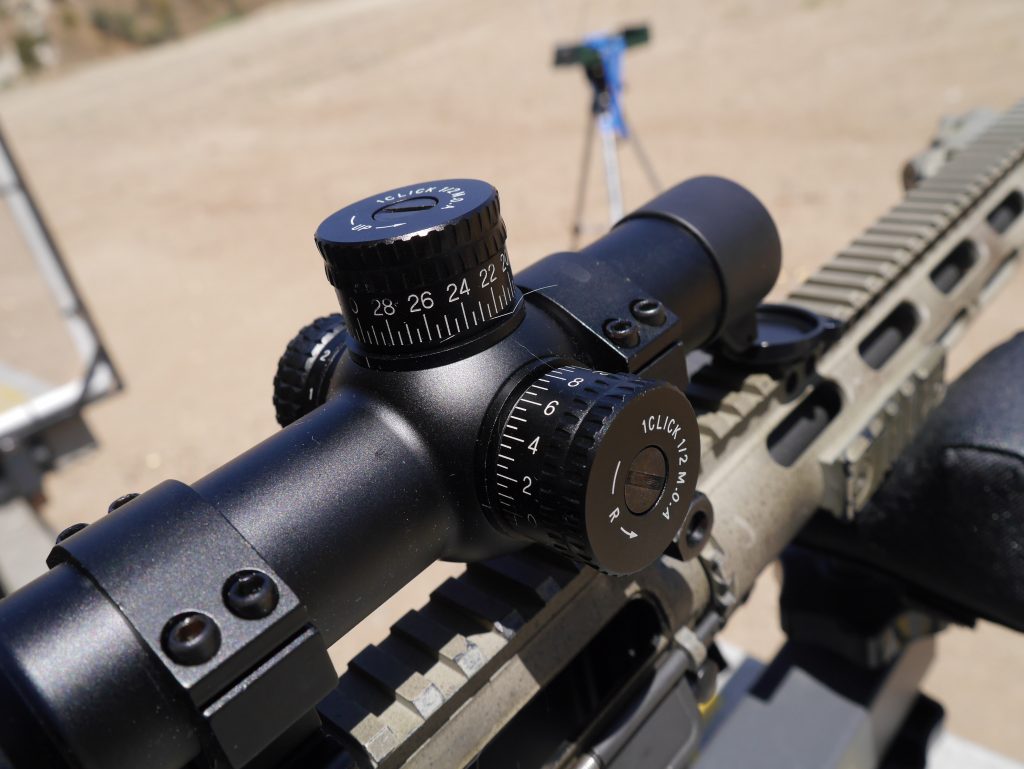 Range Test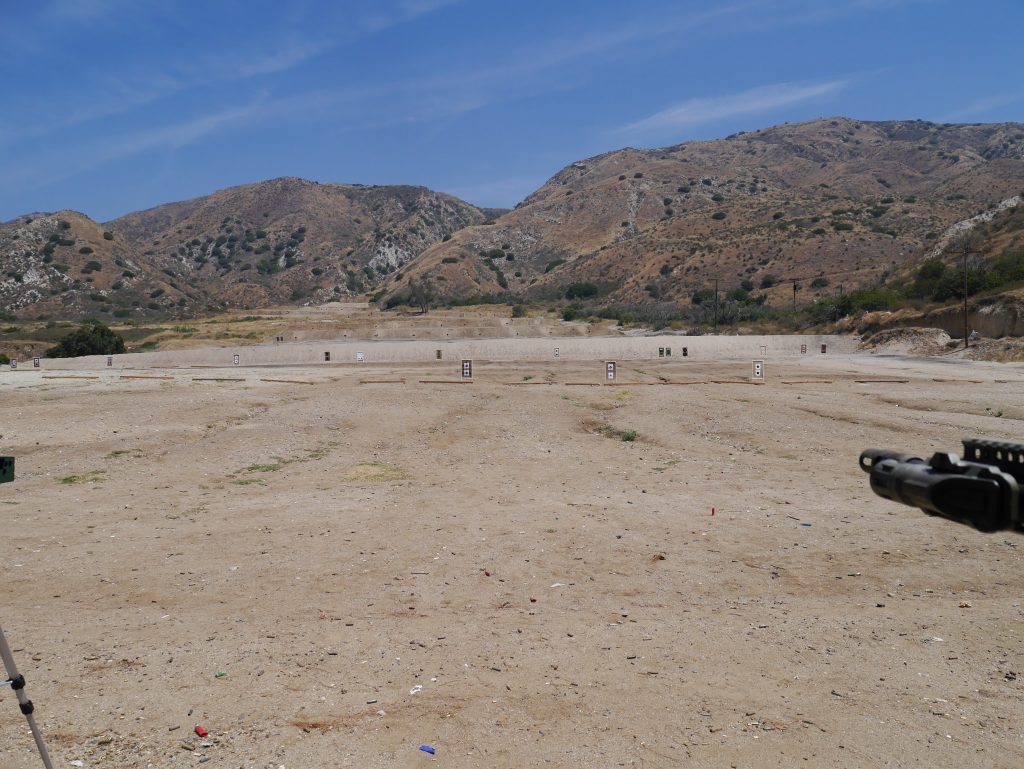 This is the range where I tested the Riton scope.  The paper target is at 50 yards while the first berm is 100 yards.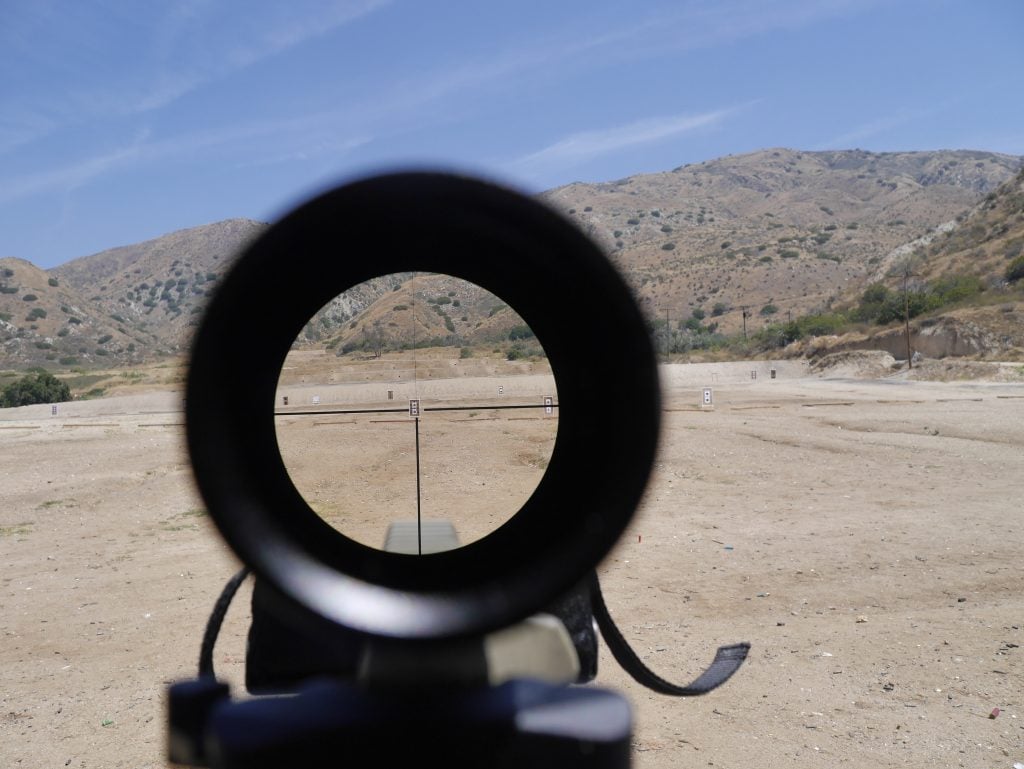 The crosshairs seemed a little odd to me at first but after a while they drew me to the small center dot.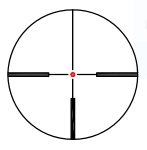 This is the listed reticle but in real life the dot isn't that big.  Also the illumination is more meant for dawn/dusk rather than being a red dot during the daytime.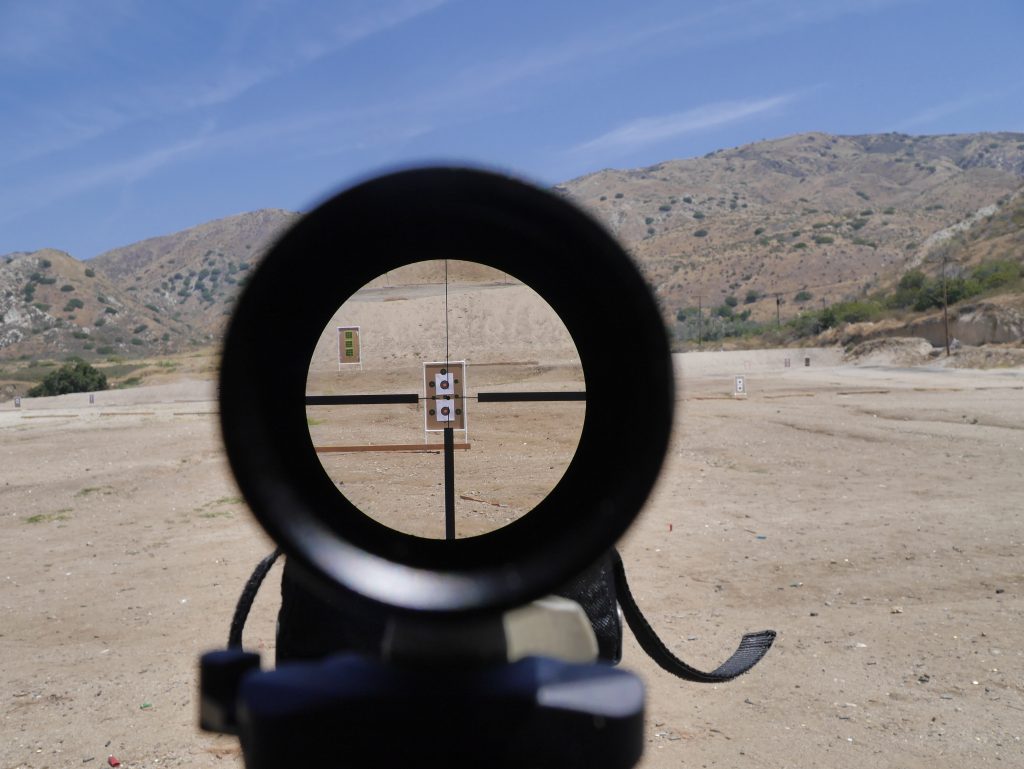 Check it out at 4x.  Notice how the reticle got larger as we upped the magnification.
Since this is geared towards the hunting community, there's no hash marks for holdovers or ranging.  The first focal plane is only meant to maintain perspective while increasing zoom.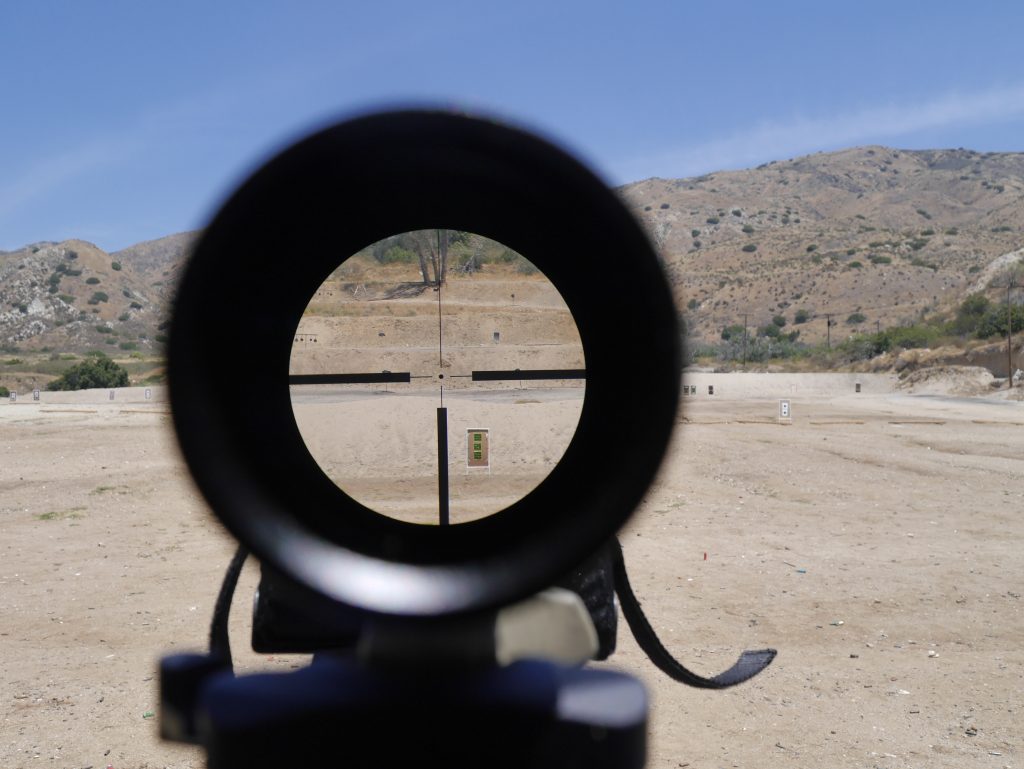 And here it is aiming at the 200 yard berm while at 4x.  I haven't commented on the clarity of the glass yet.  But it's very clear in my opinion.  Not Nightforce or Schmidt & Bender clear, but very good for the price range of $450.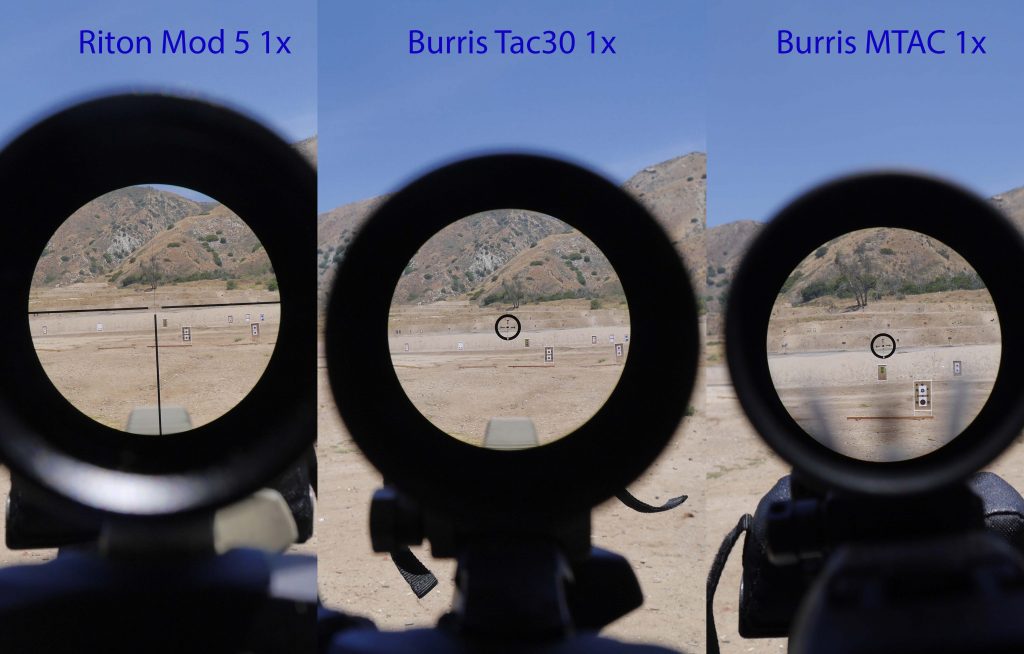 Now let's compare it to some other popular 1-4x scopes such as the older Burris TAC30 ($280) I previously used in competition and its newer brother, the Burris MTAC ($300).  They are pointing towards the 200 yard berm while at 1x.
Eye reliefs were roughly the same to me.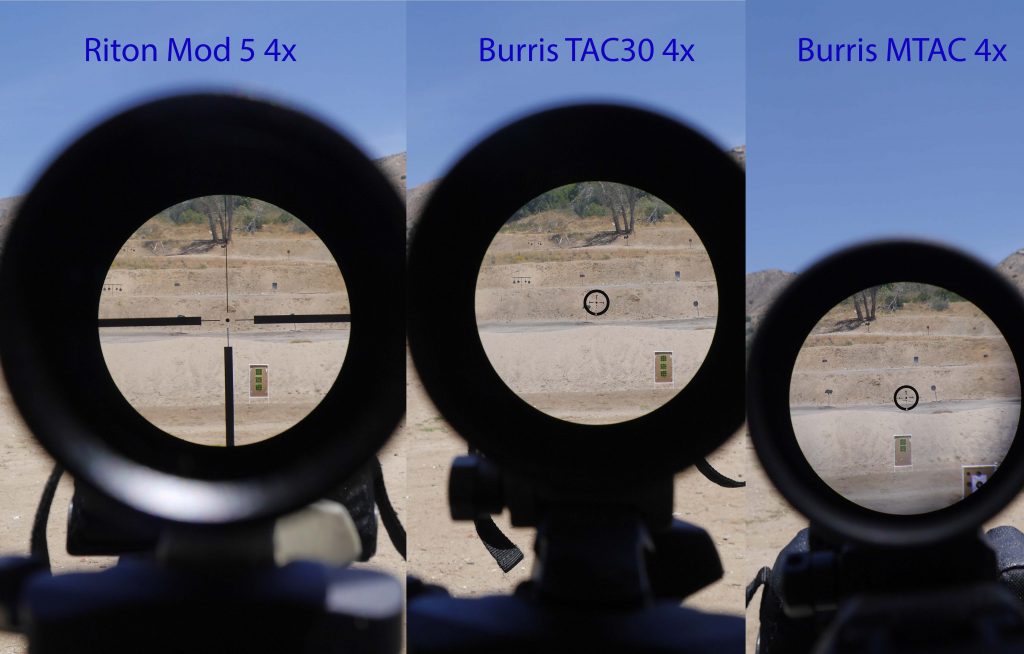 And here are the comparisons at 4x.  Note the Burris scopes are second focal plane so their reticle stays the same regardless of magnification.
Can't really tell the difference from my potato camera skills?
My opinion in glass quality at magnification was in the following order from best to worst…Riton, MTAC, TAC30.  My buddy who went with me has it slightly different with MTAC, Riton, TAC30.
So, it's pretty clear glass.
How about the elevation and windage adjustments?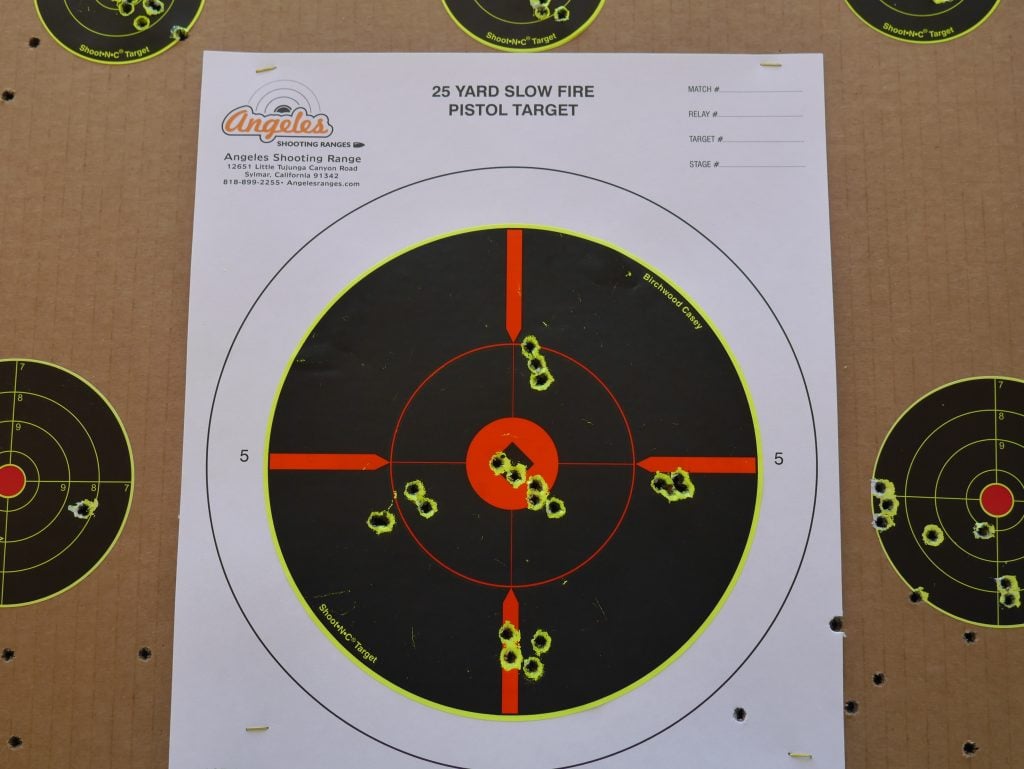 I confirmed center zero at 50 yards with one shot and clicked 10 clicks (1/2 moa) in each direction.  I shot 4 shots in each direction.  At the end of each directional string I clicked back to center and shot once in the center.
It's not perfect (probably due to me), but I think the knobs work.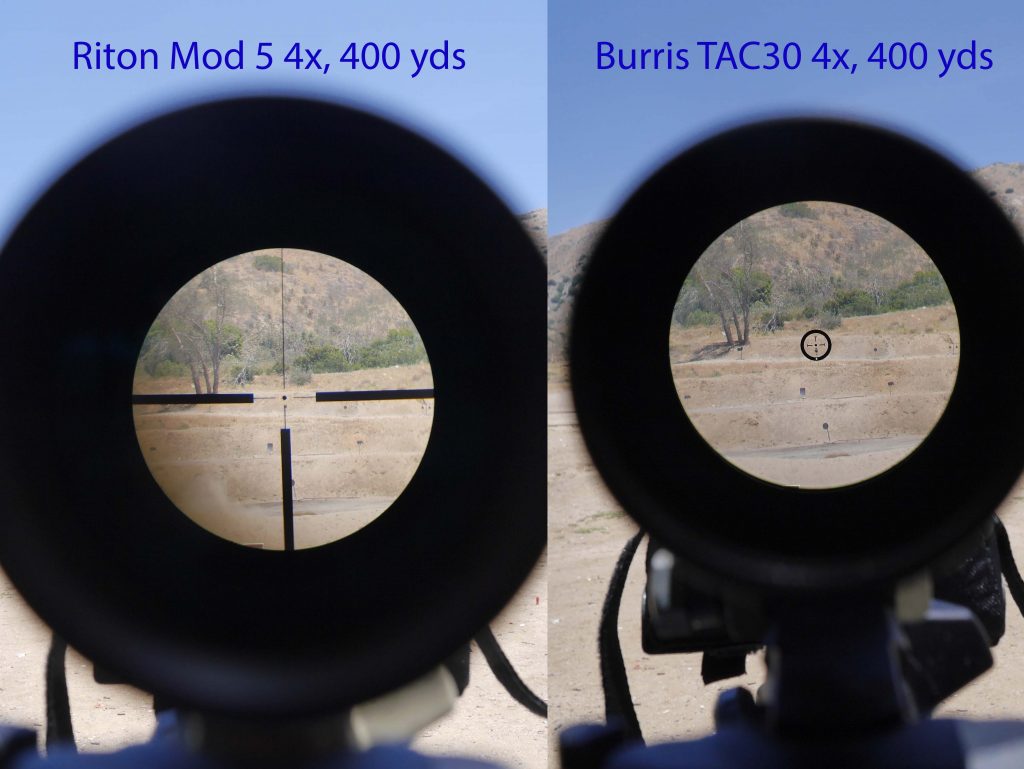 One thing that bothered me was how terrible the reticle was for 300+ yards.  Since there's no hashmarks like most other scopes, you end up eye-balling it.  In this case at 400 yards, I found that lining up the target with the top of the bottom vertical line seemed to work.
But…please keep in mind it's a hunting scope for short distances such as hogs and bears.
Abuse Test
Your scope is not going to remain in pristine condition.  At least if you're competing or hunting with it in this case.  I don't purposefully damage my stuff but things definitely happen.
Here I drop the scope on its top, left, right, and rear side from 1 foot off the concrete floor while still attached to the (unloaded) rifle.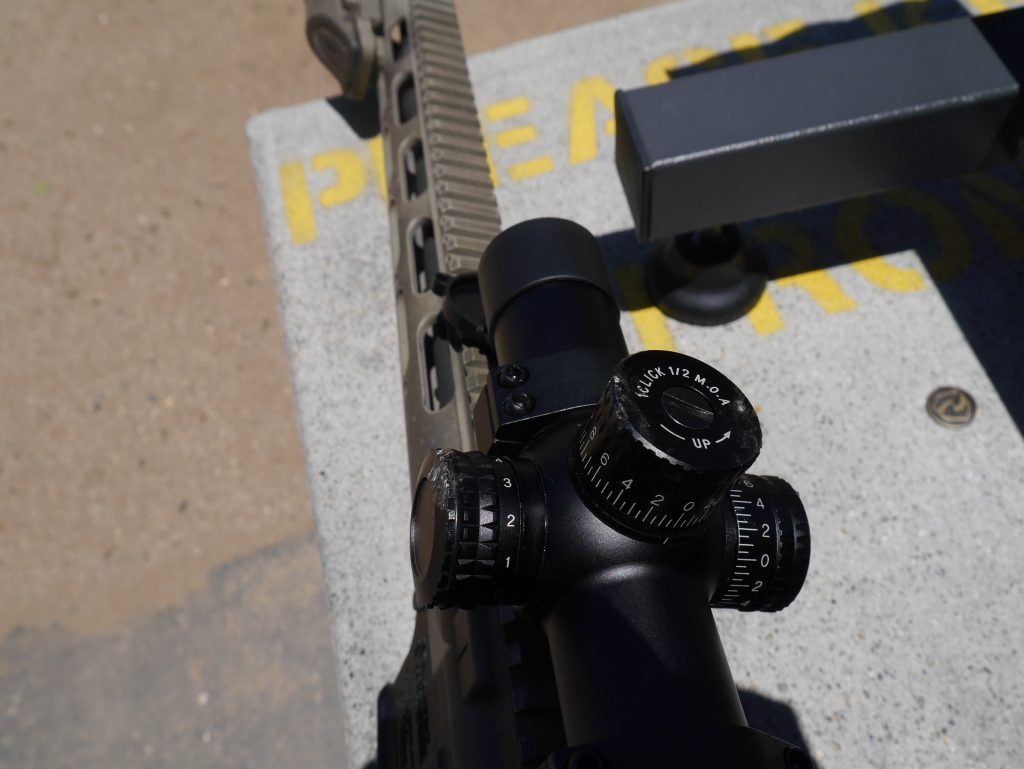 Unfortunately the Riton logo on the left side fell off on the first drop.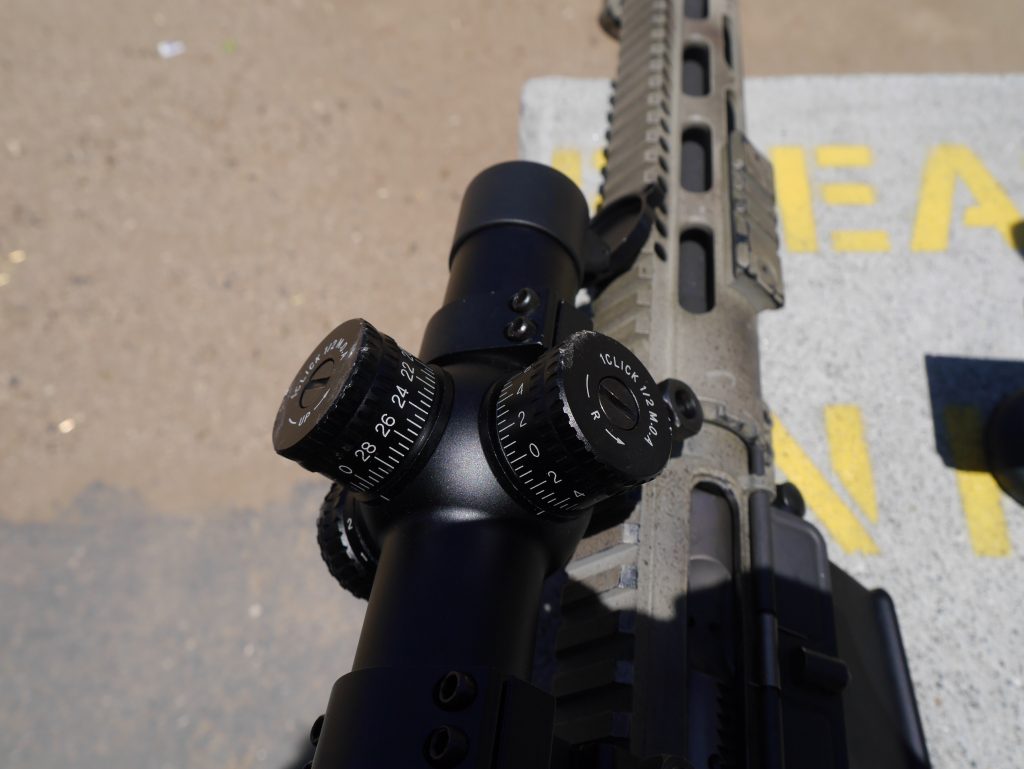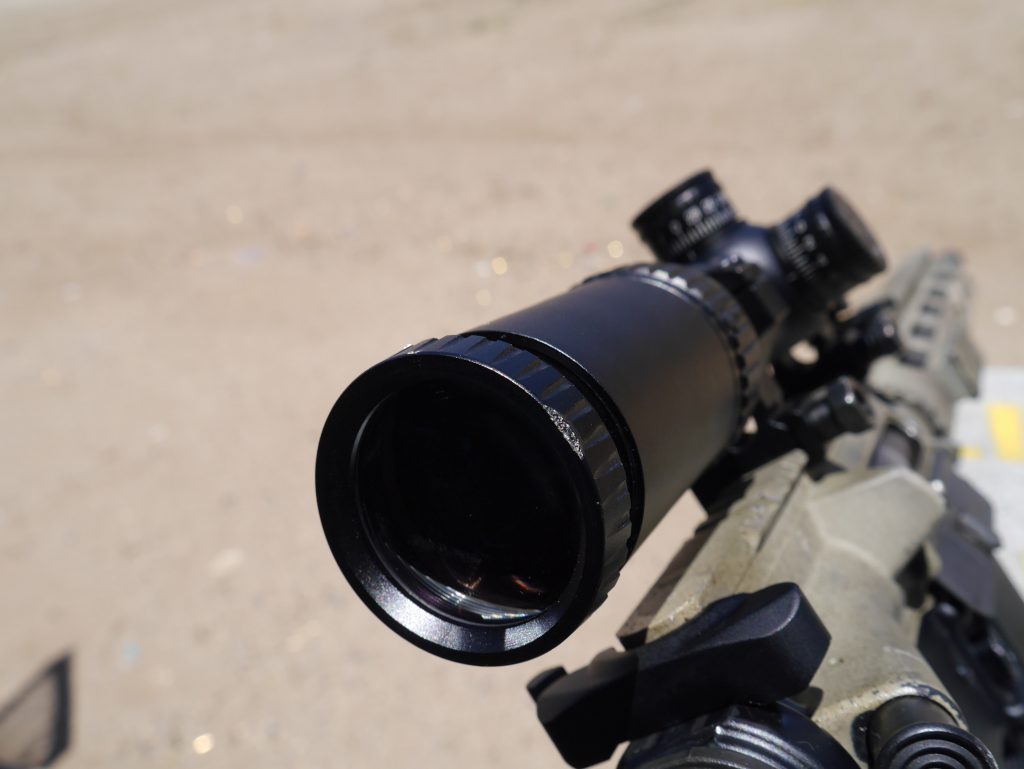 We zeroed before and here are the results for before and after.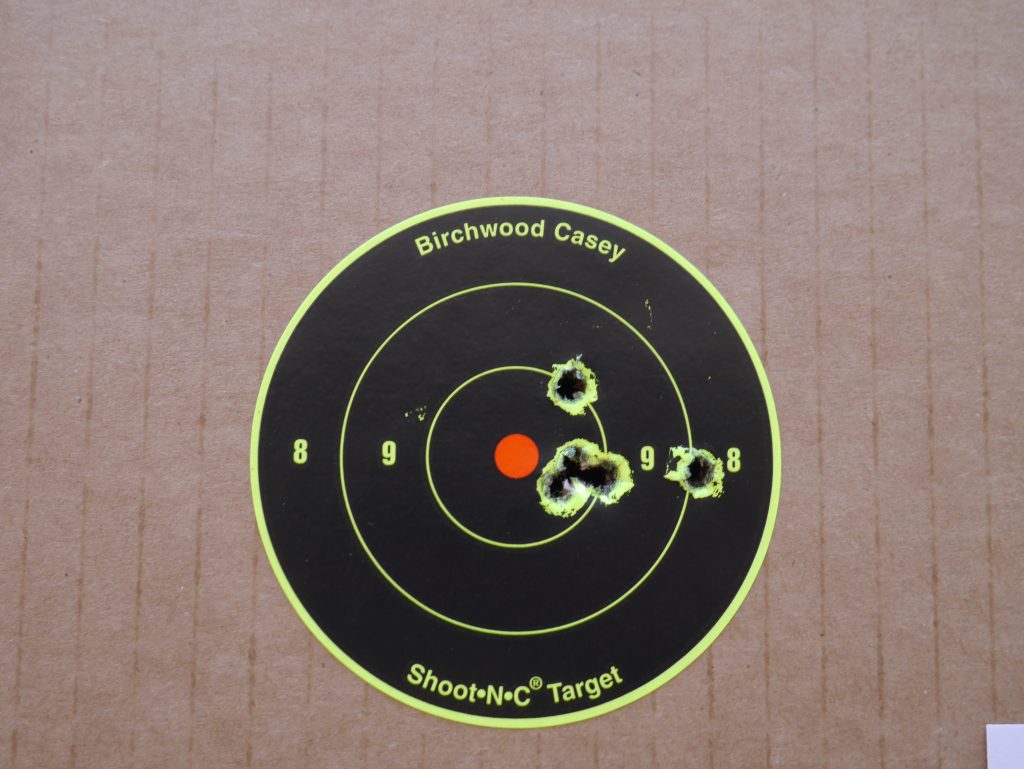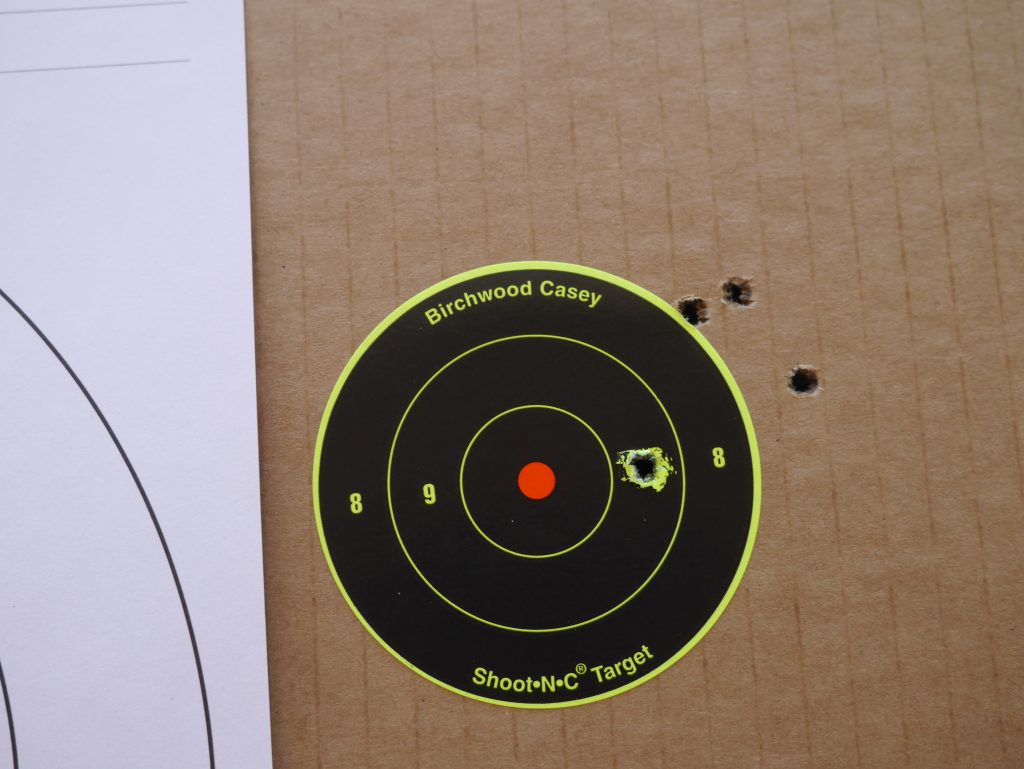 So there was some shifting.
But in full disclosure, I tightened the screws of the base at 25 in-lb and the rings at 15 in-lb while the recommended was 25 in-lb all around.
I remounted onto my go-to Aero mount and the scope performed fine.
Illumination
Another feature was the scope's illuminated reticle which would help in low light conditions.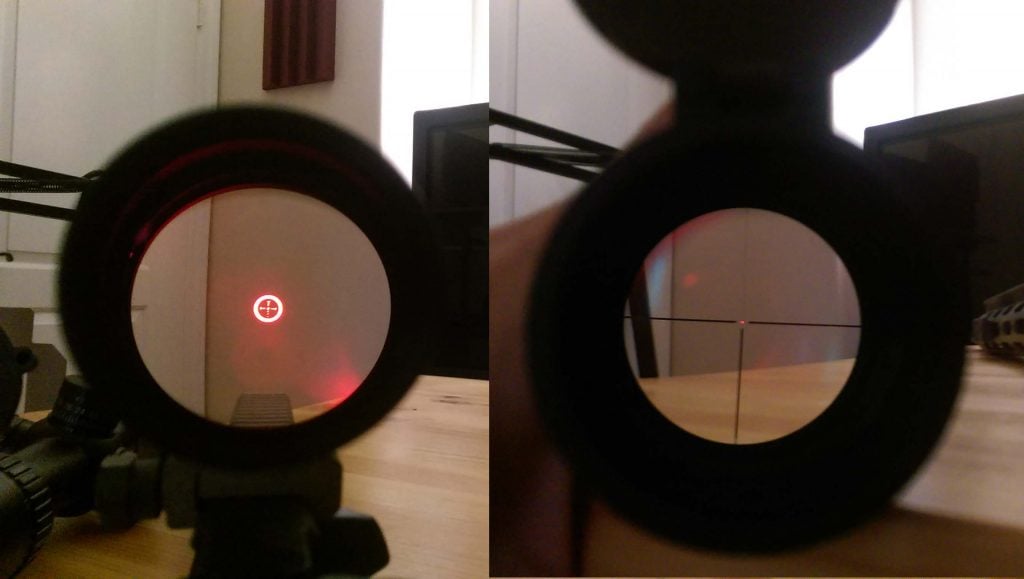 It was very easy to turn on the illumination on the Riton as opposed to the TAC30's pressure sensitive tab.  The Riton has a nice 1-10 knob on the left side.  Here they are both on their highest settings.
Not the brightest…but I think enough to hit a hog from 100 yards.
Conclusion
The Riton scope is clear and combines lots of elements that make it a perfect hunting scope.  Just don't go buying it expecting to run-and-gun.  You're better off with other options for that or Riton's Mod 3 series.
Or better yet…check out our How to Choose a Rifle Scope article to see what we prefer on our rifles.