Carry guns, and their sizing comes in waves…
We've seen the rise of subcompacts, pocket .380s, single-stack 9mms, and now micro compacts.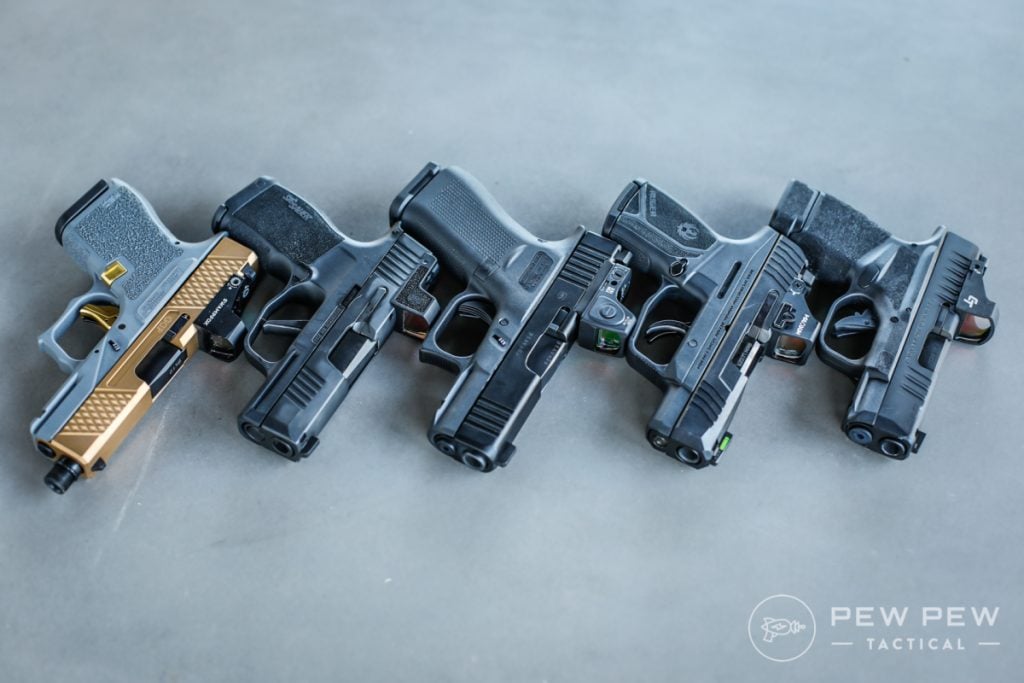 For decades we've tried to get guns to be small but capable. What about full-sized guns, though?
Sure, they can be large, making them hard to conceal in some situations; however, with the current crop of awesome holsters from companies like PHLster, Harry's Holsters, Raven Concealment Systems, and others, it's gotten much easier.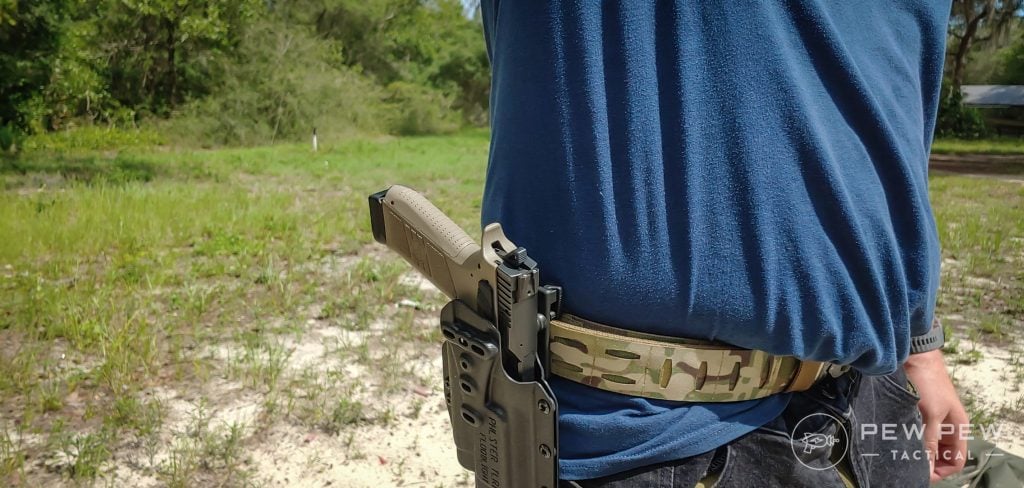 Today we aren't going to drag full-sized guns through the mud. Instead, we stan the carry of full-sized handguns, strap them on, tighten our belts, and talk about why full-sized handguns rule for concealed carry.
Why You Should Think About Full-Size Carry Guns
1. Full-Sized Guns Are Easier to Control
A big handgun is super easy to control, especially compared to a subcompact or micro-compact firearm.
The larger grip fills your hand and is often fatter, which allows for more control. Bigger grips also help displace recoil without causing any kind of pain.
(Need more tips on gripping your gun? Check out our How-To Grip A Gun.)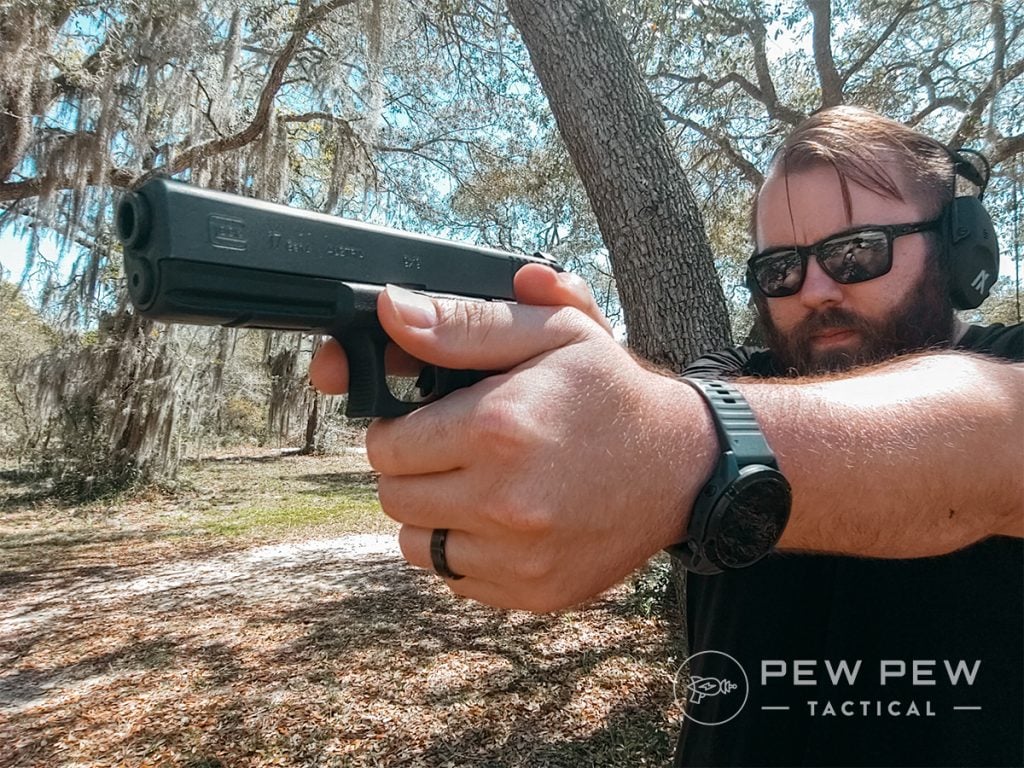 You know what I'm talking about if you've ever shot a Smith & Wesson 340 PD in .357 Magnum compared to a Smith & Wesson 686.
Some guns can be so small they are downright painful. Duty-sized handguns are often heavier, and a heavier gun absorbs recoil, making it a much softer shooter.
A great big gun packs less muzzle rise and flip as well. This results in faster and more accurate follow-up shots compared to smaller guns. The larger a weapon is, the more control.
For a gun designed for self-defense, being able to control it can be invaluable. This becomes even more important if you are stuck using a firearm with a single hand. More control can be pretty dang nice to have in a gunfight.
Shooting a CZ P-09 side by side with any single stack 9mm can be an eye-opening experience in terms of the difference in control.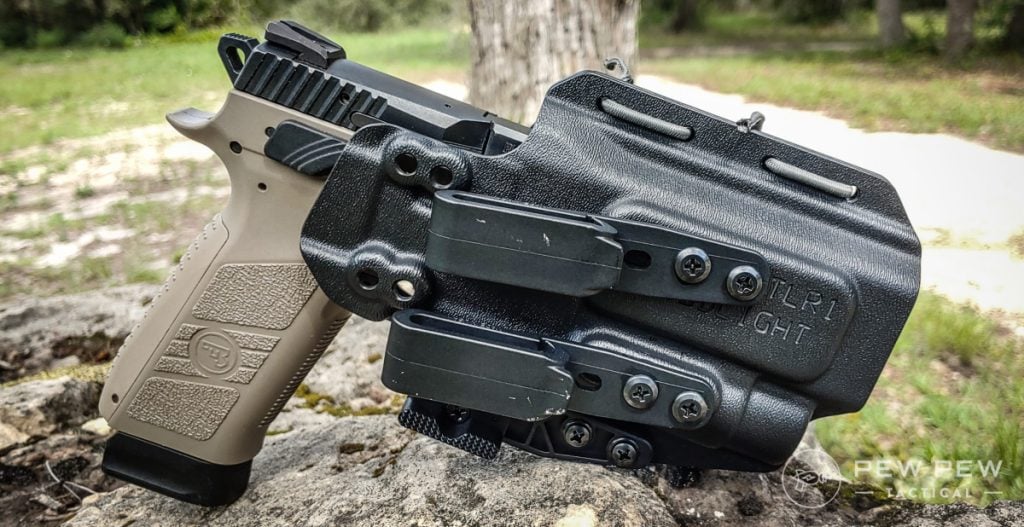 If you move to larger calibers like .45 ACP, .40 S&W, or powerful calibers like .357 Magnum, then the difference is massive as well.
2. Bigger Gun = Bigger Magazine
How awesome is it that the Sig Sauer P365 is as small as it is while still being able to hold 10 rounds of ammunition?
Isn't that just amazing? Sure, but it's really nothing compared to a full-sized handgun.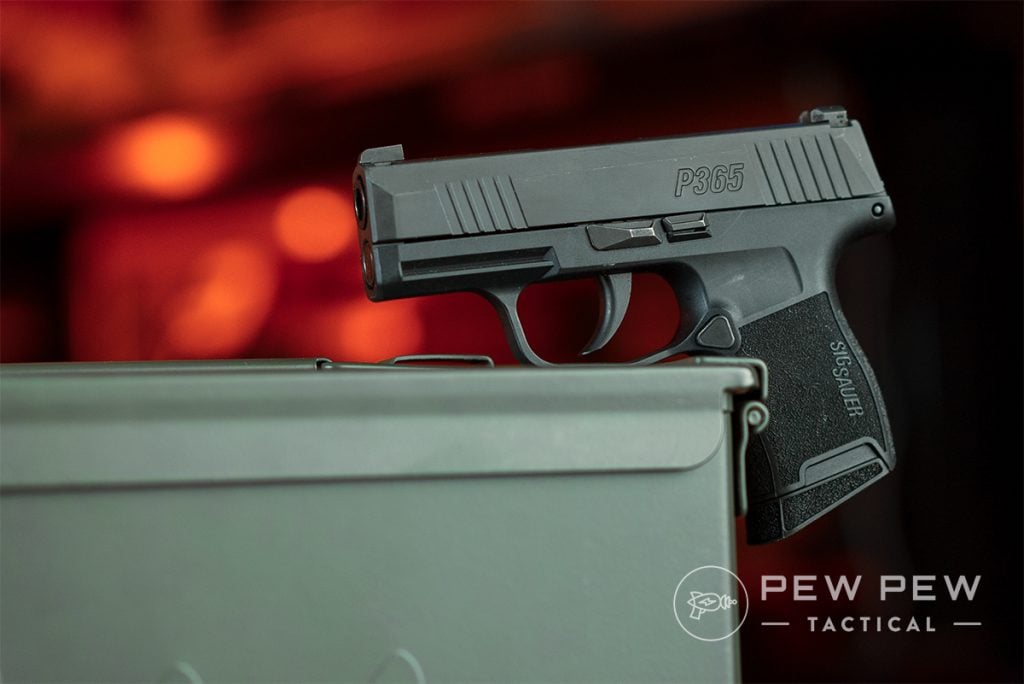 Most modern handguns in 9mm can typically hold between 17 and 20 rounds of ammunition. If you get into odd calibers like the 5.7, then that number gets even higher.
Even revolvers can climb into 7 or 8-round capacities when the frames get larger.
Maybe it's my machine gunner history, but having more ammo makes me feel nice and secure. I like knowing that the possibility of me running dry in a gunfight is a whole lot lower while carrying a full-sized gun.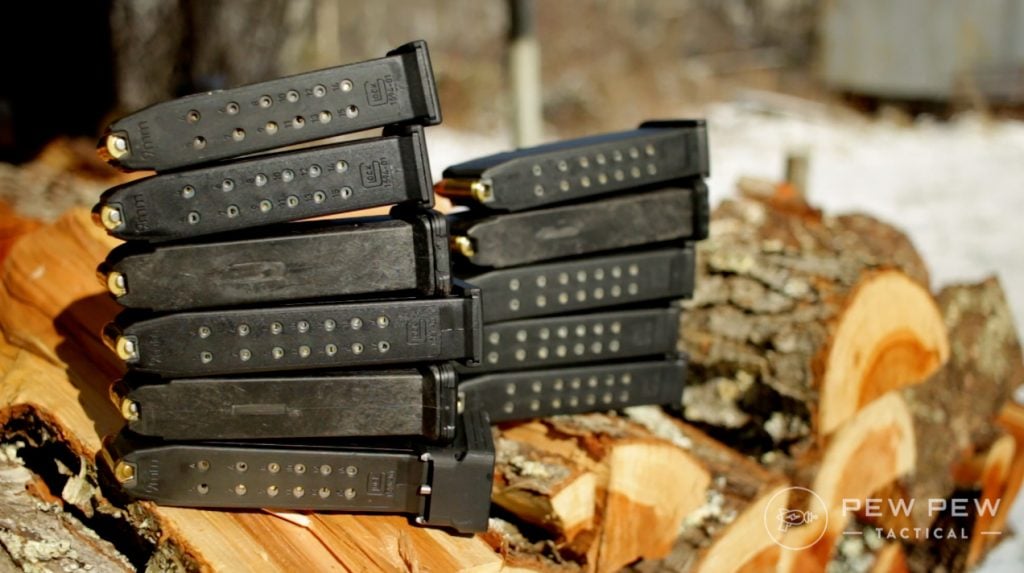 It's tough to beat a full-sized 9mm when it comes to capacity.
Using something like a .45 ACP makes it easy to fall into revolver-like capacities with small automatics. And if you go big, like Glock 21 big, you get 12 rounds without complaint.
Having more ammunition is never a bad thing, and full-sized guns let you have it.
3. Longer Sight Radius and Greater Accuracy
The measurement from the rear sight to the front sight is called sight radius. The longer that measurement is, the easier it is to shoot accurately.
A full-sized handgun with a big full-sized slide grants you a longer sight radius and likely more proper sights.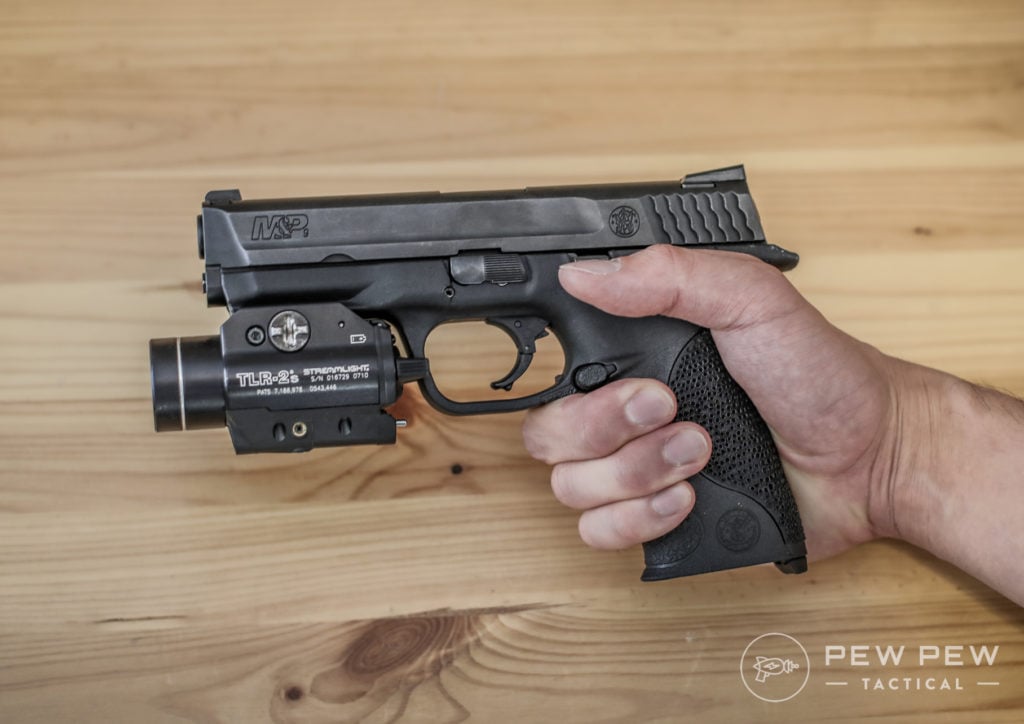 Sight radius doesn't make a gun mechanically more accurate, but it makes it easier to shoot accurately.
A longer sight radius helps you notice and correct imperfections in your sight picture. The longer the sight radius, the more you're capable of noticing those tiny movements throwing you off target.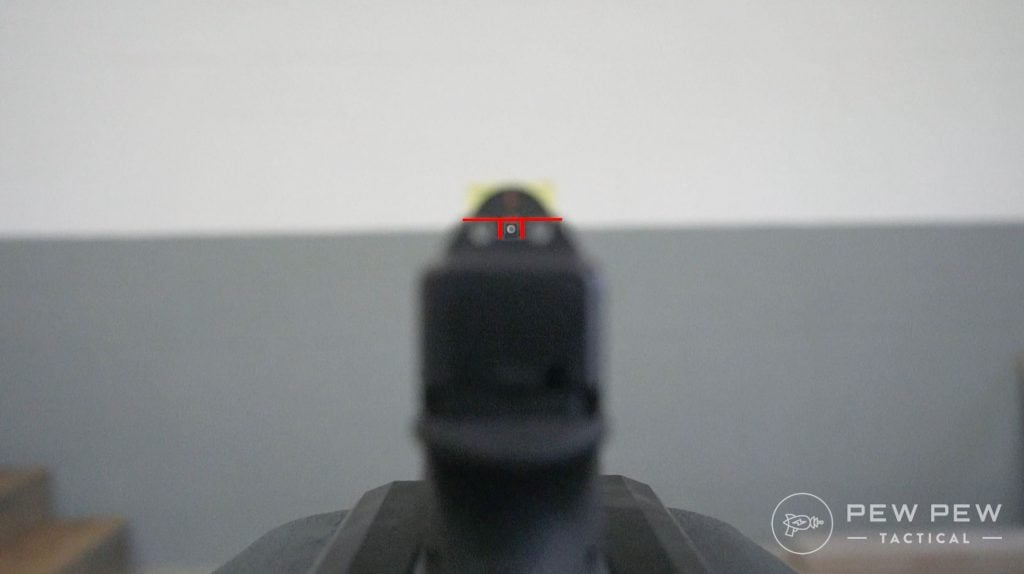 If your sights are slightly out of alignment, the effect on the target will be smaller with a longer sight radius.
For example, if you take a Sig P365 and shoot it side by side with a Sig X5 P226 with a 2mm error in sight alignment, then the X5's projectiles will land closer to the intended target than the P365.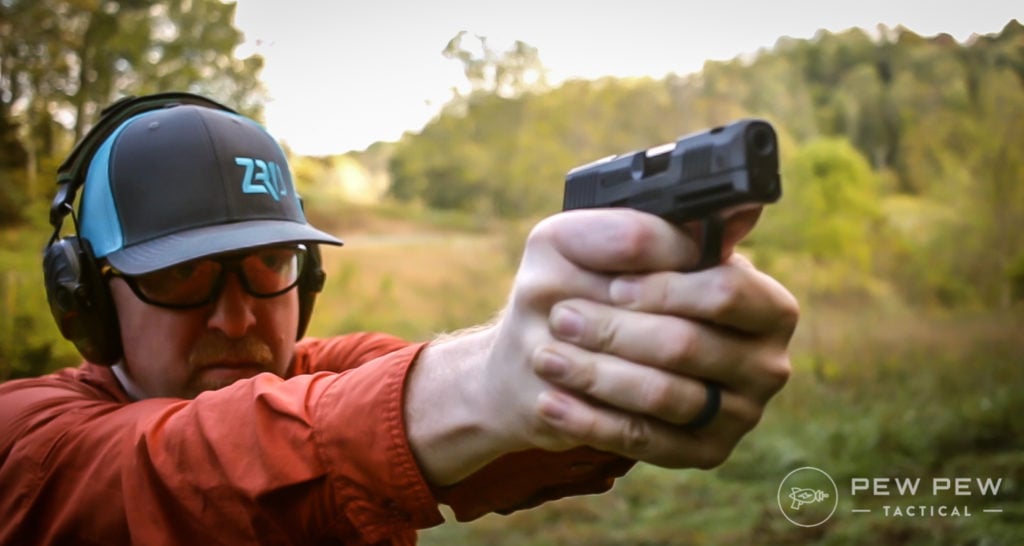 There is also the effect of the front sight being further from your eye ever so slightly. Since it's further, it appears smaller, making it easier to see and hit targets at longer ranges.
There are also some schools of thought that the slightly longer barrel adds more stabilization to the projectile making it more accurate.
4. Better Accessories
A big full-sized handgun offers you way more room for accessories. More than that, it offers room for better accessories.
Lights, lasers, optics, and cup holders have gotten smaller and fit on smaller guns as well.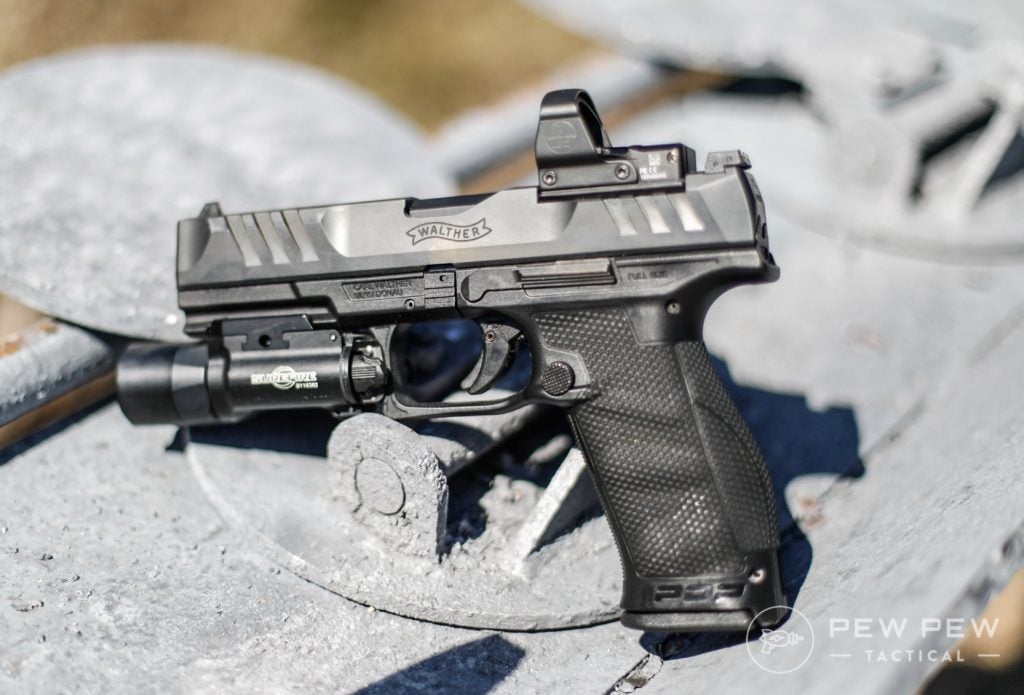 However, those accessories are a bit smaller, and sometimes bigger is better. Let's look at lights.
The TLR-7 is cool, but the TLR-1 is twice as powerful and extremely capable. It's brighter, offers a longer effective range, defeats photonic barriers, and more.
141
at Amazon
Prices accurate at time of writing
Prices accurate at time of writing
Look at lights like the Modlite PL350, and it blows away any other competitor on the market.
Small optics are great, I love the Shield series and the Holosun 507K, but they still can't touch the capabilities of larger sights.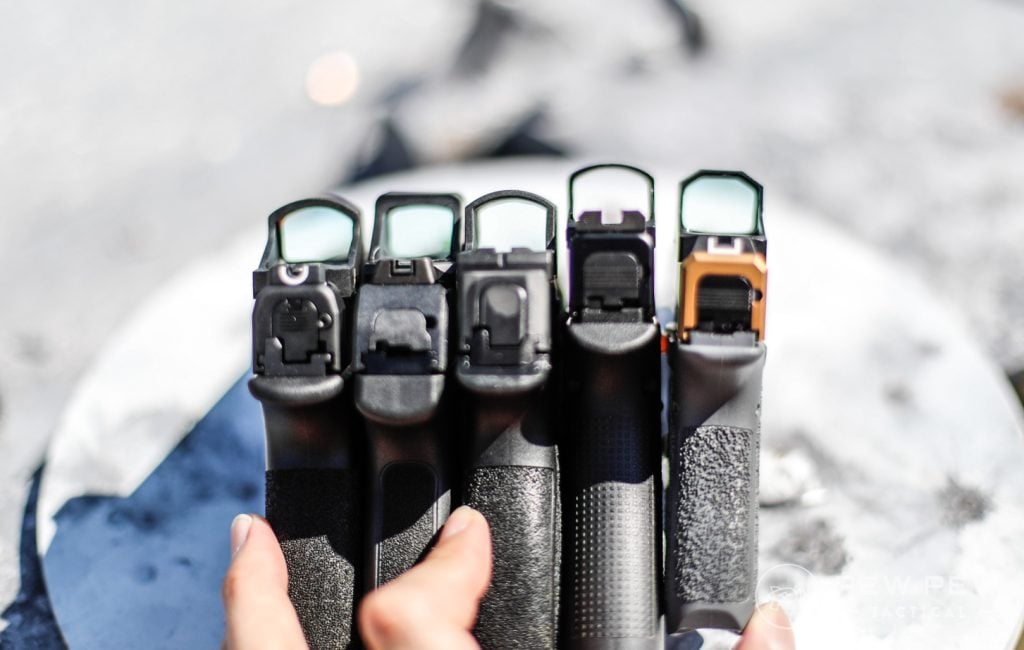 Optics like the RMR, Leupold DPP, and Aimpoint Acro offer more than the micro red dots. The RMR and DPP are tougher, more durable, more resistant to the great outdoors, and offer massive windows.
449
at OpticsPlanet
Prices accurate at time of writing
Prices accurate at time of writing
Bigger guns can also be fitted with better and more effective compensators, mag wells, and additional accessories we rarely see on little guns.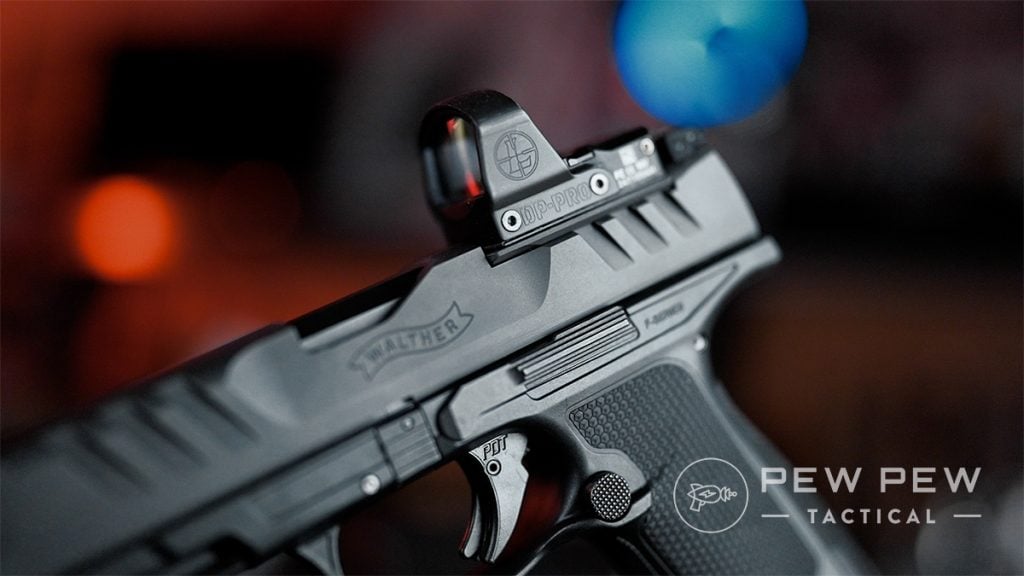 5. Easier to Reload
The geometry of a big gun lends itself well to increasing your capabilities all around, including the reload.
A big fat grip offers you a bigger place to house your magazine. Since it's bigger, squeezing that big magazine in place is much easier.
The longer grip also means you don't have a pinky pinning a magazine in place or getting in the way of your reload.
I love my P365, but I look like a Brit drinking tea when I reload. I have to flare my pinky out, or the magazine won't drop free and will get pinched when I reload.
With my Glock 17, I hit the buttons, and the mag drops free without issue. I can keep that good firing grip throughout the entire reloading process.
539
at GrabAGun
Prices accurate at time of writing
Prices accurate at time of writing
Measuring reloads is not just about the time it takes to get a round in the chamber, and it includes getting a magazine in place, a round in the chamber, and an accurate round on target.
The same goes for the revolver as well. Snub nose guns keep the cylinder tight to the frame; for some guns, you lose the ability to use a speed loader.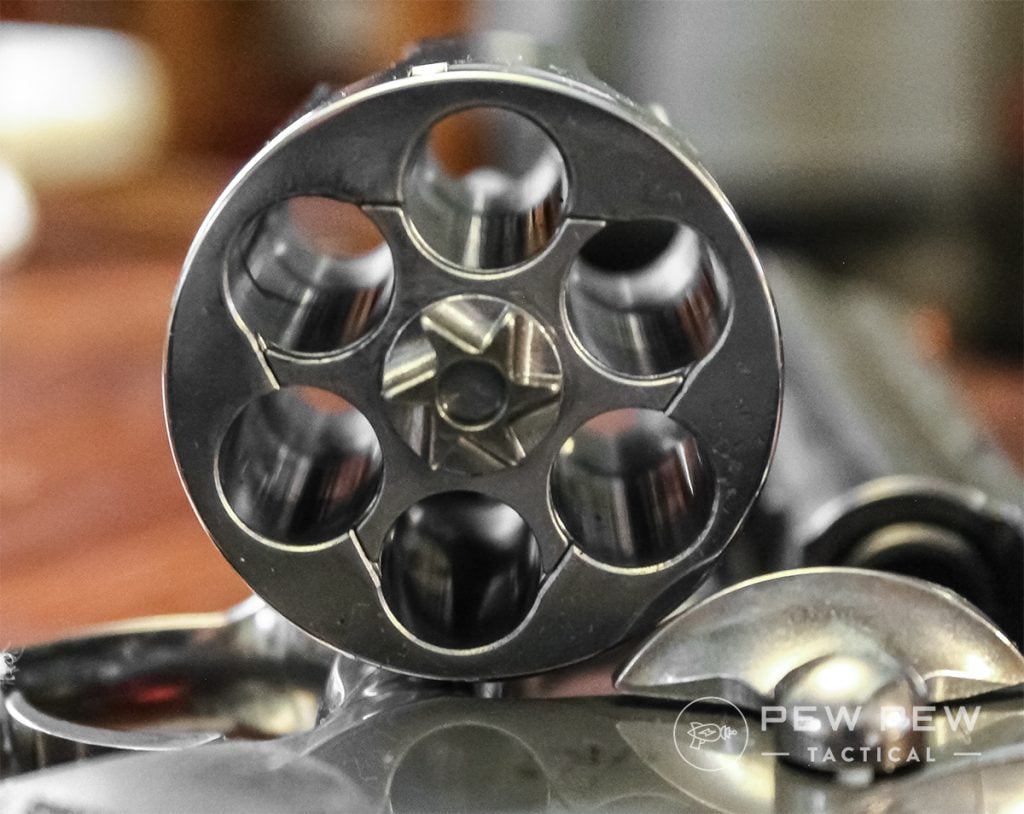 A snub nose .357 Magnum means you have a shorter ejection rod which can mean some of those long, empty casings stick when trying to reload.
Bigger guns just reload easier and often must be reloaded less often.
6. Better Ballistics
Bigger guns mean a higher velocity, and a higher velocity means better terminal ballistics.
Handguns suck at fighting, and you might want to get as much potential power as possible, and a full-sized gun offers that. That higher velocity comes from the longer barrel.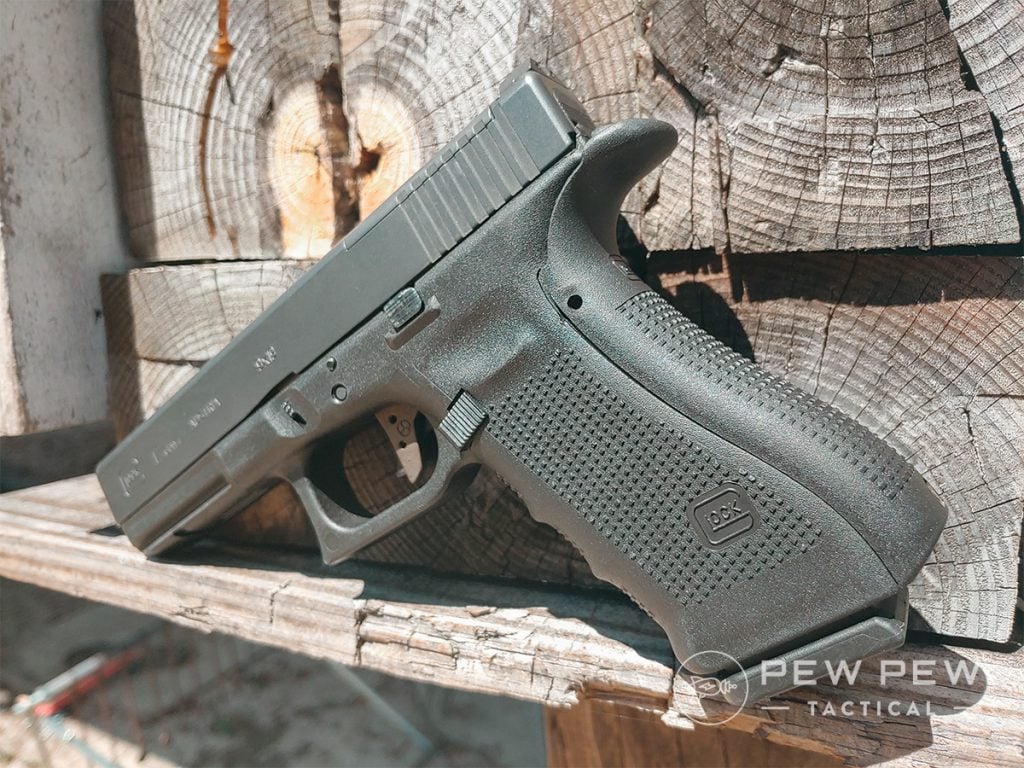 How much of a difference can there be? Let's examine a standard 124-grain JHP — a popular round in the 9mm world. From a 3-inch barrel, the bullets are moving at 988 feet per second.
Increase that barrel length to 5 inches, and we see the same projectile moving at 1,115 feet per second. That's an increase of about 12.9% in velocity.
Why does this extra velocity matter?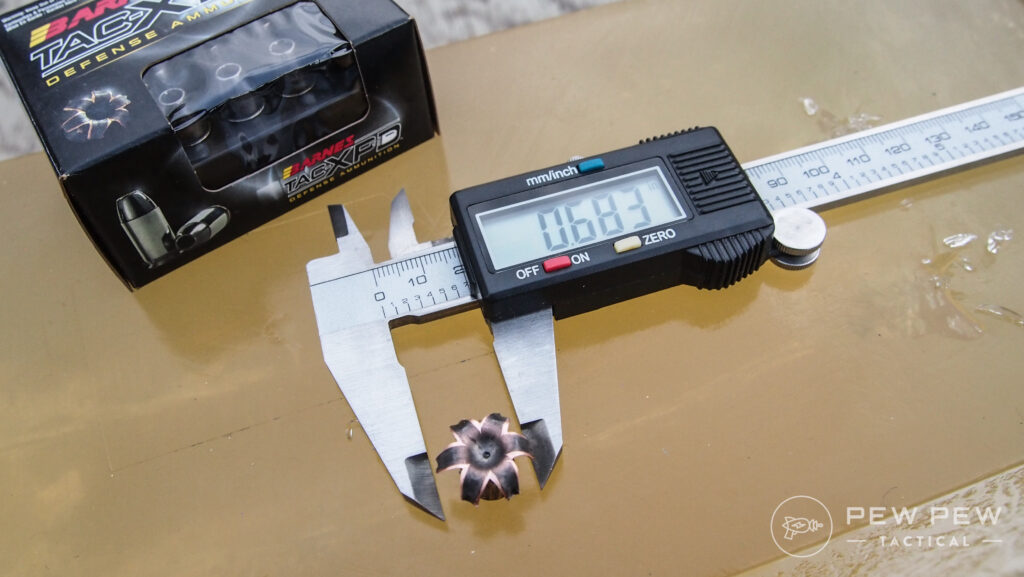 One of the main factors in how a pistol round stops a threat is expansion. A hollow point is designed to expand when it hits a soft target. To properly expand, the projectile often needs to reach a certain velocity.
Typically, the higher the velocity, the better the round will expand and the more reliably it will expand.
Velocity matters and a full-sized gun's slightly longer barrel gives you a good little boost.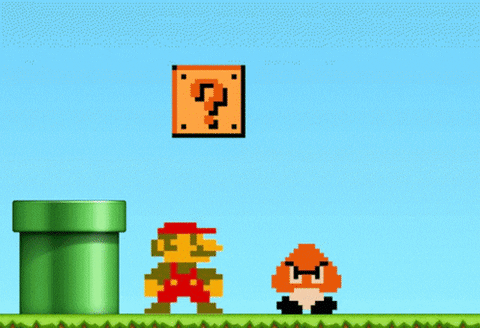 7. Easier to Clear Malfunctions
The last thing you want your gun to do in a fight is malfunction…and the second to last thing you want is not to clear that malfunction.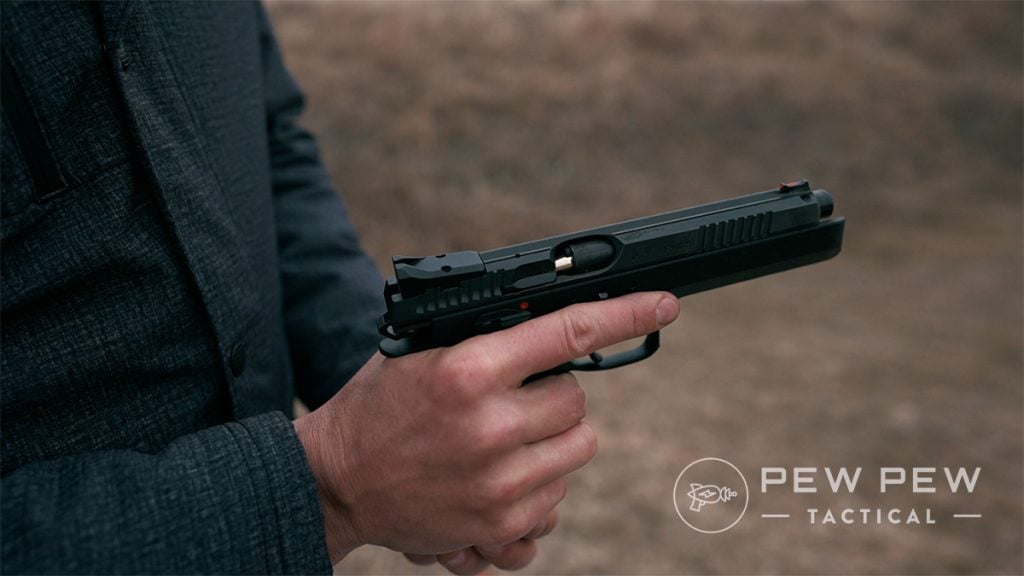 The same factors that go into making a full-sized handgun faster to reload make it easier to solve malfunctions.
The size of the slide and grip offers you more space to grip. Its larger area makes it easy to retract the slide and free the magazine.
From those complicated malfunctions, you can drop the mag, rack the slide, and get on with it.
Bigger guns are easier to handle, including clearing malfunctions and getting the gun back into service.
Final Thoughts
When you go to the range, I'm betting you prefer shooting the larger handguns in your collection. You likely shoot them better, and they are more comfortable to handle overall.
Who doesn't want those same features in a carry gun?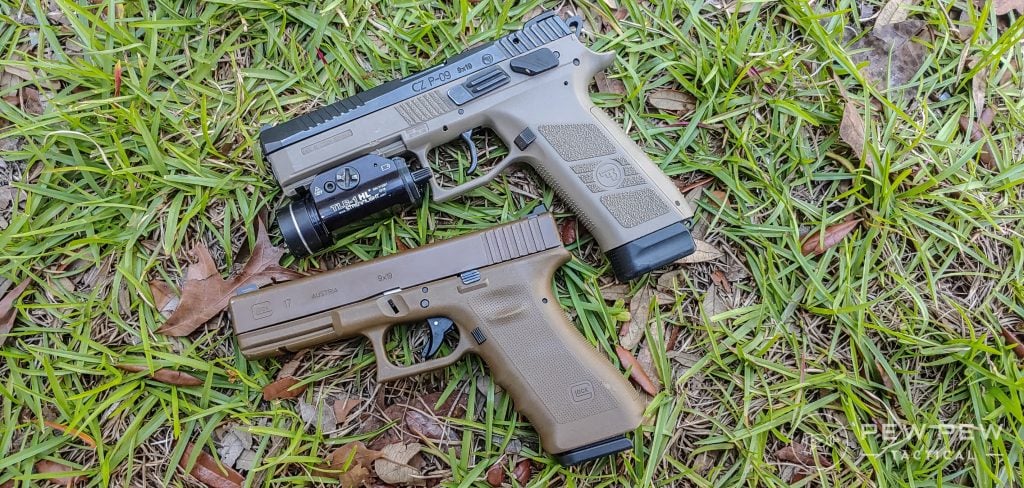 Full-sized handguns offer you a ton of benefits and might be the best choice for you when it comes time to conceal carry. Admittedly they are larger and can be a little tougher to conceal. That does pose a challenge.
It demands a good holster, a good belt, and some grit and determination at times. You can learn more about carrying one of these big boys in How-To Concealed Carry a Full-Size Gun.
Then again, maybe it's not for you, and that's okay too.
Let us know your thoughts on full-sized guns in the comments below. Looking for some affordable full-size models? Head to our Best Full-Size Guns Under $400 for more options. But if you need something smaller, check out our list of the Best Concealed Carry Pistols.