Sight radius is the distance between the front and rear sights on your gun.
But why does it matter?  And why do some internet people say that longer is better (heh)?
We'll walk through some different sight radii (thanks high school math) and go over why sight radius matters in terms of accuracy.
Ready?
Sight Radius Examples
So again, sight radius is the distance between the rear and front sight.  Or if you want to get really technical, the face of the front sight to the back of the rear sight blade.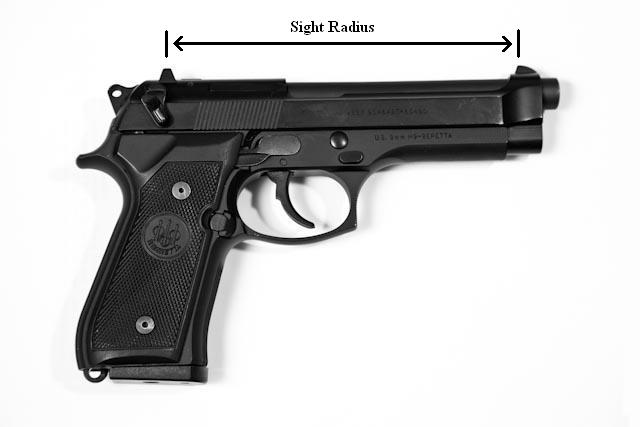 The closer they are to each other, the smaller the sight radius.  In most cases, the bigger the gun, the longer the sight radius.  A rifle will have a larger radius than a full size pistol and the full size pistol will have a larger radius than a pocket pistol.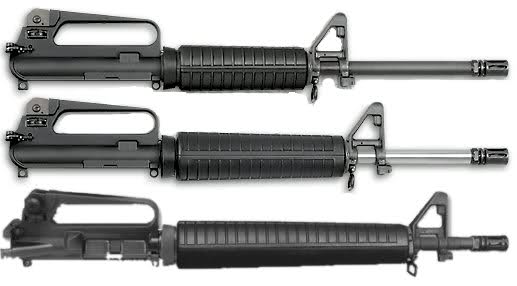 Wondering why the AR-15's have different sight radii?  Learn everything about them in my Ultimate AR-15 Guide.
So how about some numbers for scale?  We'll go with the family of Glock 9mm's first.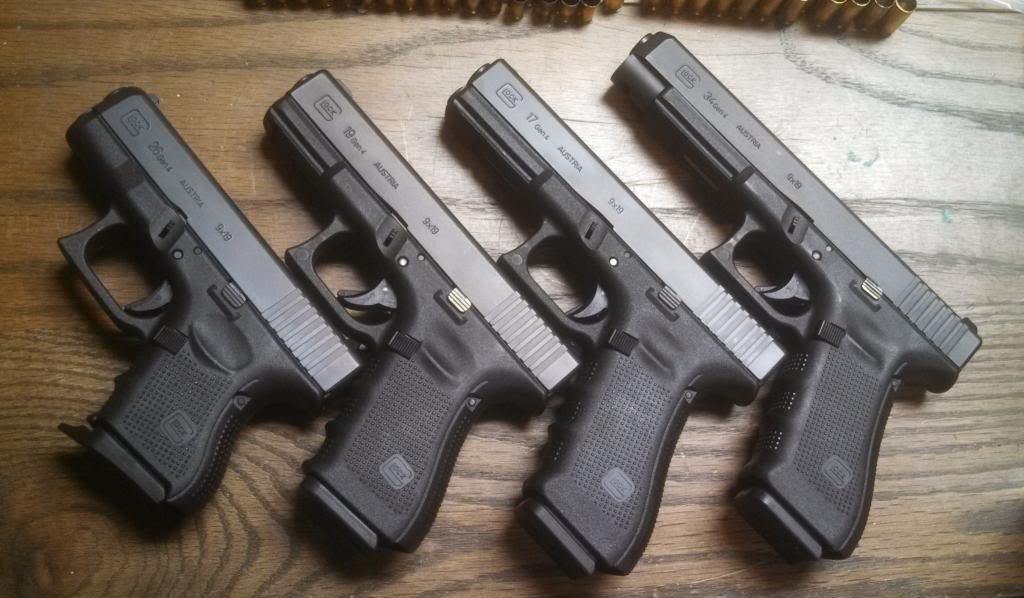 Glock 26: 5.39″
Glock 19: 6.02″
Glock 17: 6.49″
Glock 34: 7.55″
And how about an AR-15 mid-length gas system's sight radius?  About 17″ so you can see the big difference between handguns and rifles.
How Sight Radius Affects Accuracy
So yeah, big deal.  Different guns have different sight radii.  What does it matter?  Well, with a shorter radius, imperfections in your sight picture aren't as noticeable.
For you math people out there…the deflection over distance (Tan(Barrel Angle) x Distance to Target = Bullet Deflection) is greater when the distance is increased.
You're just not going to notice those tiny movements with a shorter radius.
Increase the distance between the sights, however, and suddenly that 64 ounce soda you had before you left for the range will start to seem like a bad idea.  You're going to see every twitch, shake and jerk your body makes reflected in the sight picture of your gun.
Believe it or not, that is a good thing.  Why?
Here is a sample rear sight.  If you move the sight picture off by just 1mm…the results are pretty huge.

In the Glock 26 (shortest sight radius), the error is over 40% compared to the longest sight radius of the G34.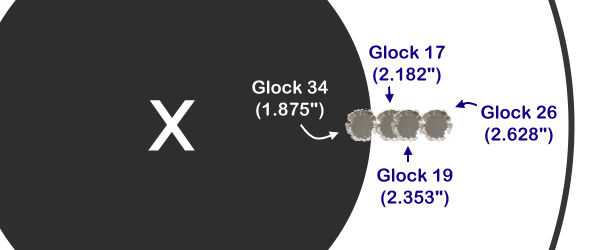 By being able to see and adjust for those slight deviations, your shot is going to be more accurate.  Considering that a long sight radius is accompanied by a similarly long barrel, the bullet will generally be more stable and will be travelling faster when it hits the target.
So it's not really that a longer sight radius gives you better accuracy (some might even argue a shorter barrel is more rigid and thus gives better accuracy), but it's just easier to be more accurate since you can see the movement.
So it really comes down to what you want to do with the gun. You're probably not going to go out shooting USPSA competitions with a Ruger LCP pocket pistol.  At the same time, you're not going to be using a tricked out STI 2011 competition gun for your daily concealed carry gun either.
If you're wanting to do a lot of target shooting then you're going to want to go for the longest radius possible.  Beyond that, it's just good to know how the shorter radius is going to affect your accuracy when shooting a gun.  Best Handgun for Beginners?
Or how about some tips on How to Shoot More Accurately?
Previous Comments:
Posted @ 6/30/2013 7:39 AM by davidtaylor89
Thanks for this article! It explained a few things to me related to problems I've been having with the sights on my gun.
Posted @ 9/4/2013 12:55 AM by Jay