Officer or civilian, a reliable firearm is a crucial part of anyone's kit. And often times the law enforcement world influences the civilian market.
So that begs the question…what do police carry and why?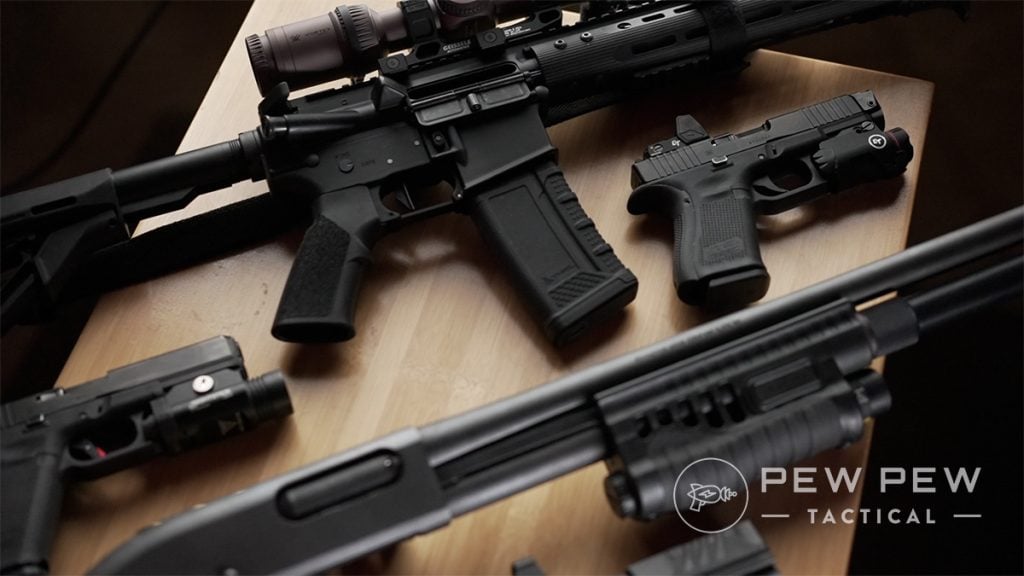 We're here to answer that question and more! So keep reading as go over some of the best duty weapons with proven performance and reliability.
Who knows you might just find something you like…
Summary of Our Top Picks
Best Duty Weapons
1. Glock 17/Glock 19
I may be dating myself a bit, but the first off-duty weapon I purchased was a Gen 1 Glock 17. I didn't know much about guns at the time and bought this one from a police chief I trusted.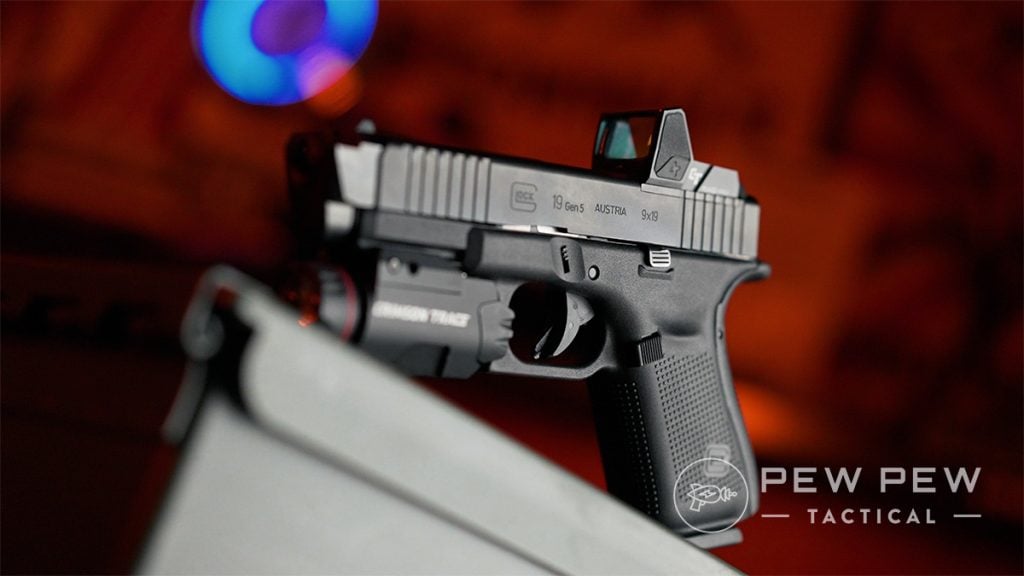 What I learned over the next few years was how incredibly reliable the Glock was. That's a reputation I still hold in mind even though we're now five generations deep.
Over the years several more models sprang up to fill needs and I used several of them. However, most agencies running the Austrian wonder gravitate toward the G17 or G19, which is roughly a half-inch shorter.
Modst Popular
539
at GrabAGun
Prices accurate at time of writing
Prices accurate at time of writing
Glock truly epitomizes the saying "form follows function."
It may not be the most beautiful or ergonomic, but over countless training and qualifications, I knew I could always count on mine to deliver accurate fire if I did my part.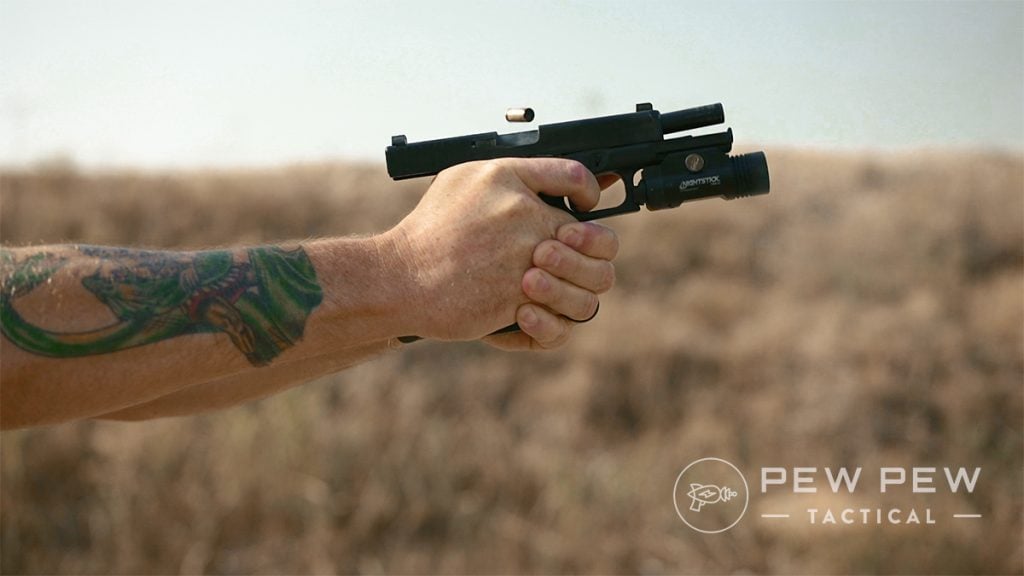 That's one of the main reasons police here in America, and in much of the rest of the world, trust Glock.
539
at Palmetto State Armory
Prices accurate at time of writing
Prices accurate at time of writing
2. Walther PDP
A relative newcomer to the law enforcement market, the Walther PDP (or Performance Duty Pistol) was the result of a collaborative effort that blended a lot of feedback from experts into a refined package.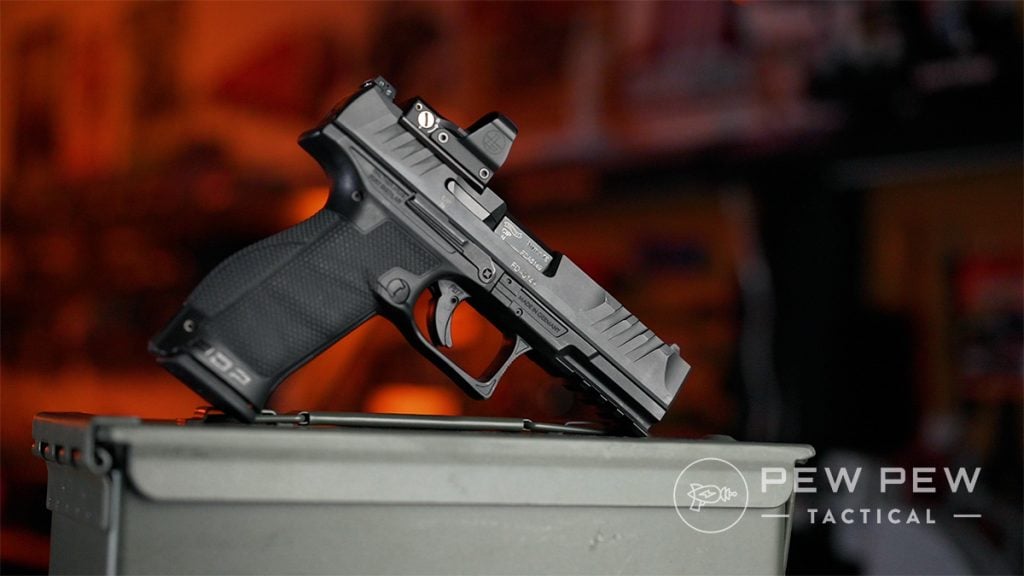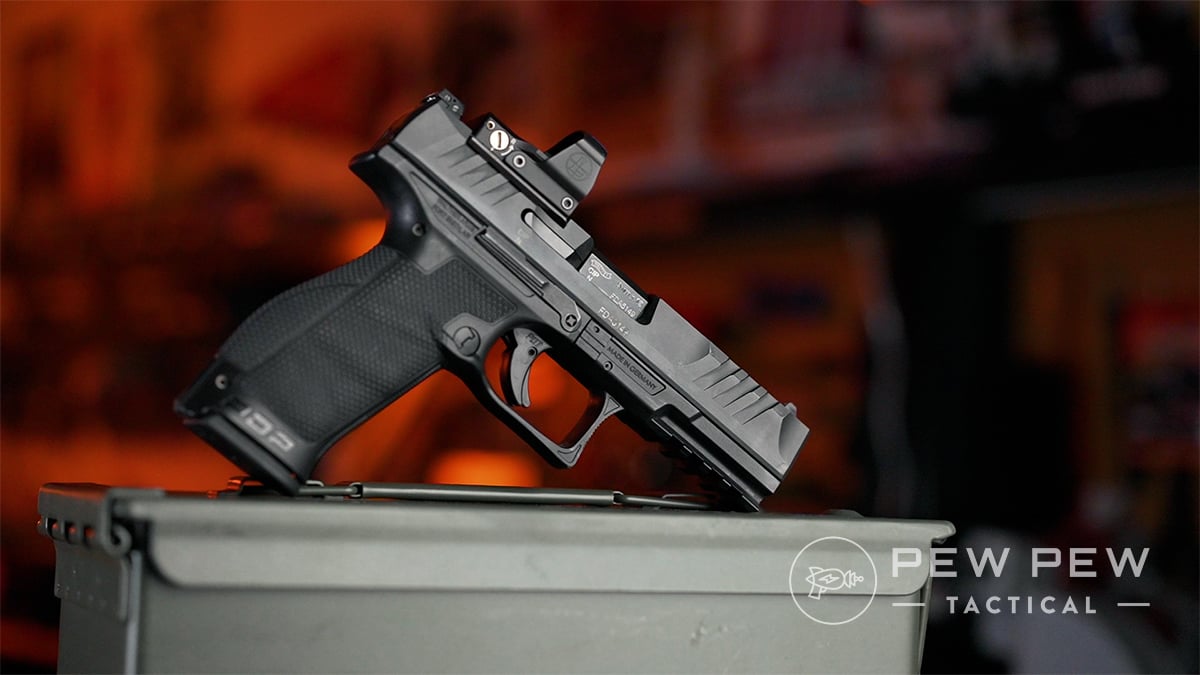 Outstanding ergonomics combined with superior grip texture into a fighting pistol that offered everything law enforcement officers need: good capacity at 18+1, optics ready, and one of the best stock triggers in a striker-fired gun.
I trained extensively with the PDP and really put the gun through its paces. I found it to be highly reliable and accurate too.
Best Ergonomics
586
at GrabAGun
Prices accurate at time of writing
Prices accurate at time of writing
With a good grip, I was able to ride the dot through recoil and increase my speed without losing much accuracy. I carried this gun through the end of my career and only wished Walther had invented it sooner.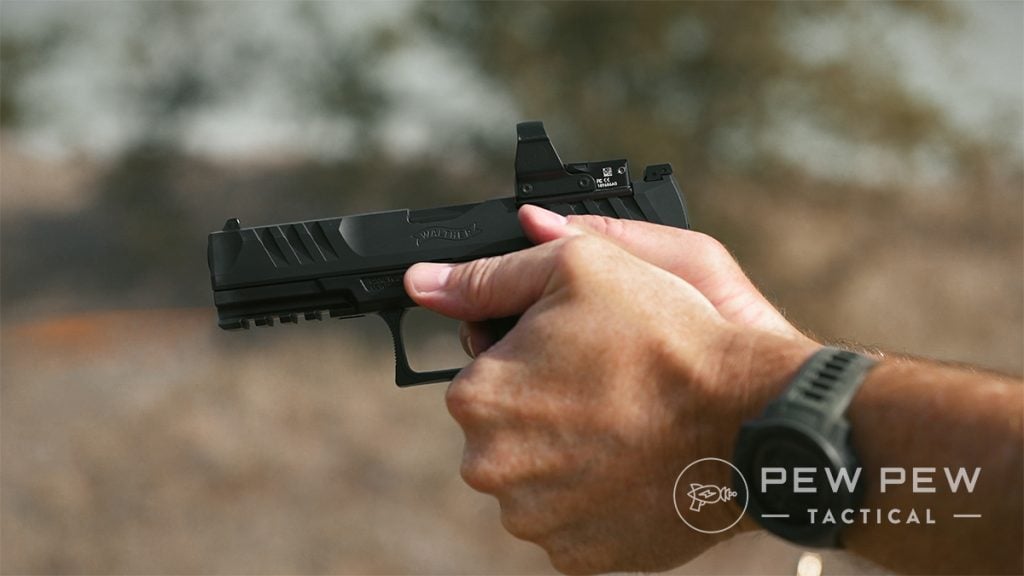 Read our review of the PDP here or watch the full video review below.
What do you think of the Walther PDP? Rate it below!
3. Staccato P
I carried a 1911 on duty for a while, you may note its conspicuous absence from this list. But when Staccato started making the 2011, I was very curious because I knew the protentional the gun held.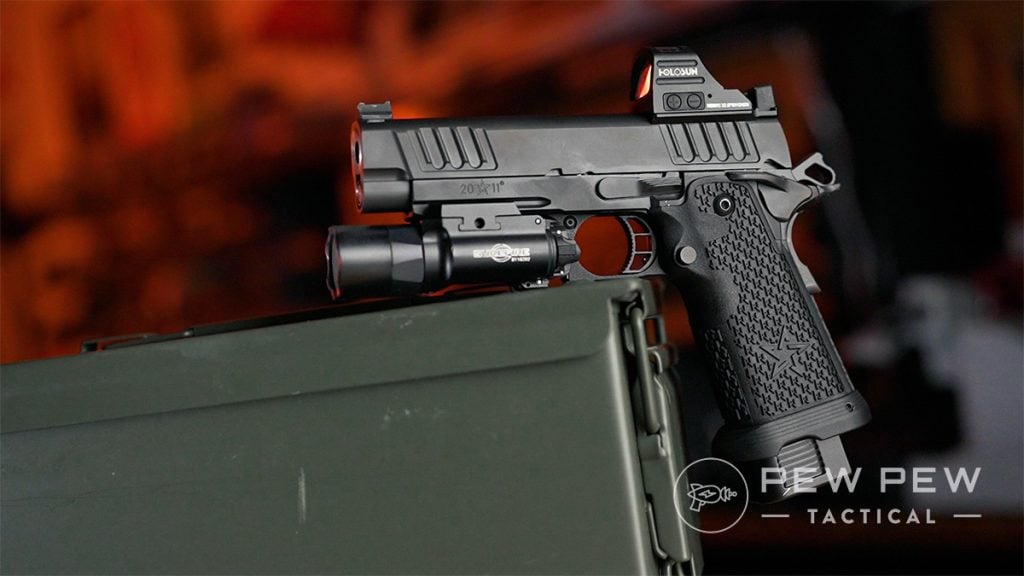 In time, Staccato came out with the P and marketed it for law enforcement use. With a 20+1 capacity, wonderful ergonomics, good reliability, and supreme accuracy, the P looked to be a serious contender as a duty weapon.
Best 1911-style
2099
at Rainier Arms
Prices accurate at time of writing
Prices accurate at time of writing
I recently spent three days in the hot Texas sun, attending a Handgun Mastery Course with the Tactical Performance Center. The knowledge passed on was amazing and the P surpassed my expectations.
While I had already retired by the time I got to try the P, I can unreservedly recommend it for duty use. Interestingly, 667 law enforcement agencies currently agree.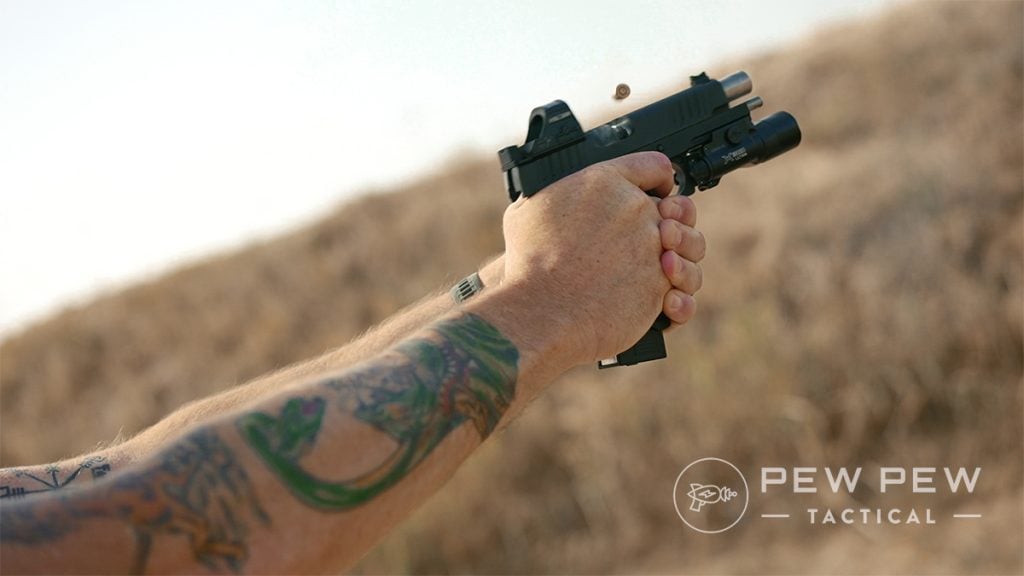 Get more details in our video review below.
4. Remington 870
During the early days of my career, patrol cars came with cigarette lighters and Remington 870s.
This gun has been standard issue equipment for almost as long as police had cars. The reliability of the pump-action shotgun is almost legendary, but the utility is perhaps not so well known.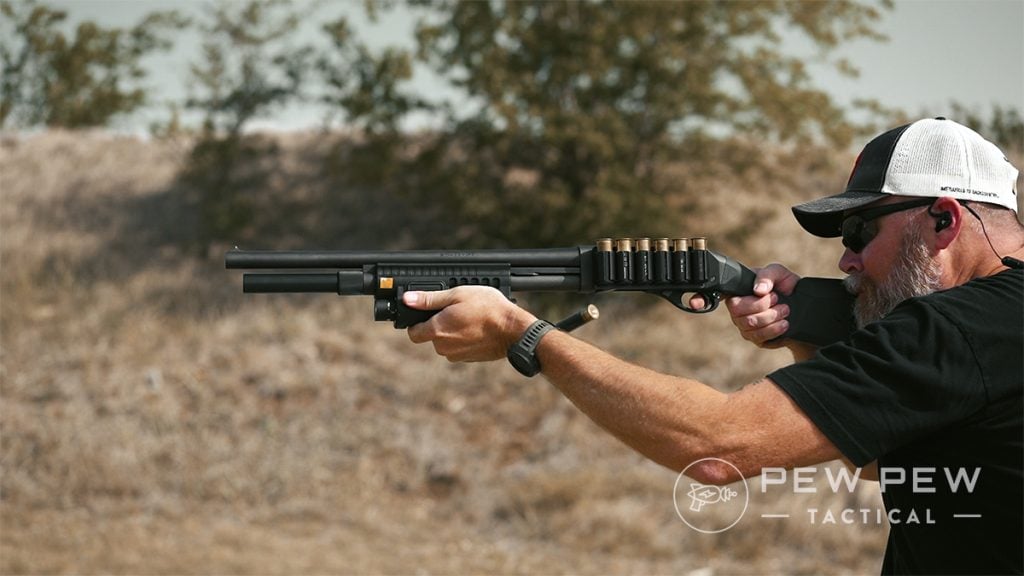 There have been a lot of various shells created over the years that have made the 12-gauge pump-action a jack of all trades.
Anything from ceramic breachers, flares, noise makers, and a whole slew of less lethal munitions evolved over the years and helped officers out with challenging situations.
Best Shogtun
412
at Kygunco
Prices accurate at time of writing
Prices accurate at time of writing
My last boomstick was an 18-inch Scattergun Technologies special that saved my bacon during a close encounter with a home-invading bear. The Remington 870 is a police staple.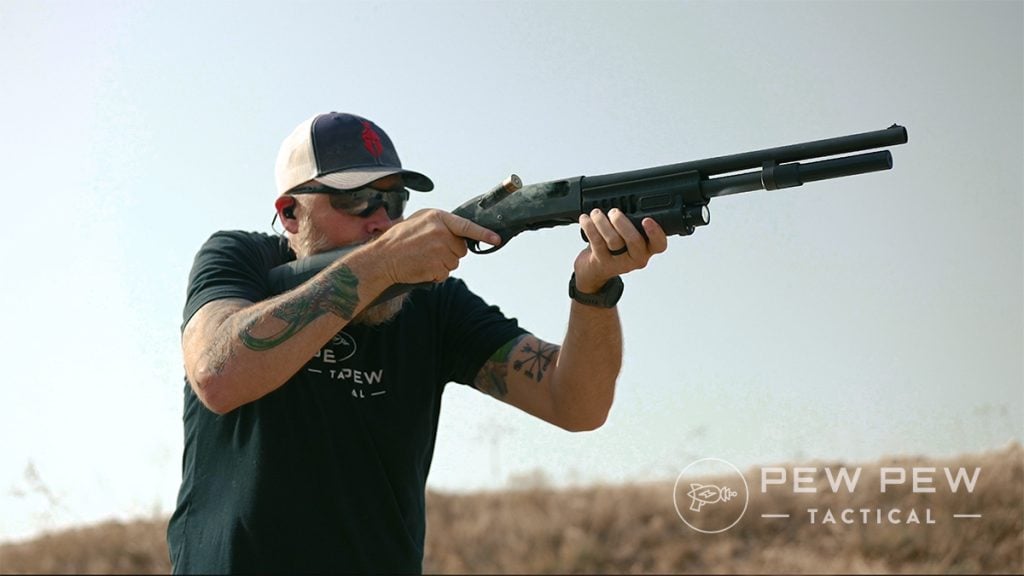 5. AR-15
When I first started, we were issued full auto ARs from the 1033 program. That might sound exciting but these old dogs were A1s from the 1960s.
My agency began with Colts but eventually moved on to other AR-15 brands that performed just as well.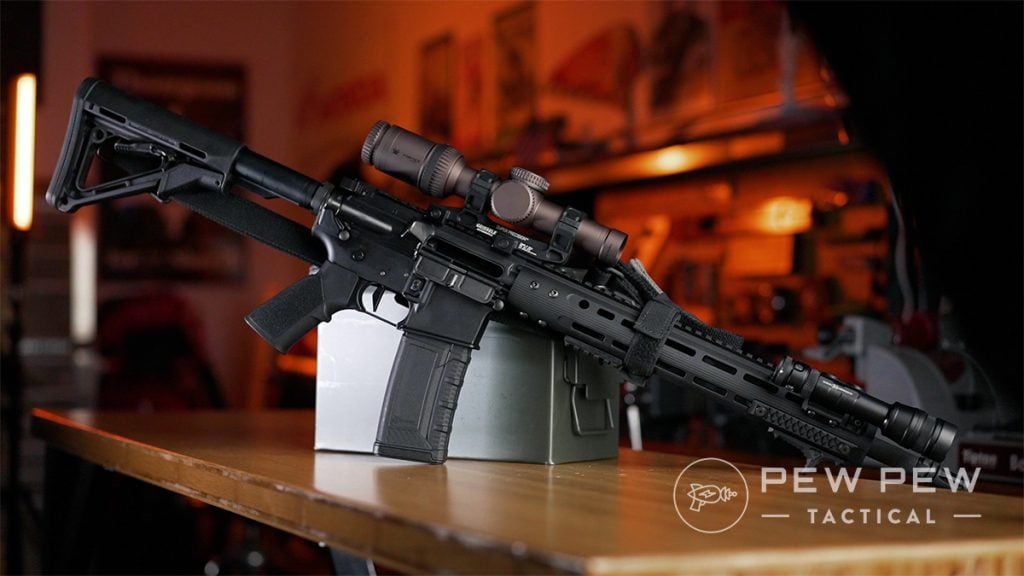 These weapons were kept locked up in our vehicles and were deployed in the most serious situations. While some urban agencies were moving to the MP5, the longer engagement distances in our rural jurisdiction made this rifle the better choice.
Best Rifle
646
at Palmetto State Armory
Prices accurate at time of writing
Prices accurate at time of writing
The advent of the AR in policing was the result of a paradigm shift, due in part to the civil unrest of the times, but also to escalating scenarios cops just didn't have the capabilities to deal with.
Situations like the Texas clock tower shooter demanded new tools and tactics. So, like the shotgun, the AR-15 became commonly issued equipment, though some agencies took their time in learning this lesson.
Check out our recommendations for the Best AR-15s.
6. Smith & Wesson M&P 2.0
Another weapon that I know many agencies use but I had never tried was the M&P from Smith & Wesson.
After testing it out, I was a believer!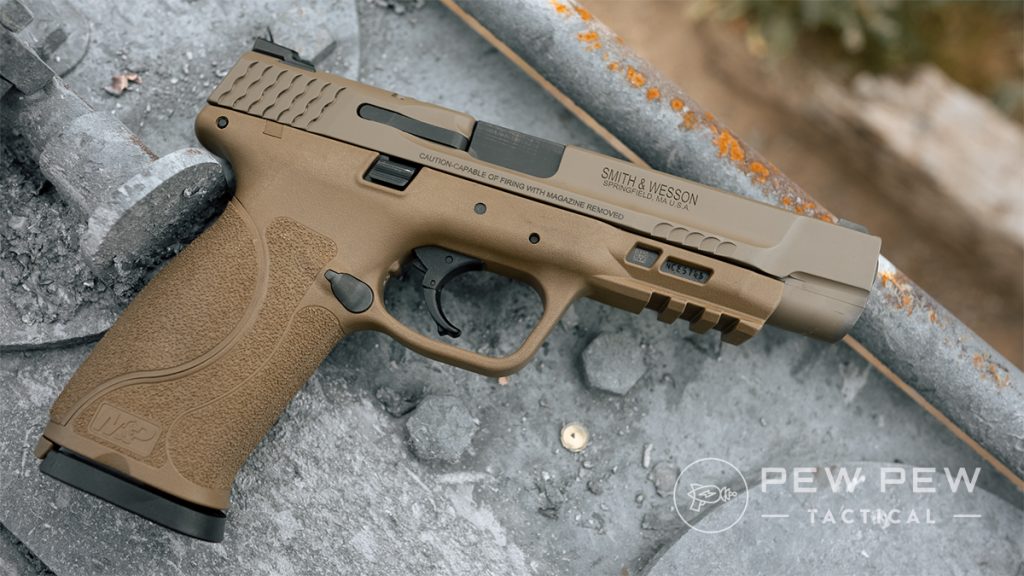 The grip angle is really good and the swell on the backstrap fits the palm nicely. Considering the backstraps are adjustable, you can use the right one to fit your hand and make sure you're able to reach all the controls.
I really did not like the trigger when I first tried it, but after I shot it a few times, I thought it was genius. When I first tried it, I pulled back for what felt like a lot of soft travel before hitting a wall. Then, there was a clean break.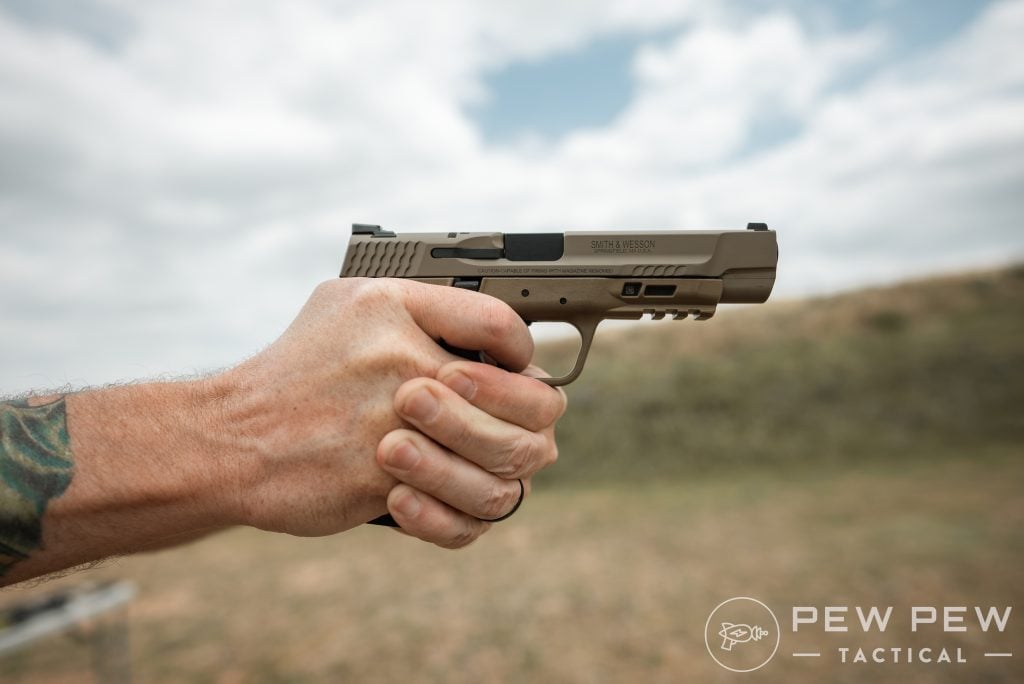 I really didn't like all that distance and the soft feel. It felt squishy.
But then I shot the gun testing accuracy, and I had an epiphany. The trigger is similar in many respects to a 2-stage rifle trigger.
My groups were outstandingly accurate, the ergonomics were great, and the gun was wholly reliable.
Runner Up
499
at GrabAGun
Prices accurate at time of writing
Prices accurate at time of writing
I recently reviewed the M&P 2.0 and that was quite an experiences, check out the article for more details!
Final Thoughts
Selecting a great duty weapon is not easy. One of the main challenges is finding something that fits an ever-diversifying police force.
Cops of all sizes and abilities need accurate and reliable weapons for those moments when their lives or the lives of others are on the line.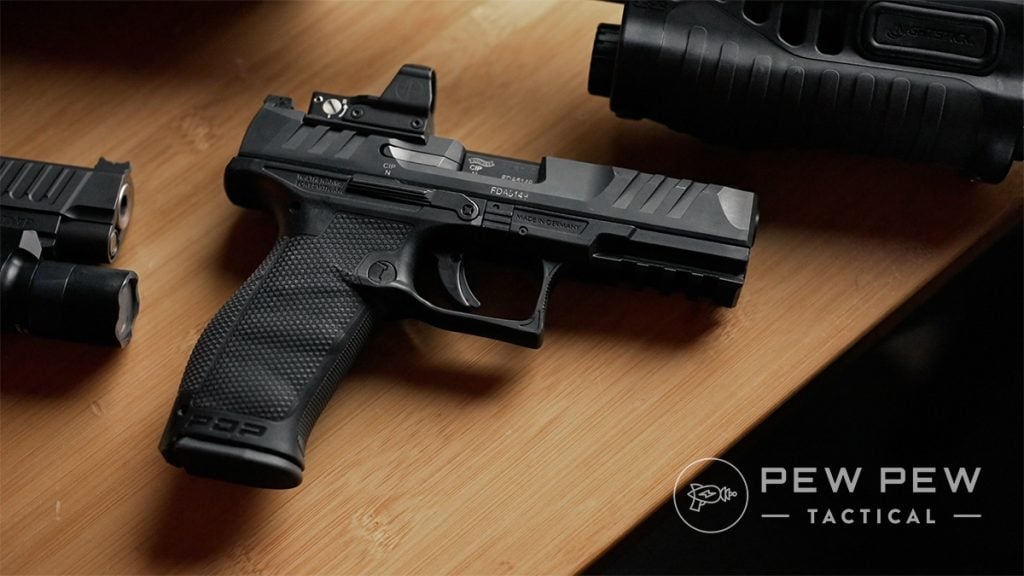 I realize this isn't an all-inclusive list, but these are guns I either used on the job or knew of other agencies deploying.
There are a lot of good duty weapons out there from different manufacturers. If you have a favorite, let us know in the comments below.
Which ones did I miss? File a complaint in the comments below and let me know! While you're at it, be sure to check out The Blue Brief, our column providing a peek behind the badge.