Sometimes you don't want to just concealed carry a pocket pistol…you want something big.
Maybe it's a Glock 17, H&K VP9, Kimber Stainless II 1911, or something similar — nevertheless, it's a full-sized handgun.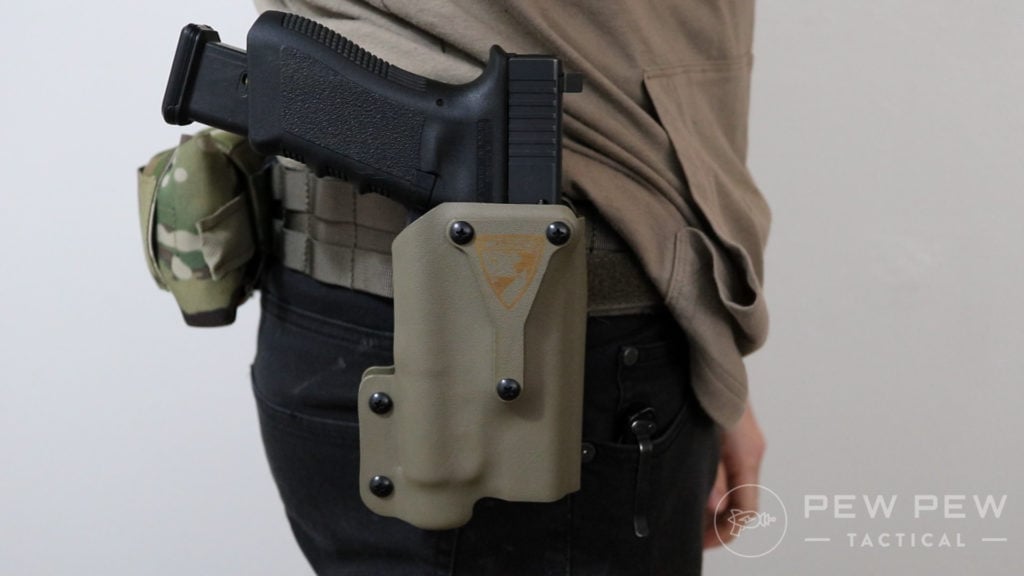 Of course, carrying a bigger gun brings a different set of challenges than sub-compacts or micro-compacts.
So, we're here to help you out with a few tips and tricks to get you started carrying a full-size gun.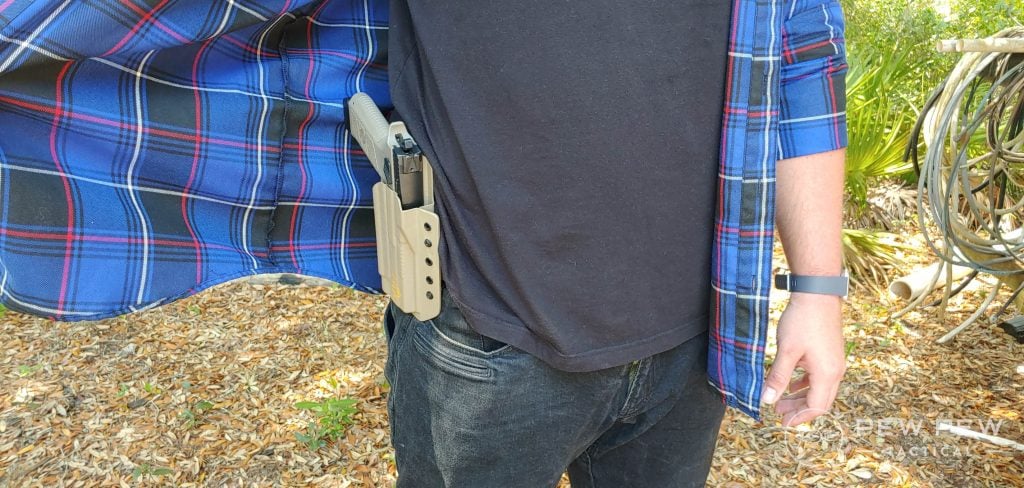 We'll cover what constitutes a full-sized gun, why you might want to carry a full-sized model, and how to do it successfully.
So, let's get started.
Table of Contents
Loading...
Why Full-Size?
So what do we gain with a bigger gun?
For starters, you can carry larger rounds, and more of them — 9mm, .40 S&W, or .45 ACP with a 15+ round capacity can bring more to the table than a .380 ACP micro-compact with a 7-round capacity.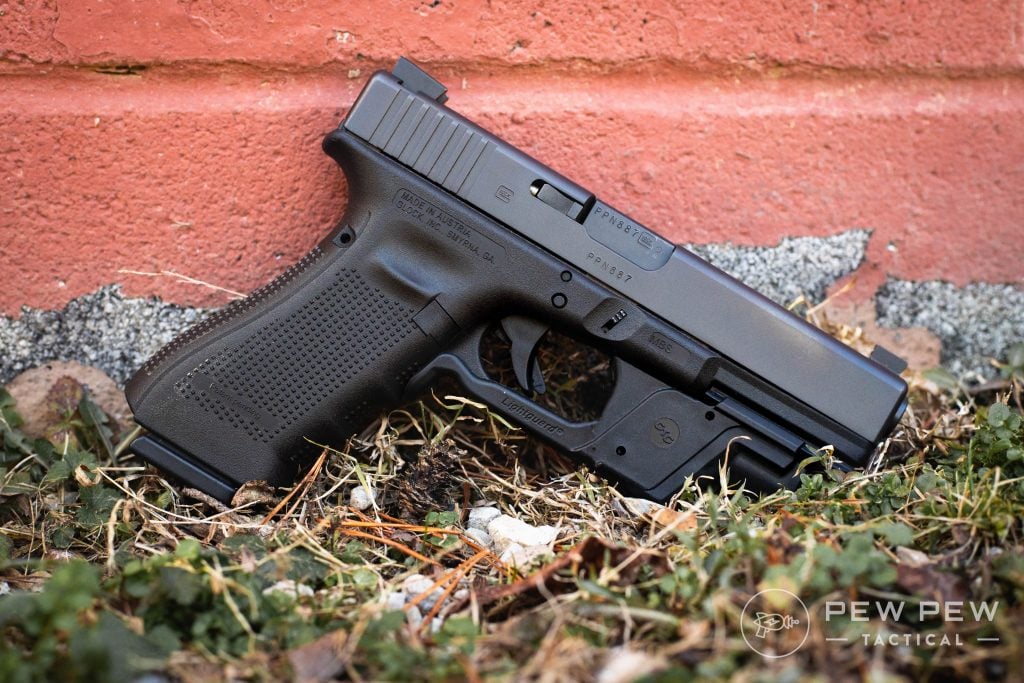 For those with larger hands, a full-size also feels more comfortable shoot.
Not to mention, a longer sight radius often means more accurate shots on target. In a stressful defensive situation, that could prove advantageous.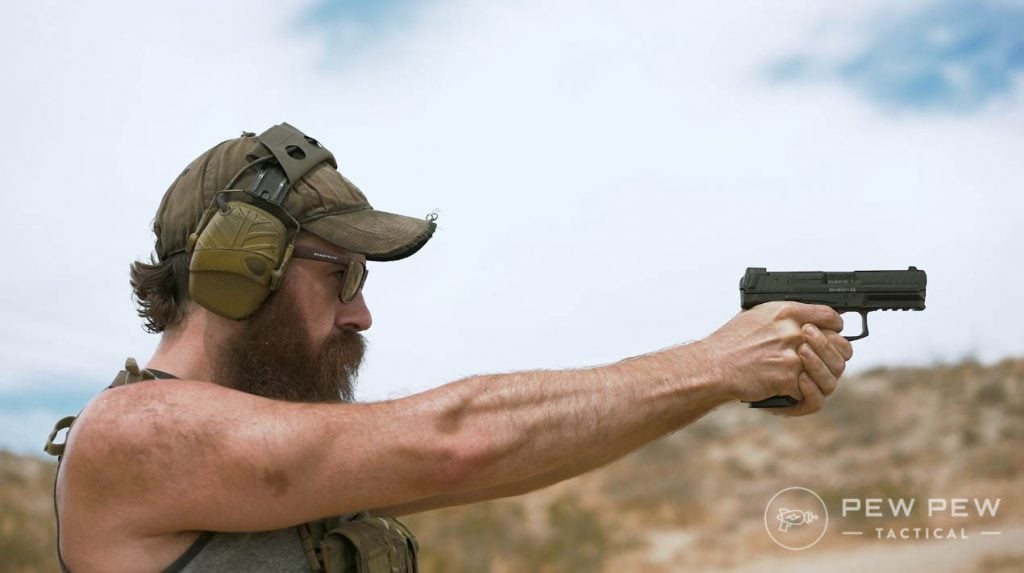 Full-size guns also work well in the winter months where you might be wearing an outer layer.
A full-size in an OWB holster with a jacket layered over top is a bit easier to get to than a micro-compact in an IWB holster under a shirt and a coat.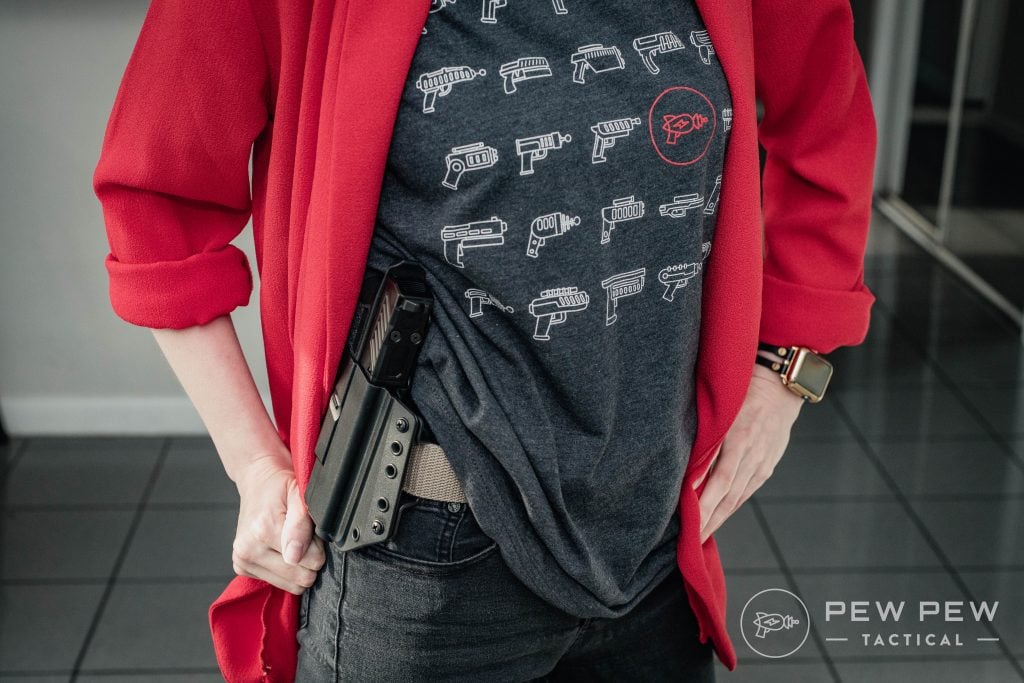 The trade-off, though, is that some people find a full-size a bit difficult to carry in warmer climates when t-shirts are the norm.
But that's why you're here…
Carry Positions for a Large CCW
Now that you know what you're getting into, let's talk carry positions for your big CCW gun.
Like most things in the gun world, carry position greatly depends on…you — specifically your body type.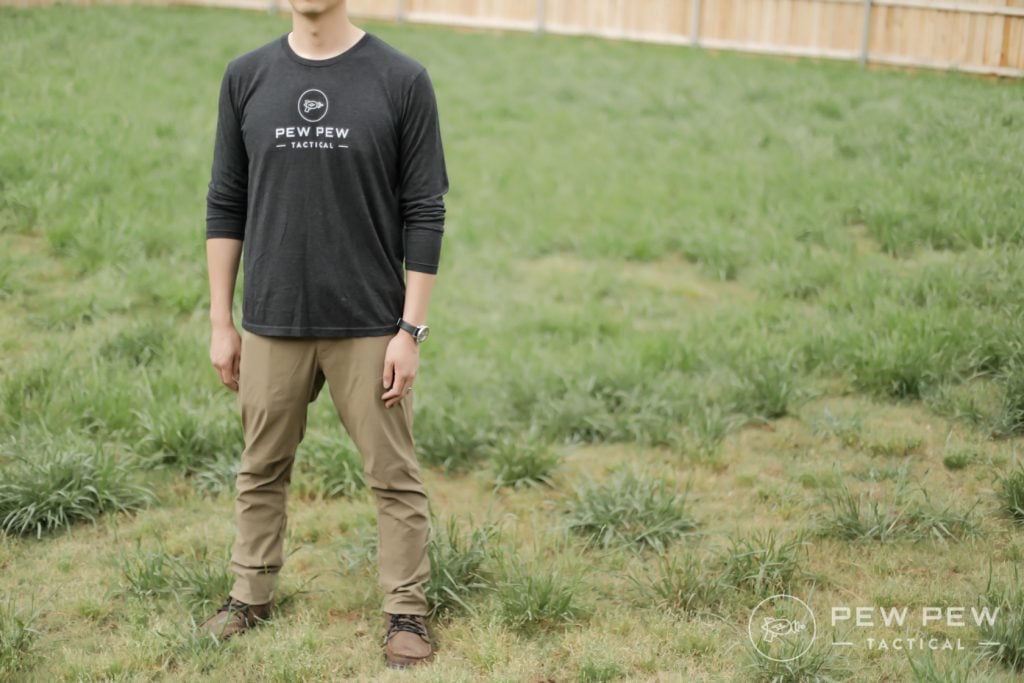 Someone who is 5'11" might have different options than someone over 6'5″.
Of course, your clothing choices will also play a part. If you prefer baggier shirts you might have more leeway than someone who prefers tighter fitting t-shirts.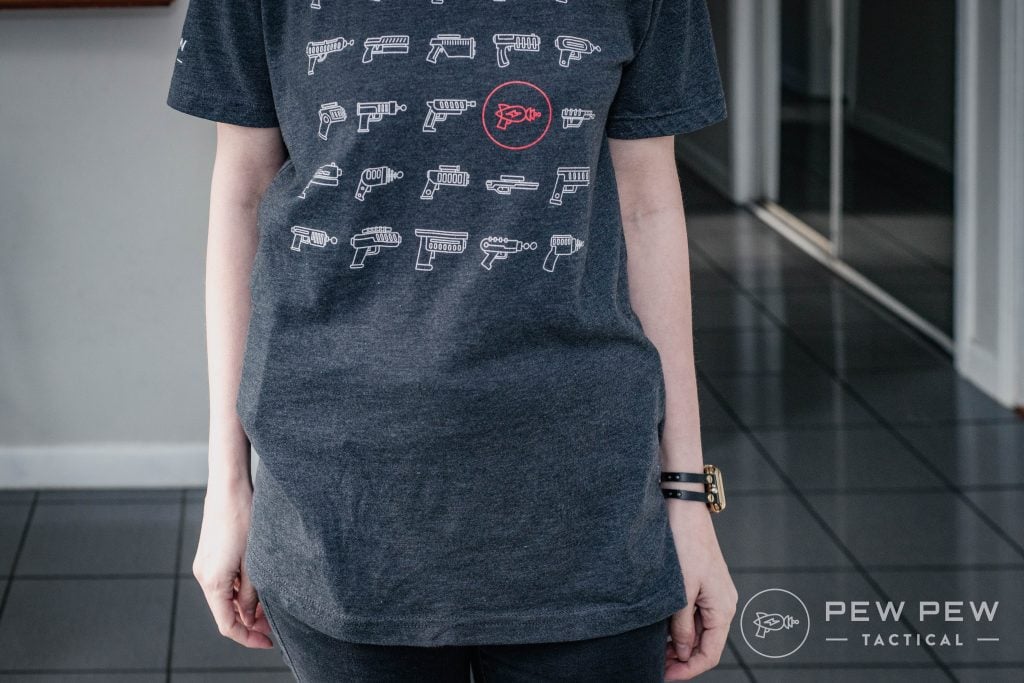 Appendix Inside the Waistband
Appendix holsters make it easy to conceal a full-sized pistol.
They position the gun in front of you and hold it against the widest part of your body. This makes concealing a full-sized pistol with a red dot sight and even a weapon-mounted light easy.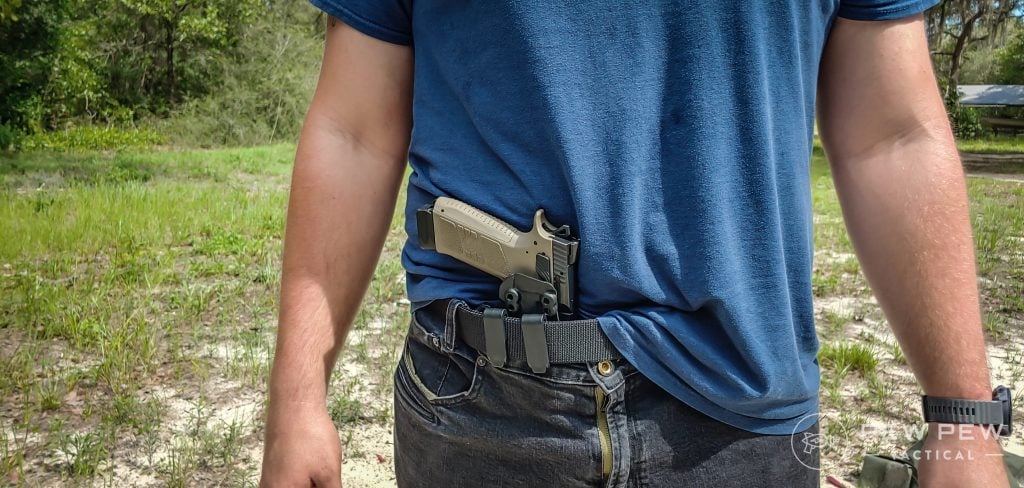 A good appendix carry rig makes it entirely possible for a person of any size to carry a full-size handgun with ease — including shooters both big and small.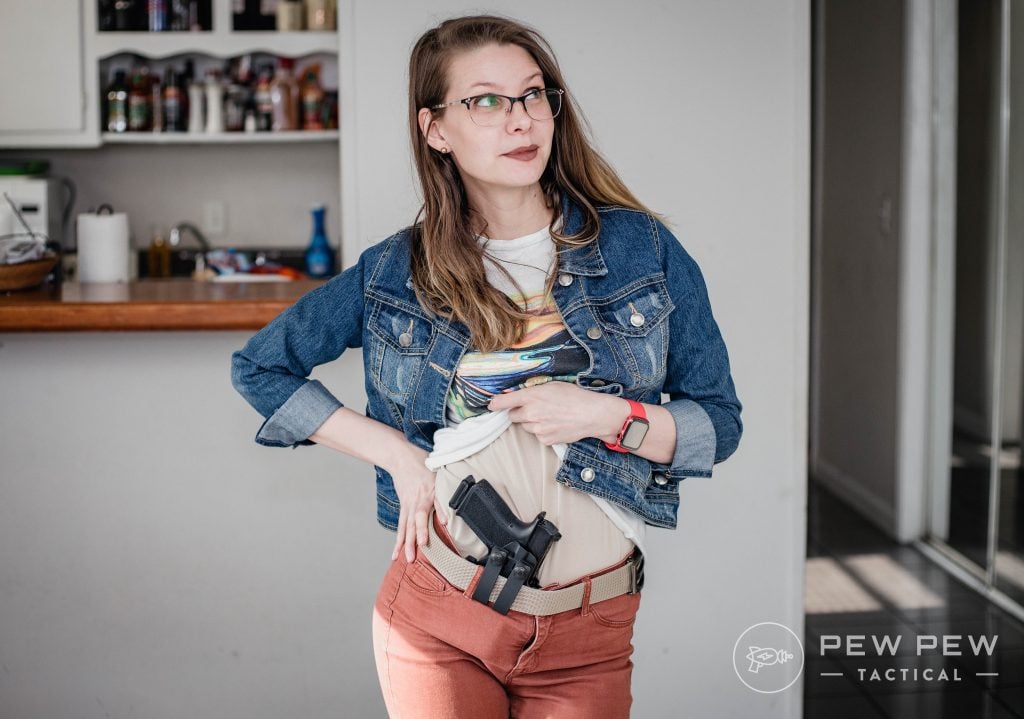 You won't need a special shirt or jacket to conceal it either…a t-shirt works perfectly fine.
I've carried my big Glock 17 with a red dot and TRL-1 without issue.
The real challenge is finding the right holster. I suggest sticking with a well-made rig from a reputable holster company.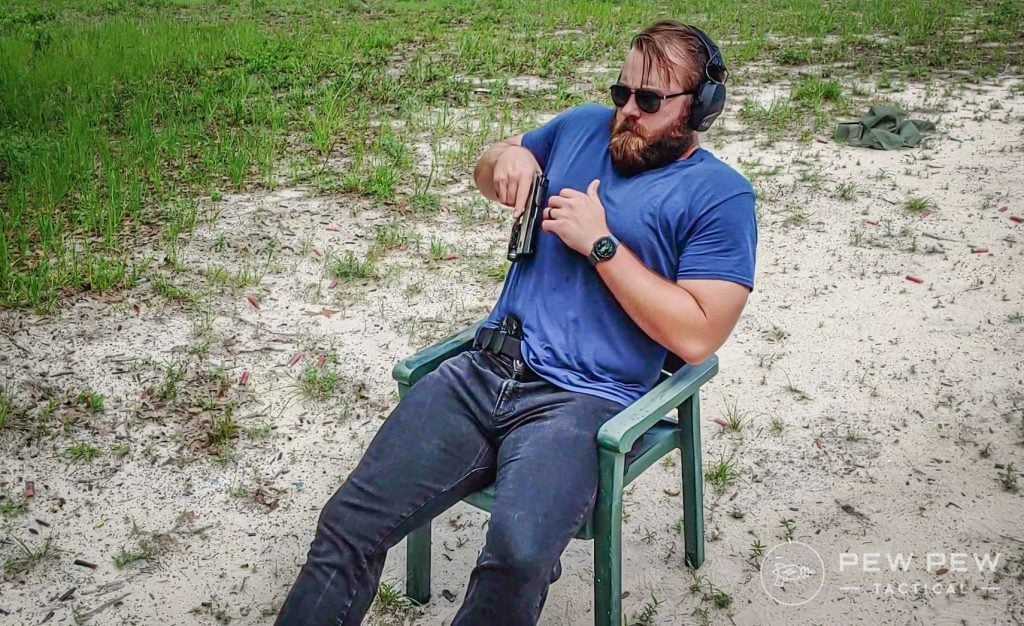 Personally, I carry with a PHLster Floodlight. It meets my needs and most of my guns. I have a full review of the Floodlight if you want more details on the setup.
119
at Brownells
Prices accurate at time of writing
Prices accurate at time of writing
Holsters from Dark Star Gear, Raven Concealment, and Henry's Holsters also get my vote.
If you want to learn more about AIWB, we have some other articles to help — Concealed Carry: Benefits of Appendix/AIWB Carry and 5 Best Guns for AIWB.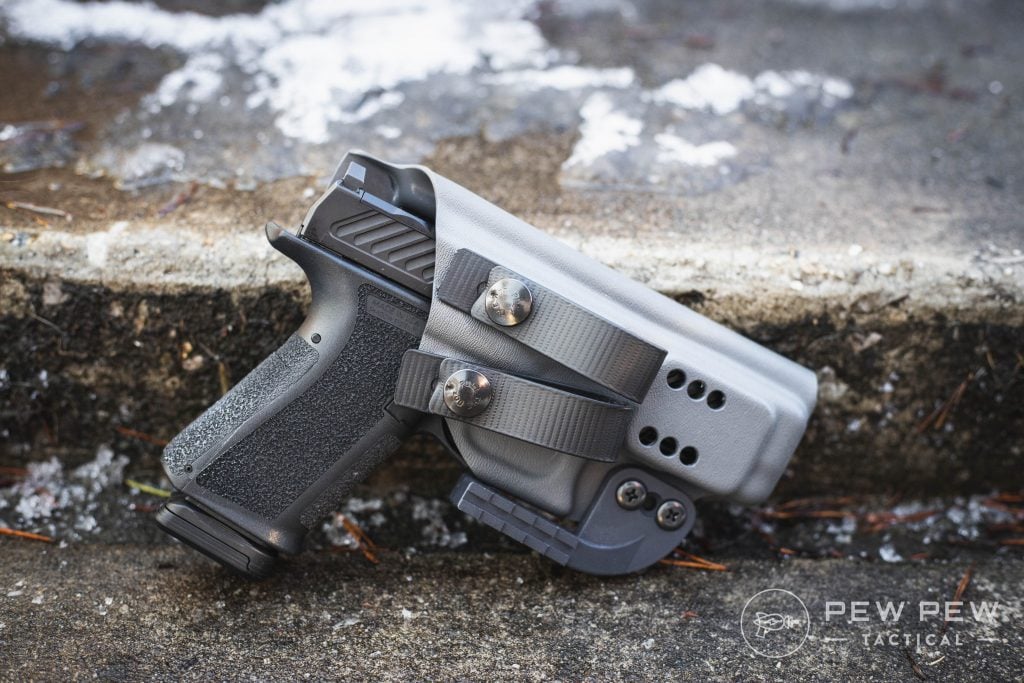 Inside the Waistband
An IWB holster is also an option. These holsters place the gun on the inside of the pants but on the hip or slightly behind it.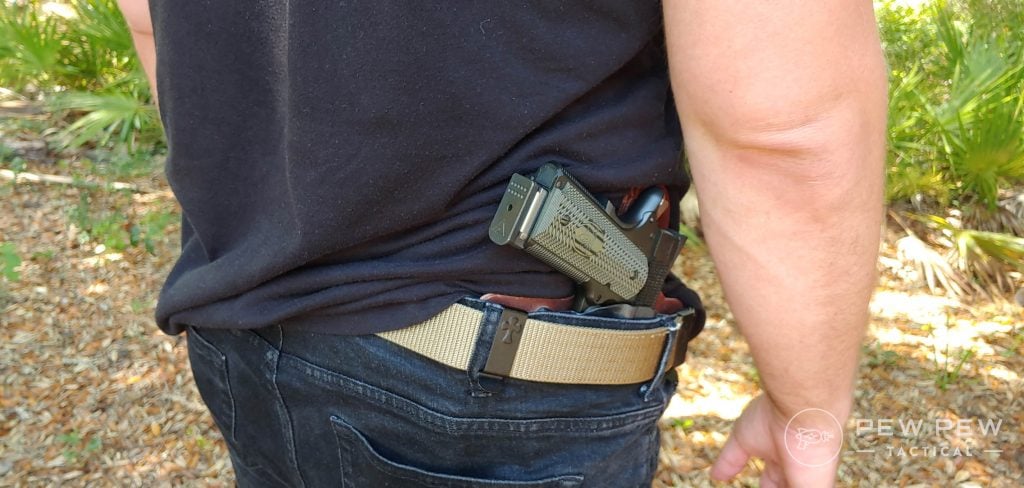 Body type plays a part in getting the gun situated without printing. Some people find they can CCW at the 3-o'clock, while others need it more at the 4- to 5-o'clock.
Also, when opting for IWB, a tuckable holster can help when you aren't wearing a jacket or some other outer layer like a sweatshirt.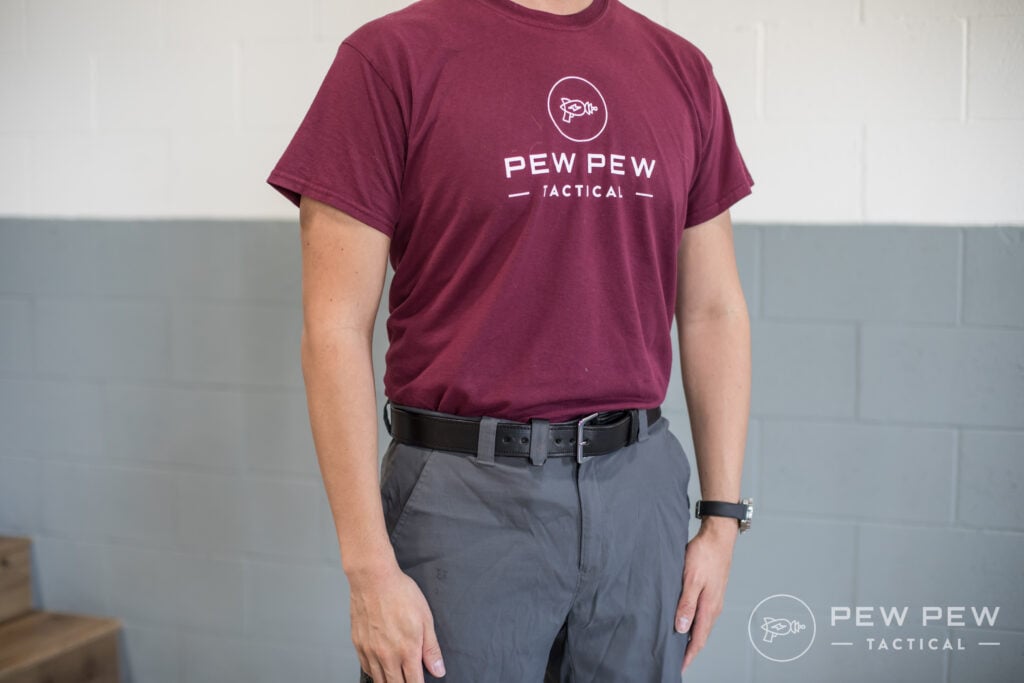 We can help you find the right IWB holster for you in our Best IWB Holsters review.
Outside the Waistband
OWB holsters place the gun on the outside of the pants. These work best alongside jackets or other cover garments.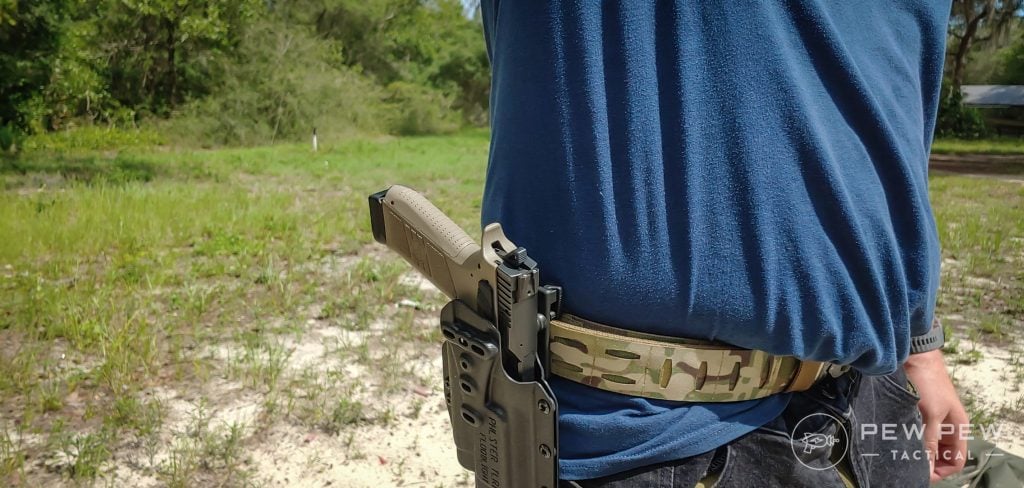 If you do choose to use an OWB holster, be aware of where it is so you don't accidentally expose it.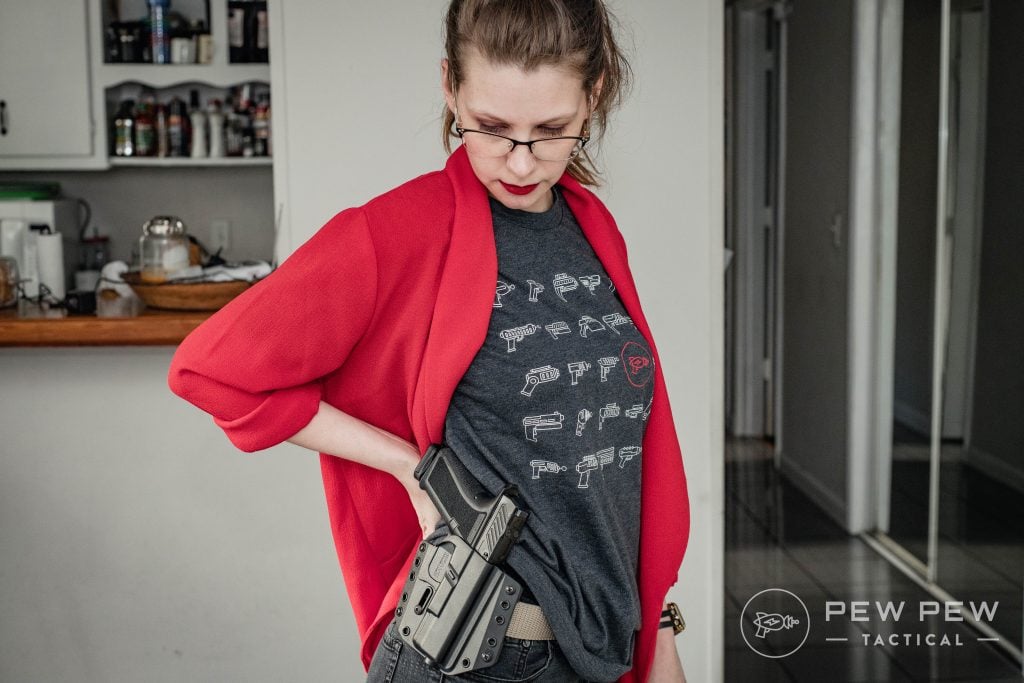 Black gun, black holster, black pants even a darker shirt help with concealment in this case. And, of course, just keeping your jacket zipped or buttoned makes a huge difference.
For more on IWB vs. OWB, check out our article on the topic — IWB vs. OWB: Which Should You Choose?
Shoulder Carry
A shoulder holster is an alternative to a waistband holster if you are wearing a jacket.
This kind of holster isn't for everyone, though, and those with a slimmer build might struggle with positioning the gun so the gun doesn't print.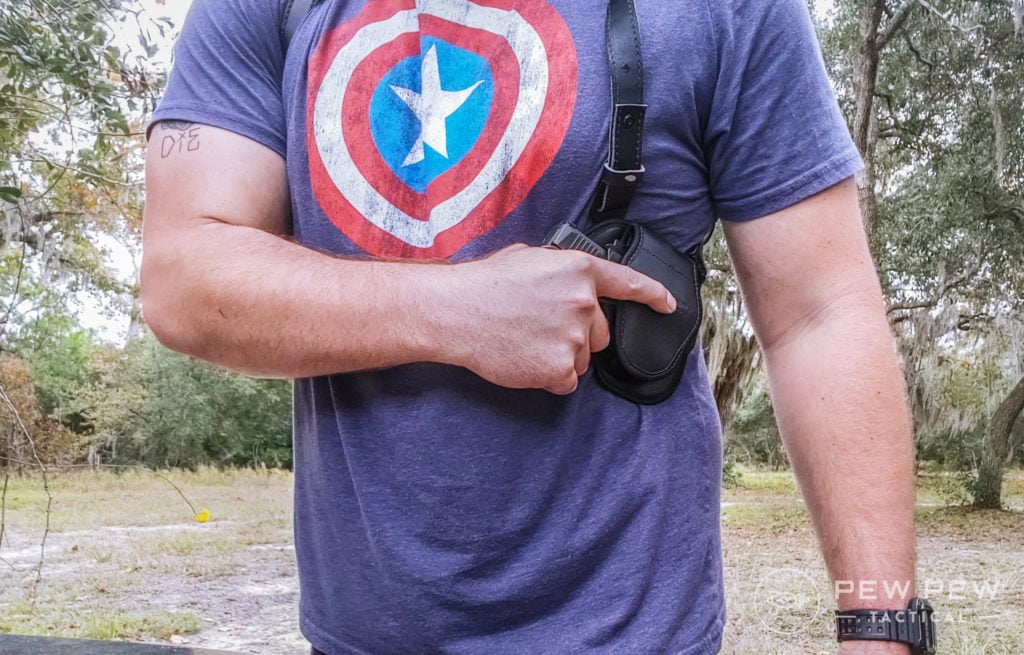 When holstering your gun under your arm, make sure you practice your draw.
If you aren't accustomed to it, you may fumble or have an otherwise difficult time.
For more on this style of carry, check out our article on the Shoulder Carry.
Clothing for Full Sized Carry
Jackets are great, but sometimes it's just too hot – especially in places like Florida where I live – as such, there are alternatives.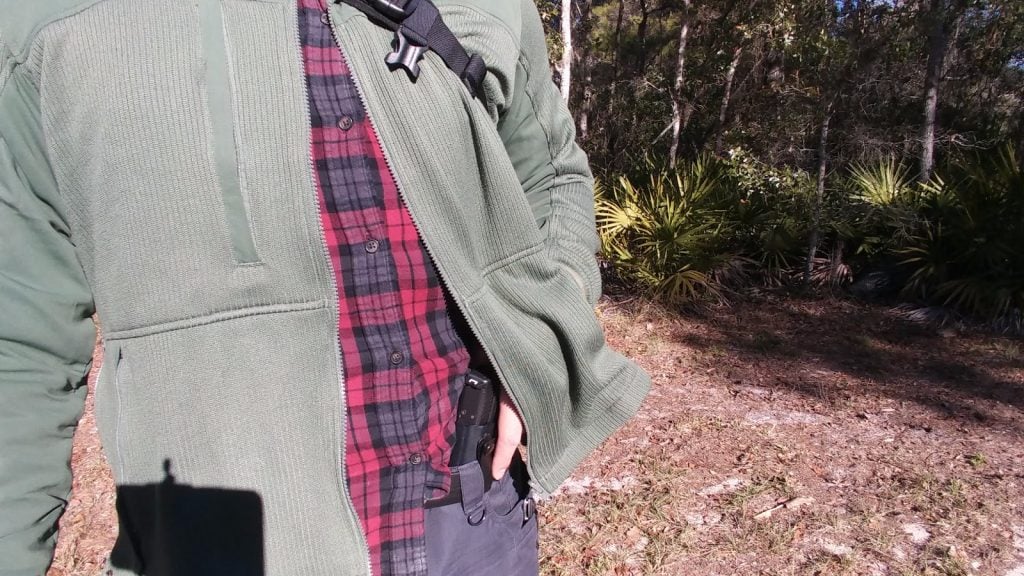 First, obviously, you gotta stay away from the Under Armor style shirts and similar athletic brands. They fit too tight and make concealment a hassle.
Instead, learn how a shirt fits. The shoulder seam should be on your shoulder with 2- to 3-inches of looseness around the waist.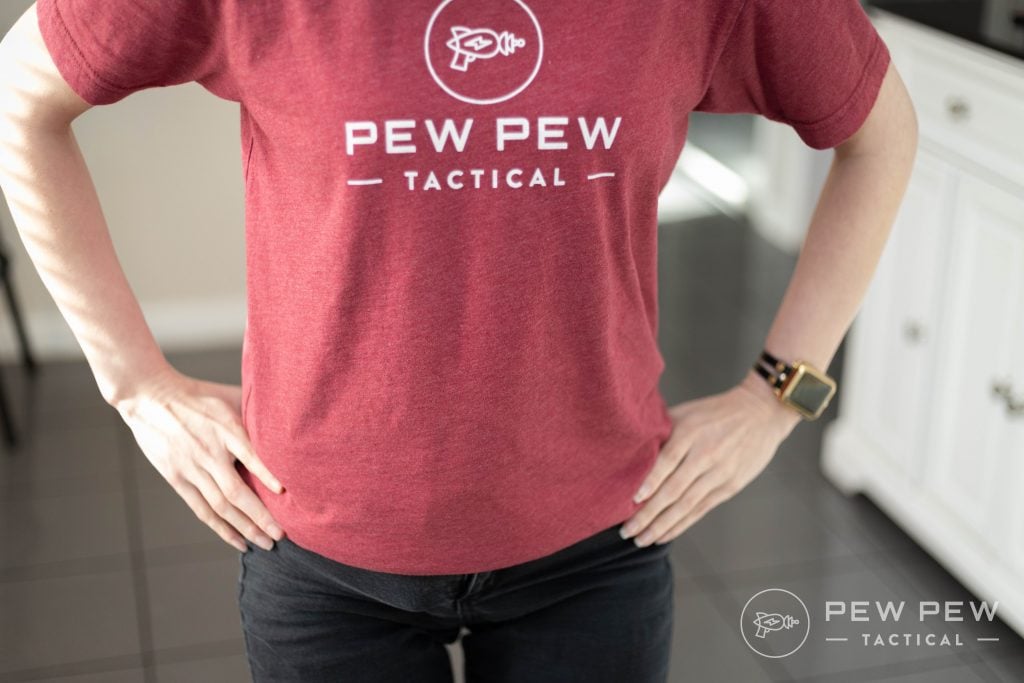 Anything tighter will make it tough to conceal.
Also, embrace patterns!
Vertical patterns have long been used to hide a little excess weight, and they can also help hide excess lumps that full-sized pistols might create.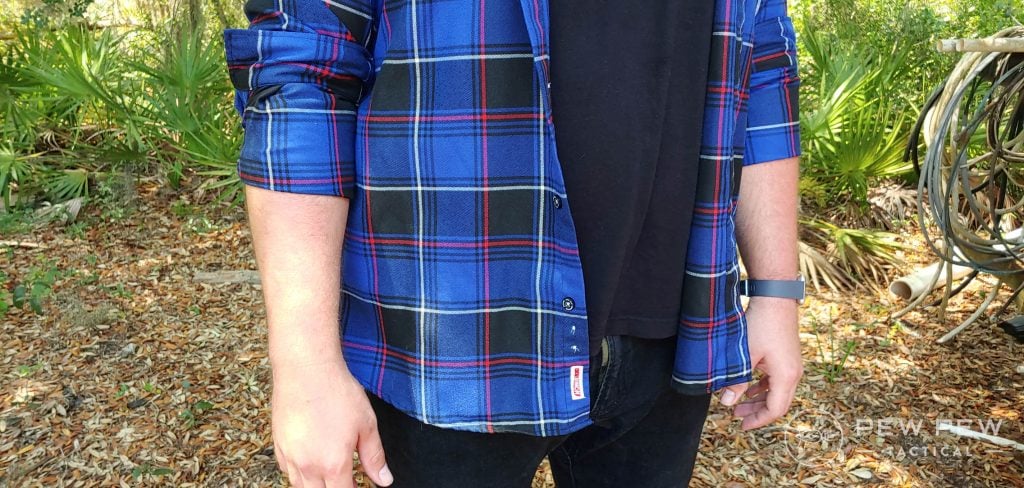 I like flannels for this reason.
With a low contrast between colors, the pattern hides the gun easily enough. Leopard print works, as do most dense, non-repeating patterns.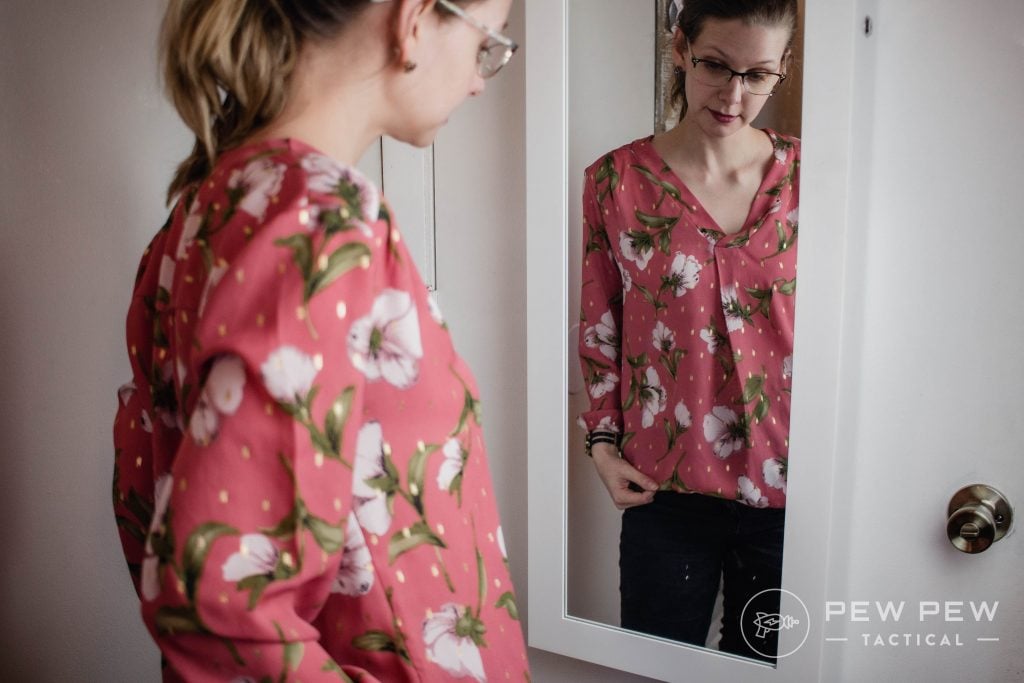 Softer materials also tend to slim, and this slimming design keeps the weapon concealed and hidden.
Tactical Shirts
Tactical shirts get a lot of hell, but a lot are purpose-made to hide a gun.
They often flare the bottom of the shirt out slightly to accommodate a hidden pistol.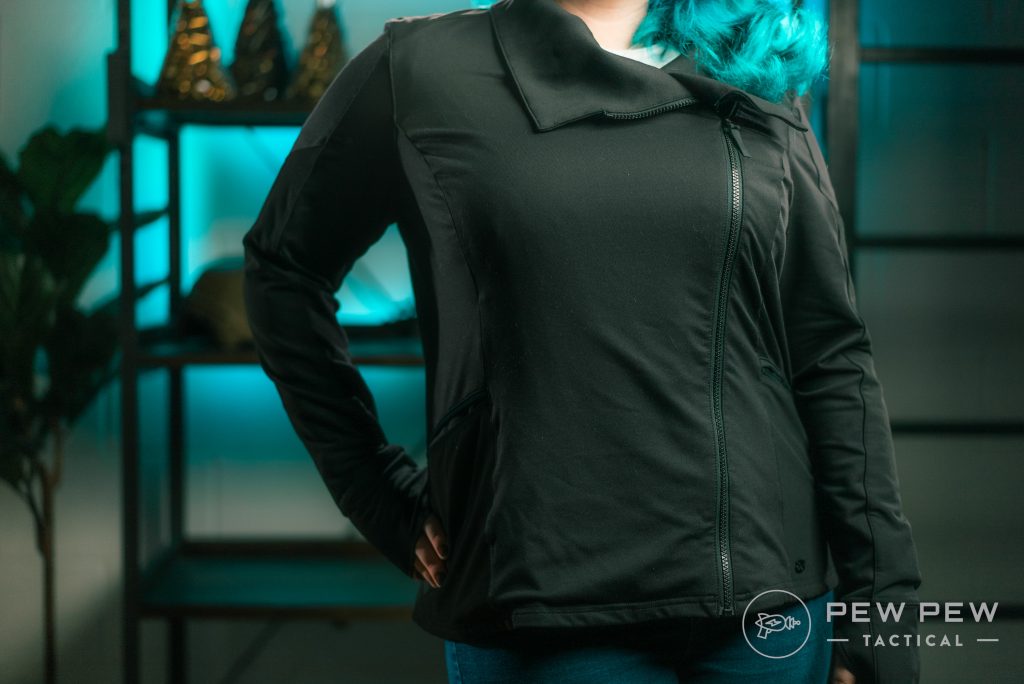 That little extra flare does a great job at concealing your gun and prevents it from being spotted.
They also often allow for quick access.
Get a Good Belt!
One big issue people don't consider when concealed carrying a big gun is their belt.
You want a strong, rigid belt that can support the weight of your gun — and one that keeps the holstered gun upright preventing it from sagging or twisting.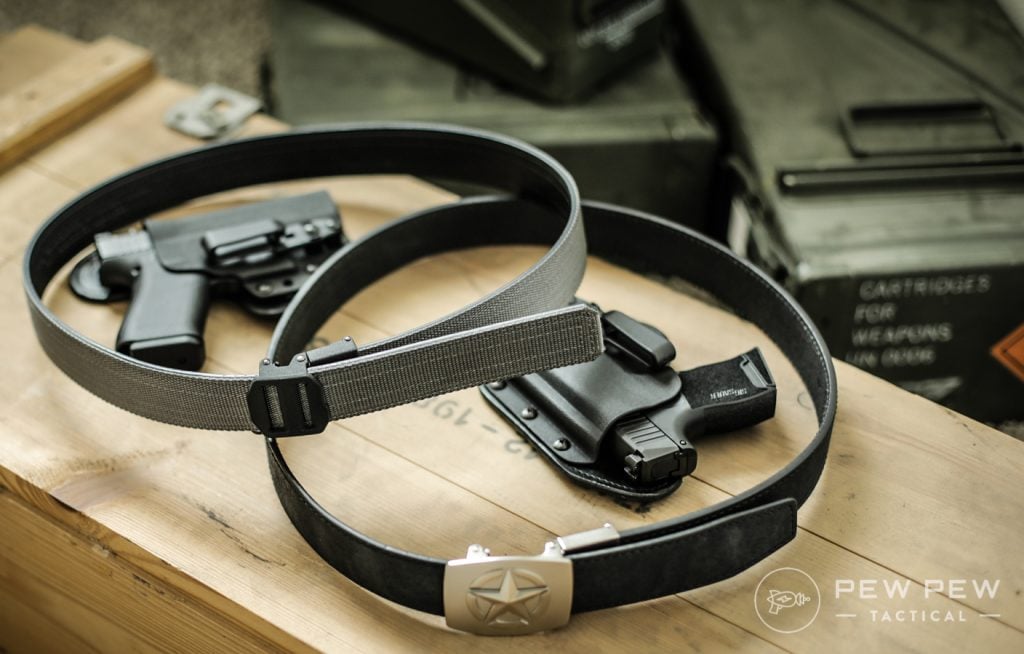 Not only will it increase your ability to conceal a pistol, but it will increase your total comfort.
Our fav is the Kore Essentials with X7 Belt…use code PEWBELT10 at Shall Not Comply for 10% off or code PEWPEWTACTICAL at Kore Essentials for 10% as well.
64
at Tri Star Trading
Prices accurate at time of writing
Prices accurate at time of writing
Get some belt recommendations in our Best Belt article.
Conclusion
A full-sized gun can be carried with the right holster, belt, and placement on the body.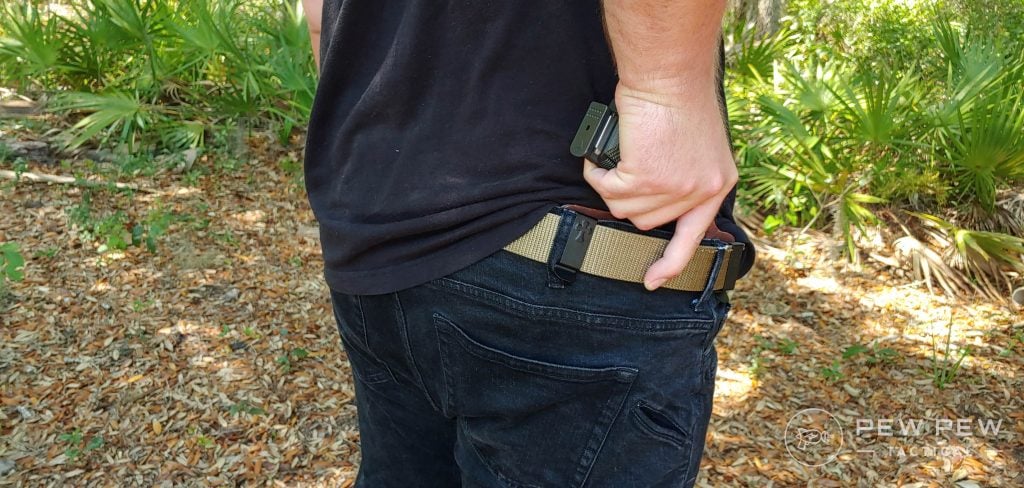 Whether you opt for OWB, AIWB, IWB or go Miami Vice with a shoulder holster, you're bound to find at least one means of carry that works for you.
Have any advice for those looking to concealed carry larger sidearms? Drop them in the comments below. For more on concealed carry, check out our Concealed Carry Guide. And for our lady readers, also see our Best Ways to Concealed Carry for Women.