Want to know a cool fact? Women are the fastest-growing demographic in gun ownership.
As of 2017, roughly one in five women own at least one gun, accounting for almost 40% of gun owners.
In 2020, 25% of American women own a firearm — that's one in four. That doesn't sound like a big jump, but when you look at the details, that is thousands of women getting into firearms!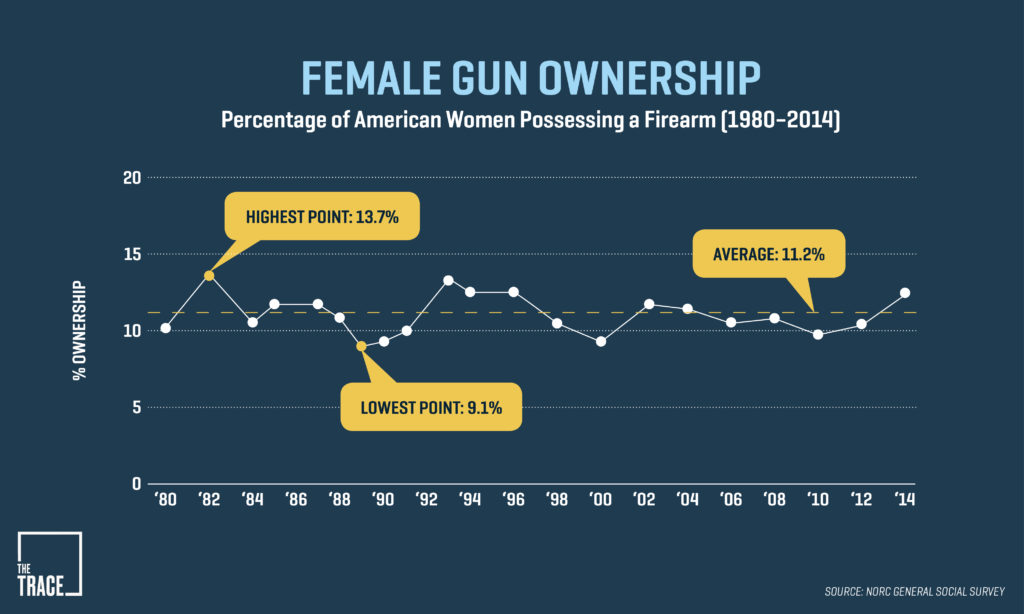 But despite this, women gun owners are less likely than men to go hunting or shooting and are less likely than men to engage with gun-related media like firearms websites, podcasts, and shows. Though, participation in both is up from a decade ago.
They're also significantly less likely to be represented in gun media.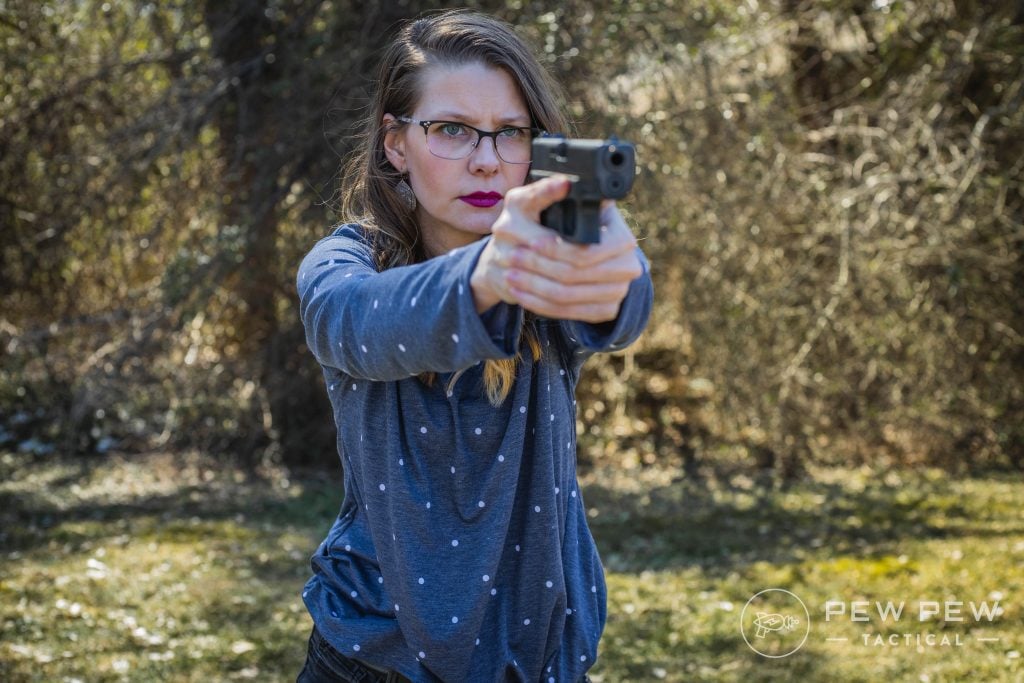 So why is there a disparity between the amount of female shooters and engagement?
Glad you asked! We're going to explore the relationship between women and gun media and also give you some of our preferred female shooting resources.
Keep reading to get your learn on!
Table of Contents
Loading...
Women and Gun Media
We established that the number of female gun owners is on the rise, but why aren't they as engaged in recreational shooting and gun media?
First, for women who don't get into shooting or gun ownership until later in life — a situation that's more common for women than men — the range can seem intimidating.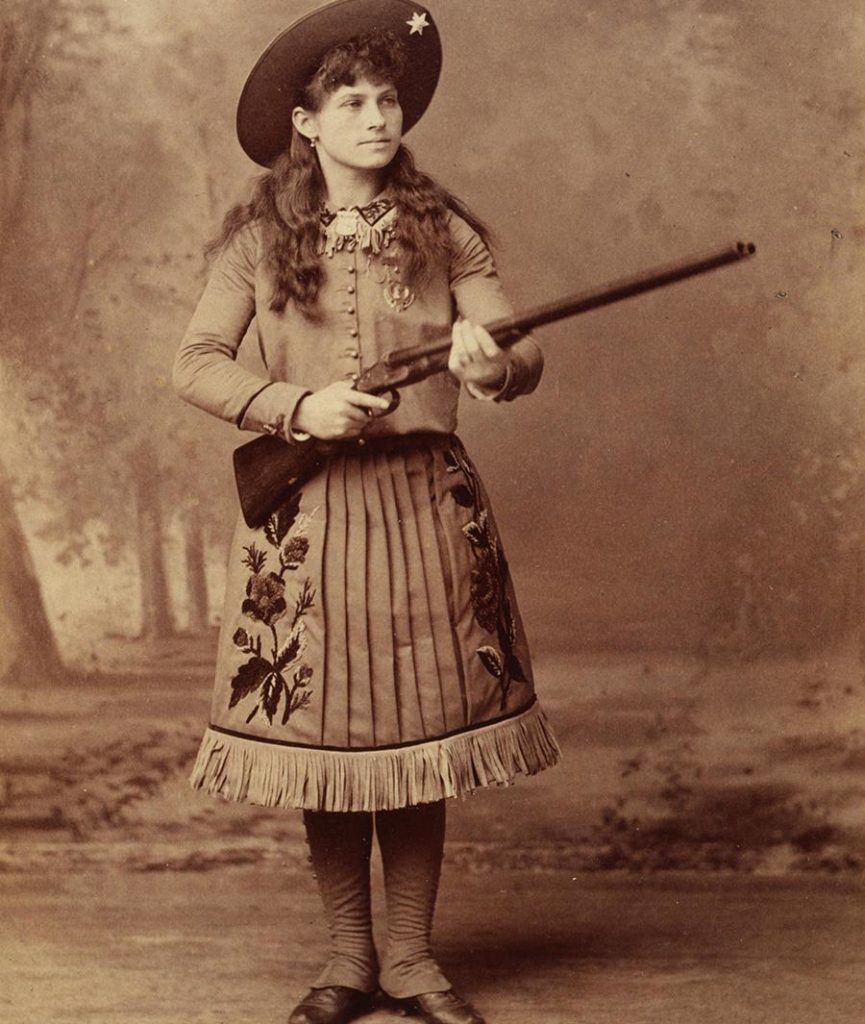 Even for women who are experienced gun owners, some ranges can be less than encouraging.
It's not uncommon for male shooters to assume female shooters don't know what we're doing and try to "help."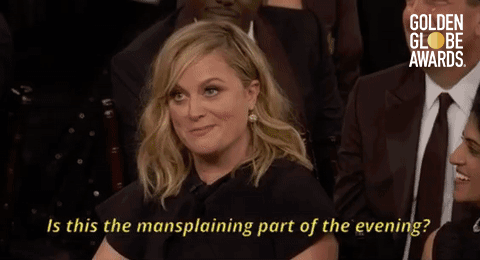 We're totally cool with instructors and experts weighing in, but we don't really appreciate incorrect advice or interruptions while we're training or relaxing via range time. Unfortunately, some people just don't get that.
Finally, a lot of gun resources aren't inclusive towards women.
Sure, it's not like they advertised as being for men specifically, but the dude jokes and product reviews catering towards a male audience or male body certainly insinuates who the target audience is…and it's not us ladies.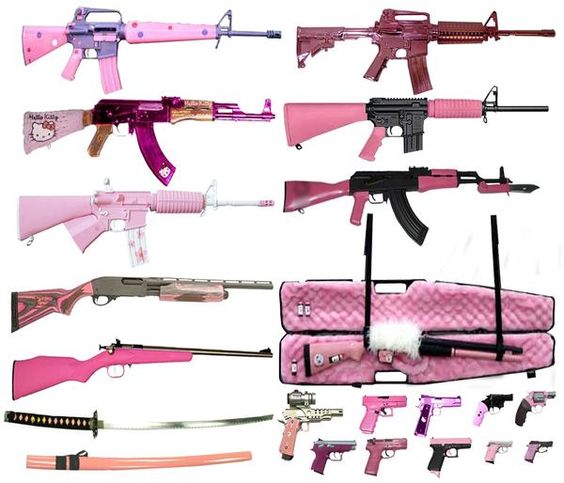 Gun media is, in general, not made for us. That feels alienating when you're already feeling a bit uncertain about where you stand.
Not to mention, interacting with other firearms enthusiasts online can enhance that "boys' club" feeling.
To be totally honest, a lot of resources marketed towards women — including both written resources and firearms trainers — present a condescending tone or are even plain insulting.
That doesn't scratch the surface of gun articles written for women that don't actually consult women. (Don't believe us, check out Jacki's op-ed on this matter.)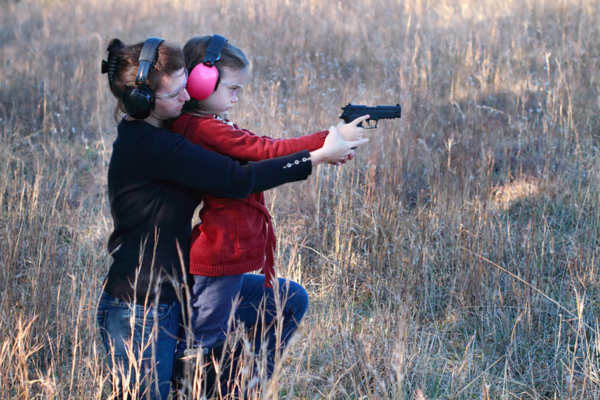 But the good news is the gun world is changing — and fast. More and more good gun resources geared towards women are popping up offering information centered on women.
Best Women's Firearms Resources
To help you track down the best female-centric shooting resources, we've put together a list of our faves!
These are our female staff's go-to's, so keep reading to see which places you should check out.
1. Pew Pew Tactical
I'm going to kick things off with some shameless self-promotion.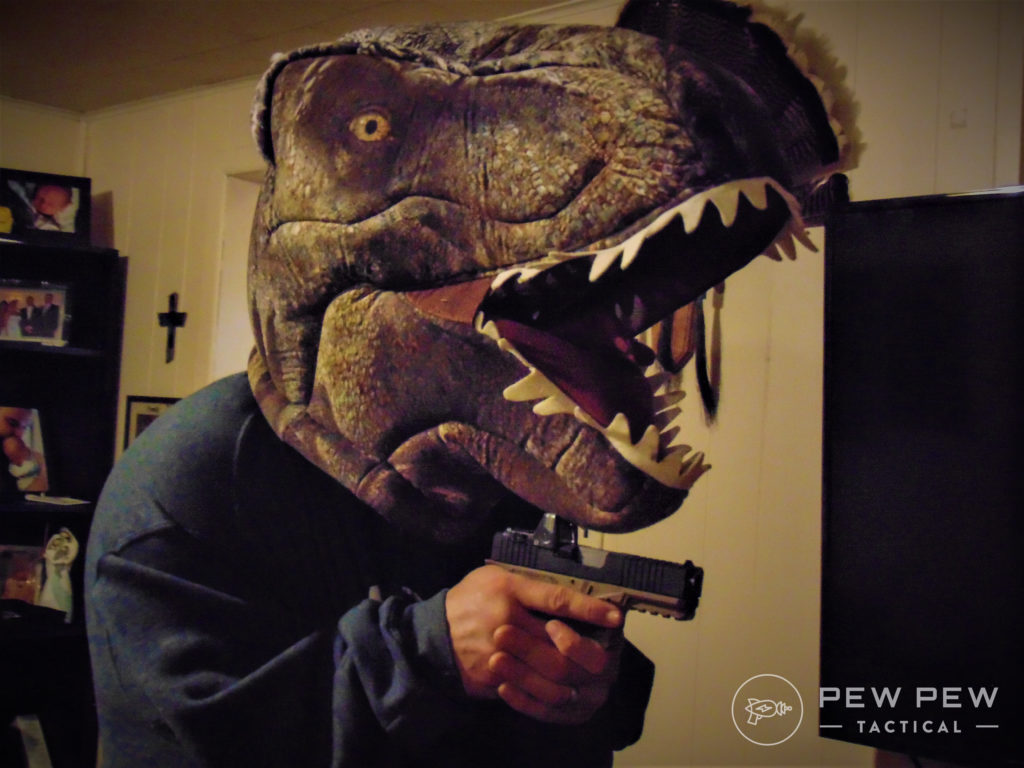 We have a growing library of resources written by women for women, and I think even our non-women-specific posts lean towards unisex.
A few of my favorites as of writing this post are:
Also, did we mention that we have a whole category dedicated to women? Oh yeah, we do!
Check out our women's category for our complete list of resources. And don't forget to check in with us every Wednesday for another femme-focused article!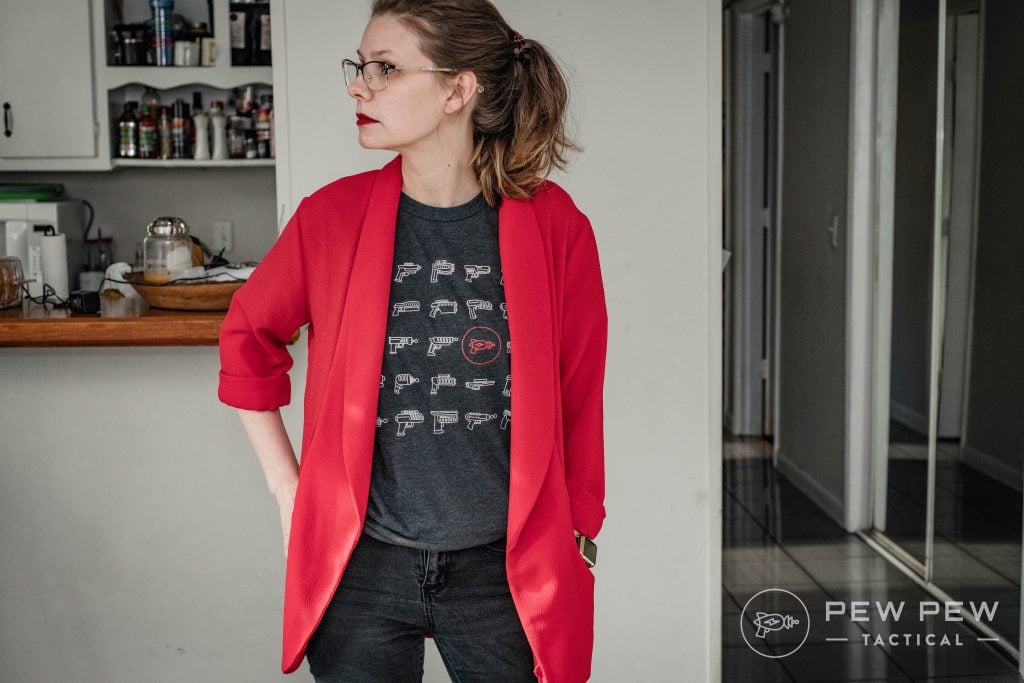 Not to mention, we're always happy to answer your questions, so always feel free to leave them in the comments, drop us an email, or get in touch with us on Facebook. We love to chat!
2. The Well-Armed Woman
The Well-Armed Woman (TWAW) is one of the OG resources for women shooters.
This organization is one of the single largest firearms resource for women.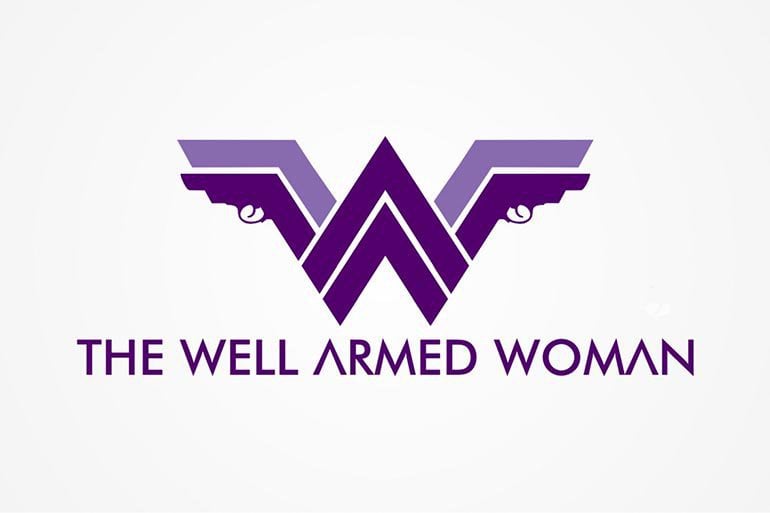 TWAW was founded by Carrie Lightfoot, one of the women I featured on my list of Badass Lady Shooters.
After turning to firearms for self-defense, she found very few gun resources for women — and even fewer that were actually helpful and respectful…so she made her own!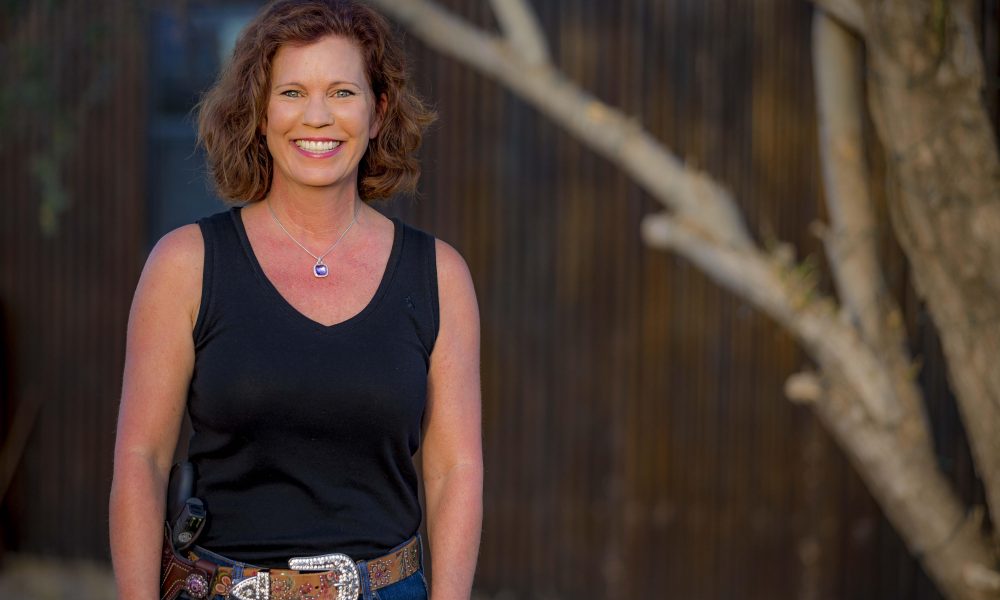 The Well-Armed Woman website covers a variety of topics including introductory gun information, concealed carry, firearm training, gun and gear reviews, and other firearms-related topics.
They also offer other personal protection-related topics like cybersecurity, situational awareness, and non-lethal self-defense.
At the TWAW store, you'll find a huge selection of, well, pretty much all things gun-related except the guns and ammo themselves. That includes training gear and materials, cleaning supplies, holsters, apparel, range gear, self-defense items, gun storage, jewelry, and more.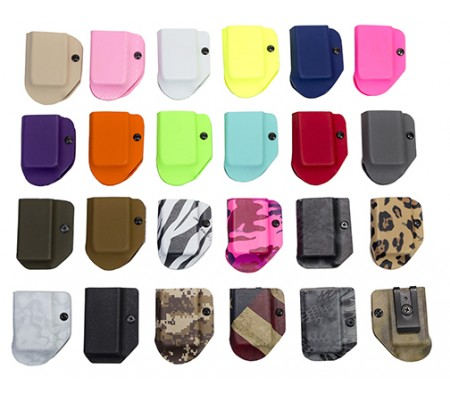 You can even shop TWAW exclusive products, like their line of women's holsters.
TWAW isn't just a website though.
They also have The Well-Armed Woman Shooting Chapters program. These chapters, found in 47 states at the time of writing, connect local groups of women shooters of all experience levels to allow them to learn and socialize with one another.
3. Shoot Like a Girl
Shoot Like a Girl is a unique educational program primarily focused on allowing women to try shooting through their Test Shots and Test Flights programs.
These educational opportunities are taught by NRA certified instructors.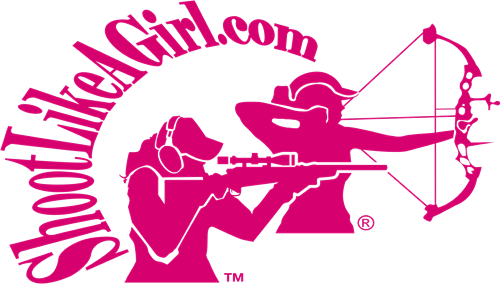 Test Shots is Shoot Like a Girl's original program, introduced in 2008. It focuses on archery.
But in 2013 they introduced Firearms Test Shots, which allows shooters to try their hand at 9mm pistols and .223 rifles using a law enforcement grade simulator. (The archery program's name was subsequently changed to Test Flights.)
Sessions also teach the benefits of firearms and shooting sports as well as safe and responsible gun ownership.
They also emphasize shooting as an accessible form of recreation for people with disabilities and varying fitness levels.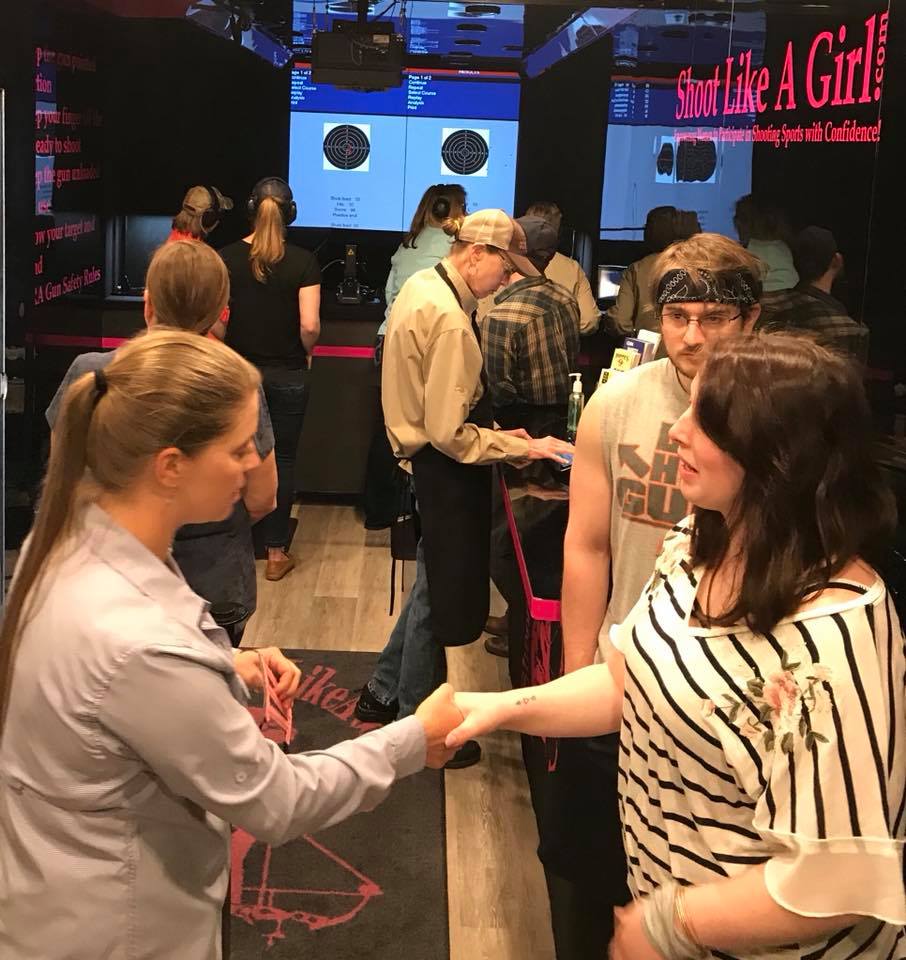 At the same time, you can visit the Shoot Like a Girl Gun Counter.
This spot teaches about different types of firearms from Shoot Like A Girl's firearms partners, which include companies like Beretta, Ruger, Springfield Armory, Colt, and Savage Arms.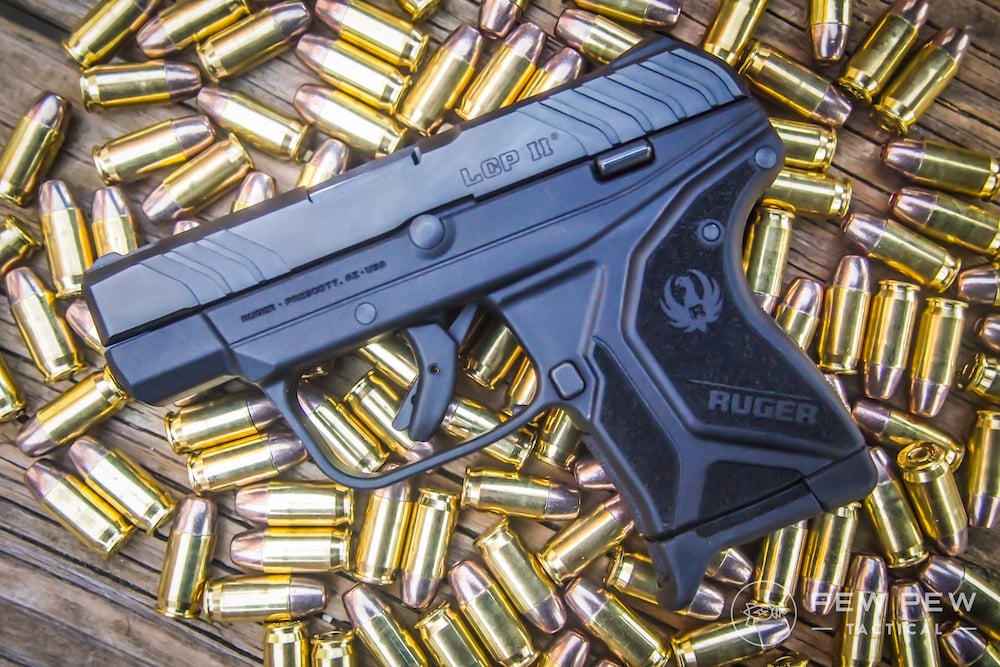 Though these programs are primarily focused on education, both new and experienced shooters are welcome and will have a great time.
So how does one participate in a Shoot Like a Girl program?
Test Shots sessions take place in Shoot Like a Girl's mobile range, which is housed inside of a semi-tractor-trailer.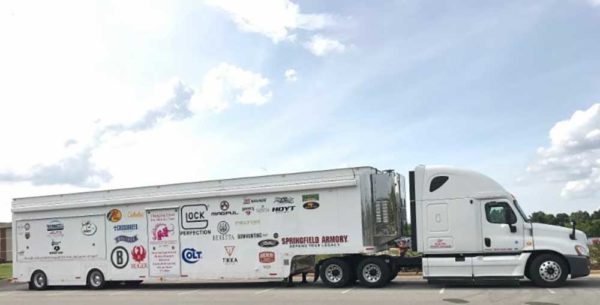 The Shoot Like a Girl team takes the range around the country to attend various events and host their own. Just check their schedule.
While you wait, you can read through the articles on their website.
They offer pieces on hunting, shooting, and archery, as well as human interest stories that share women's journeys. You can also find updates on the program on site as well.
4. A Girl & A Gun
A Girl and A Gun Women's Shooting League is a women's-only gun club and shooting league.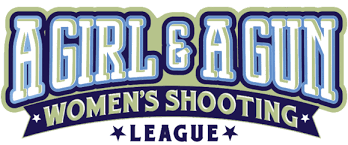 The group is focused on helping women grow as shooters. Whether you're totally new to shooting or are more experienced and want to take skills to the next level, these gals have you covered.
A Girl and A Gun also helps women with firearms and gear selection to find the right fit for various types of shooting.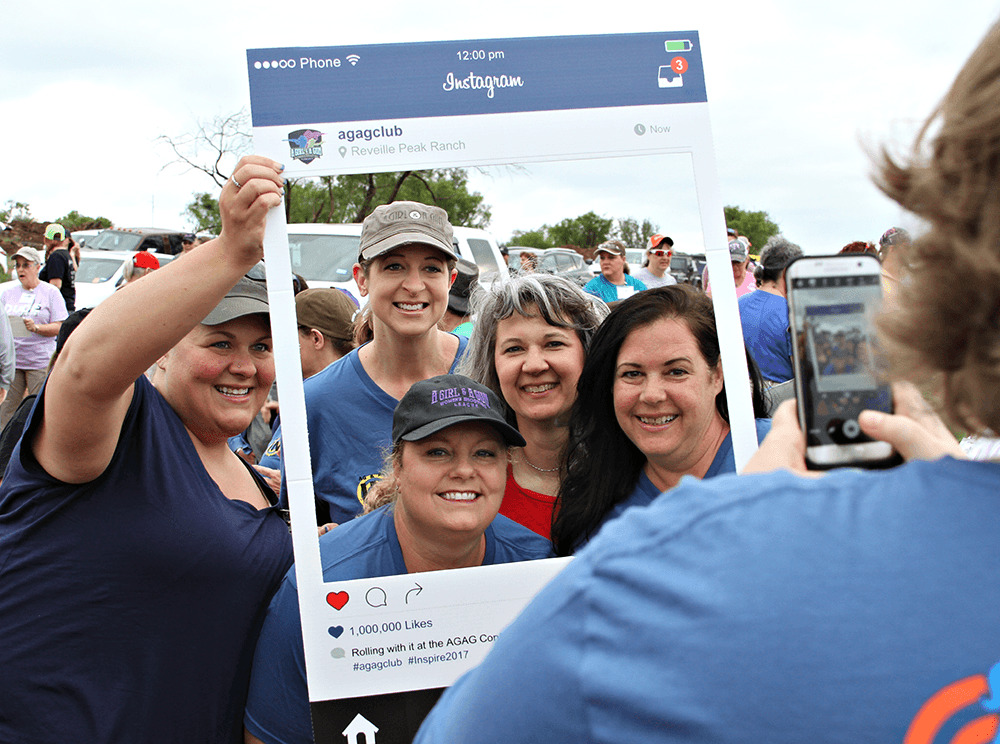 They conduct clinics on the national level at their National Conference in the spring and their Fall Festival in — you guessed it — the fall. AGAG also offers three-month virtual courses, regional 3-Gun University classes, and various clinics at the chapter level.
Members and organizers are also major advocates of action shooting and other shooting sports, especially at the competitive level.
These activities aren't just fun — they teach valuable skills like drawing, shooting on the move, quick reloading while under pressure, and other mental strengths necessary for gun owners.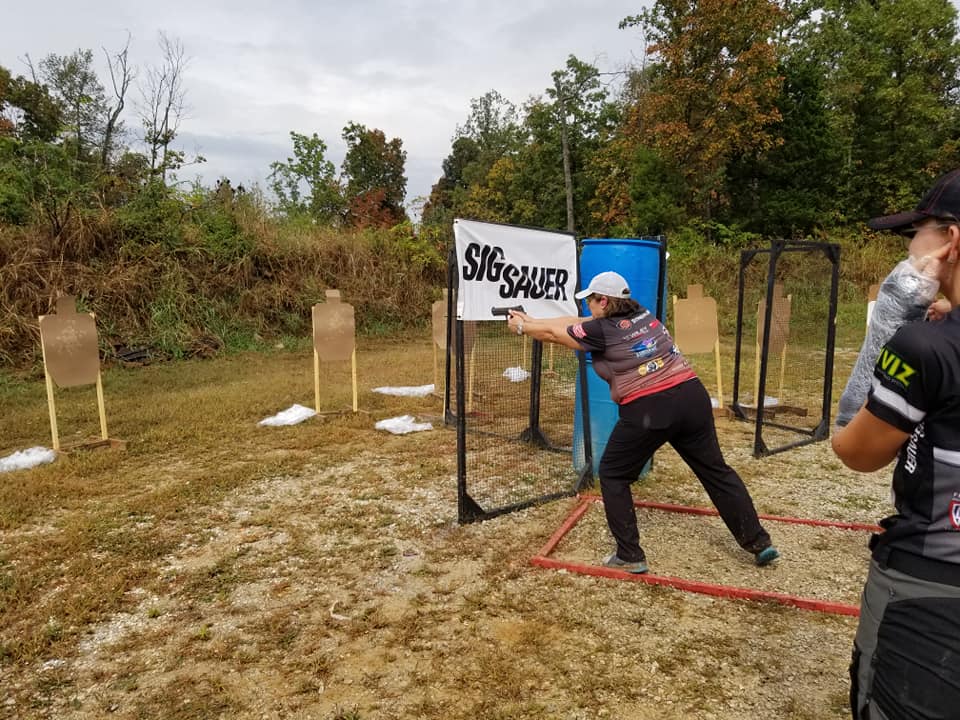 But A Girl and A Gun isn't all serious training and education. Recreational shooting is also an important part of their mission. They strive to make women feel comfortable shooting and present opportunities for women to shoot together.
In fact, the organization has a lot of events, both at the chapter level and above, based on socializing and relaxing.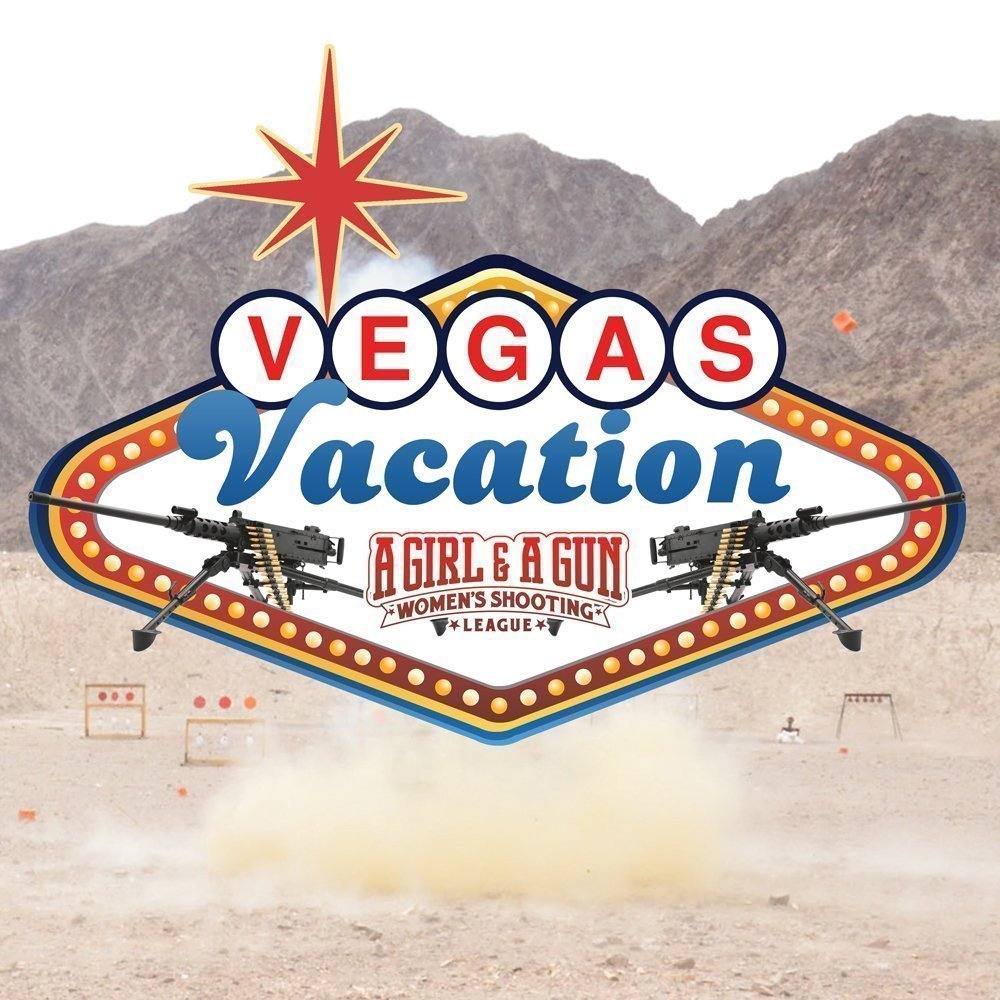 And even if you don't go to a single organized event, the A Girl and A Gun website is full of helpful information and resources.
You can find a list of female shooting instructors and even grab AGAG's downloadable shooting journal — free for members.
5. Women's Outdoor News
The Women's Outdoor News covers topics related to not just hunting, shooting, and self-defense, but also fishing, archery, camping, climbing, boating, and survival — just about any adventure sport and outdoor activity that you can think of.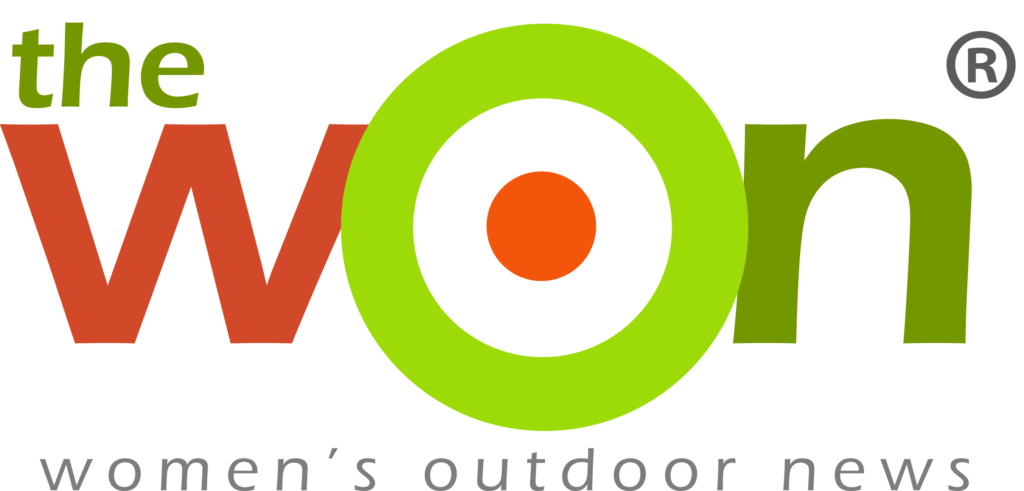 They bring news, gear recommendations, recipes for hunters and fishers, tips, and stories about women involved in all of these sports.
The WON is a great resource for any woman involved in shooting. But it's especially usefule for women that engage in other adventure and outdoor activities.
A one-stop-shop for all of those interests, if you will.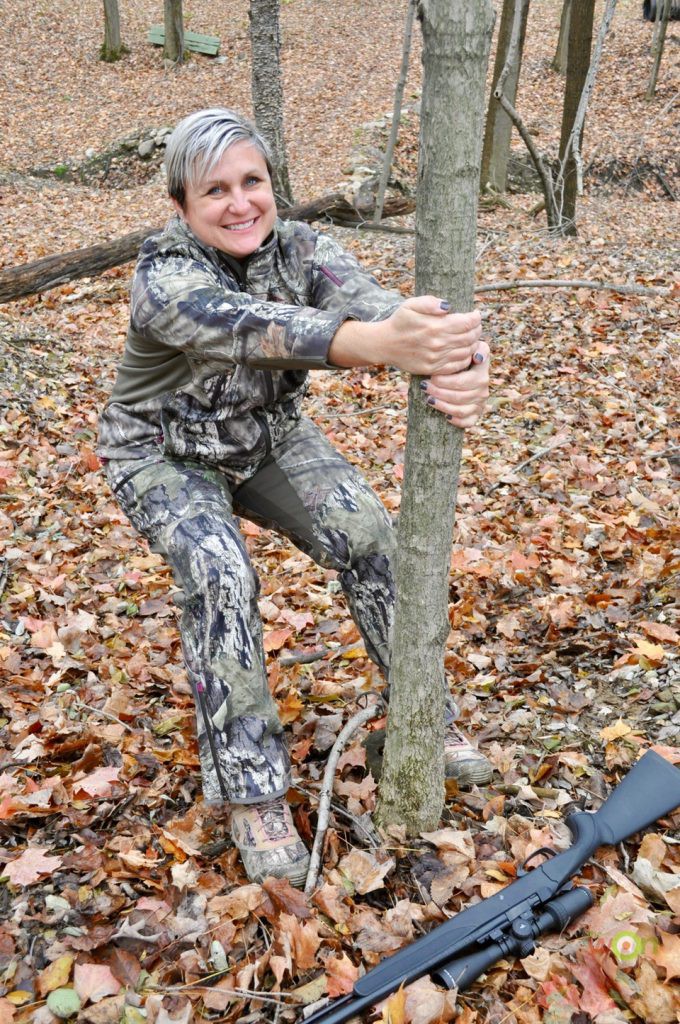 The WON comprises an impressive and accomplished team of women writers and editors including hunters, competition shooters, disability advocates, business owners, and more. It's no wonder their content is so good!
Subscribe to their weekly newsletter to keep up with their latest posts. (Psst…why not subscribe to our newsletter too while you're at it?)
Then check out their list of featured bloggers to discover even more great women's resources.
6. The Sisterhood of the Outdoors
The Sisterhood of the Outdoors — formerly operated under the name Babes, Bullets, and Broadheads — dedicates itself to growing the community of women hunters and increasing retention of new hunters.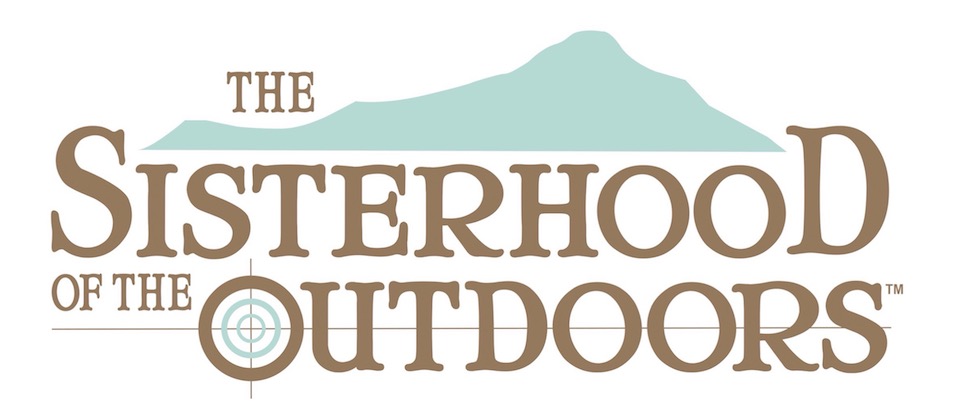 The organization was founded in 2010 by three friends, including Amy Ray who also contributes over at the Women's Outdoor News.
These ladies wanted to help women find hunting opportunities with other women by organizing guided hunting trips.
They work with a large network of field staff and outfitters to provide more than 100 hunting and shooting opportunities for women each year!
More and more events pop up each year with more women getting involved. On top of those trips, they also organize fishing trips and couple's events.
But the Sisterhood of the Outdoors doesn't just want women to get involved with hunting and shooting. They also want women to stay involved with hunting and shooting.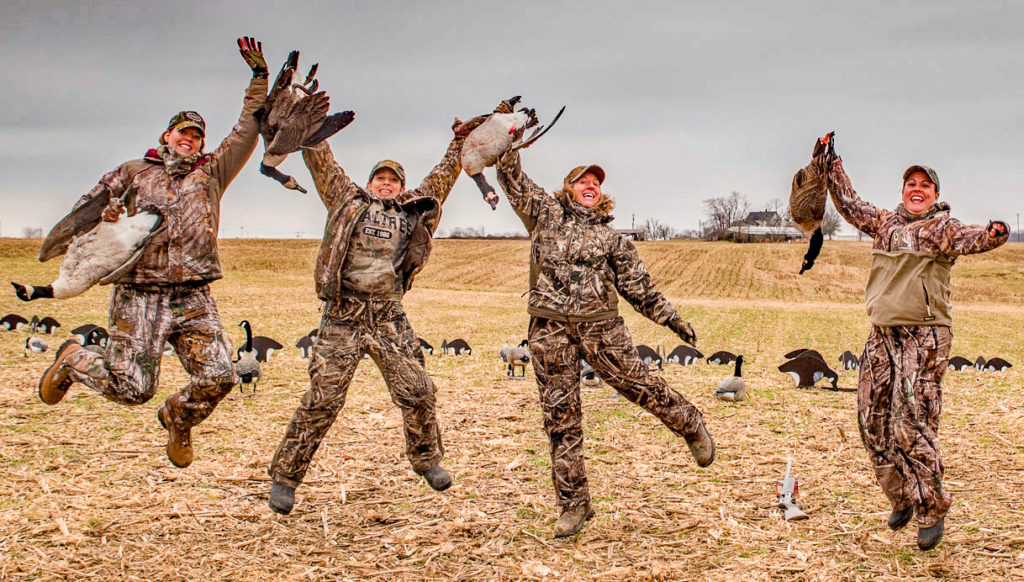 Providing fun opportunities that require very little planning or effort ahead of time on the part of the participants is an easy way to do that.
It's all of the fun of a hunt with friends without all of the stress of setting it up — especially for women who have never been on a guided hunt. Plus, these present excellent opportunities to find vetted outfitters and guides working the area you want to hunt.
Take one trip and you'll find out why 88% of those ladies use one of the Sisterhood of the Outdoors' outfitters again.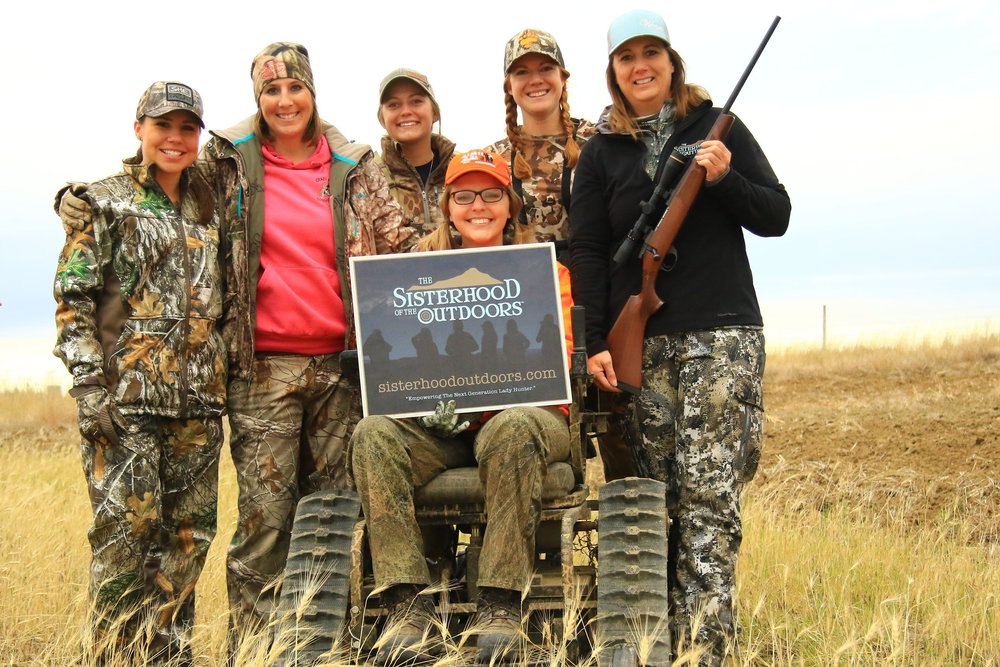 For the best experience, consider a Sisterhood of the Outdoors membership.
Members get access to the organization's private Facebook group with exclusive content and the opportunity to socialize with staff and other members.
They also get discounts from the Sisterhood of the Outdoors' partner organizations and early booking for trips — all for just $45.
And even if you're not sure about going on a trip with the Sisterhood of the Outdoors, it's still worth checking out their blog. It's chock-full of helpful guides and interesting personal accounts.
7. Not Your Average Gun Girls (Plus Alexo Athletica & Style Me Tactical)
This entry is great because it lets me sneak in three recommendations in one!
Not Your Average Gun Girls was an entertaining, insightful, and informative lifestyle podcast for ladies who love firearms.
While no new episodes have appeared since 2019, there's still a log of over 70 episodes to listen and learn from.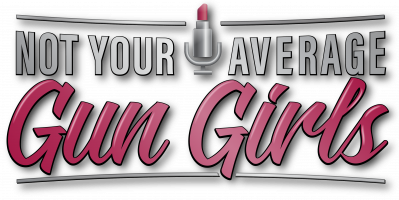 The podcast's hosts, Amy Robbins and Emily Valentine, wish to empower women to feel confident, self-reliant and prepared.
But you don't have to give up their femininity or personal style to do it. And that's the crux of Not Your Average Gun Girl.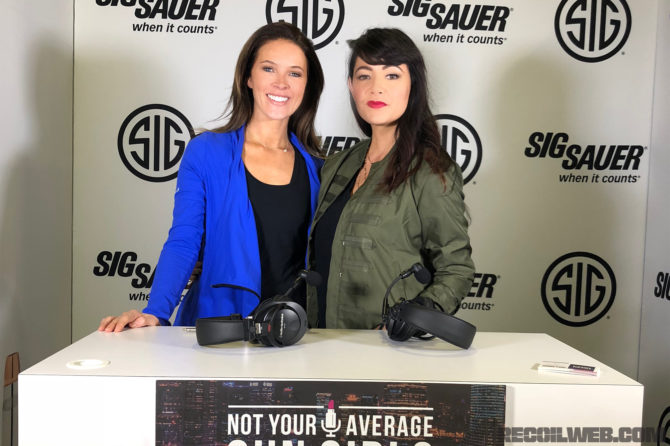 Along with their guests, the hosts discuss concealed carry and self-defense, as well as style, beauty trends, and lifestyle issues. They also go into social issues, both firearms-related and not.
You can listen to episodes on most podcast apps, including Apple Podcasts, Google Podcasts, and Podcast Republic, or you can watch them on the Not Your Average Gun Girls YouTube channel.
On top of the podcast, each of the hosts is also very involved with the female firearms community.
Amy Robbins is the founder of Alexo Athletica, a company that makes gorgeous, stylish, and comfortable athleisure wear that you can actually concealed carry in.
You ever want to carry both a gun and a smartphone in the same pair of leggings at the same time? Well, you can.
That's why it's one of our Favorite Female-Friendly Firearms Brands!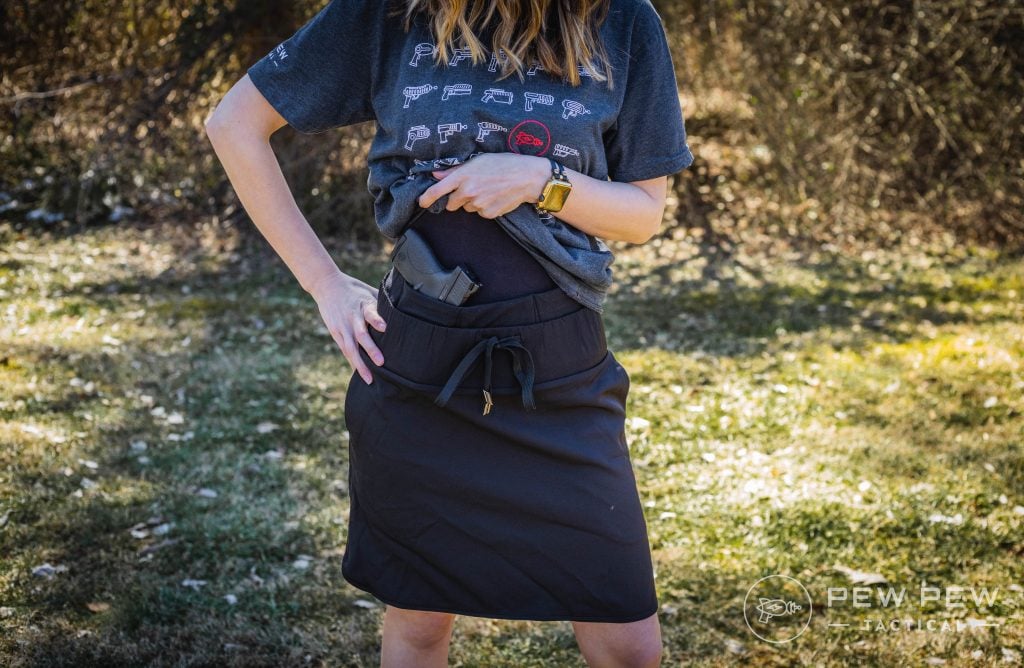 As for Emily Valentine, she's the mind behind Style Me Tactical — basically the blog version of the Not Your Average Gun Girls podcast.
She provides plenty of posts about preparedness, firearms, and concealed carry outfits. But these aren't your tacticool looks. She brings outfits that are stylish and functional to the table!
In addition to fashion, you can find a ton about beauty and wellness.
Not to mention, you can even shop for items she features on her Instagram through LIKEtoKnow.it.
8. DIVA Women Outdoors Worldwide
For more than 20 years, DIVA WOW has been training women and girls in shooting, hunting, and fishing skills.
They focus on creating an environment in their clinics that is diverse and respectful — perfect for really nailing those new skills with confidence!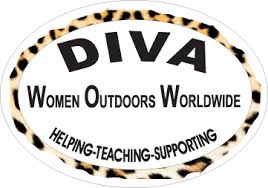 DIVA WOW is run by a staff of female volunteers who coordinate national chapters, events, product reviews, and so much more!
They also offer shooting sports leagues, socials, member road trips…and even a scholarship!
It's easy to see how much the DIVA team cares about its members. With all the resources they have to offer, I recommend checking them out!
9. WomanShooter.com
Sadly, WomanShooter.com hasn't been updated in a few years, but that doesn't mean that you shouldn't still check it out!
A considerable amount of good content on the site still exists to help guide you.

WomanShooter was founded by Lucretia Free. She tackled her own discomfort with guns, learning how to shoot and turning that around to share her experiences and knowledge with women in similar situations.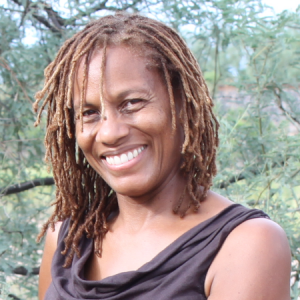 Likes some of our other recommendations, WomanShooter tackles everything you need to know to start shooting as a woman.
But you'll also find articles on also fashion, concealed carry, nutrition, and other topics you might find useful!
10. Huntress View
Women have hunted for thousands of years, but that still doesn't mean your average deer camp is the most friendly spot for gals.
Huntress View is just the site for our fabulous female hunters!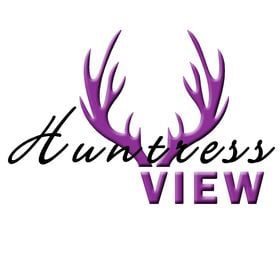 Over here, everything is about hunting from her point of view. You'll find gear reviews, how-tos, a ton of recipes for your game, and some really interesting articles about the hunting industry.
While I'm not much of a hunter, I respect the ladies that are into that and I love that there's a resource dedicated just to that aspect of shooting sports!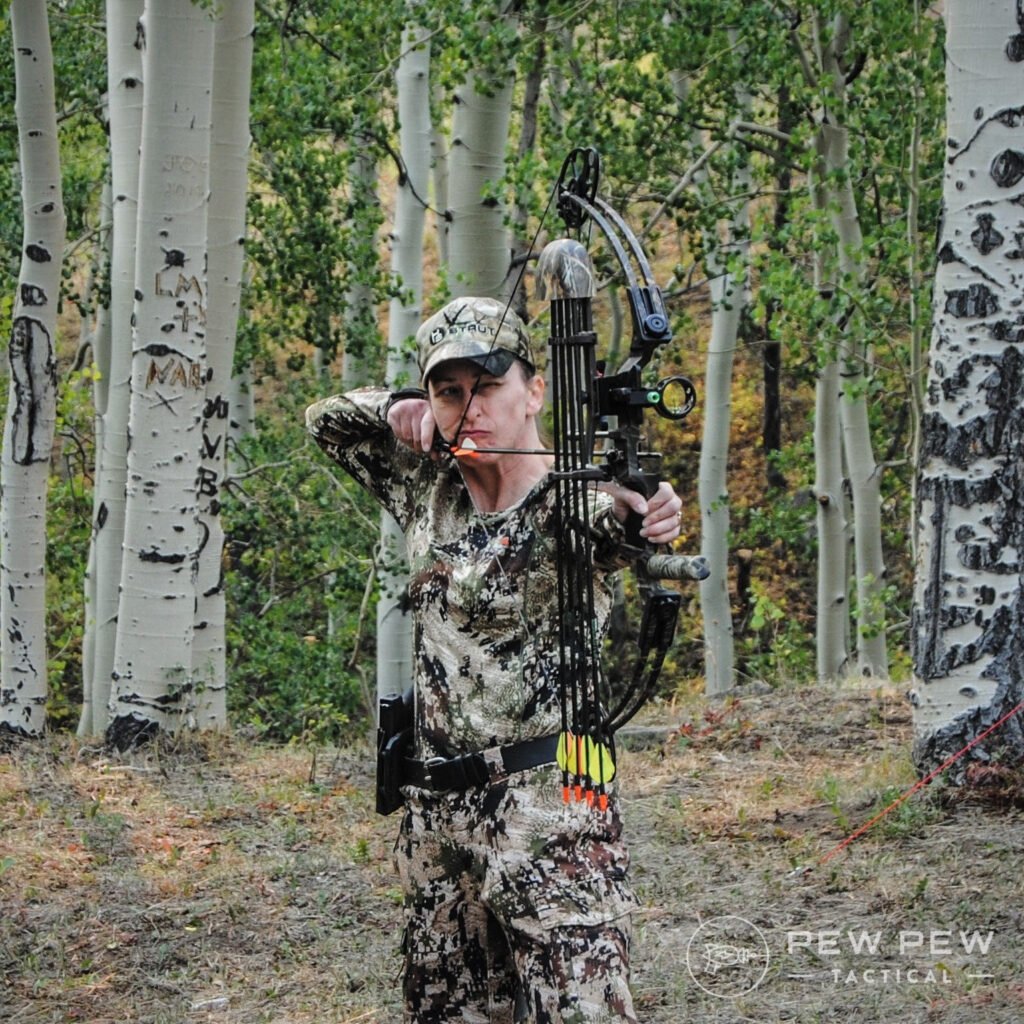 11. Gun Goddess
Part gun-blog-for-her, part shopping mall, Gun Goddess lavishes us with everything both feminine and firearms.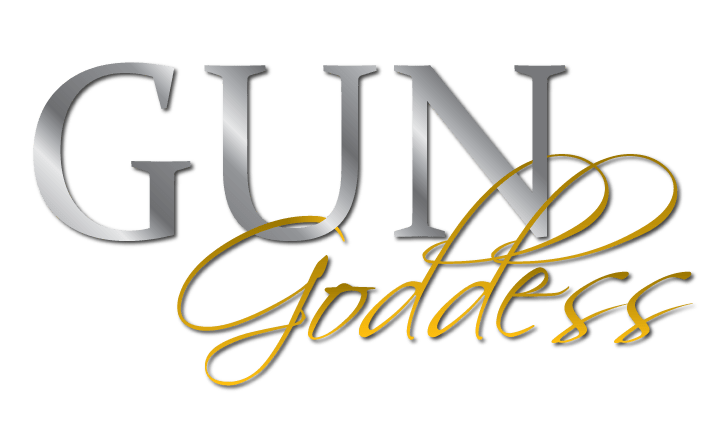 They carry more than 40 different brands and over 400 products, all carefully selected for the female shooter. They even offer a few things for your boyfriend/hubby/brother/dad when he shows an interest in guns!
If you've ever thought, "I wonder if ______ exists for women…" check Gun Goddess.
Besides making gift shopping easy for the men in your life, there's also a really fun Learning Center with lots of articles, target printables, quotes, stats, and even some insta-worthy pro-gun pics to share!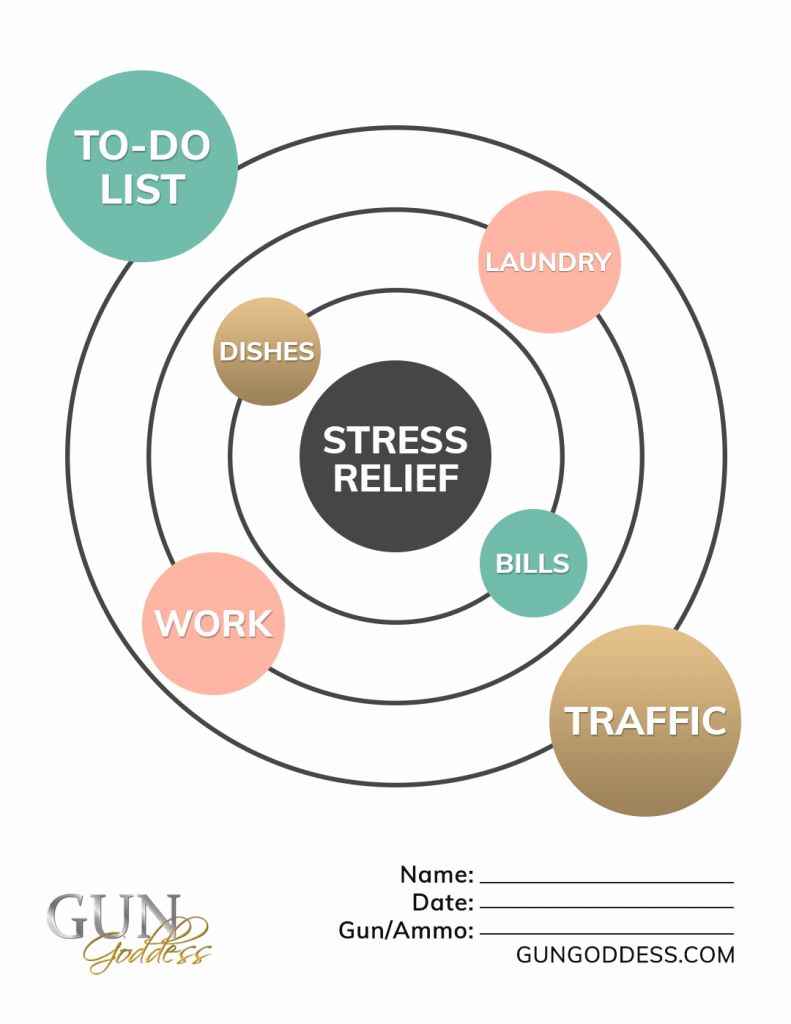 12. National Firearms Organizations (NRA & USCCA)
Organizations for women aren't the only ones who provide resources for women.
With more and more women jumping into shooting sports, more mainstream firearms organizations work to provide those women with the resources they need.

Though they're not the only ones, both the US Concealed Carry Association (USCCA) and the National Rifle Association (NRA) offer training courses for women as well as comprehensive resources on their websites.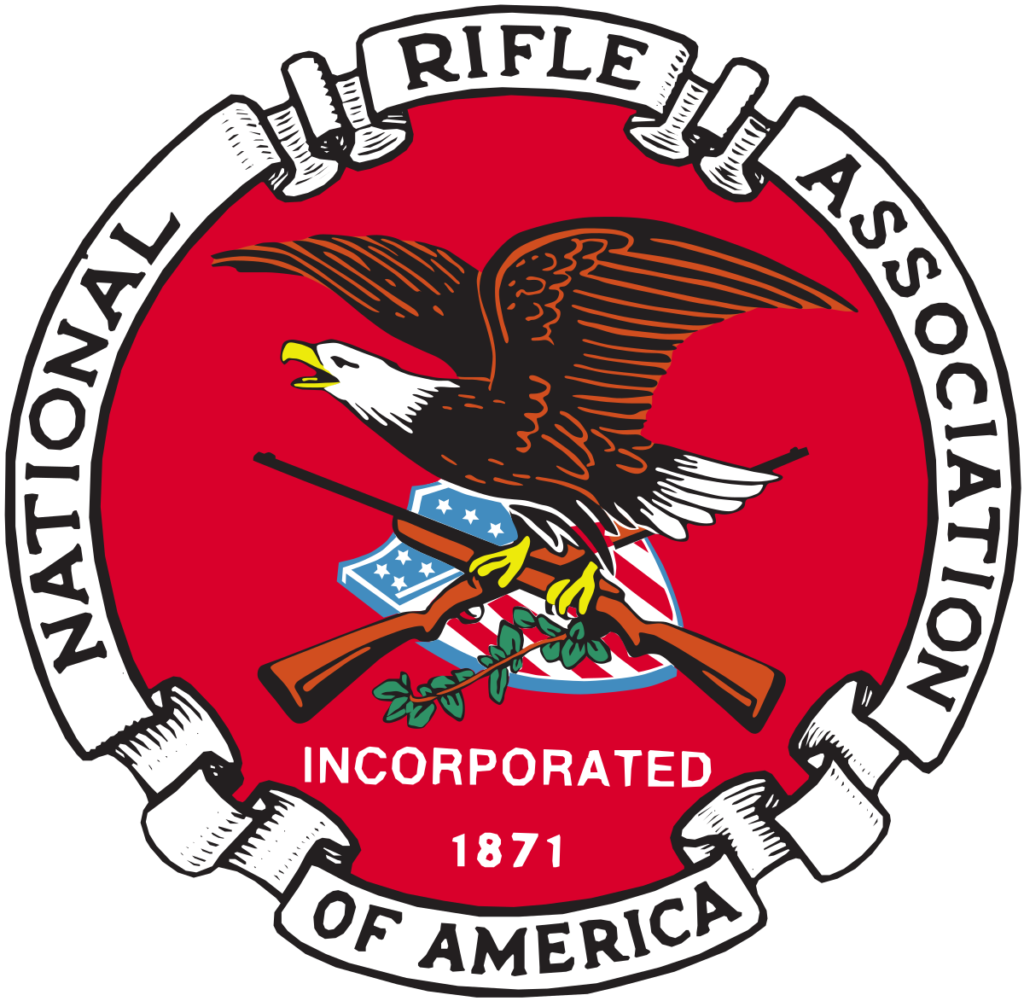 The NRA even has a special endowment for conducting women's programs, which allows them to offer programs like the NRA Women's Wilderness Escape. This offers several trips a year, ranging from a few days to over a week, to various places around the country where women shooters can relax, learn new skills, sharpen skills, and meet other women shooters.
This also funds the Women on Target (WOT) program. WOT provides educational clinics for women of all skill levels!
Meanwhile the USCCA's Beth Alcazar levies her knowledge to provide informative gun content to women. There are tons of articles to choose from and various topics.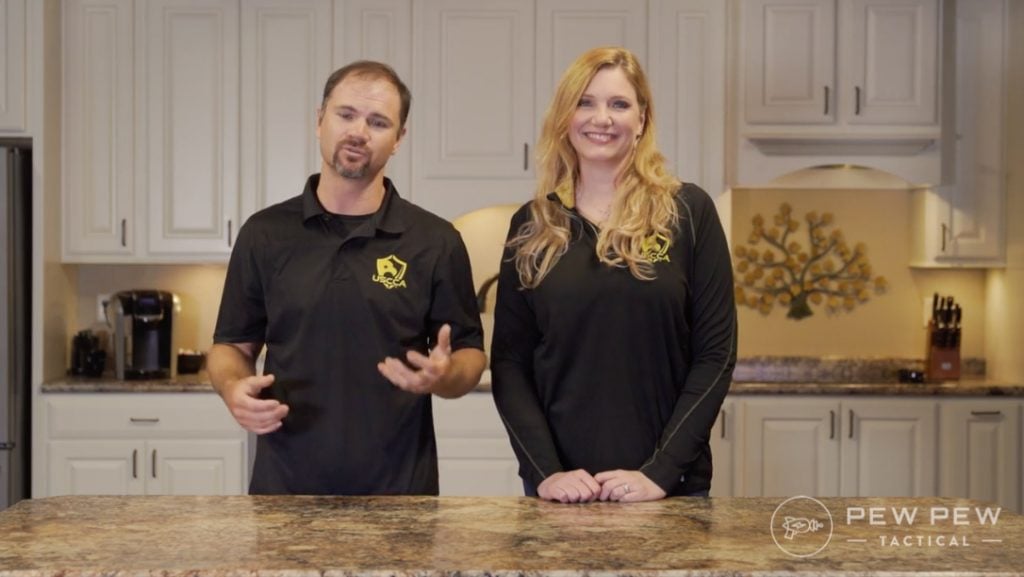 On top of that, if you join USCCA, you get access to a ton of training online!
We recently reviewed their membership tiers so be sure to check to see which is best for you.
13. Local & State Level Resources
Local chapters of some of these national organizations can be a great resource for finding local resources. But, if you don't have a local chapter, don't worry.
Many local ranges and gun groups offer women's events and classes. Check the event calendar on their sites!
Don't forget to also check local and state-level forums or sites like MeetUp to look for local groups.
And if you can't find one, don't be afraid to use those very same resources to start your own!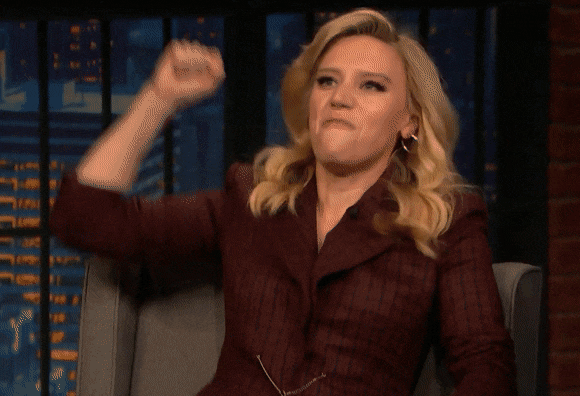 Conclusion
This list covers a bunch of different resources for female gun owners, but it's definitely not an exhaustive guide.
We're pretty lucky these days. There are more gun resources for women than ever and as more appear, they embolden and inspire other women to create and share their own resources.
And the best part is that most of them are primarily or exclusively run by women, so you can support other women while helping yourself.
If you know of other great resources or thoughts to share, please drop them in the comments section. If you're looking for more women's articles, check out the Women's Category here on Pew Pew Tactical.