Most holsters and firearms accessories are made for men. If we're lucky, sometimes we ladies might get a watered-down version of some piece of men's gear, usually in an obnoxious shade of pink or purple.
But just because something comes in a snazzy shade of pink doesn't mean it will work well on a woman's body.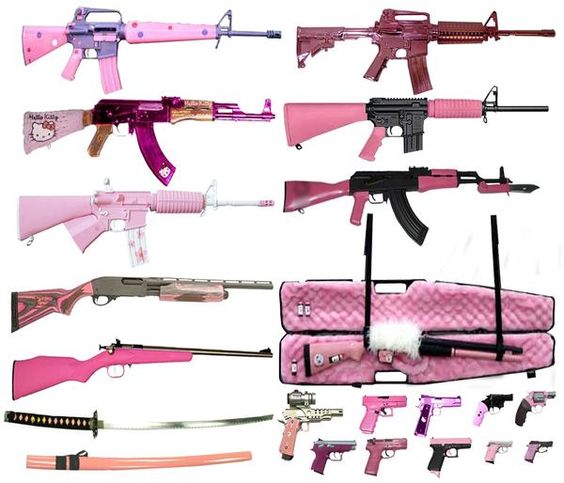 I'm not sure if you've noticed, but women's bodies are a tad bit different from the average guy's.
A woman's size and body shape often make it difficult for us to use gear designed by and for men.
For example, most dudes don't consider how a gal's 36C bust size might get in the way of an effective cross draw. (Although they may be imagining it now.)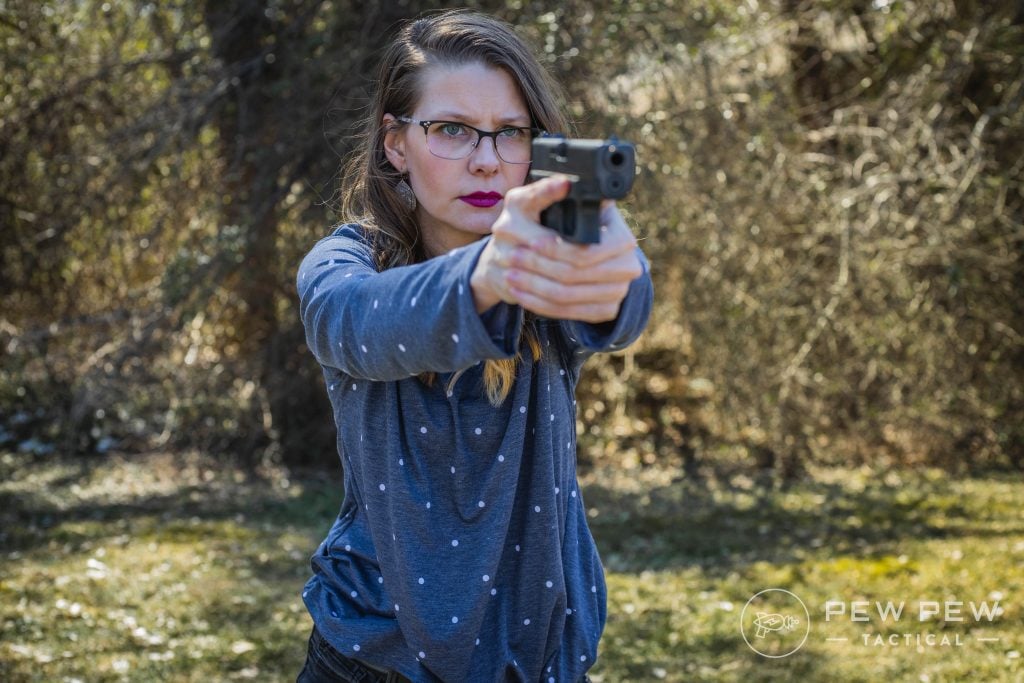 If you've ever struggled with your attempts to make men's firearms accessories work, we're here to help.
Let me introduce you to some of the top brands focused on the unique needs of women shooters. These companies definitely know how to keep things tactically feminine.
And bonus – they are all women-owned businesses! #girlpower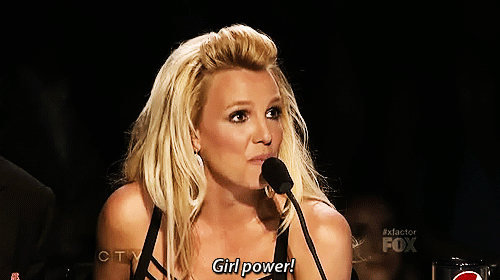 Top Firearms Brands for Feminine Shooters
1. Alexo Athletica
If you're an active woman who also takes the responsibility of personal protection seriously, you've probably struggled to find a comfortable and safe way to carry your firearm — or your pepper spray if that's more your thing.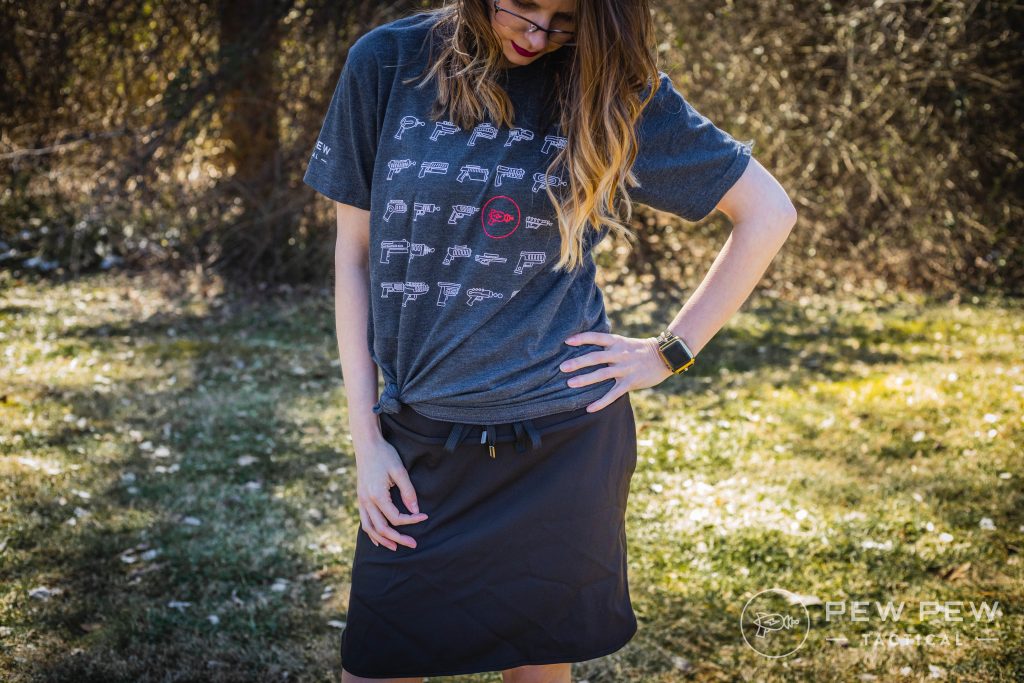 Most athletic apparel doesn't provide a functional way to exercise your right to carry while you exercise your body.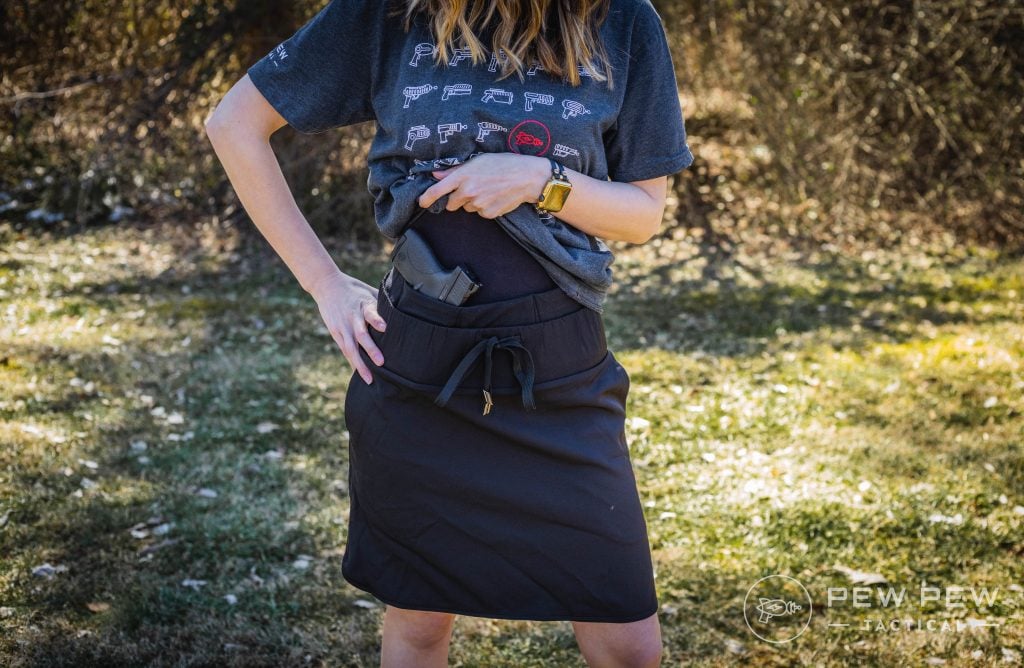 But a few years ago, that all changed with Alexo Athletica. This company is committed to providing functional, fashionable activewear for concealed carriers.
Alexo specializes in concealed carry leggings, but they also offer workout shorts, shirts, and concealed carry fashion-forward skirts.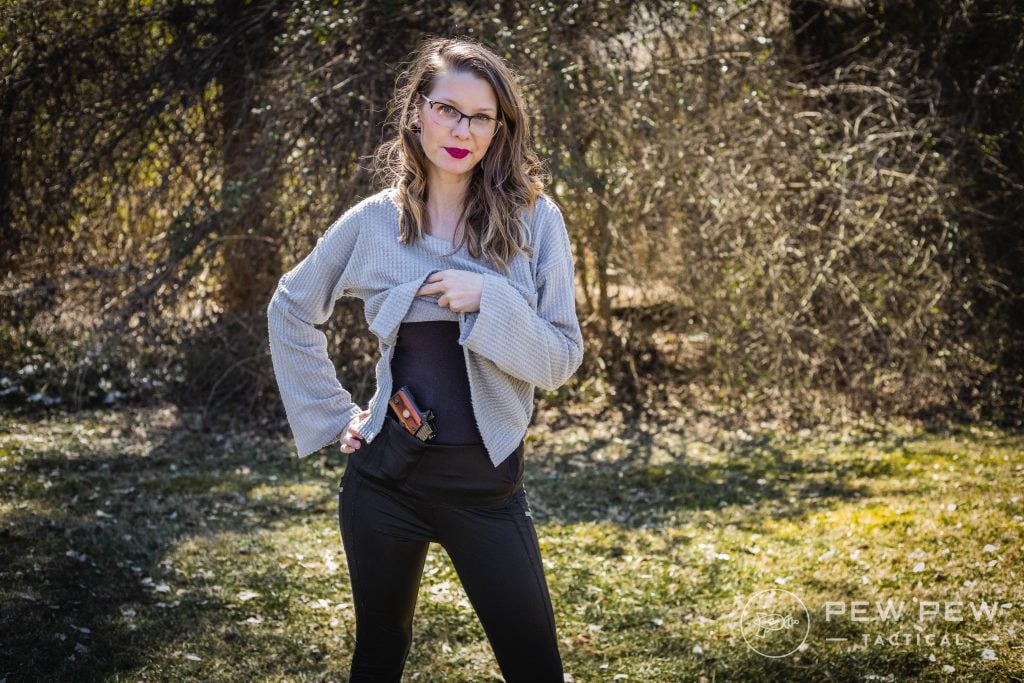 All their clothing features roomy pockets big enough to hold your weapon-of-choice plus all your extra EDC gear.
59
at Primary Arms
Prices accurate at time of writing
Prices accurate at time of writing
2. Armed in Style
Armed in Style is a small business exclusively focused on the finer, feminine things in life.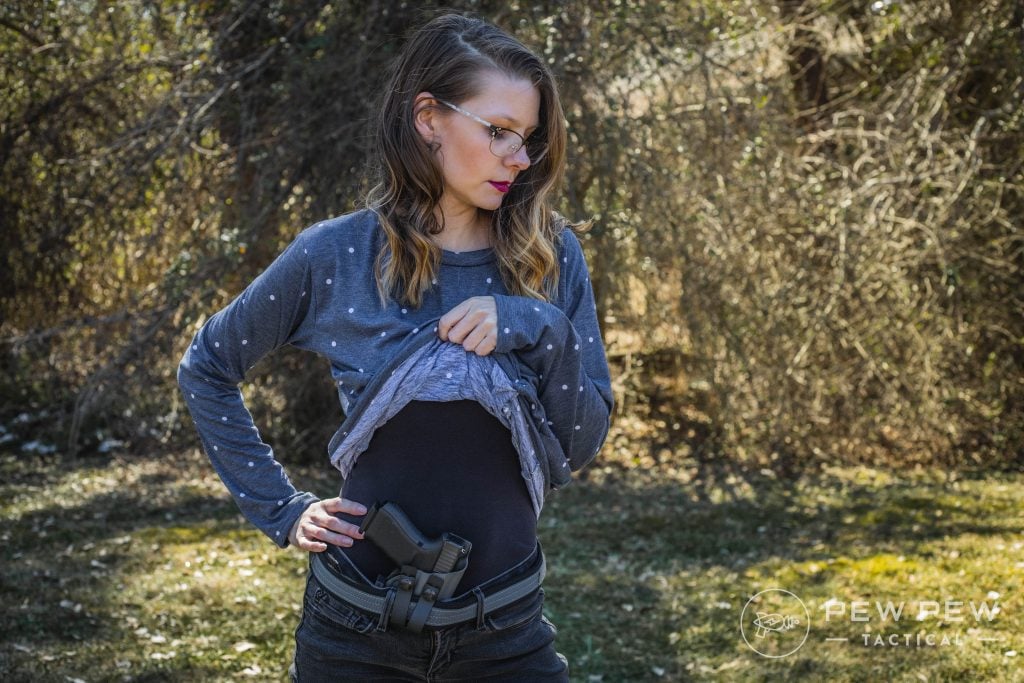 From cool concealed carry compatible clothing to home decor like pillows (that double as dry fire targets!), the company aims to add some femininity to the firearms world.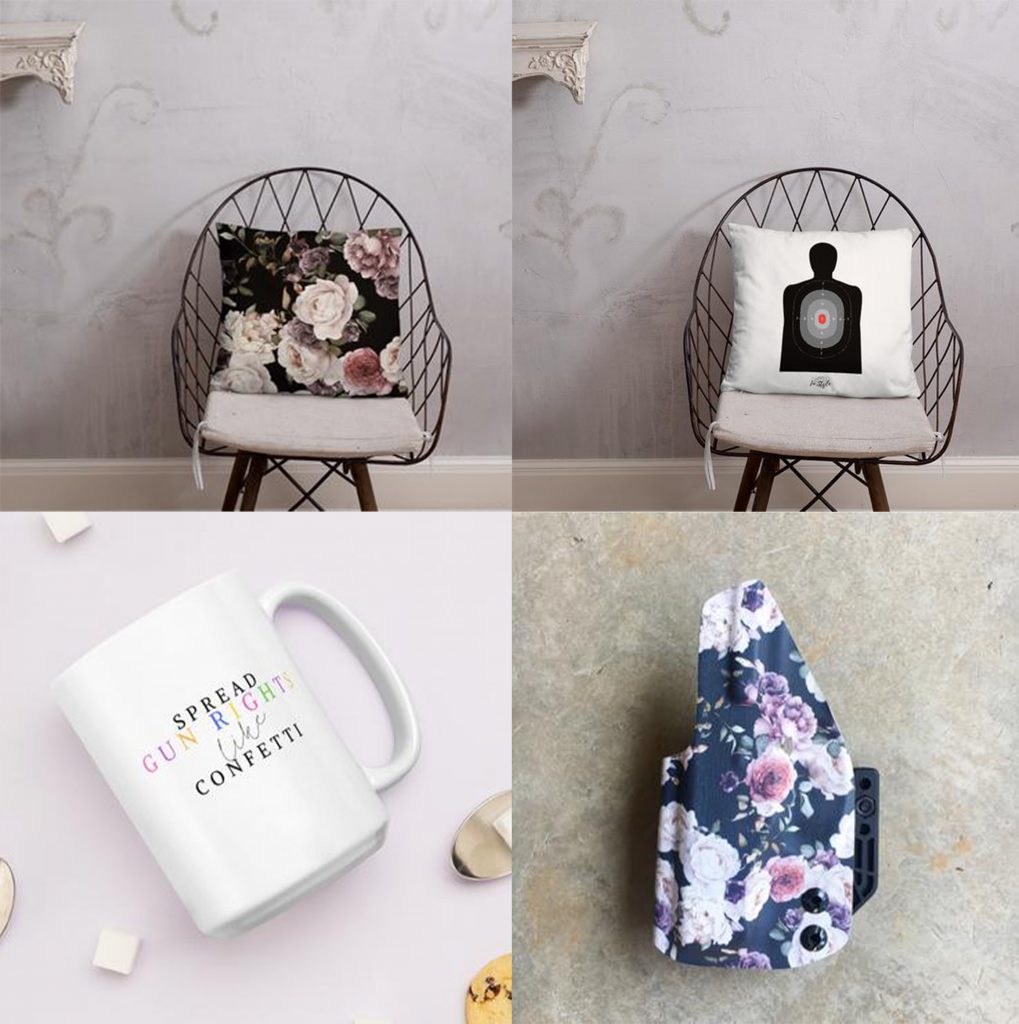 Some of our favorite products? We adore the Side Twist Arm Tunic and Waffle Ribbed Invisible Top for fashionable concealed carry.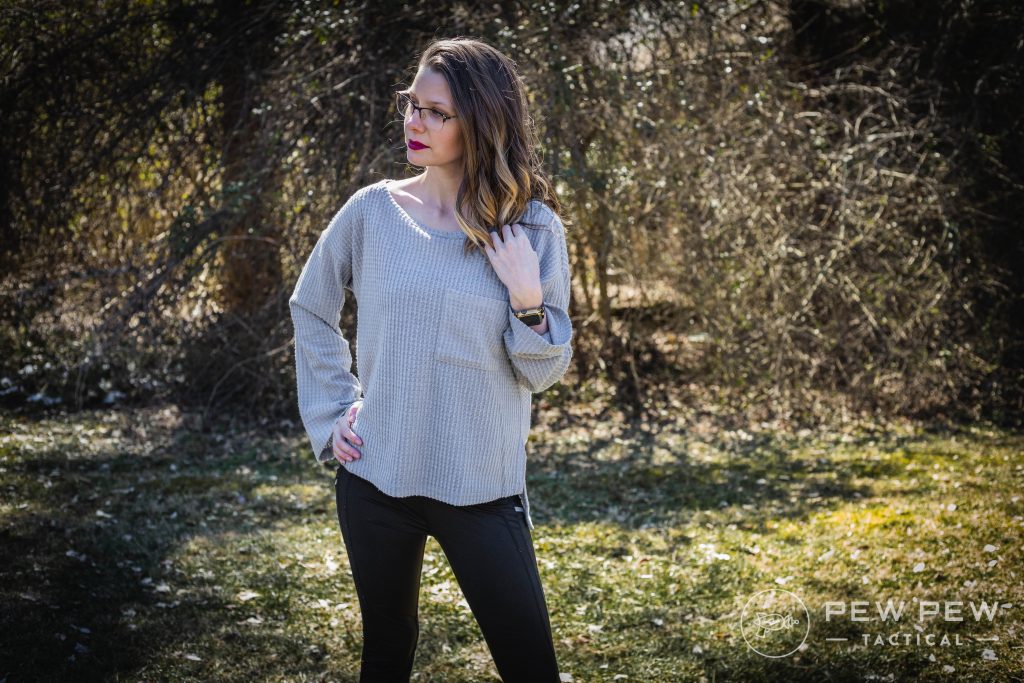 If you're a coffee drinker, you definitely need a cool gun-themed mug to sip your latte in the morning.
Or, if you're in the market for a new holster but one that isn't just black or FDE…see their holster selection. You won't be disappointed.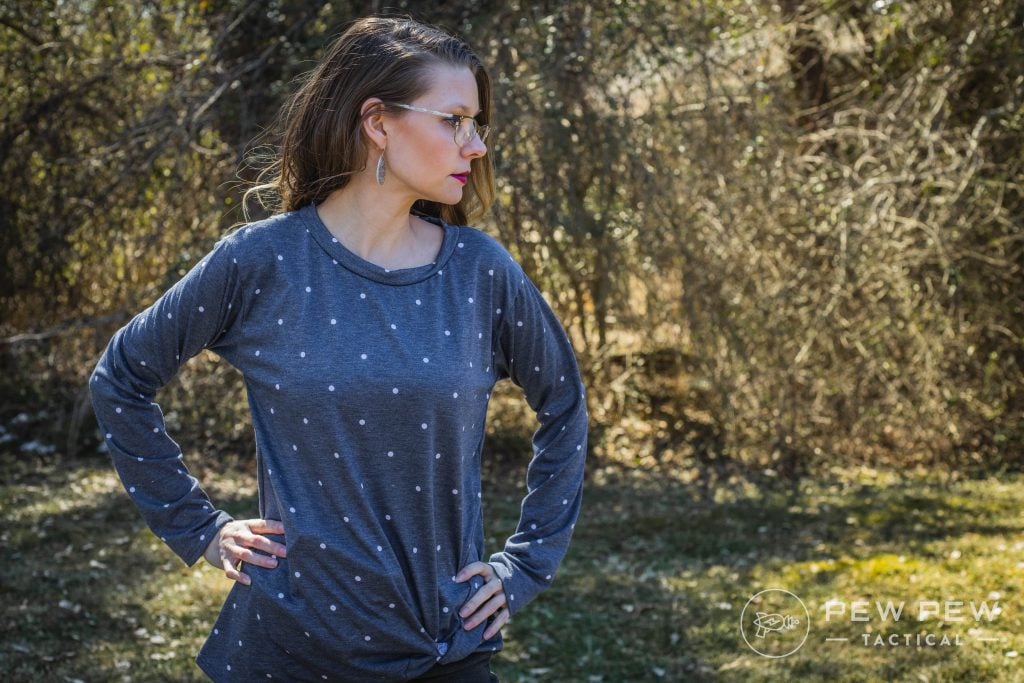 We love a company that caters to more than just the tough guy crowd. And Armed in Style proves you can be a badass lady but a good lookin' one too.
3. Can Can Concealment
Like many of the brands on our list, a woman founded Can Can Concealment.
Founder Darlene Cary channeled the frustration she felt at the lack of holster options for women into designing her own.
Today, the company manufactures comfortable hip hugger, garter, and corset holsters, all designed to "conform to a woman's body and work with her wardrobe."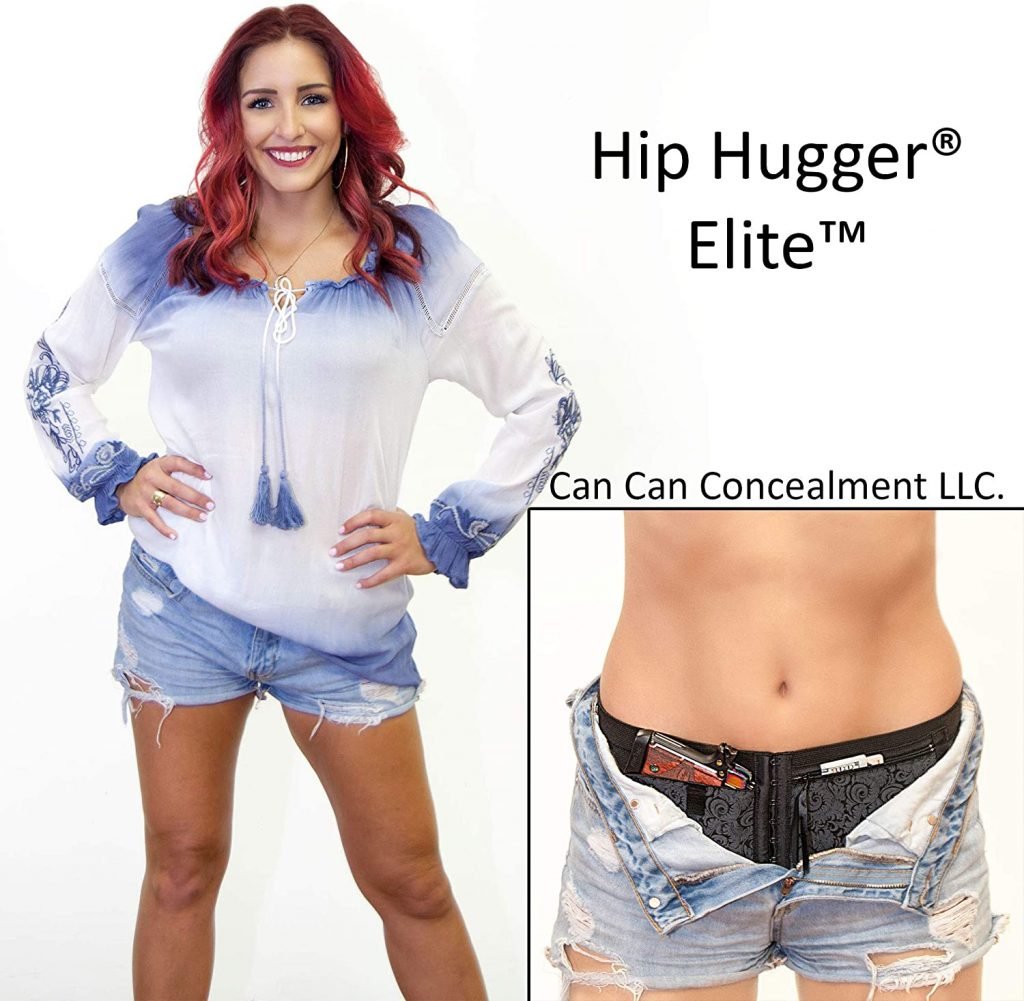 The holsters use compression along with plenty of added safety features for firearm retention.
These aren't just holsters, though; they are fashion accessories. With lace and ribbon accents, these holsters are seriously feminine. You could even call them "sexy."
Can Can's products are perfect for ladies regularly sporting skirts, dresses, or yoga pants.
70
at Amazon
Prices accurate at time of writing
Prices accurate at time of writing
4. Tactica Defense Fashion
Tactica's only focus is women's self-defense. They understand that a weapon carried on your person is far more effective than one left at home.
And since women sometimes struggle with adapting their wardrobe for concealed carry, Tactica designs comfortable and effective options for concealed carry — no matter which outfit you pull out of the closet.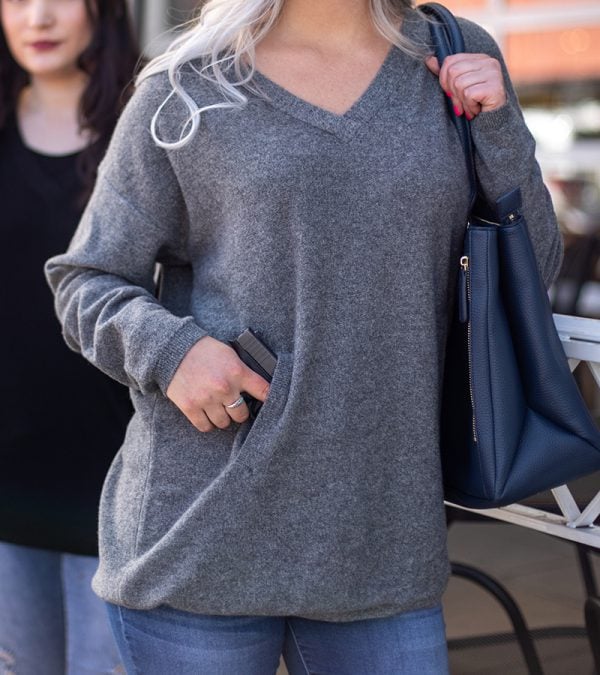 Helmed by Sandi Little, who has a fashion background, products are designed to give quick, easy access to your firearm without compromising your sense of style.
The company is just as concerned with safe concealed carry as they are fashionable concealed carry.
Much of their product selection features TPE or polymer linings for effective trigger guard protection.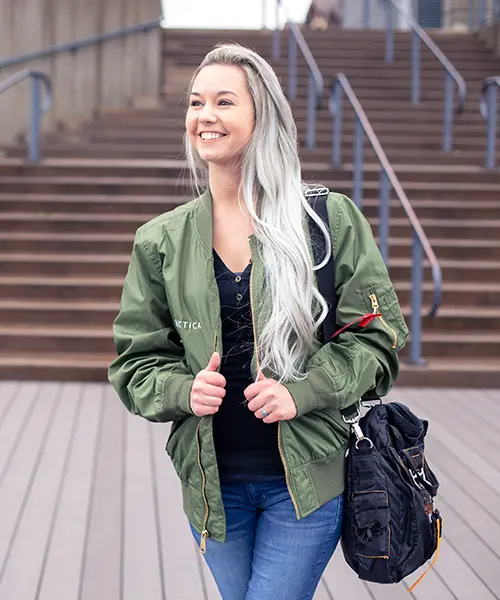 Not only does Tactica offer comfortable, conventional concealed carry holsters and handbags, they also have a full line of concealed carry apparel.
You can find trendy jackets, hoodies, leggings, sweaters, and even dresses — all created to help you conveniently carry your weapon while looking thoroughly modish.
68
at Amazon
Prices accurate at time of writing
Prices accurate at time of writing
5. Flashbang Holsters
Flashbang holsters are designed by women specifically for women, so you know these things will work with our curves, not against them.
All the company's products are made to order by hand, and the manufacturers take serious pride in their work.
Although they do make IWB holsters, Flashbang specializes in holsters that attach to your bra.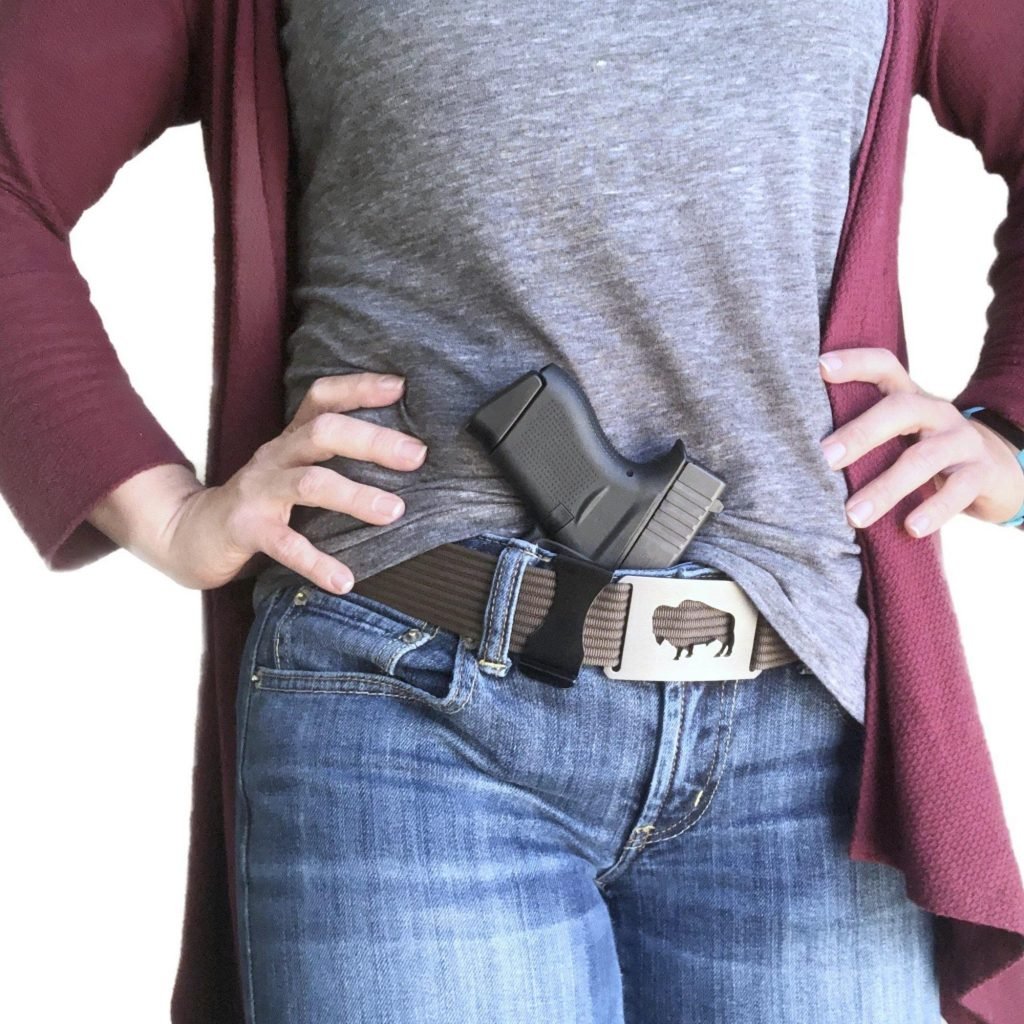 The best-seller — the Flashbang holster, a Kydex clamshell holster that attaches to the band between your bra cups, then tucks up inside the bra.
Your bra band does all the work of keeping your firearm in place while the clamshell keeps the trigger safely covered.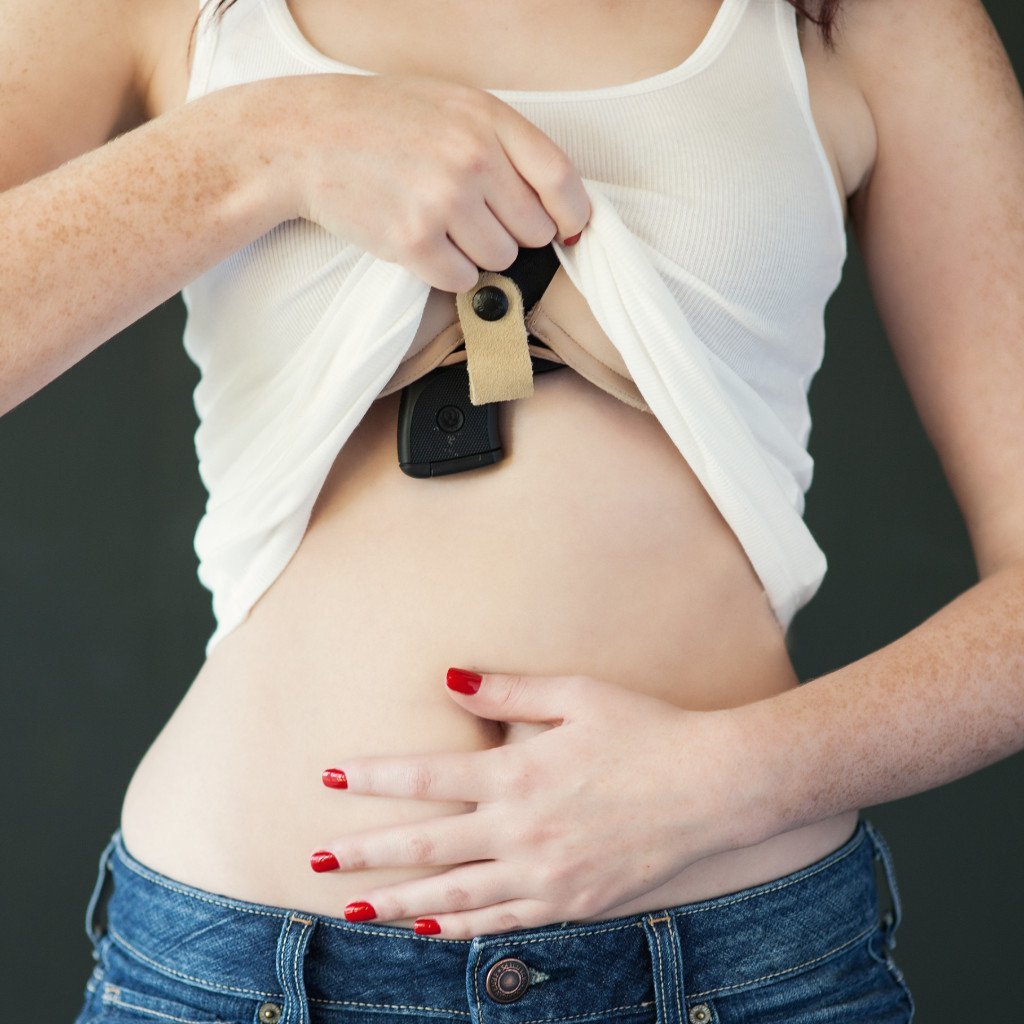 While the company claims these are a one-size-fits-all carry solution, women who have larger-than-average breasts may struggle with the fit. If you have smaller-than-average breasts, you may struggle with printing.
6. UnderTech Undercover
Although UnderTech Undercover isn't a brand exclusively devoted to women shooters, they have an extensive line of concealment undergarments designed to fit both a woman's body and her wardrobe.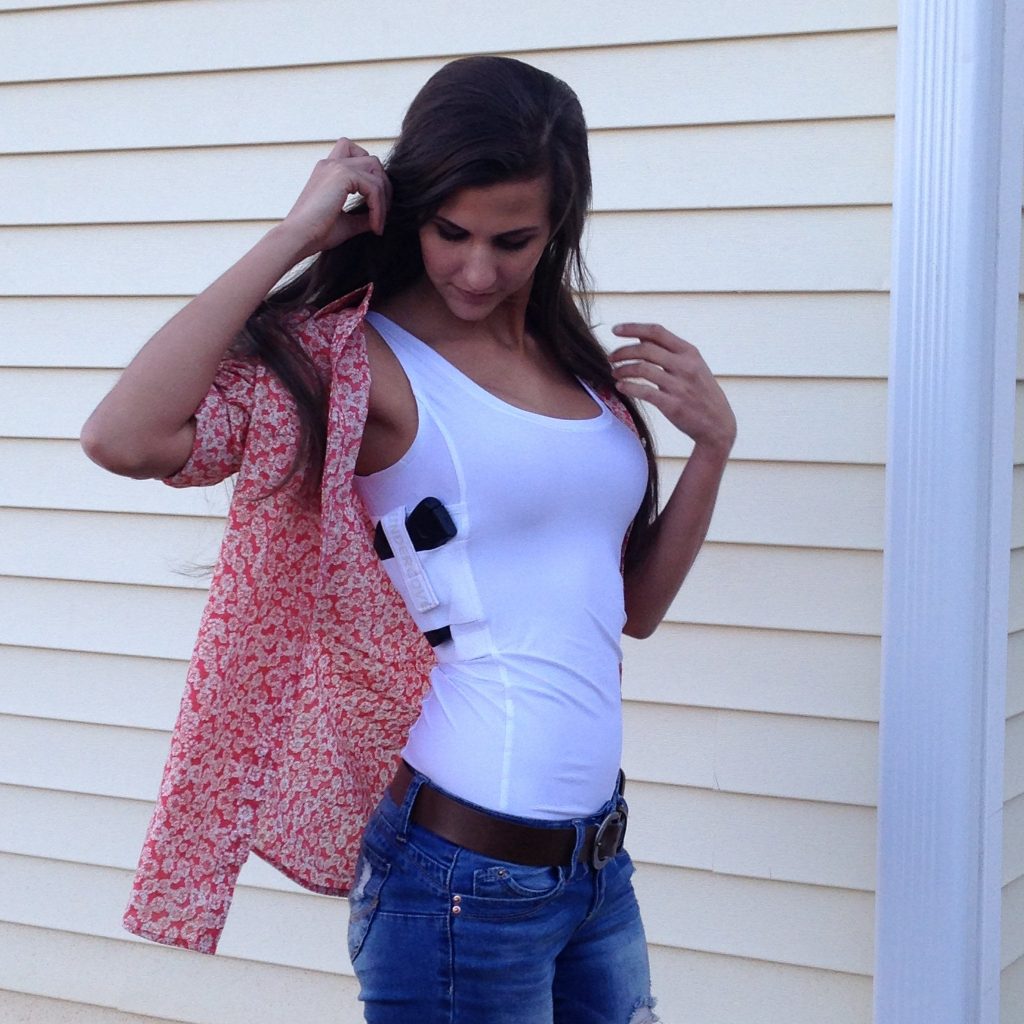 Lenny Magill founded the company in 2009 and released their first product, a belly band holster, that same year. The product is now unironically dubbed "The Original Belly Band."
22
at Amazon
Prices accurate at time of writing
Prices accurate at time of writing
Since then, UTUC has expanded its product line to include compression shorts, leggings, tank tops, and convertible sports bras.
Products are developed with input from members of the FBI, Homeland Security, and other law enforcement agencies to ensure comfortable and practical concealment.
60
at Amazon
Prices accurate at time of writing
Prices accurate at time of writing
7. Gun Tote'n Mamas
While I'm no fan of off-body carry, I know there are plenty of women out there who prefer it.
And if you're going to carry your EDC pistol in a purse, you should do it safely…and fashionably.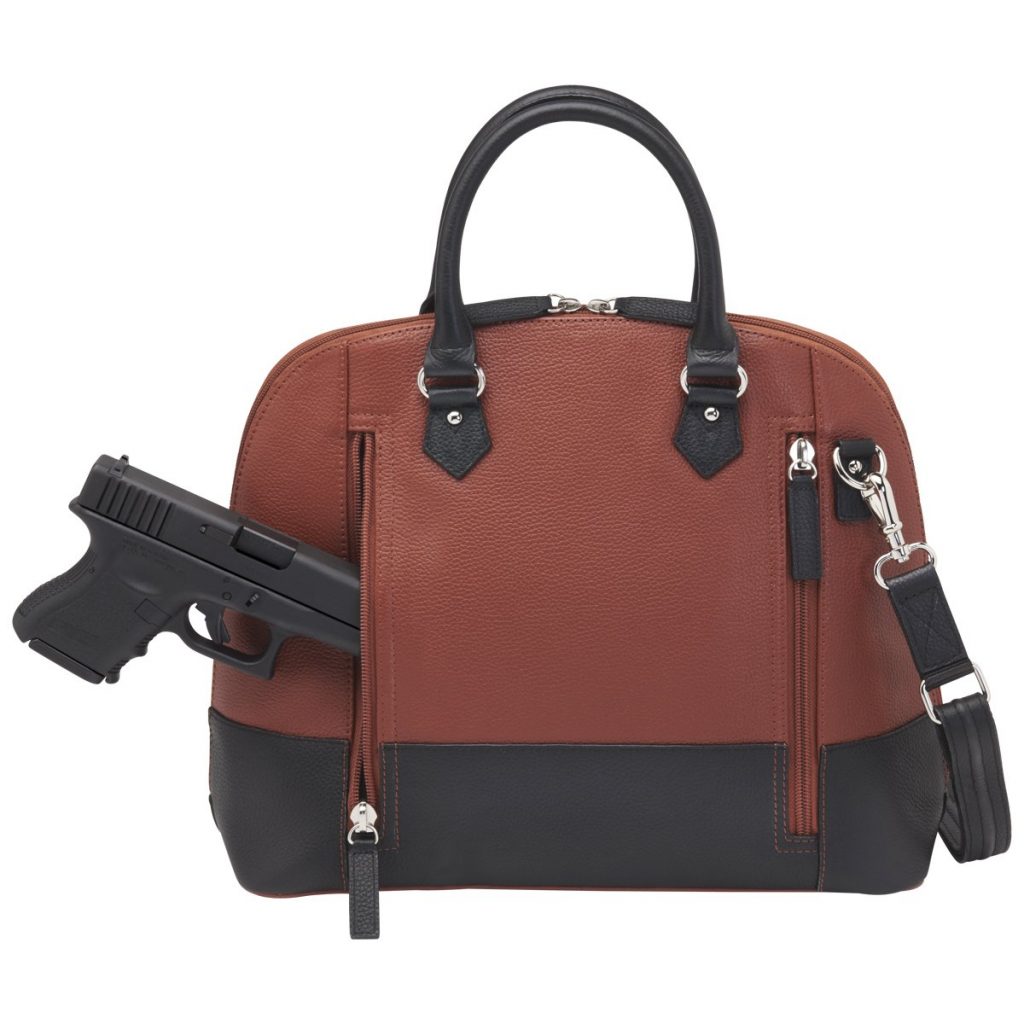 GTM specializes in genuine leather accessories for feminine concealed carriers. They make everything from super chic handbags to tough, sturdy range bags.
And all their products are designed for women. If you're looking for a specific purse style, chances are good GTM has a CCW-friendly option.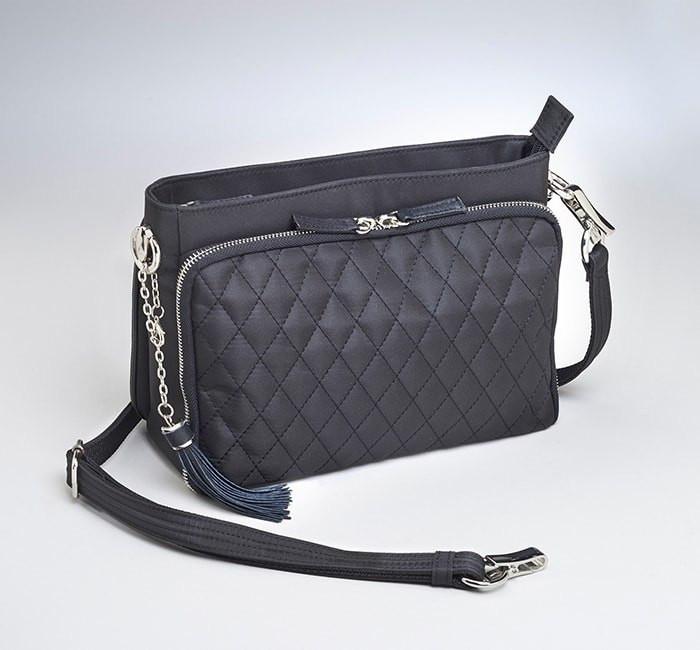 Need a clutch? They have several. A cool hobo? Yep, they have those too. large totes, backpacks, cross-body bags? There are so many styles that you'll have a hard time picking just one.
GTM is a certified women-owned business. All products are designed and tested by everyday gals just like you and me.
115
at Amazon
Prices accurate at time of writing
Prices accurate at time of writing
8. Femme Fatale Holsters
If you want a holster that is both functional and feminine, Femme Fatale's are designed specifically for women.
The product line consists of corsets, hipsters, and garter holsters.
They even have an Ankle SoxXx holster for your back-up pistol. If you can't tell, there is an overtly "sexy" theme here.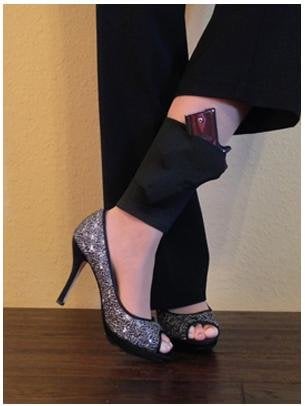 All holsters use "lingerie" materials. Quite honestly, they look more boudoir than office.
Personally, I'm wary of products that suggest a woman needs to look like she just stepped out of the Playboy mansion to feel "feminine." I am also far more concerned with my holster's practicality and comfort than I am its sex appeal.
However, if you're the kind of woman who loves lacy things, you'll probably love these holsters.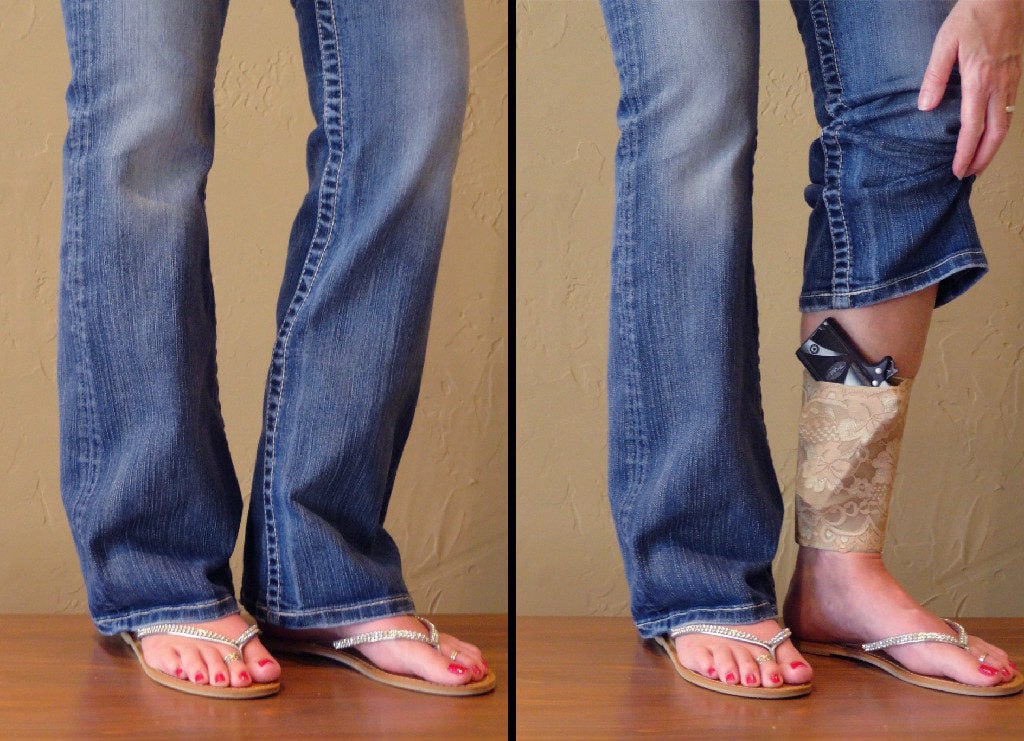 There is So. Much. Lace.
Femme Fatale holsters offer relatively quick, although not necessarily modest, access to your sidearm.
Of course, modesty should probably be the least of your concerns when you need to get to your firearm in a hurry.
Conclusion
The hard reality is most gun gear is designed by and for men. However, as more women continue to accept personal protection responsibility, we continue to see more products hitting the market specifically for us.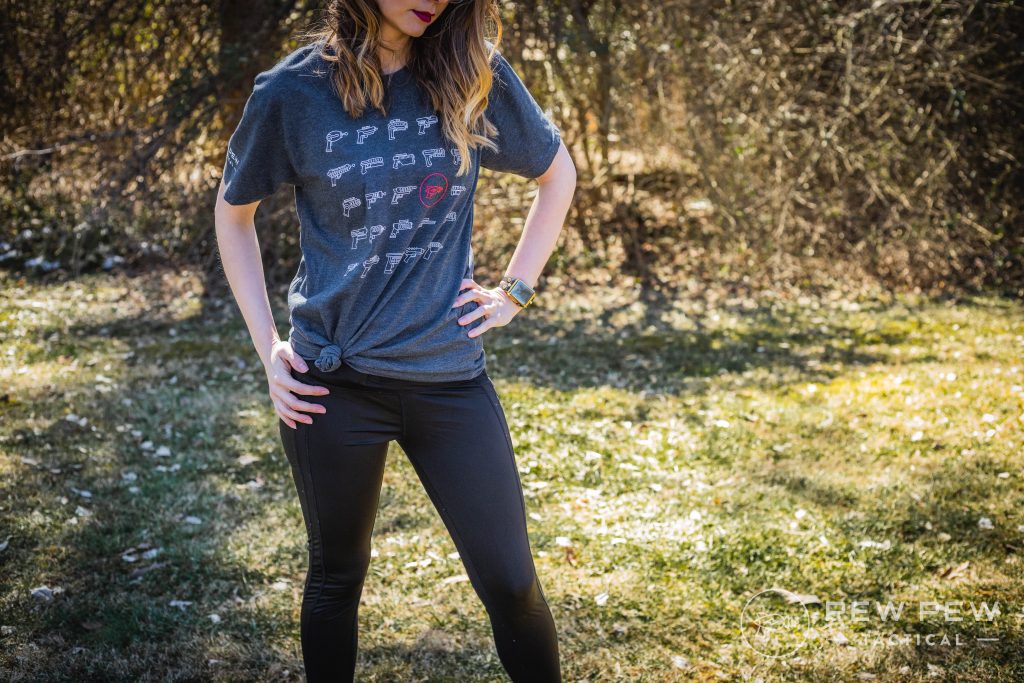 Honestly, right now, we have more carry options than the guys, which is kind of cool if you ask me.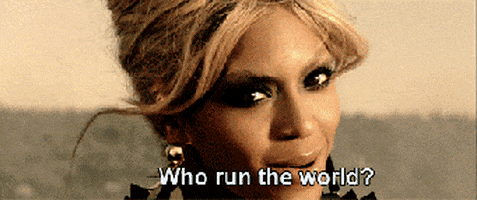 What are your favorite firearms-friendly brands for women? Tell us all about it in the comments. Want some practical concealed carry advice? Check out the Best Way to Conceal Carry for Women. Also, read up on our recommendations for the Best Guns for Women.