Shotgun…meet revolver.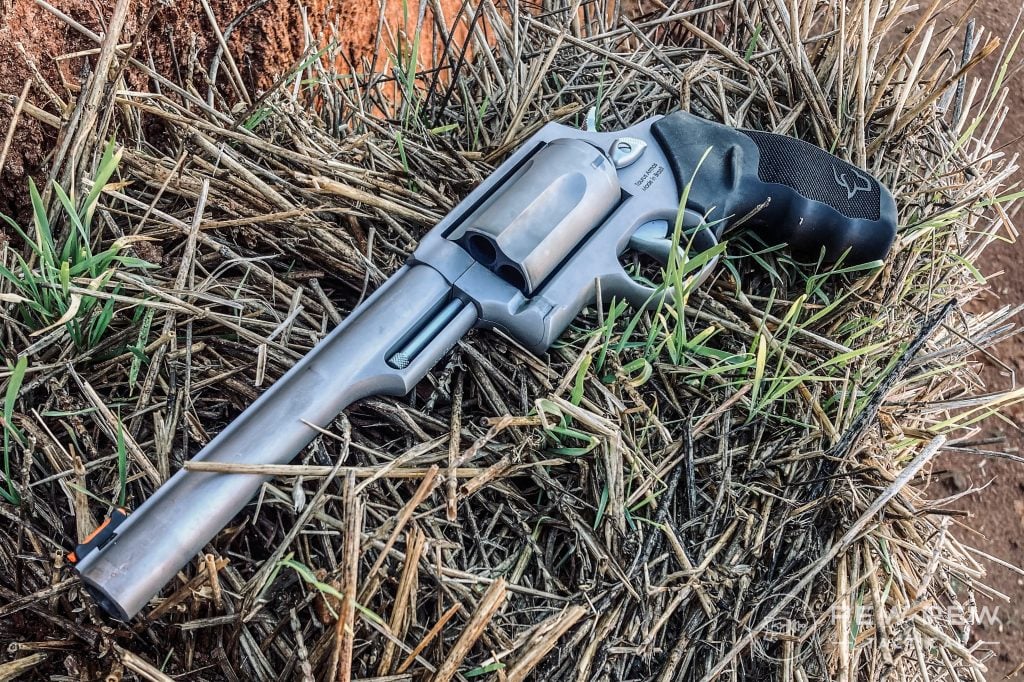 As a gun frequently touted as a defensive option where revolvers are concerned, the Taurus Judge offers up an option for those looking to work around their home.
But what's the final verdict? Is the Taurus Judge an accomplished gun? Can it handle your daily tasks around the farm?
473
at Kygunco
Prices accurate at time of writing
Prices accurate at time of writing
Today, we're going to take a closer look at this wheelgun which takes both .410 shotgun and .45 Colt.
We'll walk through its specs and features, how it handles on the range, and ultimately help you decide if this is the gun for you.
So keep reading to learn more!
Table of Contents
Loading...
Taurus Judge: Specs & Features
Weight: 1.8125 lbs (29 oz)
Barrel Length: 3 in
Overall Length: 7.5 in
Width: 1.531 in
Height: 5.394 in
Caliber: .410 Bore, .454 Casull, .45 Colt, .45 Schofield
Capacity: 5 Rounds
Action: Double-action revolver
MSRP: $563
The Taurus Judge came chambered in .45 Colt and short .410 shells with a capacity for five rounds.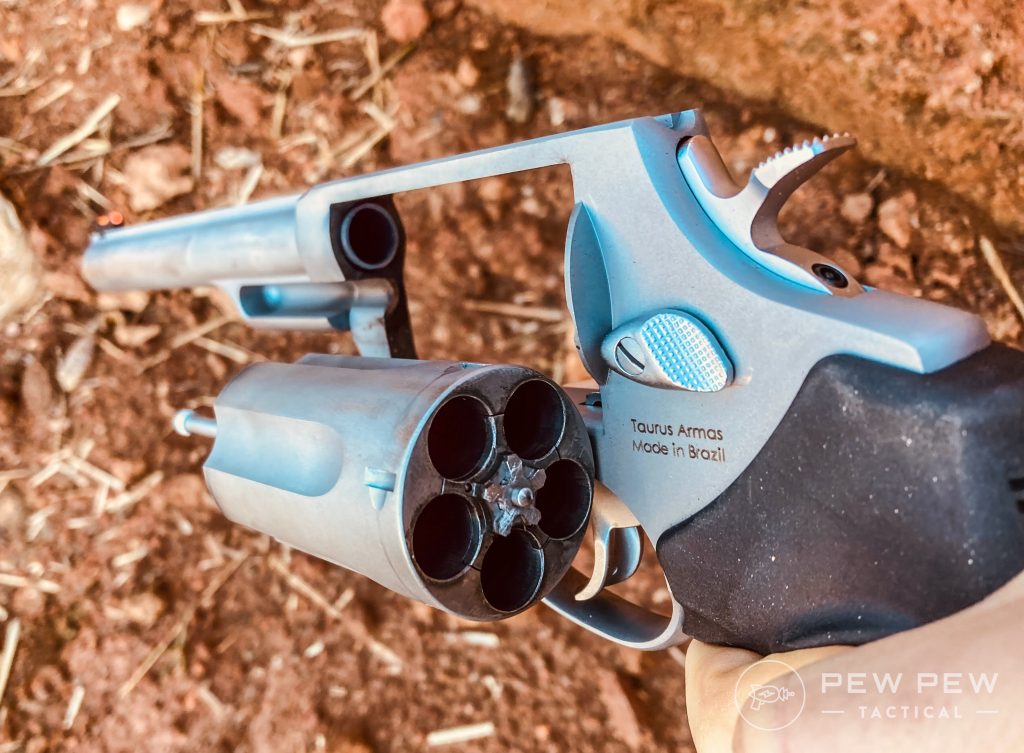 Whether that's enough to satisfy your liking on a daily basis is up to you.
If you were looking at using this gun for self-defense purposes, I myself would look elsewhere.
I much prefer the idea of having a semi-auto with more rounds; however, for farm use, I think five rounds is perfect.
That's enough to deal with any type of larger threat (e.g. chicken killing fox) without being overkill.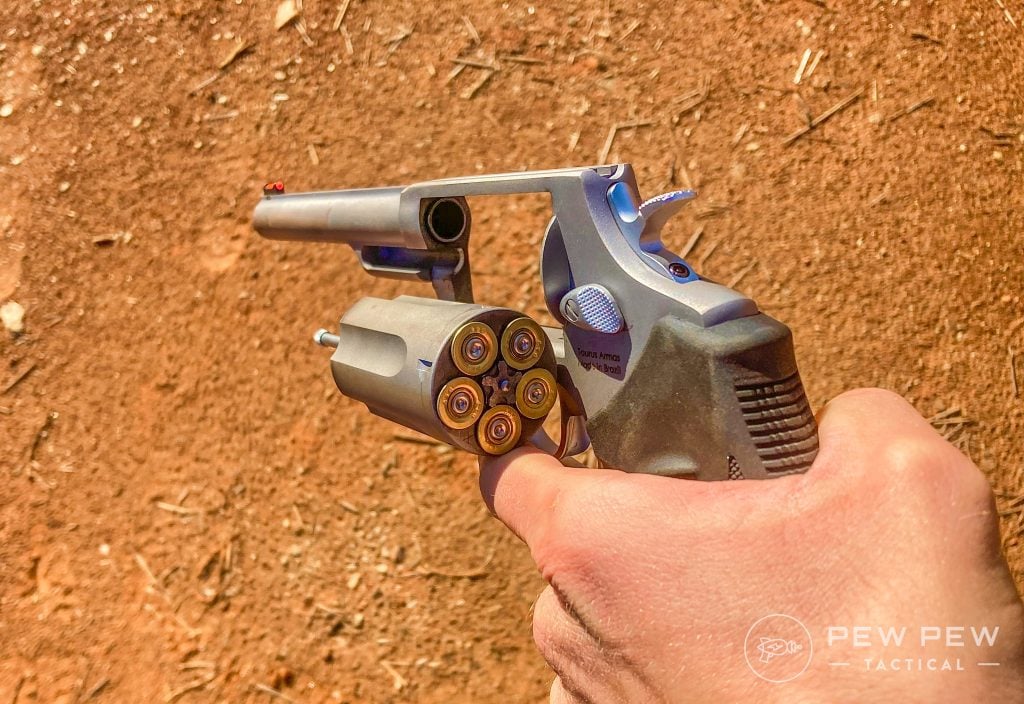 The ability to carry that many shotshells with you as you go about your business can easily help dispatch multiple copperheads and rattlesnakes as you come across them.
If you really need more rounds, get yourself a speed strip and keep it on your person as you ride around on the four-wheeler.
Ergonomics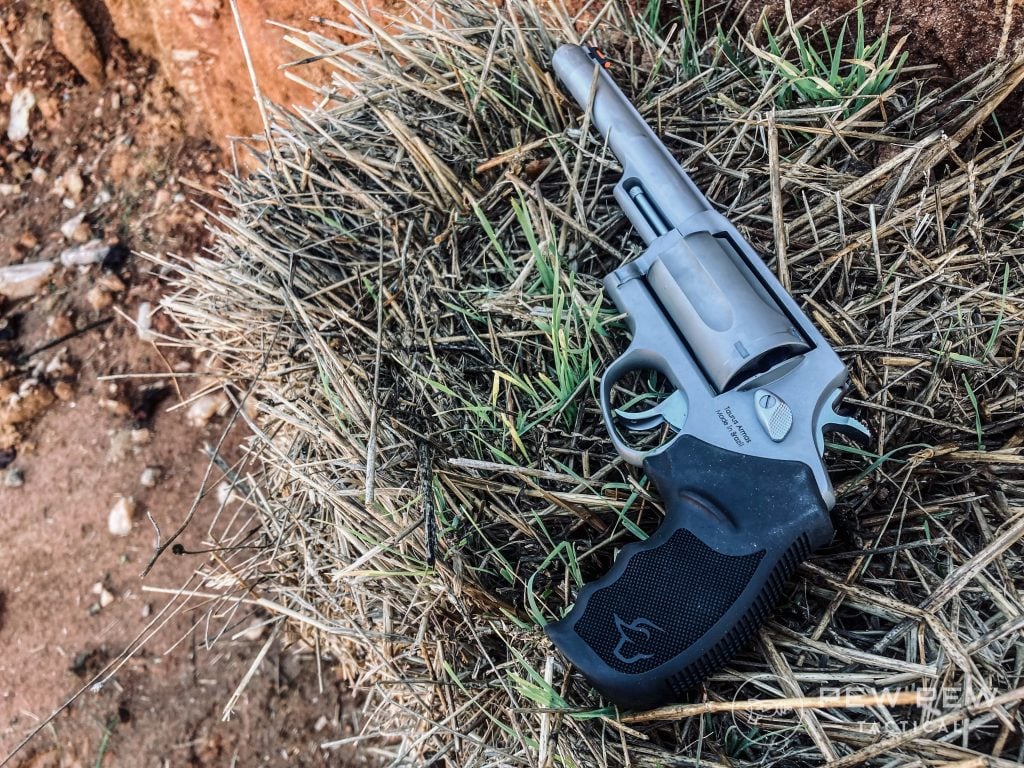 Some guns feel like two 2x4s nailed together into an 'L'. Some of them look like it too.
Not so with the Taurus Judge.
While the handle does have finger grooves — something many people are not fond of — the gun feels very natural in the hand. I didn't feel like I was grabbing a bag full of marbles.
Even if finger grooves aren't your thing, I would still recommend giving the Taurus Judge a try.
Satisfying Click of a Hammer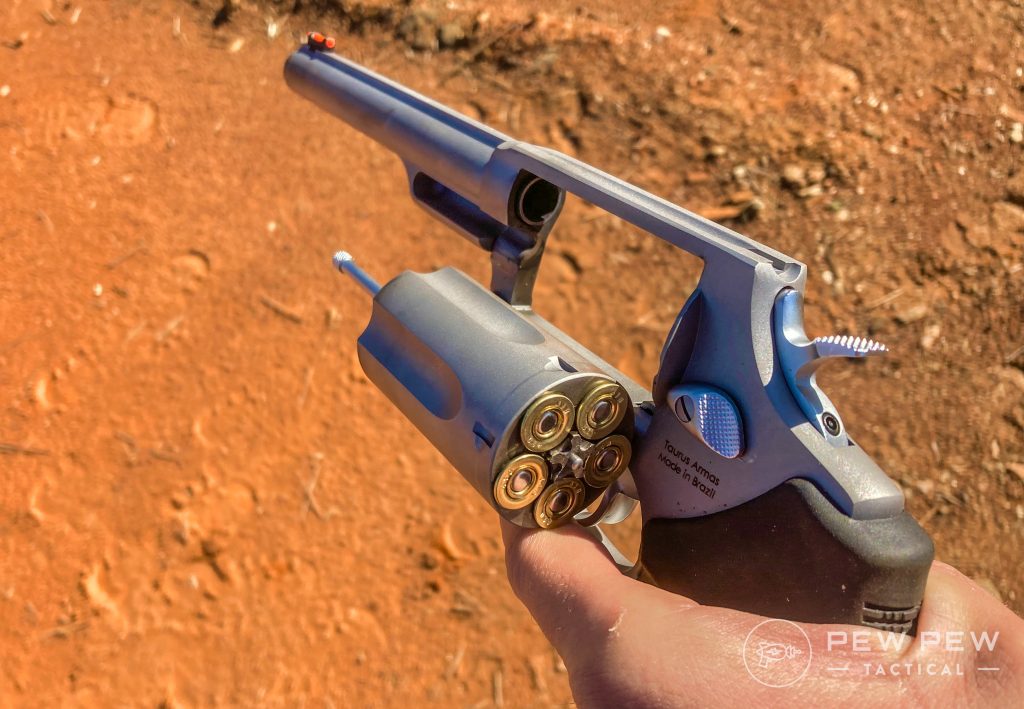 The Taurus Judge is a double-action design, meaning you can simply pull the trigger and shoot, or you can cock the hammer back first – a la Clint Eastwood.
On most revolvers, I've found I do prefer to cock the hammer before shooting — especially if the trigger pull is ridiculously long and stiff.
While neither of those things is a problem with the Taurus Judge, I did like shooting the gun with the hammer cocked as well.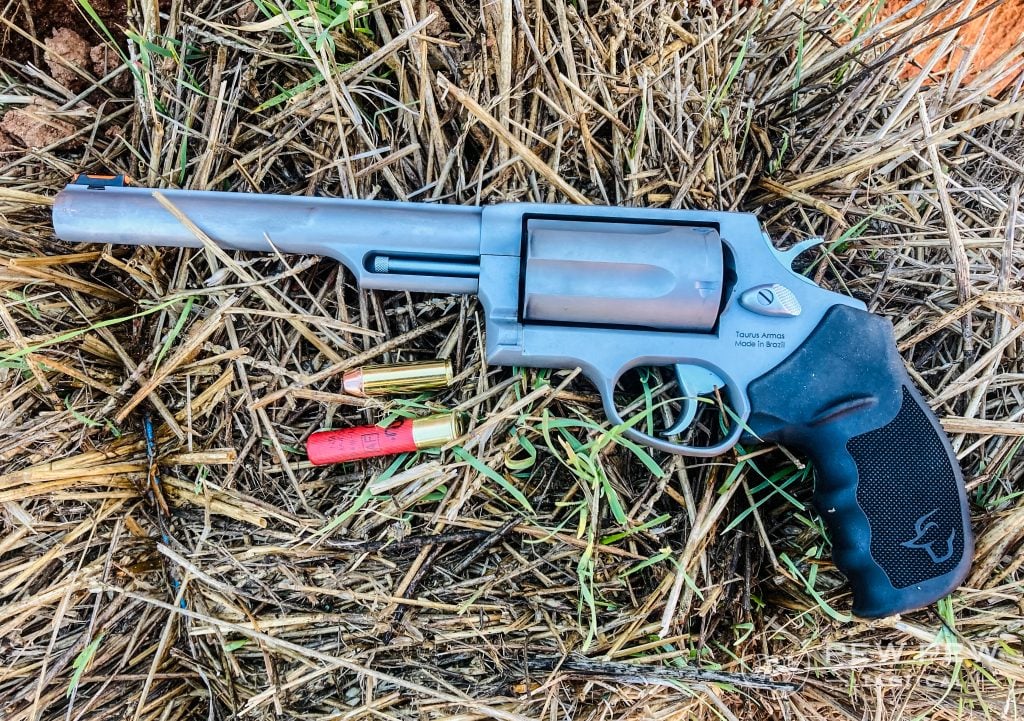 It's easy to pull back with your thumb on the Taurus Judge without feeling as if you're in a super-thumb war. And it drastically decreases the distance the trigger has to travel to go boom.
And for those who care, yes, the hammer does lock back with a satisfying click.
To the Range!
As previously mentioned, the Taurus Judge is designed to shoot both .45 Colt and short .410 shells.
We showed up at range day on the first day with regular length .410 shells only to be disappointed. They don't fit.
So, instead, we threw in .45 Colt.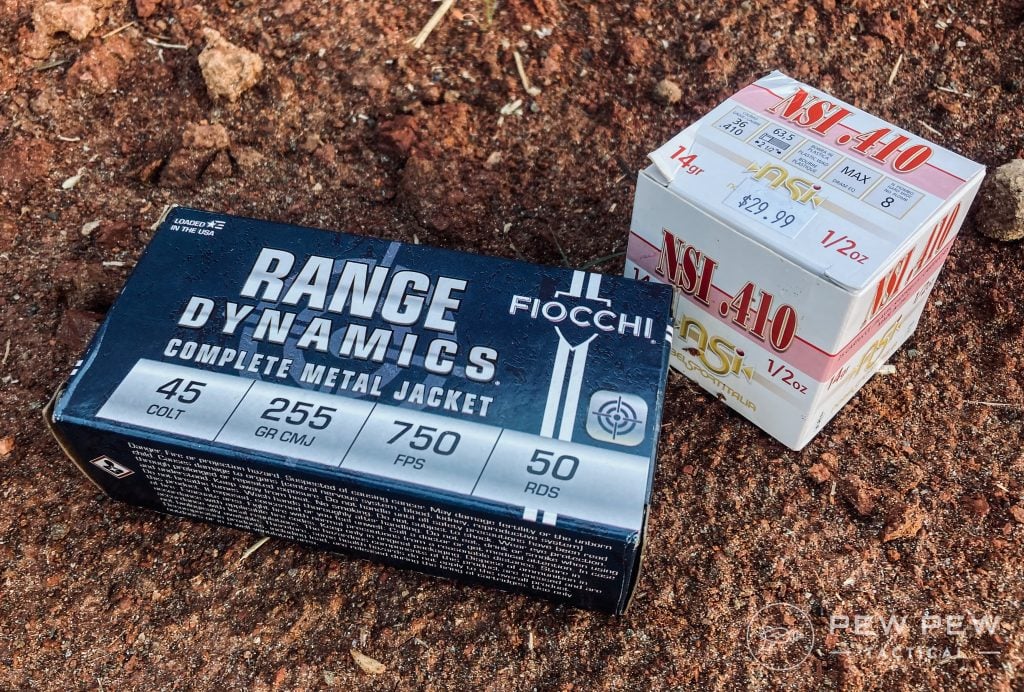 I like shooting .45 Colt, but it is extremely hard to find this ammo right now in my area.
Yeah, everybody's having trouble finding ammo at the moment, but I've only seen one gun store in my region that has the ammo for this gun. Did I mention they were charging $70+ for 50 rounds of ball??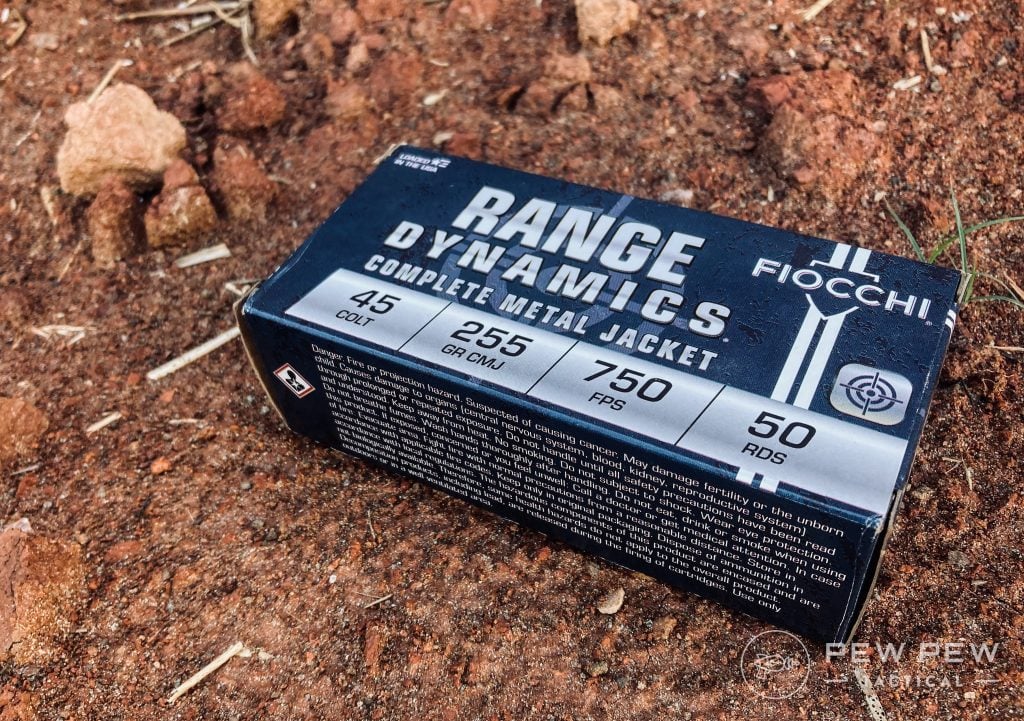 And if I remember correctly, they only had two boxes.
That makes it incredibly difficult to spend a lot of the time at the range with this gun or to keep a ready supply of ammo in your home.
In contrast, pretty much everywhere I go at the moment has 9mm.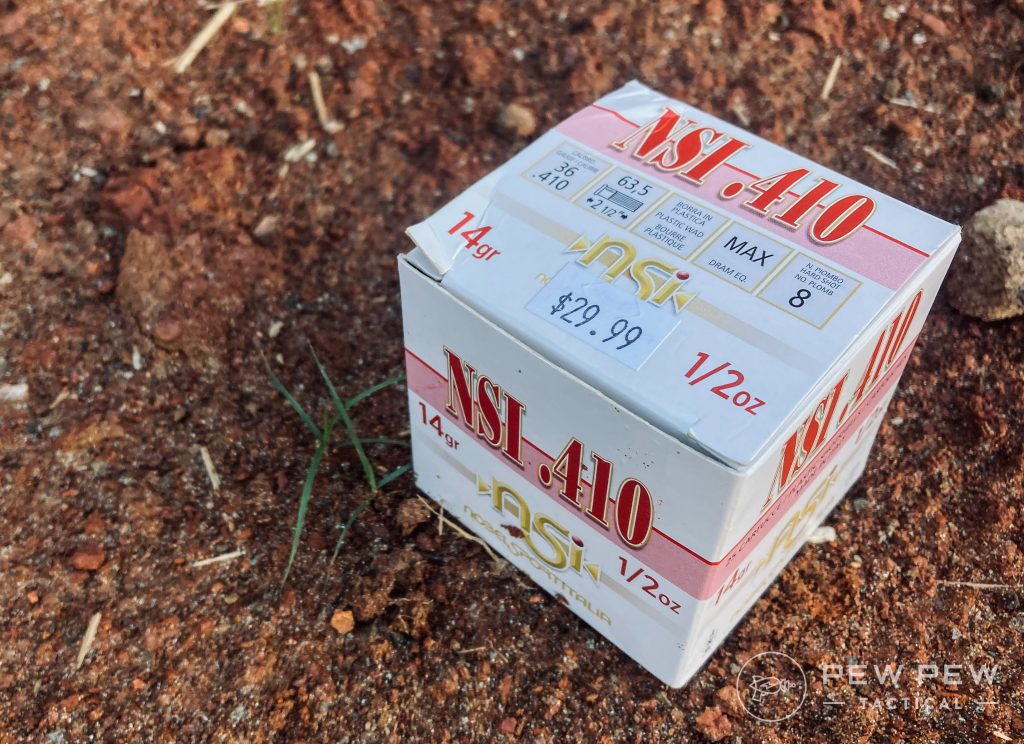 The .410 shells were even harder to find.
We checked several local gun stores for weeks to no avail. Eventually, we sourced some from a flea market.
There are pros and cons to everything — I get that — but if you're looking for a gun with readily available ammunition at the moment, this isn't it.
About that Trigger Pull Though…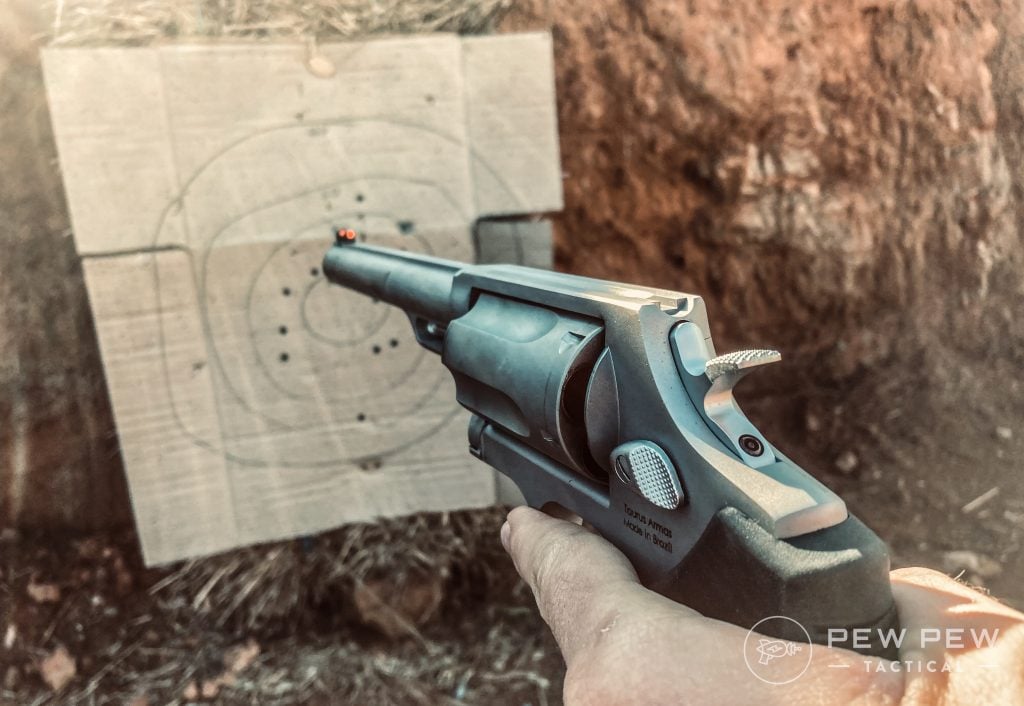 I was pleasantly surprised by how easy it was to pull the trigger on this gun.
Many revolvers you'll find out there have ridiculously stiff triggers that aren't fun to shoot. Given that Taurus is widely considered a "budget" brand, I didn't have the highest of expectations when I first picked this one up.
For example, shooting a Taurus 82 is about as clunky of a revolver experience as you can get.
However, with the Judge the trigger pull is very smooth, you don't have to travel half a mile with it, and it didn't require a lot of grip strength to operate.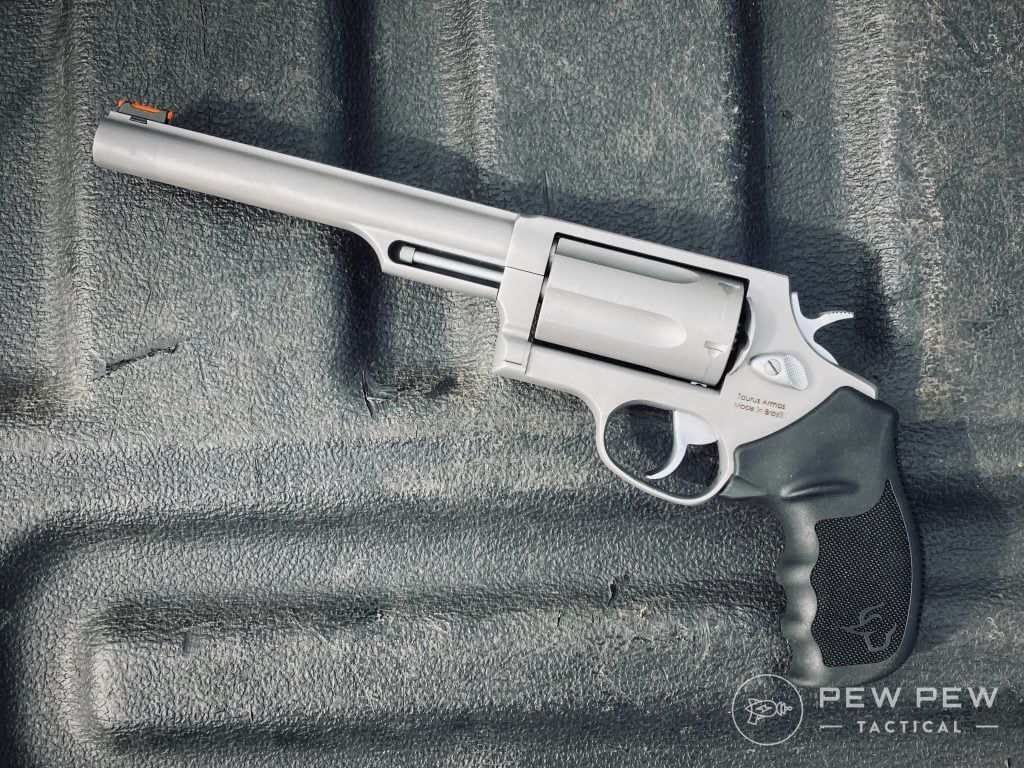 Combined with the awesome sights on this gun this meant I was able to empty a cylinder on target much quicker than able to with a stiffer trigger.
I'd say that's a win.
POW!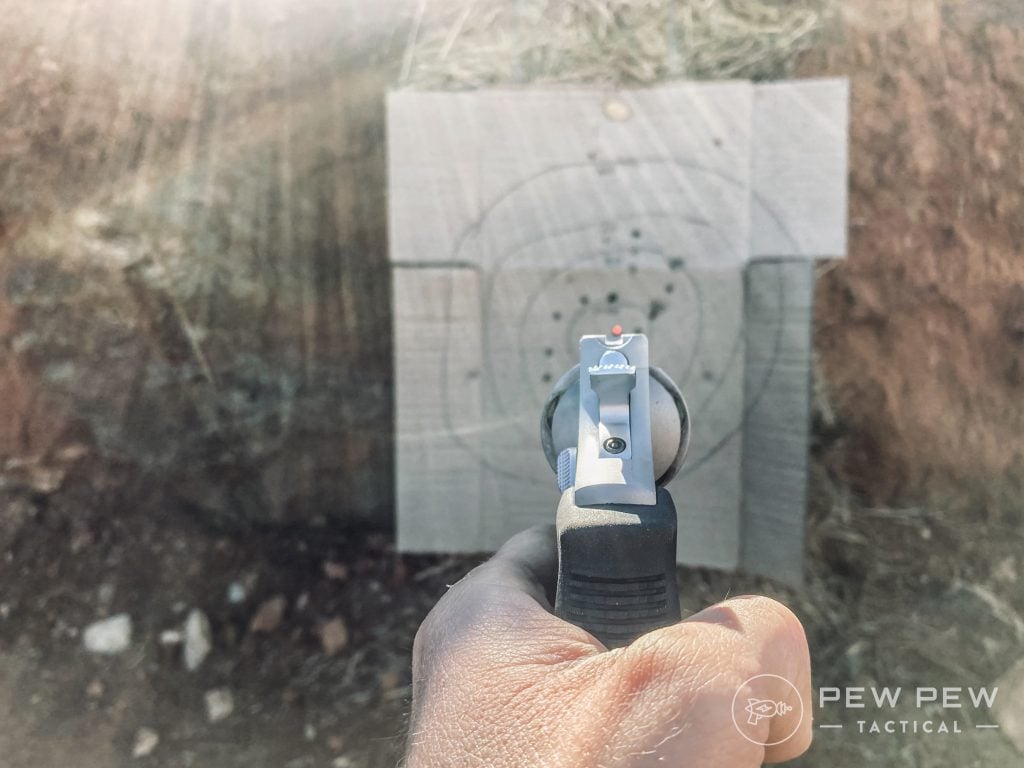 Whether you're shooting .410 shotgun shells or .45 Long Colt, neither option has terrible recoil within the 3-inch barrel Taurus Judge.
I found the .45 Long Colt to be pleasant to shoot as there was no fear factor causing recoil or painful snap.
The .410 shells were a tad different, however.
It's still manageable, but there is a notable difference in the recoil with .410.
If you were spending three hours at the range doing nothing but shooting .410 shells out of this, your wrist would likely feel sore at the end of the day.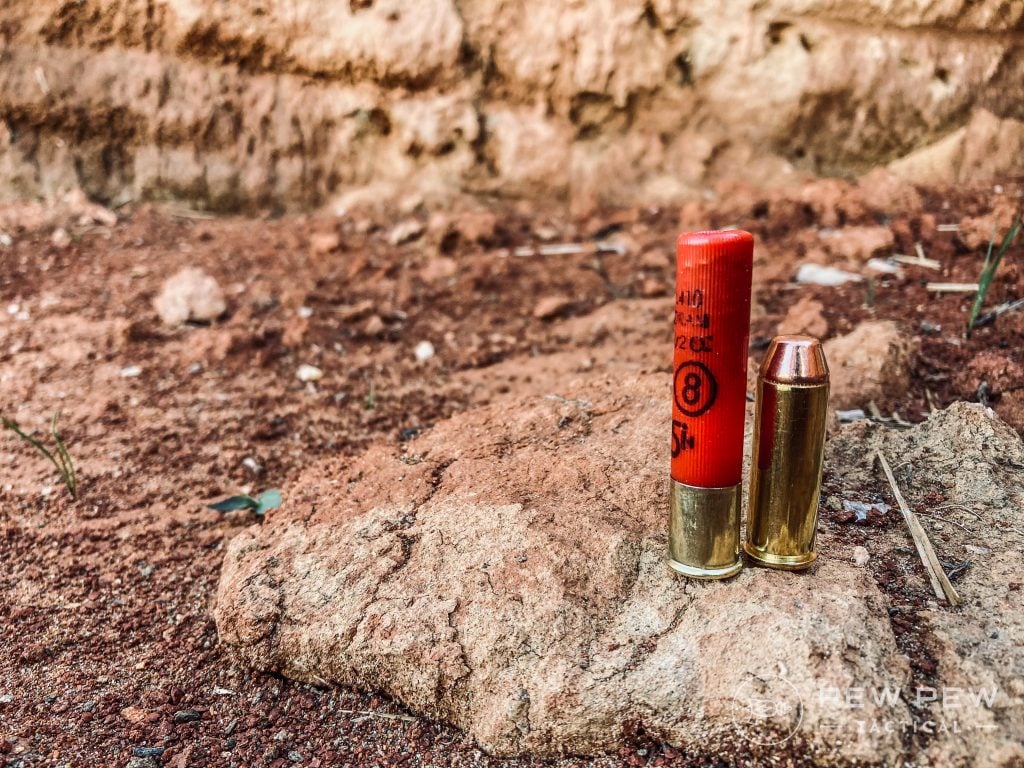 For the occasional snake or rat, you'll be able to shoot it with no problem without feeling like you need to ice your wrist down afterward.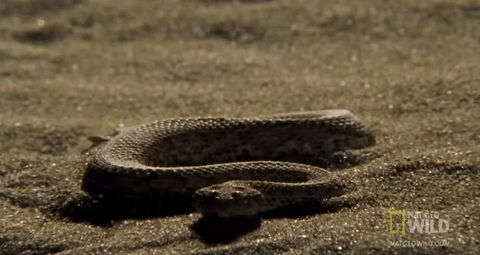 Surprisingly, the Taurus Judge wasn't anywhere near as loud as I was expecting. We were spending our time with the 3-inch barrel version of this pistol.
So, if you're going to spend some time with a shorter barrel, I can easily see how that would be a louder bang.
But, with this particular model, you can shoot it without feeling as if your ears are going to explode with every trigger pull.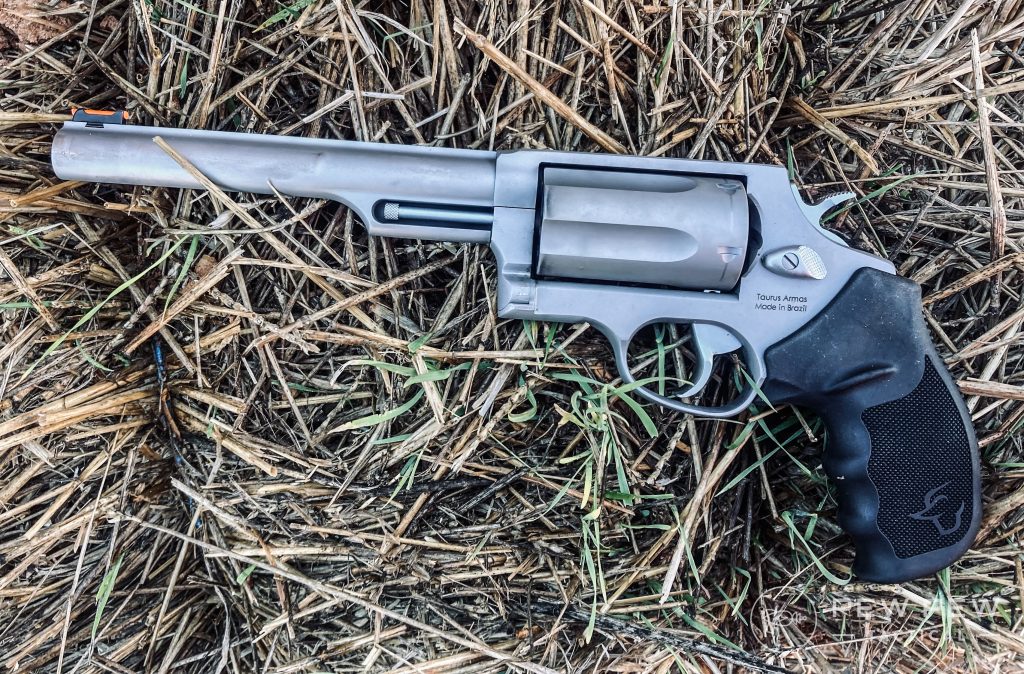 Even compared to some of the rifles we shoot on a regular basis, the Taurus Judge was actually quieter — something I found surprising.
That's all when shooting .45 Long Colt, however. As soon as you put a .410 shell in there, you'll hear differently.
As expected, the .410 shells were much louder.
Sight Alignment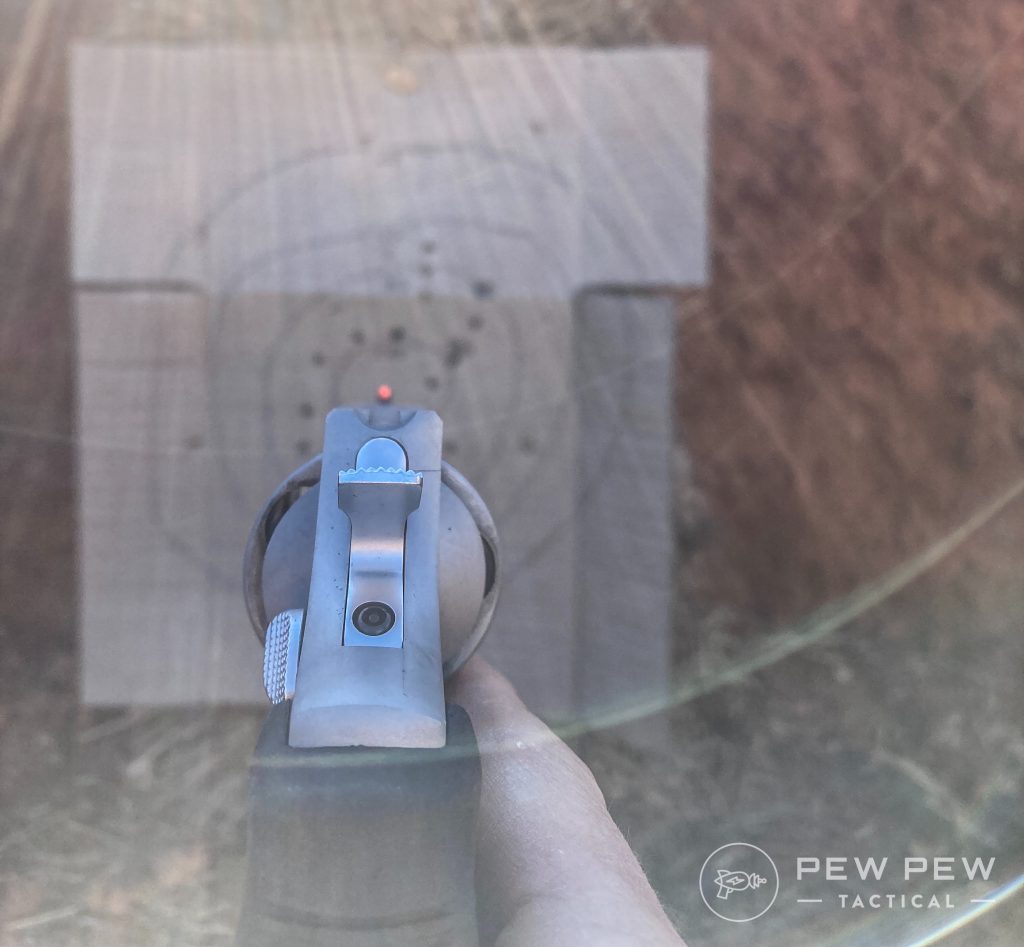 The main thing I liked about the Taurus Judge was getting a sight picture.
I shot a number of other pistols on one of the same range days and none of them were as intuitive or as easy to line up with the target as was the Taurus Judge.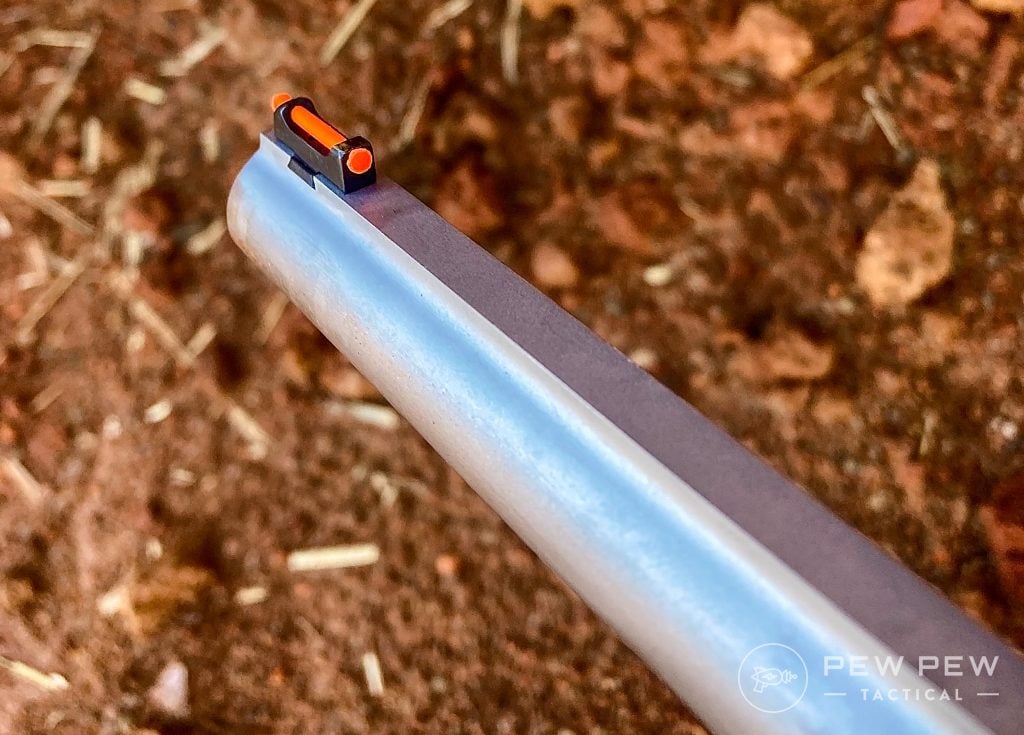 I was able to shoot much faster with this revolver as a result.
The rear sight is your standard metal sight without any markings, but the front sight is a little red tritium bar.
Brightness and contrast with the metal mean it's easy for you to line up the sights so you can put lead downrange.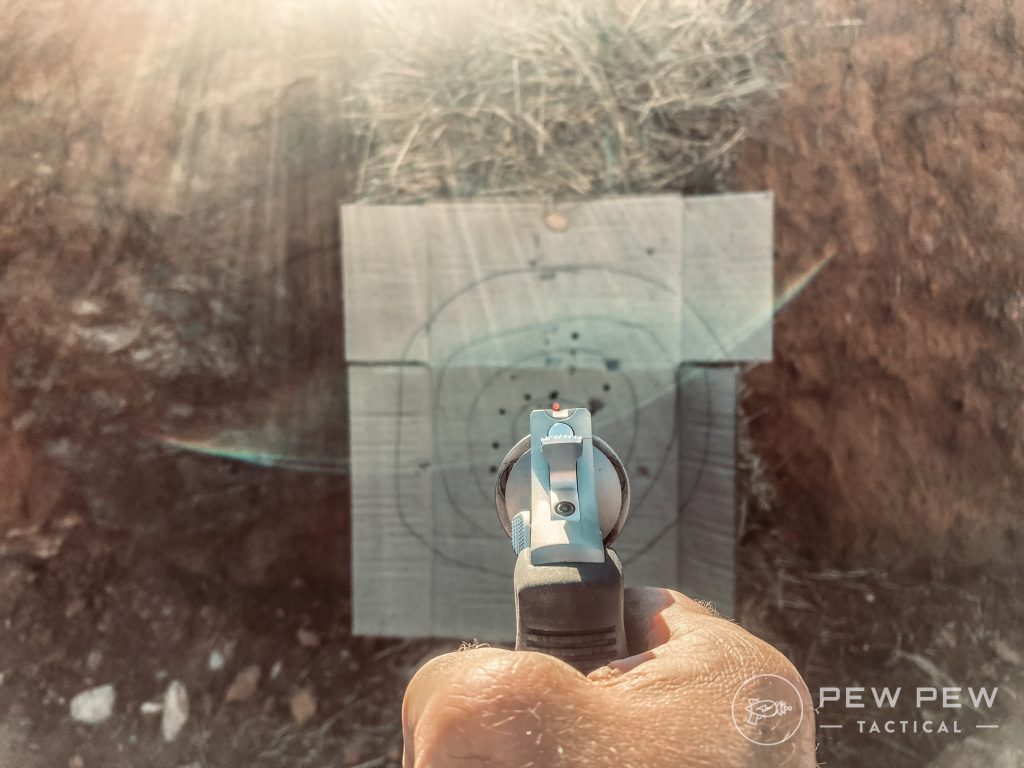 Accuracy
It depends on what you're shooting here.
Our range days were spent at 21 feet and 29 feet. With the .45 Long Colt chambering, we were able to hit good groupings (for us) without much problem.
With the .410 shells, you just point in the general direction and pull the trigger. There really is no aiming involved there.
From 29 feet, a .410 shell out of this will have a spread of around 5 feet — so you're going to hit what you're aiming for.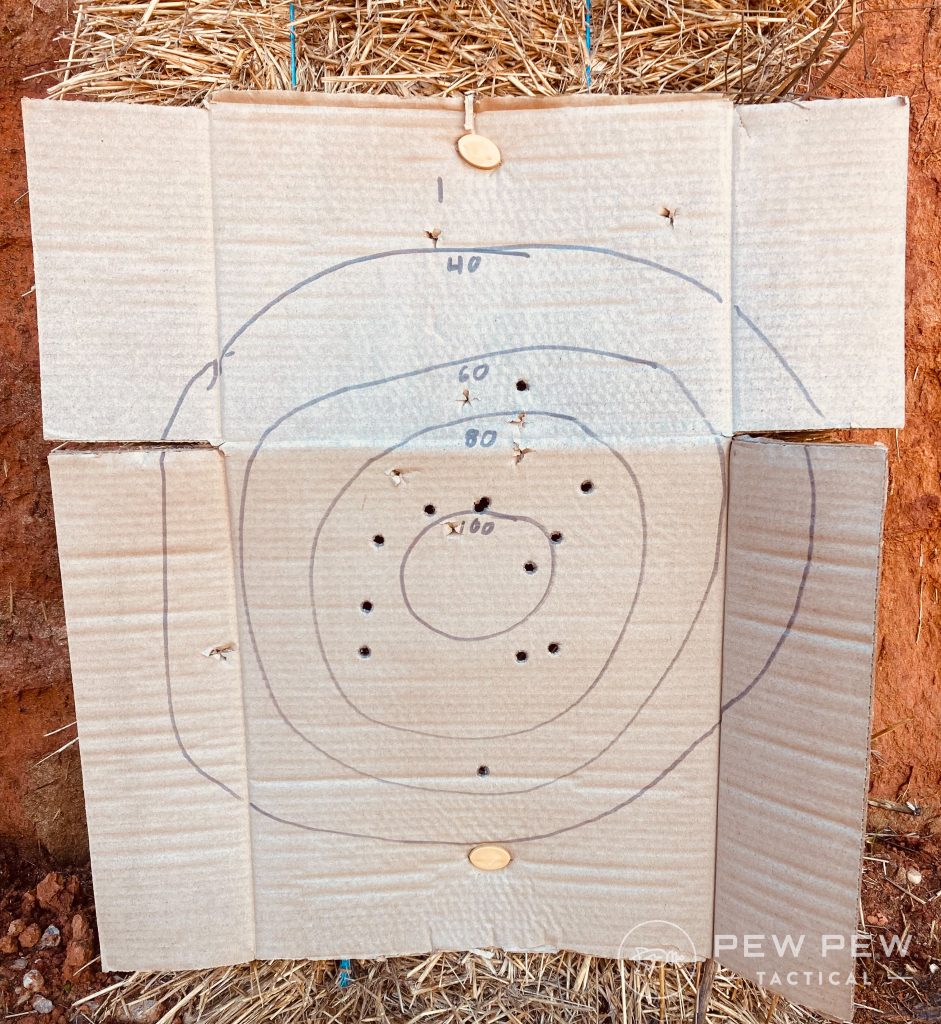 At 21 feet, you're still going to hit what you're aiming for. You are not looking at a close-knit, choked shot pattern at all out of this gun when shooting .410.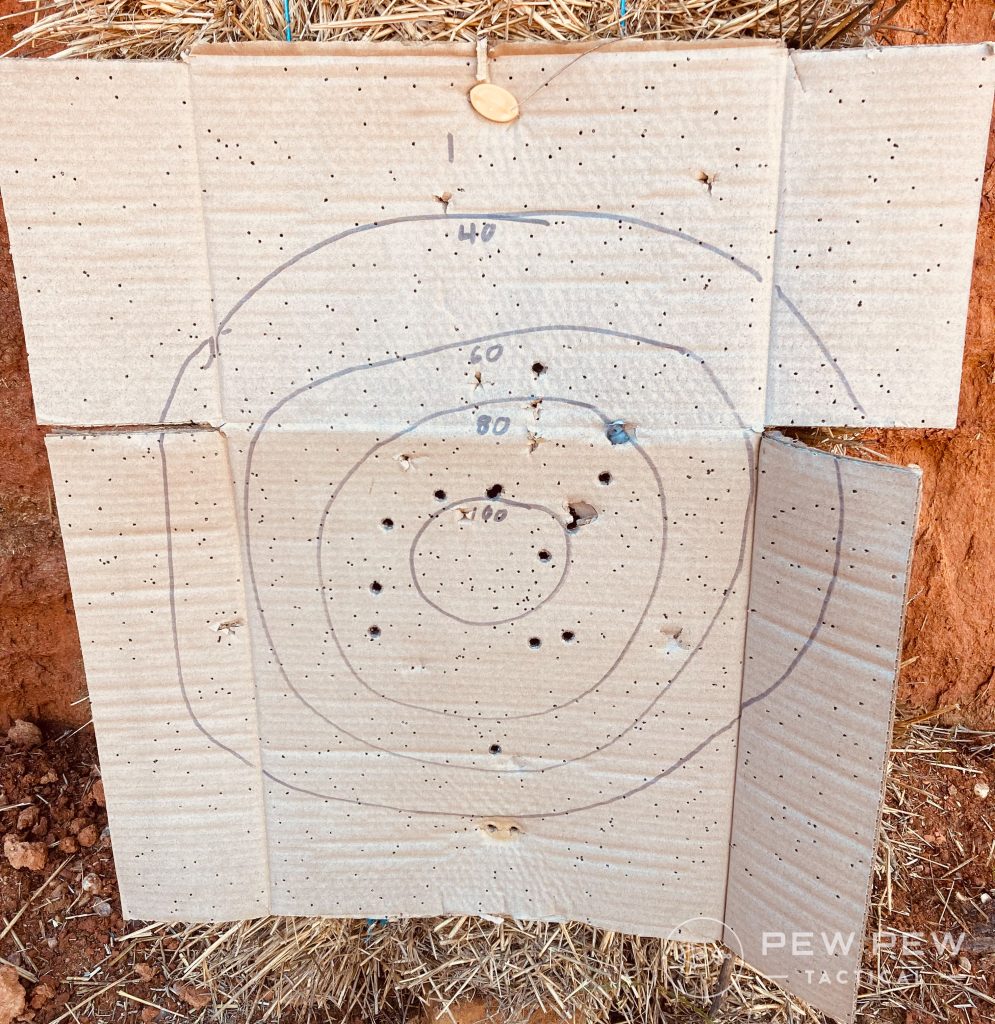 If you're aiming for a rattlesnake or fast-moving rat, I suppose that's a good thing, because you'll hit it.
But if you were hoping for something a little more precise, you're going to want to switch to an actual shotgun.
But, hey, you're probably not expecting a tight choke out of a 3-inch barrel anyway, so this may just be a moot point.
By the Numbers
Reliability: 5/5
It's a revolver, so unless there's something wrong with the cartridge, it's going to go bang when you pull the trigger. We had zero problems with malfunctions here.
Ergonomics: 4/5
Personally, I had no problems with the handle of the gun whatsoever. However, it does have finger grooves on it which I know a lot of people hate. I'm taking a point off here simply because I know there are some people out there who won't enjoy the feel of the pistol with them.
Accuracy: 5/5
We didn't find any problem with the accuracy of the pistol, actually preferring it over the semi-autos we were shooting around that same day.
Customization: 3/5
I suppose this is somewhat apples to oranges, but there's simply not a lot of upgrades you can do with a revolver compared to a semi-auto. However, one can change the handle, add a laser sight, and add different front sights to this weapon.
Value: 5/5
Coming in at right around $500, the Taurus Judge is a fairly common pistol price. I'm happy with just about anything within that ballpark.
473
at Kygunco
Prices accurate at time of writing
Prices accurate at time of writing
Overall: 4.5/5
We had zero complaints about this gun. If you spend your money on one of these, we think you'll be very happy with your purchase.
Conclusion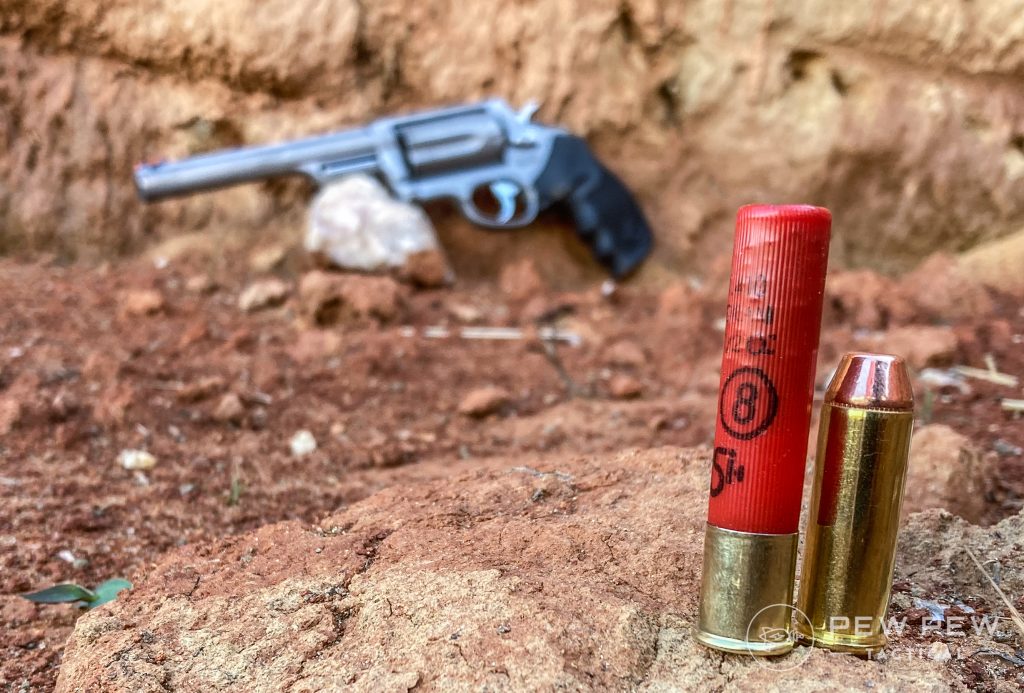 If you regularly spend time walking around your farm taking care of business, the Taurus Judge is most certainly a gun I would consider.
Grab a nice holster for this gun as a convenient means of stowing away the gun until it's needed around the farm.
473
at Kygunco
Prices accurate at time of writing
Prices accurate at time of writing
Have you ever shot the Taurus Judge? If so, what did you think? Let us know in the comments. And for more options, be sure to check out our Best .410 Revolvers Roundup!
FAQ
What caliber is the Taurus Judge?
The Taurus Judge shoots both .410 Shotgun and .45 Colt rounds.
Can the Taurus Judge shoot 3 inch .410 shells?
The regular model shoots 2.5" while the newer Magnum model will take 3" shells.
Can you shoot buckshot in a Taurus Judge?
Yes, it will shoot .410 birdshot, buckshot, and even slugs.