If you're on a ramen budget…you need the cheapest most reliable gun on the market.
It's currently a buyer's market in the gun industry and prices are quite low these days.
This has made cheap guns even cheaper.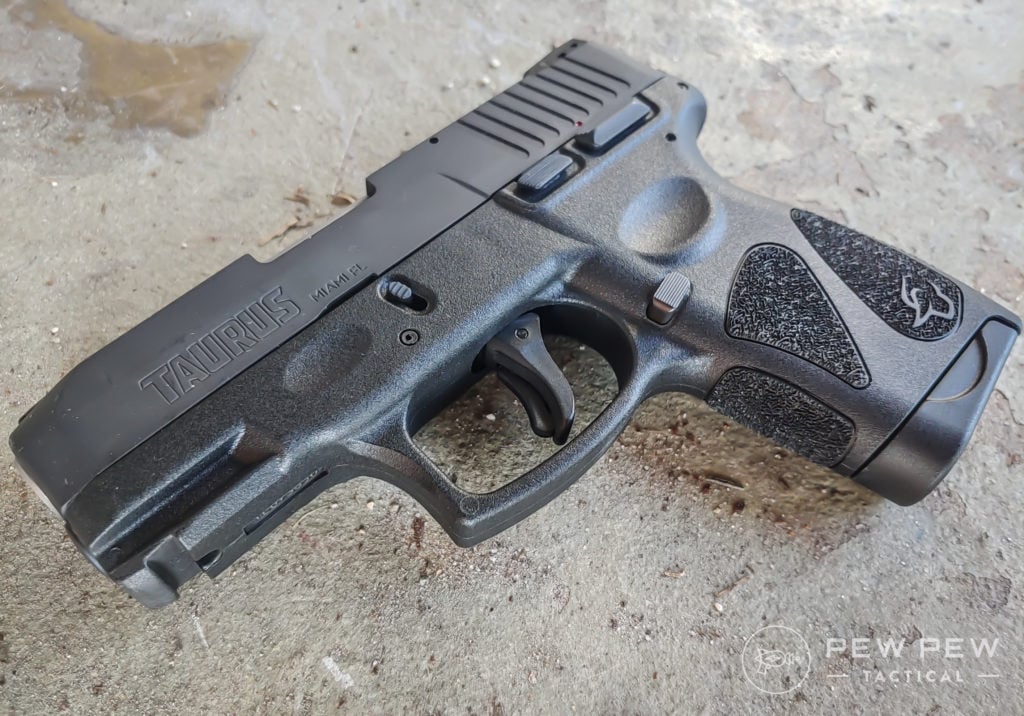 Today we are going to be looking at one of the most affordable subcompacts…the Taurus G2S.
By the end you'll know if it's worth your hard earned dollars.
Table of Contents
Loading...
By The Numbers
Reliability 3/5
Two failures to eject, and the magazine issue on top of the sight being loose knocks a couple of points off here. It seems to run fine now, but we'll see.
Ergonomics 3/5
I like how the gun is laid out, how it feels in my hand and how it handles. The downside is I have some pink scare tissue on the web of my hand from slide bite.
Accuracy 4/5
It is carry gun accurate or minute-of-bad-guy and that'll get you by for both home defense and concealed carry. Don't expect Glock 40 range or accuracy, but it'll get you where you need to go.
Customization 3/5
You can add Talon grips, new sights, and a light or laser, and you can customize the insides with parts from Galloway precision and Lakeline LLC.
There is even a rear sight mount for optics. It doesn't get Glock levels of crazy but there are options.
Value 5/5
A $180 dollar gun is a $180 dollar gun. It runs well enough and looks and feels good in the hand. So for the price… It delivers a lot.
Plus, the magazines are fairly cheap also. That's a huge plus.
Overall 3.5/5
< class="specsAndFeatures__heading">Taurus G2S Specs and Features>
Specs
Action
Double Action Only / Semi-Auto
Barrel Length
3.2in / 3.3in
The Taurus G2S is a single stack handgun that comes in either 9mm or 40 S&W.
It's recently hit an all-time price low and can be purchased for… Well, really cheap. Normally under $200.
237
at Kygunco
Prices accurate at time of writing
Prices accurate at time of writing
The guns come with two magazines that have a 7-round 9mm capacity and a 6-round 40 S&W capacity.
It's simple, and a little thinner than the G2C.
The G2C, reviewed here, is a doublestack model of what's basically the same gun that gives you 5 more rounds.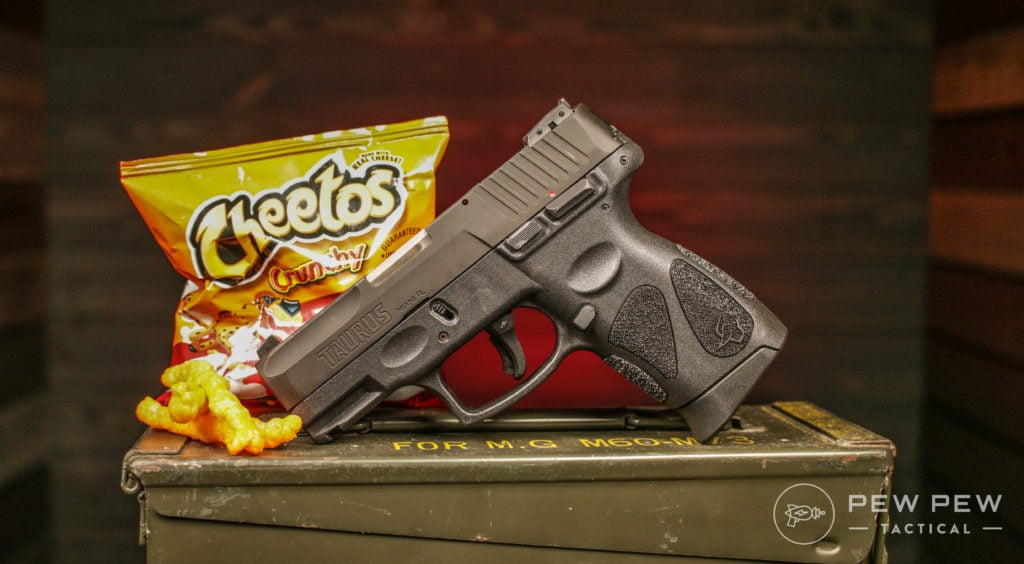 If you want smaller, or are stuck in a state with 10-round limits, the G2S is for you.
Off the bat, the G2S is not a revolutionary handgun, but it is a functional handgun designed for concealed carry.
My particular model is the 9mm variant. Oddly enough the G2S in 40 S&W seems to be uncommon and not as affordable as the 9mm variant.
You can find it if you look and really want a 6 round 40 S&W pistol.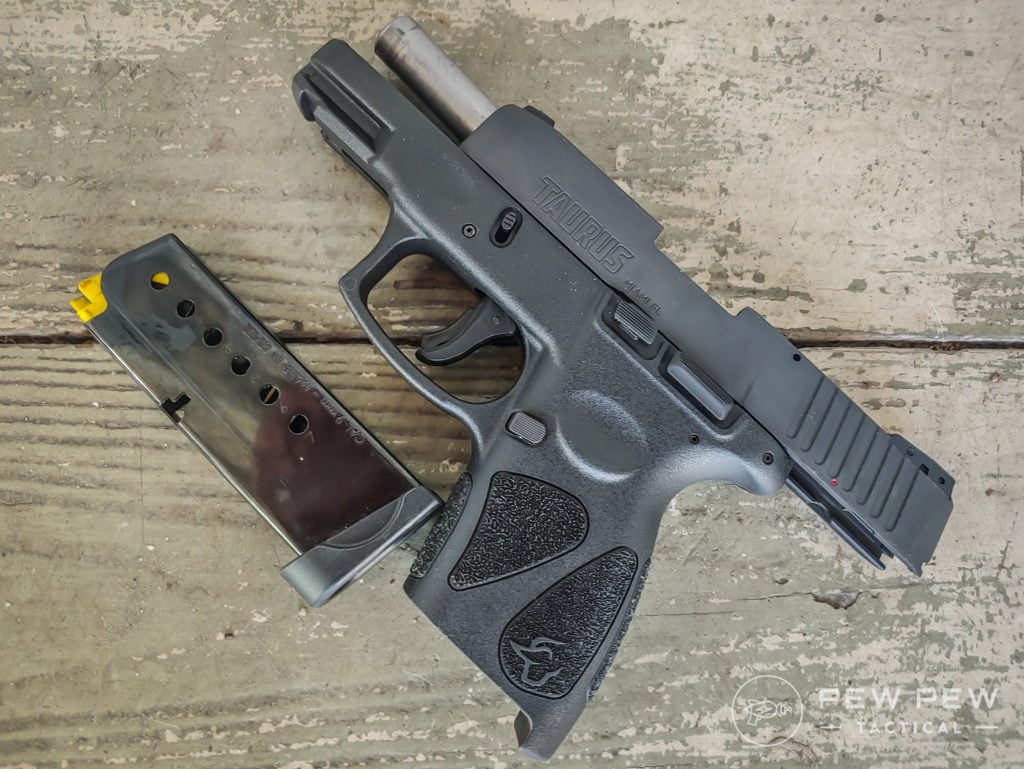 The Taurus G2S comes in a flashy cardboard box with a manual, a lock, and another magazine. I don't mind a cardboard box on a sub 200 dollar gun.
I whine about it occasionally because I don't think a 2k rifle should have something more than a cardboard box but that's another argument for another day.
It's a simple gun, but it looks good. Taurus is always a little obnoxious with their roll mark and that's present.
My particular model is black on black but stainless slides and cyan frame models exist for a little more money.
220
at Palmetto State Armory
Prices accurate at time of writing
Prices accurate at time of writing
The gun is much more attractive than most cheap guns. The slide is made from steel instead of pot metal, the grip is textured, and the gun has a clean and neat appearance.
Some cheap guns can't even get that far for better or worse.
The Ergonomics
If you ever owned an older single stack you have an idea of what the grip is like.
It's square and blocky.
Not uncomfortable, but there is a reason the PPS series went a little more round with the M2 generation.
It feels a bit like bolding a small board in your hands. The texturing is nice and not too aggressive or too soft. The slide is serrated on the rear and that's it.
The trigger features the Glock style trigger safety as a redundant device to the gun's manual safety.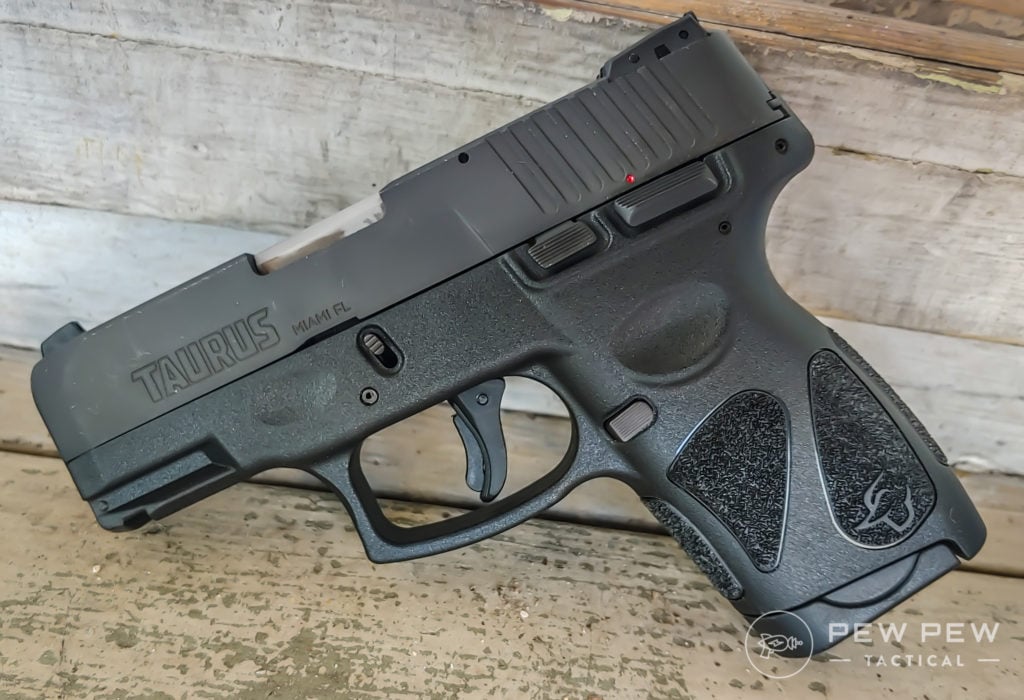 I'm not a big fan of a manual safety on handguns, but the G2S at least does it well.
The safety is frame-mounted and very 1911 like. It clicks up and down easily and you can rest your thumb on it in a thumbs forward grip.
It's also textured and easy to engage or disengage.
If I have a gun with a safety I train to always flip the safety off. A lot of folks say just don't use it, but I think it's a better idea to train to use it regardless.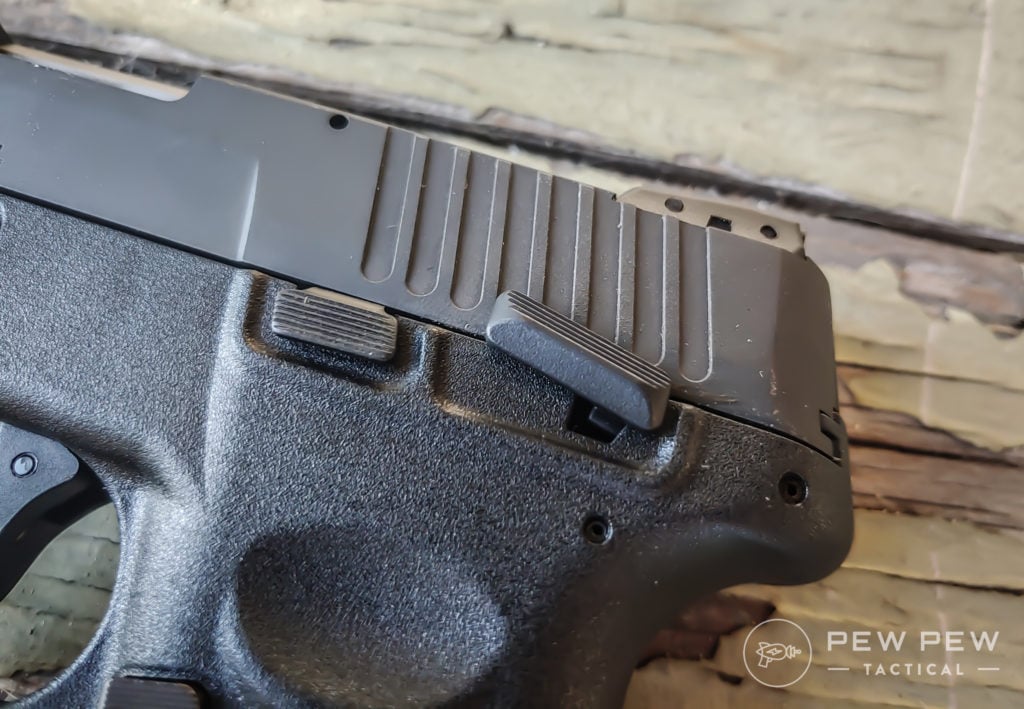 The magazine release clicks and pops and is well-positioned. Nothing special, but no complaints.
Inserting the magazine is…odd.
It stops once it reaches the magazine release and requires a firm push or slap to get it seated. I'm hoping this isn't striking the magazine release and hoping it won't cause an eventual issue with the magazine release.
Hoping.
Obtaining a good grip is easy and the grip is long enough to prevent hanging pinky. It's an easy handling gun and will fit a wide variety of shooters.
28
at GunMag Warehouse
Prices accurate at time of writing
Prices accurate at time of writing
Ergonomically it's a sound gun, mostly, things change a little when we get to the range.
On The Range
What changes?
Well, the slide beats my hands up. Enough so to draw blood with a high firm pistol grip. I have big hands, 2XL sized gloves big.
The slide bites right where my thumb is positioned with a thumb's forward grip. This isn't super uncommon for me.
It happens with Glocks too. After a full day of shooting my hands are roughed up and hurting.
Once I'm bleeding I'm gonna be flinching and that'll affect accuracy.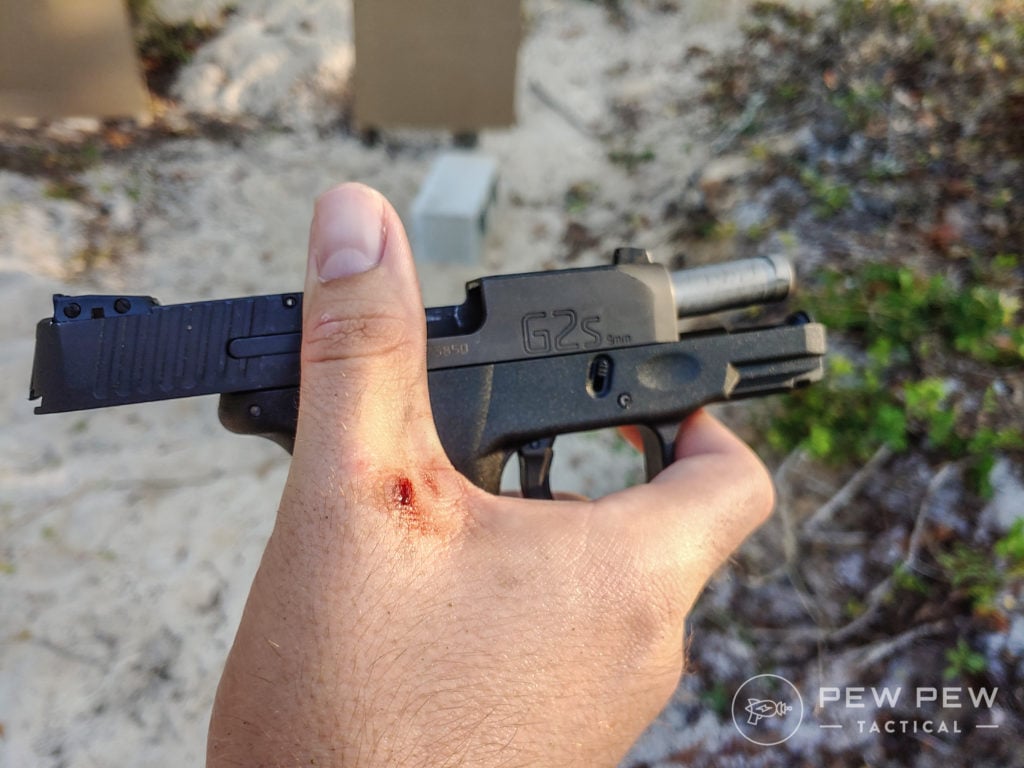 Accuracy wise I had some issues when I first started shooting the gun. It looked more like I was patterning buckshot than a handgun.
With my P365 I could make very acceptable groups, I'm not the best shot in the world — but I know I should be doing better than buckshot.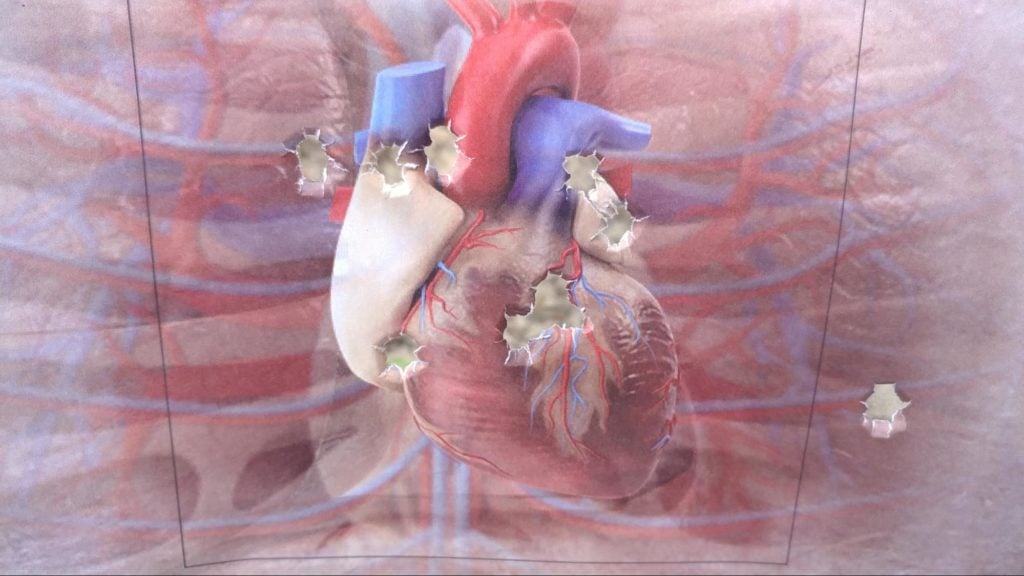 Finally, after a few mags, I realized my front sight was loose and was moving.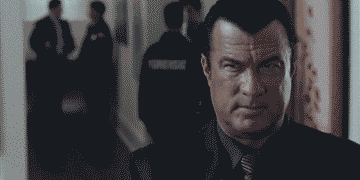 I quickly stripped the slide and tightened the front sight down. After that, I got on target and stayed there. Range wise I maxed out at about 20 yards hitting headshots.
That's certainly an accurate enough gun for concealed carry. Recoil was nice and soft, no hand slap, and the gun doesn't try to work its way out of your hands.
The rear sight is adjustable but I didn't need to use it. Adjustable sights on carry guns seem like an odd choice, but I'm sure there are plenty of people who like it.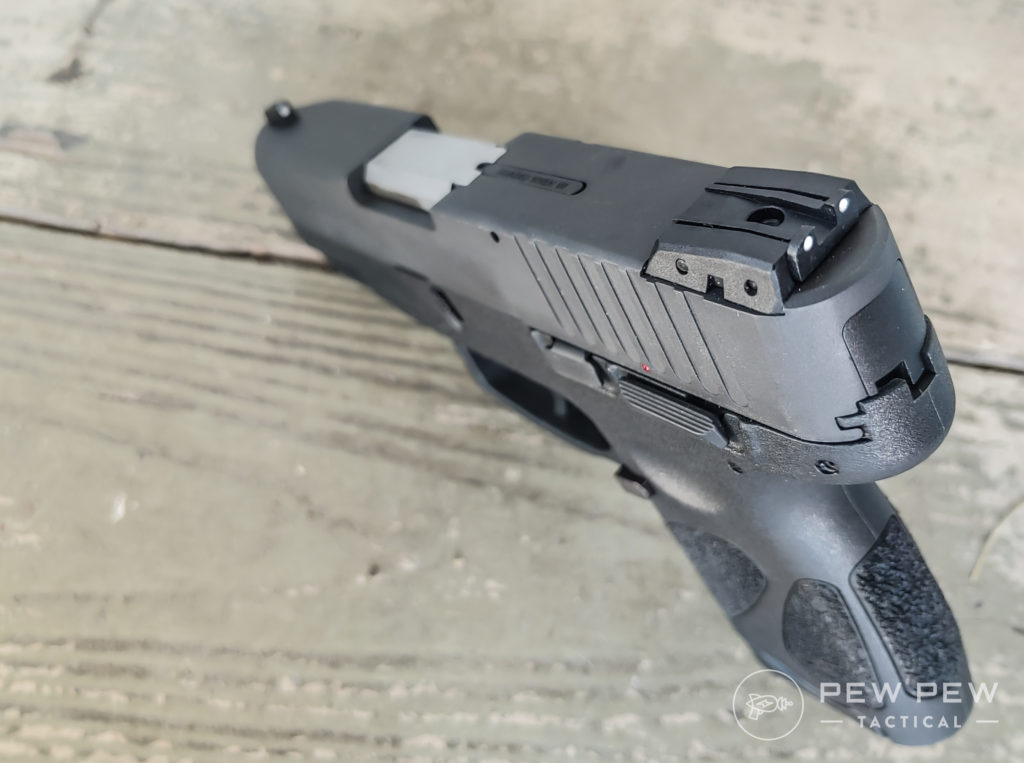 The Trigger
The trigger is a neat system.
It's kind of a DA/SA gun like the striker-fired P99, but a bit different.
Taurus describes it as a "single action with a restrike system" and that's an accurate descriptor. The gun reverts to single-action as soon as you rack a round in the chamber and there are no manual means to decock it.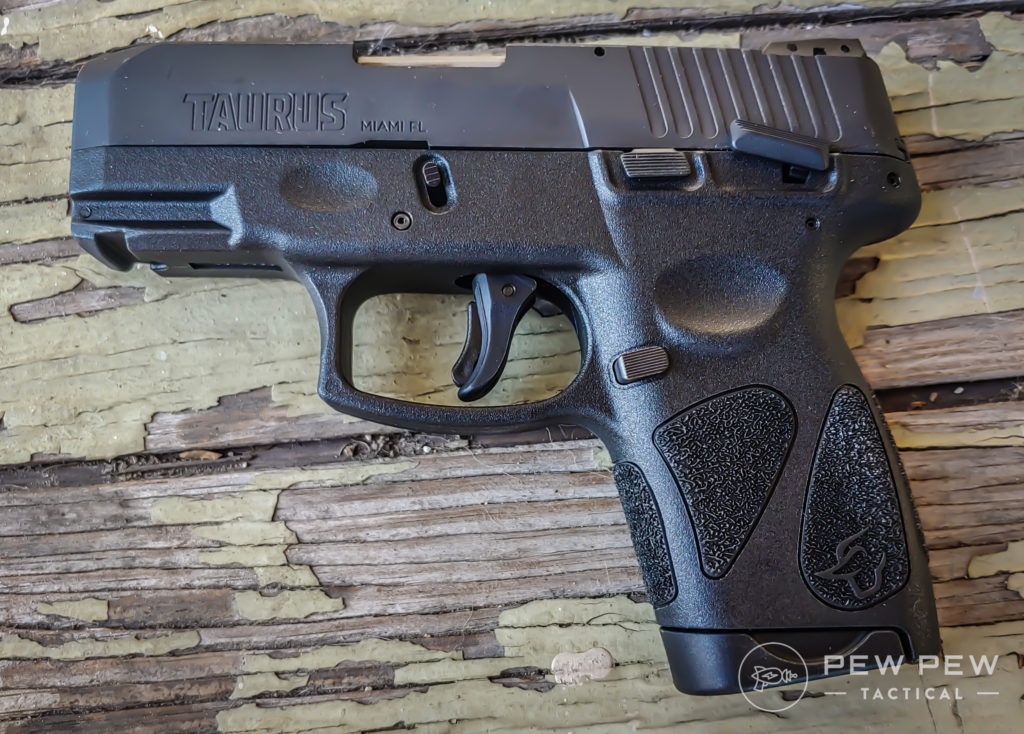 The double-action only comes into play if the round fails to fire, then the double action allows you to restrike.
The trigger itself isn't bad, but its nothing special. It's somewhat long and gritty. It feels like plastic rubbing on plastic for the entire pull.
For a single action gun, the trigger pull is also quite long, it's the same length as the double action, just lighter in weight.
The reset lacks any real tactile or audible designation. It's easy to find when dry firing, but a little harder on a live range.
What About Reliability?
This is the make it or break it for a cheap gun is reliability. Does the G2S hold up?
(Pause for dramatic effect)
Yes-ish.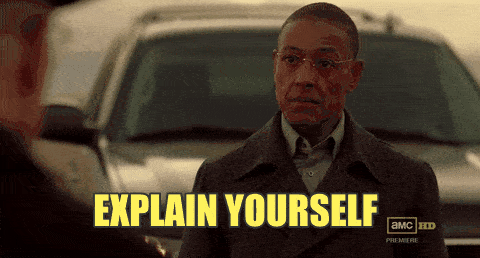 I had a few issues at the beginning with the gun. This includes 2 failures to eject with Winchester Forged ammo.
29
at Lucky Gunner
Prices accurate at time of writing
Prices accurate at time of writing
Additionally, I ran into this annoying issue with one magazine where the follower would not push the ammo up high enough to feed.
This would require a hefty smack to fix or disassembly of the magazine. It's a weird failure that happened within the first 200 or so rounds of shooting.
It happened three or four times with the same magazine. I'm on the top side of 500 rounds and the issue hasn't been repeated.
I've also fired mostly Winchester Forged through the gun. Which to me makes sense. Someone who wants a budget gun will likely use budget ammo.
Beyond just cheap steel stuff I used some Remington brass-cased 115 FMJs and they all cycled like champs as well.
55
at Lucky Gunner
Prices accurate at time of writing
Prices accurate at time of writing
I'm not a big believer in guns needing a breaking in period, but maybe the Taurus did?
It seems to function without issue now.
Best Taurus G2S Upgrades
When purchasing a budget handgun I doubt decking it out in aftermarket mods is a big concern, but the aftermarket for this gun does exist.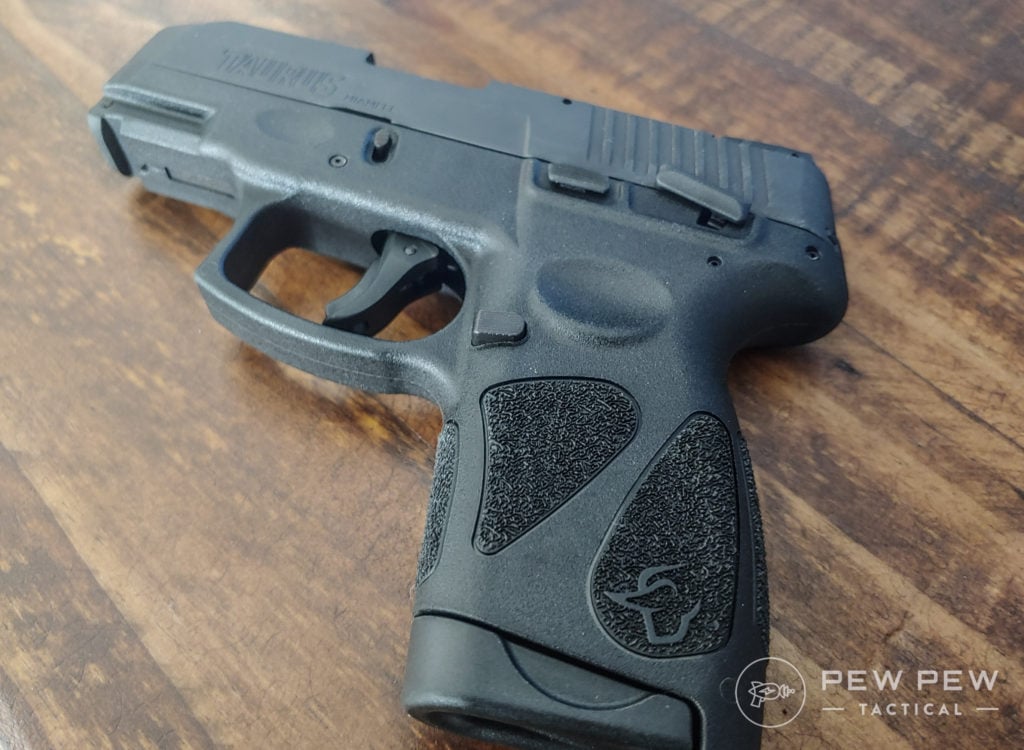 I wanted to point a few things out and why they could be a good investment. Some can actually extend the value of your weapon.
Holsters
A holster is a must-have and is likely the only absolute necessity on this list. You have to be able to safely carry it and preferably remain comfortable.
We got good news on this front.
The gun seems popular enough that there are tons and tons of holsters available for it.
1.Rounded Gear IWB
A simple and solid option is Rounded Gear for a comfortable Appendix/IWB design.
39
at Rounded Gear
Prices accurate at time of writing
Prices accurate at time of writing
2. CrossBreed SuperTuck
Besides that, an awesome hybrid option is the CrossBreed SuperTuck. This offers more comfort for long days of carrying and can fit some people's bodies better.
It's also a bit heavier requiring a decent belt and might make you feel a bit hotter in summer months.
69
at Crossbreed
Prices accurate at time of writing
Prices accurate at time of writing
Sights
Taurus is using the same sight system it's used for the PT series, as well as the older 709 guns.
So if you want to swap the sights you can. I'm not a huge fan of plastic sights so it would be a consideration for me.
3. TruGlo TFX Sights
TruGlo makes its awesome TFX sights, but they cost almost as much as the gun. These sights do mix both tritium and fiber optics for night and day time use and to be honest they are pretty awesome.
110
at Amazon
Prices accurate at time of writing
Prices accurate at time of writing
The TFX sights are metal and machined and assembled right here in the good ole US of A.
They are well-made sights, but at the price, they are a bit steep for an affordable gun.
4. Williams Fire Sights
If you want to spend a little less, well a lot less, then the Williams Fire sights are designed for the Taurus.
40
at Amazon
Prices accurate at time of writing
Prices accurate at time of writing
They are quite a bit cheaper. These are high visibility fiber optic sights that are placed in a steel sight base. They offer no night sight abilities but are a step above the stock sights.
Lights/Lasers
The gun has a short little rail, it's cute really. The rail would accommodate smaller lights and lasers but finding a compatible holster might be tricky.
Also, a lot of these are expensive. However, a light could turn your concealed carry gun into an effective home defense weapon. If you can only own one gun then it'll likely cover both duties.
5. Streamlight TLR-6
The TLR-6 will fit, but you have to buy the Glock model. It's a great light and laser combo I keep on my P365.
If I was buying one for a cheaper gun I'd go with the light only. It's a bit cheaper and a laser isn't really needed as much as the light is.
98
at Amazon
Prices accurate at time of writing
Prices accurate at time of writing
The Aftermarket is small but viable enough to outfit and upgrade your pistol here and there.
Parting Shots
The Taurus G2S isn't innovative or new. It doesn't offer anything a dozen other pistol don't offer.
What it does do is remain accurate, lightweight, relatively reliable, and easy to use all at sub-$200.
237
at Kygunco
Prices accurate at time of writing
Prices accurate at time of writing
For many of us, that isn't an attractive offer.
But when you don't have a lot of extra cash on hand and don't live in the best area of town — a really cheap, reliable, safe, concealable handgun might be the thing you've been waiting for.
Guns like the Taurus G2S are what make the second amendment available for all Americans.
Even if you're not a fan of the gun, I think we can all be fans of the sentiment behind that.
If you're torn between the G2S and G2C…check out our video on the G2C as well as our full review:
What do you folks think? If you're looking for something with a little more refinement, take a look at the Best Concealed Carry Guns!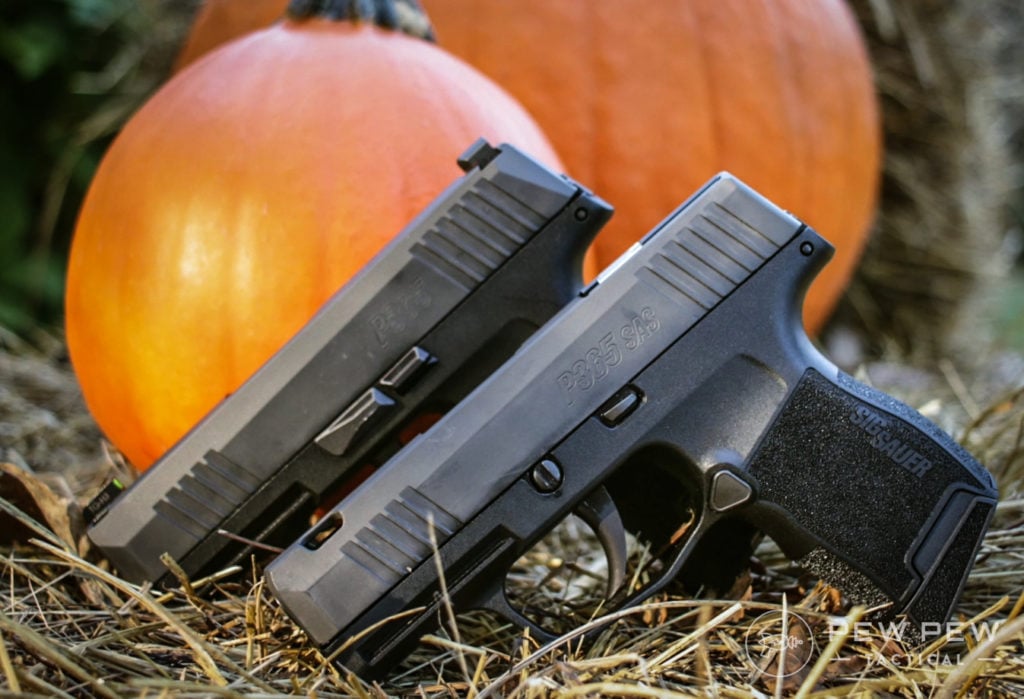 Lastly, let us know what you think of this gun! Love it? Hate it? Let us know by dropping a review below.