For some great film of Johnny reviewing and shoot the Sig Sauer P365 SAS, check this out – don't forget to subscribe to the Pew Pew Tactical channel!
---
Sig Sauer is at it again with another edition to their P365 line of micro-compact CCW pistols with their SAS model.
Johnny got the new SAS in-hand for testing so you know what exactly is different and which P365 is best for you.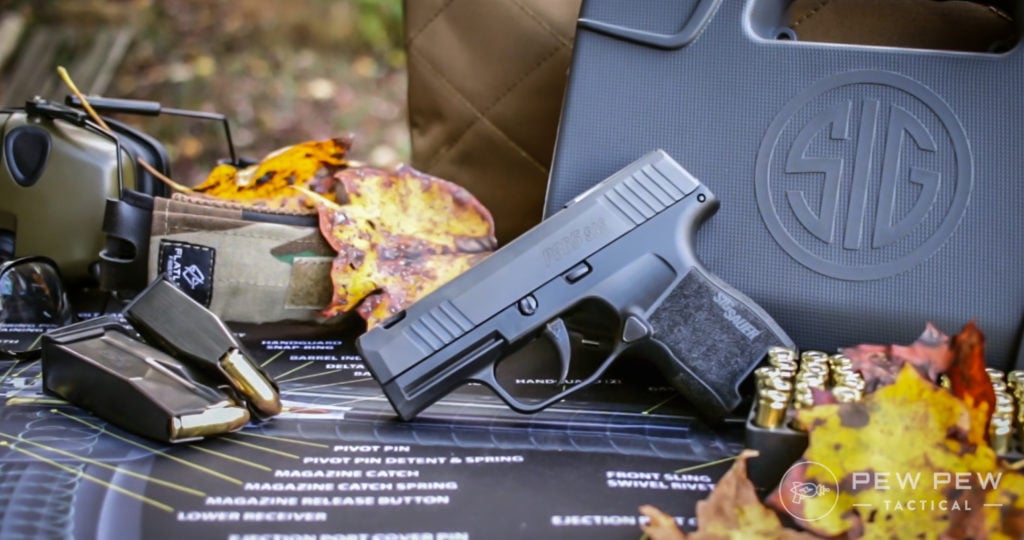 In a nutshell…if you've ever wanted to pocket carry the P365, then the SAS model might be perfect for you!
Table of Contents
Loading...
What Is The P365 SAS?
If you've used the P365, you're already familiar with 99% of the P365 SAS. SAS stands for Sig Anti-Snag System (missed opportunity to name it the SASS if you ask me…).
599
at Kygunco
Prices accurate at time of writing
Prices accurate at time of writing
Effectively, everything about the P365 has been slimmed down, streamlined, and made so that nothing on the gun can catch on anything.
This won't make much difference if you draw from a holster, but it makes a huge difference if you draw from any kind of pocket.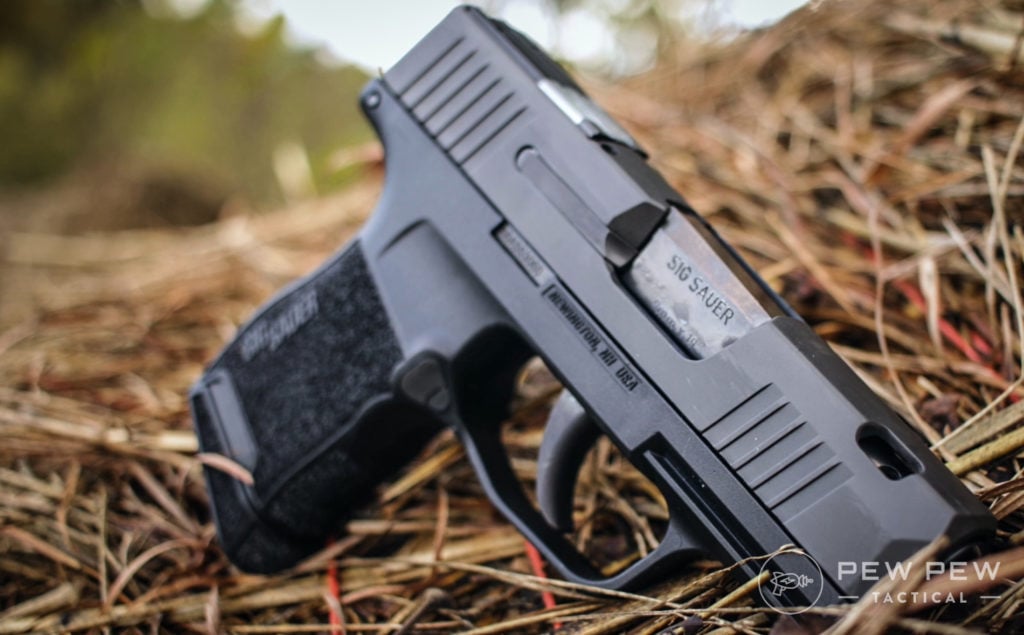 It also has two major changes, a ported barrel to reduce the snap of the gun, and brand new flush-mounted FT Bullseye Fiber-Tritium Night Sights. But more on these later!
The P365 SAS also retains all of the magic that the P365 has including the 10+1 standard magazines, good trigger, easy to use, accurate, rated for 9mm +P ammo, and the ultra-durable black Nitron finish on the slide.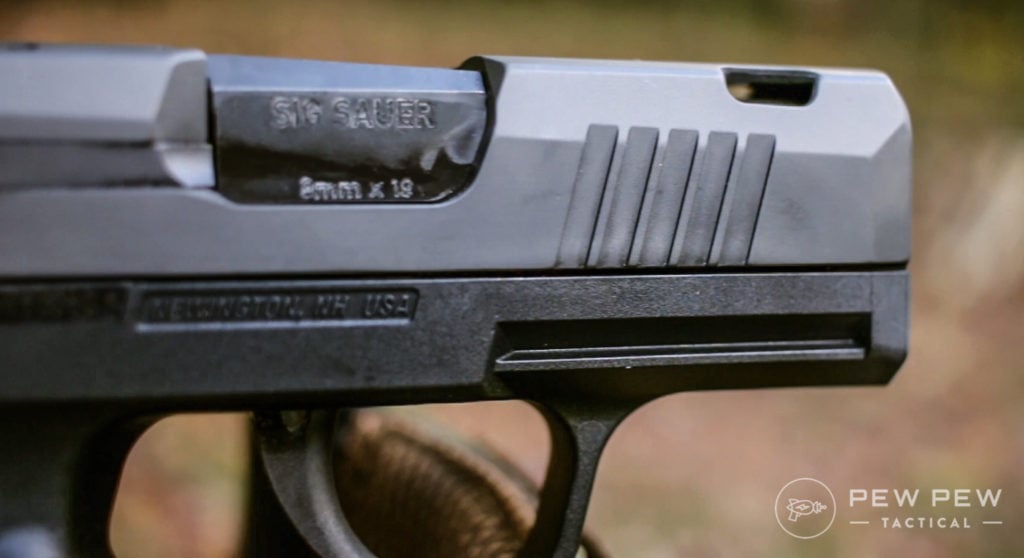 Oh, and it takes standard or extended P365 magazines – so no worries on that front!
54
at GunMag Warehouse
Prices accurate at time of writing
Prices accurate at time of writing
Range Report
We've reviewed the P365 in multiple forms a bunch now and every time we've gotten our hands on a new one, it's always the same — perfection.
Zero malfunctions, good accuracy, no issues. If these guns weren't so good to handle, it would get boring testing them!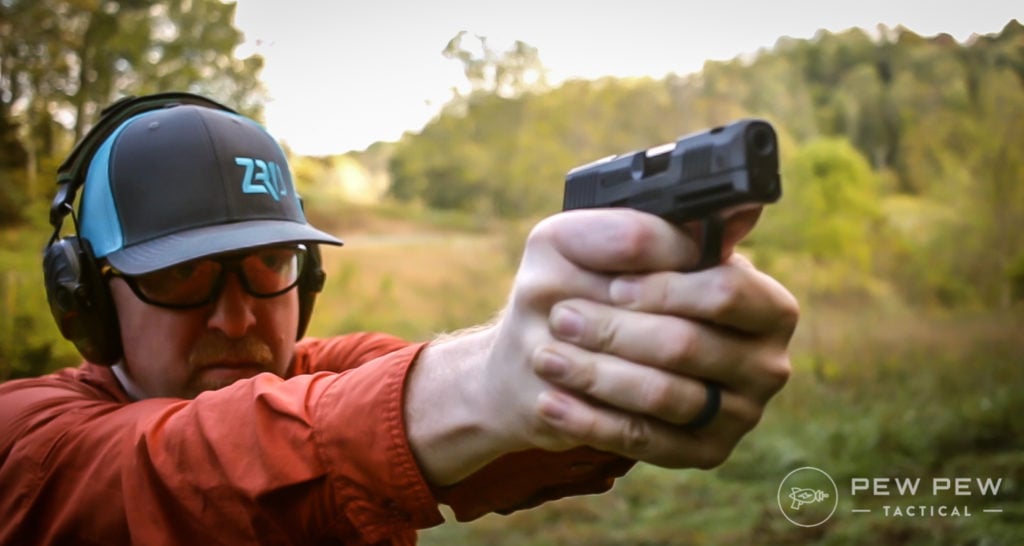 The P365 SAS does mix things up a bit though.
Ported Barrel
One honest complaint about the P365 is that it can be a snappy gun. This is really something that basically all micro- and sub-compact pistols have when you put 9mm and especially 9mm +P in such a small package, you get some snap.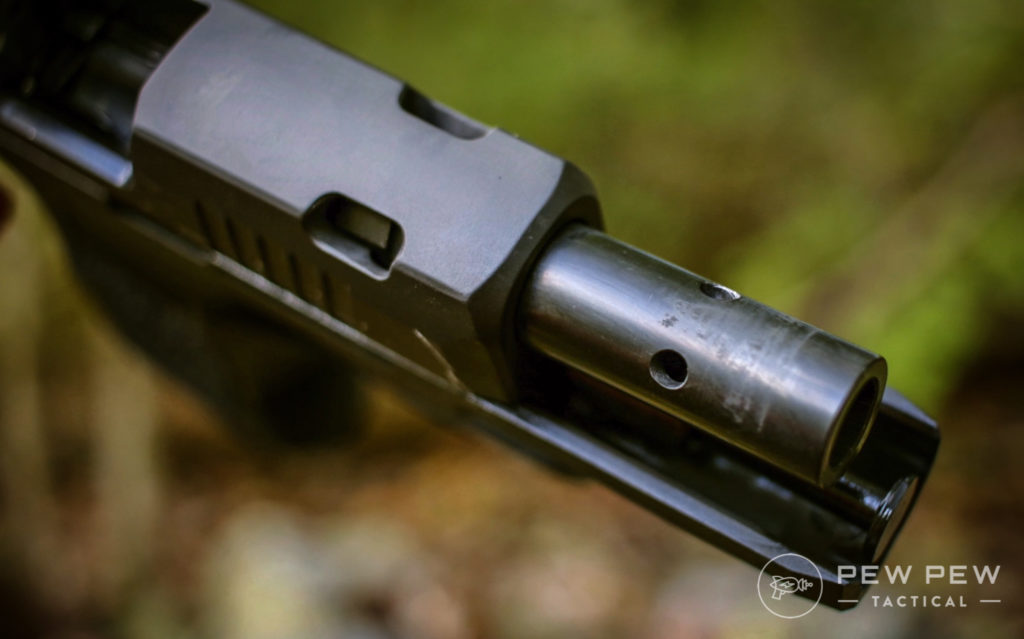 The SAS version of the P365 helps solve that with a ported barrel and it really does make a difference. It's still a little snappy, but it has been smoothed out noticeably as compared to the standard P365.
If you're looking to carry +P ammo in your P365 SAS, then the ported barrel will be a huge improvement for you!
There is some debate about the accuracy effects that a ported barrel can have on a gun. While we can't speak to the effects it has on long range precision match grand firearms… It really doesn't matter on a 3″ barreled CCW gun.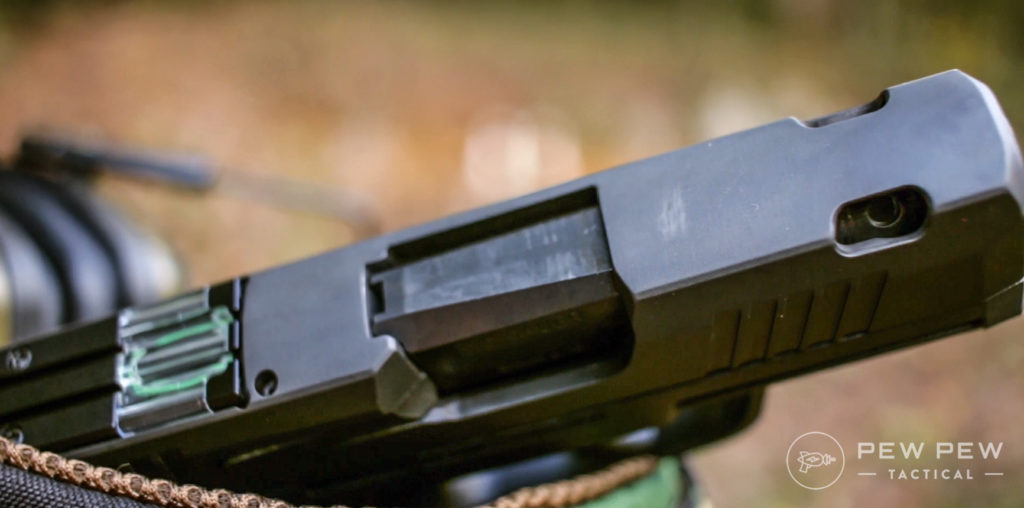 Keep in mind that the whole P365 series of pistols are designed to be a self-defense gun, not a match or combat pistol. When you're trying to hit minute of man at 15 yards the P365 SAS has more than enough accuracy to do the job.
Drilling a 12″ plate during testing was simple, and made even easier with the reduction in snap!
Bullseye Fiber-Tritium Night Sights
If there is anything to question about the SAS, it's the sights. Don't get us wrong — they work. Really well in fact.
But they are so different from what most of us are used to that it will definitely take some training and drills before you're comfortable with these new sights.
Sitting flush in the slide, there is no front post and rear sights to align. There is a tube lite with tritium and fiber optic that when correctly aligned, lights up very bright.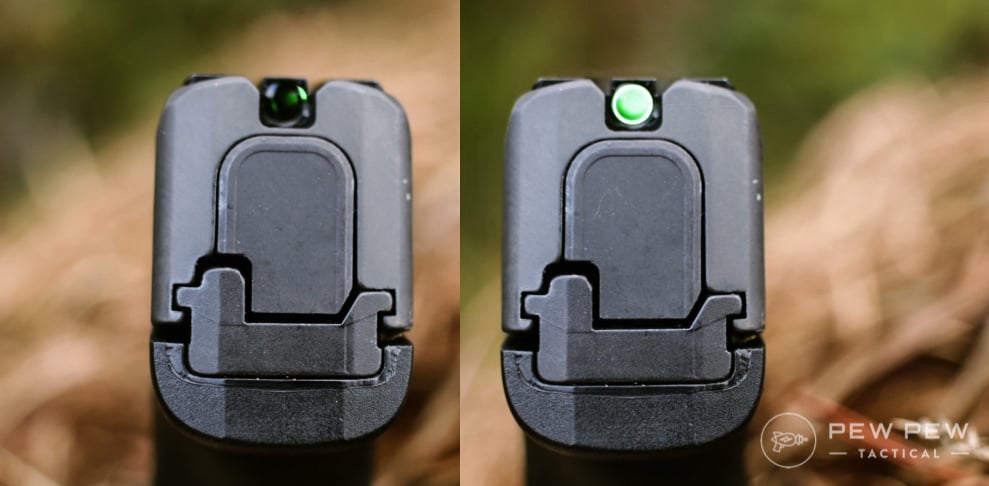 Place the bull's eye on the target, pull the trigger. It's that simple. Plus, these are super easy to see even in low-light.
They aren't perfect though. Since these sit flush in the slide, you tend to have a much more obscured sight picture than with traditional sights. This isn't a problem when you're shooting self-defense range targets, but it is a different feeling to the shooter.
Bottom line is that the sights work. But even after testing we're on the fence on if we like them or not. However, how much do you really need to like them? They work, they work well, and with some training, you can get really good with them.
And that's what is actually important.
High Speed, No Drag Controls
Part of what makes the SAS so nicely streamlined and easy to draw without snagging is that both the slide stop and take-down lever are now recessed into the frame.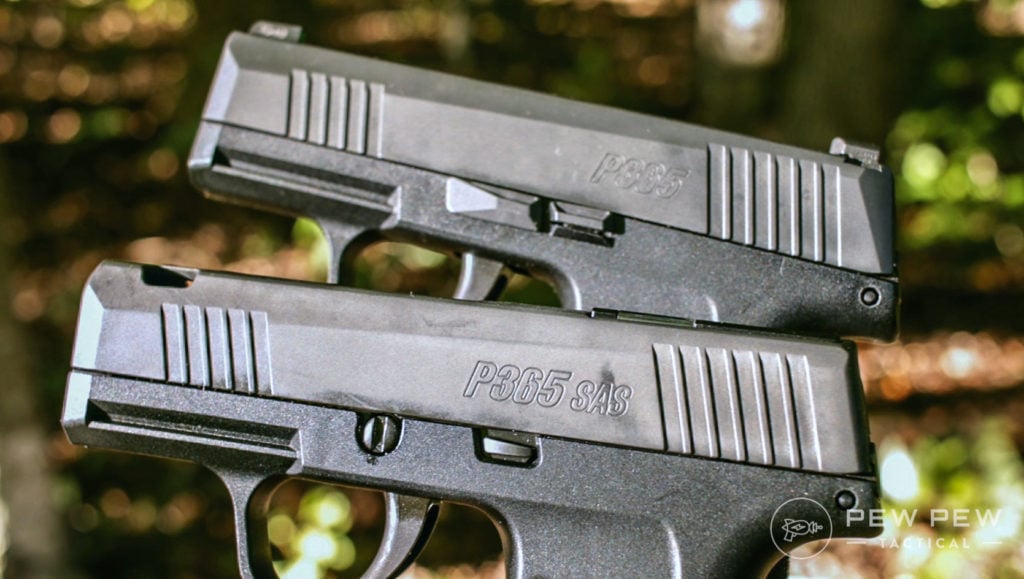 While this does make for a smooth profile, it also means that you don't really have access to these controls anymore.
Instead of the awesome classic Sig ease of field stripping, you'll now need a small tool.
If you're a slide-stop slide release kind of person, you'll have to get used to sling-shotting your slide.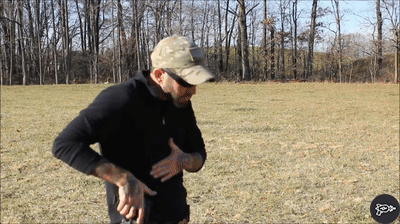 Is either of these a real problem? We didn't think so.
As a CCW pistol there really shouldn't be a need to field strip it in the field unless you're on a square range, so the tool for the lever isn't an issue for us.
Sling shotting your pistol to chamber a round is really the better method since it puts less wear on your slide stop. So if you weren't doing that before, this is a good time to learn it.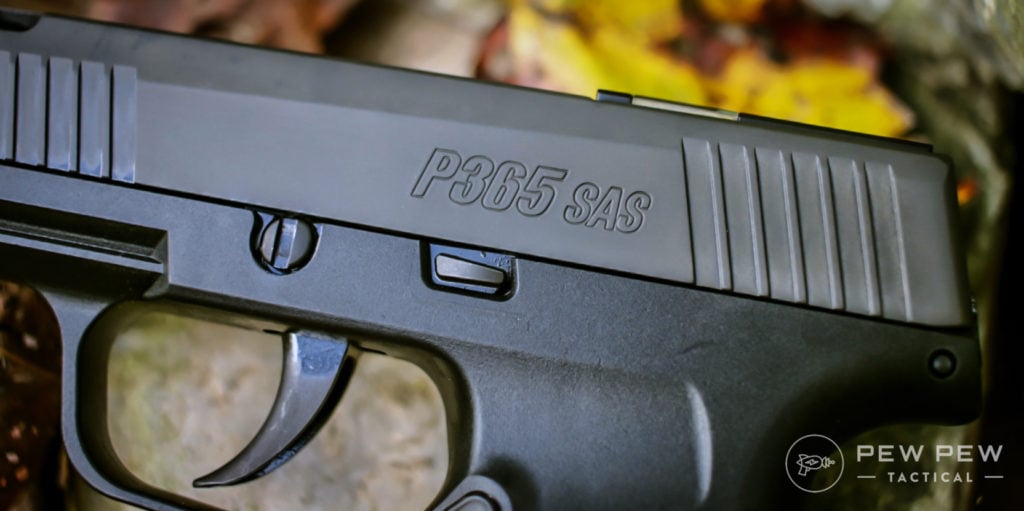 The benefits of having an ultra-smooth profile clearly outweigh the minor inconveniences that these changes bring with them.
Sig Sauer P365 SAS Gun Deals
Accessories
While some parts are different on the Sig 365 SAS, such as the sights, aren't interchangeable — important stuff like holsters, magazines, and lights are the same!
We still love the Streamlight TLR-6 for the SAS, it's compact, smooth, and bright. It's really pretty perfect for the SAS!
106
at Amazon
Prices accurate at time of writing
Prices accurate at time of writing
Holsters are a little different though since the SAS is designed more for pocket carries — we like the Blackhawk TecGrip for our go-to pocket holster.
15
at Amazon
Prices accurate at time of writing
Prices accurate at time of writing
If you wanting a real holster for the SAS though, you can use a standard P365 holster. We like the CrossBreed hybrid holster!
65
at CrossBreed
Prices accurate at time of writing
Prices accurate at time of writing
Ammo
Every type of ammo we've run in a P365 has worked flawlessly, every time. We do have some favorites and recommendations though.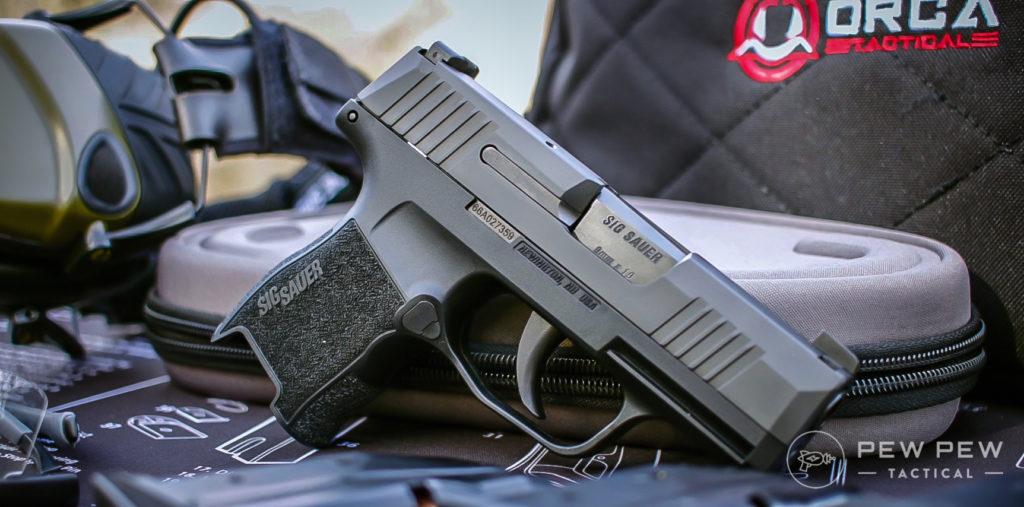 For training we normally go with FMJ that is reasonably cheap, so we can train more, and Federal American Eagle is normally the good stuff. Brass cased, 115gr, FMJ, reliable, clean, and cheap!
Best 9mm Range Ammo
20
at Palmetto State Armory
Prices accurate at time of writing
Prices accurate at time of writing
Defensive ammo is a personal choice, we huge a wide range between all of us but one that we agree on as being great is the Federal HST 124gr.
Best 9mm Self-Defense (124 gr)
42
at Optics Planet
Prices accurate at time of writing
Prices accurate at time of writing
Sig Sauer also has their own line of optimized P365 ammo. Both FMJ training ammo and HP defensive ammo that closely mimick the other's recoil and performance.
This makes training cheaper and more effective since it is designed to match your defensive ammo.
16
at Cabelas
Prices accurate at time of writing
Prices accurate at time of writing
By The Numbers
Reliability: 5/5
The platform runs.
Ergonomics: 3/5
The P365SAS is designed to conceal, not enjoy at the range. And like I've mentioned 5 times already, the side controls are funky.
Accuracy: 3.5/5
The 3-inch ported barrel won't win you any sniper awards, but for an emergency gun at real-life distances, you'll be able to get shots on target.
Customization: 1/5
There are few options for dialing in this one further. Sig makes a flat trigger, and the options get thin after that. We'll see what the market offers down the road.
Value: 4/5
Night sights, two mags, and a beefy warranty. Solid value.
Overall: 4/5
This gun fits a niche market, but it fits that market perfectly.
599
at Kygunco
Prices accurate at time of writing
Prices accurate at time of writing
Conclusion
The Sig P365 SAS retains the high-capacity, great trigger, and reliability of the regular P365 but by going snag-free it loses standard sights, a useful slide lock, and tool-less disassembly.
For the role it plays, it's a great option.
Is it the best option for you? You'll have to judge that yourself.
One more time if you haven't seen the video yet…
The only thing we would recommend before you buy is to make sure you have the time and budget to train with these new sights. While they aren't hard to get used to it is important that you do.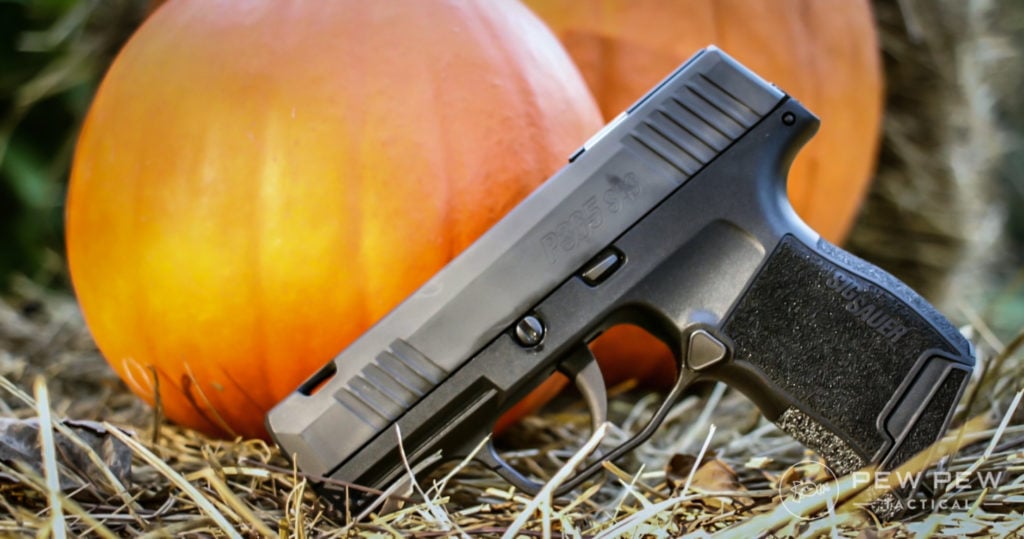 It's great to see an industry leader making more options for a wider market.
If you want a bigger gun the P365XL is there for you, or if you want the perfect pocket carry the P365 SAS is ready to roll, and, of course, the classic P365 is still a great choice.
Need to clean the gun? Check out our guide to breaking down the Sig P365 below.
What P365 do you like best? Thinking of switching to the SAS? Let us know in the comments! If you're looking to maximize your P365, take a look at the Best P365 Upgrades!