If you want see the Staccato P in action, check out the video review above.
As always, you can head over to Pew Pew Tactical on YouTube for more guns and gear.
---
Recently, Staccato came out with a 2011 pistol called P.
While marketing included a mixture of approaches, it was clear the P was at least partially intended for law enforcement.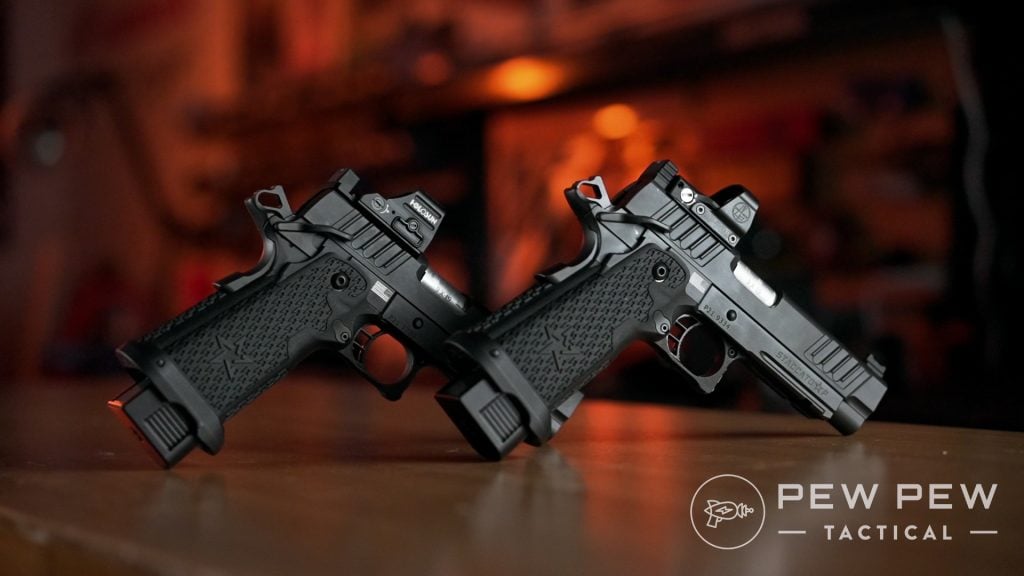 Staccato claims the P is approved for duty use by more than 460 law enforcement agencies.
I think we can agree, calling a weapon duty rated sets a high standard.
Table of Contents
Loading...
2099
at Staccato
Prices accurate at time of writing
Prices accurate at time of writing
Backed by over 22 years in law enforcement, the last seven of which I served as a POST-certified handgun instructor, I intended to test the P for myself and find out if it merited that ranking.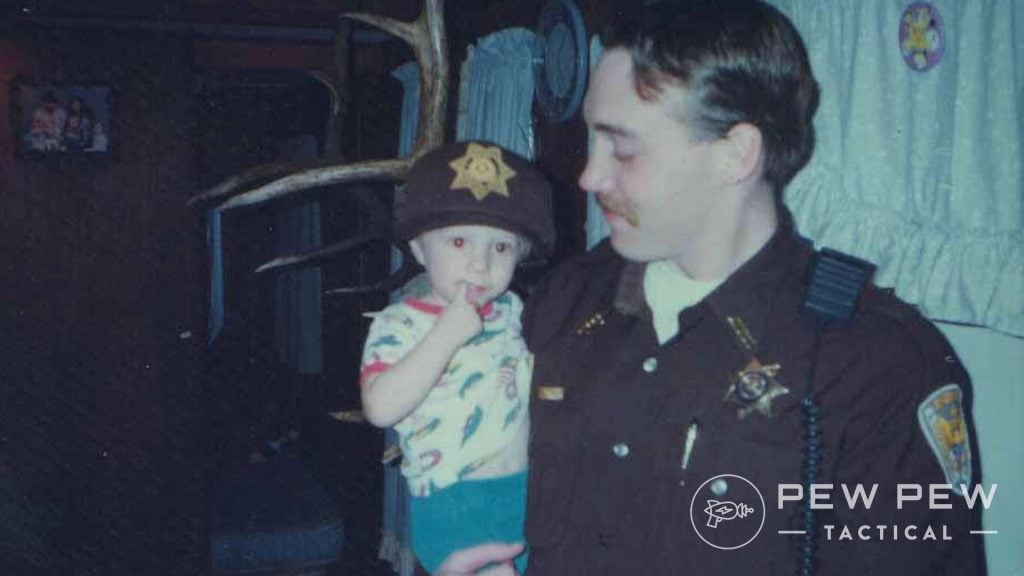 So read on as we walk you through the specs, talk about the features, and head out to the range with this gun to find out what it's truly capable of.
Feeling lazy to read the article? We've summarized the pros and cons for you.
Staccato P: Pros & Cons
Pros
Very accurate
Great trigger
Low recoil
Cons
High MSRP
Expensive magazines
What is the Staccato P?
So, after 100 years added to a gun's legacy, how did Staccato evolve the 1911? What are the main differences?
First off, the general aesthetic is still the same.
Those familiar with the lines of the 1911 will recognize that DNA in the 2011.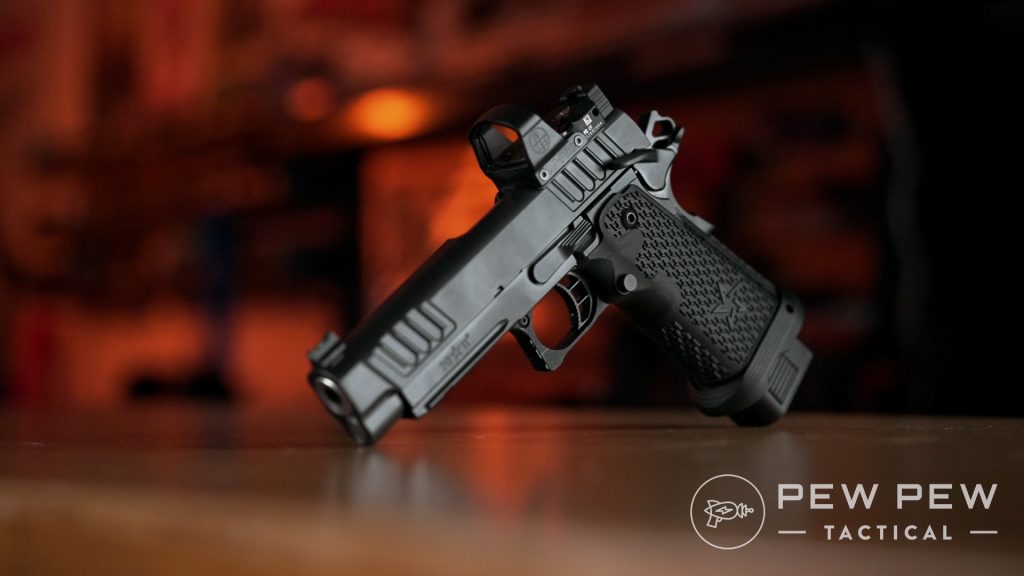 The first big difference you notice is the grip. I've always appreciated the narrow but hefty feel of John Moses Browning's beauty, but the grip on the Staccato is much thicker.
This accommodates the double-stacked, 9mm magazines. When you dig into the gun and take it apart, you notice some major differences.
The frame offers either a steel or aluminum build with a polymer exterior. This allows for increased capacity and helps mitigate some of the recoil.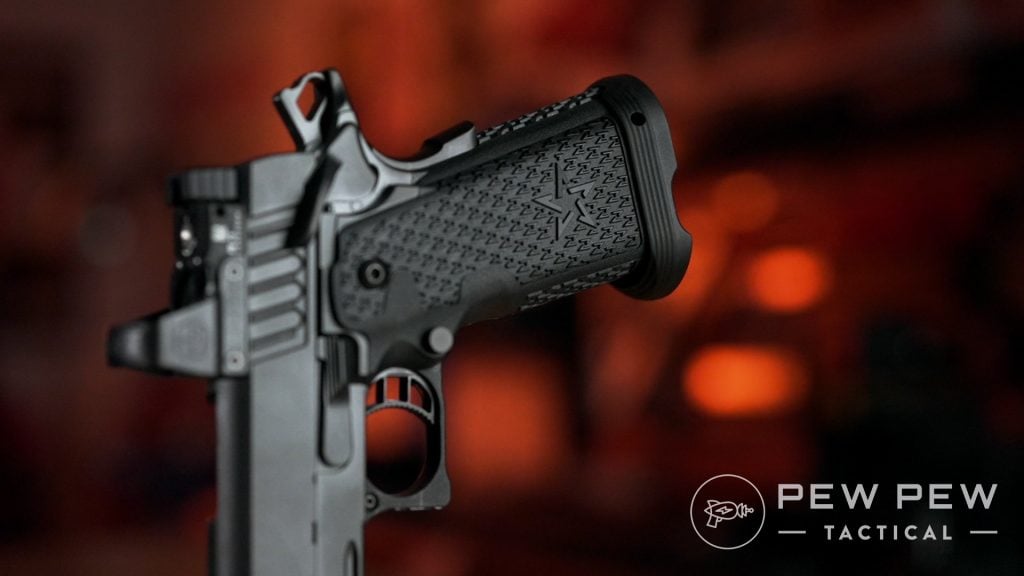 Plus, the outer texture is grippy. It's got a raised pattern like an all-terrain tire that really hooks up in your palms.
In addition, there's no barrel bushing. Shooters compress the guide rod and spring until a clip sticks out. This catches on the end of the muzzle and locks the compressed spring in place for removal.
This is called the Dawson Precision tool-less guide rod and it is a much-appreciated improvement.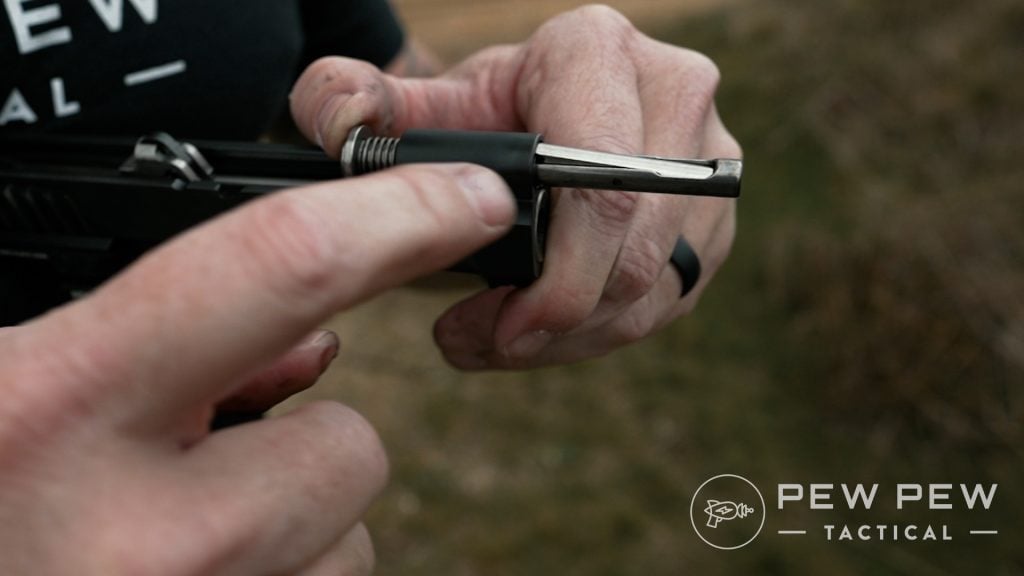 The safety and hammer are still there as is the slide stop and the skeletonized trigger gives the impression of a higher-end 1911.
Ergonomics
Let's talk ergonomics!
First off, the grip is really big. I wear a 2X glove and I had to make adjustments. While I could reach the mag release, I couldn't reach the slide stop lever without adjusting my grip.
It is manageable, but police agencies are a lot more diverse nowadays and can't follow the 6 foot or better hiring practices of old. Small-handed officers might struggle with this gun a bit at first but I think the rewards would offset this.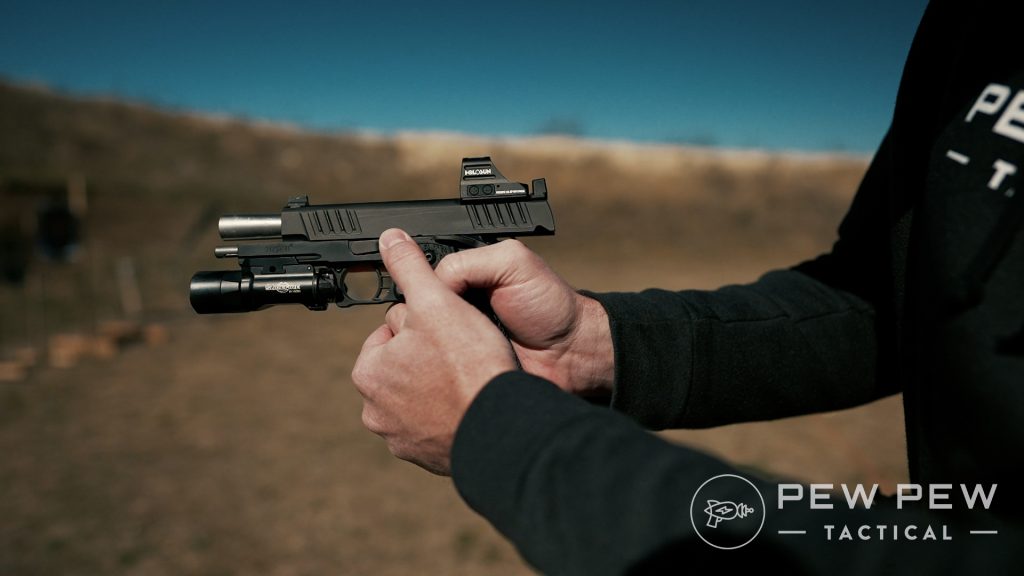 The P has an ambidextrous safety, but the mag release is currently only on the left side.
Interestingly, I found myself leaning more toward the aluminum frame for preference. Then again, I don't wear a leather duty belt anymore.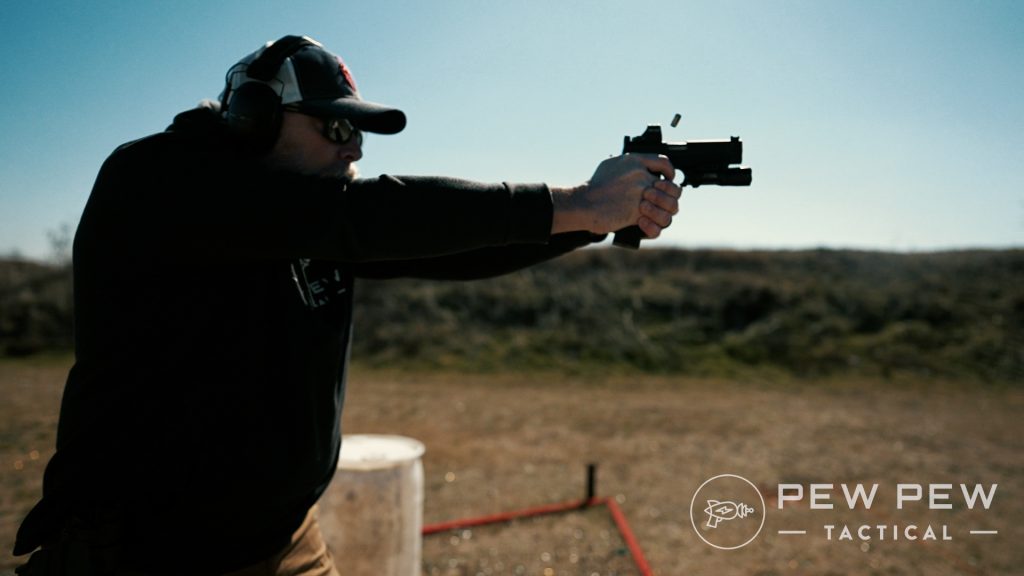 The steel frame P weighed 2 pounds, 3 ounces on my digital scale, while the aluminum was 1 pound and 14 ounces.
To the Range!
There were a couple of questions I set out to answer with this test.
I wanted to see how the 2011 was improved for the average officer on the street and if Staccato was able to keep some of the qualities I loved about the 1911 while improving some of its shortcomings.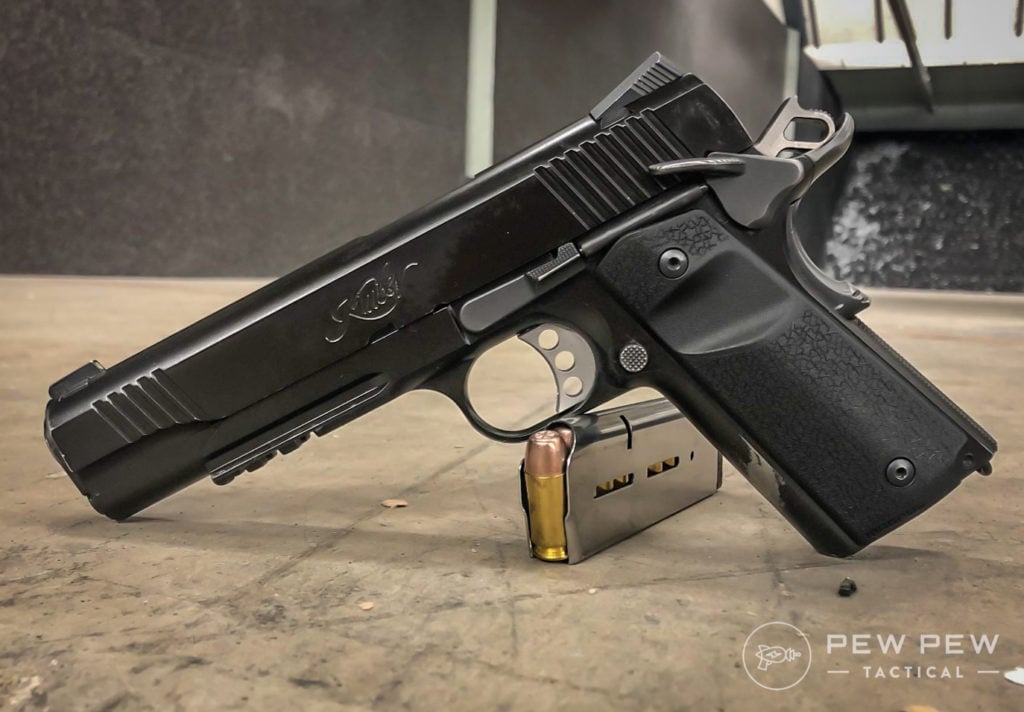 I carried a 1911 on duty which means I hold it in the highest regard. But it doesn't mean the gun couldn't stand some improvements.
I practically ran to the range when the Staccatos came in — that's right, I said Staccatos.
They sent two Ps, an aluminum frame, and a steel frame. Before all was said and done, I tested both and developed some preferences.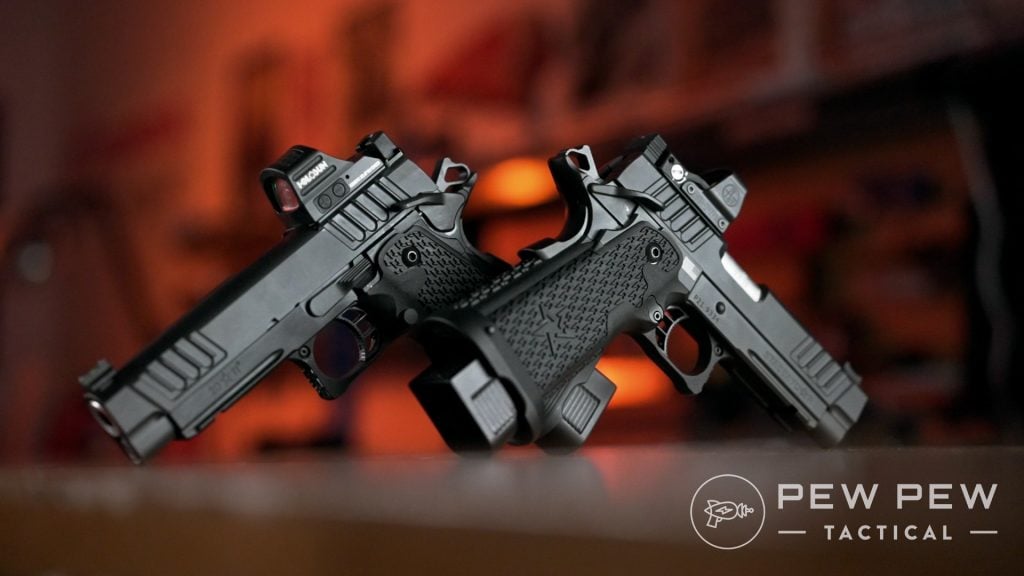 Starting out though, I ran the aluminum frame with a Holosun 507c optic and the steel frame with the Leupold DeltaPoint Pro.
I'm a huge fan of both of these red dots. (Want more red dots? Check out our article on the Best Pistol Red Dots.)
449
at OpticsPlanet
Prices accurate at time of writing
Prices accurate at time of writing
After testing began, one thing became clear right out of the gate — I'm not used to external safeties anymore!
It took some practice to implement that into my draw stroke again.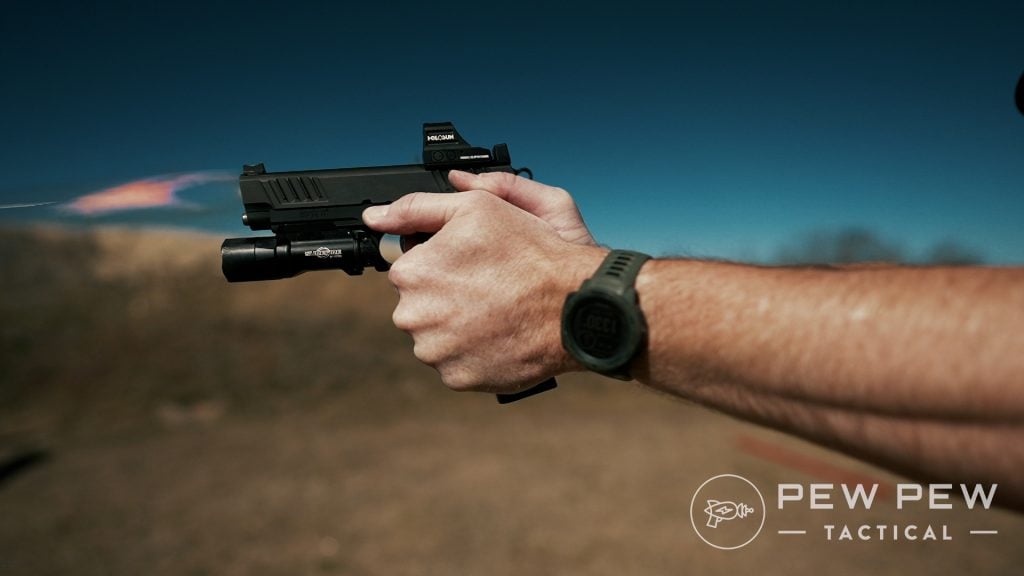 The P comes with a slide lock safety and a grip safety.
There's a philosophy associated with these, particularly as it applies to law enforcement — they serve as the final layers of officer safety, should de-escalation and weapon retention tactics fail.
With a good grip established, I started banging away. Going back to a hammer-fired gun is like reuniting with an old, familiar, lover.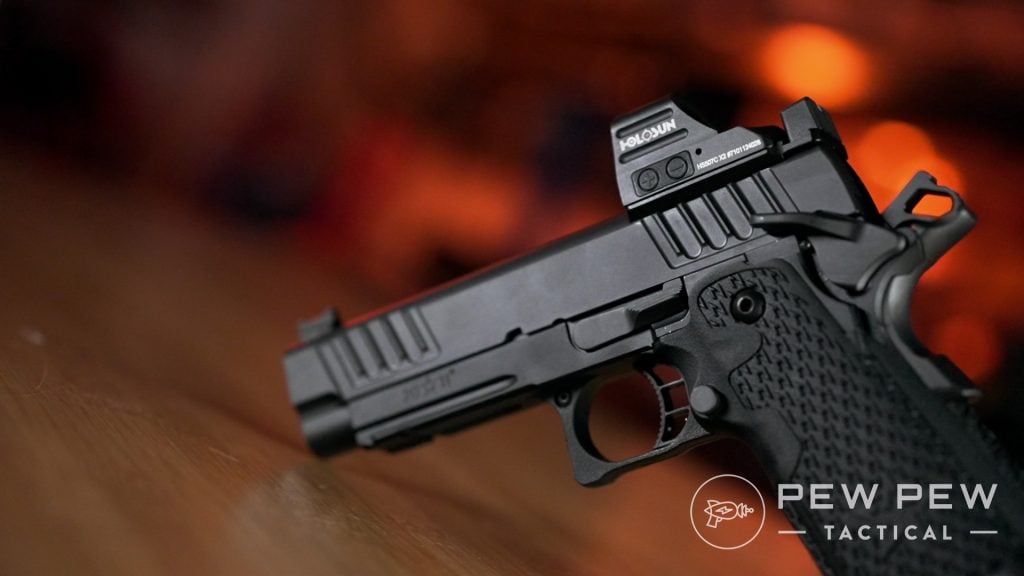 Gone was the achingly long, sometimes squishy, trigger pull so commonly associated with striker-fired guns.
Nope, this was sheer point and click joy with a short, crisp break and reset.
Mine averaged just over 2.5 pounds on a Lyman Digital Gauge, though Staccato lists it as 4 pounds.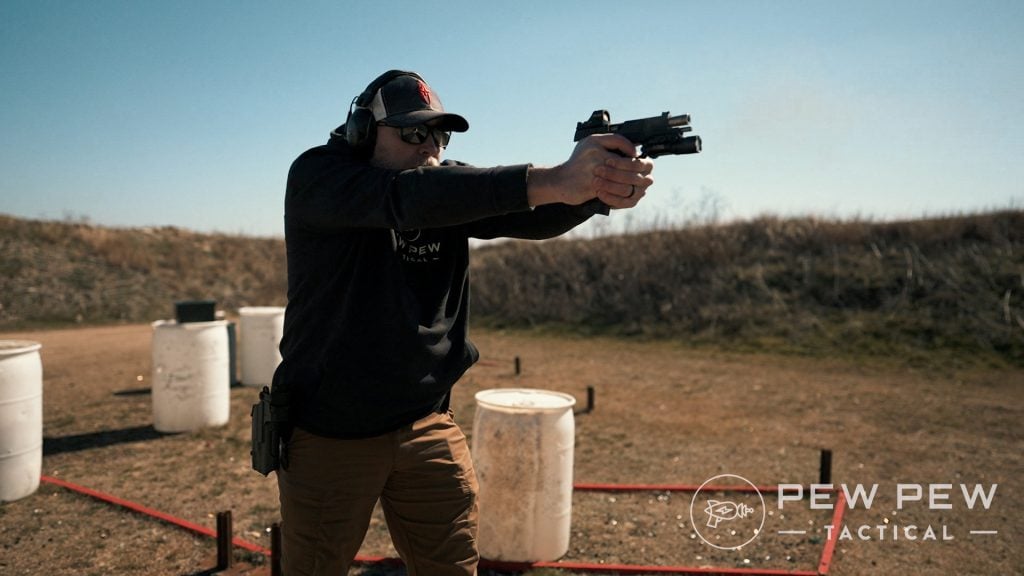 Looking back down Memory Lane, I used to love how well I grouped shots with my 1911.
I attributed much of that performance to the trigger and it felt like the Staccato P would repeat that.
Accuracy
At 15 feet I fired off three shots for accuracy. The first and last went through the same hole but I threw the middle shot about an inch away.
Accuracy is strong with the P.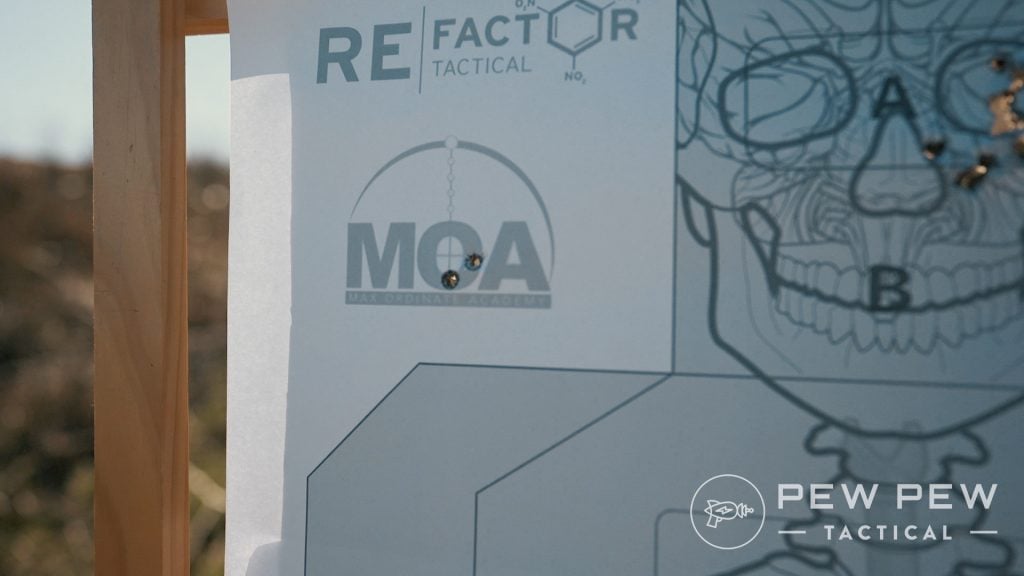 Another impression I had was loving the magazines and their added capacity. The P comes with three magazines — two are 17 rounders and the third is 20.
This means officers can walk around with 20+1 in their holster and another 34 rounds in mag pouches. That first magazine is often the most important, for obvious reasons.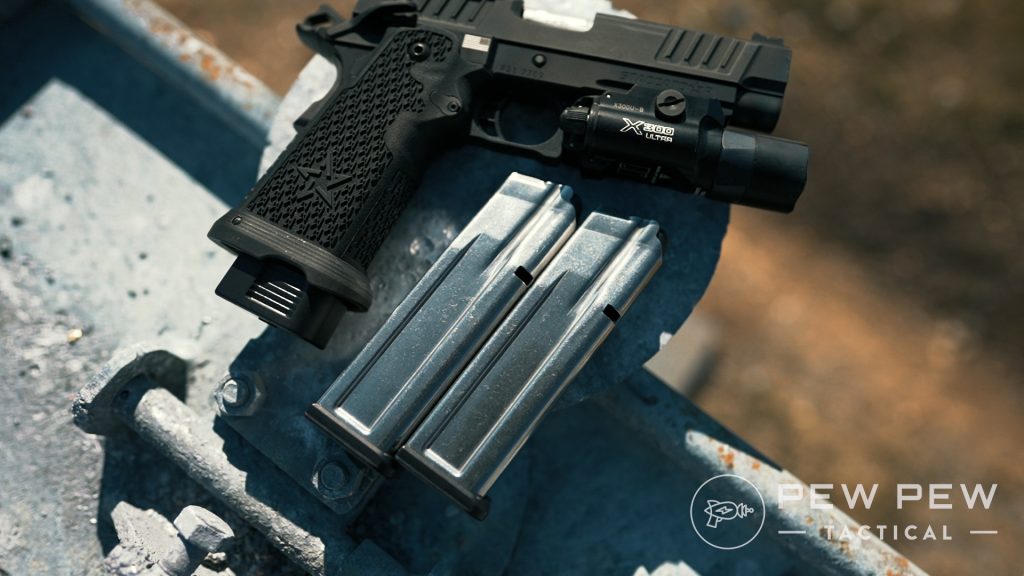 Moving onto reliability, I fired right around 1,000 rounds through each gun using American Eagle and Blazer, both at 115 grains. I also ran some 124 grain SAR USA ammo through the guns.
With the exception of two stovepipes, the guns ran flawlessly. I was able to pin this down to one box of Blazer ammo and it did not happen again.
I ran different drills from my academy curriculum during testing and really began to appreciate this new breed of gun – an evolved fighting pistol with a pedigree.
In short, both Staccatos were fantastic.
For a full breakdown on the P's…breakdown, see our Disassembly and Reassembly video below.
By the Numbers
Ergonomics: 4/5
The grip is really big, even though I wear a 2X glove, I had to make adjustments. Smaller-handed shooters might struggle a bit. Overall, though, it's pretty comfortable.
Reliability: 4.5/5
I really believe the two stovepipes I experienced were ammo-induced because they didn't happen again during the course of testing. Otherwise, the Ps were perfect.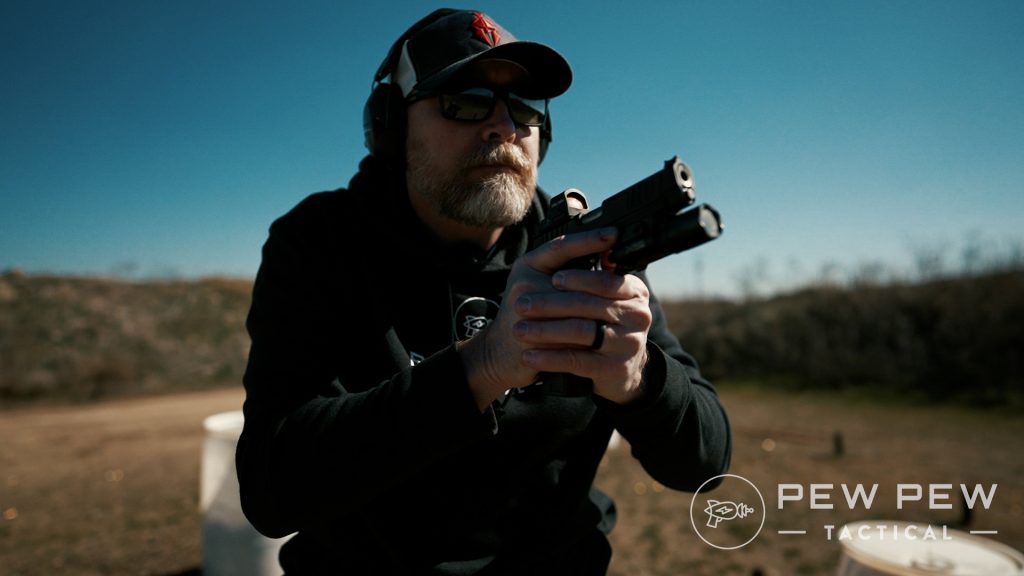 Accuracy: 5/5
These guns are at least as accurate as my 1911. The excellent trigger, combined with the red dots, (the fiber optic sights are nice too) really helps with getting on target.
Add in the 4.4-inch bull barrel and you've got a solid package that will deliver laser-like fire if you do your part.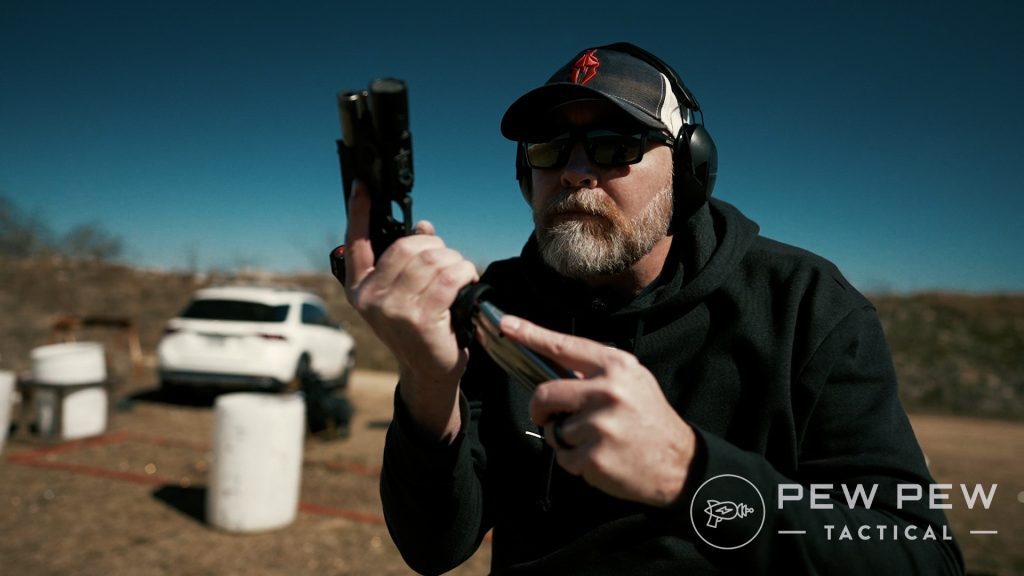 Value: 4/5
The Staccato P is expensive. The standard version is $2,099 while the optics ready version will set you back $2,399.
Compared to a polymer, striker-fired gun, this might seem outrageous, but in the world of higher-end 1911s it's entry-level to average.
Overall: 5/5
This is an outstanding firearm. I feel like Staccato honored the past of the 1911 with due reverence while vastly modernizing the design to fit the challenging role officers face today.
2099
at Staccato
Prices accurate at time of writing
Prices accurate at time of writing
Upgrades & Accessories for Staccato P
You'll definitely want a nice pistol light with your Staccato. And for that we usually go with our gold standard…the Surefire X300. Be sure to get the B model since that works the best with metal framed handguns.
Best Pistol Light
330
at Amazon
Prices accurate at time of writing
Prices accurate at time of writing
As for optics…check out our Best Pistol Red Dots but otherwise we loved using a Holosun 507C and Deltapoint Pro in our test.
319
at Primary Arms
Prices accurate at time of writing
Prices accurate at time of writing
Now how about even more customization straight from Staccato themselves? They've recently unleashed their CONFIGURATOR for the P…and we've got our hands on one of the first ones.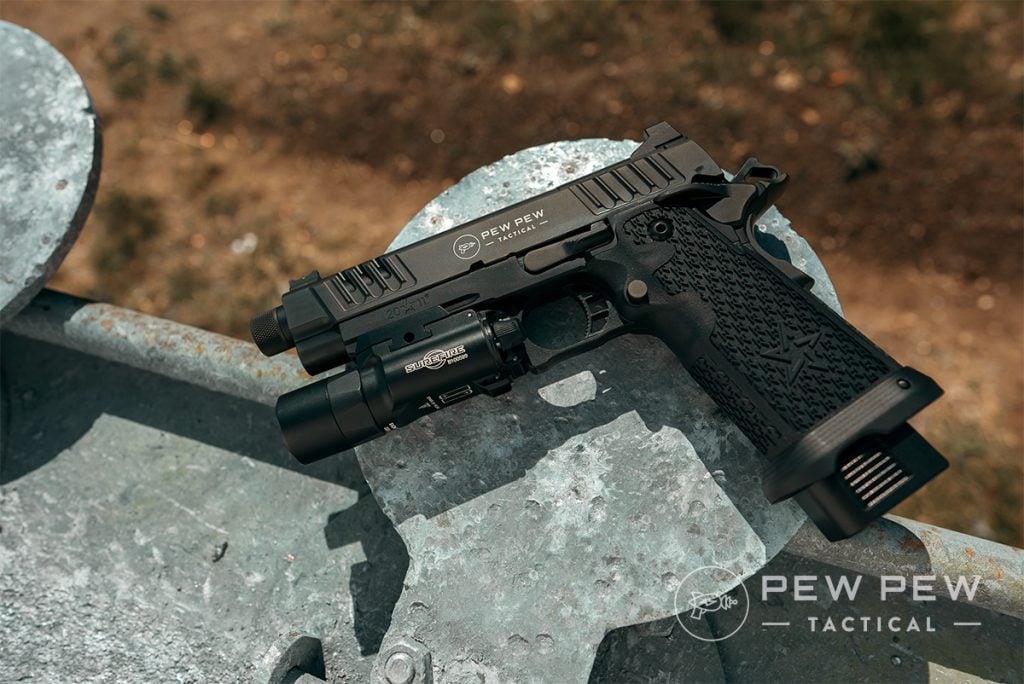 More options will be rolled out…but we went with some custom lasering, DLC and threaded barrel, plus some front serrations.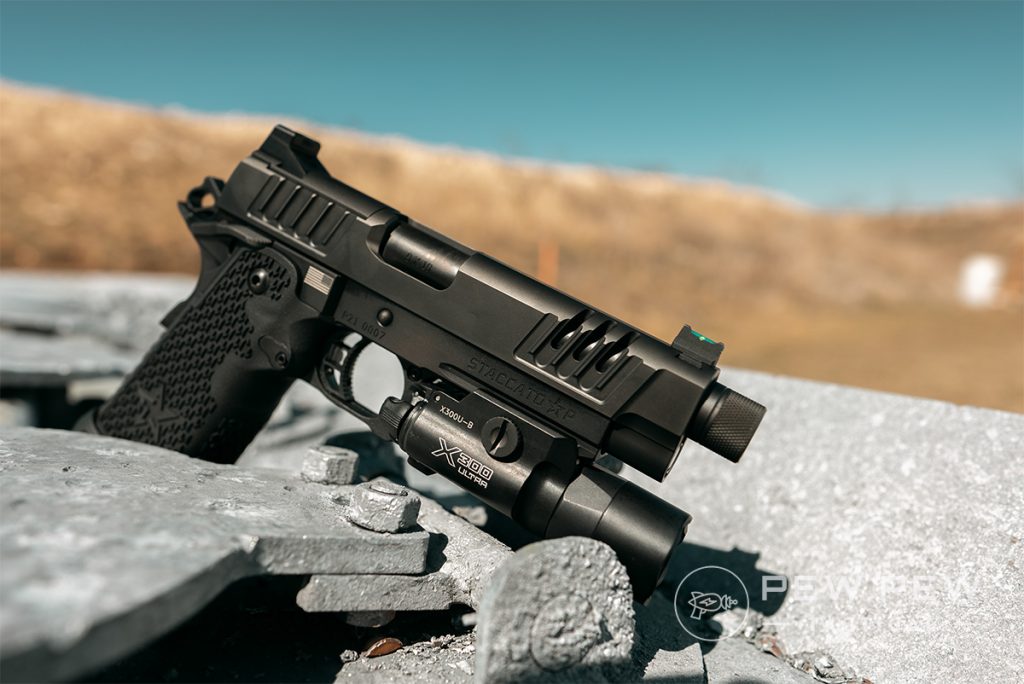 It looks great especially with the DLC black barrel. You can also customize the grip for more grip but we stayed with the standard.
And how did it run suppressed? We're only a few hundred rounds in but so far it's been 100% and we love the suppressor height sights.
Next step is to get the correct optic plate for this P and then get shooting!
Holster-wise, I recommend the Tenicor Certum3 IWB/AIWB. This holster will get you where you need to go with the Staccato.
109
at Tenicor
Prices accurate at time of writing
Prices accurate at time of writing
Field Strip & Reassembly
Don't want to mess up your P? Check out our quick video to field strip and put it all back together again.
Conclusion
You might wonder how this information applies to the civilian customer, and to me that's pretty simple.
Whether you love, hate, or feel indifferent about law enforcement, they can at a moment's notice, be called upon to use a firearm to save their own life or that of someone else.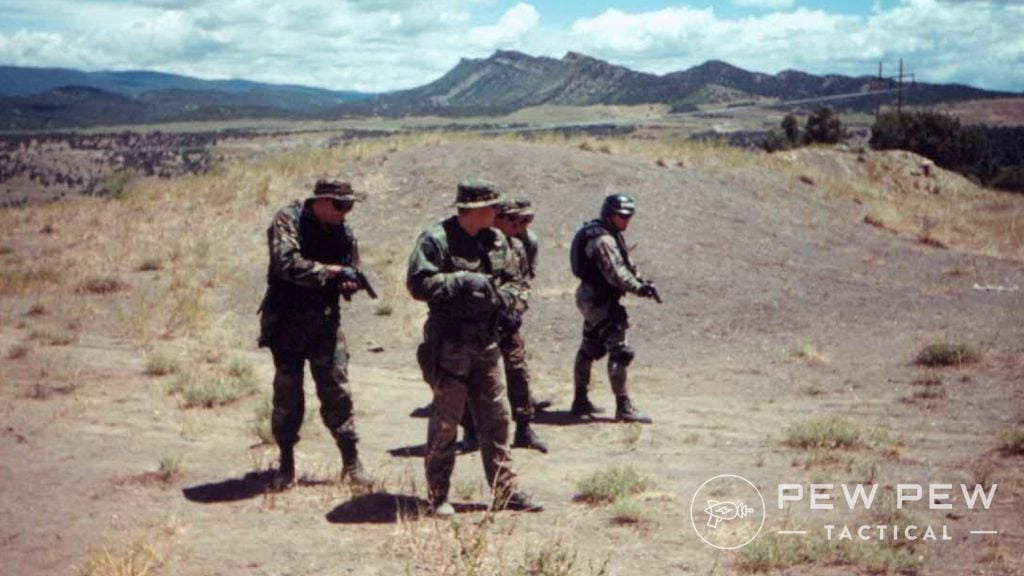 To me, this means the equipment they use must be of the highest quality — Staccato meets that standard.
Citizens wanting to harness the P for their own protection needs would be well advised to do so.
The accuracy, reliability, and capacity are top-notch.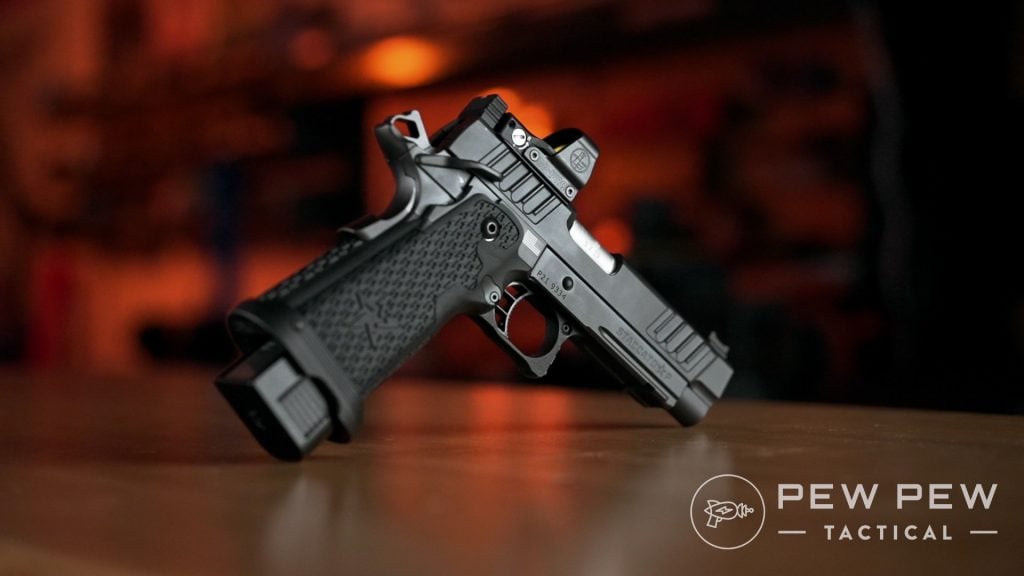 Admittedly, factors like the overall size and magwell would make it a little tough to conceal, but it could be done. I could easily envision the P serving in a dedicated home defender role too.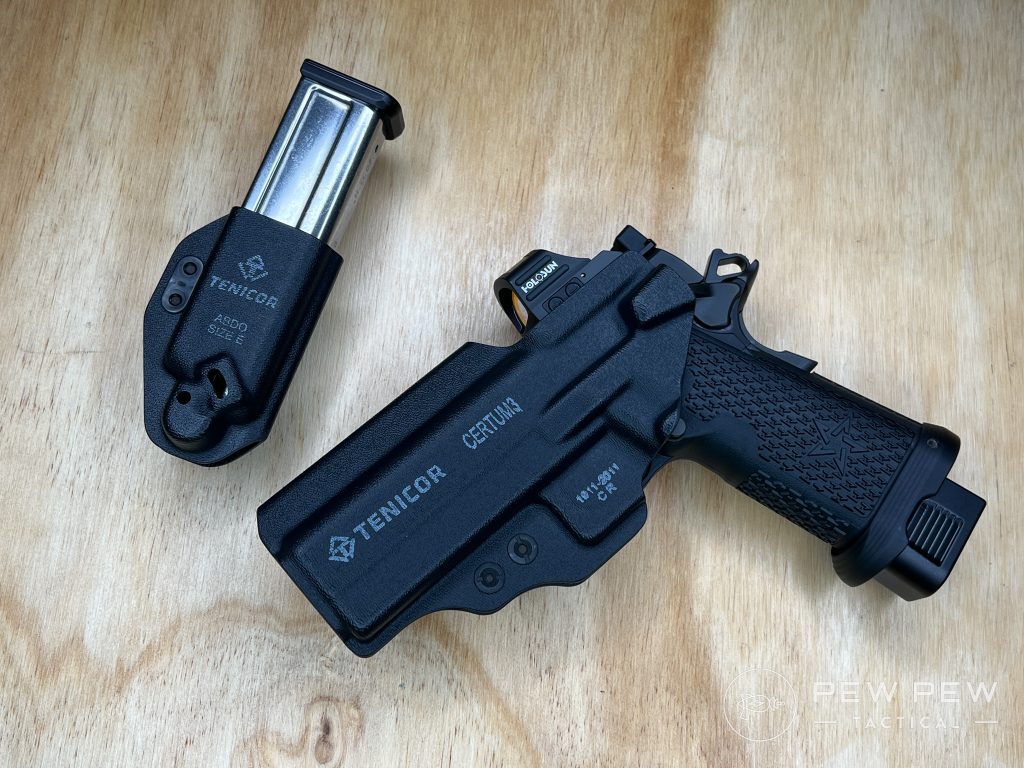 Again, check out the full video review below.
Also please note Staccato offers a discount on the P to active duty law enforcement, veterans and first responders through their Heroes Program.
Have you tried a 2011 pistol? Would you be willing to try one out? Let us know in the comments below and make sure to check out our review of Staccato's XC and XL models too!