One of the most often misused terms are gun magazines versus clips.  It boils down to what feeds what.
Magazine vs Clip
A magazine feeds the gun, while a clip feeds the magazine.
Clips make loading multiple rounds into a magazine easier.  And sometimes you have to use the clip for a gun to work.  One example is the "en bloc" clip above for the older M1 Garand, where you leave in the clip.  It gives it the characteristic "ting" that you might have seen in movies such as Saving Private Ryan.
While for some other old school guns such as the Mosin Nagant, you can use a stripper clip to feed the internal magazine.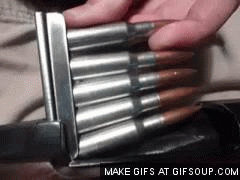 For regular modern guns with removeable magazines, there are still stripper clips and some fancier alternatives like the StripLULA for AR magazines.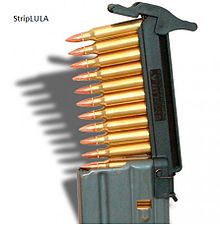 Here's a great video from Hickok45 which shows you a ton of different examples.
Who Really Cares?
Personally, I believe everyone knows what you're talking about if you confuse one with the other.  But there's still plenty of people out there (especially online) that will try to bite your head off if you say it wrong.  What's your opinion?