Pistol Caliber Carbines are the hot ticket in town these days, from competition to plinking at the range and even in a home defense role.
One of the most popular is the CZ Scorpion in both rifle and pistol form, but how good is it? If the hype is to be believed, it might be the best thing since the metallic cartridge!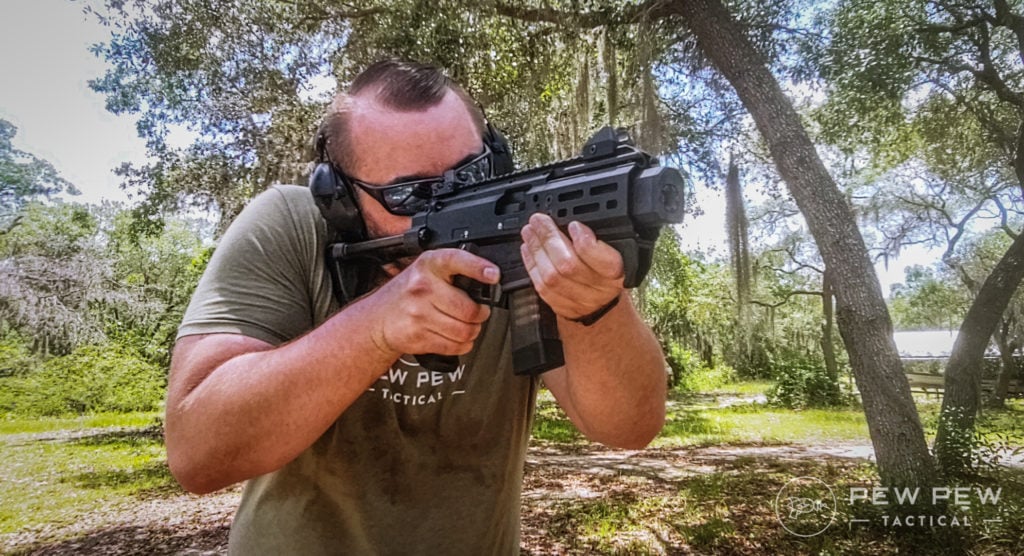 Read on and we'll take an in-depth look at the tiny CZ Scorpion EVO 3 S2 Pistol Micro, the role it fills, and some awesome accessories to go along with it!
What Is The CZ Scorpion?
When I was a kid I for some reason I fell in love with the MP5K.
I blamed the Playstation 2 game SOCOM. I loved it in the game, I loved the way it looked, and from then on the idea of K submachine guns appealed to me vastly.
Submachine guns are already small and K models are even smaller. The K designation came from the MP5 family and has become a term often applied to mini SMGs.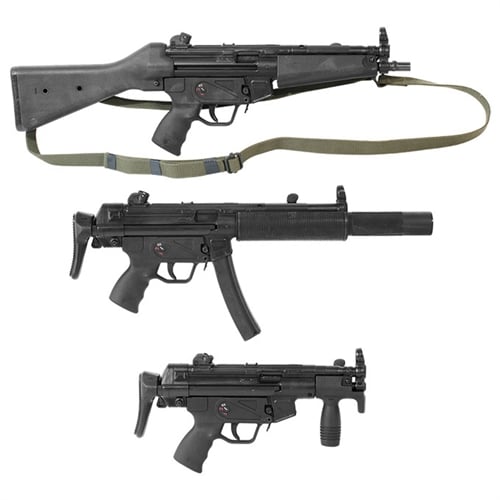 K stands for Kurz, which means short in German. It's the class of SMGs that sits right above machine pistols.
With that in mind when the original CZ Scorpions became popular the modding community went crazy. Soon what emerged was the Scorpion K model.
Best CZ Scorpion Pistol
1046
at Kentucky Gun Company
Prices accurate at time of writing
Prices accurate at time of writing
This became incredibly popular.
The K Model featured a shortened barrel and handguard and was often equipped with a brace of some kind.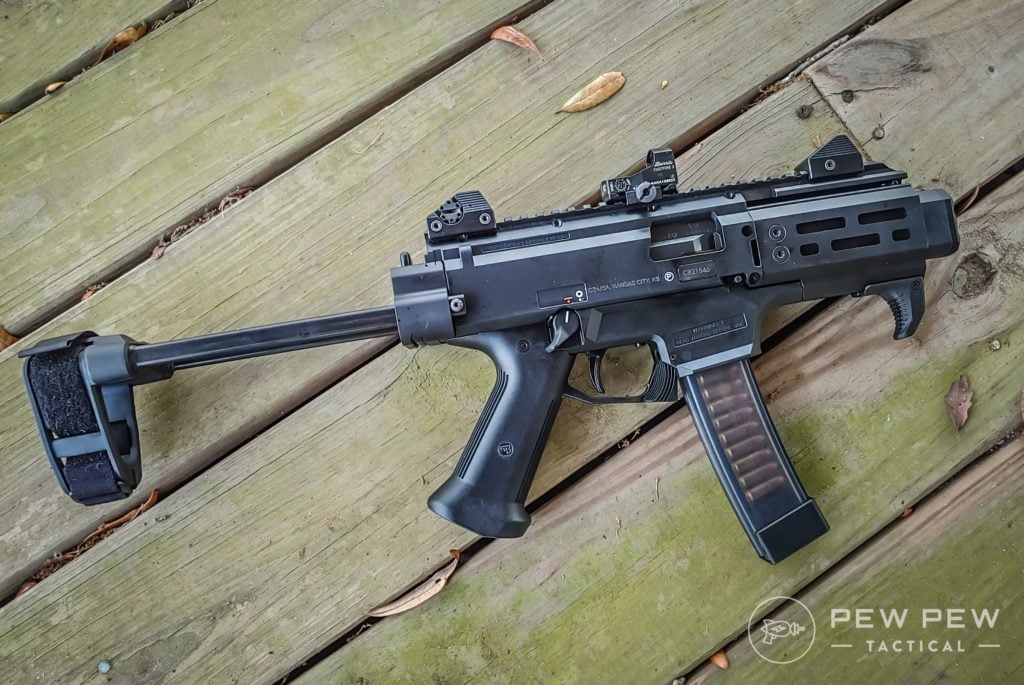 CZ picked up on this trend and introduced their own model, the Micro Scorpion, EVO S2. This model was first shown as SHOT 2018 and took over a year for it to finally hit the market.
I own the rifle and pistol models of the CZ Scorpion and I waited forever for the Micro Scorpion to make its appearance.
Best Pick Pistol Caliber Carbine
1300
at Brownells
Prices accurate at time of writing
Prices accurate at time of writing
CZ dumped the K moniker in their model, but it greatly resembles what the modding communities take on the K model Scorpion.
Needless to say, I'm a fan and I was incredibly happy when CZ was willing to send me a Micro Scorpion.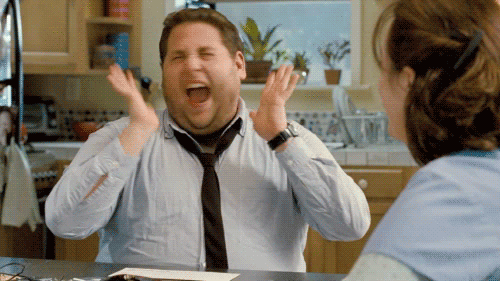 Breaking Down the Micro Scorpion
The Micro Scorpion features a 4.12-inch barrel, which means over three inches was trimmed from the original Scorpion barrel.
It comes with the CZ PDW brace that is a combination of efforts between SB Tactical and Manticore Arms.
225
at Brownells
Prices accurate at time of writing
Prices accurate at time of writing
The overall weight is 5.5 pounds, and that's with a 13.1-ounce brace. It's nice and light, very comfortable.
Attached to the barrel is the No-Octane Faux suppressor from Silencer Co. It's square shaped and gives an aggressive appearance to a normally short barrel.
The PDW Brace is quick to deploy, just pull it and it locks into place. It has only one locking section and 1 length of pull setting.
On the other hand, the SB Tactical model has two settings for length of pull, but the Micro does not.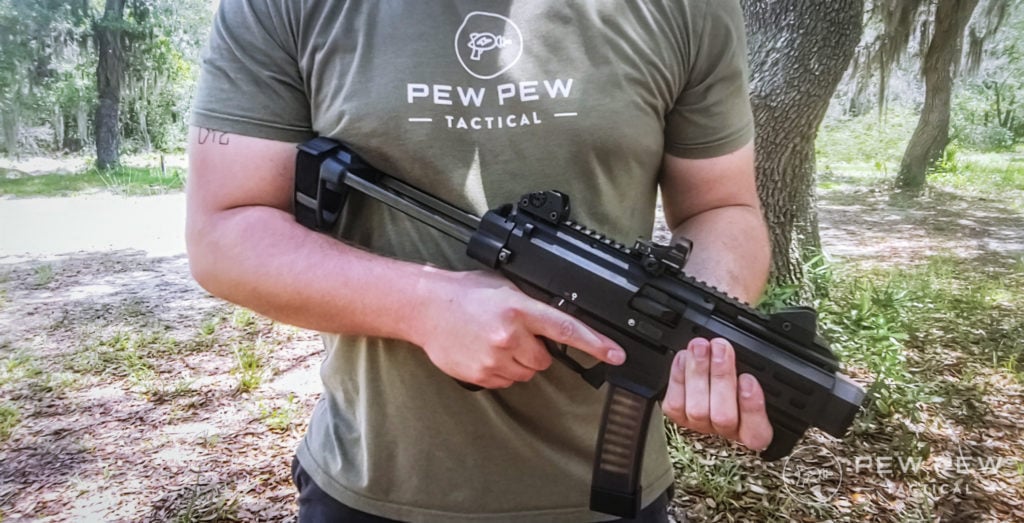 To deploy the brace you just pull it and it locks into place. Its instant deployment there is no locks to defeat to deploy the brace.
Collapsing the brace is easy with an ambidextrous button on the top of the brace mount that just needs to pressed downwards and the brace will collapse with ease.
The brace is small and compact but still wraps around my big arm with relative ease. A velcro strap allows you to embrace the brace as a brace across the forearm and the metal rods are sturdy, keeping it from moving or jiggling too much.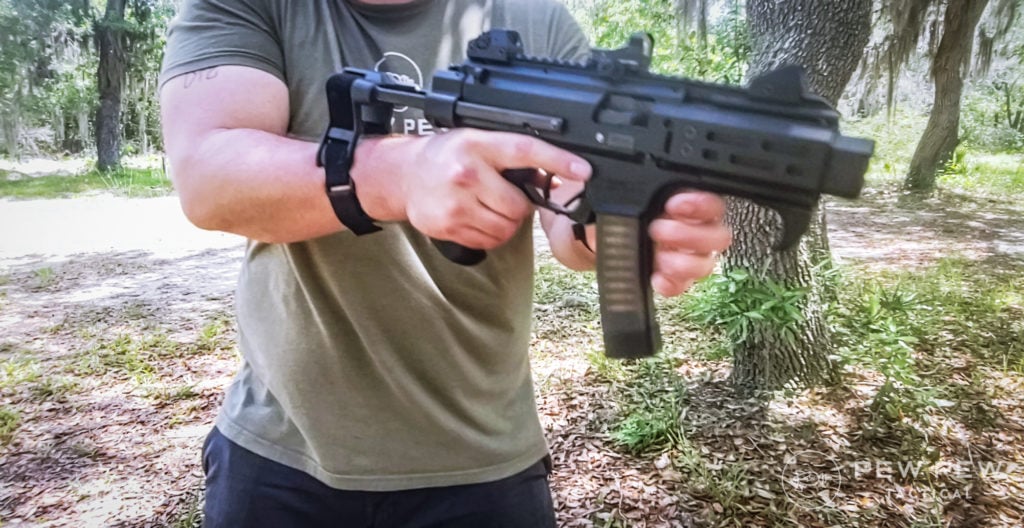 Other than the shorter barrel and brace the Micro Scorpion is almost the exact same as the standard Scorpion. If you've never handled a Scorpion pistol or rifle the next section is for you.
The Scorpion Ergonomics
The Scorpion has some pretty awesome ergonomics overall. Better than most, albeit it has one huge flaw. Let's get that out of the way.
I love ambidextrous safeties, but the Scorpion's is downright painful. It digs into the trigger finger of the firing hand and is far from comfortable.
9mm has low recoil, but it still gets annoying when shooting high round counts.
You can dremel it off…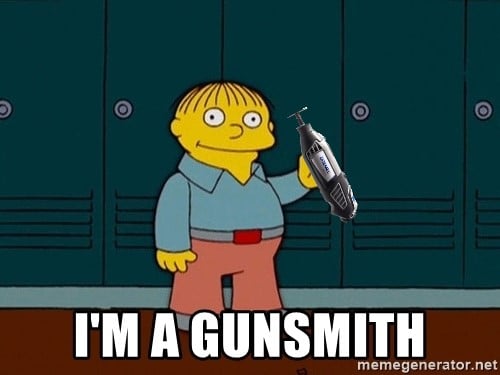 Or purchase a safety delete, or any other aftermarket safety device.
40
at Brownells
Prices accurate at time of writing
Prices accurate at time of writing
Other than that the Micro Scorpion is an ergonomic treat.
The charging handle is reversible and can run it left or right handed and the magazine release is a front paddle that can be reached with the trigger finger or with the thumb when gripping the magazine.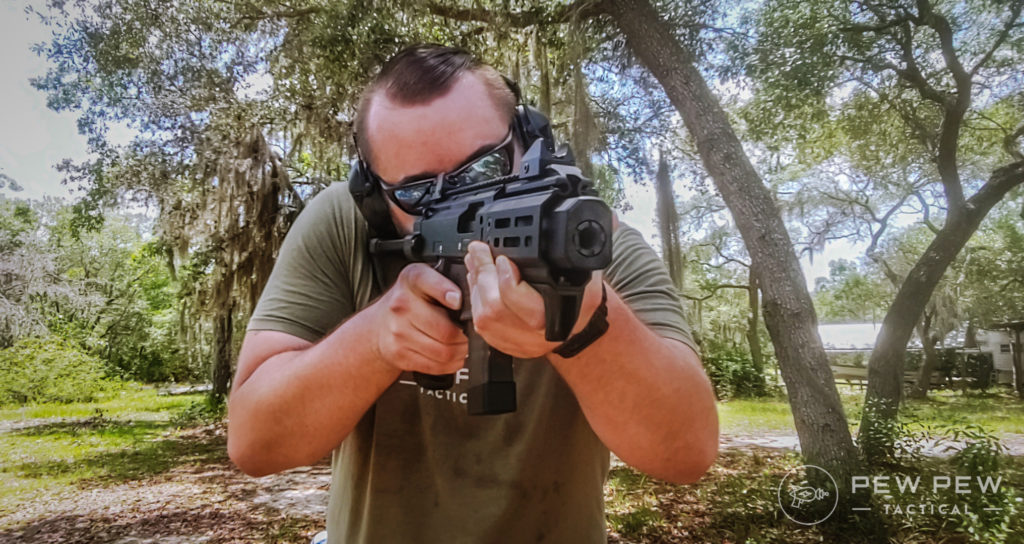 It also features a bolt lock that is left hand only, but most will use the charging handles to release the bolt.
One of the cool features of the Scorpion is the ability to move the pistol grip forward and rearward to adjust the distance for trigger pull.
This is one of the neatest features, and it's the only gun that I know of that allows this type of adjustment.
Some people seem to dislike the Scorpion's pistol grip and replace it, others seem to just like replacing stuff and replace it, but I find it perfectly suitable and very comfortable.
It fills my 2XL sized hands well, and I find no discomfort with it.
Important for such a short-barreled gun, a small hand stop that blends effortlessly into the design of the gun.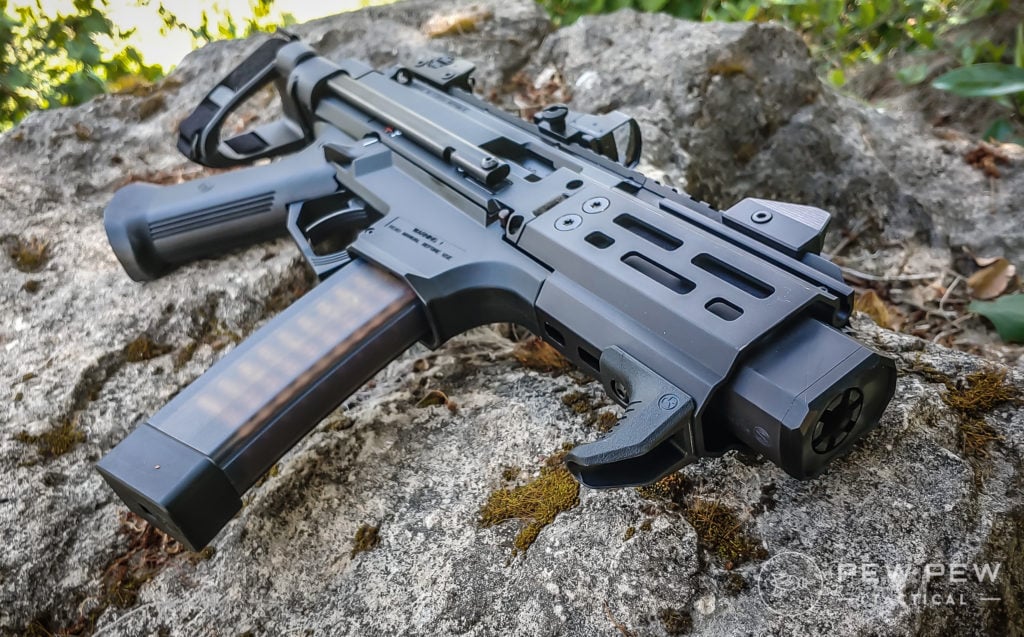 It keeps your hand from drifting in front of the barrel and this is a safety device that is quite effective to keep you from putting 9mm projectiles through your hand.
This whole package blends together to form an awesome design that is quick and easy to use. The magazine well is flared and reloads are quick and easy.
It's an easy gun to train with and my Beez PCC chest rig is the perfect companion for the CZ Scorpion.
Running the gun is simple and easy. Everything is placed in such a way that makes it easy to reach and quick to use.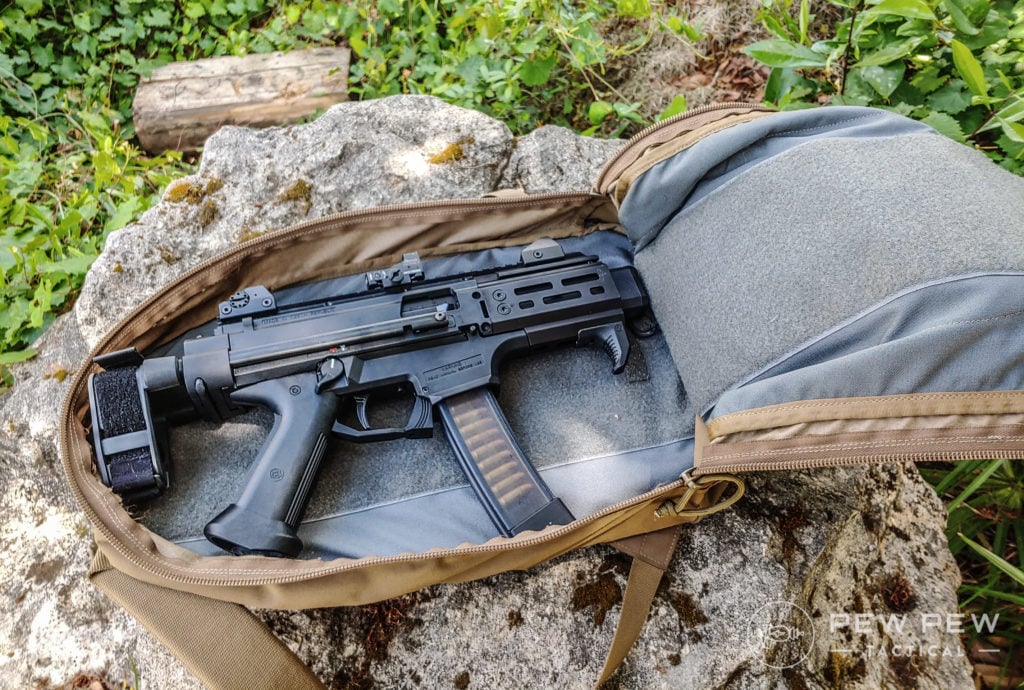 The brace is very minimalist, but as a light 9mm rifle it's not punishing or uncomfortable. However, should you decided to alternatively employ the brace and rest it against your shoulder – you won't find much in the way of a cheek rest.
Range Time With the Micro Scorpion
As a CZ Scorpion fan, I was excited, as a fan of ultrashort subguns I was even more excited. I promptly loaded a half dozen 30-round magazines and went out to the range.
As a bit of a side note, I got my hands on one of those ETS C.A.M. loaders for rifle mags and I'm in love with it.
Complete Hands-on Review of the ETS C.A.M. Loader!
It took less than 3 minutes to load six 30-round magazines and two 20-round magazines. It's a great product and very easy to use.
The CZ Scorpion Micro comes with two 20-rounders, but 30-rounders are everywhere.
Magpul is soon to be producing CZ Scorpion mags, as does Manticore arms. The mags are quite cheap and abundant.
19
at Gun Mag Warehouse
Prices accurate at time of writing
Prices accurate at time of writing
Also, Palmetto State Armory's AK-V takes CZ Scorpion mags and are interchangeable.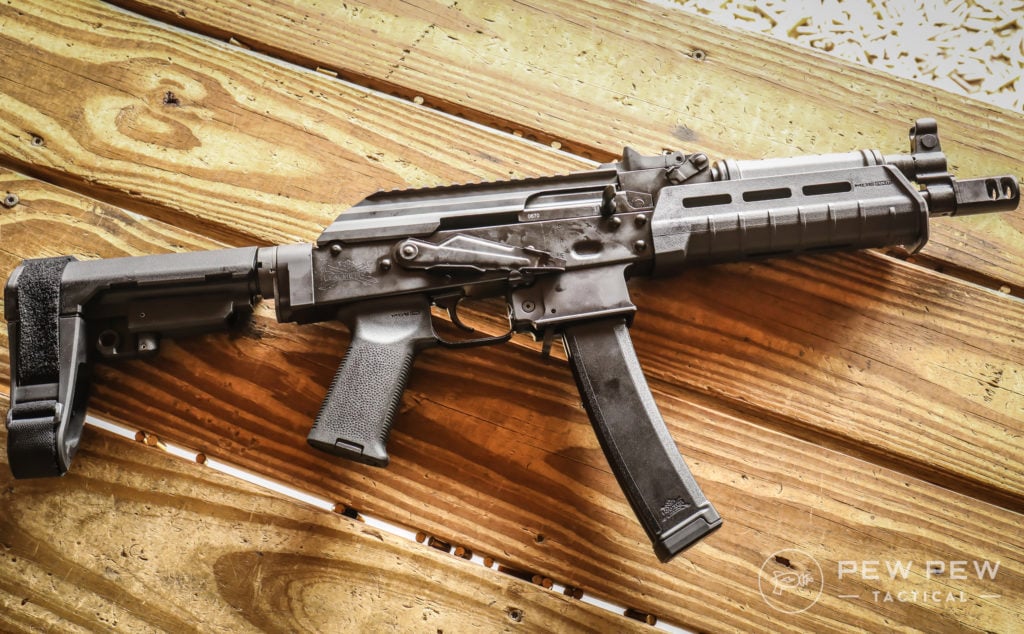 Best of all, PSA's mags are 35-rounders!
20
at Palmetto State Armory
Prices accurate at time of writing
Prices accurate at time of writing
Firing Impressions
The brace the Micro Scorpion is equipped with is small and light, and it's certainly not designed to maximize accuracy or comfort. It's designed to be compact and in that regard, this is a very compact gun.
It's small, and if you use it against your shoulder you won't have a cheek weld or much too place against the shoulder.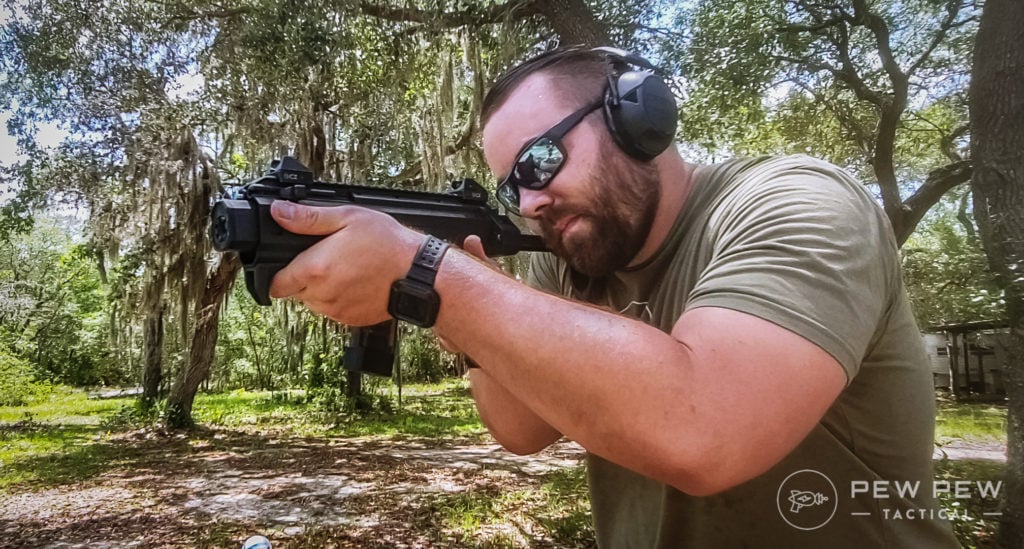 However, it is very stable, and the fact it's only a 9mm gun makes a big difference as well. A 9mm subgun that weighs 5.5-pounds doesn't need a whole lot of support to comfortably shoot with.
The gun itself has very little recoil and never did I find the use of the brace to be painful or uncomfortable.
Admittedly the trigger is bit long and heavy. It's not terrible, but if you are spoiled by Geissele AR triggers then you may be disappointed.
A little spongy overall, but it's not bad enough to blame for poor accuracy or to cause you to throw a shot.
Sights CZ includes on their guns are absolutely fantastic. The front sight resembles an AR sight and is adjustable via a CZ front sight tool. It looks AR like but is not compatible with AR front sight posts.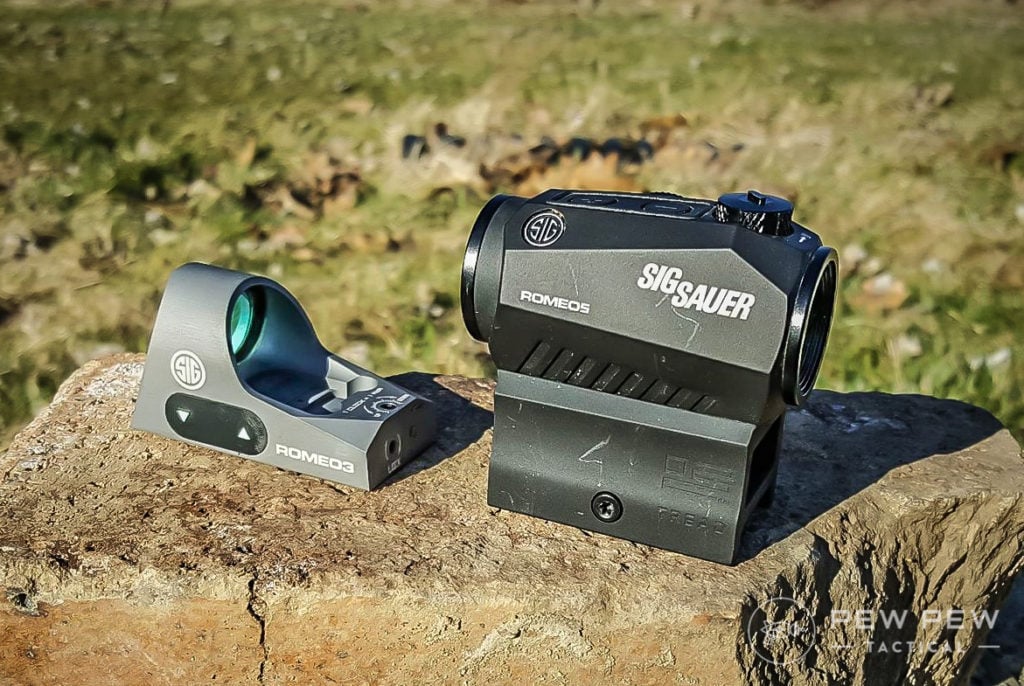 The rear sight has four different diopters that are all different sizes. They can run from wide open for close range, fast acquisition shooting to small pinhole for precision shots.
They are also made out of metal, installed correctly on the weapon, and very robust – three things you can't say for a lot of factory sights these days.
I want these sights on all my non-AR subguns. I adore them. They make shooting easy, and co-witness with most miniature red dots like the Burris FastFire 3 mounted on mine.
As I mentioned above I do not like the placement of the safety, and typically run my firing finger on top of it to be more comfortable. There are luckily a number of additional aftermarket fixes.
Shooting the gun is a ton of fun. It's also cheap to shoot thanks to the low price of 9mm ammo. The recoil is minimal, as is muzzle rise. You can fire this gun very fast with ease and remain accurate and on target.
Accuracy
This gun isn't made for long range accuracy, and it's not designed to be a tack driver.
It is just a 9mm subgun and when judging it for what it is I think most will be impressed by the gun's accuracy.
Accuracy is always a tough call to make when reviewing guns and when reading reviews. Each person's shooting skill is different, each gun is different, and of course: Maybe I just don't know how to shoot?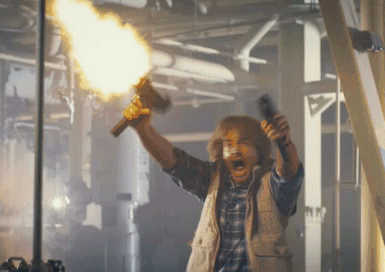 So instead of giving you guys group sizes, I wanted to take a step back, and I mean that literally. I wanted to see how far back I could step and still consistently hit a small, Shoot Steel steel popper.
125
at Shoot Steel
Prices accurate at time of writing
Prices accurate at time of writing
It's 21-inches tall and about 10-inches at it's widest. I started at 15-yards and fired 5 rounds. If the majority hit the target I'd move back 5-yards and do it again.
When I reached a point where the majority were not hitting I fired the drill two more times to confirm before ending it.
I didn't miss until 40-yards. On the second mag, I got 4 hits and did 3 hits at 45. Once I got to 50 I surprised myself with a 5 out of 5 on the first try. At 55-yards I was maxed out though, and couldn't make a majority of hits regardless of how many times I tried.
Keep in mind this was with irons and a small popper. At that range, I couldn't even see the target beyond the front sight. If I went with a man-sized silhouette I could've moved back way further and made effective hits.
Needless to say, the CZ Micro Scorpion is plenty accurate for a gun with the barrel length of a compact handgun.
The longer sight radius, awesome sights, and stabilizing brace make this an easy gun to shoot. It's much more effective than a handgun in terms of practical accuracy.
At 25-yards most shooters will likely find the CZ Micro Scorpion to be an absolute laser. It's super easy to control and shoot accurately and even new shooters will be capable of effective accuracy.
Reliability
I've put mostly Remington UMC 9mm through the gun. It's the cheapest brass cased ammo I could find locally. It's such a fun gun to fire and to shoot I actually forgot to keep a tab of the ammo I fired for the first few days.
55
at Lucky Gunner
Prices accurate at time of writing
Prices accurate at time of writing
I had some empty boxes in my trash and range bag, so I'm guessing it was around 350 rounds of Remington UMC.
I also tagged in some random JHPs I have from half-used boxes of carry ammo.
This included 124-grain Speer Gold Dot, SIG 147-Grain bonded JHPs, SIG P365 115-grain JHP, Winchester Ranger, and some subsonic 147-grain JHPs. It all cycled and gave weirdly changing recoil impulses because I randomly loaded it into magazines in any order.
The 147-grain stuff was a real thumper, as was the 124-grain +P Speer Gold Dot rounds. It had no issues with cycling ammunitions of all kinds.
42
at Optics Planet
Prices accurate at time of writing
Prices accurate at time of writing
Total round count was approximately 425 rounds over roughly 3 days. No cleaning, no lubrication added beyond the first detail strip and cleaning when I received the gun.
It ran without hesitation, and I plan to put a lot more ammo through this gun in our time together.
By the Numbers
Accuracy: 4/5
Within its role as a Micro SMG wannabe it's very accurate, and under 25-yards it's harder to miss than hit. 100-yards is about your max range with this weapon on man-sized targets and that's more than enough for most shooters.
It's certainly not a sniper rifle, or a precision weapon designed to hit playing cards at a 100-yards.
Ergonomics: 4/5
Everything about the gun feels well planned and well thought out. The controls are brilliantly placed and easy to use. Plus that old HK slap is present and I love that. It loses a point because of a painful ambidextrous safety.
Looks: 5/5
The gun looks slick, very slick, and it absolutely gorgeous. Outside of looking cool, the gun does have a solid finish, and the polymer in the frame is very high quality. The design is flawless in terms of looks, at least in my opinion.
Customization: 4/5
If we used the AR 15 as the standard in which customization is judged then the CZ can't be a 5. However, the aftermarket for this gun is growing. This includes both big and small companies. Magpul, HBI, Yeti Wurks, Apex Tactical, Midwest industries and a few more produce numerous upgrades and accessories for the Scorpion.
23
at Brownells
Prices accurate at time of writing
Prices accurate at time of writing
The gun also has an MLOK handguard with plenty of slots for attaching all the accessories you'd ever need.
Bang For Your Buck: 3.5/5
The PCC market is huge right now and the Micro Scorpion is an expensive gun compared to most. It's a few hundred bucks more than a standard Scorpion but does come with the brace. The Ruger PCC is super affordable, as is the Kel Tec Sub 2K, and plenty of other AR type PCCs.
Overall Rating: 4/5
Conclusion
It's hard not to be biased when you love a class of firearms, but I really tried.
I love micro SMGs, and PCCs in general. The CZ Micro Scorpion is just an awesome weapon. It's truly a well made, and fun gun to run.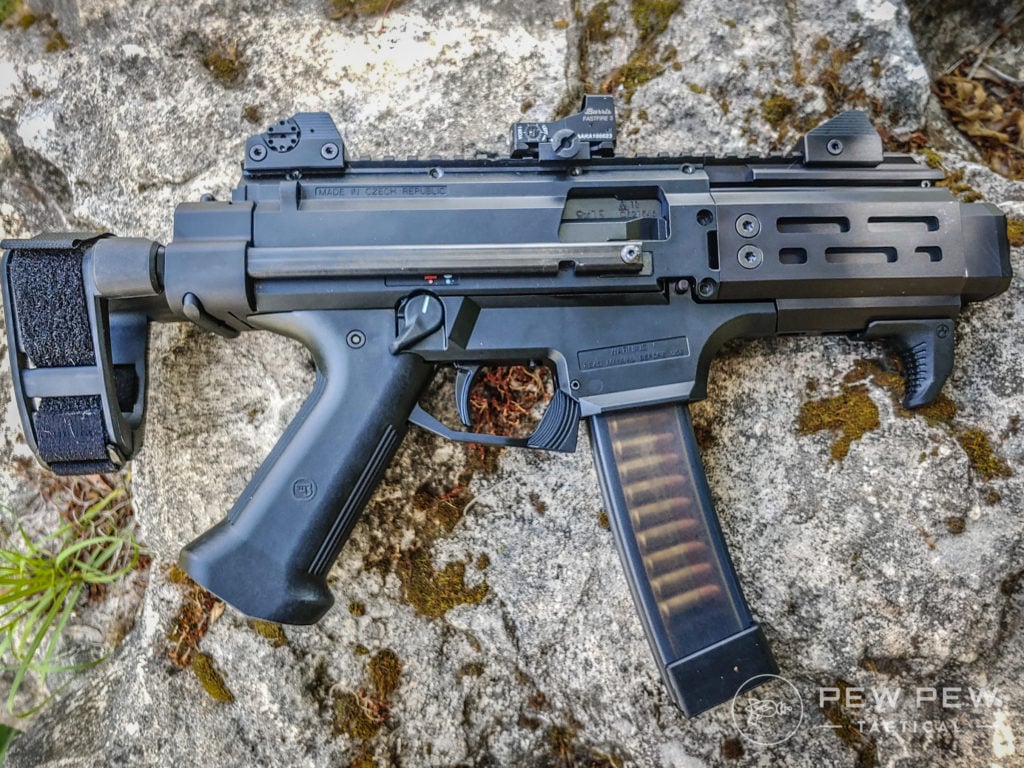 The CZ Micro Scorpion is a fun gun, but could also serve as a home defense weapon.
It's easier to handle that's a super short AR, and it's easy to shooters who are recoil sensitive and want something quick and easy to handle.
Best CZ Scorpion Pistol
1046
at Kentucky Gun Company
Prices accurate at time of writing
Prices accurate at time of writing
What do you guys think about guns like the CZ Micro Scorpion? How about a full review of it's big brother…the Scorpion EVO 3 S1 Carbine?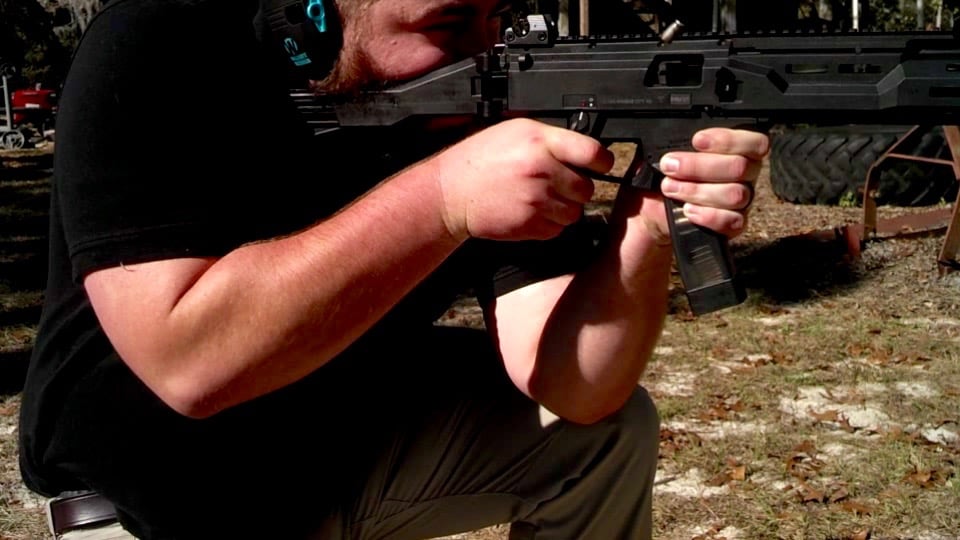 Or…our roundup of our favorite Pistol Caliber Carbines.