AK-74s, not to be confused with the AK-47, are some of the coolest small arms in existence.
And Palmetto State Armory is stepping into the 74 fray with the debut of the PSA AK-74.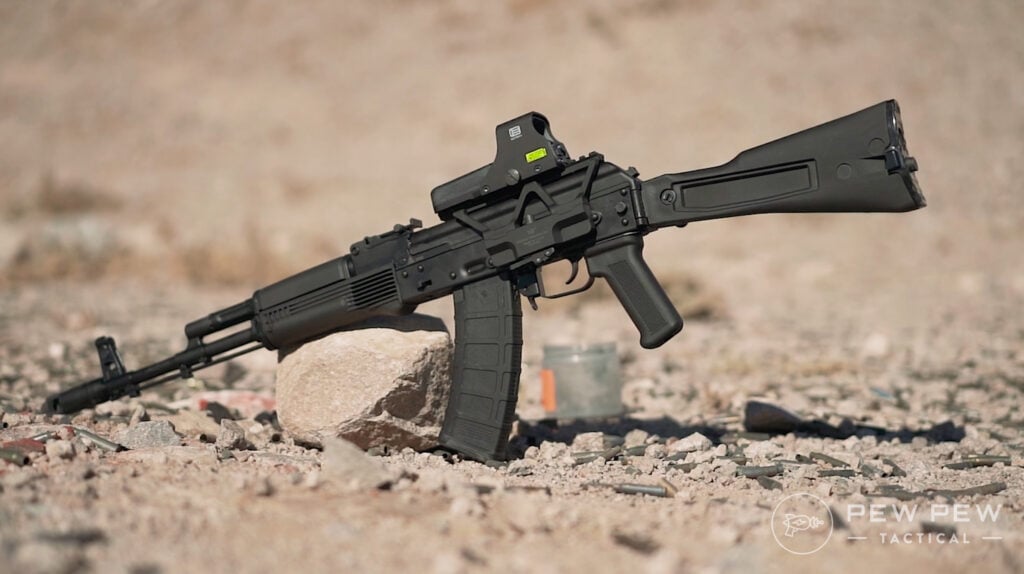 Introduced at SHOT Show 2020 in January, PSA's release of an affordable, American-made AK-74 had me hyped. (Especially after the success of their third generation AKM.)
But one question lingered…
999
at Palmetto State Armory
Prices accurate at time of writing
Prices accurate at time of writing
Would PSA's entry into the world of American-made AK-74s be as solid as their previous 7.62×39 AKM workhorses? Or would first-generation bugs kill my vibe?
Let's dig deeper into the PSA AK-74, find out what sets it apart from the AK-47, and ultimately help you decide if you need to add one of these to your gun safe.
For an even more detailed look at the PSA AK-74, check out my video review below.
Need more Pew Pew Tactical in your life? Follow Pew Pew Tactical's YouTube channel to get the scoop on all of our latest and greatest videos.
Table of Contents
Loading...
What's Up With 5.45x39mm?
For the unfamiliar, the original AK-74 was an updated AK platform built around the 5.45x39mm cartridge.
Essentially, the Soviets followed the lead of other military units shifting towards smaller, lightweight, high-velocity cartridges.
Lighter cartridges like the 5.45 were generally found to increase squad lethality while allowing individual soldiers to carry more ammunition pound-for-pound.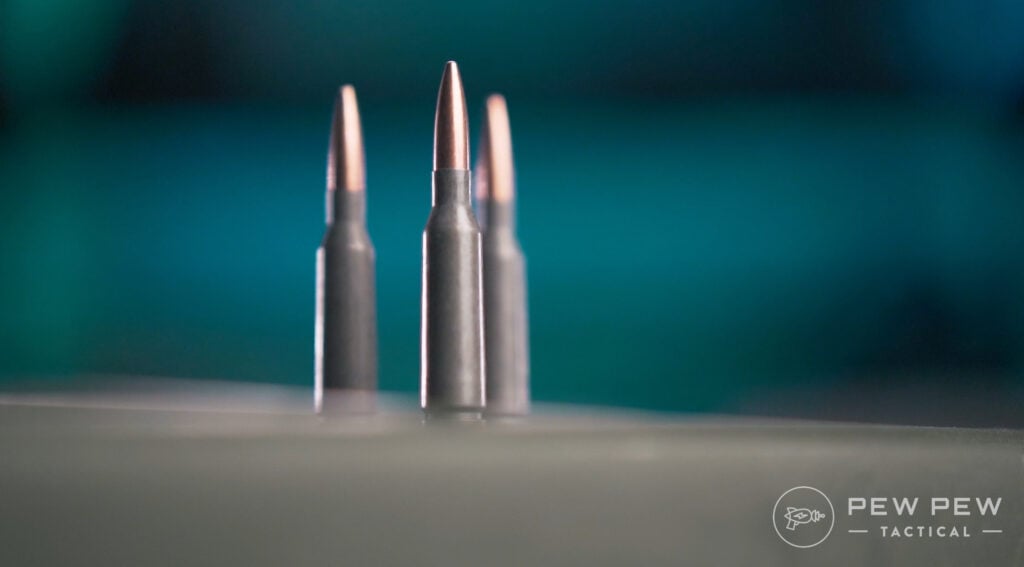 Ballistically, 5.45 is an interesting design.
The original 5.45 cartridge, designated 7n6, was issued to Soviet riflemen in the mid-to-late 1970s.
It included both a pocket of air just behind the penetrator inside the nose of the bullet, as well as a lead plug that gets crimped into the back. This throws the round's center of gravity rearward.
In turn, the 7n6 projectile has a tendency to deform and yaw when it strikes solid targets.
Subsequently, the round causes nastier tissue damage as it cartwheels through your body.
7
at Brownells
Prices accurate at time of writing
Prices accurate at time of writing
Seeing large-scale use during the Soviet-Afghan war in the late '70s, the Afghan Mujahideen allegedly dubbed the round "the poison bullet" due to its tendency to create wound patterns they weren't accustomed to treating.
A Little AK-74 History
The AK-74 would see several more iterations before the AK-74M was adopted by the Russian military in 1991.
With the Soviet Union dissolving in December of that year, it would go on to become the standard issue rifle for much of the Russian Federation that followed.
There have been a handful of domestic attempts at reproducing the younger Kalashnikov platform stateside. Still, they've been pretty mixed in terms of results.
Some small builders offered guns so over gassed they'd beat themselves apart.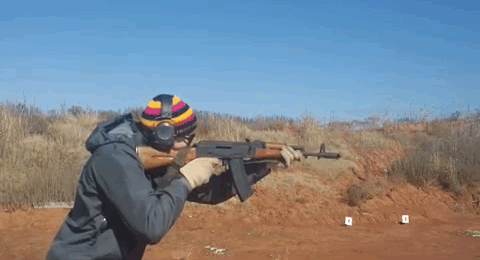 Let's also not forget fabled stories of Century Arms AK-74s that may have been built on Bulgarian 5.56 AK barrels, which induced keyholing at 10-yards.
There are also multiple tales of garage-built AKs exploding.
999
at Palmetto State Armory
Prices accurate at time of writing
Prices accurate at time of writing
The list goes on, but suffice to say that the AK-74 and its 5.45 cartridge never quite caught on stateside beyond dedicated enthusiasts and small builders.
For the record, I'm in no way representing PSA's AK-74 as an exact 1:1 clone of a Russian AK-74.
It's not.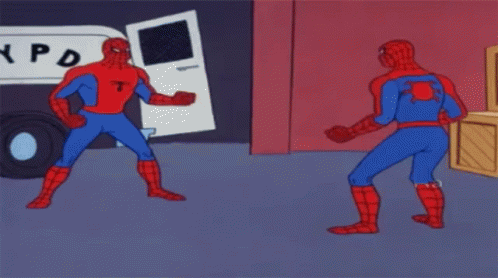 (Especially if you want to get really in the weeds with rivets and all that.)
That didn't keep me from being stoked about the chance to play with PSA's creation, though…
PSA AK-74: Stats & Specs
Before we talk about range results, let's cover some of the basic features and specs of the PSA AK-74.
Sporting a standard 16-inch PSA AK barrel, the rifle comes with a 1:8 twist. While nothing out of the ordinary, it certainly does the job.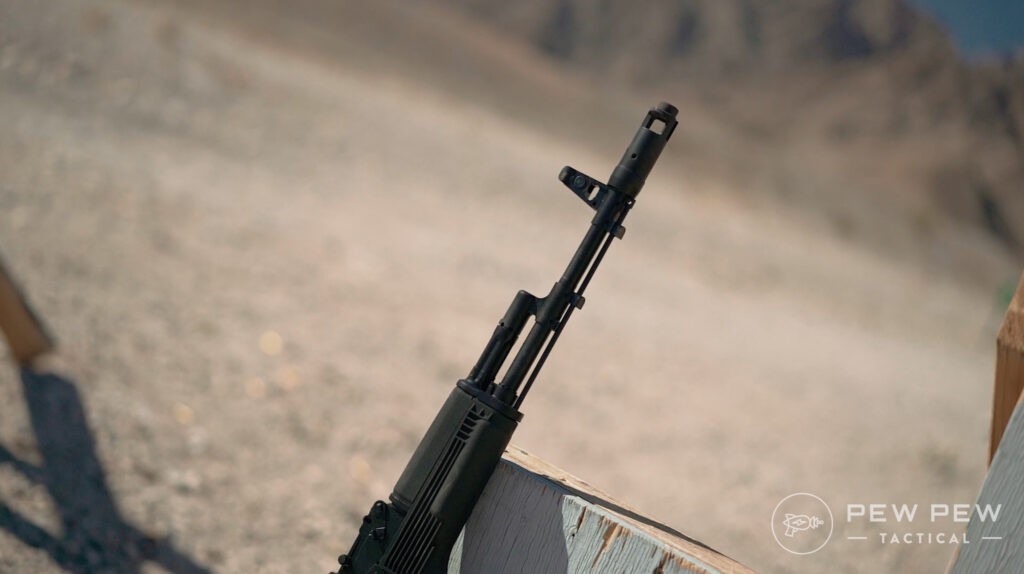 At the end of the barrel, you'll notice the iconic AK-74 muzzle brake attached with 24mm threads.
It's one of the coolest features and definitely pulls its weight.
Forward of the barrel threads, the rifle has a closed initial chamber with three holes drilled at the top and side of the brake.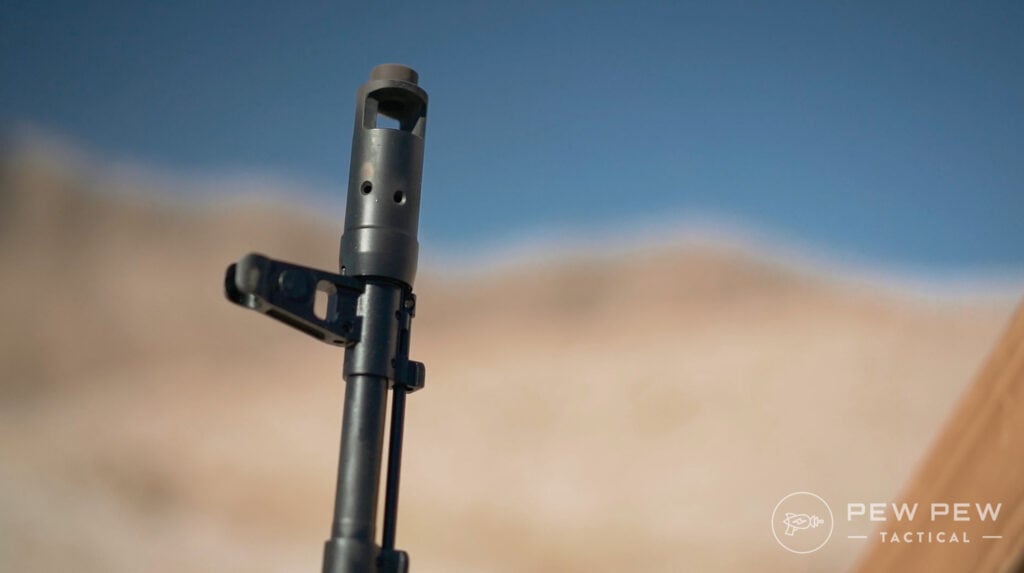 What does this do, you ask?
Mitigates muzzle climb while shooting.
Just ahead of that rest two huge ports that throw remaining burning gasses off to the side.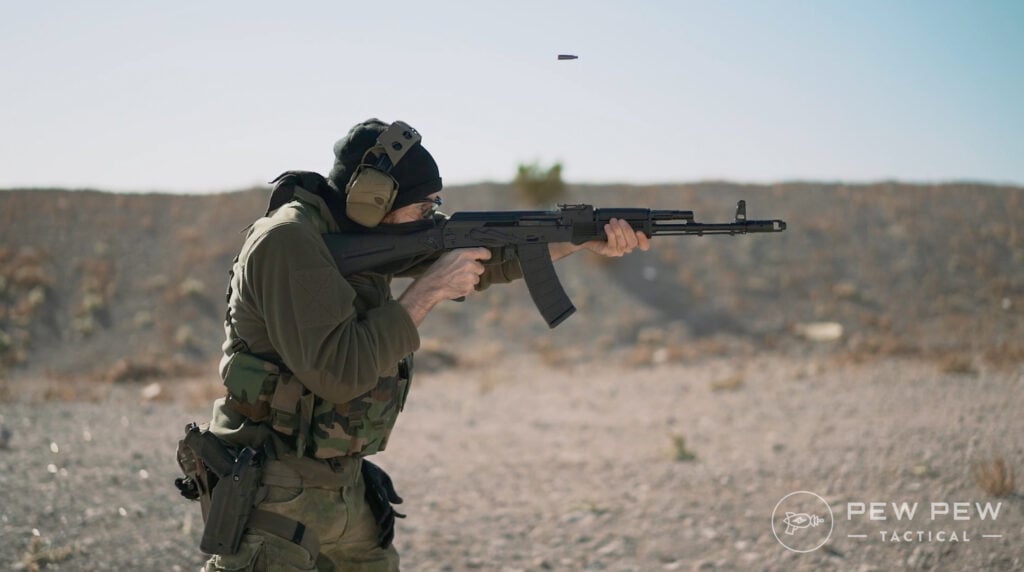 The end result is a gun that shoots pretty flat. (This coming from someone who shoots an AR with a pretty aggressive brake.)
The 74 brake offers the added bonus of not rocking anyone perpendicular to you while firing.
Moving down the gun, we have the trigger. AK triggers feel much different than AR triggers to me. They feature less take-up before an immediate break.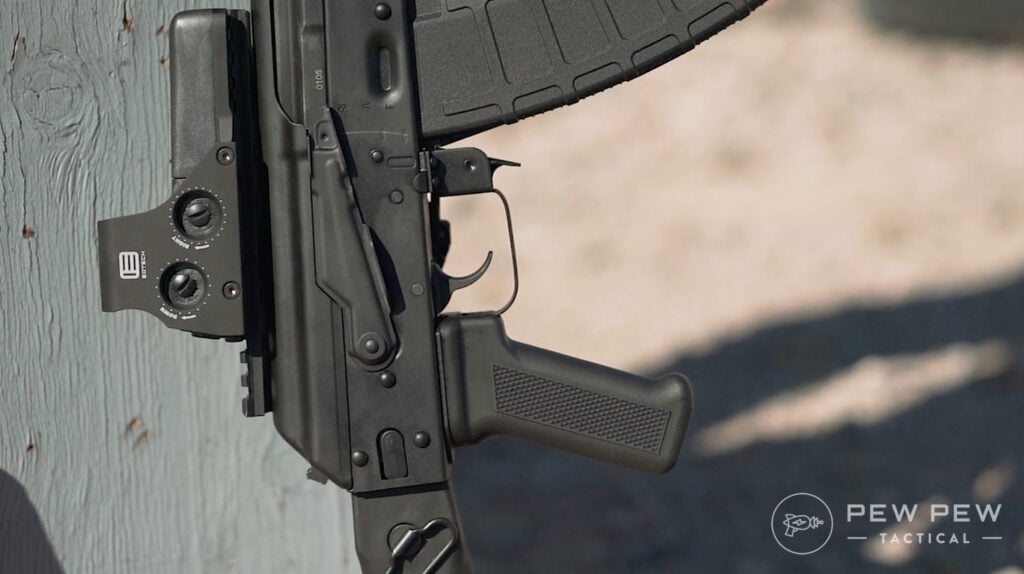 The stock trigger on this AK, however, is pretty nice once you get a feel for how it…feels.
Once you're used to it, you find a very small wall in front of that break to ride.
While we're near the trigger, it's worth mentioning the selector. The selector lever features a small ridge just above the trigger guard that can easily be manipulated with your trigger finger.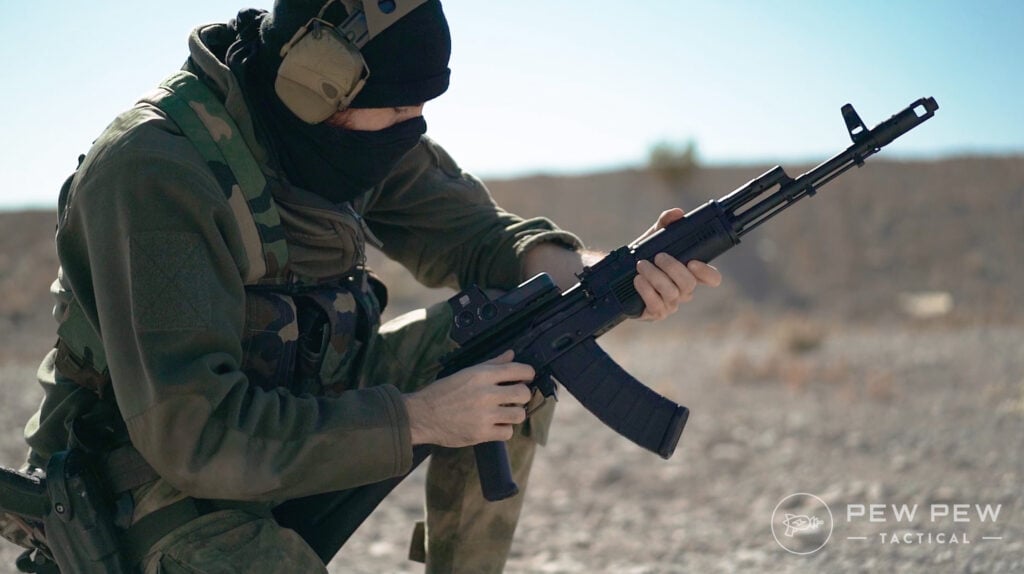 This is incredibly refreshing on a stock AK. Usually, you have to take your entire hand off the trigger and pistol grip to kind of slap at it.
Other Notable Features
As with most AKs, the cleaning rod sits in a divot underneath the front sight. It's secured to the barrel and slips into a hole in the handguard retaining cap.
As mentioned, the handguards themselves come in black polymer. They offer a nice flat finish with no detectable play in either half.
One thing that's pretty common to all AKs that you definitely want to know…
The metal handguard retaining caps get insanely hot once you're really running mags through the gun.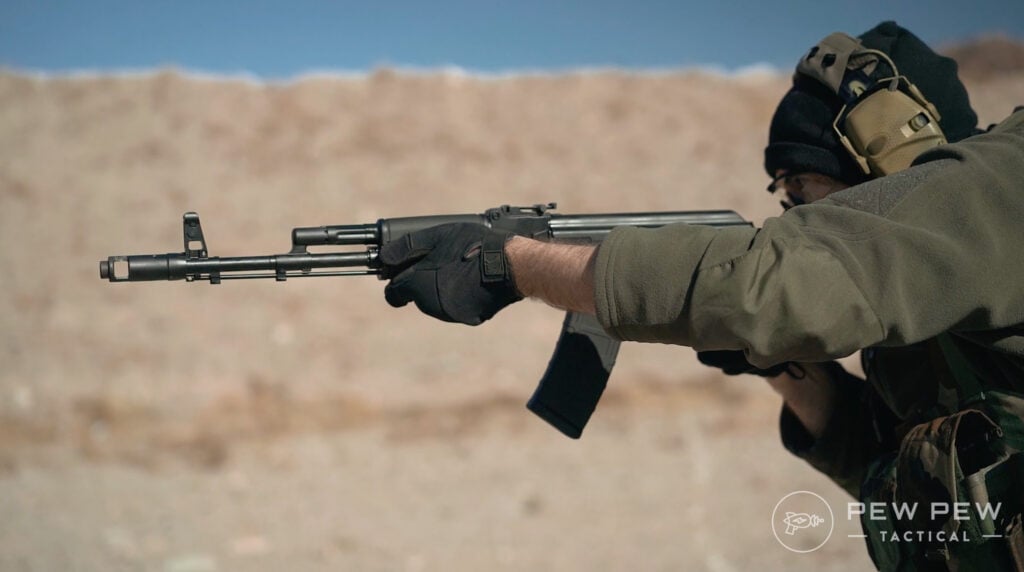 Even wearing my PIG gloves, indexing my support hand incorrectly meant immediate searing flesh pain.
Beware if you don't routinely shoot with gloves or aren't super comfy around AKs.
Editor's Choice Shooting Glove
56
at Amazon
Prices accurate at time of writing
Prices accurate at time of writing
Sight-wise, you're in standard AK territory again. The rear sight slides up to 1,000 yards if you feel victorious.
I was pretty stoked to ring 300-yard steel with irons consistently from prone.
Despite the irons, we tossed a Midwest Industries optics mount on the dovetail rail on the side of the receiver. This gave me a Picatinny rail of sorts resting over the dust cover area.
On top of the mount, we added an older EOTech 512.
110
at Brownells
Prices accurate at time of writing
Prices accurate at time of writing
I didn't get the chance to check compatibility with any magazines outside of Magpul AK-74 PMAGs. The PMAGs worked just fine, though.
I will say the PMAGs can be slightly finicky.
Finding that sweet spot you need to get the magazine lip to successfully catch and allow the mag to rock into place takes a few tries.
15
at Brownells
Prices accurate at time of writing
Prices accurate at time of writing
A Folding Stock — Rad
The stock provides the same flat, black polymer material as the handguards and pistol grip.
What's cool is that it's a full stock that folds off to the side. The PSA accomplishes this via a small button on the receiver's side, locking into a small latch just above the magazine well.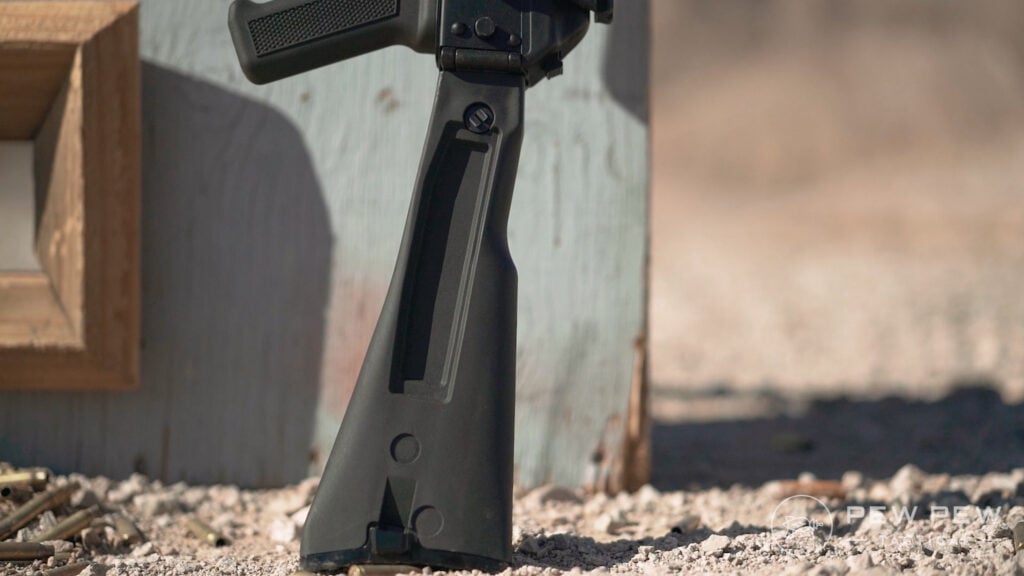 This is more for storage than anything else.
You can always throw on an aftermarket side-folding AR-style buffer tube or something like a Zenitco PT3 stock if you need a little bit more adjustability out of your length-of-pull.
For me, however, I have no real issues with standard AK stocks.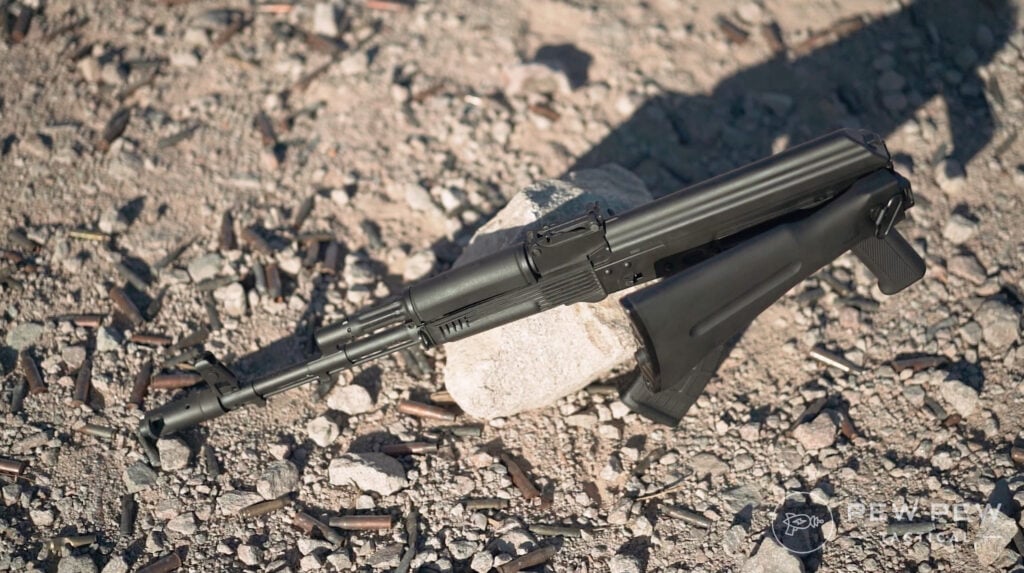 Taking the PSA to the Range
We had the opportunity to link up with PSA at Pro Gun Club just outside Las Vegas to get some hands-on time with the AK-74. Unlike most of 2020, it wasn't a letdown.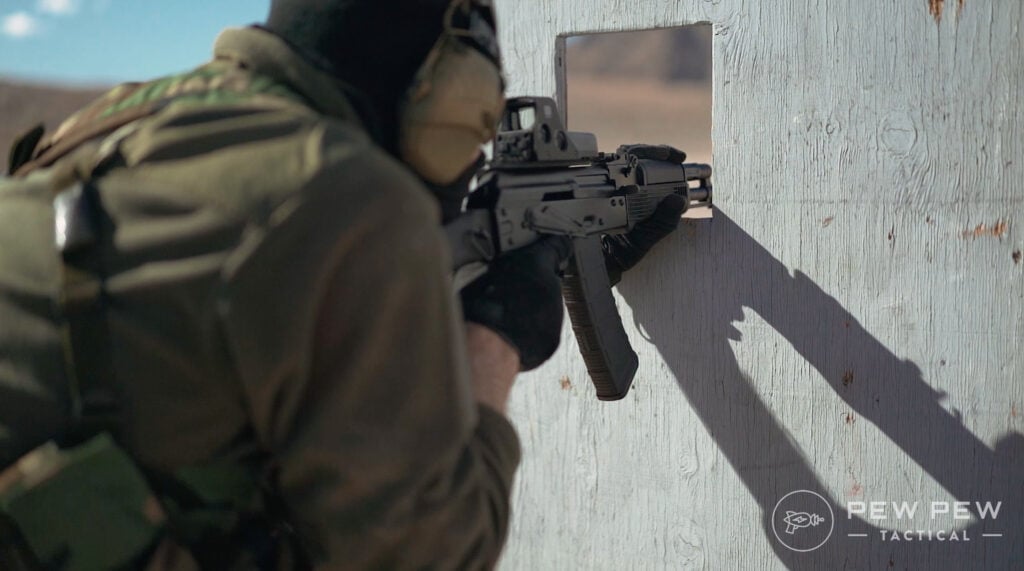 I had no idea what variation of the AK-74 PSA was bringing out — as they've got several. Ultimately, I was happy to see that it was the black polymer furniture-clad AK-74M style variant waiting in the rifle case for me.
As a small arms nerd, I love fiddling with stuff that's similar to a rifle issued to a given country's military.
First impressions?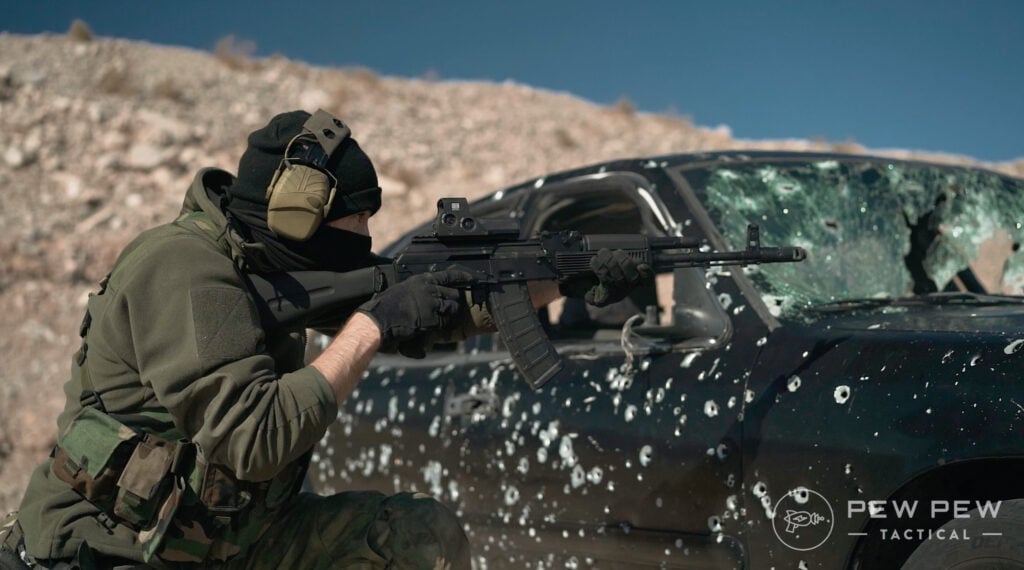 Stellar.
I burned through close to 700 rounds of steel-cased 5.45 with no issues whatsoever!
The range stretched all the way out to 300-yards and I had a blast putting consistent shots on steel. I even bounced between different target ranges with the EOTech.
489
at Palmetto State Armory
Prices accurate at time of writing
Prices accurate at time of writing
It's wild just how little recoil a properly controlled AK-74 generates.
I know I've mentioned that a few times, but you really have to try it if you're only used to AKMs or other 7.62×39 guns.
It's the small things…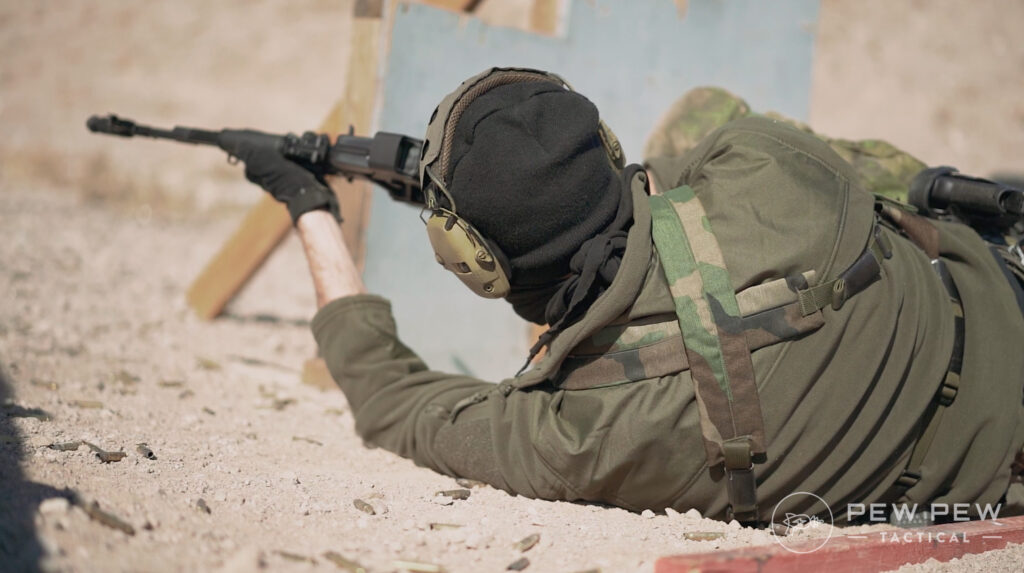 While we didn't do any super official groups considering we were running iffy 5.45 through it, we did paper the gun at 50-yards from prone.
I was happy considering the lack of magnification — probably in the ballpark of 2 or 3 MOA. I'm sure there's some reasonable room for improvement.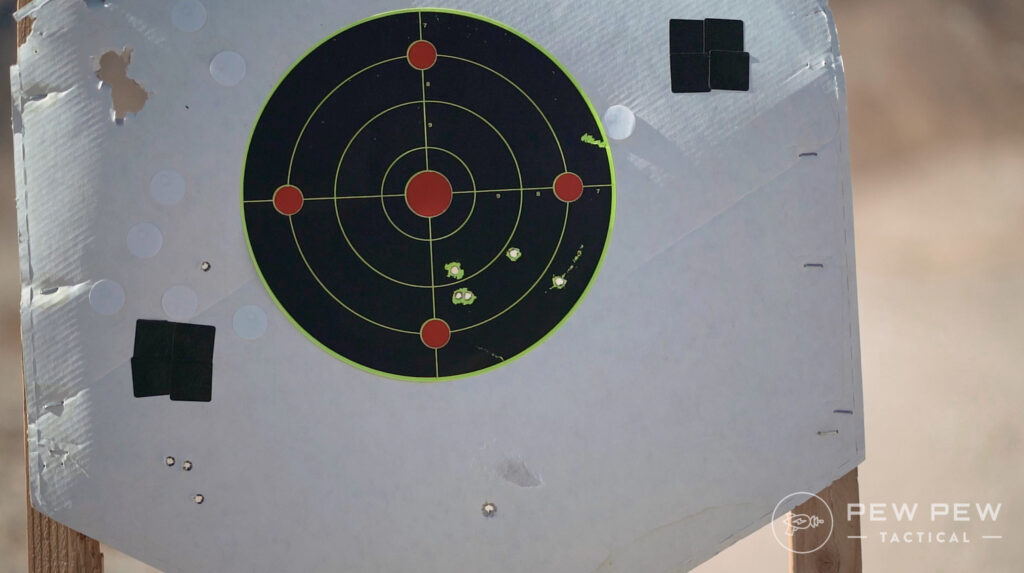 Running an AK with an Optic
Using an optic meant the EOTech rode a little higher up. As a result, you won't get a traditional cheek weld.
But that's the nature of running optics on AKs — even with the lower profile Midwest Industries mount.
110
at Brownells
Prices accurate at time of writing
Prices accurate at time of writing
I generally tend to lightly index my chin off of a portion of the stock. Honestly, with how light the recoil of 5.45 is, it shouldn't throw you off too much — especially with something like a holosight.
Personally, I found myself swooping my support arm out to the left a bit more than usual. Doing this keeps the rifle tensioned by maintaining that arc instead of the more straight arm lockout I use when firing my AR.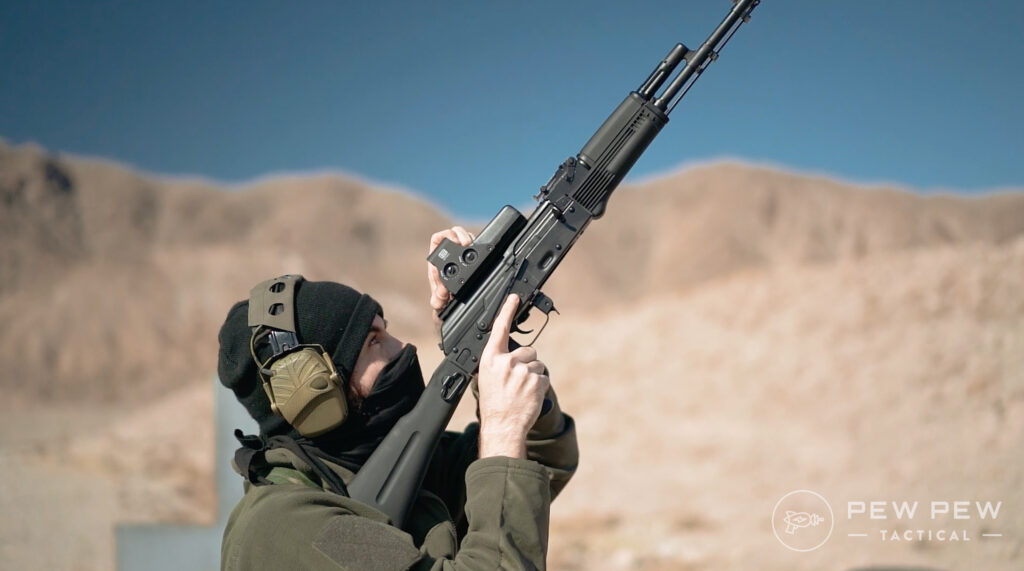 That winds up being a good way to get an aggressive C-clamp on those handguards, which in turn makes recoil mitigation a breeze.
The experience was just about as cool as I'd hoped it'd be!
Why Buy the PSA?
While I had a blast, what's that mean for you?
Being a self-aware dork, I'll spell it out to you like this.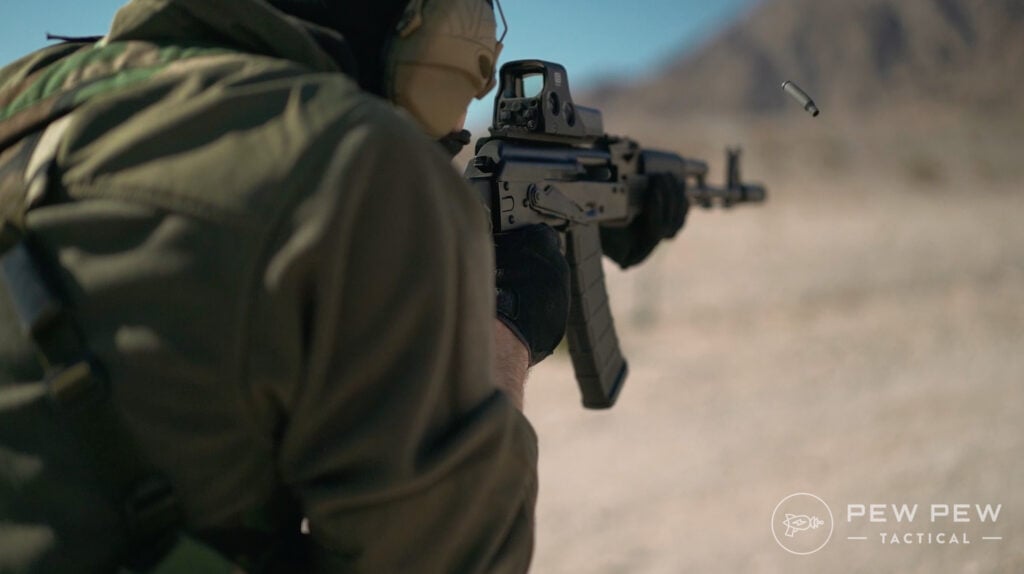 My interest in PSA's AK-74 obviously comes from both a dumb love for history and small arms in addition to a general affinity for AK platforms broadly.
Again, this isn't a carbon clone of an actual AK-74. I'm sure those deeper down the rabbit hole than I would happily point out those exact differences.
999
at Palmetto State Armory
Prices accurate at time of writing
Prices accurate at time of writing
For other AK nerds like me, the PSA stands as the easiest way to acquire a reasonably good approximation of the AK-74 platform — without breaking the bank in the process.
Beyond just the cool aesthetics and form factor, this thing appears to run quite well.
Caveat: there's always a chance that a first-generation PSA product might see some issues with hard use.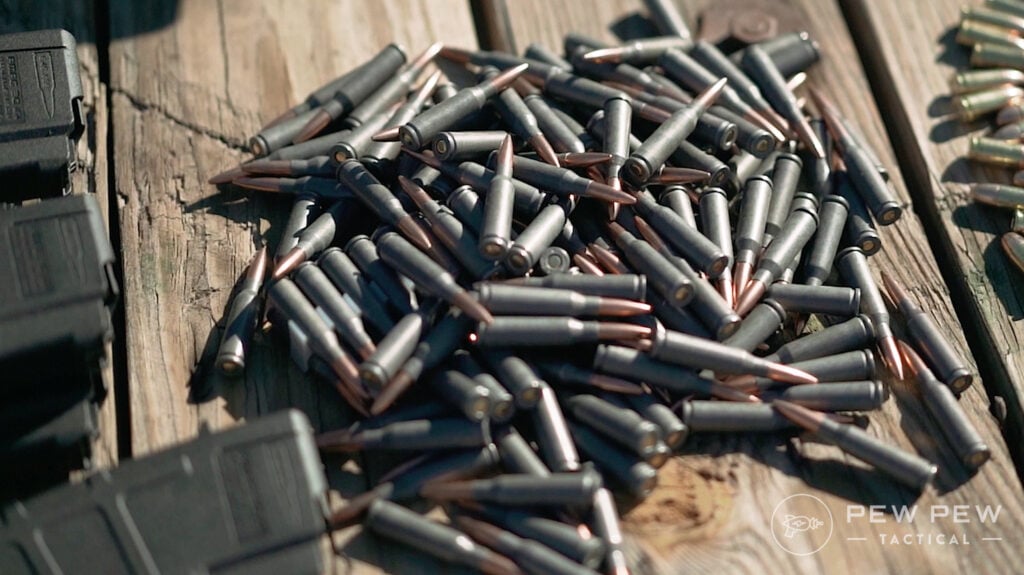 That said, we'll let folks like the AK Operators Union really get into the nitty-gritty with 1,000-round torture tests and the like.
For now, my experience was rad. Running an AK that's just as controllable as an AR-15 was awesome!
By the Numbers
Reliability: 4/5
While I had no issues on the range with the PSA AK-74, first-generation builds are known to have some kinks. Some quirks might show themselves during higher round count shooting.
Ergonomics: 4/5
The AK-74 feels good, with little recoil. That said, popping on the EOTech meant I had to adapt my shooting stance. It's not a dealbreaker, and certainly doesn't cause issues if you stick with iron sights.
Accuracy: 4/5
I shot out to 300-yards with irons and an EOTech optic. I consistently rang steel at these distances. Some iffy 5.45 ammo will impact shots though and can throw off groups.
Customization: 5/5
AKs have a well established and massive accessory market, so there's no lack of options. From what I encountered on the PSA, most extras — everything from American-made tactical stuff to Russian-produced accessories — should fit.
Value: 5/5
PSA does not clone the AK-74 in fine detail, but it's a close enough approximation and at an affordable price. Those who can't throw cash at the real deal, will be satisfied with what the PSA AK-74 offers.
999
at Palmetto State Armory
Prices accurate at time of writing
Prices accurate at time of writing
Overall: 4/5
Affordability paired with a classic design makes the PSA AK-74 worth owning. If you want to step into the 74 world but don't want to spend too much to enter, you can't go wrong with the PSA model.
Conclusion
PSA's AK-74 isn't a direct clone of the original AK-74. But it offers a close-enough design and, more importantly, an affordable price. Chambered in 5.45x39mm, the PSA is perfect for budget-minded AK fans who love the nostalgia of a Kalashnikov design.
999
at Palmetto State Armory
Prices accurate at time of writing
Prices accurate at time of writing
If all of that sounds cool to you – I'd definitely check into the PSA AK-74. You likely won't regret it.
Ready to throw down cash for the PSA AK-74, or are you holding out for another AK variant? Let us know in the comments below. For more AK madness, check out our Complete AK-47 Buyer's Guide.