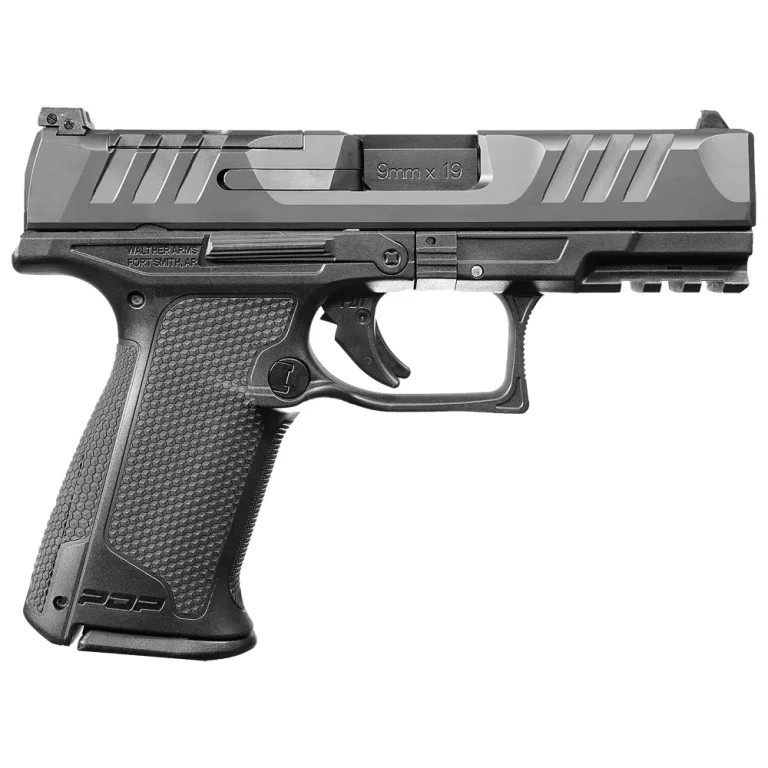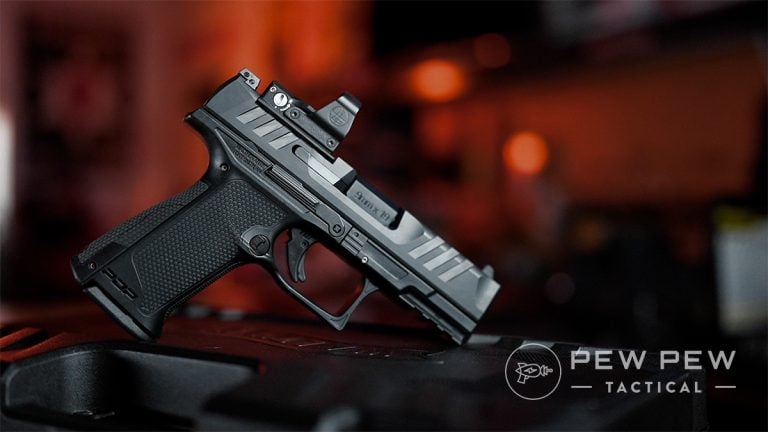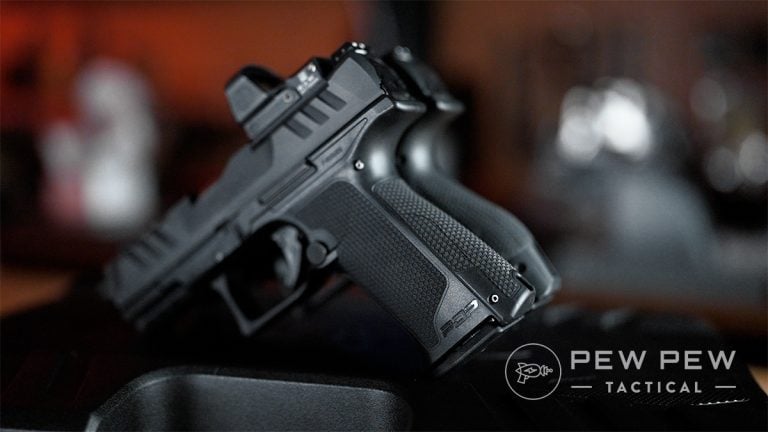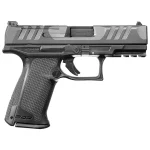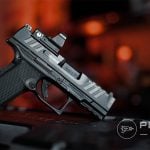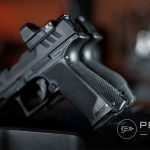 Reduced slide force

Great ergonomics
Optics system not compatible with older PDPs

Last round lockback (bigger-handed shooters)
Editor's Note:
"The PDP F-Series is an evolution of a very fine handgun into something much more palatable for smaller-handed shooters. All the great features of the original PDP have been carried over into a reduced circumference grip and reduced length of pull." – Sean Curtis
Read full review
Product Description
Shop for Walther PDP F-Series for sale at Pew Pew Meter, your favorite gun buying tool.  Compare prices from multiple seller listings below.
A perfect choice for duty, service, or concealed carrys guns, the Walther PDP F Series 9mm pistol is versatile and unwavering in performance. Boasting a reduced trigger reach and grip circumference, along with a slide design that's 20% easier to manipulate, this Walther is ideal for smaller hands. Equipped with a 10 or 15-round magazine, this classic 9mm pistol with superior handling, pinpoint accuracy and unwavering performance makes it the most dependable duty gun on the market today.
Walther PDP-F For Sale - Compare Prices
Walther PDP-F Specs
Barrel Length
3.5in / 4in
Magazine Capacity
15rd / 18rd
Overall Length
6.5in / 7.3in / 7.5in
Walther PDP-F Features

15+1 standard capacity

Reduced circumference grip

Reduced trigger reach

Reduced slide force

Performance Duty Trigger

Ambidextrous slide release

Swappable magazine release
By The Numbers - Walther PDP-F
Accuracy
Accuracy was great, although the groups widened slightly after shooting for a while.
Reliability
Like the original, the F ran great with everything we fed it. Those with bigger hands may cause false slide hold opens, so beware.
Customization
There is good aftermarket support for the PDP, and many things will translate. The slide is the same (other than the optics plate), and most other things are similar.
Ergonomics
The ergonomics on the PDP were already class-leading in my mind. The F opens that up to a wider array of shooters.
Overall
Hands-On Reviews & Related Post
Walther PDP-F Variations & Comparables
final verdict
"I really didn't have many notes for Walther when they made the PDP in the first place. The gun is a solid value and true performer. The one thing they realized, though, was the opportunity to make it more accessible to a wider segment of folks who enjoy shooting. This truly is one of the best possible upgrades!" – Sean Curtis
Community reviews
There are no reviews for this product yet.
Add your own rating and help other Pew Pew users pick the right guns