When it comes to concealed carry firearms, Walther is one of the original players in that arena.
They have been making firearms since 1886 and have an extensive history of producing smaller, more easily concealed guns.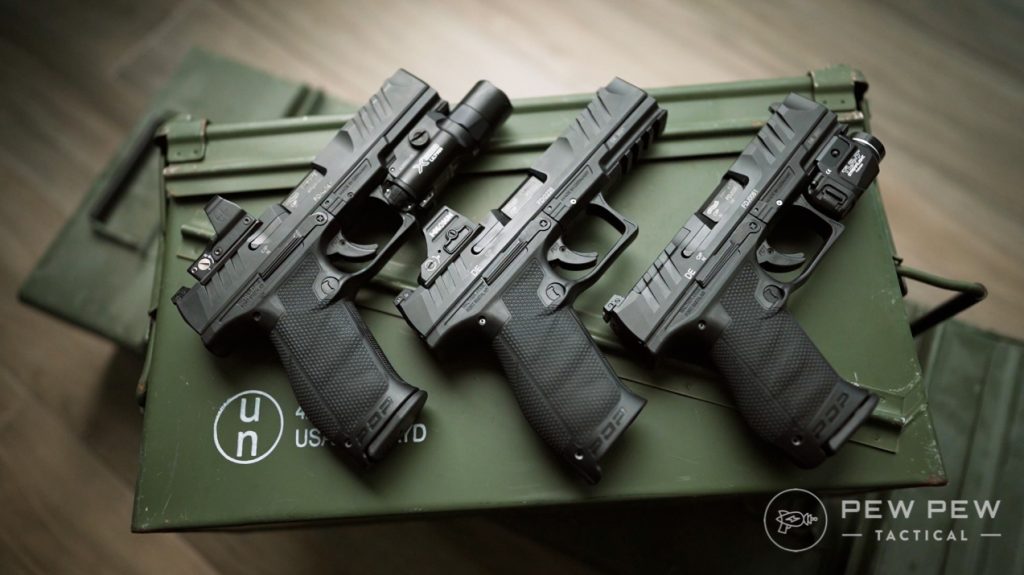 This is partly because European views on police firearms, especially in the first half of the 20th century, were a bit different than ours.
They preferred small guns, which led to the creation of the Walther PP series. This gun evolved into the PPK, which helped pave the way for future concealed carry pistols.
Summary of Our Top Picks
Table of Contents
Loading...
Behind the Company
In 1780, Matthias Conrad Pistor started a weapons factory, beginning a long family history of gunsmithing. Matthias's descendant Rosalie Wilhelmine Amalie Pistor married August Theodor Albert Walther, and together, they had a son, Carl Walther.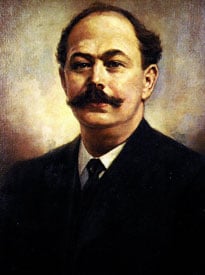 Carl Walther would continue the gunsmithing tradition that ran on his mother's side, eventually founding his own company in 1886 — the Walther we know today.
Walther has produced several firearms, including rifles, shotguns, and handguns, but their bread and butter have always been handguns.
They've created a wide variety of pistols, from military and police platforms to specialized Olympic firearms.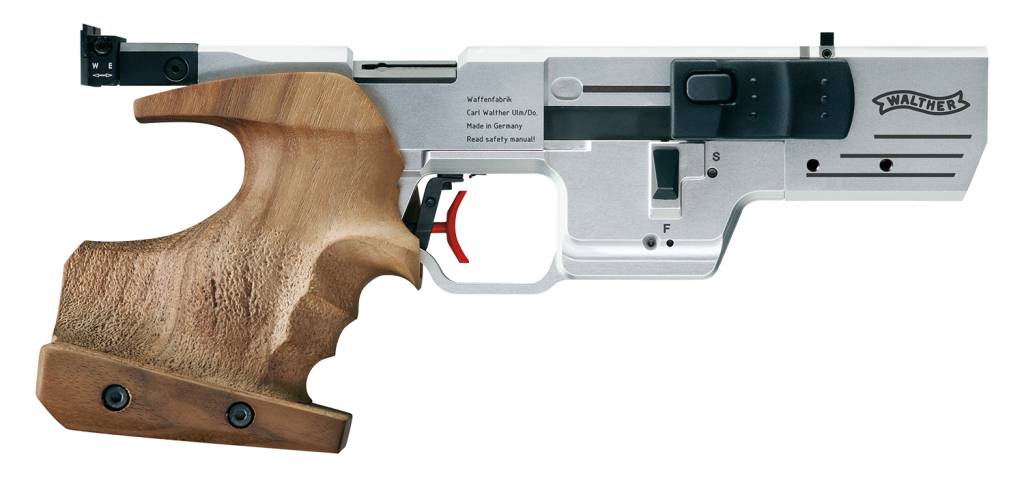 Walther has some rather interesting and often underrated guns for concealed carry, and today we are looking at a few handguns from their catalog that we think are excellent options.
Best Walthers for Concealed Carry
1. P22 Q
Using .22 LR for concealed carry and defense is a bit of a toss-up. Rimfire rounds tend to be less reliable and require the user to be selective in their ammunition choices.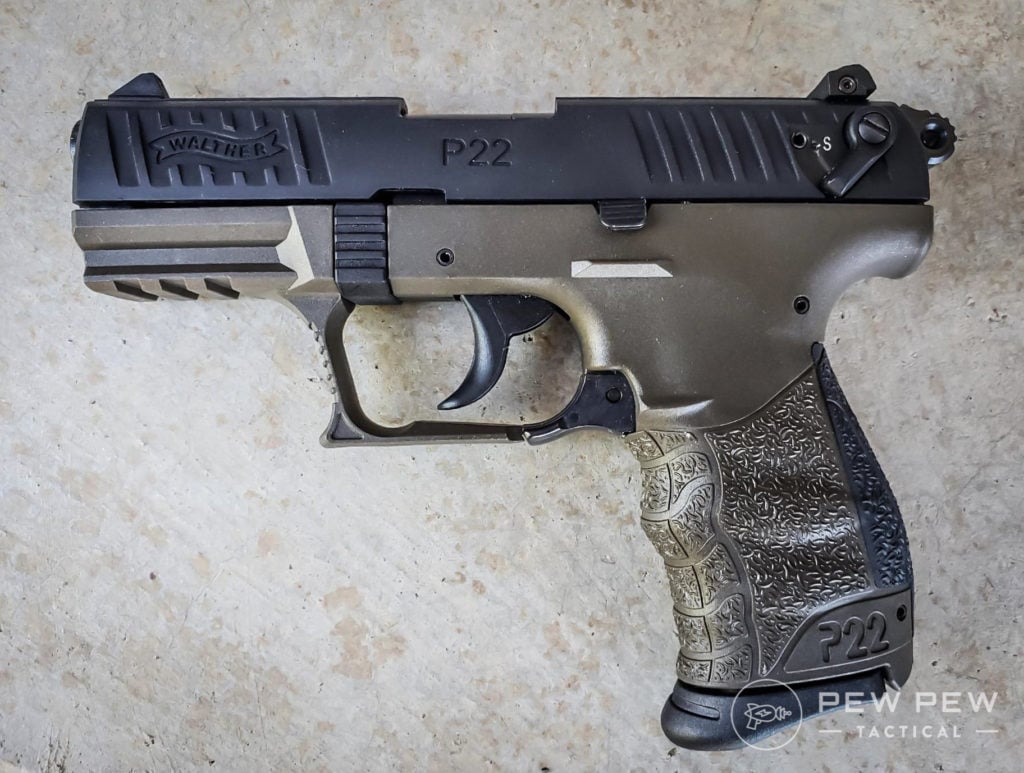 But for those who may be extremely recoil-sensitive, the Walther P22 Q is a solid choice for concealed carry.
Many .22 LRs aimed at concealed carry are very small and lightweight, making them challenging to shoot effectively.
The Walther P22 is small but is still just big enough to fill your hand with its fantastically ergonomic grip.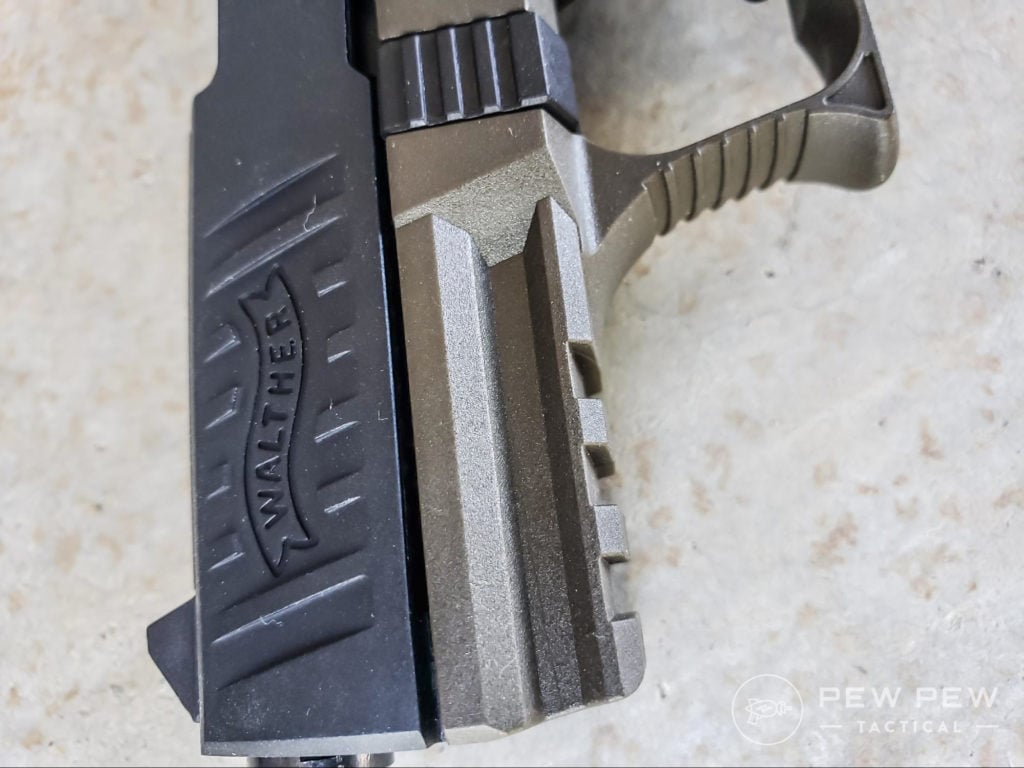 Walther's new Q model invokes some James Bondness to its name, but more importantly, it adds a slightly different grip surface and stippling, improved reliability, and removed the silly trigger lock design.
Concealed carriers end up with a gun that weighs 16 ounces and is 1.1 inches wide, 6.5 inches long, and 4.5 inches tall. Keeping this weapon concealed isn't an issue.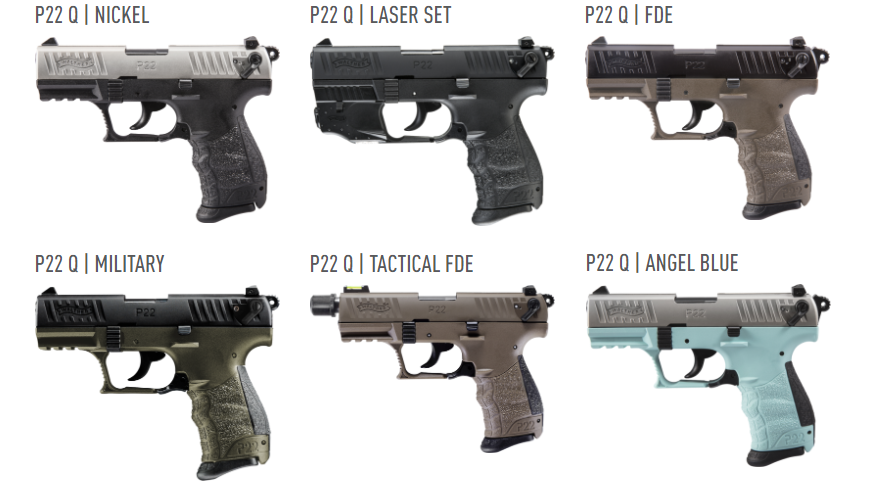 Shooters will feel hardly any recoil, and the DA/SA trigger has a great single-action pull, making for easy shooting. It's a very accurate weapon, which is good since shot placement is critical with a .22 LR for self-defense.
If you are looking for a .22 LR that's not micro-sized, then the newer, improved Walther P22 Q might be for you.
Best .22 LR
299
at EuroOptic
Prices accurate at time of writing
Prices accurate at time of writing
You can check out our full review of the Walther P22 here.
2. PK380
Smith and Wesson get a lot of love for releasing the EZ series, but the gun industry seems to have forgotten that Walther did it first.
The Walther PK380 introduced the first pistol specifically designed for those with reduced hand strength. It's not the smallest .380 ACP on the market, but those smaller guns aren't always the greatest to shoot.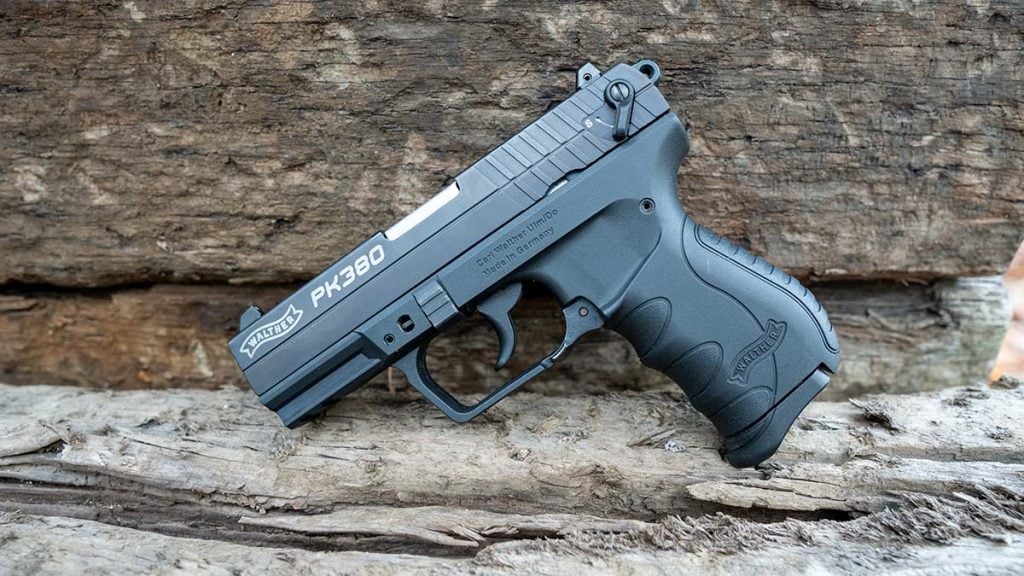 This gun comes in at 1.2 inches wide, 6.1 inches long, and 5.2 inches tall. While it is somewhat larger compared to other .380s, its size makes it much easier to shoot.
Walther took a page from their P99 and created a comfy, rounded grip that helps improve control and dissipate recoil — making follow-up shots faster and easier.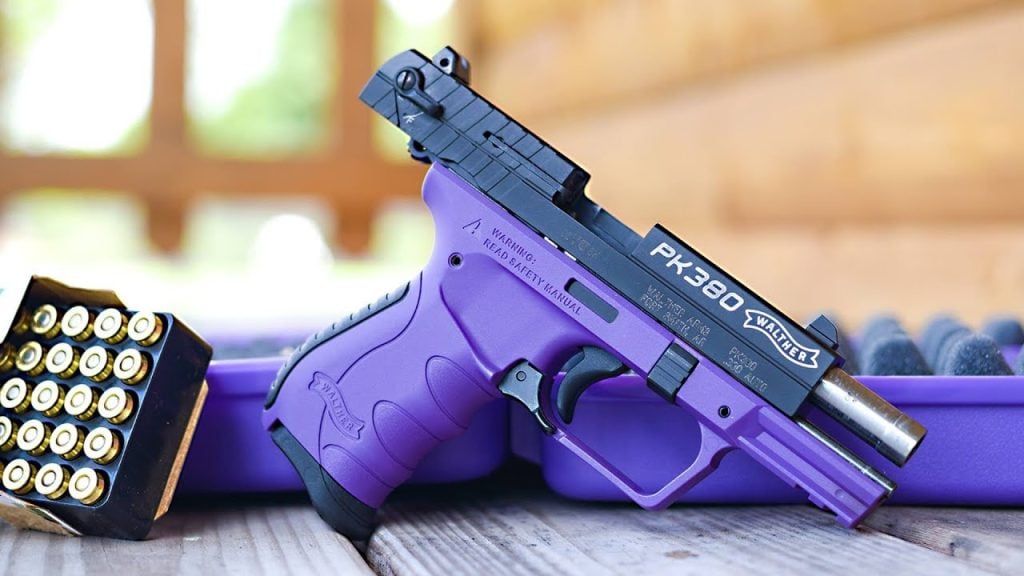 Left-handed shooters will feel at home with the PK380 thanks to its ambidextrous controls, which include a paddle-type magazine release and slide-mounted safety.
You also get a DA/SA trigger system that is notably better than the P22 Q.
Sadly, the gun lacks a slide release and requires a tool to take it apart, which can be a hassle. But if you can get past those downsides, the PK380 offers a small but capable handgun for all ages and hand types.
Best .380
449
at Gunprime
Prices accurate at time of writing
Prices accurate at time of writing
3. PPK
James Bond made the PPK famous and Walther a household name, so of course, I had to include it.
The Walther PPK is a pint-sized .380 ACP and is one of the original pocket pistols. This little gun has been in production since 1931. And like a good pair of shoes, it's both practical and stylish.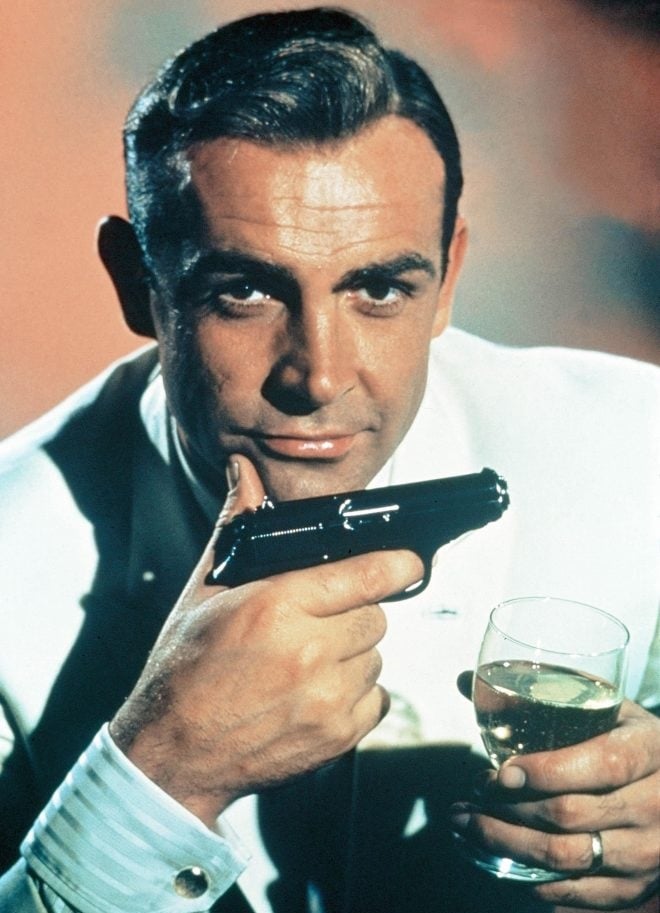 Walther's PPK is blowback operated, and previous chamberings include .25 ACP, .32 ACP, and 9mm Ultra, but current production is isolated to .380 ACP and .22 LR.
The K in PPK stands for Kriminal, as it was originally designed for use by Germany's Kriminalamt, or Crime Investigation unit. This plainclothes unit carried these guns in a mostly concealed fashion.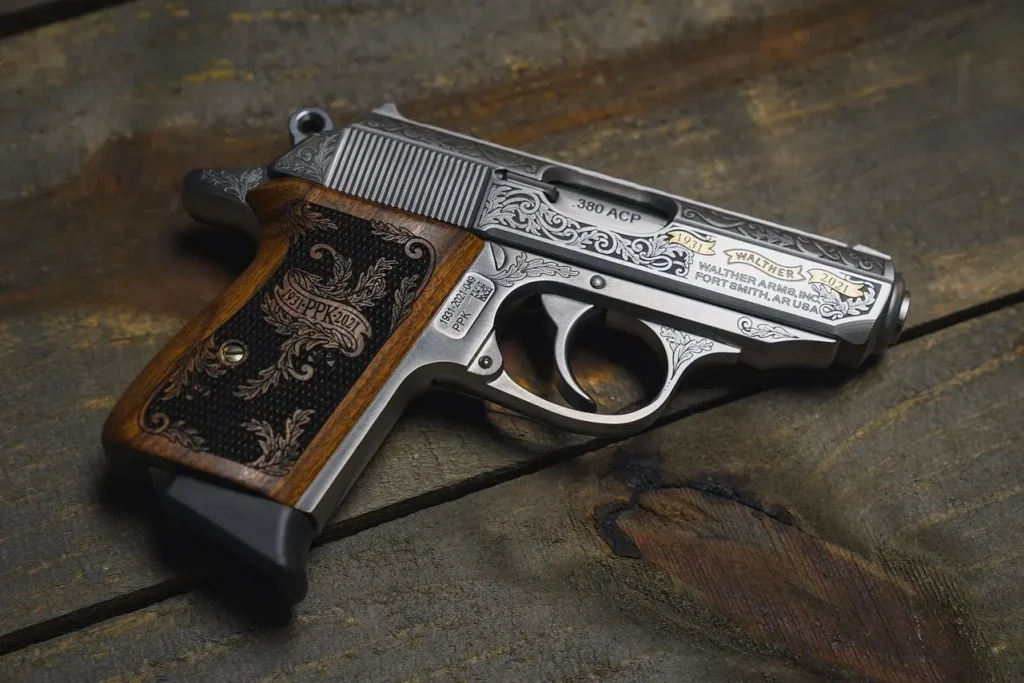 To this day, the gun still serves very well as a concealed pistol. It's small and slick with a near snag-proof design that ensures an easy and smooth draw, especially when carried in a deep concealment method.
Although some may consider.380 ACP anemic, with the right ammo, it can meet the modern standard necessary for self-defense.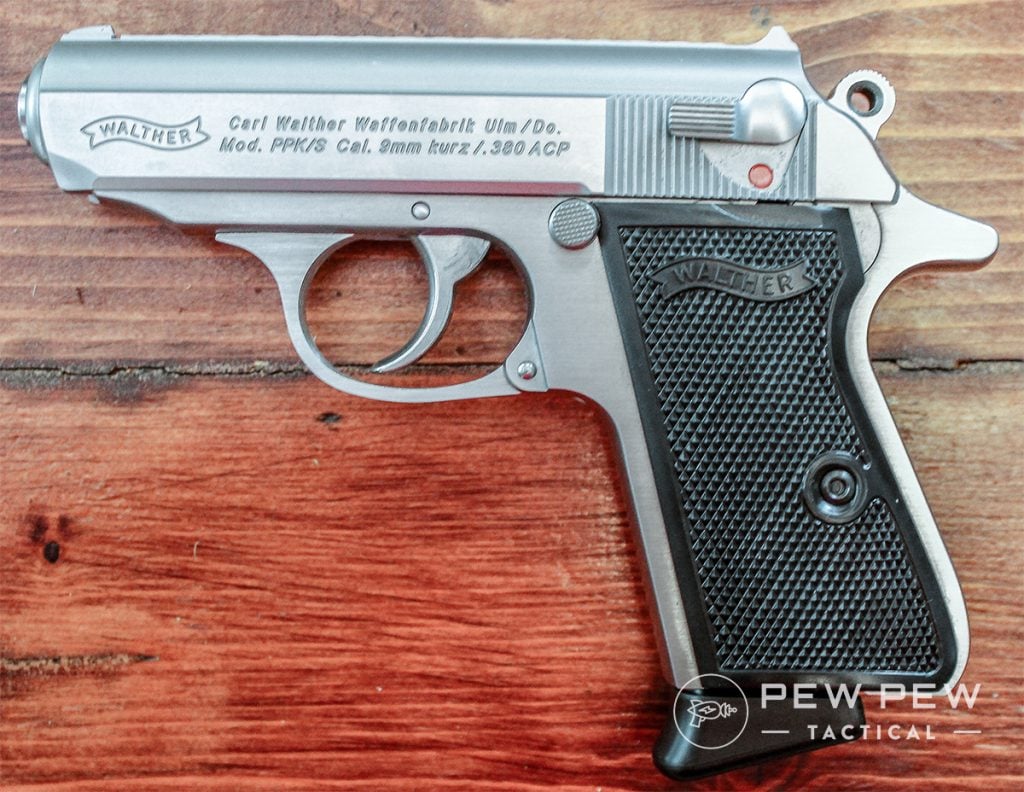 Unfortunately, there are some downsides to the PPK. The blowback increases the felt recoil, which can be described as harsh. Its rough double-action trigger pull clocks in at anywhere 13-17 pounds! Also, six rounds might not feel like enough in a world with high-capacity micro-compacts.
It might be showing its age, but if you want to dress up and have a gun to match, the PPK will get it done with style.
Most Nostalgic
749
at Palmetto State Armory
Prices accurate at time of writing
Prices accurate at time of writing
You can check out our full review of the Walther PPK here.
4. CCP M2
CCP stands for Concealed Carry Pistol and is Walther's second, much better-marketed attempt at producing a concealable, easy-to-handle handgun.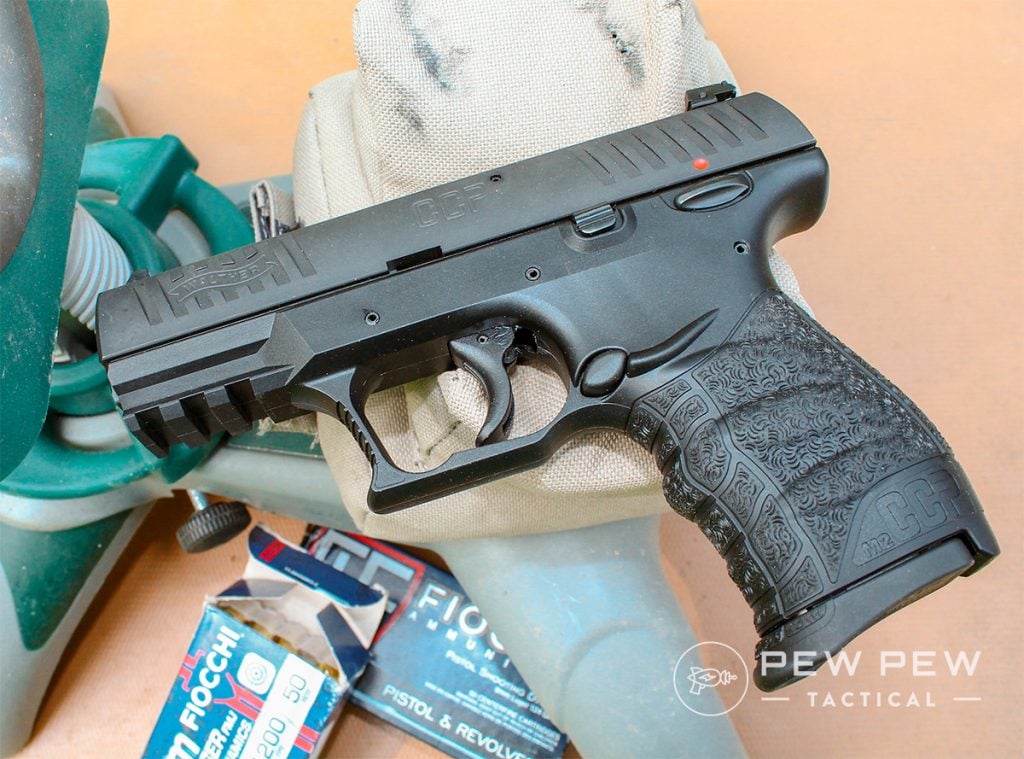 The Walther CCP takes some of the same features of the PK380 and puts them on a slightly more modern platform.
I highly suggest the newer M2 model over the original, as it is much easier to take the gun apart and doesn't require a tool and three hands to do so.
This is yet another design that allows people of any skill level to easily manipulate the handgun.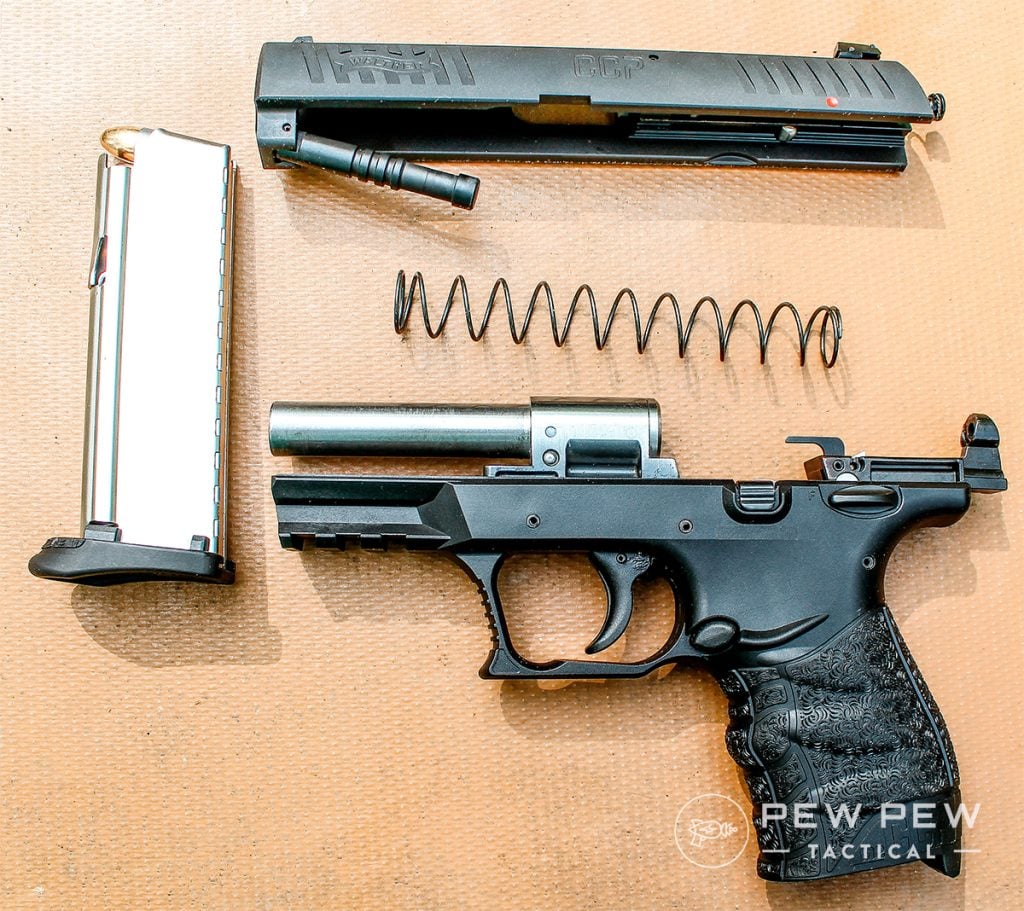 Walther used what they call Soft-Coil technology. It's a gas-operated delayed blowback technology that uses a small port in the barrel to delay the opening of the slide, similar to the HK P7. This system takes a good bite out of the gun's recoil and makes the slide very easy to rack.
Once you start shooting, the soft-coil system works exceptionally well. It does a great job of reducing the gun's recoil and makes it a real kitten. Walther ensured the gun was small enough to conceal but large enough to shoot and handle without much difficulty.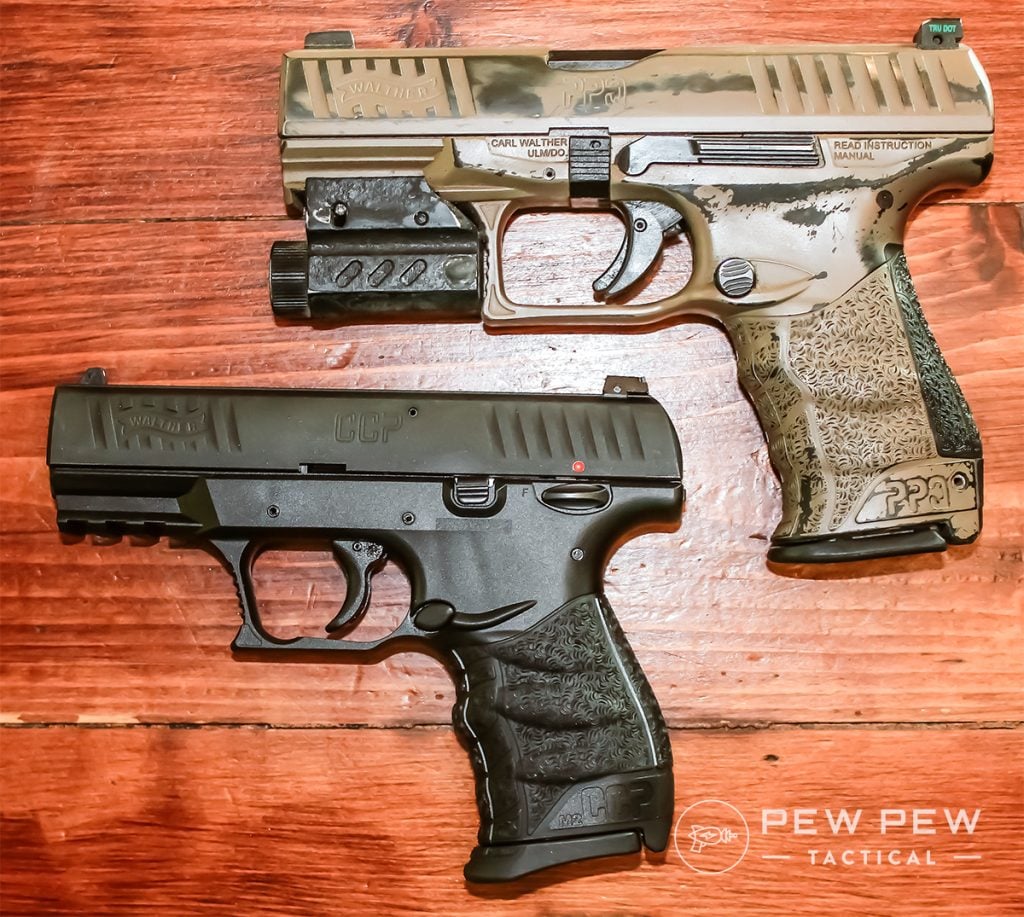 It comes in at 1.18 inches wide, with a height of 5.12 inches and an overall length of 6.41 inches. Whether you opt for the 9mm or .380 ACP version, the gun has a standard capacity of 8 rounds.
The CCP might be a little bit outdated, but it is still a viable option for those with less hand strength or those who just want a soft-shooting ergonomic pistol. Plus, it's surprisingly affordable.
418
at Kygunco
Prices accurate at time of writing
Prices accurate at time of writing
If you want more details, head to our review here.
5. PPS M2
Smith and Wesson gets a lot of praise for jump-starting the thin single stack 9mm craze with the Shield, but the Walther PPS M1 came out in 2007 and was another great early example of a slim, single stack 9mm.
Heck, my wife stole mine and made it her gun because it's so easy to carry.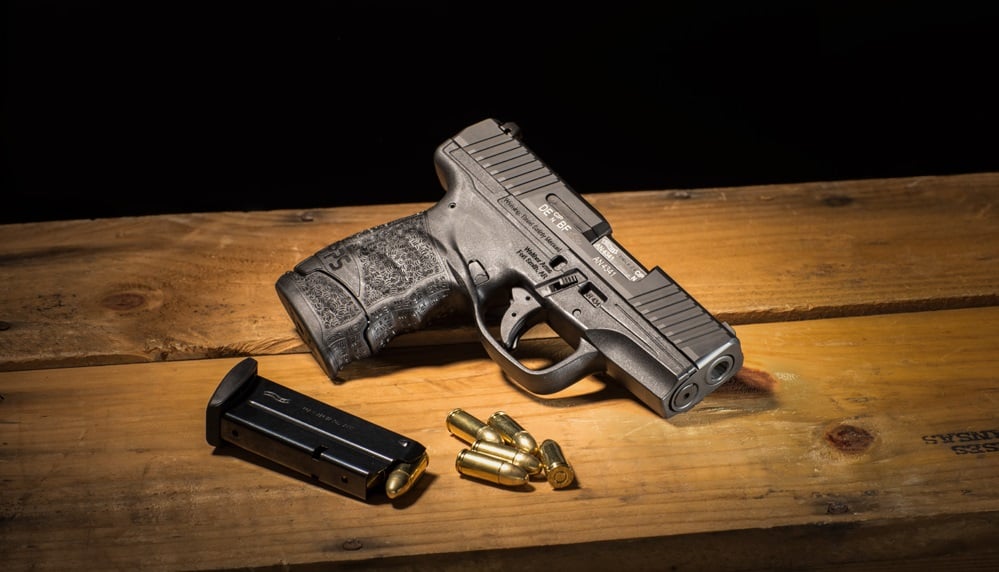 The PPS M2 is an Americanized version of the original PPS. The grip was redesigned to be less 2×4-like and more ergonomic. Walther also ditched the paddle magazine release in favor of a more standard push-button design.
At 1 inch thick, with a height of 4.4 inches and an overall length is 6.3 inches, the PPS M2 keeps things trim and easily concealed.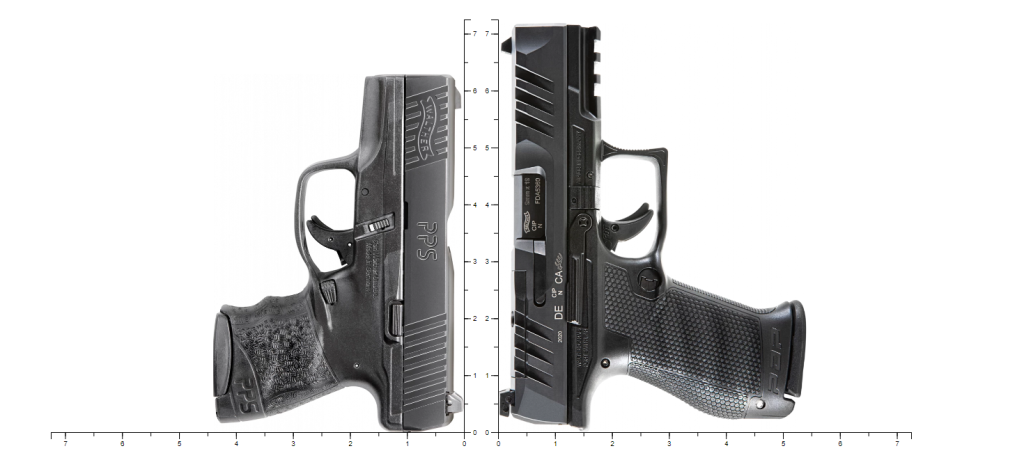 You can use a 6-round flush-fitting magazine, a slightly extended 7-round magazine with a pinky extension, and an even longer eight-round magazine.
Walther did a crazy high undercut trigger guard to let your hand get nice and high on the gun. The trigger is a crisp striker-fired design that features a little take-up but a clean break and a positive reset.
The PPS M2 even has a model that comes with a Shield RSMc optic preinstalled. In fact, it was one of the first concealed carry-oriented firearms to incorporate a red dot from the factory.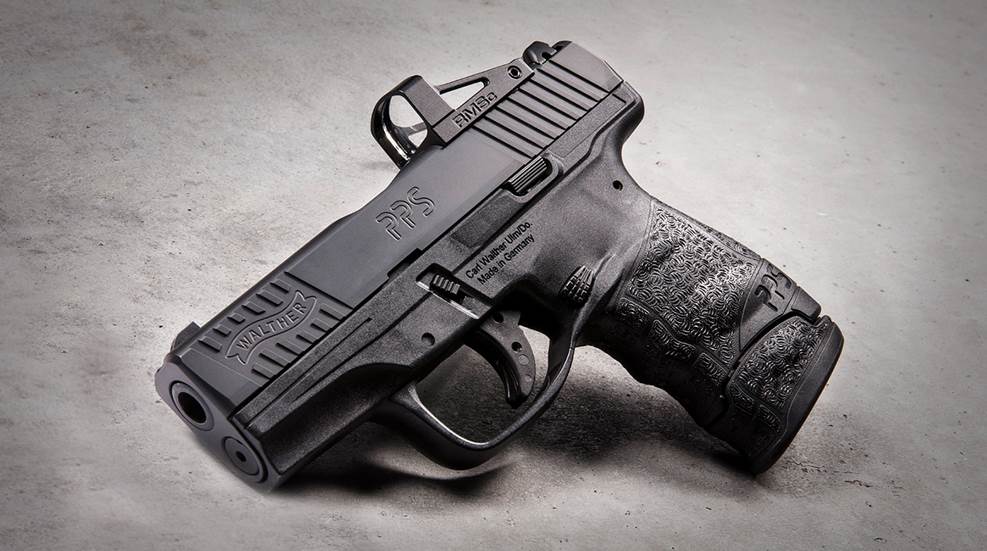 A big downside is that newer micro-compacts offer a few extra rounds compared to the PPS M2.
But if you can make do with eight rounds, the PPS M2 remains a classy carry gun designed to maximize ergonomics and concealment.
Best Single Stack CCW
369
at Gunprime
Prices accurate at time of writing
Prices accurate at time of writing
6. Walther PDP Compact
Walther took their successful PPQ and improved it based on customer feedback to create the PDP. Their goal was to create a pistol around the use of a red dot sight.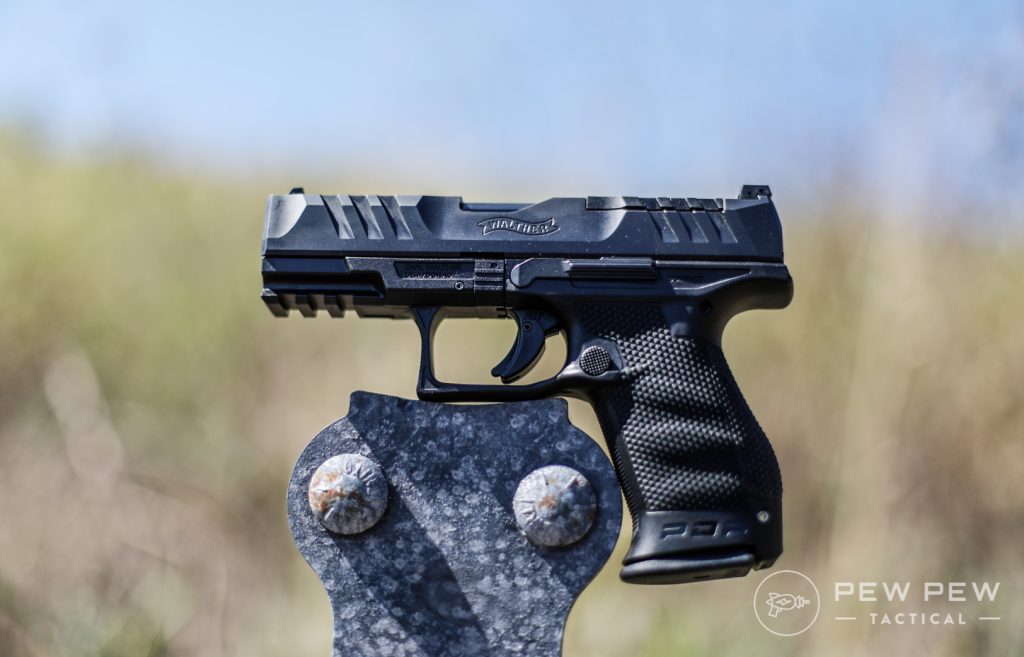 The ergonomics were designed to ensure you can easily and quickly pick up the dot and get it on target. Beyond just being an excellent optics-ready gun, the PDP Compact has all the hallmarks of good Walther design.
The ergonomics are absolutely brilliant and greet your hand like it's made for it. You can get an excellent grip, and with interchangeable backstraps, you can ensure it comfortably fits your hand size.
Much like the PPQ, the PDP's trigger is super smooth and very lightweight, which allows you to make excellent use of a red dot for those fast and accurate shots. It is arguably the best striker-fired trigger currently on the market.
With a 4-inch barrel, the PDP Compact model is roughly Glock 19 size. It may not be as easy to conceal as some of the smaller options, but if you prefer a bigger, more capable gun, then the PDP Compact is a fantastic choice.
Best Compact 9mm Pistol
586
at GrabAGun
Prices accurate at time of writing
Prices accurate at time of writing
Additionally, Walther has recently released the PDP-F, which is aimed at people with smaller hands. It features a smaller grip front-to-back for reduced grip-to-trigger reach and is available in 3.5 and 4-inch versions.
649
at Firearms Depot
Prices accurate at time of writing
Prices accurate at time of writing
Be sure to check out our full reviews of the PDP compact and the PDP-F, or watch our video reviews below.
Final Thoughts
Fine European firearms are aplenty in the United States. While Glock and Sig enjoy a large share of the market, companies like Walther and CZ seem to attract more of a personalized fanbase.
A cult following, if you will.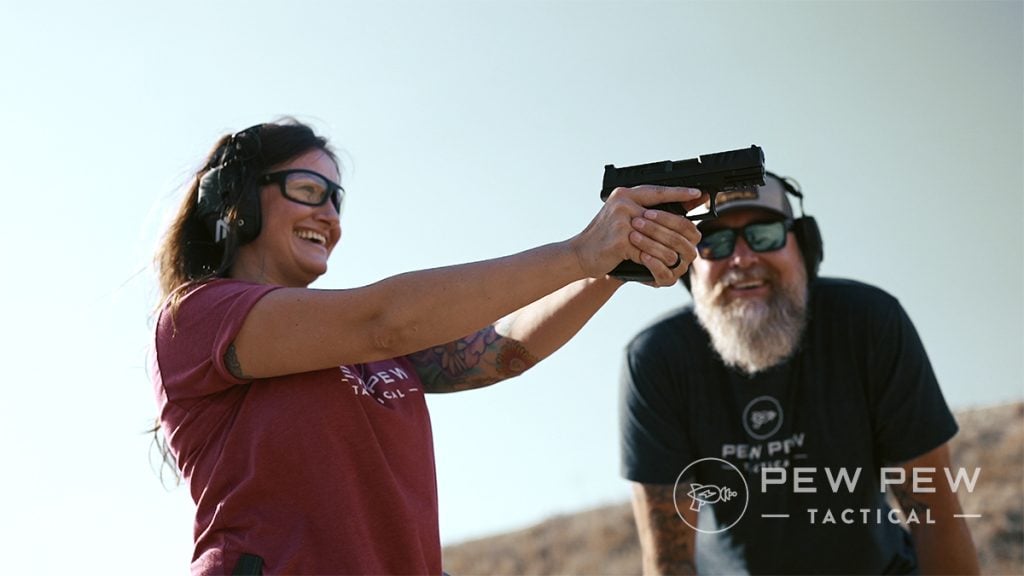 Walther has always made some top-tier firearms, and if you are in the market for a concealed-carry gun, any of the above should treat you exceptionally well.
Are there any Walther fans out there? Let us know in the comments below! Not completely sold on a Walther? Check out our article on the 12 Best Concealed Carry Guns (By Caliber)!