For me, the mission was simple…I wanted to find a shoe that provided more than my aging Converse All-Stars – a shoe that served me well for decades, but now strangely makes a farting noise when I walk.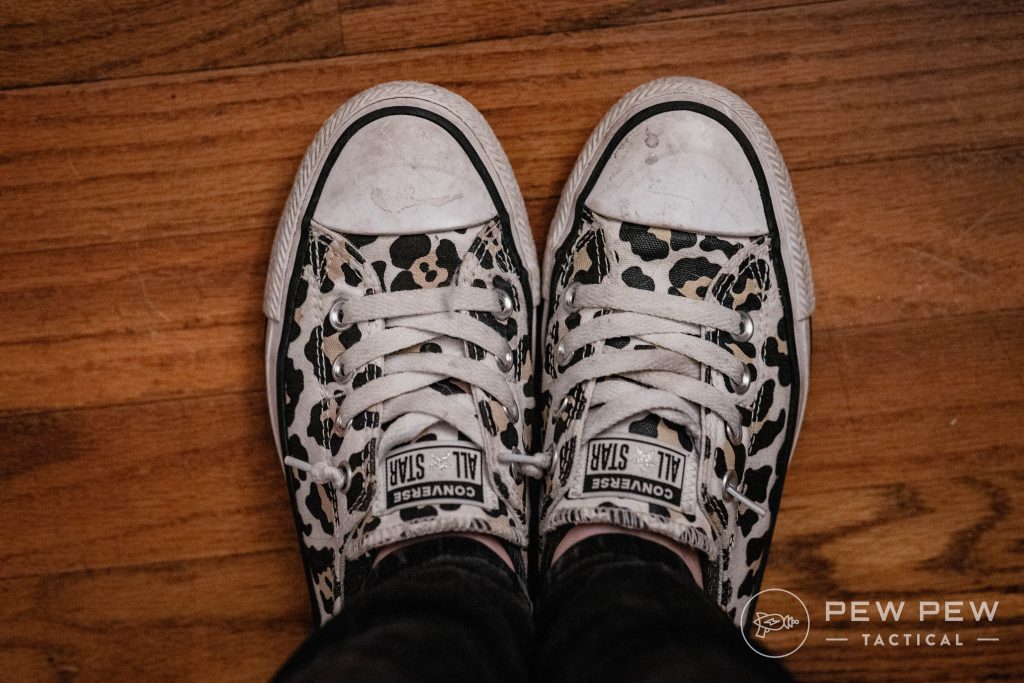 Truth be told, "Chucks" don't provide a whole lot to the wearer. They are a minimalist offering based on very old technology.
Surely there is something better out there!
I enlisted the aid of editing extraordinaire (and would-be Imelda Marcos) Jacki Billings and together we set out on a quest to find some awesome, not so tactical shoes, from modern companies.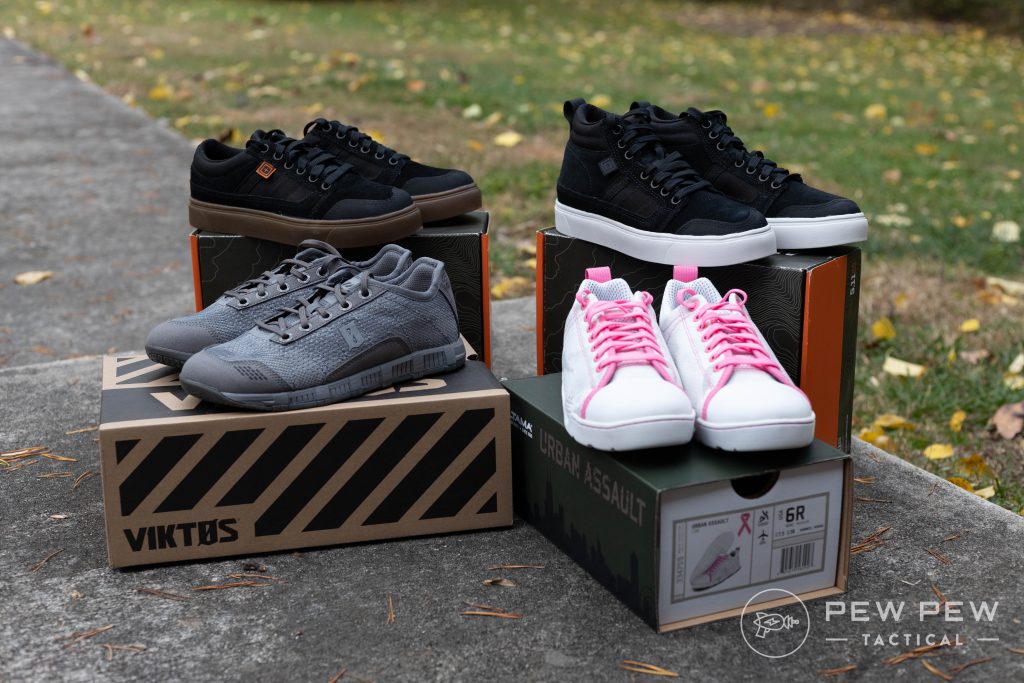 In the run-up before testing, we were able to connect with 5.11 Tactical for their Norris, Altama for their Urban Assaults, and Viktos for the Core II.
It's worth mentioning that none of these brands offered women's sizes or styles – aside from 5.11 Tactical who, at the moment, only feature women's work boots.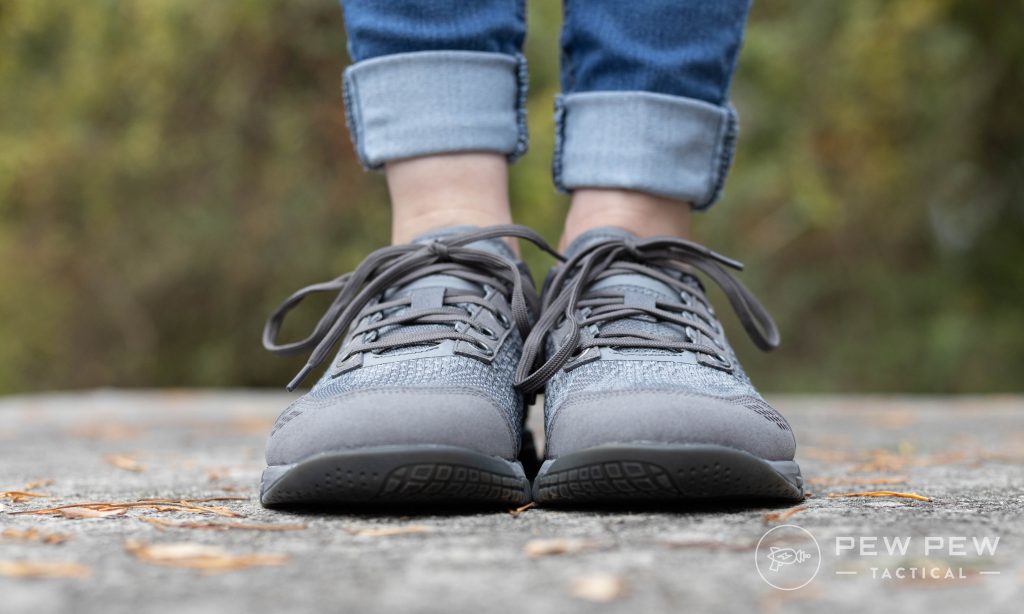 So, to accommodate Jacki, who wears a size 7.5 in women's, we had her move down 1.5 sizes to a men's size 6 for all the shoes to get the right fit.
Additionally, we understand that all feet are different, and wearing shoes is an experience unique to the individual.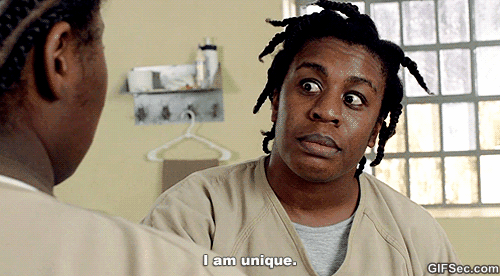 For instance, my left foot is a half size bigger than that right and my soles are tender. When walking barefoot, I can be crippled by a grain of sand.
And Jacki has very high arches and a thunderous way of walking on her heels that without some support causes her feet, knees, and back to hurt by the end of the day.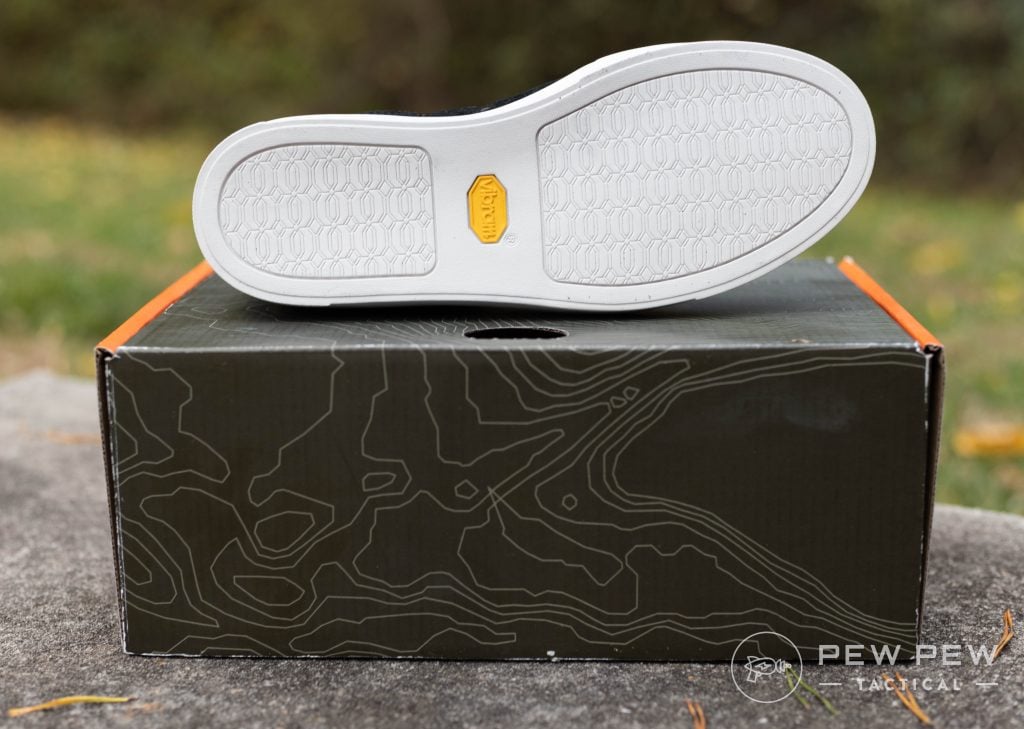 With that in mind, we are determined to share our experiences.
Table of Contents
Loading...
5.11 Tactical Norris Sneaker and Low
I like what 5.11 did here.
They took the inspirational "Chuck" and punched it up to final form levels when they named these Norris.
I got a pair of mids in Coyote. They look a bit more tactical in this color but have great finish details.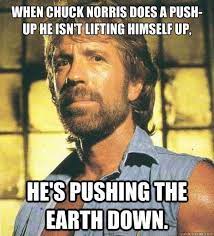 The upper appears to be a mix of leather (suede) and a textile material, combining breathability with some ruggedness.
I loved the Vibram sole (certified puncture-resistant) as they gripped well and protected my feet.
No matter what terrain I walked in, the shoes didn't allow any painful protrusions like my Converse would.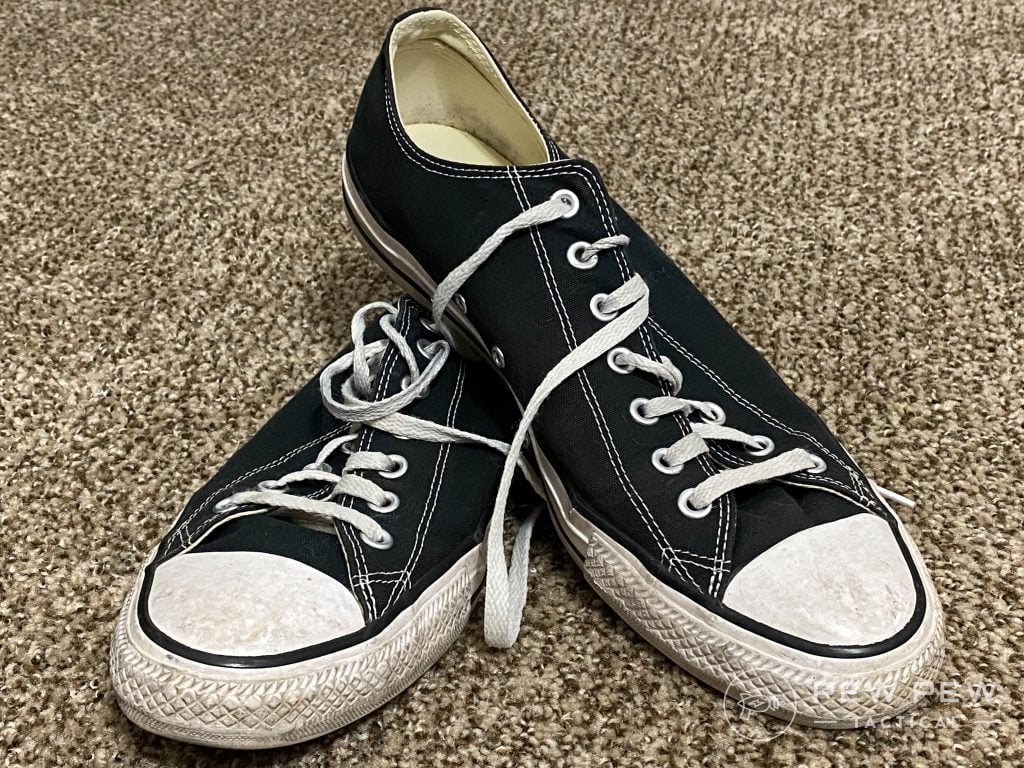 When walking on court-like surfaces, the soles were also very quiet. Intentional skidding produced no sound other than a dull thud.
As far as feel, they are somewhere between a shoe and boot, having some characteristics of both.
The Norris are lightweight, but feel a little stiffer and tougher when walking in them.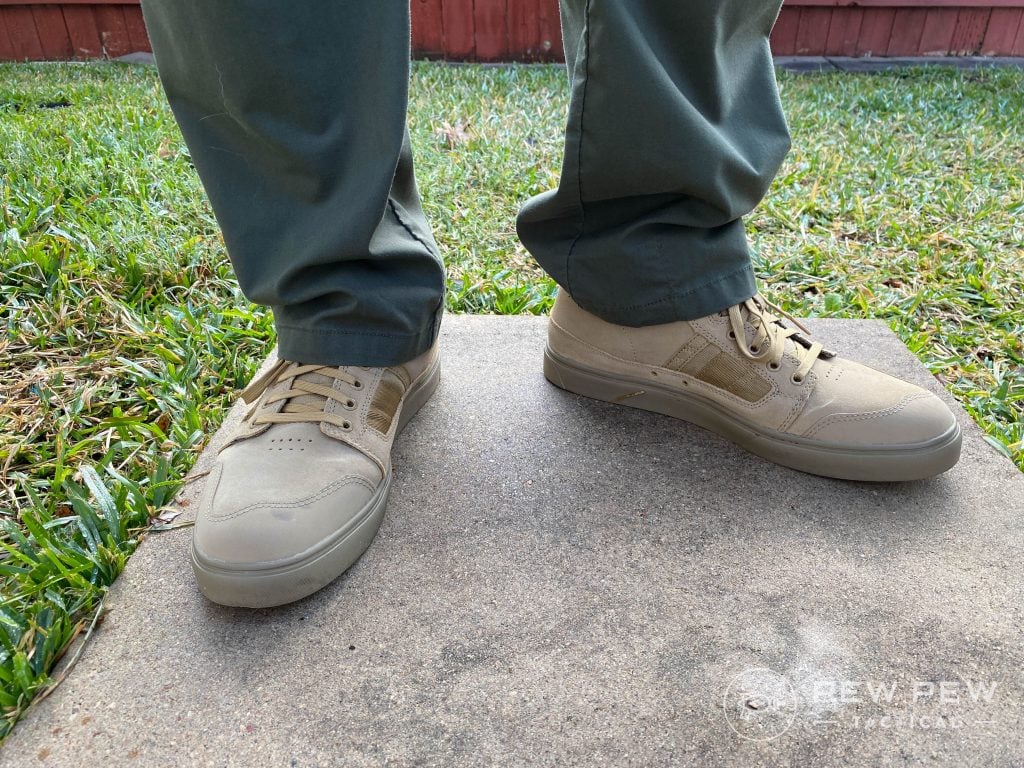 Also, the fit was more narrow. This may be described as athletic, but even this broke in quite a bit after a long day of wear.
The length was good and the toe box was adequate — though it can't be described as roomy.
The Ortholite footbed felt soft, like memory foam, and conformed to the foot without preformed arch support.
The padding along the back of the heel felt stiff at first but broke in nicely and didn't cause any issues.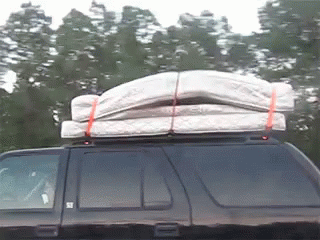 Overall these are a good option for a multi-purpose shoe and should serve well in most settings.
They also come in a variety of colors and are available in mid and low.
Jacki's POV
5.11 Tactical sent me two pairs of shoes in the Norris family – the Sneaker and Low. The Sneaker offers a high-top experience while the lows are more your standard tennis shoes.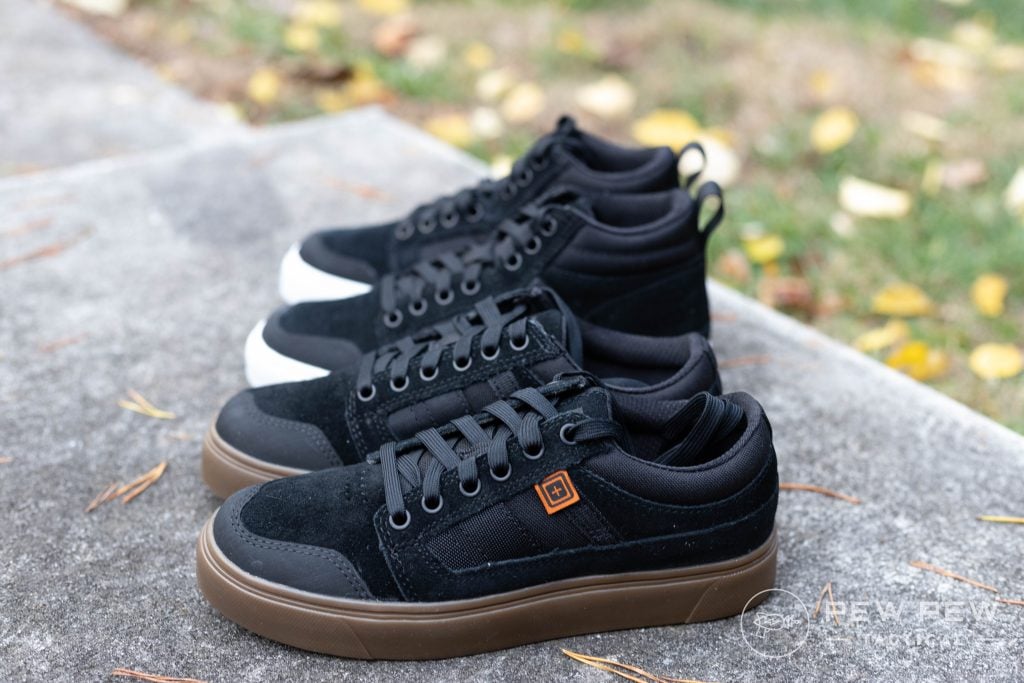 The Sneaker came in black and white, while the Low came in all black with a camel sole.
Out of all the shoes I received, I liked the look of the Norris the best. It's stylish but in a way that doesn't scream tacticool.
88
at 5.11 Tactical
Prices accurate at time of writing
Prices accurate at time of writing
Plus, the addition of a high-top really allows you to rep your own style.
Though they were the coolest looking, comfort and fit-wise, they were the stiffest with the longest break-in period. I found the Sneaker tended to rub the back of my ankle.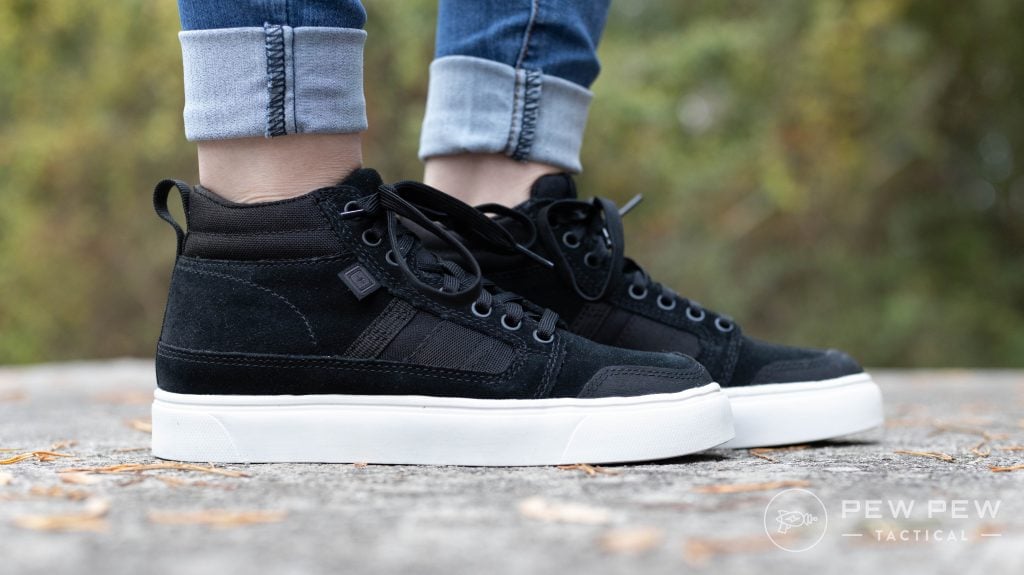 And there's not a lot of arch support here. Not a problem for you young 20-somethings, but at a ripe mid-30s, I need something with a tad more support to keep the back and knees happy.
That said, you can always throw in a pair of insoles to add that extra cushion or support.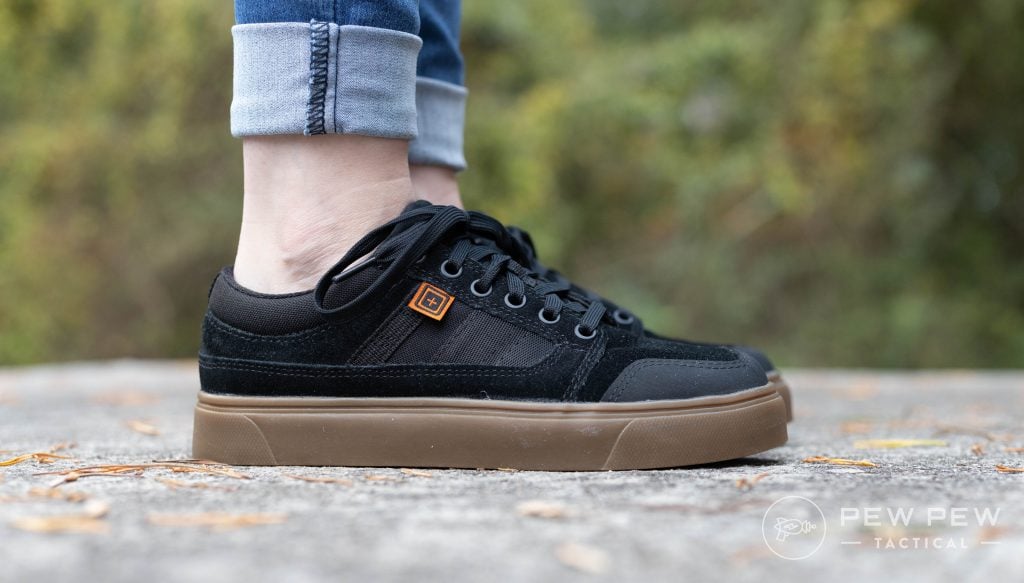 All in all, I think if you want a stylish look that goes with pretty much any outfit, then the 5.11 Tactical Norris line is the way to go.
80
at 5.11 Tactical
Prices accurate at time of writing
Prices accurate at time of writing
Viktos Core 2
I wasn't sure what to expect from the Core 2 because I had only recently been exposed to a few Viktos products.
Everything up to that point had been very good quality and the Core 2 were no exception.
I received a size 13 in Nightfall — a rich, black. They were immediately comfortable and surprisingly roomy with a large toe box.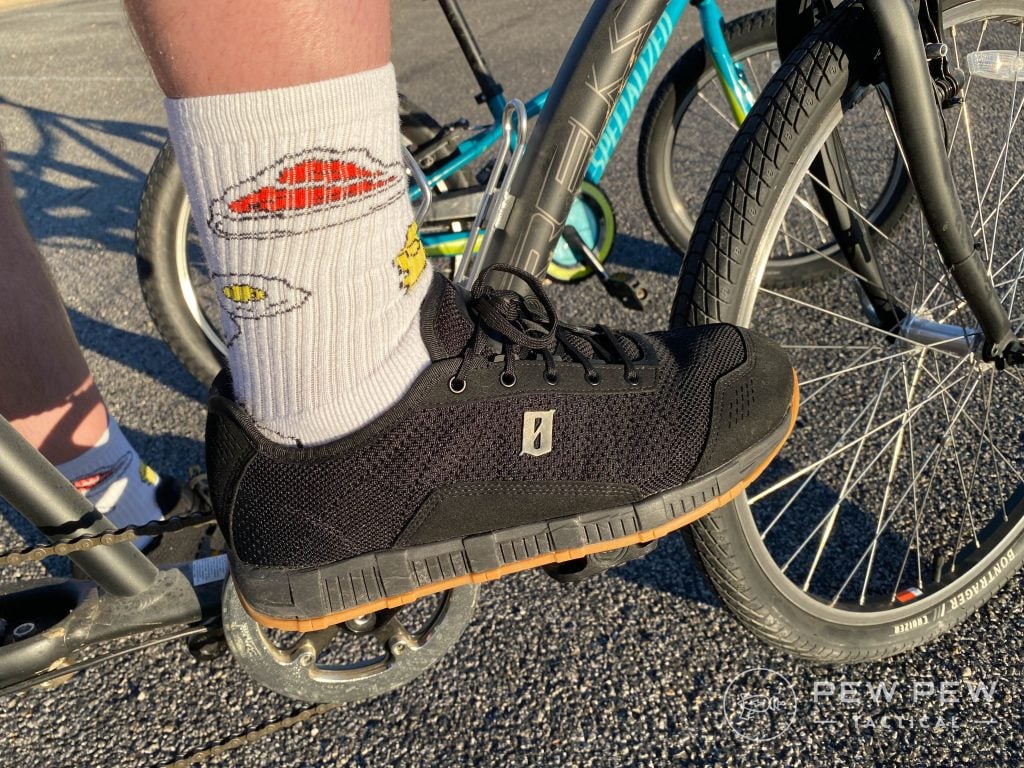 The approach here is definitely more along the sneaker line.
Viktos' Core 2 is very light with a breathable mesh-like upper. The sole is sticky, chirping brightly on smooth surfaces like a court shoe.
During the course of several outings the Core 2s served up continual comfort. I felt like the footbed was very good and also offered a little bit of arch support.
In fact, the only slightly negative thing I observed was if I didn't keep them snugly laced, I would find debris (grass, wood chips) from wherever I'd been walking.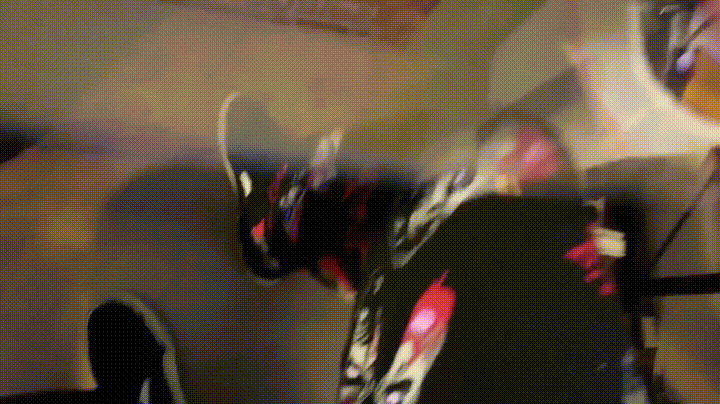 While testing, I found myself turning back to these often because they were comfortable and did not cause any issues with my uneven feet whether I biked, walked, or ran around at the range.
Jacki's POV
Viktos sent the Core 2 in Tiger Stripe Gray Camo, bringing a nice gray color to the table. These felt quite roomy on the feet and comfortable from the jump.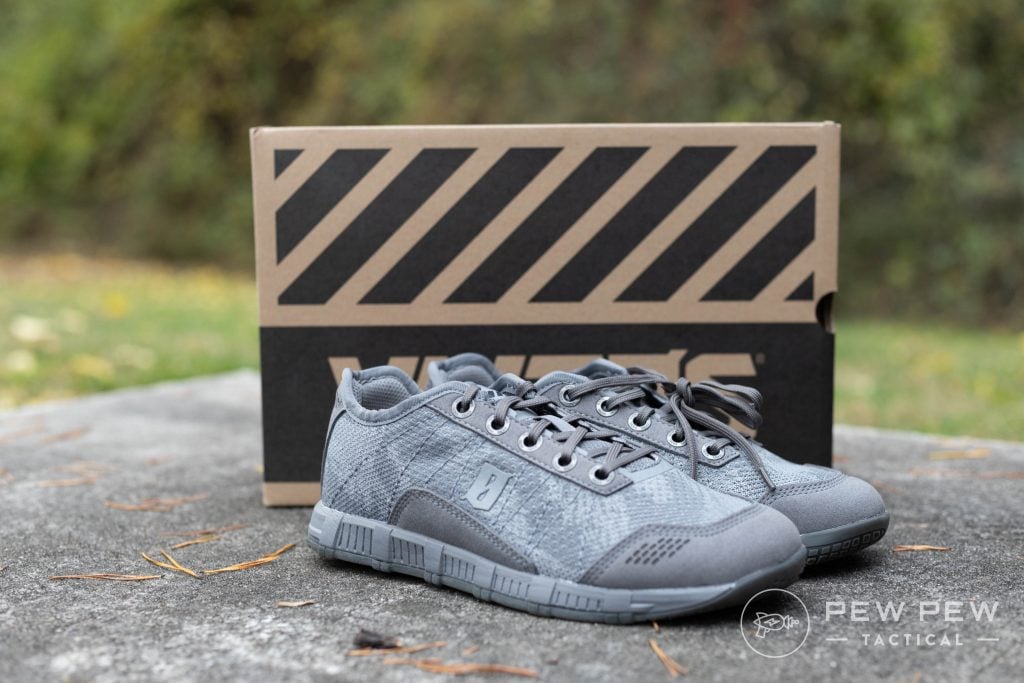 Though, I will say that you might want mid-rise socks with these at first. I went with low-rise tennis shoe socks and earned myself some slight rubbing on day one.
But, after I switched to a slightly higher sock, I was off to the races.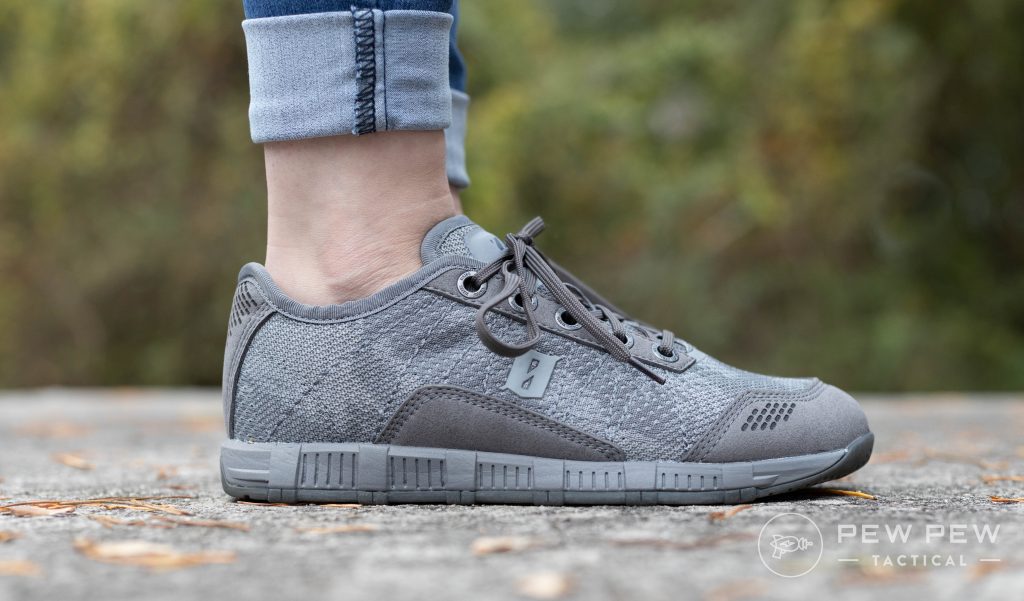 There's no stiffness here or significant break-in period, and the roomy toe box doesn't make you feel restricted as you walk throughout the day.
Support is great, and I didn't need to add any extra insoles.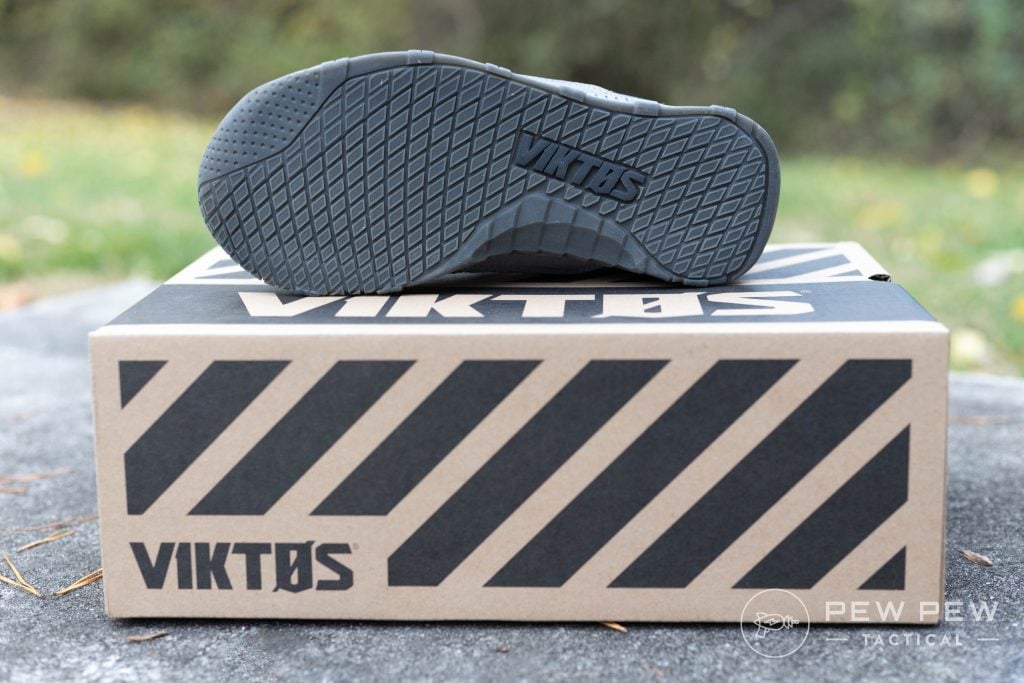 I also loved the gray aesthetic. While it won't go with everything, and it certainly looks slightly more tactical than 5.11, it still flies under the radar.
The look paired with comfort made the Core 2 my pick for the best all-around shoe.
120
at Amazon
Prices accurate at time of writing
Prices accurate at time of writing
Altama Urban Assault Low
I have wanted to try Altamas since the Maritimes came out a few years ago. I thought they would be perfect for one of my secondary loves, whitewater raft guiding.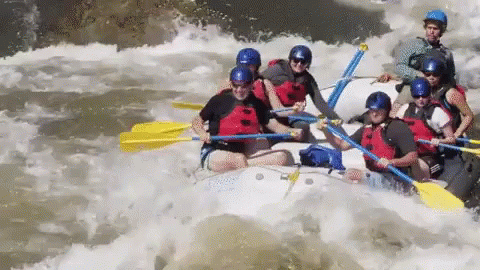 I tried the Urban Assaults and while I would not have chosen the white and pink for myself, that's how things shook out.
However, I'm totally down to support breast cancer research and ended up rocking these frequently.
Altama sent a pair of 13s in white and pink with a sedate camo motif. The fit was very accommodating, though I had a slight big toe touch with my left foot.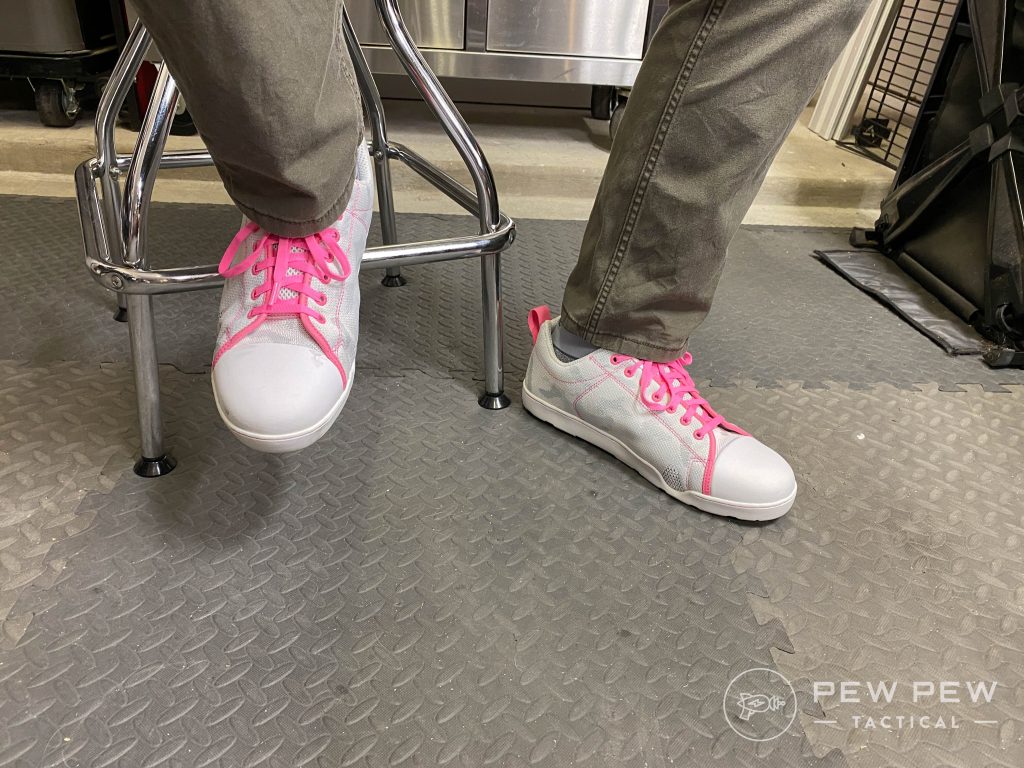 With a thinner sock, I had no issues at all and found the shoe very comfortable.
The pink/white theme had me treating them more like a dress sneaker if that makes sense. I didn't want to thrash them!
Despite the shoe appearance, the soles of the Urban Assaults feel more boot-like. They are tough, offer positive traction, and don't let anything perturb the bottom of my feet.
When moving on smooth surfaces, they sound like a boot and do not chirp. In addition, the insoles have arch support that creates a pleasant footbed for all-day comfort.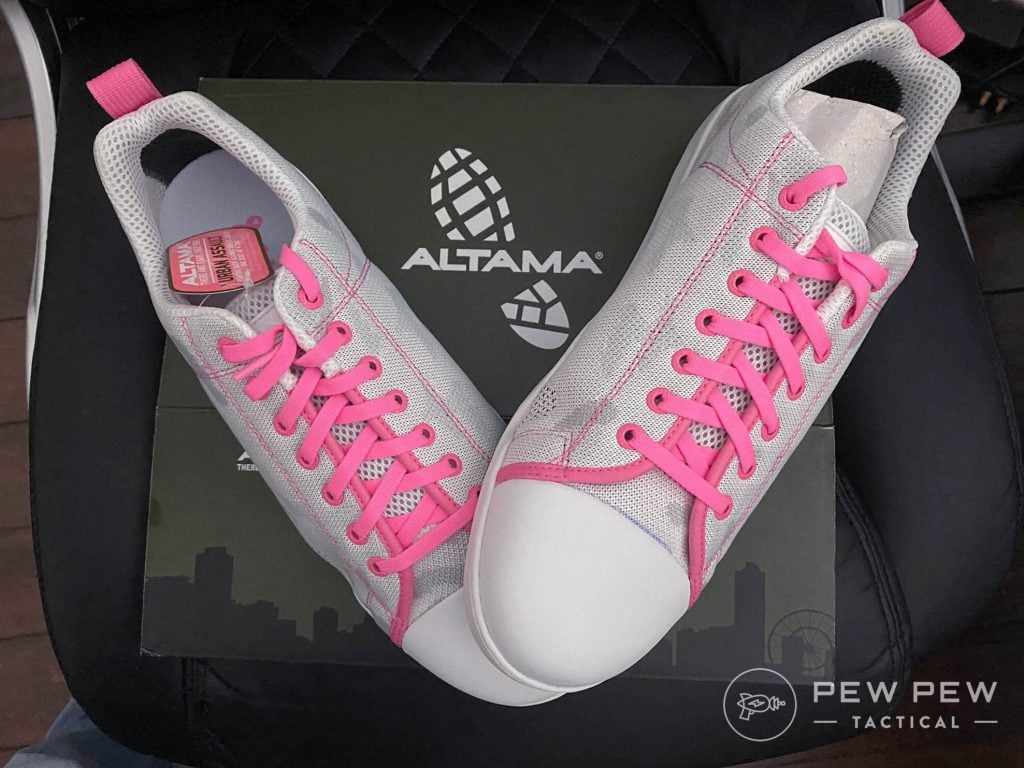 As a result, I was able to run around in these and experienced good stability.
I enjoyed wearing the Urban Assaults and truth be told, got the most compliments on these shoes though I have to suspect the color had much to do with that.
Jacki's POV
Out of all the shoes, the Altama Urban Assault shoes were the most comfortable, hands down.
I tossed these on straight out of the box and wore them all day with no issues. It didn't matter what socks I wore or what activities I was doing; they made my feet feel great.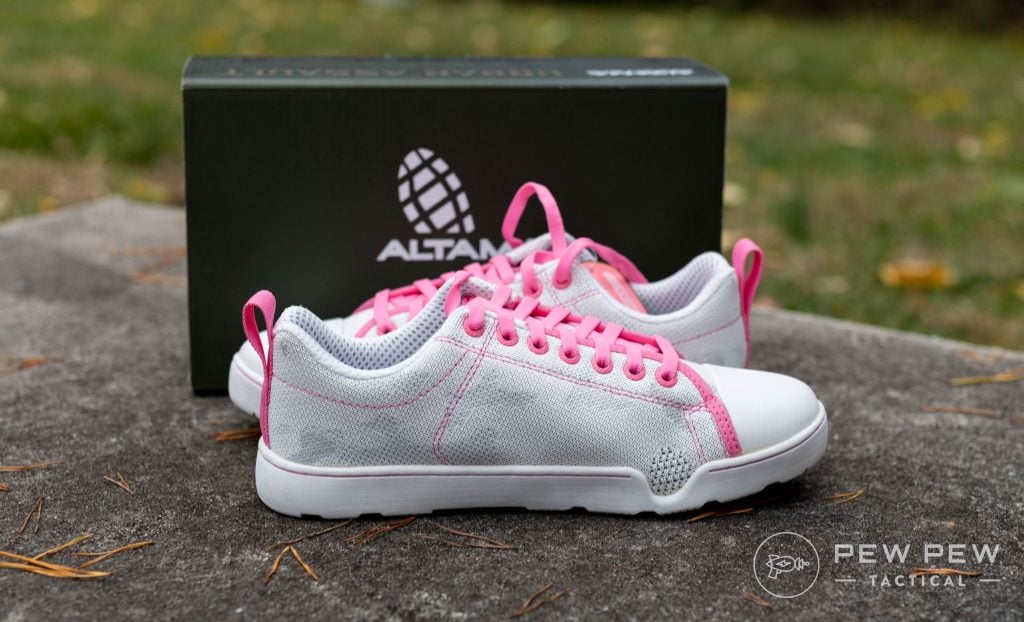 They offer plenty of room in the toe box and lots of support.
These pair are ones that you throw on and kinda forget that you're wearing because they feel that good.
While they offered the most comfort, I wasn't as keen on the OMG Pink aesthetic, a pink/white combo.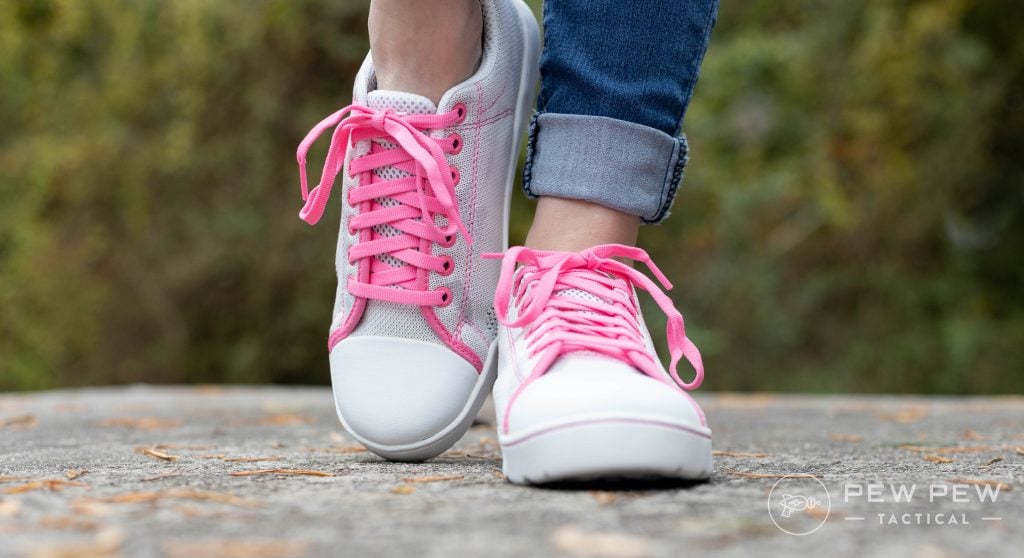 I don't have much pink in my wardrobe, and it's my least favorite color in general, so I didn't find myself grabbing these out of the closet as much as the Viktos.
Now, caveat, the OMG Pink is dedicated to breast cancer research, which I can get behind.
Five percent of all profits go to funding research at the National Cancer Society. It's a noble cause, and for that, I will suffer a little pink.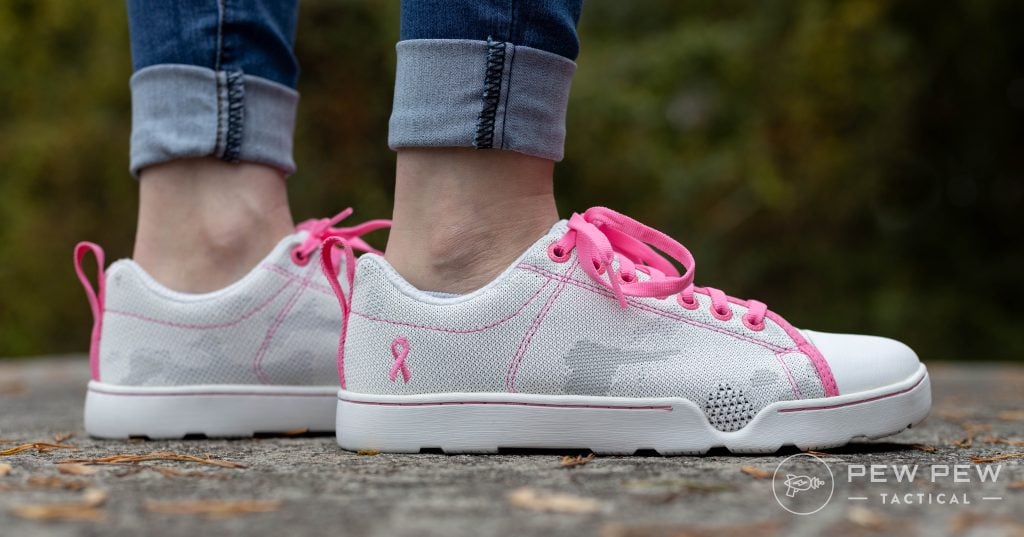 AND it's not the only color Altama offers. You can opt for all black, black/white/, or black/green.
Out of all the shoes, these are the most tactical looking, but the comfort cancels that out, in my opinion.
All in all, the Altama Urban Assault gets my vote as the most comfortable shoe I tested.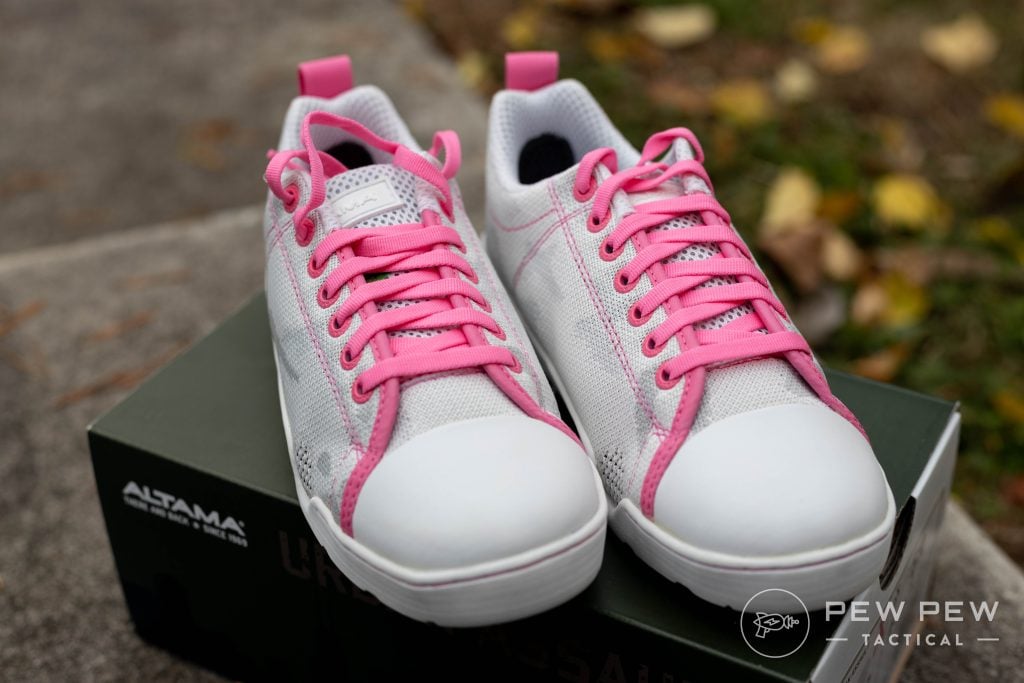 Worth noting that Pew Pew Tactical readers can get 25% off purchases from Original Footwear now until February 1, 2022, with code PPT25.
129
at Original Footwear
Prices accurate at time of writing
Prices accurate at time of writing
What do you think of Altama shoes? Give them a rating below and let us know!
Conclusion
Whether you want to skirt the usual Nikes and Reeboks or you just vibe with that gray man aesthetic, these shoes offer you the opportunity to look cool but still be at the ready.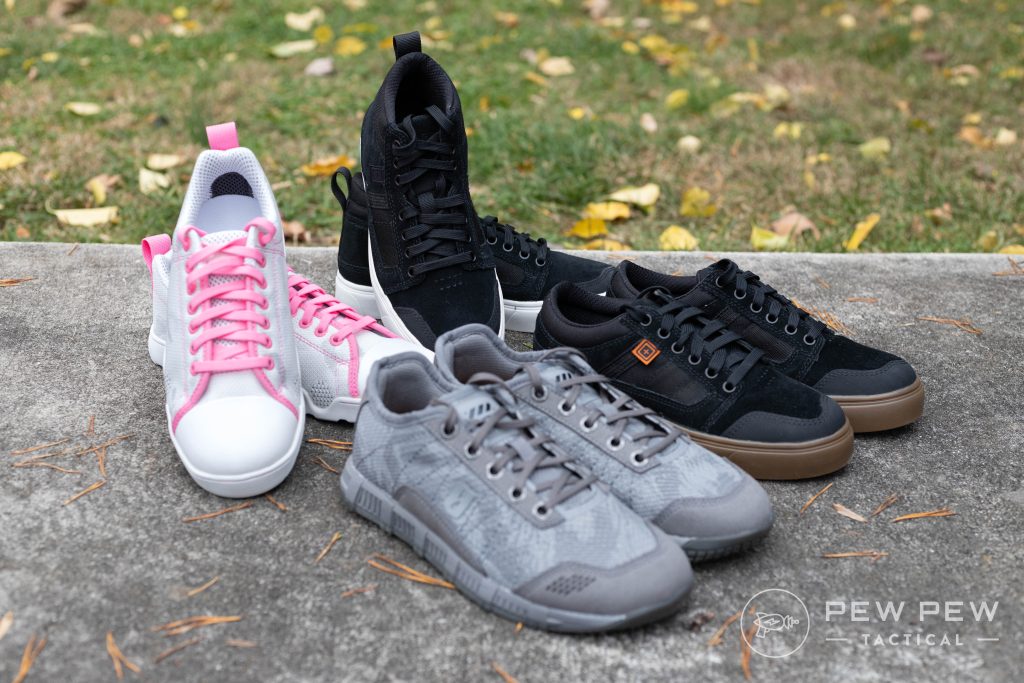 While Jacki found the 5.11 Tactical Norris style the most fashionable, the Altama Urban Assault took the win as the comfiest, and the Viktos Core 2 secured the top spot as the best all-around pick.
On the other hand, Sean found the Norris to be the hardiest, the Core 2 was the most comfortable, and the Urban Assault was the most fashionable.
At the end of the day, though, you can't go wrong with any of these picks.
What are your favorite not so tactical kicks? Let us know in the comments below. For more on apparel, see our reviews on the Best Tactical Pants, Jackets, and a review of the 5.11 Tactical Women's Lineup.