"There are more 1,000-yard rifles than there are 1,000-yard riflemen."
A truer statement may never have been made.
That said, really good equipment still really helps – especially when you're looking at long-distance shooting.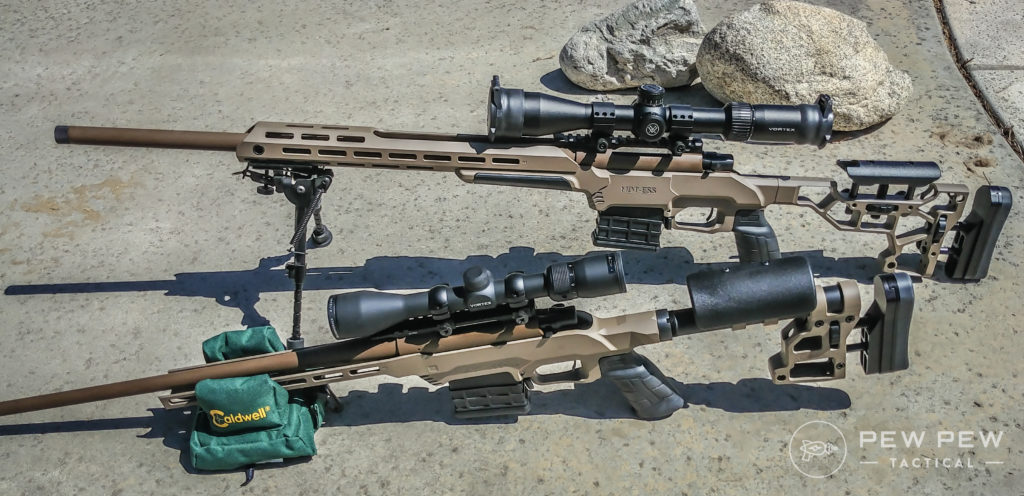 If you're looking at building a precision rifle or if you're looking to upgrade a current gun, it all starts with a great stock or chassis. Without that – even the truest action under the best glass will shift and walk your shots way off target.
I've been interested in long-range shooting since I was a kid and now armed with my new Howa 1500 Actions I could finally find out just how much a great chassis was worth.
Modular Driven Technologies (MDT) understands great chassis better than almost anyone. They sent me two of their chassis so I could find out for myself just how much of a difference a great chassis would make.
Table of Contents
Loading...
Facts First
MDT provided two of their best selling chassis for me to play with, the ESS and LSS-XL Gen 2. Both are considered "competition" chassis and both of them are in many ways very similar, but with some key differences that set them apart.
One of the things they share is the basic design idea, MDT really brings the M in their name to life and everything they make has a modular design goal to make it so that each shooter can customize their chassis to their needs.
Both chassis are made out of Aircraft grade Aluminum, both accept most AR-15 pistol grips, have M-LOK rails, a wide selection of buttstocks, and deliver a major improvement in accuracy over standard stocks.
While they find their true place in a competition such as Precision Rifle Series, the LSS-XL could be pressed into the role of a hunting chassis also…though, that would be like using an F-22 Raptor for your morning commute.
Not that would be a bad thing…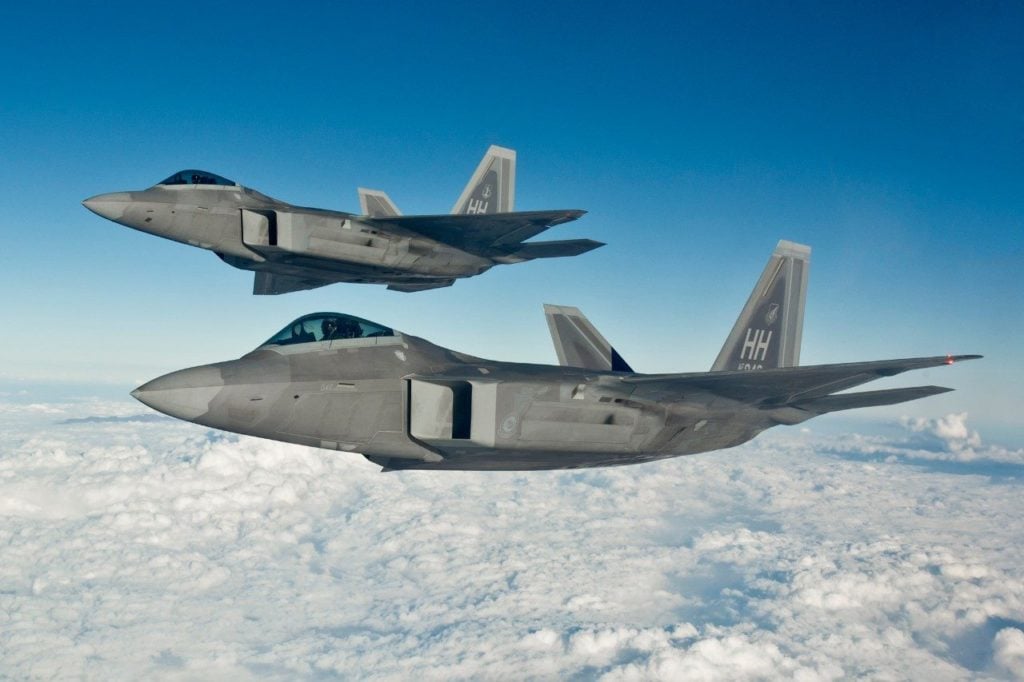 The ESS system, on the other hand, is only at home on a range, making a chassis that is rock solid means lots of mass and mass means weight – combined with my Howa 1500 BA in 6.5CM – heavy barrel one thing the ESS is not is hiking friendly with this set-up weighing in at just over 15-lbs.
ESS – standing for Elite Sniper System, is rock solid. I mean like granite. You could build a skyscraper on top of it, solid. It is also heavy as frig. This is not the chassis for taking on a long hunt!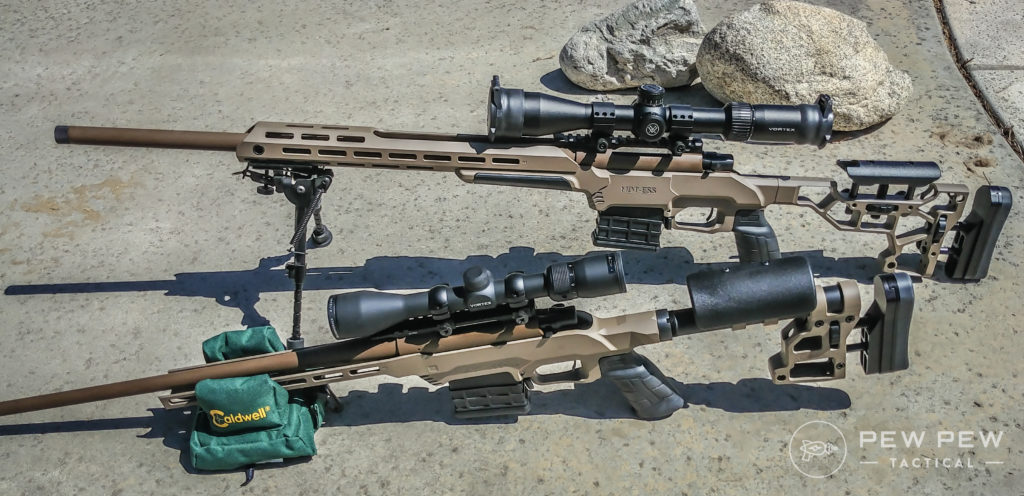 However, it is perfect for precision competitions like F-Class competition or as a rifle to take to the range when you feel like touching something really far away.
Set it up with a rear bag and a bipod and you poke a fly at 1,000-yards all day (if you do your part).
Best Chassis for Long-Range Precision
850
at MDT
Prices accurate at time of writing
Prices accurate at time of writing
My exact specs where a Howa 1500 base, the no rail 15″ fore end, ESS Buttstock, MDT grip, and MDT magazines.
There is a lot of things I love about this chassis and really only two things I have a gripe about. Let's start with the good things.
"Modular" is taken to a new level here, with bases made for almost a dozen different rifle actions, four types of fore end rails and three lengths of rail offered, plus three buttstock options (two fixed, one folding), it isn't hard to really make this into the exact chassis that you want it to be.
The build quality is simply perfect. Nothing is wrong with this chassis. From the machining to the Cerakote, everything is smooth, clean, and perfect.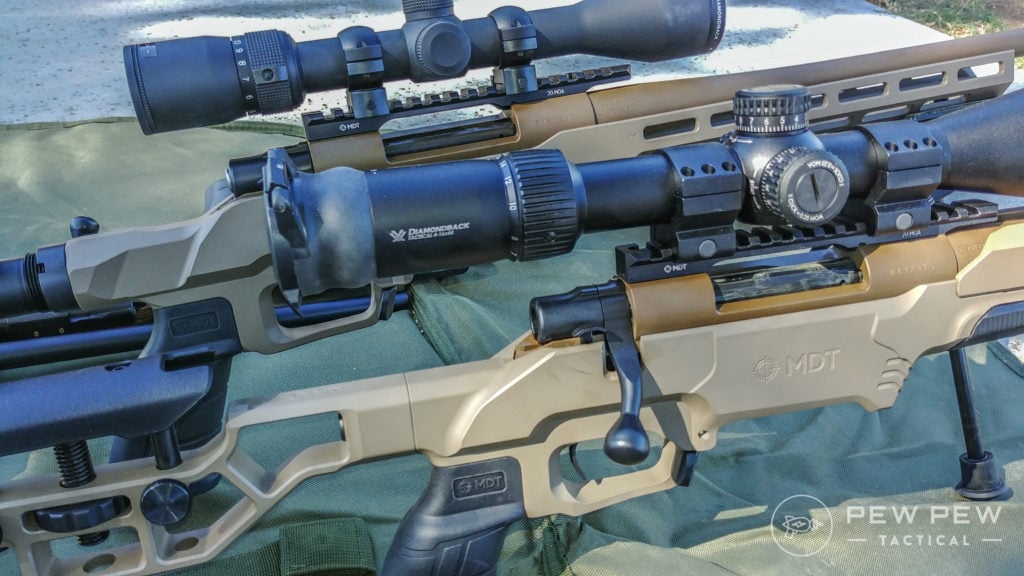 ESS Buttstock has a great length of pull and cheek weld adjustments, both have several inches of travel that are easy to move while maintaining high precision of adjustment with their screws. Simply tightening down set screws lock the adjustments solid.
Using the 15″ fore end allows for a bipod to be placed out close to the muzzle of the rifle, while still providing enough room to mount other stuff like a hand stop or grip if you wanted it.
Finally, the ESS just feels…solid. If you've handled a great chassis or stock before then you know what I'm talking about and if you haven't, you need to – once you feel it, you won't settle for less.
I would also highly credit this chassis to the overall accuracy I had with the Howa 1500 mounted in it. With match grade ammo, I was shooting 1/5th MOA using just a front and rear bag on top of a plywood bench.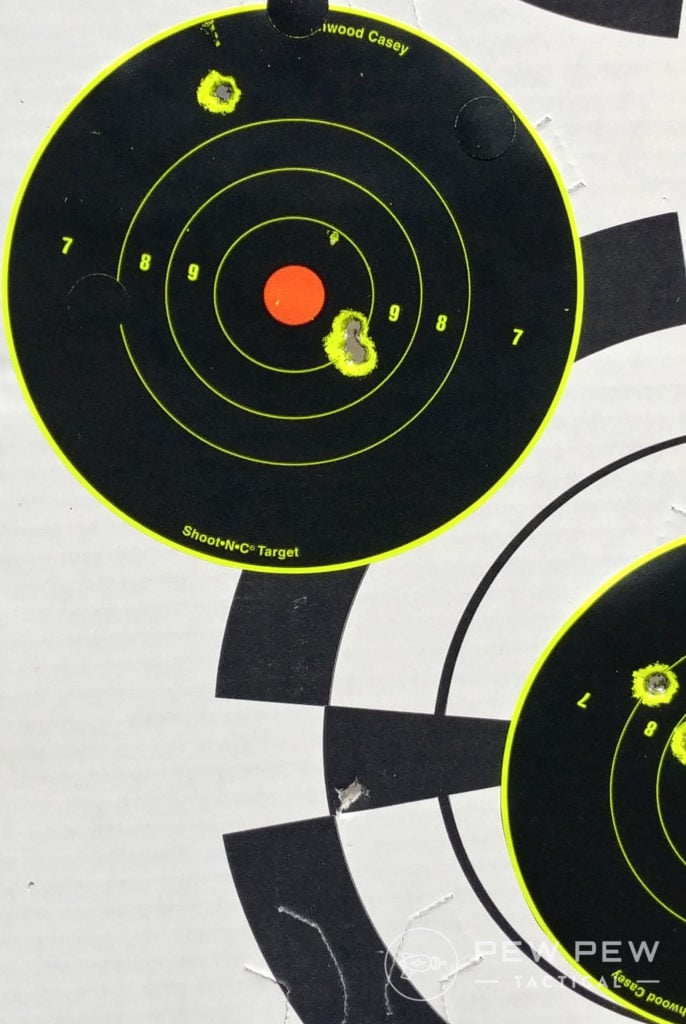 The group near the bullseye is a five shot group (flyer at the top wasn't mine) at 150 yards, just under 1/5th MOA!
There is no way I could have done so without a badass chassis. I would also expect a better shooter using a better stance and hand loaded ammo to get even smaller groups!
However…
My two gripes with the ESS are both easy solves for MDT – and I hope that they tweak this in their future systems. While these are both minor, they were just annoying more than anything.
In America, we use the imperial system. Why? I don't know, but we do. The rest of the world uses the metric system.
But…both were needed to complete the assembly. Odd, right?
While I had all of the tools needed in my tool room (it only required 4 sizes of bits), it would be nice to just pick a system and stick with it.
The second issue was also about the assembly, the ESS buttstock effectively requires a ball-head Allen key due to an odd angle needed to screw it in. I really feel like they could come up with a system that didn't require this or at least provide one with the chassis.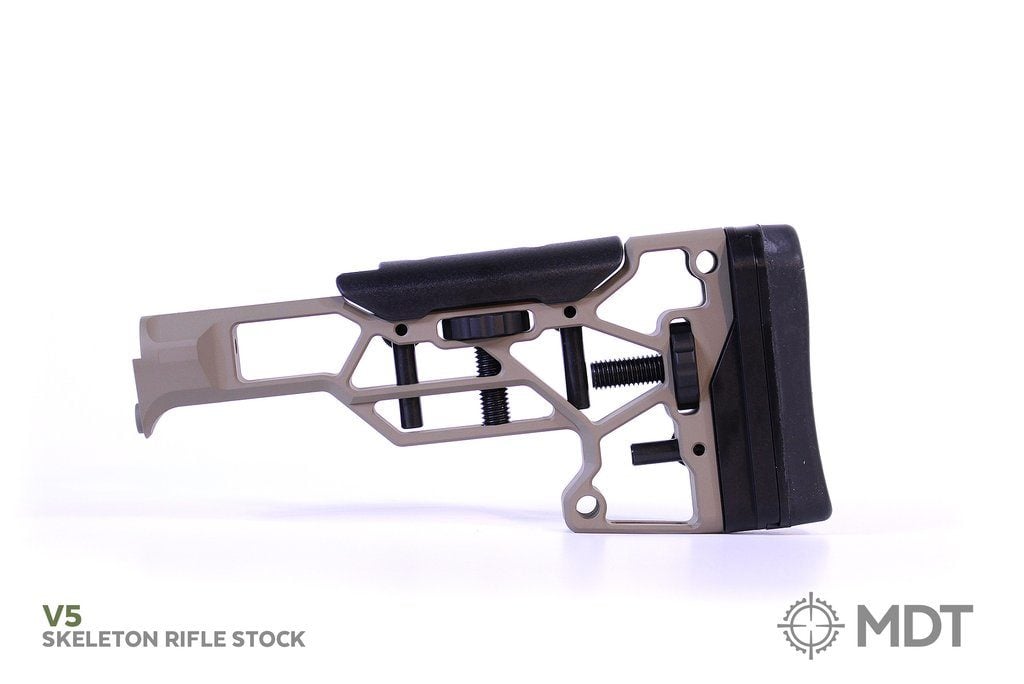 That said – as long as you have a decently well-stocked workspace, you'll have on hand what you need to assemble the ESS. I had the rifle mounted and everything ready for the range in about a half an hour, so it was by no means complex or hard.
Just as mounting a barreled action into any chassis or stock, it literally only required the removal of two screws, setting the BA in place, and attaching the screws back in.
I'll just tell you now – I have nothing to gripe about. I tried to find something I didn't love about the LSS-XL and I just can't. I actually love it.
Okay, I have one very minor thing, but I'll get to that.
While the ESS system is solid and heavy, the LSS-XL is almost lightweight by comparison. The buttstock comes in two-flavors, fixed and carbine.
500
at MDT
Prices accurate at time of writing
Prices accurate at time of writing
Fixed is…well, fixed. Much like the buttstock that is available for the ESS, the MDT Skeleton Rifle stock is effectively the same thing but with a different stock-to-base interface.
Note: while they are functionally the same, the ESS fixed rifle stock and the LSS-XL fixed rifle stock is not interchangeable.
I got the carbine version, "carbine" meaning that it interfaces with a standard AR-15 buffer tube and allows you to attach any AR-15 buttstock. Very cool feature.
MDT sent me their Skeleton Carbine Stock to pair with my LSS-XL, while I really like it – it was the source of my one issue with the LSS-XL system.
290
at MDT
Prices accurate at time of writing
Prices accurate at time of writing
While the ESS stock features a small cut out in the front that allows you to remove the bolt from the action while the cheek riser is in place, for my face and my setting – the skeleton carbine stock blocked the bolt from being removed.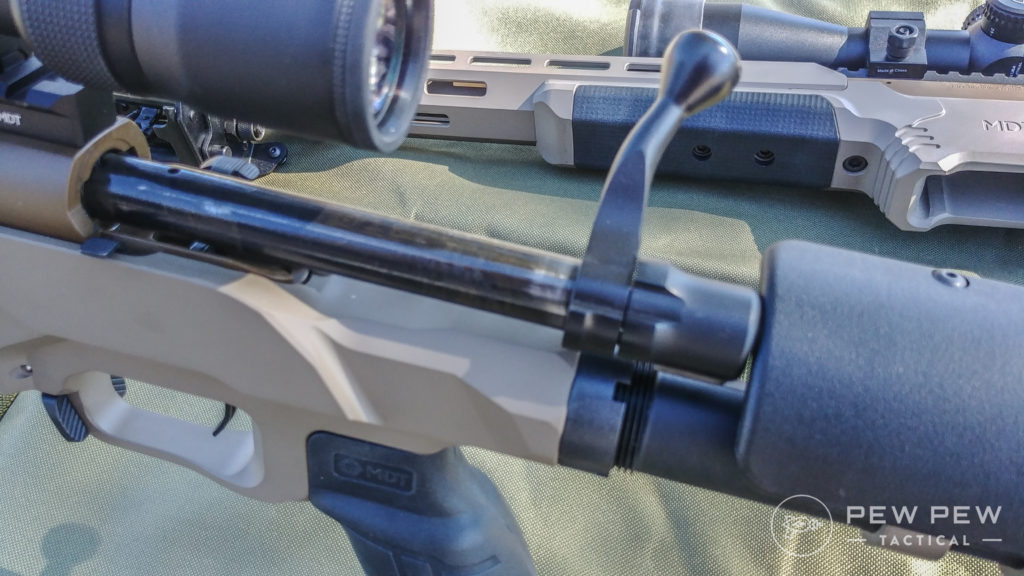 This won't be the same for all users since with different scopes, people, and set-ups the riser will be at a different hight. So while you might not have this problem, I did. It's easy to work around though so, in the end, it wasn't a big deal to me.
And while it was the source of my minor gripe – I love the cheek rest. Maybe it's just my face, but it just matches to my cheek wonderfully, I actually prefer it over the ESS stock's cheek rest.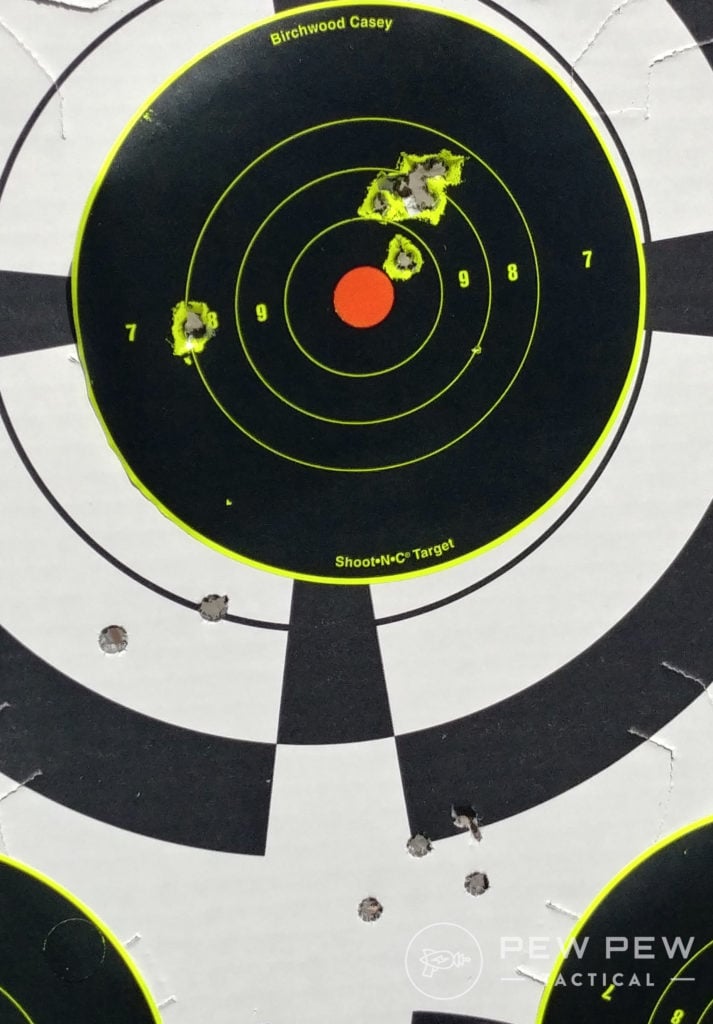 The LSS-XL might be lighter and handier than the ESS, but it's still a beast of a chassis and allows the Howa 1500 to shoot very well! Using decent ammo I was grouping at 1/2 MOA with no problems at all.
Can't forget the fore end!
This is another nice feature of the MDT chassis and a major gain for people wanting to compete with their rifles – M-LOK rails on both fore ends!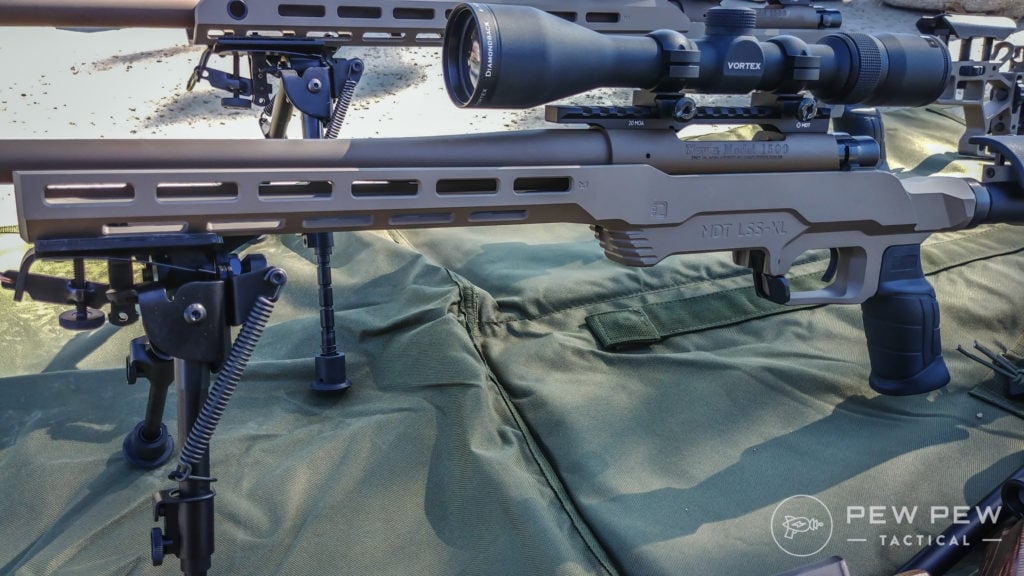 With a lot of room between the front and rear of the fore ends, you have the option to put things like a hand stop or VFG on your rifle if you want it while still keeping your bipod as far out as possible.
For PRS shooters, this is a major deal since a good handstop can really help stabilize you against a barricade.
MDT Magazines
In the box of toys MDT sent me there were two of their polymer magazines. Both are very well made, easy to use, and worked great.
One thing you should know though is that the .308 magazines (used in both my 6.5CM action and .308 action) have a max cartridge OAL of 2.800″.
This was more than enough room for 12 different types/brands of ammo I brought with me to the range, but for two it was just barely shy of being able to load.
Federal Gold Metal 7.62×51 NATO with 175gr Sierra MatchKing HP and Hornady Superformance Match .308 with 178gr HPBT both averaged 2.830″ OAL. While that is just .030″ over spec for the MDT magazines, it was just large enough to not fit.
I was able to load about half the rounds since factory ammo tends to have a bit of variance – the shorter rounds were able to fit, while the average or above average was not.
So if you plan on using really heavy .308 ammo, you might need to rethink your ammo options or if you reload/handload, you may need to adjust your seating depth to work in the 2.800″ magazines.
By The Numbers
Reliability 5/5
While reliability is mostly up to the action you put in your chassis, there is nothing about either of these chassis that will reduce reliability. Both functioned perfectly right out of the box, were easy to install, and delivered on everything I had hoped for.
Accuracy 5/5
I absolutely credit the ESS to helping make the Howa 1500 I had in it a 1/2 MOA rifle. A rock solid base is a must for any precision shooting and that is what I got with the ESS. The LSS-XL was also outstandingly well made and accurate.
Ergonomics 5/5
This is a bit of a hidden gem for the MDT chassis, both rifles had great ergonomics but they also delivered it on multiple levels. Not only the wide range of adjustments available to the shooter but also in providing options for how to hold the rifle while shooting. Full grip or half grip, thumb rested and not, the ESS and LSS-XL accommodated me no matter what.
Looks 5/5
FDE is my favorite color, so it worked for me. It was also very even and well done – high props to the workmanship at MDT in their Cerakoting department!
Customization 5/5
Everything about these chassis are designed to be customized and everything about these chassis gives you exactly that. There was literally nothing that I wanted to change that I couldn't instantly change.
Bang for the Buck/Value 5/5…sort of.
MDT isn't cheap, but top of the line craftsmanship and engineering never is. The value you're going to get from MDT chassis is going to depend on you. Remember the quote? "More 1,000-yard rifles than there are 1,000-yard riflemen".
If you are or you want to become a 1,000-yard shooter – then these chassis will return outstanding value to you and give you the base you need to build the rest of your rifle on.
However, if you're quick to give up new pursuits, never shot a rifle before, or think that by buying expensive equipment you can skip ahead – you're going to be disappointed.
Overall Rating 5/5
MDT chassis are badass. Plan and simple. During my range trips, I let 5 other random people take a couple of test shots and their reactions were exactly mine, pure joy, and excitement.
I've already started saving so that I can buy an MDT chassis for my favorite rifle, that's how much I love these. If you are able and willing to put in the time and effort to become a great shooter, MDT is perfect for you.
Parting Shots
A badass chassis isn't going to be for everyone, but for those of us that want one and can get the use out of one – I cannot recommend MDT enough. Pair it with your favorite action and glass and you will have an outstanding system for your next competition!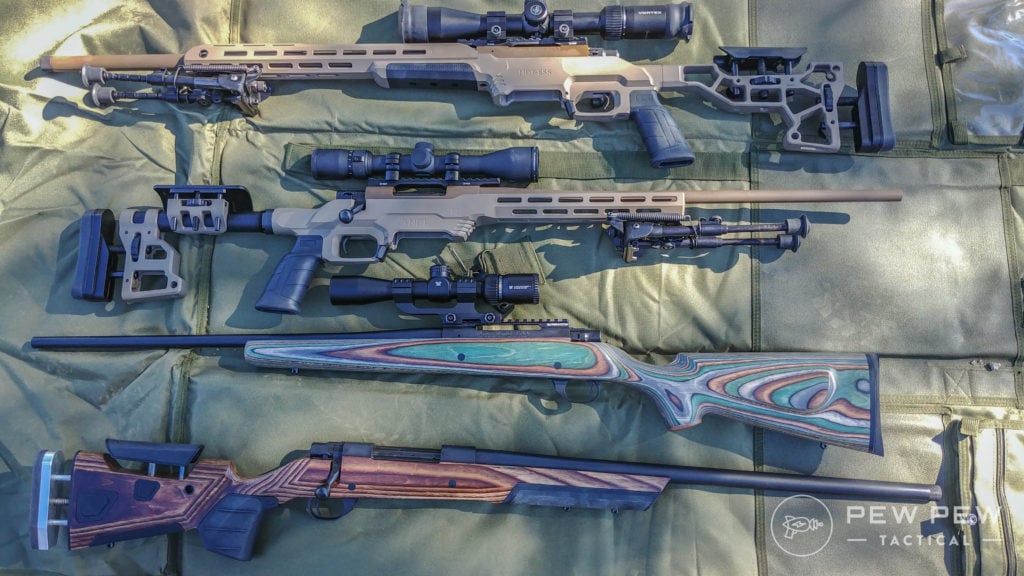 Don't forget a scope for your rifle build! Take a look at these 6 Best Long Range Scopes!
Have you built a custom long-range bolt gun? Are you a 1,000-yard rifleman? Let us know in the comments! Want to know more of our favorite guns and gear…check out Editor's Picks.