What would you say if I told you that you could buy a .22 LR or .22 Magnum gun that folded up and is the same width and height as a standard debit or credit card?
Yup, you can pack some .22 protection in a package just about the size of a Mastercard or Visa.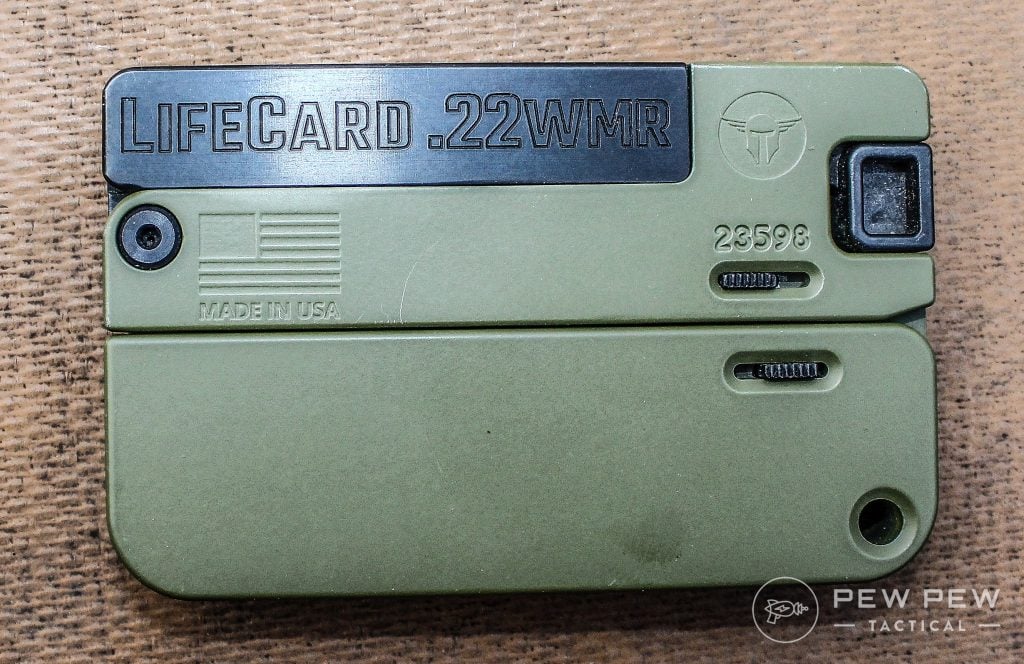 It's called the LifeCard and it brings an ultra-concealable option to gun owners who need to be extra discreet.
How does it handle in real life? Well, I took one for a test drive and in short, it's an interesting option if you want a very tiny, .22 caliber option.
370
at Guns.com
Prices accurate at time of writing
Prices accurate at time of writing
But follow along as I evaluate the LifeCard and give you all the specs, features, and info you need to decide if this is a gun you need to add to your life.
Table of Contents
Loading...
LifeCard Specs & Features
The LifeCard is the same height and width as a standard bank debit/credit card. It measures 3.37 inches wide and 2.12 inches tall.
The gun's thickness is a bit more than a plastic card, about half an inch — but that's to be expected. It does, after all, have to shoot a real projectile.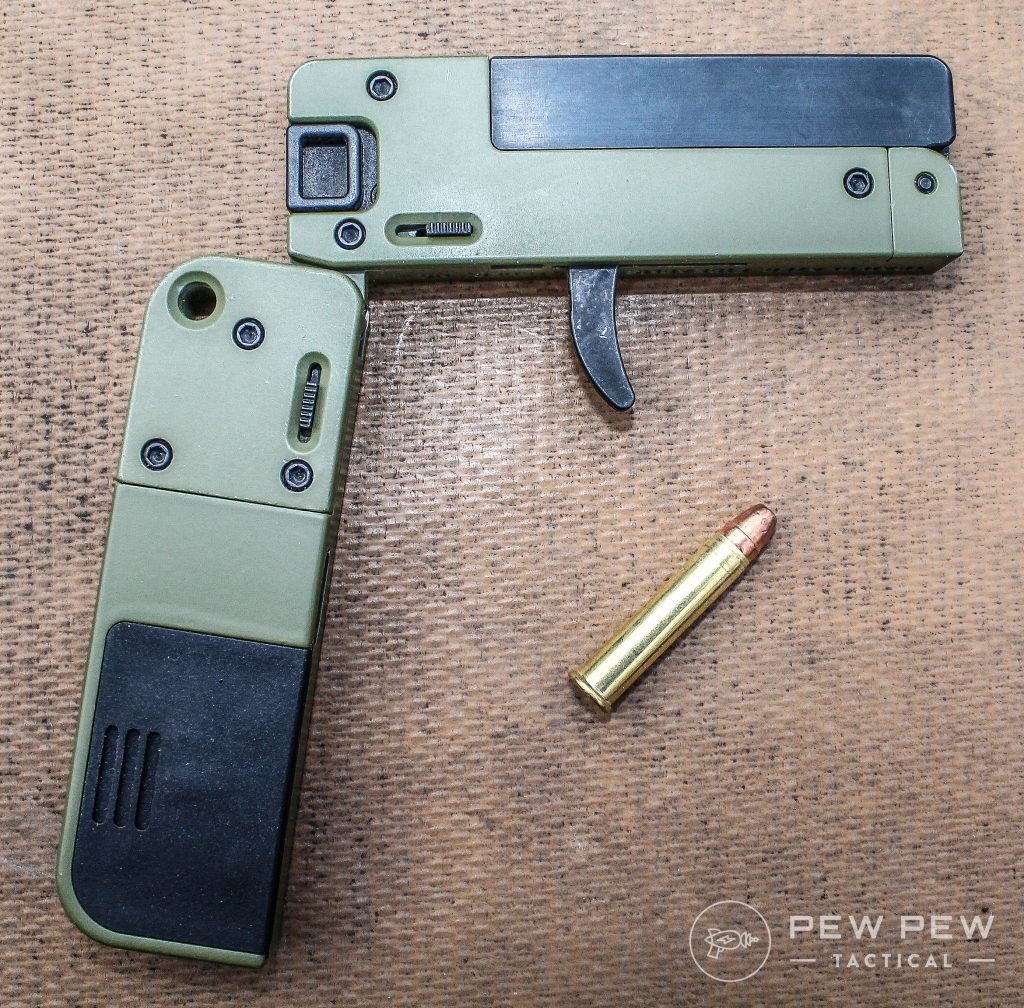 Overall, though, this thing is tiny!
As for weight, it tips the scales at a whole 7 ounces.
The LifeCard comes in two varieties — a .22 LR or .22 WMR — and MSRP is pretty much the same across the board, between $309 and $359 depending on finish.
But It's All Folded Up!
The real selling point on the LifeCard is its ability to fold so it fits in your pocket.
Its idea is simple — if you get into a situation where you don't have your everyday carry gun available, you can use the LifeCard as a last-ditch method of protection.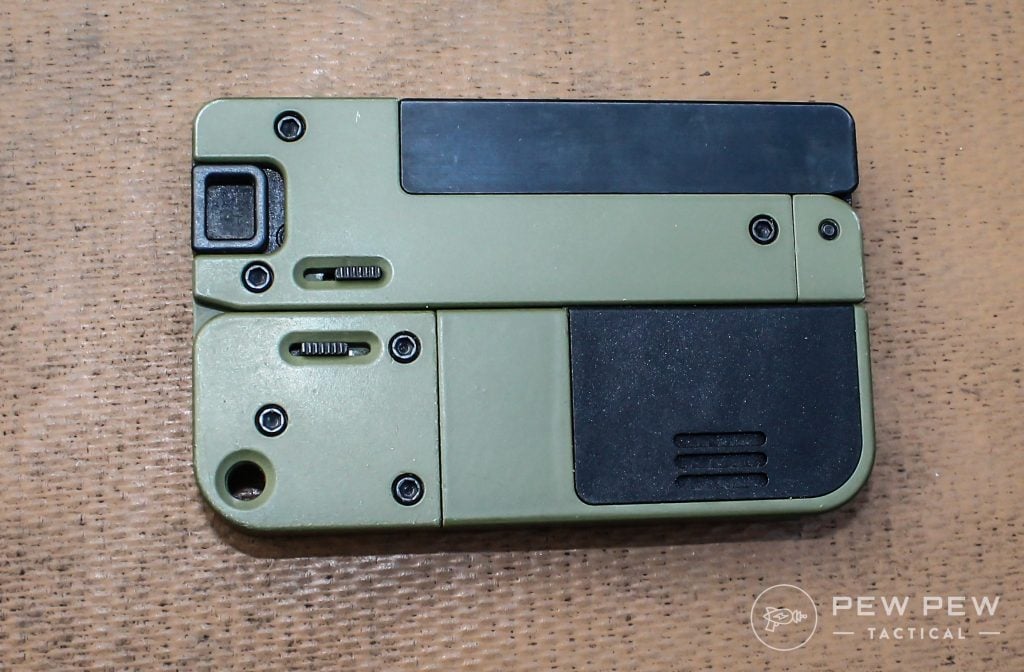 It doesn't take a lot to ready it for action — more on that below — so it makes sense to have and not need it, versus the converse.
Stick it in your pocket and forget about it. Just take it out before you throw your pants in the washer…
Shooting the LifeCard
For this review, we tested out the .22 Magnum version.
Neither one of these rimfire cartridges is known for generating lots of recoil or noise when shot out of a normal-size gun.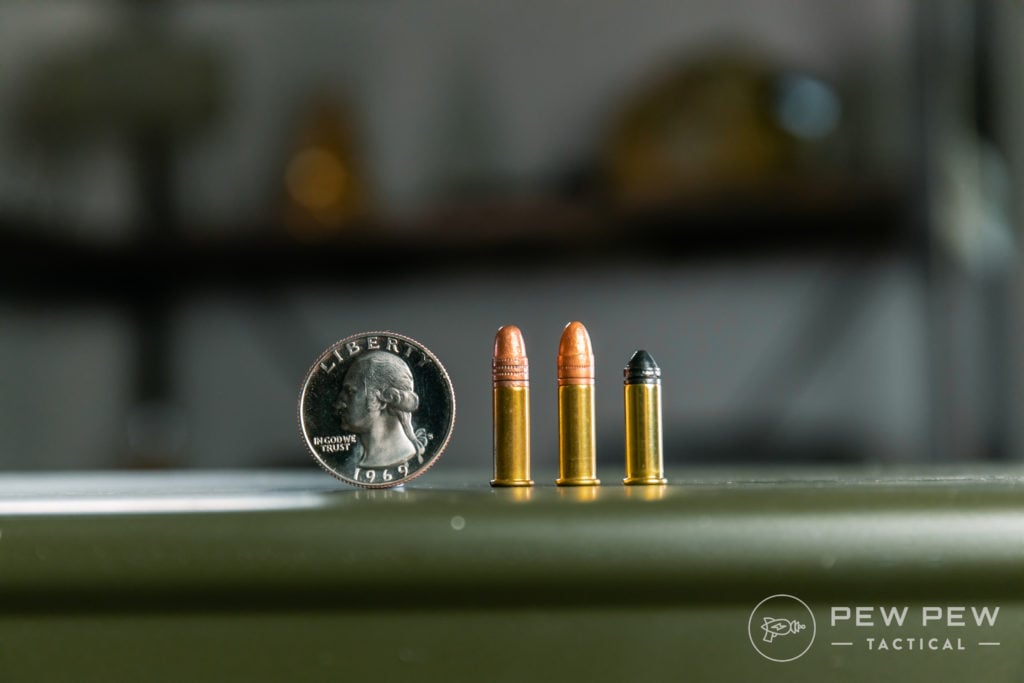 But, shooting this little guy tends to generate a bit more pushback and noise than when it's shot out of those other guns so ear (and eye, of course) protection is a must.
This gun is not one that you want to tote around open and ready. There's no safety, and without a trigger guard, there's nothing that keeps the trigger from snagging on something like a pocket or jacket. In short, carry it folded.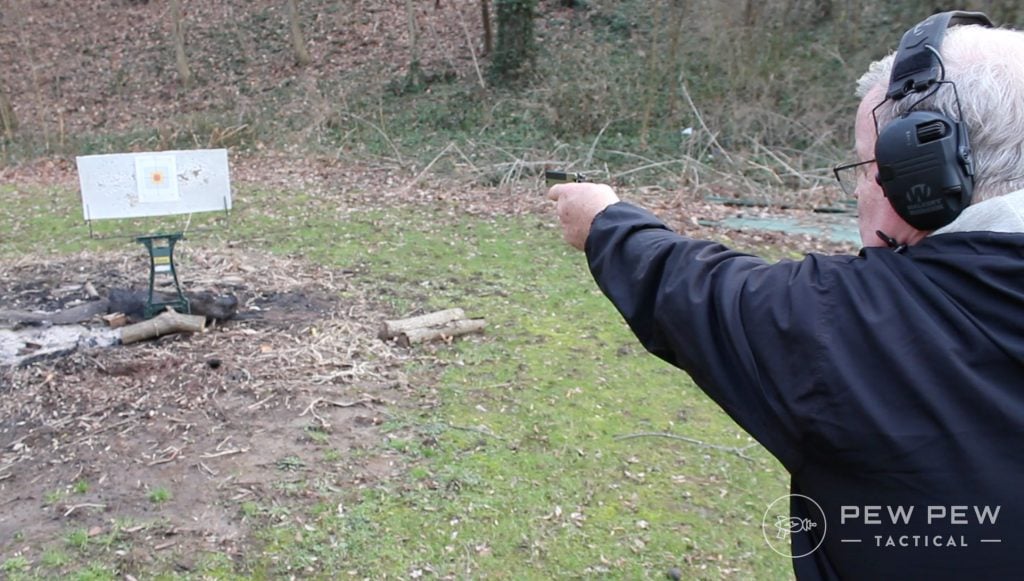 Ok, but how do you shoot it?
To shoot, you first want to point it in a safe direction. Then slide the release lever forward on the non-barrel section of the gun and unfold it.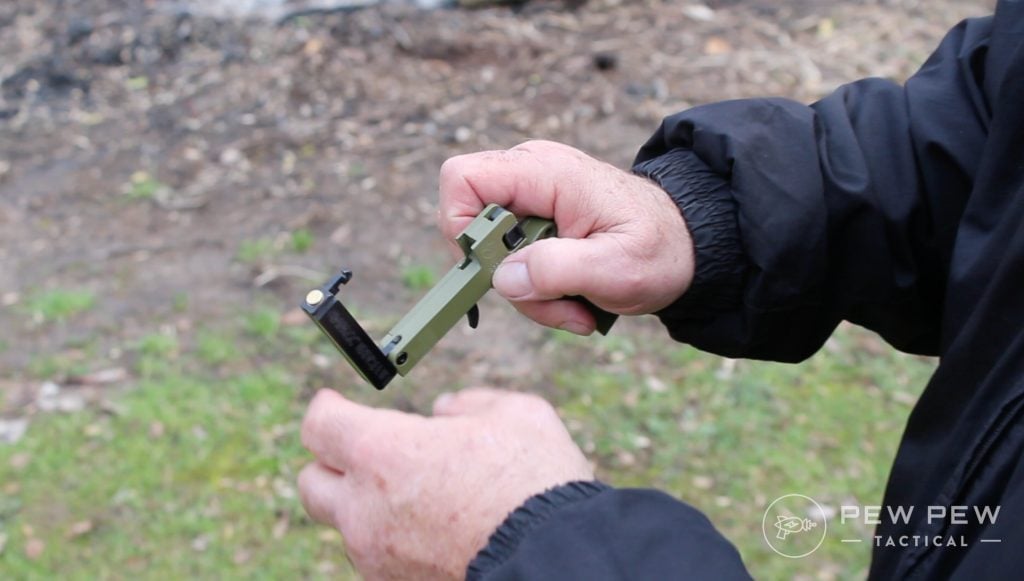 Pull the barrel-side release lever and pop the barrel up. A covered slot allows you to store three extra rounds.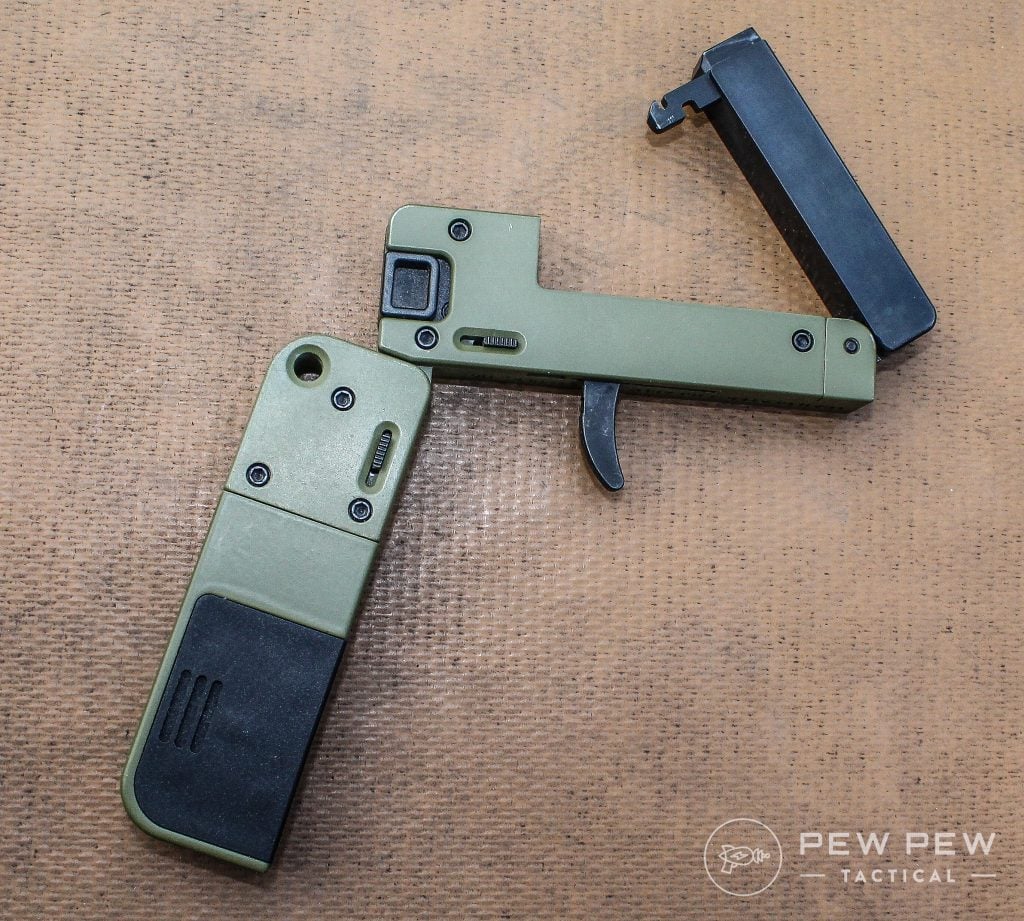 Once the barrel is open, you can load in a .22 cartridge into the chamber. After a round is in the chamber, the barrel can be closed up, and the cocking lever pulled to the rear. This can be tricky, as the spring is pretty tight. Also worth mentioning, it's easy to flag your hand with the muzzle, so be wary of that.
To unload, open the gun as described above and pry the empty casing out with a fingernail.
The One Big Glitch
The only drawback that I see with the LifeCard is the lengthy process to fire but that's kind of a given.
Whether that's something that would keep you from owning one is your call.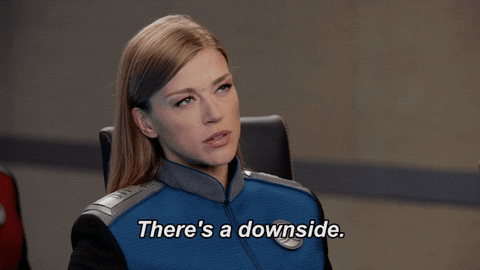 In terms of novelty, this gun is pretty much up there at the top. I'm sure that novelty factor causes some to buy it — you just won't see something like this in many shooters' range bags.
Also worth mentioning, $360 could buy you a compact or sub-compact 9mm pistol with seven or more rounds available in ready-to-use magazines that you don't have to unfold to use.
That said, most traditional firearms don't have the folding capacity and they tend to be a whole lot larger than the LifeCard.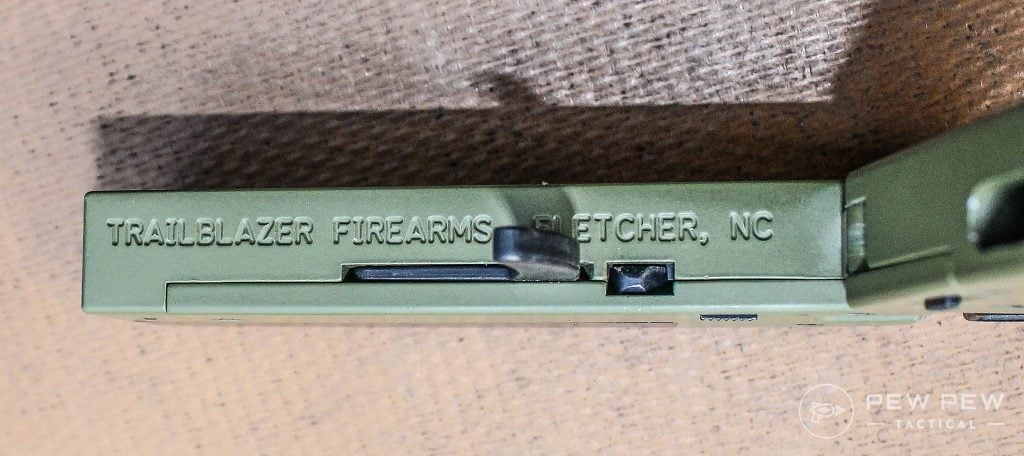 By The Numbers
Reliability: 5/5
Building a gun this small takes some expertise and attention to detail. Trailblazer has done that.
Ergonomics: 3/5
So, you expect a full-size grip with this tiny little gun? Nope.
Accuracy: 4/5
It shoots pretty much where you look, considering there are no sights. In terms of practical accuracy, the LifeCard works well enough. Let's face it, you're not going to try 25-yard shots with this unfolded, newfangled piece of modern ingenuity.
Value: 4/5
This gun's MSRP is $359, with prices ranging from $309–$359. I see the value of it being in my pocket all the time.
370
at Guns.com
Prices accurate at time of writing
Prices accurate at time of writing
Overall: 4/5
It's really hard to apply traditional firearm metrics to this gun since it is so unconventional. It's tiny, so does that mean it's made out of less-than-desirable materials and put together quickly to save money?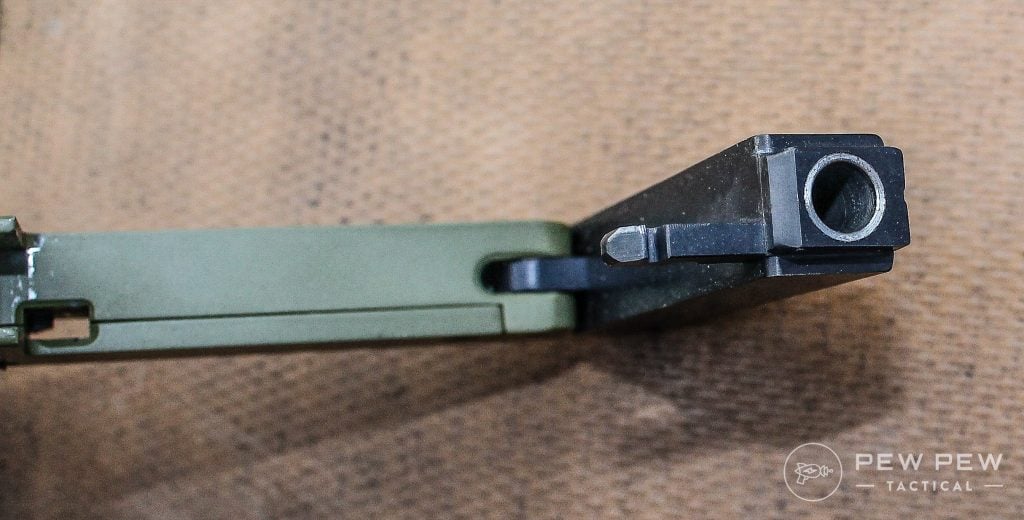 Not at all. This gun is made out of steel, aluminum, and (some models), polymer — all used in the correct locations. And, it did go bang every time we pulled the trigger. Its main virtue is its size — it folds up to make one teeny package.
Conclusion
For what it is, the LifeCard works. I call it a "get-off-me" gun, much like some of the little ultra-lite snub-nosed revolvers, or a .32 ACP.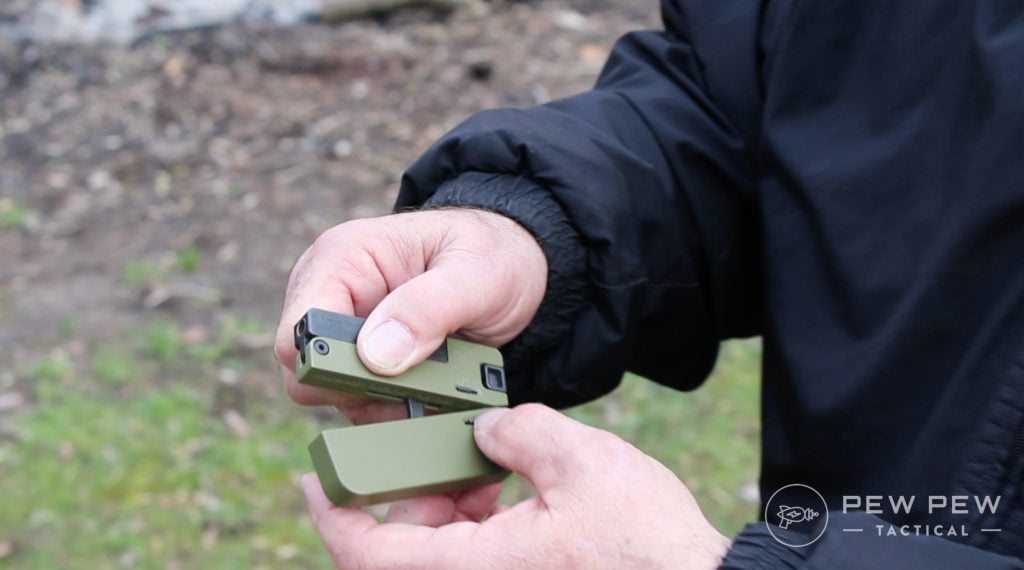 Sometimes you just can't or won't carry your "normal" gun. That's where the LifeCard comes in. This is a gun that can, quite literally, go with you everywhere.
What do you think about the LifeCard? Let me know below. For more backup gun recommendations, check out our Guide to Backup Guns!