The Fast & Furious films are the perfect family films. They emphasize things families love…including violence, spies, fast cars, and lots and lots of guns.
It's honestly crazy how this early 2000s movie has blown up into these insane franchises that went from dudes street racing to literally going to space!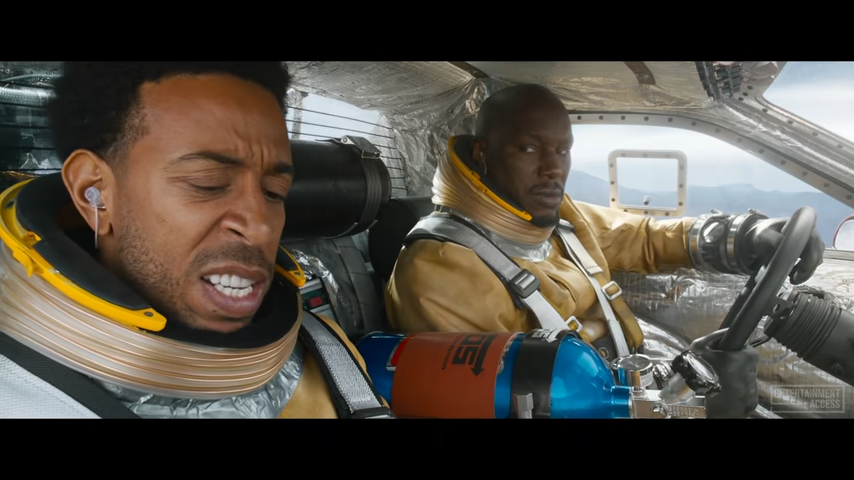 Today we are going to bring it back to earth with the franchise lead Dominic Toretto.
Vin Diesel has played the character in eight of the nine Fast & Furious movies (Counting a cameo in Tokyo Drift), and in a surprising amount, he's carried a Mossberg 590.
In general, the character seems to have a thing for pump-action shotguns.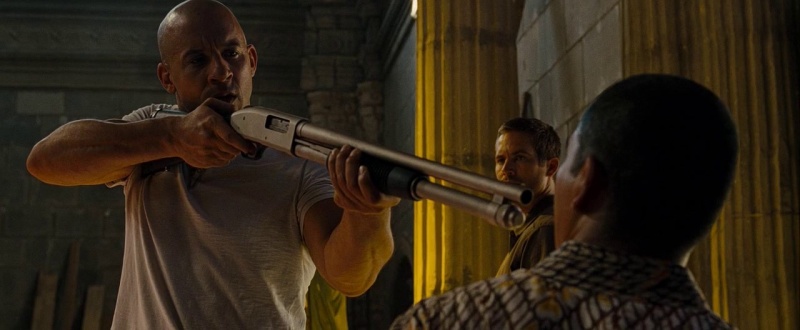 While the Mossberg 590 has been wielded by Toretto quite often, he's also used the Benelli Nova and the UTAS 15.
However, in three of his eight appearances, he opts for some configuration of the Mossberg 590. 
Best Pump Shotgun
699
at GrabAGun
Prices accurate at time of writing
Prices accurate at time of writing
The World of Fast & Furious
I'll be honest with you, I didn't care about the first three movies. My older brother was really into the first three, and as a kid, I had to watch the first film dozens of times. I'm pretty sure the VHS got worn out by the end of it.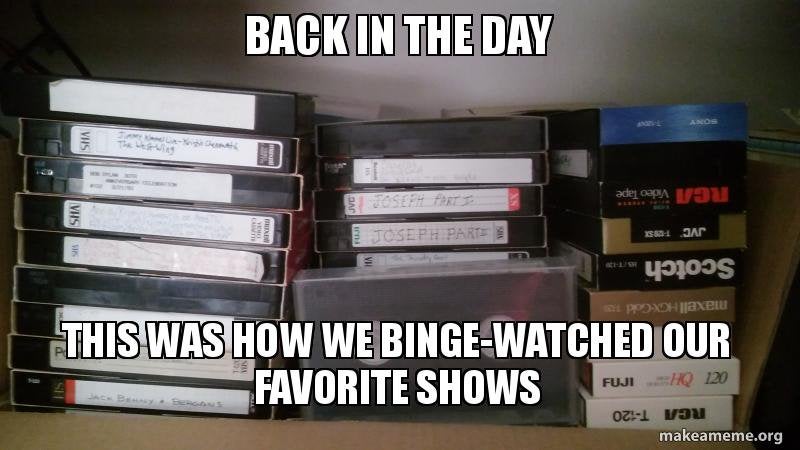 However, beyond the first three flicks, I started to enjoy them.
As the movies went on, they got crazier and crazier — slowly escalating from street racers who stole DVD players to smugglers, bank robbers, working with the CIA, and in the last film, quite literally going to space. 
The films get more and more ridiculous, but I won't lie, that keeps me coming back.
Vin Diesel's character is about as 2D as a character can get, but he's mostly enjoyable. 
He's the uber tough guy with the deep voice who's never wrong, always does the right thing, and his biggest character flaw is that he loves his "family."
In reality, the character is an ex-con with a violent past, and honestly, a violent present, filled with breaking the law.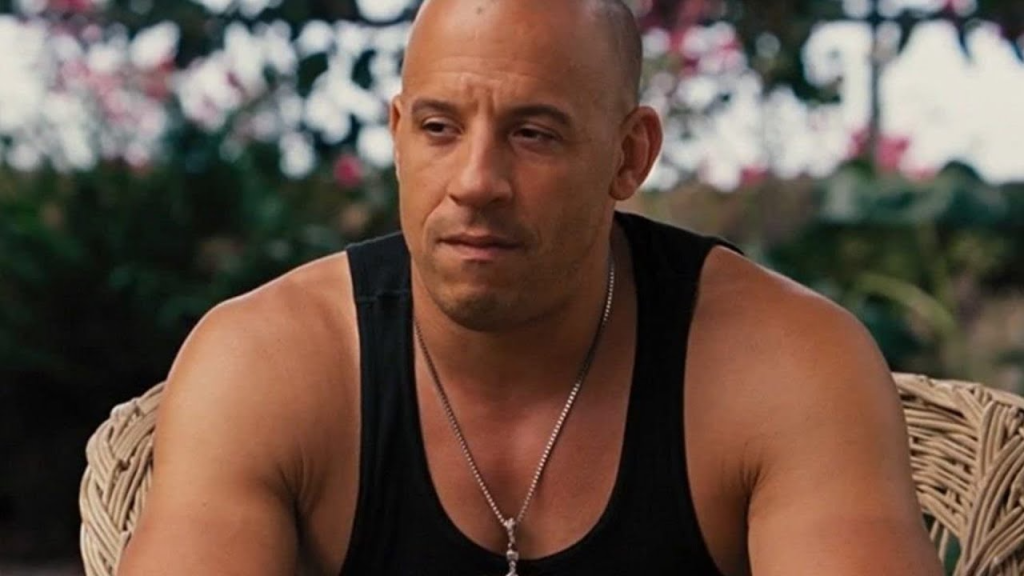 Regardless, he isn't a cop, a soldier, or a spy of any kind, so his firearms experience and training are unknown.
Since he resides in California, his choice of guns is limited, and the Mossberg 590 would be California legal. It's a damn fine shotgun, so I can't knock his choice. 
419
at GrabAGun
Prices accurate at time of writing
Prices accurate at time of writing
I appreciate that throughout all these films, they've kept Dom consistently using pump-action shotguns. It seems like he's a man who knows what he wants and uses that. 
Shucking with the Mossberg 590
At this point, the Mossberg 590 is family!
Out of three movies, Dom clearly has a preference for Mossberg's fighting shotgun. The Mossberg 590 is a pump-action shotgun derived from the famed Mossberg 500 family.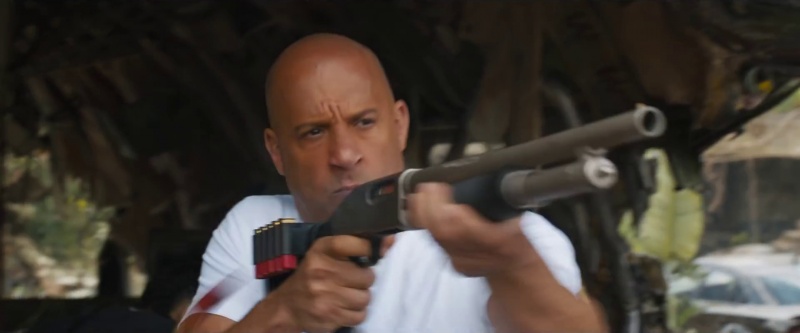 Mossberg took the 500 and made it into a dedicated tactical platform with the 590.
This includes changing the magazine and barrel system to allow magazine extensions, as well as a thicker profile barrel, bayonet lugs, and ghost ring sights.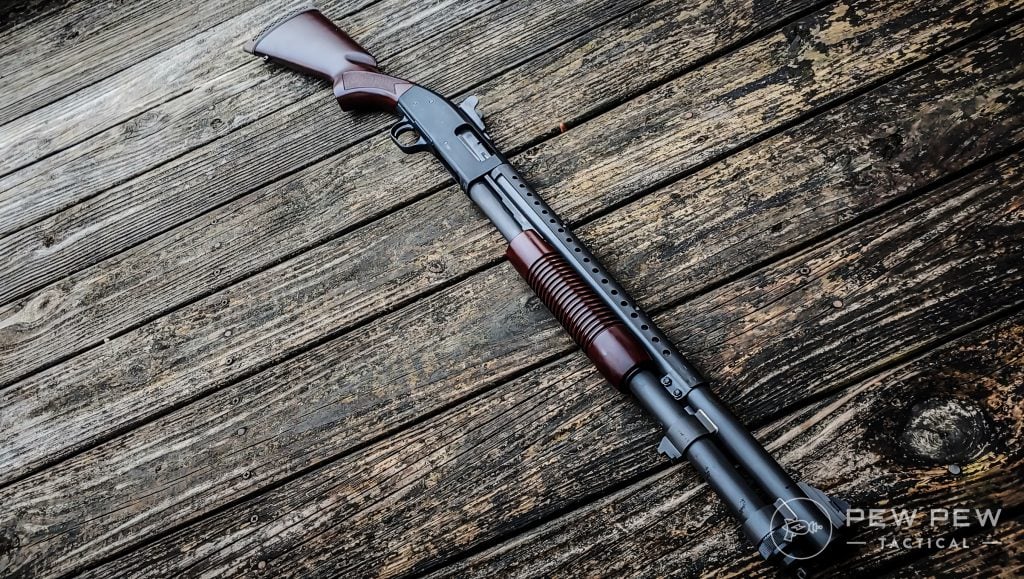 It's an outstanding shotgun and one of my favorites. I could easily see myself choosing this gun like a shotgun nerd. Heck, I own three different 590 variants right now, so I'm certainly a fan of the gun. 
Dom is seen using the Mariner model in the first film and the ninth film. This model looks to be a full-sized eight-shot model with a 20-inch barrel and a simple bead sight.
The Mariner finish makes the gun extremely distinctive and is perfect as a hero gun in the film. 
589
at Sportsman's Warehouse
Prices accurate at time of writing
Prices accurate at time of writing
In another film, he recovers a 590 from another guy.
This standard all-black model utilizes a pistol grip with an M4 style stock. This variant has a breacher's barrel, a 6-round tube, and an old-school Surefire forend.
Dom and His Mossberg
In the film, Dom always wins his gunfights. However, in real life, it appears poor Vin Diesel doesn't have a lot of firearms training. He doesn't seem to know how to shoulder the gun or even use its sights. 
He more or less braces the stock against his chest. Sometimes he doesn't use the stock and kind of just holds the gun away from him.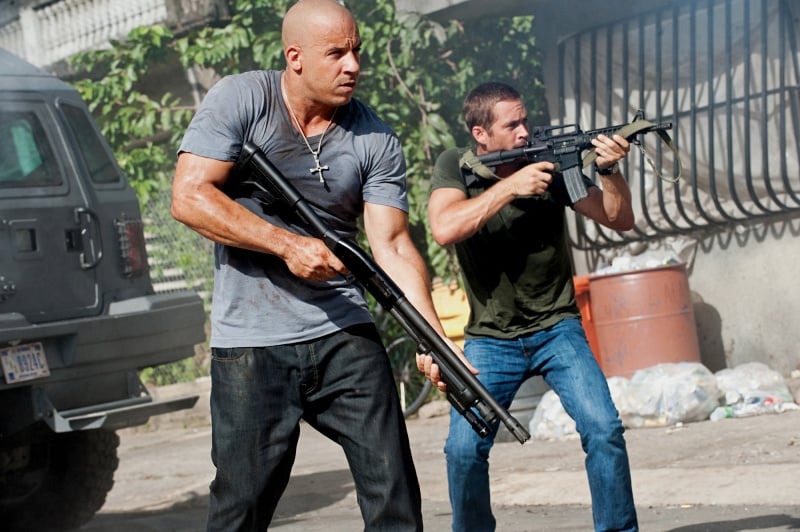 In Fast Five, he has the M4 stock fully deployed, creating a crazy long length of pull. 
I will say he doesn't seem intimidated by the weapon by any means. He doesn't squint or flinch when he fires.
Sure, it might just be blanks, but Vin does well with the gun in that means. 
He also pumps the gun a lot, which always looks and sounds cool in movies, so I'm not a hater on that by any means.
Ultimately Dom is more of a driver and less of a shotgunner, but at least one of my favorite guns gets plenty of screen time. 
419
at GrabAGun
Prices accurate at time of writing
Prices accurate at time of writing
This is part of a new weekly series on Pew Pew Tactical dedicated to the guns of TV and film. If you'd like more of this content, drop us a comment below. In the meantime, check out last week's pop culture dive with "Blue Steel" & the Smith & Wesson Model 10.