I'm willing to bet the vast majority of readers have never heard of the Katherine Bigelow film Blue Steel.
Like lots of good things, including me, the film was made in 1989 — most certainly a product of its time. It starred Jamie Lee Curtis and the Smith & Wesson Model 10 Heavy Barrel revolver.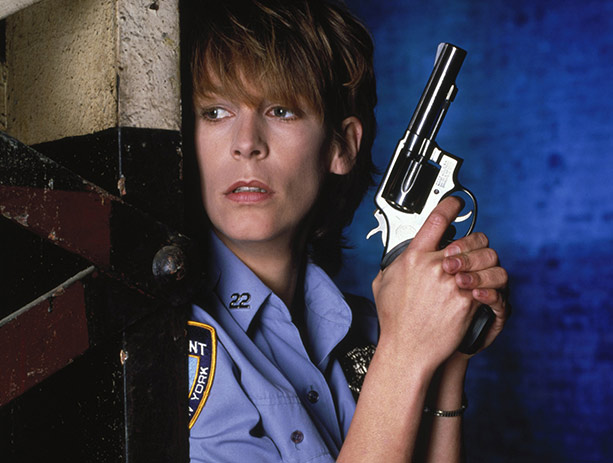 Jamie Lee Curtis stars as rookie police officer Megan Turner.
Turner becomes entangled with a psychotic commodities trader named Eugene, who is actually some kind of psycho murderer. Fitting, since I assume most stock market traders in the 80s were psychos.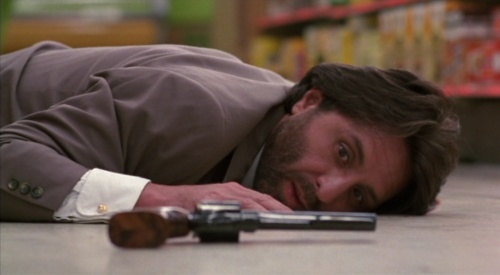 As the movie progresses, their relationship goes sour. Inevitably, the two end up in a gunfight. It's a face-off between a Smith & Wesson Model 29 and the Smith & Wesson Model 10.
S&W Model 10
It's safe to say that in the 1980s most cops were still armed with the classic .38 Special revolvers — likely some form of Smith & Wesson or Colt.
The Smith & Wesson Model 10 was one of the more popular choices among police agencies at the time.
600
at Guns.com
Prices accurate at time of writing
Prices accurate at time of writing
The Model 10 dates back well over a century and starts with the Smith & Wesson .38 Hand Ejector Model of 1899.
It would become the first Military and Police revolver, as well as the Victory Model, before finally becoming the Model 10 in .38 Special. (Learn more about the M&P's history here!)
Smith & Wesson produced millions of units of the gun in various sizes and configurations.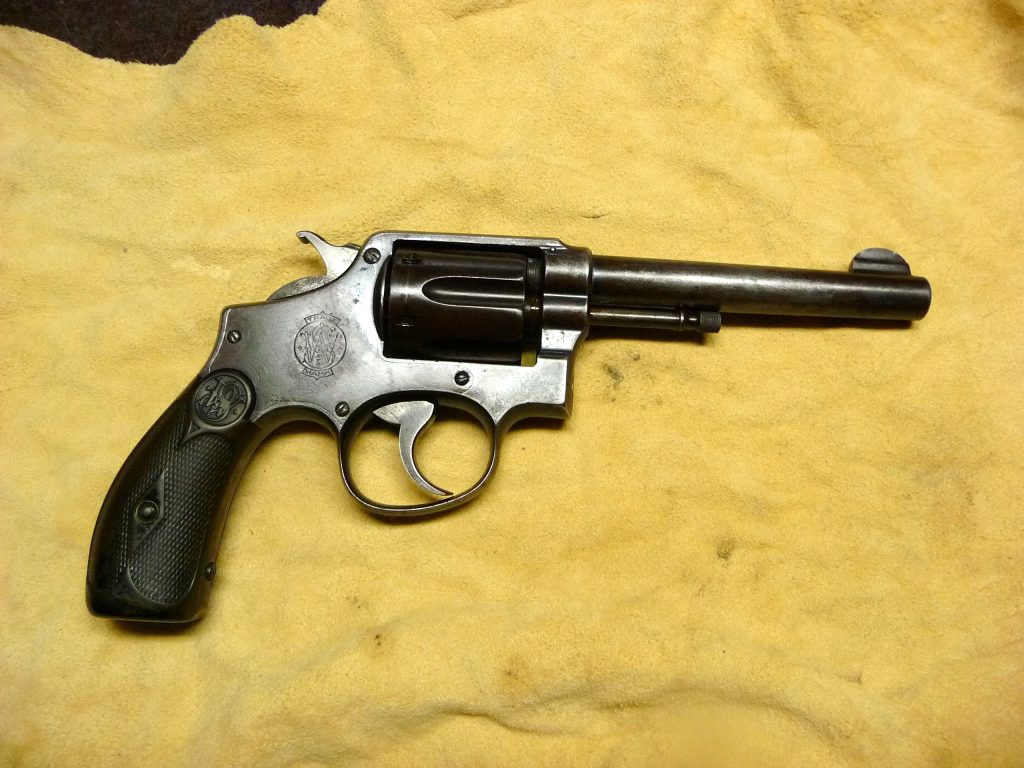 In the film, we see the more common police configuration with the Model 10 HB. HB stands for heavy barrel, with the gun featuring a reinforced barrel.
The revolver offers a 4-inch barrel, exposed ejector rod, and chambers six .38 Special rounds. A set of Pachmayr grips and a deep and rich blued steel finish makes it one of the most common configurations for police in the day and time.
It's a well-proven revolver and one of the best .38 Specials out there.
Blue Steel
his film surprised me for a few reasons.
First, it's not a big, loud action movie full of gunfights that last forever. It's a bit slower than that, with the final action scene being the cream of the crop.
We do see Jamie Lee Curtis assume a two-handed stance isosceles style, handling her revolver with ease and confidence.
In one scene, she draws, spins, and engages with accurate fire. Throughout the final fight scene, she assumes cover and uses it to her advantage.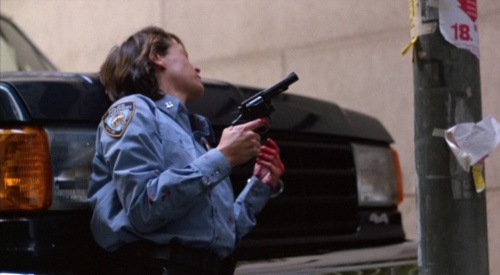 I can pick on her use of cover, but I won't. I will point out in one scene, she ducks as the bad guy fires and avoids getting shot in the face.
It's silly cause she ducks well after he fires and couldn't possibly move faster than a .44 Magnum.
In the scene, both the good guy and bad guy take shots and are wounded. She turns her tie into a tourniquet and ties it with her teeth at one point.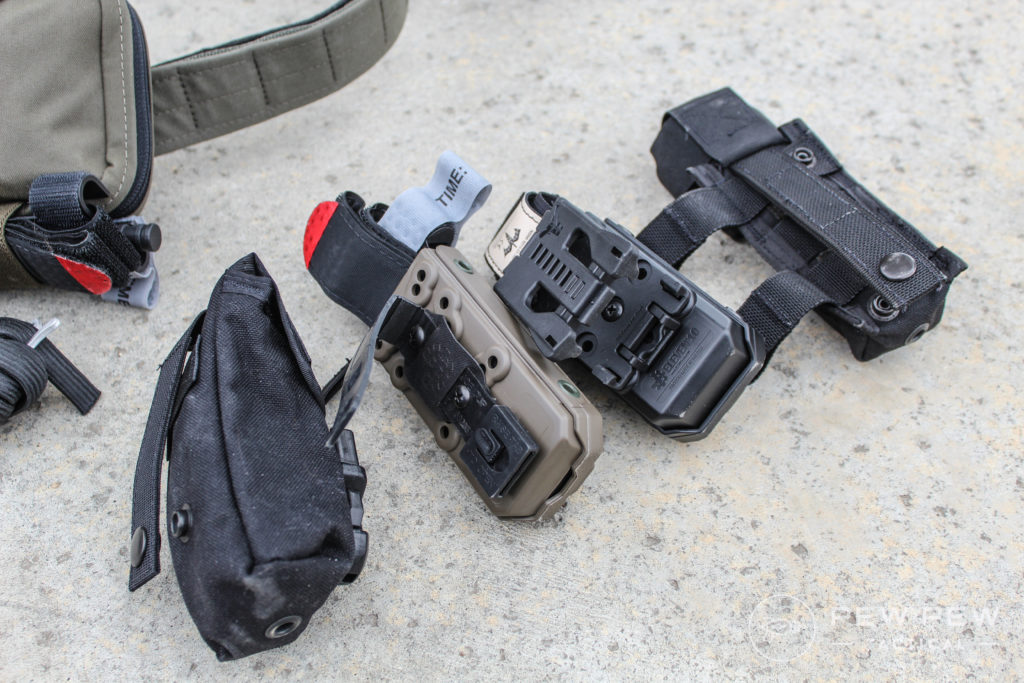 It's not perfect, but I'll give credit where credits are due for a movie.
Obviously, when you wield a six-gun, a Hollywood shootout will force you to enter into ridiculous territory with a belt-fed revolver. Luckily, they don't enter that zany territory, and we do see Jamie Lee Curtis reload.
790
at Brownells
Prices accurate at time of writing
Prices accurate at time of writing
Remember, she's wounded in the arm, and reloading any gun with one hand can be tricky.
She sticks the gun in her pants with the cylinder open and reloads a cartridge at a time. It's a neat little scene that's always stuck with me and a smart move given her equipment and situation.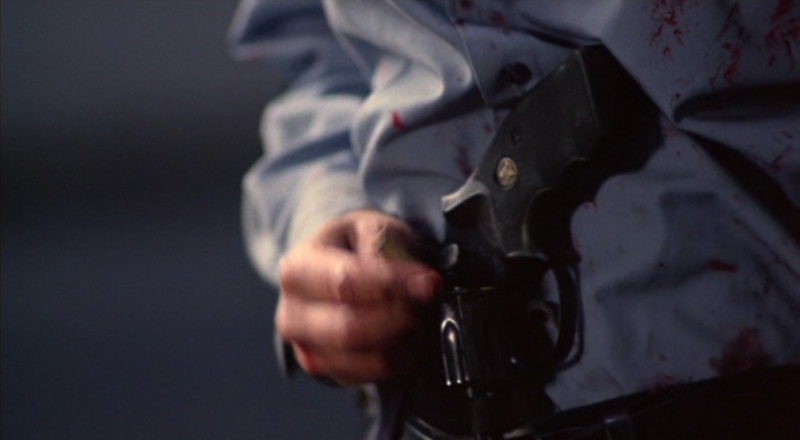 It's cool that she fights with some brains rather than just brawn — making use of her environment to give her an edge.
*Spoiler alert…*
In the end, she empties her Model 10 HB into the bad guy and saves the day.
Conclusion
Blue Steel makes the Model 10 and, by extension, the Model 29 the stars of the show.
Both guns are distinctive but the Model 10 HB represents the last era of police revolvers — a different kind of cool. It's not a big magnum or a crazy tactical high-speed future revolver, it's a simple working gun, and it works well.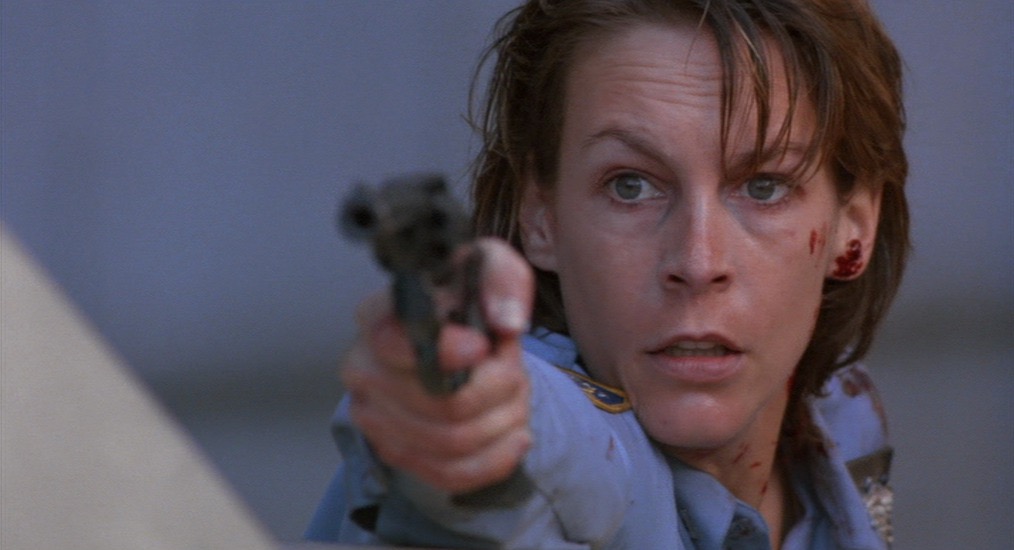 It's not a great movie, but it's a time capsule of the filmmaking, weapons, and storylines of the era…certainly worth a stream if it graces one of your favored services.
This is part of a new weekly series on Pew Pew Tactical dedicated to the guns of TV and film. If you'd like more of this content, drop us a comment below. In the meantime, check out last week's pop culture dive with Guns of Pop Culture: "24" and the USP Compact.