The California Roster of Handguns Certified for Sale is simply a short list of handguns you can buy in California from an FFL.
An easy way of putting this is that if the handgun you want isn't on the roster, then you can't transfer it through an FFL unless you are buying it from another California resident.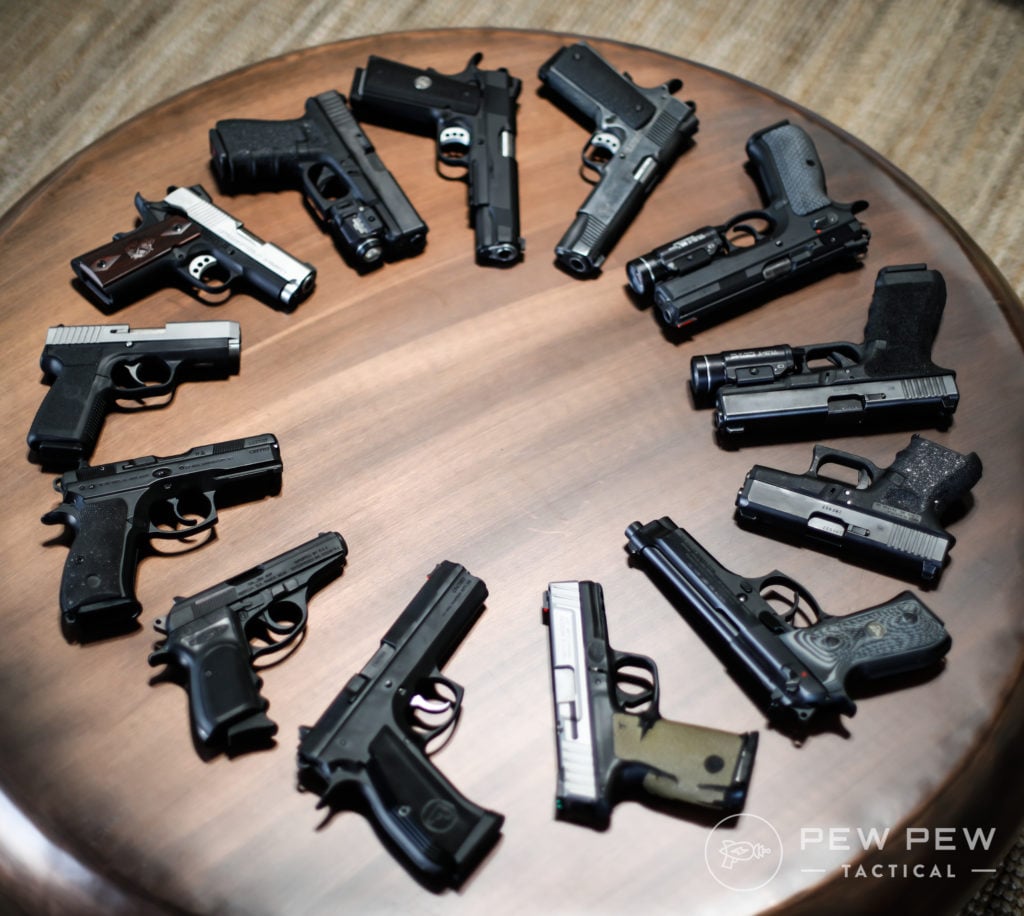 This means no ordering online and having it shipped to your local FFL. No having the FFL order it for you. No having your friend buy one and sending it to the FFL.
The only way around the roster is to find a California resident that owns the gun you want and make a private sale for it, or be exempt yourself from the roster — and that's LEO only.
Note that this only applies to handguns, long guns and shotguns do not have a roster.
Impact
You can see the list here along with their legalese.

On the surface, it might sound fine…it's a list of vetted guns that have passed some additional safety tests. But since the roster has existed, massive amounts of handguns have been removed by the DOJ.
Once you dig down to it, it makes it hard for manufacturers to create new firearms that meet the demands of the roster. And how are other states allowing all the other types of handguns if they are not "safe."
It's also very likely no new models will be added since there is now a "microstamping" requirement which uses controversial technology that will etch identifying marks on the bullet casing.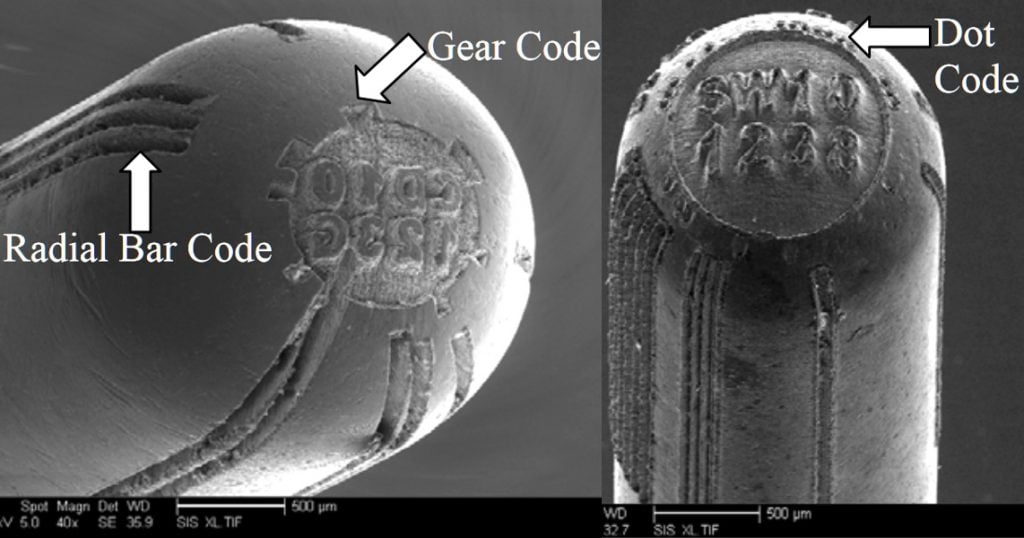 You can check out the link to Wikipedia for a variety of arguments against it, but it boils down to immature technology and very easy ways to get around it such as switching out the firing pin (easy) or picking up brass at the range and scattering it at a crime scene.
Single Shot Exemptions (SSE)
For a while until 2015, many California residents utilized the "Single Shot Exemption" clause which allowed off-list handguns to still be sold in the state. However, this method of obtaining off-list handguns was closed when AB 1964 passed.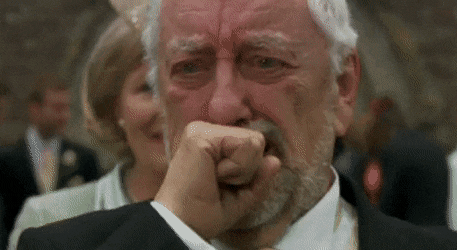 We're only mentioning it here because you'll find old references or people who haven't paid attention suggesting it as a means of transfer.
Bottom line — it isn't a thing anymore.
Current Status
Now the only way to obtain an off-list handgun is to buy it through a private party transfer. And because of this, you'll see that the prices of these guns are much higher than the standard prices elsewhere in the country.
Police officers are still able to purchase off-list handguns.
There are no exceptions made for military members either current or retired.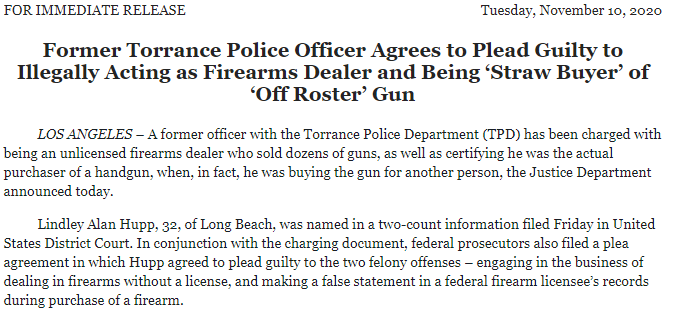 Best Handguns on the California Roster of Safe Handguns
If you're working within the bounds of what is on the roster, you might want to know what are some of the best and some of our favorites. So of course, we got you covered.
These aren't in a particular order or grouping, just some of the guns we recommend the most that are on the roster.
1. Glock 19/17 (Gen 3)
Sadly in California, our access to Glock ends with Gen 3, thankfully though the Gen 3 is still highly supported in models and aftermarket parts — partly because of California.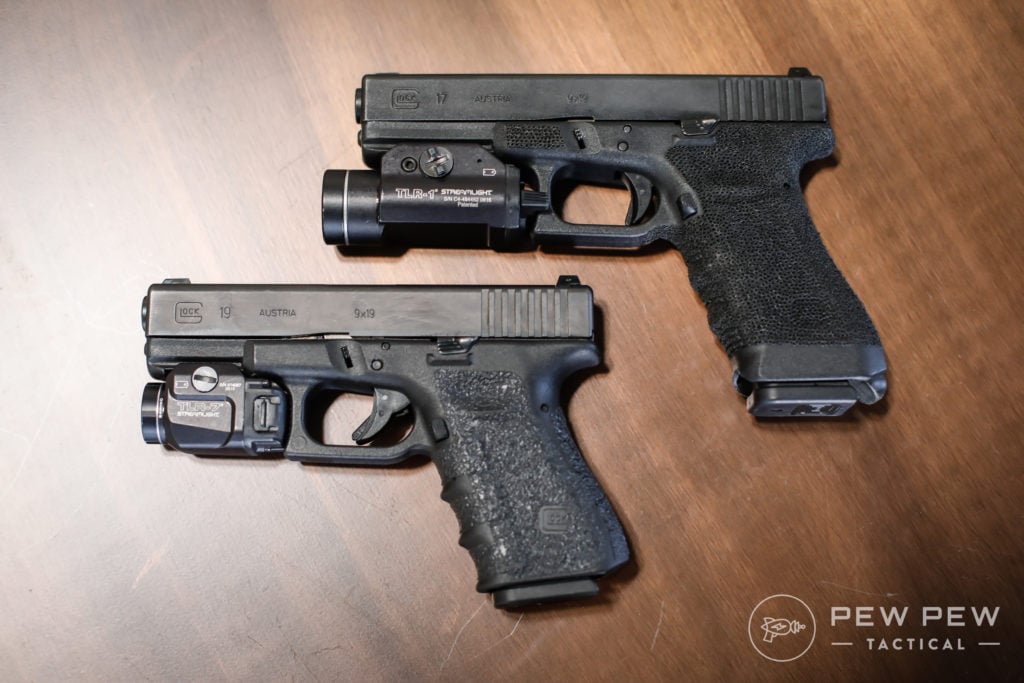 If you want the Honda Civic of guns, a Glock is perfect. It won't be flashy but it will be outstandingly reliable and has room for a host of modifications and upgrades.
One annoying thing about California is that (okay, one more thing) is that stripped frames aren't available.
Since every handgun needs to be on the roster to buy it and stripped frames aren't on the roster, you have to buy whole guns only.
This makes building a custom Glock a bit more annoying.
539
at Palmetto State Armory
Prices accurate at time of writing
Prices accurate at time of writing
2. Beretta 92FS / M9
I'm a huge fan of the 92 family, one of the first pistols I ever bought was the 92FS, and thousands of rounds later — I still love it.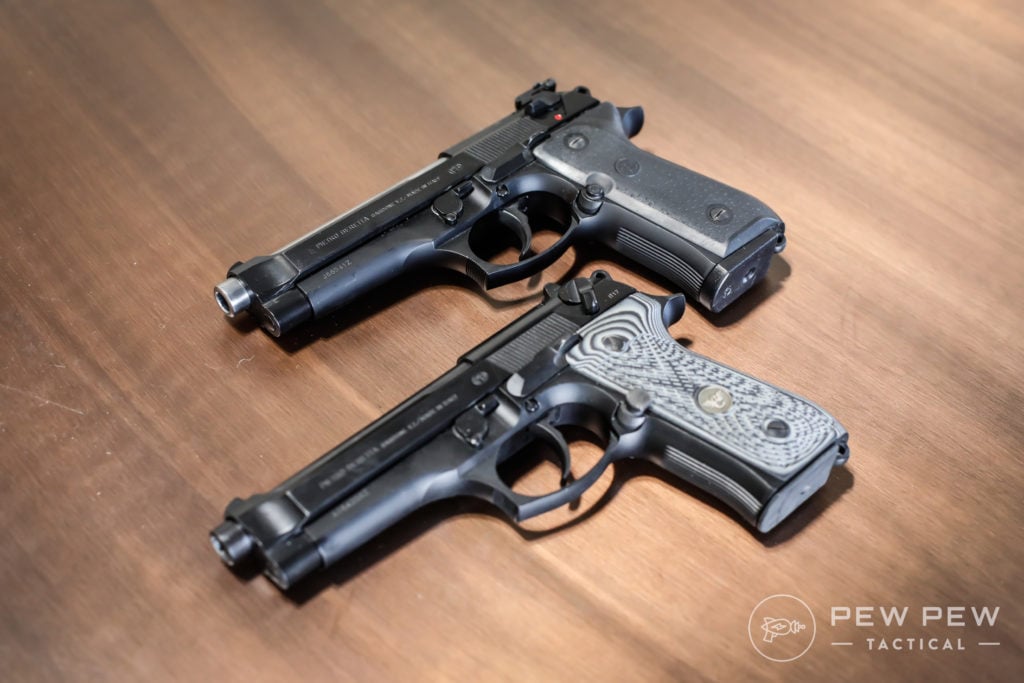 A classic in film and for our military there is a surprisingly decent selection of Berettas on roster for you to pick from.
If you want the pure classic style then the 92FS is for you.
If you want to mount a light, get a M9A1. If you want to get something a bit more fancy, take a look at the Elite II, Brigadier, or even a compact or Inox model.
Shockingly, we even have the 92G on roster also — that's the decocker only model and I highly recommend it.
If .40 Cal is your thing then check out the 96 family, we have a good selection of them available to us also.
629
at Sportsman's Warehouse
Prices accurate at time of writing
Prices accurate at time of writing
3. Bersa Firestorm
My personal EDC CCW gun and I love it.
Based on the Walther PPK the Bersa is a DA/SA single-stack .380 ACP pistol with a wonderful single-action trigger pull and a decent double-action.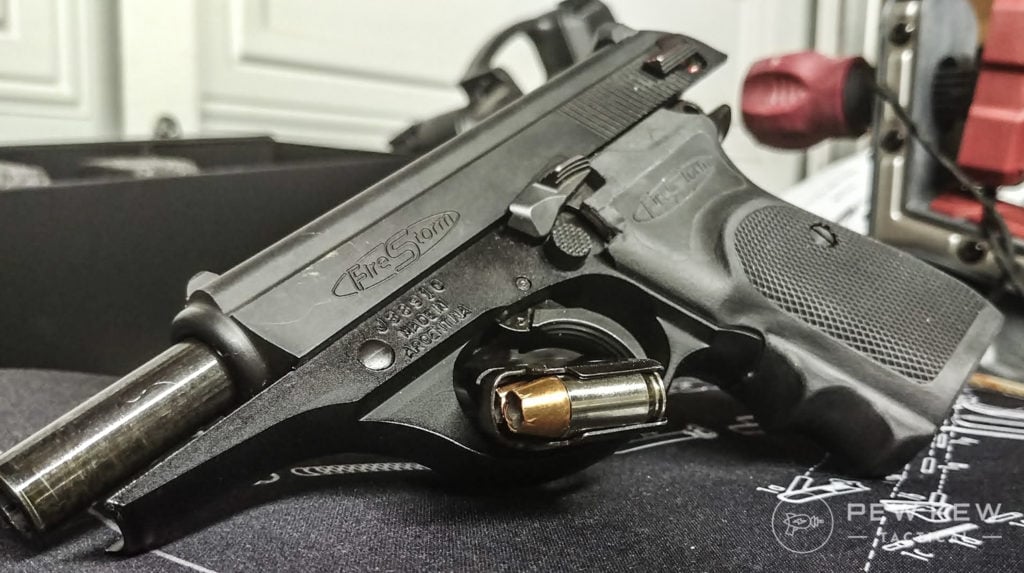 The sights are very Glock in their style and are easy to pick up and use.
Plus magazines are easy to find and fit my hand really well.
It's small, slim, and really easy to conceal carry.
Best James Bond CCW Clone
299
at Kygunco
Prices accurate at time of writing
Prices accurate at time of writing
You should take a look at my full review for all the awesome details!
4. CZ 75 B / SP-01
We LOVE the CZ 75 family, a lot in fact.
The 75 B is a more classic version and the SP-01 an upgrade and modernized version. Both are outstanding.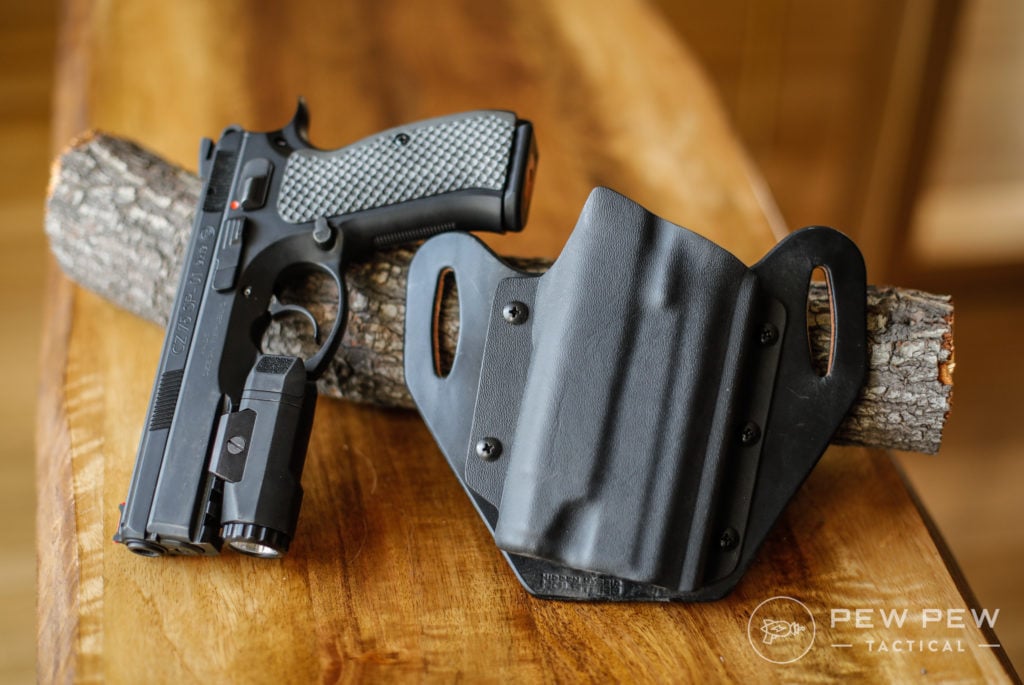 They also have a wide selection of options on the roster to pick from. While none of the newer and most awesome versions are available like the Shadow 2, we do have options.
Safety only, de-cocker only, single action only, you can get exactly what works for you.
These are full-sized guns that aren't lightweight so you might not want to EDC CC one — but they are amazing for competitions, range shooting, and long training days.
Best for Production Competition
786
at Kygunco
Prices accurate at time of writing
Prices accurate at time of writing
5. CZ P-01
If you do want to CC a CZ I highly recommend the P-01!
Again you have options in decocker or safety and magazines are easy to find.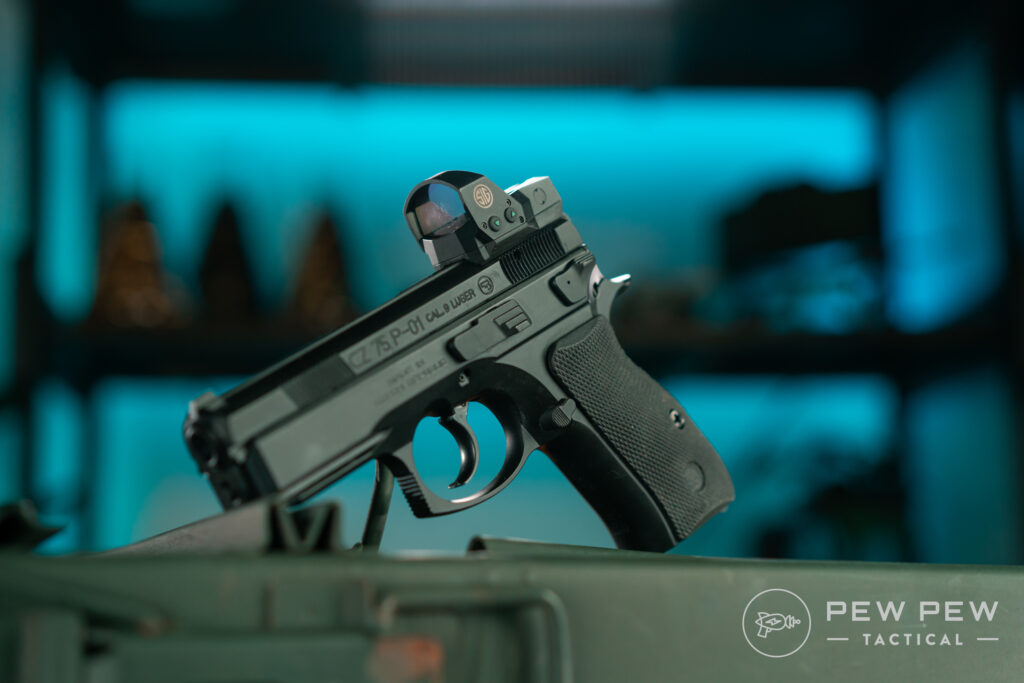 Best of all, it's basically an SP-01 just smaller. It has that strange magic rarely found in small guns that it doesn't feel small. It is small, but it doesn't feel like it in your hands.
It just fits perfectly for almost any hand size or shape.
730
at Brownells
Prices accurate at time of writing
Prices accurate at time of writing
We have a full review on it though so you can get a ton more information!
6. Smith & Wesson SD9VE
If you need a budget semi-auto the SD9VE is perfect.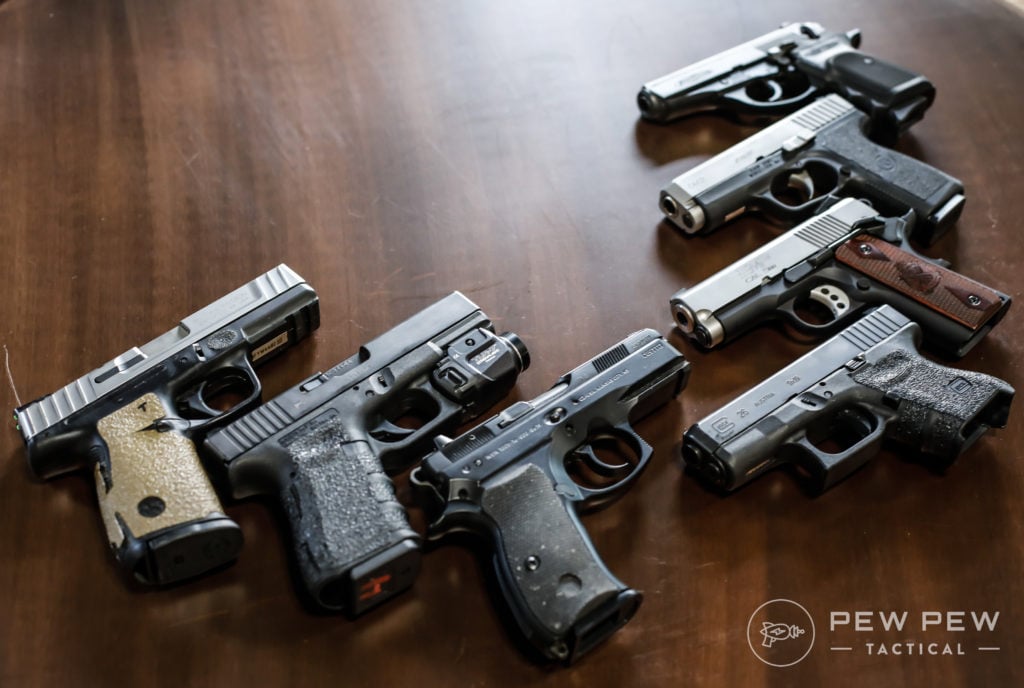 The trigger is mushy and horrible to use if you're used to good triggers, but if you're a new shooter this really won't be something you notice.
(If that trigger does bother you — APEX makes a drop-in kit that really improves the feel and weight.)
Beyond that, it's a great gun.
Basically a Glock design with a slightly different grip angle and almost half the price generally, the SD9VE is a great gun.
Best Workhorse
330
at Brownells
Prices accurate at time of writing
Prices accurate at time of writing
Tried the Smith & Wesson SD9VE? Make sure to rate it below!
7. Sig Sauer P226 / P220
A classic around the world and several options on the roster for you to pick from.
The P226/220 has been combat-proven since its release and continues to serve around the world for police and military.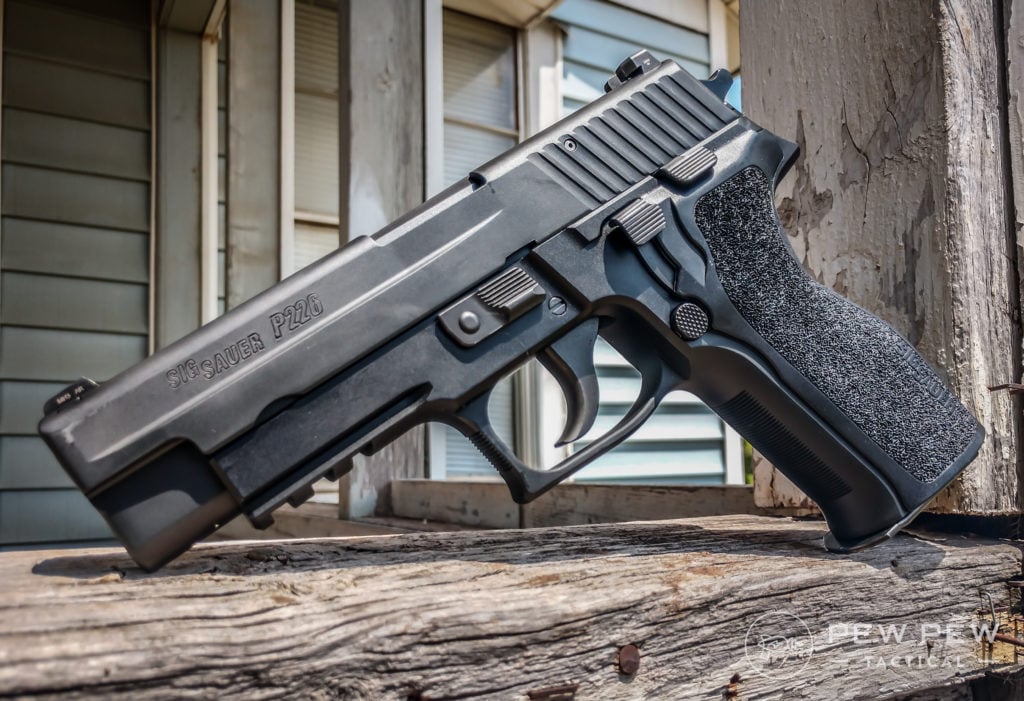 DA/SA, full-sized or compact, this is a beast of a pistol that won't let you down.
It's not as easy to customize if you want to trick it out, but it also doesn't need it very much. 9mm or .40 cal, both are widely available.
1413
at Guns.com
Prices accurate at time of writing
Prices accurate at time of writing
8. Wilson Combat 1911
This won't be cheap, but it is amazing.
1911s are outstanding guns and have a place in the modern-day, while they aren't perfect for everyone — they are awesome.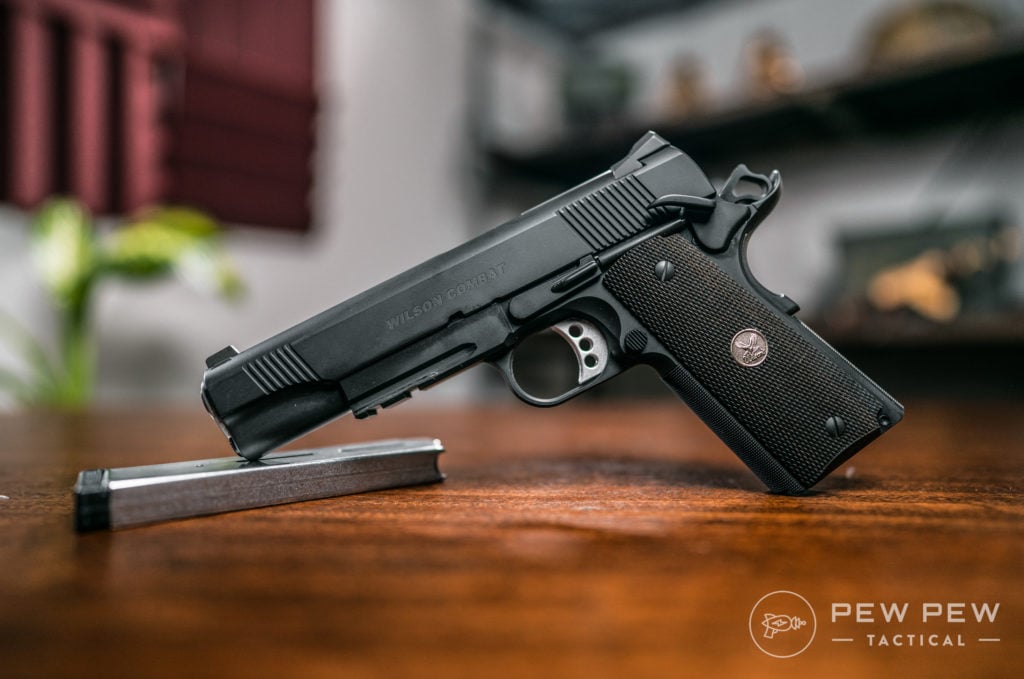 Sadly, we don't have options for anything really cool like a 2011 and only have a couple of not-great 9mm 1911s on the roster.
We do have a few Wilson Combat offerings though and they are all amazing. These are very high-quality 1911s with a glass-like feel and finish to them.
Great triggers made outstanding by Wilson Combat and reliability that is basically as good as a 1911 can ever become (very, very reliable).
Dream 1911
2199
at Guns.com
Prices accurate at time of writing
Prices accurate at time of writing
9. Smith & Wesson M&P Shield
Is it fancy? No. Is it sexy? No. What the M&P shield lacks in aesthetics it makes up for in durability, reliability, and just being a great shooter.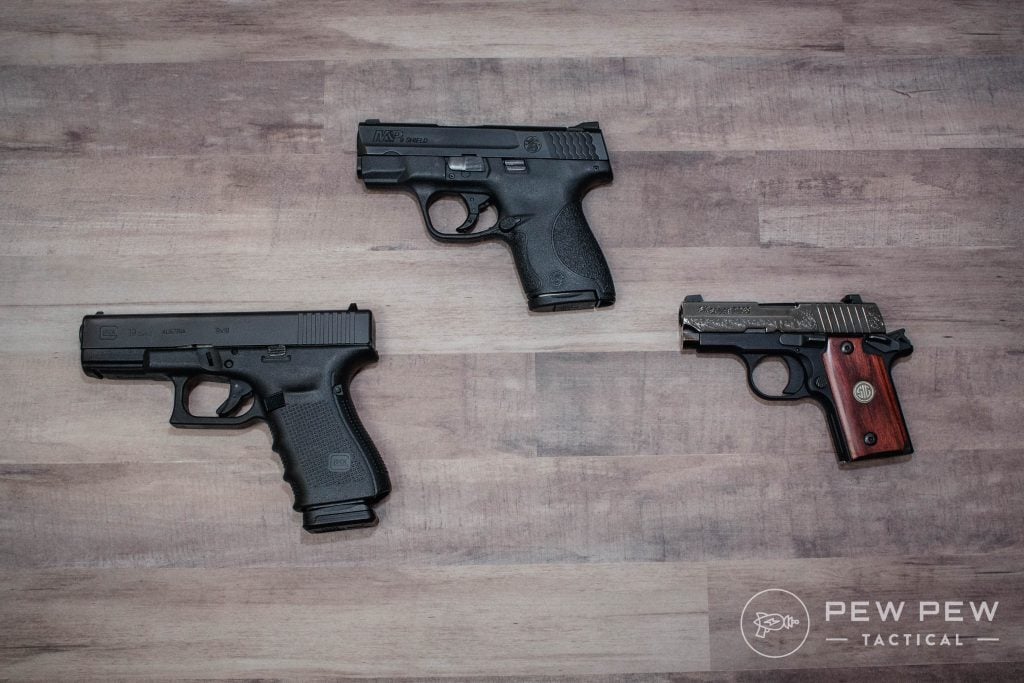 Small modern CCW guns are hard to find on the CA roster and the M&P Shield is one of the best.
We can't get the newest and best, but the version we can get are solid and we at least have a few color options to choose from like Black, FDE, OD Green, or Robins Egg Blue.
With a 3-inch barrel and an 8+1 9mm round capacity, these are great for CCW.
Great Value (Sub-Compact)
369
at Brownells
Prices accurate at time of writing
Prices accurate at time of writing
10. Browning Buckmark
For .22 LR pistols, we don't have many good options, the Buckmark is about the best we have and it's…passable.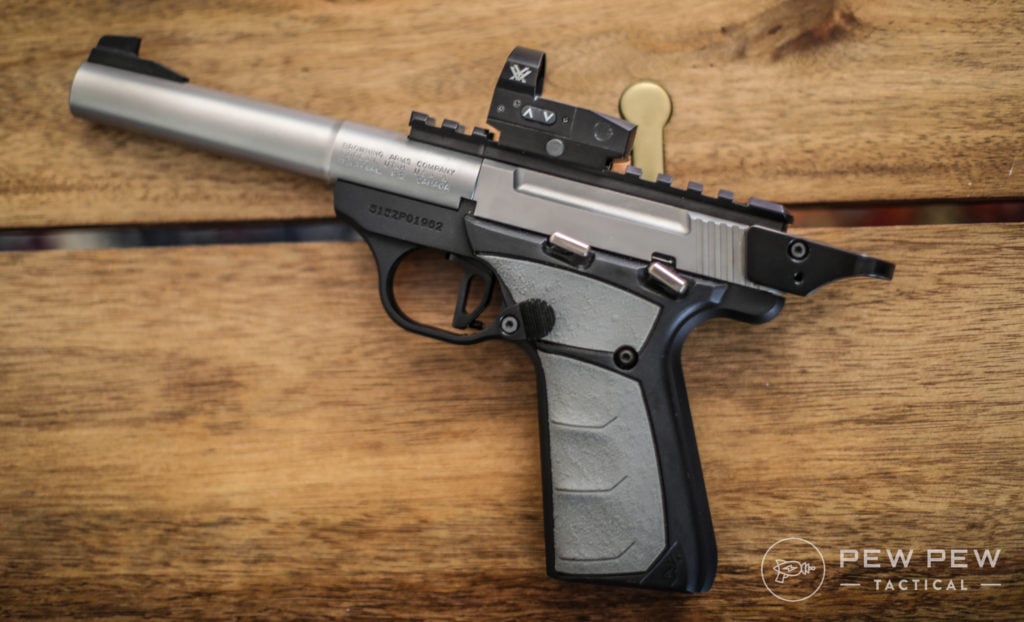 There is a good aftermarket though so if you want to trick it out you can.
Otherwise, it's reliable, easy to use, and perfect for when ammo prices are insane.
Editor's Choice
449
at Brownells
Prices accurate at time of writing
Prices accurate at time of writing
Future?
There are multiple lawsuits making their way through the courts but right now there isn't anything promising coming down soon.
We can hope and fight for our rights, but the grim reality is that it is unlikely to change anytime soon.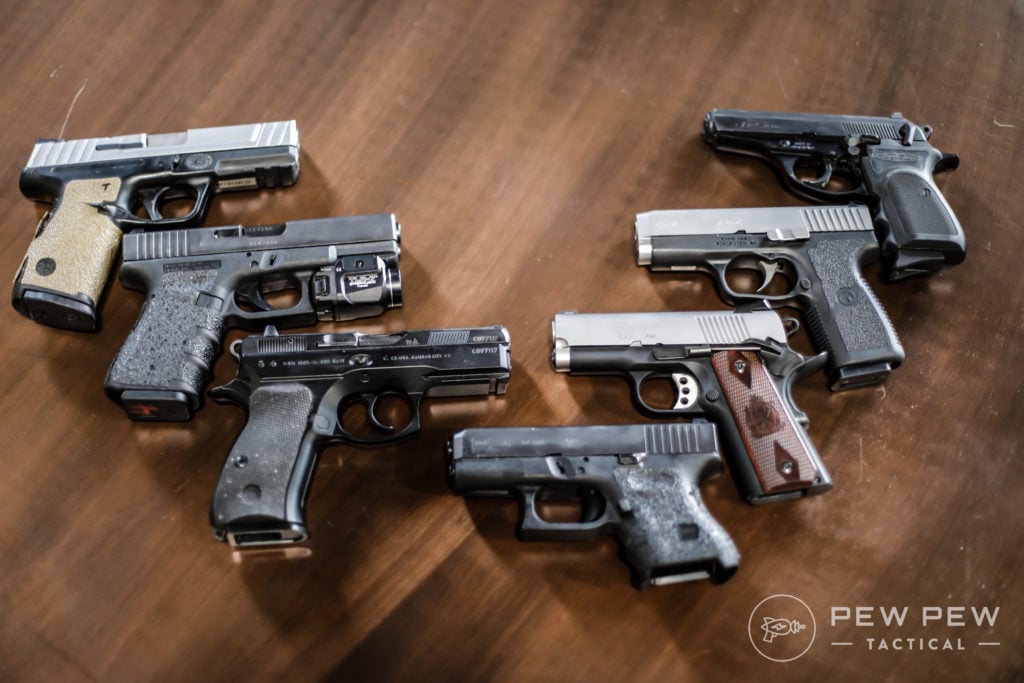 On the bright side, think about all that money you save by not being able to buy all the cool things the rest of the nation gets to buy!
What is your favorite CA roster handgun? Is something off-roster worth 2x MSRP to you? Let us know in the comments! Ready to buy a gun? Check out How to Buy a Gun in California.