The Glock 45 and Gen 5 versions of the Glock 19 MOS and Glock 17 MOS fleshed out the Glock lineup in 2018.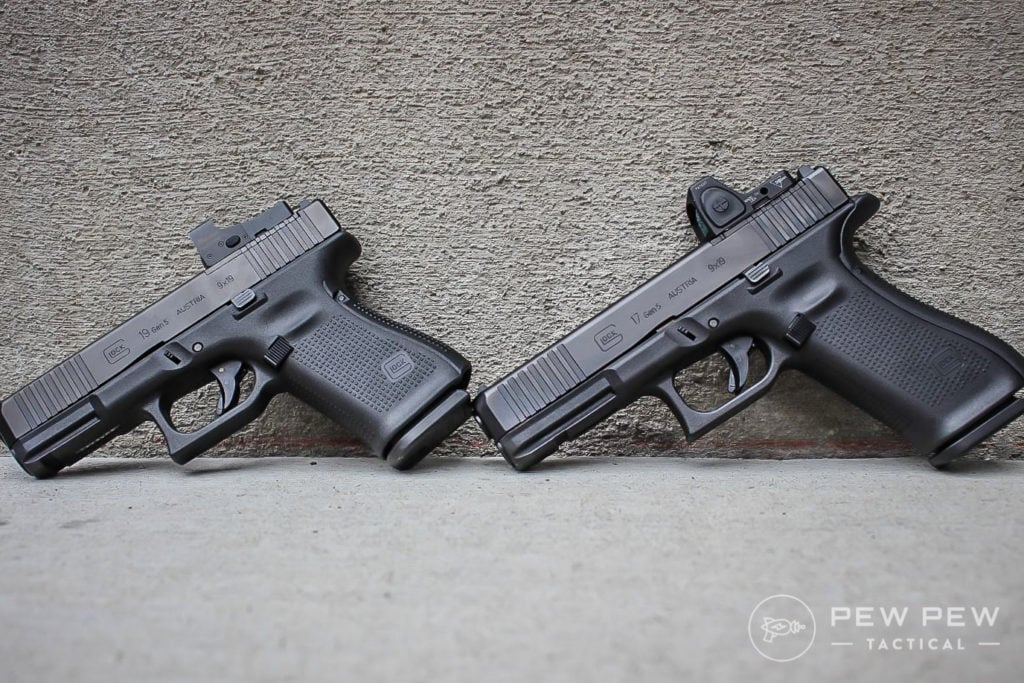 A very limited number of folks were able to try out these new heaters from Glock before they hit the shelves. But we were one of the chosen few!
So follow along as we walk you through the specs and notable features from this iteration of Glock pistols.
Table of Contents
Loading...
Glock 45: The Latest in Glock Evolution
It's not a .45 caliber. This is an issue for some people though it is lost on me. Glock has never produced a model number that coincided with a caliber of the same number.
(But while we're here in Distractionville, check out the G41; it is a tack-driving, 230-grain delivery system.)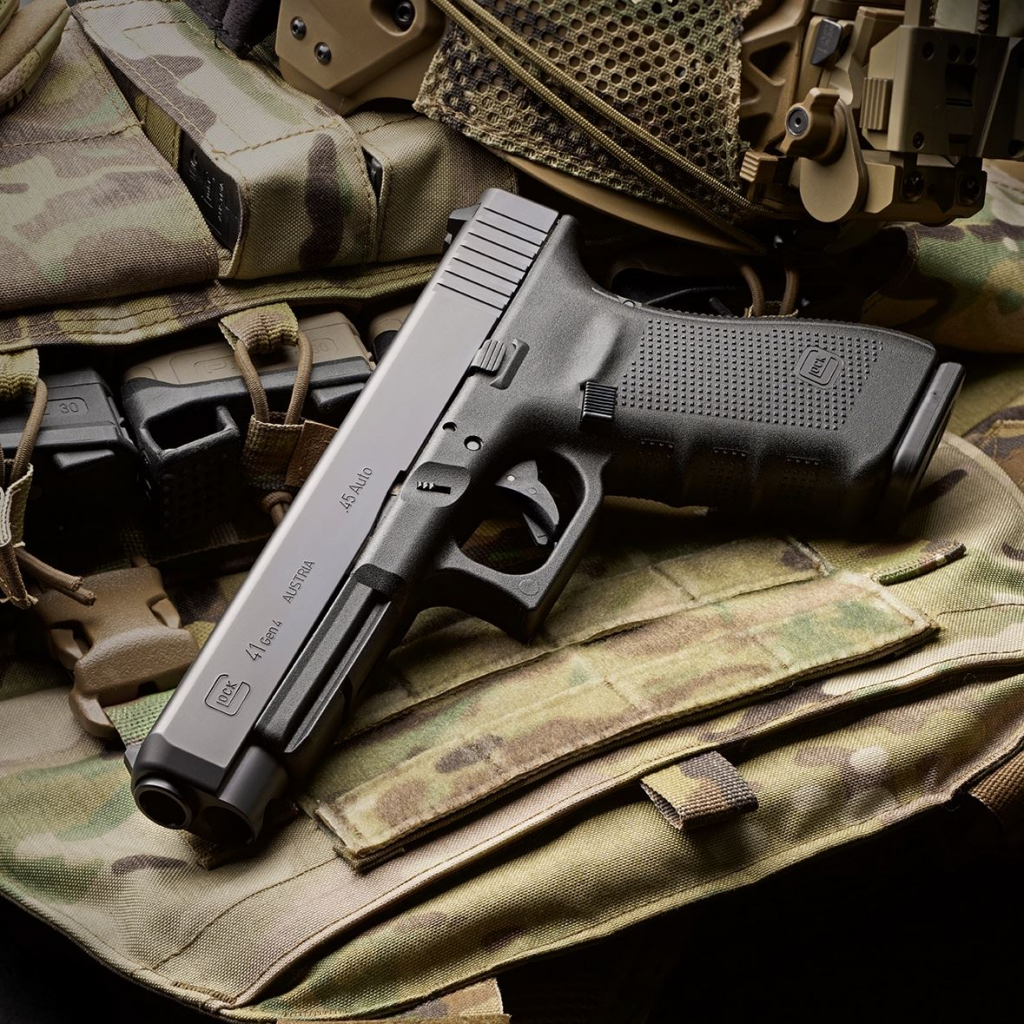 When the new Gen 5 Glocks were released, another impressive idea from the Austrian gun manufacturer came out simultaneously — the G19X. This gun was the result of Glock attempting to fill the requirements for the U.S. Army's MHS contract.
Glock called the G19X a crossover, a combination of the G19 slide with the frame of the G17.
589
at Palmetto State Armory
Prices accurate at time of writing
Prices accurate at time of writing
Why? The idea was you'd get the concealability of the G19's shorter slide with the expanded capacity and grip of the G17, a marriage made in heaven.
In response, many people professed to want a blending reared of the opposite values, namely, a long slide with a shorter handle.
The G45 takes the idea of the G19X crossover, combines it with the upgrades common to the Gen 5 series, and then enhances it with forward slide serrations.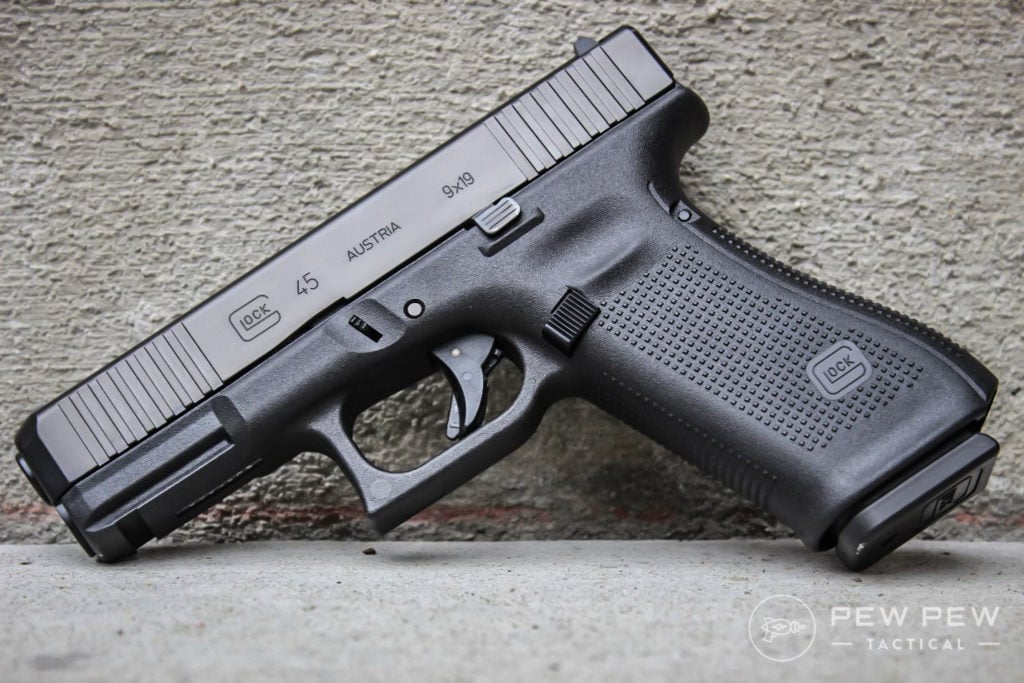 It is a wonderful combination that is largely targeted at that law enforcement market.
Glock 45 Features
The gun is black, unlike its predecessor, and has the frame of the G17 and the slide of the G19. For specifics, the slide on the G45 is 6.85 inches, according to the Glock website.
The G17 Gen 5 MOS FS has a slide of 7.32 inches… roughly half an inch longer, so we're not talking enormous differences.
539
at GrabAGun
Prices accurate at time of writing
Prices accurate at time of writing
However, when it comes to grip, size is critical.
My gloves are 2X, and this means if I don't use at least the "M" size backstrap add-on piece with the extended beavertail (since Gen 4), I will be experiencing some slide bite.
With the G17 frame, this is less of a problem. Regardless, Glock has you covered, as the fit is adjustable.
Range Performance
Call me a fanboy, but at this point in my life, if Glock made something that didn't just perform, I would be surprised.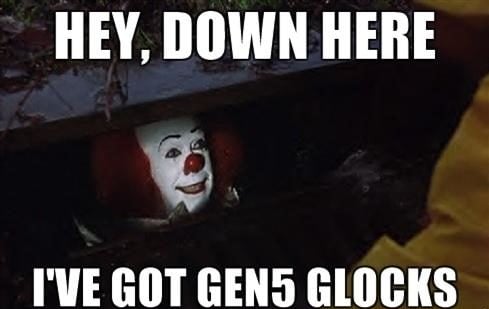 Please keep in mind that I am not a concealed carrier only. I served in law enforcement for 20 years and utilized firearms professionally for that duration.
That said, I had a chance to take all three guns out to the range. In short, they hold up to Glock standards, which are high, in my opinion.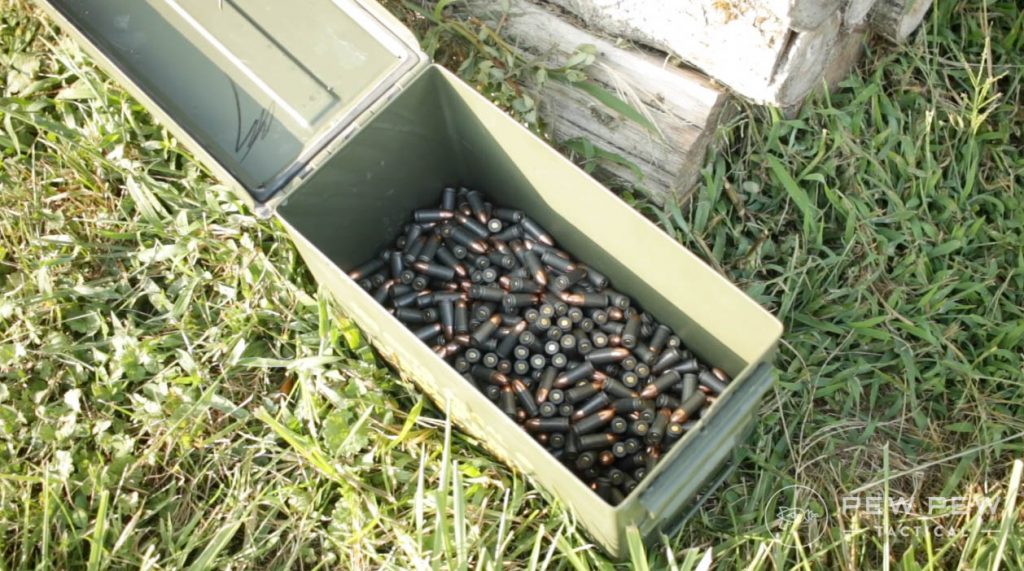 I ran a few different brands of ammo through them and found them to be wholly reliable. This wasn't an exhaustive test but an introduction.
The Glock 45 handled similarly to the G19X I had tested before. I am a big fan of the flared magwell though, and the forward slide serrations. This just makes sense to me.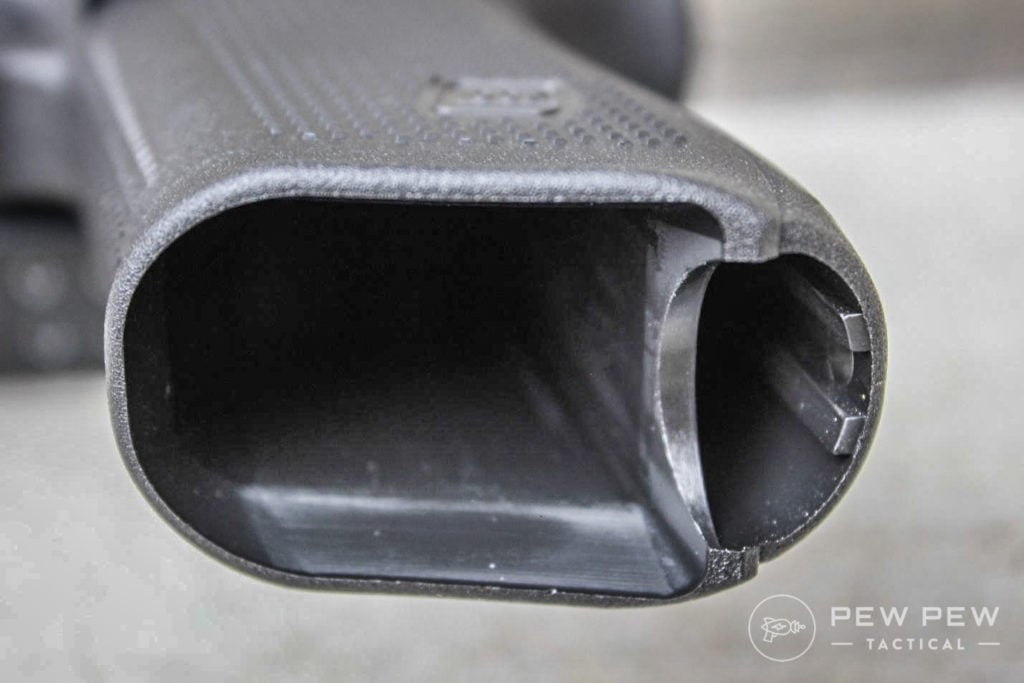 I was able to engage my target at various distances and reload using the flared magwell in conjunction with the forward serrations. Ultimately, I believe this process will become faster for me with practice.
The benefits of the crossover were evident to me immediately, I was able to maintain a substantial grip on the weapon without slide bite, and it was still small enough to conceal with minimal effort. Let's be honest, this isn't a bikini gun, but you can tuck it away with some planning.
I had good accuracy with the standard Glock sights, though this is always a minimum standard and can be improved upon.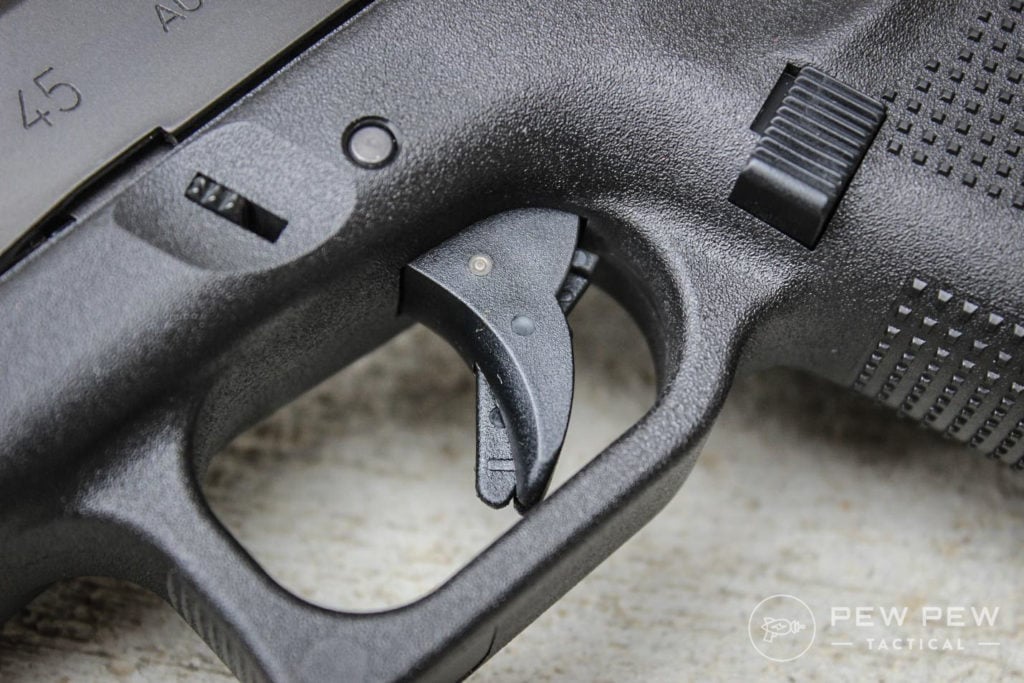 Glock 19 & Glock 17, Gen 5: Modernized and Upgraded
In addition to testing out the Glock 45, I also got to try my hand at the Gen 5 Glock 19 and 17 MOS.
Glock started the Gen 5 rollouts a while back with the Glock 34 and Glock 26. Both are excellent choices in 9mm, one (G34) being the big daddy long-slide competitor and the other (G26) being the stubby concealed carry or backup gun.
Gen 5 essentially meant the guns all shared some common traits.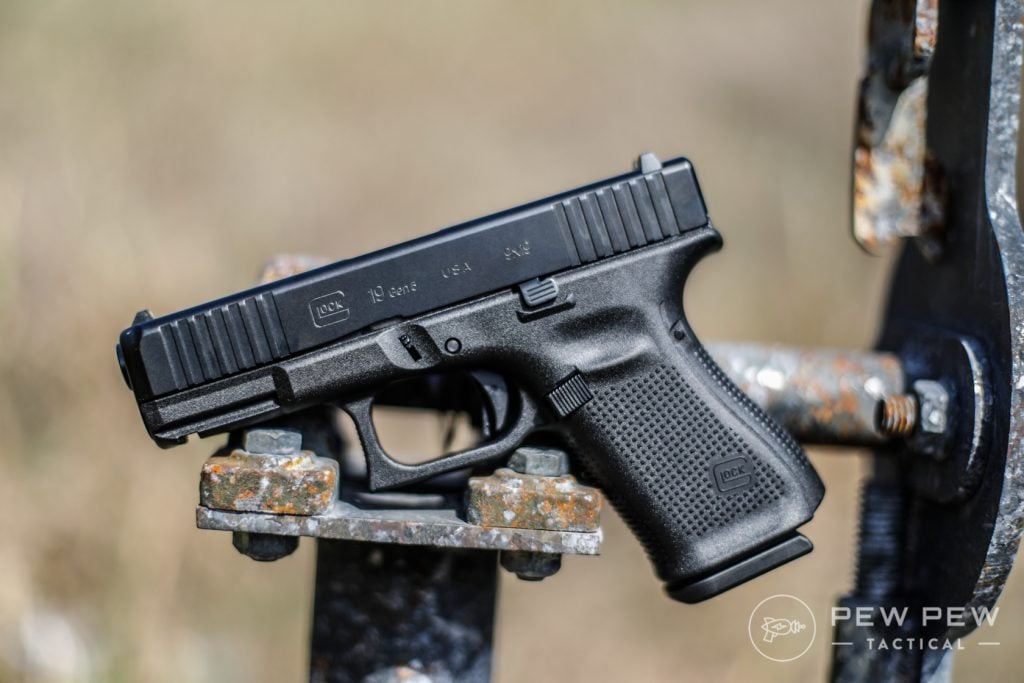 First, they were coated in a diamond-hard nDLC finish which is super black. This exterior is tough and also has lubricious properties.
In addition, the Gen 5 series was given the Glock Marksmen Barrel, promising improved accuracy. One of my favorite upgrades was the flared and beveled magwell, greatly aiding in reloads.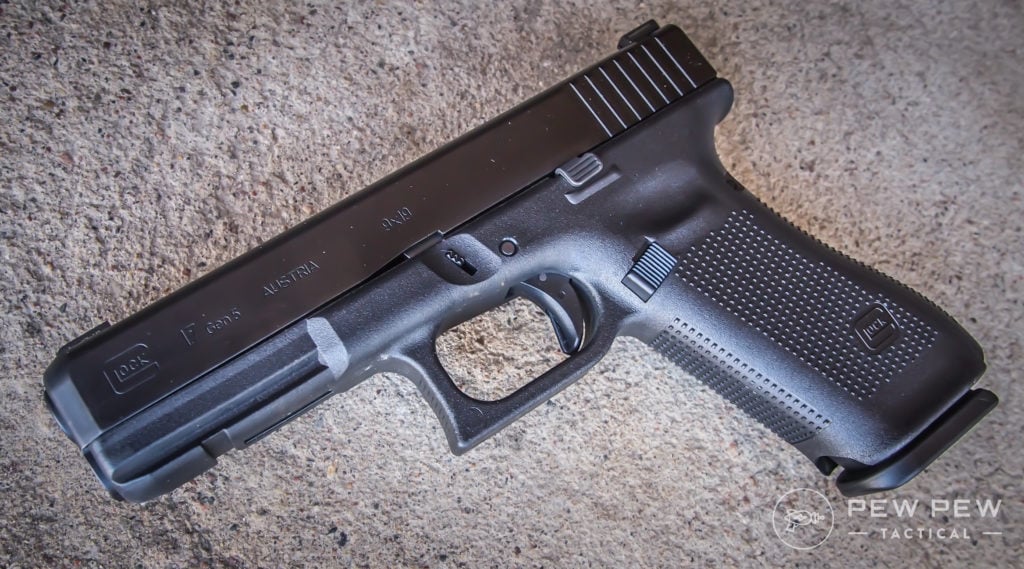 The trigger was better, being smoother and having a quicker reset.
Plus, the magazine was given an orange follower, which visibly indicated an empty chamber as well as showed you how many rounds were present in the magazine.
620
at Brownells
Prices accurate at time of writing
Prices accurate at time of writing
The Gen 5 Glock 17 and Glock 19 MOS were just added to the line. These are likely two of the most prolific handgun models in the world right now, and their Gen 5 MOS upgraded versions are a credit to their lineage.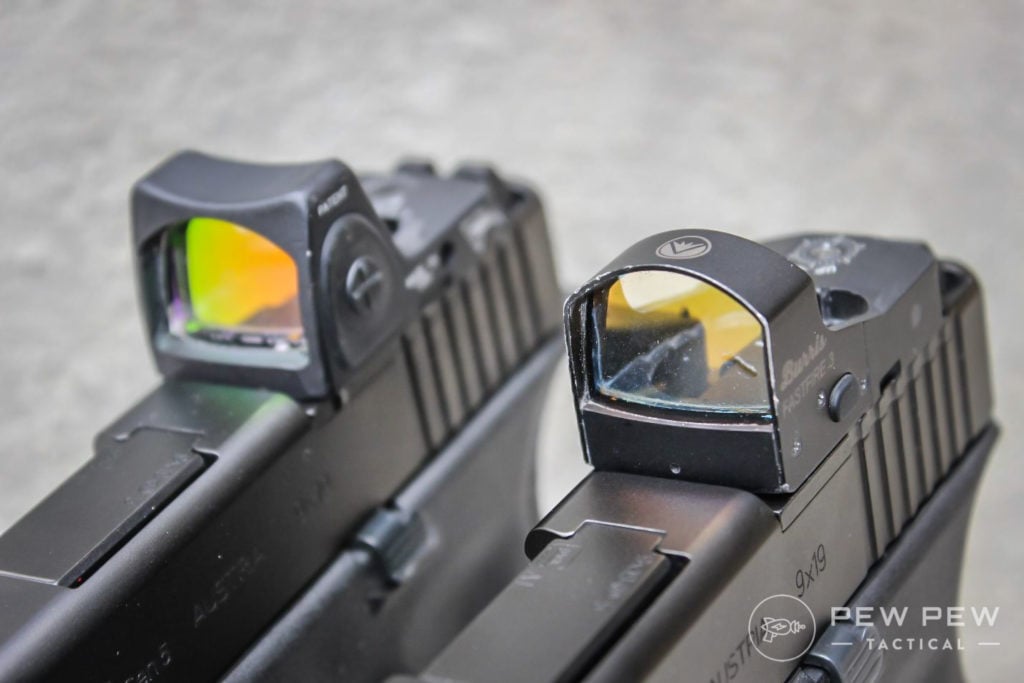 They are still essentially the same, the G19 being the compact version and the G17 being the full-size, though they benefit from these Gen 5 enhancements.
699
at Palmetto State Armory
Prices accurate at time of writing
Prices accurate at time of writing
Gen Glock 19 MOS & Glock 17 MOS: At The Range
The Gen 5 G19 and G17 MOS were impressive. Individually, I mounted the Trijicon RMR Type 2 on each gun for testing.
On the G19 it was dead on, and I punched a ragged hole in my target.
On the G17, it was slightly left for some reason, and I still punched an ever-growing, ragged hole in my target. I find the MOS system allows me quicker sight picture and recovery after recoil.
Best Pistol Red Dot
454
at Amazon
Prices accurate at time of writing
Prices accurate at time of writing
By The Numbers
Ergonomics: 4/5
As I mentioned above, I have had other guns that just fit my hand better out of the box. That said, the newer generations of Glocks do a great job of fitting a wide variety of hand shapes. And for those who are left-handed, the Glock can be converted to suit you!
Accuracy: 5/5
I have hit man-sized targets with my Gen 4 Glock at 100 yards, so I'm sure these will be no different. The Glock Marksman Barrel is supposed to be capable of putting up 4-inch groups at 50 yards. That's impressive.
Reliability: 5/5
While Glock isn't the most beautiful firearm in the world, it is one of the most reliable. You can bury them in the ground, drag them through the mud, or even hold them underwater, and they will still work.
Customization: 5/5
Because of the sheer amount of these guns in the world, there is a large aftermarket, meaning a lot of customization options.
Looks: 3/5
As much as I like Glocks, I have to be honest. They aren't as attractive to me aesthetically as, say, a 1911. However, they are terribly functional, and that is an aesthetic in and of itself. Function > Form.
Value: 4/5
While I have not seen MSRP on these models yet, I feel like Glock does a great job of creating value. If performance and all other aspects are the same, the price of these guns is incredibly competitive compared to other companies.
Overall: 4.5/5
539
at GrabAGun
Prices accurate at time of writing
Prices accurate at time of writing
Final Verdict
Some folks will react to these Glocks with a "meh" mentality… but I fall into the other category.
I use my tools professionally and think any advantage I can gain in a possible gunfight is an investment worth making!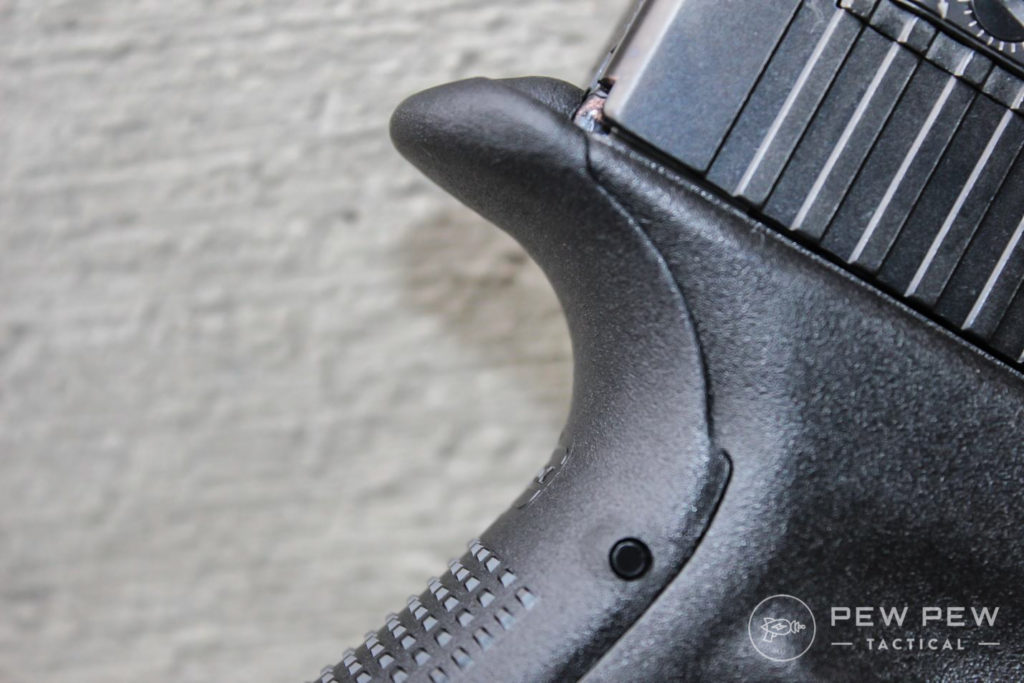 Irrespective of your position on Glocks, these models are some of the best offerings in the Glock lineup. Many of the features seen on these models are a direct result of Glock's watching the aftermarket and seeing what customers want.
What do you think about the new Glock 45 and the Gen 5 in general? Tell us in the comments! It's probably no surprise, but a few of these showed up in our best Glocks list — check it out!