Sometimes when we talk about serious topics like home defense and concealed carry, and even improving skills for competition, we neglect to think about the raw, unadulterated fun that can be had (safely and legally) with firearms.
And of course, when it comes to firearms, is there anything much more fun than dumping a magazine on full-auto down range?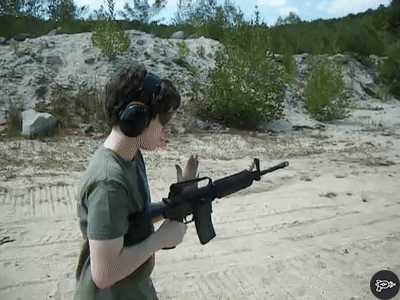 Of course, we puny civilians will have a hard time owning anything full-auto.
Enter the Franklin Armory BFSIII Binary Trigger to change that.
Normally, a full-auto AR-15/M4 is going to run you somewhere around $4,000 (if you have the dealer's license for a Dealer Sample) or $20-30,000 for us normal folk, plus a tax stamp, and a long wait period. This guy above costs around $400. 
Let's take a look at just what this fun little range toy does.
**Update 3/26/2018**: Since I wrote this review, new legislation has been proposed to ban bump-stocks and binary triggers as well as other similar devices in many states following the use of a bump stock in the Las Vegas shooting, and such devices are now banned from appearing in YouTube videos. 
They are also illegal in Florida, Washington, Massachusetts, New Jersey, and other states, with legislation to expand restrictions on the table in more places. 
Be sure to check your local, state, and even federal laws before purchasing. It may come to pass that purchasing these things now will allow you to keep it later and it'll be grandfathered in under new legislation, but you may also have to surrender it, depending on your local laws. 
Something to keep in mind. I don't want anyone (particularly gun owners) angry at me because I recommended they buy something they ended up in legal trouble over, or had to surrender without compensation. 
**Update: 12/19/2018** Due to new Federal restrictions, bump-stocks will become illegal to possess in 90-days. This is currently being challenged in court but that may or may not void the order.
Until such time, assume bump-stocks will be illegal soon. As of this update, binary triggers are NOT a part of the new ruling banning bump-stocks on the Federal level–but binary triggers remain illegal in some states due to state-level law. Check your local laws before buying!
What is a Binary Trigger?
A binary trigger is a drop-in replacement trigger that allows you to simulate full-auto fire in a semi-automatic weapon. This thing dramatically increases the fire rate of a semi-automatic AR-platform firearm.
Is it as fast as a true fully-automatic weapon? I don't exactly have an M4 on hand to compare, but looking at my splits with shot timer, I'm getting about 400 rounds per minute (obviously with a 30 round mag) which is a little under half the fire rate of a true full-auto rifle.
That being said, it is a marked increase over a regular semi-automatic rifle, so you are getting what you pay for. It's a $400 solution to a $4,000 (minimum) problem, but for all that it works damn well.
Installation
I've installed, swapped, changed, replaced, and repaired literally hundreds of triggers in my day, and this one was neither the easiest nor the hardest one to work on. I would say if you can follow our guide to building an AR-15 lower, you'll be fine.
It took me about thirty minutes, and most of that was getting the previous trigger out of the gun I tested it in (and finding my freaking punches that rolled under my bench at some point).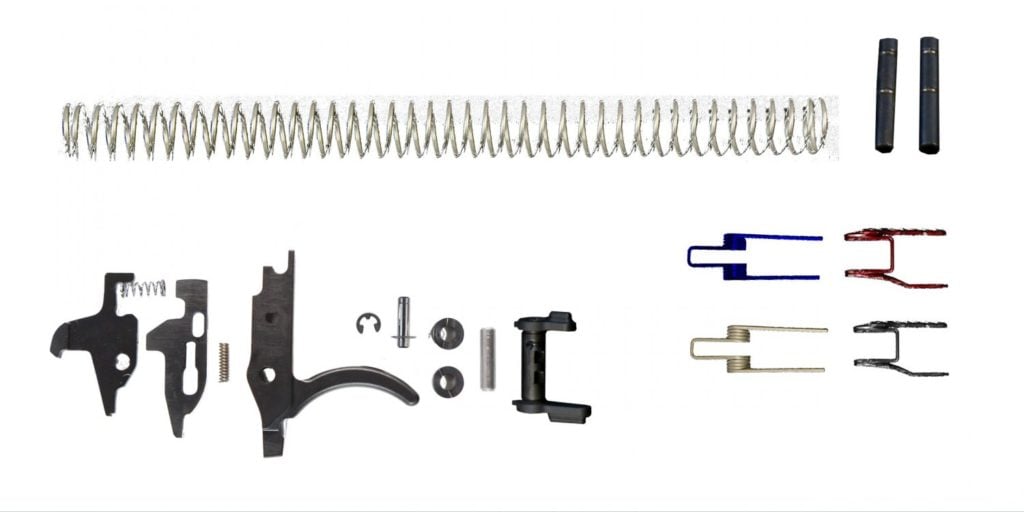 How Does it Work?
Binary triggers like the Franklin Armory BFSIII work by releasing the sear on the pull and release of the trigger when in binary mode, though you can also easily flip the three-way fire selector to regular semi-auto.
This effectively doubles your fire rate and can give you some very close two round groups, to the point where I could land two hits in the A-zone at 25 yards with one trigger pull.
Here's Franklin Armory's take:
"The revolutionary Binary Firing System™ will be appreciated by three gun competitors, tactical shooters, and recreational enthusiasts. It features a three position selector that allows the user to switch from Mode 1 for Safe, Mode 2 for traditional Semiautomatic Mode, or Mode 3 for Binary Mode. In Binary Mode, the firearm will discharge one round with every function of the trigger whether a pull or a release. A user can negate the round that would otherwise be fired during the release function by simply moving the selector back to Mode 2 and then safely releasing the trigger."
Which of course sounds great, but how does it perform in the real world?
Shooting the Franklin Armory Binary Trigger
So, with that in mind, how does this thing really shoot? Pretty well, it turns out.
Now, don't get me wrong, it doesn't feel as nice as a say, a good Geissele or Timney trigger, not even one you can get for half the price of the BFSIII.
199
at Brownells
Prices accurate at time of writing
Prices accurate at time of writing
That being said, it is a marked improvement over a standard mil-spec trigger from a parts kit in every way, Binary Firing System be damned.
As far as actually using the thing at the range, if you want to rip crisp, clean, easy double-taps, this thing is awesome. 
I like being able to use my rifle in a regular semi-automatic mode. I like being able to switch to Binary mode and rip a few quick shots off at a target and the hyper-rapid ping-ping on steel is addicting.
If you're a competitor, you could do better. I don't actually agree with Franklin Armory's assertion that this thing has any real use in a competitive environment.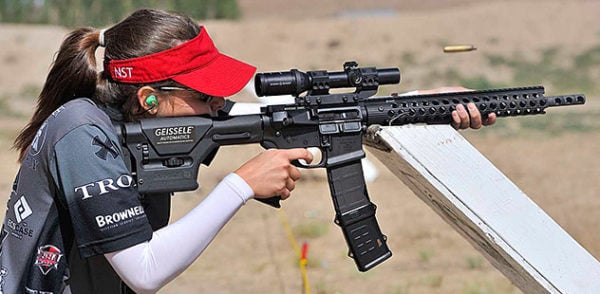 It's not going to give you a real advantage unless you're holding the second round and using it to engage a target on the release of the trigger, which seems unsafe to me.
Definitely, don't try that while you're moving. Tripping while holding a loaded rifle is never a good thing, especially when you have your finger near (or worse on) the trigger, but this danger is amplified a thousand-fold when the release of the trigger also sends a bullet down-range.
Practical Applications
In short… eh? Maybe. Kinda. It depends. But not really, no.
When I say it depends, I say that because it depends on whether or not you're actually getting it to defend yourself, or you're trying to convince a spouse to let you spend $400-$500 on one by extolling its practical uses.
If you haven't trained with a full-auto weapon, it's going to be more of a hindrance than a help in almost any practical defense situation.
I suppose, yes, if you need to suppress an intruder's position so a family member can flank them and take them out, maybe it's better? You could at least make the argument.
But that situation has happened a grand total of zero times in a home defense scenario. You are not John Wick.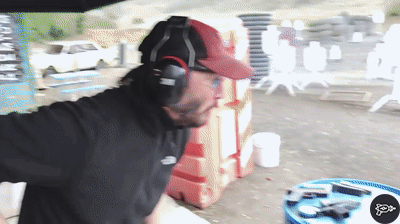 I cannot conceive of a case where I'd want one of these in a self-defense rifle over a good precision trigger.
It's also worse in every way except the rate of fire in a competition setting. No one has ever needed full-auto in a 3Gun match, and if anything you're going to be wasting ammo, time, and effort if you're using binary mode.
And if you're not using binary mode, why not just get a better, purpose-built 3Gun trigger? 
It's not a particularly precise trigger, with a little bit of grit and a break that's just shy of what I'd consider acceptable on a competition gun. 
So, what are the real practical applications? Well, it's a great way to drop a lot of brass on the floor.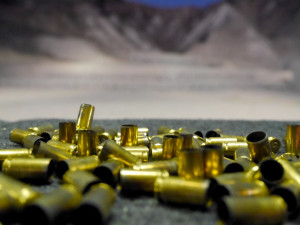 Beyond that, it is really, really, really fun. Like a lot of fun. Definitely worth the $400.
And I think, if we're honest with ourselves, most of us gun owners don't have a practical use for all the cool toys we have lying around. I know I sure don't.
So, taking an honest look at this thing, it's not really necessary. It's not going to give you an edge in a competition, or an edge over someone seeking to do you harm.
You should absolutely buy one though. It's an absolute blast, and if you've ever wanted to experience fully-automatic fun at the range, this is the cheapest path to entry you're ever gonna have.
Parting Shots (and another warning)
Overall, I quite like the BFSIII, I think it's a great piece of engineering, and it absolutely does what it claims to do. I take issue with some of Franklin Armory's marketing on what this thing is actually good for, but I think that's more of a case of wishful thinking on their part than it is actual malice or an attempt to deceive anyone. 
All in all, it's a great little piece of kit, American made, and it's fun as all get out. It's also one of the best ways to turn money into noise at the range, and that alone makes it worth the cost of admission.
Now, I do have to again bring up the fact that there's legislation being bandied about right now that would ban these devices. So check your local laws and make sure you're not committing a felony.
But as long as it is legal for you to own, I highly recommend it–it's just too fun not to have! Especially if you pair it with a .22 LR AR-15 so that all of that binary shooting doesn't run you bankrupt.
Take a look at our Best AR-15 in .22LR article for some great recommendations!
389.00
at Brownells
Prices accurate at time of writing
Prices accurate at time of writing
I'm curious to see what you all think about this so be sure to drop me a line in the comments letting me know how you feel and let me know what you think about the BFSIII Binary trigger in general.