If you follow competition shooting at all, the name Taran Butler has probably come up a time or twelve.  
In addition to being the twenty-three time Southwest Pistol League Champion, five time California State Three-Gun Overall winner, five time USPSA Multi-Gun National Tactical Champ, two time IDPA National Champion, and the USPSA Multi-gun First Ever Triple Crown Champion (I'm stopping here because both his ego and the article are already large enough)  he's also well known as the founder of Taran Tactical Innovations, one of the most prominent custom gun and gear shops around. 
In my personal opinion, his success is also big part of why you see lighter, more maneuverable 16″ ARs in 3Gun now vs the early days of the sport.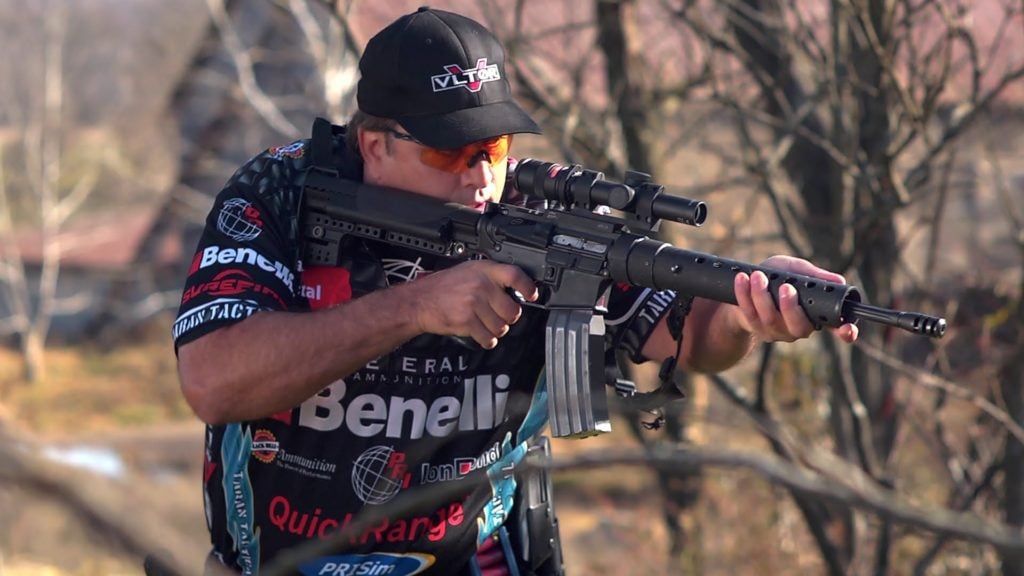 Oh, you may also know him as the guy behind the fancy gunplay in the John Wick movies.  He's the guy coaching Keanu Reeves in that viral training video we all saw awhile back.
That's Butler on the timer in the background. 
So, being a gun nut and a movie geek, as well as a fan of his work both in the movies and on the range,  I really wanted to talk to him.  And being a generally awesome dude, he agreed to let me pick his brain about guns, gear, and some of the awesome action in John Wick 2, and what we might see in the sequel.
Note: Responses are from notes taken over the phone.  This interview ran almost an hour, and has been edited for clarity and condensed.  Still, Taran Butler is a man who loves his work and loves to talk about it.  I'm a gun nut and a movie nerd.  Strap in folks, this is a long one.
So, you've done a lot of movies, but how did you get involved with John Wick 2 in particular?
There was a friend of mine that I had been on a shooting team with, Mike.  He's also a Grandmaster competition shooter.  His daughter started doing martial arts training with JJ Perry.  
JJ Perry is a second unit director/stunt coordinator working with a company called 87Eleven.  87Eleven is a stunt company run by Chad Stahelski and David Leitch.  They directed John Wick: Chapter 1 together, and then of course David went on to do Deadpool, and Chad handled John Wick: Chapter 2 on his own.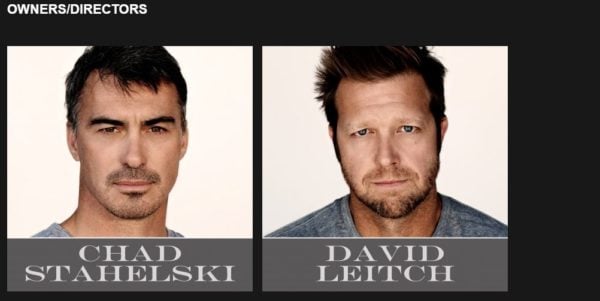 Together, they've basically created this elite stunt and filmmaking group, and for this movie, they wanted to try and get training on a different level than the law enforcement and military training that Hollywood normally does.  They approached Mike because they had seen him shoot, and knew about his competition background, but he felt he didn't have the time to really give them what they wanted, so he steered them my way.  I had been involved with other projects in the past, 13 Hours, things like that, and had worked with actors, and you know, had the range for it right there.
So, he called me up and said he had an actor that wanted to come out and train. Okay great, who is it?  And he said "Keanu Reeves". Damn, okay.
Wow
So, crazy story, back in the early 90's I was an extra in Speed, and you can actually see me driving the car behind the bus at one point.  So, fast forward to here and now, Mike set everything up, JJ called me, he came out, saw me shoot, and that was it, he was hooked.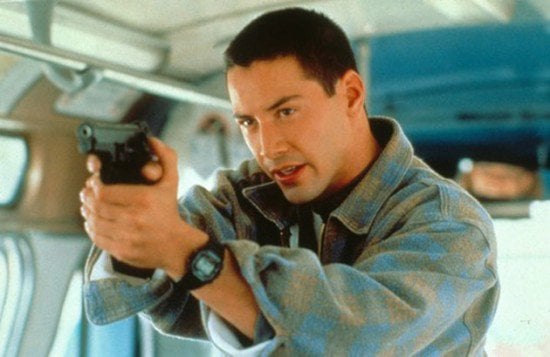 So then Keanu came out, and keep in mind I've trained other actors, and usually they just want like three or four hours of training one day so they don't have some dorky cup-and-saucer grip or something else stupid and blow it.
Keanu wanted to be next level.  He's kinda never satisfied, and you can see that in some of the YouTube videos where he wants to go again, try and go faster, get better and better, and that attitude is why he's so good.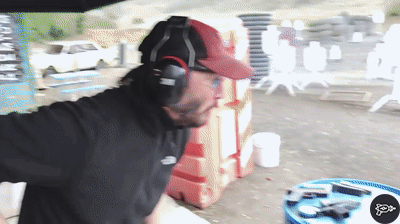 Training him, and it's been years now because he's a regular at the range, has made me a better trainer.
What is that like, training people like that?  Is there a starstruck moment where you go "Oh, there's no way freakin' Neo's at my range." or is it all just another day?
Well, about twenty years ago, to the date almost, I had my first real Hollywood experience.  Another friend had called me up and said he wanted to bring James Cameron out to the range.  My first thought was "No way. My favorite director ever? No way".
Well, the day finally comes, and I didn't have the range like I do now, so I had just some water jugs and cans up on the hill, thinking this was like a one time thing.  Well James Cameron shows up in this beat up old Hummer that he has, and he has a small entourage of people with him.
Now, I had all these assault rifles, AUGs, H&K's, stuff like this laid out, and James walks right past all this stuff and comes up to me and says "So I hear you're some kinda badass handgun shooter. Show me what to do."
I mean, he's alright I guess.
So I start working with him. He has this brutal weaver stance and a semi-cup-and-saucer thing going on with his grip.  So I start working with him and changing this and that all of a sudden he just goes "Stop!"
And I'm like, oh shit, James Cameron just yelled at me a little bit.  Now he's one of the sharpest guys I've ever met, that anyone has ever met, so he goes "Before I change all this, let me see you shoot".  
Good point.  So, I start getting nervous like this is a match. I have to shoot in front of my favorite director, if I screw this up I'm going to look like an idiot.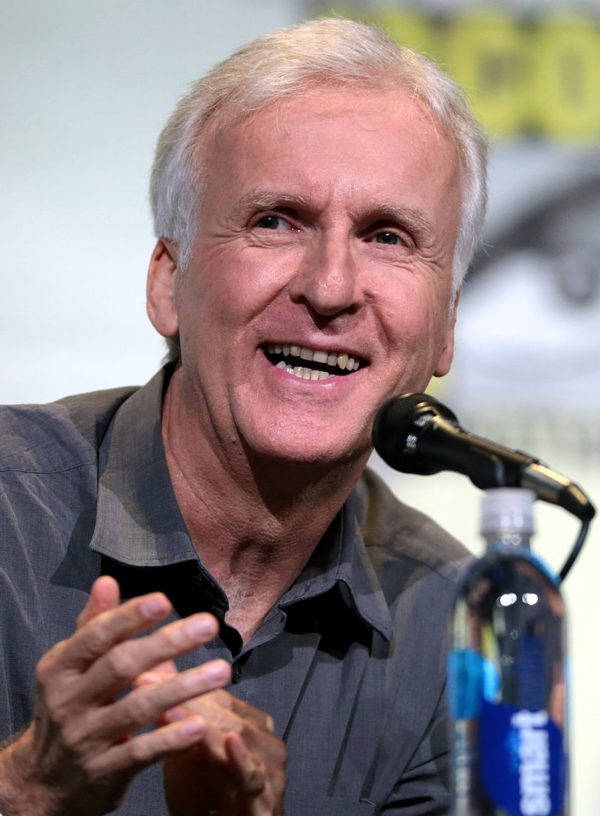 So I set up some targets and I shot just…raging fast, double tapped each one really clean, and re-holstered like I was in a Western.  I turned around and he's looking at his guys like "Holy shit, did you see that shit?"
And then he handed me $10,000, which was the most money I'd ever seen at the time, and he goes "I want to come here every week till I'm as good as you".  And since then, he's been coming here and I got him into 3Gun, and all this stuff, and I've even gotten to work with him on some projects.  So, from very early on when I started doing this type of thing, I've had moments like that, which makes it easier.
When you were training Keanu, were you trying to train for the choreography that was planned, or was the choreography and the things we see in the movie based on the training?
A little bit of both.  They wanted so, so much stuff.  Pistols, shotguns, AR-15's,  he had to be able to load a shotgun on camera, and of course quad-loading is all the rage, but no one goes into combat with quad-loaders on.  You bump a wall or try to put on a jacket and you drop shells everywhere.  (ED: Having done that first one during a stage, I can confirm that).  So we went with the four shell caddies, and trained using that.  Of course, not doing the quad-loading thing leaves something else cool for part 3 if that happens.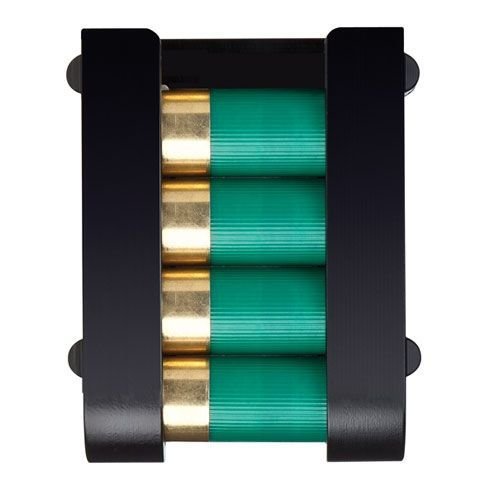 Another thing I brought up was the Match Saver, which is also featured in the video.  We got a million comments asking "What is that thing?  How did he do that?".  Keanu uses one twice in the film, including the time the bad guy thinks the gun is empty, and gets blasted in the chest.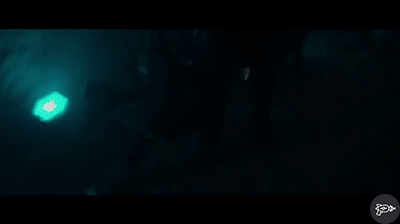 The other thing with reloading is we wanted a lot of mag changes on the pistol and the rifle so we didn't have the Rambo thing where you have a guy *Stalone Voice* Yo, yo yo, what it doing? and then dumping 10,000 rounds and never changing a mag.  So we wanted to have a lot of mags on him, and I made sure he had all Blade Tech gear, which is one of my sponsors, that's what I use.  (ED: Me too, they make good shit).
We were really fortunate that it got to be kind of a showcase for my company and my sponsors, and the gear that I really use, which lended a lot of authenticity to it as well.  It was like a dream come true for me.
I also wanted to throw in some fun stuff with the side-mounted RMR, switching quickly from close range to long range, so some of that's in there.
550
at Brownells
Prices accurate at time of writing
Prices accurate at time of writing
Speaking of authenticity, is there anything out right now that stands out in your mind as somebody doing guns well, or doing stuff really terribly?
Don't get me wrong, I love the show, but the Walking Dead.  Rick holds that python like a big limp dick, muzzle pointed at the ground, and it drives me nuts.  Then at the end of last season, Darryl picks up this weird white AR and shoots about a thousand rounds out of a thirty round mag with no reload and no mags anywhere near him.  And all that is the technical mistakes of the armorers, or people not listening to the armorers.  That kind of thing annoys me more than an actor getting something wrong.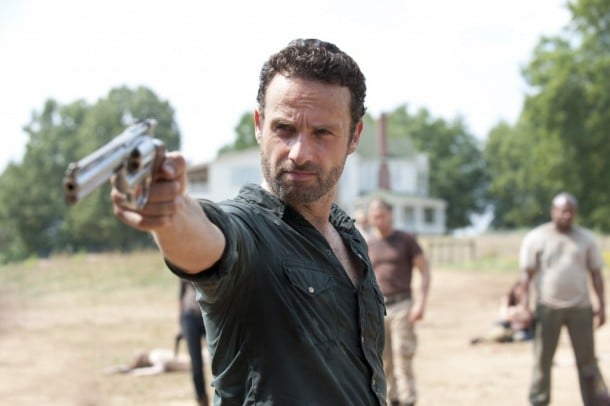 Or like in one of the Bourne movies, right at the end where Matt Damon has a gun pointed at his head.  You've got this super HD closeup and the gun goes from a Glock to a Sig, back to a Glock, and then it's a SIG again, all in-between cuts.  They're in an empty room.  Two actors.  No big shoot out where they changed guns or anything, and they couldn't keep a Glock and Sig with a hammer on it separate.
As far as good stuff, Atomic Blonde is another movie from the 87Eleven guys, and its really good.  I've got one of my rifles in Black Panther, you can see it in one of the trailers, so we can talk about it.  That's at least a good rifle.  Everything else on that, we'll save for later so I don't get in trouble.
Alright, one last question for this part before we move on to future projects and a few shooting questions, if you had to pick one actor and one gun to go through the apocalypse with, who would it be, and what gun?
Keanu Reeves, and the TTI Ultralight rifle from the film.  Oh, and a shit ton of mags.
There you have it folks.  We'll have one or two more articles from this interview going up soon, including a look at some tips from the master himself, and some interesting info about future projects that are coming up from the guy that brought you all the shootouts from one of the best action movies of the decade.  Thanks for tuning in, and of course a big thanks to Taran Butler for the interview and everyone at TTI who helped put things together.