---
Shooters familiar with the name Daniel Defense will often recognize it as synonymous with a higher-end product.
There's definitely going to be a higher price involved, but the value of what you get in exchange is solid.
So we were very intrigued when we heard Daniel Defense was launching a new suppressor line, the SoundGuard, focused on full-auto-rated cans and precision shooting.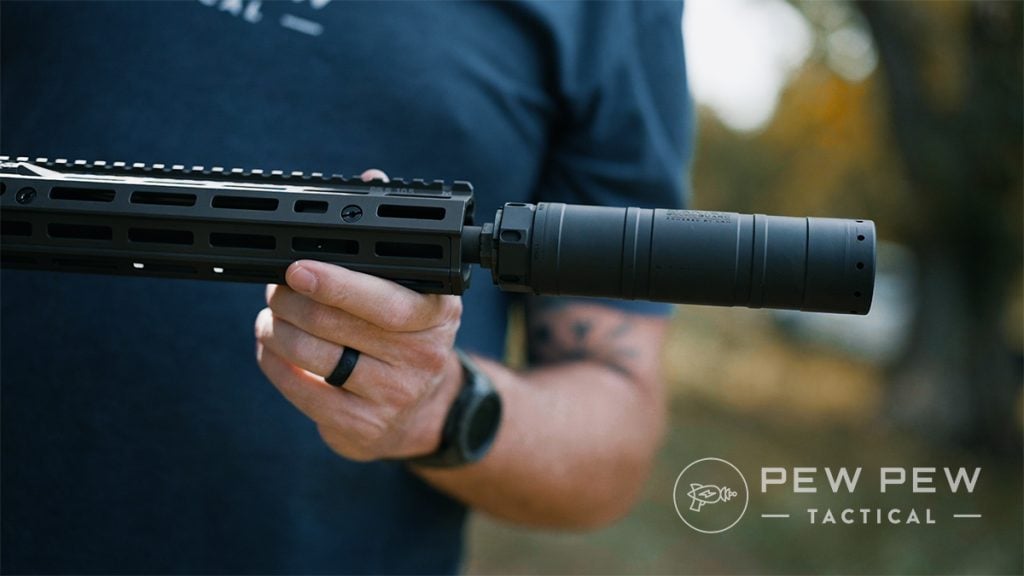 We can agree shooting suppressed saves our hearing but is Daniel Defense up to the task?
We got our hands on this new suppressor series to find out. So keep reading as we walk you through the specs and features and get the lineup out to the range.
Shhh, come check it out.
Table of Contents
Loading...
Pros & Cons
Pros
Less blowback
Multiple mounting options
Almost no flash signature
Cons
Not user serviceable
Wider than some handguards
The Bottom Line
Daniel Defense has created a sturdy suppressor with a heavy focus on reducing gas to the shooter's face. The side benefits include reduction of sound and flash signature.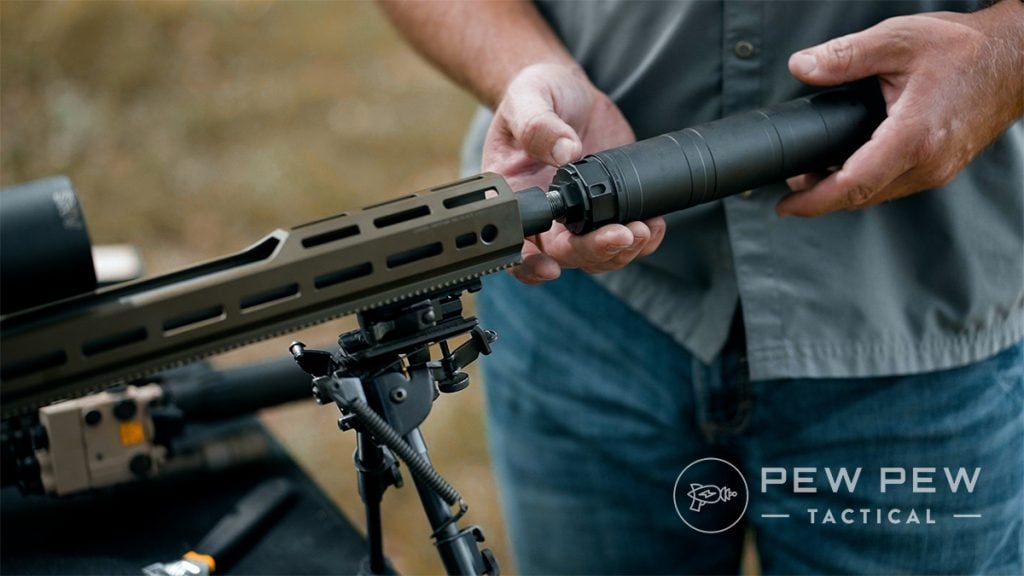 Specs & Features
Specs
Caliber: 5.56mm or .30 cal
Length: SG-556 & SG-30 7", SG-30Ti 7.75"
Diameter: 1.75"
Weight: SG-556 22 oz./SG-30Ti 15oz./SG-30 22.5 oz.
Features
Significant gas reduction
Patent pending baffle stack
Wrench flats on hub and mount
Specification Source: Daniel Defense
750
at Silencer Shop
Prices accurate at time of writing
Prices accurate at time of writing
Background
Two progressive lines have merged for the production of the SoundGuard series. First, Daniel Defense started eyeing lanes outside their normal production.
The creation of the Delta 5 was evidence of something DD had not done in the past but absolutely knocked out of the park on their first run, in my humble opinion.
The Delta 5 Pro holds even more promise.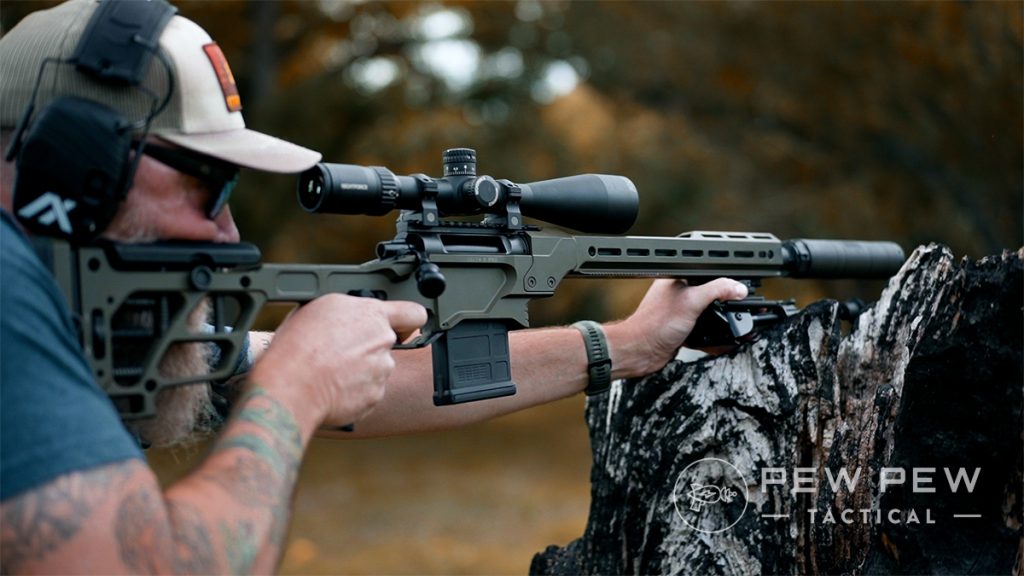 Second, more and more professional shooters, law enforcement, and the military are using suppressors. While saving on hearing, there is evidence to support that the increase in gas exposure caused by suppressor use can be unhealthy over the long term.
Daniel Defense decided to hit two birds with one stone and, working with fellow Georgian suppressor company KGM, came up with the SoundGuard series.
Who Is It For?
There are three suppressors in the lineup — with two acting as dedicated, full-auto-rated cans.
The SG-556 is primed for 5.56mm, while the SG-30 is for .30 cal.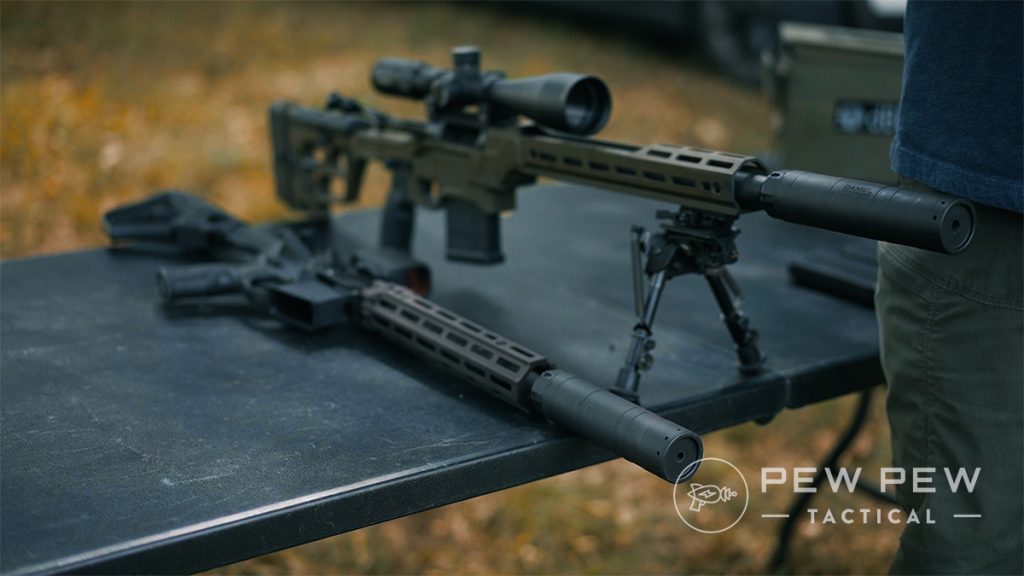 Shooters seeking suppressors for their AR-15 or AR-10 will find these serve well to reduce sound and blowback. The third suppressor is designed for something different.
The SG-30Ti is a titanium version of the .30 cal suppressor. It is slightly longer but lighter because it is designed for precision shooting.
Fit & Feel
The SoundGuard feels similar to many other suppressors in its fit and finish.
Notably, the 1.75-inch diameter occasionally means this series won't fit into some handguards, but this was done to reduce length.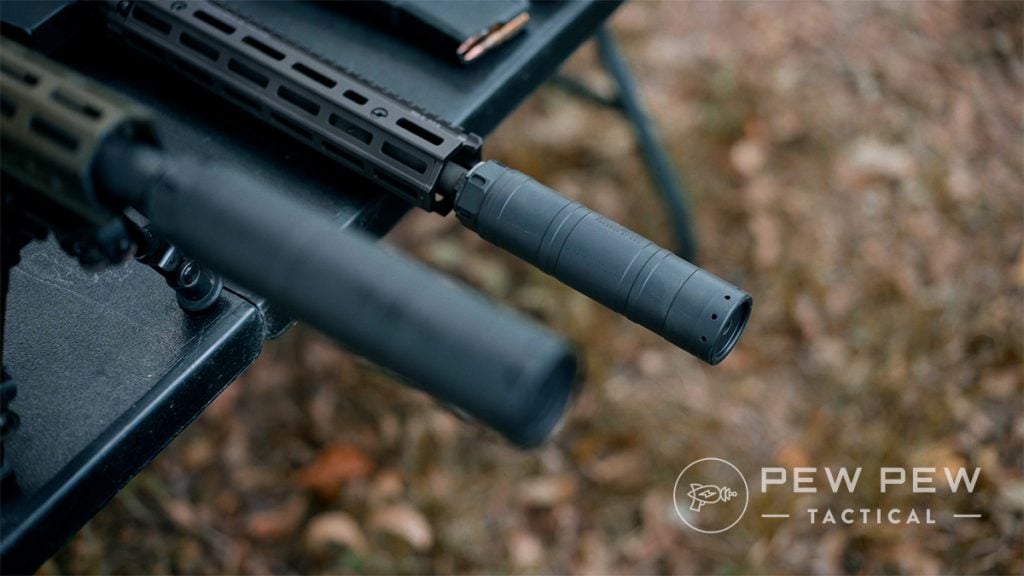 This translates to a shorter overall length for the rifles they would mount on and helps with maneuverability. Notably, the titanium precision version is longer since that restriction wasn't a concern.
Wrench flats on the hub and mounts allow users to install and uninstall the hardware safely. Both versions I tested were direct thread using the universal HUB 1.375-24 UNS which allows for other attachment options such as Keymod and ASR.
How Does It Shoot?
Off the bat, I gotta admit that we don't have any decibel readings.
I know, I know, it's counter-intuitive to do a suppressor review without the data to support sound reduction. Unfortunately, we learned on the range that our decibel meter wasn't the best…which didn't really help us out.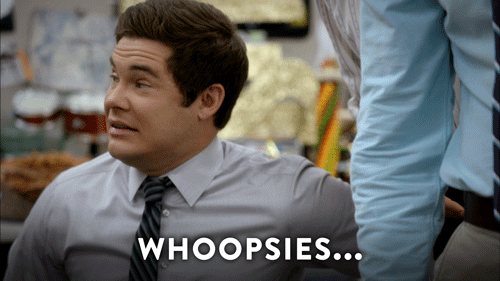 So we had to forgo measuring decibels, but we're in the process of procuring a better meter that is up to the task. When we have that in hand, we will update this review with those measurements.
In the meantime, the biggest test in my mind was gas reduction since that is what Daniel Defense set out to do. In every instance, the SG-556 did a great job.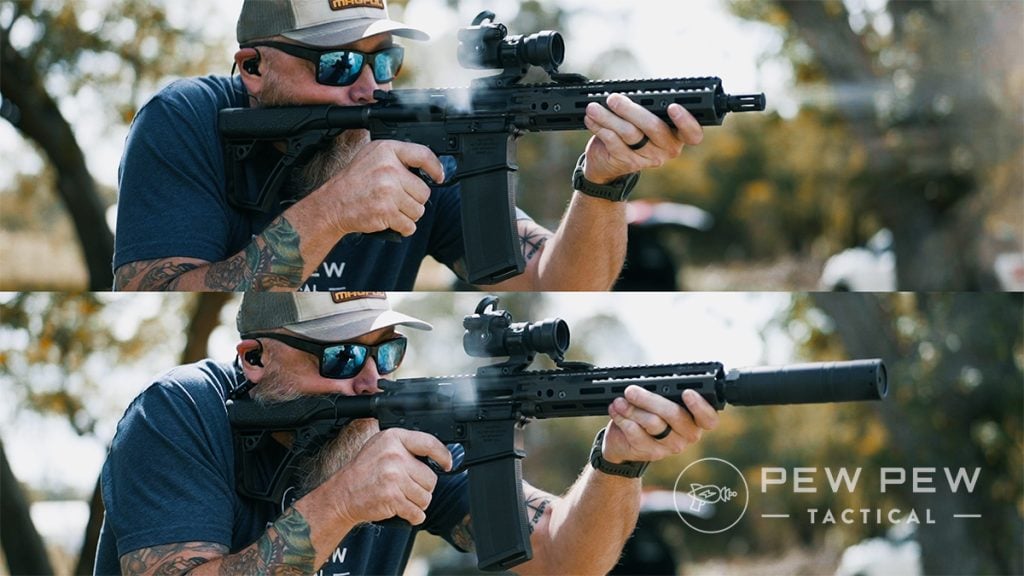 It's difficult, without some tool measuring parts per million, to definitively tell a difference. But I have been shooting suppressed for a while and felt like the can balanced sound mitigation without stuffing my face in a cloud of hot gas.
I couldn't tell a difference on the SG-30Ti because all the gas routing action happened a great deal further down the rifle.
What Sets it Apart?
I have tried some suppressors that cut a good deal of sound but made you suffer with gas if you used rapid or full-auto fire. Granted, full-auto is not my normal go-to, but I could see why folks would want more gas mitigation.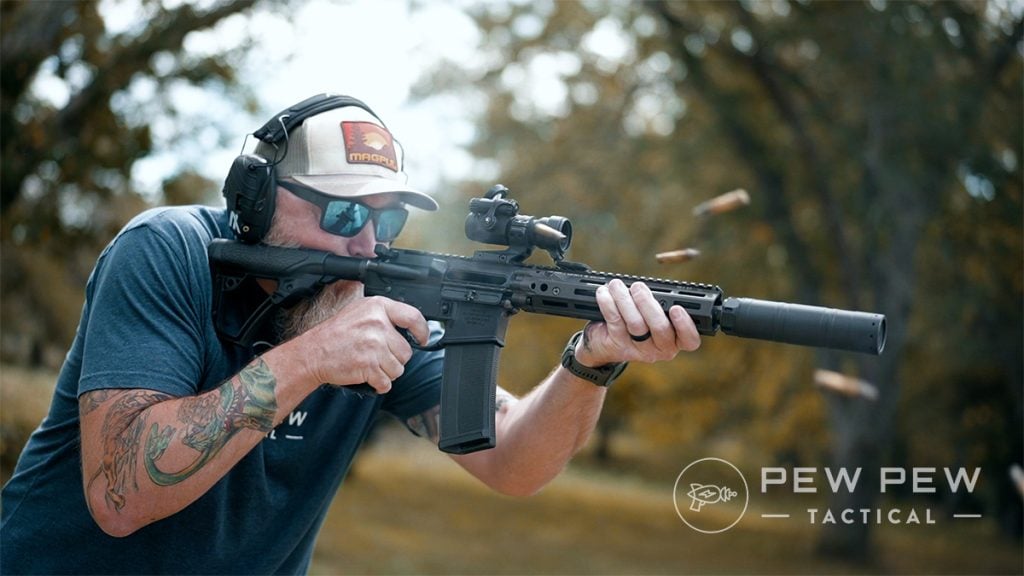 The SoundGuard does have a nice balance of knocking down the sharp crack of the report without making you feel like you're sucking exhaust.
Another cool distinction is the ports on the end.
Designed to help shooters route gasses even further, Daniel Defense threaded these ports on the end of the SoundGuard to allow users to custom configure. Running the entire end of the suppressor in a ring, the ports can be blocked with included screws to route gasses.
This means the gasses can be vented in different directions. For example, you could block all the bottom ports to add more downforce to counter muzzle flip.
By the Numbers
Sound Reduction: 4/5
With follow-up testing on a decibel meter planned, the anecdotal observation is the SoundGuard does a good job of reducing the sound of the report but arguably a better job of reducing gas to the face.
Ease of Use: 5/5
With the wrench flats, I was able to secure the suppressor and remove it and the hub with no problems whatsoever. While I did not conduct a burndown, I shot several magazines full-auto and was still able to address the can once it cooled down.
Customization: 4/5
There really isn't a great deal you can do to customize suppressors, but the SoundGuard has the very cool feature of allowing users to adjust some components of gas directionally through the use of the threaded ports.
Value: 4/5
Both dedicated, hard-use suppressors in this lineup, the SG-556 and SG-30, are priced at a reasonable $750. The SG-30Ti comes in at $1,000, but that's to be expected with titanium.
Overall: 4/5
750
at Silencer Shop
Prices accurate at time of writing
Prices accurate at time of writing
Final Verdict
I'm happy to see Daniel Defense addressing an issue for the communities out there using suppressors professionally with the SoundGuard series.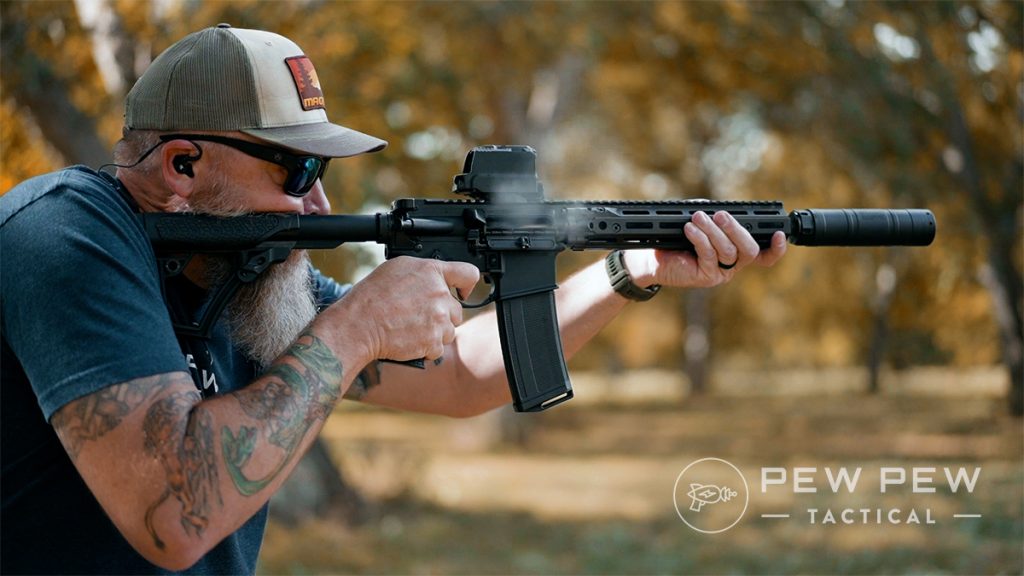 However you may feel about that, the end result is a product now available to us that reduces our risk while doing something we very much enjoy.
The SoundGuard delivers on its promise to reduce noise but does so without a face full of gas — even while running an Mk18 on full-auto. That's saying a lot!
Will you be picking up a SoundGuard? Let us know in the comments below. Also, check out our 7 Best AR-15 Suppressors for more info on our favorite hush puppies!