I've got to admit, these days it's a pretty rare occasion when I open the box of a new gun and get really excited. Don't get me wrong, I love my job, but I see a lot of new guns come and go.
When I opened the CZ P-10 F Competition Ready, my heart rate picked up a little and I began to wonder if it would run as good as it looked.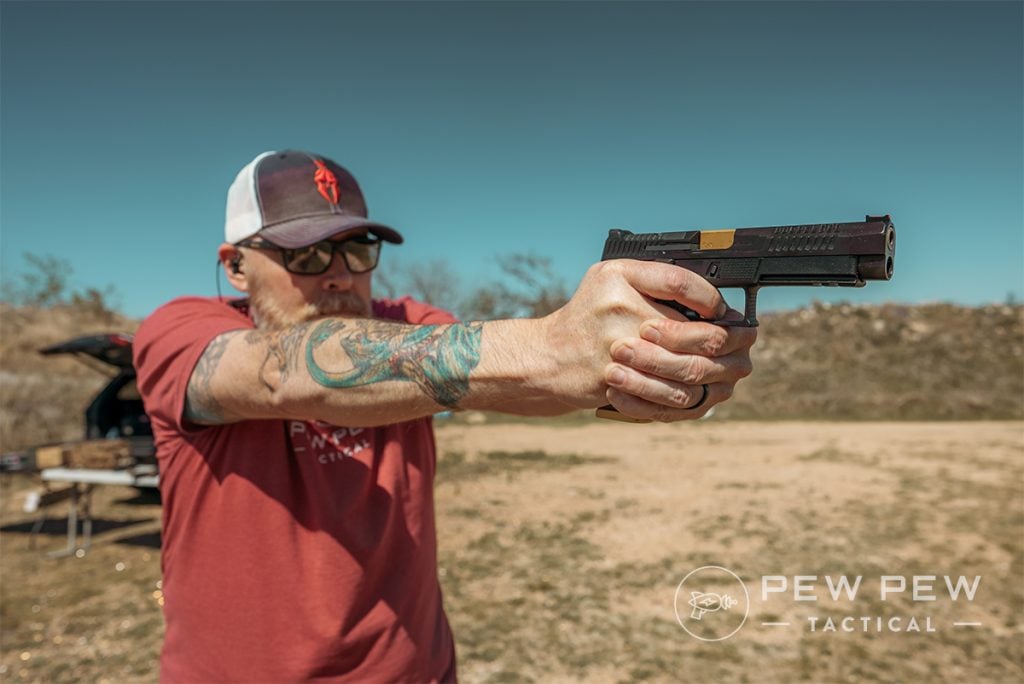 There are a lot of important crossovers between the tactical world and the realm of competitive shooting. The P-10 F Competition Ready hails from this space.
We tested this shooter on the range to see if it would live up to its name…did it? Keep reading as we walk you through the specs, features, and range escapades!
Table of Contents
Loading...
Pros & Cons
Pros
Accurate
Fast shooter
Beautiful
Cons
The Bottom Line
The P-10 F Competition Ready is an impressive shooter that provides fast and accurate fire as a long-slide, polymer-framed, striker-fired gun. CZ included some decorative and functional upgrades to this model and that makes it a little pricey compared to other guns in the line.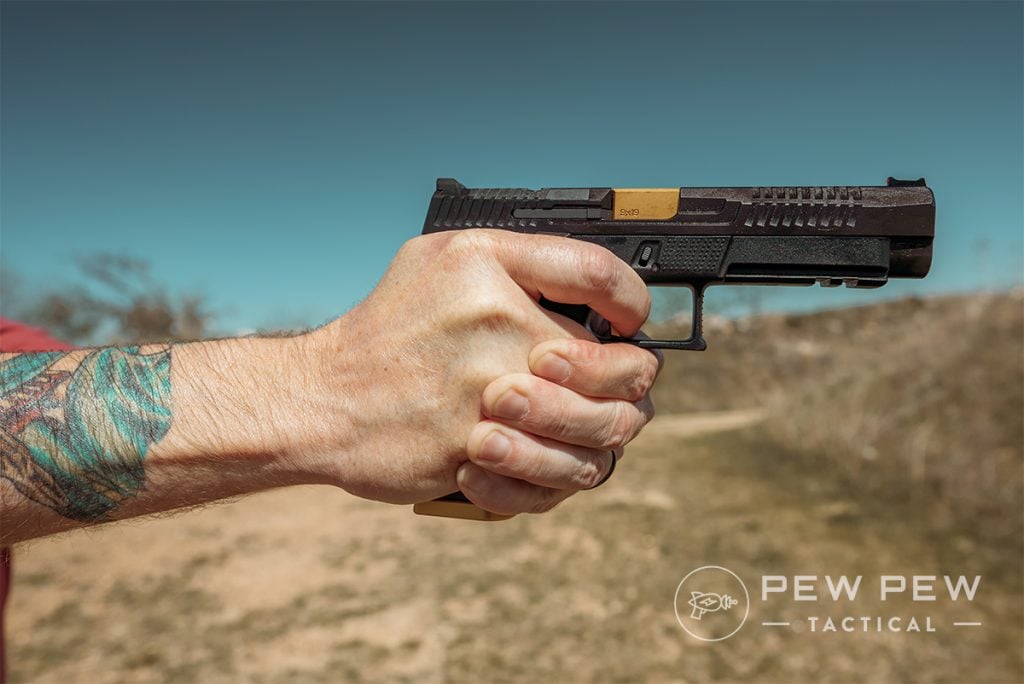 Specs & Features
Specs
Caliber: 9mm
Width: 1.26″
Length: 8.5″
Barrel Length: 5″
Height: 5.73″
Weight: 30 ounces
Capacity: 19+1
Features
Fiberoptic front sight
19+1 capacity
Long slide
Source: CZ USA
947
at Brownells
Prices accurate at time of writing
Prices accurate at time of writing
Background
The P-10 series was introduced by CZ in 2017 with the P-10 C (for compact). A number of models were later developed to offer different sizes, colors, and optics capability.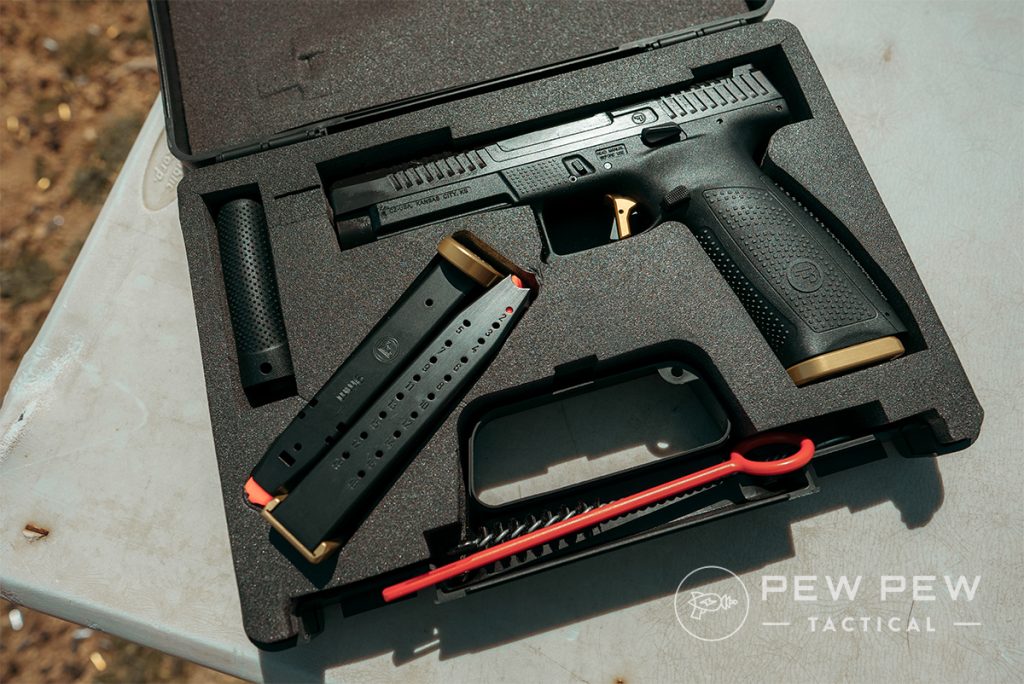 The P-10 F (full-size) increased the frame size and capacity to 19+1 and the P-10 F Competition Ready is an upgrade of that model which increased the barrel length to 5 inches making it a true long slide.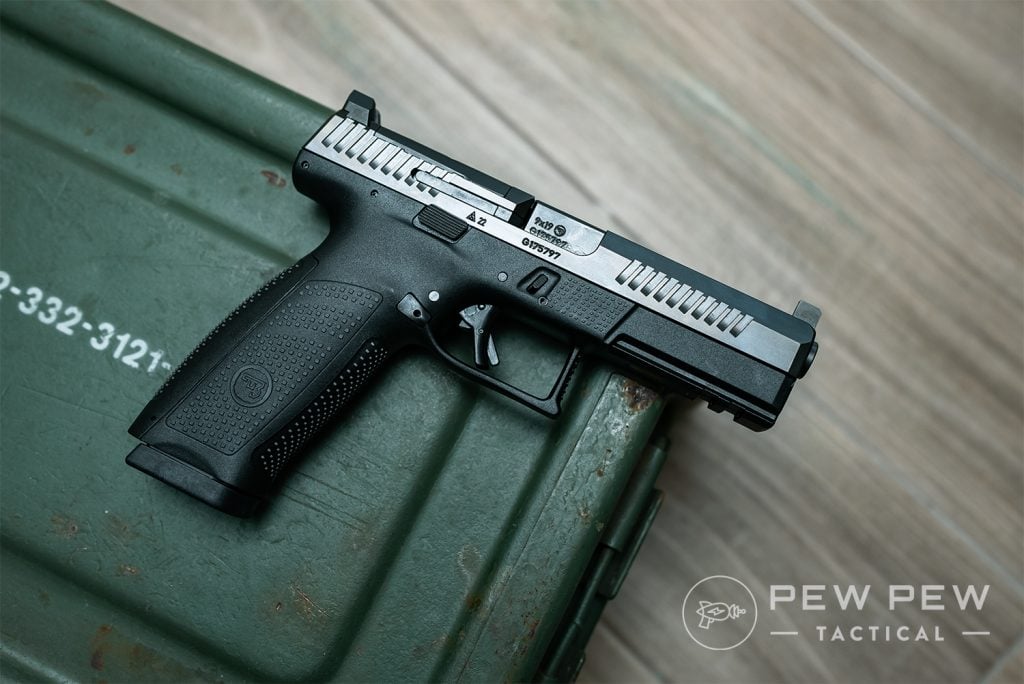 Want to learn more about the P-10? Check out our review of the P-10C here!
Who Is It For?
Starting out, it's pretty evident who this is for based on the name. Shooters with the desire to compete are ready to go with this gun.
That said, the gun has limited applications otherwise. It's too big to easily conceal and the fiberoptic sights have limited use in dark settings.
Fit & Feel
CZ has outstanding ergonomics and this gun is no exception. The beavertail is deep and covers the web of my large hand extremely well.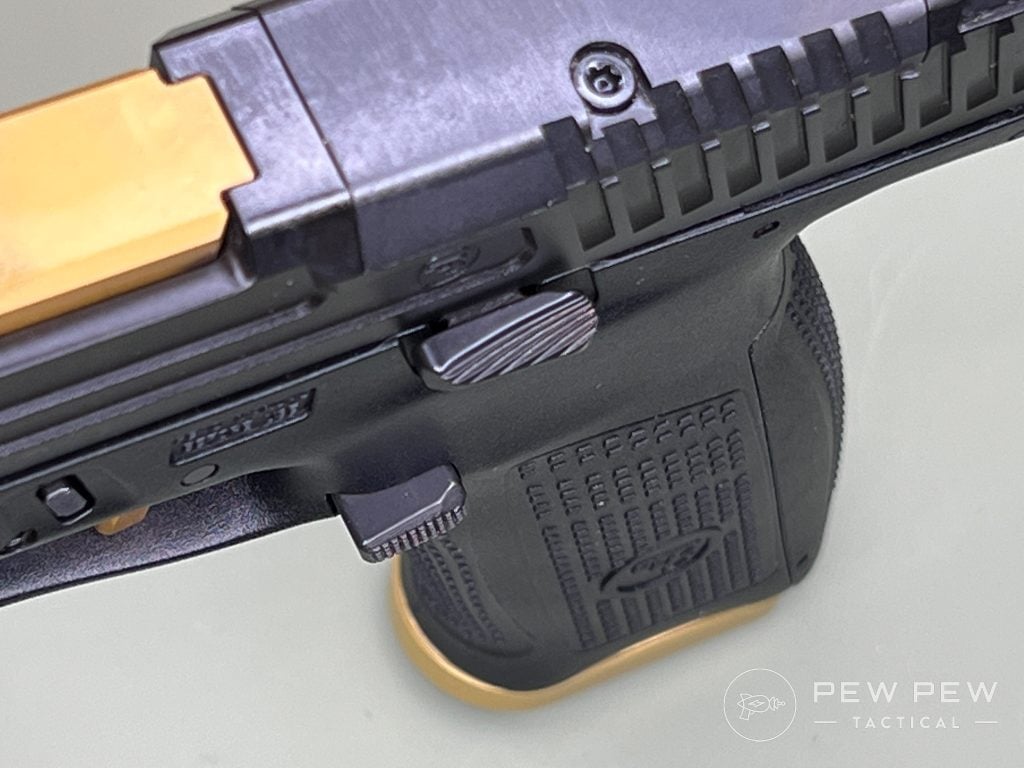 Being a long slide, the gun is big — 8.5 inches overall with a 5-inch barrel. It was a welcome departure from a flurry of micro compacts I'd been reviewing.
The grip angle is very comfortable and points naturally. There is a slight swell to the backstrap, which fits the palm nicely.
Grip texture is various sizes of raised squares. On the sides of the grip, it is moderate, but it's definitely more aggressive on the front strap and backstrap.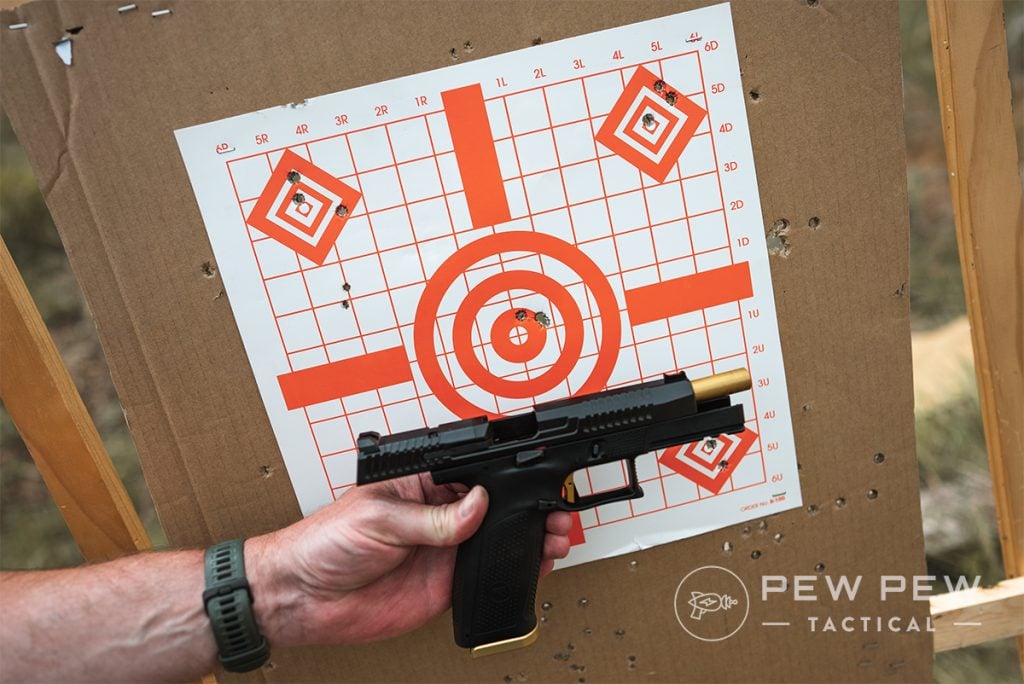 Serrations, located both front and rear, made the slide easy to manipulate.
All the controls were very easy to reach. The mag release was enormous compared to a tactical gun and the slide release was a good functional size.
The trigger was good for a striker-fried gun. I noted around a millimeter of travel before a defined wall, then a clean break.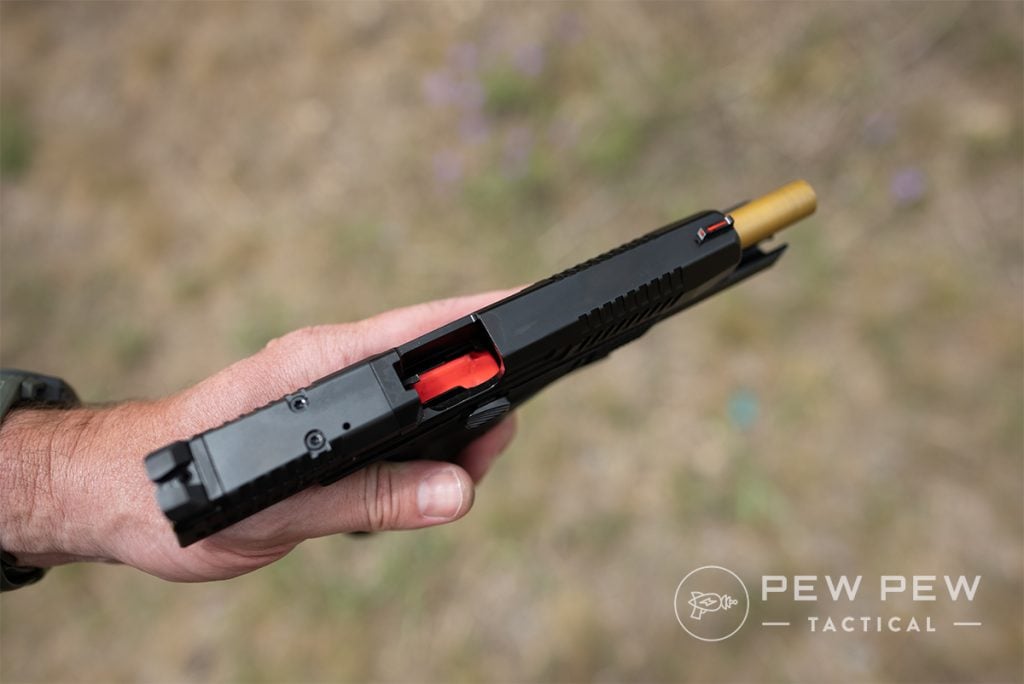 Reset occurred almost immediately and was both audible and tactile. The trigger averaged 3 pounds 8 ounces on my Lyman digital gauge.
The red fiberoptic sight up front was almost like a red dot in the bright sun but still showed strongly when the clouds passed overhead. Its rear sight was completely blacked out and offered amazing contrast for the front post.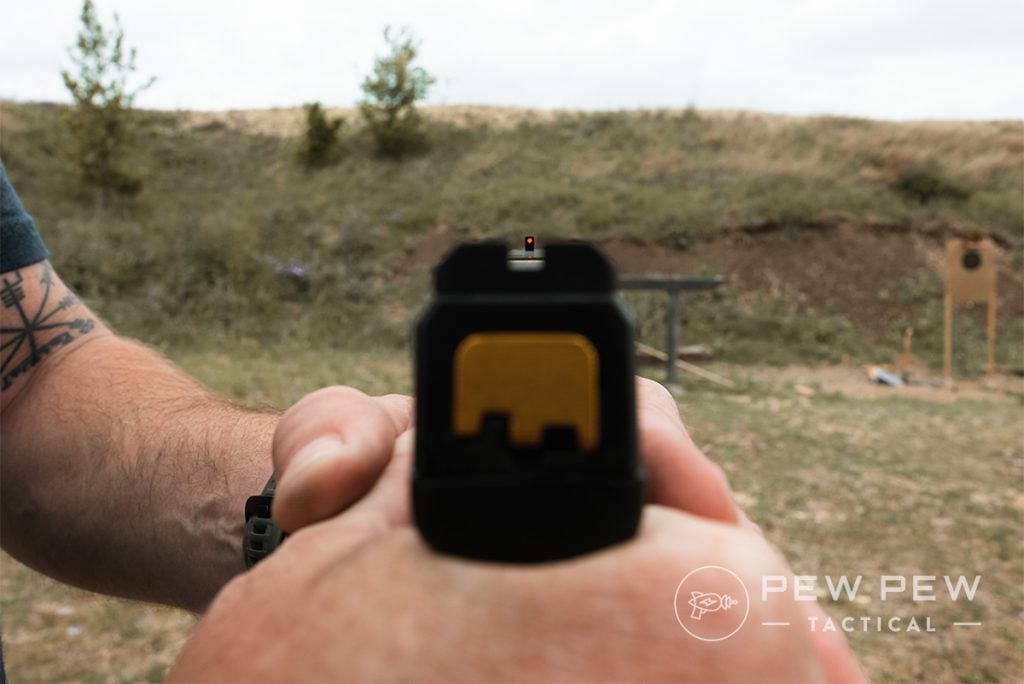 When reloading, I noticed the magazine release was really big and easy to get to. The magazines fell cleanly and inserted easily into the magwell.
Also noteworthy, every single time I slammed the magazine to seat it, the slide would close on its own. Naturally, this sped up my reload times.
The follower in each magazine was an orange-red color that was highly visible and I appreciated this feature. It enabled me to visually confirm a clear chamber with ease.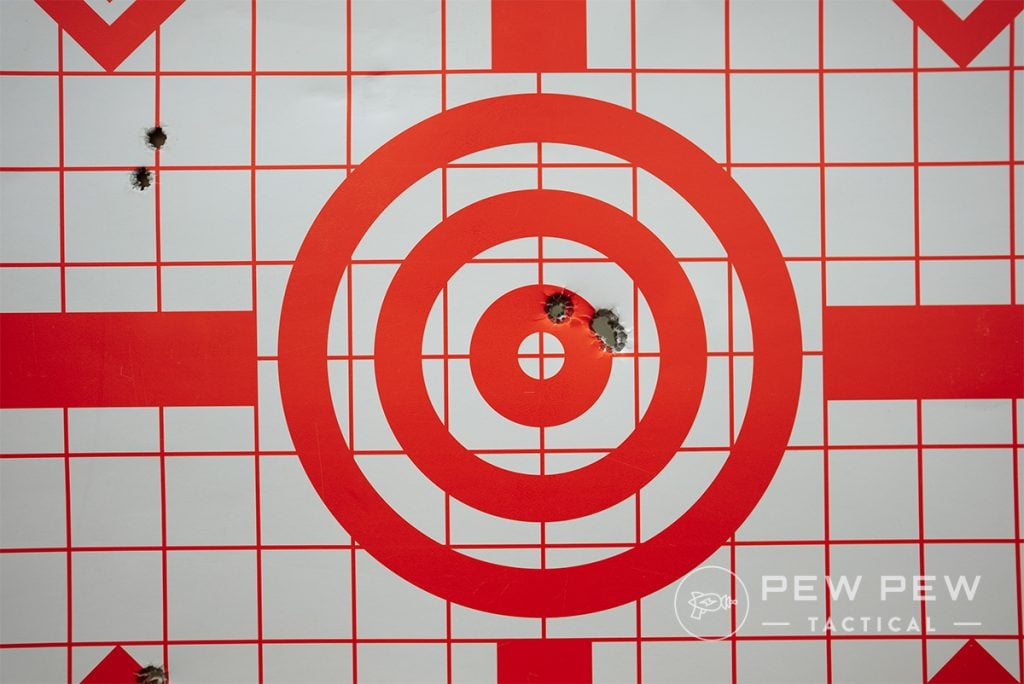 Loading the magazines was straightforward, though I struggled to get the 19th round in. The aluminum baseplates were a nice feature.
How Does It Shoot?
In short, the Comp Ready is a great gun. It felt superb in my hands and I found myself engaging targets faster and faster to see how it would do.
In the end, I think the limitations I reached were my own, and not on this gun. I'm no competitive shooter, but this gun gave me aspirations.
I ran several different drills, shooting plate racks, steel, and then testing for accuracy – reloading whenever it became necessary.
The gun was marvelous. Its sight radius was outstanding and, as I mentioned above, the fiberoptic front post was so bright it was like a red dot.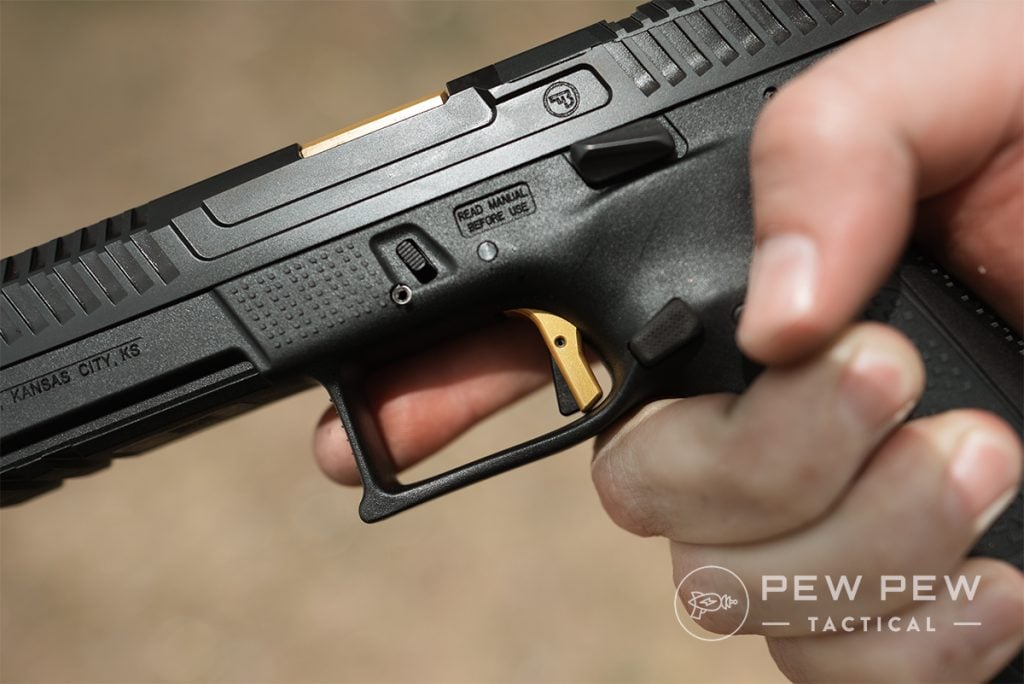 Establishing sight picture was a breeze on initial and follow-up shots. The long slide, low bore axis, mass, and ergonomics helped tame the recoil impulse.
General accuracy was really good. I engaged from ever-increasing distances just to see what might be accomplished.
Twenty-five yards was nothing, even forty yards was easy to ring steel. Eventually, I pushed out to 100 yards and was able to hit a torso-sized plate after a couple of shots.
Refined accuracy was only a little less satisfying. With very focused, 3-shot groups from the 7-yard line, my groups ranged between a half-inch and 2 inches.
I repeatedly found myself pushing the gun beyond my own limits and having to slow back down to pick up accuracy again. It was delightful!
What Sets it Apart?
Essentially, the Comp Ready is a P-10 F with an extra half-inch slide and barrel, fiberoptic sight, extra milling on the slide, with gold accents (barrel, trigger, slide cover, and aluminum magazine base plates).
This is a gun that is ready to go for someone entertaining the idea of shooting competitively.
By The Numbers
Reliability: 4/5
During testing, I had one instance where the trigger fired and stayed back. The gun had cycled, but the trigger did not reset. I racked the slide and this cleared the issue. It did not happen again over the course of 500 rounds.
Ergonomics: 5/5
This gun fit my large hands exceedingly well though it does come with three sizes of backstraps to customize fit to the user. Controls were easily reached.
Accuracy: 4/5
General accuracy was very good and finer accuracy improved for me as I got more used to the trigger. The sights and sight radius greatly aid overall accuracy.
Customization: 4/5
There are quite a few upgrades for the P-10 in general. Sights, magwells, slide releases, cover plates, and more are available for shooters to customize or upgrade their guns to their heart's content.
Value: 3/5
The MSRP of the P-10 F Competition Ready is $1,009 and I'm seeing them online for around $950. This is a fairly steep jump from the standard P-10 F with street prices just under $600.
The key differences are a half-inch more slide and barrel, three magazines (instead of two) some colored parts, and aluminum base plates.
Overall: 4/5
947
at Brownells
Prices accurate at time of writing
Prices accurate at time of writing
Upgrades for CZ P-10 F Competition Ready
The Competition Ready is pretty close to "race ready" as is. Some folks might want to add a flared magwell and perhaps upgrade the trigger.
Keep in mind this gun is optics ready so you can mount up a growing list of red dots, but you'll need to buy the plates separately.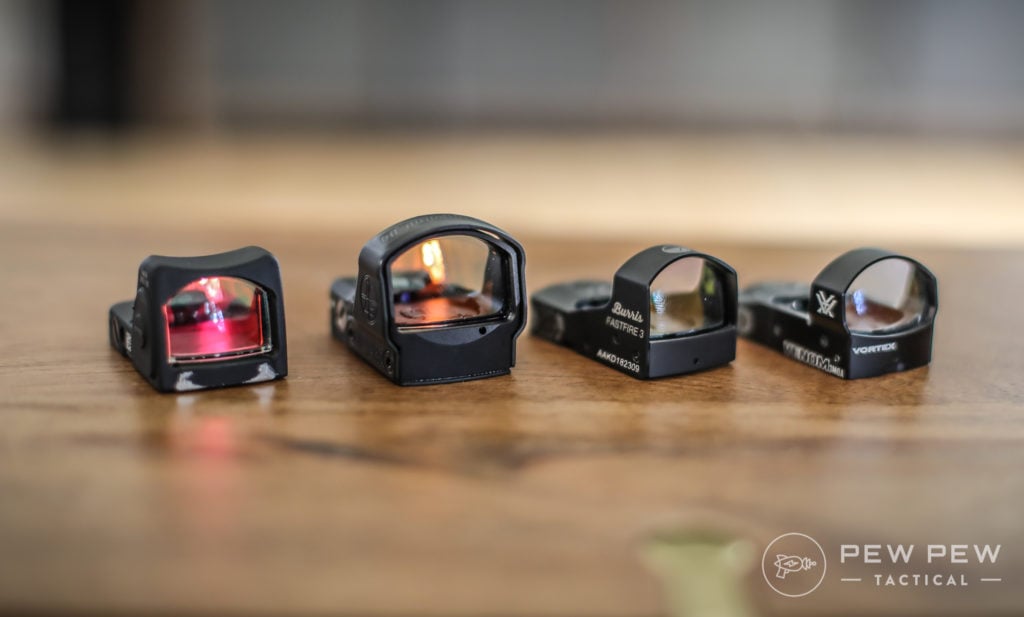 The P-10s currently support Trijicon RMR and Leupold DeltaPoint Pro with other plates in development.
Field Strip & Reassembly
Final Verdict
The CZ P-10 F Competition Ready is a stellar handgun that is race-ready out of the box. Further refinements could make it an absolute contender.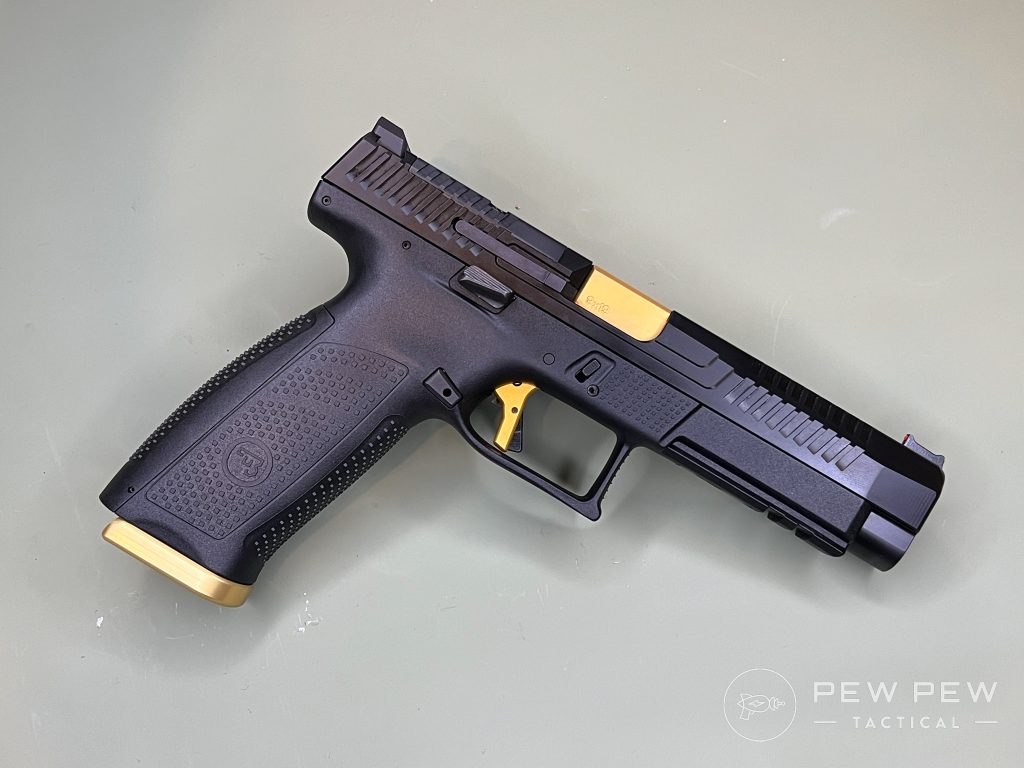 The price and the limited application to other uses might cause some shoppers to hesitate, but should they overcome that feeling, they would not regret it once they got to the range.
Would you roll to your next match with a P-10 F Competition Ready? Let us know in the comments below and be sure to check out our 7 Best Target Pistols for Competition.