First aid is a critically undervalued skill set that is proven to save lives and help people.
That's why you'll regularly find me preaching the gospel of CPR and first aid training – even going so far as to say that first aid is more important than gun skills. (Fight me, bros.)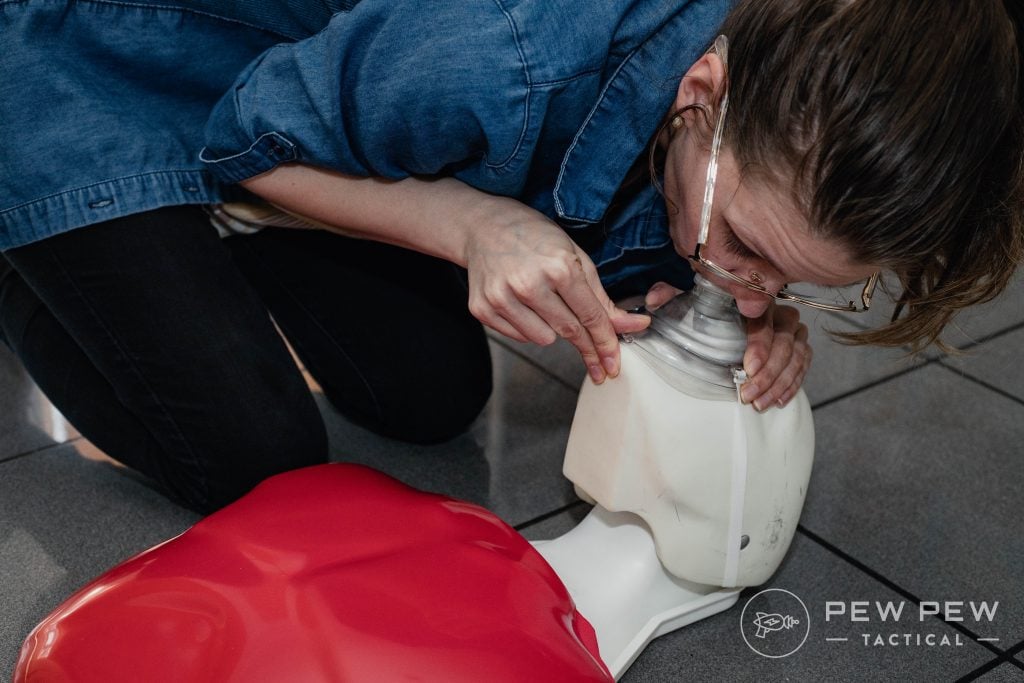 Aside from getting quality first aid training from reputable sources, gear is also an important component.
From bandages to tourniquets, these seemingly small items make a big impact – especially in trauma situations.
With the everyday world packed full of unknowns (car accidents, range mishaps, and even mass shootings), it's wise to invest in first aid gear.
So, as a believer in all things medical, I was stoked when Mountain Man Medical reached out to me, offering up three medical kits for me to review.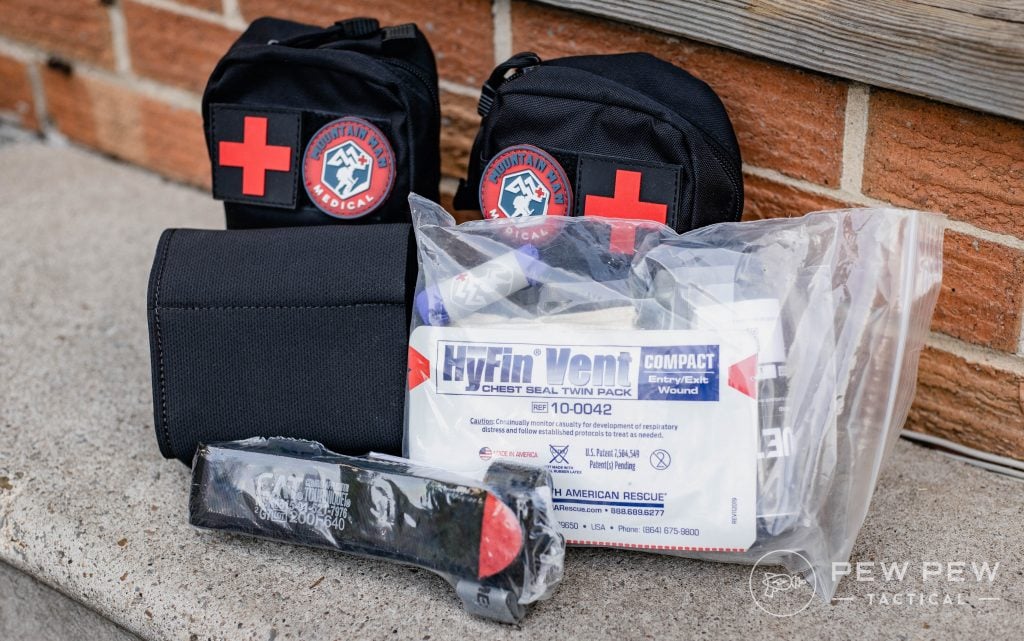 And that's what we're going to talk about today – the Sweetwater, Yellowstone, and Ankle Trauma Kits from Mountain Man Medical.
I will walk you through each of these kits, tell you what you can expect to see in each, and if they're worth your money.
So, with that said, let's get to it!
Table of Contents
Loading...
Who is Mountain Man Medical?
Based in Colorado, Mountain Man Medical is a company that specializes in all things…well, medical.
They offer a bevy of medical gear in addition to training – like their free online trauma course.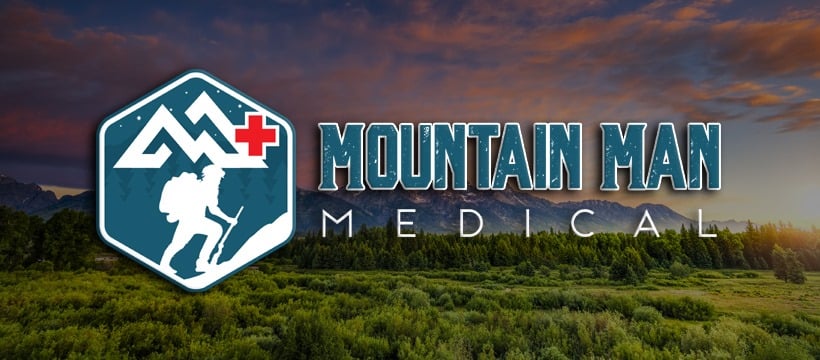 The Mountain Man team consists of in-house and external experts with formal training and experience as EMTs and military medics.
Using data out of the Department of Justice, Tactical Combat Casualty Care, and the civilian medical community, the company offers kits and products catering to professionals and the average, everyday person.
18
at Mountain Man Medical
Prices accurate at time of writing
Prices accurate at time of writing
How We Tested the Gear
Before I get into the specifics of each kit Mountain Man sent, let's talk about how I went about this review.
First, I think it's important to establish my own experience with first aid.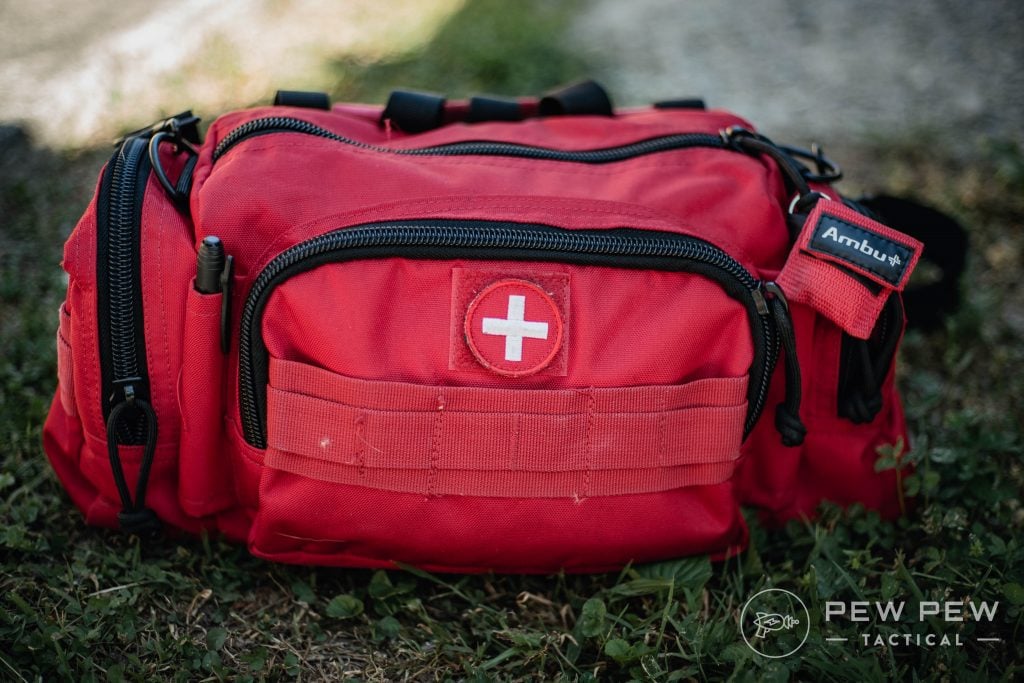 I am an American Heart Association Basic Life Support Instructor and have been for over two decades, regularly teaching first aid and CPR to civilians.
While I am an AHA instructor, I'm certainly not in the field as much as a paramedic or EMT.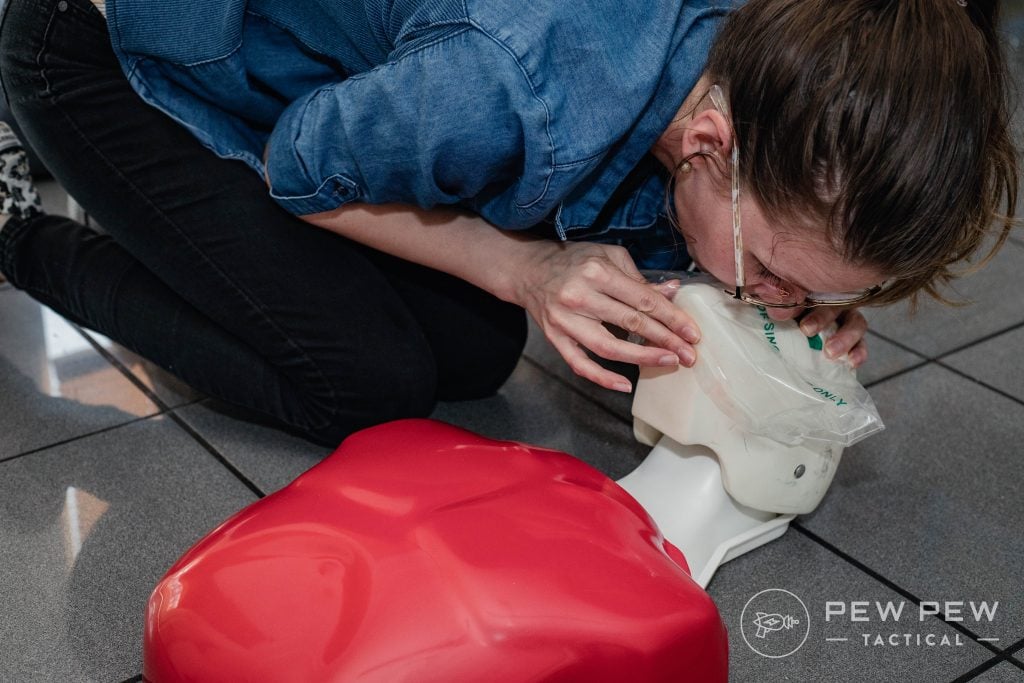 And I really wanted the perspective of someone who lives this stuff. So, I called in reinforcements…
Jeff Roberts is the EMS Program Director for Chattanooga State Community College, teaching the new generation of EMTs and paramedics how to save lives.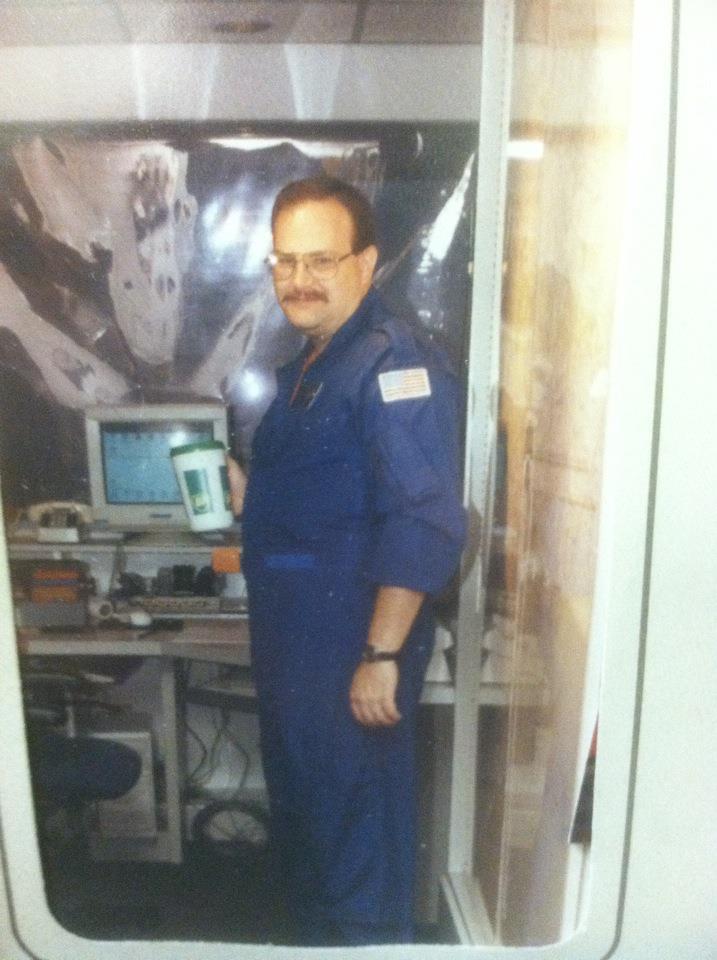 He's been a paramedic on the ground for over 30 years and also spent a little over a decade in the air as a flight paramedic with Erlanger.
Not to mention, he's also an AHA BLS, PALS, and ACLS instructor.
Oh, and he happens to be my dad.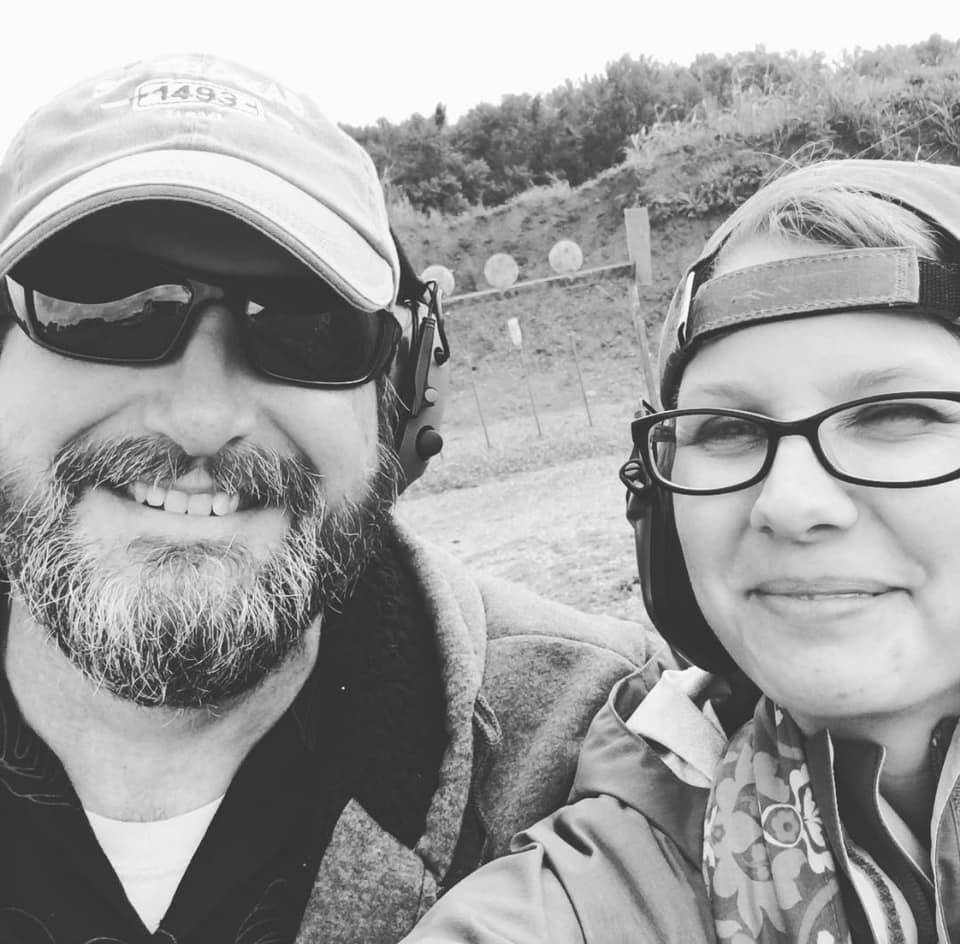 So, I packed up the Mountain Med Medical Gear and headed to his house to comb through its contents.
When evaluating, we took two perspectives…
First, my dad looked at it from the POV of a trauma professional and what he would want in the field.
On the other hand, I approached it from the perspective of the people I regularly work with – everyday people with limited or minimal training.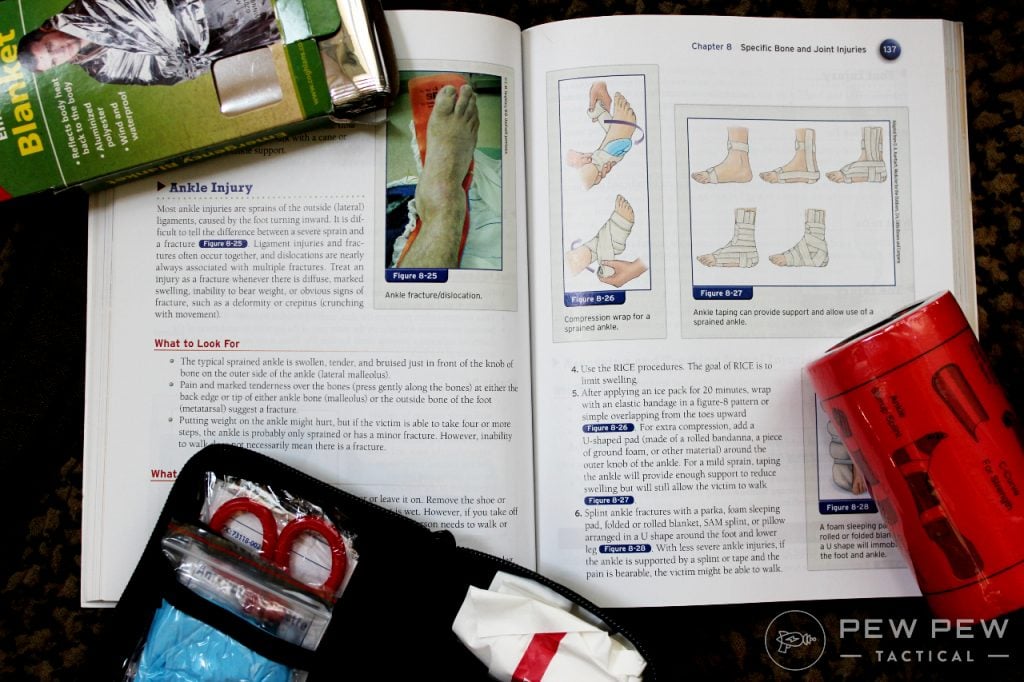 With that said, let's get into the nitty-gritty.
Sweetwater Trauma Kit
Kit Includes:
Black "Falcon Pouch" with First Aid Patch
SWAT-T Tourniquet (CAT tourniquet or SOF-T optional)
North American Rescue Mini Emergency Trauma Bandage
Large Nitrile Gloves
Trauma Shears
Mini Marker
1 Gauze Roll Bandage 2-inch x 4-yards
1 Elastic Wrap Bandage Hook/Loop Self-Closure – 2-inch x 5-yards
The Sweetwater feels like a bare-bones trauma kit. It's got all the stuff you need without overdoing it.
Everything comes in a Black Falcon Pouch which seems pretty durable.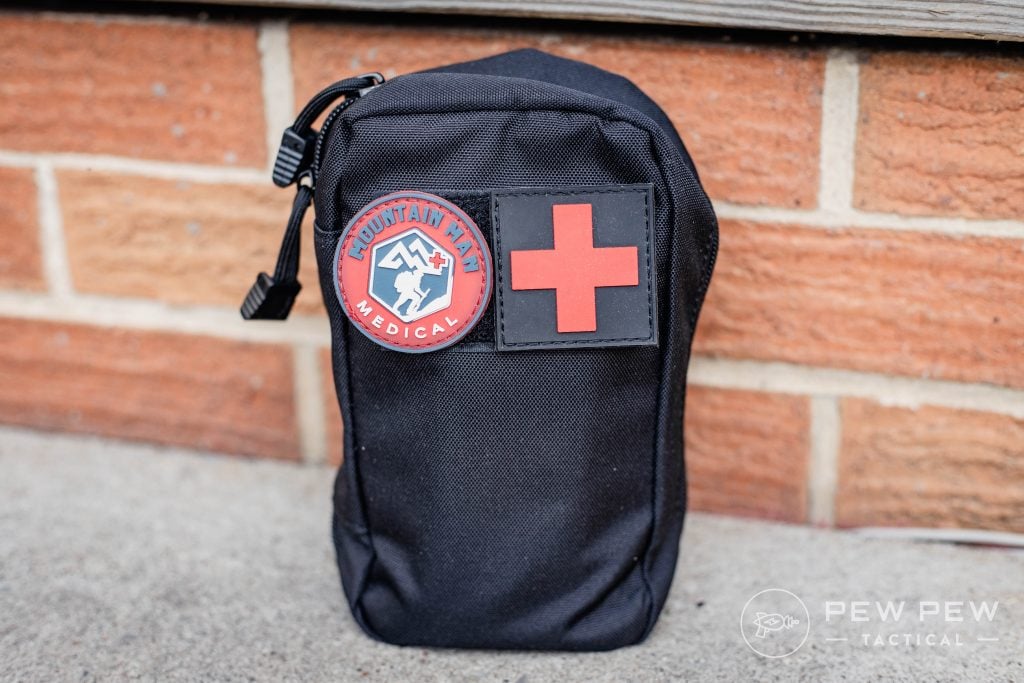 I really liked that the pouch was small enough to slip into a range bag or backpack. You can also easily keep this in the glove compartment or under a seat in your car for quick access.
Diving into the specifics, we agreed that most of the items in this kit you would definitely want when SHTF.
We dug the trauma shears. These aren't typical in most pre-built first aid kits I've seen (ya' know, like the ones you buy from Walmart). But they are so underrated!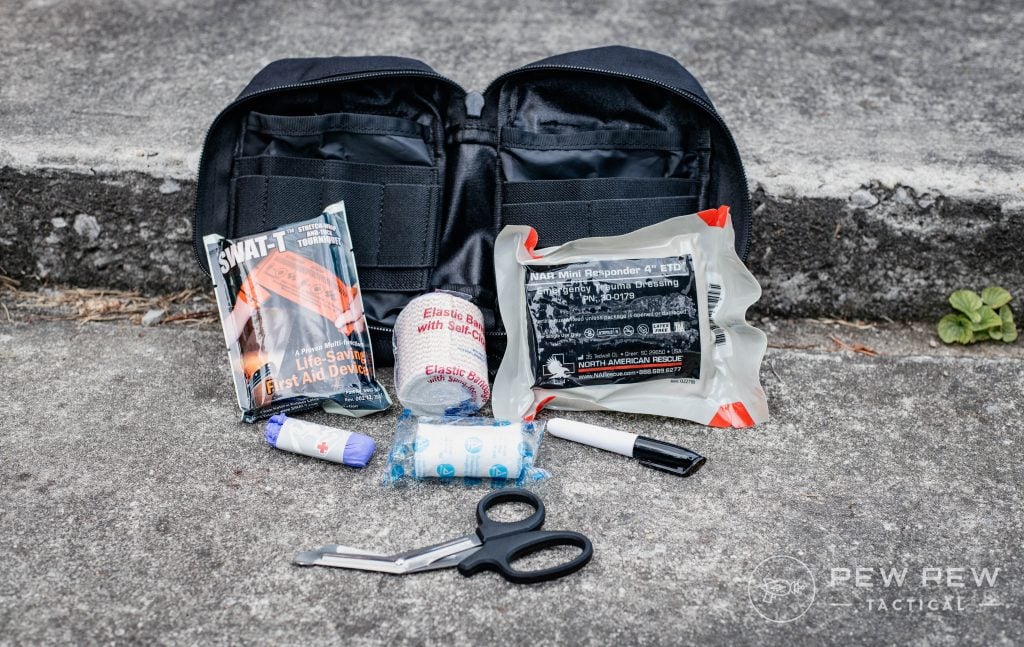 If you need to quickly access areas hidden by sweatshirts or jackets, these are the fastest means to get where you're going. Plus, they're just handy to have around.
I've used my own pair for random tasks at the range or out and about. (Great if your kids have to have the tag cut off that new toy ASAP.)
Also really liked the inclusion of a mini marker.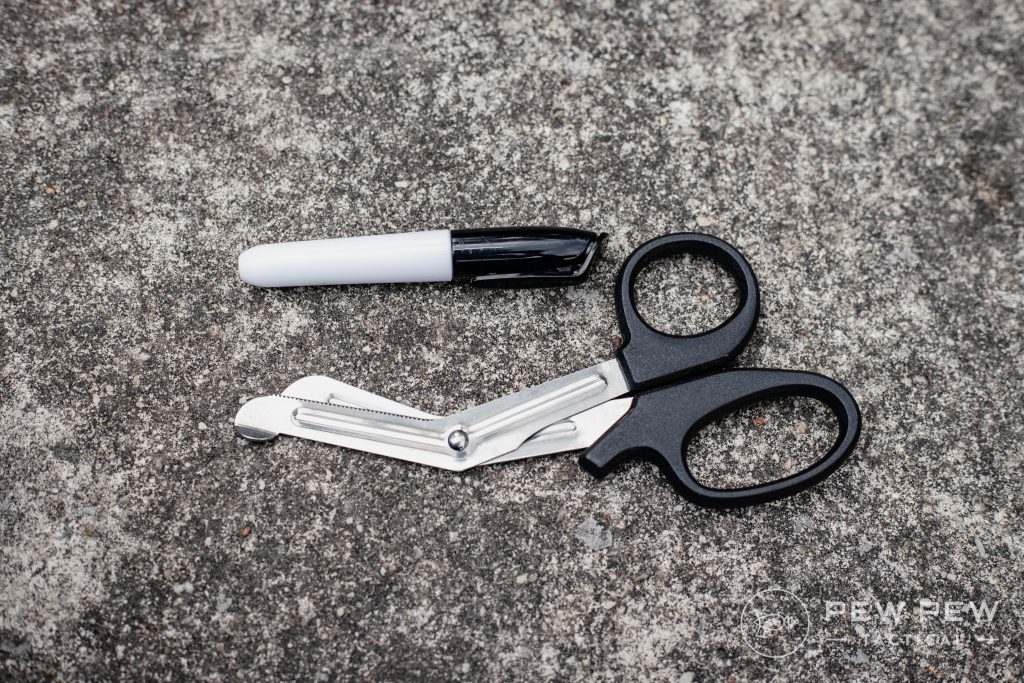 Yeah, it's not first aid specific but these come in handy when you need to note times…like if you've used a tourniquet. Or if you're involved in a mass casualty situation, it's a great way to mark who needs help, etc.
Most of the other items, like gloves, are pretty standard fare. These were a size large, so I had to swap them out for a smaller pair since I have kid-sized hands.
The kit came with a SWAT-T tourniquet that oddly smelled of vanilla…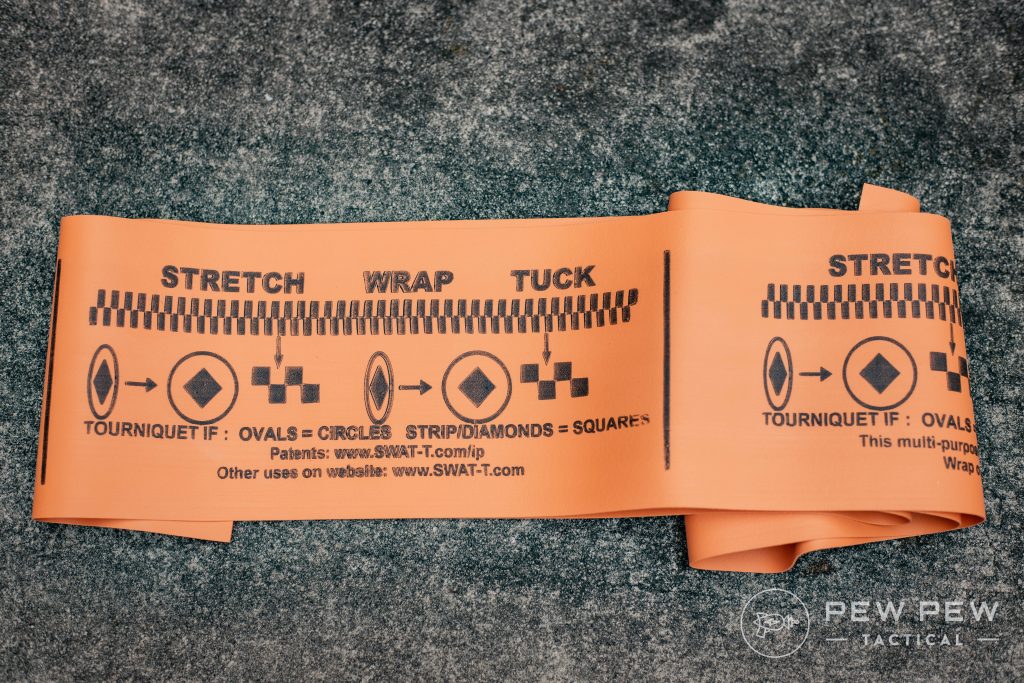 Regardless, this is a slightly different take on a tourniquet. Developed by a former Air Force PJ, it kinda acts like an ACE bandage and can be used as an elastic bandage, pressure dressing, or tourniquet.
While, in theory, an all-in-one tool sounds cool…in practice, it was only really okay-ish. For one, it took us a few minutes to figure out exactly how to make it work.
Similar to an ACE bandage, just more rubbery, it wraps around an extremity. You obviously pull tight to create a tourniquet effect.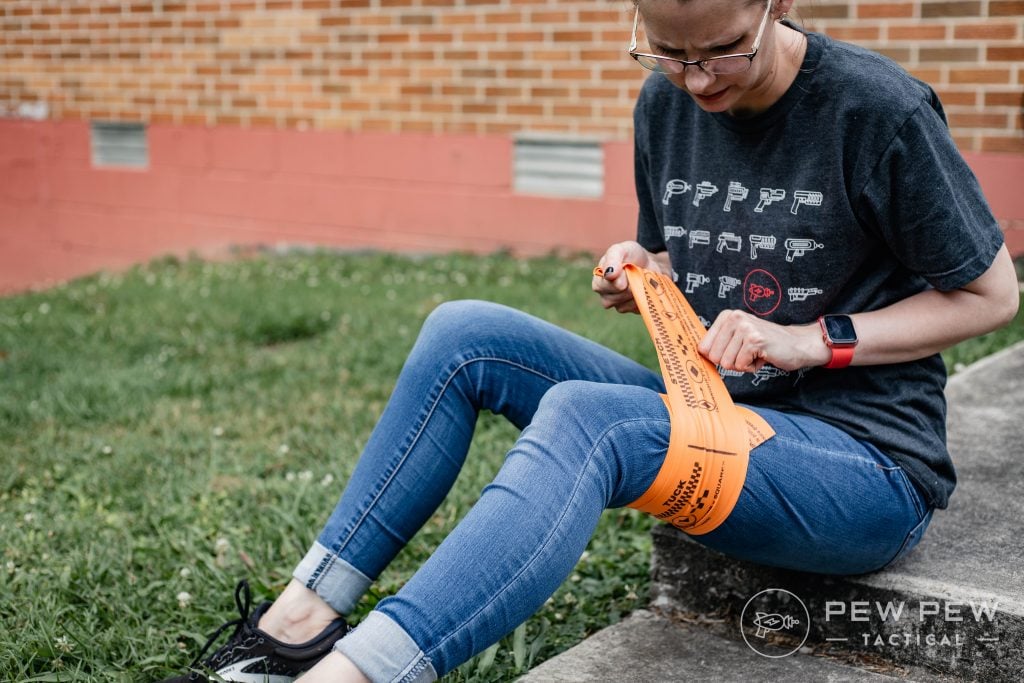 If someone else was in trouble, you could do it…though the winding motion is a tad tedious.
On yourself, it's doable on a leg, but if your arm needs attention – that's another story. It's tough one-handed to get the level of tension needed to cut blood flow.
And I say all this as someone who was calmly wrapping – not a panicked person suffering major blood loss.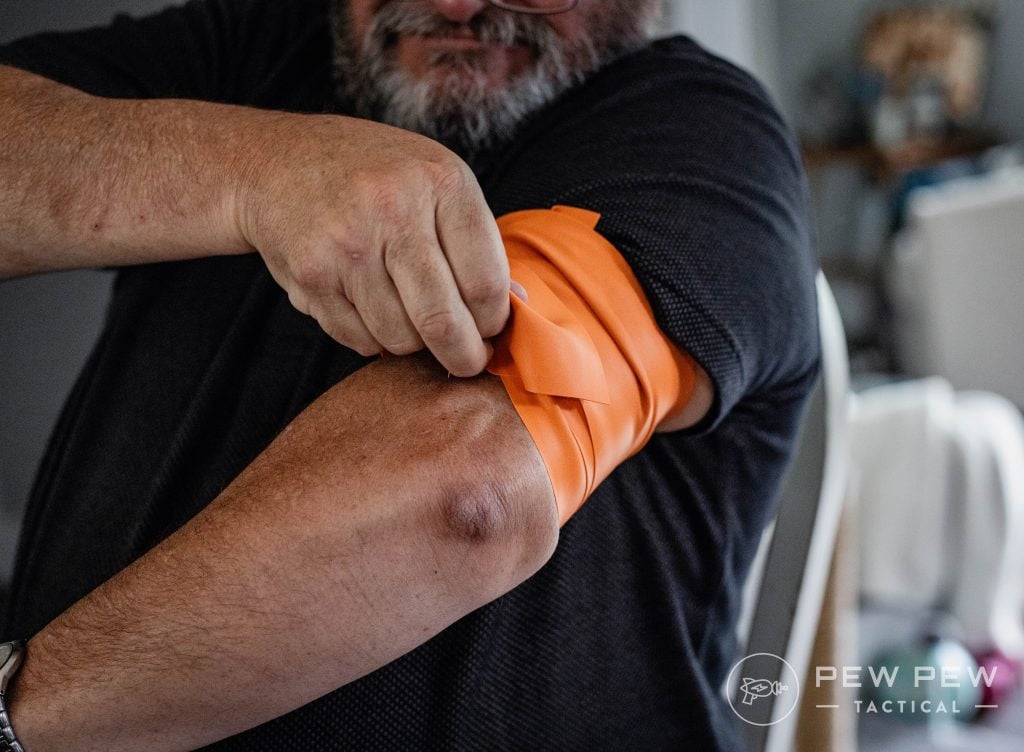 I did test it out with a very wet arm to see if it would stay and I will say it does stick in place once you get it wrapped.
I feel I can confidently say that an average person would not be able to effectively use this as a tourniquet in a pinch. It's too complicated and confusing…especially compared to something like a CAT.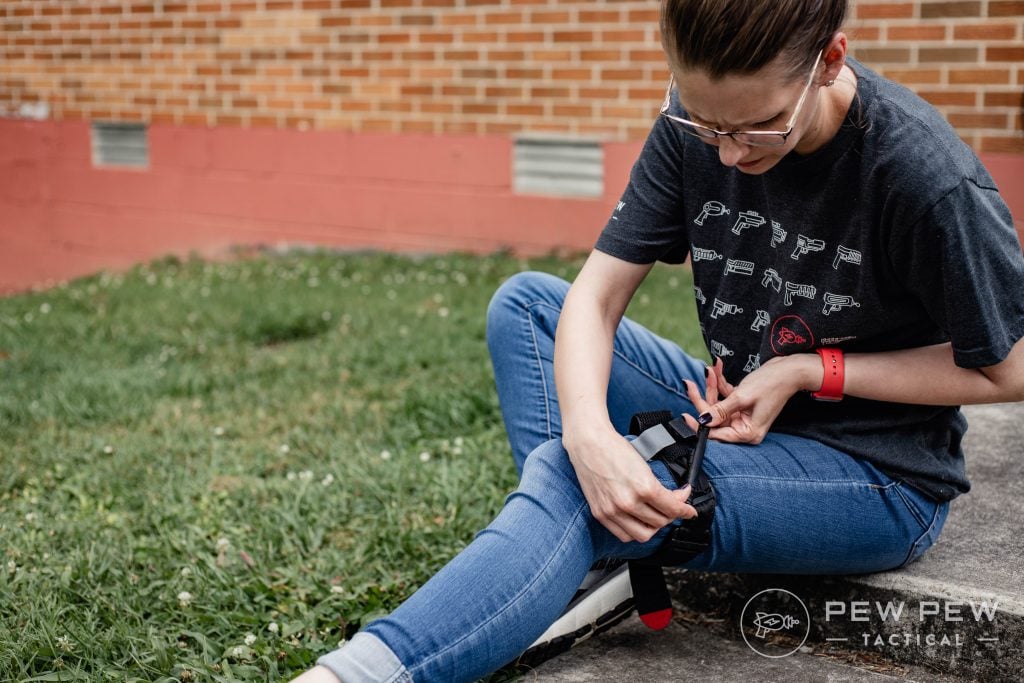 My dad agreed that even as a medical professional, this was a bit too tough to do on one's own, and given the choice he'd upgrade to a CAT.
Now, it's not all hate. As just a makeshift wrap, pressure dressing, or even as a DIY sling, it works. Which also begs the question, why include an elastic bandage with this already in there?
Seems a bit overkill, but then again, you can never have too much stuff when it comes to first aid gear.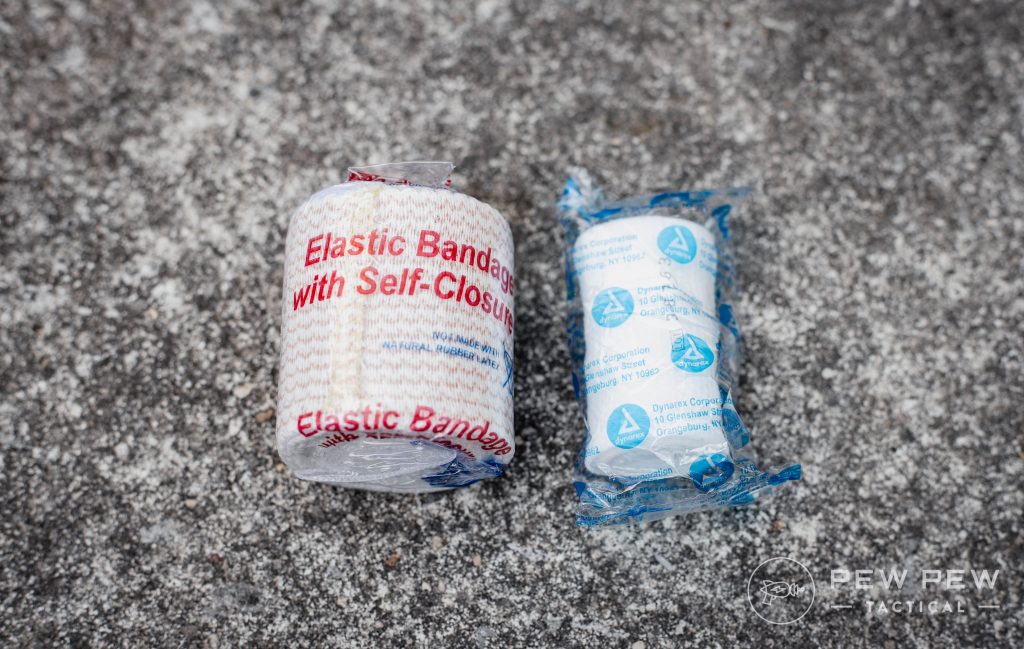 The real selling point with the Sweetwater kit is cost — between $49 and $76 depending on the options you choose, it's not a bad price at all.
By the time you put a kit together yourself, you're likely at that price point or over.
Not having to source your own materials and spend the time putting it all together is a nice bonus.
49
at Mountain Man Medical
Prices accurate at time of writing
Prices accurate at time of writing
Have you tried the Mountain Man Sweetwater kit? If so, rate it below!
Yellowstone Trauma Kit
Kit Includes:
Black "Falcon Pouch" with First Aid Patch
SWAT-T Tourniquet (CAT tourniquet or SOF-T optional)
QuikClot Combat Hemostatic Gauze
Hyfin Compact Twin Chest Seal
North American Rescue Mini Emergency Trauma Bandage
Large Nitrile Gloves
Trauma Shears
Mini Marker
2x Gauze Roll Bandage 2-inch x 4-yards
1 Elastic Wrap Bandage Hook/Loop Self-Closure – 2-inch x 5-yards
The Yellowstone builds on the Sweetwater Kit offering pretty much the same gear but with some more additions.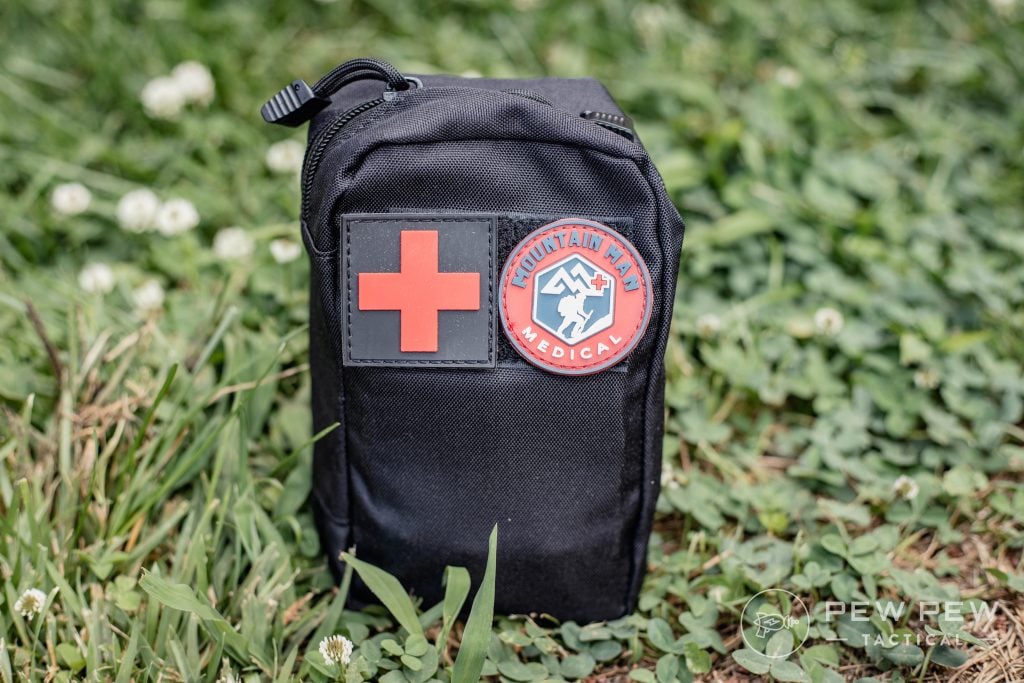 For one, you get QuikClot Hemostatic Gauze.
What is QuikClot, you ask?
In this case, it's rolled gauze featuring kaolin which accelerates the body's natural clotting ability. In layman's terms, it helps control bleeding. This reduces blood loss while you wait on EMS to arrive.
I'm a big fan of QuikClot as is my dad so the fact that Mountain Man threw this in is a big win!
In addition to QuikClot, you also get a Hyfin Chest Seal. Out of everything total, my dad was the most hyped about this!
The chest seal features a one-way valve and if you're facing an open/tension pneumothorax (that's a fancy word for a collapsed lung), this could drastically improve the victim's condition while you wait on EMS.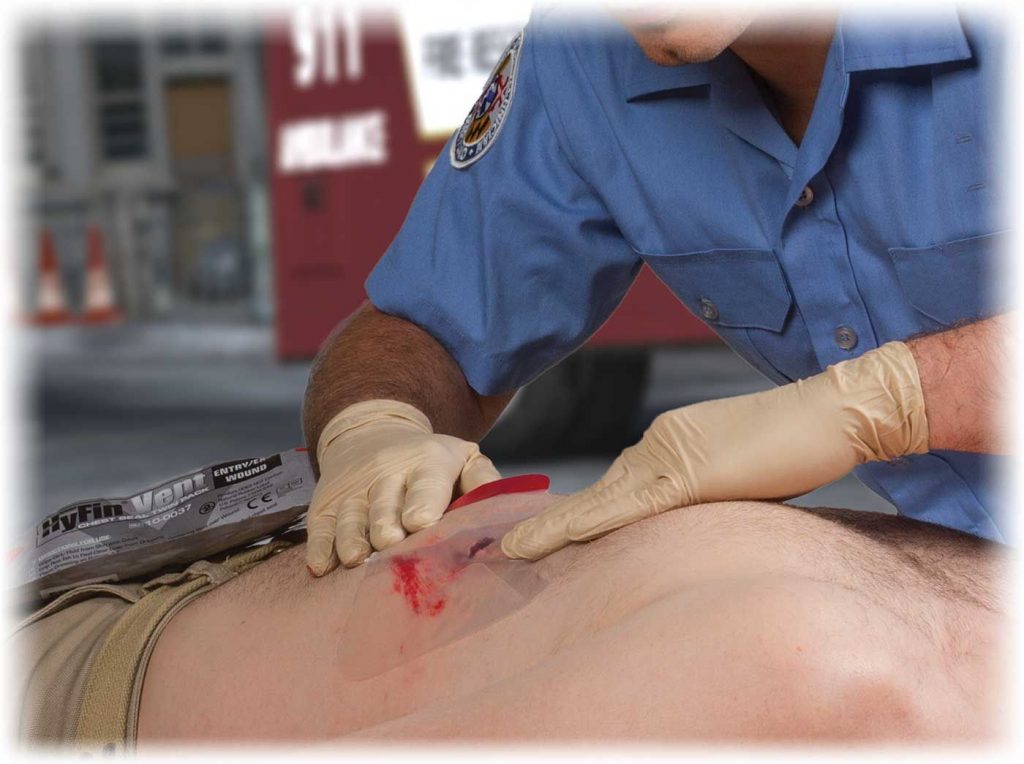 For a range kit where you might face sucking chest wounds or other bullet-based traumas, both the QuikClot and Hyfin Chest Seal are perfect!
Aside from those additions and an extra roll of gauze, everything else is the same as the Sweetwater.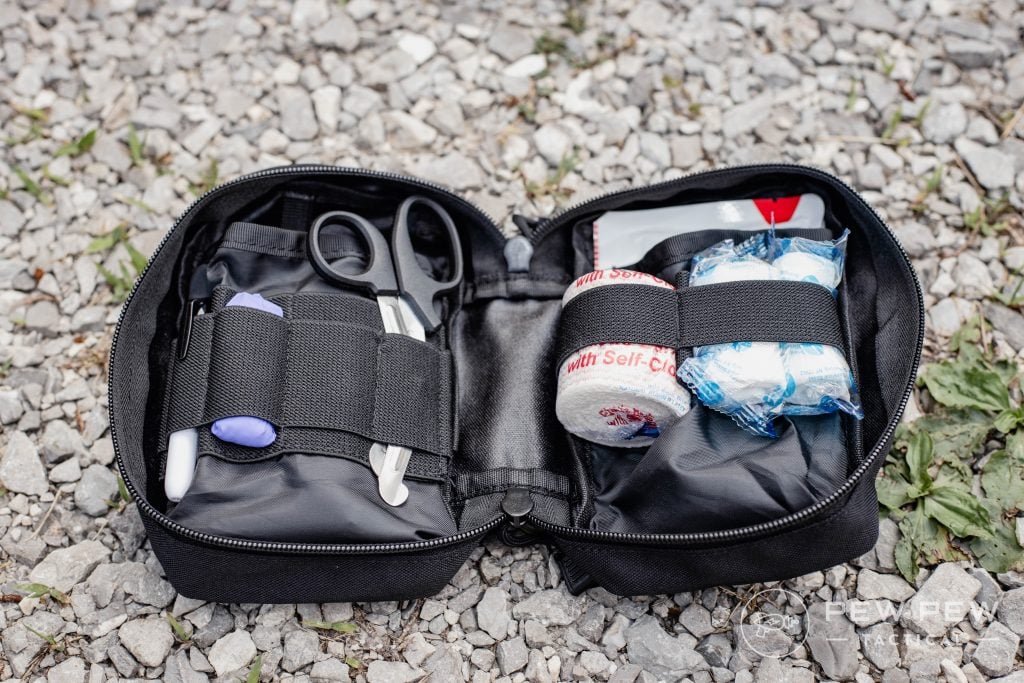 Again, I would recommend ordering a CAT alongside the Yellowstone if you can afford it. You still get the SWAT-T which could serve as a backup tourniquet. Plus, I just trust the CAT more.
Since this kit has a few more extras, it would have also been cool to see a CPR mask popped in here. These devices are great barriers that help with mouth-to-mouth resuscitation.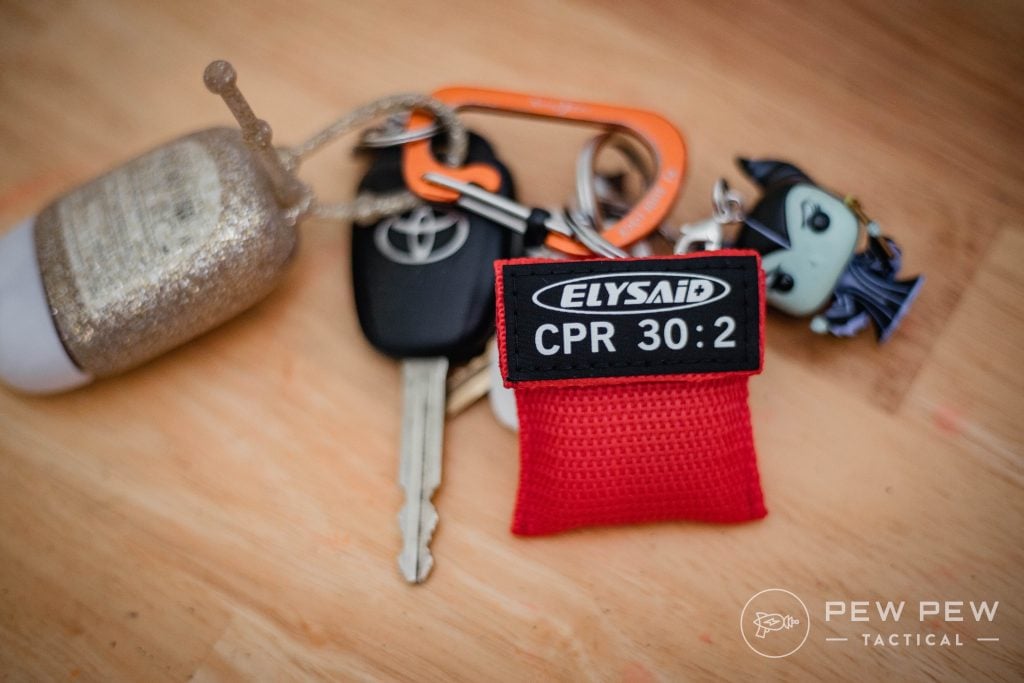 Yes, this kit is definitely geared more towards bleeding-specific trauma and I see why a CPR mask is not included, but I really think it'd be a nice extra.
(But of course, you can buy your own for pretty cheap. To learn more, check out our article on the Best CPR Masks.)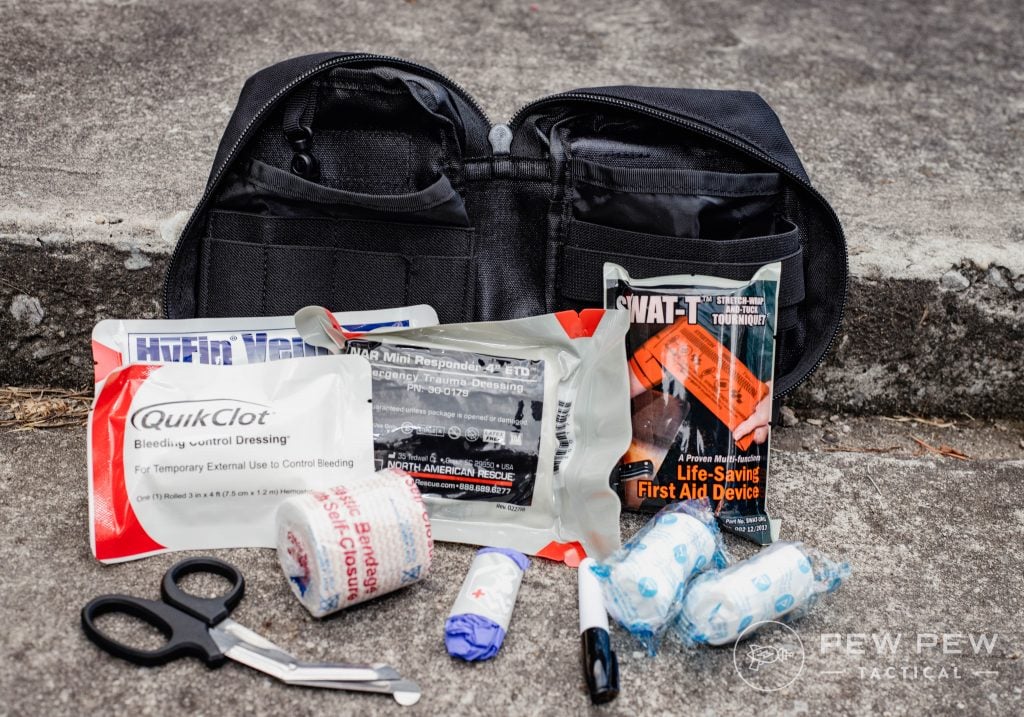 While the Yellowstone is a tad pricey, between $84 and $111 depending on your options, it is packed with enough gear to justify a high price.
If you're someone who really doesn't want to take the time to build your own kit or you don't really know what a kit should have, this is a great out-of-the-box option.
97
at Mountain Man Medical
Prices accurate at time of writing
Prices accurate at time of writing
Mountain Ankle IFAK Trauma Kit
Kit Includes:
Wilderness Tactical Ankle Cuff
SOF® Tourniquet
ChitoGauze XR PRO Dressing
Hyfin Compact Twin Chest Seal
H&H Medical Mini Compression Bandage
1 Pair of Large Nitrile Gloves
Trauma Shears
The Mountain Ankle IFAK Trauma Kit takes some of the options from the Sweetwater and Yellowstone and packs them into a portable ankle kit.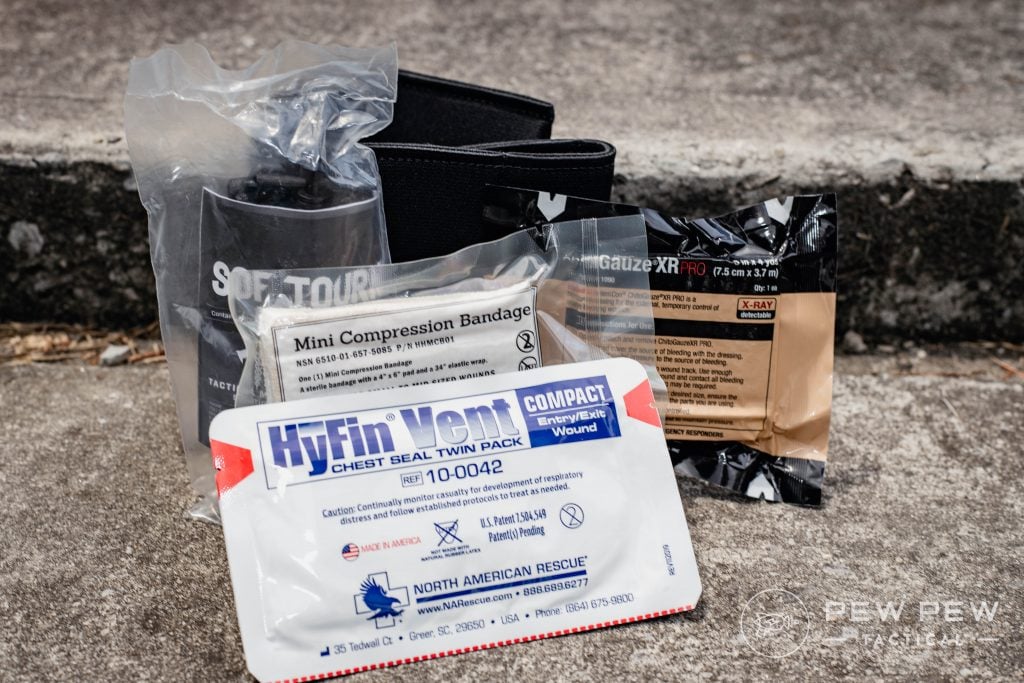 Again, we see the gloves, shears, and Hyfin Chest Seal. As previously agreed, these are awesome to have in a kit. So, it's pretty cool to see them in an ankle setup!
In addition to those, you get a SOF tourniquet. I'm a big fan of having a tourniquet on you 100% of the time. If you don't have the belt space to carry a tourniquet on your waist, this definitely brings another option.
As I dug through the kit, I was intrigued by something called ChitoGauze. So, I did some internet research and discovered it's a clotting agent.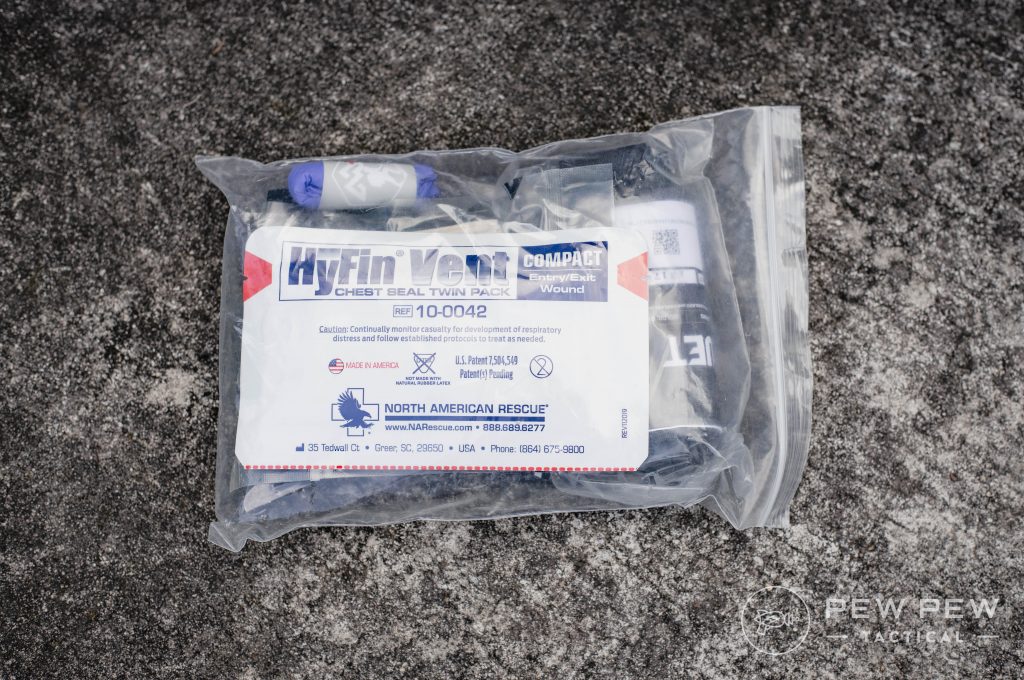 It's worth noting that instead of using kaolin like QuikClot, it uses Chitosan from shellfish as its clotting agent. Initially, we were very concerned about that.
What if a victim has a shellfish allergy?
You could induce anaphylaxis (fancy word for allergic reaction) and then you've created a whole different problem that you can't fix without an EpiPen.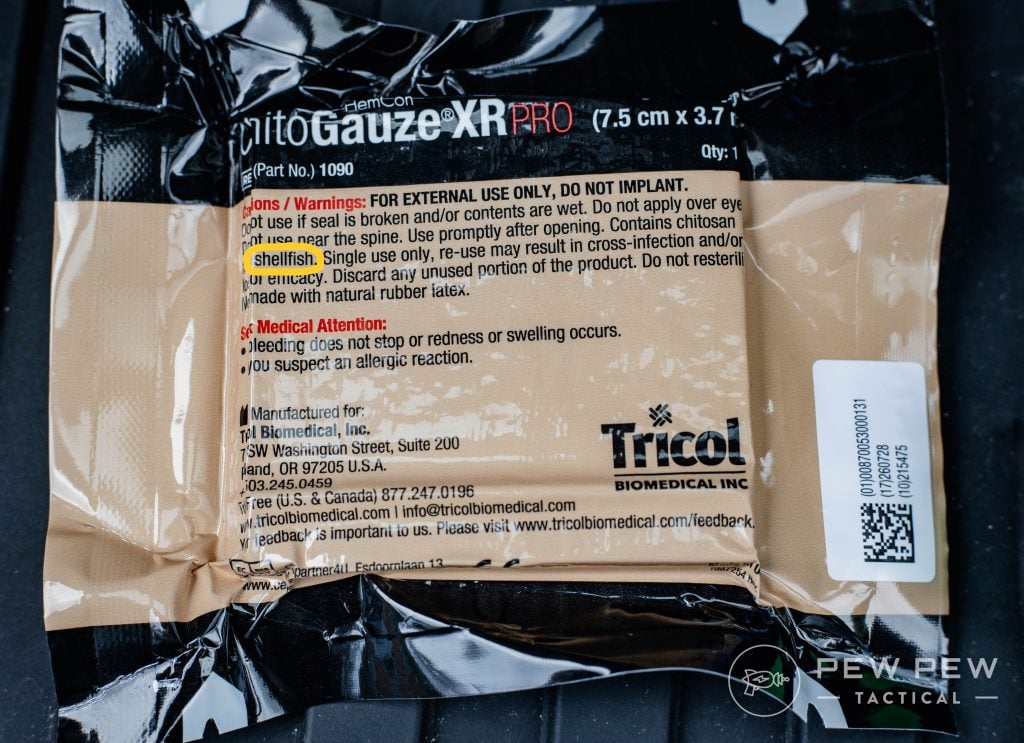 But after some more digging and reading peer-reviewed studies, we learned something new!
Tests done on those with shellfish allergies concluded that the ChitoGauze did not induce anaphylaxis because it lacks the actual protein. And that protein is what causes an allergic reaction.
So, I guess it's safe. But if you're still iffy, I'd recommend grabbing some QuikClot off the Mountain Man site and using that instead.
All the products come in a Wilderness Tactical Ankle Cuff reminiscent of an ankle holster for a gun.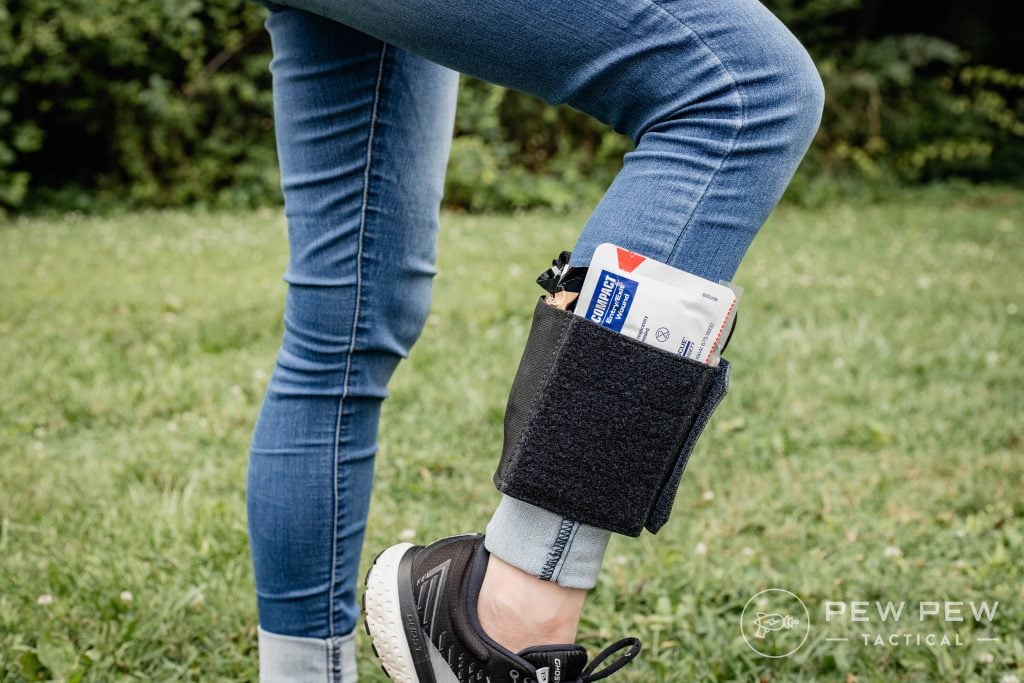 But here's where its use ends for me. I wear skinny jeans so there's no way on Earth I can effectively hide the IFAK unless I'm sporting a long, flowy skirt/dress.
For the record, that's not a criticism of the kit itself. It can't help that I'm a micro-sized millennial who refuses to give up skinny jeans.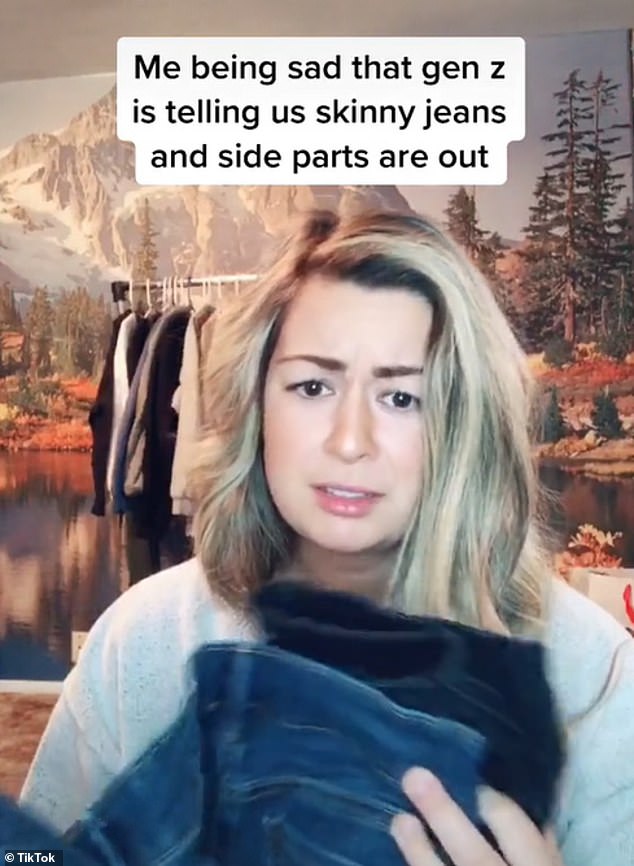 My dad had a different experience, though.
He really liked it, especially for places like concerts or festivals where you might not be able to carry a full first aid kit in a backpack.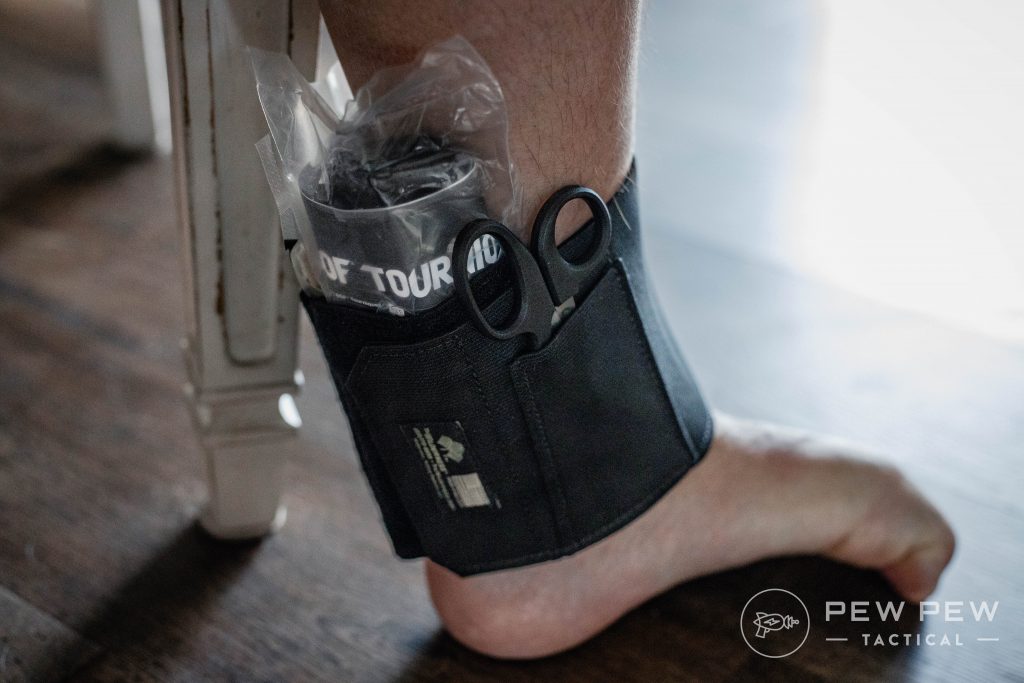 Now, the ankle kit is not a cheap option. Coming in at $135, it's pricier than the other two. Honestly, for this reason, I probably wouldn't opt for it unless you're specifically looking for an ankle IFAK.
But again, if you want an all-in-one ankle IFAK, this definitely meets the requirements and is a great option.
94
at Mountain Man Medical
Prices accurate at time of writing
Prices accurate at time of writing
Bottom Line
I was really impressed by Mountain Man Medical's trauma kits. They were equal parts compact and useful. All of the good stuff, none of the fluff.
Mountain Man Medical did a seriously good job of building a useable kit.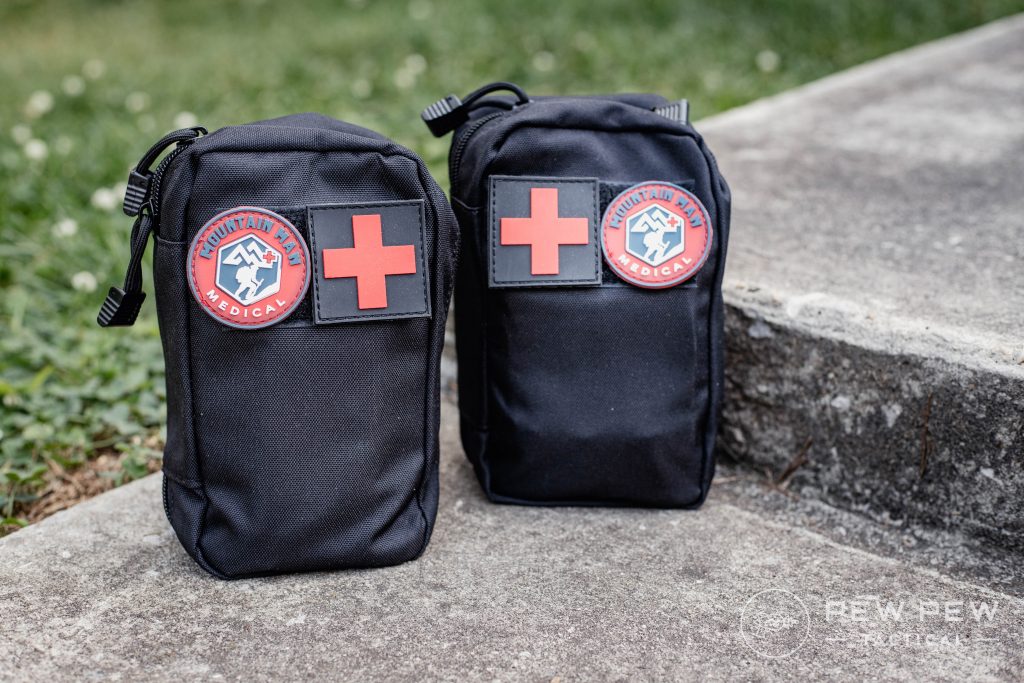 So, which one should you buy?
Honestly, you can't go wrong with any of these. But, in our opinion, regardless of your skill level, if you can afford it, spring for the Yellowstone.
Out of the kits I received, the Yellowstone served as the most robust. It was packed to the brim with the gear you would likely use in an emergent situation.
97
at Mountain Man Medical
Prices accurate at time of writing
Prices accurate at time of writing
I loved the inclusion of QuikClot Gauze and the Hyfin Chest Seal. It just really stood out as the better of the three packs I received.
If you're a trauma professional in any sense, you'll likely get more use out of the Yellowstone.
That said, if you can't quite afford that $80+ price tag, then grab the Sweetwater. You can always add QuikClot or the chest seal later.
49
at Mountain Man Medical
Prices accurate at time of writing
Prices accurate at time of writing
And that really is where Mountain Man shines. You can always order add-ons or refill kits to further customize your gear.
My dad and I both build our own first aid kits, so we really appreciate that they don't lock you in 100% to their setup. There's room to upgrade or swap things out.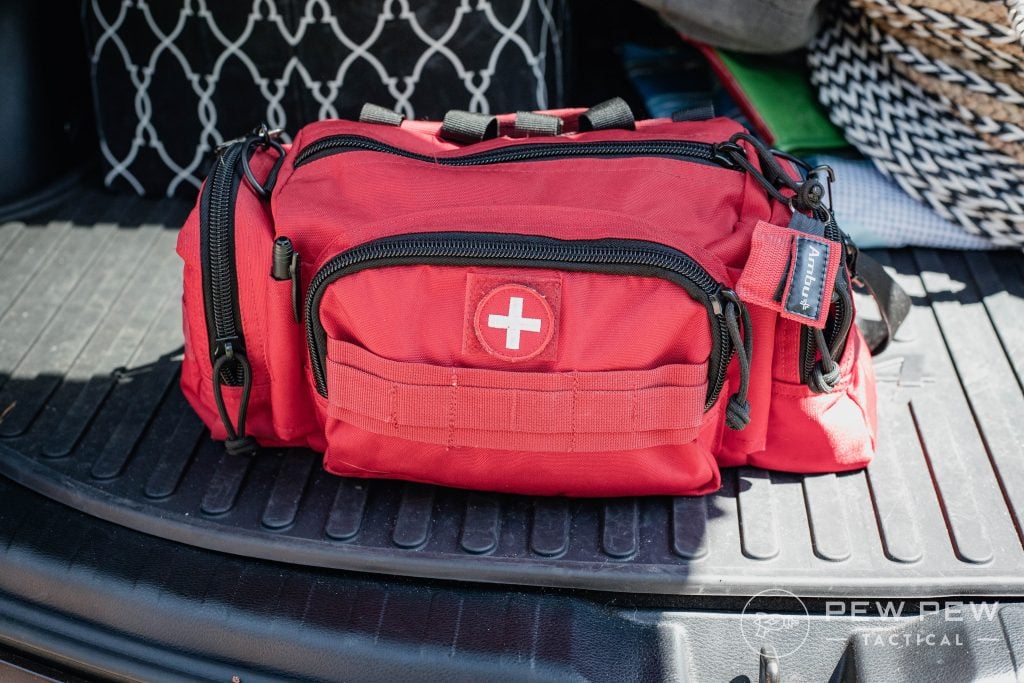 Finally, I didn't get much use out of the Ankle IFAK. But my dad, who regularly attends concerts and festivals (and doesn't don skinny jeans like his millennial daughter) really dug this kit.
Is it worth the $135? That's up to you, but if you'd feel more comfortable carrying a kit on your person, it's worth considering.
94
at Mountain Man Medical
Prices accurate at time of writing
Prices accurate at time of writing
On a similar note, I'd really like to see Mountain Man offer something comparable to the Ankle IFAK but for purses.
Right now, my first aid gear is scattered in a random pocket in my purse which definitely isn't efficient.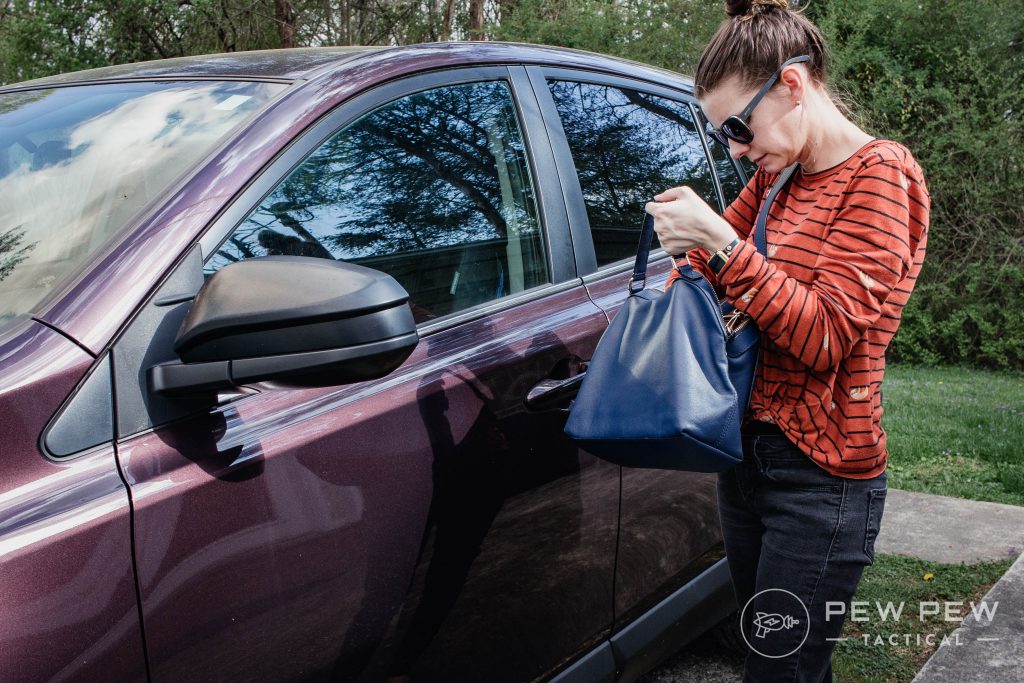 A purse kit that measures smaller than the Sweetwater/Yellowstone but could offer some organization to my IFAK basics would be amazing. I'd totally buy it! (Hint, hint Mountain Man…)
Also, worth mentioning that Mountain Man Medical offers FREE online Emergency Trauma Response Training. If you're strapped for cash but want to get your learn on, this is definitely an option.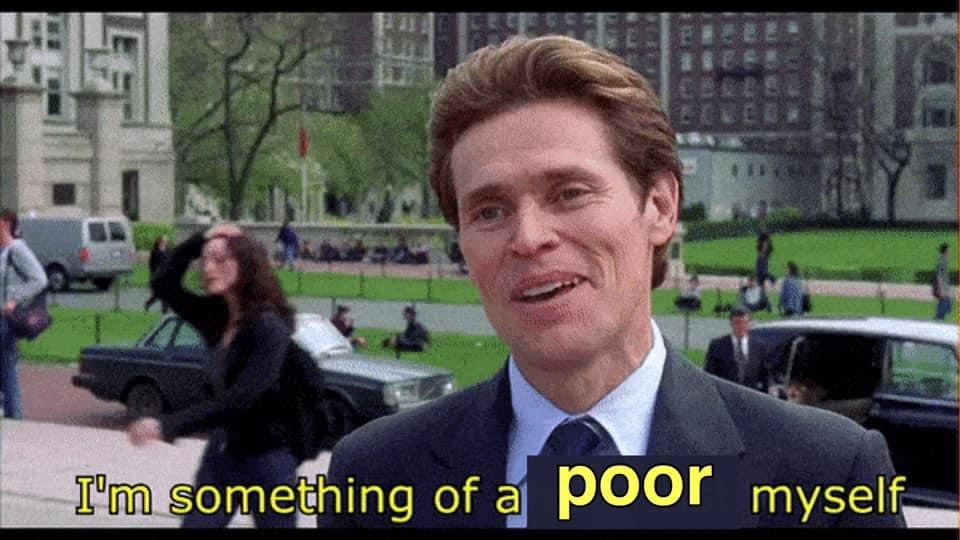 Conclusion
Mountain Man Medical offers plenty of value for those interested in keeping a first aid kit in their range bag, bug out bag, car, or on their person.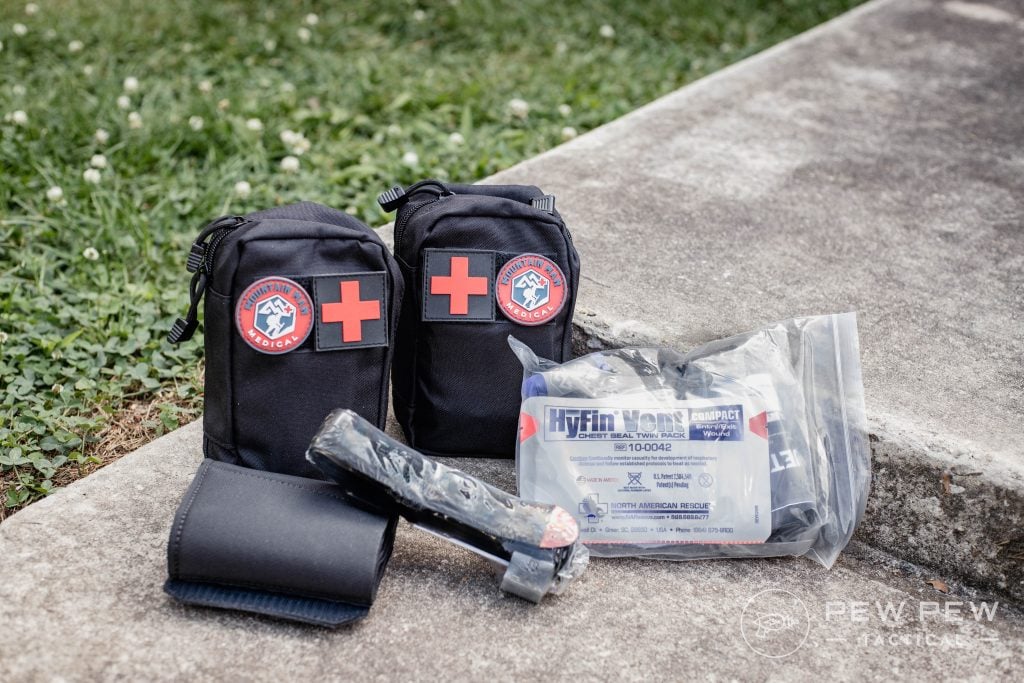 While I really preferred the Yellowstone, all these kits are worth checking out if you're on the hunt for out-of-the-box medical gear.
What do you think of Mountain Man Medical? Drop us a comment below. Gear is great, but what about training? Get your skills spun up with our list of recommended courses in the Best First Aid Classes.