It seems that no matter who you ask, the M1A is a seemingly a very controversial rifle.
Instead of arguing whether the M1A is a lousy rifle or a decent one, let's just have some fun with it.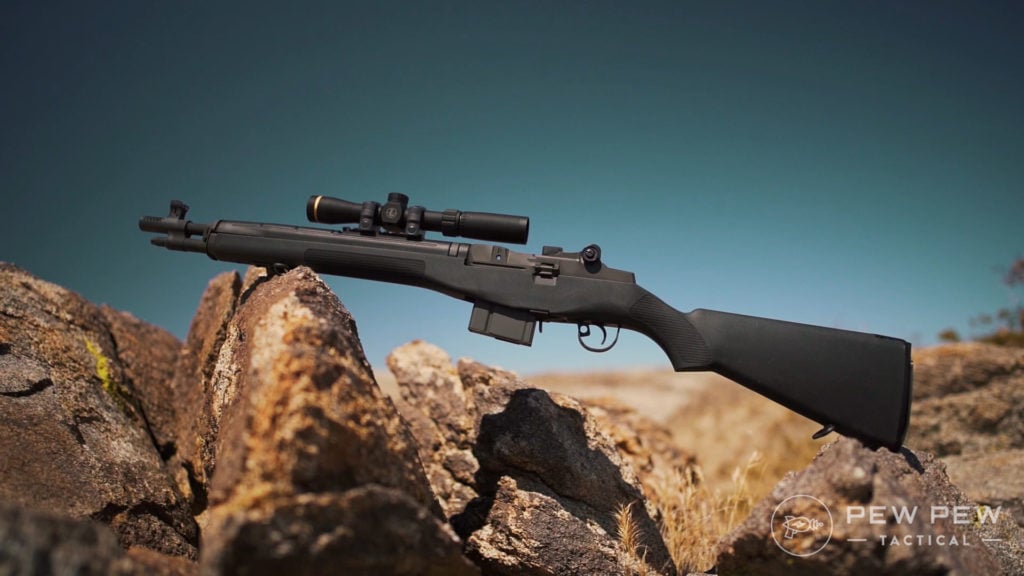 One of my favorite parts about owning guns is the tinkering involved with them. I'm sure for most; you feel the same.
So, in that spirit, we're going to take a look at all the cool and unique ways you can upgrade the M1A to make it easier to handle, more fun to shoot or add a tactical edge.
I have an M1A SOCOM 16 CQB. This model is fairly new and is a lot more compact than your average M1A.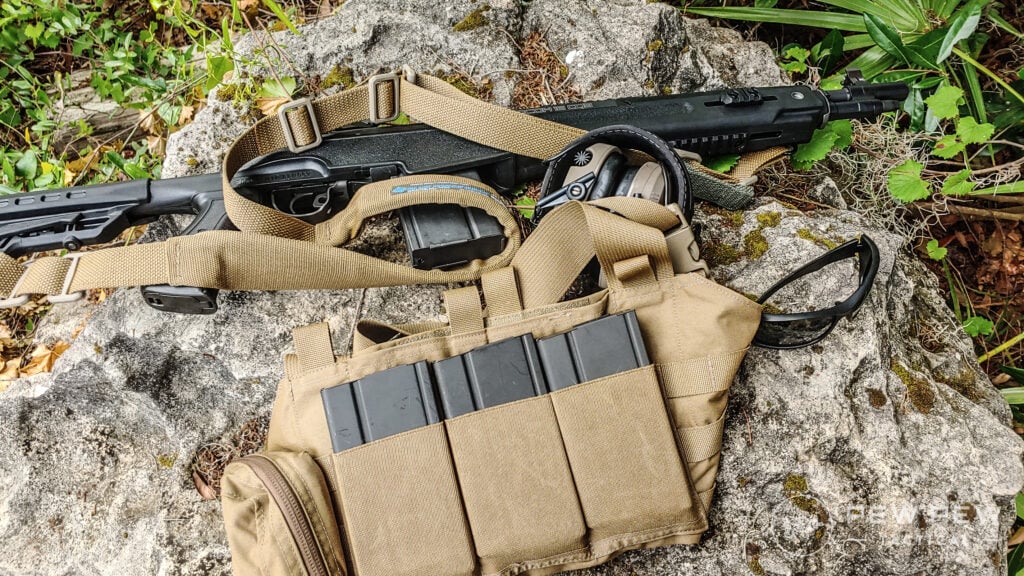 This model cuts the barrel down to 16-inches or so, giving you a lighter, more compact weapon. It's also pretty easy to tinker with.
With that said, let's get to it!
1799
at Sportsman's Warehouse
Prices accurate at time of writing
Prices accurate at time of writing
Best M1A Upgrades & Parts
1. Chassis
The M14 and, by extension, the M1A is easy to place in a chassis system.
They are quite popular since you can drop the entire action and barrel into a chassis without permanent modifications.
Luckily, there are more than a few options out there that you can buy.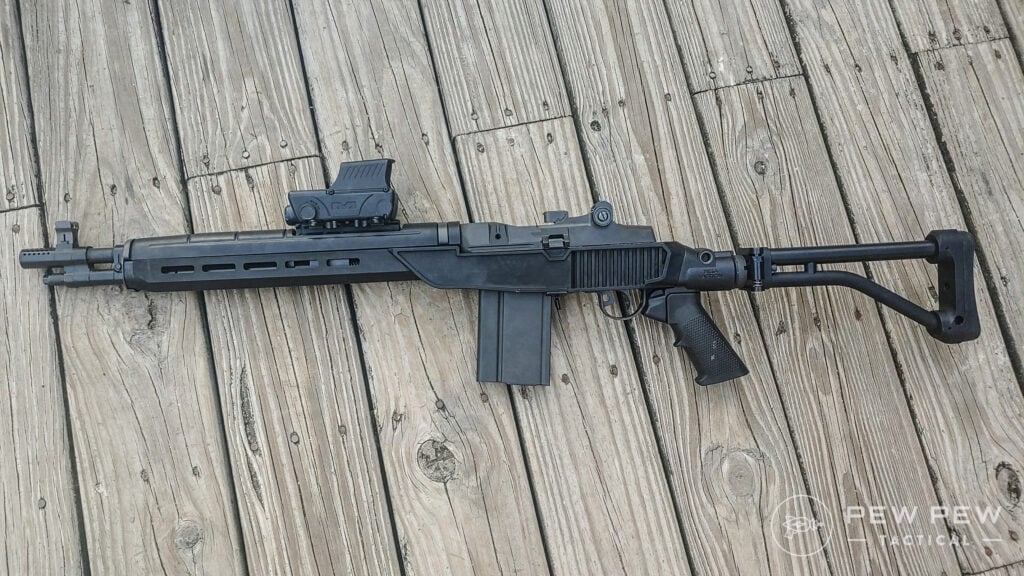 So, to make things easy, I picked one chassis that's affordable and one that's a little more expensive but more customizable.
First up, the budget-friendly model….
Affordable Pick: Archangel Close Quarters Stock
Archangel is a company owned by ProMag. Admittedly, I've had a few bad experiences with ProMag.
But this stock seems well made and simple. It adds a simple pistol grip and a collapsible AR-style stock.
At the front of the Archangel Close Quarters Chassis, you'll find M-LOK slots on the bottom and sides of the stock.
You can attach rails, or direct mount grips, lights, and more.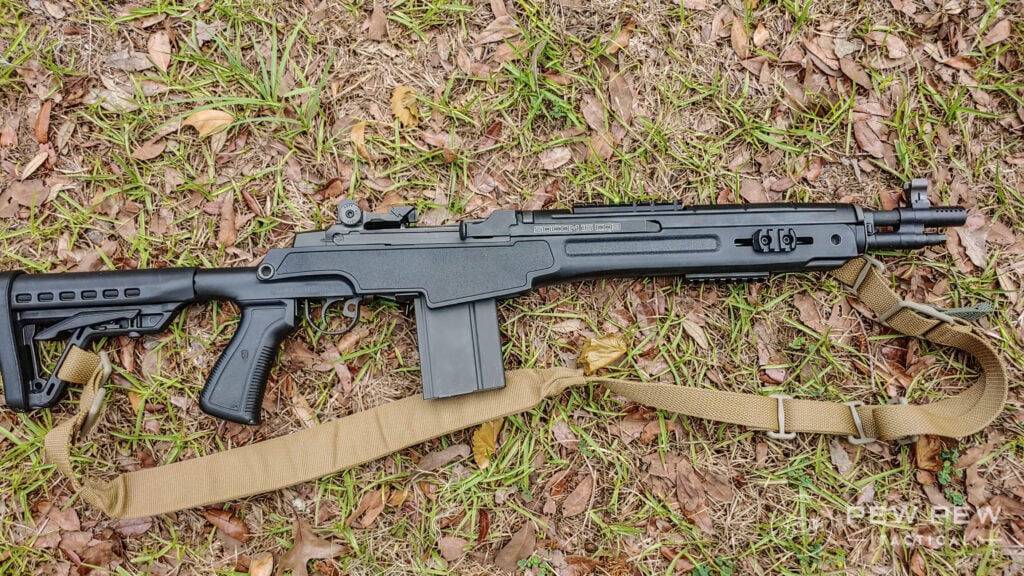 The stock also interacts perfectly with a scope mount forward of the action for long eye relief scopes or red dot optics. It comes with a removable cheek rest perfect for swapping between iron sight and optic use.
I think this stock is comfortable, and the adjustments are a nice touch for shooters of all sizes.
The Archangel Close Quarter stock also offers plenty of sling points.
Overall, it's an ergonomic option better suited for the shorty M1A version, like the SOCOM 16.
230
at Brownells
Prices accurate at time of writing
Prices accurate at time of writing
Customizable Pick: Delta 14 Chassis
The Delta 14 Chassis is probably the most ingenious design I've ever seen for modernizing your M1A.
While there are plenty of ways to modernize a weapon, the best is to tweak it to use common accessories for other weapons. This chassis does just that.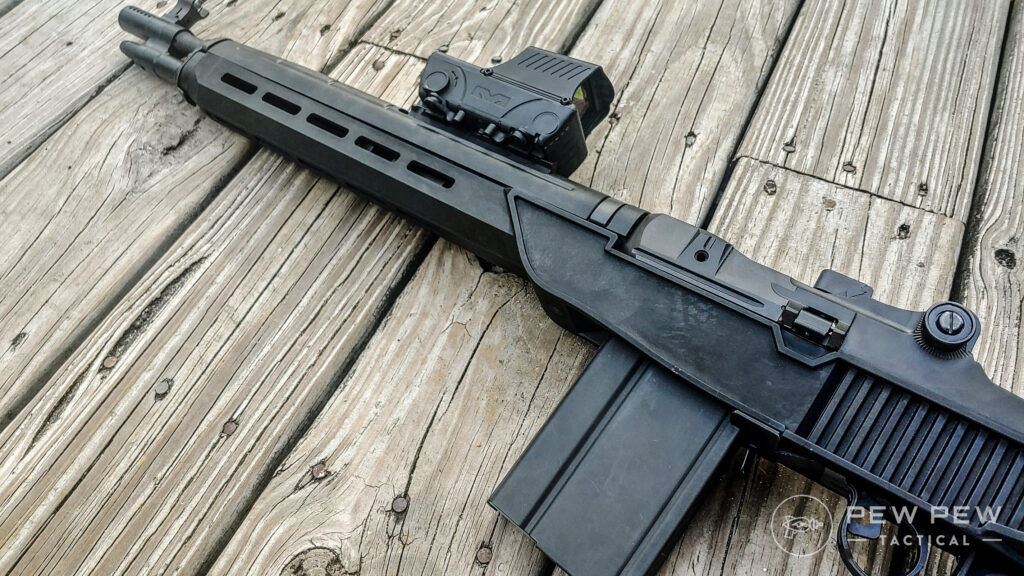 You can modernize the M1A using stocks and adapters designed for the Mossberg 500 series of shotguns.
The main portion of the Delta 14 Chassis uses a glass-filled nylon stock that your barrel and action drop into.
At the rear of this chassis is a stock point designed for Mossberg 500 stocks and accessories.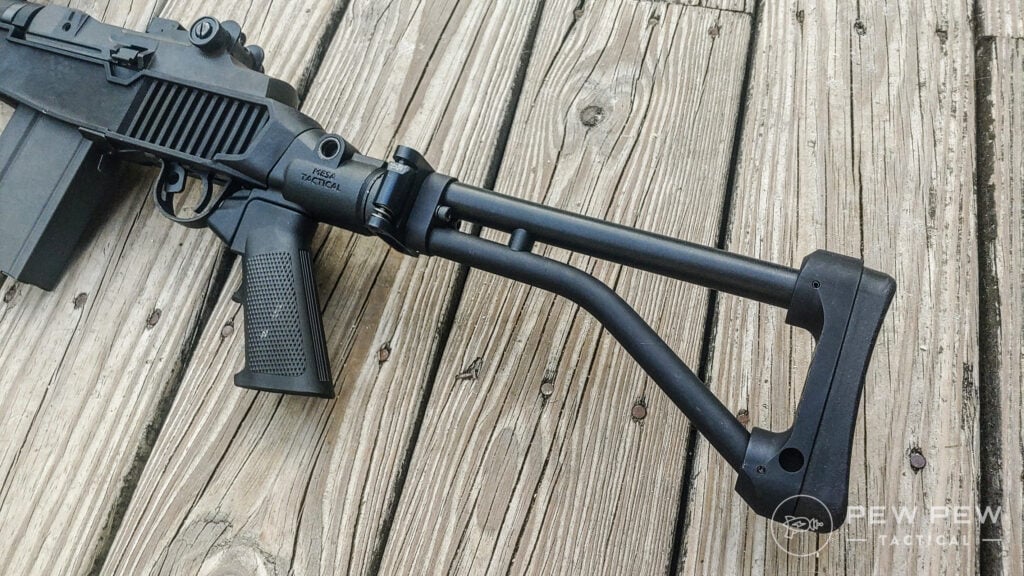 You can attach traditional Mossberg 500 stocks, or the Magpul SGA stock, or Mossberg 500 stock adapters.
This includes the Mesa Tactical adapter that allows you to use AR-15 style stocks, as well as many, many other options designed for ARs and weapons that use AR Buffer tube attachments.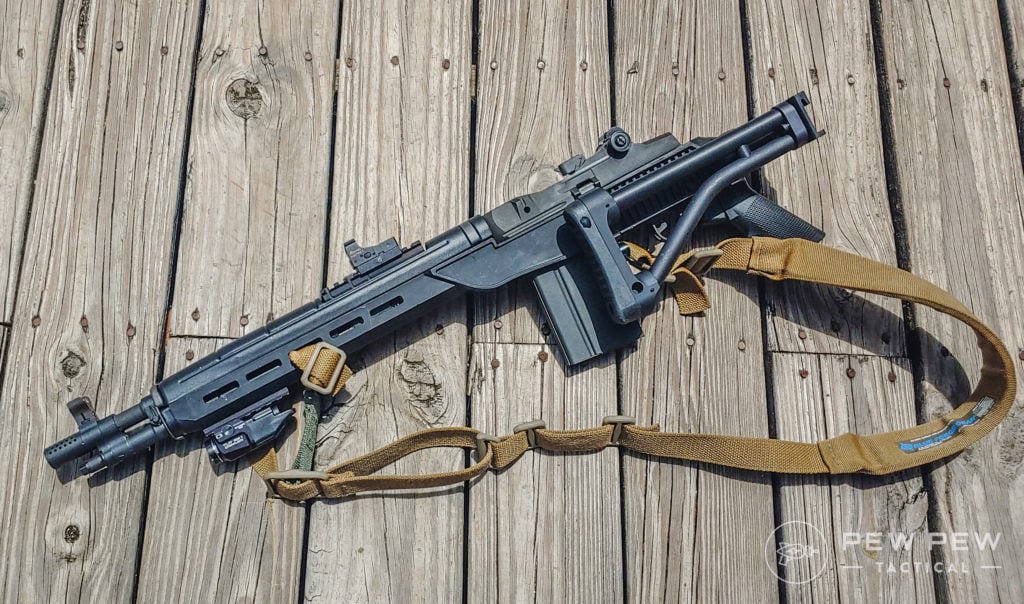 Delta 14 sells plenty of complete kits with all sorts of options for stock attachments, so it's a bit simpler. I got my hands on the folding stock chassis with the following attachments:
The chassis itself features M-LOK mounting slots at the 6-, 9-, and 3-o'clock positions. It comes with an M-LOK rail and ERGO M-LOK Rail covers.
Overall, it's lightweight and gives me a folding stock for that partisan look.
199
at Delta 14 Chassis
Prices accurate at time of writing
Prices accurate at time of writing
2. Optics
If you're going to want to hit anything with your M1A, you're obviously going to need a sight of some sort.
Red dot, variable-power optic, or irons — if you can't aim for it, you can't hit it.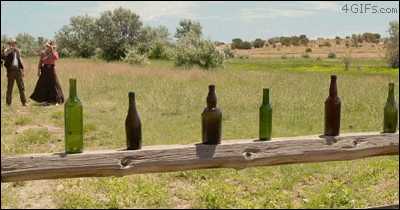 Here are a few different optics I like to slap on my SOCOM 16 build.
Meprolight Foresight
I've fallen in love with the Meprolight Foresight as my red dot of choice. It mounts perfectly to the forward section of my SOCOM 16 CQB.
The Meprolight Foresight is an awesome optic with the ability to connect to your phone to choose reticles, zero the optic, as well as set up and save up to 10 different weapon profiles.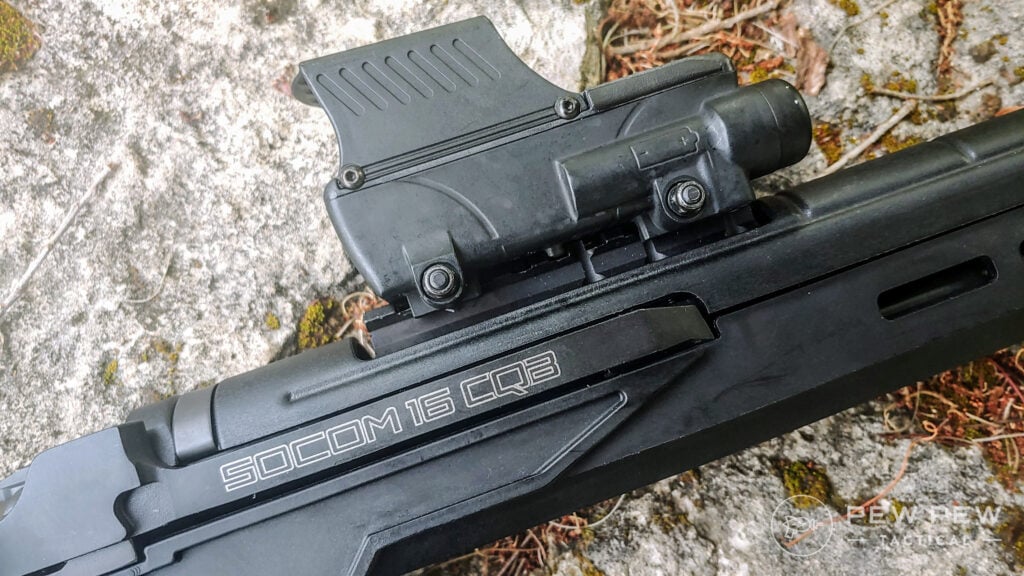 This allows me to snatch the Foresight off of the M1A and drop it on a CZ Scorpion.
I just switch weapon profiles, and instantly the optic is zeroed to the CZ Scorpion.
Seriously, this sight offers just about anything you could want.
The window provides more than just a reticle, but also a compass in degrees and a sight leveler. Its ability to connect to an iOS or Android device allows it to be updated.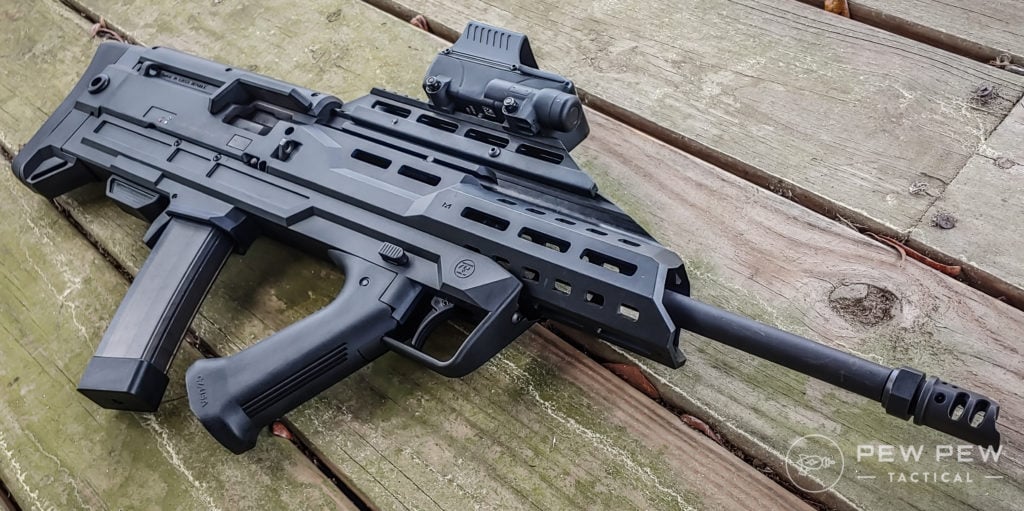 P.S. The next update is promising a built-in shot counter.
The Foresight is a durable cyberpunk optic that might be the future.
It's not perfect, and there are some valid security concerns, but for a fun gun, a hunting rifle, or a competition gun, it's perfectly suitable.
699
at Amazon
Prices accurate at time of writing
Prices accurate at time of writing
Primary Arms SLx 1-8x
The .308 is a powerful round and can reach out quite a bit further than your standard AR-15. With that in mind, a red dot only gets you so far.
So, what's the next logical step?
A magnified optic, duh.
The M1A is a tactical rifle, or at least it is in my mind. I like LVPOs on my tactical rifles, and there are lots and lots of them out there.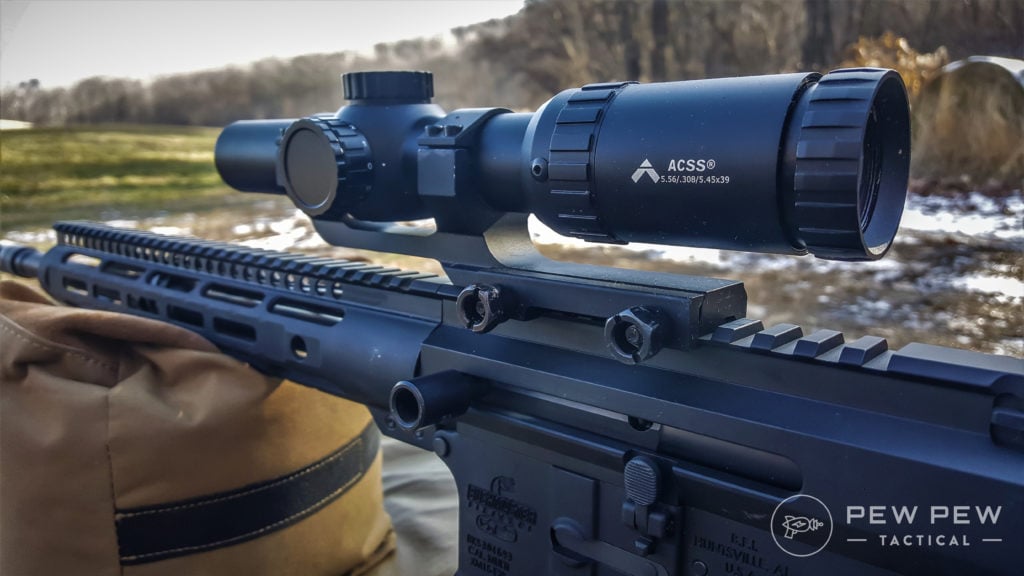 One that seems to be both affordable and robust is the Primary Arms series.
The Primary Arms SLx 1-8x is a perfect optic for the M1A, especially the SOCOM 16 variant.
That ACSS reticle is compatible with the .308 caliber round, so it's a natural fit. Not to mention, the reticle is also fantastic in general.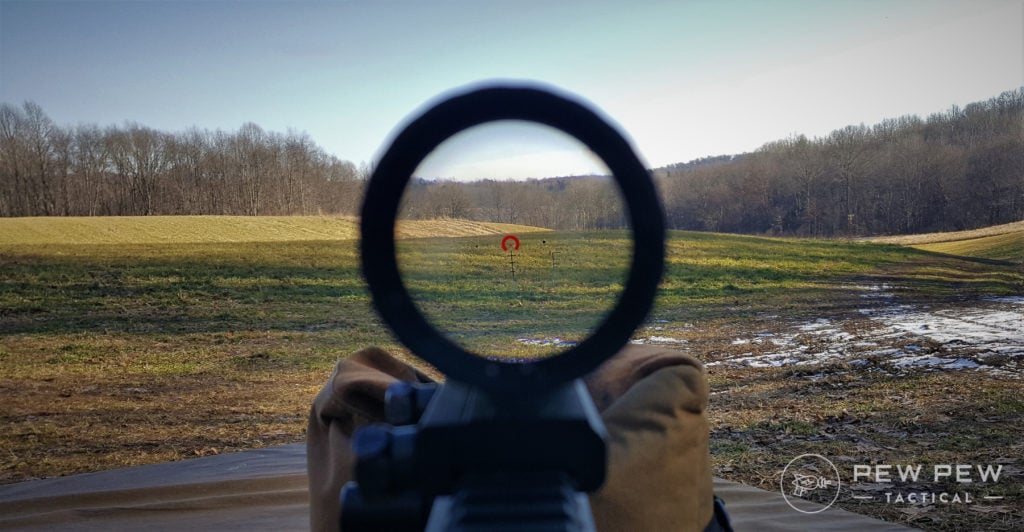 A 1-8x optic can be used over a wide variety of ranges. And since most of the M1A models aren't match-grade accurate, 8x is more than enough magnification for the effective range of the M1A series.
The lower end magnification settings also make the rifle well suited for closer and moderate range shooting. Plus, the optic is priced well.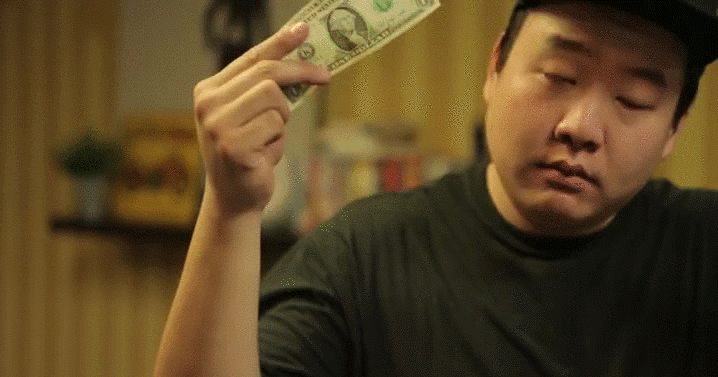 For a proper variable optic, you will need a scope mount. Luckily, quite a few companies produce these, including Springfield.
389
at Primary Arms
Prices accurate at time of writing
Prices accurate at time of writing
Smith Enterprises Springfield M14 Match Sights
If you want to rock iron sights but need something a little more precision, replace the front sight with a thinner option.
A thinner front sight is more precise, especially at longer ranges.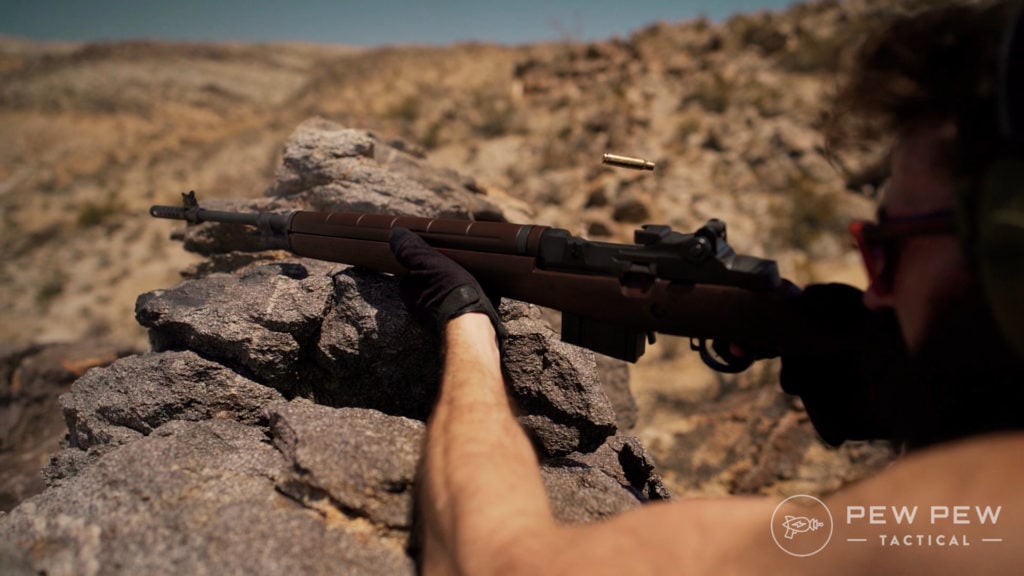 Smith Enterprises makes a simple drop-in design.
The front sight blade is made from 4130 chrome-moly and is .062-inches wide. It's a thin and precise option for iron sight precision.
44
at Brownells
Prices accurate at time of writing
Prices accurate at time of writing
3. Bipod
The M1A is not a lightweight weapon, and even the smaller SOCOM 16 Model isn't going to be as comfortable as a small carbine when held up or in improvised aiming situations.
To make life easier, get a bipod.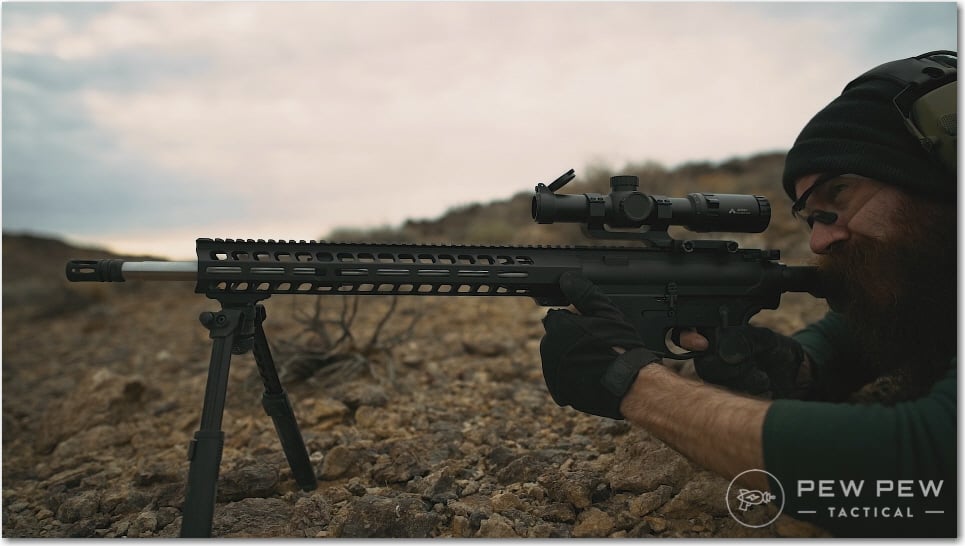 Most chassis offer M-LOK slots, and M-LOK is perfect for a bipod.
For a direct attach bipod, why not go with the new Magpul bipod?
Magpul makes great products at great prices, and the bipod is no different. The bipod legs are adjustable independently of each other and move from 6.3-inches to 10.3-inches.
Who wants to add a ton of extra weight to an already heavy weapon?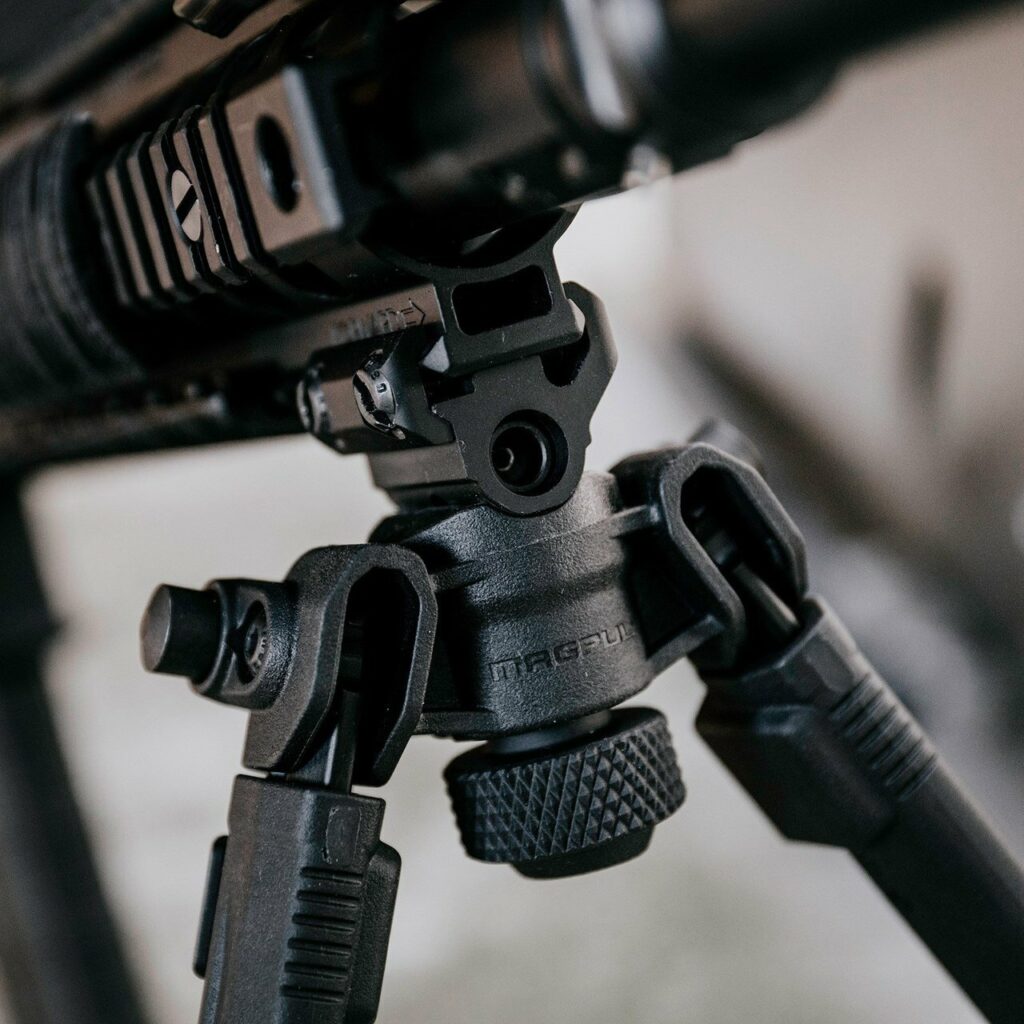 Not me, and not Magpul, it seems, since this thing is light as H-E-Double-Hockey-Sticks.
Always an added bonus!
The Magpul Bipod is a robust little bipod that's perfect for adding stability to your rifle and improving your precision. It's also sort of a must-have when using a magnified optic in a precision role.
85
at Brownells
Prices accurate at time of writing
Prices accurate at time of writing
4. Sling
I'm as predictable as my girlfriend's coffee order when it comes to slings.
The Blue Force Gear Vickers Sling has always been my go-to for rifle slings as it allows for adjustment in a snap via a pull tab.
Pull it one way, and it tightens down tight enough to let it hang safely.
Pull it the opposite way, and boom, now it's loose enough to give you maximum mobility.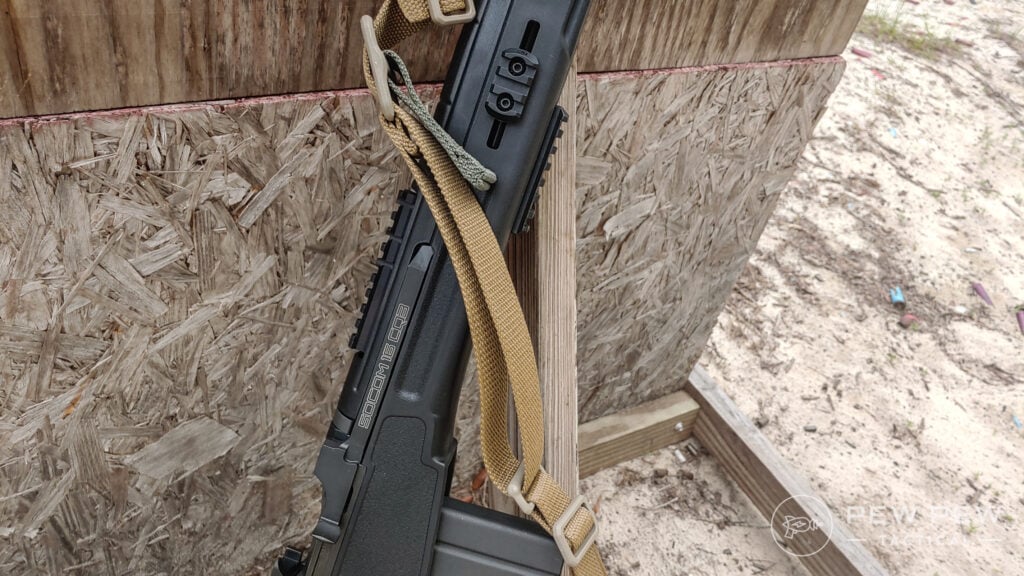 The Vickers slings are also compatible with an absolute ton of different mounting points and hardware available on the BFG website.
Vickers slings are tough as nails, and I've used various models, including the AK variant, the One sling, and the standard model.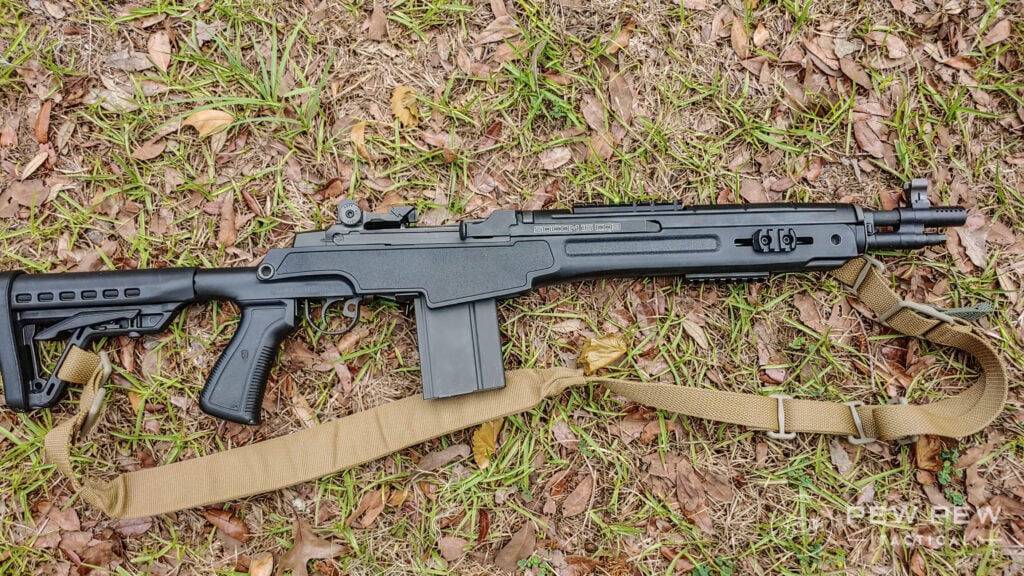 My particular model of choice for the M1A is the padded Vickers sling.
This rifle is a little heavier than an AR-15. So, the extra-thick, padded portion of the Vicker's sling keeps the sling from digging into your shoulder should you have a long day of carrying your rifle.
55
at Brownells
Prices accurate at time of writing
Prices accurate at time of writing
What's your thoughts on the Vickers sling?
5. Magazine Accessories
No one just wants to carry a single magazine, right?
We all need the means to carry extra ammo from time to time, and finding the right magazine pouch to fit the M1A magazine can be tough.
It's a big, heavy, all-metal magazine, and it needs some specialized gear.
Blue Force Gear Ten-Speed .308 Chest Rig
Since I already gushed over the Vickers padded sling, I figured I could gush a little more about Blue Force Gear.
I own their Ten-Speed M4 Chest Rig, so it seemed to be a natural extension to check out the Ten-Speed .308 Chest Rig.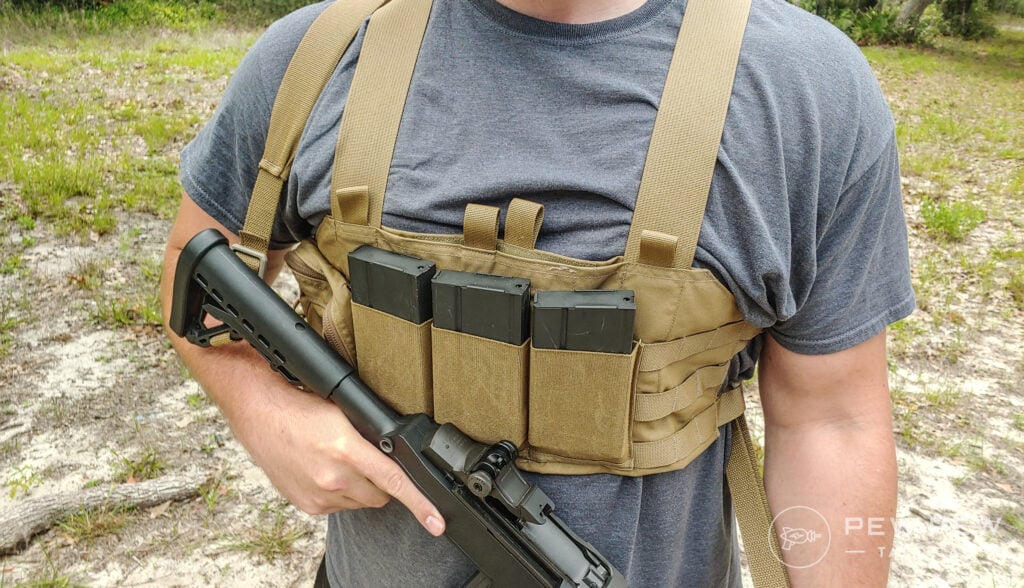 The Ten-Speed .308 Chest Rig is a minimalist design with three magazine pouches and two ladders of MOLLE webbing on either side of the magazine pouches.
It's a simple setup that allows easy carry of ammunition and basic gear like an IFAK, pistol mags, or even a fourth or fifth magazine pouch.
Now, the magazine pouches themselves are made from military-grade elastic and use tight friction fit to keep the mags in place.
There is no need for a retaining device, so your magazine changes can be quick and easy. But retention is still there.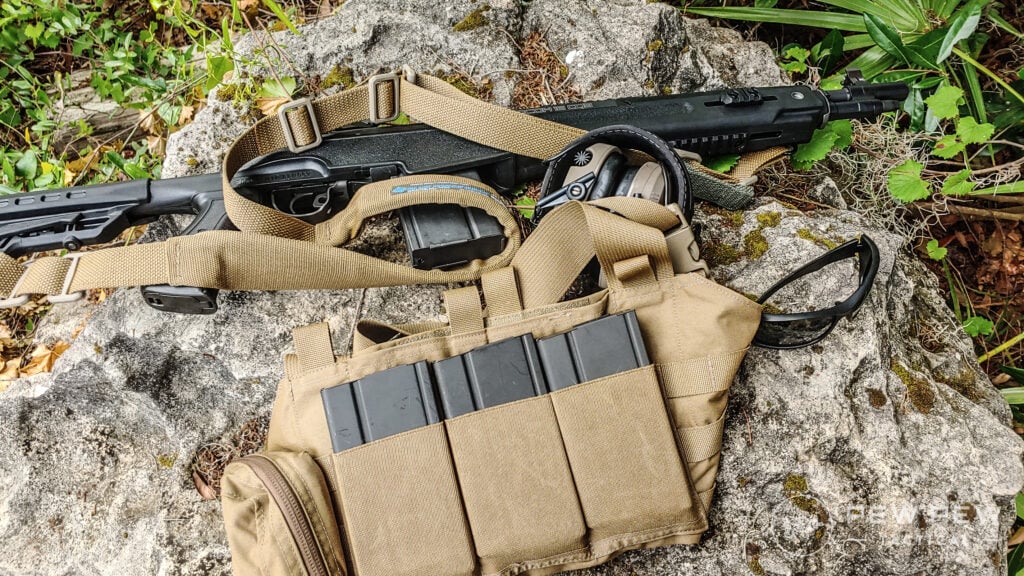 The chest rig itself is designed for simple adjustments. It can fit over body armor or just over the body.
It can be as tight as you want, and it's discreet enough to fit under a light jacket. The Ten-Speed .308 Chest rig is a well-made and comfortable piece of gear that's perfect for the M1A.
If you want to run a plate carrier or a battle belt of some kind, then grab the Ten-Speed Mag Pouches. They attach to MOLLE platforms with ease and are a perfect companion for those who love armor or their own platform.
90
at Blue Force Gear
Prices accurate at time of writing
Prices accurate at time of writing
Magpuls
M1A magazines are seemingly very robust and very durable. They are great, but the retention of the Ten-Speed pouches was so much so that I had some issues pulling them out with a compromised grip.
For that reason, I wholly endorse the Magpuls for .308 magazines, from, well, Magpul.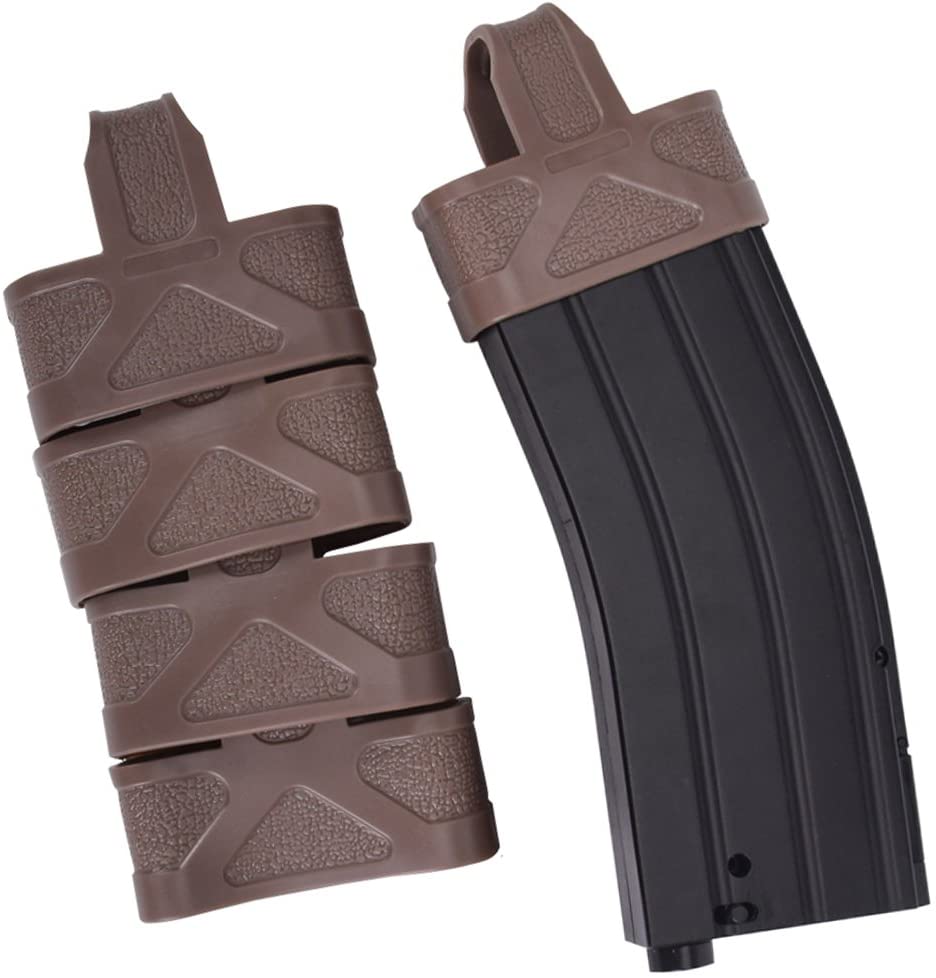 This gives you a much better grip on your magazines and allows you to insert, remove, and grip with ease.
It's a cheap attachment perfect for your M1A magazines — just avoid the cheap knockoffs.
10
at Magpul
Prices accurate at time of writing
Prices accurate at time of writing
Maglula Magazine Speed Loader
Since we are talking about magazines, you should also look into a Maglula loader.
Holy heck, are these Springfield magazines tight. Getting that's 20th round in there can be a challenge.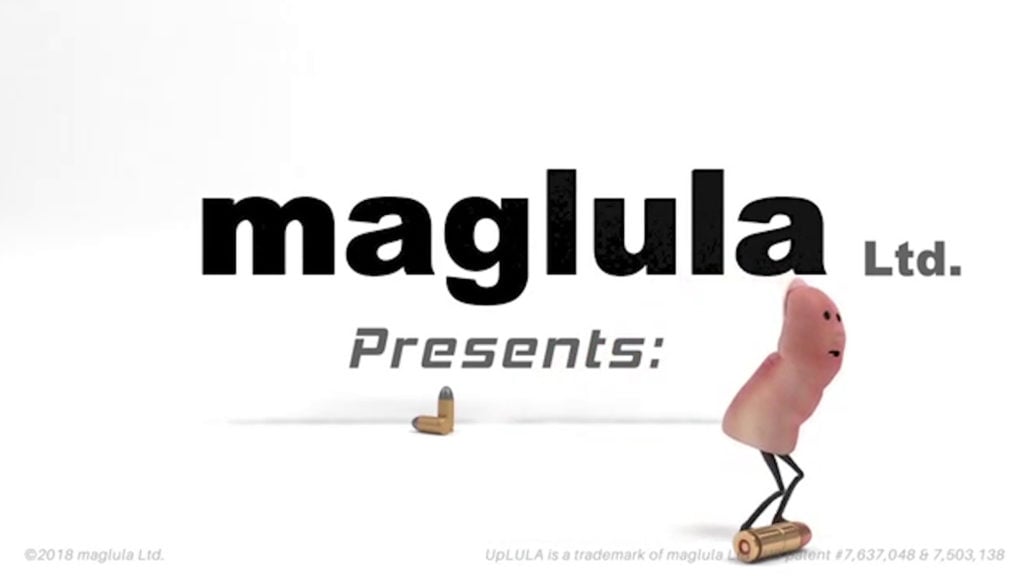 You can save your thumbs for a very low price, and I wholeheartedly endorse Maglulas.
I use them for just about everything.
29
at Brownells
Prices accurate at time of writing
Prices accurate at time of writing
Conclusion
If you hopped on the M1A train and found yourself disappointed, do a little tinkering and upgrade your setup.
With a handful of extra parts, you can tune the M1A up to something you're not embarrassed to take to the range.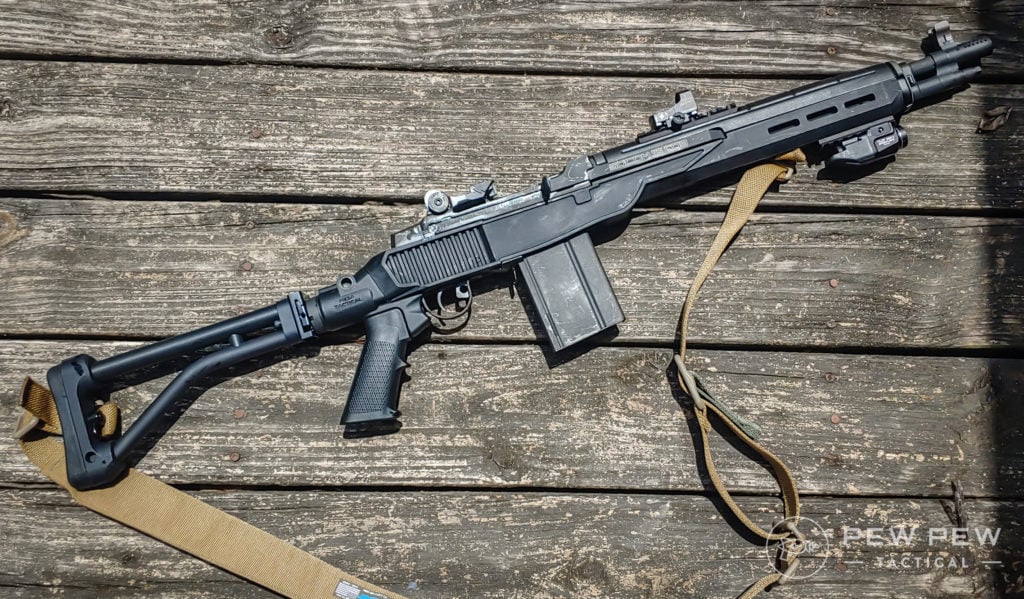 What upgrades do you like for the M1A? Let me know what you think in the comments. And don't forget to check out our review of the Springfield Armory M1A! Still looking at M1A models? Check out our round-up of the Best M1A Models.