The firearm world works in trends, and these trends affect each category of firearms differently.
Concealed carry pistols are all about the micro compact class, shotguns are leaning towards gas-operated semi-autos, and rifles…well, rifles are getting short.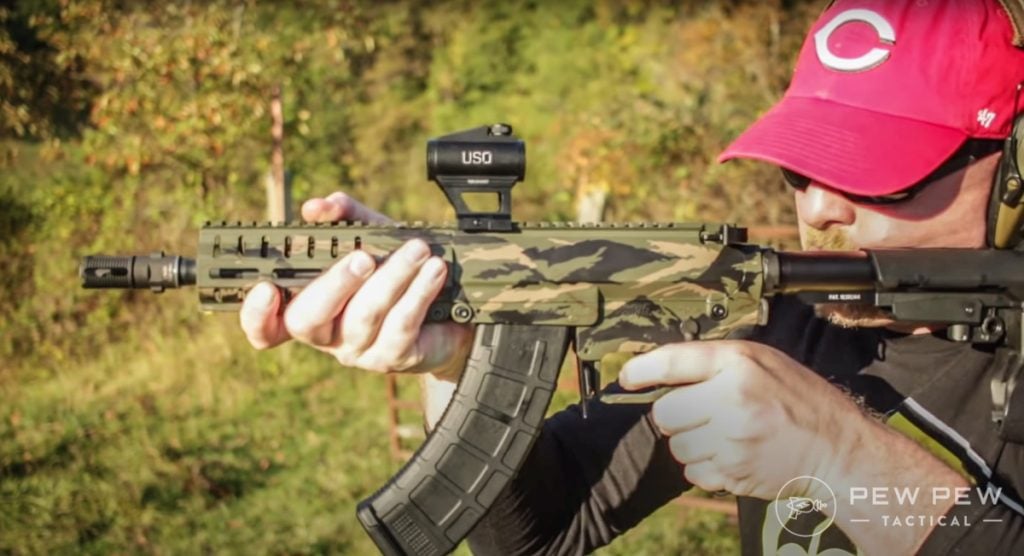 When I say short, I don't just mean your standard carbine, and hell, even your typical short-barreled rifle. Nah, man, we are going short — with barrels 10 inches or shorter. These make up a class of firearms I call the shorties.
Shorties use rifle calibers, or well, mostly rifle calibers. (They certainly don't use pistol calibers.)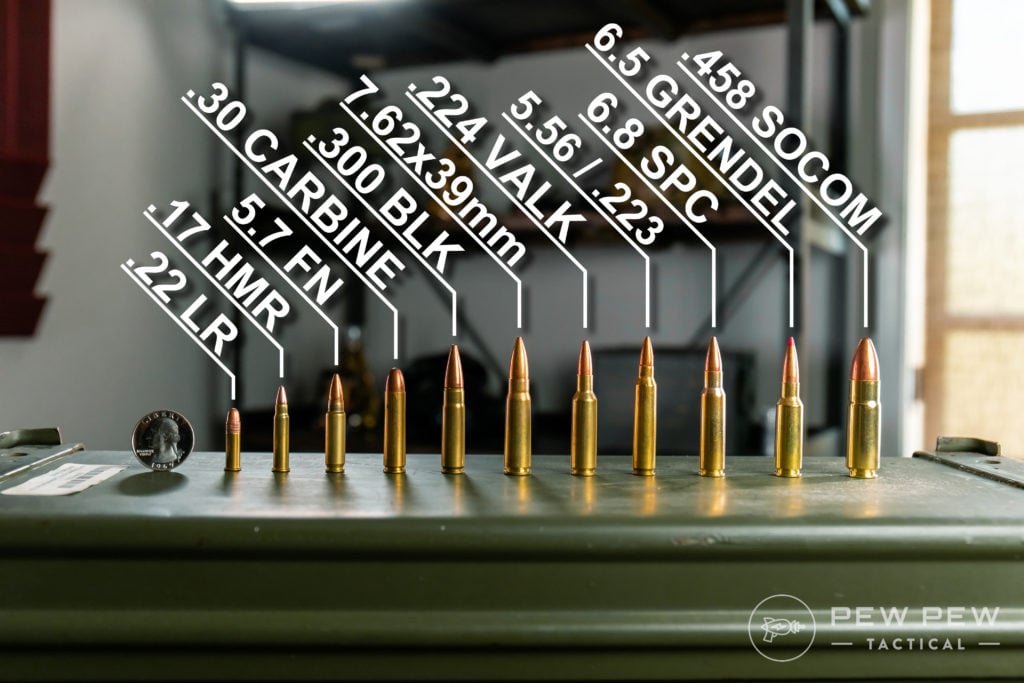 These shorties can be short-barreled rifles or braced rifle caliber pistols. Heck, they don't even really need a brace to make the list. Although, braces make them much easier to handle.
So, let's dive into what a shorty is and some of the best ones we recommend. Keep reading!
Summary of Our Top Picks
Table of Contents
Loading...
Why Shorties?
Short rifles and rifle caliber pistols provide a compact and uber short platform.
They can be ballistically neutered depending on the caliber compared to a standard rifle. However, they aren't designed for long-range shooting or even moderate-range shooting.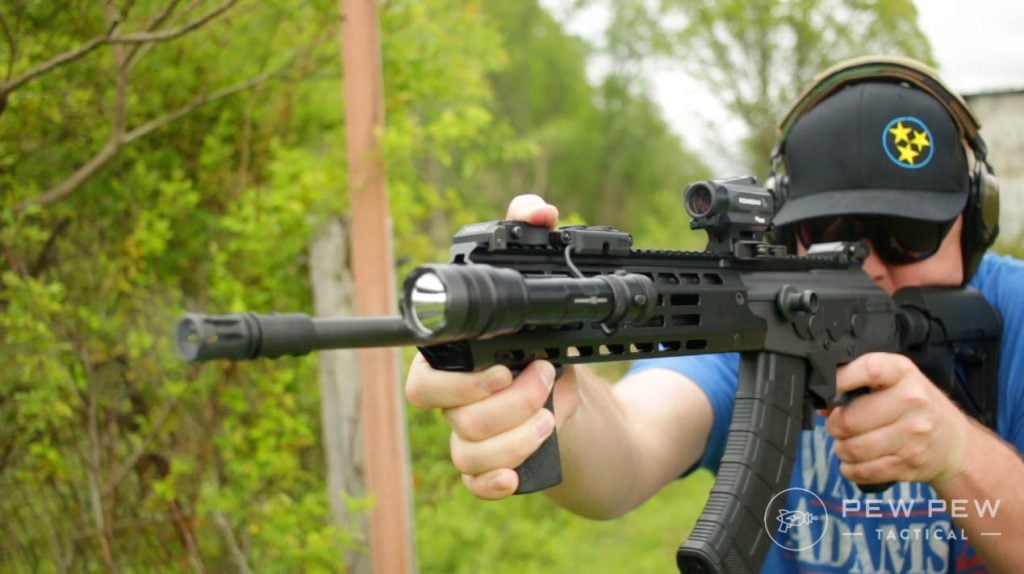 These shorties excel at close quarters combat and home defense. They provide the power of a rifle in a platform roughly the size of an SMG.
Even when ballistically neutered, rifles offer more velocity, penetration, and power than a pistol caliber. They often work best when paired with a suppressor.
Plus, they are just fun!
Best Short Rifles
1. Q Honey Badger
Q's Honey Badger provides us with one of the highest quality shorties on the market.
It's available as a braced pistol and SBR and sports a 7-inch barrel. From the ground up, the Honey Badger is designed to function with a can and utilize the silencer-friendly .300 BLK load.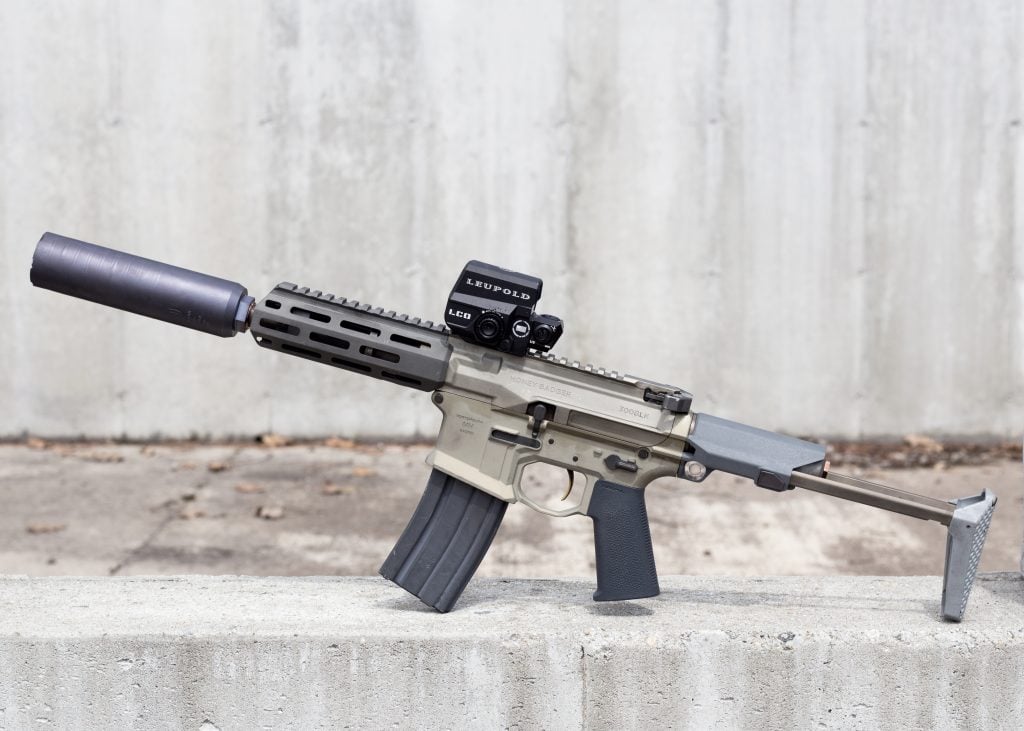 To keep things short, Q utilizes a short two-position brace or stock that allows for a very short and compact package when everything is collapsed.
At only 4 pounds and 8 ounces, the Q comes in as a super lightweight fighter. Not bad for a true rifle caliber weapon.
Best High End Option
2400
at Primary Arms
Prices accurate at time of writing
Prices accurate at time of writing
The Honey Badger utilizes an adjustable gas block to tun the gun for super or subsonic loads, and you can use it with or without a suppressor.
It's topped off with an amazing trigger, an M-LOK handguard, and Q's own Cherry Bomb muzzle device compatible with Q suppressors.
2. Sig Sauer Rattler
The MCX utilizes a short-stroke gas piston design, making the gun extremely reliable with the shortest barrels.
As such, a weapon like the Rattler was bound to come out. This short little gun sports a 5.5-inch barrel and comes in both 5.56 and .300 BLK.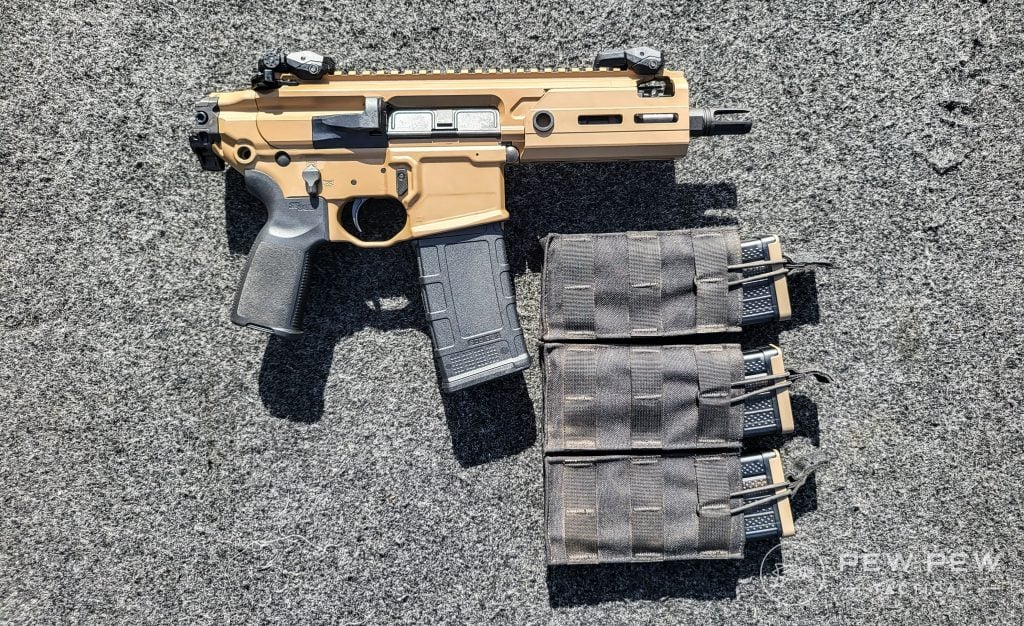 5.56 seems obnoxious out of a 5.5-inch barrel, and you'll see a lot of ballistic neutering with such a short barrel. You'll most certainly want to pair it with a can. .300 BLK makes way more sense in this weapon since it's made for a shorter barrel.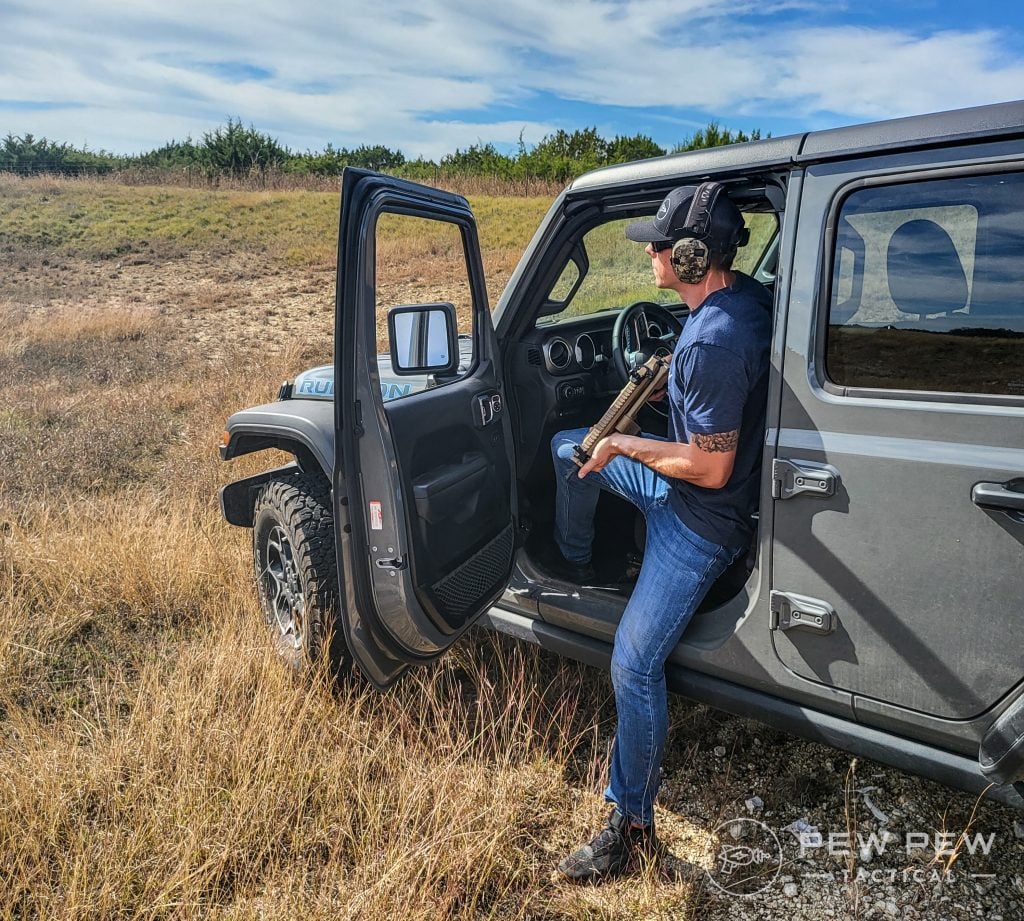 Either way, the Sig Rattler provides a compact platform that comes as a pistol or rifle.
Without a receiver extension, the stock or brace can collapse or fold without affecting weapon function. A folding stock provides an even shorter shorty that weighs only 5.1 pounds.
Sig trimmed corners, reduced the grip, minimized the stock and brace options, and drove the Rattler down in size, and I greatly appreciate it.
Pistol or Rifle Option
2699
at Kygunco
Prices accurate at time of writing
Prices accurate at time of writing
Want more deets? Head to our Rattler review for more info!
3. CMMG Mk47 Banshee
Do you want an AR-15 in 7.62×39 but don't want to deal with the weird magazines? Well, CMMG has you covered with the Mk47.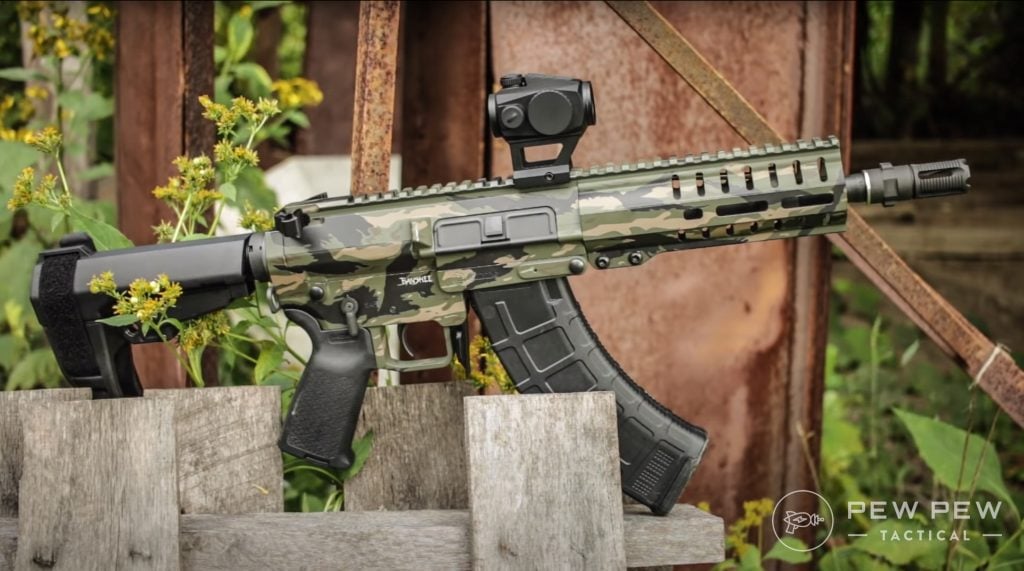 Instead of using odd, expensive, and weird-looking magazines, the Mk47 utilizes AK magazines through a proprietary lower receiver. AK mags are everywhere and are superbly cheap.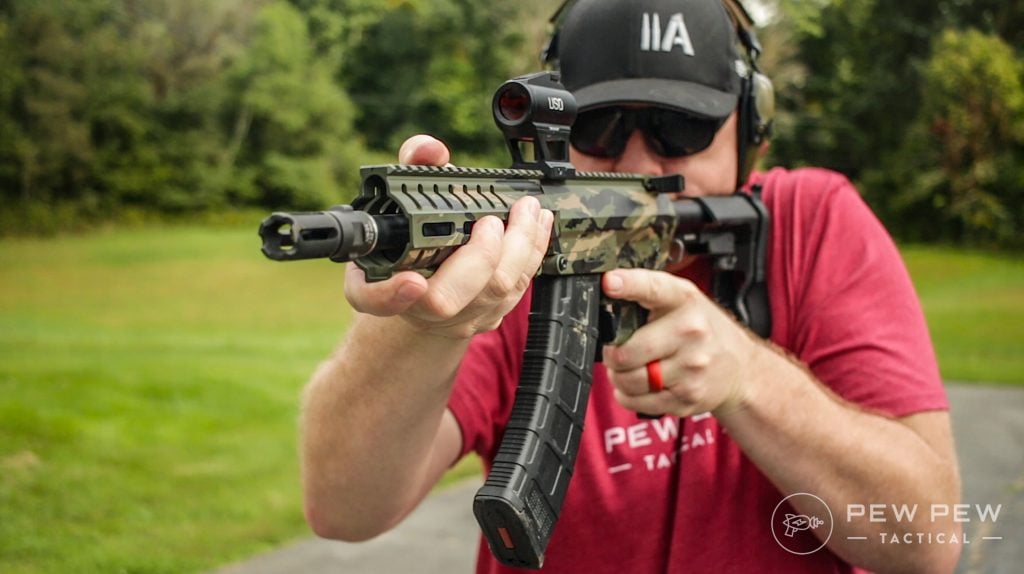 You lose your LRBHO and gain a paddle-style mag release, but other than that, it's all AR-15.
We got an M-LOK handguard, flat top upper, brace, stock compatibility, and safety, pistol grip, and trigger.
1375
at Kygunco
Prices accurate at time of writing
Prices accurate at time of writing
7.62×39 does a great job from short barrels and remains pretty effective from the 8-inch Banshee barrel.
Oh, and Banshee makes a lot of sense as a name when you shoot this thing and hear the wail it creates!
Johnny B took the Banshee for a whirl, get his thoughts in the review or video below.
4. Diamondback DBX
When you want to go super short and super lightweight, then the Diamondback DBX is for you.
Does the 5.7x28m qualify as a rifle round? Well, maybe not, but it's not a pistol round either! The DBX uses the 5.7x28mm and weighs a mere 3 pounds unloaded.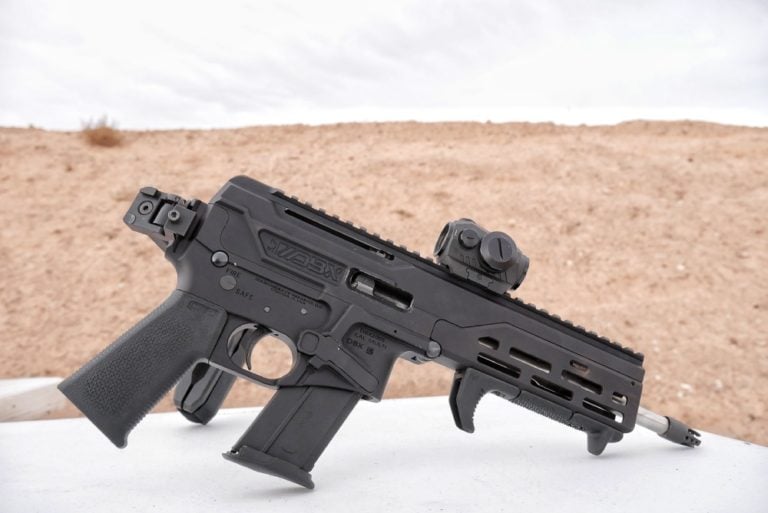 The DBX brings you an incredibly lightweight platform using a round that's flat to 150 yards.
Diamondback went with the FN Five-SeveN magazines, so you get 20 to 30 rounds of the handy little 5.7 round. A rear 1913 rail makes adding a brace easy, and you can fire the weapon with the brace folded.
Budget Pick
1073
at Kygunco
Prices accurate at time of writing
Prices accurate at time of writing
This shorty gives you a super short platform with an 8-inch barrel without all the flash and concussion that most short barrels with rifle calibers emit.
Its design makes it super short and very easy to use, especially from a defensive perspective.
5. Christensen Arms Modern Precision Pistols
Let's slow it down, ladies and gentlemen. Drop your semi-auto actions and grip your bolt handles because the Christensen Arms Modern Precision Pistol gives you a super shorty in a bolt-action format.
The MPP comes in numerous calibers, but the .300 BLK is the only one that qualifies as a shorty with its 7.5-inch barrel.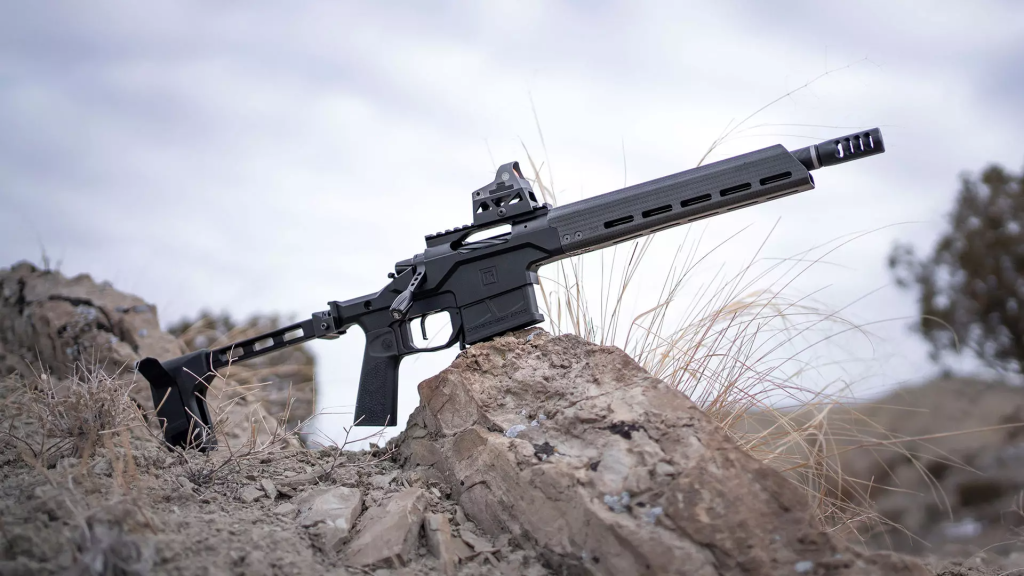 Obviously, you can brace the pistol and easily add a bipod to drive the precision upward. At the MPP's core sits a Remington 700 action fitted with an AICS magazine and billet aluminum pistol chassis. It's all about being short but accurate.
The carbon fiber barrel keeps things light and ultra-accurate. Plus, the action is so damn smooth and nice it's tough to hate.
Best Bolt-Action
2297
at Kygunco
Prices accurate at time of writing
Prices accurate at time of writing
With this sweet little bolt action shorty, you'll have no issues putting .300 BLK rounds down range at impressive distances.
6. IWI Galil Ace Gen 2
The IWI Galil Ace Gen 2 delivers three caliber options with its 8.3-inch barreled model.
Shooters can pick from 5.56, 7.62×39, and 5.45×39. Of those three, I'm saying go with 5.45 for the cool factor, but if you plan to shoot it a ton, then go with 7.62×39 for the affordability.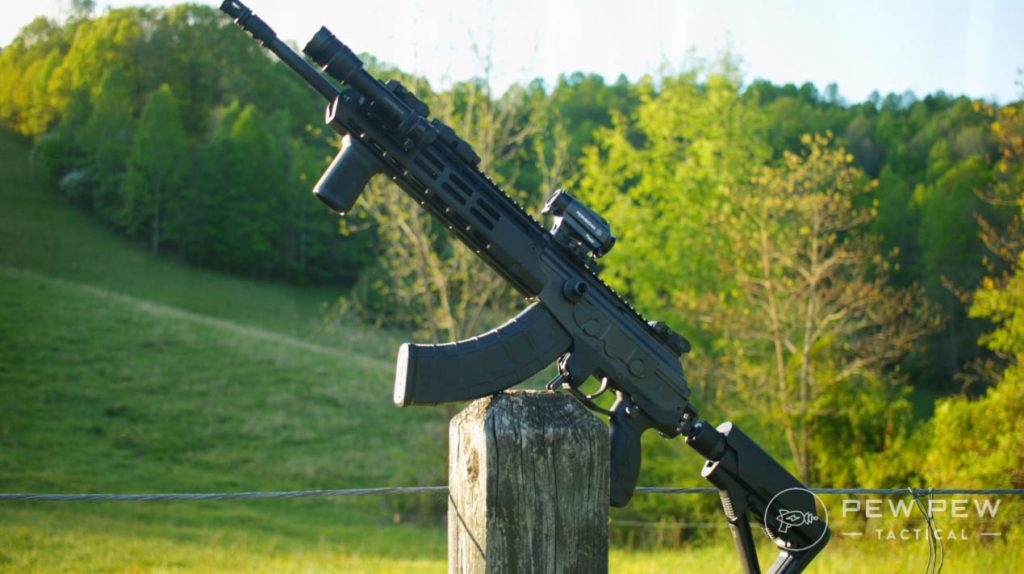 5.45 will deliver less recoil and more control in the shorter platform, but both do well with shorter barrels ballistically.
The Galil takes the AK and modernizes and refines it so much it's arguably an entirely different platform. This includes ergonomics enhancements that are to die for.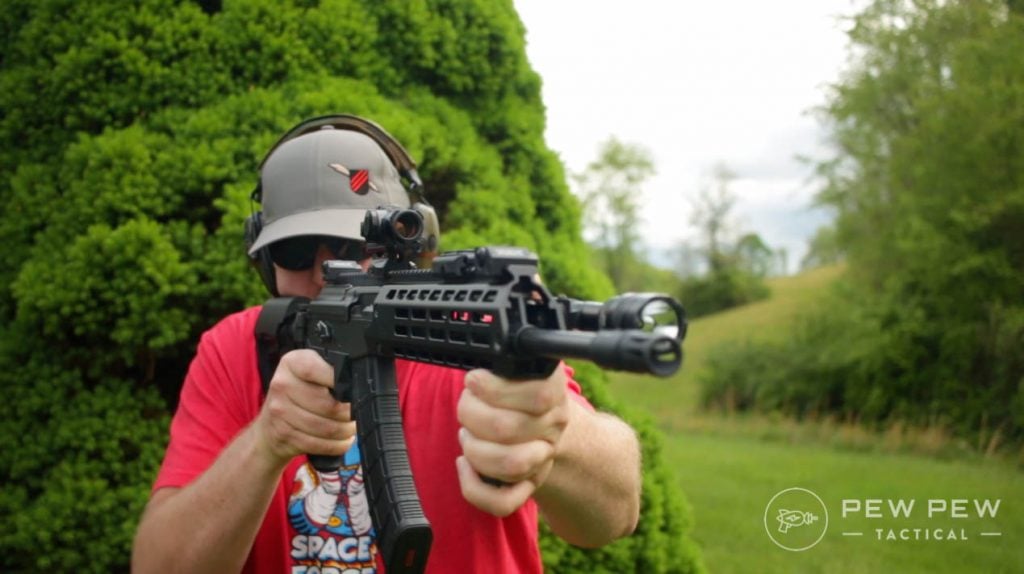 Forget the AK safety, give me the Galil design and the Galil's left side charging handle, and did I even mention the superior optic rail that makes adding red dots a breeze?
AKs are excellent, but Galil is objectively better. Plus, they use standard AK mags, which makes it easy to keep up a stash of cheap mags.
Best AK Style
1821
at Kygunco
Prices accurate at time of writing
Prices accurate at time of writing
Check out our full video review below or read the review!
7. Maxim Defense PDX
The Maxim Defense PDX offers shooters an AR platform that's super short, super light, and quite sweet from front to rear.
The gun comes in 5.56, .300 BLK, and 7.62×39. Of these three, I'd likely go with .300 BLK for efficiency but 7.62×39 for cheap ammo.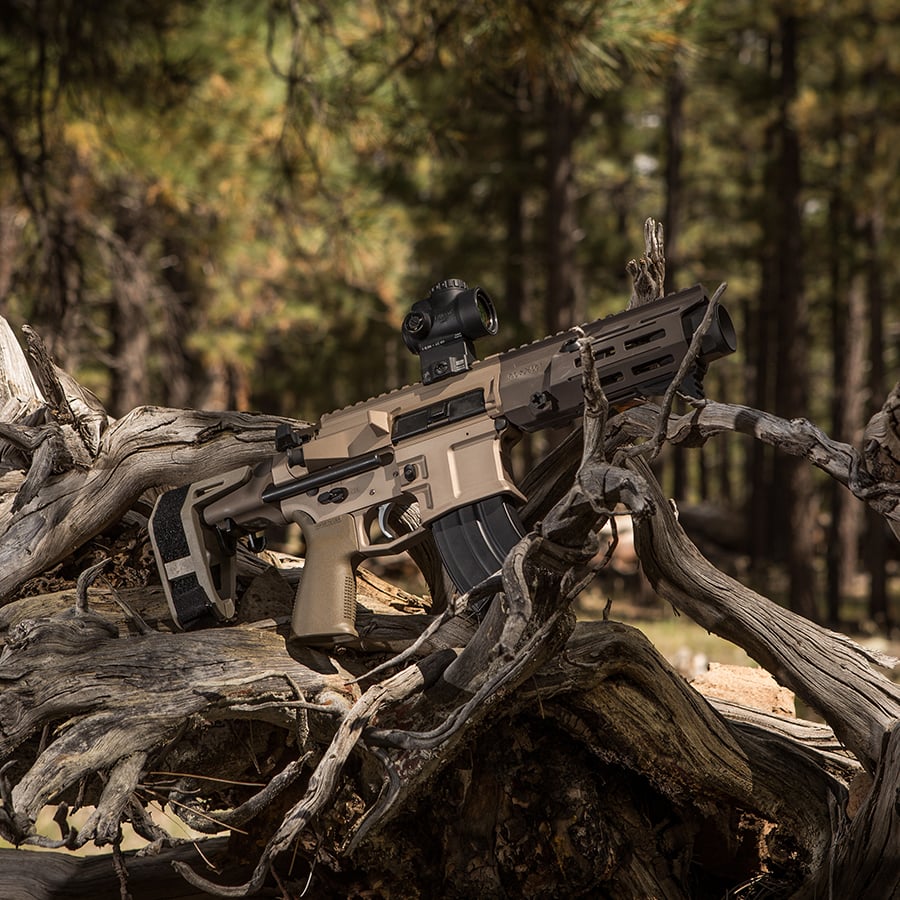 Either way, you get a 5.5-inch barrel topped with the HATEBRAKE! I have to yell because without it and some hearing protection, you'd be deafened quite quickly.
The HATEBRAKE reduces recoil while functioning as a linear compensator, directing noise, flash, and concussion away from the shooter. It's pretty handy on the uber short barrel.
Best for CQB
2065
at Guns.com
Prices accurate at time of writing
Prices accurate at time of writing
At the back, we have Maxim Defense's own CQB brace, an ultra-short PDW type that keeps the platform short at 18.7 inches overall.
Plus, at only 5.5 pounds, the gun keeps things light.
8. CZ Bren 2 MS Pistol
I want FN to release the SCAR PDW to the civilian market as a pistol, but they won't, so instead, we turn to CZ.
The Bren MS Pistol gives you the short-stroke gas piston system with 5.56 and 7.62x39mm options. With 8- and 9-inch barreled variants, these qualify as a shorty, and as such, either caliber will work…but I'd prefer the 7.62×39.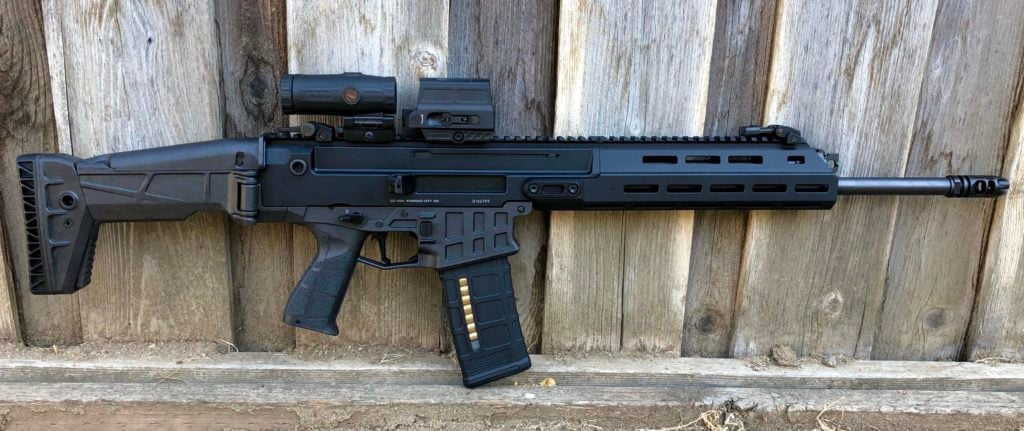 However, I'd probably purchase the 5.56 variant since we get to utilize more common AR-15 magazines instead of the proprietary CZ 7.62x39mm magazines.
The Bren readily accepts AR receiver extensions for plenty of brace options and provides a modern modular rifle for the end-user.
Best Modular PDW
1989
at Kygunco
Prices accurate at time of writing
Prices accurate at time of writing
Its ambi ergonomics are outstanding, the charging handle doesn't reciprocate, and the weapon is ready for all the modern optics, lights, and accessories you could ever want.
The Bren 2 MS provides me with the SCAR style PDW that FN just won't sell.
Downsides to Short Rifles
There are downsides to these short rifles.
Obviously, recoil, muzzle flash, and concussion will be significantly increased. These guns are not pleasant indoors, and sadly that's where they excel.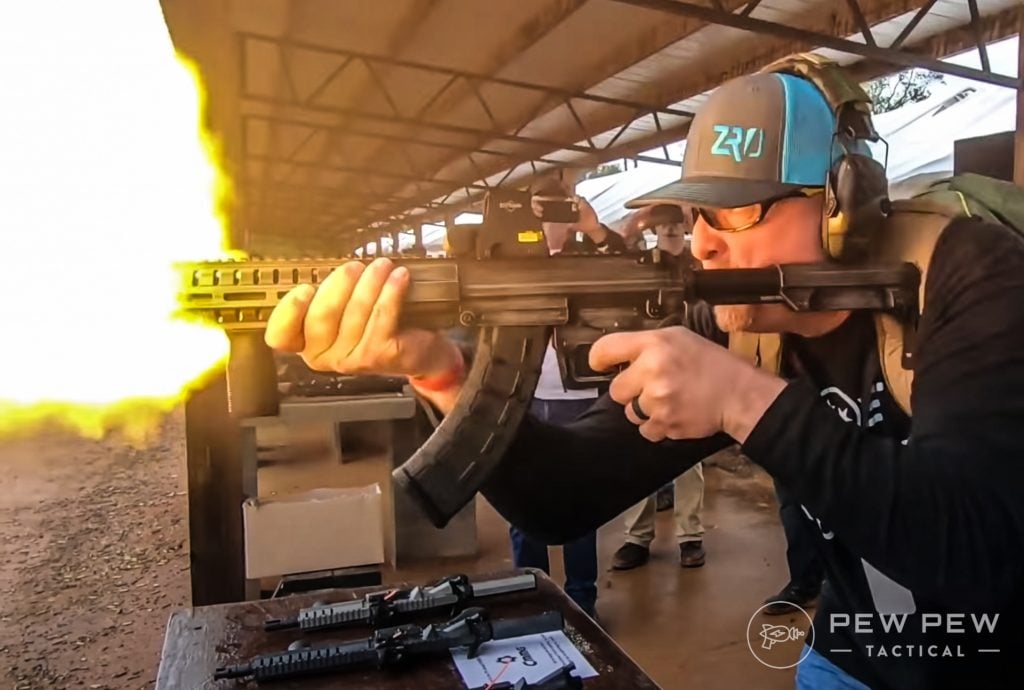 They work best with a can for these situations, but getting a suppressor isn't easy or cheap.
You also lose a lot of range and ballistic performance with these super short barrels. Some calibers do better than others, and the .300 BLK does the best from short barrels.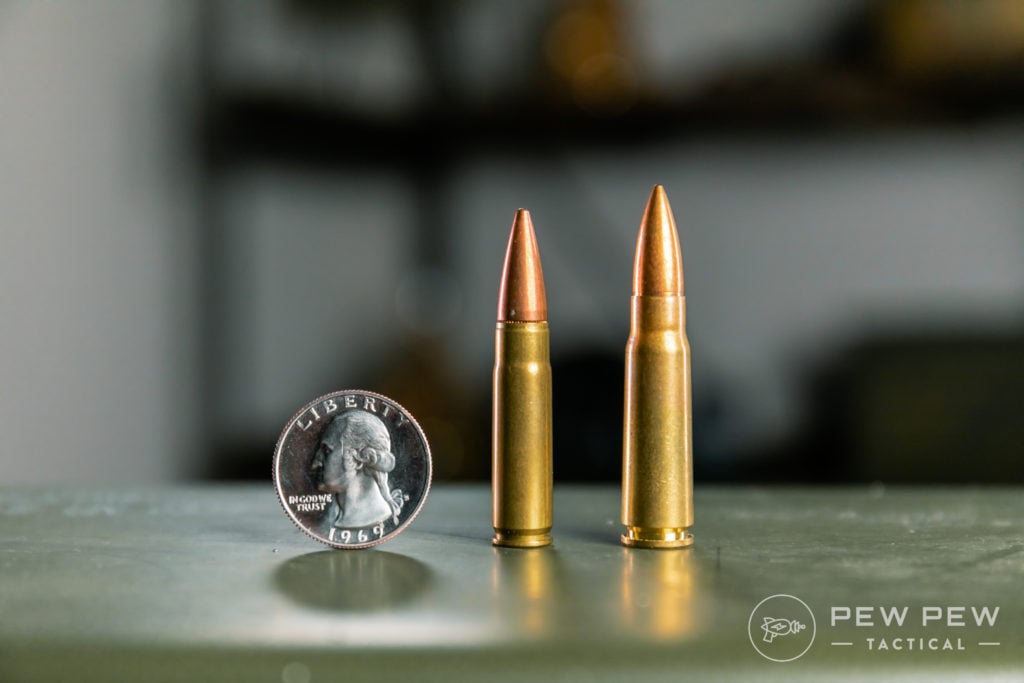 The Russian rifle calibers tend to work well, but 5.56 suffers fiercely.
Final Thoughts
Shorties are niche rifle caliber weapons that excel in just a few situations. One of those is the fun factor!
As an average dude, a carbine might serve me well in every conceivable situation, but a shorty is oh so much fun!
What's your favorite shorty? Let me know in the comments below. Not into rifle calibers or maybe you want to add a 9mm to your stash…check out the Best Pistol Caliber Carbines for inspiration!