Do you know what terrifies me more than any other violent encounter?
A knife fight.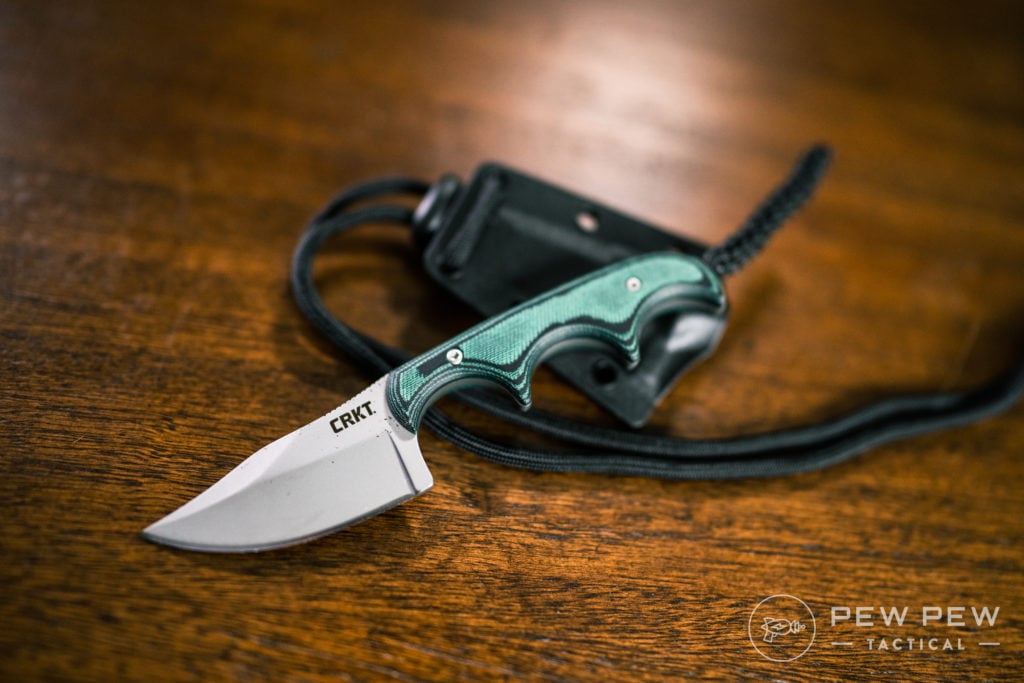 I heard someone once say the loser of a knife fight leaves in a hearse, and the winner goes in an ambulance.
It seems, in general, a knife fight is over before it ever starts.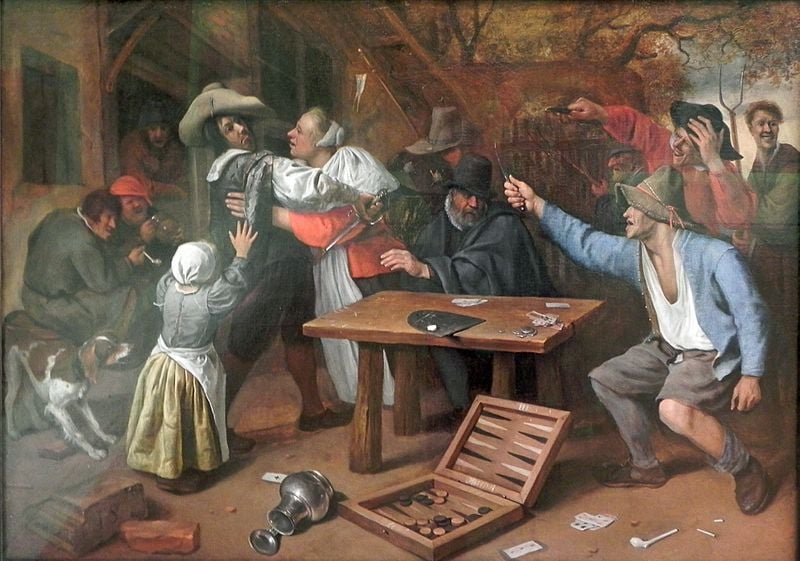 It's a terrifying proposition to find yourself in any violent situation. But, as Americans, we carry firearms to bridge the gap and protect ourselves against violent attacks.
However, sometimes we can't have a gun…or a gun might not be the best choice…or maybe the attack happened so fast you can't access your firearm.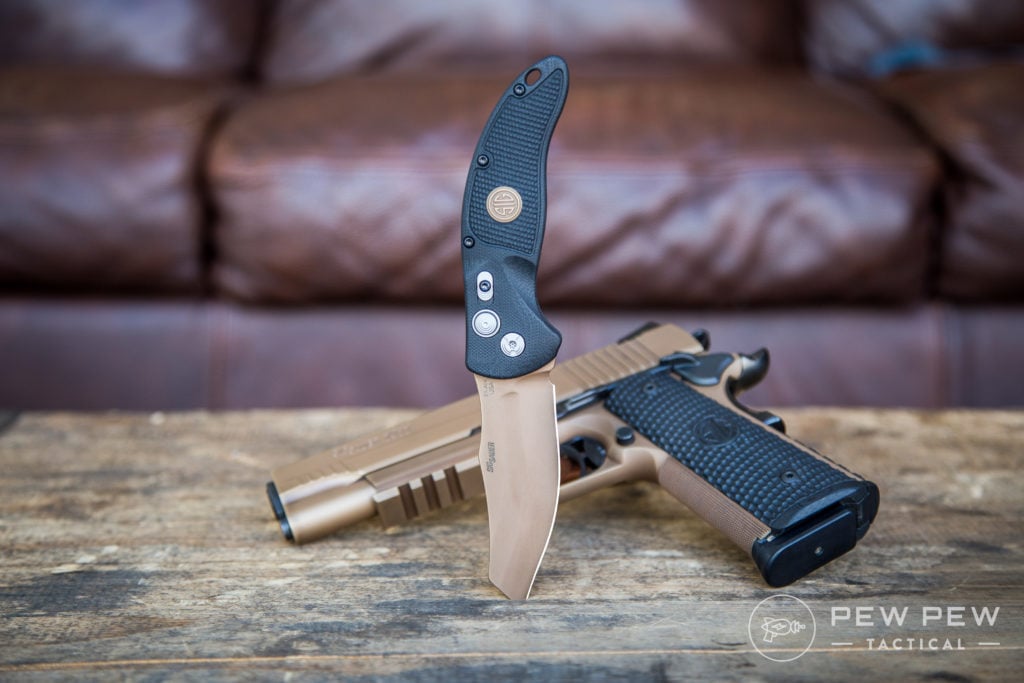 That is where a knife comes into play.
Is it likely you'll ever use your knife in a self-defense situation?
No, not very likely.
It's also not statistically likely you'll use your firearm or tourniquet.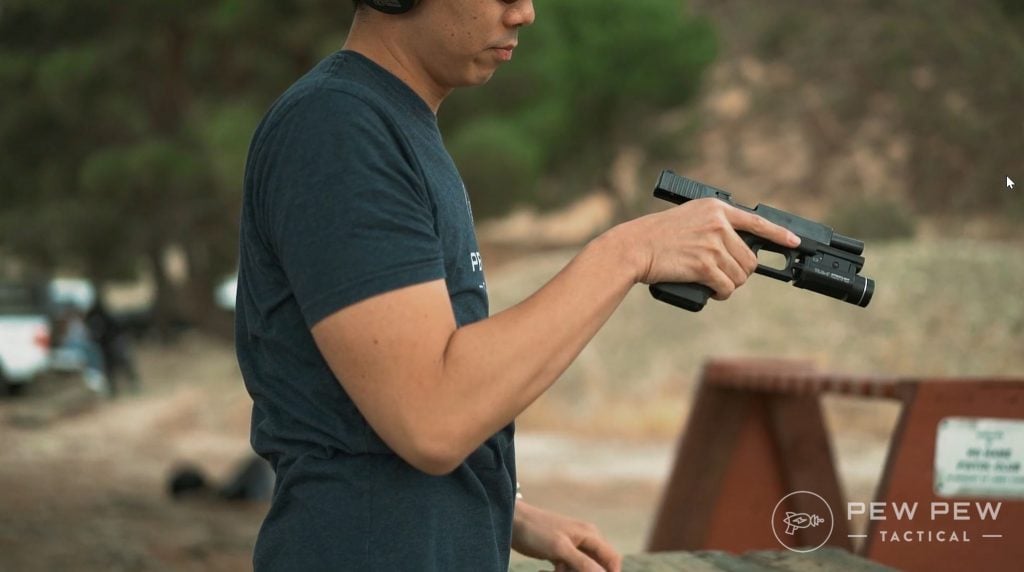 But that doesn't mean you shouldn't be prepared to defend yourself with anything on hand.
With that in mind, I've gathered some of the best self-defense knives on the market priced under $300.
Table of Contents
Loading...
Why Under $300
For many, a knife that costs $50 is too much. For most, anything over $300 seems crazy.
However, in the knife world, knife guys and gals pay way more than that for some knives.
In truth, the world of knives is massive.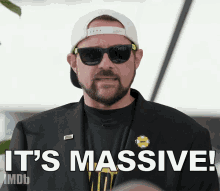 Knives from companies like Microtech can go for as much as $1,000. So, $300 seems a bit more friendly.
This list compiles blades from $20 to $200, ensuring there's something for just about everyone's price range.
What to Consider
Before throwing down money on a knife, there are a few things to consider.
Access
How is the knife carried, and how fast can you access it?
Accessing the blade should be rapid and easy to do without much difficulty.
Drawing the knife and getting it into action should be second nature and without complication.
Deployment
Fixed blade knives do not have deployment issues, but folding knives and automatic knives need blades that easily deploy with a single hand. Ambidexterity is a bonus as well.
Concealability
How easily does the knife conceal in regular clothing?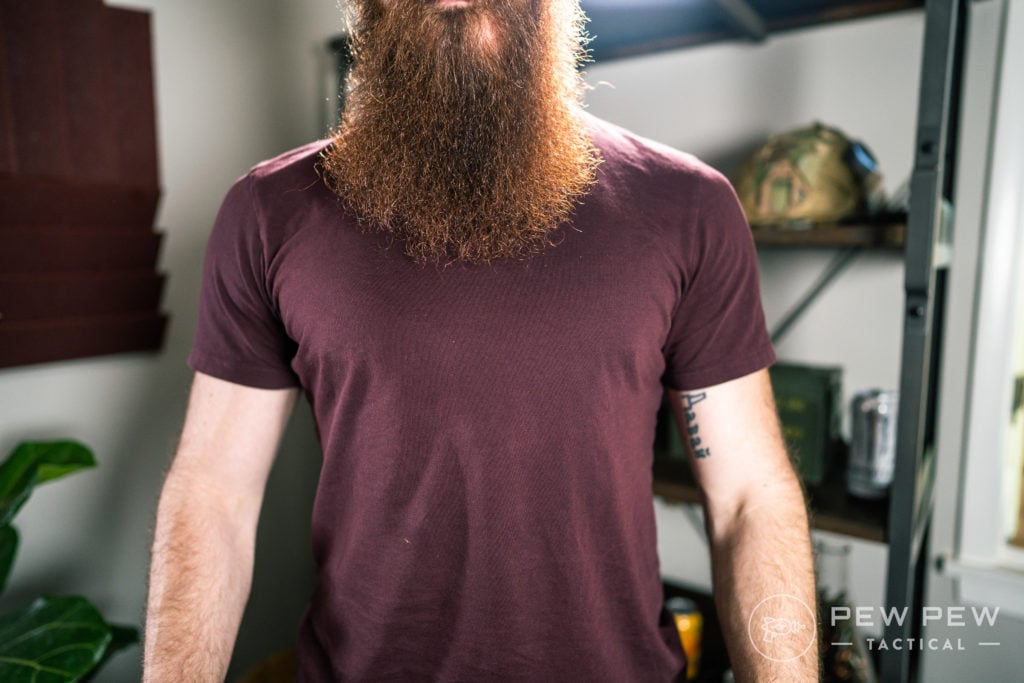 It's tough to carry a Ka-Bar with a t-shirt to cover it.
A normal person's defensive blade will need to be concealed. Sadly, that eliminates bowie knives but still opens up some decent fixed blade options.
Get Training!
Like a firearm, you should get some serious training for defensive knives.
Companies like Shiv Works and Active Response Training will get you the skills you need to employ a knife in a defensive situation.
Best Self Defense Knives Under $300
1. Emerson Mini CQC 15
Emerson rose to prominence by making knives for special operations troops.
Ernest Emerson's small shop became the favorite knifemaker for the Navy SEALs, and word about his fine knives quickly spread.
I carried an Emerson CQC 7 for years as a Marine and became a huge fan of these knives.
43
at Blade HQ
Prices accurate at time of writing
Prices accurate at time of writing
While the CQC 7 is great, the Mini CQC 15 is better.
The Mini CQC 15 is a combination of the CQC 7 and Commander models.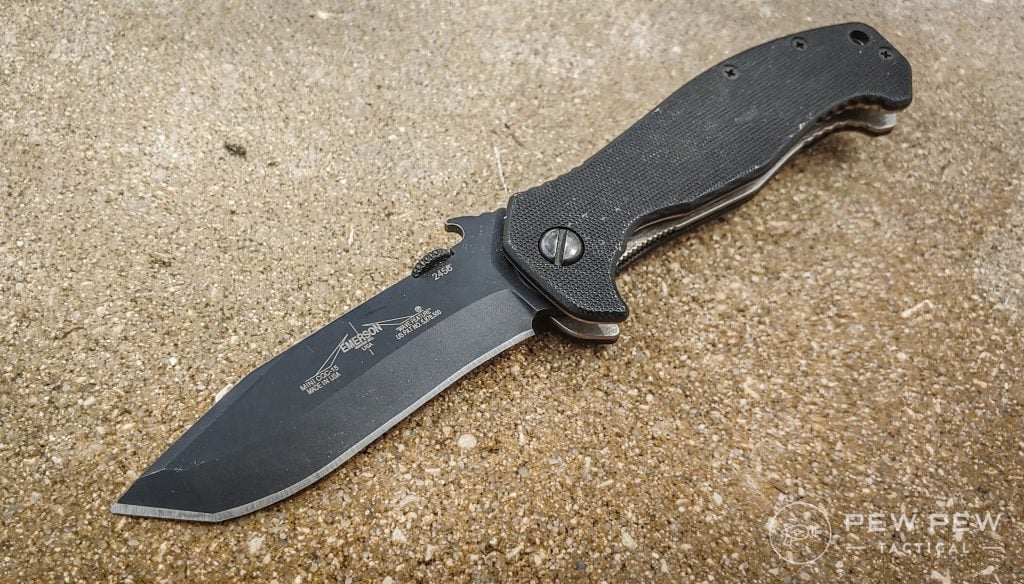 It mixes the penetration capability of the CQC 7's tanto tip with the deep and slash-friendly belly of the Commander.
It allows the user to slash and stab with equal effectiveness.
Emerson knives also sport the wave feature that allows you to open the blade as you draw it from your pocket.
It takes a little practice, but once you've mastered it, the Emerson jumps into action.
Your hand won't slip off the roughly textured G-10 panels.
In fact, if you have a tight grip on the knife and something yanks it from you, some skin is coming with it.
It's rough but provides a good grip, even when wearing gloves.
As a bonus, it's also a great knife for EDC tasks and tough enough for camping and general outdoors use.
As far as folding fighting knives go, the Mini CQC 15 is quite versatile.
197
at Blade HQ
Prices accurate at time of writing
Prices accurate at time of writing
2. Ka-Bar TDI Investigator
Ka-Bar's Master series takes numerous knife users' expertise and boils it into a few purpose-built designs.
Tactical Defense Institute owner and lead instructor John Brenner designed the TDI to be the ultimate police self-defense knife — with firearm retention being the knife's primary goal.
John's 33-year police career drove the design, and the end result was a simple but very effective fighting knife.
The Investigator is the compact model and makes concealed carry easier.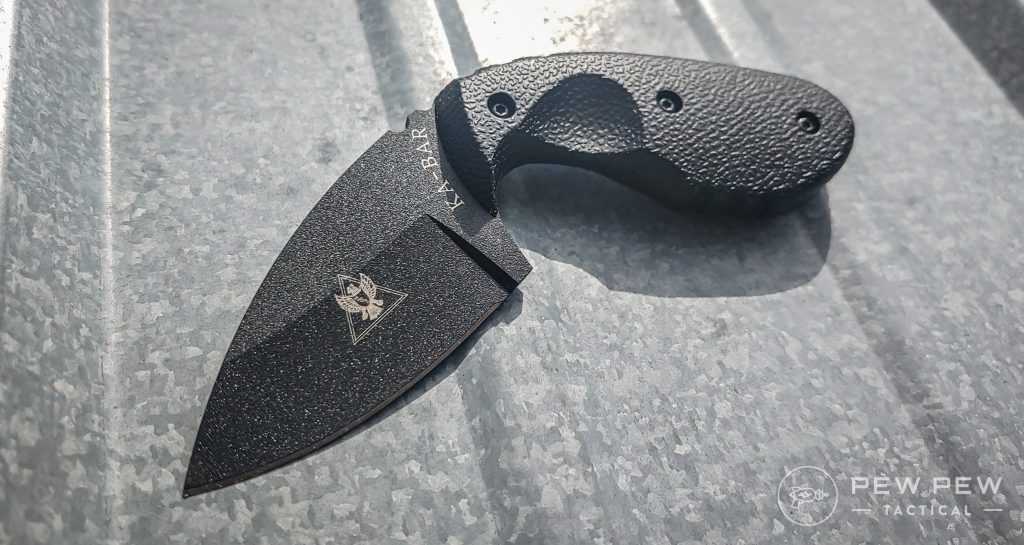 As a civilian concealed carrier, I like simplicity, and the TDI makes things very simple.
The somewhat curve to the handle provides you a simplistic design.
Slashing and stabbing with the Investigator is easy as well.
In a hand-to-hand fight, fancy techniques are unlikely. But, if you can punch, you can use the TDI Investigator.
The short blade is unlikely to reach vital organs in the torso, but the sight of your own blood and a large gaping wound would likely deter further violence.
If an attacker gets in knife range, I'd prefer to attack, take the fight out of them, and then beat feet.
Something simple like the Investigator allows that.
As a fixed blade, deployment isn't an issue, and the sheath allows for a multitude of carry options.
40
at Amazon
Prices accurate at time of writing
Prices accurate at time of writing
3. Cold Steel Hide Out
Neck knives are all the rage for those looking to carry a fixed blade in the most convenient way possible.
Hide Out turns out to be a rather appropriate name for this neck knife.
Cold Steel designed the Hide Out to be a deep conceal fixed blade dagger design with a 3-inch blade but weighing a mere 1.9-ounces.
A dagger design allows you to stick and stab easily and slash when necessary.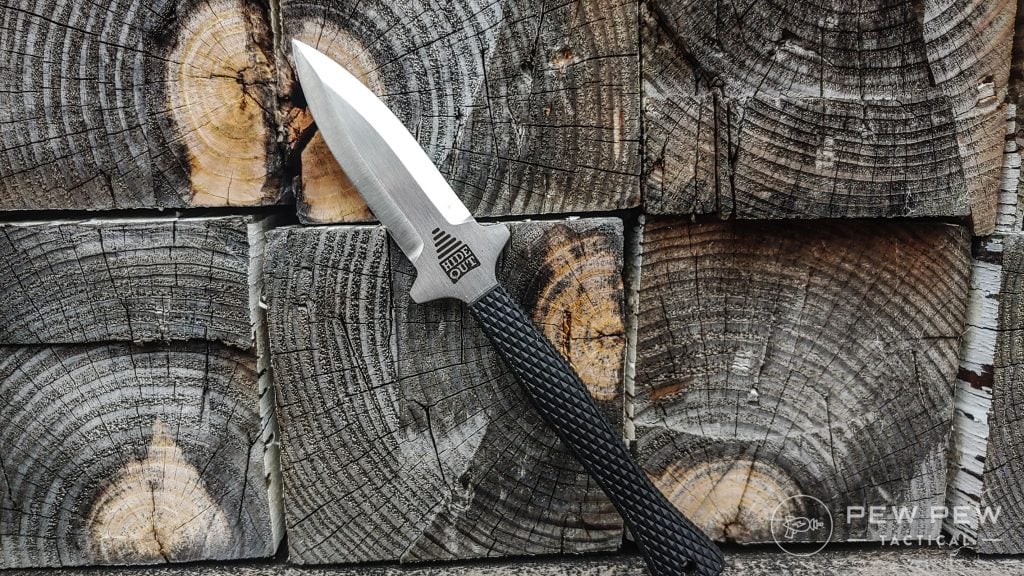 The tip is painfully sharp and will dig in without remorse when told to.
Fixed blades don't break, or at least they don't break as often as folding or automatic knives.
Our edge provides a slight belly for slashing, but this is more of a poker than a slasher: more Freddy and less Jason.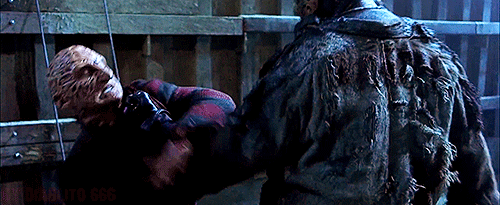 A weatherproof material called Kray-Ex adorns the handle and provides a rubberized-like grip with an aggressive texture.
Kray-Ex ensures the knife stays in your hand and provides some degree of comfort as well.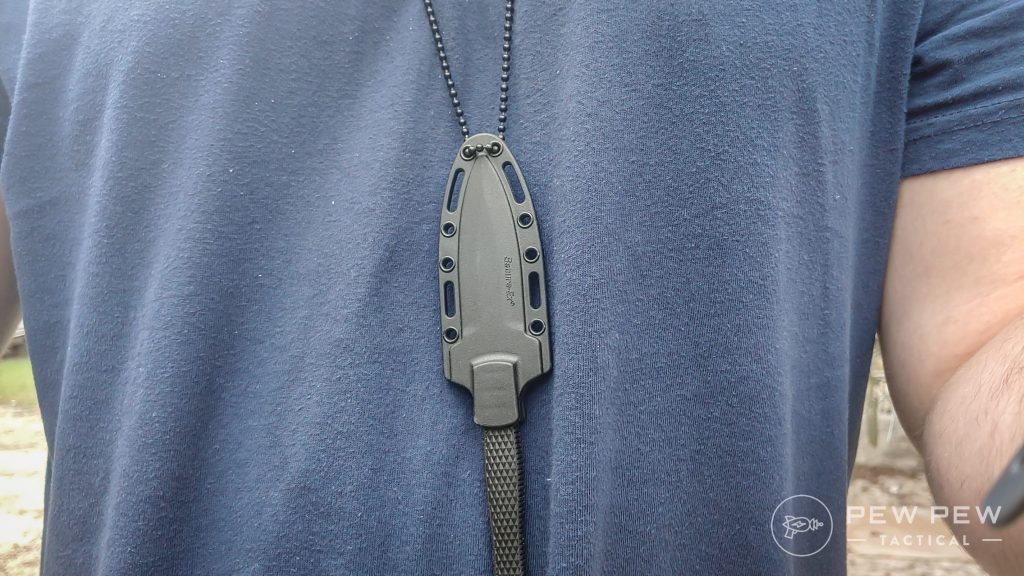 The sheath is polymer and complete with many lashing points to make a necklace or to attach the knife nearly anywhere.
You might say that guy is a little small to be a dagger.
Well, right now, he's Luke, and you're a jailed Princess Leia. So, you take what you can get.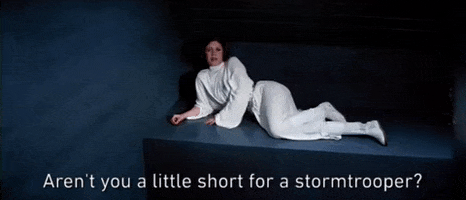 It's small but easy to use and carry.
It's also relatively affordable and very well made.
22
at Blade HQ
Prices accurate at time of writing
Prices accurate at time of writing
4. Hogue OTF
Switchblades are clearly as dangerous as machine guns; at least the regulations regarding them would make it seem so.
Sadly, lots of state laws prohibit the sale and carry of automatic knives. So, before you run out and buy one, it's worth investigating your local laws.
In short, research before you buy!
If you can carry an automatic knife, then the Hogue OTF might be the one for you.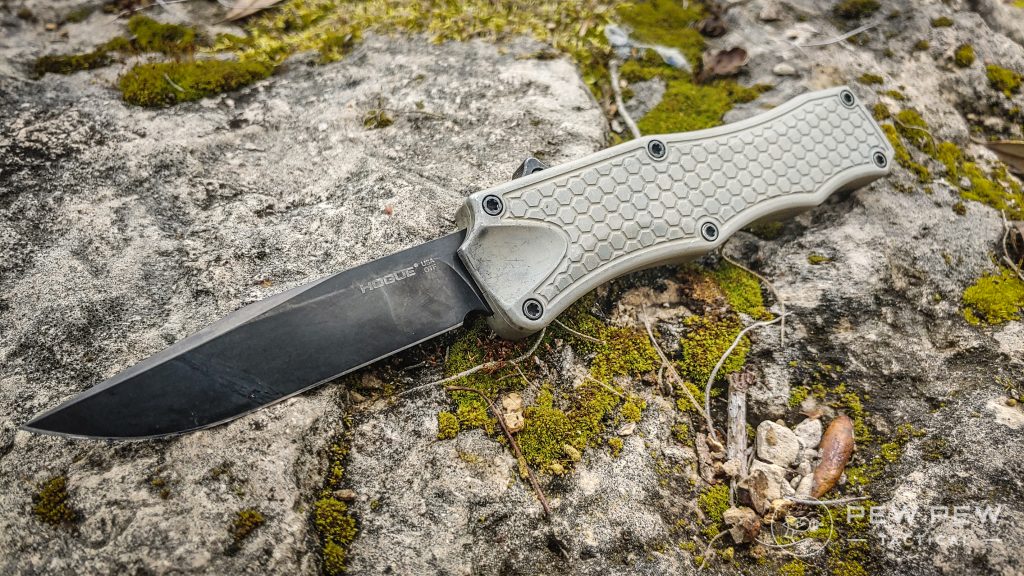 OTF knives tend to be pricey.
John Wick's Microtech costs more than a Glock on average.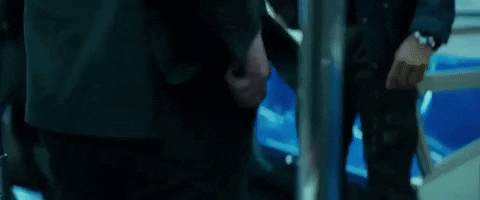 The Hogue OTF comes in at less than $250. It's not a budget blade that will fall apart after a few uses, either.
I've used mine for years now and carry it all the time.
As an OTF blade, the Hogue deploys with the press of a button, so one-handed deployment is quite simple.
Hearing that schwick as blade deploys is oh so satisfying.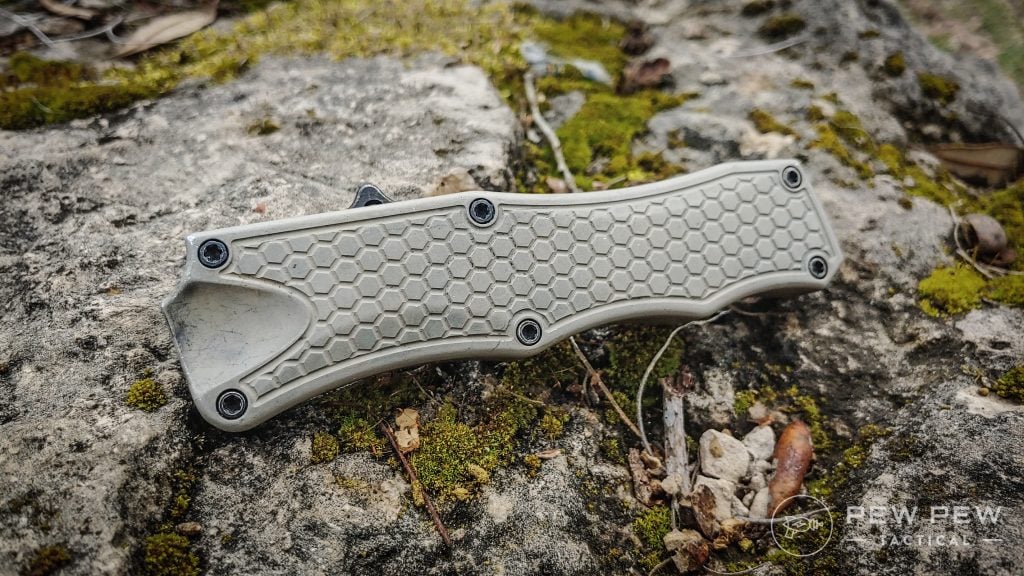 The blade is a clip point with a might swedge for easy cutting and stabbing. It uses a premium grade 154 CM steel that is incredibly tough and quite durable for defensive tasks.
A big grip fills your hand for an effective hammer grip.
Getting slashy and stabbing with the Hogue OTF proves simple, and it will double as a very effective EDC blade.
One-handed deployment will never be easier than with an automatic knife.
Give one a spin, and it's tough to go back to a standard folder.
But again, local laws supersede the love of a cool tool. Always research your local laws before buying an auto.
298
at Blade HQ
Prices accurate at time of writing
Prices accurate at time of writing
5. Toor Knives Jank Shank
Shank is absolutely the best term to describe the Jank Shank.
Look at the simplicity of the little knife and tell me it doesn't look like a refined prison shank.
The Jank Shank is a simple, lightweight, and ultra-thin fixed blade knife.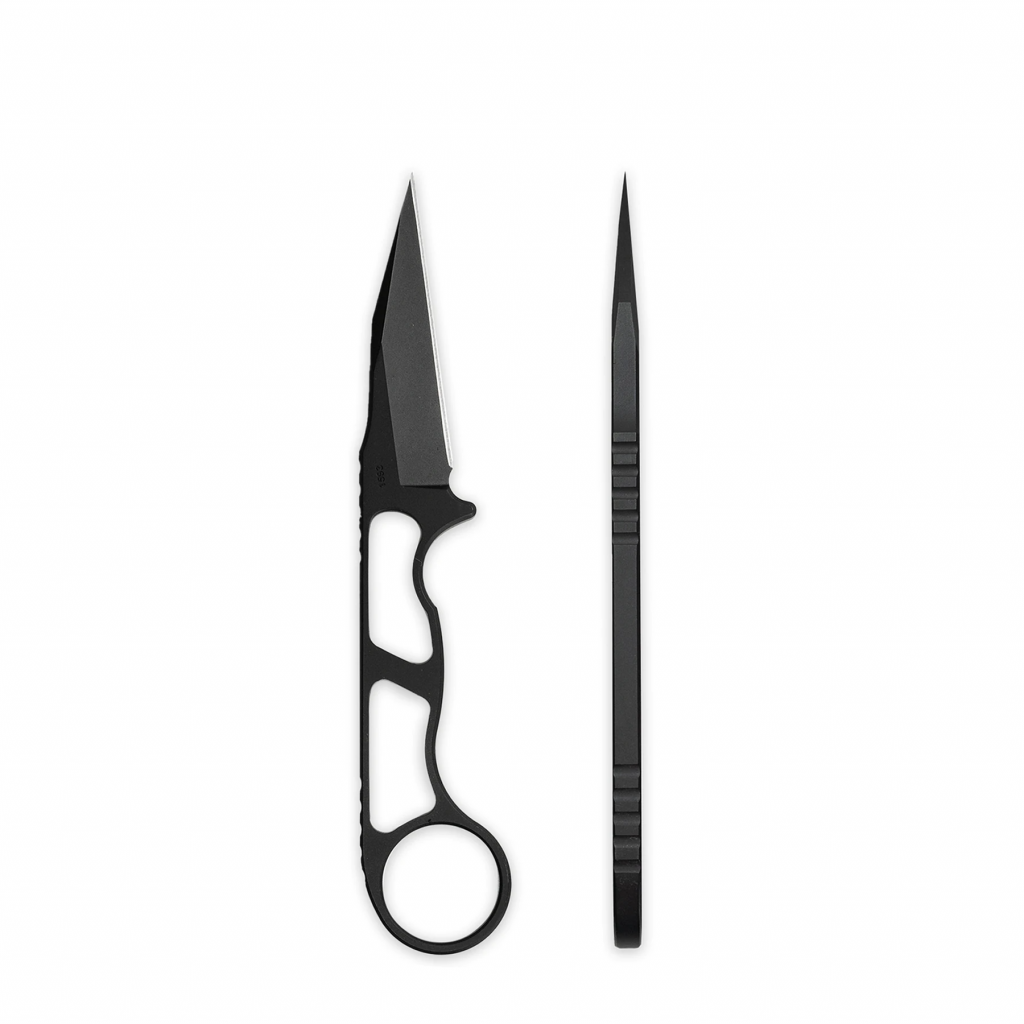 Toor Knives is a small company doing big things, and the Jank Shank is a small thing that does big things.
This minimalist design is made for shiving, slashing, and shankin' with a needle-like blade.
It's made from CPM 35 VN, a tough tool steel, falling in the premium category of knife blades.
The 3-inch blade is nothing to fuss at and will penetrate deep enough to change someone's mind when it comes to attacking you.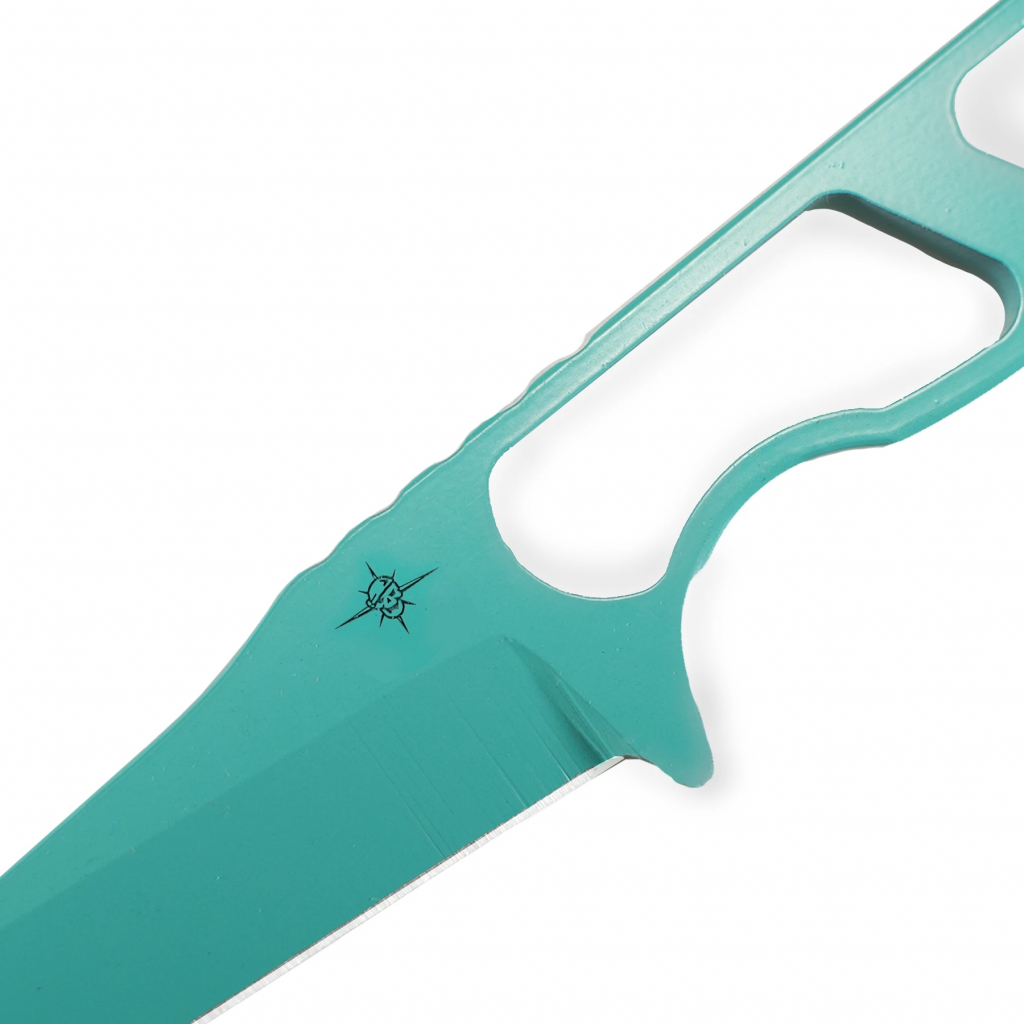 While it lacks a belly, it will still slice when needed. Ultimately, it's all about jabs with the Jank Shank.
The Jank Shank has a rear pinky hole to increase retention and make drawing from the sheath easy.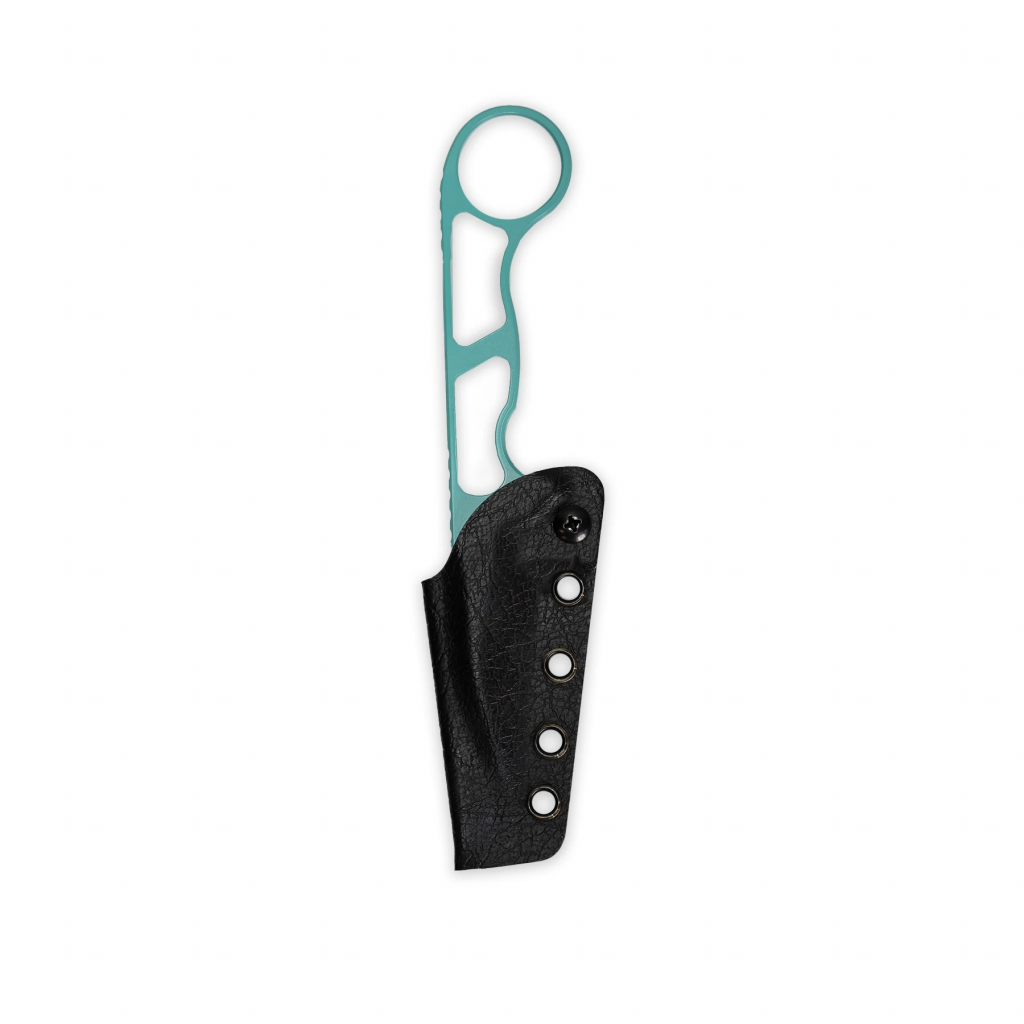 Toor Knives has a multitude of sheath and carry options.
So, you can go traditional IWB, horizontal, or whatever else you need to conceal your shank.
155
at Toor Knives
Prices accurate at time of writing
Prices accurate at time of writing
6. Ka-Bar LDK
Another Ka-Bar in the TDI family in the LDK. Kind of. The LDK was designed by a friend of the website, Greg Ellifritz.
LDK stands for Last Ditch Knife, and this fella is teeny tiny.
It's small enough to work as a neck knife, be laced into a boot, or even stash in a wallet.
Truly, it qualifies as a last-ditch weapon, offering you minimal blade.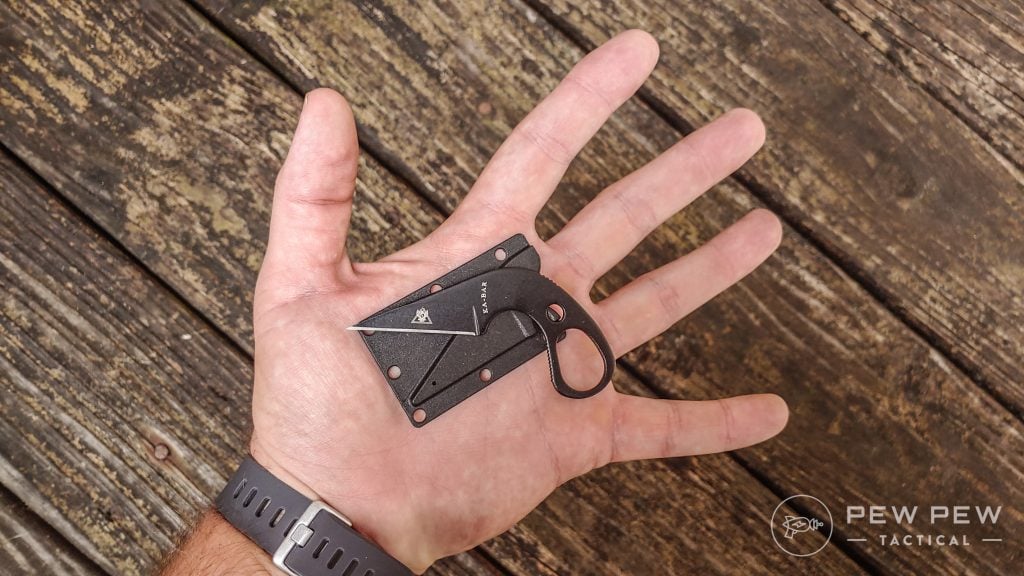 That said, the blade is designed to replicate the design of a scalpel. So, even though it's small, it's quite effective at cutting flesh.
Like the TDI-style knives, it works well as a punch dagger and is superbly simple to use.
When held, it allows you to add an additional sting to every punch.
At super close quarters, the little blade will open a bad guy up with rapid slashes and punches.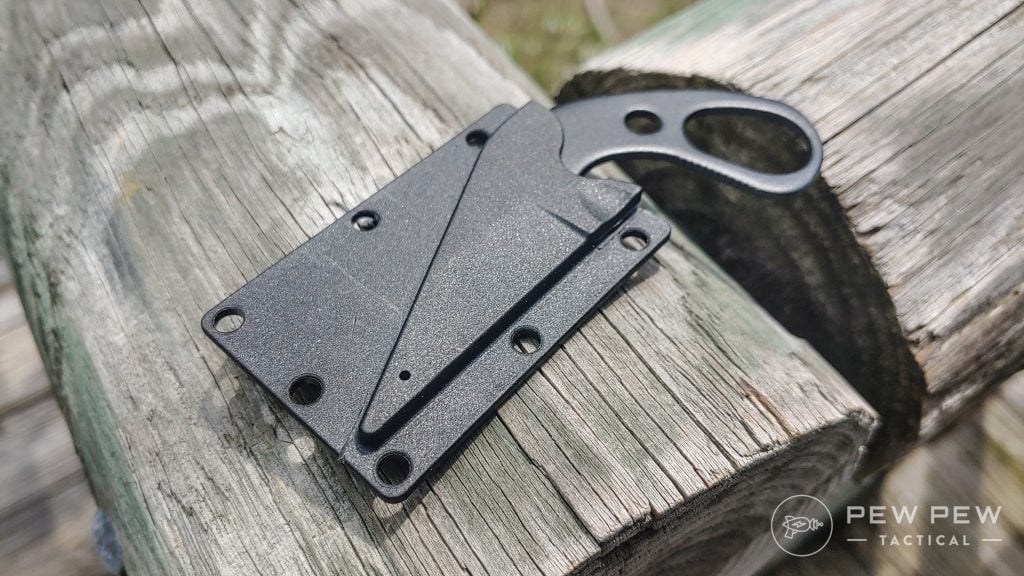 It's small but mighty and insanely easy to carry and conceal. It can be carried in nearly any style of dress.
It's friendly to cargo pants and sundresses.
There is no reason ever to be unarmed when something like the LDK exists.
Plus, it's super cheap and affordable. At less than $20, it's the cheapest knife on this list by a large margin.
Sometimes simple and small is enough.
16
at Blade HQ
Prices accurate at time of writing
Prices accurate at time of writing
Have you tried the Ka-Bar LDK? If so, rate it below!
7. Benchmade SOCP
Finally, we reach the SOCP.
The SOCP is a compact and ultra-thin dagger that was initially designed for military use.
This knife is far from traditional but is inherently modern and easy to use.
While it's rather long, it is thin, and the included sheath makes it easy to conceal and carry.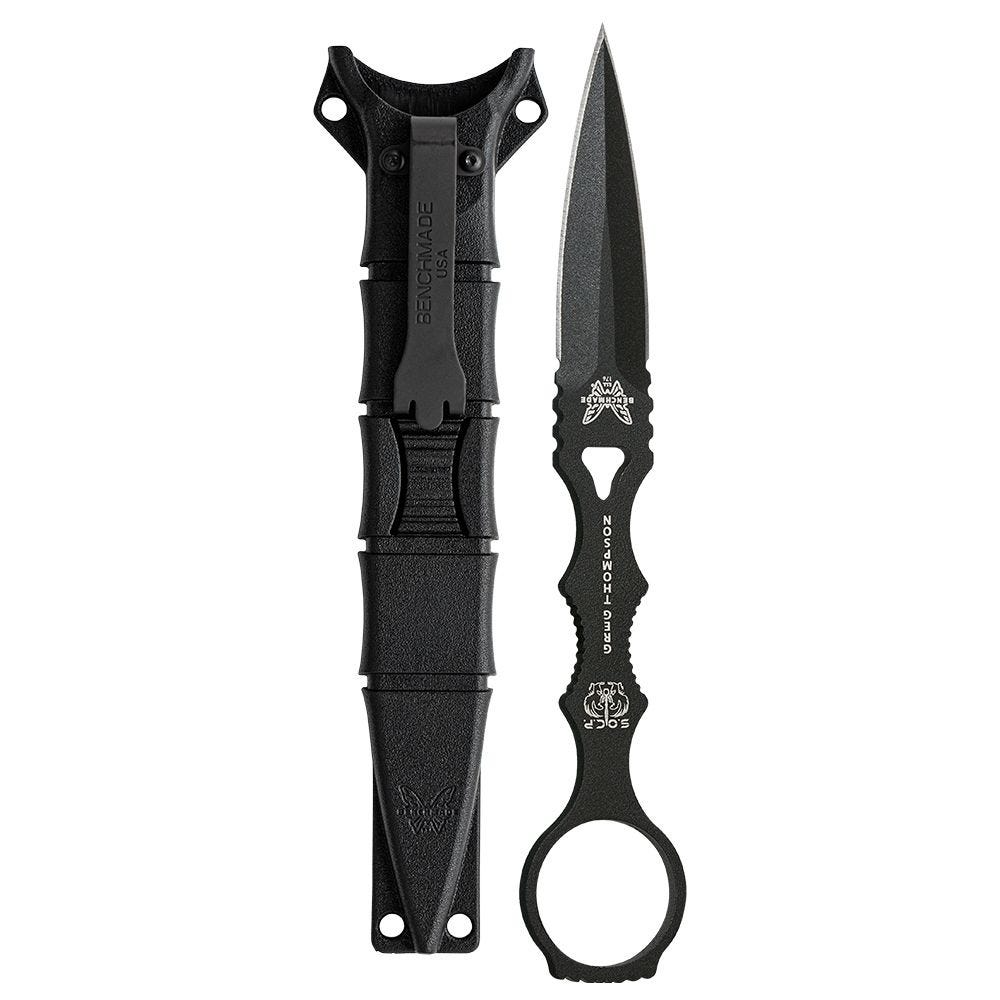 The ring at the end of the handle ensures a sure draw and excellent retention.
Users are inclined to use an ice pick grip that allows downward stabs and slashes.
The idea behind the SOCP is simple.
When someone gets on top of you and starts grappling and fighting with you, the SOCP allows you to slash and stab, creating distance between you and the bad guy.
Let the SOCP take the steam out of a violent attacker and retreat.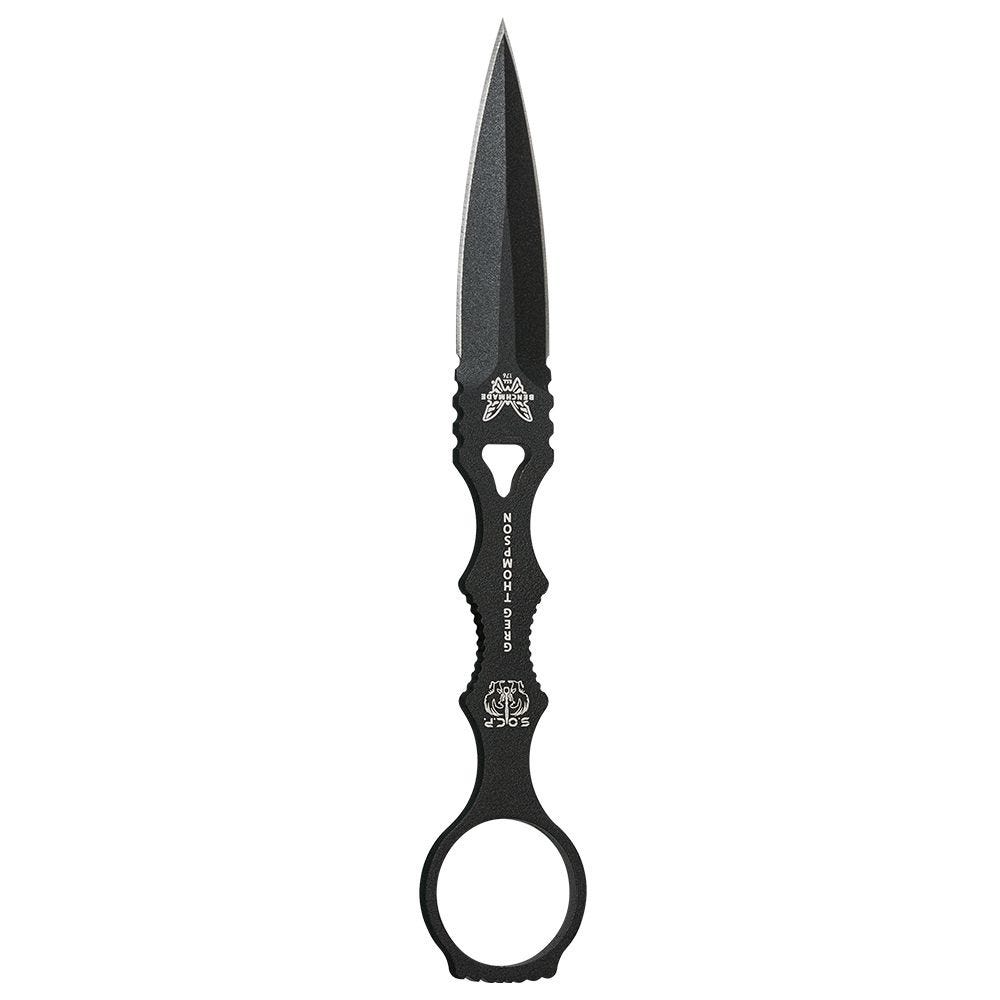 With how thin the knife is, you can draw your firearm and engage without ditching the knife — very Solid Snake in its design.
The SOCP blade is rather long and will provide some serious sting to the bad guy when needed.
Admittedly it's not a very good utility knife for EDC purposes.
It's a bit much to open a piece of mail or to cut through some cardboard.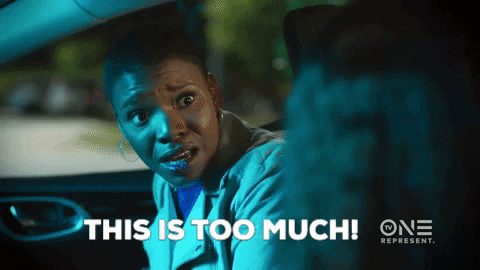 For creating distance and escaping a threat, though, it's perfect. Plus, as a fixed blade, there are no deployment worries.
Benchmade also makes a training blade for safe practice. A knife is like a gun, and training is required to be proficient with it.
94
at Blade HQ
Prices accurate at time of writing
Prices accurate at time of writing
Conclusion
While the prospect of using a knife defensively is terrifying, it's still wise to consider a knife as a viable weapon. Not as an alternative to a firearm, but to compliment it, or as a force multiplier in a gun-free zone.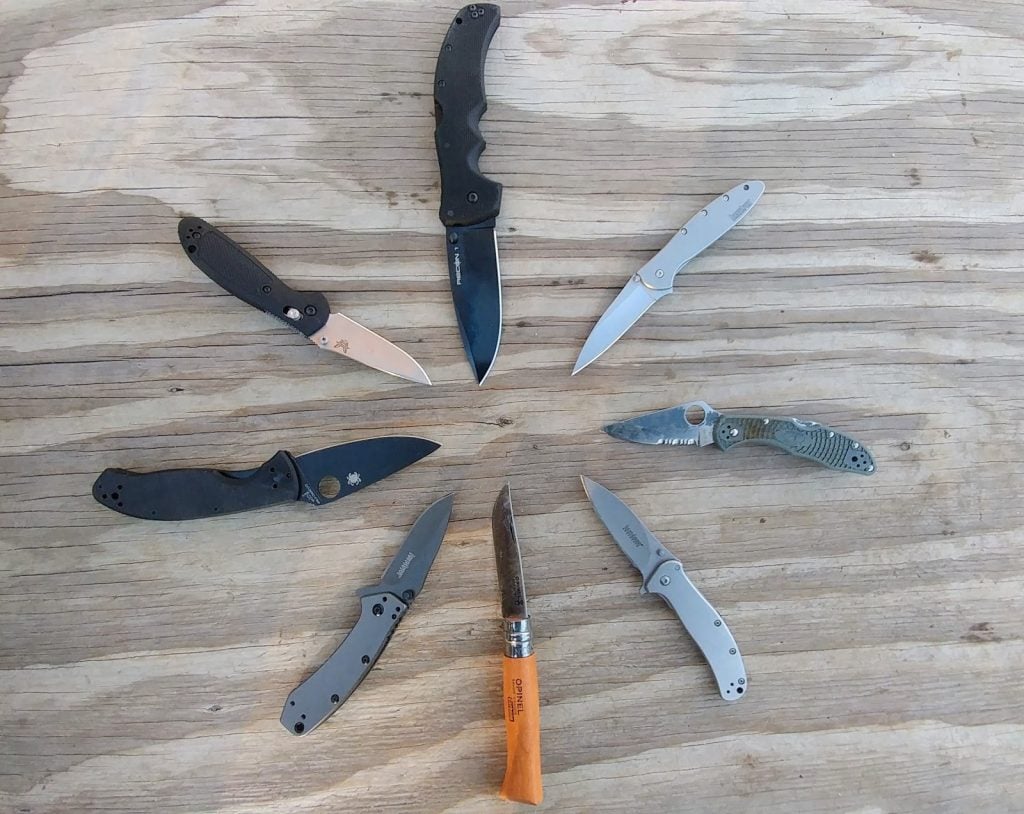 We'll say it one last time: before you run off half-cocked and buy an automatic knife or a dagger, research your local laws.
If you think gun laws are confusing, wait until you read about knife laws. In some states, it's easier to carry a gun than specific types of knives.
Do your due diligence, folks.
Agree with my picks? Have your own? Let us know below! Ready for more knife recommendations? We have the 10 Best Tactical Knives and the 4 Best Survival Knives ready for you to read.