Getting men into shooting can be an arduous task. They're often intimidated by guns and the noise they produce.
Though we ladies are compassionate to their plight, I know we also want the men in our lives to be safe and enjoy shooting as much as we do.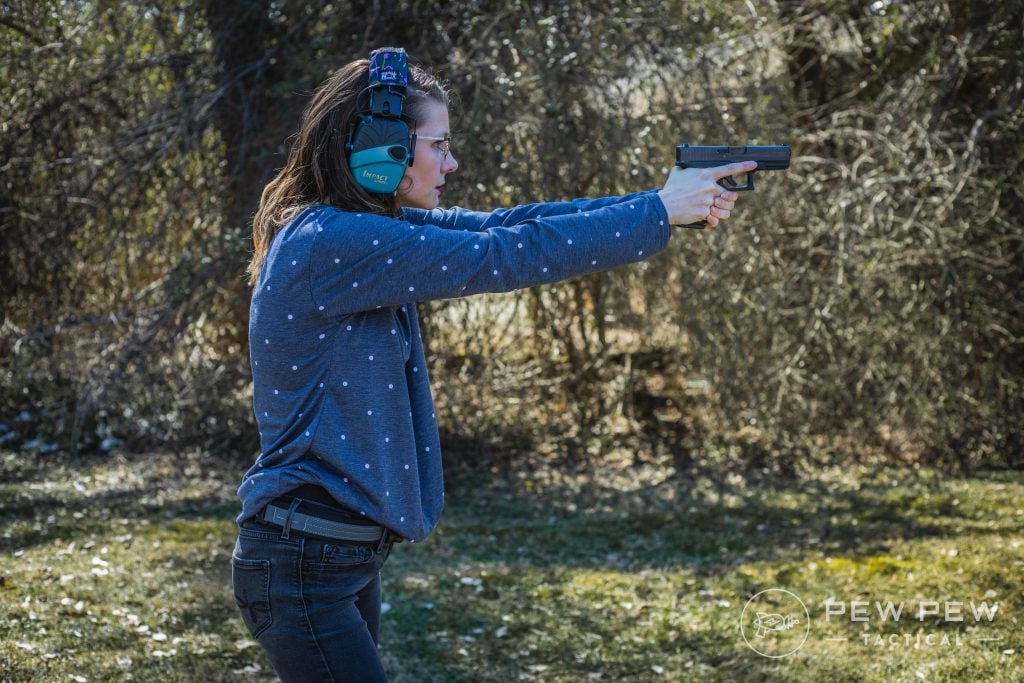 As such, you might be tempted to get your boyfriend a gun for an upcoming birthday or anniversary…to add a little encouragement and forgo the usual jewelry gifts like watches.
So, we're here to help! We've come up with some of the best handguns for men to make shopping for your husband or boyfriend easier.
Best Handguns for Men
Before we dive into the list, we should mention that male anatomy is different.
Some pistols might not work with their hands, and it's important to consider that as you're shopping. A Smith & Wesson Shield, Sig Sauer P365, or Baby Glock just won't work for most.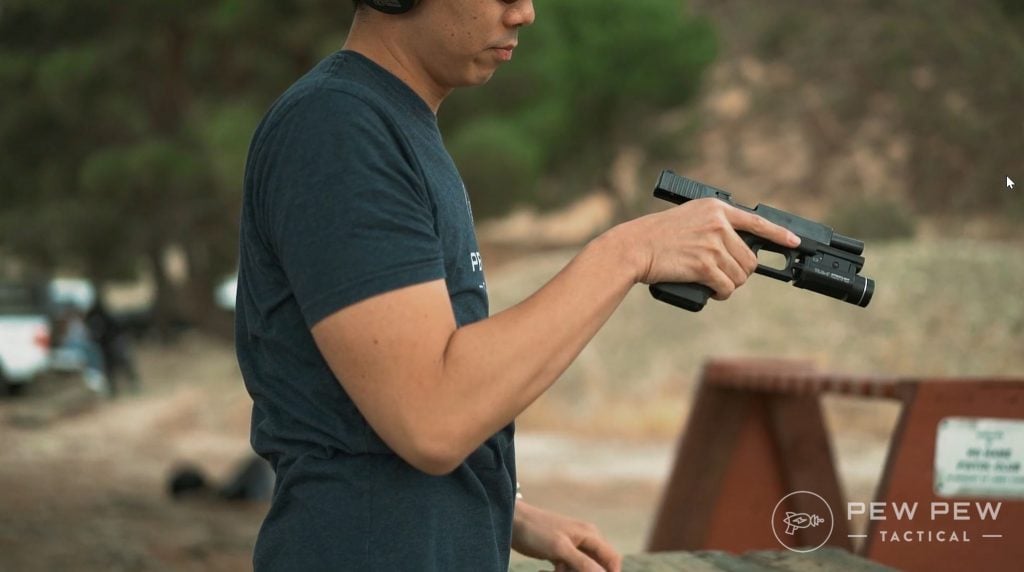 BIG hands necessitate BIG guns. No exceptions.
With that said, here's what we've got for you ladies shopping for your men.
1. Kimber Desert Warrior
Nothing screams to the heavens that you're a real man like a desert-colored 1911 donning a moniker like "Warrior."
Chambered in .45 ACP, the Kimber Desert Warrior stands 5.25-inches tall and features an 8.7-inch overall length. Packing 7+1 rounds, you can rest assured your man will fall in love with this tough-talking 1911.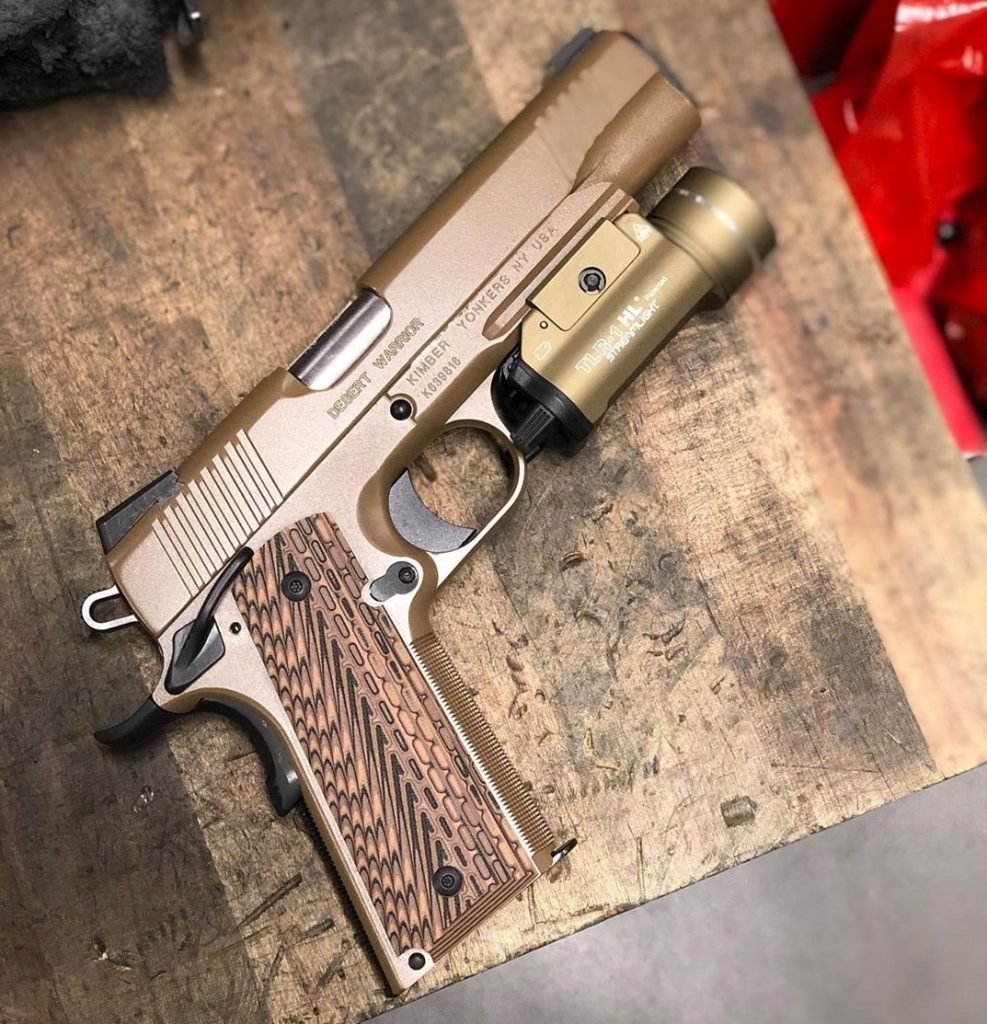 Other notable features include an ambidextrous thumb safety, 1913 Picatinny Rail, tritium night sights, and Kimber G10 grips. There's even a threaded barreled option!
It is on the pricier side with an MSRP hovering around $1,500. But really, can you put a price on love? We think not.
Plus, we know men are visual creatures, and we guarantee the Kimber Desert Warrior will make any man go starry-eyed.
1495
at Palmetto State Armory
Prices accurate at time of writing
Prices accurate at time of writing
2. Magnum Research Desert Eagle
The Desert Eagle is an icon. Period. Chambered in .50 AE — the LARGEST centerfire cartridge of any self-loading, mag-fed handgun — it stands as one of the biggest pistols you can buy.
So, it's perfect for your beau!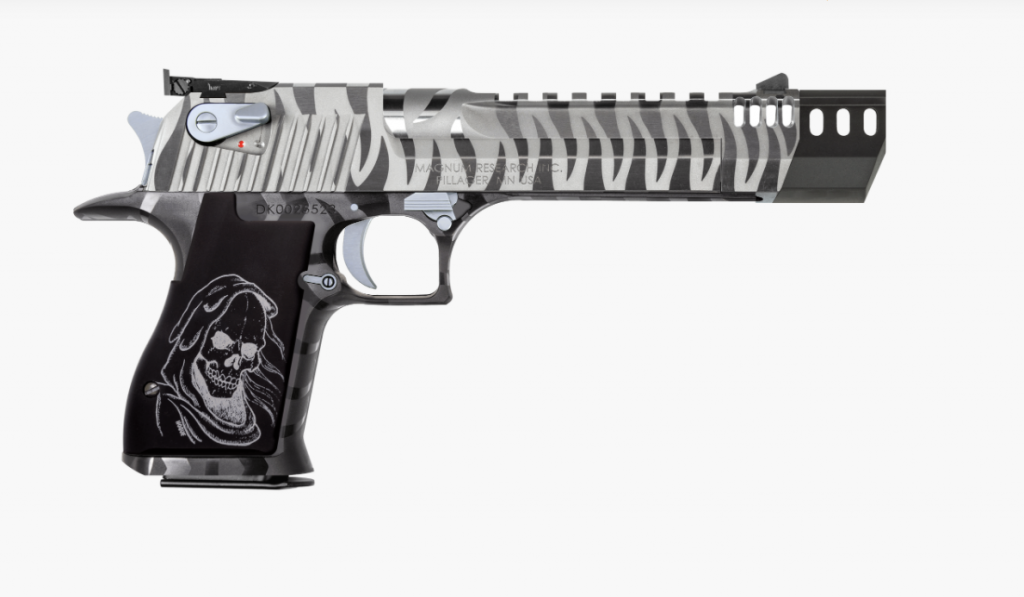 For those dudes who just can't manhandle that powerful round, you can always step down to .44 Magnum or .357 Magnum.
Even better, Magnum Research offers a custom build, so you can really gift something that is unique and speaks to your man.
Video game bros will love shooting something they've seen wielded in their favorite Play-Box or X-Station…or whatever.
849
at Palmetto State Armory
Prices accurate at time of writing
Prices accurate at time of writing
Don't believe us? We let some dudes test it out for science! Read the review on the Desert Eagle here or watch Johnny's video below.
3. Taurus Judge
Again, we can't mention guy guns without talking about one so immersed in pop culture — the Taurus Judge.
Available in a slew of models, the Judge is a looker and, better yet, large enough to accommodate meaty hands.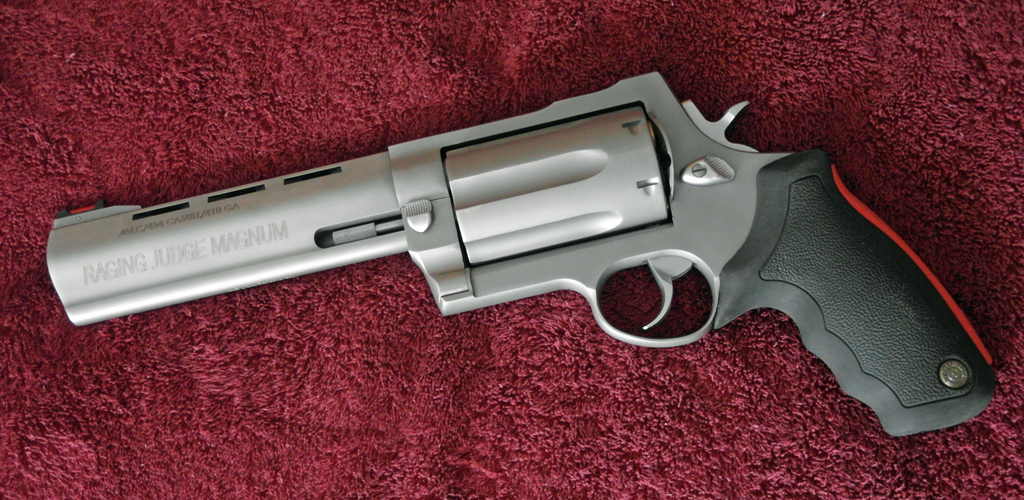 Coming in .45 Colt/.410 and even a .454 Casull model, this pistol is such a fun plinker. He'll love spending hours at the range, putting hundreds of rounds downrange with it.
The Judge comes in a classic look that oozes masculine energy. Your man will love it!
879
at Kentucky Gun Co.
Prices accurate at time of writing
Prices accurate at time of writing
4. Smith & Wesson 500
Chambered in .500 S&W Magnum, this large caliber 5-shot revolver is a heavy hitter.
Using a double/single-action design, the Smith & Wesson 500 is marketed as the "world's most powerful handgun."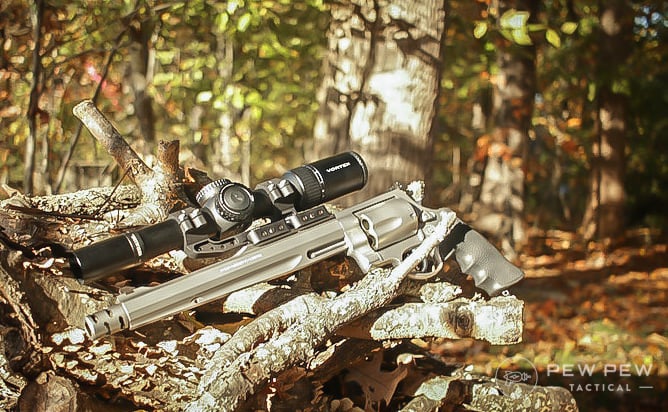 What man doesn't like power?!
In addition to bringing a lot of punch, it offers a classic stainless-steel design with black grips. No girly colors here.
There's plenty of models within the 500 family to choose from, so you can really nail down what your man needs.
1429
at Kygunco
Prices accurate at time of writing
Prices accurate at time of writing
Again, we allowed Johnny to try his hand at it. You can read the Smith & Wesson 500 review here or you can just watch the video to see it in action.
5. Glock G17
Okay, so we know there are some basic dudes out there, and if your significant other falls into this category, the Glock G17 is perfect for him.
It's about as stock as you can get. No, we're serious. It's literally the most boring gun on the planet.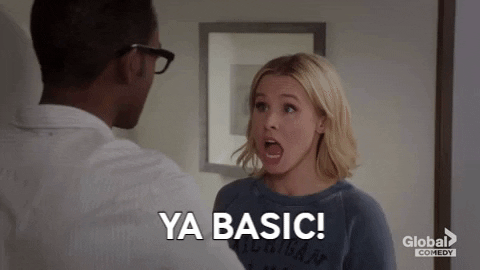 But, hey, even boring men need guns, too.
The Glock 17 is a full-sized pistol, packing 17+1 9mm rounds.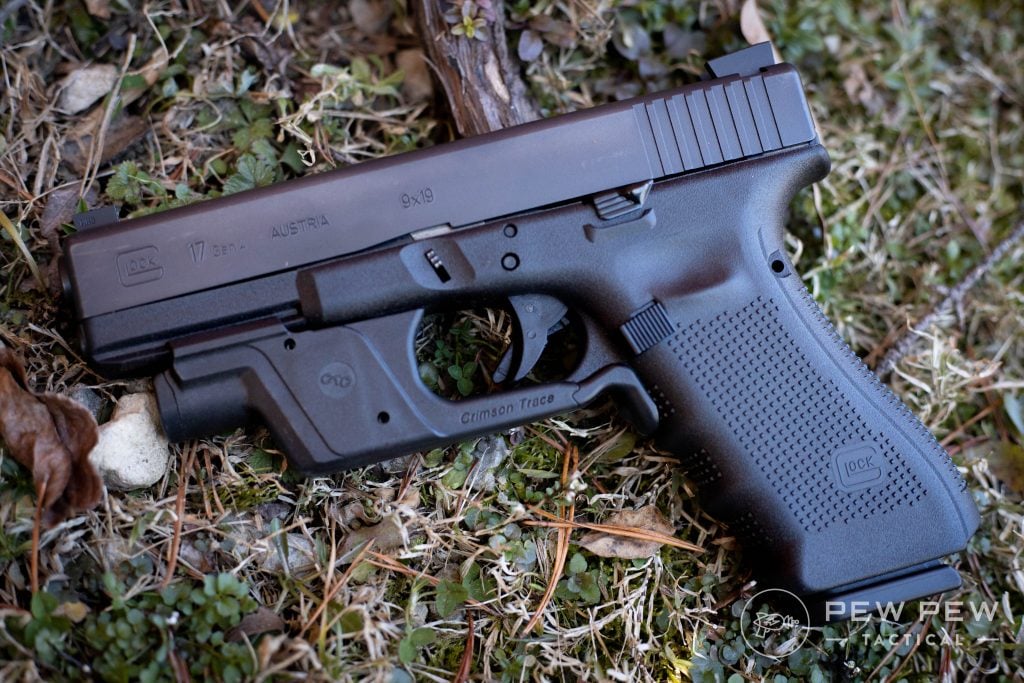 Sights leave a lot to be desired, but if your man likes Lego…well, Glock is kinda like that but with guns.
Check out our Glock upgrades to see what accessories you can gift him for your next anniversary.
539
at GrabAGun
Prices accurate at time of writing
Prices accurate at time of writing
6. Magnum Research BFR
We started with Magnum Research, and we're ending with them. These guys certainly know BIG guns!
The Biggest, Finest Revolver, or BFR, is a beast! With a variety of models, the BFR offers a ton of calibers, including .45 Long Colt/.410, .444 Marline, .30/30 Win, .500 S&W, .50 AE, .454 Casull, and .44 Magnum, to name a few.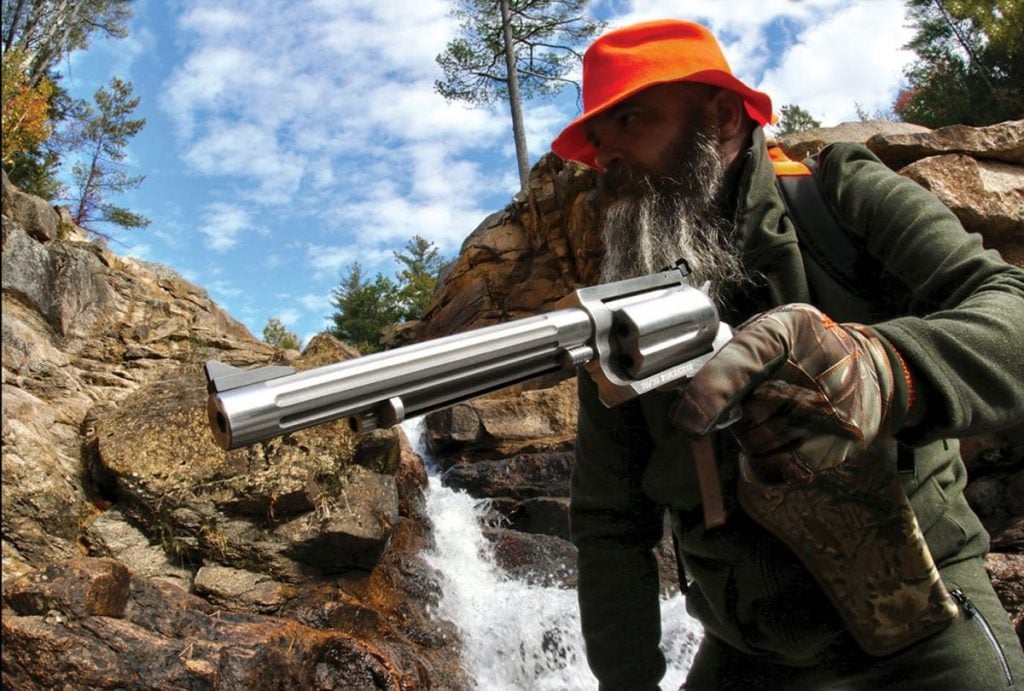 What we're getting at is you have options in terms of large calibers designed with men in mind.
Magnum's BFR stands as a pillar of masculinity, and really nothing says "manly" like a GIANT revolver.
It will no doubt be his favorite plinker on the range and a good starting point for men just entering the shooting sports.
1130
at Palmetto State Armory
Prices accurate at time of writing
Prices accurate at time of writing
Conclusion
We know that shopping for the leading man in your life can be stressful. With a ton of models on the market, it can be tough narrowing down what he needs.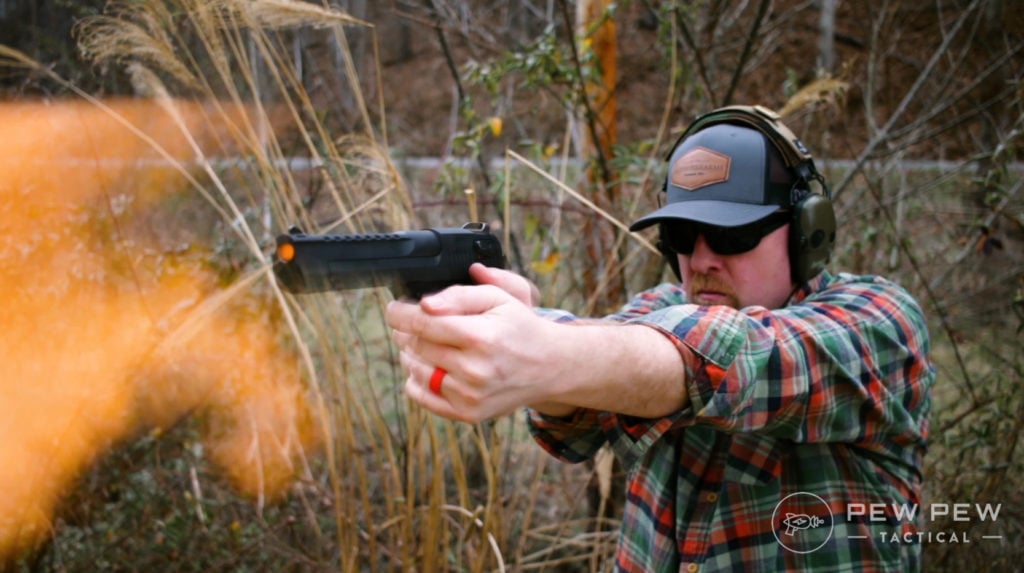 But our list aims to make life simpler by bringing you the best models to fit the male hand. We're sure when he unwraps one of these fabulous guns, you won't be able to drag him away from the range!
Okay, so we were totally kidding with this article BUT if you are actually looking for some quality handguns, check out our Best Handguns for Beginners & Home Defense.
Disclaimer: This is a satire/parody post, which may or may not use actual names in quasi-real and/or fictitious narration. So try not to get too butt-hurt about it.
For more April Fool's content, check out [Breaking] California To Require Fin Grips on All Handguns, [Review] Halo MA40: Best Bullpup Rifle of 2021, and Ultimate Grey Man Disguise: Denim Snake [Video]