My dad was a die-hard Western fan and continues to be. He raised me on TV shows and movies like Bonanza, the Rifleman, the Good, the Bad, and the Ugly, Tombstone, and 3:10 to Yuma.
As a result, I formed an early appreciation for revolvers, lever actions, and coach guns.
I became fascinated with the history of these firearms and how closely they are tied to American culture.
Today, we are going to explore some of the best cowboy guns ever made, as well as modern replicas and clones that embody the spirit of their original counterparts.
Summary of Our Top Picks
Why You Should Trust Us
Before becoming an NRA-certified instructor and concealed carry trainer out of Florida, I was a Marine infantryman. So, I know my way around guns.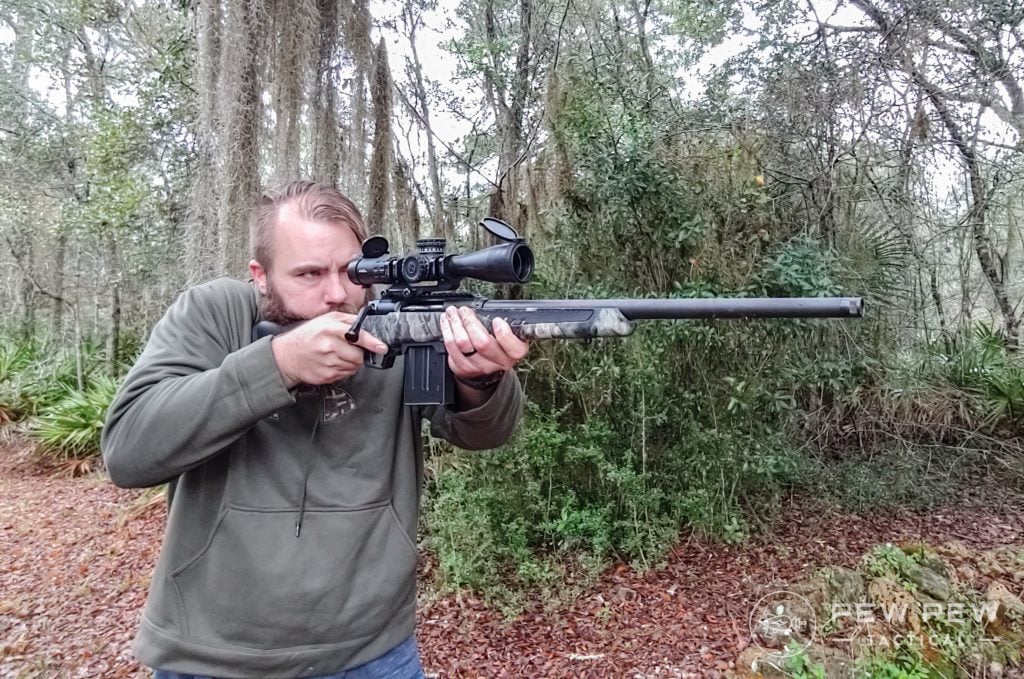 Today, I use my knowledge to test and review guns for several publications, including Pew Pew Tactical. At my home range, I spend countless hours analyzing, researching, and putting guns and gear to the test to bring you the best recommendations and most accurate reviews.
Colt Single Action Army
The Colt SAA, aka the Peacemaker, is the revolver you likely picture when someone says cowboy revolver.
It's the quintessential six-shooter of the era. The Colt SAA came to be because the Rollin White patent expired, and Colt wanted that sweet, sweet Army money.
The Colt SAA went through the revolver trials of 1872 and was adopted as the standard military service revolver in .45 Colt.
Beyond the military, it became a popular choice with law enforcement of the era. However, it was not as widespread as every cowboy movie portrays because it was a fairly expensive gun.
The design of the Colt SAA became the standard revolver design of the era. Its layout became familiar with a single action design, a loading gate, an ejection rod, and front blade sight.
It still maintains a certain charisma and popularity among collectors. Occasionally, and unpredictably, Colt will do modern runs of the Single Action Army that are quite expensive.
Due to its popularity, tons of companies have been producing clones of the gun at every price point.
Taylor & Co. Smoke Wagon
This is an Italian-made Colt SAA clone from Uberti that is inspected, approved, and sold by Taylor's & Company firearms.
These are extremely high-quality Colt SAA clones designed for heavy use and competitive SASS matches.
Caliber includes classics like the .44-40, .45 Colt, and the more modern .357 Magnum. Barrel lengths vary, and Taylor's and Company can even tune the revolver if you purchase it directly from them.
Heritage Manufacturing Rough Rider
There is no more affordable Colt wannabe than the rimfire Heritage Manufacturing Rough Rider.
It's not a true clone by any means and features a rather odd manual safety. But for less than $200, you can get a fun, serviceable cowboy-style revolver in .22 LR.
You can get various barrel lengths and even swap the .22 LR cylinder for a .22 Magnum cylinder for a bit of extra pop.
These are great plinkers that are easy to shoot and just plain fun.
Smith & Wesson Model 3 Schofield
Alongside the Colt SAA, the Model 3 Schofield from Smith and Wesson was adopted by the US Army in the early 1870s.
While the Colt would become the primary sidearm of the US Army, the Schofield served honorably and became a popular weapon with gunfighters of the era.
Wyatt Earp, Pat Garrett, John Wesley Hardin, Billy the Kid, and many more carried the Schofield Model 3s.
These revolvers were relatively innovative for the era in that they were top-break guns. They were faster to reload than any Peacemaker and, as a result, enjoyed relative popularity.
Cimarron 1875 Schofield
Uberti is fearless in replicating classic Cowboy guns and took on the more complicated Schofield design with grace. They produce these guns for various companies, including the aforementioned Cimarron.
Their 1875 Schofield clone comes in everything from the Army version with the 7-inch barrel to a more compact 3.5-inch barreled version.
Calibers include the classics like .45 Long Colt, .44-40, and even .45 Schofield. If you want something a little cheaper to shoot, they also produce a .38 Special variant.
Taylor's & Company Russian
Another interesting use of the Schofield was by the Russian military, where it was adopted in .44 Russian.
This specific model has unique touches not found on American Schofields, and Taylor's & Company offers the Russian variant in both .44 Russian and .45 Colt.
While the gun functions identically to the American, there are slight differences in the grip, and the trigger guard features a second spur. The big hump at the rear is also a Russian design feature.
This is the only Russian replica of the gun I'm aware of, and it's darn cool.
Winchester 1873
The Winchester 1873 lever-action rifle is often called "the gun that won the West."
It was used heavily by cowboys, scouts, soldiers, and frontiersmen heading west to stake their claim. Buffalo Bill called it the Boss, and they even made a Western film called Winchester '73.
These rifles are still favorites of a great many shooters, and they have been reproduced extensively. In fact, they are still in production.
While Winchester might be owned by FN these days, they still produce small numbers of their original guns. If you have patience and a good credit limit, you can get a new production Model 1873 lever action rifle.
The modern variants are available in .357 Magnum, .44-40, and .45 Colt. They are available in various grades of wood quality, different finishes, short and long barrels, and you can even get octagonal barrels.
But if you don't want to wait for Winchester to produce a batch of 1873 rifles, other companies are more than willing to take your money.
Cimarron 1873 Model
The Cimarron 1873 rifles come in tons of configurations. I'm talking about dozens of different options. Available calibers include .357 Magnum, .45 Colt, .44-40, and even calibers like .44 Special and .38 WCF.
Variants include standard, carbine, long-range, and sporting models. Don't forget the Texas Brush Popper and the Saddle Rifle. Variety is the spice of life, and Cimarron isn't afraid to spruce things up.
The Coach Gun
Double-barrel shotguns were quite common during the Old West era. Their simplicity, power, and versatility made them extremely popular.
Doc Holliday carried one at the OK Corral, and Wells-Fargo agents carried them on stagecoaches, hence the name coach guns.
We get the term 'riding shotgun' from the man who sat beside a stagecoach driver carrying a short-barreled, double-barrel shotgun.
Various coach guns came from companies like Ithaca, Remington, Colt, and Parker, and affordable imports from Belgian gun makers.
Stoeger Coach Guns
If you want an affordable version, Stoeger has you covered with their lineup of coach guns.
These guns come in 12, 20, and .410 gauge. Finishes include a classic blued or stainless, both with walnut furniture.
Stoeger's shotguns feature a box lock mechanism, 3-inch chambers, a classic bead front sight, a double trigger design, and threaded for chokes.
These guns mix in various modern features to make your coach gun more than a range toy. Best of all, they are affordable, with an MSRP of less than $500.
CZ Hammer Coach
If you want something a little fancier with the iconic exposed hammers, then the CZ Hammer Coach is for you.
A pair of dual triggers provide that authentic look and feel of a hammer-fired shotgun from the Old West. It also comes with a gorgeous deep, dark finish and a case-hardened receiver.
It's not cheap, but it's a beautiful gun that gives you the authentic look and feel of classic coach guns.
Colt Army and Navy Pistols
The Colt Army and Navy pistols came about during the American Civil War, with the Army and Navy traditionally carrying different designs based on their intended purpose.
Both were black powder cap and ball pistols, which was standard for the time.
Army models used the frame of the Colt 1851 Navy to reduce weight and bulk but kept with the Army's preferred .44 caliber ball round.
These revolvers were often used by horse-bound troops, and the extra power was favored in land warfare.
The 1861 Navy used the .36 caliber ball, and the lighter, smaller revolvers were handier for sailors running back and forth carrying out critical ship tasks.
These revolvers were more for shooting potential boarders and mutineers rather than heavy-use combat implements.
Both guns have been copied quite a bit, and because they are black powder, cap, and ball guns, they are often affordable and fun to shoot, and you don't need an FFL to transfer it.
Pietta 1851 Navy
If you want to get into black powder revolvers, the Pietta copy of the Colt 1851 Navy is a great way to do it.
These revolvers are quite affordable and easy to find. The .36 caliber is soft shooting but still delivers that black powder reaction that's a blast to experience.
The Pietta clones are not fancy and feature simple finishes and wood grips. Despite this, they are accurate replicas and are great for learning how cap and ball works.
Taylor's & Company 1860 Army
If you want a fancier replica of a black powder Colt, the 1860 Army clones from Taylor's & Company are very well-made and absolutely gorgeous. They don't break the bank, either.
I appreciate that they make many different models, from realistic and historically accurate versions to shorter barreled and even snub-nose variants.
Modern Cowboy Loadout
We've covered a lot of classic cowboy guns, but let's look at some of the more modern cowboy guns. These are not exactly historically accurate in any way, but they make for a heck of a lot of fun.
Taylor's & Company 1873 9mm
The Taylor's & Company 1873 revolver gives you a classic Colt SAA design, but they chambered it in the 9mm cartridge.
A single-action army pistol in 9mm means you get a fun gun that is affordable to shoot. It's become my personal favorite Cowboy gun because 9mm is so much cheaper than .45 Colt.
On top of cheap ammo, you get reduced recoil and muzzle rise. Plus, a ton of modern loads that make the gun useful for a variety of tasks.
POF Tombstone
Oh yeah, the talk of Las Vegas during SHOT Show 2023 was the POF Tombstone. Not only is it a 9mm lever gun, but it's a magazine-fed lever gun.
It uses magazines from the POF Phoenix and has a whopping 20-round capacity. These guns also feature a Magpul SGA stock am M-LOK handguard and a threaded barrel.
It's the perfect space cowboy blaster if you want to LARP as Wyatt Earp in 2077.
Be sure to check out our full review of the POF Tombstone!
Charles Daly Triple Threat
Two barrels are great, but what's better than two barrels? Three, obviously.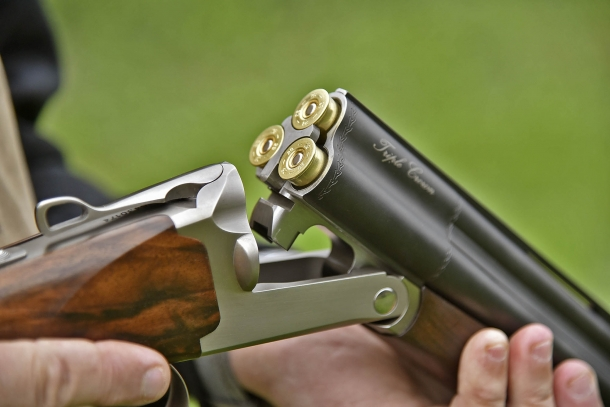 The Chiappa Triple Threat is a three-barrel monstrosity that chambers 12-gauge shotshells. This beastly gun turns it up to 11 for the modern stagecoach rider.
It uses a mix of a side-by-side and over-under layout. Two barrels are side by side, and a third sits across the top. It's big. It's heavy, kind of silly, but also oddly irresistible.
Final Thoughts
Who didn't play cowboy as a kid? The best thing about growing up is getting better toys to play with. The guns of the old west are often some of the most satisfying to shoot.
There is a ton of tactile enjoyment in thumbing back a hammer, working a lever, or opening the breach of a shotgun. I can't explain it, but I sure as hell enjoy it.
What about you folks? Do you have any favorite cowboy blasters to add to the list? Let us know in the comments below! Be sure to check out our article on the 10 Best Lever Action Rifles of 2023!