---
Patriot Ordnance Factory is a firearms manufacturer with a passion for innovation. They very often step outside the tried-and-true paths of copycat products.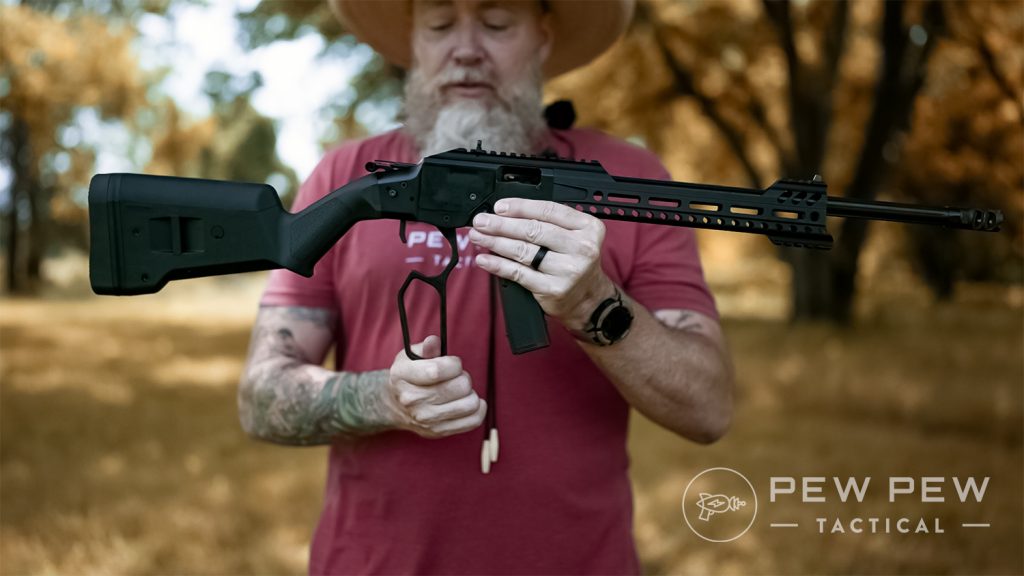 When they released the Tombstone in January of 2023, it was evident the rifle was heavily influenced by the AR-15. But it was also a lever gun and chambered in 9mm.
Sometimes, mixing components together that haven't been joined before can create an amazing product — sometimes, it falls short of the mark.
With a note of optimism, we took the Tombstone out to the range to see which category it would fall into. We'll share the results with you below, so saddle up, partner.
Table of Contents
Loading...
POF Tombstone Review at a Glance
Pros
Unique

Lightweight

Modular
The Bottom Line
Much like a rodeo, we had a bit of a rocky start, but we dug our spurs in and kept riding until things smoothed out. This is a novel firearm that pulls from a couple very different schools of influence, part western, part tactical, I could easily imagine it making an appearance in the "Firefly" series.
1837
at GrabAGun
Prices accurate at time of writing
Prices accurate at time of writing
POF Tombstone Specs & Features
Specs
Comes with
Cardboard box, 20-round magazine, mag loader, owner's manual
Source: POF USA
POF Tombstone Background
There really isn't anything out there like the Tombstone, but we can easily see what influenced the designers behind this firearm. There are heavy AR-15 vibes coming off the gun until you get to the rear.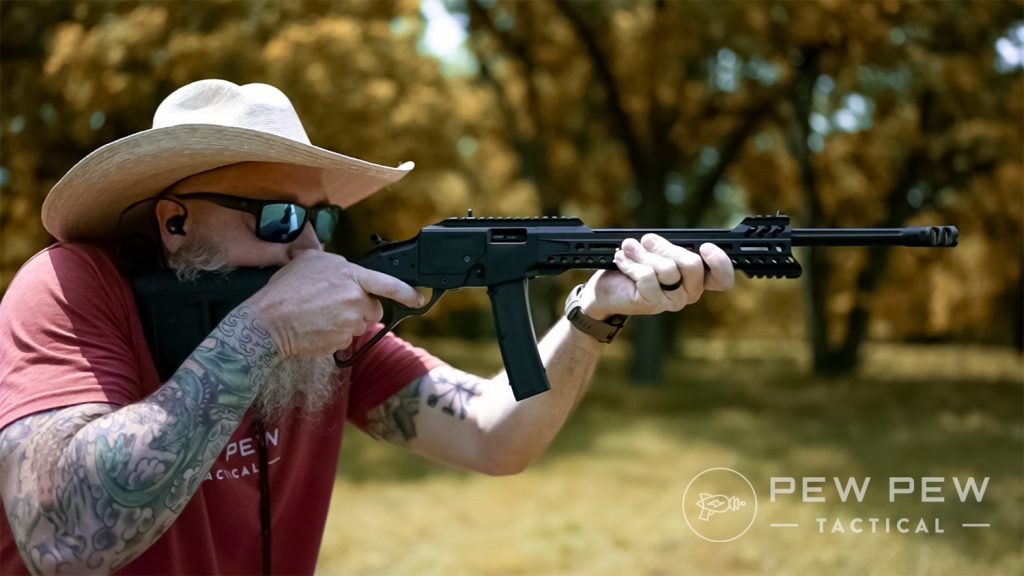 There, the oversized lever loop gives us another clue on influence, the tactical lever-action guns that have become so popular lately.
The overall aesthetic is very tactical, as evidenced by the M-LOK, Picatinny rail, and QD wells.
Who Is It For?
This is a little harder to answer. Granted, there are a few tactical lever guns out there now, but those chambered in 9mm are scarce as hen's teeth.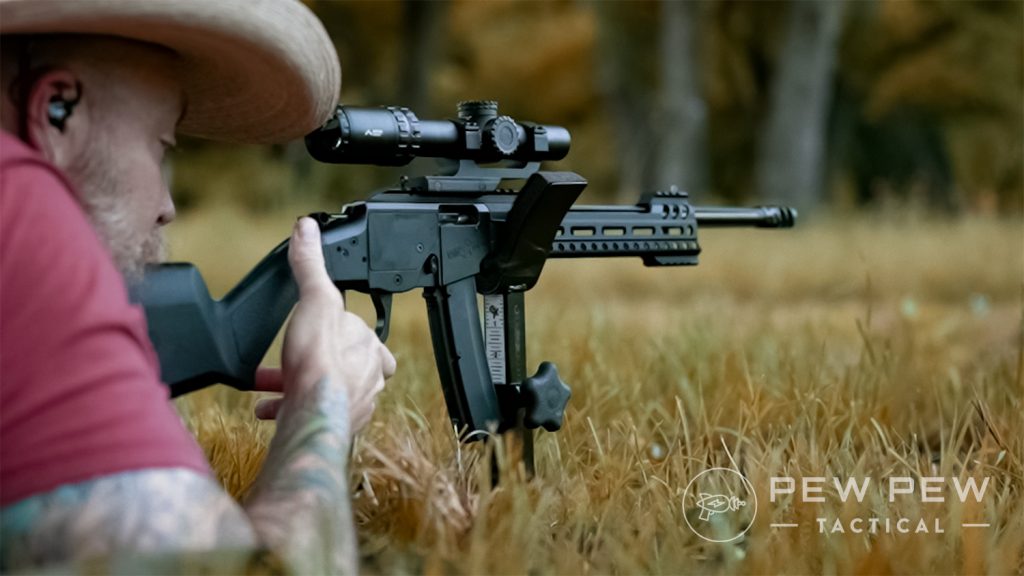 In short, this gun has a couple of appealing factors. First, it is rather unique in the firearms industry, part cowboy, part soldier.
Second, it's a lightweight, practical rifle that could easily have truck gun, ranch gun, or home defense applications — particularly for restrictive states.
Fit & Feel
As noted above, the Tombstone is very light, and you can see the efforts taken to maintain this in the fluting on the free-floated barrel and 10.5-inch rail.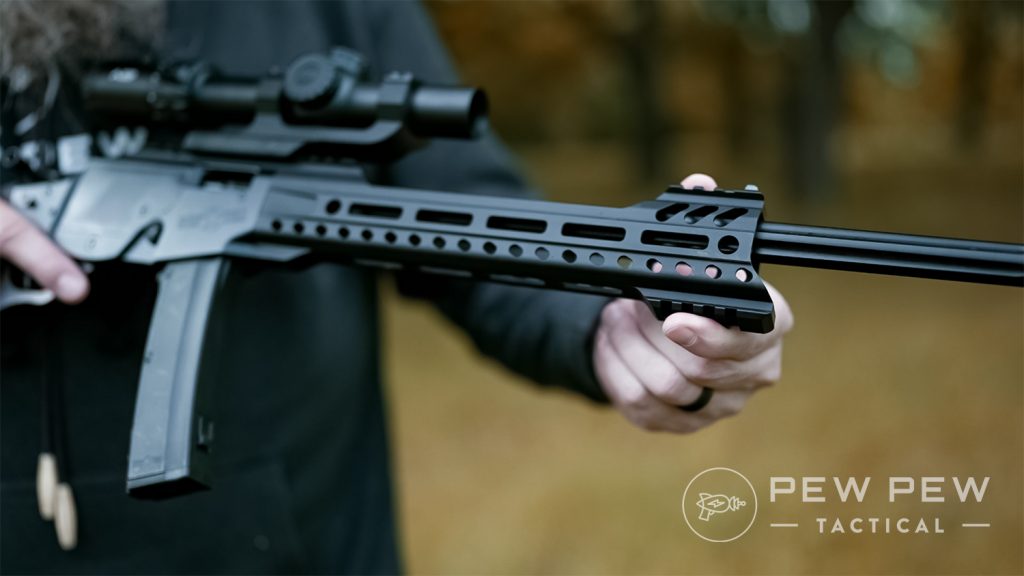 Here, the rifle excels when compared to old wood and brass lever actions and even some AR-15s.
The finish is very tactical, with a black, non-reflective finish on all the exterior aluminum. The Magpul 870 stock is very familiar by now, with an excellent grip angle that matches the loop lever nicely.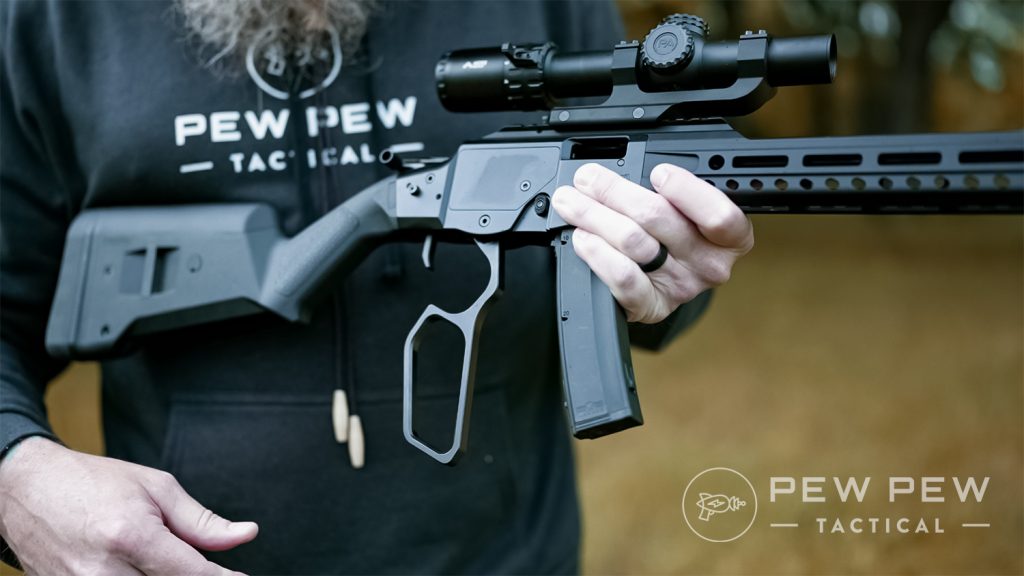 There are a couple of textured panels on either side of the pistol grip portion of the stock. The butt pad is nice and squishy (designed for 12 gauge) but holds to the shoulder nicely.
The stock also features QD wells on either side as well as traditional sling loops. However you want to mount one up, you've got options with the Tombstone.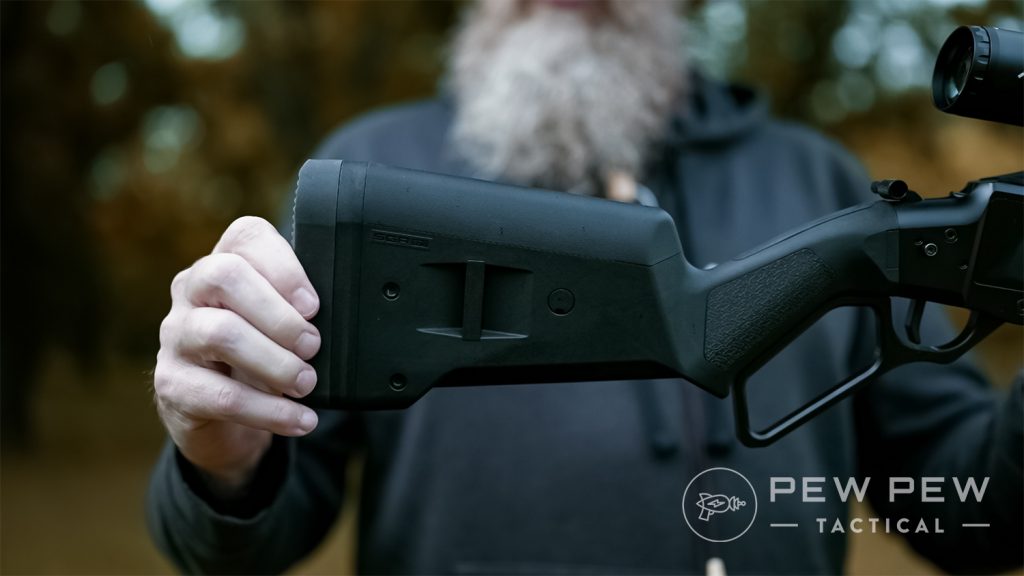 The rail feels a little abbreviated but still has a great deal of utility. Multiple M-LOK slots adorn the 3, 6, and 9 spots, and there are QD wells on either side, fore, and aft.
Picatinny rail sections are more selective, with one running the length of the receiver and two more at the top and bottom of the rail, close to the muzzle. The rail and receiver are blended together well and don't look like something was retrofitted.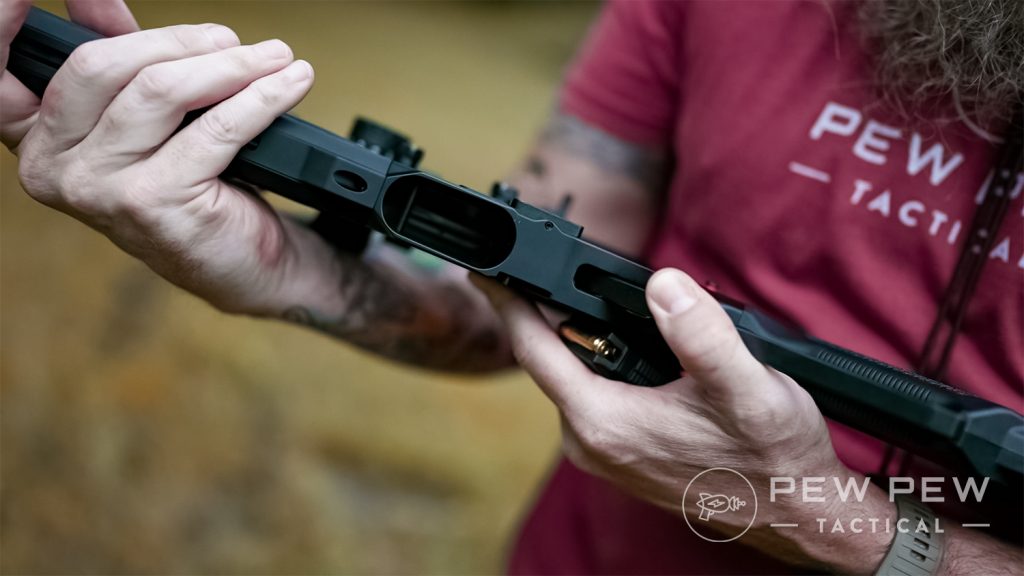 Even the magwell is nicely flared inside, though it is not visible from the outside. The angles do a great job of guiding the magazine into a solid seat.
The fluted, 16.5-inch barrel is capped in a two-port muzzle device, but this is also threaded 1/2×28, opening up a variety of options to the shooter. A short suppressor might make the Tombstone quite the varmint gun.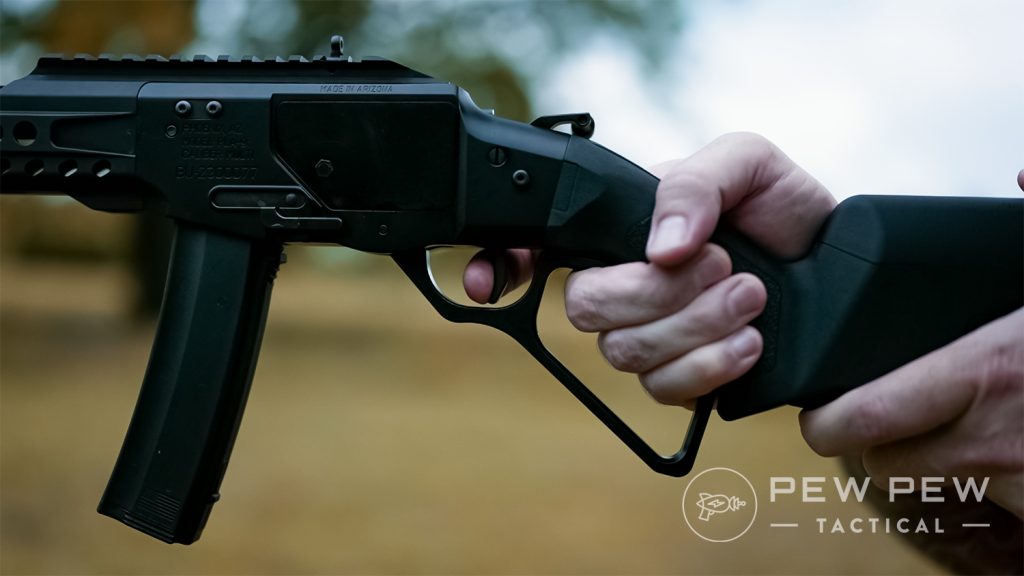 The trigger was graced with a flat bow that had a slight angle at the end. It broke crisply at an average 1.9 pounds on the Lyman Digital Gauge with no hint of creep or pre-travel.
One additional touch I appreciated was an extension on the hammer. Mounted to the side, this allows clearance for the thumb should you mount a scope that would otherwise crowd the space.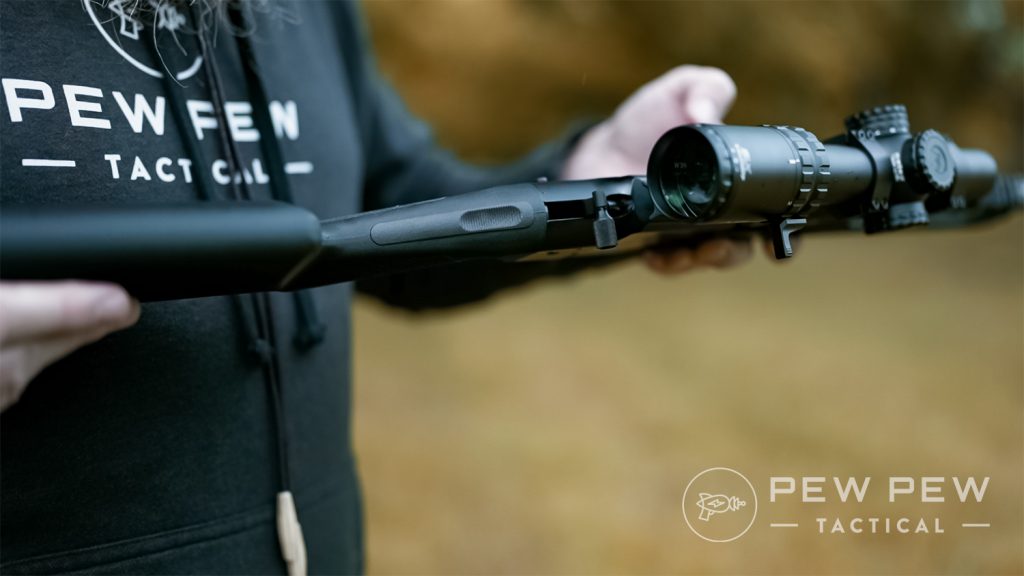 Although I had mounted a Primary Arms 1-6 LPVO for shooting MOA, I eventually removed this to check out the irons. The front post has a white stripe, and the rear is a ghost ring; the pairing works well together.
The 20-round magazine is plastic-bodied, with ten and twenty indicators on the right side. There's a ribbed ledge on the back, which is nice for indexing during reloads.
How Does It Shoot?
I own a few lever action Henrys, and by comparison, the throw on this lever is very short. The lever pulls down to about 90 degrees before stopping.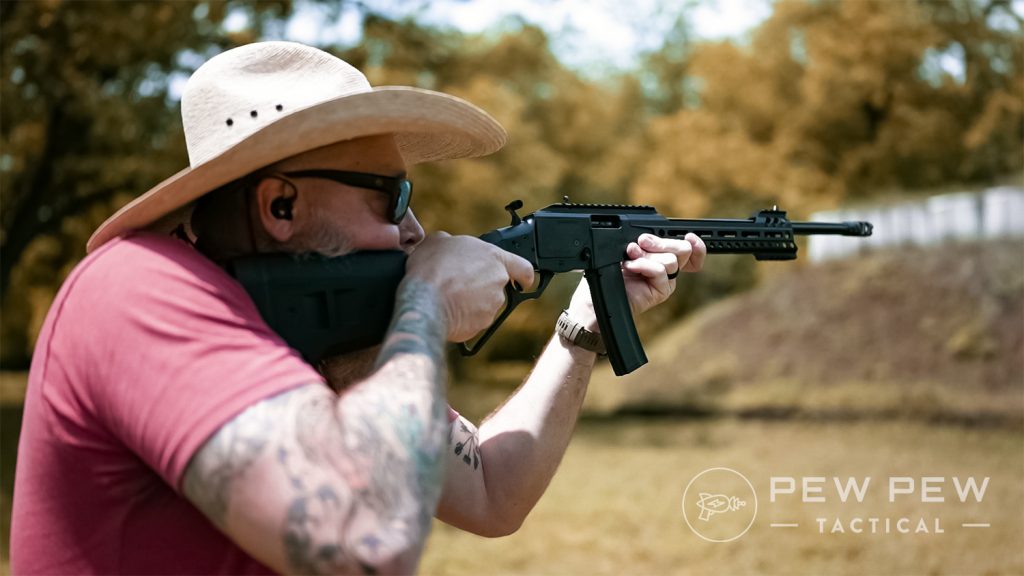 The loop of the lever is also bigger than traditional lever guns, and that's a welcome feature. The bigger loop and shorter throw enable you to cycle the weapon pretty quickly once you get used to it.
That being said, the Tombstone had some struggles with feeding initially. The lever felt stiff though this loosened up a bit with time.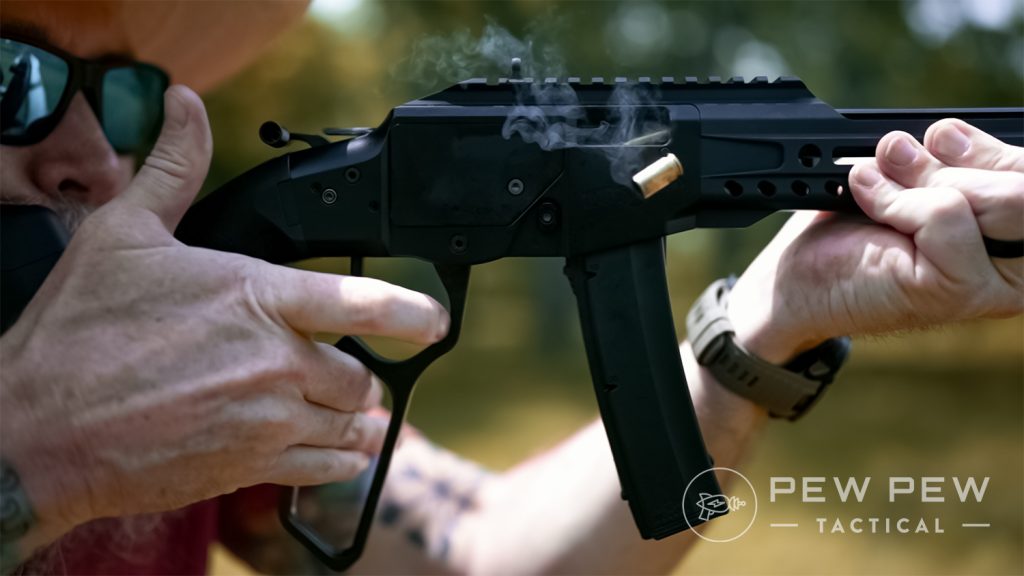 Because of how the weapon is designed, empty casings kind of dribble out the side. This means you must run the lever crisply so as not to induce a malfunction.
Once I reminded myself of this issue a couple of times, I ran the lever firmly but still experienced an occasional failure to feed or a double feed. Somewhere between the 200 and 300 rounds mark, this cleared up, and the Tombstone ran smoothly.
I wasn't exactly sure what to expect on the accuracy side, so when we set up to shoot MOA, I used three different brands of ammo. For testing, I used Remington UMC 115 grain FMJ, AAC 124 grain FMJ, and Belom 124 grain FMJ.
Shooting prone from a CTK Precision P3 Ultimate Shooting Rest, the AAC grouped up at approximately 5 MOA. The Remington was roughly the same, but the Belom came in at just over 3 MOA.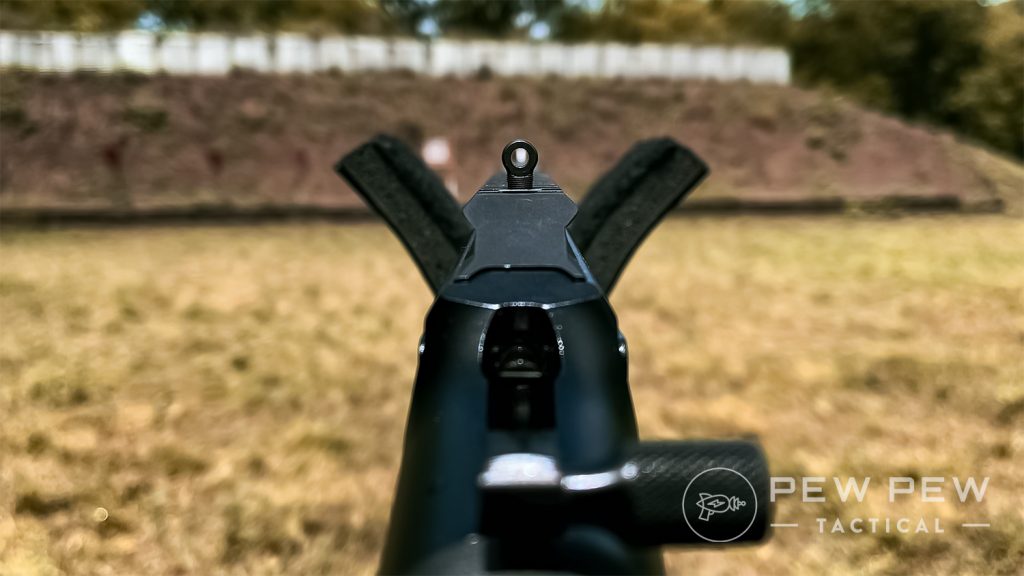 I found the rifle to be comfortable, and the recoil impulse was negligible. With a little practice, I was able to pick up some speed while keeping good accuracy.
Switching to irons, I started to relax and enjoy myself, pinging steel at moderate distances. The Tombstone performed exceptionally well at ranges of 30 yards and in.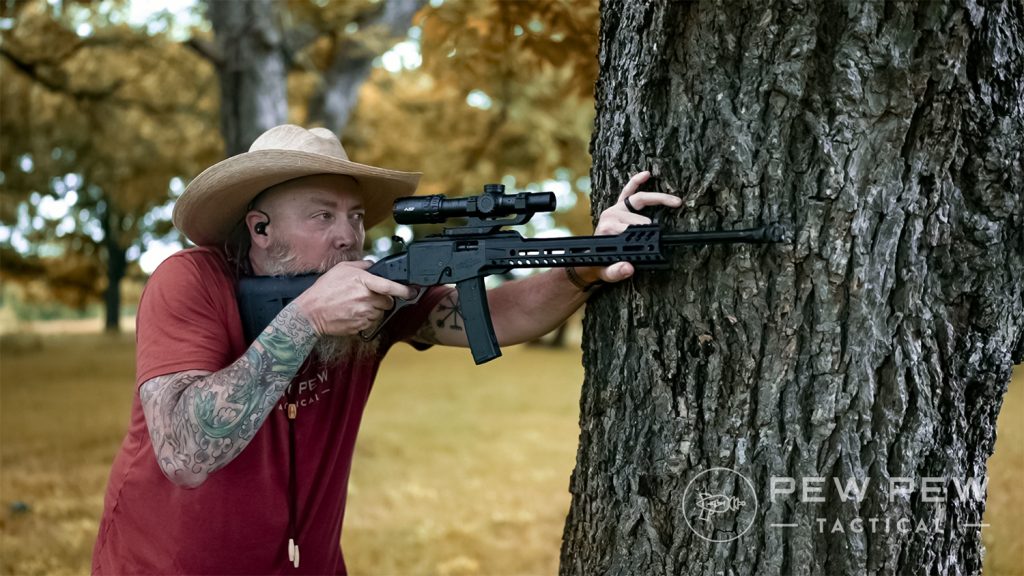 Reloads were non-existent because the rifle only comes with one magazine. That being said, the magazine seated well and dropped clearly when I pushed the button.
What Sets it Apart?
This rifle is a horse of a different color. There are a few brands of tactical lever guns out there now, but they are often chambered in traditional calibers.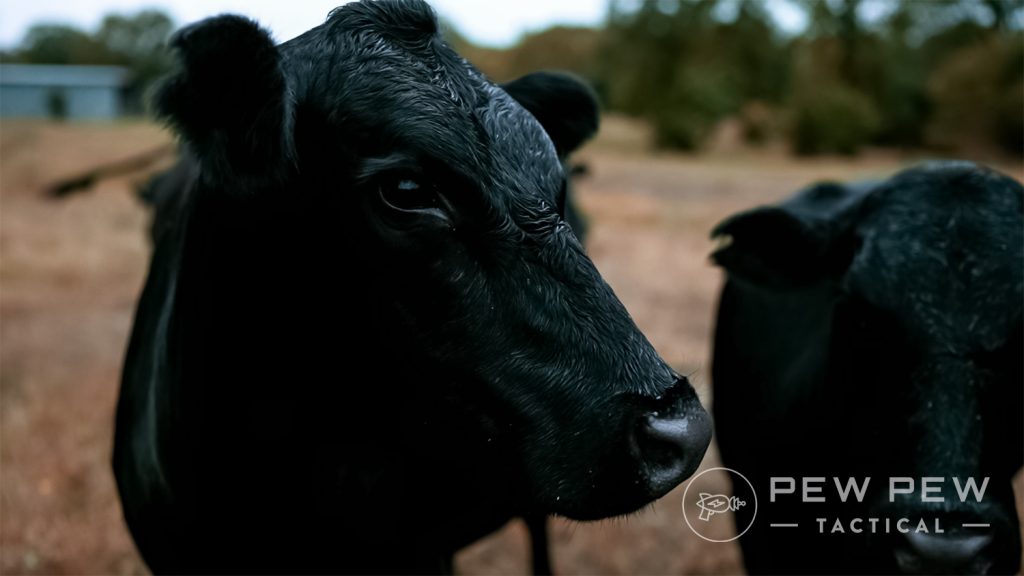 The Tombstone combines the modern, tactical lever gun with the Swiss Army Knife utility of the AR-15. In addition, it does so while sharing a round with commonly carried defensive pistols.
By The Numbers
Accuracy
4/5
The Tombstone put out some decent accuracy, particularly with the Belom ammo.
Reliability
3/5
As mentioned above, we experienced several malfunctions relating to feeding or ejecting in the beginning, but these disappeared after a couple hundred rounds.
Customization
4/5
Between the rail and the Magpul stock, shooters can add quite a few accessories to this rifle to customize it. The Tombstone comes in black or flat dark earth too.
Ergonomics
3.5/5
Being a relatively new design, the ergonomics are good on the rail and stock. Controls are either a bit cramped like the crossbolt safety, or a stretch to reach, like the magazine releases.
Value
3/5
POF's website lists the Tombstone at $1,962 for black and $2,097 for FDE though I saw them at online retailers for approximately $1,848 on average.
Overall
3.5/5
1837
at GrabAGun
Prices accurate at time of writing
Prices accurate at time of writing
Final Verdict
POF's Tombstone is a cool rifle that is unlike pretty much anything out there. Although we had some initial struggles with cycling in the beginning, things smoothed out after a couple of hundred rounds.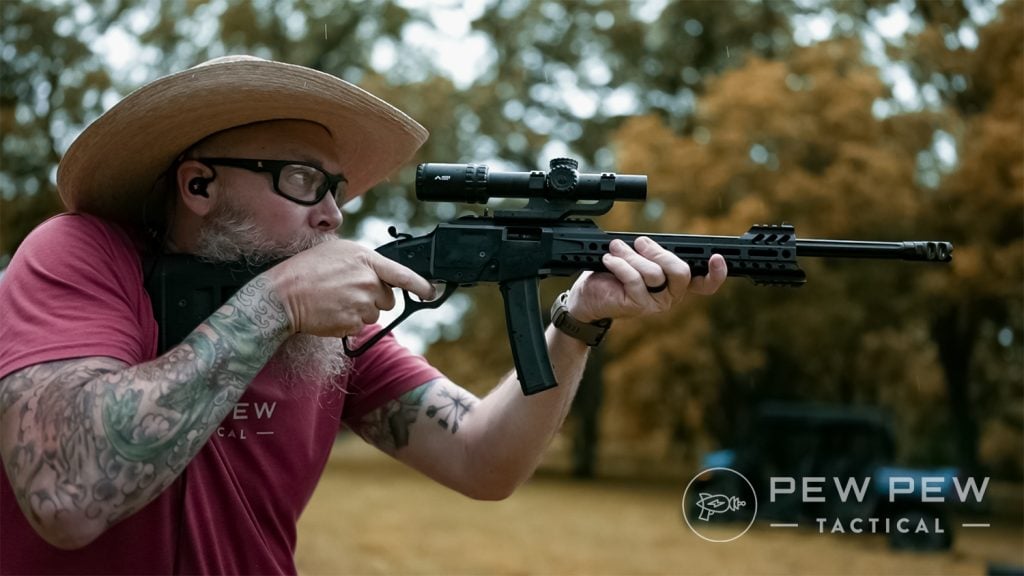 The rifle delivered accurate fire, and with practice, I was able to pick up the pace with this lightweight cross between an AR-15 and a lever-action carbine. Although the gun is rather unique, I ultimately saw the utility it possessed.
Whether you're a rancher riding the range, a collector looking for something different, or a home defender in a location with restrictive laws, the Tombstone might just be a good option for you.
Will you mosey down to the mercantile for a Tombstone pardner? Let us know in the comments below, and for more lever-gun love, check out 10 Best Lever Action Rifles [You Can Still Buy]!