Concealable handguns are all the rage, and concealed carry is a mainstream phenomenon. Carrying a small handgun is super handy, but what else can you conceal?
A good knife? Some medical gear? What about body armor?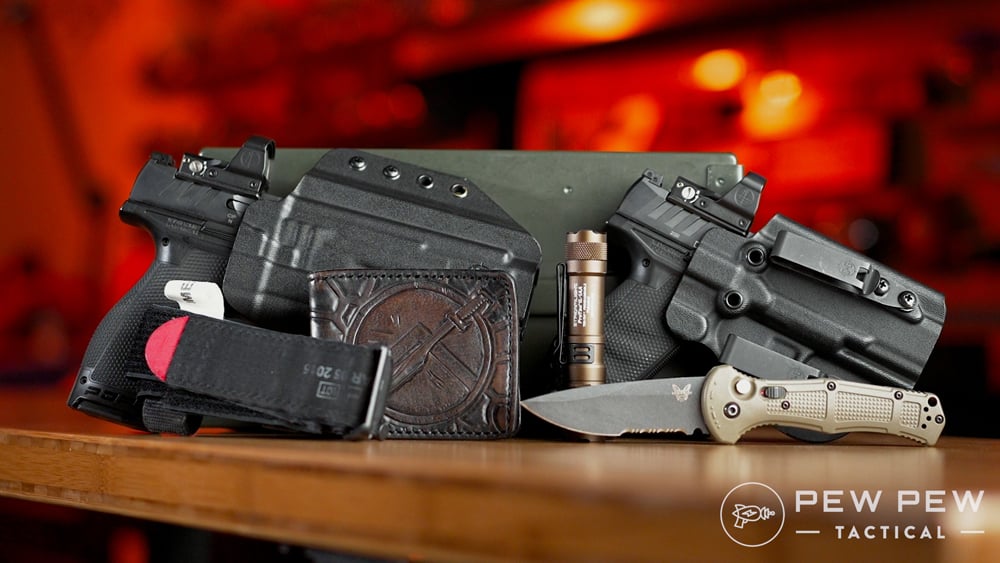 Concealable armor is very real, and it's a market that's grown considerably. Who doesn't want to be a tactical turtle?
Well, obviously, not everybody needs armor all the time, but the market exists for a reason.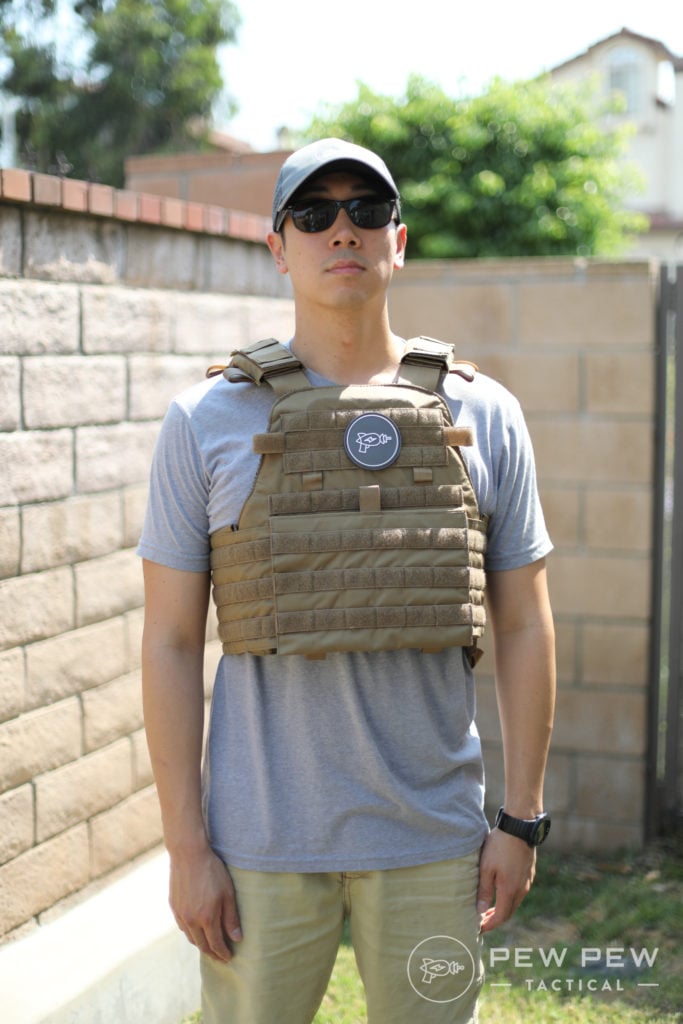 Some armor is designed to be concealed and worn all the time, but a few of our picks can be carried or stashed until necessary.
We've gathered a bit of everything for everyone, and we got hands-on with most of the gear. At the least, we have hands-on with previous generations of a similar item.
Summary of Our Top Picks
Best Concealable Armor
This list isn't in a best-to-worst or worst-to-best order. It's a list of the lightest and most concealable options to the large, less concealable options.
So, let's start with one of the most affordable and concealable options.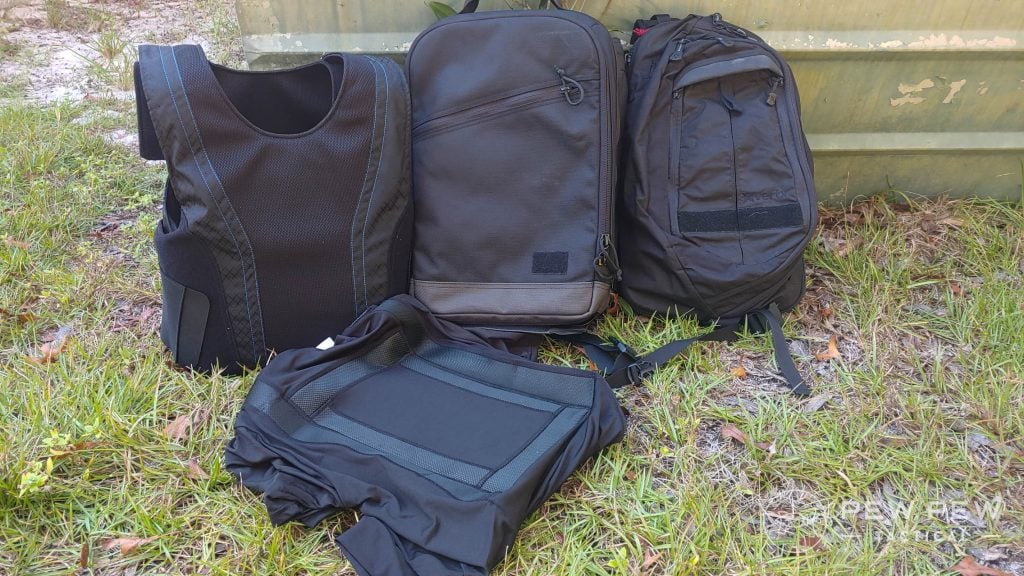 1. Vertx Commuter and Armored Panel
The sleekest, slimmest, lightest, and likely smallest footprint means to conceal armor has to be combining the always excellent Vertx Commuter with an armored panel of some kind.
Specifically, a level IIIA panel. Premier Armor makes a piece designed specifically for the Commuter, but nearly any small panel works.
The Vertx Commuter is a stylish and handy sling bag designed for everyday carry. It's rather large and in charge, but still considerably smaller than a backpack.
Most Covert Bag
151
at OpticsPlanet
Prices accurate at time of writing
Prices accurate at time of writing
It has multiple pockets that allow you to carry a little bit of everything in a very organized manner. There is more than enough room for your laptop, a charge, spare power cells, your lunch, a water bottle, an IFAK, spare ammo, and I can go on and on.
Do you know those ridiculous and unbelievable EDC dumps you see online? Well, the Vertx would allow you to actually carry that much crap.
I've owned a Commuter for seven years and use it fairly routinely. Even after all these years, airports, and road trips, it's held up very well.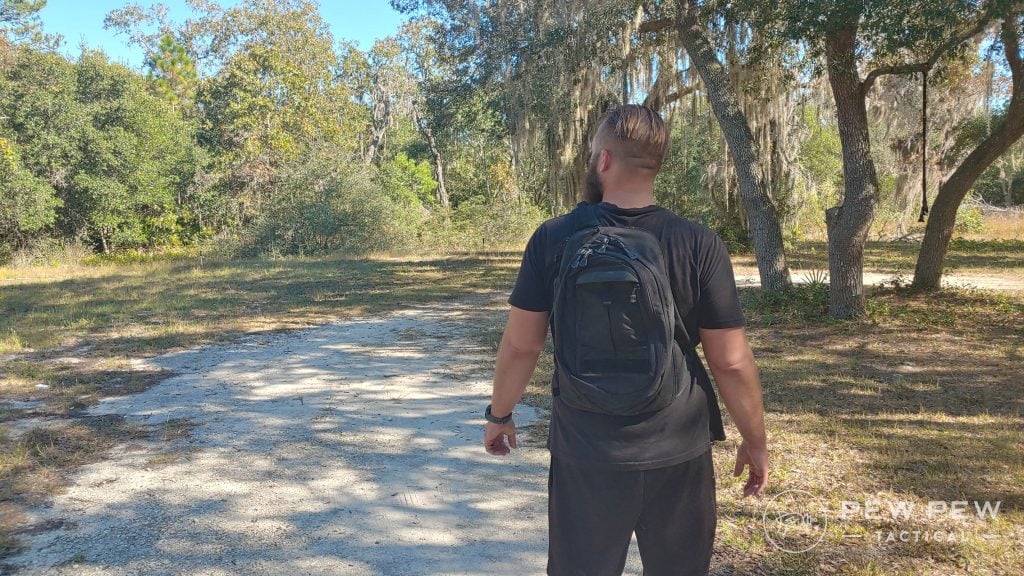 It's designed for ground-up EDC work, and adding a soft armor panel is only natural.
The Commuter has a specialized slot in the way back. A zippered compartment almost completely hides it. This hides the panel and positions it against your body. It's superbly discrete and practically invisible unless someone searches the pack.
Admittedly it's only one direction's worth of armor, and you can't protect your front and rear at the same time. The Commuter can be quickly pulled over your body if you need front protection and worn normally if the threat is behind you.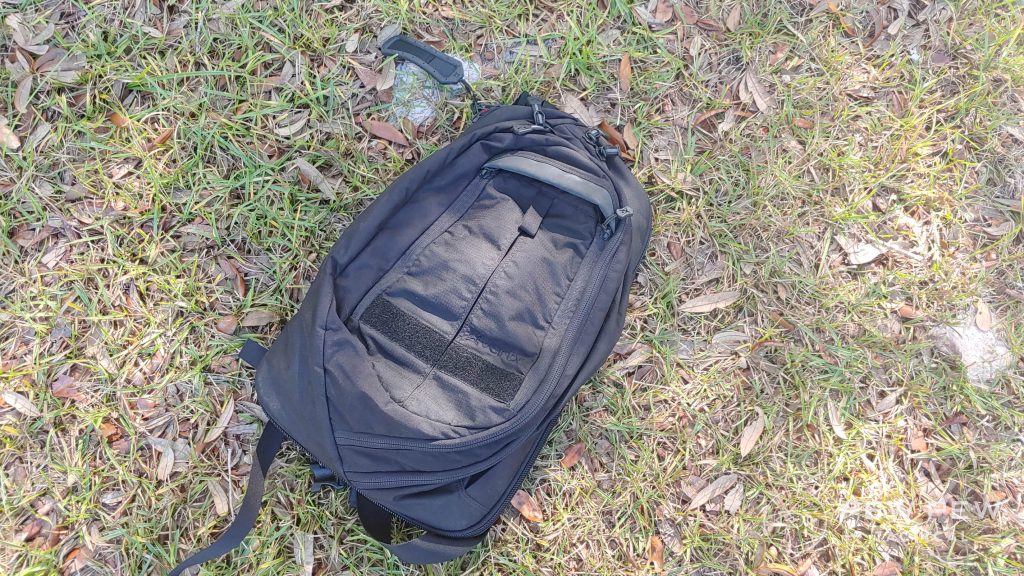 Soft armor is a big limitation. You're only protected from handguns and likely shotguns. A level IIIA panel provides the most protection possible while being skinny, lightweight, and flexible.
When shopping for the armor of any kind, you should stick to NIJ-certified armor. This means it has been independently tested and certified to stop certain threats. Anything like certification might be tough to trust, and personally isn't worth risking my life on.
2. Premier Body Armor Everyday Armor Shirt 2.0
You'll see me mention Premier Armor a few times, and to be fair, they make a ton of specialized concealed armor solutions.
One of my favorites was partially my idea…It's tough to explain, but I combined a Tru-Spec shirt with a Premier Armor plate several years ago and made some real synergy happen.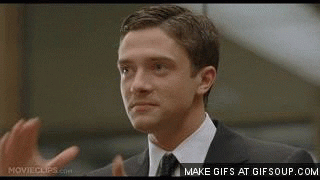 Over the years, the idea evolved, and the Premier Armor Everyday Armor Shirt 2.0 is the culmination of the idea.
The Premier Armor Everyday Armor Shirt 2.0 is a tight, form-fitting shirt with pockets at the front and rear that allow you to slip in level IIIA armor panels. Premier Armor makes these panels specifically for the Everyday Armor Shirt 2.0.
Best Apparel
275
at Premier Body Armor
Prices accurate at time of writing
Prices accurate at time of writing
They are 7.75 x 12.75 inches and offer you tons of protection, more than your normal panel. It's oddly shaped but effective and provides superior coverage. The tight-fitting nature of the shirt keeps the panels locked in place and doesn't sag or bind.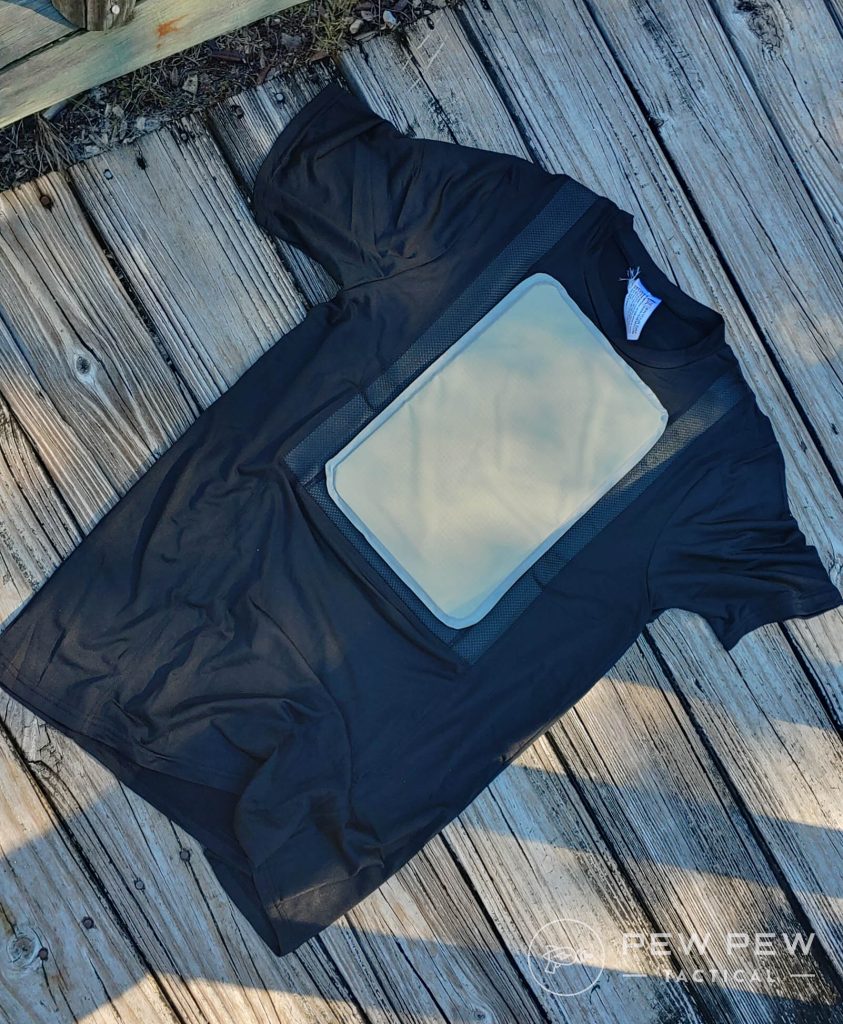 The shirt is comfy, and the only uncomfortable part comes with heat. As you'd expect, the armored portions act as little heat pads for your body. It's something you'll have to deal with and a sacrifice you have to be willing to make.
If you are willing to sacrifice, you get front and rear protection from pistols and shotguns. All it takes to conceal the rig is a light overshirt, and the thing disappears.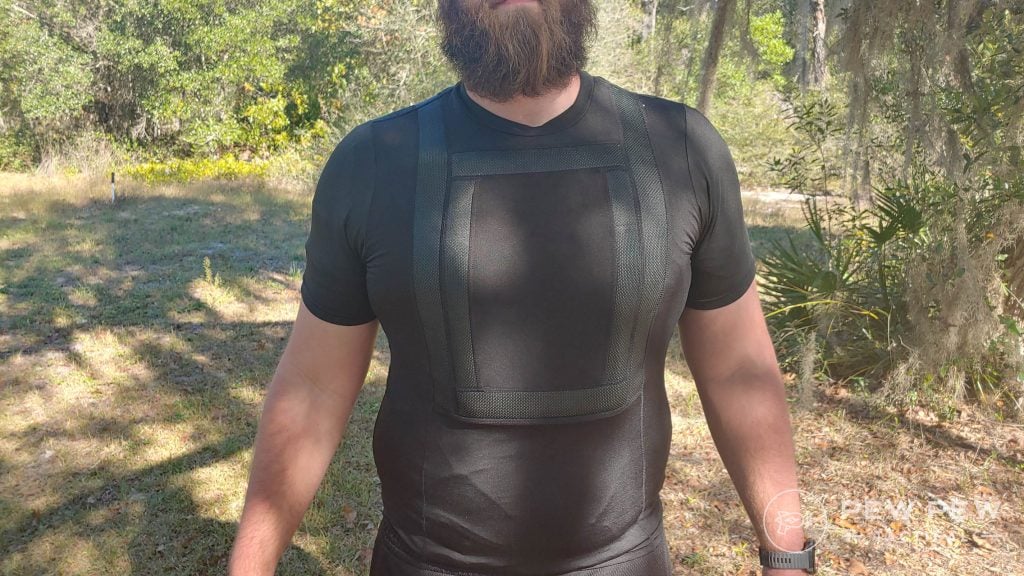 The shirt fits tightly to help hide the armor and ensure nothing gets in the way of your draw should it come down to that.
The shirt is made from a stretchy material similar to Underarmor type clothing. It's moisture-wicking and plenty soft against the body.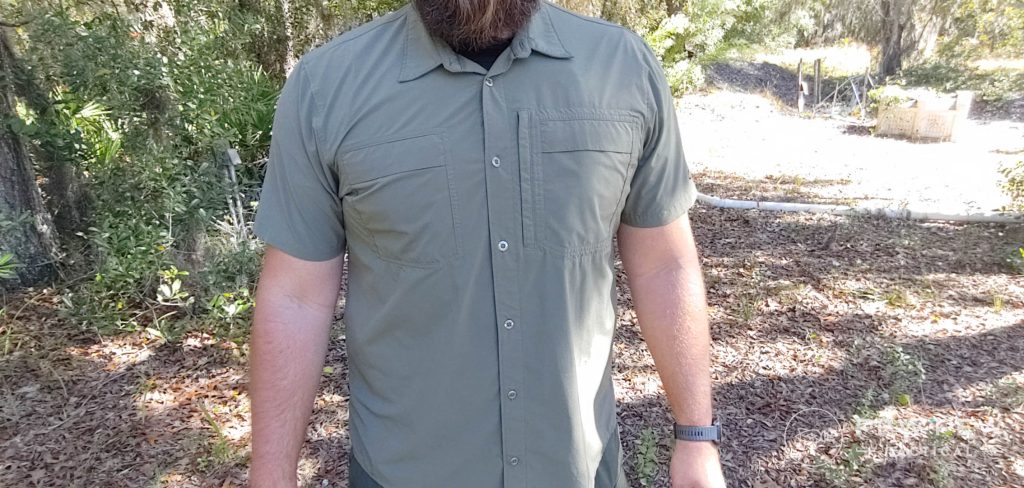 While it can feel warm, a little warmth is a small price to pay for a high level of protection. Premier Armor sells the shirt and armor bundles together for a fairly affordable price. The pockets are designed specifically for their armor panels, and using different armor with the shirt might be tough.
Premier's armor is NIJ certified, just in case that was a concern.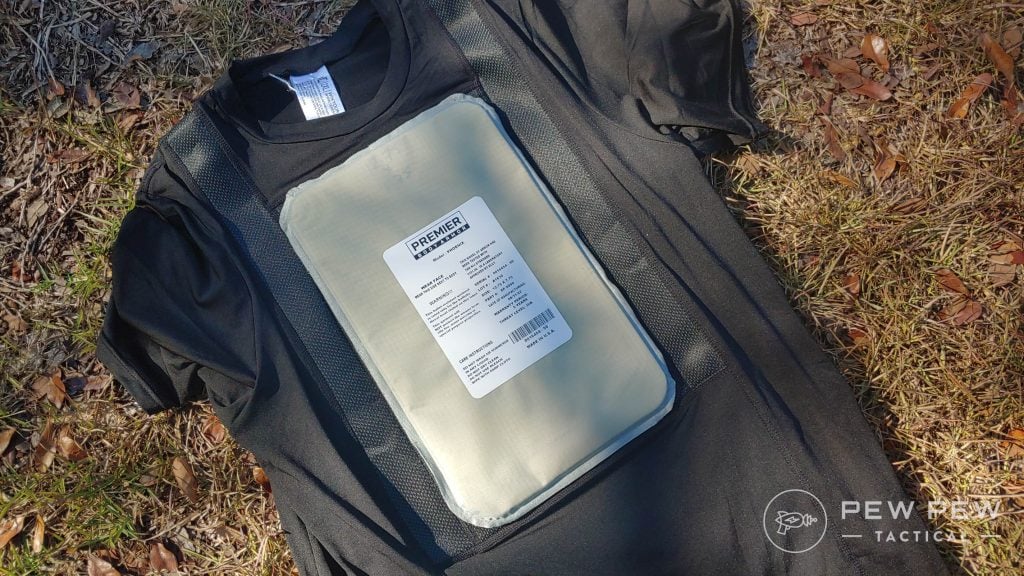 3. Premier Body Armor Concealable Vest
A step up from the Everyday Armor Shirt 2.0 is the Premier Body Armor Concealable Vest.
While it's a little bigger and a little harder to conceal, this vest offers more protection than any other option. It's a complete vest similar to the type worn by law enforcement but designed to be trimmed and easily concealable.
Best Protection
659
at Premier Body Armor
Prices accurate at time of writing
Prices accurate at time of writing
The Premier Armor Concealable Vest is an NIJ Certified Level IIIA vest that covers you from top to bottom and from side to side.
The protected area of your body is much higher than the Everyday Armor Shirt 2.0. It covers your sides and much more of your total torso.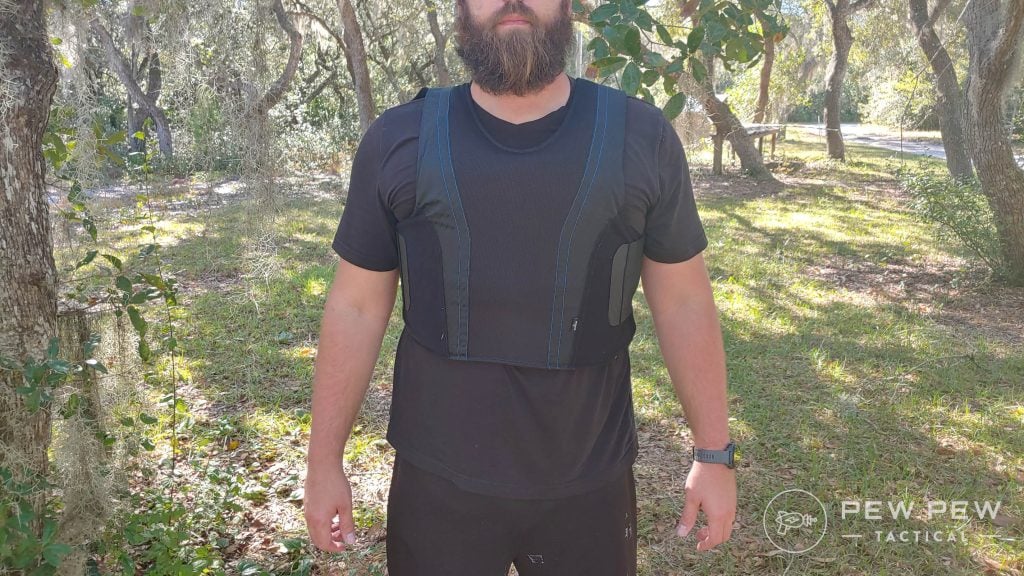 With the big jump in protection, we do have to contend with a bigger footprint. Even though it's bigger, it conceals well when you put in a little effort. I'd suggest a patterned shirt that helps hide lumps.
A good flannel will work wonders.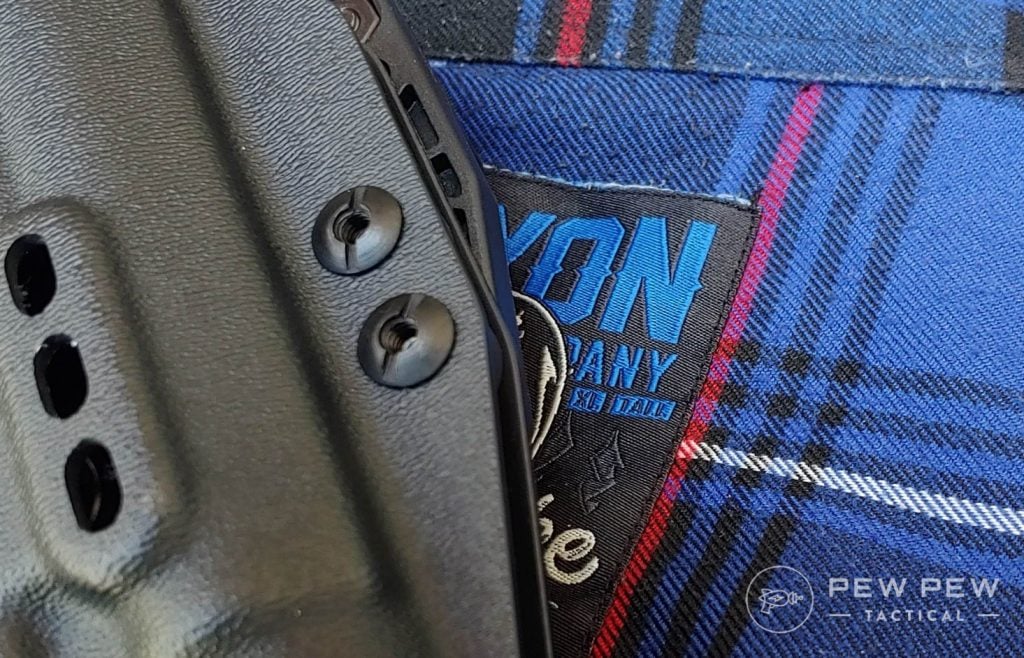 Smart users will also tighten the vest down to their body and keep it nice and tight to increase both comfort and concealment.
Plus, a tight vest prevents it from becoming an issue when you draw, especially if you carry appendix. With six adjustment points, it's not too much trouble to get it tight and keep it tight.
The inside of the vest features a wicking antimicrobial layer that keeps the vest from getting stinky, and the outside layer is machine washable. It's obviously going to be rather warm to wear, and that creates its own level of discomfort you should be well aware of.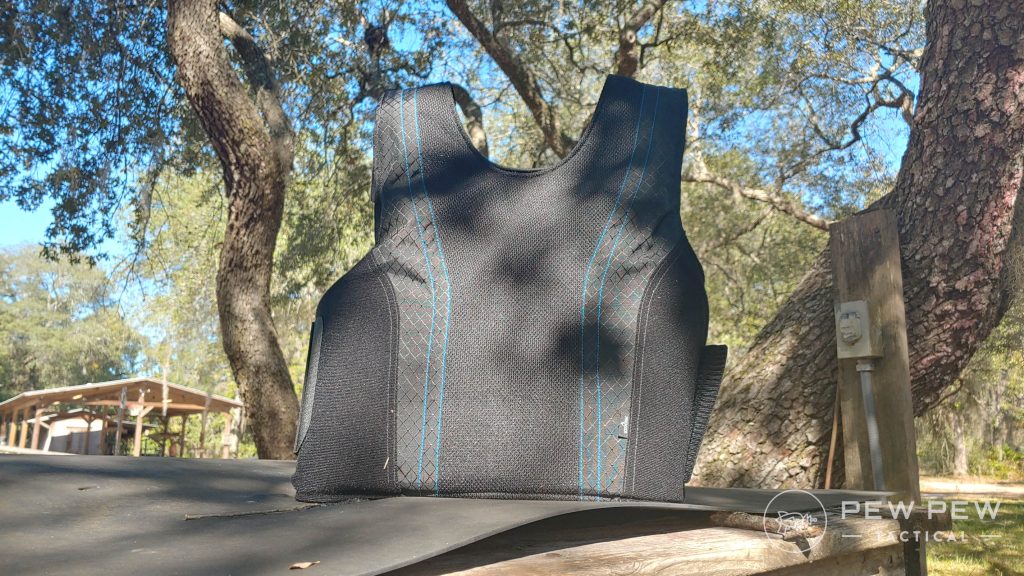 If you're wearing this in the summer, in the south, drink plenty of water.
Premier Arm's Concealable Armor Vest gives you the most coverage possible while remaining concealed. You'll be a turtle, and no one will be the wiser.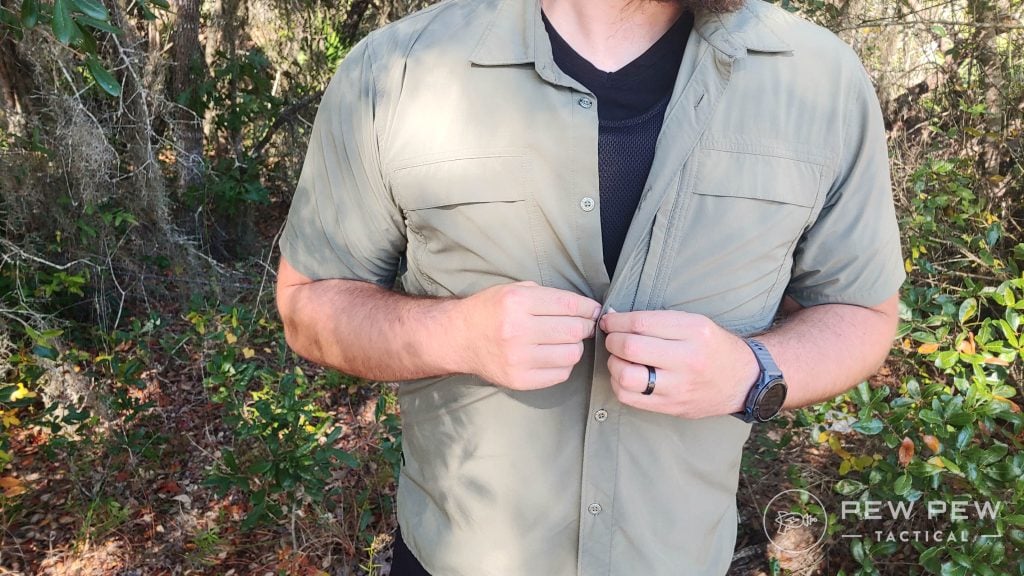 What do you think of Premier Body Armor? Rate it below!
4. Safe Life Defense Hyperline
Editor's Note: This model was not included in the original article, but was added by the PPT Editing Team.
The PPT crew has tested and given the thumbs up to the Safe Life Defense Hyperline. This vest is not only super thin but held up against our tests.
1078
at Safe Life Defense
Prices accurate at time of writing
Prices accurate at time of writing
At 0.19 inches, the Hyperline is an impressive tenth of an inch thinner than an iPhone 12. Not bad!
This particular model is a standard black color with a nylon-style material that comes with mesh on the inside to increase airflow. Super helpful if you're going to be wearing this often, especially in warmer months.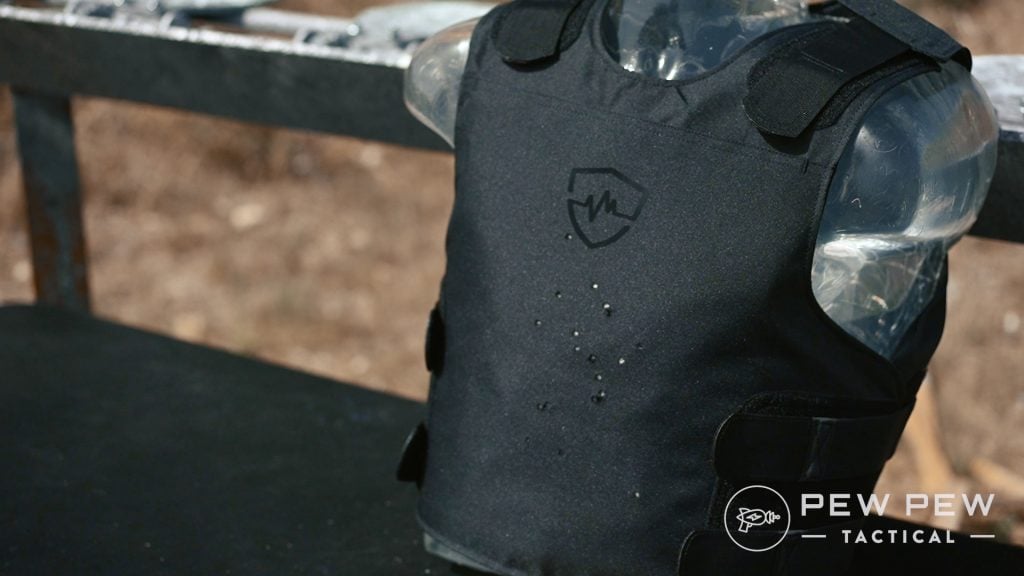 It offers multiple adjustable Velcro straps to ensure a good fit on the carrier and it felt snug without limiting range of motion.
Most importantly, it did its job when facing off against Speer LE Gold Dot, 147 grain 9mm ammo. After 20 rounds at center mass from a short distance, none penetrated the vest.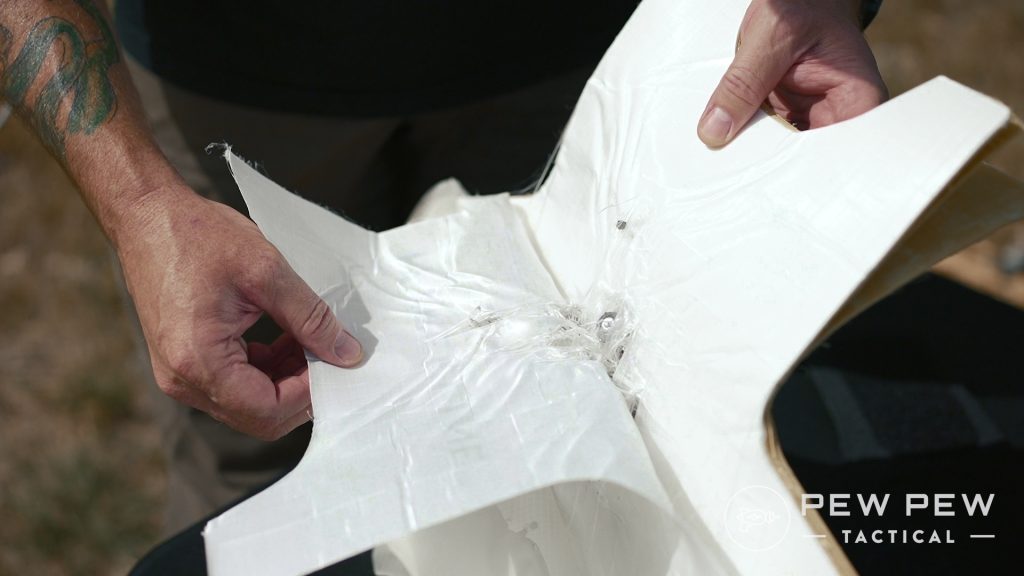 It's a little bulky, but that's to be expected with this style of vest. Still, it does a pretty good job of staying concealable.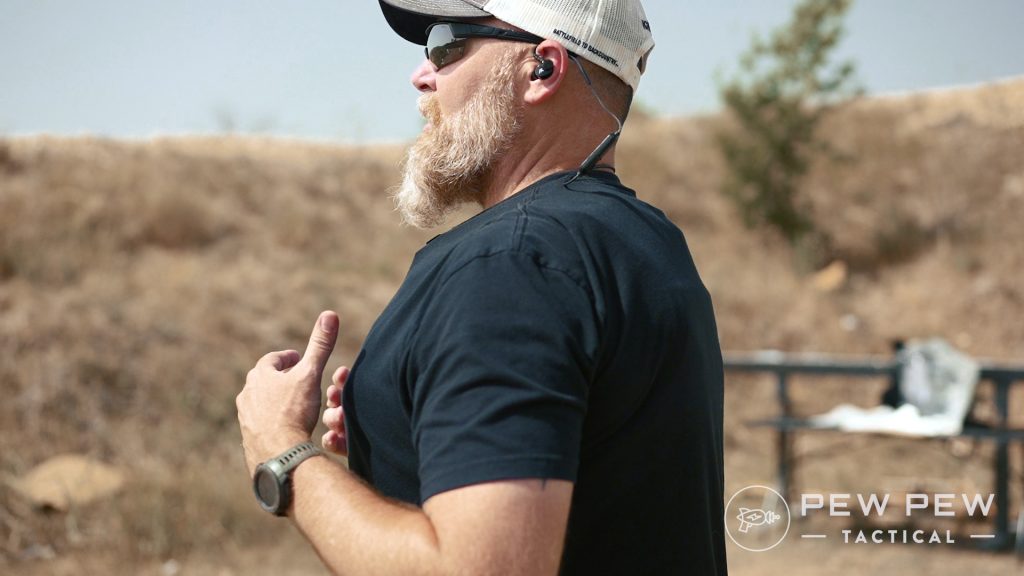 All in all, the PPT team digs the Hyperline for its thin, concealable design and its ability to stand up during our testing.
Want to see more? Check out the video review below or read the article here!
5. DevCore PCB
If you want to go big, and I mean in both protection and price, then the DevCore PCB is for you.
PCB stands for Plate Carrier Backpack, and that's underselling the PCB. With the PCB, you can carry two hard armor plates that provide rifle levels of protection.
490
at DevCore
Prices accurate at time of writing
Prices accurate at time of writing
Remember when Gecko45 was looking for a hard armor plate system so he could take round while his wife laid down accurate fire?
Well, what he needed was the PCB. Your front plate sits in the rearmost compartment and can be quickly deployed.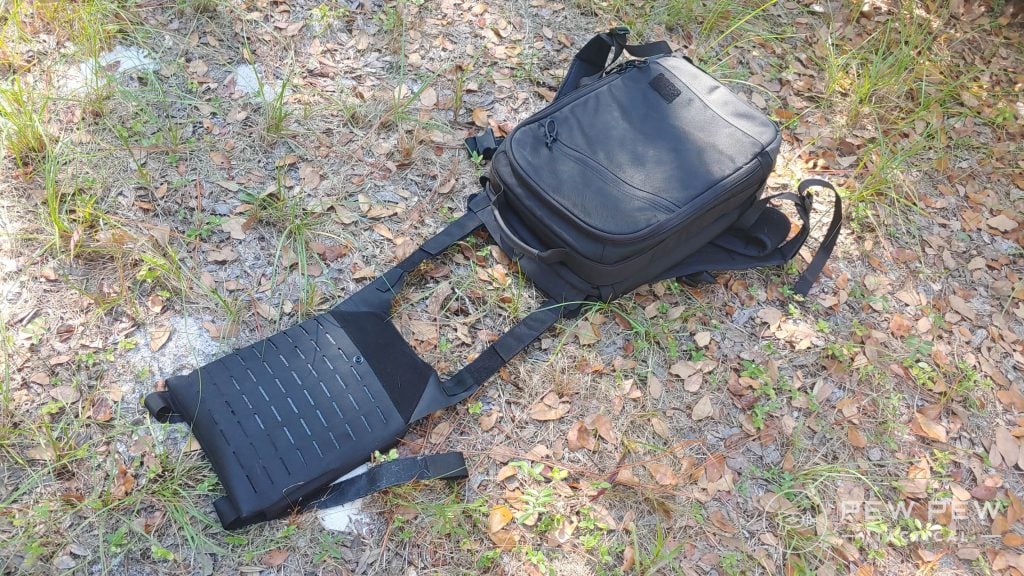 A set of hook and loop straps secure to the shoulder straps, and when pulled, these straps allow you to lift the front armor panel out of the pack and strap it against your body.
Boom, now you have hard armor in play.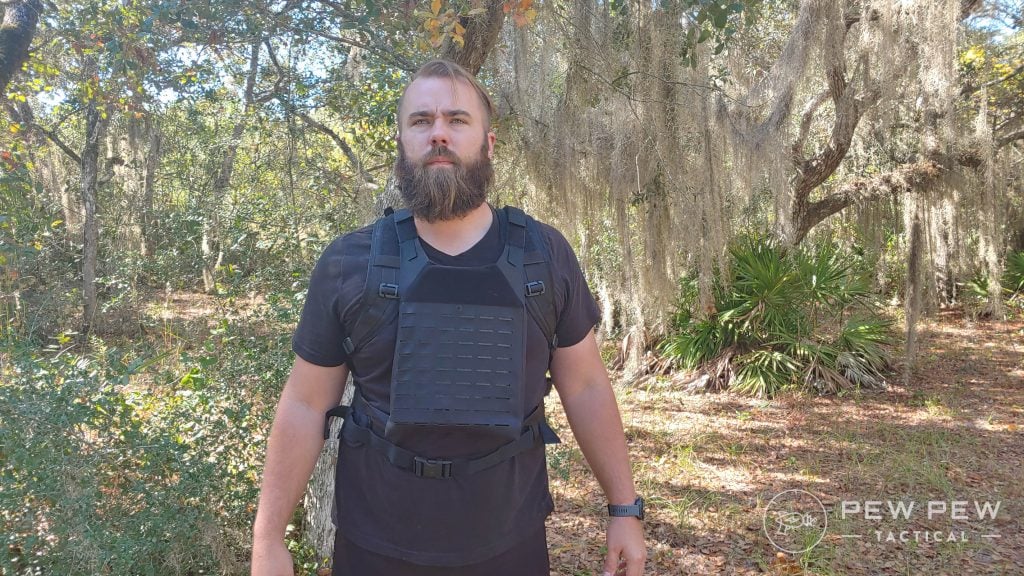 That's not all, though. You have an external compartment for whatever regular goodies you might need to tote around. This specific compartment is loop-lined, and hook pouches mount easily for organizing your gear.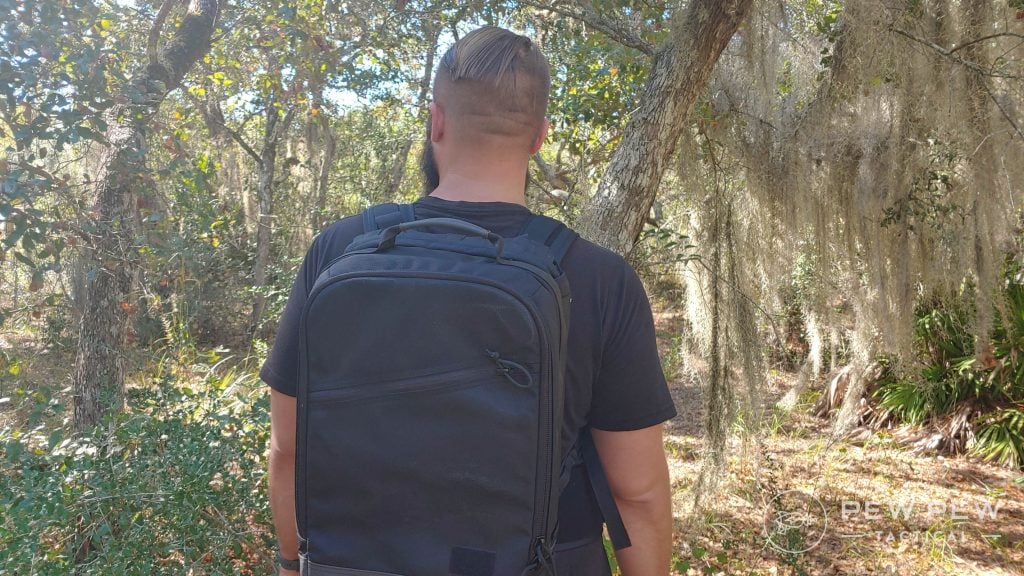 In the center is a hidden bottom loading compartment. With the right additional storage compartment, you can squeeze in a micro-sized rifle or braced pistol.
There is no way to access the middle compartment without knowing how and where to access it.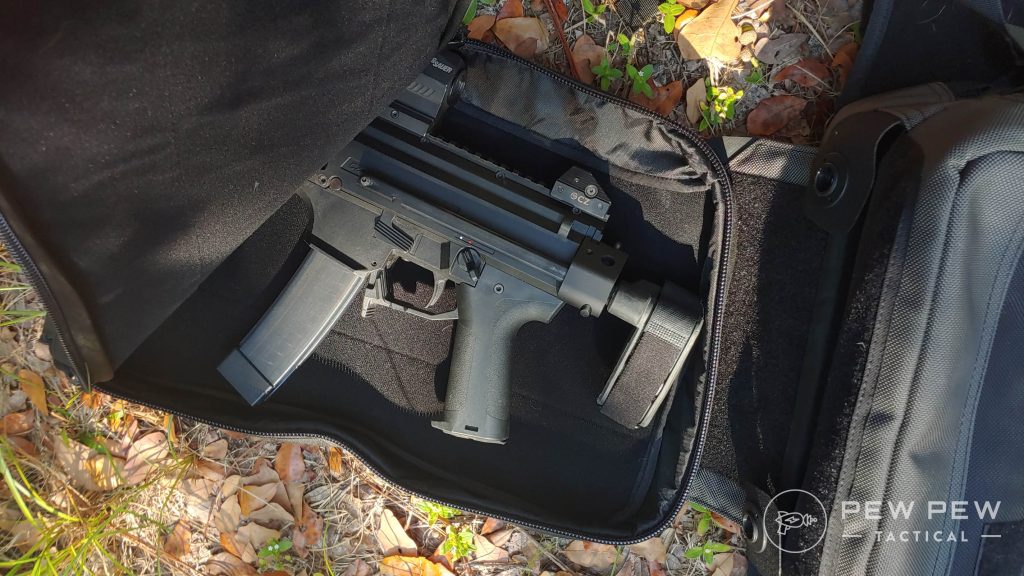 It's a huge pack but isn't overtly tactical. It's capable of carrying a full fighting load in an organized and hidden way that's quite handy and very well hidden.
The DevCore PCB and its extra parts and pieces aren't cheap, but it's a quality piece of gear.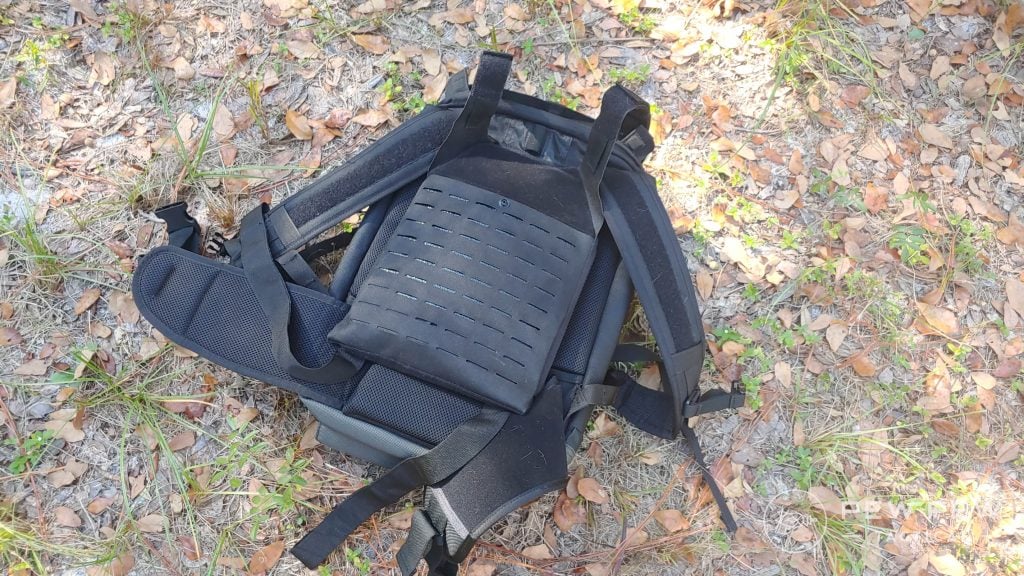 Just watch your head when you pull out the front plate. If you're as clumsy as me, it might pop you right in the back of the head.
6. E.L.S.A. RapidConcealment Plate Carrier
Sadly, as I went to write this article, I saw that one of my favorite options for concealed armor is no longer produced. The Phalanx Defense Escort briefcase was discontinued, but luckily the idea wasn't totally canceled.
Martinson Industries produces the E.L.S.A. RapidConcealment Plate Carrier. It fills the same gap as the Escort but in a more modern way.
219
at Active Threat Gear
Prices accurate at time of writing
Prices accurate at time of writing
The idea is simple and ingenious. It's a folding plate carrier that zips into a briefcase or laptop bag and can carry either soft or hard armor plates. Active, rifle-proof armor is a mere zipper pull away.
E.L.S.A. stands for Emergency Life Saving Armor, and when folded, it looks like nothing more than your standard textile soft bag. No outside MOLLE or tactical tags to give it away.
The concealment comes more from its ability to deceive than its ability to be hidden under some article of clothing.
Once unfolded, you have several rows of MOLLE for attaching whatever goodies you may feel you need. The front has a full panel, and the rear panel has just a few rows.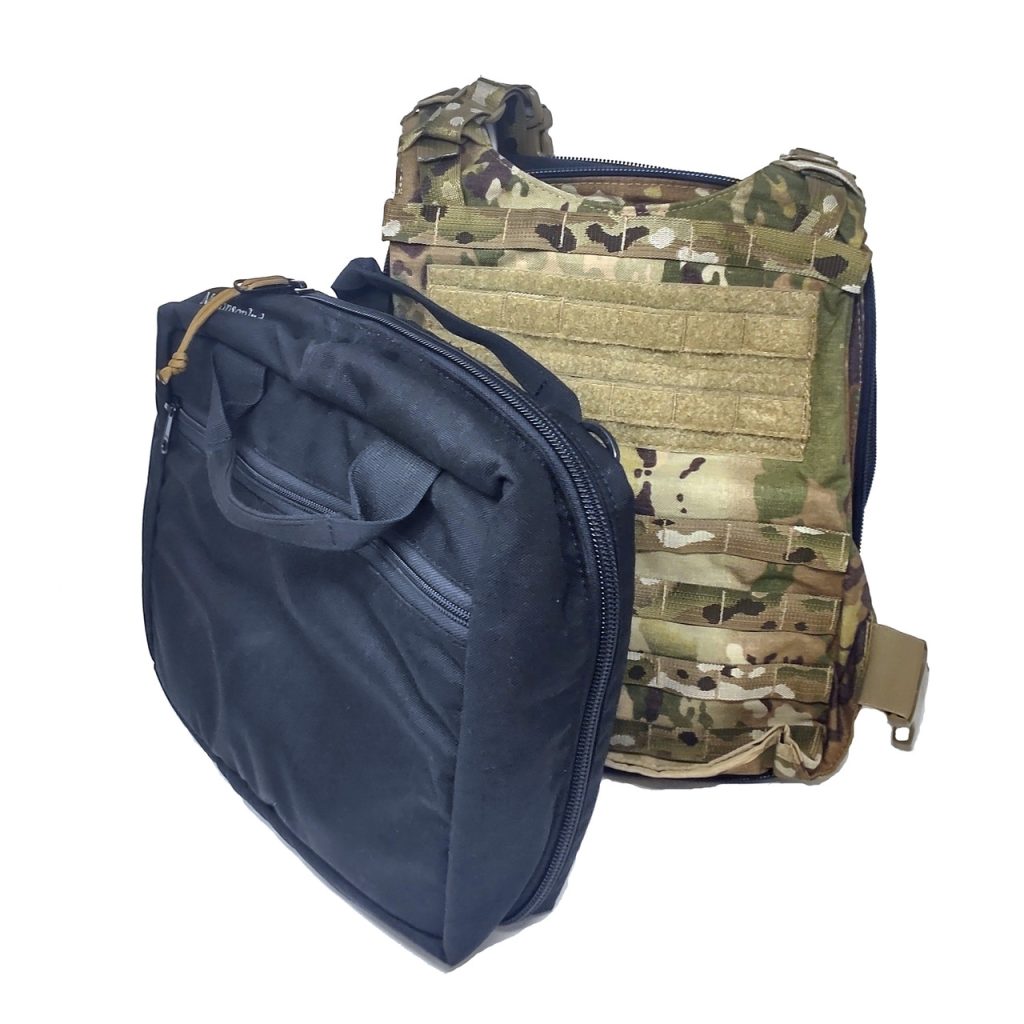 It's not the best option for a full fighting load because too much junk might make it nearly impossible to fold and zipper together.
You are unlikely to need a full fighting load in a CONUS emergency. There is plenty of room to attach an IFAK and maybe a few spare magazines for your concealed carry pistol.
Its massive zippers allow you to open the bag quickly and separate each half from the other. Toss the carrier on and then use the quick-connect side straps to secure the carrier against your body.
The real trick is making sure you have the kit pre-sized and you are practicing how to open, unfold, and then don the armor.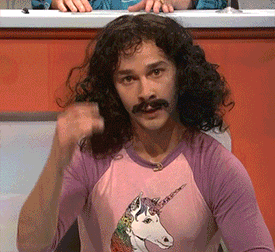 There are some compromises with this kind of armor. This plate carrier will not be as comfortable as a dedicated plate carrier, and it won't offer you the same options for customization. It does offer you exactly what the name implies, emergency life-saving armor.
The E.L.S.A. is perfect for up-armoring and then stashing in your vehicle or office in case of emergency. As a disguised bag, it won't draw any attention, and at the same time, you can have heavy armor ready and waiting.
It's a notable upgrade to the older Escort system and offers a more modern touch to the briefcase-turned-plate carrier.
Final Thoughts
Concealed body armor isn't for everyone, and for some, it might seem totally ridiculous. Yet, I'm quite psyched to see this market grow and for our options to expand.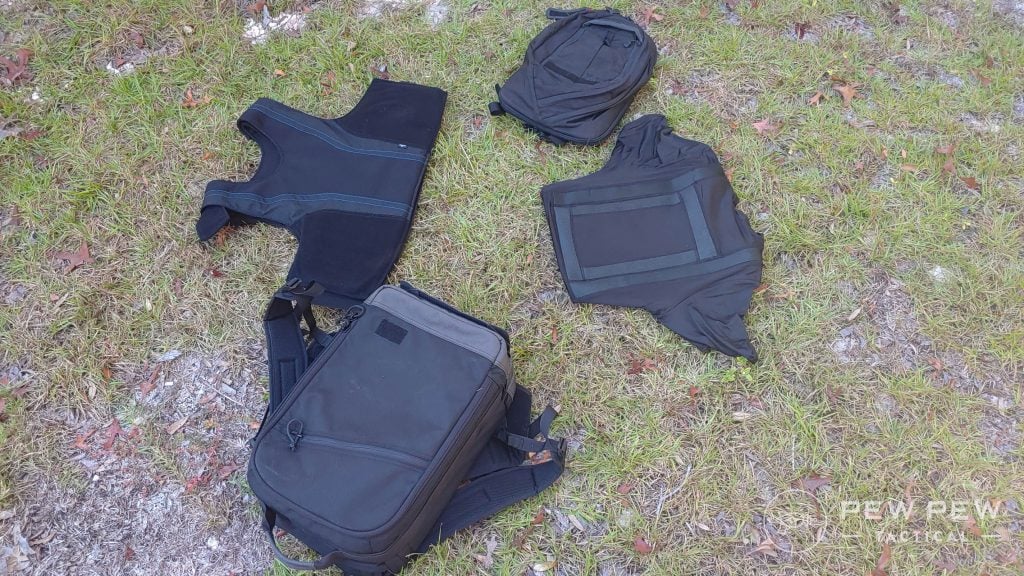 These are what I think are the best pieces of concealed carry armor. I recognize this is a constantly growing market, complete with a number of experimental ideas that might work better than others.
With that in mind, let's turn it over to the comments section. Have you discovered a good and discrete way to be a tactical turtle? If so, share below! For more goodies you can wear, check out our guide to the Best Plate Carriers and Best Ceramic & UHMWPE Body Armor: Level 3 & 4.