I must be nostalgic…I've been thinking a lot about the old .40 S&W. Over the last few years, we've seen the resurgence of the 9mm.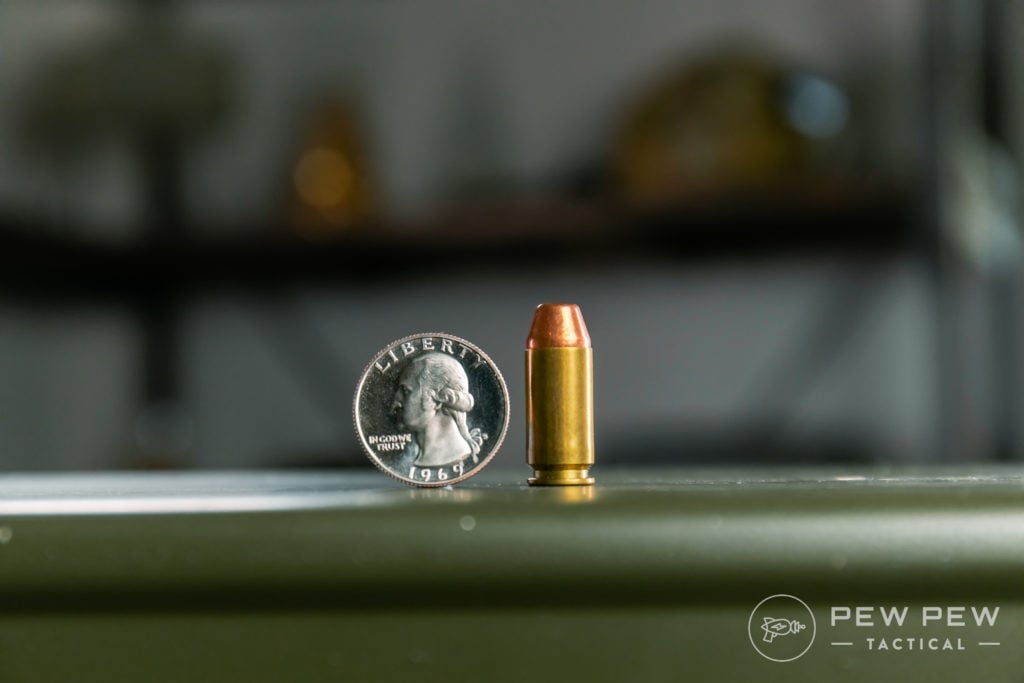 With modern loadings, projectiles, and guns, it's tough to beat 9mm for most roles.
However, that doesn't mean the .40 S&W is entirely dead…It still serves a number of purposes and offers a few advantages.
While 9mm might be king of the crop, there are still some fantastic ..40 S&W guns out there and more than a few reasons to invest in .40 S&W.
Summary of Our Top Picks
Table of Contents
Loading...
Benefits of .40 S&W
For me, I keep a .40 S&W gun around to be panic-proof…ammo panic-proof, I mean.
Over my adult life, I've seen four big ammo droughts, and in three of those four, I could always get .40 S&W ammunition.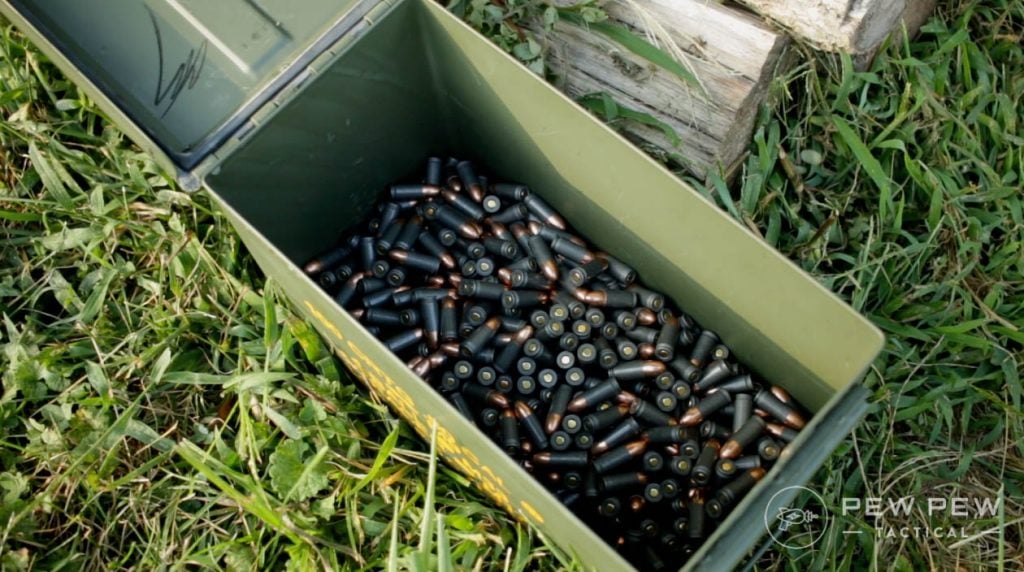 In fact, at one point, I was doing the old buy one box a week, and before I knew it, I had a pile of it.
More than that, it's got some oomph. While 9mm is proven suitable for self-defense, the 4.0 S&W has some advantages. It goes through barriers better for one.
Second, it does open up nice and wide to make a larger, more damaging projectile.
In Lucky Gunner's testing, a load of .40 S&W JHPs opened up .82 inches wide with expansion, outperforming all 9mm rounds.
While it might not be the best bear medicine, a .40 S&W round from a company like Buffalo Bore allows you to have a fairly adequate wood gun. While a fully powered 10mm might be necessary for Alaska, a .40 S&W with the right ammo works fine for Florida.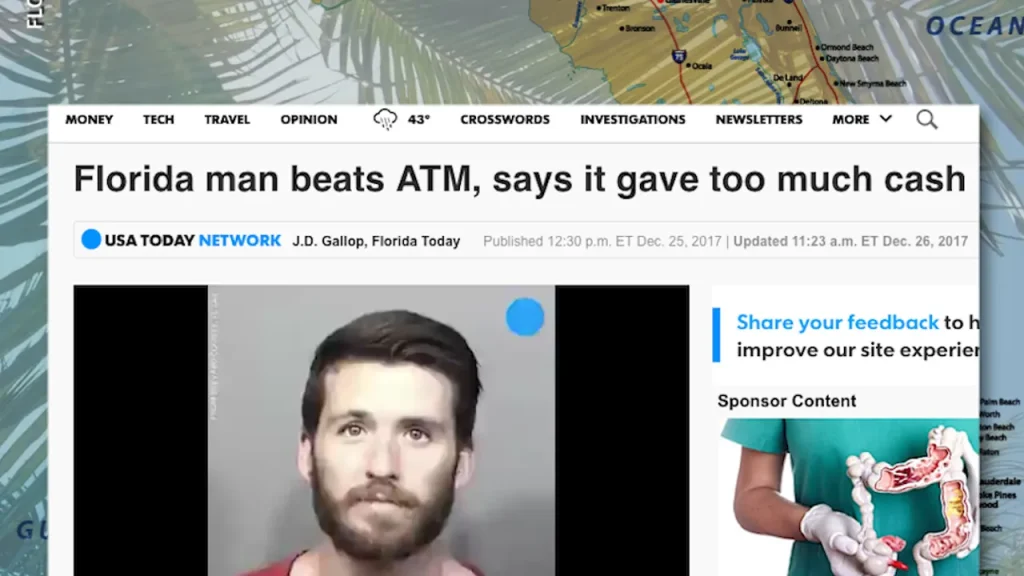 Competition Shooting
Competition shooting is always a game of strategy, involving everything from weapon selection to footwork.
There is something known as Power Factor in numerous competition circuits, which allows different scoring procedures for higher caliber rounds, like the 10mm, .45 ACP, and of course, the .40 S&W.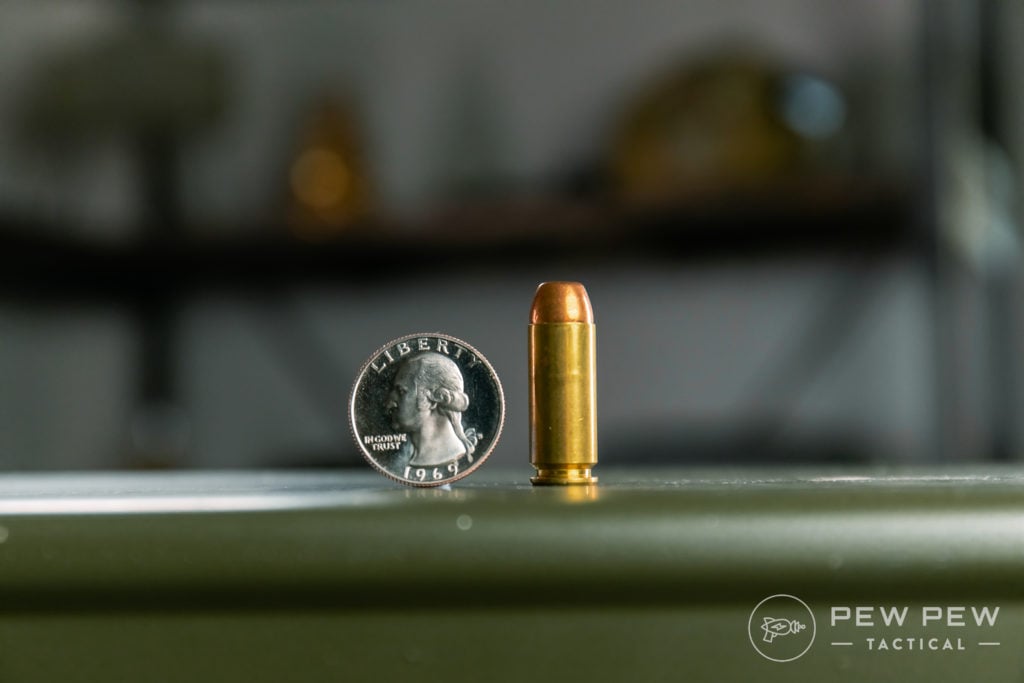 If a competition shooter wants to compete in Major Power, they can use .40 S&W, which has numerous benefits.
This includes cheaper ammo than 10mm and more capacity than .45 ACP. If you compete in Major Power, you can game the game using the .40 S&W.
With all this in mind, nothing matters unless you have a solid firearm to toss those big fat bullets.
We gathered some of the best .40 S&W pistols on the market…keep reading.
Best .40 S&W Pistols
1. HK USP
The same testing, technology, and development that led to the HK MK23 Offensive Handguns Weapon system also gave us the HK USP.
Part of the design for the OHWS was for an extreme level of durability, and that durability worked well when the .40 S&W was released.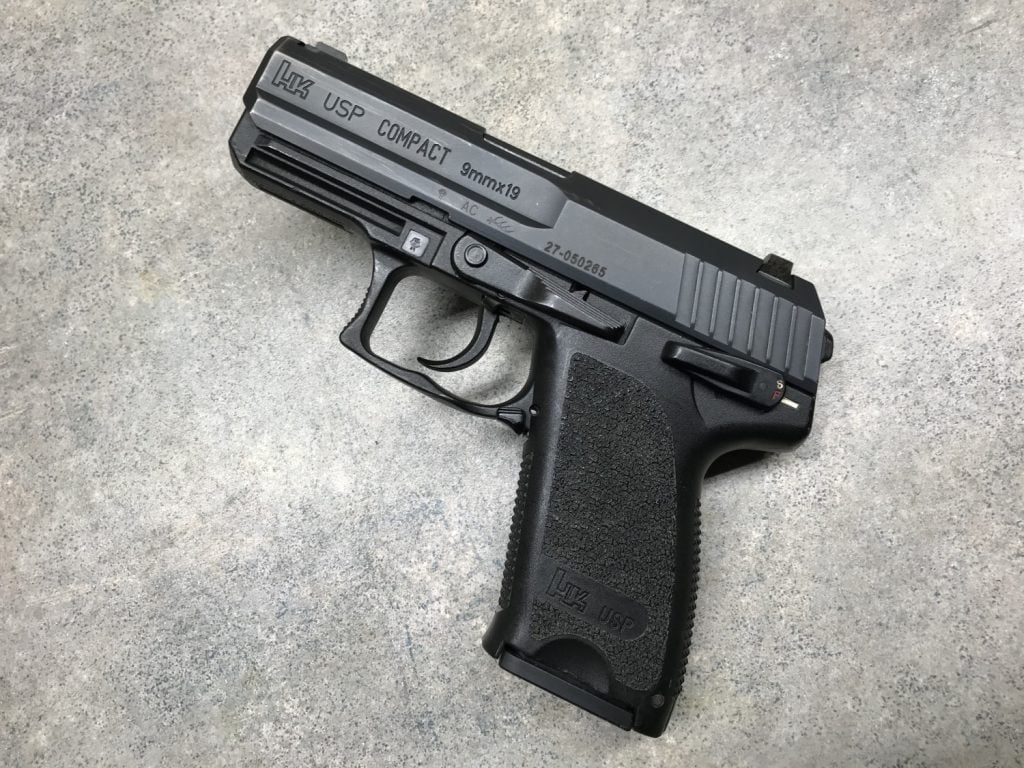 At this time, the round was small enough to use a 9mm frame, but the added pressure of the more powerful round could cause issues. Frames needed to be beefed up, and the HK USP was one of the first guns to be expressly designed for .40 S&W.
Most .40 S&W guns were 9mm frames beefed up for the cartridge. The USP used .40 S&W from the very beginning. Like most modern guns of this era, the .40 S&W used a polymer frame.
This hammer-fired DA/SA gun feeds from a 14-round magazine. It's a big gun, but a very capable and easy-shooting pistol.
Best for Self Defense
1080
at GrabAGun
Prices accurate at time of writing
Prices accurate at time of writing
It's my favorite shooting .40 S&W pistol, which is in no part due to the mechanical recoil reduction system.
This is HK's fancy way of saying a dual spring recoil rod. It tames the beast and prevents excessive wear on your gun.
The HK USP series comes in various configurations (nine total), with the compact being my favorite, but the tactical is a nice part of 90's tactical pistol history.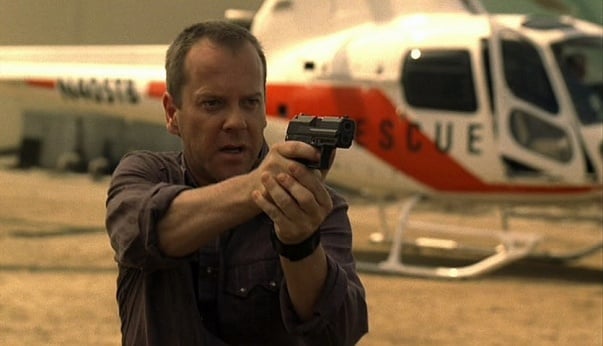 The HK USP is a great self-defense firearm and certainly gives you that Rainbow Six vibe.
2. Glock 22
The Glock 22 likely armed more police officers than any other gun from the mid-1990s to right now. While 9mm is slowly taking over, the Glock 22 still has a strong presence with American law enforcement.
Like most Glocks, it's a simple, well-made pistol designed to offer an extremely reliable, duty-grade firearm.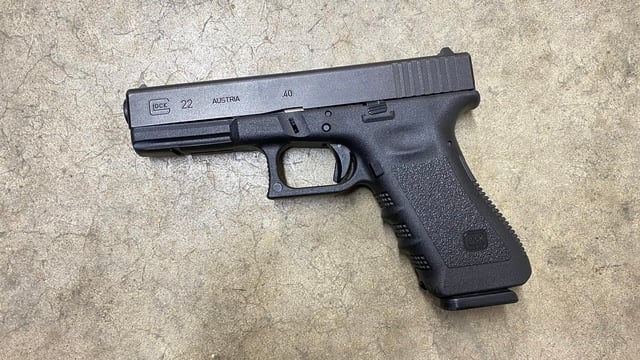 Let's get the exploding Glock myth out of the way. Some older Glocks seemed to have issues with .40 S&W ammo, resulting in broken frames.
To be fair, these were loaded with .40 S&W rounds outside of SAAMI specs.
The Glock 22 is a full-sized Glock pistol with a 15-round magazine. Glock has brought the 22 into the Gen 5 space and still produces the weapon regularly.
Best Budget
379
at Gunprime
Prices accurate at time of writing
Prices accurate at time of writing
It's also easy to find police trade-in Glock 22 pistols. This can be a great way to get an excellent firearm for a fairly low price point.
Like most Glocks, the 22 can be upgraded with accessories, parts, and pieces. Plus, it's super easy to find magazines, holsters, and general Glock goodies. Being such a famed and widely accepted handgun lineup has that benefit.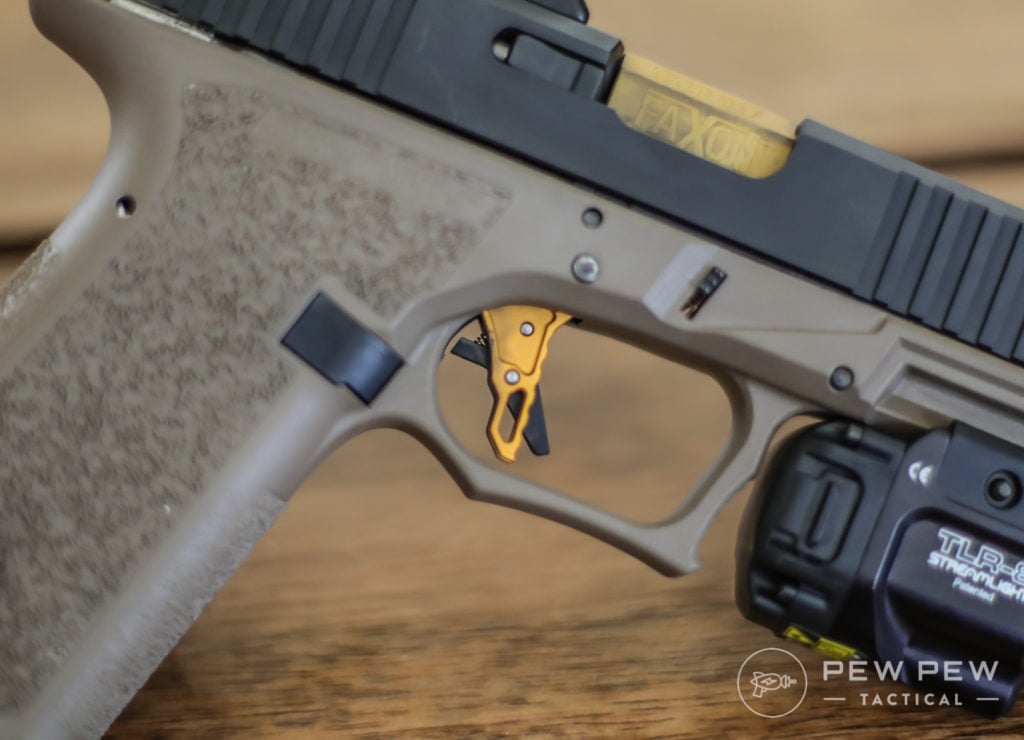 Like every Glock, it will go bang when you pull the trigger and seemingly do so forever. These might not be good-looking or fancy, but no one can say they don't work.
3. CZ TS 2
Since major power factor status is one of the big benefits of the .40 S&W, we have to include one of the best competition guns on the market to our roster.
The CZ Tactical Sport 2 is undoubtedly one of the best out-of-the-box competition-ready pistols on the market.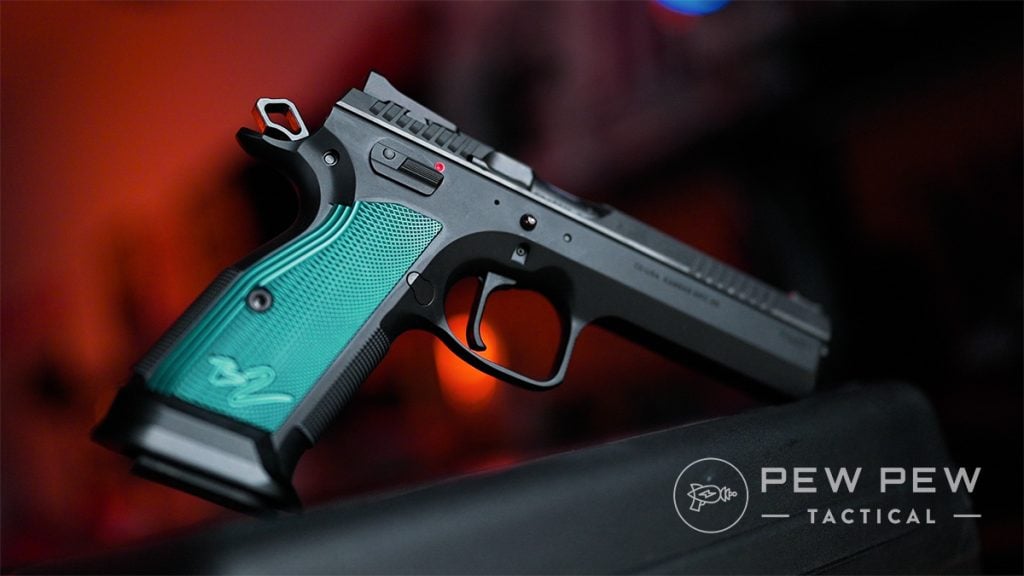 It's renowned by competition shooters and found in the hands of more champions than other companies would like to admit.
The TS 2 is built on the CZ 75, a.k.a. the gun that built CZ.
The TS 2 features the same ultra-small slide from the Shadow 2, which helps with recoil by not throwing a big chunk of metal rearwards. The frame is redesigned to add some bulk up front, which reduces muzzle rise.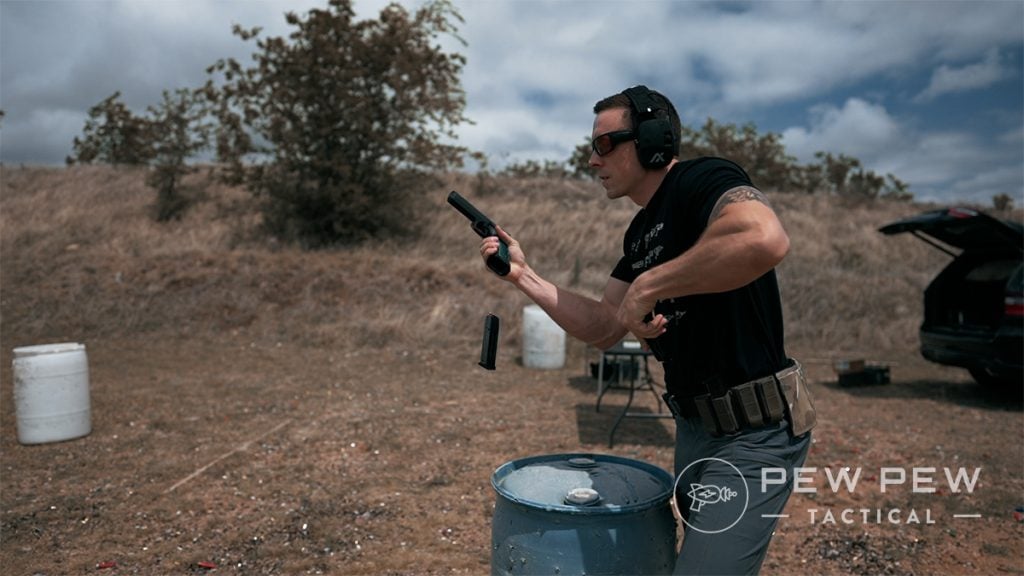 The single-action trigger is more akin to pressing a button than pulling a trigger.
A cold hammer-forged barrel is a nice add-on, and that barrel is 5.28 inches long. Not the mention, the longer barrel helps with sight radius and produces a very easy-to-shoot weapon.
The CZ TS2 holds 17 rounds and is ready to help you reduce par times, increase accuracy, and take home trophies. It's not cheap, but boy oh boy, is it worth the price.
Best Competition Pistol
1499
at Guns.com
Prices accurate at time of writing
Prices accurate at time of writing
We have a video review of the CZ TS 2 (in 9mm) below, or you can check out the full written review on the TS 2.
4. Beretta 96A1
I'm biased toward a few guns, and I'll always love the Beretta 92 series, including the 96 of the 92 series.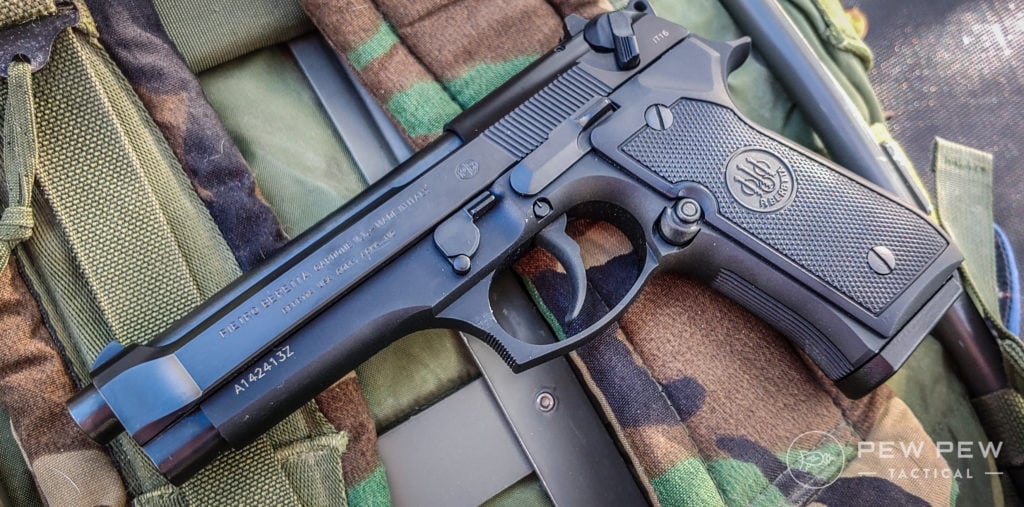 I'm throwing a lot of numbers at you, but it's easy to understand. The Beretta 96 is the 92 but chambered in .40 S&W.
The Beretta 96A1 is the traditional metal frame, DA/SA Beretta, but features a rail and fires those .40 S&W rounds.
Sadly, this big, full-sized service handgun played second fiddle to the Glock 22 in the police world. However, it's a very well-made firearm that eats up the recoil of the .40 S&W without issue.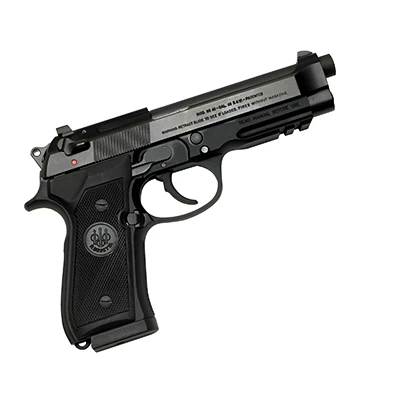 The DA/SA trigger system might seem old, but it's still a viable option and my preferred choice for handguns. It allows for increased control over the trigger and makes the weapon great for both new and experienced shooters.
Beretta's 96's extra weight from the metal frame and thick grip makes the weapon easy to control, even with the .40 S&W cartridge.
Best Full Size Pistol
692
at Kygunco
Prices accurate at time of writing
Prices accurate at time of writing
The big downside of the gun is its inefficient magazine size. It holds a mere 12 rounds, which is somewhat low for a full-sized firearm.
Don't let that distract you from the quality of the Beretta 96. It's a capable weapon for home defense, competition, and beyond.
5. Sig Sauer P229
We've already mentioned that some .40 S&Ws were just 9mm frames, but a few companies designed firearms to deal with the round. One of those companies is Sig Sauer.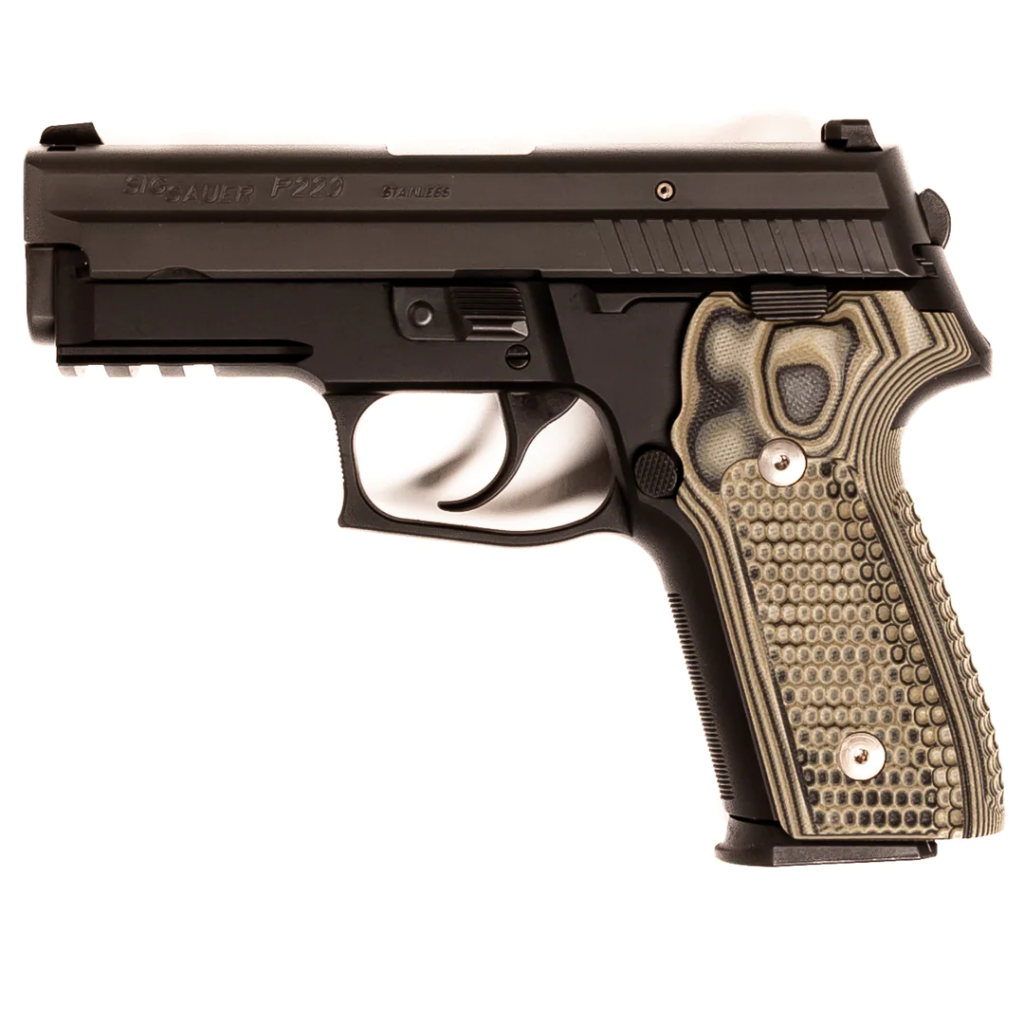 They had the compact P228, but it wasn't suitable for the .40 S&W round. Sig went on to replace the P228 with the P229.
These guns seem identical, but Sig reinforced their design to ensure it could fire the .40 S&W safely, as well as the .357 Sig. The company went on to discontinue the P228 and replace it fully with the P229.
599
at Guns.com
Prices accurate at time of writing
Prices accurate at time of writing
This compact pistol flies in the face of conventional pistol design. We get an all-metal frame and DA/SA trigger that harkens back to the days of the wonder nines.
Blasting away with the P229 is a ton of fun.
A big metal frame with all that extra weight helps eat that extra recoil that .40 S&W throws at you. The P229 series comes in a ton of different configurations, including optics-ready models, SAO-only models, and many more.
The P229 series is also subject to a short magazine that only holds 12 rounds. Although, to be entirely fair, the P229 series is a compact and not a full-sized frame.
6. Smith & Wesson Model 610
My personal favorite is always my wildcard pick, and the Model 610 is as wildcard as a .40 S&W handgun can get.
First, it's a revolver, which is already weird. Second, it's actually a 10mm revolver and not technically a .40 S&W.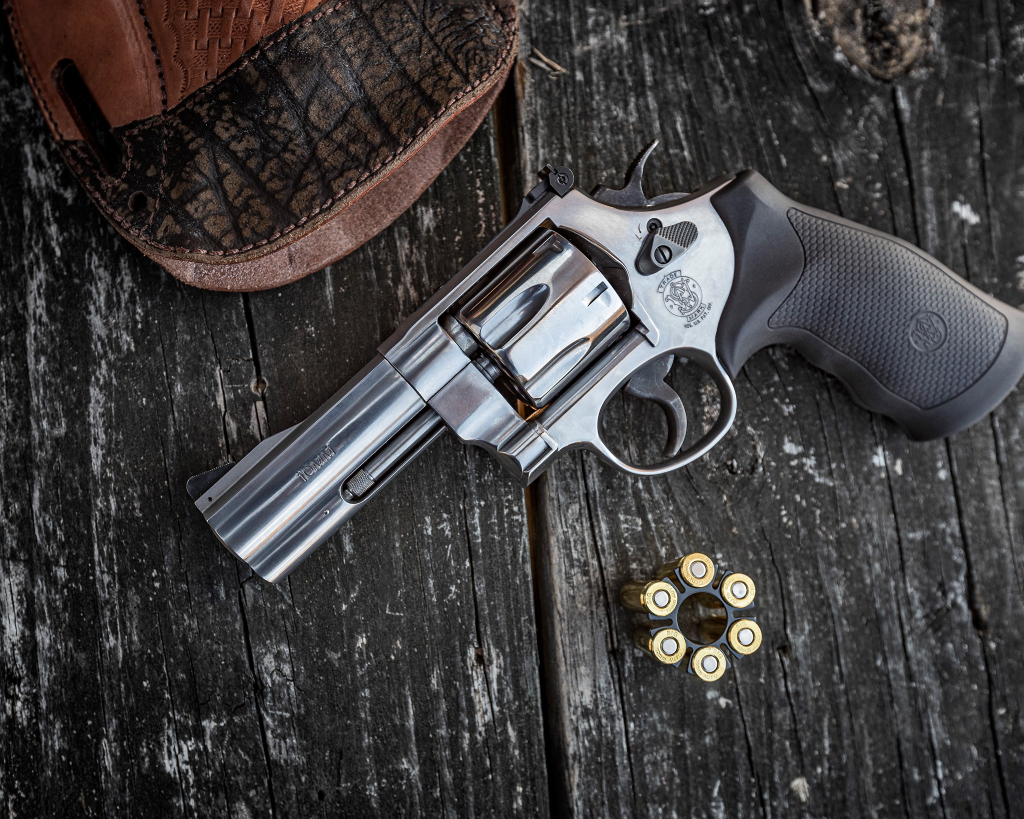 However, in a revolver, the .40 S&W and 10mm Auto share the same relationship with the .357 Magnum and .38 Special.
This isn't me just throwing smoke….Smith & Wesson lists the 610 as compatible with .40 S&W.
The S&W Model 610 made a big comeback in 2019, and I still need one.
These are medium frame revolvers considered N-Frames, so think model 27 size.
They hold the traditional six rounds, requiring moon clips to easily eject them. Moon clips also make reloads faster and easier, much like just tossing magazines in an automatic.
Best Revolver
1099
at Kygunco
Prices accurate at time of writing
Prices accurate at time of writing
Smith makes the gun with either a 4-inch barrel or a 6-inch barrel. These guns use stainless steel for the major parts and are dang fine handguns. The 6-inch barreled version weighs 50 ounces!
This hefty revolver eats up all the recoil that .40 S&W can throw at you. It's super soft shooting and a lot of fun in both .40 S&W and 10mm.
It loses some benefits of .40 S&W, but .40 S&W tends to be cheaper than most revolver cartridges.
It's a heckuva lot cheaper than .38 Special, delivers a mild recoil impulse, and can be downright enjoyable to shoot.
7. Les Baer H.C. 40
Les Baer makes premium-grade pistols with premium-grade components. These are expensive, custom guns, and they are absolutely fantastic.
Les Baer created the H.C. 40 to be a .40 S&W caliber with an 18-round double stack magazine. It's a big beefy boy that takes the 1911 to new limits and levels.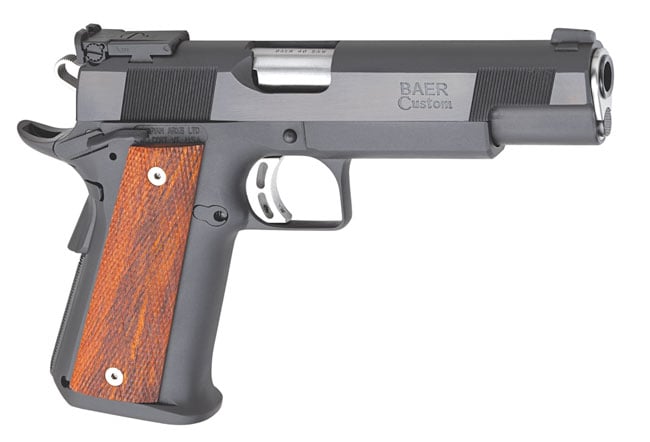 This model features a standard 5-inch match barrel with a 2.5-inch group or better at 50 yards.
That's quite the promise. To help with that, the Les Baer H.C. 40 comes with adjustable sights and a 4-pound match trigger.
Every piece is built to exceedingly tight standards and focuses on accuracy, dependability, and excellent performance.
This gun is perfect for competition but also well-suited for defensive use. However, it might feel expensive to toss into a holster daily and face the world with it.
It's big, bad, and extremely well-made. I could type out two whole paragraphs of just the features.
Les Baer makes fantastic firearms, and the H.C. 40 redefines the M1911.
Final Thoughts
It's easy to see some trends in the world of .40 S&W handguns. Outside of the P229, you wouldn't call any of these guns compact.
That's because .40 S&W is described as snappy for a reason.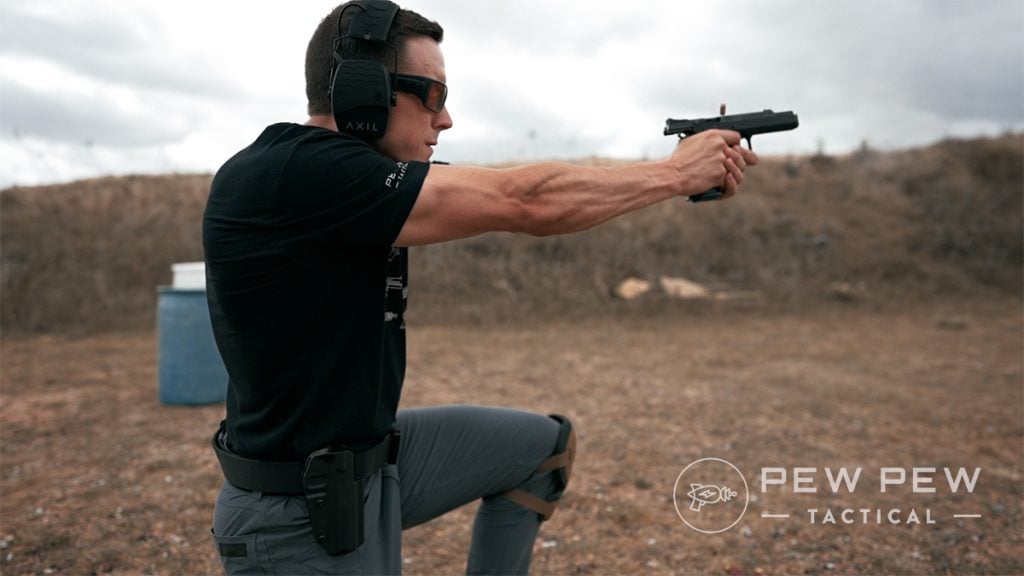 That snappiness isn't super friendly in subcompact handguns, and even compact handguns can be challenging.
However, in full-sized firearms, these guns aren't hard to handle or shoot. It's best to stick with full-sized or some subcompact pistols.
What's your favorite .40 S&W model? Let us know in the comments below. We have more options for concealed carry guns in different calibers in our Best Concealed Carry Pistols.