When discussing the power and accuracy of handgun cartridges, the debate is usually centered around the 9mm vs the .45 ACP (vs the .40 S&W). But there's another gun that's often left out of this debate – the 10mm.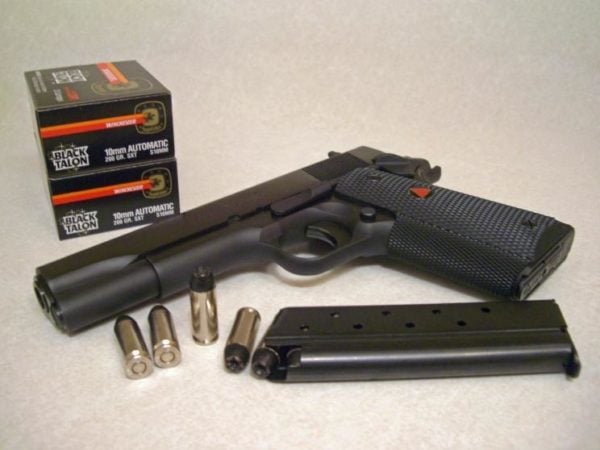 And depending on who you ask, some shooters will tell you that the 10mm is one of the more powerful handgun calibers out there. Benefits of this cartridge include deeper penetration and greater muzzle energy than the 9mm and .45 ACP, but that comes at a price.
10mm Origin
The 10mm was designed in part by Colonel Jeff Cooper, a marine, firearms instructor, and 1911 lover who was looking to improve on the .45 ACP cartridge. Col. Cooper was known for a number of incredible feats (which you can read about here), but one of his most notable contributions to the firearms world was his assistance with the 10mm Auto, a powerful caliber capable of reaching 1,200 feet per second and able to maintain accuracy beyond 50 yards.
Despite being an incredibly popular cartridge in the early 1980s, the 10mm Auto became yesterday's news seemingly overnight as law enforcement started phasing out 9mms the wake of the infamous 1986 FBI Miami shootout. This gun battle led to the FBI creating the .40 S&W, a shortened (and arguably suboptimal) version of the 10mm Auto.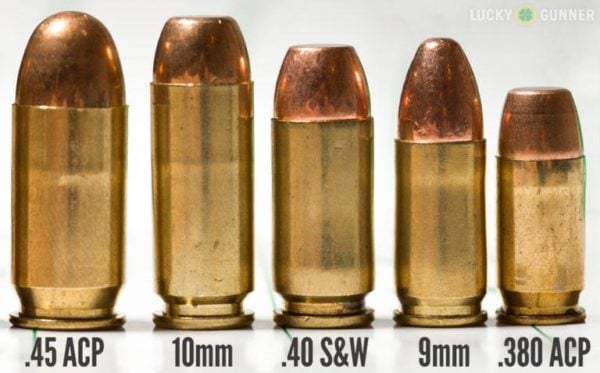 While the 10mm didn't get all of the notoriety that it deserves, it is a well-rounded caliber, which is one of the reasons why it's garnered a cult following over the years. It's even experiencing a resurgence as new hobbyists are discovering just how awesome this cartridge is.
Whether you're interested in purchasing your very first 10mm handgun or you just want to add a new gun to your growing collection, we have just the ones for you.
Best 10mm Handgun
Know what I love about Rock Island Armory's 1911s? They give you that vintage 1911 look and feel, and even when they add a bit of a Hollywood twist, they still don't deviate from the classics.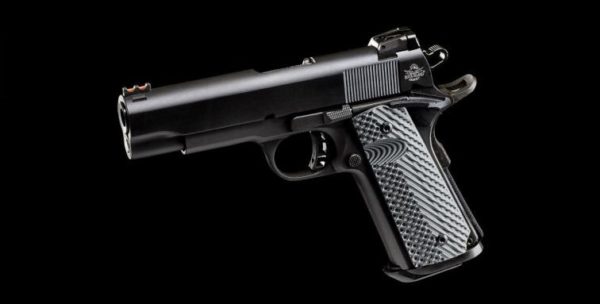 At first glance, you might be reluctant to even shoot the Rock Ultra MS ($731) because of how beautiful it looks. But don't let its flashy design fool you, this 10mm pistol performs with the best of them and might do you everything that your .45 ACP 1911 does and then some.
What makes this gun great?
Aside from its flawless craftsmanship, I really like the attention to detail that was put into the Rock Ultra MS. The magazine well has a slightly larger-than-usual opening that works brilliantly with the gun's tapered 8-round magazines, making reloading on the fly simple and convenient.
Another nice perk is the fiber optic fight sight, which makes target acquisition so much easier than guns using standard iron sights. That, combined with the gun's smooth design to reduce holster snag, makes the Rock Ultra MS a great weapon for tactical situations.
If you're one of those people who prefer solid guns with a sturdy feel over polymer-based pistols, you'll love the Rock Ultra MS. With an unloaded weight of 37.76oz, you'll definitely notice it when it's in your hands. But still, it's not an uncomfortable fit and it's quite nice to shoot.
The P220 Hunter ($1,400) is the 10mm Auto variant of Sig's popular P220 line of handguns. While it's one of the pricier 10mm pistols out there, buying a Sig Sauer means that you're guaranteed to get dependability and pinpoint accuracy with every round fired – which is one of the reasons why Sig won the US Army MHS contract at the beginning of the year.
1500
at Cabelas
Prices accurate at time of writing
Prices accurate at time of writing
What makes this gun great?
The P220 Hunter ain't no slouch. It's big, bulky, and with a weight of nearly 40oz, it's not something you'll holster and forget about. With that said, the Hunter is also a beautiful gun that perfectly combines the power of the 10mm cartridge with Sig's superior engineering.
The truth is that there's very little not to love about the Hunter aside from its jaw-dropping sticker price. Just looking at the gun's exquisite design and Kryptek camo finish is mesmerizing. And when you look at all the perks that come with owning this gun, you start to justify its price tag.
Perks like…
Aggressive grip texture that lets you grip firmly on the gun without irritating your hands.

Solid stainless steel slide and frame.

Ambidextrous safety system that feels natural and easy to operate on the fly.

Adjustable rear sight and tritium fiber optic front sight.

Match-grade barrel (5") for improved accuracy over longer range.
But can we just take a moment and appreciate how the gun looks?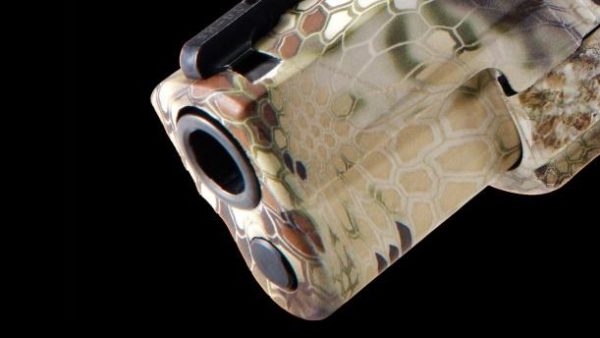 The Delta Elite ($1,100) is a classic 10mm handgun that's been around the since the late 1980s and continues to impress and outperform its competition.
Designed for people who love the classic Colt 1911 but want something a little more that only a 10mm can offer, the Delta Elite offers the best of both worlds: a gun worthy of self-defense but powerful enough to take hunting.
Classic 10mm 1911
1299
at Guns.com
Prices accurate at time of writing
Prices accurate at time of writing
What makes this gun great?
I like the Delta Elite because it's simplistic and effective. It's for the handgun owner who's concerned with performance and dependability but doesn't want anything too flashy. This is evident by its basic design, which doesn't even come with a rail system (although for an additional $100, you can buy the Delta Elite Rail Gun).
The Delta Elite markets itself to the 1911 purists – the people who know and love the time-tested Colt 1911. But there's more to the Delta Elite than old-school cool in 10mm. It's got a double-recoil spring system that takes some of the kick away from shooting 10mms, as well as a comfortable beavertail grip safety that doesn't dig into your hand like other handguns.
The Delta Elite performs just how you'd imagine a Colt 1911 would, while also delivering a surprisingly comfortable grip. It's just got that timeless design that you can't go wrong with.
What's your take on it?
You didn't think we'd do a handgun write up and leave Glock off the list, did you?
605
at Rainier Arms
Prices accurate at time of writing
Prices accurate at time of writing
What makes this gun great?
It's a Glock – 'nuff said. With the G20 ($605), you get all of the durability and accuracy that Glock models are revered for, but you also get power advantage that comes with firing the 10mm cartridge.
The thing that I like about Glocks is that they're always the safe option. If you've become accustomed to shooting one of them then you'll be able to comfortably handle any of them.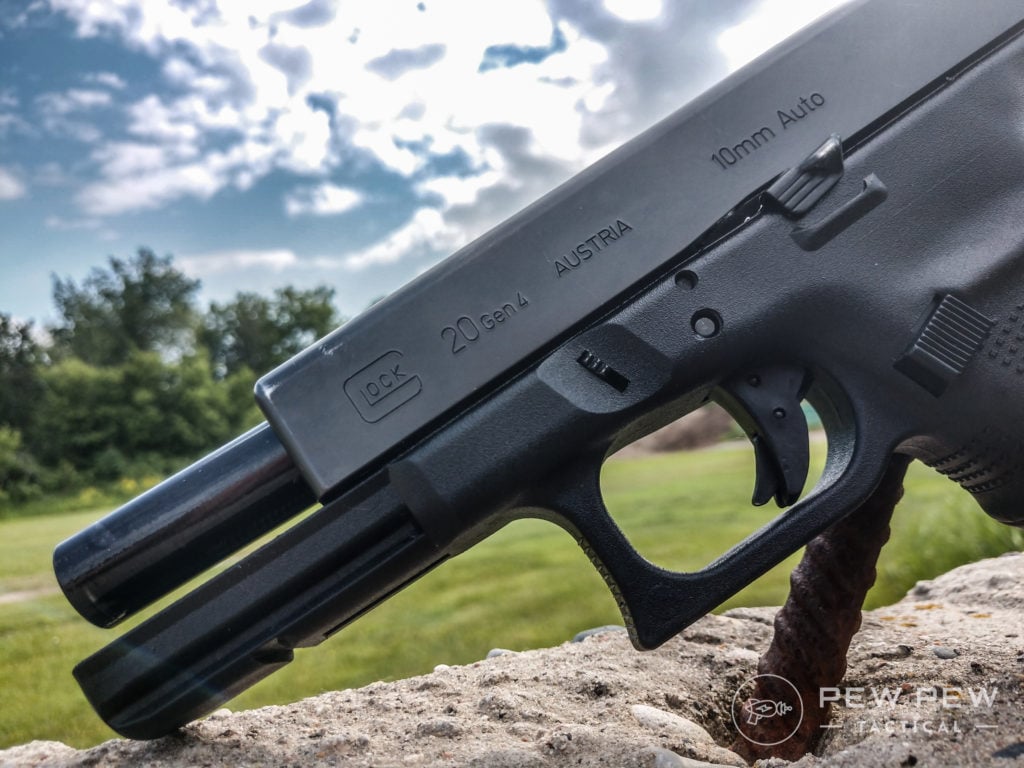 The G20 is essentially a slightly bulkier version of its 9mm counterpart, the G17. Aside from having slightly wider grips and having a weight of 27.6oz unloaded, as opposed to the 22oz G17, it feels almost the same in your hands. If you're looking for something slightly slimmer, Glock also makes the G20 in Short Frame (SF).
For me, making the G20 your go-to defense weapon makes perfect sense because of its generous 15+1 capacity. And choosing the Gen4 variant of this gun means that you get Glock's popular dual recoil spring, which gives the kick a noticeable reduction.
We have a complete Hands-on Review of the Glock 20 that you should take a look at, awesome firearm!
The G40 ($770) ain't cheap, but it just might be the closest you'll ever reach to 10mm perfection. In terms of how well the gun shoots, you can expect for the G40 to perform similarly to its smaller sibling, the G20.
770
at Brownells
Prices accurate at time of writing
Prices accurate at time of writing
What makes this gun great?
Think of the G40 as Glock's 10mm handgun on performance enhancers. It's bigger and more accurate than the other 10mm models because of it extended barrel, which is just for 6" in length.
While the G40 probably wouldn't be my first choice for concealed carry, it's barrel length does make it an exceptional handgun to hunt with. The odds of you hitting and dropping that whitetail or wild hog will be better with the G40 than with some of the other 10mm pistols out there. And since you get the same 15+1 capacity as the G20, you also won't have any problem squeezing off any follow-up shots.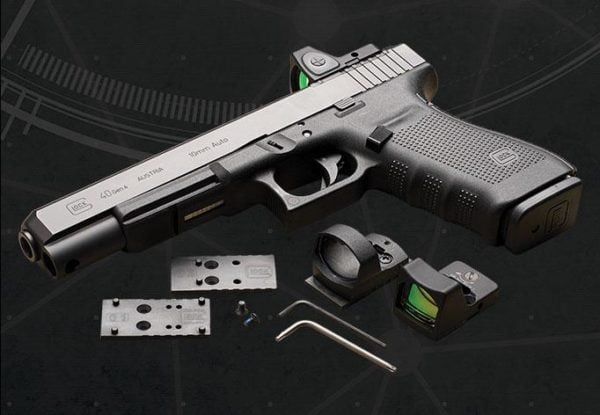 The primary purpose of the G40 is to ensure long-range accuracy. For this reason, all models come equipped with the dual-recoil spring system to help absorb any unnecessary kickbacks that come from firing 10mm cartridges.
And while optics are sold separately, the G40 comes with a pack of baseplates that makes your handgun ready for all of the popular red dot systems, including Trijicon and EOTech optics.
Shooting 10mm Handguns
If you've not shot 10mm extensively, I'd recommend giving it a try to see whether you like to or not. Some people swear by the 10mm Auto, while others prefer their .45 ACP, 9mm, or whatever other calibers they're loyal to. But at the end of the day, it's about what you're able to shoot comfortably and accurately.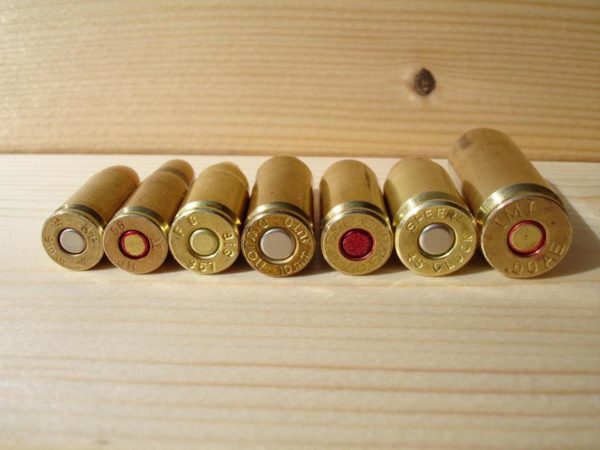 Some people feel like the recoil from a 10mm is a tad too strong, causing them to sacrifice accuracy for power, while other shooters describe the 10mm's recoil as noticeable but easy to manage. At the end of the day, it's all about how the gun feels in your hands. So give the 10mm a try and see how you like it, and if you're not too thrilled about the recoil, start with a Gen4 Glock.
Interested in using your 10mm as your CCW? Well, maybe you can – read up on How to CC A Full-Sized Pistol
Do you hunt with a 10mm? EDC? Just like how they shoot? Let us know all about it in the comments!