I've waited a long time to be able to write this particular review. I am a Smith & Wesson M&P pistol fan, the 2.0 version specifically.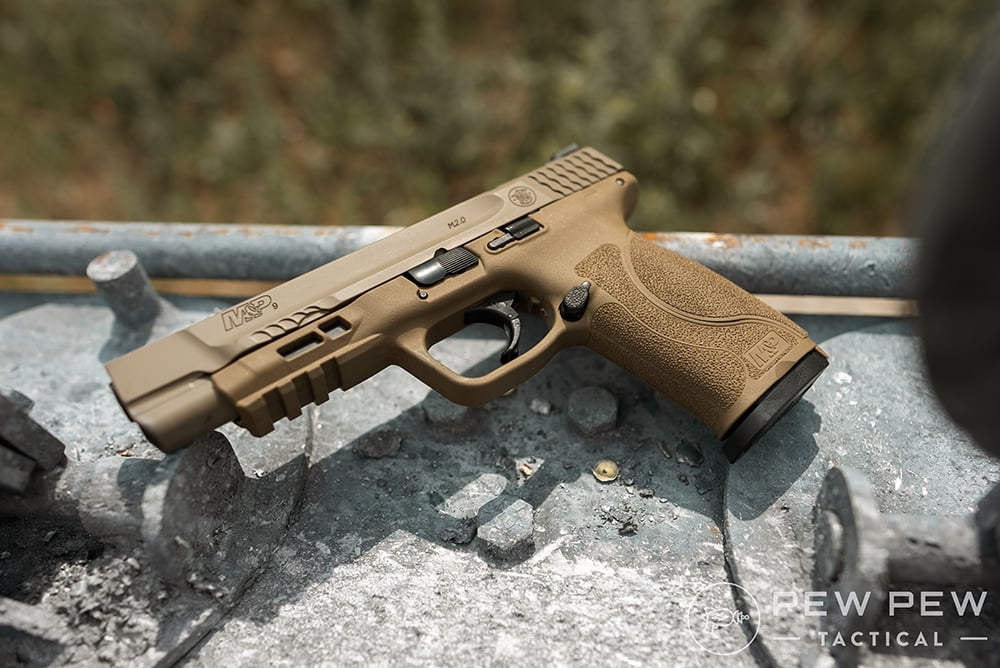 I also really like the 10mm cartridge as it's one versatile load.
It could be loaded down to target velocities with a home-cast bullet, or you could put some deer-stomping bullets in it and send them on their way at really juiced velocities.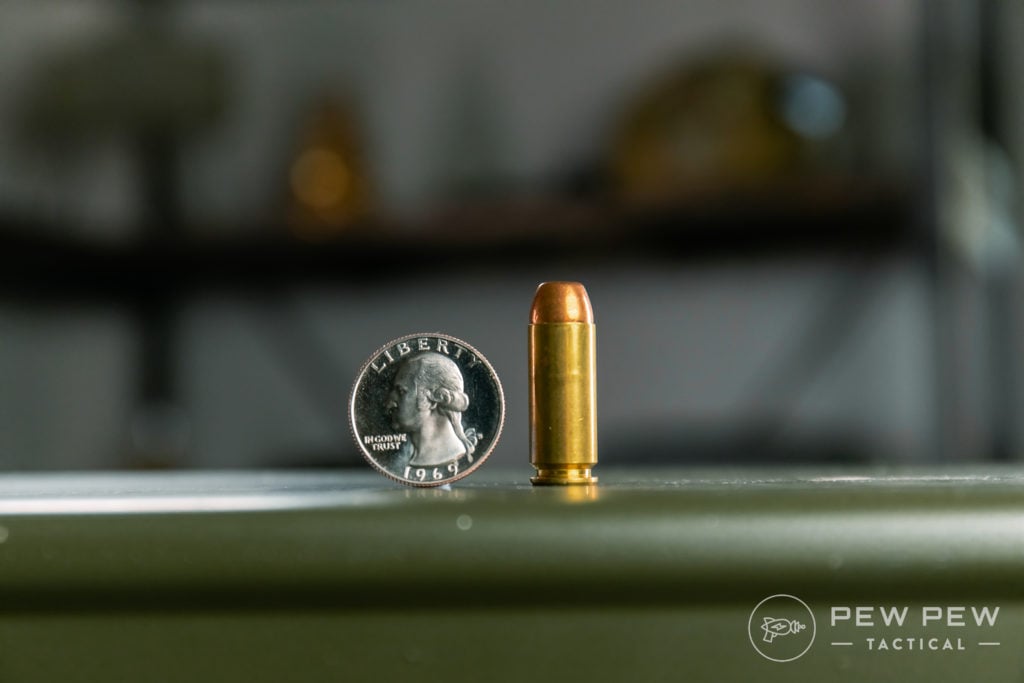 So when Smith & Wesson reached out and asked if I wanted to take the M&P in 10mm for a ride, of course, I said yes.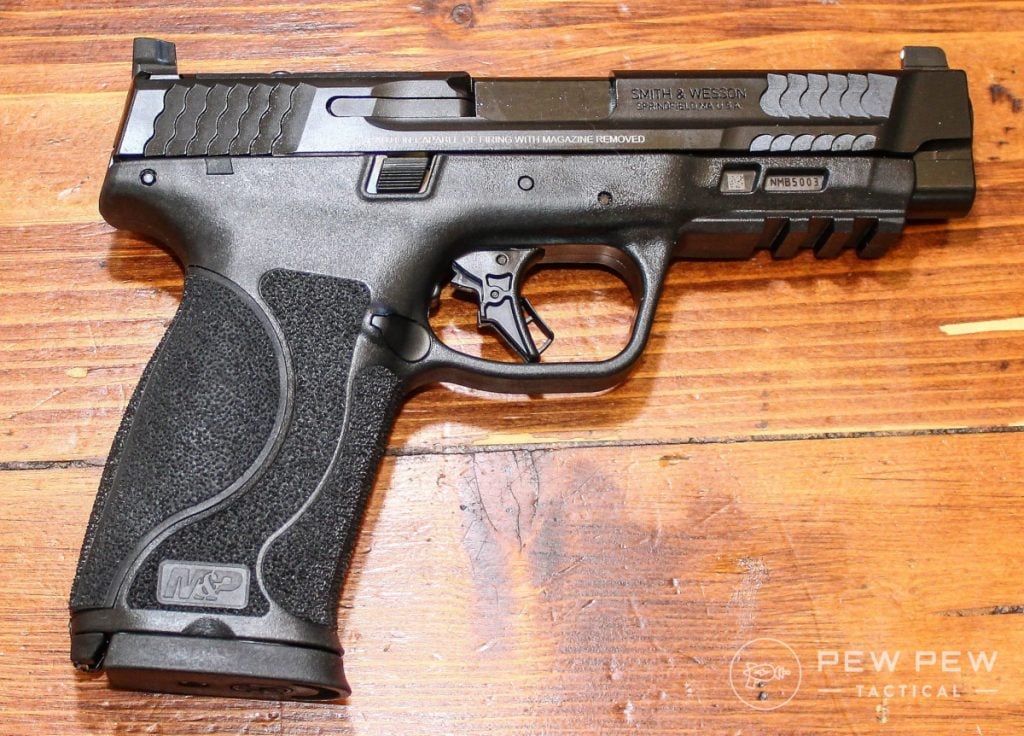 But does the 10mm version of the M&P keep up with the rest of the M&P series? Keep reading as I walk you through my experiences on and off the range with the M&P.
Table of Contents
Loading...
Smith & Wesson M&P 10mm Review at a Glance
Pros
Variety — 4 models available
Optics-Ready
Optics-Height Sights
Cons
Sear Deactivation Lever
Trigger
Disassembly
The Bottom Line
This M&P is one of the best 10mm pistols I've shot yet. The sights and trigger are excellent, the four interchangeable backstraps help to adapt the gun to any hand, and its reliability was fine during the limited number of rounds I got to shoot with it.
599
at Kygunco
Prices accurate at time of writing
Prices accurate at time of writing
Specs & Features
Specs
Caliber: 10mm Auto
Width: 1.3"
Length: 7.2"
Barrel Length: 4"
Height: 5.6"
Weight: 28.1 oz. with an empty mag
Capacity: 15-rounds, comes with 3 magazines
Features
Ambi slide release and reversible magazine release
Aggressive grip texture and three extra backstraps
Nice, tall sights that are easy to co-witness, plus the option to swap them out for others
Smooth feed ramp
Flat-faced trigger with a safety blade
Three 15-round magazines included
Background
S&W is no stranger to the 10mm game. Their 1000-series of pistols made around 1990 were used by law enforcement agencies up to and including the FBI. It was only after the Bureau decided that the 10mm was too much gun that the gun declined in popularity around the country.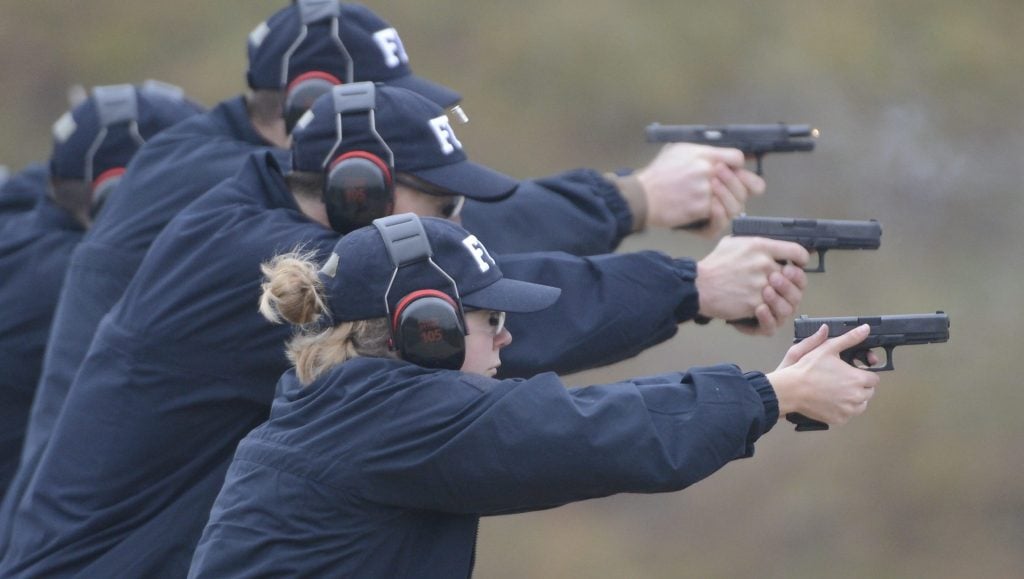 The 10mm round has had a pretty amazing ride back onto the shooting stage and now arguably enjoys more popularity than at any time in its storied history.
Several manufacturers make 10mm pistols, revolvers, and carbines. Now, S&W is back in the 10mm game in a big way with their new M&P 2.0.
Who Is It For?
I see this gun's role as that of a hunter or protection from sharp-toothed fauna in the bear woods or other locales. A second role might be that of home defense…with the right bullet, it would do the job and not penetrate through several walls.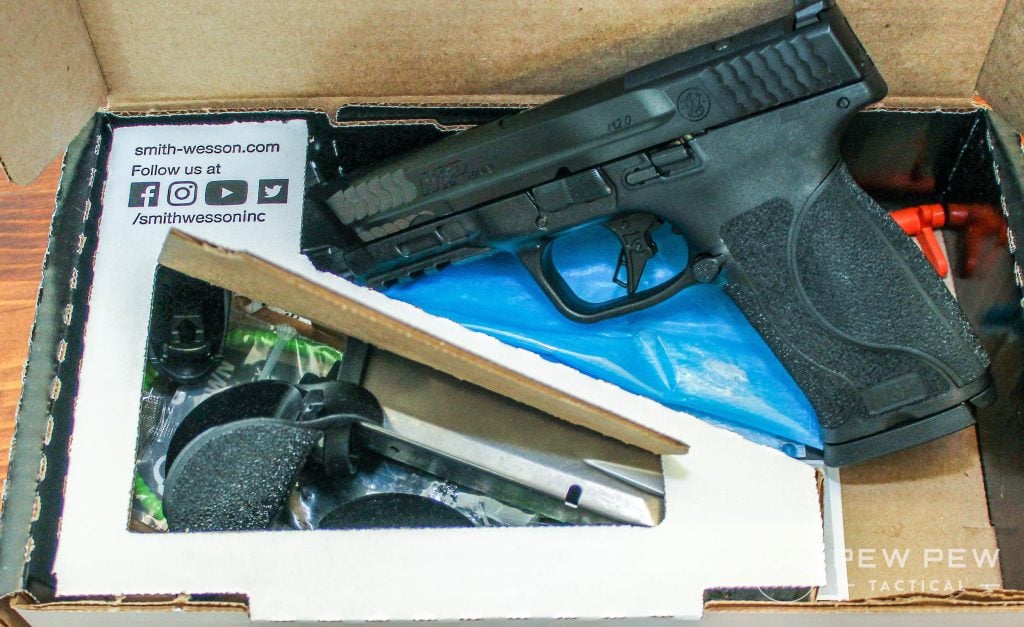 Hunting? I wouldn't hesitate to take it into my neck of the deer woods — I've killed many with handguns — and I'd imagine that Alaskan guides and hunters have purchased them in droves since their introduction.
Another category of shooter who might be interested in this gun is that person or persons who are just looking for something different to take to the range. This gun would fill that role nicely.
Fit & Feel
With its extra backstraps, rough grip texturing, and raised sights; this pistol should serve almost all shooters well.
The way it fits into your hand can be adjusted, and those sights are marvels. You could mount a red dot and have automatic co-witnessing from the get-go.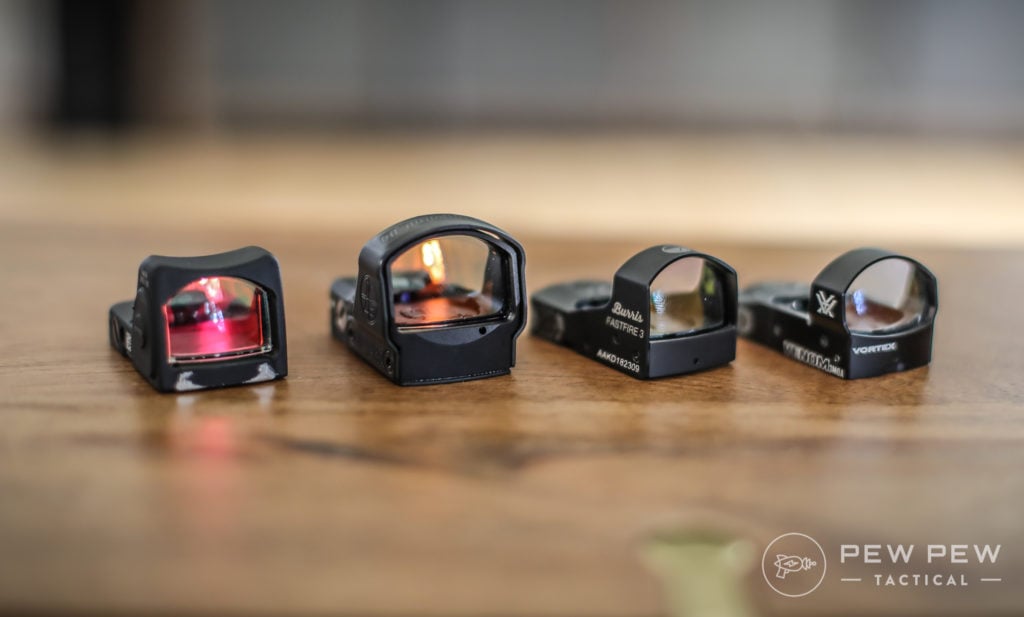 All in all, I see this gun filling the gun safes of all sizes and types of shooters.
One thing I didn't like, however, was the sear deactivation lever. You must first use something to press the yellow sear deactivation lever down before the slide comes off.
The manual says to pull the frame tool pin (that holds the grip module) out and use it, but a finger, pen, or paper clip works. If you don't want to do this, just pull the trigger.
In addition, the trigger made a very noticeable sound when I pulled it. This occurred in the take-up phase before the sear broke.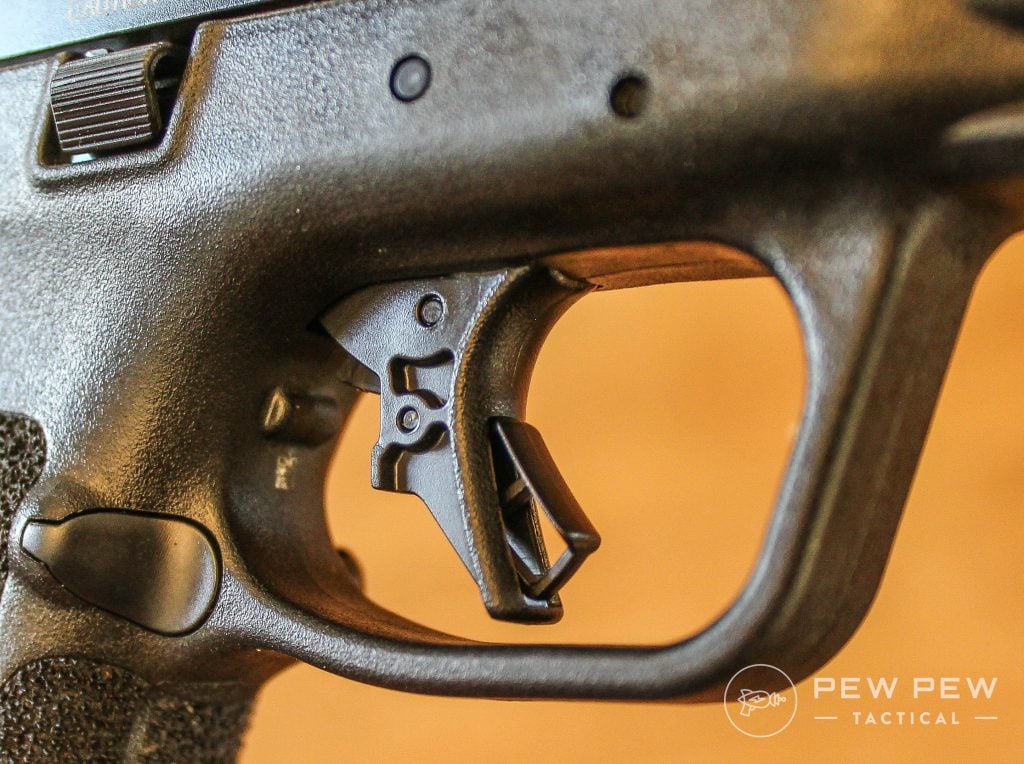 I discovered that it was rubbing on the frame when the slide was installed but didn't do it by itself. This should have been addressed in QC, and it is distracting.
It didn't seem to affect the pull, though. I measured the weight at 5 pounds, 3.8 ounces. The take-up and creep were pronounced, though. I assume this will be like other S&W semi-auto triggers I've had experience with and should clear up over time.
I just expected more from an M&P, especially a 2.0 version with its improved trigger. 
Finally, I had trouble just getting the barrel out of the slide. It is just long enough, and the barrel hood is just tall enough that I had to use the recoil spring as a tool when the barrel hood would get caught on the slide before the muzzle cleared.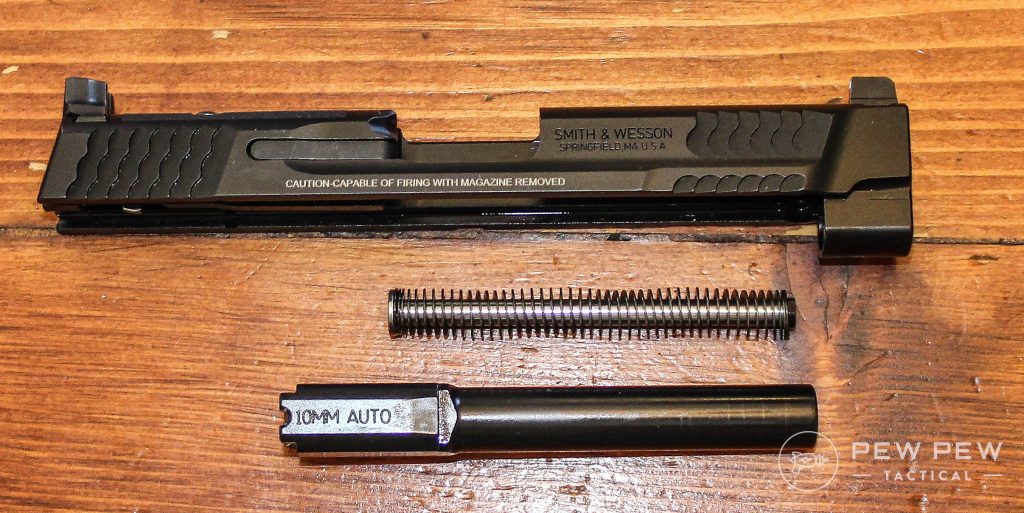 I used it to gently press against the muzzle to release the barrel. I've never had that problem before with any semi-auto I've disassembled.
Again, like the trigger issue, it might work itself out with shooting and normal wear and tear. But I'm not sure that would be a good thing: heat-treated metal against metal shouldn't wear at all.
Just be apprised of the situation and be ready to "help" the barrel out and back in when you're cleaning it. A stiffish nylon or wooden dowel rod might be perfect for the job.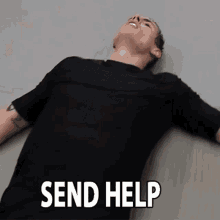 These three issues are not deal breakers, but I'm surprised that QC at S&W didn't catch the first two.
And since I've had great experiences with S&W in the past, I sent the gun back to them for a look. They ran it through their repair shop and sent it back to me. And it came back better, for sure. The trigger no longer rubs on the frame and the gun now works as intended.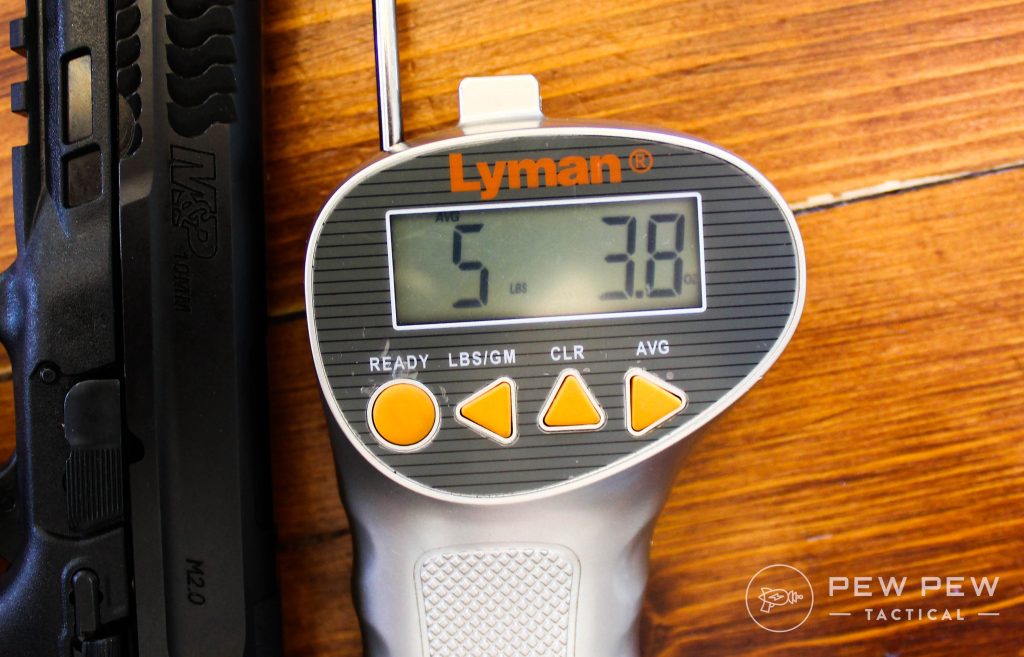 I still believe that the M&P should be one of the top contenders on your short 10mm pistol list. Its benefits far outweigh either of the minor issues I encountered, and the customer service was top-notch.
How Does It Shoot?
My experience with 10mm is not very extensive. I've reviewed a few of them over the years but have never hunted with one.
At the ranges I typically hunt, I would think that this pistol would work very well, and a red dot would only enhance that usefulness.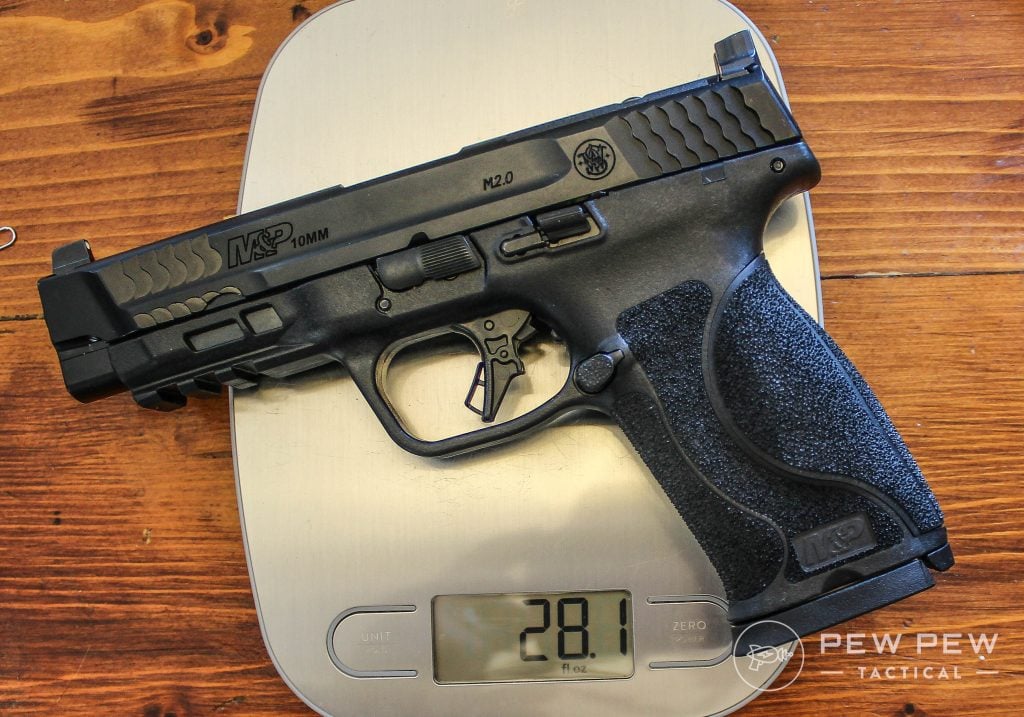 So, it was with some interest that I took the gun to my backyard range and set up a target at 25 yards.
I used a 200-grain hard-cast load by HSM labeled as a bear load, so I'd like to think I got the full meal deal in terms of velocity.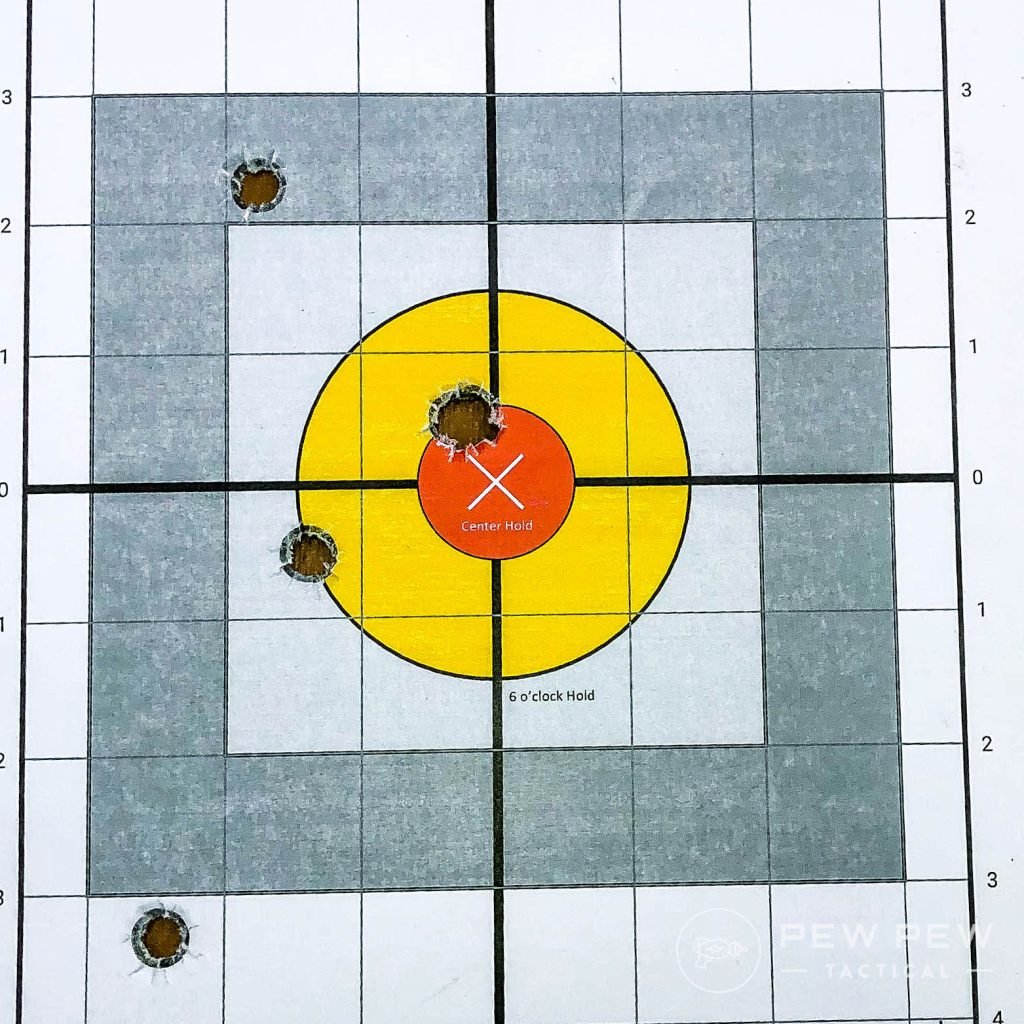 The spread is around 5 inches for the outer shots. That would suffice for defense against a bear attack, up close and personal.
The gun's grip texturing really worked to help keep the gun pointing where it should be.
A note to my fellow reloaders out there: if you are counting on collecting your brass from a session with this gun, you'd better contain it somehow. I heard brass pinging off my pole barn roof way over yonder — I think it went into a different zip code.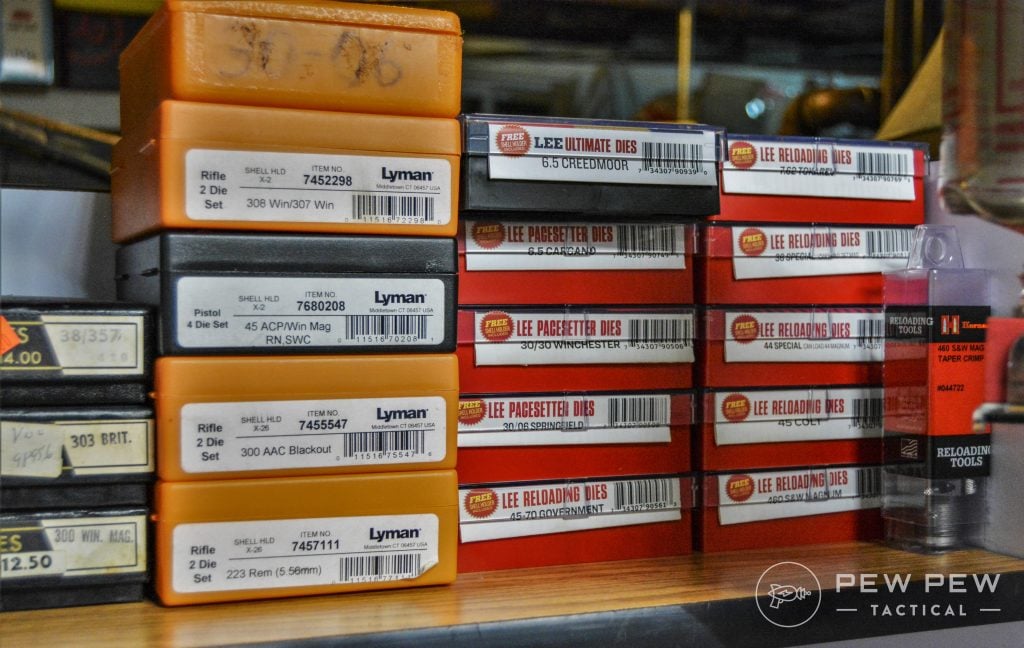 Shoot close to a wall, set a target up in the desert where all the ground looks the same, hang a tarp… just don't expect to find many cases unless you contain them in some fashion.
There's been a pretty good factory selection out there (ordinarily, anyway), but handloading would bring out its great versatility.
What Sets It Apart?
I think there are a couple of things that sets this gun apart from some of the other 10mms out there.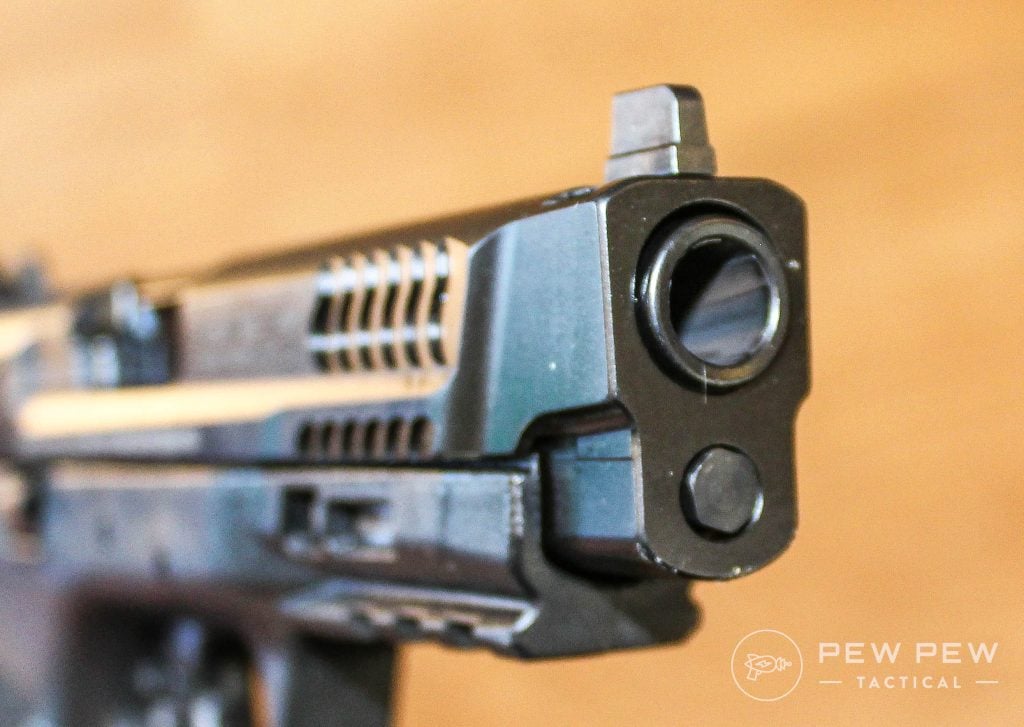 First, the way it sits in your hand feels like you were born with it there, and the grip texturing is an added bonus. The extra backstraps not only control the distance to the trigger, but also offer a bit of side-to-side dimensional variation as well.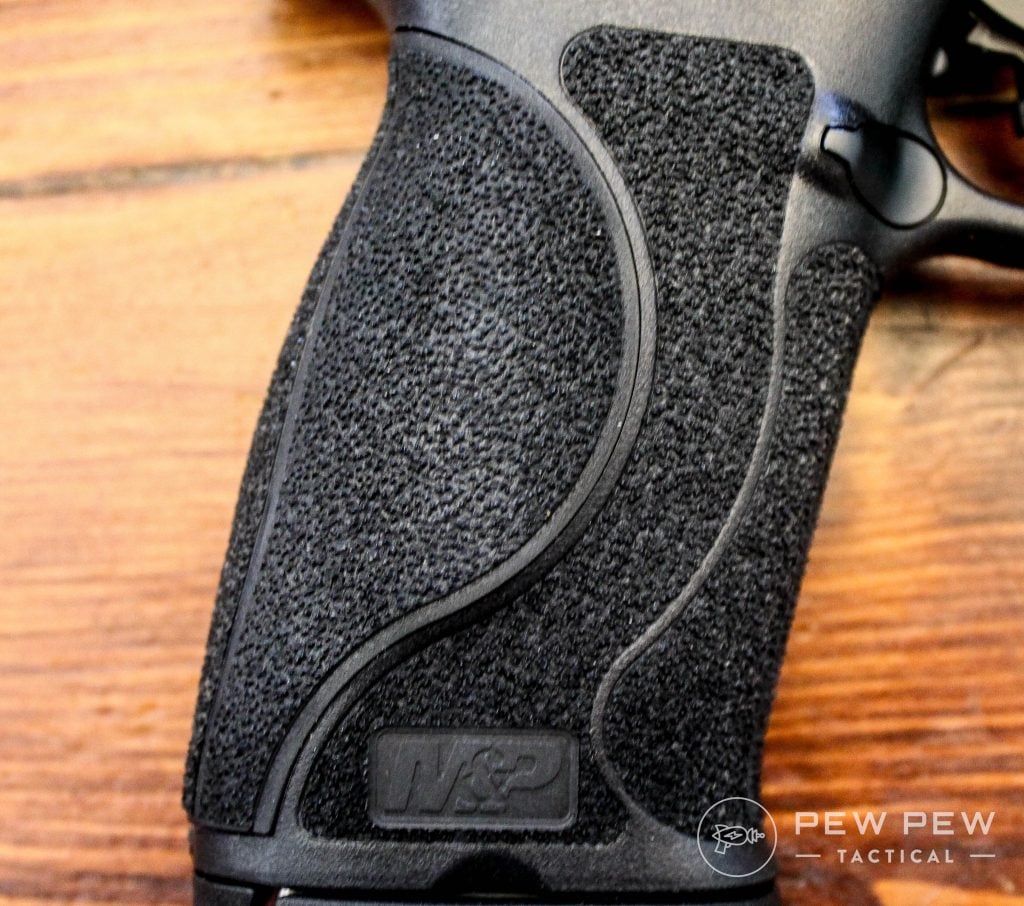 The palm swell differential among the four inserts is not overt, but it helps contribute to your ability to hang on when you pull that nice, flat-faced trigger. After all, you do get those four inserts with the gun so hopefully, one of them should work for you.
Another thing I really like are the sights. They are tall. If you decide to stick a red dot on the gun, the sights will automatically co-witness with the dot.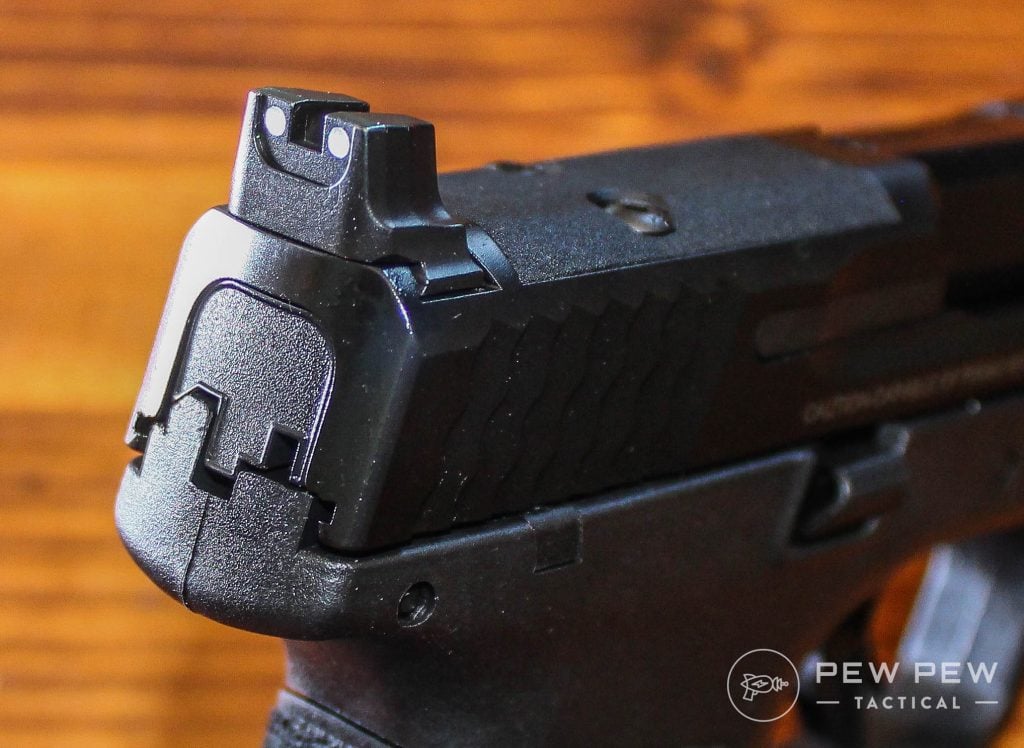 Another informal point to mention is that this gun is an M&P, and the M&P Shield is one of the best-selling CCWs out there. This 10mm feels like a big brother to the Shield in your hand, something many shooters are familiar with.
By the Numbers
Quality: 4/5
Even with the trigger glitch and hard-to-remove barrel, the gun is very well-built.
Reliability: 5/5
No problems here.
Accuracy: 4.5/5
My limited shooting wasn't a true test, but I've had no issues with other M&Ps.
Ergonomics: 5/5
The four back straps allow you to fit the grip very specifically to your grip.
Value: 5/5
For S&W fans (or 10mm fans in general), it's a no-brainer… the M&P is one fine pistol and is a bargain in this caliber.
Overall: 4/5
599
at Kygunco
Prices accurate at time of writing
Prices accurate at time of writing
Upgrades for the 10mm M&P
Boy…I could write a really long section here! You have the obvious optics cut on the slide for a red dot sight, and also a three-slot Pic rail below.
I think if I were to dress this gun up a bit, I might think of adding a Holosun 507C X2 sight. This red dot features a 2 MOA dot and a 32 MOA circle, along with solar capability in case your battery dies.
309
at EuroOptic
Prices accurate at time of writing
Prices accurate at time of writing
Another one to consider might be the Leopold Delta Point Pro, with its illuminated 2.5 MOA reticle and shake-awake technology. Both of these sights have been proven by thousands of shooters.
449
at OpticsPlanet
Prices accurate at time of writing
Prices accurate at time of writing
In terms of a weapon light below, there are hundreds out there that would fill the bill, but I like the Streamlight TLR-1. It has features that other, more-expensive lights may not have.
141
at Amazon
Prices accurate at time of writing
Prices accurate at time of writing
Weighing in at 300 lumens with more mounting options than you could shake a stick at, this street-priced $100 or so light is one serious contender.
Final Verdict
Are you in the market for a 10mm? Want a brand that starts with a letter other than "G?" Then trot down to your local gun shop and check the Smith & Wesson M&P 2.0 in 10mm out.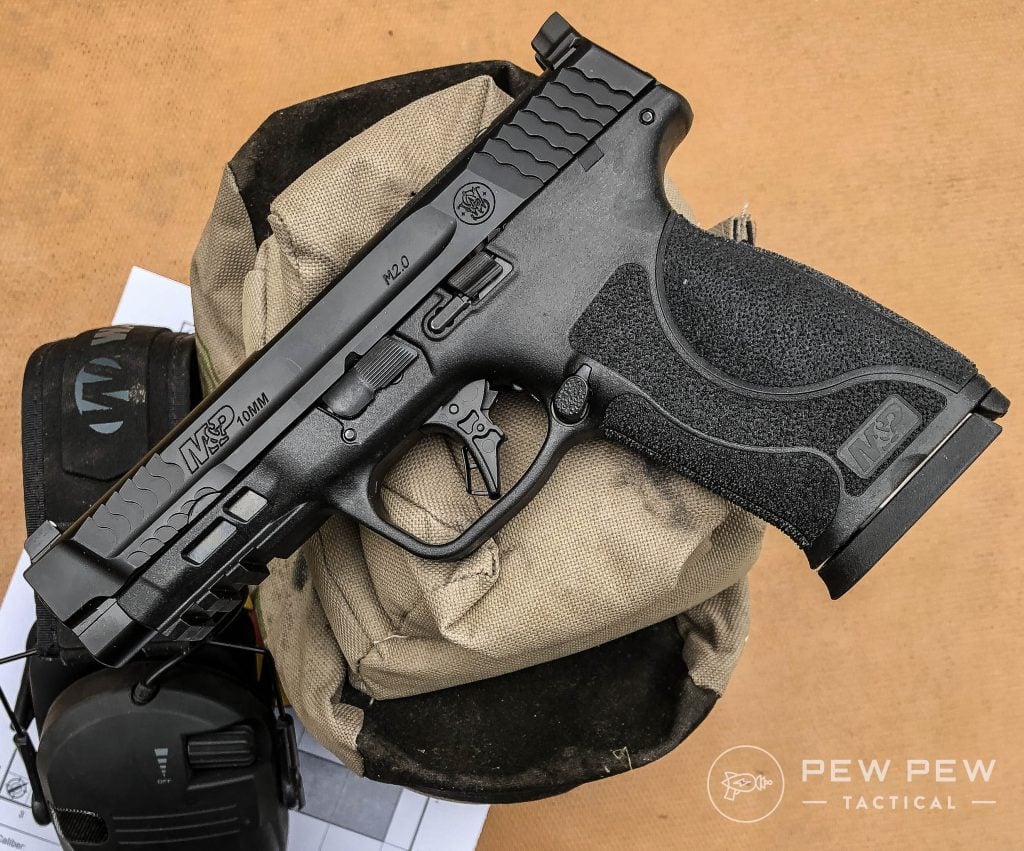 The M&P line (especially the newer 2.0 models) has great build quality and is made of tough stuff. These guns should last a good long time.
It would be a great comfort to have with you on a hike in bear country, as well. Talk about a lot of "oomph" in a smaller package…and with good sighting options, to boot.
What do you think of the Smith & Wesson M&P 2.0 in 10mm? Let us know in the comments below. For more 10mm, check out our guide to the Best 10mm Handguns and Ammo!