The market has absolutely exploded with low-powered variable optics.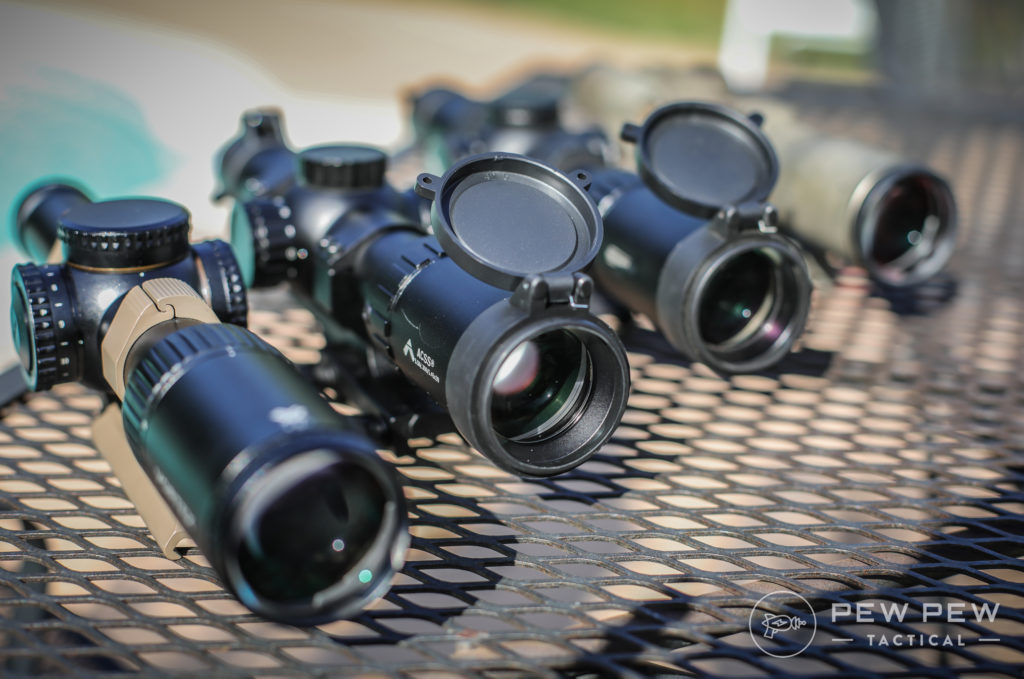 For good reason too. An LPVO is incredibly versatile and can be a jack-of-all-trades.
Primary Arms was nice enough to send me their 1-8x Silver LPVO using their ACSS reticle and mount.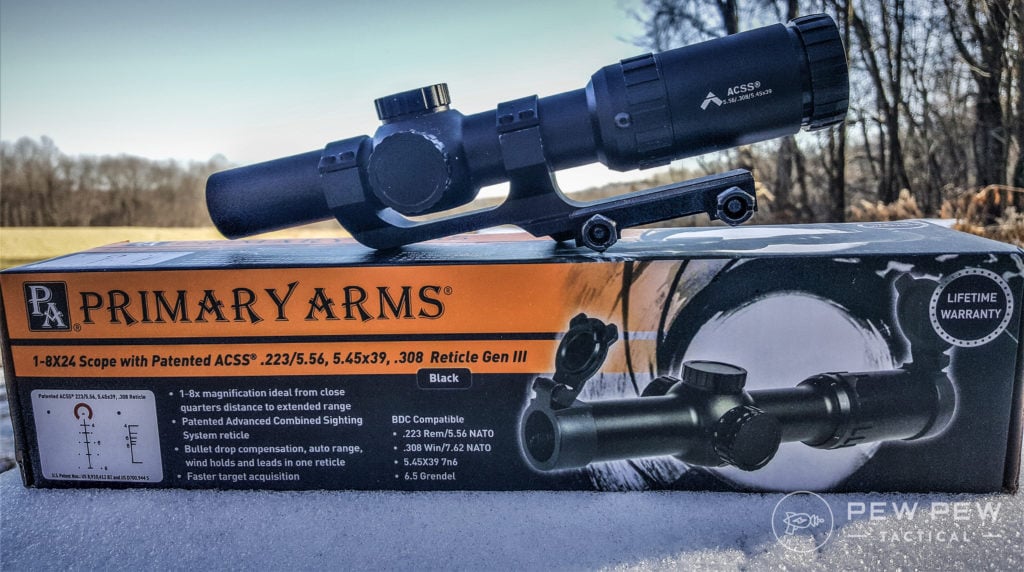 I run it through the ringer, using multiple firearms, nearly 2,000 rounds of assorted ammo, and box test the optic.
Are you in the market for a low-cost LPVO? With a price of $390, the 1-8x Silver might be right for you.
390
at Primary Arms
Prices accurate at time of writing
Prices accurate at time of writing
Table of Contents
Loading...
Jack-of-All-Trades, Master of None
The LPVO is versatile, but it's not for everyone. Some shooters make the mistake of assuming an LPVO is just like a red dot.
It's not.
An LPVO at its core is a magnified optic, which requires eye relief to get a proper sight picture. At 1x magnification, a shooter still needs to have proper cheek weld and eye relief.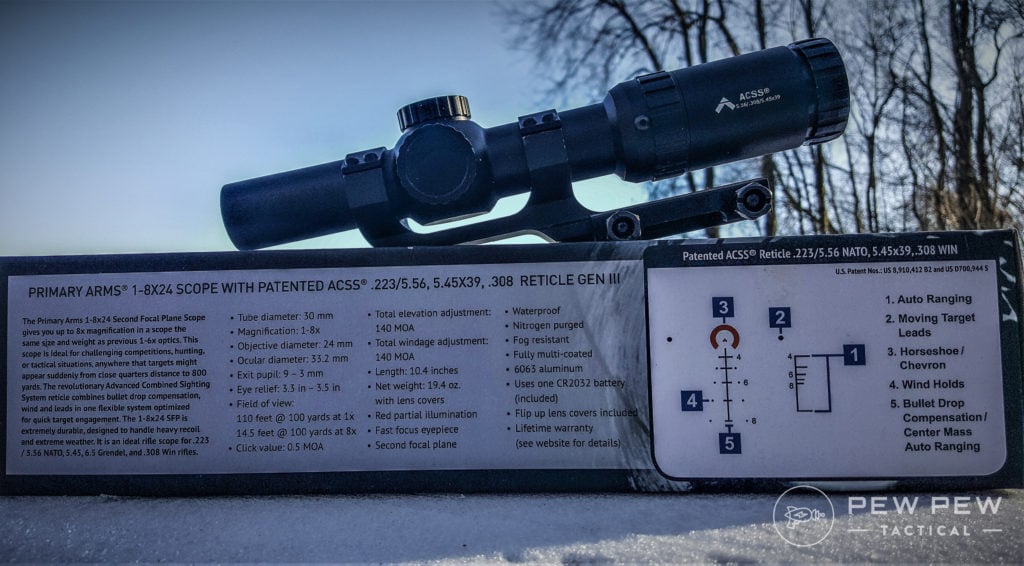 Expensive models can be more forgiving with a larger eye box and generous eye relief, but you typically must pay for it.
LPVOs are also not typically the best at light transmission with such a small objective lens. Shooters expecting the clarity of a precision optic will typically be disappointed.
But for those shooters that want versatility out of an optic to handle short and moderate range, the LPVO is hard to beat.
First Impressions
Opening the box for the PA Silver LPVO, I found that the optic is relatively lightweight even with the 30mm tube. The optic doesn't necessarily feel cheap, but it is much lighter than say my Trijicon 1-4x Accupower.
614
at EuroOptic
Prices accurate at time of writing
Prices accurate at time of writing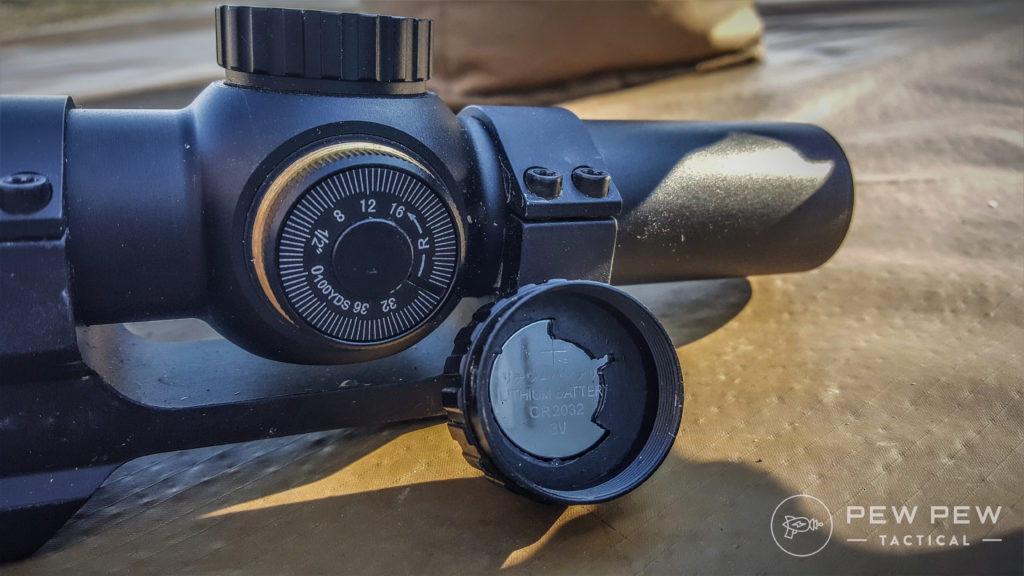 The optic comes with lens covers that aren't exceptional by any means. Once I got rough with the optic, I broke the front lens cap very quickly. Of course, this isn't a deal-breaker but just know they are relatively flimsy.
The turrets are capped, and feature tool-less operation. They can be zeroed, but it is a very basic sliding disc to "reset" back to zero.
Other companies offer removable turrets that tend to be more accurate, at roughly the same price point.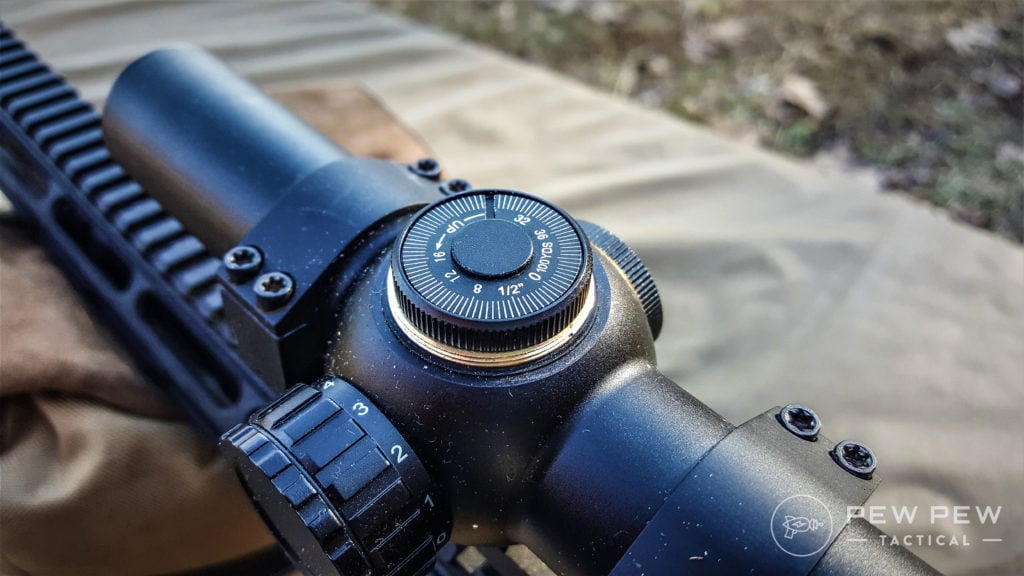 After adjusting the ocular lens, I began testing the optic at close range on 1x magnification. The 1-8x Silver comes close to a true 1x magnification, but its closer to 1.25x. It is noticeable, but again it is not a deal breaker.
At 1x there is also a noticeable amount of distortion at the edges. Especially when scanning back and forth on straight vertical lines like a doorway, or corner of a wall.
When I compared it to other models within the SLx price range, it caused more eye strain at immediate close range within 20 feet. Objects at greater distance do not distort to a noticeable degree.
Mount Up
Primary Arms also sent their one-piece cantilever mount to be used. It uses two 1/2" nuts, and a single plate to attach to the upper receiver.
60
at Primary Arms
Prices accurate at time of writing
Prices accurate at time of writing
It is further forward than some other models.
The SLx has a forgiving eye relief, so you may need to mount the optic far forward if you are one to put your nose to the charging handle.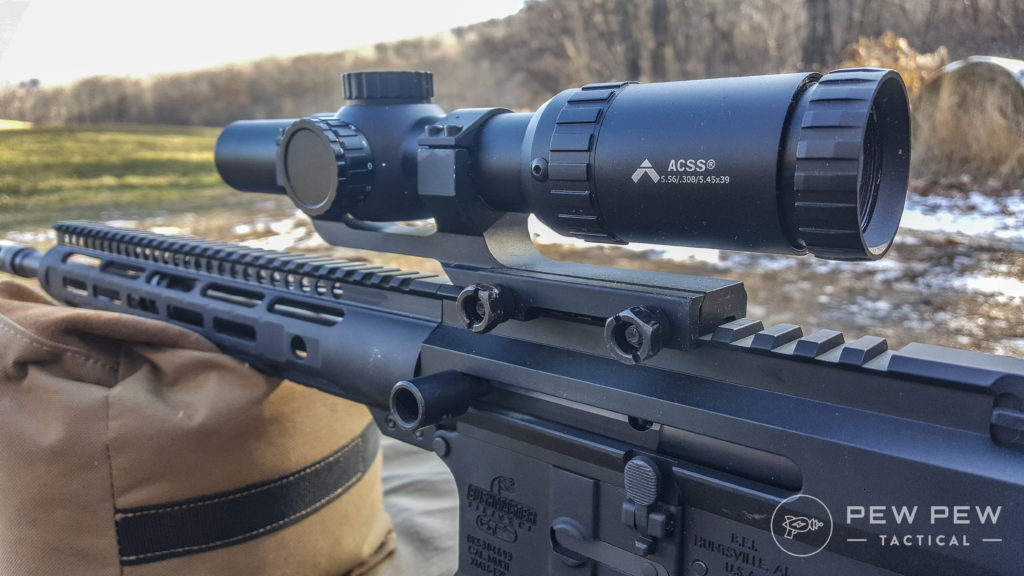 The scope ring hardware appeared to be robust, and I was able to tighten down to 20 in. lbs. of torque without feeling like they were going to strip out. I did encounter a problem with the 1/2" nuts to attach to the upper receiver though.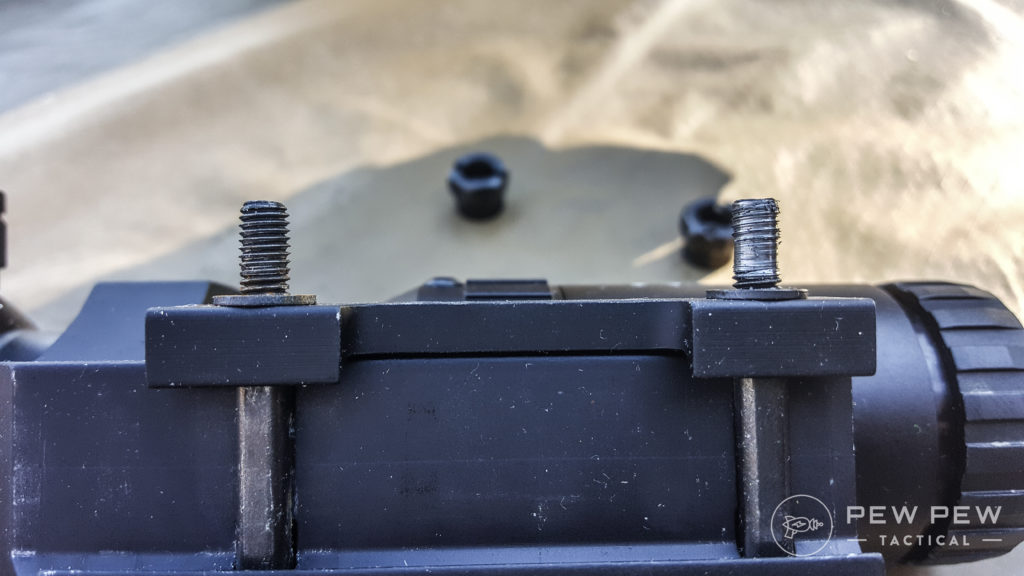 After some rough handling, drop testing, and multiple installations on various rifles, the rear bolt began to strip out towards the end of my testing.
This is an import, so more than likely it was an issue with the hardening of the bolt and caused the treads to strip off.
The good news is that Primary Arms has some of the best customer services in the business, and I have no doubt that they would send a replacement if you should have an issue with this mount that retails for $50.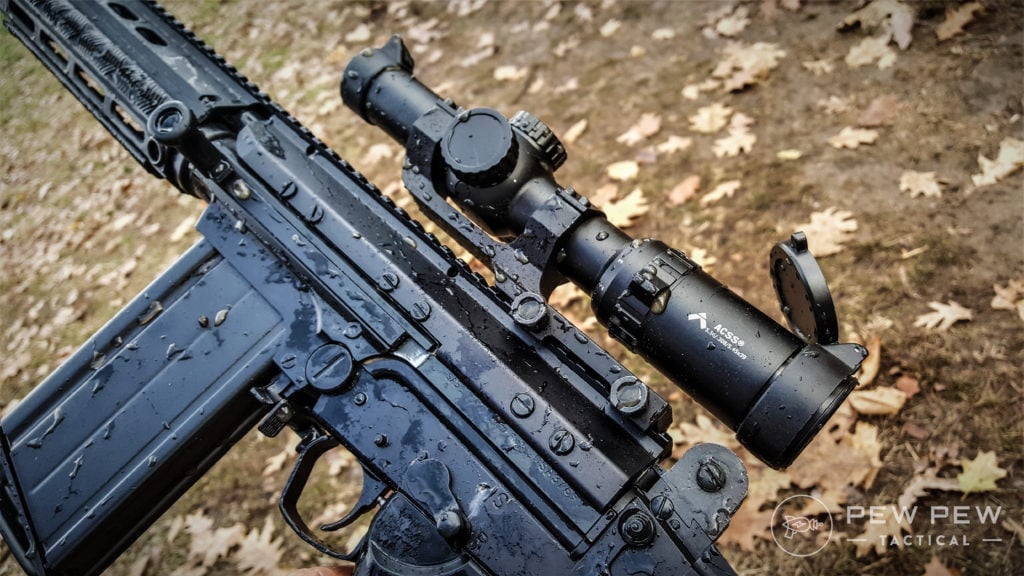 More good news is after drop testing, the rifle did not experience a shift in zero. It fell on multiple types of ground and was properly submerged in ice cold muddy water.
No signs of moisture were detected within the tube of the optic, and she is watertight.
That Reticle Though
The ACSS reticle from Primary Arms is an extremely well thought out reticle to be used on a defensive rifle setup.
It is functional for faster firing and is calibrated for multiple cartridges, including 5.56 NATO, 5.45×39, 6.5 Grendel, and 7.62 NATO.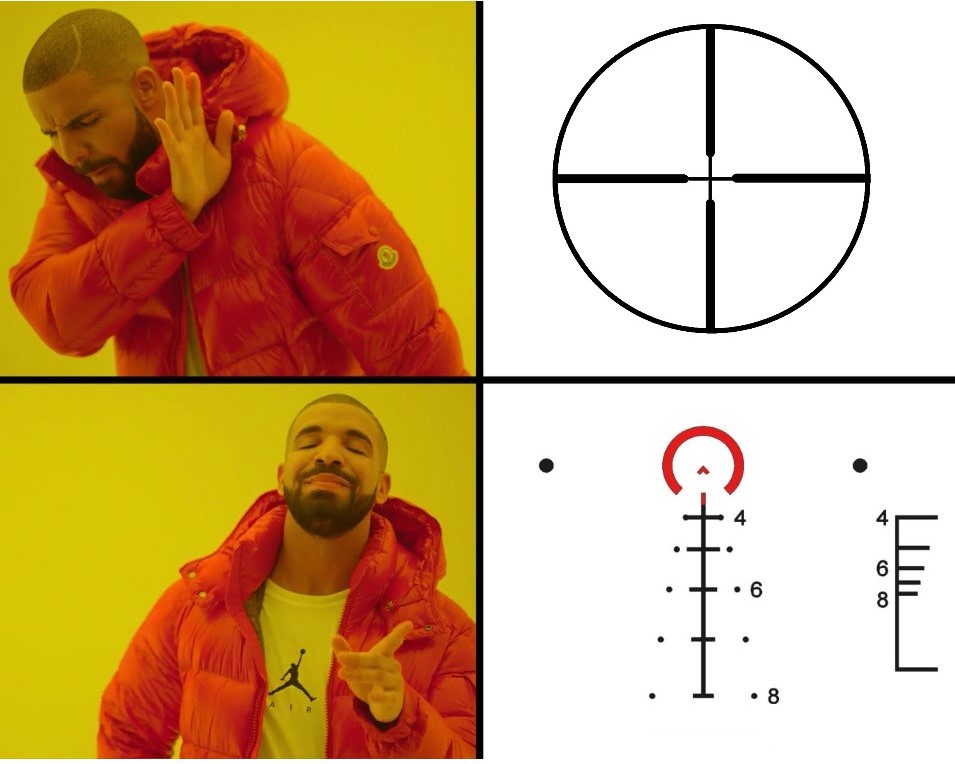 The daytime brightness level is something that you can't appreciate until you look at it on a sunny day. The illumination knob has 11 brightness settings with "0" being off.
At its maximum brightness setting, I had no issues seeing the red illumination during sunny daylight conditions.
The ACSS reticle shines at multiple yardages and seemed to be accurate out to 400 yards, which was my maximum range to shoot. The reticle serves multiple roles but is simplistic at the same time.
Each holdover starting at 400 yards can be used to range a target like the Trijicon ACOG I was issued in the Marine Corps.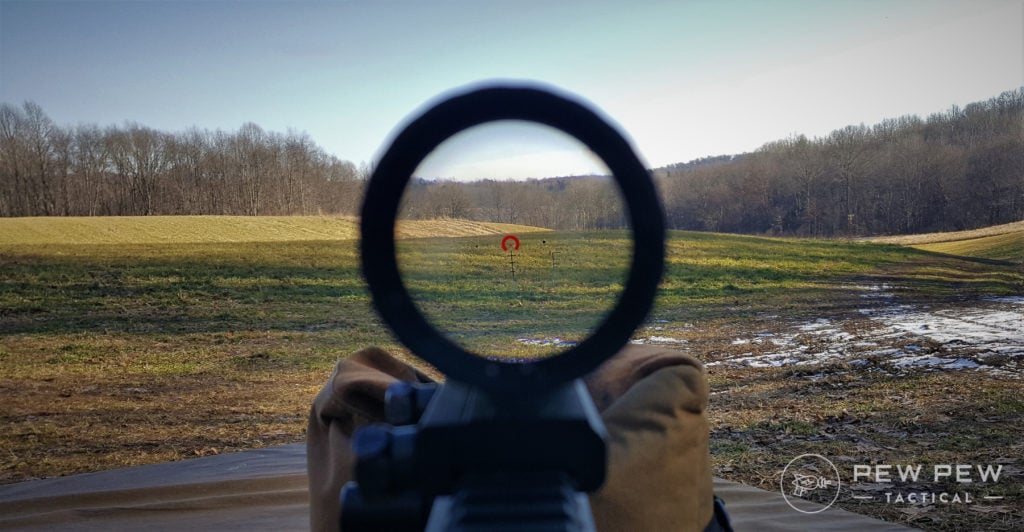 The center chevron aiming point is not as precise like a 1 MOA dot, but it works well. I was able to keep relatively tight groups with the chevron at 8x magnification at 100 yards.
As far as clarity, at 8x I was able to pick up on .224" holes at 100 yards without much difficulty.
The Box Test
If you aren't aware of what a box test is, I will break it down for you clean and neat.
Basically, you sight in your optic to be dead nuts on at a determined range with your rifle.
From there, you use known distance aiming points from the target you initially zeroed on.
With my center target, each corner target is 4" up/down and 4" left/right from the center. While still aiming at my center target, I made 8 clicks right, and 8 clicks up in elevation.
Theoretically, while still aiming at the center target, my next three impacts should strike the target at 2 o'clock at the top right corner.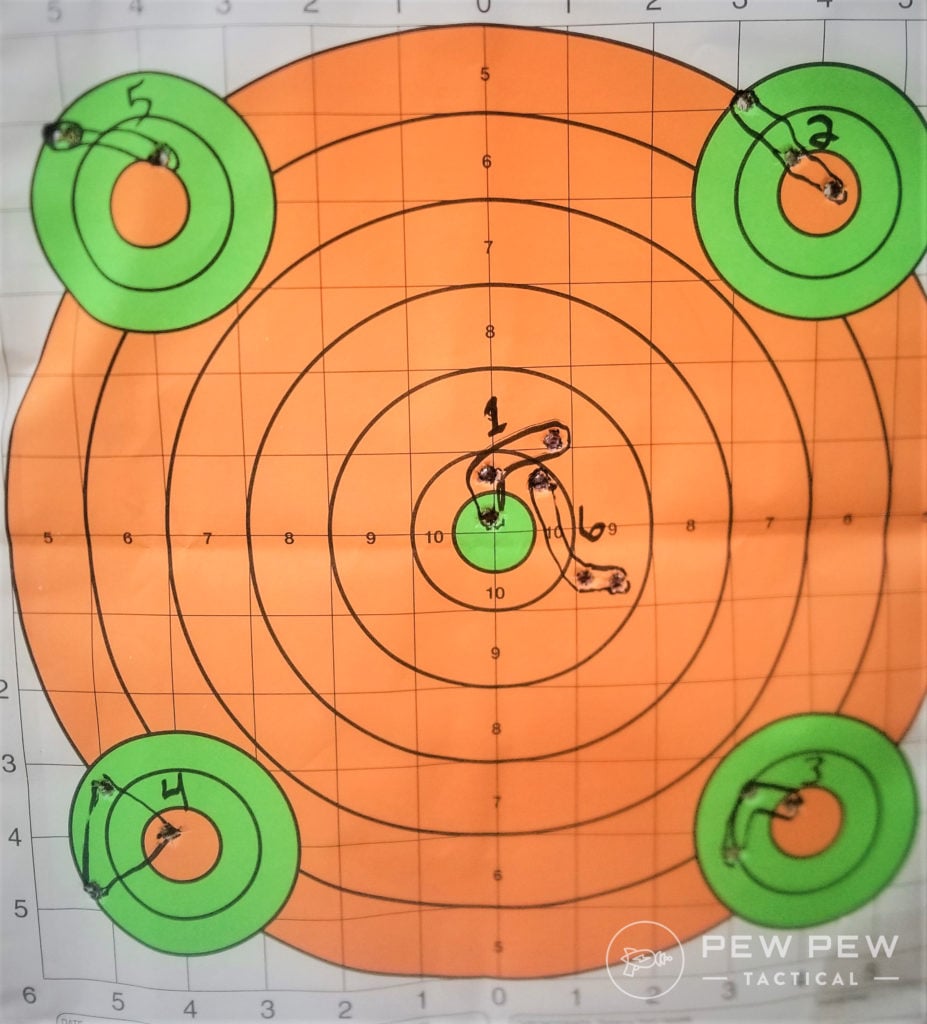 This proved to be accurate, and I kept moving the turrets after each 3 round group fired. The third group fired had 16 clicks down, which moved the impacts on the bottom right corner target.
I did this until finally coming back to my initial zero, and firing a 6th group which was near the first impact.
In my opinion, this passes a simple 100-yard box test. Considering that the SLx is not meant for long range precision and taking human error into the equation, the turrets track accurately and can be relied on while zeroing your rifle.
By The Numbers
Affordability: 3.5/5
The 1-8x SLx lists on Primary Arms for $390. While this isn't Kahles or Razor kind of money, there are other companies producing LPVOs at similar price points.
390
at Primary Arms
Prices accurate at time of writing
Prices accurate at time of writing
For the price, I would have liked to see more features integrated into the optic, like a more robust zeroing feature.
Reliability: 5/5
The optic proved to be highly reliable, and the turrets tracked very well during the box test. While the mount did malfunction, that was not the fault of the optic, and it still held zero surprisingly.
Torture testing and water submersion did not slow this LPVO down.
Usability: 4/5
A lot of people don't think about "usability" in their optic, but it's a factor. Eye box, and eye relief were average for the price point, but the ACSS reticle makes it easy to engage targets at multiple yardages.
The illumination is fantastic and is better than my Trijicon Accupower 1-4x. A throw lever would be a nice touch at this price point though, as well as intermittent off settings on the illumination knob.
Clarity: 3.5/5
Clarity was good enough to spot impacts at 100 yards using 5.56 ammo at 8x. The only drawback is the distortion that is seen at close range targets at the 1x setting. It is noticeable and can strain your eyes when moving back and forth scanning targets.
At higher magnifications, the distortion is not as noticeable unless you are looking for it.
Overall: 4/5
Conclusion
The Primary Arms 1-8x SLx is a lightweight LPVO that does a good job at providing a bit more magnification than its 6x predecessor. The clarity of glass is above average for an imported optic. Between it holding zero and passing a box test, this optic will probably suit your needs well for hunting and for general range use.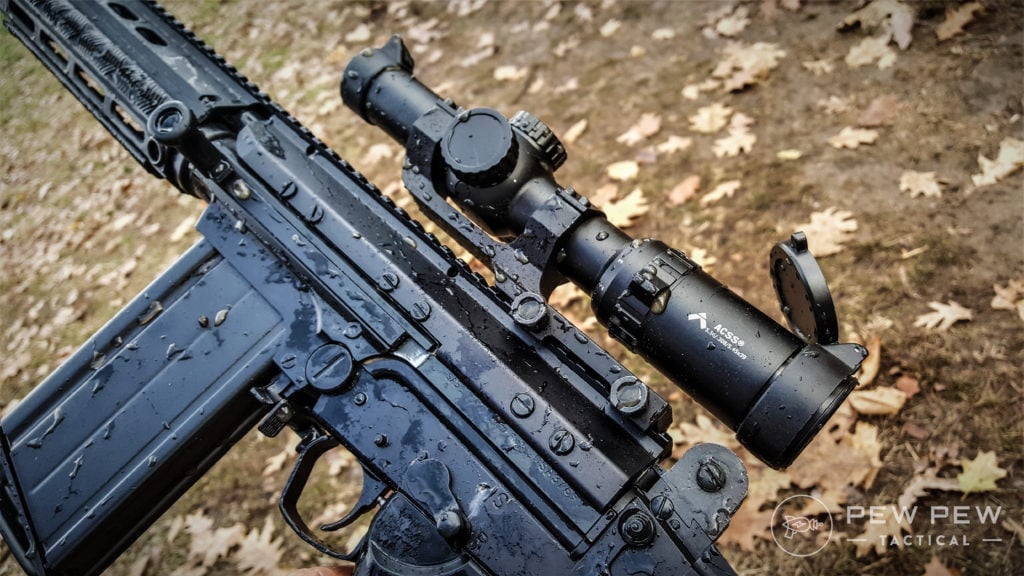 Low Powered Variable Optics is a game-changer, and they are here to stay in the shooting world. With companies like Primary Arms putting out economically priced models, its even easier to get your hands on something that may suit your needs.
Do you have one of the SLx models from Primary Arms? How has it handled for you? Is the ACSS reticle one of your favorites?
We also tested the 1-6x version and love it. Full review here.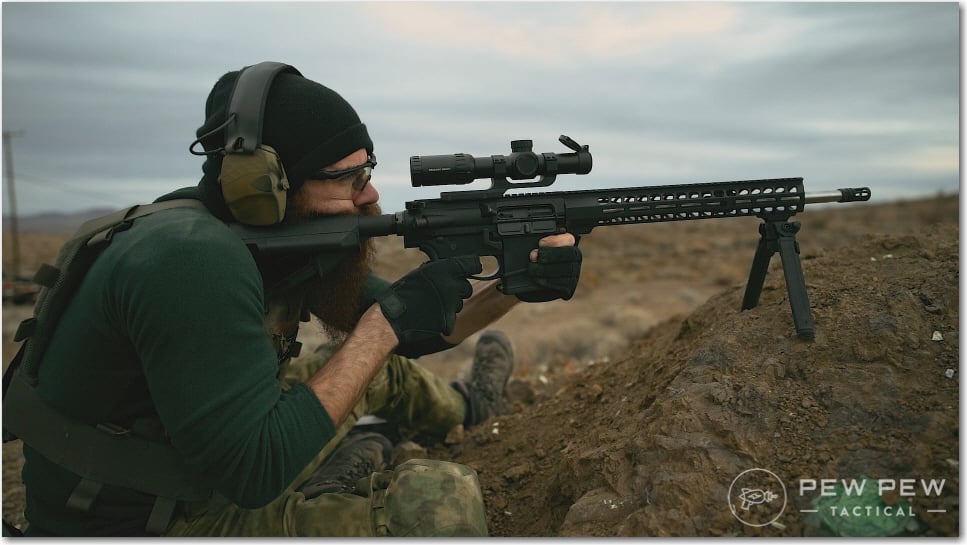 If you're interested in seeing how much abuse top tier optics can handle, take a look at the High-End Optics Torture Test!