Earlier this year, we rounded up a handful of expensive optics and ran them through a series of stress tests.
We wanted to see which high-end names could stand the increasingly absurd levels of abuse and still keep on ticking.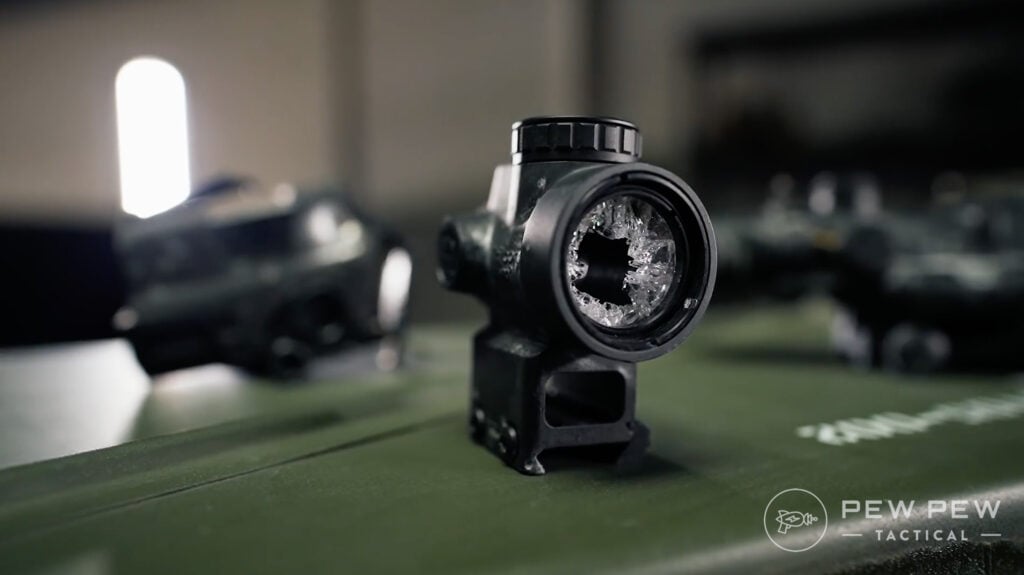 One of the optics we put through the wringer was the Aimpoint CompM5.
Surprisingly, it failed during one of our earlier trials – an impact test from 4-feet directly onto a rock.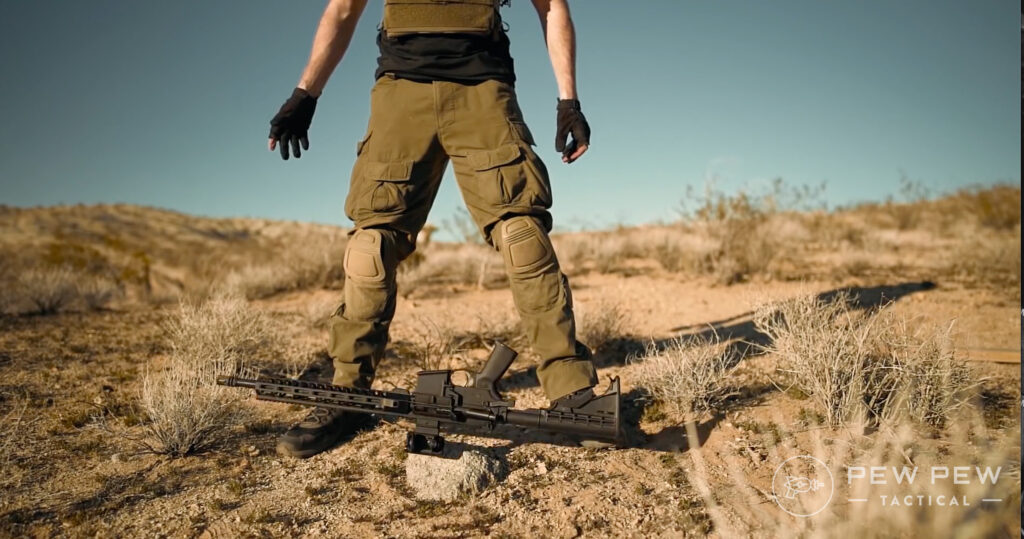 Bummer.
We moved on to test the rest of our optics, wrote up our article, and figured that was it.
But…
Aimpoint reached out to us and offered up another CompM5 to try out.
828
at Amazon
Prices accurate at time of writing
Prices accurate at time of writing
They assured us that the first CompM5 was more or less a fluke.
We value science around here, so we took them up on their offer and went back into the "lab" for a re-test.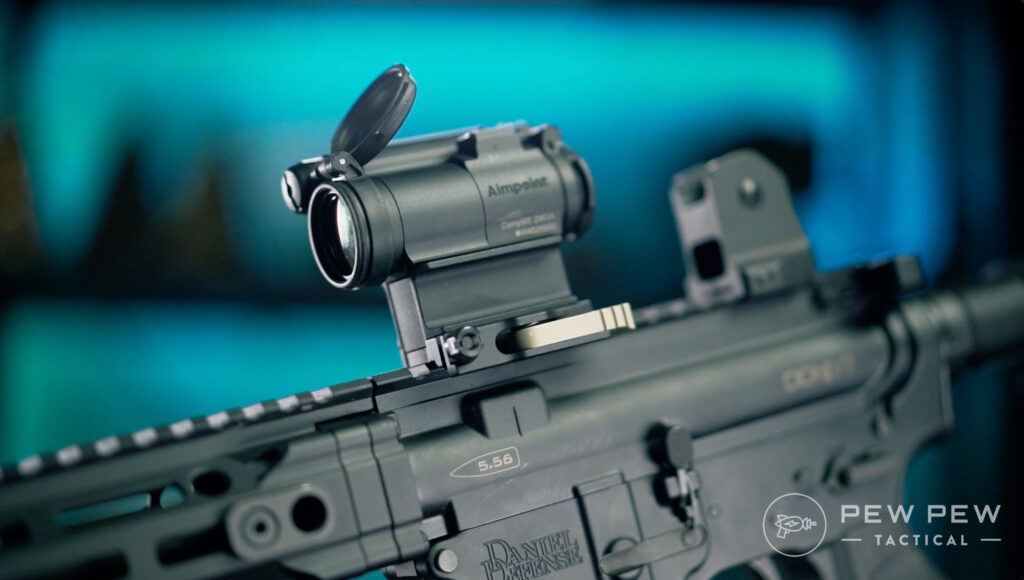 Does the new Aimpoint CompM5 deserve a chance at redemption? Will it survive this battery of tests, or will it end the same as the first?
Read on to find out…Or you can check out our video below to see the whole thing in action.
Remember, if you dig our content, make sure to check out more videos over on the Pew Pew Tactical YouTube channel.
Table of Contents
Loading...
The Run-Down on the CompM5
The CompM5 is a sort-of mid-size red dot, profile-wise.
For comparison, it's not as beefy as the Aimpoint Patrol Rifle Optic or even the older CompM4s. But it's not quite as tiny as the Micro T-1.
The "Goldilocks" Red Dot
482
at Optics Planet
Prices accurate at time of writing
Prices accurate at time of writing
It kinda bridges that middle area in-between.
Aimpoint's concept here is to offer something much lighter compared to older, heavier models. On the other hand, the mid-size profile pairs nicely with Aimpoint's own 3x or 6x magnifiers.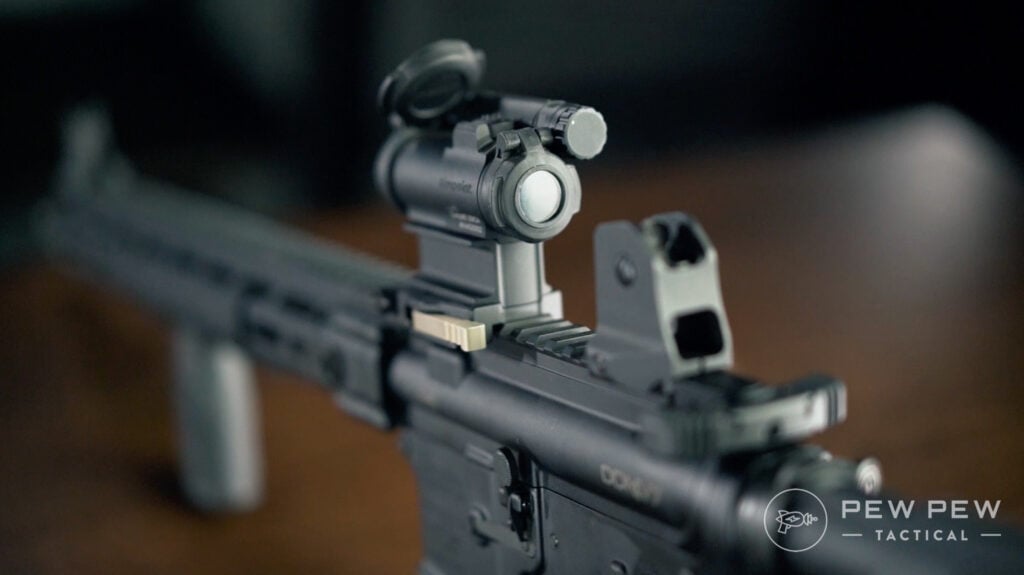 The CompM5 works fine on a standard AR set-up. But, if given a choice, I'd rather relegate it to a smaller pistol caliber carbine or AR pistol build.
You'll get the most mileage with one of these pairings.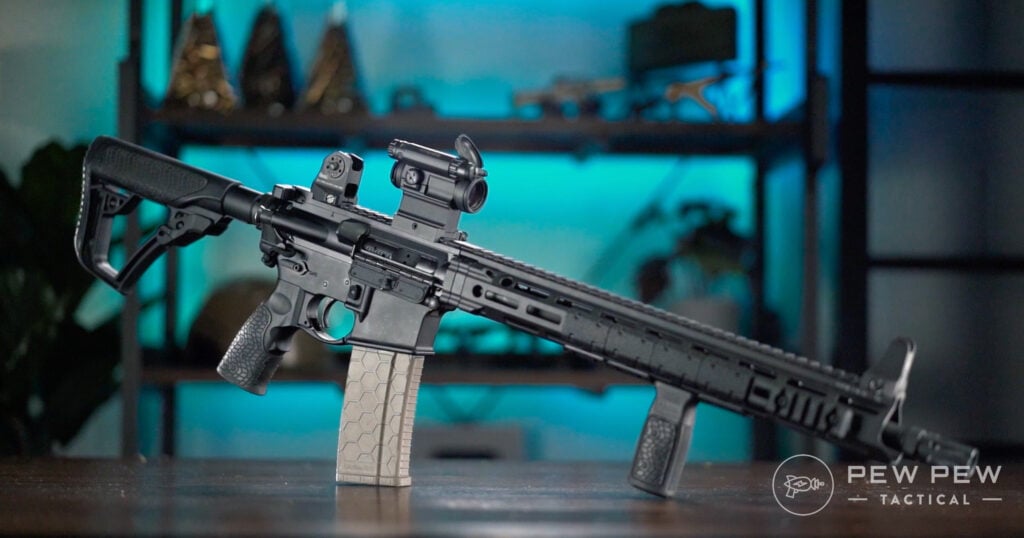 Build-wise, the CompM5 feels solid without adding a bunch of heft. It weighs in at about 8.5-ounces in standard configuration with a mount.
The Glass
Using a strictly 2 MOA dot optic, the CompM5 works for both short and medium-range shooting – rather than just close-up.
Our CompM5 featured cool flip-down plastic lens covers reminiscent of built-in polymer caps on older model Aimpoints.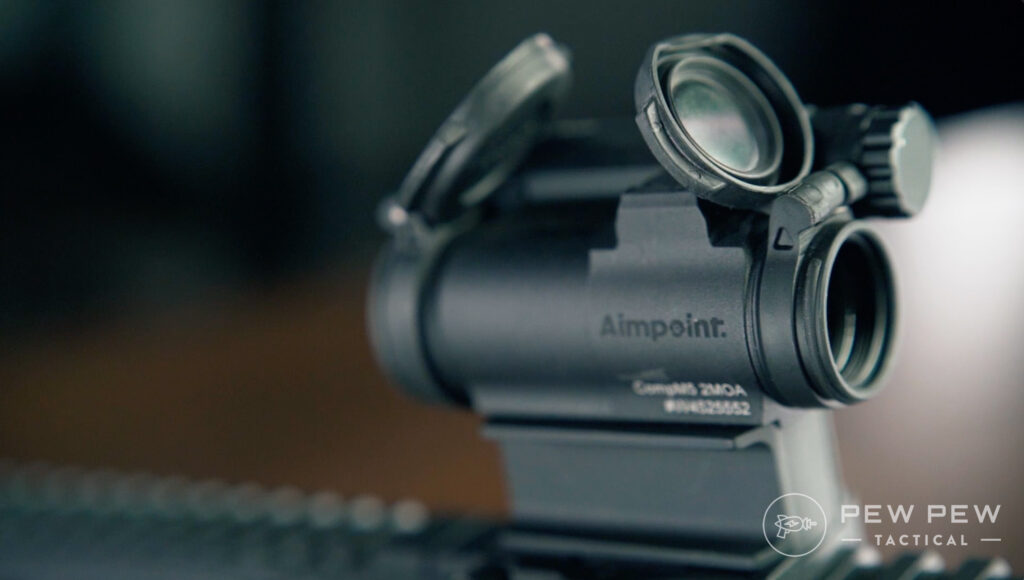 I actually liked them a little more than the rubber bikini-style covers you often see on smaller micro red dots.
The rear flip-down lens is clear, while the front cap is your standard black polymer.
Why this design?
If you're aiming with both eyes open, like you should with a red dot sight, your brain is naturally going to combine the images from your right and left eyes into one.
This means you'll be able to see the dot projected onto your target, despite the front lens cover being closed.
Straight up, I'm not a huge fan of shooting with the caps down. It feels like it narrows your POV through the optic.
Not to mention, I prefer the ability to pick up a gun and run with it – without having to fiddle with lens caps…one less thing to worry about in an emergency scenario.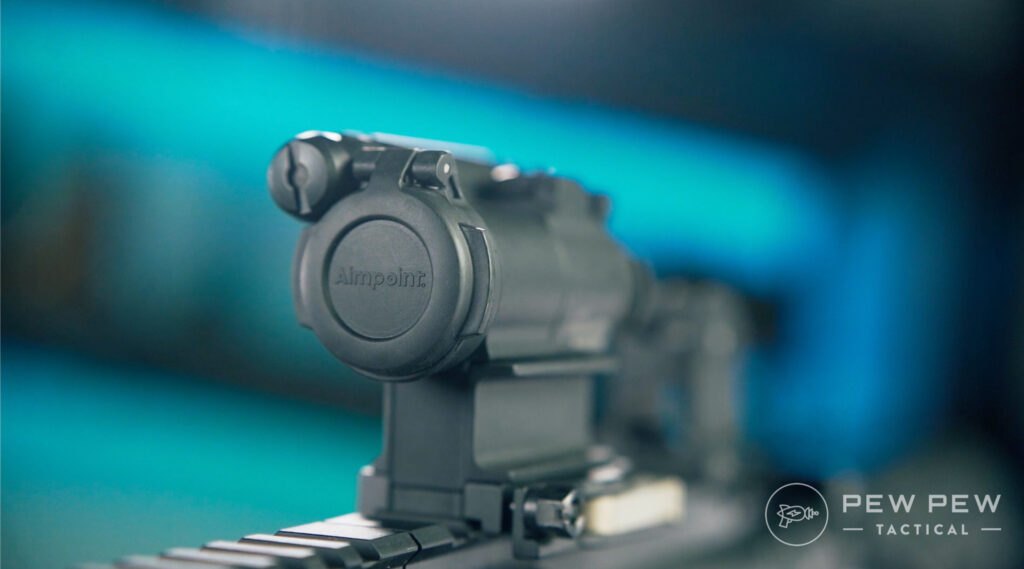 And if that's something that you're concerned about when shopping for a red dot, you're probably the type that'll leave the optic on when not in use as well.
Considering the M5 boasts about 5 years of battery run-time at Position 7 on the brightness knob, about 1 year maxed out at position 8, and about 10 years in the lower, night-vision compatible settings, battery life shouldn't be an issue.
Windage and Elevation Adjustments
Windage and elevation knobs sit pretty low, hugging the frame of the optic.
There is a bit of a raised surface around the outside, which serves as impact protection.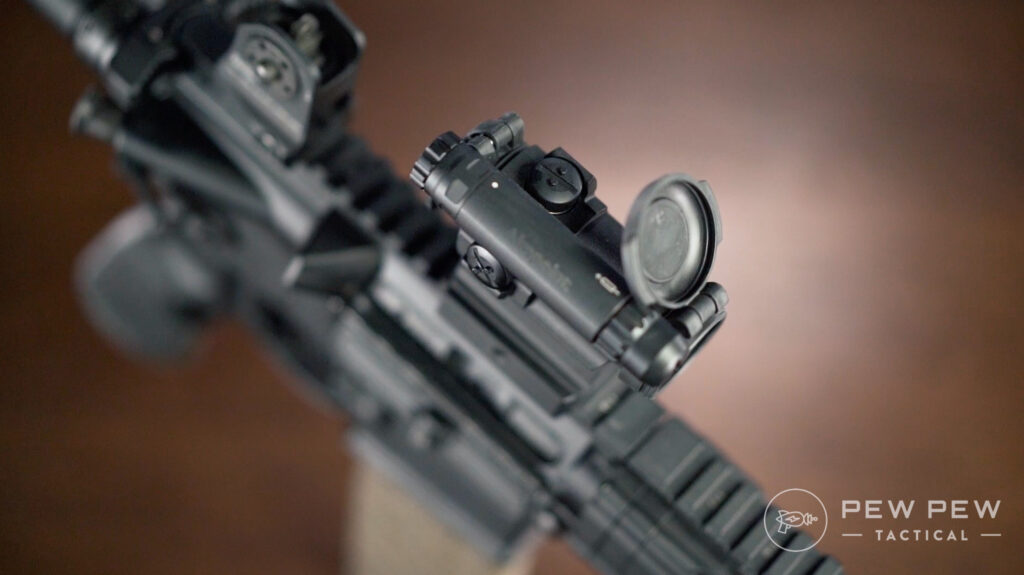 To be honest, I was not a huge fan of the turret adjustment on the reverse side of the plastic caps that cover them.
The caps have two little nubs corresponding to dimples on the face of your windage and elevation adjustment turrets.
While I definitely like the concept of keeping the zeroing tool attached to the optic itself, I find the caps themselves are a bit too small to get a good purchase on.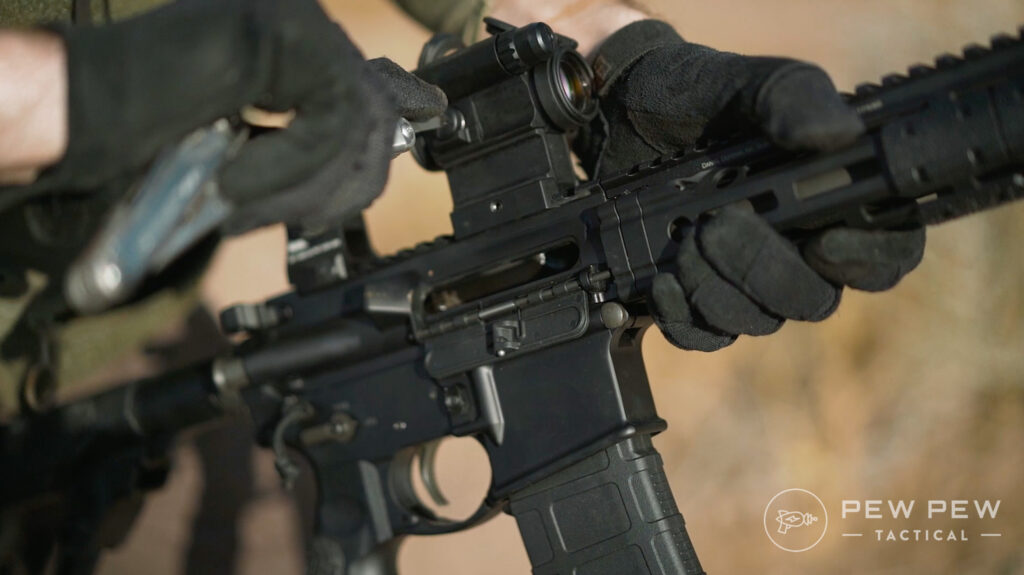 Is it a deal-breaker?
Not really. Once you get the hang of it, it works fine-ish. But I prefer the more traditional flat-head or quarter-slot type adjustment dials.
Mounting to a Rail
We used a throw lever mount which works pretty well once it's securely clamped down on the rail.
It also locks into place via a small metal lug that slips down into the portion of the mount that hugs the optics rail.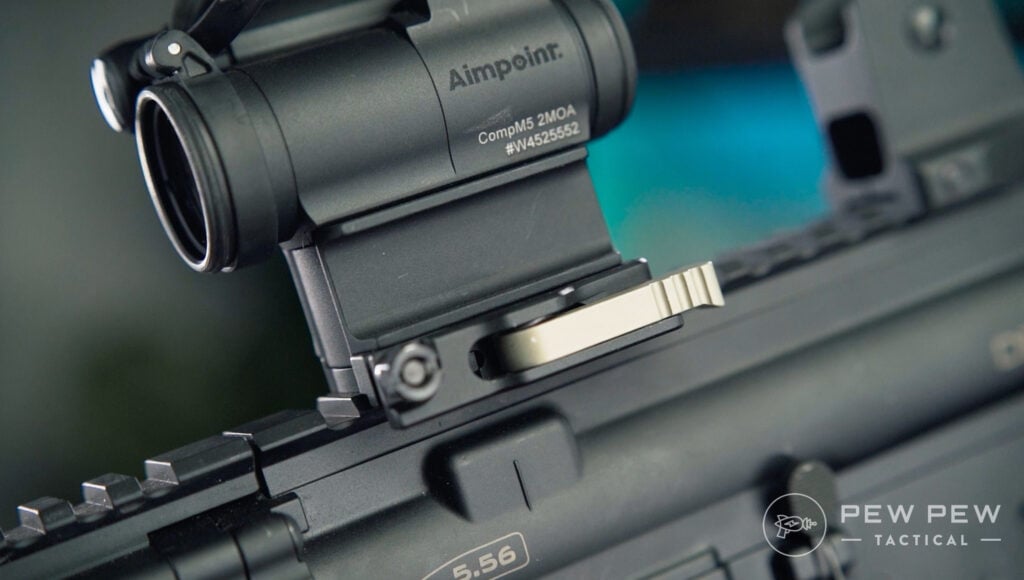 To remove the optic, just lift up and move the lever towards the barrel. The mount will pop right off.
This system is a lot less frustrating than other throw-lever locking designs. Thankfully, you won't destroy your fingers trying to rip this red dot off if you need to.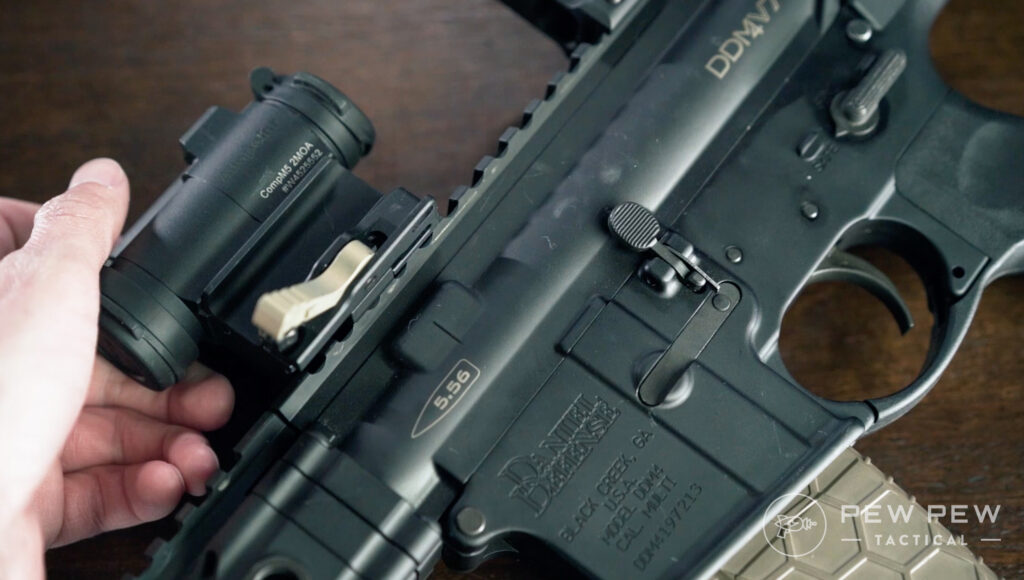 Range Day with the CompM5
Again, this is the second Aimpoint CompM5 we tested.
According to Aimpoint, the failure of the CompM5 the first time around was a total fluke that can happen if a nasty bump onto a hard surface hits the battery compartment at just the right angle.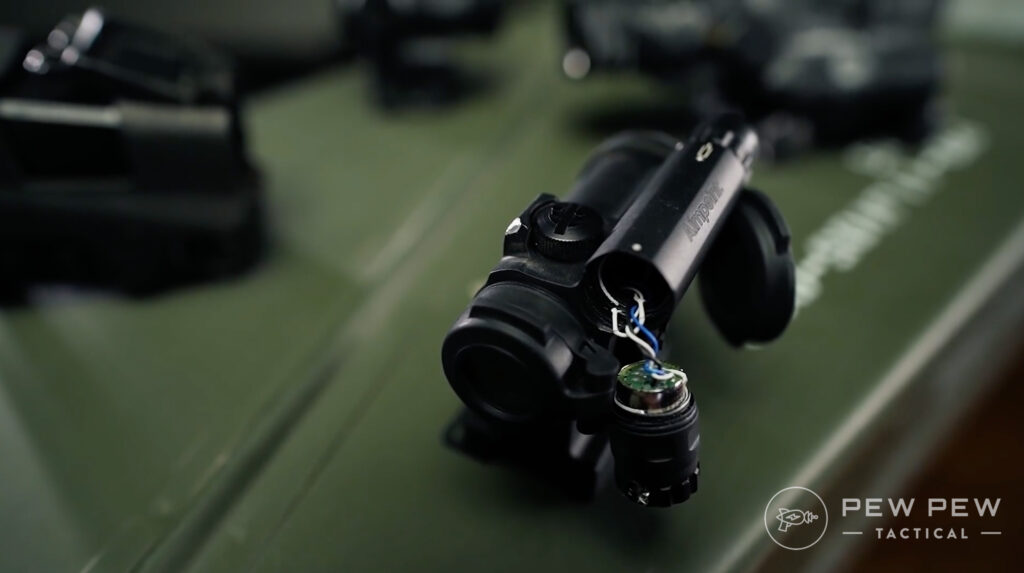 Admittedly, in our extreme torture test, we didn't ensure each dropped optic hit the same place at the same angle.
Watch our High-End Red Dot Torture Test below to see what we do for science!
So, it seemed fair to take the second Aimpoint for another spin – this time evaluating it in a more traditional sense.
I've had the CompM5 for the past few months. It's seen action on a few different rifles.
I found that once it's zeroed, it's ready to go, and truth be told, I've had a lot of fun with it.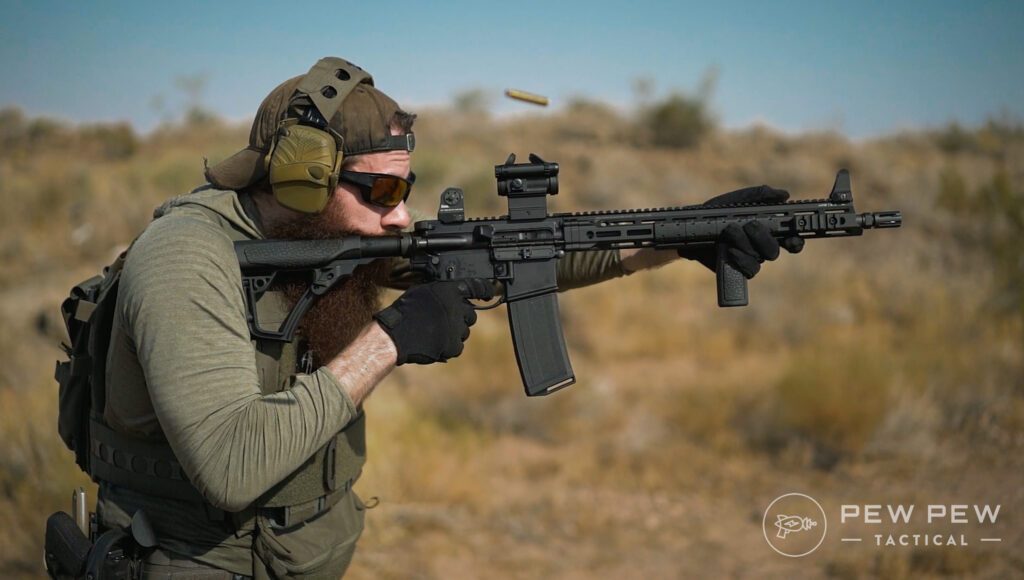 As for the view…it's nice! Glass is clear and relatively free from the sort-of dim blue hue occasionally found on other red dots.
Field of view through the CompM5 does feel a tad cramped with the rear lens cover – especially if you are trying to co-witness the dot with normal iron sights.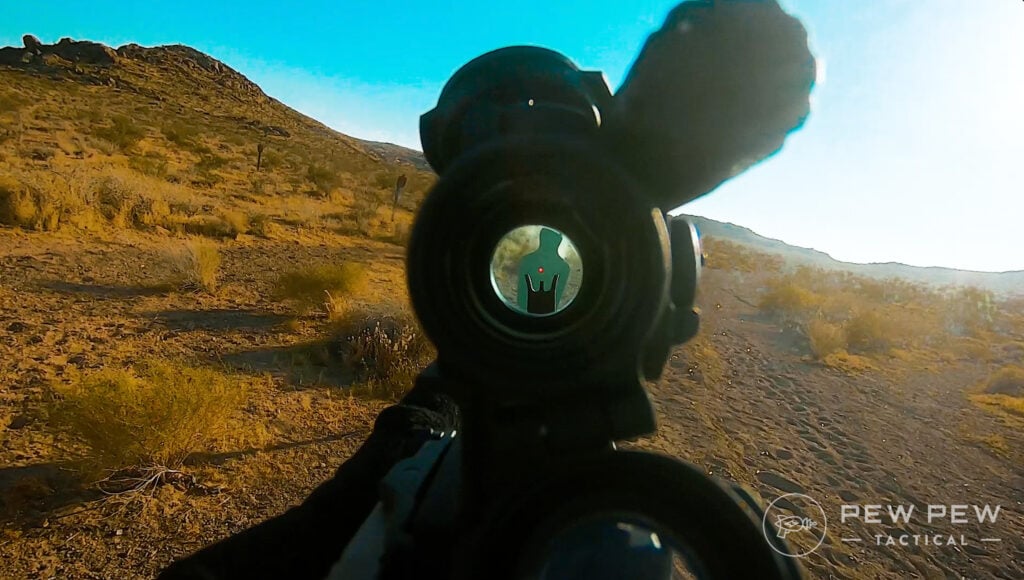 Brightness-wise, you get eight total settings to flip through. The brightest options were plenty…even for super-bright California summertime sunlight.

Its lowest four settings are also compatible with night vision for passive aiming.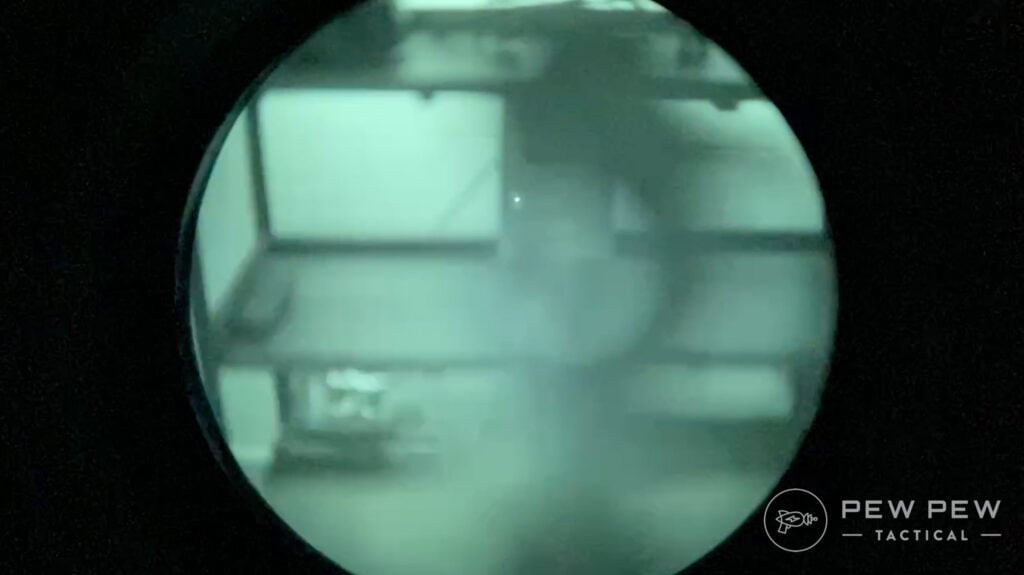 By the Numbers
Reliability: 5/5
With clear viewing, multiple brightness settings, and the ability to roll from bright sunshine to low light, the CompM5 makes for a worthy companion on PCC and AR pistol setups.
Durability: 4/5
While it flunked our first torture test, during routine testing this time around, it held up. Aimpoint said the last test was a coincidence, and we're inclined to believe them. For normal use, this red dot holds up.
Fit & Feel: 5/5
Riding that middle ground between large and micro, the mid-size CompM5 offers a solid feel.
Value: 4/5
With an MSRP of around $800 or so without the mount, to say that the CompM5 might be cost-prohibitive for some is a bit of an understatement.
828
at Amazon
Prices accurate at time of writing
Prices accurate at time of writing
Overall: 4.5/5
This red dot sight walks that thin line between "too much" and "not enough." For those who need the ability to occasionally punch up your effective range by adding a perfectly paired magnifier, the CompM5 is worth taking a look at.
Conclusion
If you already own a smaller AR pistol or PCC, like a small 9mm truck gun, and you're in the market for a new optic that hits that sweet spot between micro red dots and larger bulkier stuff, add the Aimpoint CompM5 to your optics wish list.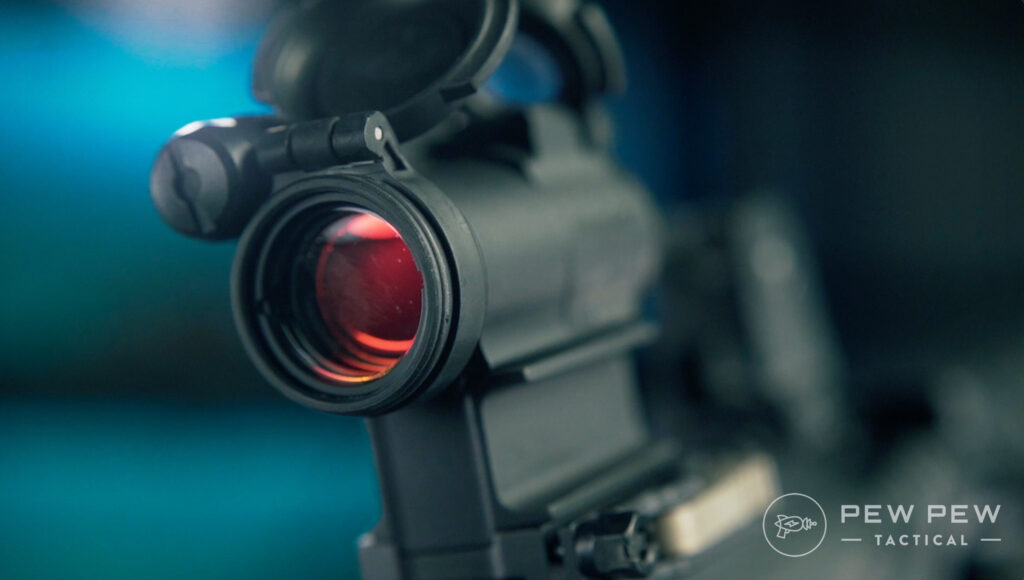 It's pricey but well worth the investment…just avoid dropping it directly onto a rock, if you can.
Remember to peep the video for a more in-depth look at the Aimpoint CompM5.
What do you think of the Aimpoint CompM5? Worth the dough? Let us know in the comments. And make sure to check out the original High-End Torture Test to see how other optics performed. Looking for a round-up of our recommended red dots? Check out the 8 Best Red Dot Sights.