If you've followed our various social pages for any amount of time, chances are you've probably seen us poke fun at the idea of a "gun guy" truck on a conceptual level.
Arguably, there's not a single good thing that can come from plastering your rear windshield with a 3×3-foot Glock logo.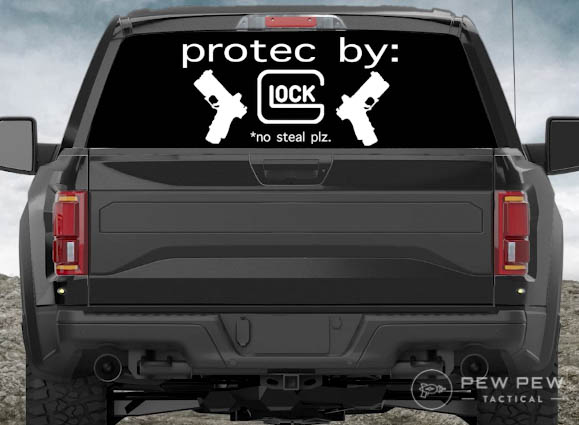 That said, there are several solutions to organize your car kit and medical supplies. Bonus, these don't require you to be a super-secret squirrel type to use.
Look, we're no trauma experts. (Old reruns of ER and Grey's Anatomy only get you so far.)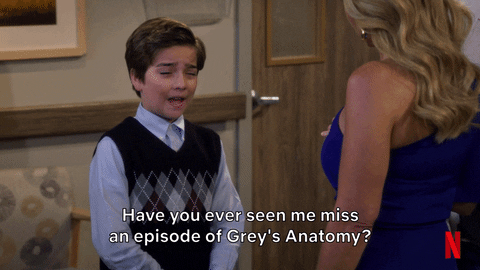 But we do believe that if you carry, it's your responsibility to be prepared to render first aid — even if it's as simple as stabilizing the individual while you wait on EMS.
Gun-related wounds aside, car accidents happen pretty regularly. So, having a working knowledge of first aid supplies and how to use them isn't a bad idea.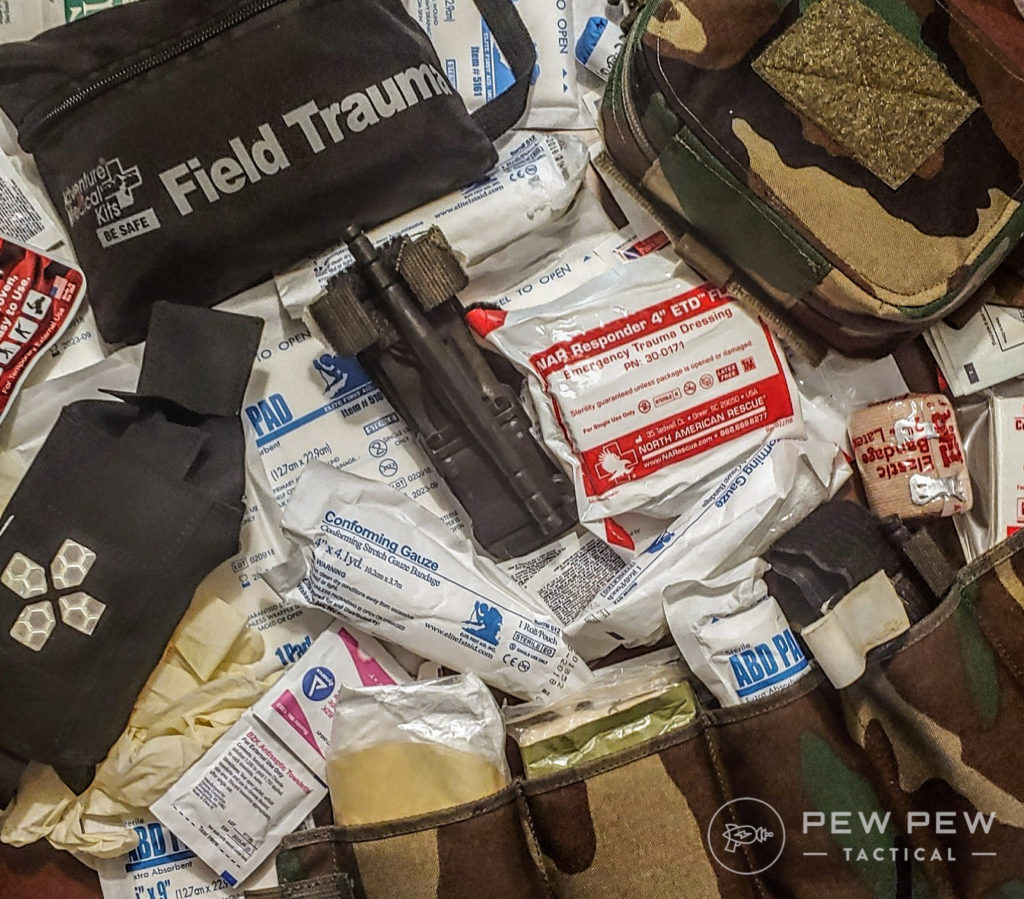 (Psst…if you want to get spun up, check out our round-up of the Best First Aid Classes.)
To that end, we've got two platforms for your consideration — the 5.11 Tactical Vehicle Ready Hexgrid Seat and the Grey Man Tactical Rigid Molle Panel.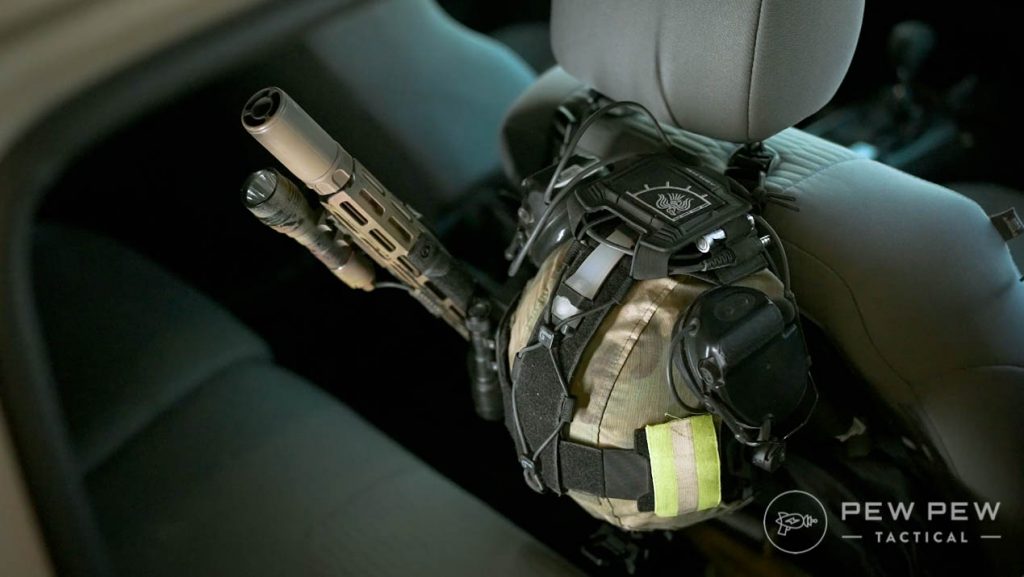 We're going to walk you through these platforms, explain them a bit, and help you decide which one might work for you.
If you want to skip all the words, though, head straight to the video below to see these in action.
To watch me talk more about guns and gear, check out the Pew Pew Tactical YouTube Channel.
Table of Contents
Loading...
5.11 Tactical Vehicle Ready Hexgrid Seat
First up is probably the more casual and accessible everyman's solution for car gear, the 5.11 Vehicle Ready Hexgrid Seat.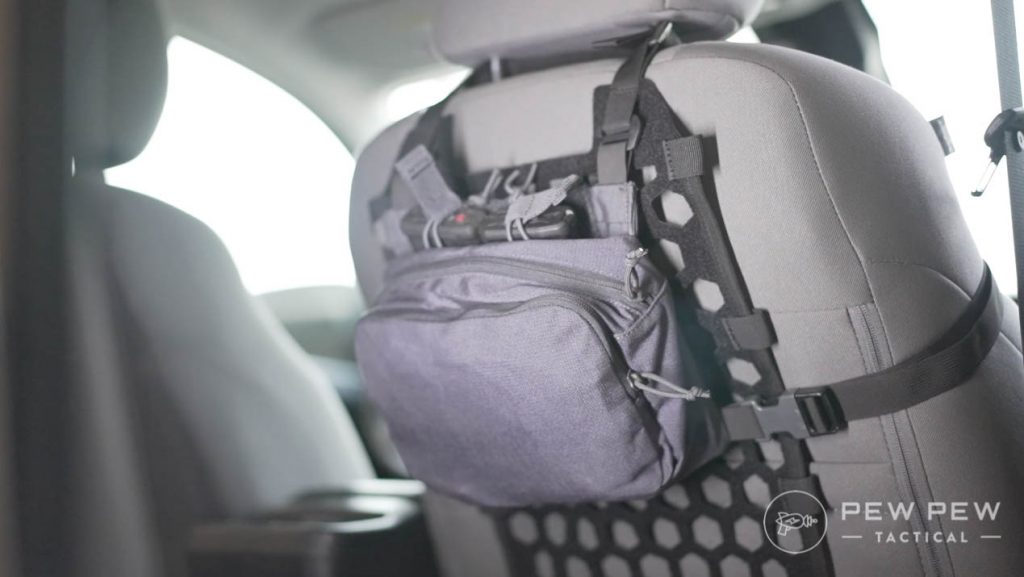 This isn't my first time with this system. In fact, I've covered the Hexgrid system before at a previous SHOT Show.
The Hexgrid system isn't really a replacement for standard MOLLE. But it does earn points for its ability to mount pouches at non-standard angles.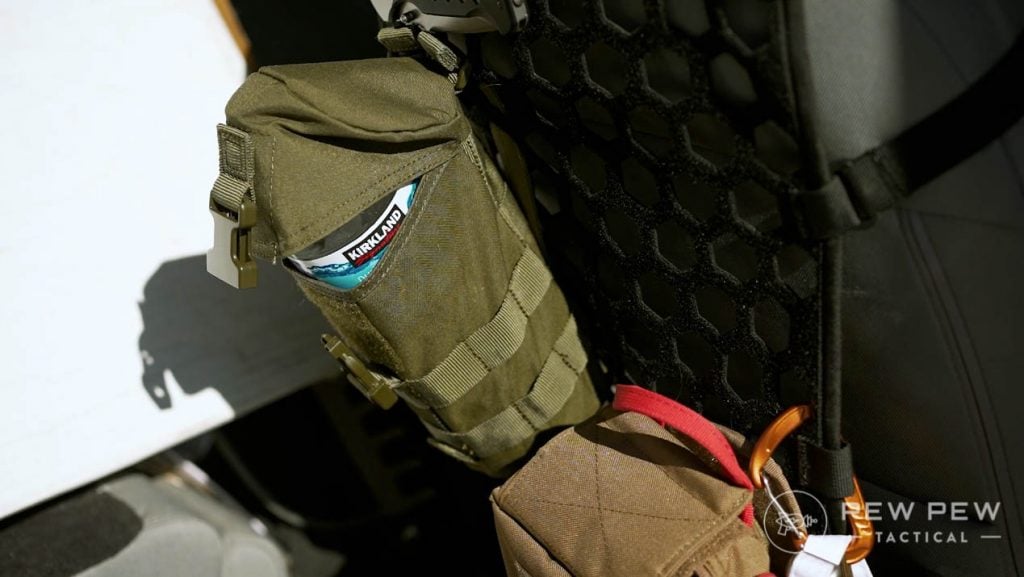 And this capability really shines inside a vehicle.
Obviously, setups will vary from person to person. But it is very convenient to throw the Hexgrid on the back of the passenger seat. You can then angle quick access pouches to retrieve stuff while driving. 
This is especially useful if you're grabbing at gear in some kind of bad scenario.
45
at 5.11 Tactical
Prices accurate at time of writing
Prices accurate at time of writing
Installation
The 5.11 Hexgrid features a reasonably simple installation process.
It consists of an adjustable loop that fits around the headrest, two lateral cinch straps that fit around the seat's body, and vertical straps that run underneath the seat. (I didn't find the vertical straps super necessary, though).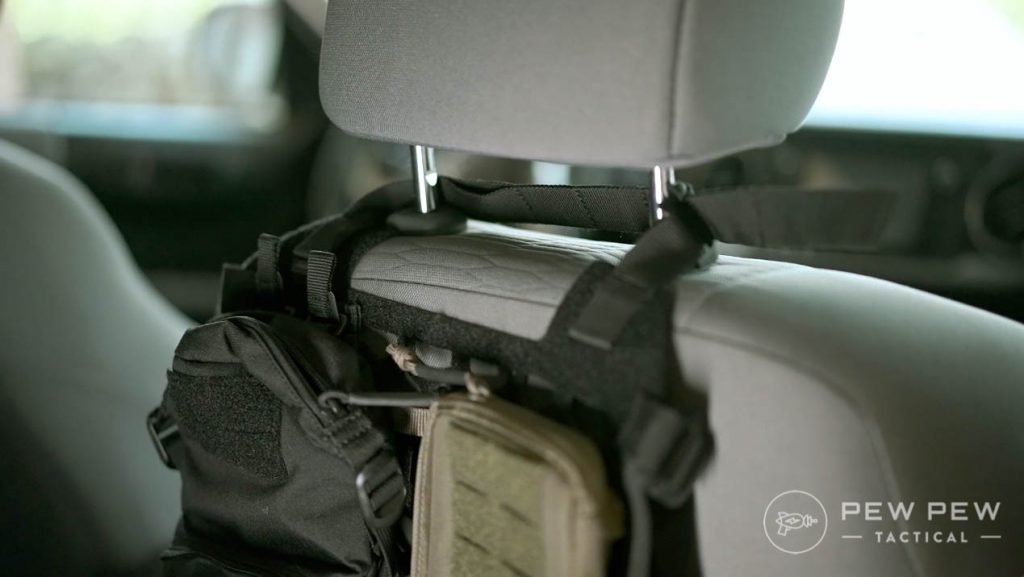 Just throw it over the seat, cinch it down, and you're done.
Ins and Outs
Identical to the grid system found on the back of 5.11's AMP packs, the vehicle grid also features external loop velcro. And it boasts compatibility with other velcro interfacing products and pouches on the market.
You know I'm a big fan of manufacturers who don't force you to buy proprietary stuff to make the most out of their platforms.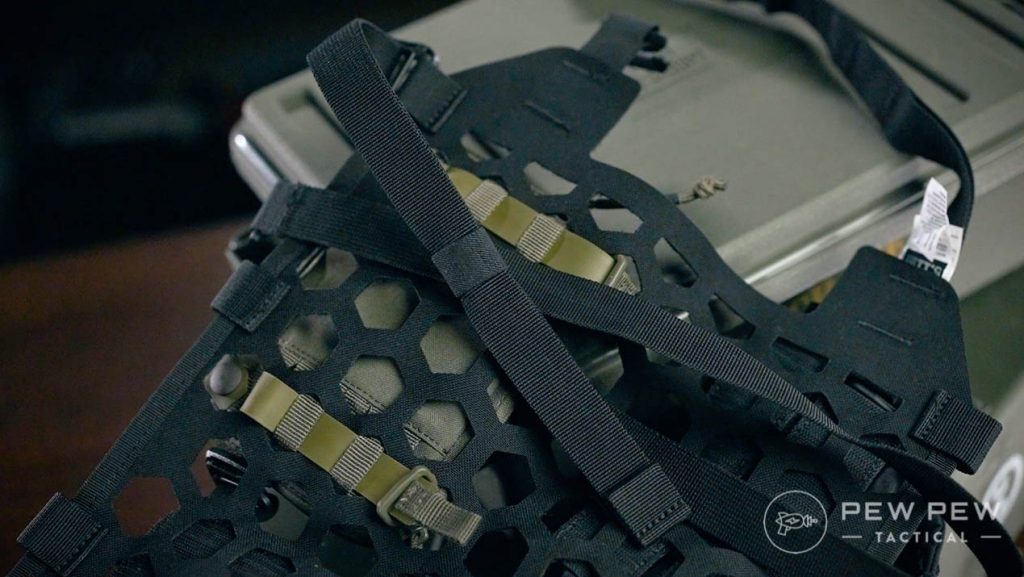 It works great with 5.11's modular "gear set" panels too.
Depending on what you're doing, these provide a great way to keep your things organized – from mags to general bits and bobs to medical supplies.
In this case, I've got a 9×9 Utility Gear Set for general storage. Its internal rigidity means the pouch holds its shape well even when loaded down.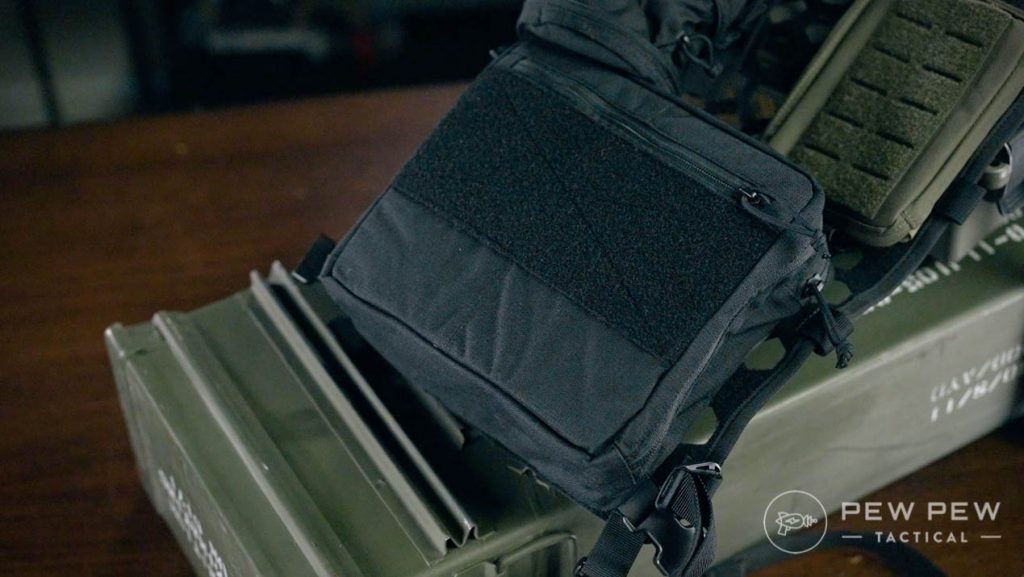 How does that help me?
Well, I can grab the entire panel and go if needed. It's also one of the largest and most varied gear set pieces that 5.11 produces.
40
at 5.11 Tactical
Prices accurate at time of writing
Prices accurate at time of writing
There's ample room for way more stuff than I'd ever personally need to carry for any reason.
But for example's sake, you can fit the entire contents of a Surviveware IFAK, three rifle mags, four pistol mags, and a bunch of tools. So, you get the idea.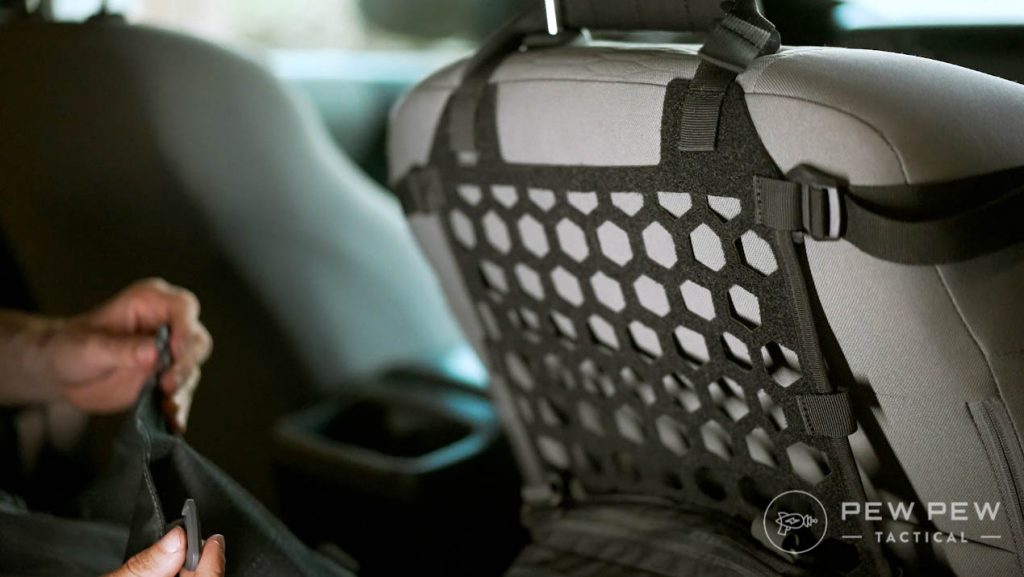 It's probably worth mentioning that most current 5.11 pouches also come with adapters. This allows the MOLLE tabs to be retrofitted and slapped right onto the velcro.
The last thing you want is to be tethered to your car if you need your med kit out and about to deal with an issue. With this design, you can truly take what you need with you.
Coming in right around $45 for just the platform itself, the Vehicle Hexgrid offers a reasonably affordable price.
Downsides
Personally, I'd prefer to see a little more rigidity sewn into the backer on the Hexgrid system. Right now, it's essentially just a scaled-up version of the hex used on 5.11's backpack systems.
While it does the job okay, you're probably going to have to really crank those adjustment straps down to get the entire thing secured.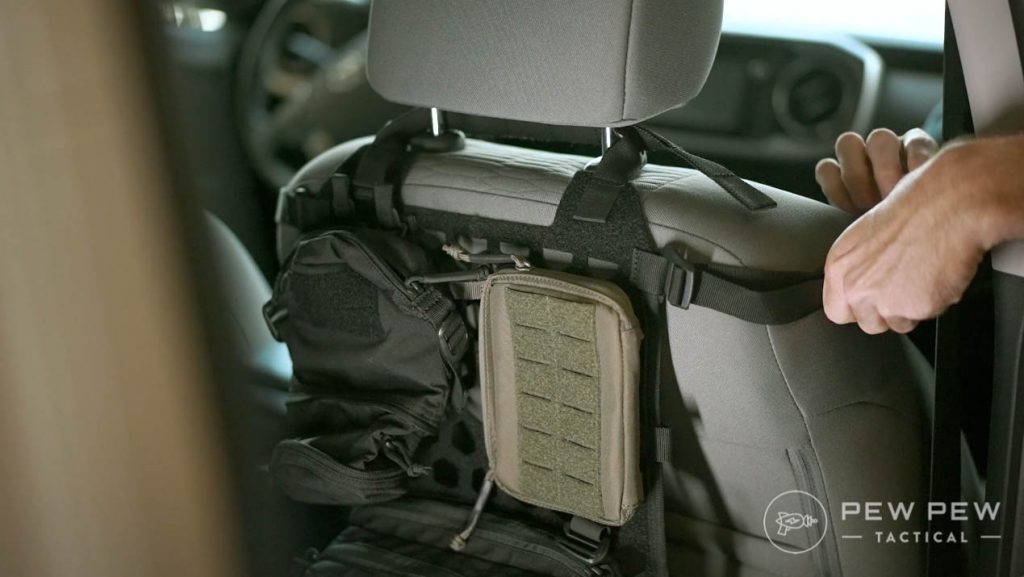 The process of doing so by yourself is a tad obnoxious. But, so it goes.
Secondly, and maybe this is a bit nitpicky considering the territory, but this whole setup is straight-up, not low profile.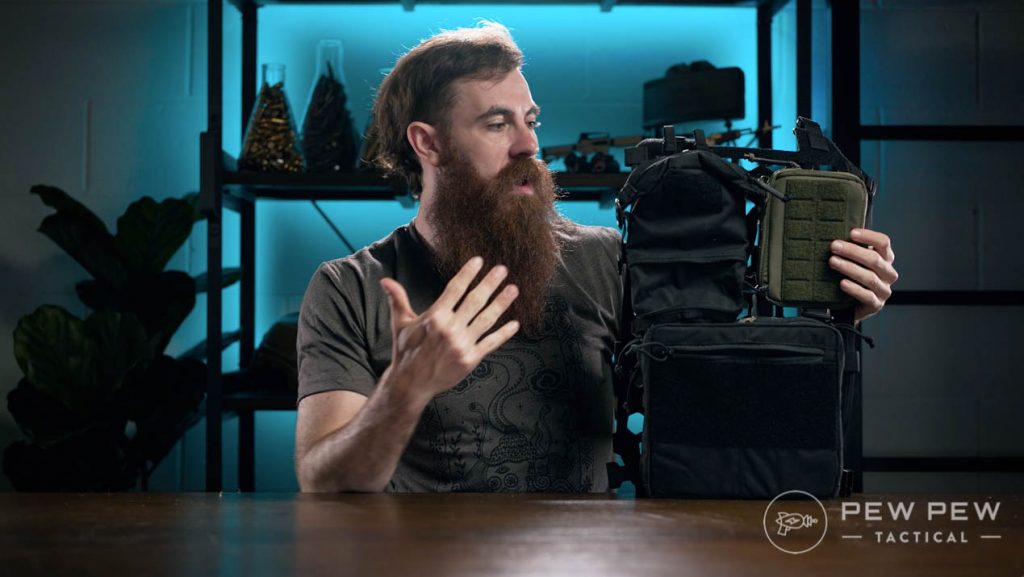 If you're the type that, like myself, prefers not to draw any kind of attention to yourself, this might not be the best system for you.
However, if discretion and the ability to, as the great street poet and philosopher Chamillionaire once put it, "ride dirty" piques your interest – our second vehicle platform from the aptly named Grey Man Tactical might be more your speed.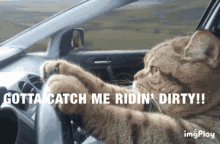 Have you tried the 5.11 Tactical Hexgrid kit? If so, rate it below!
Grey Man Tactical RMP Series
Grey Man Tactical's Rigid Molle Panel immediately addresses some of my minor gripes with 5.11's Hexgrid panel.
The RMP bears a lot more weight without flex or give. It also holds a full-sized rifle on the back of your seat, if that's something you feel the need to do.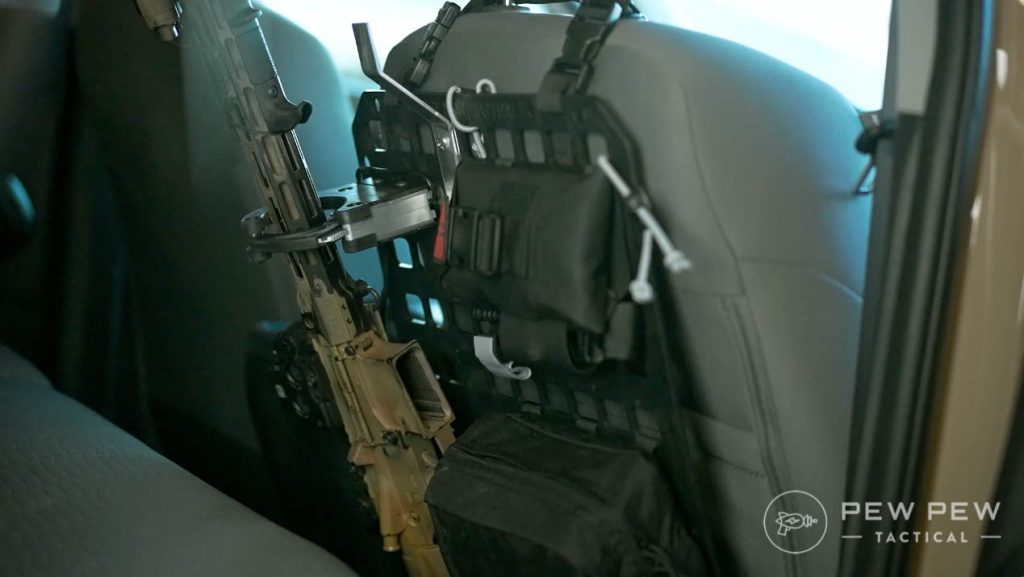 Now, a bit of clarification here.
I'm what you'd call "city folk." Specifically, city folk that live in one of the most populous counties in the U.S.
There is literally no situation in which I'd advocate keeping a gun stowed inside your vehicle for any length of time. Around here, it's a fantastic way to get your piece stolen real quick.
But that said, I also recognize my circumstances are certainly not the case for huge swaths of more rural America.
As a random dude from LA, I'm not rolling to Target with an AR locked in my truck. But if you work on a large acreage ranch or enjoy back-country excursions, a quickly accessible truck gun makes sense.
Worth it to note that "secure" is a relative term here.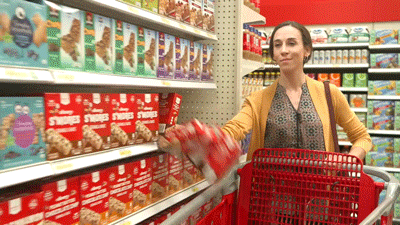 Even the most bombproof locks can and will be defeated by a determined thief with an ample amount of time. In short, do what you want but don't blame us if guns go missing.
With that out of the way, I'm actually surprised at how cool this setup is — even if I don't call into its core demographic.
158
at Grey Man Tactical
Prices accurate at time of writing
Prices accurate at time of writing
Installation
The basic setup and mounting procedure offer some similarities to the 5.11 Hexgrid's panels, but with some key differences.
The Grey Man setup utilizes webbing and Fastex buckles to secure the RMP to the back of your seat. In my opinion, this feels much more secure than just webbing alone.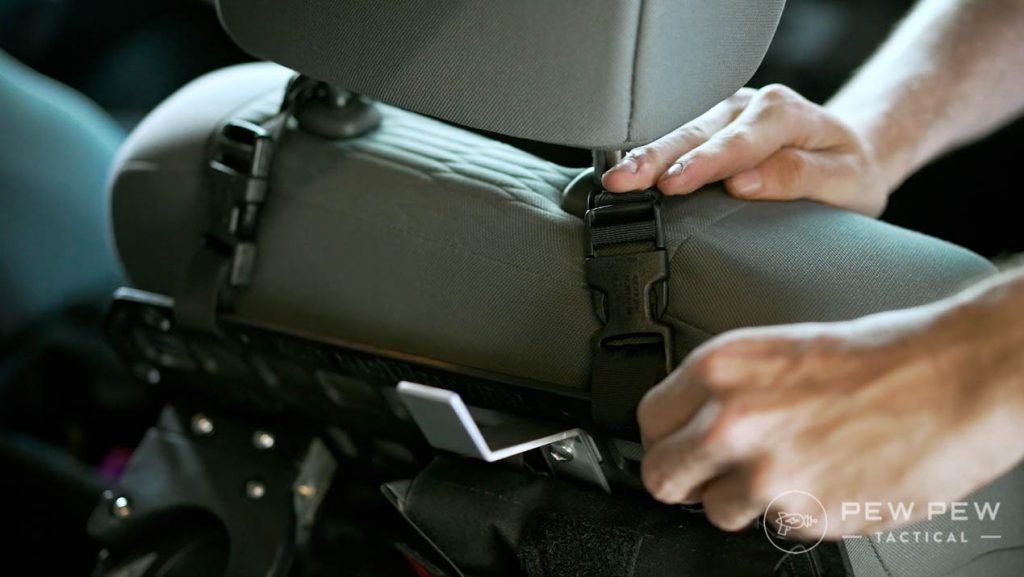 Also worth mentioning, these are some of the gnarliest Fastex buckles I've ever encountered!
They take a much larger amount of force exertion than you'd expect to actually disengage them. That probably makes sense with a gun strapped in, though.
Ins and Outs
The RMP also utilizes Grey Man's unique machined mounting pieces. These give each piece of kit a much more secure method of staying put as compared to just normal MOLLE webbing.
Although pouches can be woven directly to it in the event, the hardware is unavailable or unnecessary.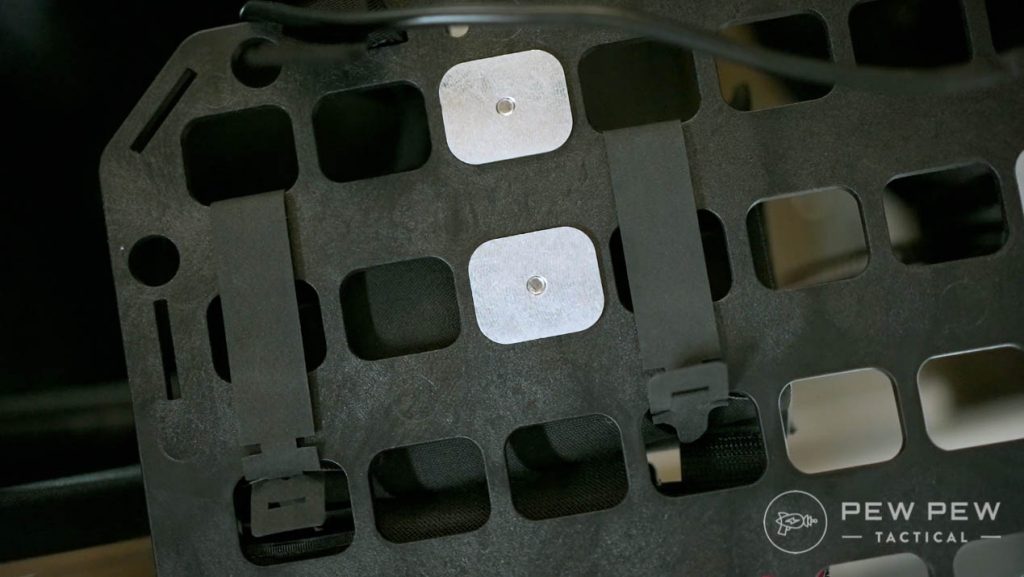 The RMP's polymer surface will readily accept most adhesive-backed velcro strips. But you'll have to cut some to size for those aforementioned velcro-backed pouches.
As for the rifle locking mechanism, a few cool things are going on here.
Straight out of the box, the SC-6 lock comes with a 12v plug mechanism that goes right into your vehicle's cigarette charger.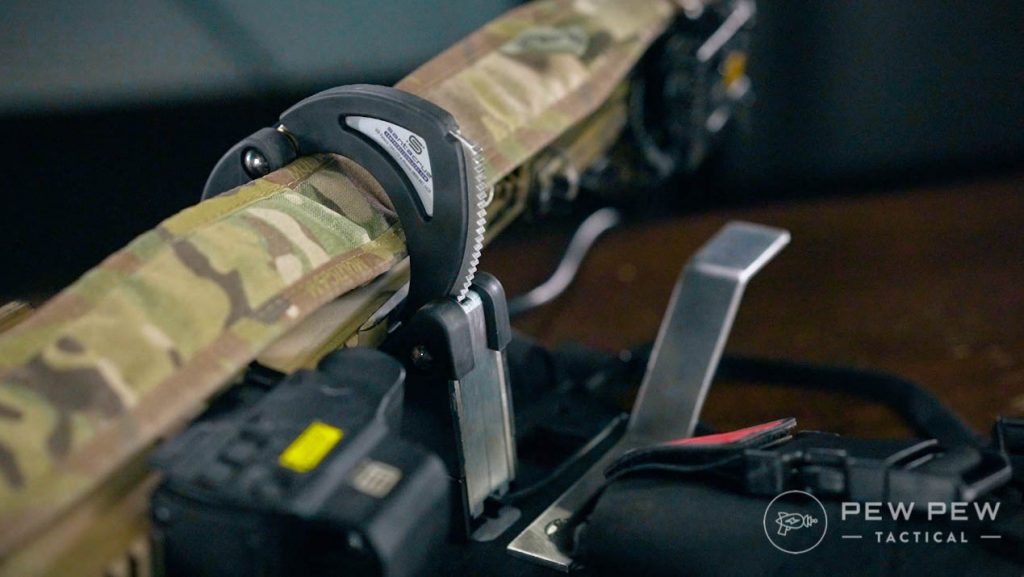 You've got an on/off toggle switch, the release mechanism itself, and then a small dial that controls exactly how much time you've got to release the locking ratchet after it detects a button press.
The entire system took a few tries to nail down in a manner that felt natural to operate, exacerbated by the fact I mounted the RMP directly behind me. Thus I needed to exit the vehicle to grab it and go.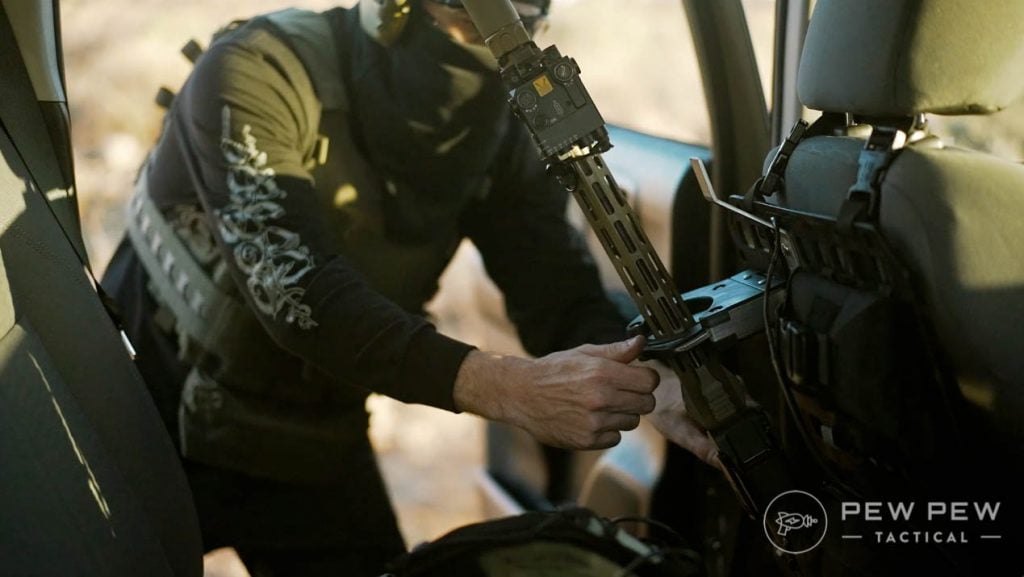 But once you get a feel for it, it's a pretty rad little system!
And if you're handy with a soldering iron, the option exists to hardwire in a hidden momentary contact switch if you'd rather not mess with the cigarette lighter outlets.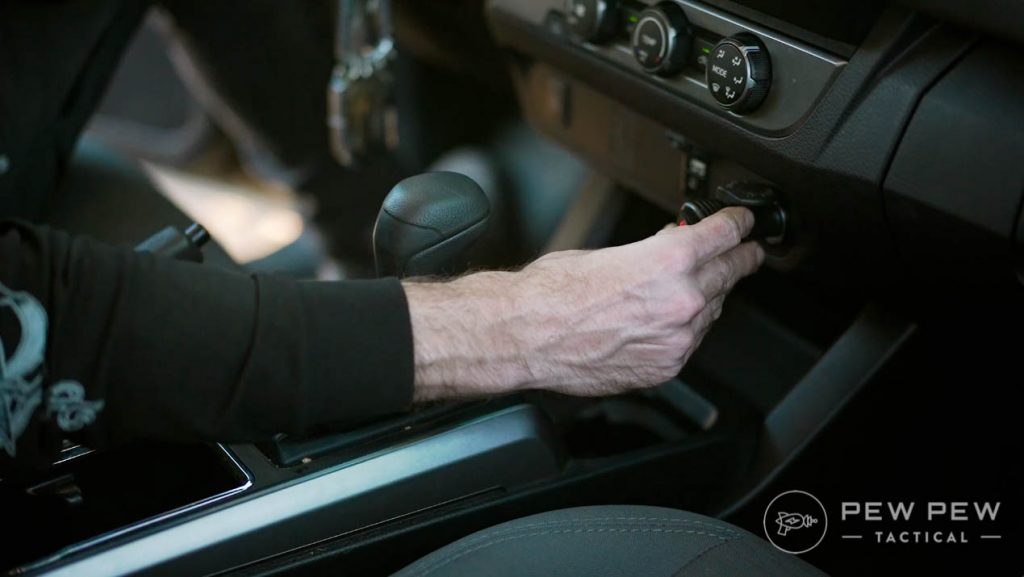 And as one final theft deterrent, you'll want to lock the entire platform down underneath your seat with the supplied cable lock.
This ensures the RMP itself can't just be jacked straight out of the car — at least without some fight involved.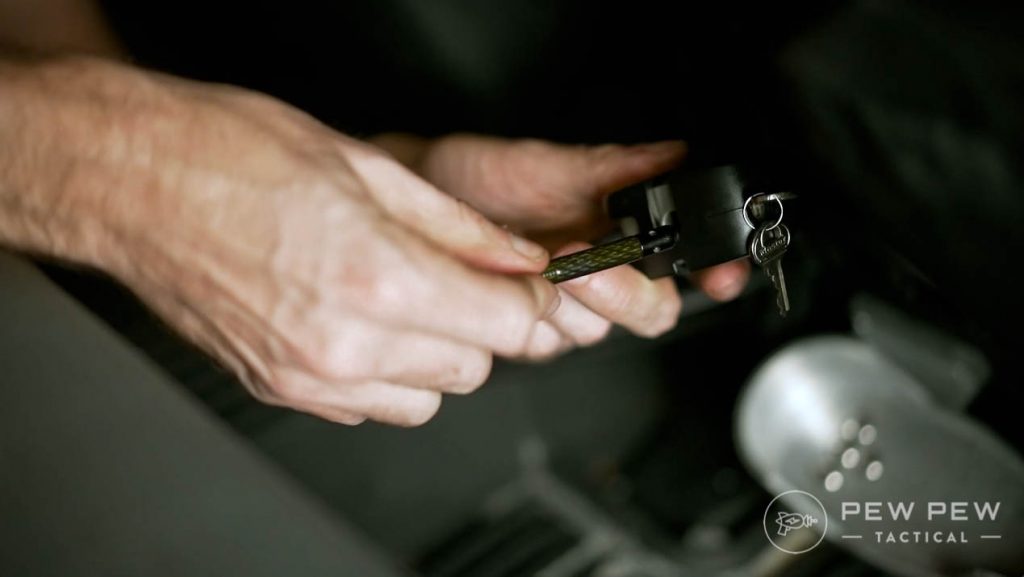 I set the rack up before actually going out and using it, so, forgive the sort of bizarre pouch layout.
As soon as I started using it out in the desert, I immediately identified some needed changes.
If you're the type that needs to have an actual ballistic kit ready to go, there are options to mount a tough hook directly to the RMP. This provides a spot for your plate carrier to live. And a small, unassuming bar gives you a spot to hang a ballistic helmet.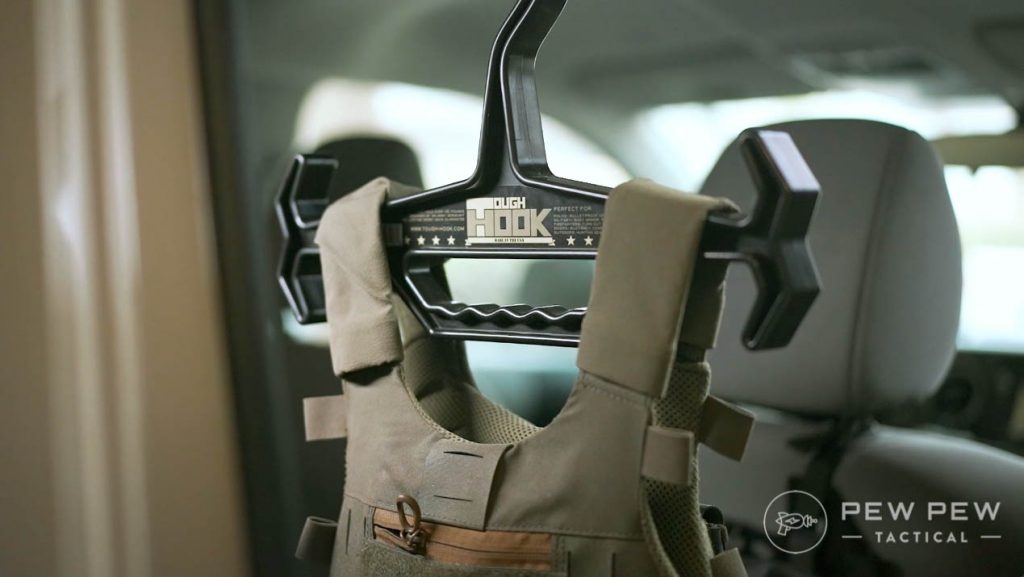 They've even got mounting hardware that mates to the back of G-Code magazine pouches.
The amount of modularity Grey Man managed to build into a pretty simplistic platform is rather impressive.
It's cool to see a company offer various packages that allow you to cater the product to your exact needs from the get-go.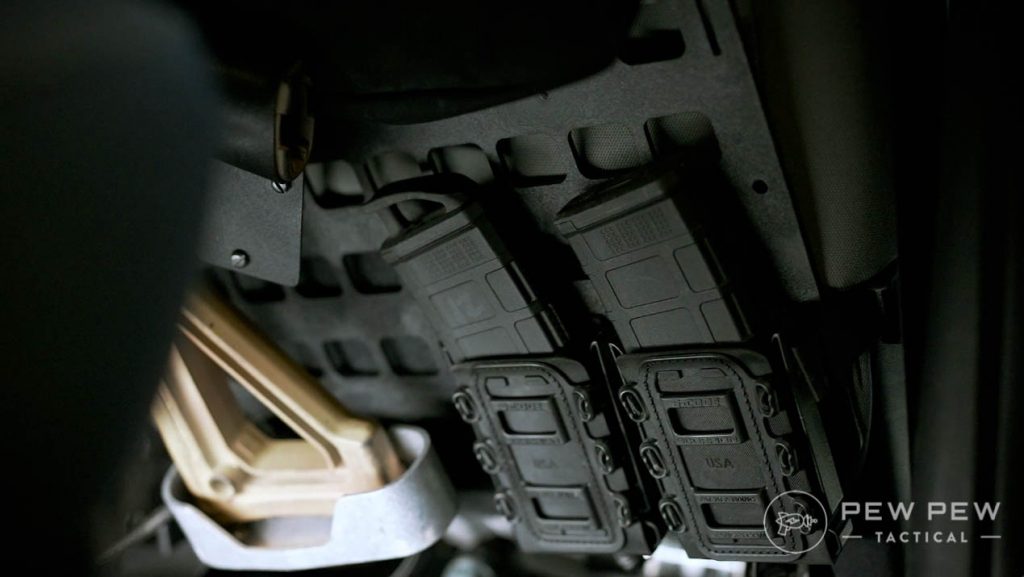 Using the RMP for medical supplies? Well, it's nice to snag one of the loaded LTC IFAKs. No need to worry about stocking up on extra trauma supplies from NARP.
180
at Grey Man Tactical
Prices accurate at time of writing
Prices accurate at time of writing
The locking shock-loop things are one of the coolest pieces of small "quality of life" kit I've seen in a super long time.
Lastly, there's that whole discretion thing I was talking about. Should you need to stay low profile when you're doing your Meal Team 6 runs to Arby's at zero dark thirty, the RMP provides a discreet black elastic cover.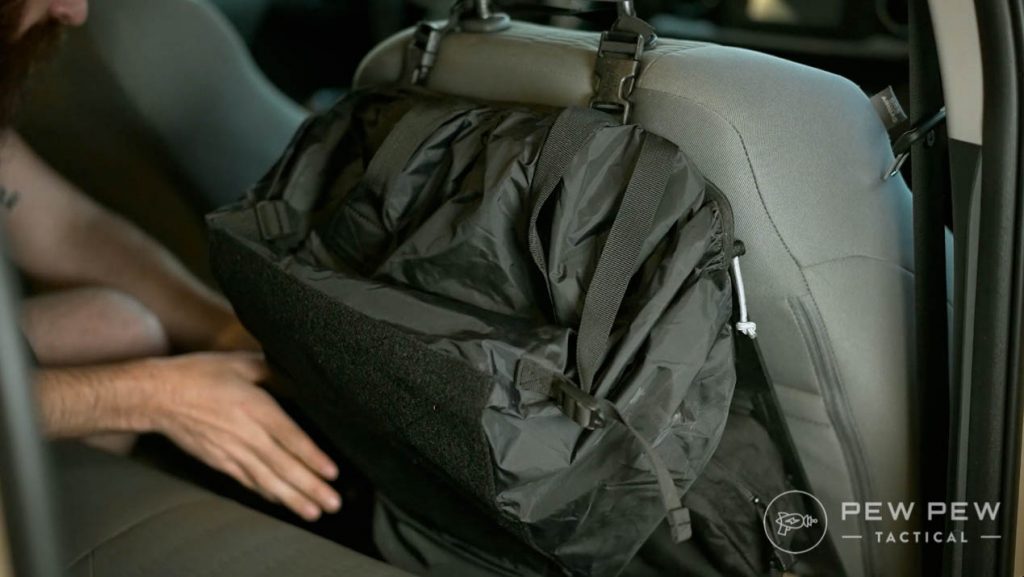 The cover securely snugs down over your whole operator minivan setup.
Downsides
My biggest gripe about the Grey Man — they're products are pretty damn pricey.
The setup will cost you a chunk of change to the tune of a few hundred dollars, depending on which exact items you think you might need.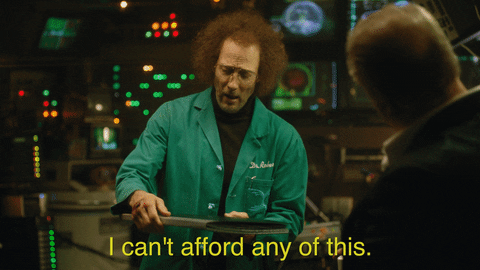 But that's also not incredibly surprising considering the stuff's made here in the U.S., and the hardware's pretty beefy.
Not to mention, you probably want something approaching bombproof if you do decide to keep your gun in the back seat.
Bottom Line
The 5.11 HexGrid Panel and Grey Man RMP are two entirely different products with unique approaches to the same concept of equipping your vehicle for SHTF situations.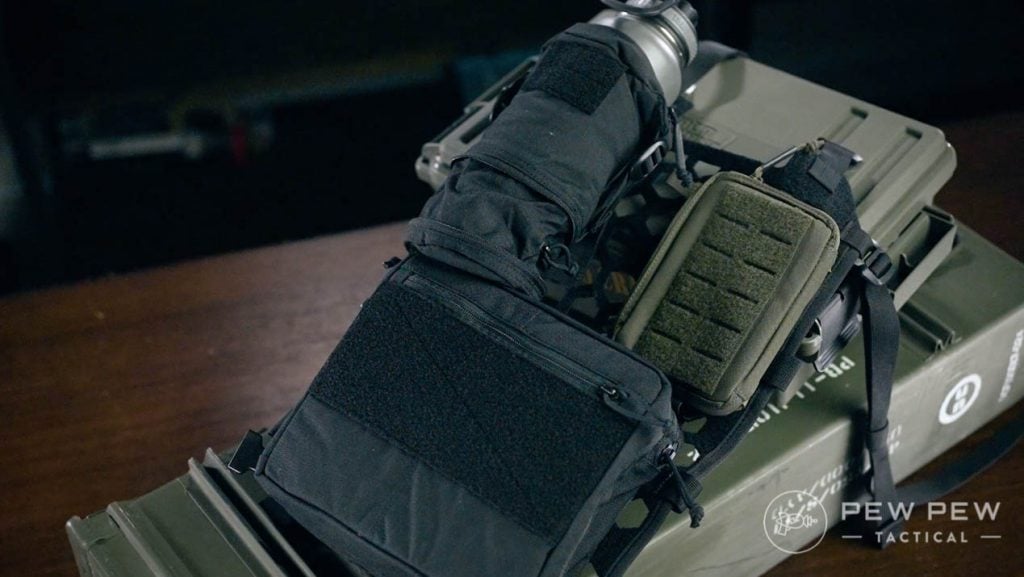 For the casual end-user who might want to carry a few emergency supplies – the 5.11 Tactical Vehicle Ready Hexgrid Seat does the job adequately.
We say that even though it's a tiny bit limited for much more beyond that.
45
at 5.11 Tactical
Prices accurate at time of writing
Prices accurate at time of writing
For folks who need a more rigorous or serious product, the Grey Man RMP is absolutely the way to go.
That is, if your wallet can take that hit.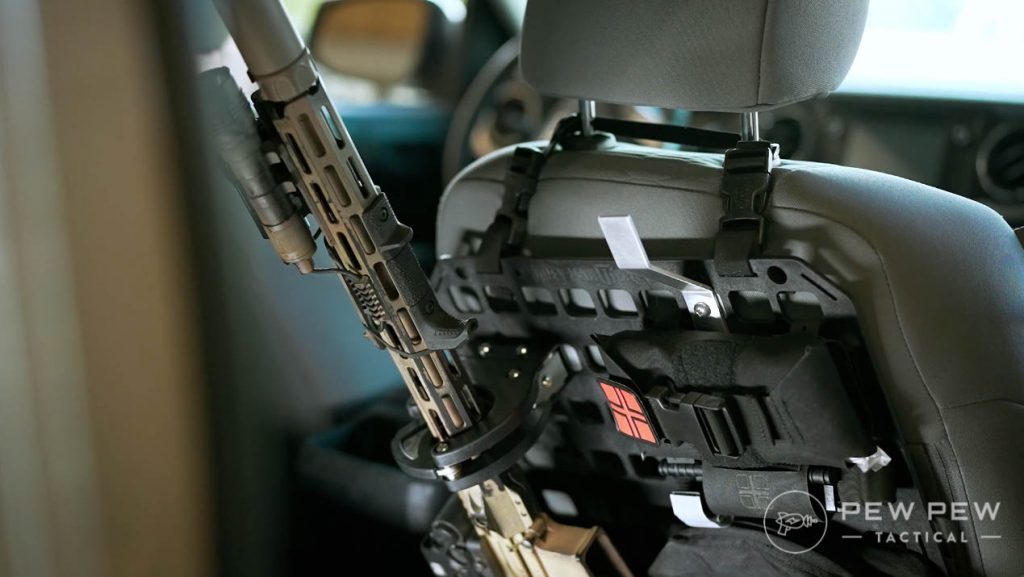 It's definitely the pricier of the two but it comes fully loaded with just about everything you could want and need out of a car kit.
158
at Grey Man Tactical
Prices accurate at time of writing
Prices accurate at time of writing
Conclusion
Both the 5.11 Tactical Vehicle Ready Hexgrid Seat and Grey Man Tactical RMP offer a solution to the car kit problem. Regardless of the one you choose, you will most certainly end up better organized and better prepared.
If you want to see my setup up close, check out the video below.
Which would you pick — 5.11 Tactical or Grey Man? Let us know in the comments below. Need more gear for the car? Check out our Car Survival Kit recommendations.