Ready to move up to a piston AR-15?
I review one of the most popular models out there…Primary Weapon System's MK116 Mod-2M which might be everything you ever wanted.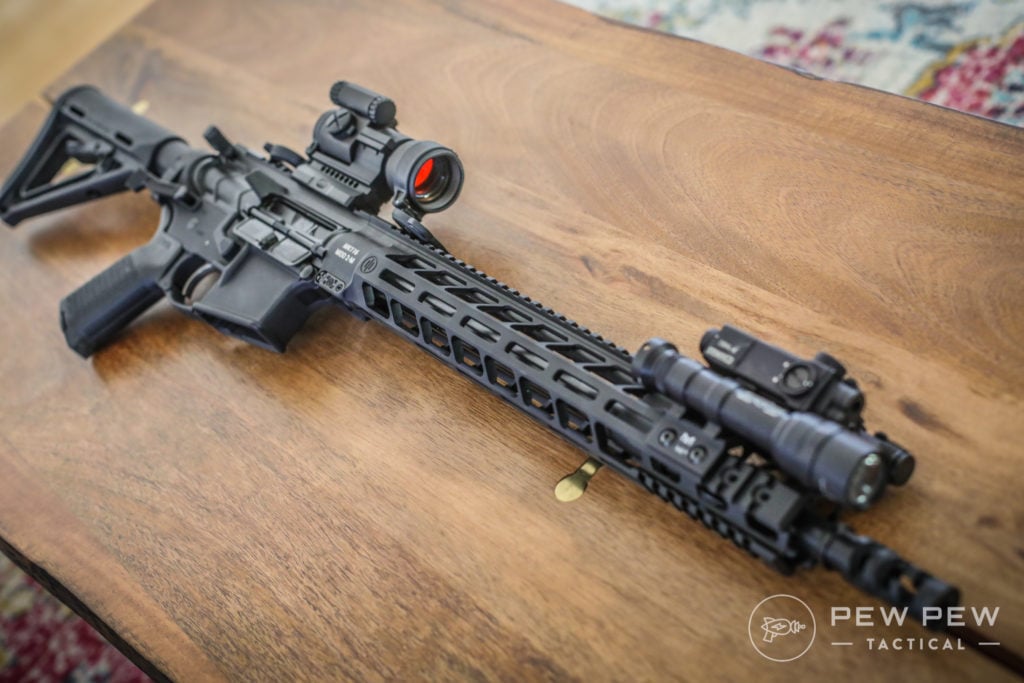 By the end you'll know a little more about piston ARs…and how the MK116 Mod 2-M shoots, its accuracy, and whether it's worth the upgrade price.
1742
at Rainier Arms
Prices accurate at time of writing
Prices accurate at time of writing
Table of Contents
Loading...
Who Is It For?

Someone who wants to have a cleaner & cooler shooting AR system (especially when suppressed)
Someone who wants a

long stroke piston

vs a short stroke piston upper
Long Stroke Piston FAQ
You probably know the basics of piston vs direct impingement (regular ARs).

In direct impingement (DI) systems, the gas is routed via the gas block to the bolt carrier which then moves back with the force.  However…this gets all the exhaust gas and powder into your gun.
With a piston system…the gas moves a piston which moves the bolt carrier.  Therefore only a small area of the piston itself gets dirty.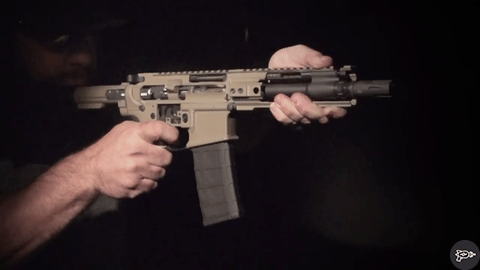 Now…there's different flavors of piston.
First up is the short stroke piston which is where the piston is separated from the bolt carrier.  It's lighter…but with more parts and could be more susceptible to "carrier tilt."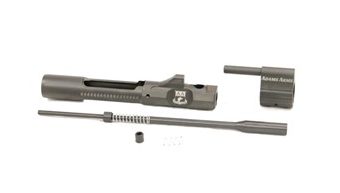 However it's generally the more popular option since you can retrofit a normal AR into a short stroke piston.
With a long stroke piston…the piston and bolt carrier are one.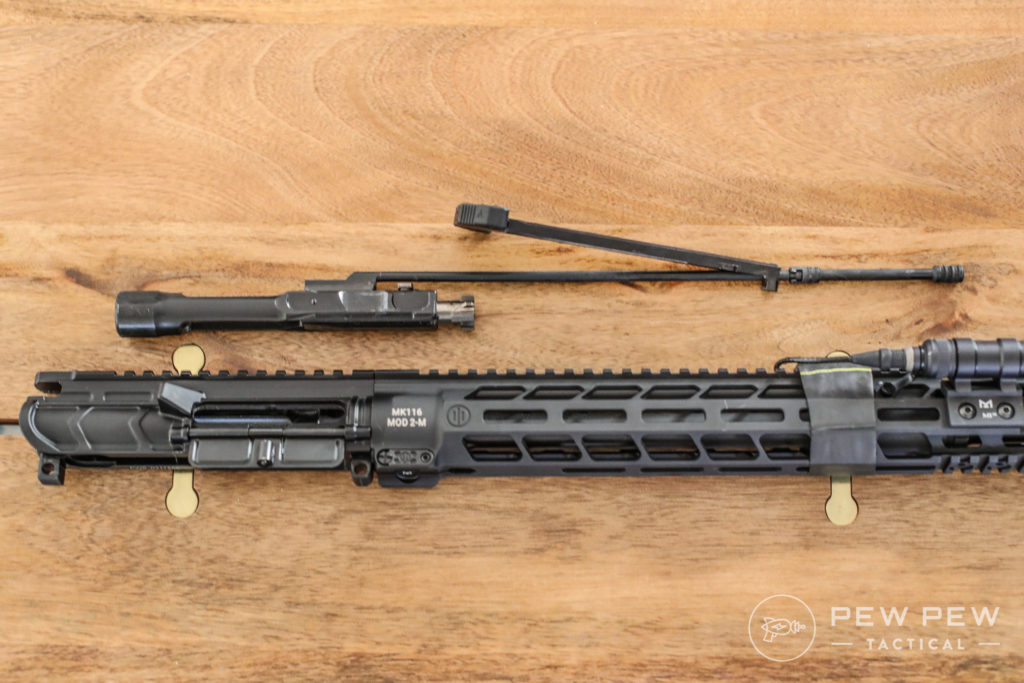 It's heavier in weight and recoil…but there's less moving parts.  Other famous guns that use a long stroke include the AK-47 and M1 Garand.
If you're going for best possible reliability I'm going to hand it to the long stroke.  But if lightness and slightly less recoil is the name of the game…go with a short stroke.  Read more about this at The Truth About Guns.
Fit & Feel
PWS was kind enough to send me their MK116 Mod 2-M upper for testing.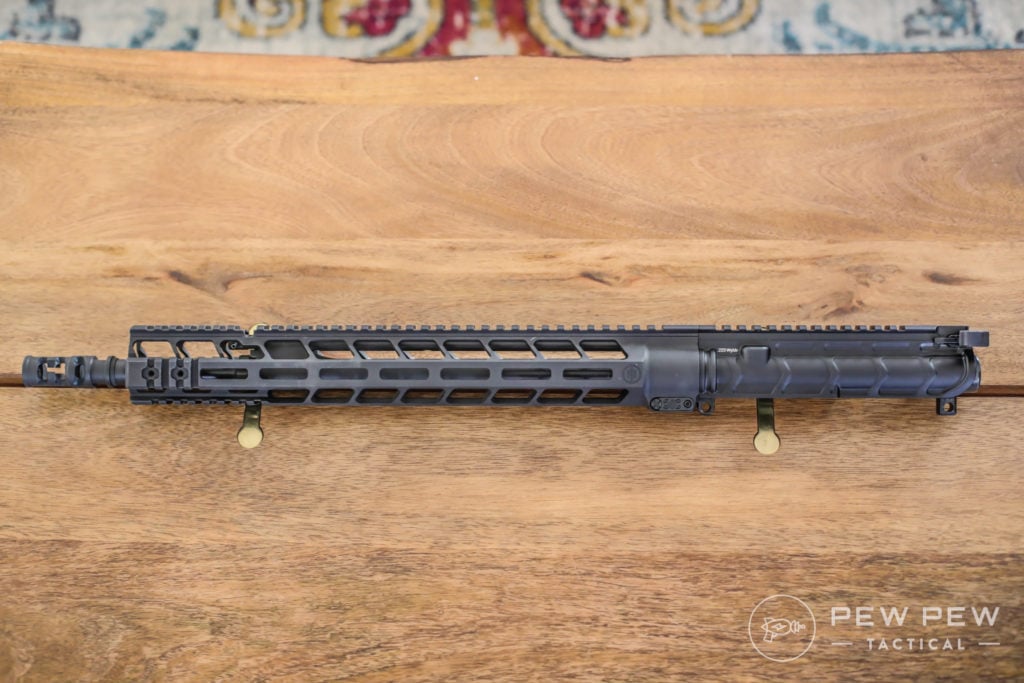 It's their best selling option and meets all my normal criteria for an upper:
16″ barrel for each of adding muzzle devices
Mid-length for softer shooting
12″+ M-LOK handguard
1147
at Optics Planet
Prices accurate at time of writing
Prices accurate at time of writing
Finish was immaculate and what I expect if I'm shelling out over $1000 for an upper by itself.
Plus I love the extra design details on the upper receiver.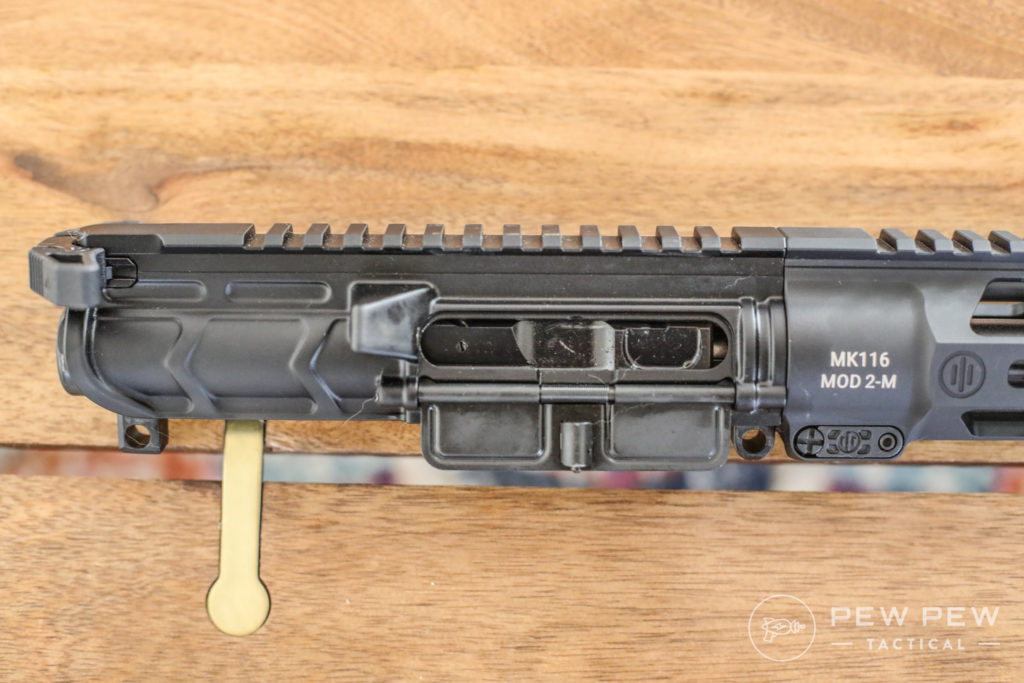 There's no forward assist so if you're in that camp…too bad.
I quickly added on some fun stuff…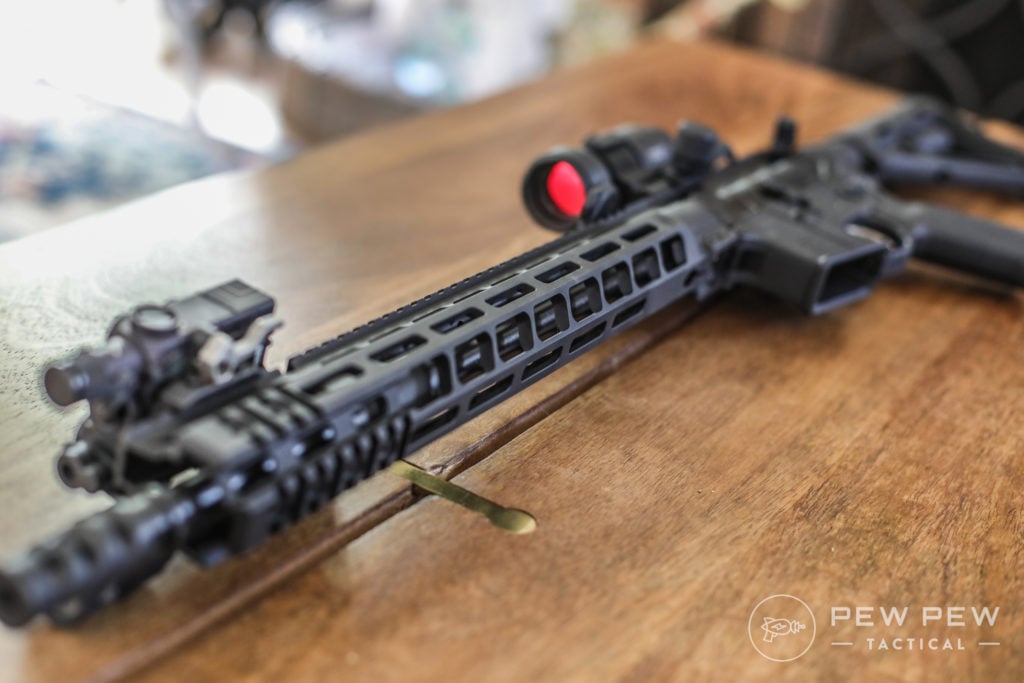 One cool thing about the newest versions of the MK116 is that they come with PicLok free-float handguards which…you guessed it…combine both Picatinny and M-LOK.
The top rail is regular Picatinny…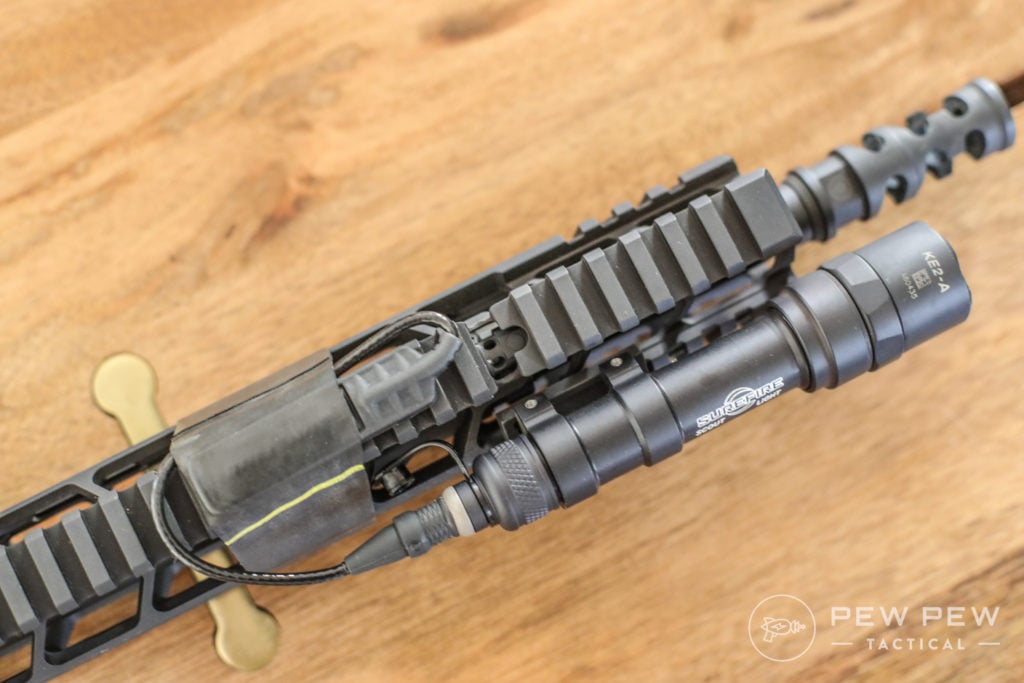 While the other three sides are PicLok.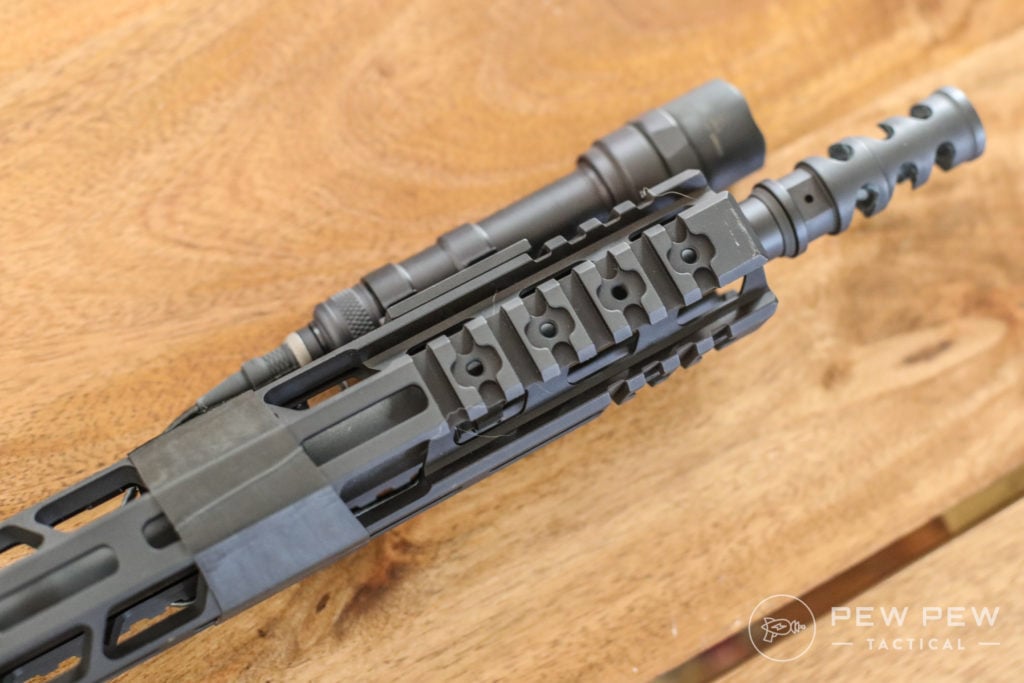 I also went with their 5.56 FSC Compensator…whose design has worked wonders on my AK.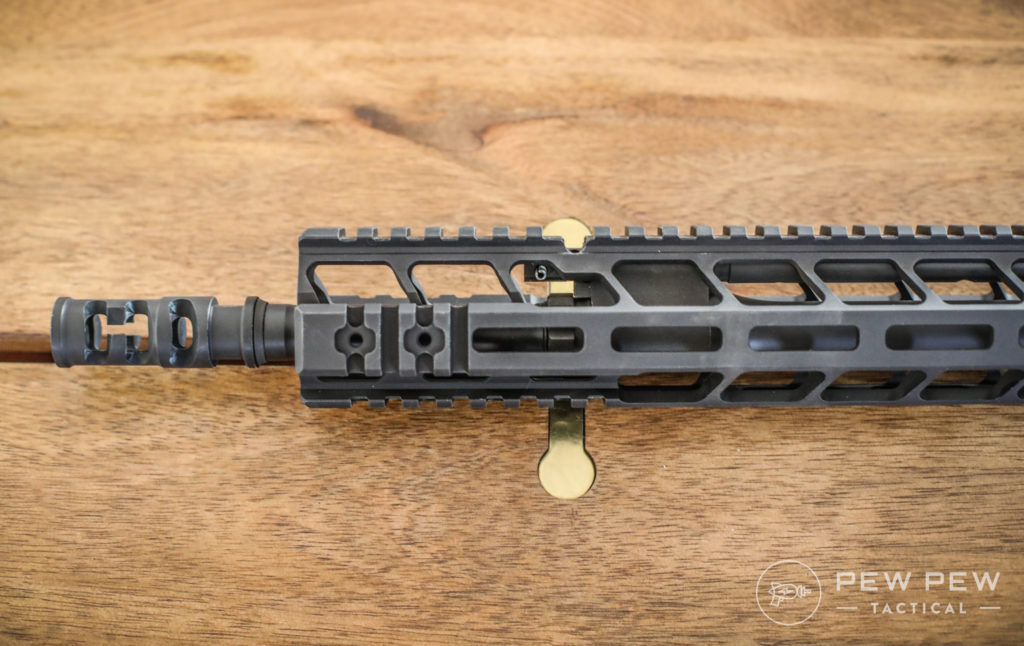 And you've already seen the long stroke piston design.   But here's the BCG again…you can see it's connected to the piston.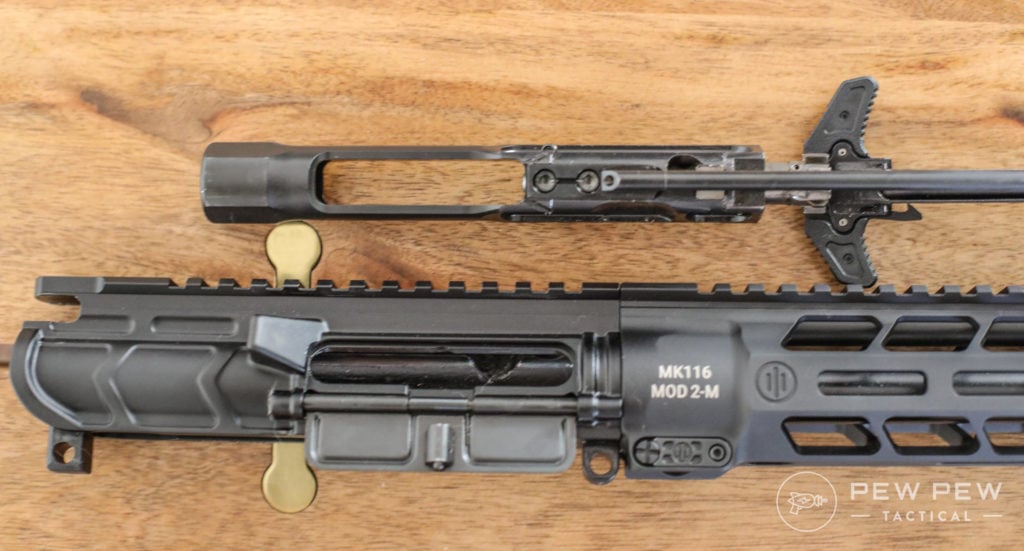 Note that because it's connected…it's slightly more of a pain to remove the BCG and charging handle (which is a Radian ambi by the way).
Not that you'll be doing that very often since I couldn't find much trace of any blowback on the BCG when I took the rifle apart for photos.  Just oil ended up on my fingers…and this was after ~400 rounds.
There's also an adjustable gas system that lets you choose between off, regular, and suppressed use.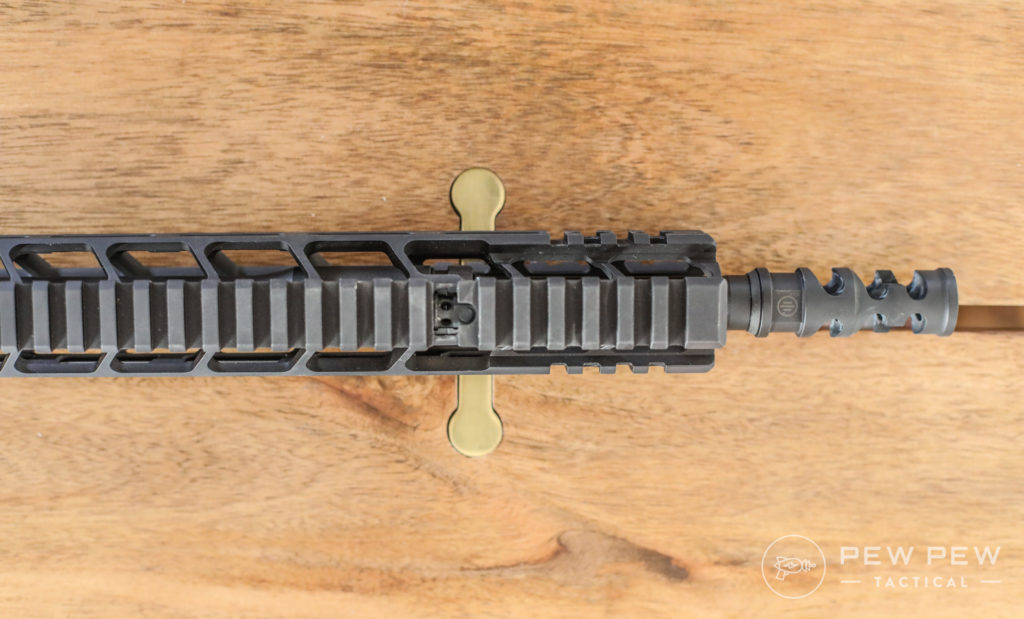 I really wish I could get a suppressor to test it out since that's where it would really shine.  With suppressors there's even more blowback that gets into your breech (and sometimes your face).
A piston does wonders to clean it up.
Now…how does it shoot?
Shootability
A piston gun is going to weigh a little more because you're adding stuff to the front of the gun.
If you're getting a piston gun…it's likely you're already going to have some stuff in the front.  So get ready for a little heft.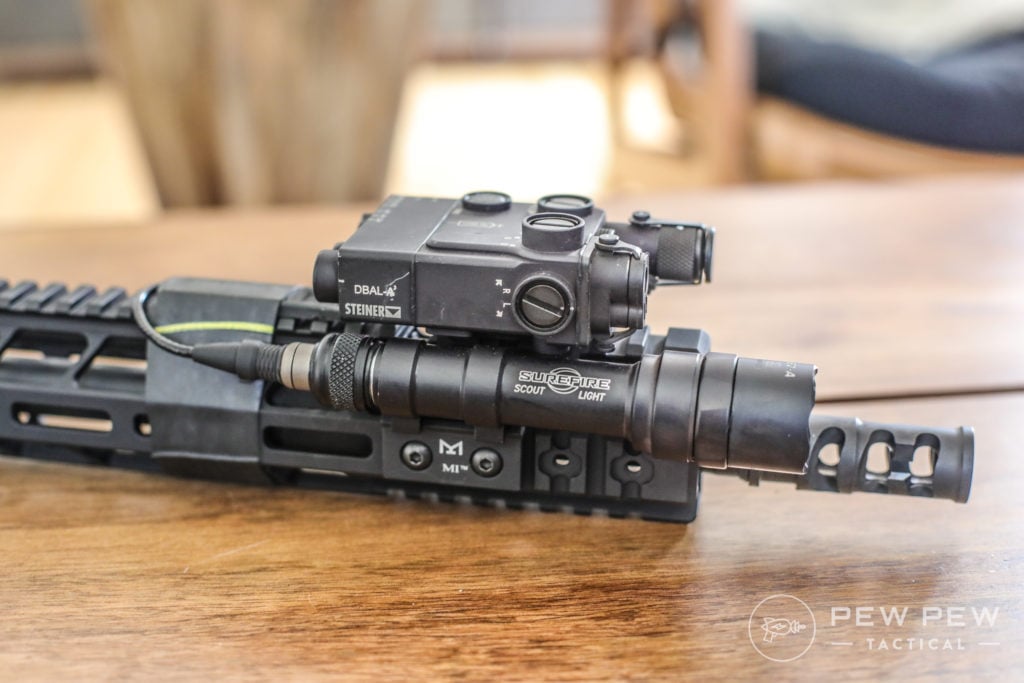 But remember it's a trade-off for reliability, cleanliness, and coolness (the temperature kind).
Here's me shooting it with the muzzle brake for our Night Vision review.
And because there's a pretty large piston moving back and forth…there's going to be increased recoil.
I'd chalk it up to be about 50% more than a normal AR-15 with similar specs.
But once you get used to it…still easy to nail plates at 100 yards standing.
Accuracy
After ~200 rounds of break-in I loaded up my standard AR testing platform.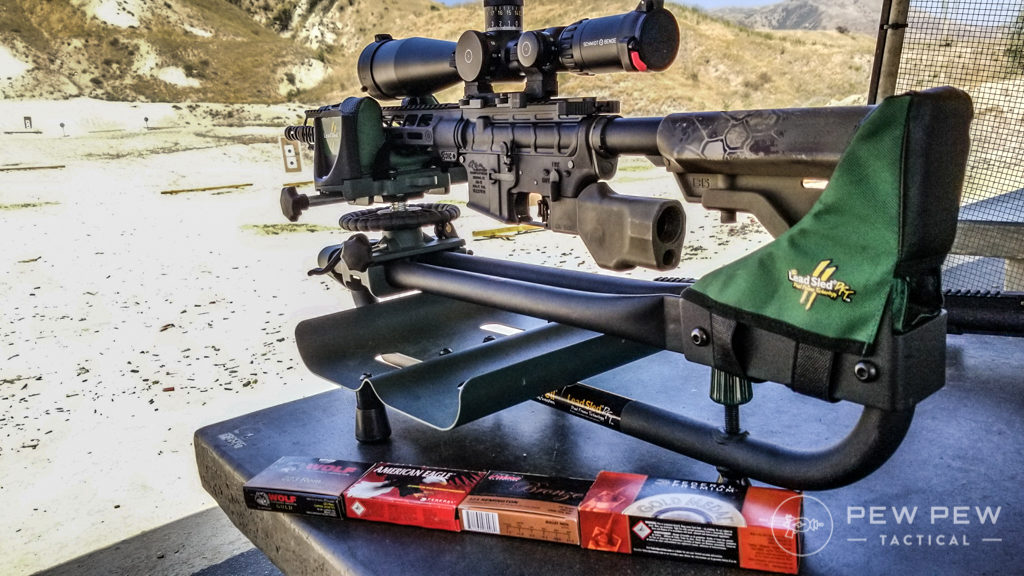 Put the target out to 100 yards.  And shot at a leisurely pace of a round every few seconds.  Let the barrel cool to warm between each string.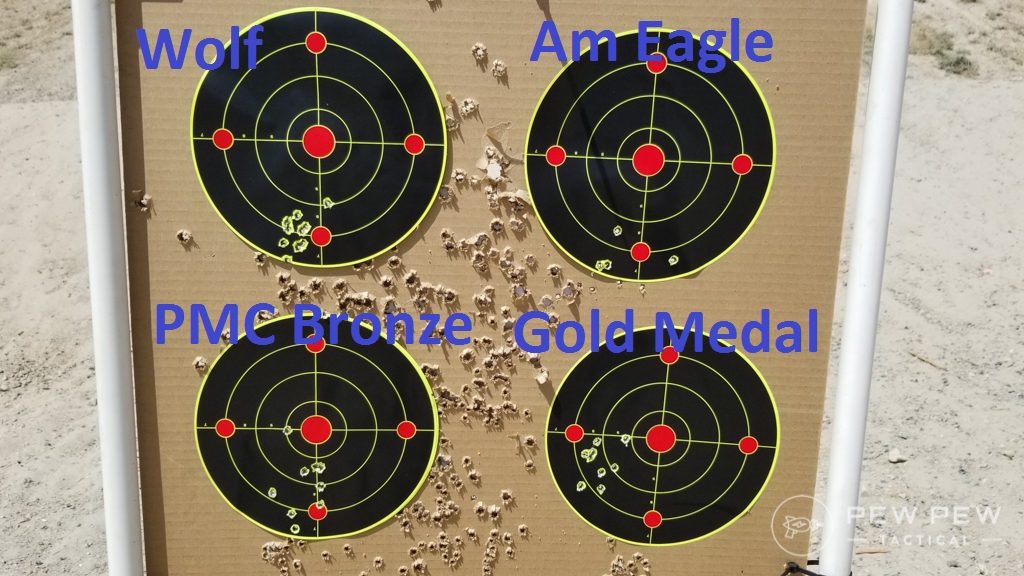 Since there's more moving parts on a piston upper…you're likely never going to attain the accuracy from a regular DI system.
The results were bittersweet…
On one hand they weren't the greatest even for the match Gold Medal rounds.  But the good thing was that my cheapest plinking ammo Wolf Gold fared the best at a little over 1 MOA.
Specifications
Caliber: .223 Wylde
Weight: 4 lb. 8 oz.
Length: 25″
Piston System: Mid-length
Velocity: 2980 ft/sec
PWS long stroke piston operating system
3-setting adjustable gas system
Forged upper receiver
Eliminated forward assist
FSC556 compensator
PicLok free float handguard
1:8 barrel twist rate
Radian Raptor Charging Handle
By The Numbers
Reliability: 5/5
Nothing close to a failure in 400 rounds.  Plus almost no residue on the BCG.
Accuracy: 4/5
Not sub-MOA but if you're going piston you can't expect that for all types of ammo.  Good thing for me is that it shot the best with the cheapest ammo!
Ergonomics: 5/5
Really liked the PicLok rail where you can attach almost anything out there.
Looks: 5/5
Will turn heads with the styled upper receiver and different handguard.
Customization: 5/5
It's an AR-15 with PicLok so you can do almost anything you want.
Bang for the Buck: 3.5/5
On the pricey side for an upper at around $1200.  But as far as I know it's the only long stroke piston AR out there.
Overall Rating: 4/5
Conclusion
It was great fun to shoot the PWS MK116 Mod 2-M upper.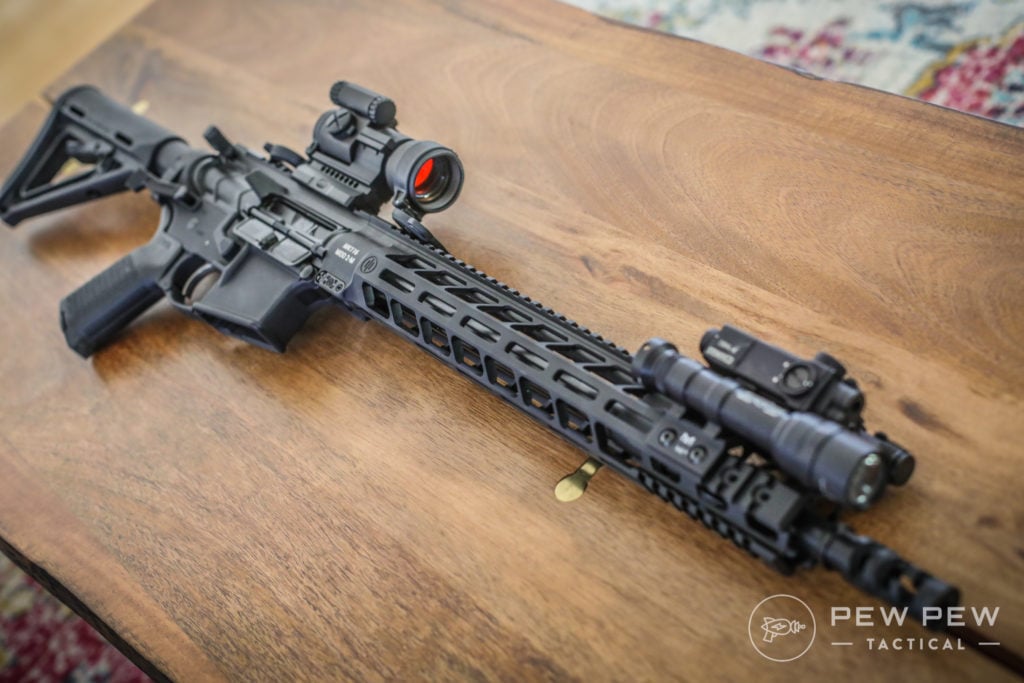 And I'd wholly recommend it if you were going suppressed or want a shorter pistol/SBR length (see all lengths)…since shorter DI systems are finicky.  Or if you just want an upper-tier piston gun.
1147
at Optics Planet
Prices accurate at time of writing
Prices accurate at time of writing
The entire rifle is also up for grabs with a matching lower that makes the whole system look even cooler.
1742
at Rainier Arms
Prices accurate at time of writing
Prices accurate at time of writing
What do you think of the PWS MK116 Mod 2-M?  Are you a fan of long stroke or short stroke piston?  Check out our other favorites in Best AR-15 Piston Uppers and Conversion Kits.