What the heck is an AR-15 dissipator?
To be honest, it sounds like something out of a sci-fi flick. But it's not. It's a real term within the gun world.
By this point, you're likely scratching your head wondering what it means.
So, fear not…
Today, we're tackling AR-15 dissipators to help you get spun up. We'll go over the definition, pros/cons, and whether the design is still useful in this day and age.
Table of Contents
Loading...
AR Dissipator Defined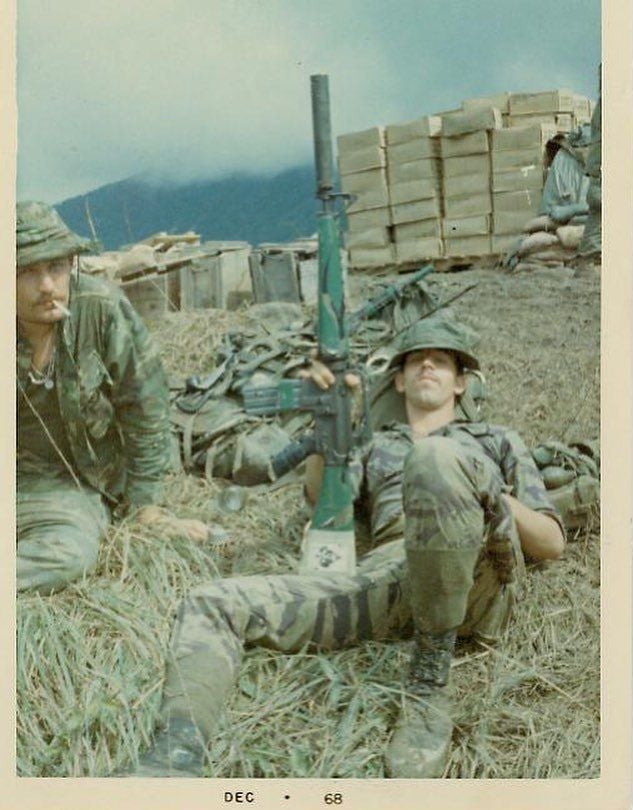 A "dissipator" or "dissy" is an AR-15 with a 16-inch barrel but with a rifle-length front sight post.
There's some controversy about who invented what, but they can first be seen in Vietnam-era photos.
Where does the name come from? The closest clue we have comes from Bushmaster. Colt called it the Model 605, but Bushmaster called it the Dissipator.
Why? Well, their variants utilized heavy profile barrels and heat-reinforced handguards—this dissipated heat.
Thus, the name dissipator was born! Although, I still like the idea of it being a space gun.
Why were they used, you ask?
The concept of the dissipator hinged on two positives:
A shorter barrel allows better maneuverability and weight savings
A longer sight radius allows for better accuracy
How Were They Created?
Original designs were created simply by cutting down existing 20-inch rifles down to 16-inch. However, this led to reliability issues due to changes in the overall timing of the rifle.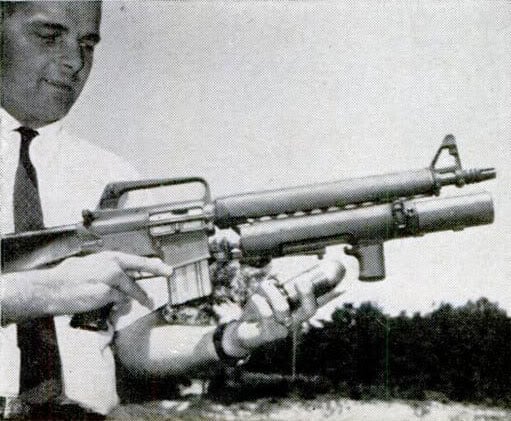 Cutting down the extra 4-inches reduced the "dwell time" which is the amount of time the weapon maintains pressure so it can cycle.
You can think of it as the amount of time the bullet stays in the barrel after it passes the gas port. In the dissipator barrel below, there's almost no length left for the bullet after it passes the gas port which made the weapon unreliable.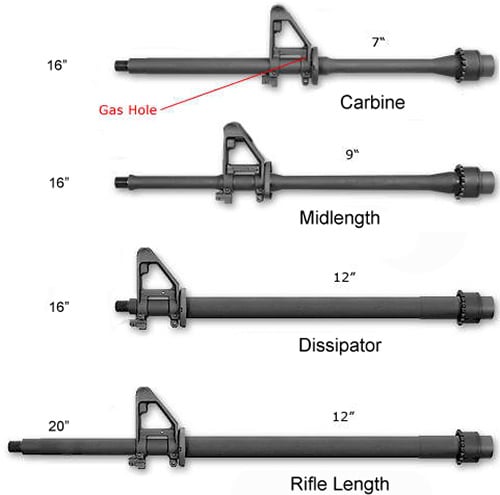 Current Dissipators
Bushmaster came out with the first civilian AR-15 actually called the Dissipator which had shaved-down gas blocks at the normal carbine length and then a "dummy" A2 sight block up in front at the rifle position.
While no longer made new, they can be found on places like Gunbroker.

PSA also offers their mock version of the dissipator with a mid-length gas system.
390
at Palmetto State Armory
Prices accurate at time of writing
Prices accurate at time of writing
However, there are still some "real" dissipators out there with enlarged gas ports and just one real front sight/gas block at the rifle position that have since solved the reliability issues. Del-Ton is the one that stands out.

Pros & Cons
Using a proper full-length rifle gas system, a dissipator provides a smoother overall shooting experience – we're talking about a serious reduction in recoil and muzzle rise.
The longer gas system makes the weapon a lot less violent in its operation.
If you've ever fired a full-length rifle AR-15, then you know the joy of a full-length gas system.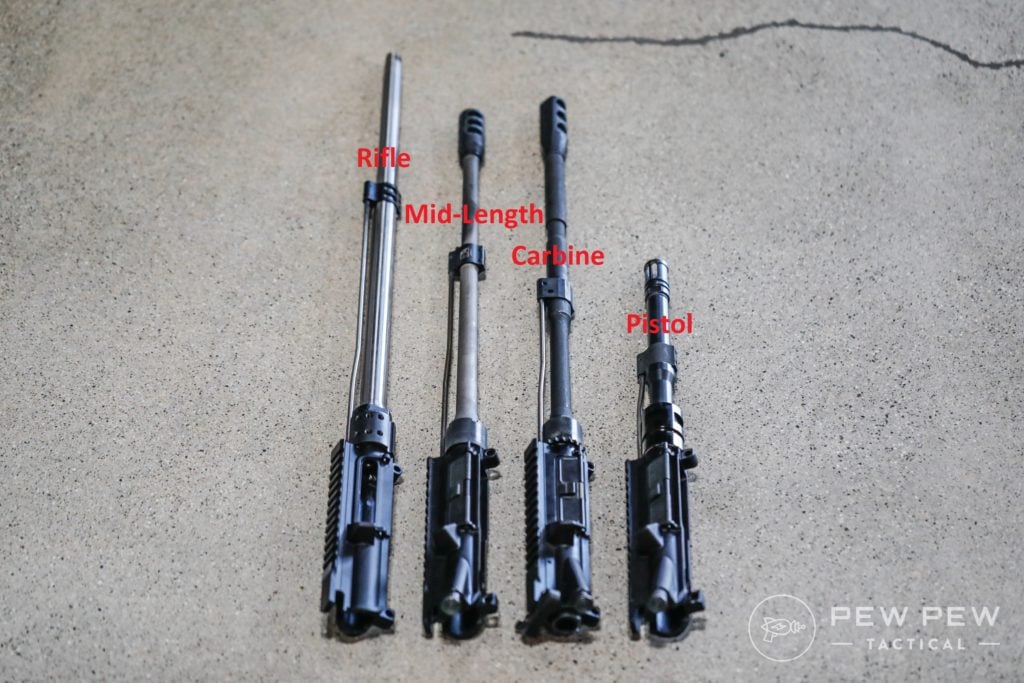 Sure, the loss of barrel drives up muzzle rise and concussion, but a dissipator does wonders for reducing recoil and providing a smoother shooting experience.
The lower recoil and enhanced control make the rifle more controllable.
And the purpose of a shorter rifle is to excel in close-quarters combat, so less recoil and muzzle rise result in a more efficient close quarter's rifle.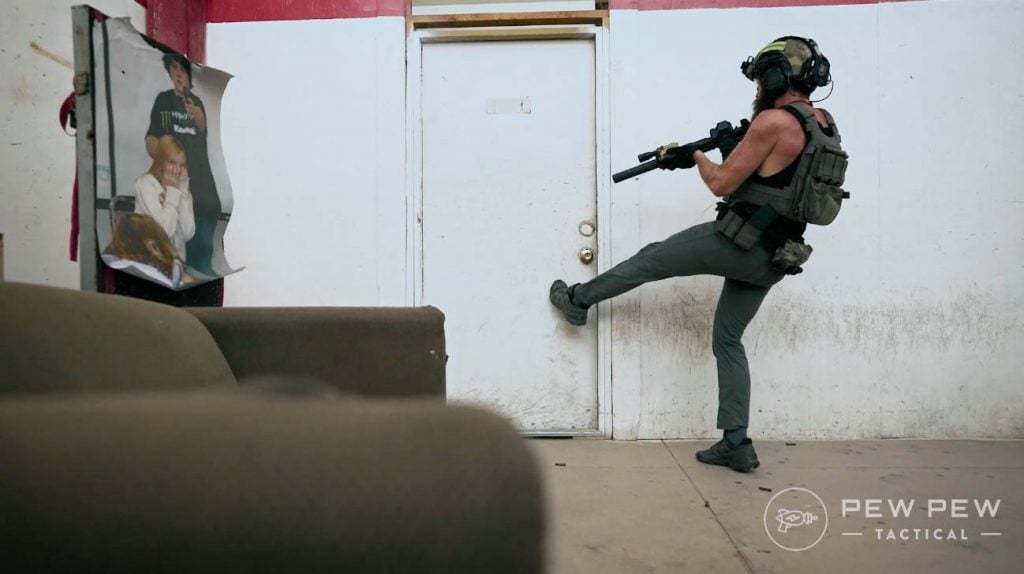 We've already gone through the major pros with shorter barrels and a longer sight radius.
Some other advantages include a longer handguard which allows a more forward hand placement, protection from a hot barrel, and more space to accessorize.
And lastly, they bring an old-school kind of cool that resembles a short-barreled rifle (SBR) from far away.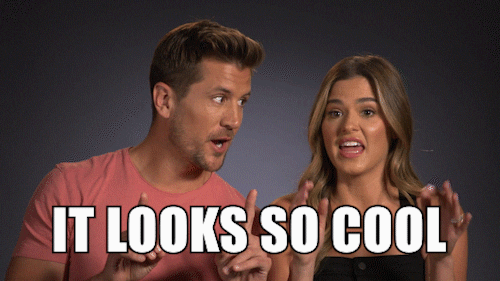 Some of the cons include reliability and weight.
While reliability has mostly been fixed with gas blocks at carbine or mid-length positions, this adds additional weight from "dummy" gas blocks/sights at the front and longer handguards.
But, "real" dissipators with just one gas block at the rifle position also have fixed the weight issue with enlarged gas ports.
How to Make a Dissipator Work
As mentioned, a few companies produce dissipator uppers with mid-length gas systems that work reliably without issue.
The downside is you lose the ultra-smooth running nature of a full-length gas system.
During Vietnam, they couldn't figure out how to make the classic Colt work. Well, they did in one way. Look at the two photos of soldiers wielding dissipators below.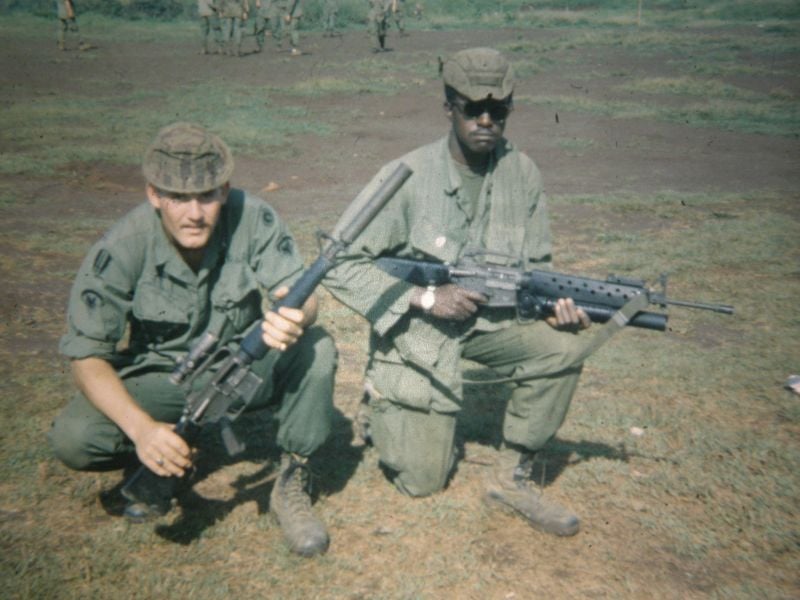 What are they carrying?
Besides the sick drip that is Vietnam uniforms and camouflage…suppressors! Suppressors don't increase dwell time, but they do increase pressure.
Dwell time increases pressure, and if the suppressor increases pressure, then boom, a suppressor makes a dissipator reliable. That's just one way to do so.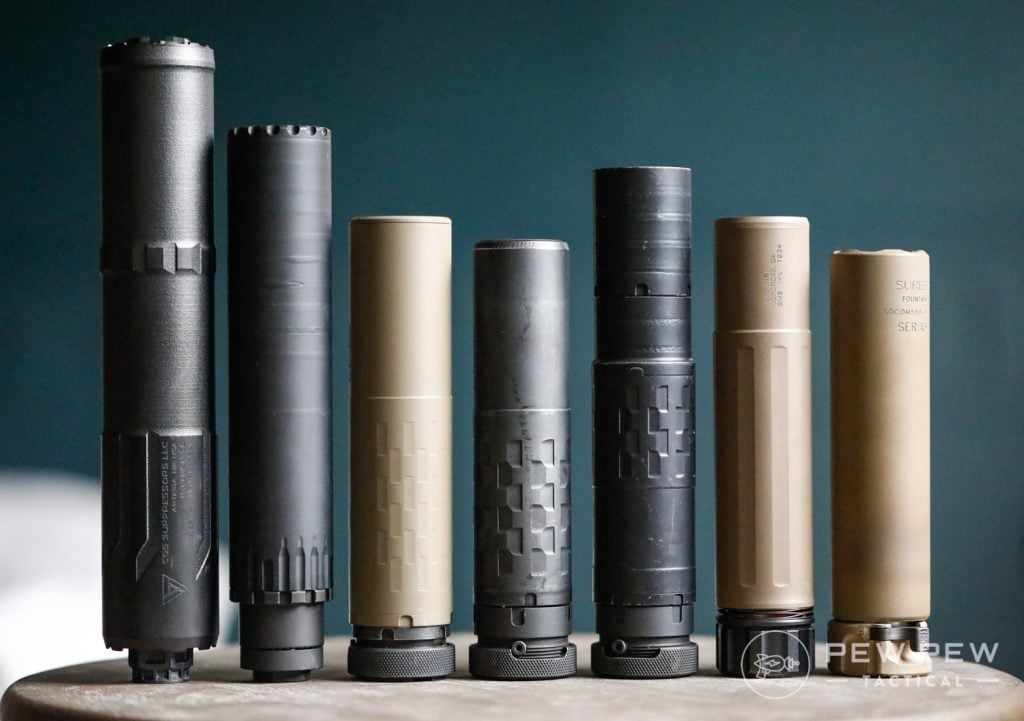 Suppressors are an expensive option that can be restricted in several states. So, the other solution comes from a modern carbine; in some ways, it's a descendant of the Dissipator.
The Navy's finest Mk18 series rifles found a way to make rifles with short dwell times work.
When we look at dwell times, the Mk18 series has less than the Dissipator. Yet, it's still the number one choice of special ops bubbas who need a close-quarters combat weapon.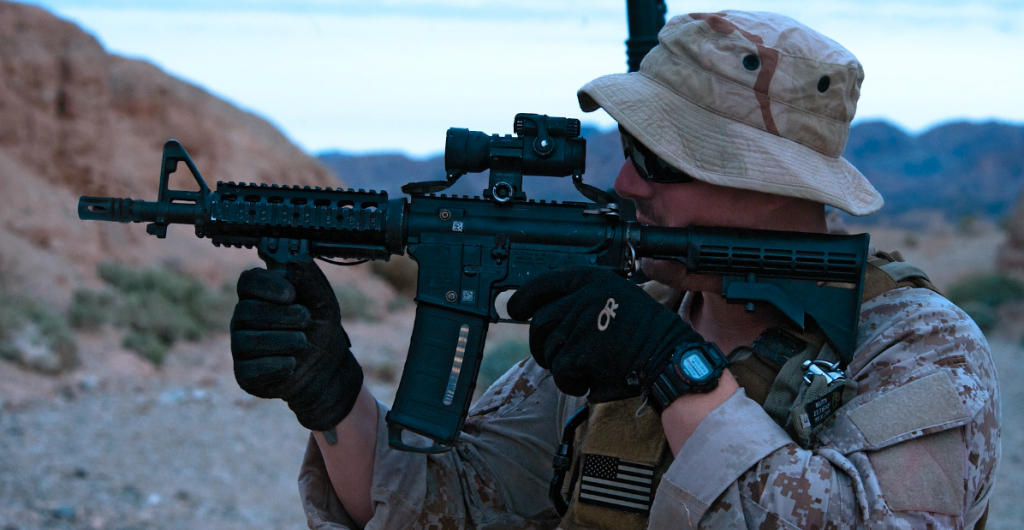 They did something simple and ingenious — opened up the gas port! This leads to more pressure and gas to make the weapon run reliably.
Del-Ton did this as well, making the only true dissipator currently on the market.
439
at OpticsPlanet
Prices accurate at time of writing
Prices accurate at time of writing
This allows you to have a reliable, smooth shooting rifle.
Admittedly, the oversized gas port can reduce the smoothness a touch, but not enough to make it a less enjoyable experience.
Is the Dissipator Still Useful?
With today's free floating gas tubes and shift toward optics, does the dissipator still have a place?
Our answer is yes, if you are ONLY going with iron sights.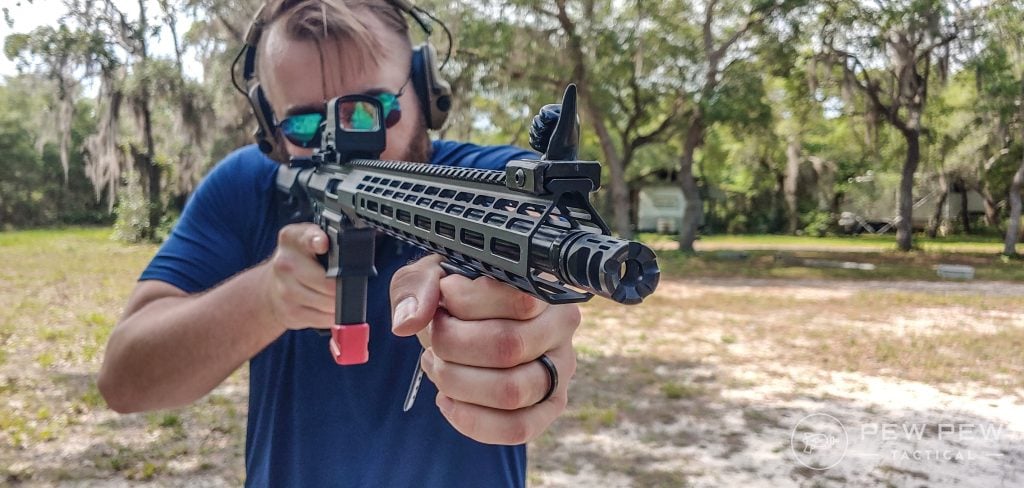 Otherwise, there are too many other options to get the same advantages of a shorter barrel and more accurate sights with a reliable red dot and holographic sights.
Now if you're making a cool clone rifle, then there is always a place for the Dissy. But you should go with one that is properly made so it can be reliable.
Conclusion
While AR-15 dissipators aren't as popular these days as they were during the Vietnam era, they still are a cool feature — especially when viewed through the lens of history.
Did you know what a dissipator was? Let us know in the comments below. Also, be sure to check out our definitive resource for all things AR-15 Rifles.