You never know when you might find yourself in a situation where you need to protect yourself with the use of force.  Because of this, there have been a growing number of people choosing to carry concealed firearms.  But before you start carrying your gun, there are a couple of things you need to know.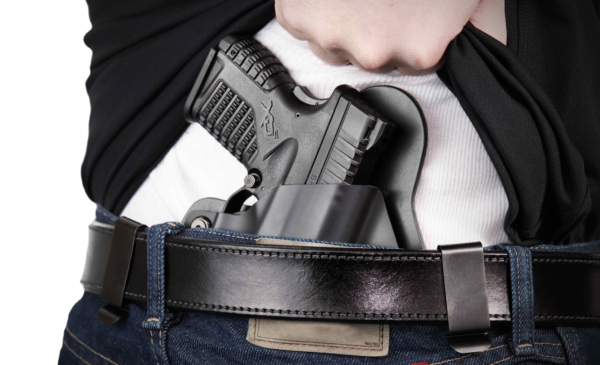 Before you do anything else, you first need to make sure that you're in compliance with your state's laws.  Remember that every state is different and that not all states share reciprocity agreements regarding concealed carry laws.  Your best bet is to look at your state's government website (usually the Department of Justice) or contact a state official for details.  
If you're still on the fence about carrying a weapon, you may also be interested in looking at some reasons why you'd want to concealed carry.  However, if you do decide to carry, I'd recommend getting significant range time in and working with a certified firearms instructor who can teach you how to safely handle a firearm in high-stress situations.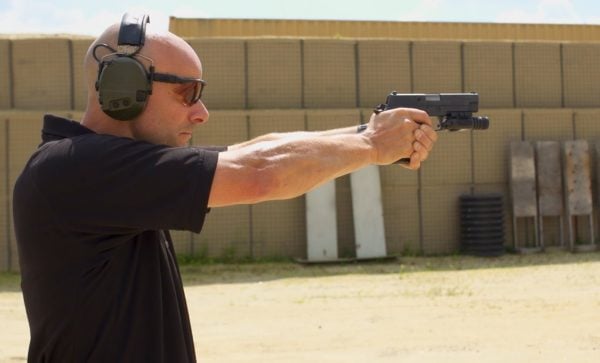 Now that we've covered the formalities, how about looking at some of the different ways to carry concealed?  In this article, I'll cover a few different holsters as well as give you some basic advice with each one.
Let's get started by looking at some holster options, starting with strong-side carry.
Concealed Carrying Methods
The first three concealed carry methods are done by using strong-side holsters.  Strong-side side carry is a popular method that leaves the gun resting high on the waist by the dominant or strong hand.  
1. Inside Waistband Holster
Also known as the IWB, the inside waistband holster keeps the firearm safely secured at your waistband, usually with a clip that clasps over your belt.  The IWB holster is a popular carry method because it allows for the gun to be drawn quickly.  
9
at Brownells
Prices accurate at time of writing
Prices accurate at time of writing
What is nice about IWB carry is that it allows you to carry concealed without wearing a lot of clothes.  This makes it great for keeping your firearm concealed during those hot summer days provides you're working with narrow guns that are medium in size.
2. Outside Waistband Holster
Outside waistband carry is referred to as OWB.  It is similar to the IWB method but keeps the handgun resting on the outside – just like the name suggests.  The biggest benefit of carrying with an OWB holster is that you can carry larger handguns more comfortably while also having similar accessibility to your gun as you would with IWB.
29
at Amazon
Prices accurate at time of writing
Prices accurate at time of writing
One thing to be mindful of when carrying OWB is clothing.  Since you're carrying concealed, you need to make sure that you're wearing long garments that are able to cover your weapon even when you bend over or extend your arms.
3. Belly Band Holster
If you're looking for maximum coverage then the belly band method is an excellent concealed carry method.  The belly band holster is an actual band that is wrapped around your midsection.  It has an inside pocket for your firearm and when worn, your gun is pressed closely against your middle.
50
at Amazon
Prices accurate at time of writing
Prices accurate at time of writing
The main benefit of the belly band is that it offers incredible coverage, making your gun practically invisible.  However, since you'll be wearing the band underneath your shirt, you probably won't be able to access your firearm as quickly as you would with IWB and OWB options.  With that said, most belly bands also come with additional pockets where you can store extra magazines, which I find to be incredibly useful.
Another thing to think about when wearing the belly band is whether you're naturally a sweaty person or not.  Since this concealed carry method presses your gun close to your body, it could become more difficult to draw your weapon if you're covered in sweat.  For this reason, you'll want to make sure that your belly band is made from a high-quality waterproof material that can withstand wet conditions.
---
The benefit of strong-side carrying is that your gun is easy to access without having to reach across your body.  I also like strong-side carrying because drawing your pistol is done with the most basic of movements that anyone can master with a little bit of practice, which I find to be incredibly useful if you need to use your gun in a high-stress situation.
Now let's look at some other ways to carry concealed.
4. Shoulder Harness
The shoulder harness holster is the traditional holster that you see in all of the old cowboy movies and James Bond films.  In this carry method, the holster is worn over the shoulder with your gun holstered and suspended underneath your arm.  The benefit of using the shoulder harness is that it makes carrying bigger handguns more comfortable.
91
at Amazon
Prices accurate at time of writing
Prices accurate at time of writing
Shoulder holsters come in three styles named after the way the gun rests in the holster:
Angled – muzzle is angled upwards, making it relatively quick to draw.

Horizontal – gun is drawn by pulling it straight across the body.  While it's faster than the vertical, it works best with guns with short barrels.

Vertical – muzzle is pointed down.  Generally the slowest way to draw but is the most accommodating for large-sized guns.
One thing that I like about many of the shoulder harness holsters out there is that they come with a built-in pouch on the other side of the harness (opposite the gun) where you can carry extra magazines.   Also, many of the vintage shoulder holsters have a really stylish look to them.
However, you may want to reconsider using a shoulder harness as your go-to method of concealed carry you're carrying in incredibly large hand cannon or spend most of your time sitting down.  Not only is it relatively easy to snatch guns from your run-of-the-mill shoulder harness in an hand-to-hand situation, drawing your weapon also requires reaching over to the opposite side of your body.
5. Pouch Carry
In the pouch carry option, you wear a glorified fanny pack that your gun rests in.  The benefit of pouch carrying is that you're able to stick more items in this pouch strapped to your side, but the downside is that it provides minimal accessibility as you have to take the time to open your pouch to draw your weapon.
73
at Rainier Arms
Prices accurate at time of writing
Prices accurate at time of writing
Another downside to pouch carrying is that it ends up drawing unnecessary attention.  Even though your gun is not actually visible, people will notice that satchel attached to the side of your pants – especially if it's a pouch made by a gun manufacturer with the brand name printed across the front!
6. Ankle Carry
The ankle holster is the perfect way to comfortably carry a backup pistol and keep it concealed.  The thing you need to consider when strapping a gun on your ankle is concealability.  First, you need to make sure that you have pants big enough to conceal your gun, so leave those Wranglers at home and stick to a compact gun.
51
at Brownells
Prices accurate at time of writing
Prices accurate at time of writing
Additionally, you also need to make sure that you wear a pair of pants that are easy to roll up.  After all, you don't want to be stuck struggling to access your holster in because your pants leg won't budge.
Personally, I'm a fan of the ankle carry option as a backup.  With that said, it's not smart to ankle holster your primary weapon due to how slow and unnatural it will be to draw the gun.
7. Pocket Carry
If you've got a compact pistol and aren't wearing tight pants, you may want to think about using a pocket holster.   Great for guns like the .32 and .380, pocket holsters keep your pistol safe and secure while resting comfortably in your pocket.
15
at Amazon
Prices accurate at time of writing
Prices accurate at time of writing
The benefit of using a pocket holster is that it's comfortable and easy to conceal, but you're limited to small pistols that can easily slip into a pocket.  
That's a Wrap
Now that we've looked at different ways to conceal carry, let's go over a couple things to remember:
Don't draw the gun with your finger on the trigger.

Don't carry your weapon into places where you're not allowed to.

Make sure to keep your gun as concealed as possible if open carry isn't permitted.
And if you're a woman who's thinking about carrying a gun, be sure to check our women's concealed carry guide.
When shopping around for holsters, you want to find one that fits comfortably and keeps your gun secure.  Aside from that, just make sure that you practice drawing your gun until it comes second nature.