Even if you are not a milsurp guy or gal, you're gonna like this one.
It's the one 20th century rifle that everyone should at least consider owning: the Swiss K31.
From watches to rifles, Swiss machining is legendary for quality, precision, and beauty.
The K31 exemplifies all of these!
We'll cover our usual review topics of accuracy, shootability, reliability and more. PLUS some tips on how to get the best K31 for your money.
And wooh, we got a full video review too from our YouTube Channel:
Table of Contents
Loading...
Popularity
The Swiss K31 has surged in popularity in recent years, and with good reason. They're unique, fun to shoot, and stupid accurate.
Folks love these rifles and I think you are going to see why.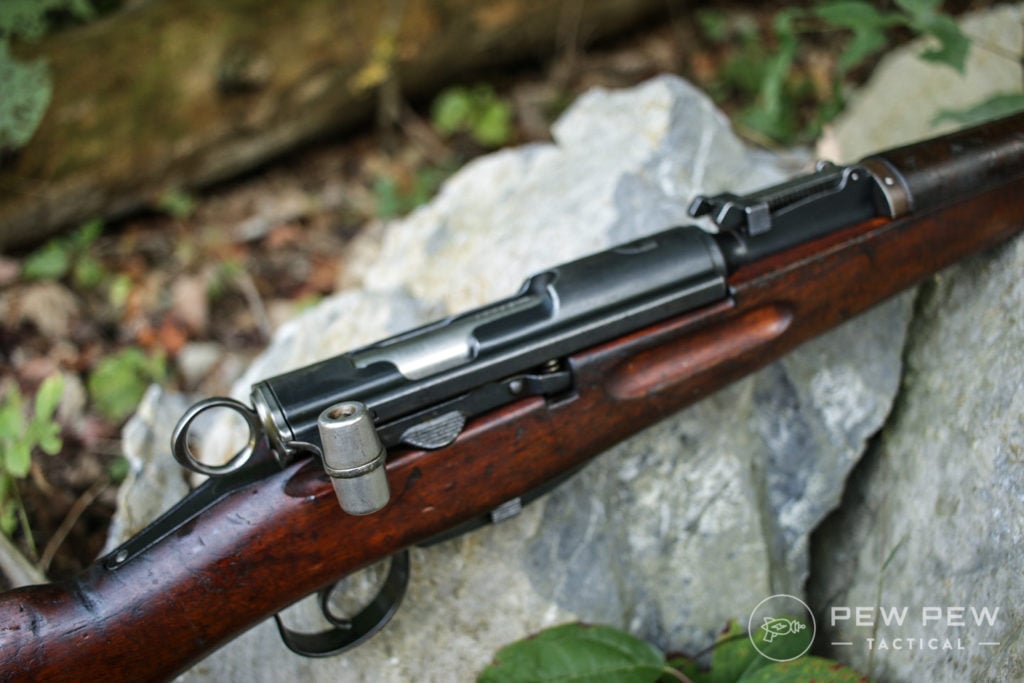 I'm going to give you an easy overview, get three K31s out to the range, and at the end, I'll have a quick buyer's guide for you.
Different
Adding some lumber to your firearm collection is a nice reprieve from black plastic guns. And the K31 is different even from other milsurp rifles.
Known for the straight-pull bolt, the beer keg charging handle, and that gorgeous Swiss shield, the Karabiner 31 or K31 is desirable for both shooters and collectors.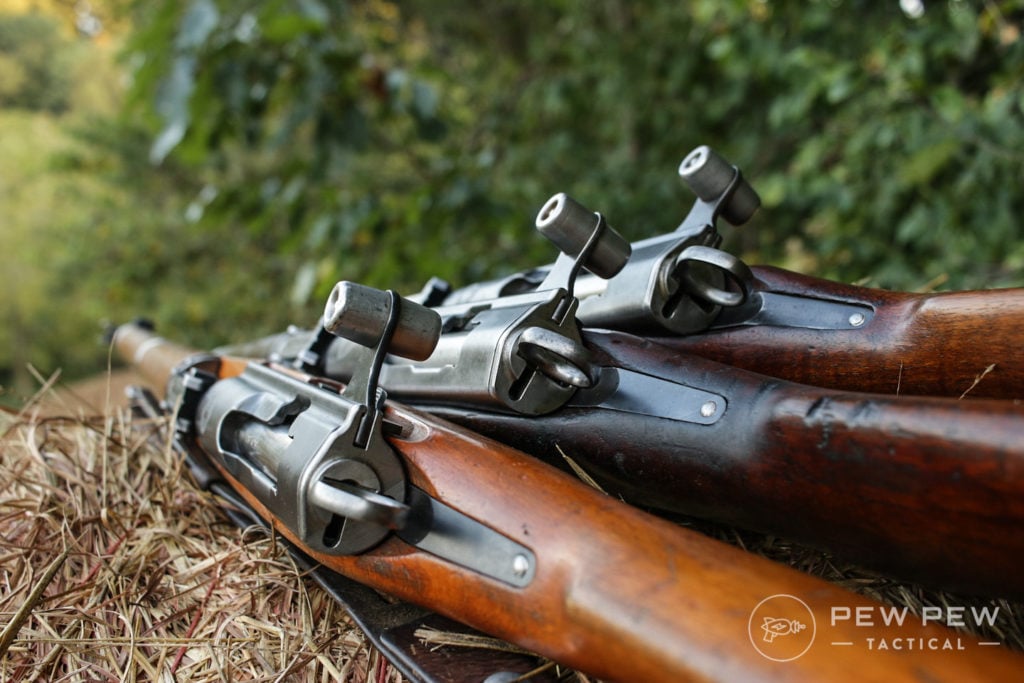 Plus they are not for collecting dust, they're for taking to the range.
Shortest History Lesson Ever
Before the K31, there were multiple variations of the Swiss straight-pull bolt rifle. But these were too long and too heavy.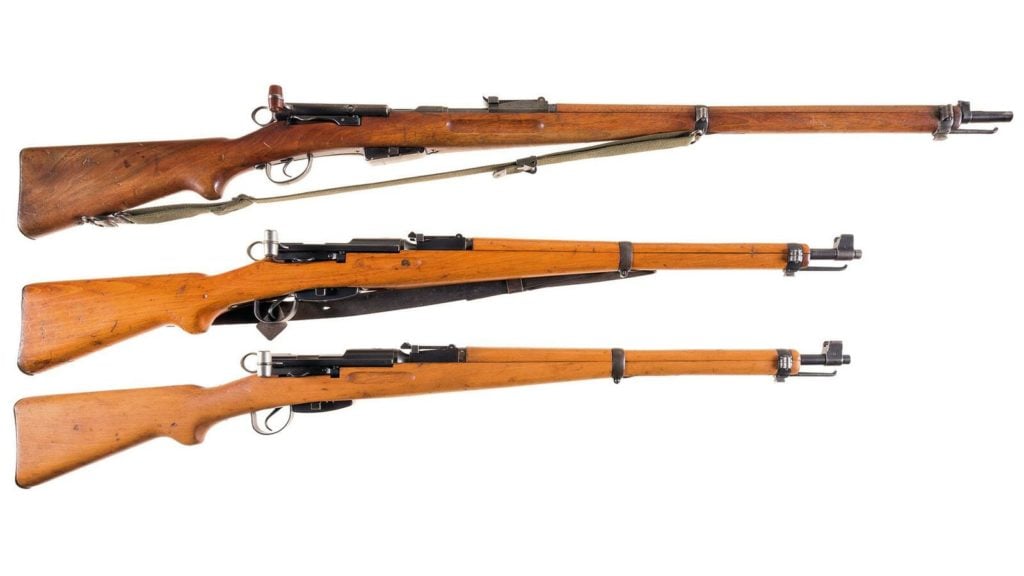 The Swiss military did a rifle redesign in 1931, and the Karabiner Model 1931 was born. It was issued from 1933 to 1958 with total production of about half a million.
Cool thing is that after Swiss soldiers finished their mandatory service, they could purchase their issued rifles. So there are loads of these guns which have been kept and maintained for a lifetime.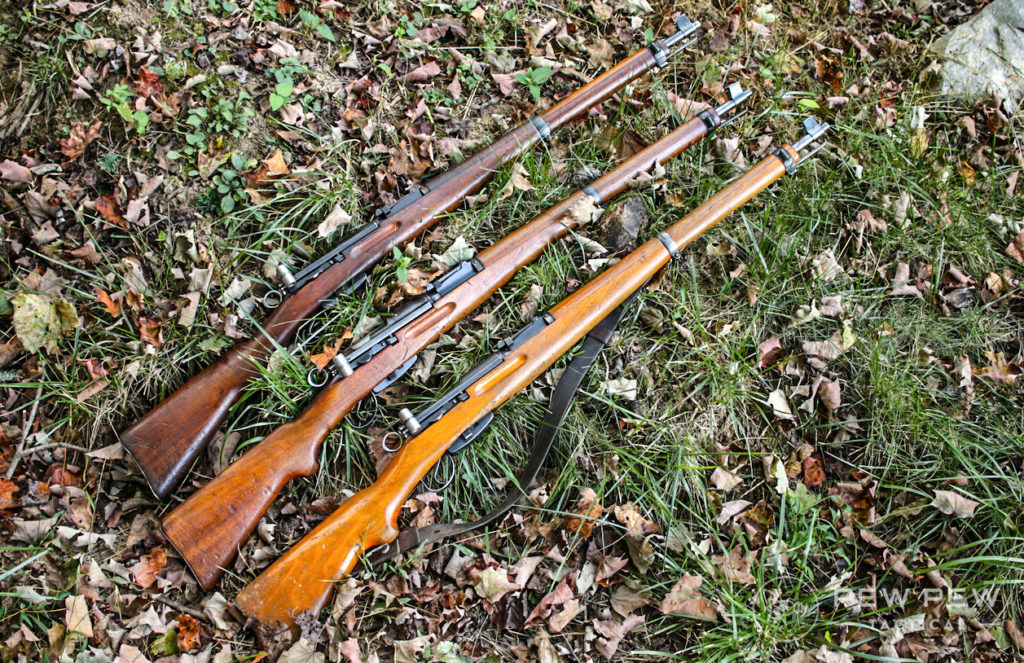 And often these guns reach the US surplus market in fantastic shape.
Accurate
The K31 has a reputation for excellent machining and craftsmanship which yields legendary accuracy.
Keep in mind that the technology in this gun is a century old, but the gun even today feels like a precision machine.
And working that straight-pull bolt is a fantastic experience at the range.
The Stocks
The stocks in the earlier models are all walnut, and from 1945 forward the stocks are all beechwood.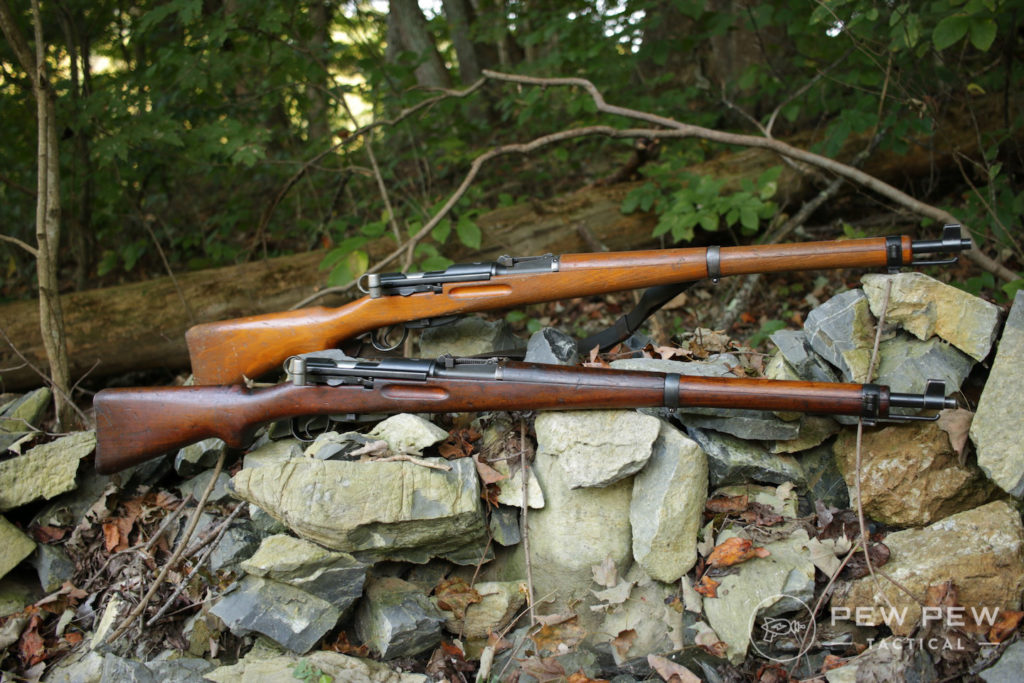 So an easy eye test is light stocks are newer, and dark stocks are older.
Ammo
The K31 fires the 7.5 x 55mm Swiss round, also referred to as G11, but most just call it "7.5 Swiss". Ammo is readily available, and the rifle can fire modern production ammunition.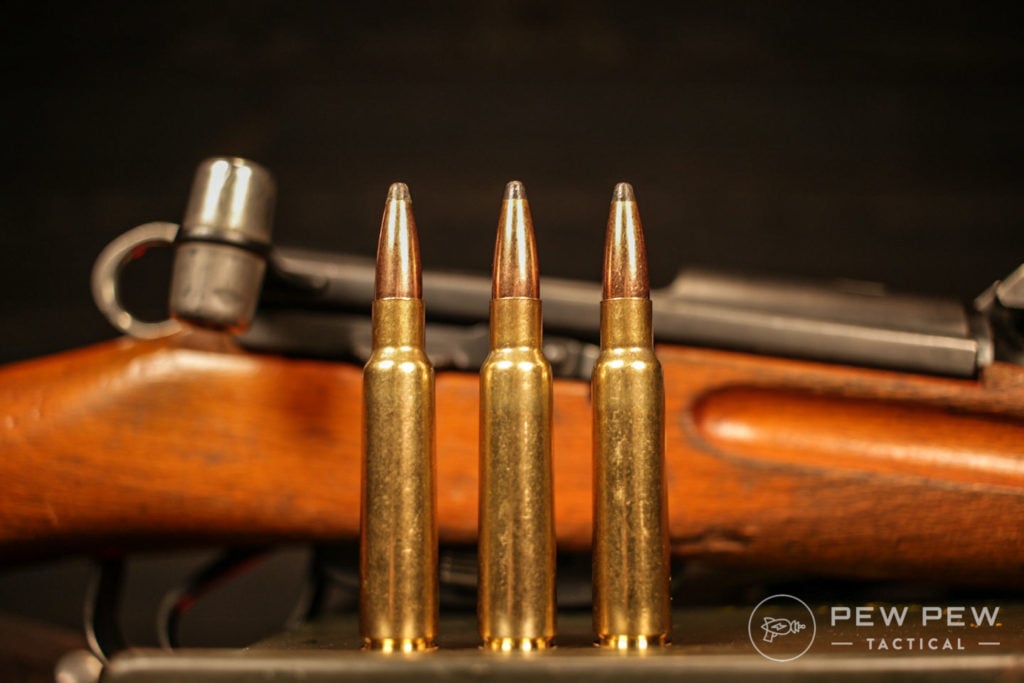 The box magazine is self-locking and holds six rounds. Waxed cardboard clips are available for faster loading, but I usually eject the mag and load by hand.
17.50
at Lucky Gunner
Prices accurate at time of writing
Prices accurate at time of writing
At the Range
After 75 years of field testing, the accuracy of this rifle is not up for debate. Rounds will go where you send them, and you'll see guys on YouTube take the K31 out to 1,000 yards with iron sights.
So for this test, I didn't do a test at all. I just took a ton of ammo and enjoyed getting shots on target with something that's not black and plastic. I shot from my shoulder at 75 yards with iron sights.
I fired PPU 174-grain ammo and was able to ping torso steel no sweat.
All three rifles I tested ran perfectly. Absolutely zero problems. These guns run.
The Pain
Lot of military rifles are murder on your shoulder, but the felt recoil on the K31 ain't bad. I'll call it medium. It's certainly manageable.
The Sights
The rear sights have a leaf spring that is adjustable at 100 yard intervals. And the front sight is adjustable for windage with a nifty sliding design.
Other sight options are available, including the desirable diopter sights, but for anything other than standard iron sights, you're gonna pay a hefty price.
The Trigger
The two-stage trigger is super easy to get used to. The first stage is ultra-light, and when you hit the second stage there is a clear wall.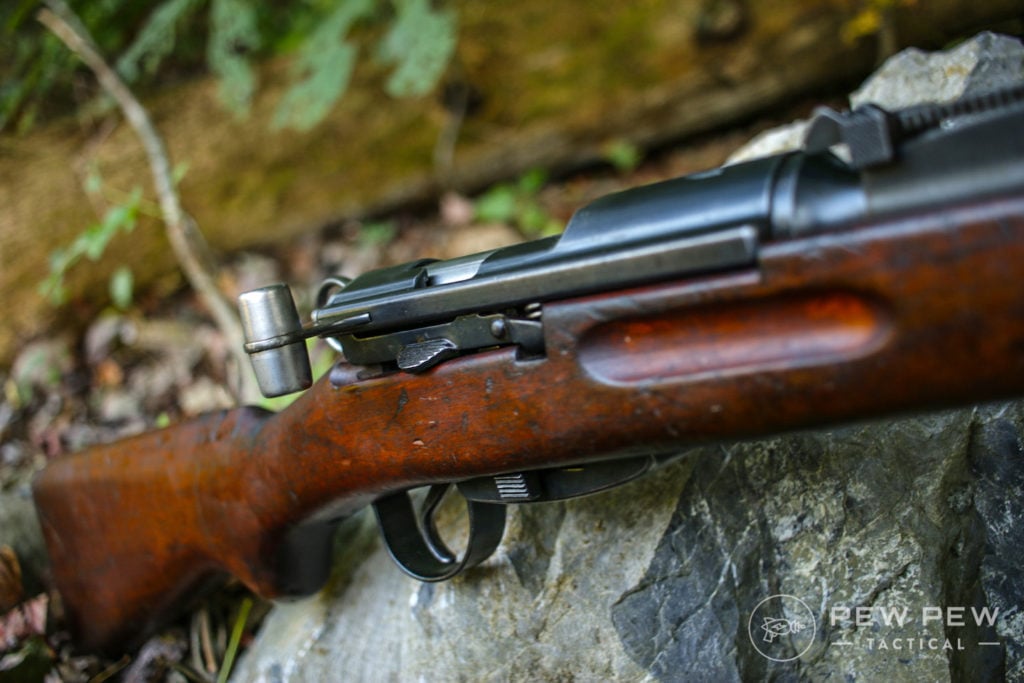 Pull comes in between 3 and 4 pounds and the break is clean and overall I like the trigger.
The Downside
Not many negatives with this rifle. You'll hear guys say that there is no positive extraction in the design, or that at 9 pounds it's heavy, but for me I take those things in stride.
Worst I can say is that the ammo is expensive.
16
at Palmetto State Armory
Prices accurate at time of writing
Prices accurate at time of writing
Troop Tags
This is where Swiss guns just get doggone cool.
On the day that these rifles were issued, the soldier's name, birth year, and location of issue were written down on a small white tag and placed under the buttstock cap.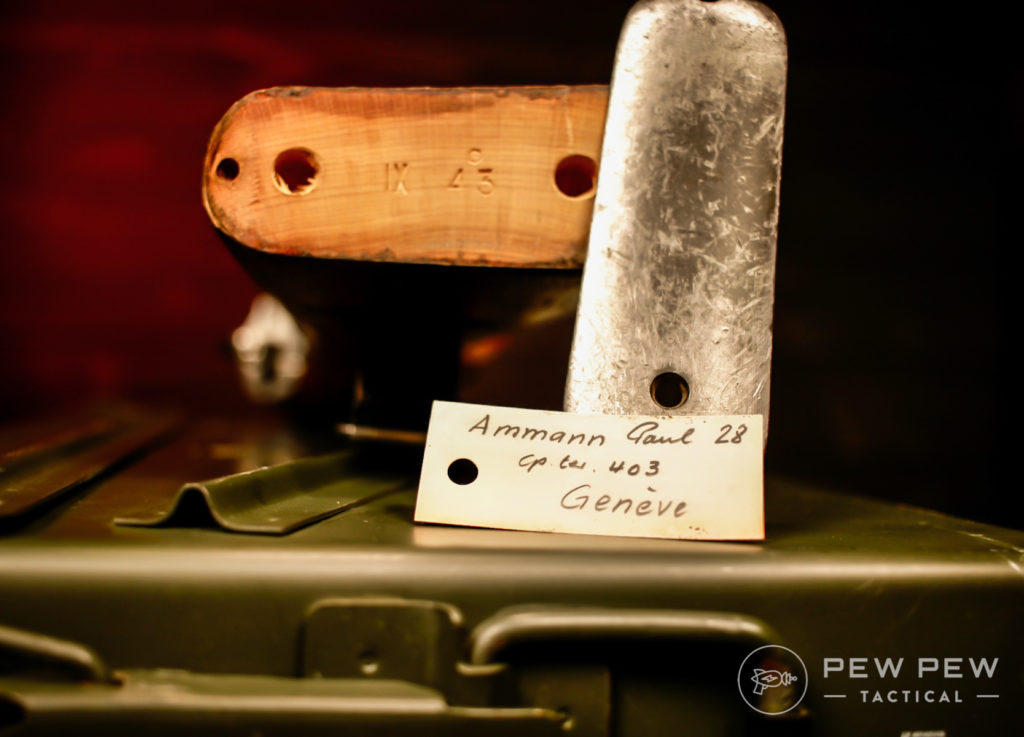 These troop tags are the Holy Grail of Swiss rifle collection.
Maintenance
Because most rifles of this age have worn bluing and exposed steel, I am a little more mindful of how I maintain my K31s compared to a modern black rifle.
I clean and oil after every range trip, and I don't handle the rifle without a quick wipe down.
12
at Amazon
Prices accurate at time of writing
Prices accurate at time of writing
A complete teardown and deep clean can be done in half an hour.
K31 Buyer's Guide
Shopping for a K31 is easy peasy. 7 quick steps!
1. Identification
There are lots of different Swiss military rifles, but to identify the K31, look for the Swiss shield on the receiver, and the aluminum beer keg charging handle.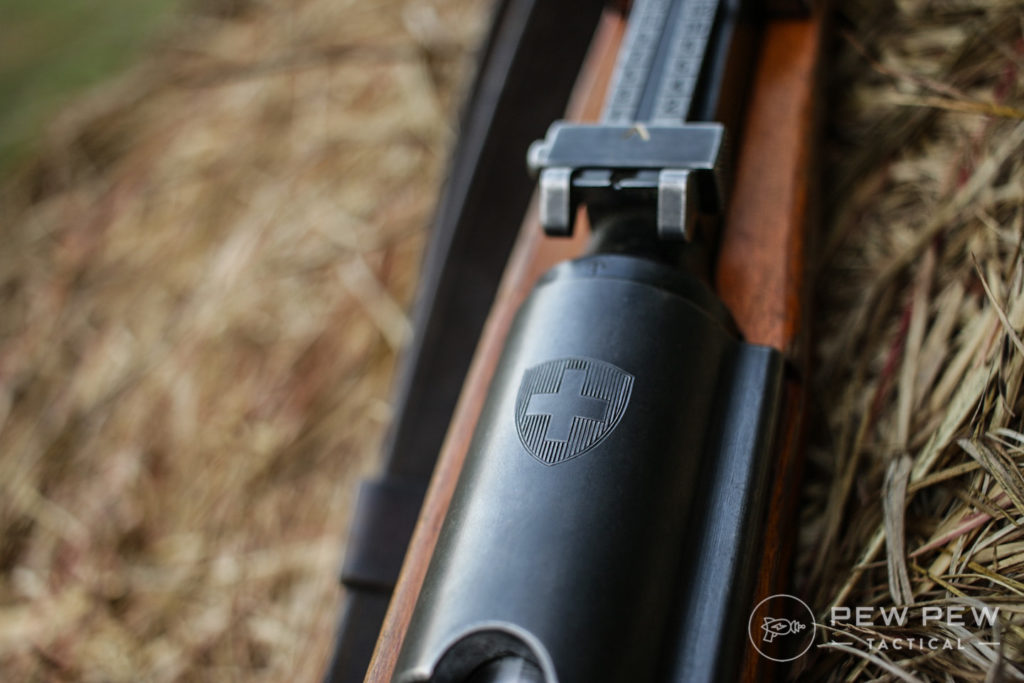 Lots of other Swiss rifles have beer keg handles, but they are all reddish bakelite. Again, look for the aluminum.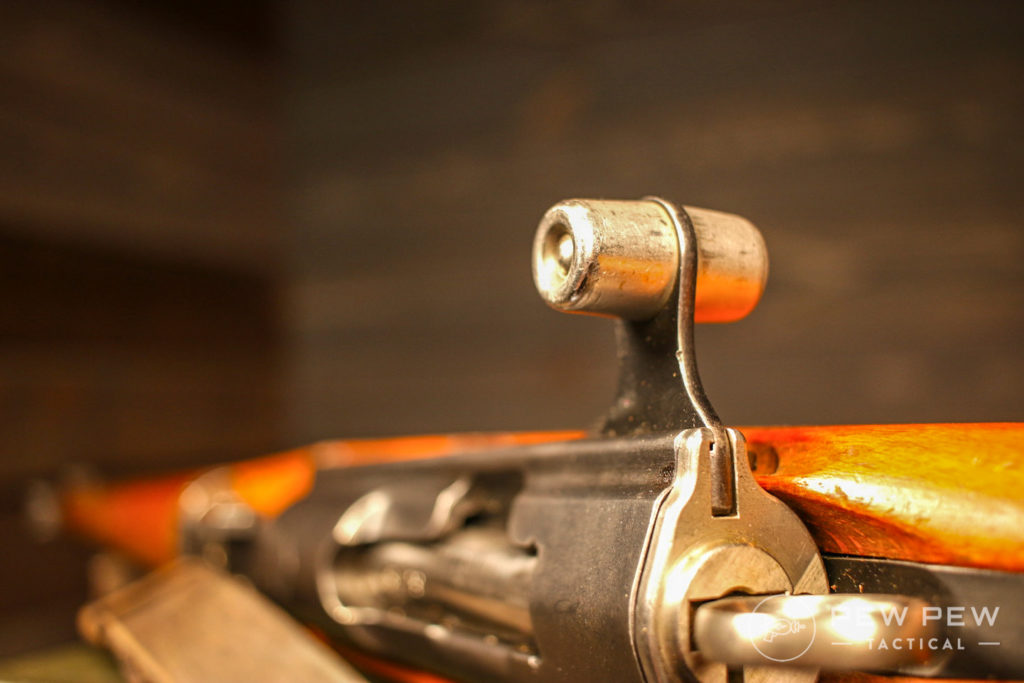 2. Overall Condition
Look for the condition of the bluing and how much steel is exposed on the barrel and receiver. Look for rust. Look for cracks in the stock. Put a light in the barrel and look at the lands and grooves.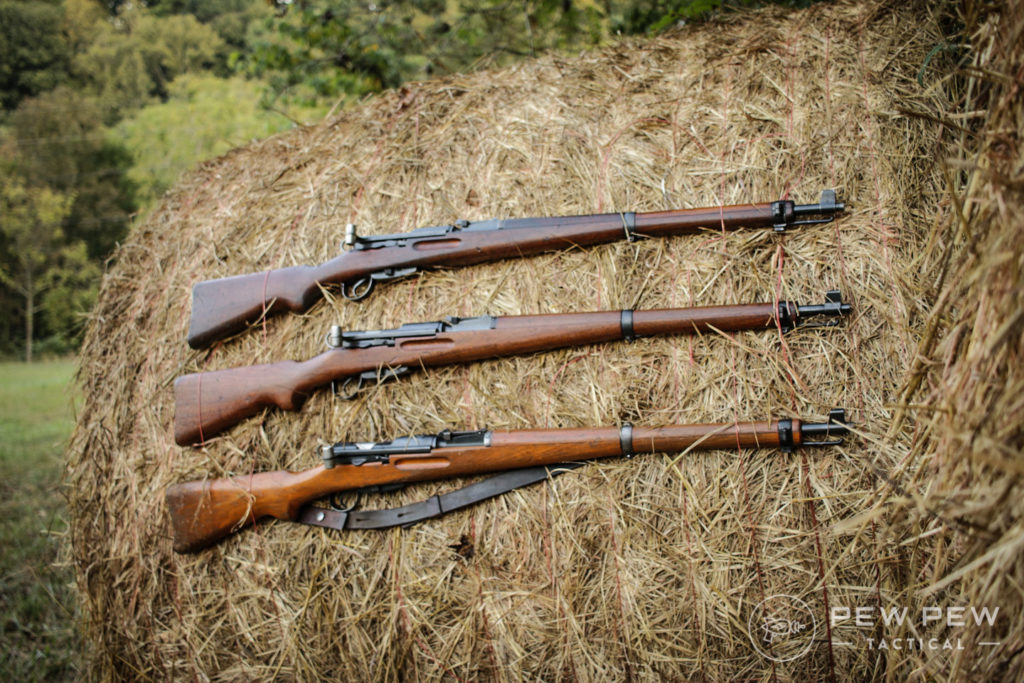 If you are shopping online, all good dealers will give you solid descriptions with photos.
3. Serial Numbers
The most desirable rifles have matching serial numbers on all the major parts including barrel, receiver, bolt, stock, handguard, and magazine.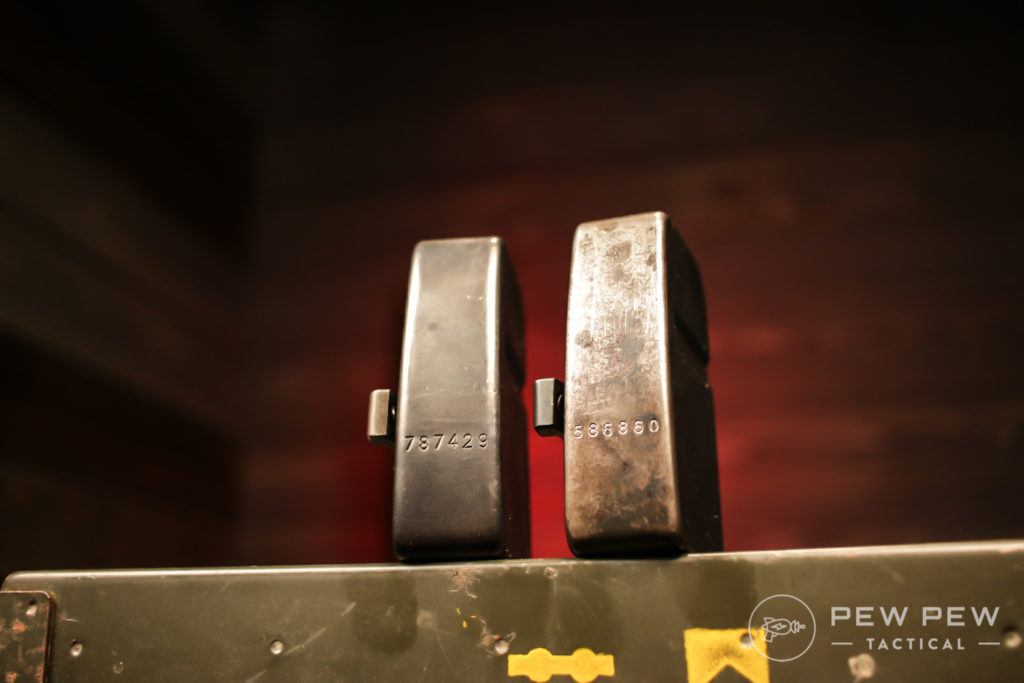 4. Production Year
Because the Swiss did not participate in WWII, there is no pressure to get War-era rifles. K31s from the 1950s are just as desirable as earlier models.
Basically, the production year doesn't matter.
5. Extras
I tested three standard run-of-the-mill K31s. But like all military collectibles, you can get lost in the weeds. There are rifles with diopter sights, sniper models with scopes, and guns with decades of provenance.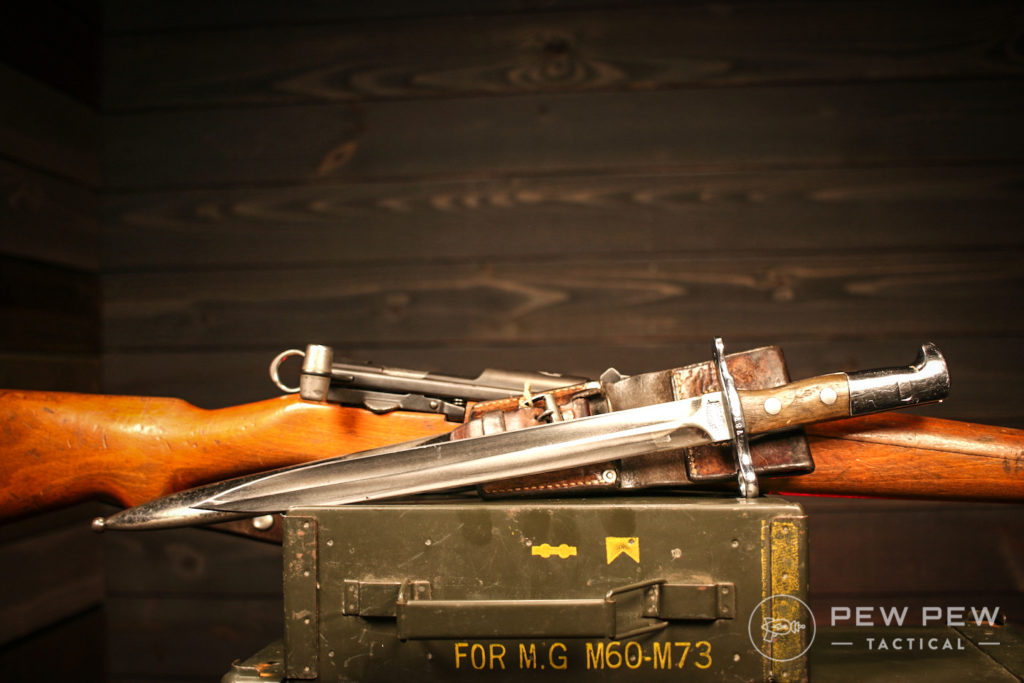 And you'll pay more for extra features. But the good news is, if you are new to K31s, you can get a standard rifle in good shape without paying extra for rarer models.
Any K31 in good shape is going to be a winner!
6. Troop Tags
If you find a numbers-matching rifle in good shape with a troop tag, buy it. Just do it, period!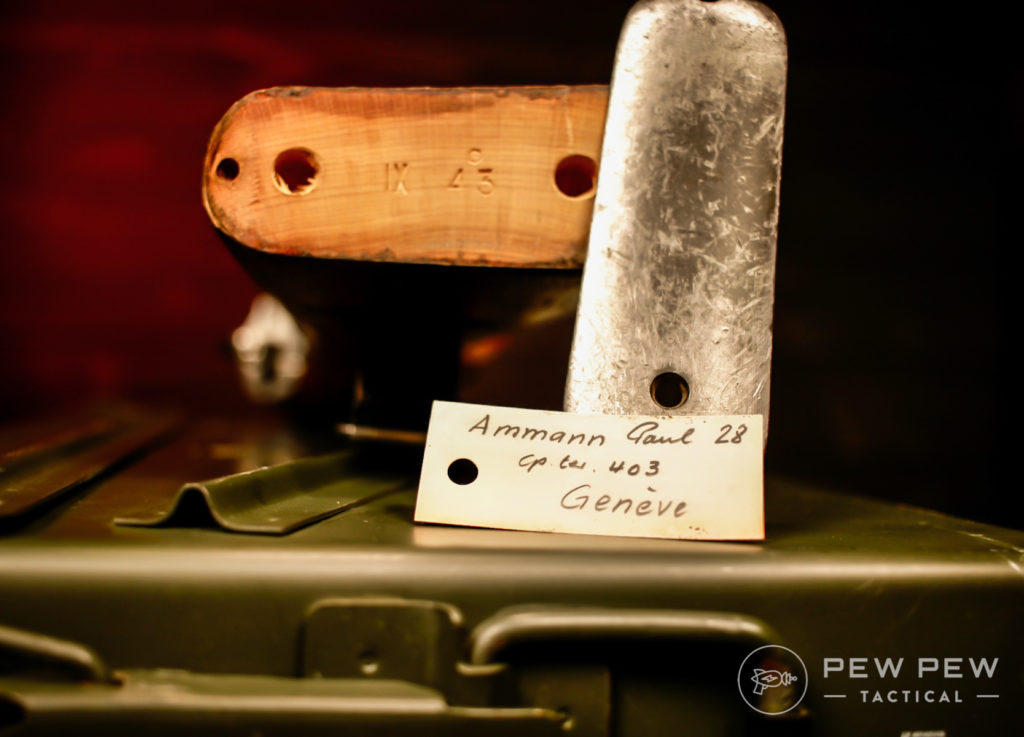 7. Price
For the K31 goes up and down, but right now a numbers-matching K31 in solid condition is $500-800. Double that price for rifles with diopter sights.
By The Numbers
Reliability: 5/5
Keep it clean and this gun will run for another 100 years.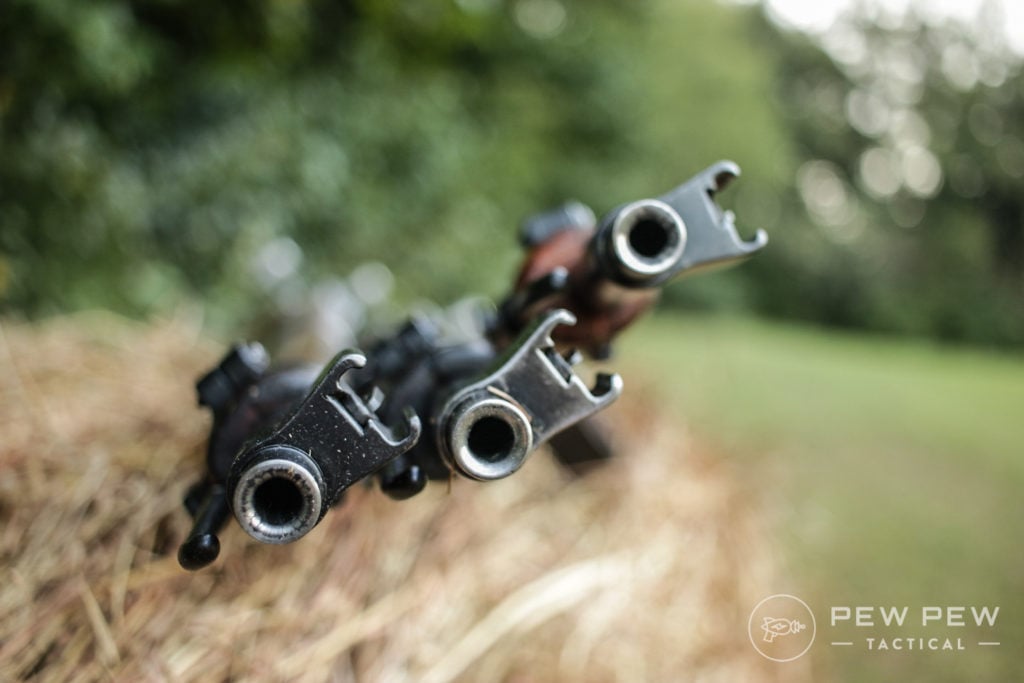 Ergonomics: 4/5
To be fair you're holding a giant piece of lumber. But the pistol grip feels good and grabbing that beer keg handle is addicting.
Accuracy: 5/5
The free float barrel, precision engineering, and Swiss clockwork trigger combine for legendary accuracy. If you miss, it's on you.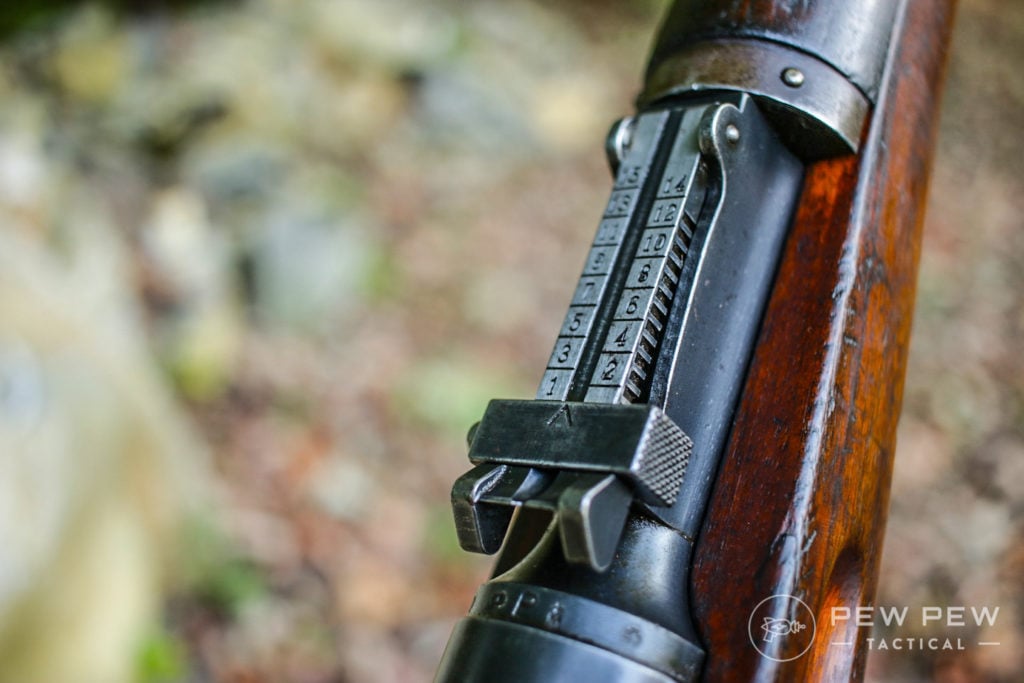 Customization: 0/5
If you even think about drilling the receiver for a scope mount, you need to sit in the corner and think about your decisions. Don't change anything, Bubba.
Value: 4/5
True you can get other milsurp rifles for half the price of a K31, but you won't get the precision or shootability. A lot of value for the price.
These are almost always available on GunBroker and sometimes on Guns.com!
If you're unfamiliar with either, take a look at our reviews for both GunBroker and Guns.com.
Overall: 4/5
There's not much to dislike about the K31. It's easy to use and maintain, fun to show friends, and performance on the range is stellar.
Conclusion
The K31 is a fun to shoot, fun to show off, and even fun to disassemble milsurp gun that is accurate and a good bang-for-the-buck, but it's heavy and ammo can get expensive.
I had a blast with this project. Even if you are not a milsurp guy, it's great to get at least one gun into your collection that isn't black and plastic.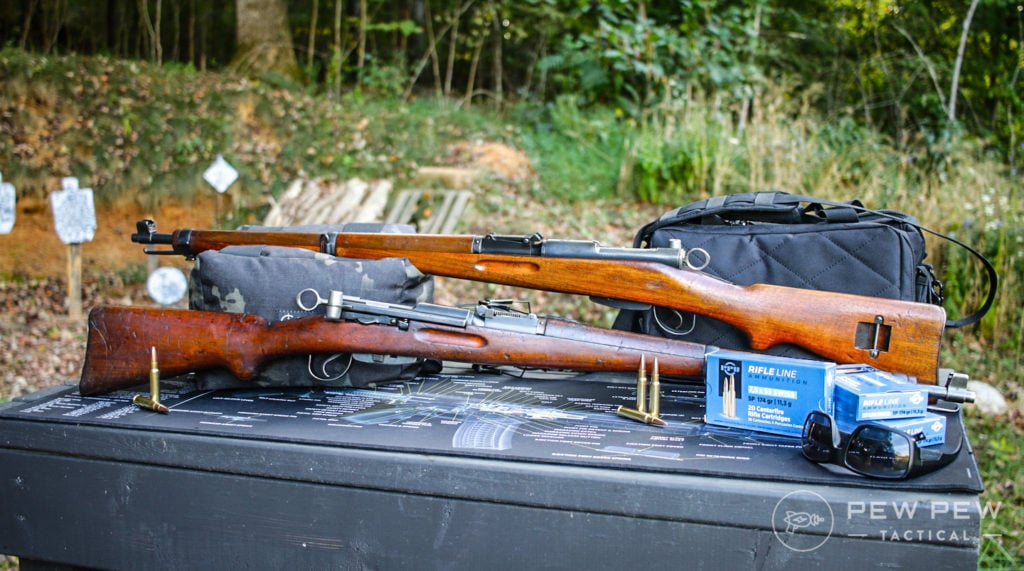 And the artwork on the receiver is a big plus.
One more time…our video review!!
Love some more milsurp? Check out our Best Milsurp Rifles You Can Still Buy.