Every home needs one thing–a really good medical kit.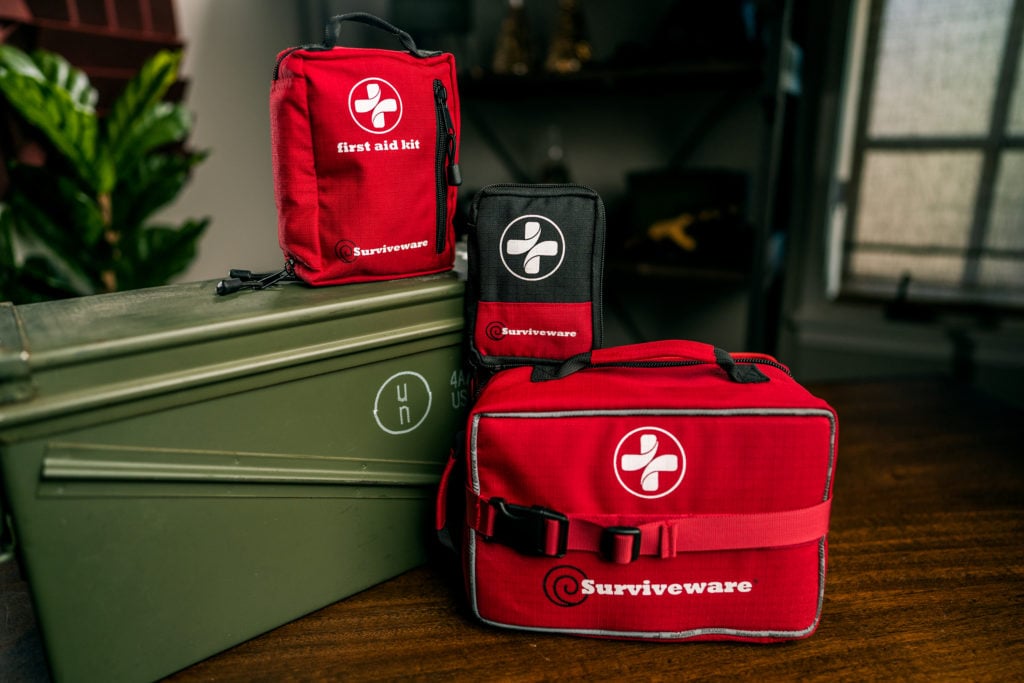 Don't believe me?
You're fortunate enough not to have learned this the hard way.
The problem is, there are a million and a half options out there, and some are definitely better than others. For those of us who don't have a lot of medical training, it can be a little hard to know what's junk and what's not.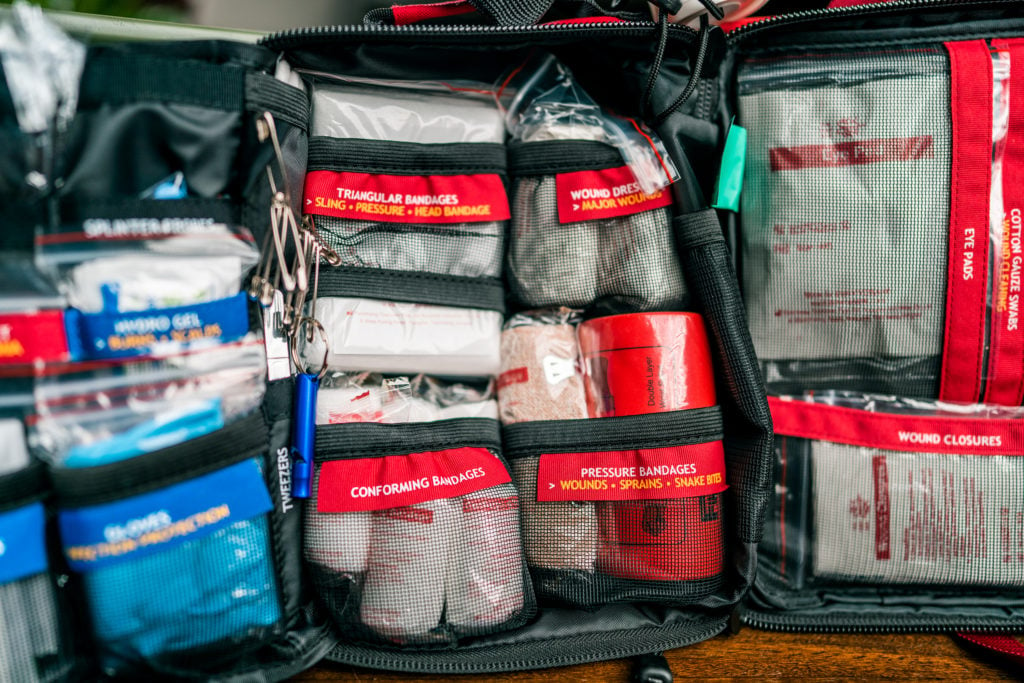 DIY is always an option, but let's be honest–it's costly to buy everything you want to have in your kit individually and assemble it yourself. Not to mention, that puts you at the mercy of other people's opinions on what you NEED to have in your kit if you don't already know it.
Fortunately, there are some pretty great solutions to this problem out there, like the awesome first-aid kits from Surviveware!
We've got our paws on the small kit and large Surviveware First-Aid Kits, and we're going to give you all the deets–as well as help you figure out which one is better for you!
Table of Contents
Loading...
Why Surviveware?
First off–Surviveware is a small, family-owned business trusted by EMTs, firefighters, military personnel, sports coaches, and thrill-seekers everywhere.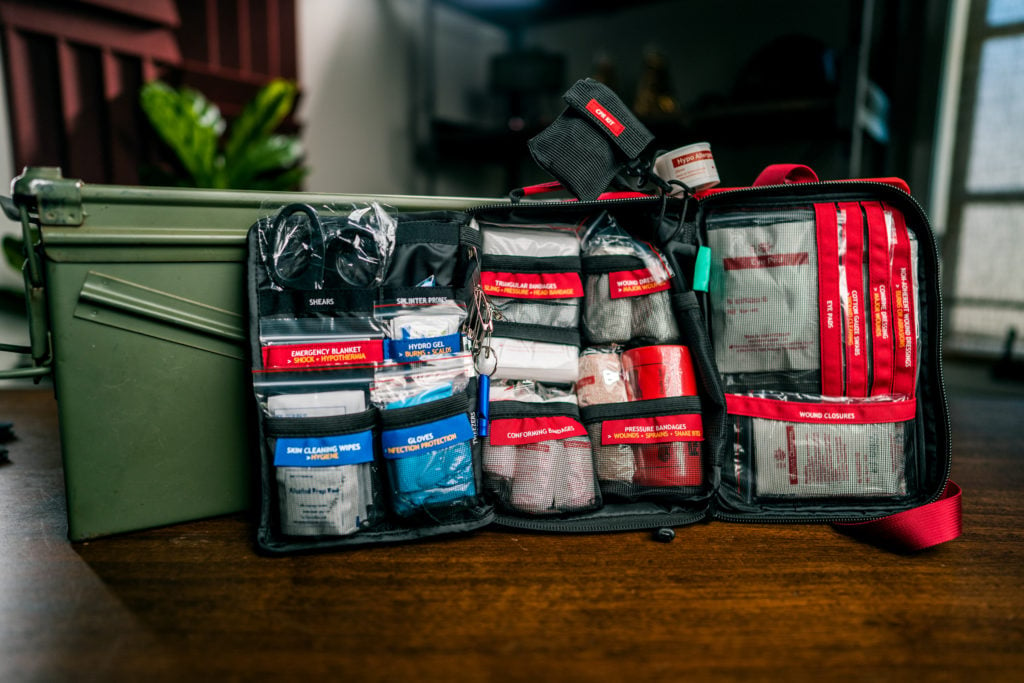 Every pocket in this kit is clearly labeled so it's easy to find what you need in an emergency, without digging through every nook and cranny. Panic can get to the best of us in an emergency, but the smart labeling system keeps you on task and avoid mistakes that can cost lives.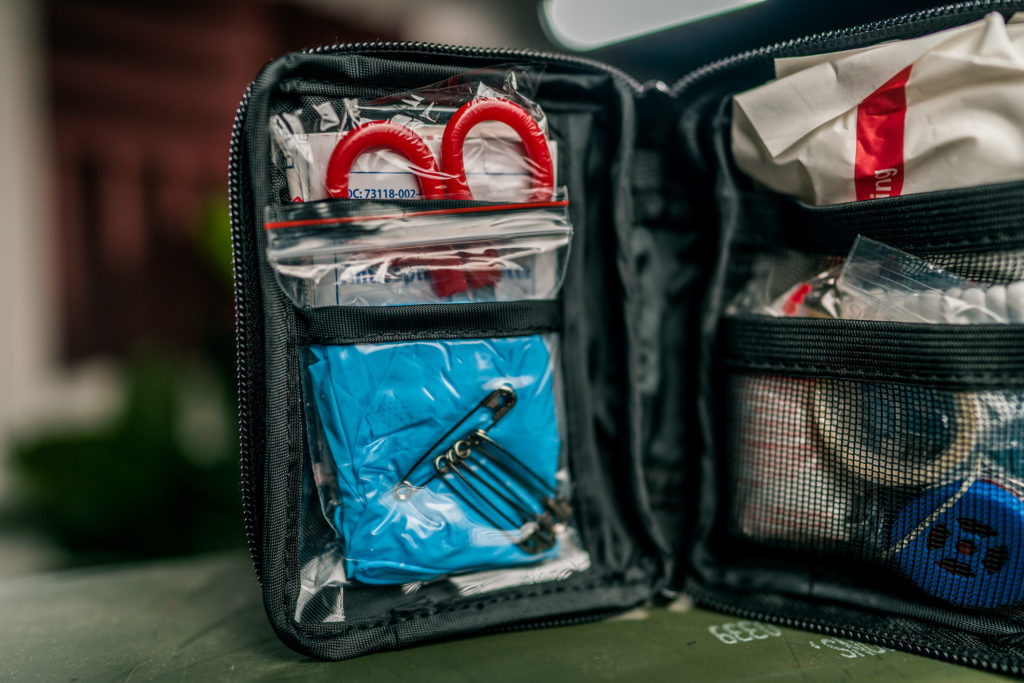 Their kits come in water-resistant, 600 denier polyester pouches to stand up to rugged conditions–not to mention all the contents are sealed in waterproof laminate pouches. It even floats in water!
These kits come stocked with everything you might need for an emergency, and Surviveware offers a variety of sizes to make sure you can get just what you need for your situation.
Meeting Your Needs
As we said above, getting a kit that fits your needs is key.
Granted, you're better off with a cheap-o first aid kit from your local mega-retailer than nothing, but having a kit that is designed for what you're doing, how many people you might be caring for, and has what you need to handle anything from boo-boos to major trauma is going to make life easier.
That being said, no one wants to haul a dozen pounds of medical gear up a mountain, just in case you need it. You'll need some of the painkillers in your kit for your back by the time you're done!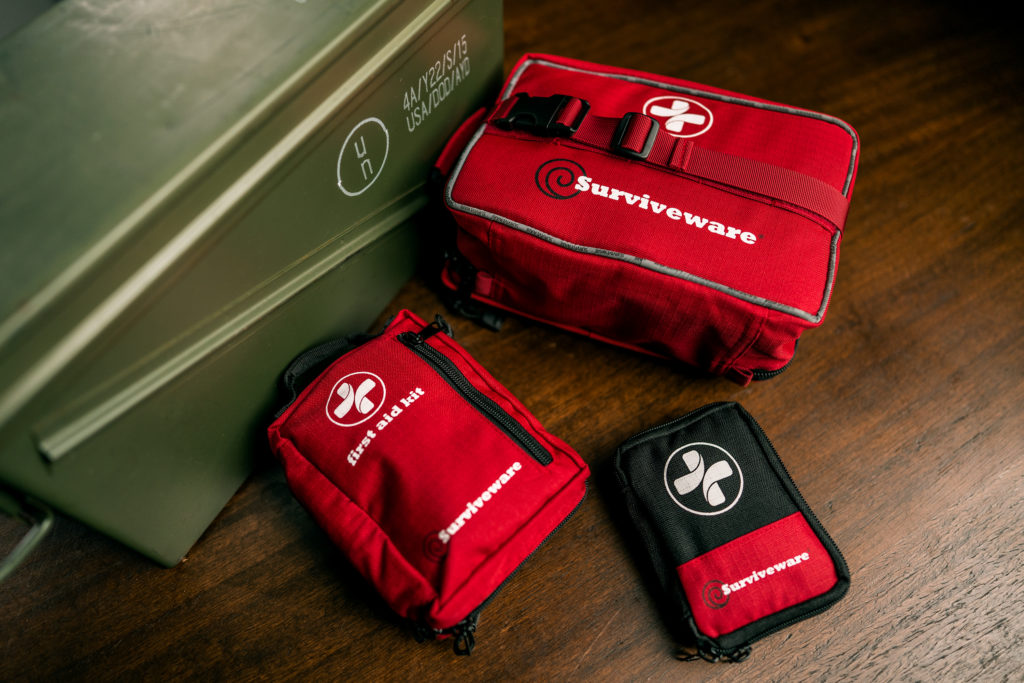 A small med kit is probably all you need for yourself or a small group, especially if you're out hiking, biking, or moving around a lot.
For larger groups, basecamps, or vehicles, a larger kit gives you access to a wider array of supplies (not to mention a greater quantity), without having to tote it with you.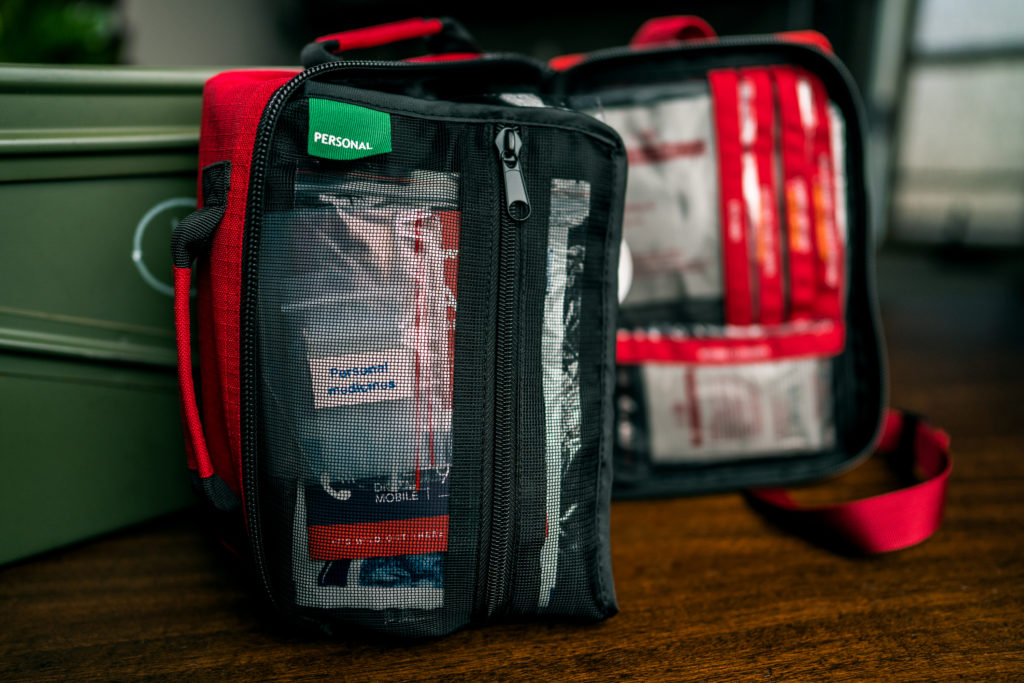 Both obviously have their strengths and weaknesses, and ideally, you'd have one of each. But we don't blame you if you don't wanna spend those hard-earned pennies on a pile of med kits you may or may not need, so we're going to talk about which kit is best for which people down below.
Surviveware Large First-Aid Kit
This kit is the Big Brother of the Surviveware line and is specifically designed to go on any adventure and solve just about any emergency.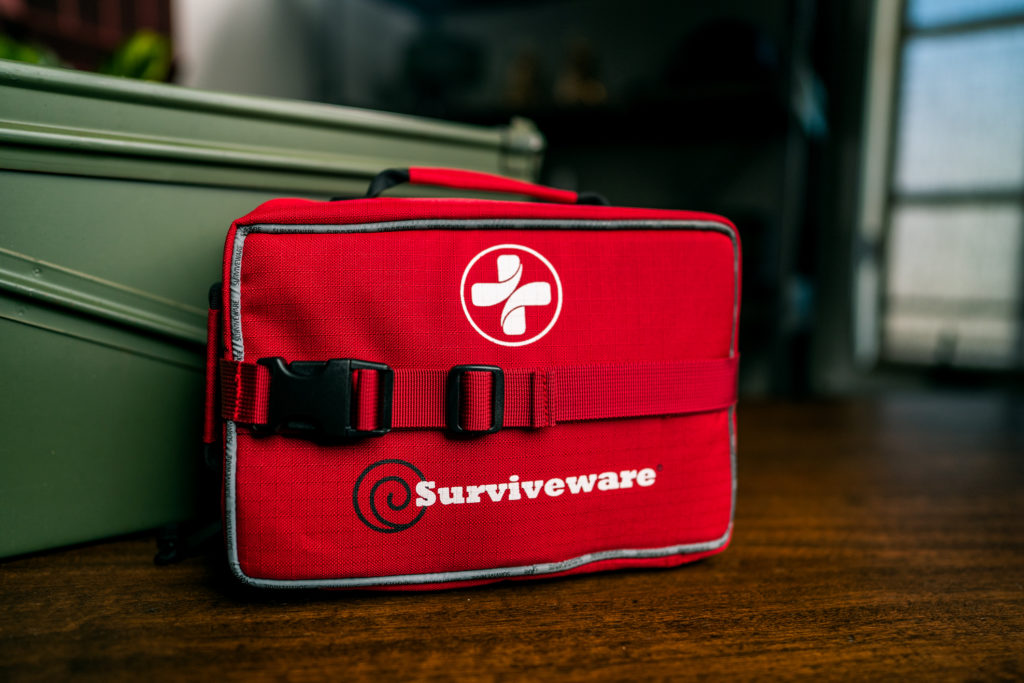 Surviveware made sure this kit has plenty of room to expand it, so you can customize your kit with what you need or want to include in it–even an 18" SAM splint, if you're so inclined.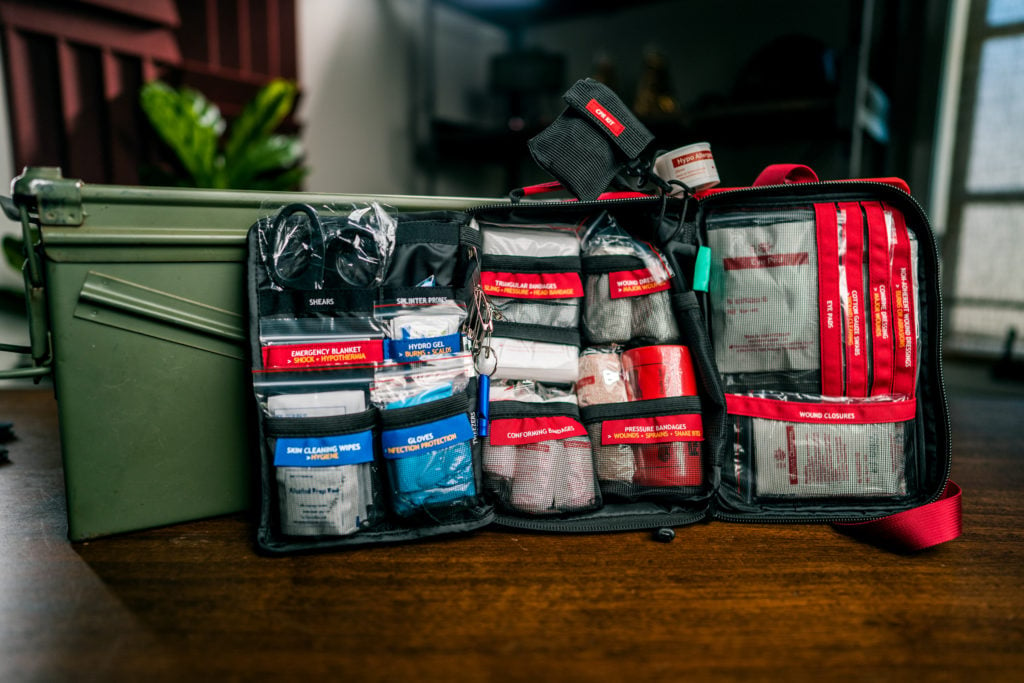 What we really love about this kit–besides how comprehensive it is–is the number of ways it can be attached to your bag or your vehicle for easy access.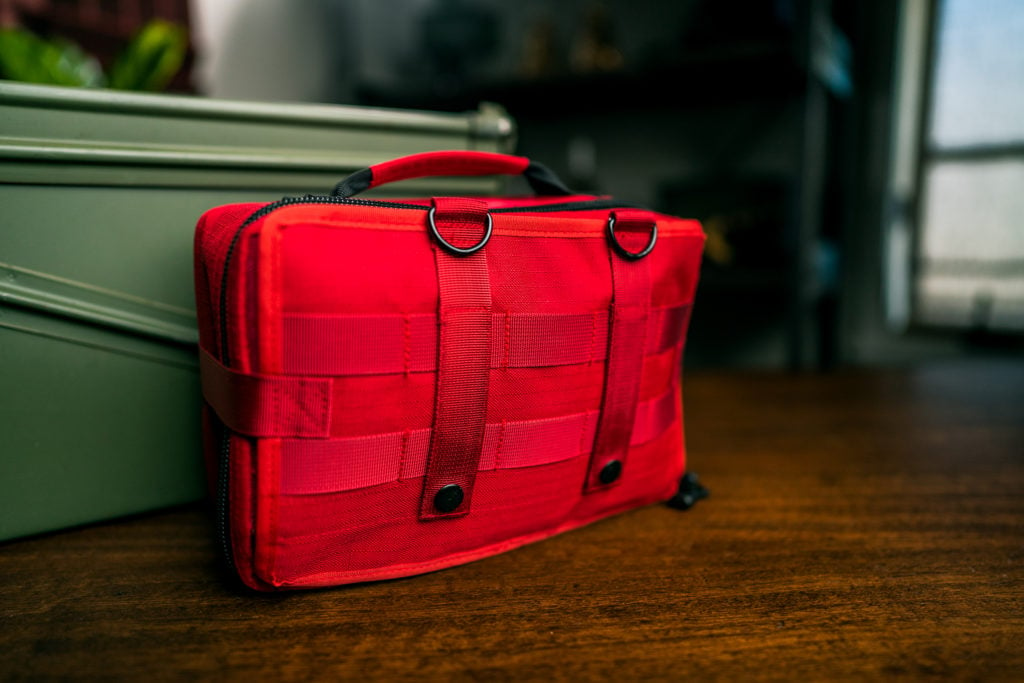 The outer pouch features a MOLLE system that lets you slip it onto your plate carrier or pack easily, as well as a removable buckle strap designed to secure the kit to headrests or racks on your vehicle. It also has a section of strong hook and loop material, perfect for attaching to the lining of your car trunk.
Taking this kit with you is a breeze, and you will be prepared for anything.
Inside the kit, you'll find 200 items to keep you safe, including dressings, adhesive bandages, nitrile gloves, a pressure bandage, a rescue whistle, eyepatches, CPR mask and bag, and so much more.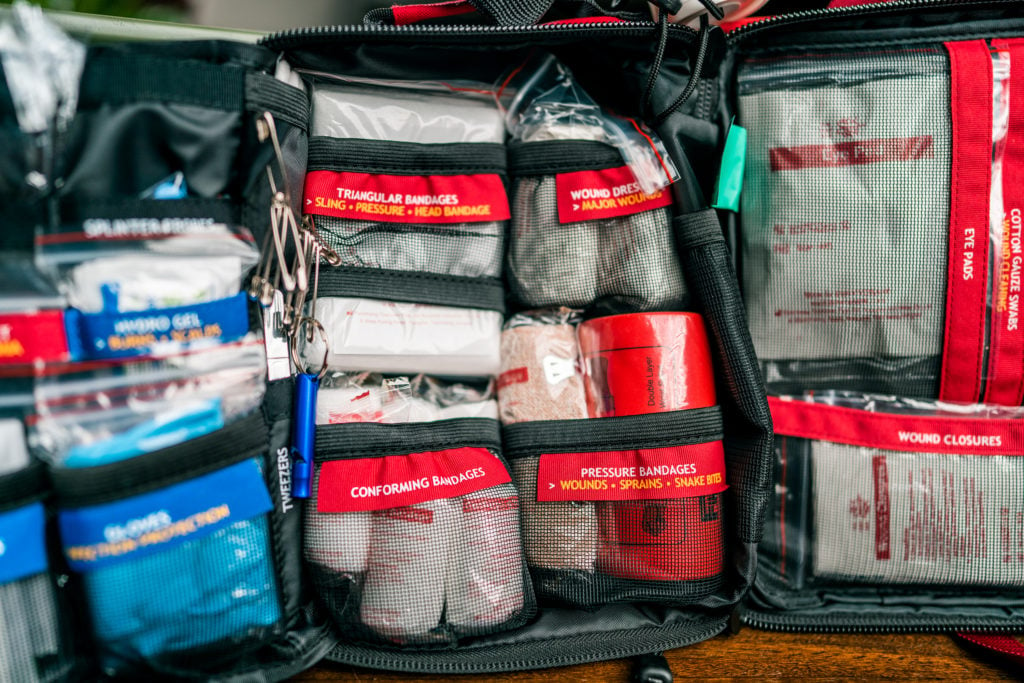 This first-aid kit also comes with a more portable mini kit tucked inside, so if you leave the main kit at basecamp, you don't have to leave all your supplies. The mini kit includes 50 pieces of things you need to handle minor injuries so you don't need to return to camp for lil boo-boos.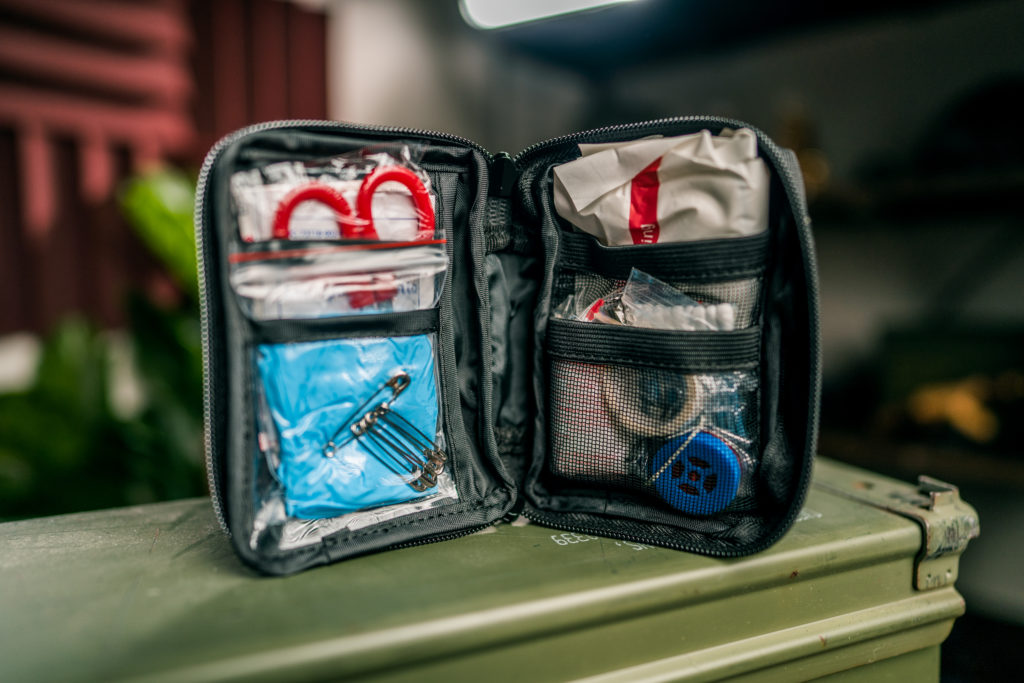 Notably, Surviveware also sends you an Advanced First-Aid Handbook and a free information guideline packet, so you can brush up on your medical know-how before an emergency strikes.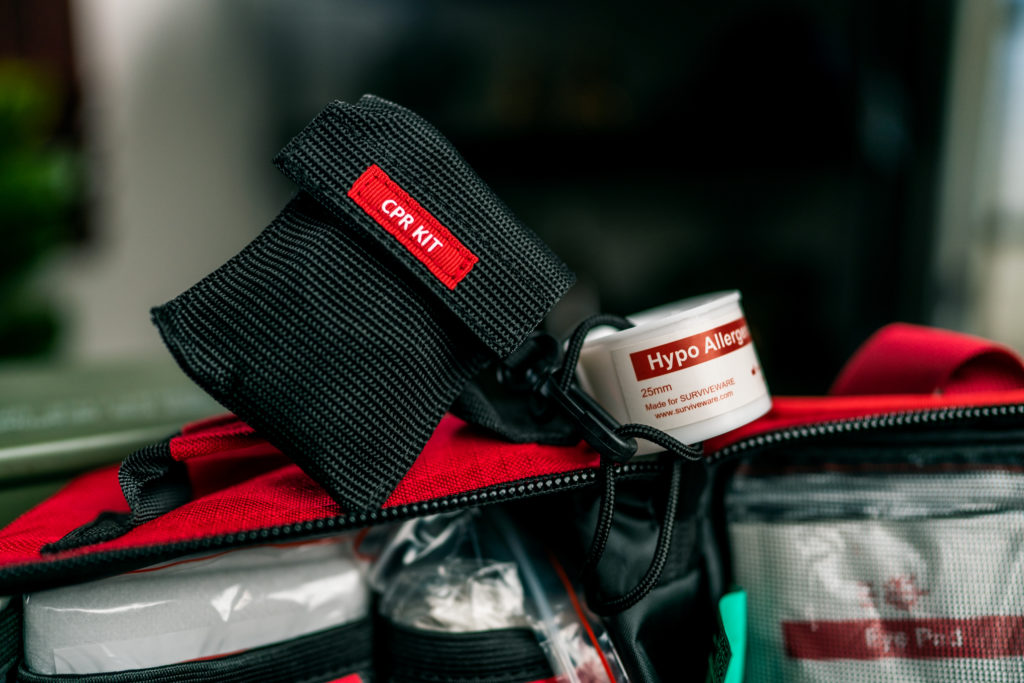 This kit is best for: people who want a comprehensive first-aid kit and don't mind it taking up space in their bag, or for people who are with large groups who may need medical care at multiple points during a trip.
125
at Amazon
Prices accurate at time of writing
Prices accurate at time of writing
Surviveware Small First-Aid Kit
Still want to be prepared, but don't think you need the Big Kahuna of first-aid kits?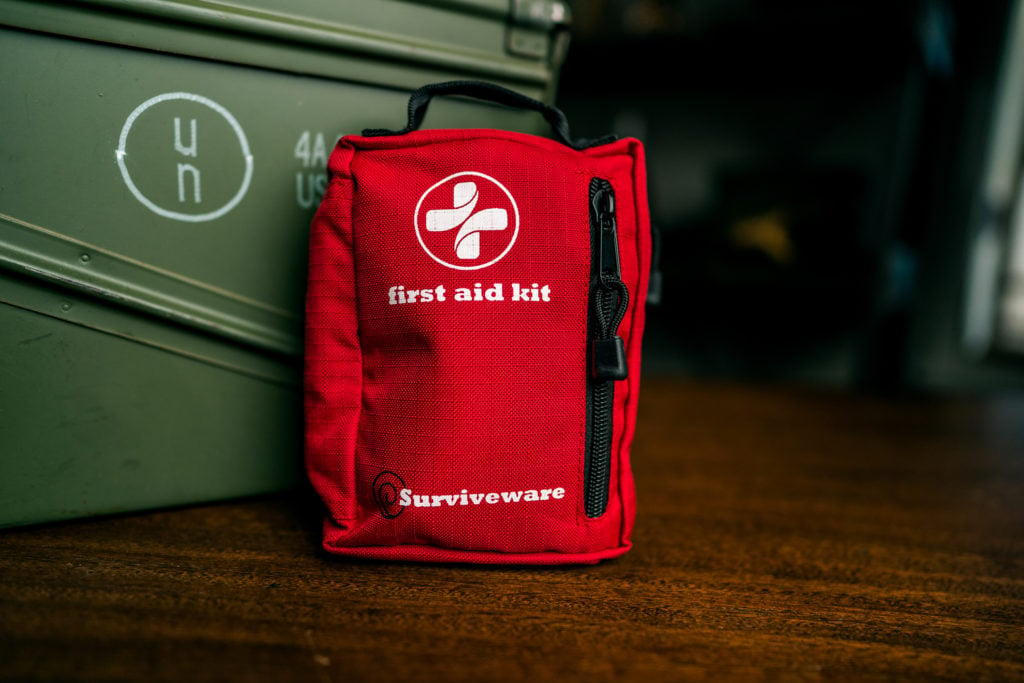 Then you might like the Little Legend of the Surviveware line, the Small First-Aid Kit!
Like its bigger counterpart, this kit is rugger, labeled for easy organization, and has a little bit of extra space to allow you to customize your kit to your needs.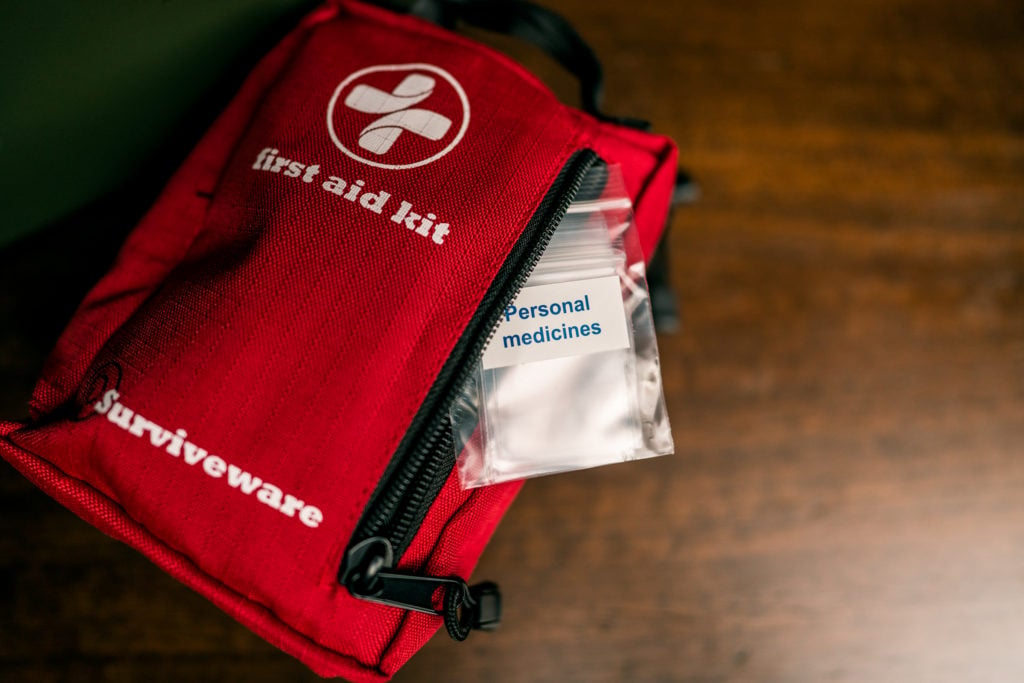 These small kits are a great solution for groups or individuals–outfitting everyone in the group with their own kit ensures that no one will go without medical care if they get separated.
With MOLLE straps and snaps, this kit's really easy to attach to your bicycle, bag, roll bar or grab bars, or anything else that's MOLLE compatible. It also has D rings, which makes it easy to hand the kit from a hook for easy access and visibility.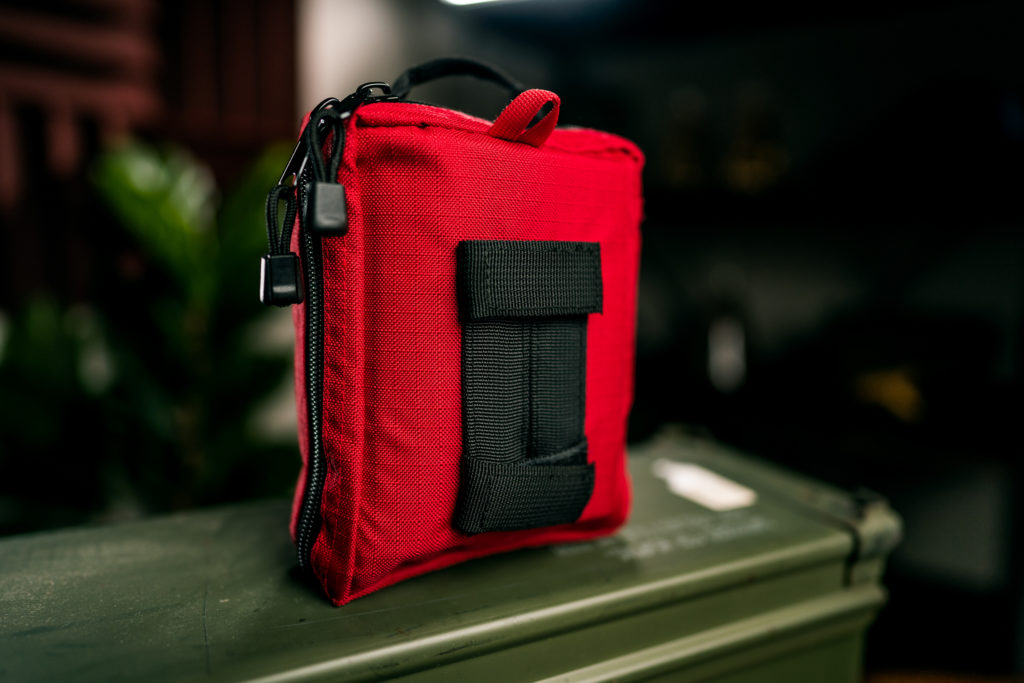 The small kit comes with a removable CPR kit, which includes instructions, and a comprehensive first-aid guide to help you prepare for the worst.
We like that the small kit still has most of the awesome tools and supplies the large kit has, it simply has a few less of each to fit the smaller case. You still get an all-around solid kit, and you can add any missing pieces you feel you want to have in your bag.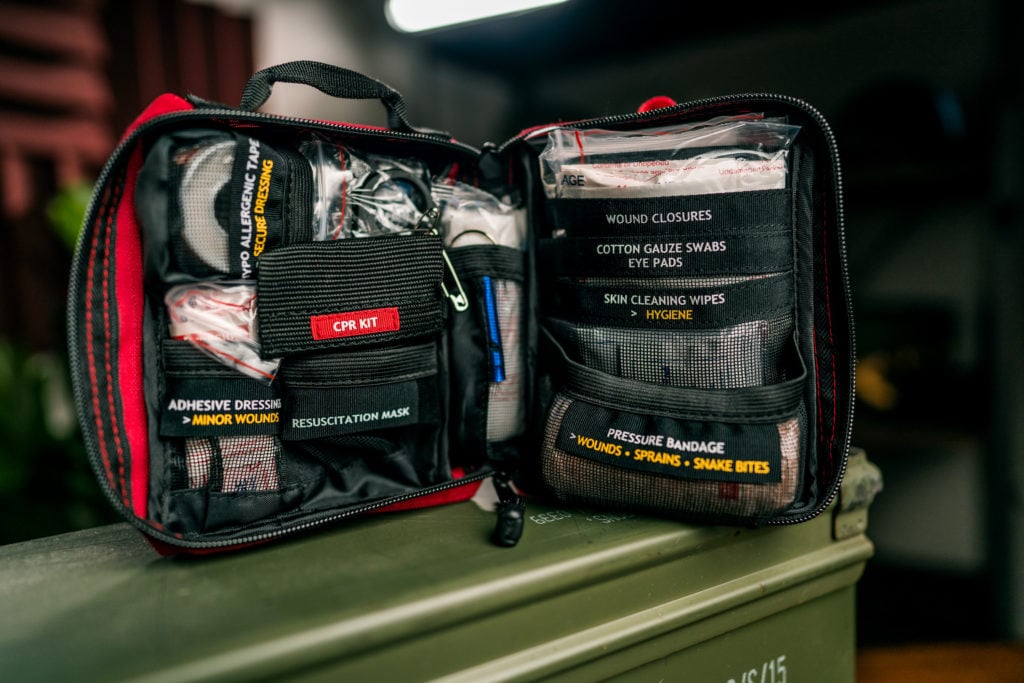 This kit is best for: People who are looking for a smaller personal kit to carry with them on adventures.
40
at Amazon
Prices accurate at time of writing
Prices accurate at time of writing
Using a First-Aid Kit in an Emergency
When 911 isn't an option, the stakes are high. A few minutes of action can be the difference between life and death–and simply having a kit on hand isn't enough if you and every member in your group aren't familiar with how to use it.
Preparedness is the key to safely adventuring, and that means taking some time to brush up on emergency medical care before you need it.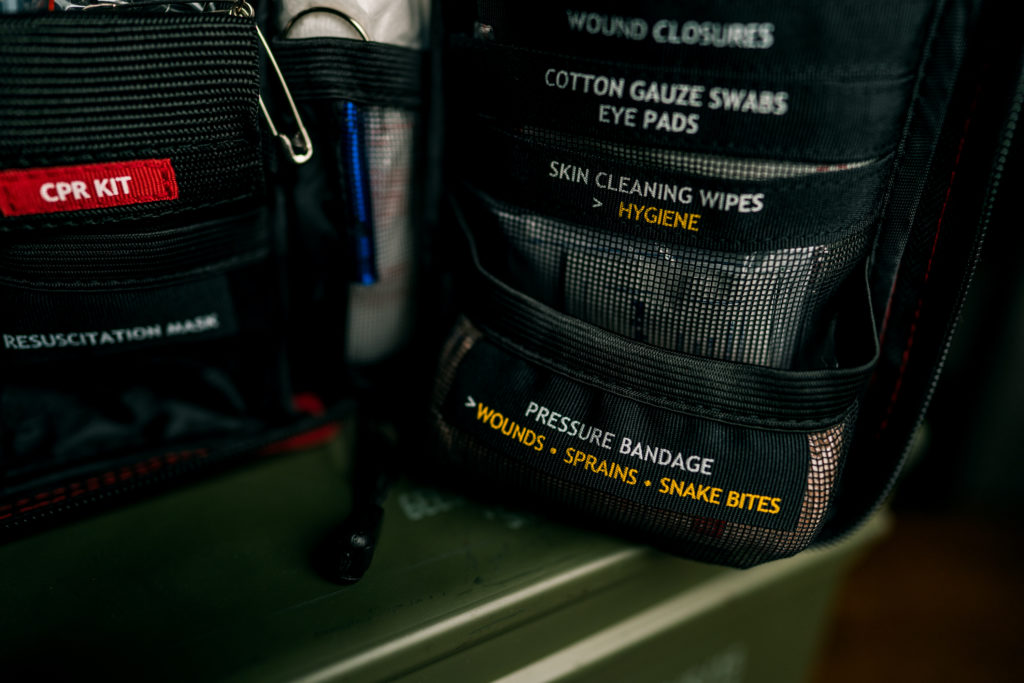 While taking a class or getting first-aid certified is a great way to sharpen your skills, even reading about emergency medical care and exploring your supplies and how they're used is beneficial.
We love that Surviveware includes a first-aid guide to get you started and prepare you to use their kit, which is honestly pretty freakin' awesome.
You also can't go wrong with getting your peepers on a survival medicine book. While it's not the most thrilling read you might have on your library list, you never know when it might just save a life.
My personal go-to books (or, the ones I thought were worth spending my hard-earned Pew Pew Paycheck on) are The Ultimate Survival Medicine Guide by Joseph Alton, MD and Amy Alton, ARNP and Wilderness First Aid: Emergency Care in Remote Locations by Alton Thygerson, Steven Thygerson, the Wilderness Medicine Society, and the American Academy of Orthopedic Surgeons.
The Ultimate Survival Medicine Guide is definitely geared more for preppers, but it does take the approach of how to treat things when going to the doctor simply isn't an option you have, which makes this a great resource in my opinion.
15
at Amazon
Prices accurate at time of writing
Prices accurate at time of writing
If you're going to only get one, I do recommend the Wilderness First Aid because it specifically addresses medicine in remote locations when care is over an hour away. It's also crazy easy to follow with concise decision tables and flowcharts that walk you through the decision-making process and appropriate treatments. It even has a section on first-aid for your pupper, which makes this book worth its weight in gold.
49
at Amazon
Prices accurate at time of writing
Prices accurate at time of writing
Want to take it even further? Take a wilderness first-aid course! They're available online through sites like Aim Adventure University. You also can sign up for a hands-on course through the Red Cross and REI, among other providers.
Conclusion
Preparing for the worst is absolutely something you should do, but that doesn't mean it has to be confusing or cost you an arm and a leg to do it (though having a great first-aid kit can save your arms and your legs!).
40
at Amazon
Prices accurate at time of writing
Prices accurate at time of writing
Surviveware offers some seriously good gear, whether you're a casual day tripper, a hardcore adventure, or you just want something to toss in the trunk just in case.
125
at Amazon
Prices accurate at time of writing
Prices accurate at time of writing
They know what they're talking about, and they back up their expertise with thoughtfully designed first-aid kits that are chock-full of high-quality medical supplies.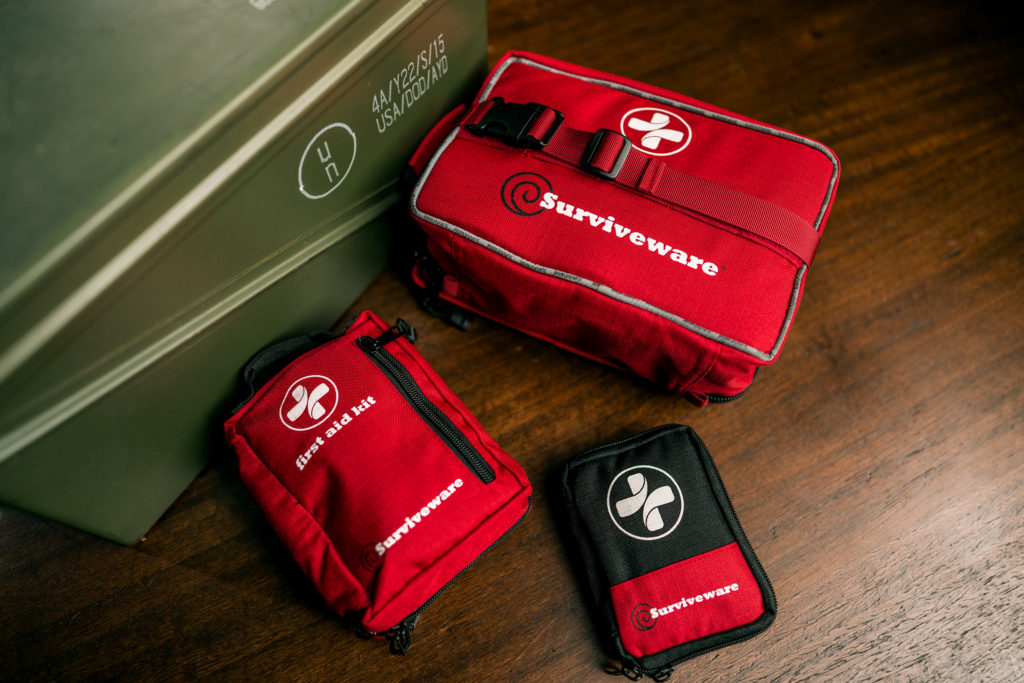 You can't go wrong with either of these kits!
Do you carry a first-aid kit? Did you make it yourself or buy a pre-made one? What would you do again or do differently if you got a new kit? We wanna hear about it in the comments below. You can also check out other Essential SHTF Gear to round out your collection!