American gun culture often finds itself in odd arguments about the nuances of weapon handling.
Of all the arguments, opinions, and small little things one can talk about… the height of your red dot in relation to your iron sights can be one of the most confusing.
Of course, today, we are talking about co-witnessing. A word my spell checker hates.
But what does this term mean and why do so many people have opinions on it?
Welp, we're going to explore that very thing today. We'll take about what co-witnessng means and how to achieve it.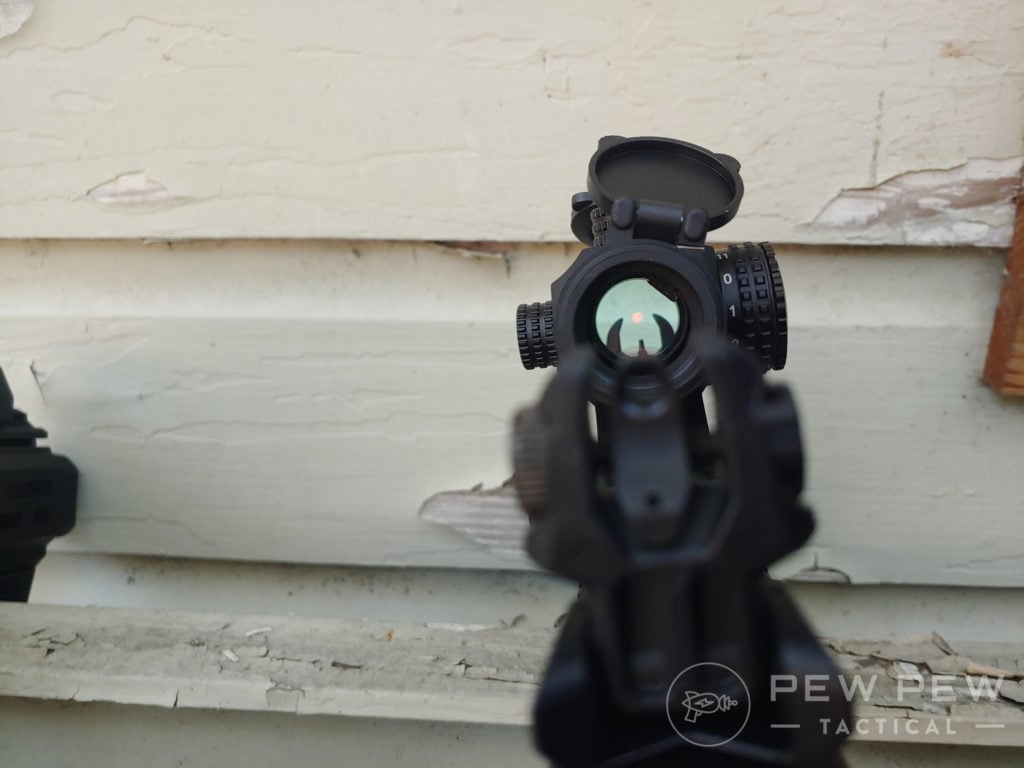 By the end, you'll know what it means, which kind of co-witnessing works best for you, and how to zero with co-witnessed sights.
Ready to learn more? Let's get to it!
But first, if you want more info on sighting in red dots and co-witnessing, check out the Brownells Daily Defense video below.
Table of Contents
Loading...
Co-Witness Sights & Red Dots
With red dots at the point where they are incredibly durable and long-lasting, the idea of co-witnessing seems silly…right?
As gun owners, though, we have an instinctual need to be ready for the worst-case scenario.
While we understand that an Aimpoint PRO is a bombproof optic — we still want a set of manual iron sights for the absolute worst-case scenario.
The "Goldilocks" Red Dot
482
at Optics Planet
Prices accurate at time of writing
Prices accurate at time of writing
(Want more red dots? We've got them! Check out the best red dots.)
This is known as co-witnessing, or the ability to see a set of iron sights through your red dot optic.
You can look through your red dot or holographic sight, and both understand and use your iron sights.
This is commonly referenced in terms of AR-15s but can apply to a variety of weapons, as you'll see here today.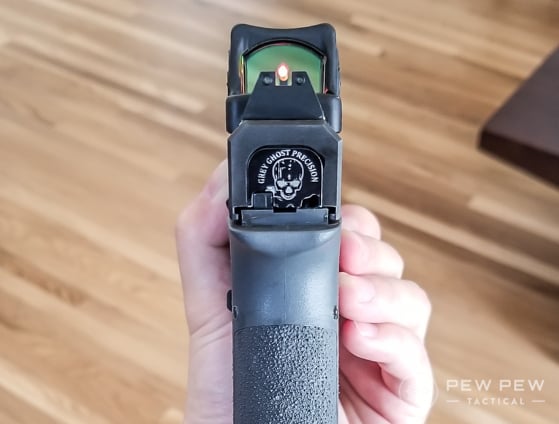 Admittedly, most optics and mounts are designed to co-witness with AR-15 height sights. But you can make it work over a wide variety of weapons.
There are two types of co-witnessing, and that's 1/3 or lower third, and absolute or 100% co-witness.
As you'd imagine, the difference between the two is how much iron sight you see through the optic.
This is an argument many have, and while I can't settle it for you, I can at least explain what they are and offer their advantages and disadvantages.
Absolute vs. Lower One-Third Co-Witness Sights
The main difference between the two is the amount of iron sight that occupies the sight picture of your red dot.
With absolute co-witness, you are getting 100% of the iron sight present through your red dot. You see it all.
The red dot or reticle of whatever kind is going sits on the tip of the front sight and generally is aligned with your iron sights.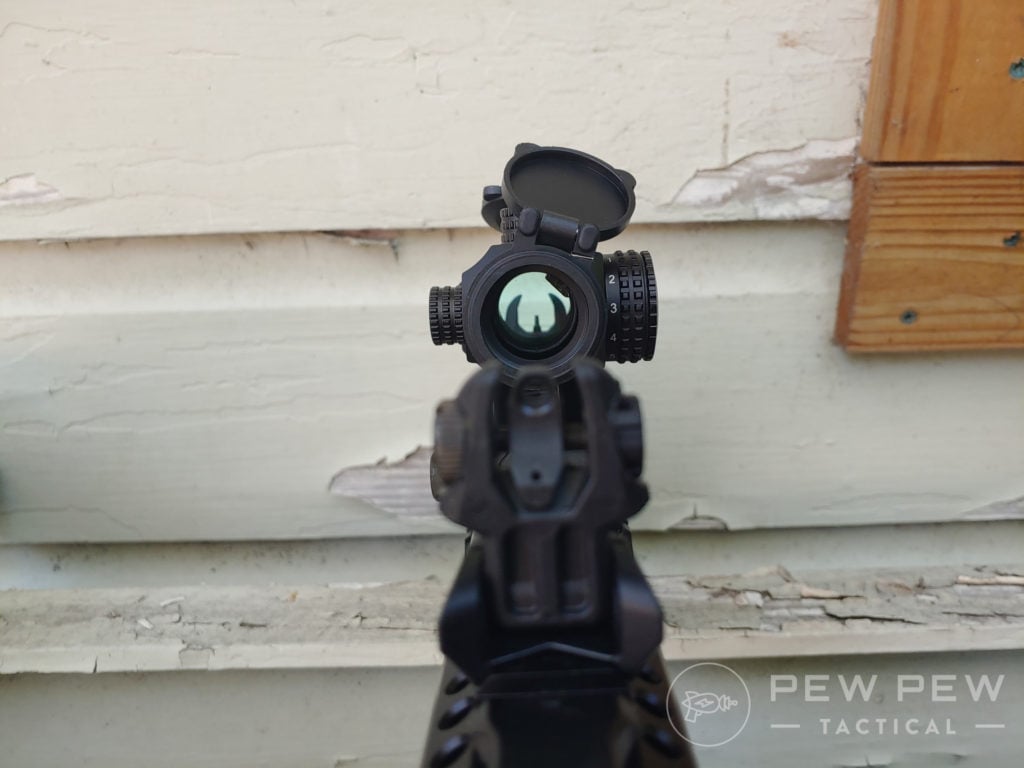 With a lower 1/3 co-witness, you see the bottom third of your iron sights through the optic.
When looking through the optic, the red dot will appear over the front sight.
If you tuck your head down use the iron sights, the dot will move and appear over the iron sights.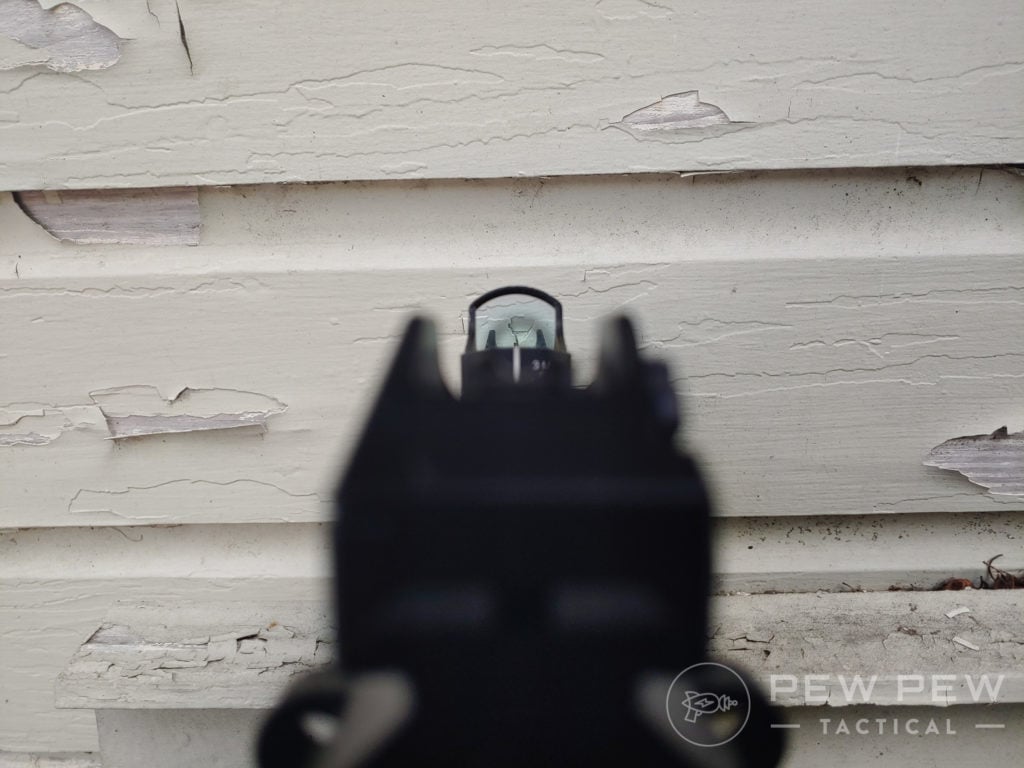 How do you achieve one option over the other?
Well, it's all about mount height for your optic.
A .83 inch riser mount will give you absolute co-witness with standard height AR sights.
11
at Amazon
Prices accurate at time of writing
Prices accurate at time of writing
A 1-inch riser mount will provide you with a lower 1/3 co-witness.
There are also shorter sights that can achieve a lower 1/3 co-witness as well.
13
at Amazon
Prices accurate at time of writing
Prices accurate at time of writing
That's all AR height iron sights, though. Using different weapon systems will yield different results.
Sometimes it's a bit of a guess, to be honest.
I've set up a number of weapons with varying heights of sights that co-witness perfectly, including a KPOS, a Scorpion, and even an AK, once.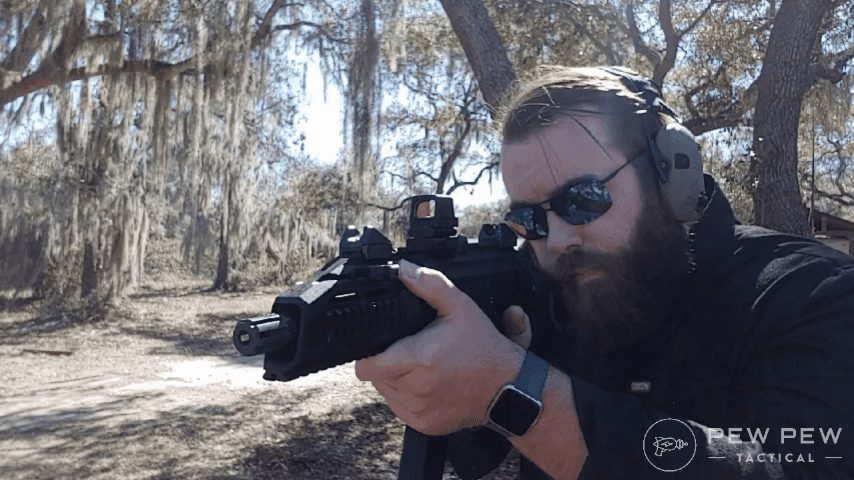 Sometimes you won't get a choice. For example, with an AK mount, all you can get is a lower 1/3 co-witness.
Breaking Down Absolute Co-witness
With absolute co-witness, the iron sights take up most of your sight picture through a red dot sight.
They are almost perfectly in line with your reticle, perhaps a bit above if you are working with a chin weld.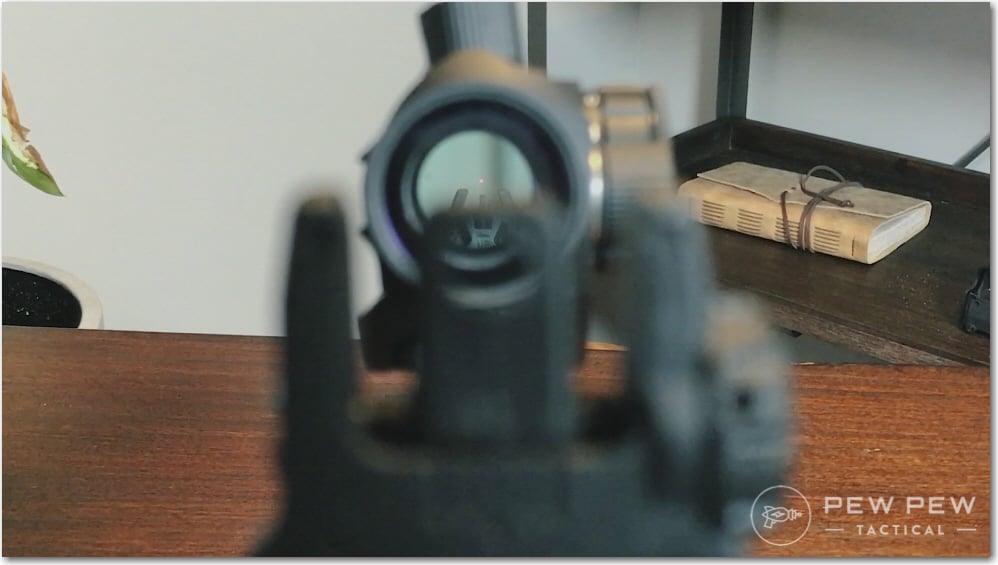 An absolute co-witness allows you to maintain one consistent cheek weld between using your iron sights and your red dot.
This simplifies things and reduces the overall training requirement. It's more instinctive to transition between the iron and red dot sight.
Training for hundreds of hours with a red dot with a single cheek weld makes things easier.
On top of that, the optics can be mounted lower and reduces the total profile of your rifle. With an absolute co-witness, there is no difficulty in using a specialized front sight.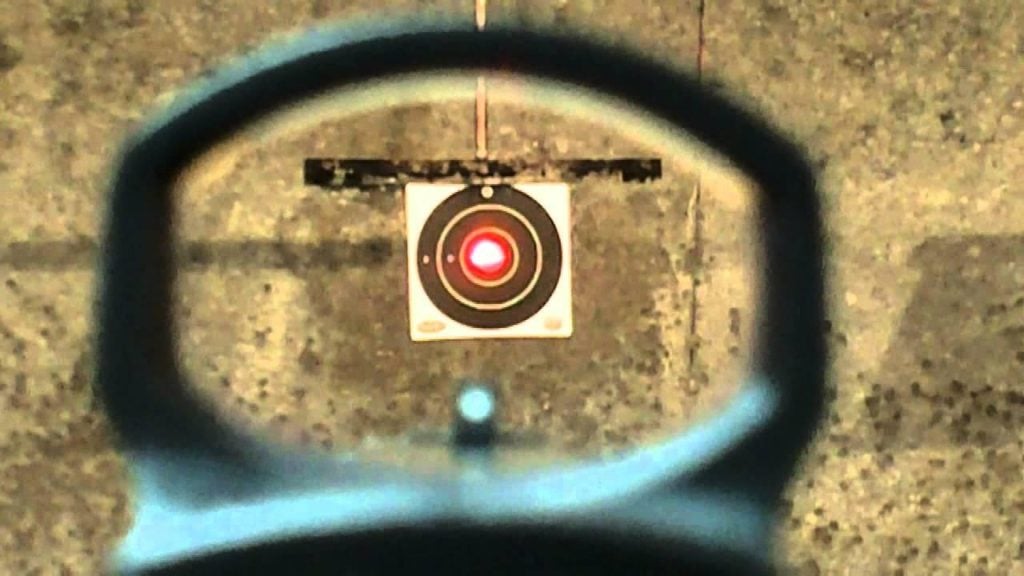 Front sights with specialized tips like XS night sights are much easier to use when you can see the full-size tritium vial.
The main issue with absolute co-witness is the need for flip-up sights over fixed sights.
The iron sights take up so much room in the window of your red dots that it takes a lot of the red dot advantage away. If you want an absolute co-witness, I'd highly suggest flip-up sights.
79
at Amazon
Prices accurate at time of writing
Prices accurate at time of writing
A fixed sight base of any kind can be a pain visually.
What About a Lower 1/3 Co-Witness?
A lower 1/3 design does require a taller optic mount, but it's just a few millimeters ultimately.
The lower 1/3 design does require you to change from a heads-up position to a lower cheek weld to switch between the red dot and the iron sight.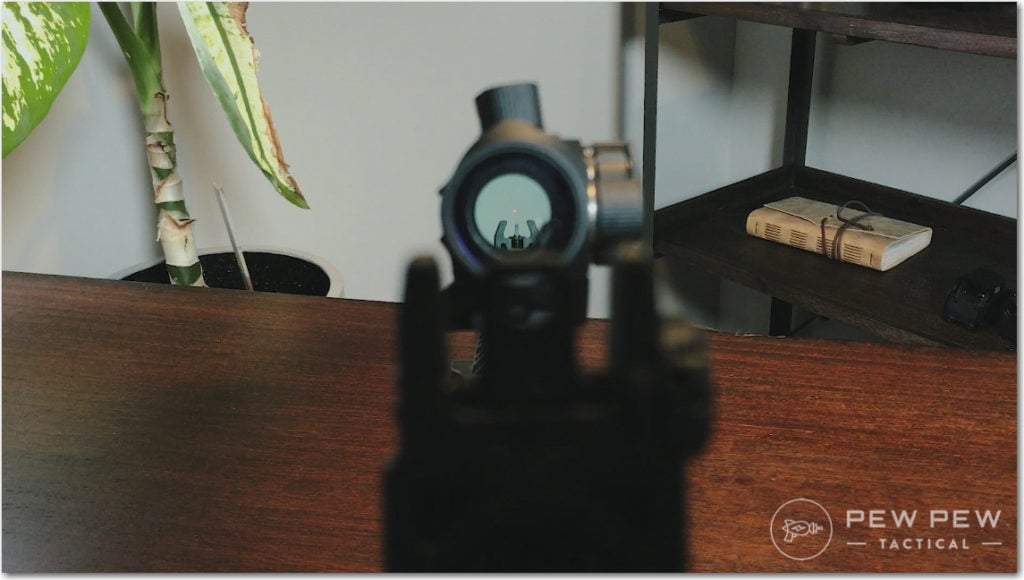 This is undoubtedly something worth practicing if you run a lower 1/3 design. The benefit of a lower 1/3 co-witness is that you don't have to use flip-up sights.
If your particular platform uses fixed sights like an AK or Scorpion, then you'll be kind of forced to use fixed sights.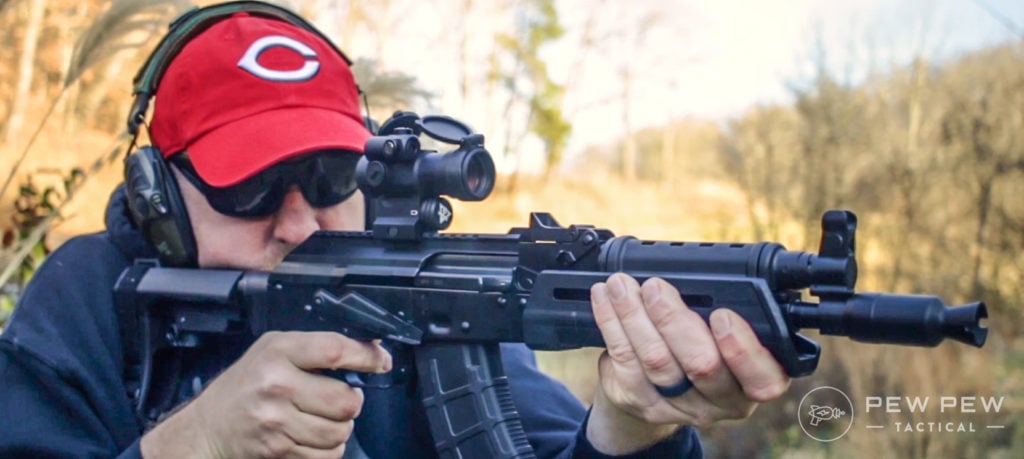 The same goes for guns running FSBs.
The lower co-witness will never force you to stop and flip up the sights if you choose just to run your irons 24/7.
I've also found the taller 1/3 mounts more comfortable to use with more prominent ear protection like my Peltor 500s.
Zeroing with Co-witness Sights
I'm not sure why zeroing with a co-witness optic seems so complicated, but plenty of people seem to have questions about it.
It's relatively simple, and there are likely numerous means to do so. But I'll share with you my method of zeroing irons and optics.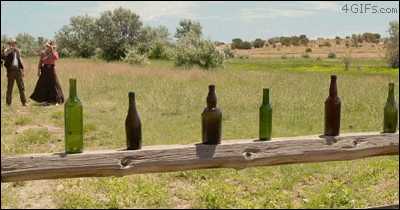 I typically start with the optic off, and I zero the iron sights first. (If you need help with that, check out our guide!)
Once the irons are zeroed, I toss on my optic and confirm the zero. I make sure I can see and use the sights without any issues.
I leave the optic turned off and pop a few rounds down range. Again, to make sure everything is copasetic.
From there, I turn the dot on and get a proper sight picture through my irons first. It doesn't matter if it's a lower 1/3 design or an absolute.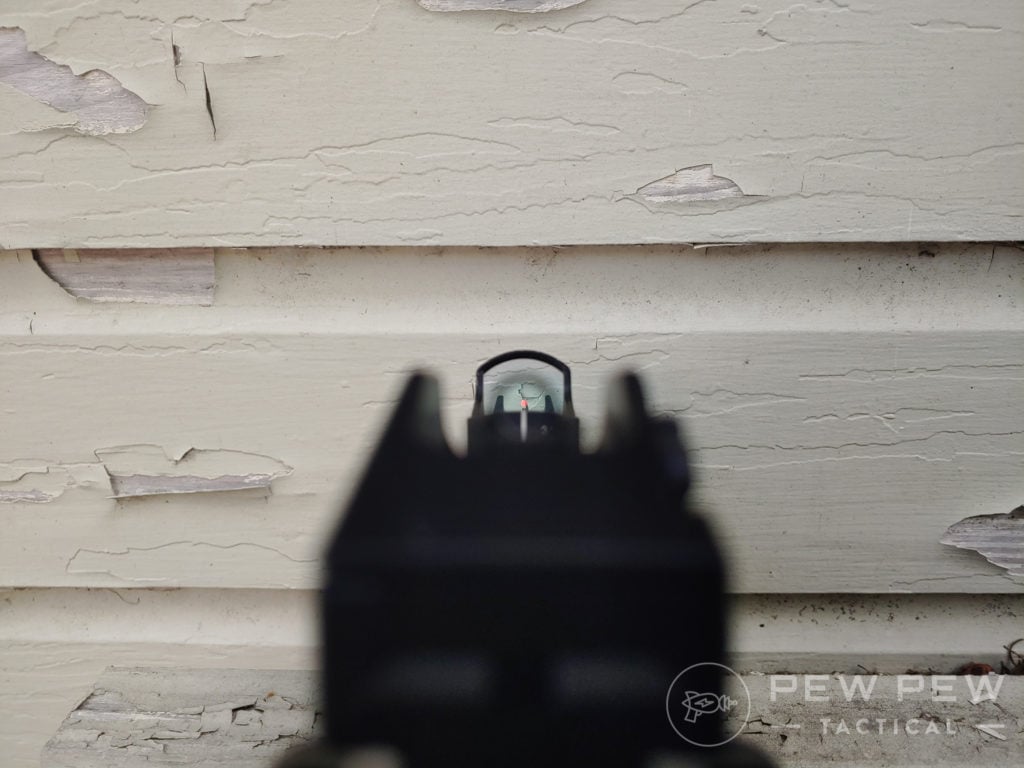 Just do whatever you must to get an iron sight picture.
Now adjust the dot to be in line with your iron sights — the dot should be right above or right on the tip of the front sight. Confirm your zero just using the red dot.
If you can fold down the iron sights, do so. If it's a lower 1/3 co-witness set up, get a comfortable cheek weld and fire.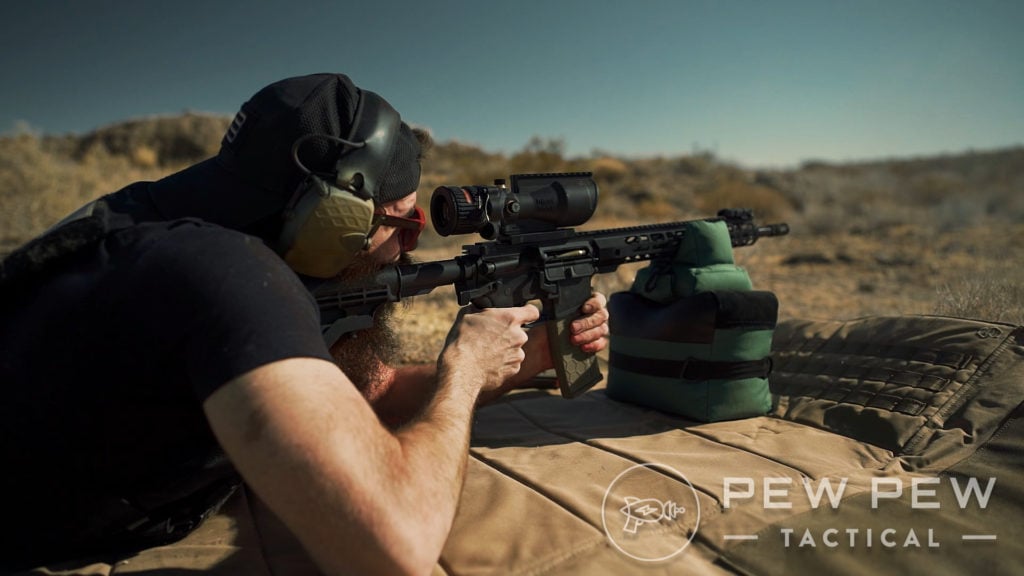 In a lower 1/3 setup, the red dot will appear to be higher than the iron sights if you use a heads-up cheek weld.
That's normal, and should still be zeroed perfectly fine.
On some absolute co-witness setups, the reticle may also appear higher than the iron sight with a higher cheek weld.
That's fine too. Shoot and confirm your zero.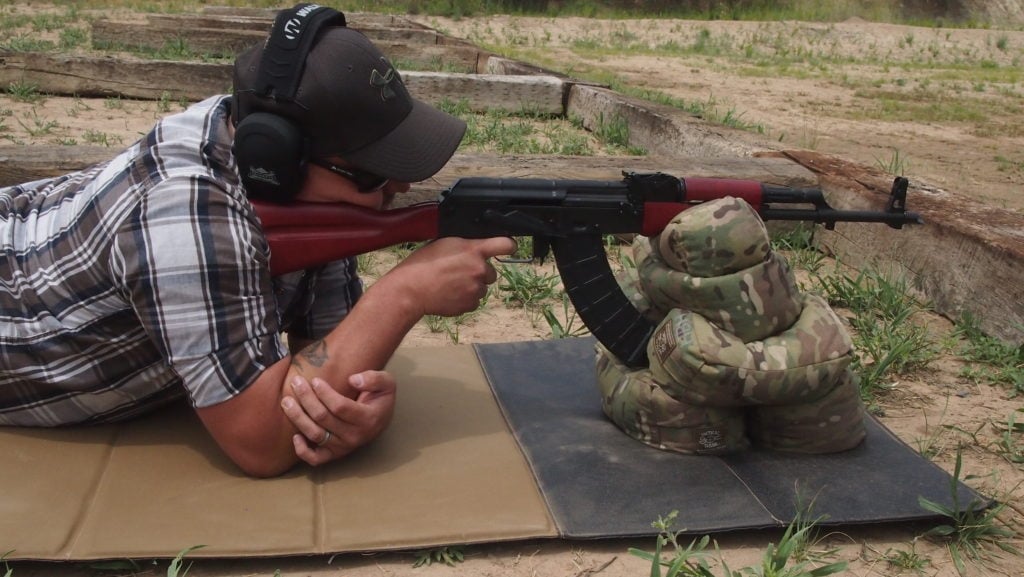 You might need to make some minor adjustments up and down, but the optic should be darn close — as long your iron sights are correctly zeroed.
The iron sights and red dot live together in a symbiotic relationship of accuracy and precision.
Once they are both properly zeroed, tighten everything down, and you're ready to rock and roll.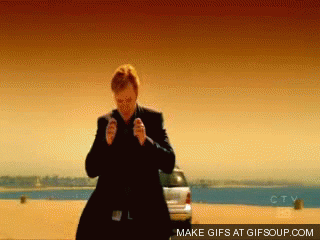 Conclusion
And that's it! Whether you go with lower 1/3 or absolute co-witness, you're all set for anything–including a dead red dot.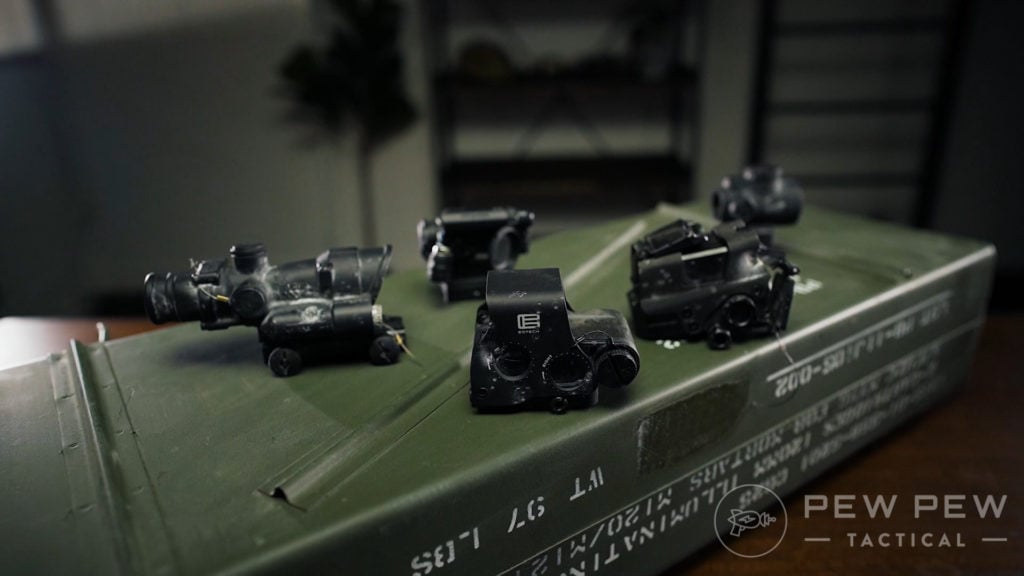 How do you folks co-witness on your guns? Let us know below what setup you prefer–especially non-AR co-witness setups. Need an optic? Check out our Best Red Dots article.