People within the gun community have very strong opinions when it comes to the notion of press checks.
Should you? Shouldn't you?
You'll likely find folks on both sides of the aisles shouting their preferences.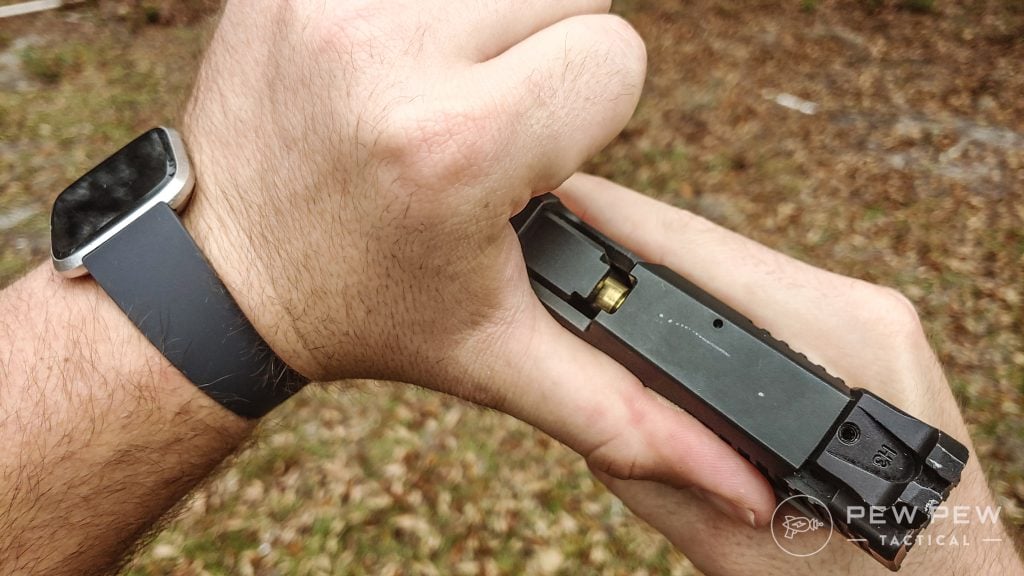 Really, it's no surprise. The gun community loves to argue, debate, and express ourselves. People with a strong love of the Second Amendment often have a strong love for the First Amendment as well.
I'm not saying it's a bad thing, and it helps propel our technology and tactics forward.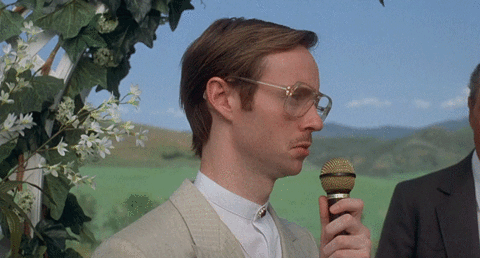 So, today, we're tackling the topic of press checks. We'll talk about what the term means and then break down the pros and cons on both sides.
Ultimately, I want you fine folks to walk away with a well-balanced view on the topic.
So, with that said, let's dive into press checks.
Table of Contents
Loading...
What's a Press Check?
Oh boy, we've gone this far and haven't defined exactly what a press check is.
Shooters press check by slightly retracting the slide of their semi-automatic pistol.
Retract the slide far enough to visually inspect the chamber and determine if a round sits in the chamber. The slide should not be retracted far enough to eject the brass.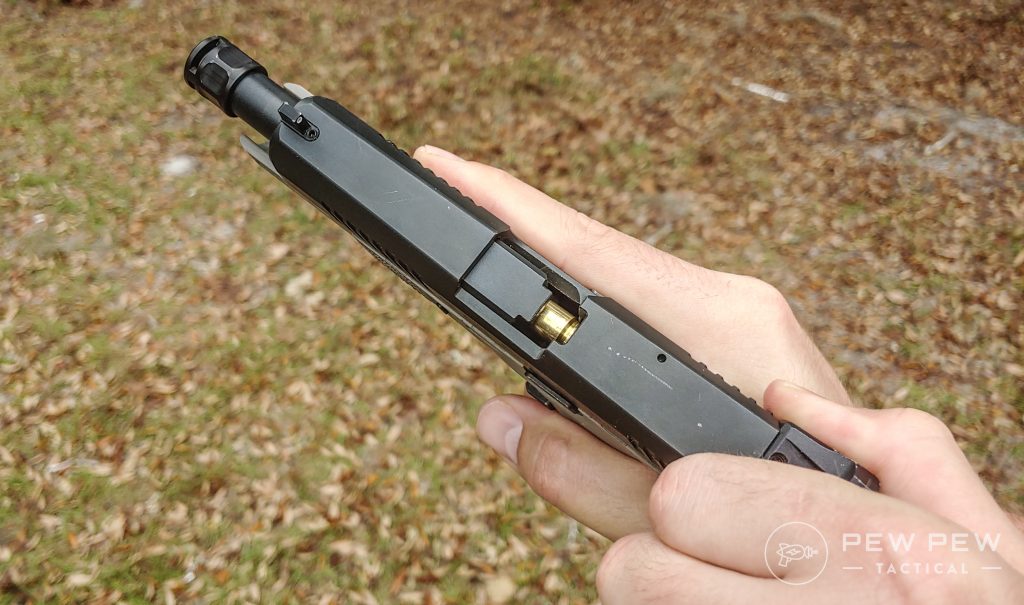 It's very simple, and the intent is to see if a round is chambered.
We treat all weapons as if they are loaded, but it's good to know that your gun is loaded if it's used for concealed carry, home defense, or duty use.
Why is it Called a Press Check?
Press check is a specific term and refers to pressing the slide backward.
If we are pressing the slide backward, that means we are gripping the front of the slide. That's where the name press check comes from.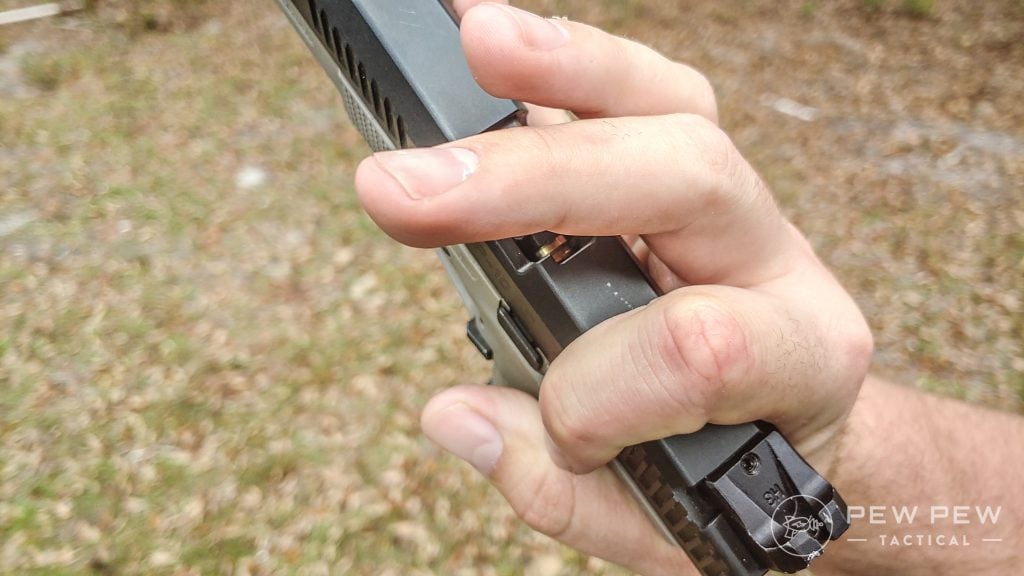 However, as many things do, the term " press check " sticks around regardless of how you check your chamber.
It's kinda like how we call all 1X optics red dots, even when they are holographic, have green dots, etc.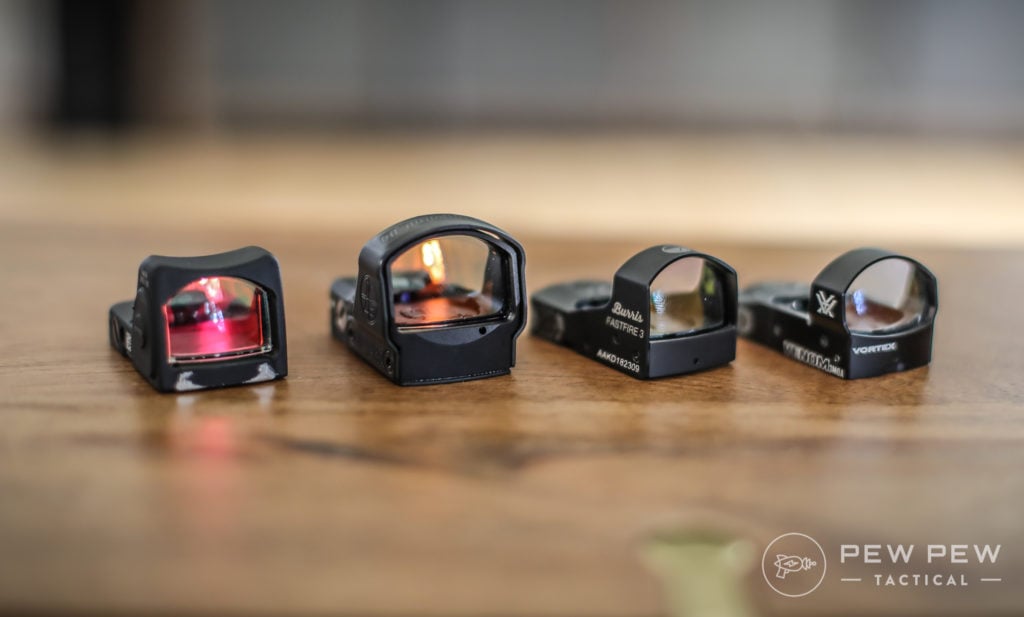 Press checks and the term brass check are often used interchangeably.
You can pull from the rear of the gun, or perhaps you can pull the charging handle of your rifle, and you are essentially still doing a press check.
Should I Press Check
Our answer to whether you should press check or not…well, it's not so simple. Like most things regarding guns, it's situational.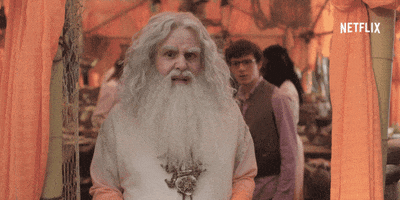 Should I press check every time I pick a weapon up? I'm going to say no.
Is a press check useless? Again, I declare no.
It's all situational. Press checks are admittedly free, and if you want to do one every time you pick a firearm up, go for it.
However, if you ignore them entirely, you take a bizarre stance on a valuable tool.
If you are not 100% sure a round sits in the chamber of a firearm and you intend to carry, shoot, or handle it, then it's wise to do a press check.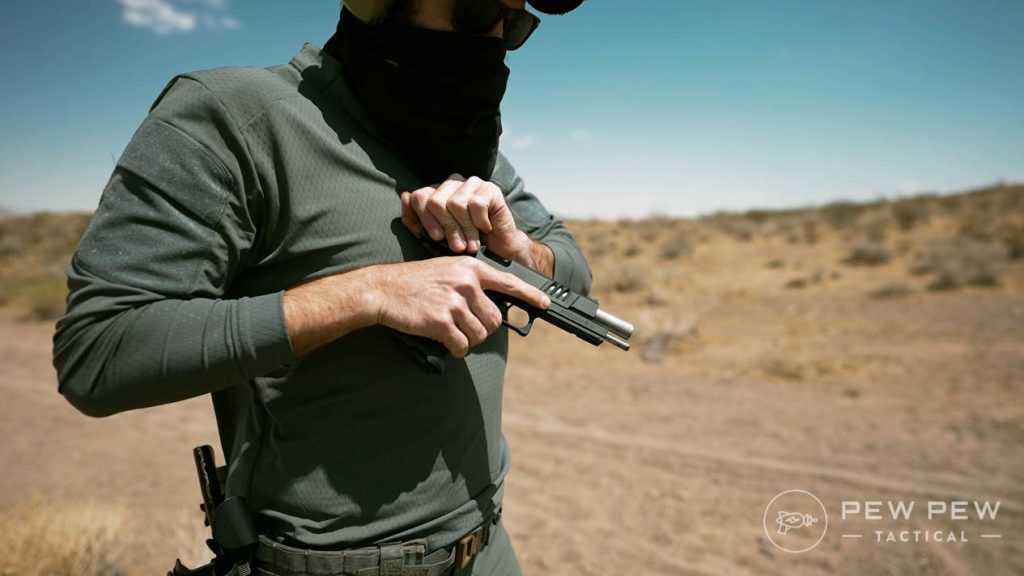 You want to know if it's ready to rock and roll before you rely on that weapon.
I do not personally conduct a press check every time I put my carry gun on because I know it's ready.
No fairy is unloading it for me in the middle of the night.
I strap on my gun and holster in the morning, and it stays on until I go to bed.
When I retire for the evening, I remove my holster and gun, lock them in a safe, and that's where they stay. In the morning, I put the gun on and repeat the process.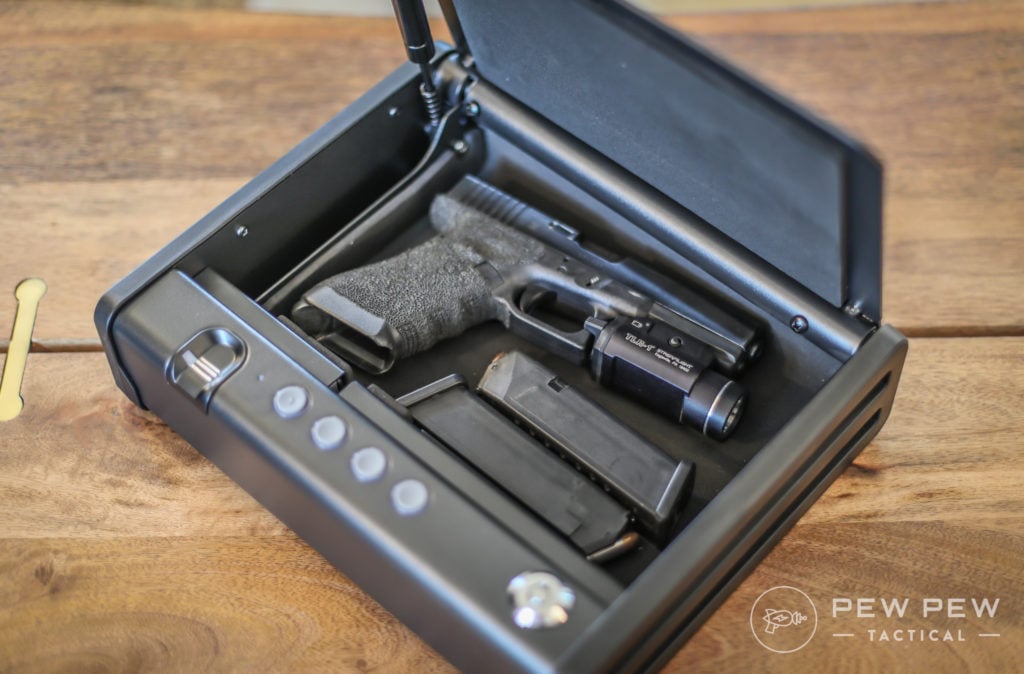 On the other hand, training and classes with lots of shooting and high round counts are a different story. You're likely to forget if you've chambered a round or not.
It happens when you've chambered hundreds of rounds, worked the charging handle, or slide for hundreds of repetitions for various exercises. Things all start to run together after a while.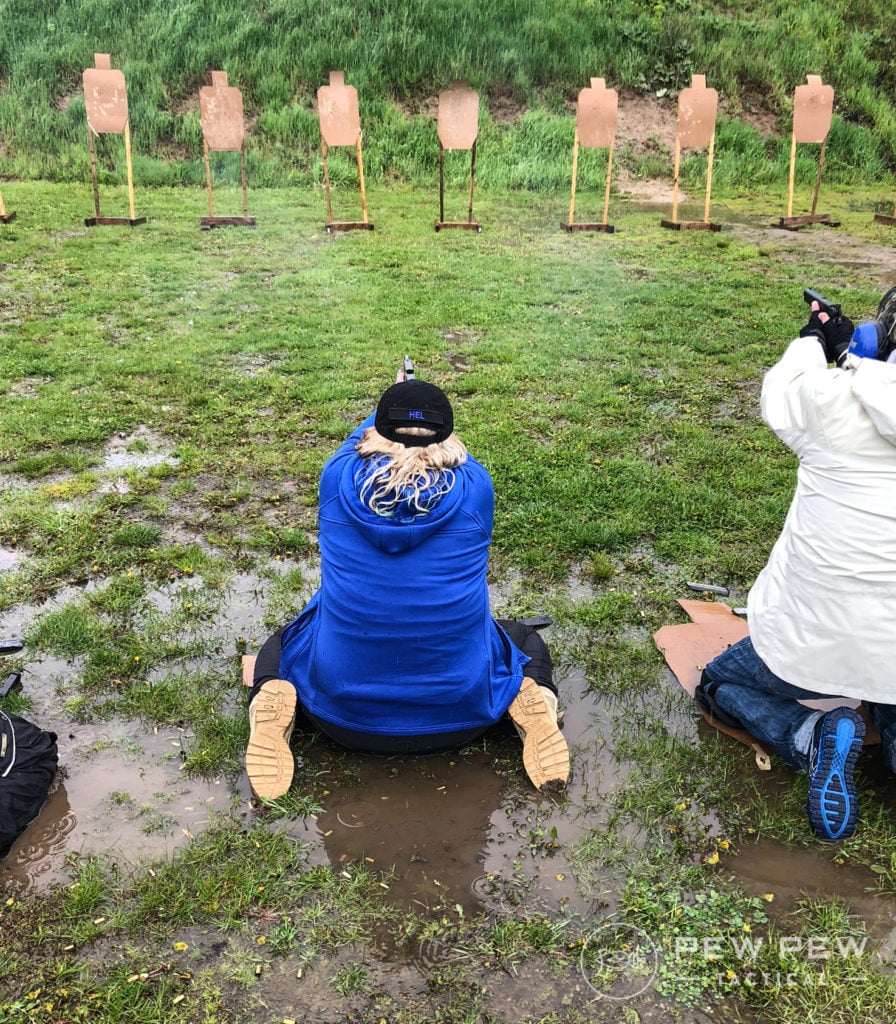 So, as everyone readies themselves on the range, it might be wise to do a quick press check to make sure you're good to go.
Sometimes a round may not chamber when you manipulate the slide or charging handle. This could be for numerous reasons relating to magazines, bolts, slides, etc.
A tactile difference exists when a round is stripped from the magazine and pushed by the bolt or slide into the chamber.
Experienced shooters will recognize and understand this feeling. However, new shooters might not be so sure.
This goes back to the rule if you are not 100% sure there is a round in the chamber, commit a press check.
As you become a more experienced shooter, you'll learn that feeling and rely less on press checks in these cases.
In my own opinion, I feel a majority of press checks are nothing more than a totem.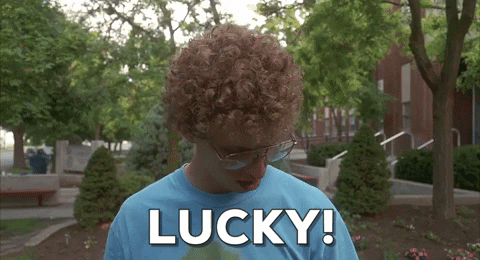 Once you advance past the beginner and amateur stages of shooting, the press check becomes much less important.
If you are doing it out of nothing more than habit, it might be a good opportunity to lessen your number.
When Is A Press Check Universally Important?
You should feel 100% confident you have a round chambered, and if not, do the press check.
Feelings aside, there are a few universal situations in which you should 100% press check the gun.
You Get the Empty Chamber Feel
When you run the slide, pull the charging handle, or manipulate the pump and do not feel that tactile notion of a round being chambered, do a press check.
The difference is obvious to experienced shooters and can be cause for concern.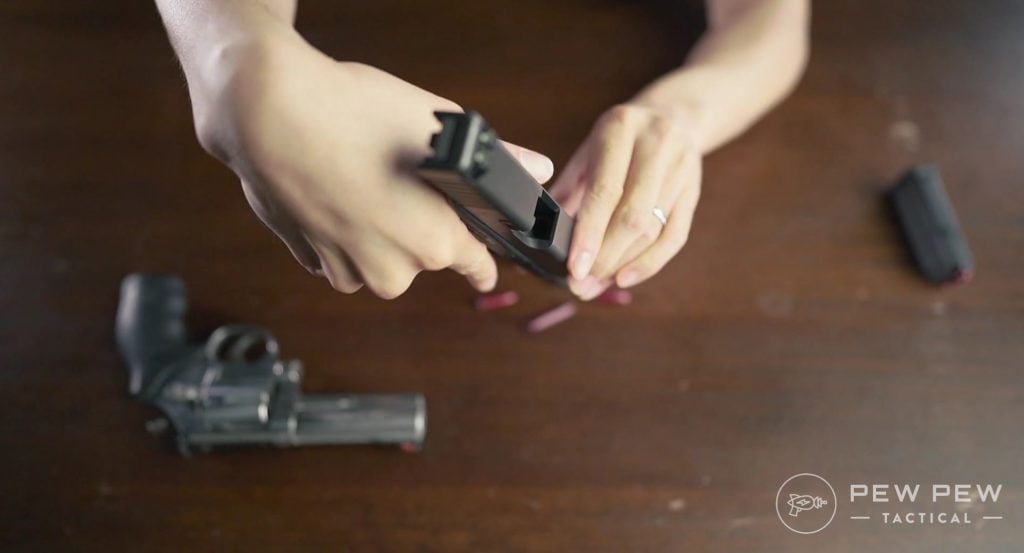 Press check and take appropriate action if a round is not chambered.
You Get Handed a Gun
There have been a few times in my life I've had to borrow a gun for duty use.
I carried an M240 and believe it or not; an M240 isn't great for guard detainees. It's also not great for a roving patrol around a bivouac area.
In those situations, I sure as heck ensured I had a round in the chamber and committed a press check.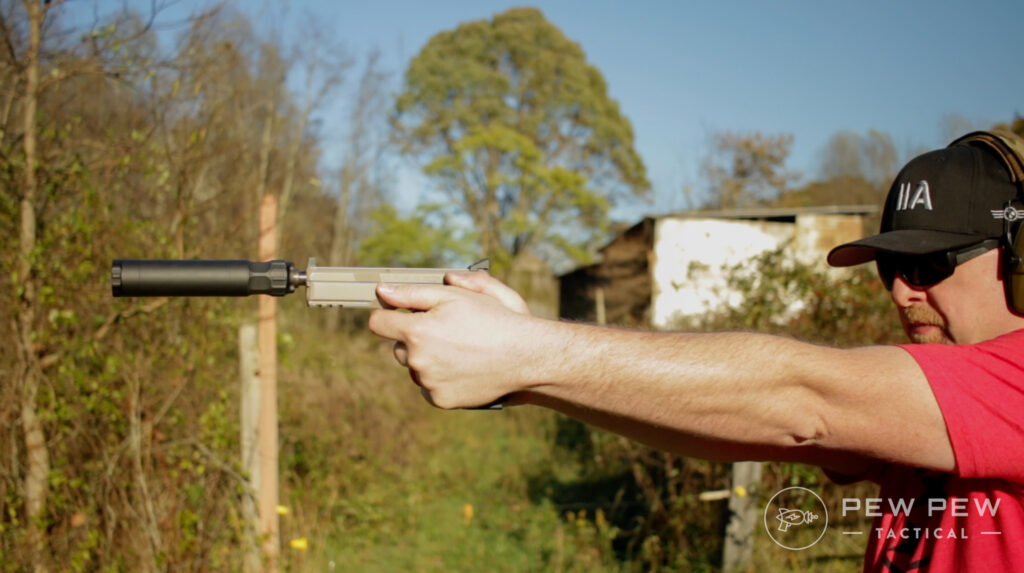 Even though my squadmate, friend, and dude I trust my life to handed me the weapon, I needed to be sure for myself. A press check was the only way to do so.
In a situation where someone hands you a gun that needs to be used, check the chamber.
Be it an RSO, an instructor, a friend, squadmate, fellow competitor, etc., check it for yourself, just to be sure.
When Someone Else Has Handled Your Weapon
If someone else has handled your weapon for any reason, commit a press check when it's returned to you.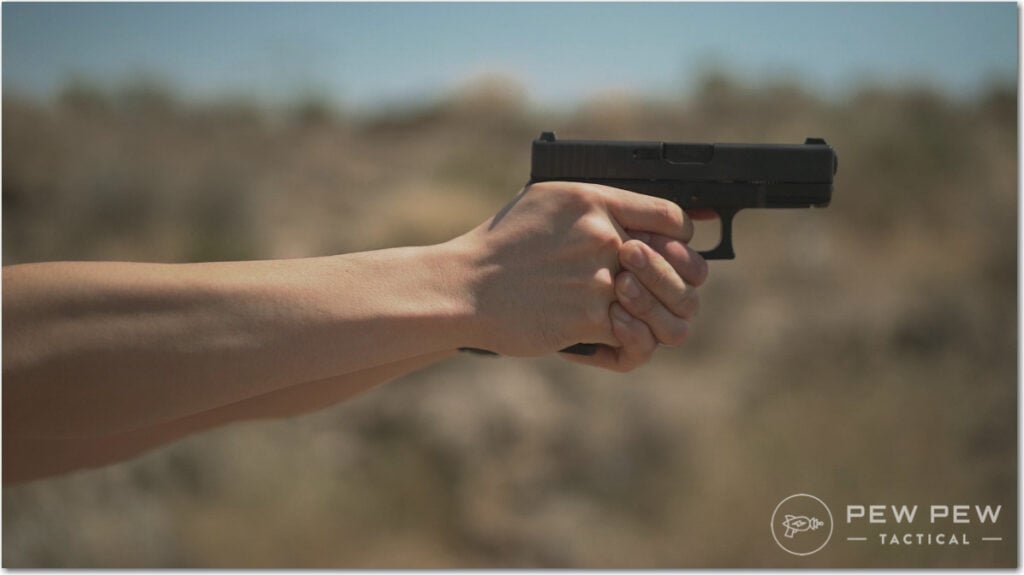 Unless you've kept your eyes on the gun the entire time, you cannot possibly know if someone cleared the gun.
So, be 100% sure you are ready to go.
The Downsides of a Press Check
Nothing comes without a cost, right?
Press checks aren't all sunshine and daisies. There are a few downsides worth noting.
Bullet Setback
The overall length of a cartridge is important to reliable function. When you press check, a cartridge over and over, the round can sink slowly into the case.
This can cause chambering issues and potential mechanical errors when the round fires.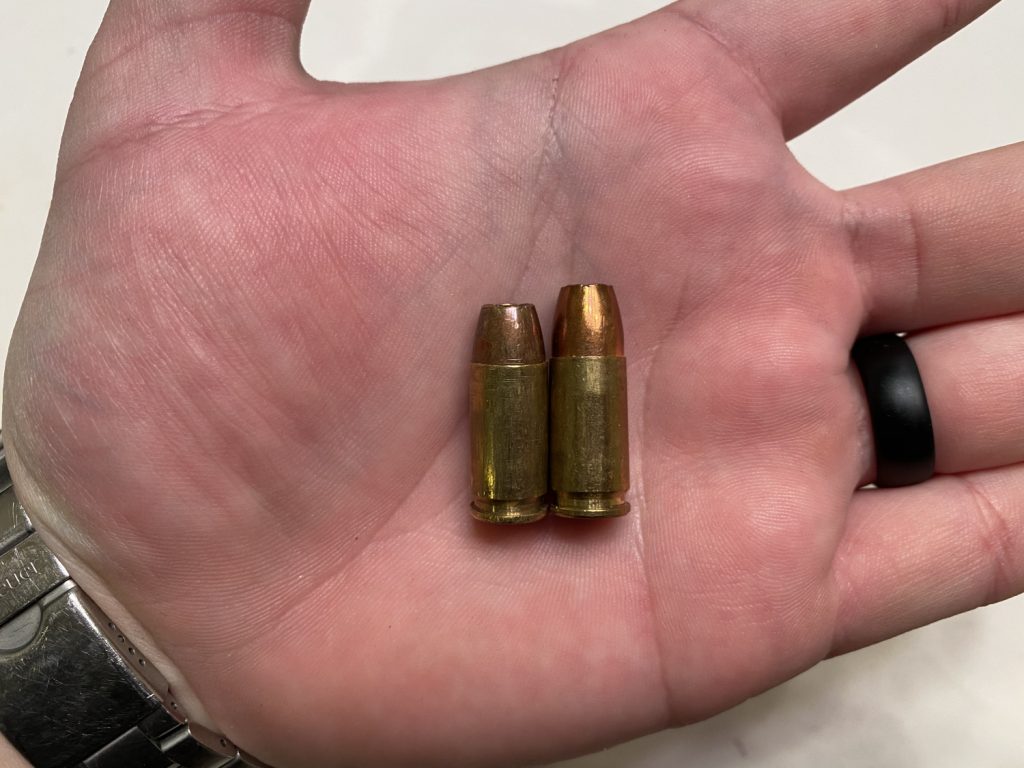 I press checked the same round 365 times to represent doing it once a year and got a little less than 1mm of sink.
Not comforting if you are doing it once per day plus any other time you feel unsure.
Into Battery Issues
A quick press check without proper follow-up can lead to a slide or bolt not properly in battery.
If the bolt or slide isn't fully into battery, the weapon will likely not fire. Or if it does fire, you can be looking at a serious malfunction.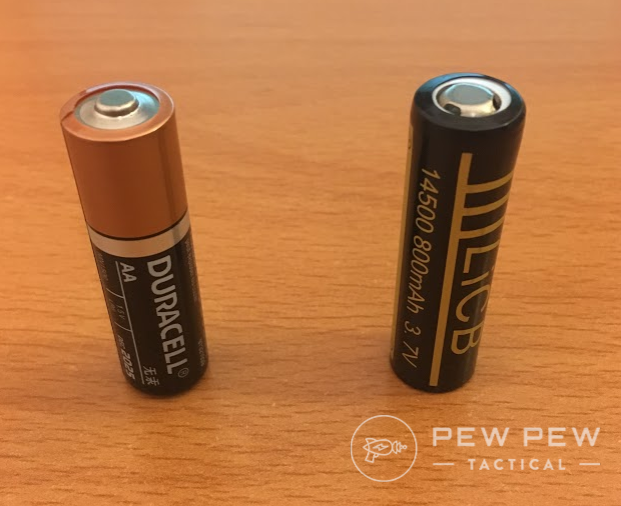 There is an easy fix, though. After a press check, ensure the bolt or slide is fully forward.
Press Check Alternatives
Let's talk about some alternatives that can be used in lieu of press checks.
Loaded Chamber Indicators
Loaded chamber indicators are often a small tab exposed to show when a round is loaded in the chamber.
These are great 99% of the time.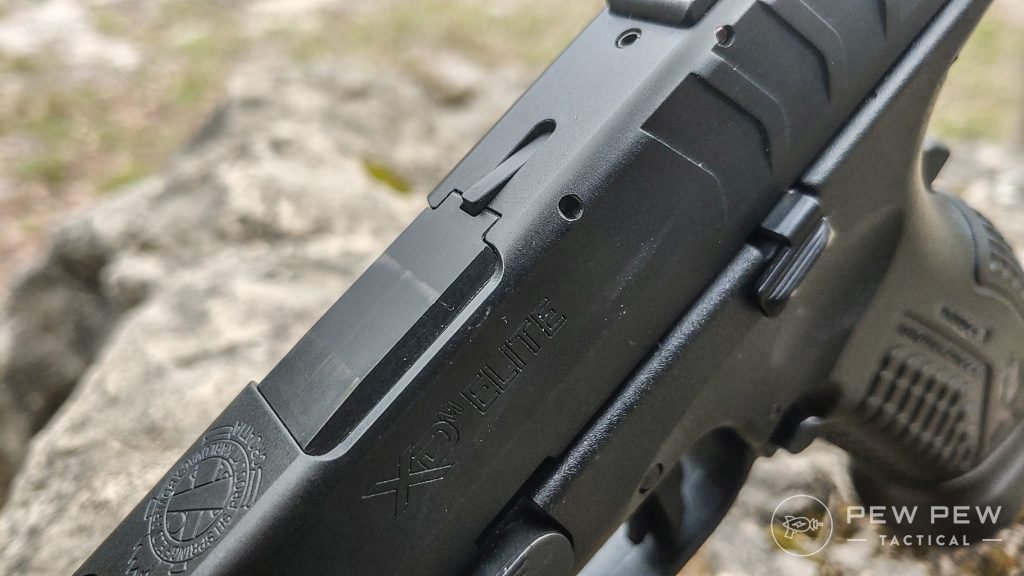 When a gun gets filthy dirty, that tab can stick up regardless of whether a round is in the chamber. So, I'm less likely to trust the loaded chamber indicator with a dirty gun.
The biggest benefit is that these are tactile in the dark and can be felt rather than just seen.
Chamber Windows
These I love.
They are small little portals in the top of the chamber that allow you to look into the chamber and see if brass is present – an easy alternative to look in and see if you have a round in the chamber or not.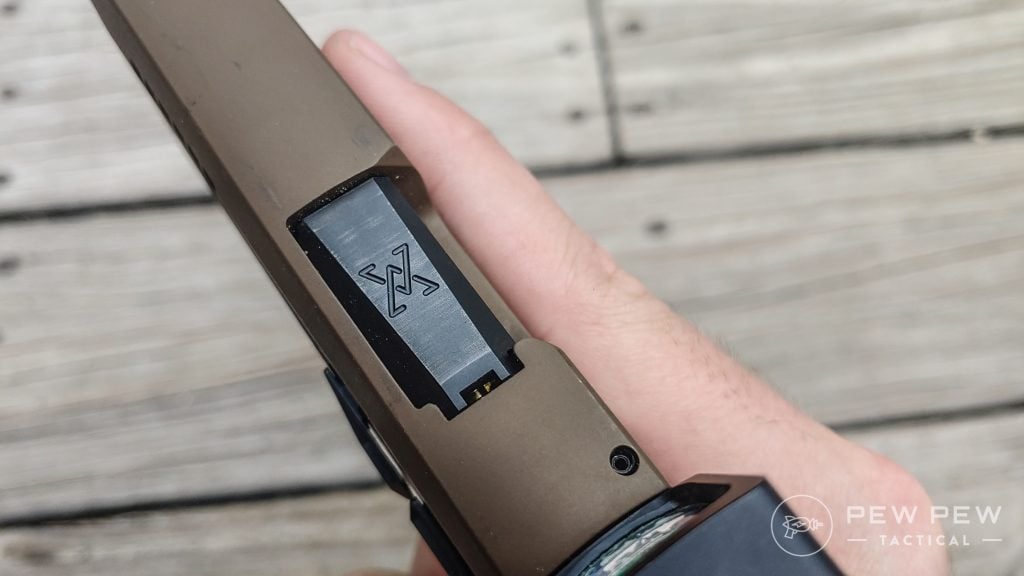 The downside is that they are not useful if it's a low-light situation.
Magazine Check
A lot of modern handgun magazines have those handy little witness holes on the rear of the magazine.
It makes it quite easy to remove the magazine and see if a round is missing at a certain round count.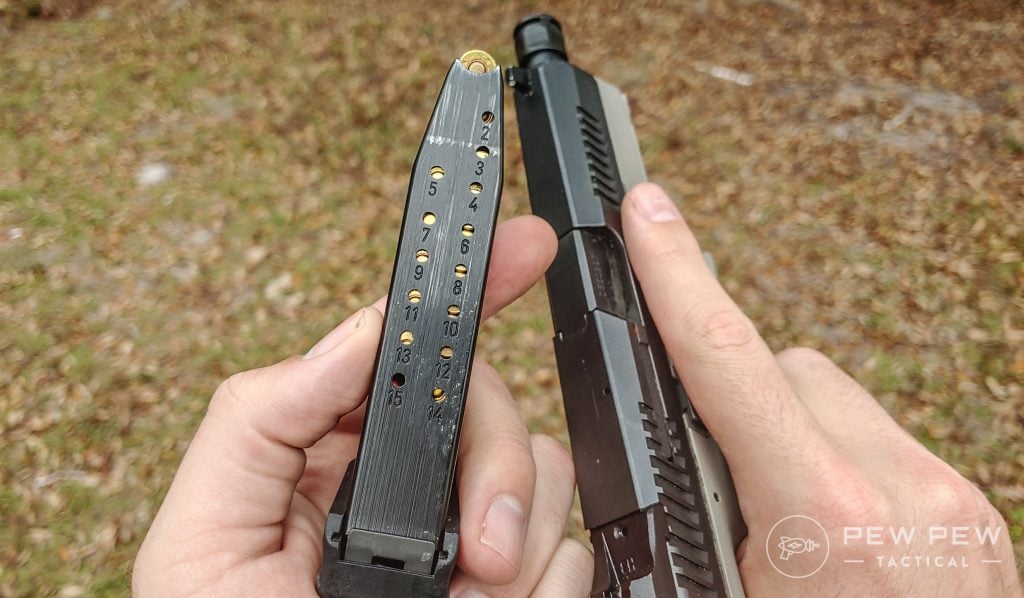 No need to manipulate the slide; just look and go.
On a rifle magazine, you can reach over the top of the cartridges and feel it.
In 30 round magazines, the top round is on the right-hand side. So, if you chamber a round, the top round will be on the left side.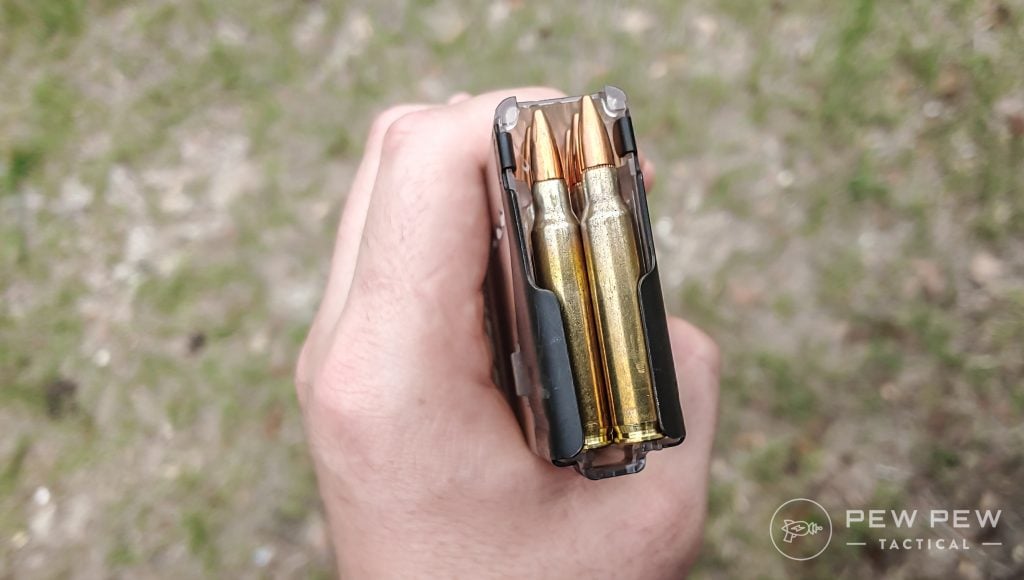 If you feel this, you know you have a round chambered.
Conclusion
Press checking, like most gun things, rests entirely on the end-user and their preference.
Personally, I rarely do it. But I can see the merit of the technique in certain cases.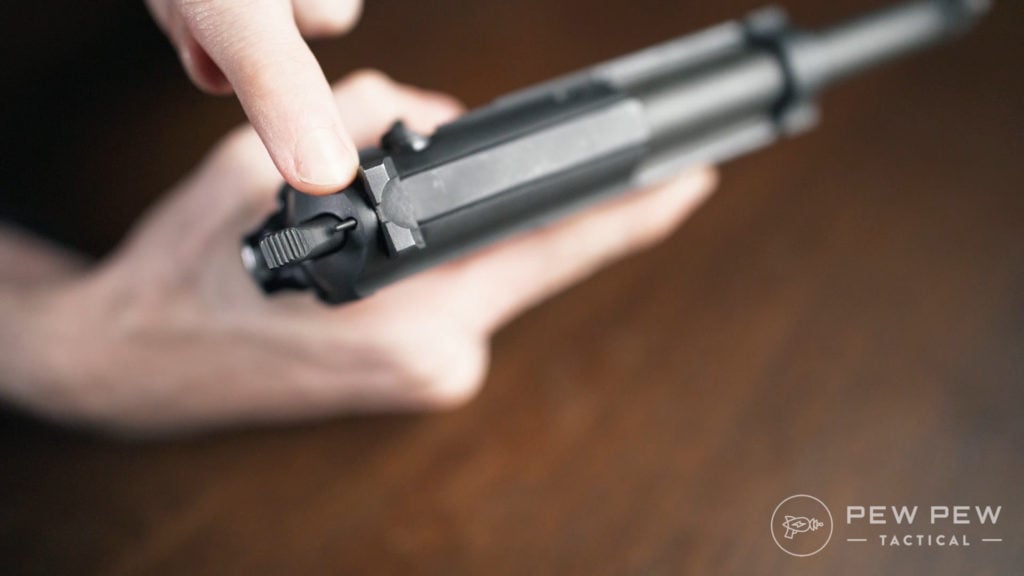 It all lies in the middle where good common lives. People who press check every time they do anything with a gun are as ridiculous as those who claim you should never press check.
Do you press check? When, how, and why? We want to know it all, so let us know below. Ready to tackle more debates within the gun world? How about 9mm vs. 45 ACP or Whether a WML Makes You a Target?