The Glock design has encouraged a ton of copycats and clones.
But are these as good as the original?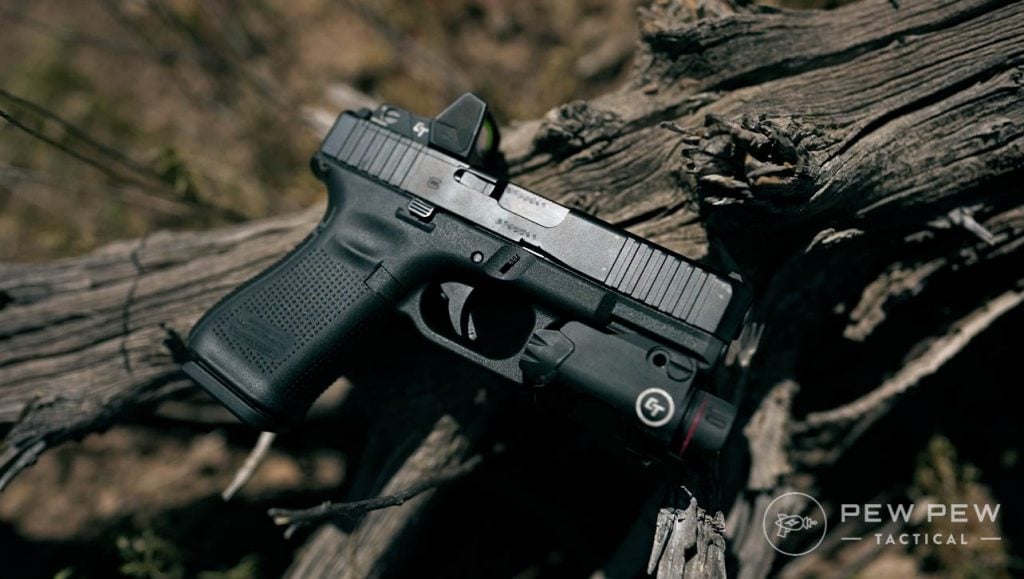 Today we look at two clones that take on the Glock design but give it a high-end look and feel. Of course, I'm talking about the XR920 and the MR920L from Shadow Systems.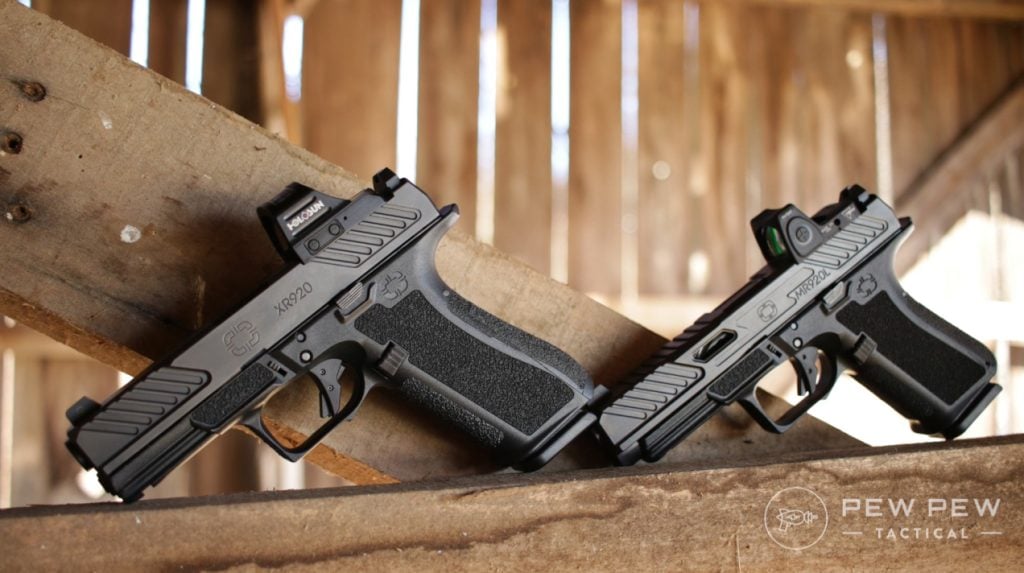 I'll run you through these pistols, talk about the similarities and differences, the pros and cons, and, most importantly, how they work out on the range.
By the end of this article, you'll have a better idea if one of these 9mm pistols is right for you.
If you'd rather see this in action, be sure to watch my full video review below.
And, as always, head over to Pew Pew Tactical's YouTube channel for more guns and gear.
Shadow Systems XR920 & MR920L
Many of my buddies rave about Shadow Systems, but I had never shot one of their pistols until this test. Yeah, I know, I've been living under a rock.
The company offers a bunch of models, but to make it easy, the XR920 opts for a compact slide with a duty-sized grip and 17-round capacity.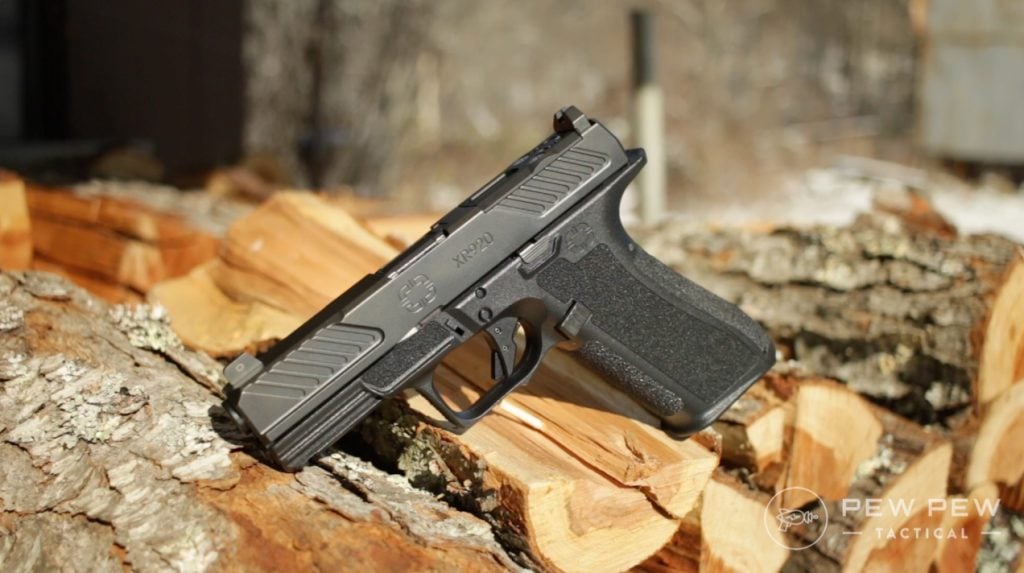 On the other hand, the MR920L uses a long slide with a compact grip. Think of it like a G17 slide and G19 grip…sort of.
Shadow Systems also has a couple of different packages for each.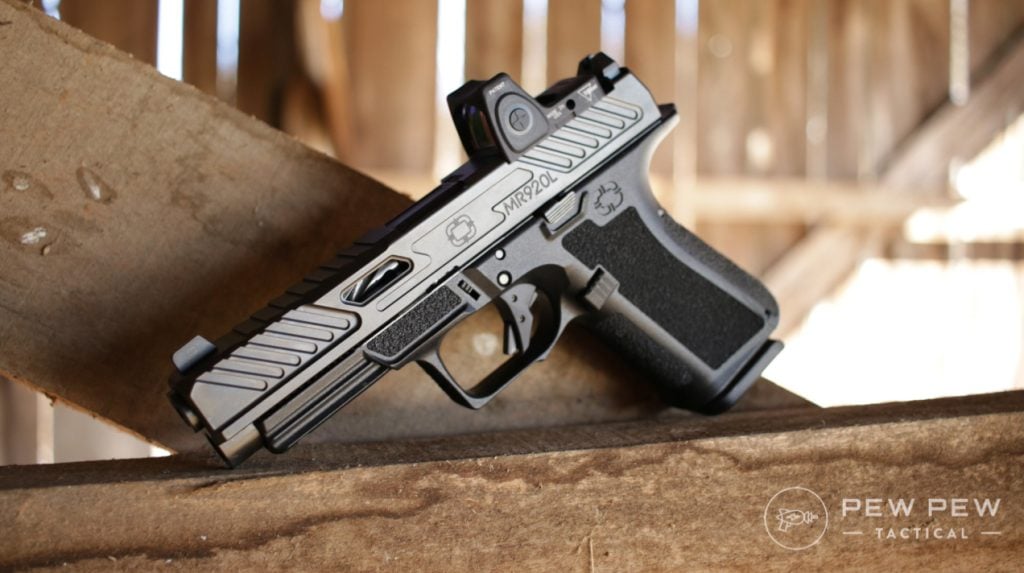 The XR that I tested is the Combat package.
And the MR has what Shadow Systems calls the Elite package. You can tell because of the windows in the slide and extra serrations.
999
at Gunprime
Prices accurate at time of writing
Prices accurate at time of writing
Features
Shadow Systems packs a lot of features into these 9mm pistols. Up top, you get slides cut for optics, and there are lots of serrations for whatever slide grip you use.
The setup and controls will feel totally familiar on day one — everything is right where it's supposed to be.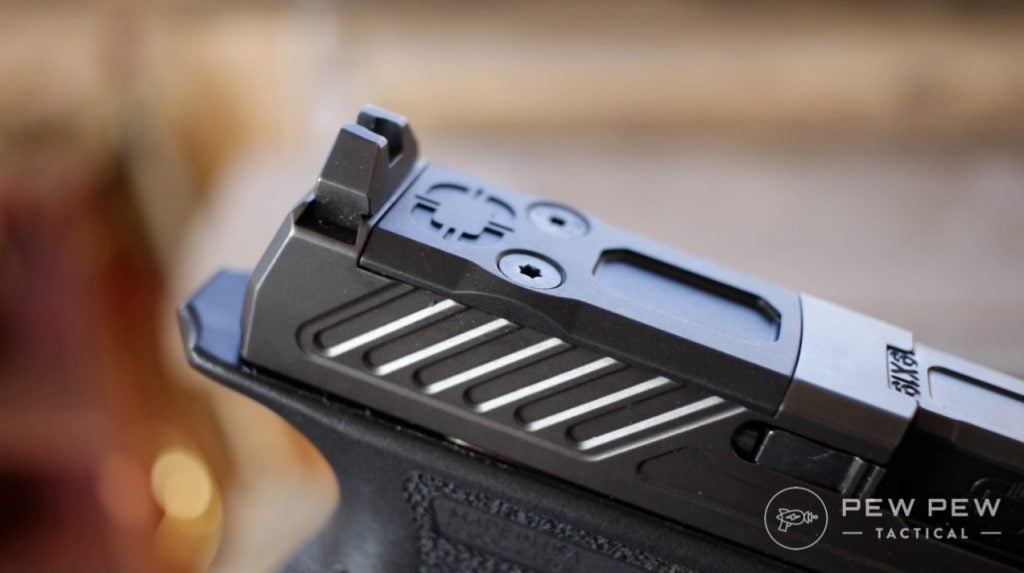 Ergonomics feels fantastic! The grips are a little like sandpaper, and I like them a lot.
And they come with extra palm swells so you can dial yours in as you want it. (Managing Editor Jacki really likes this feature as someone who struggles to find a good grip with petite hands.)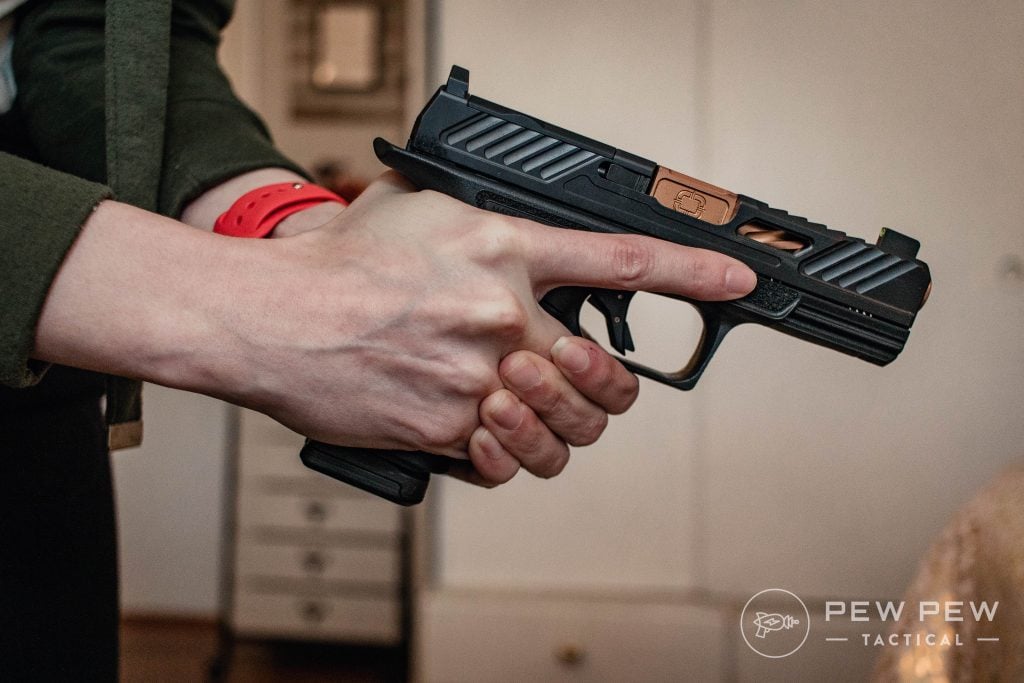 Shadow Systems says that their guns are extremely reliable, and that's due, in part, to their decision to use metal over plastic for their parts.
You'll see more aluminum or steel in the trigger and sights than your standard Glock clone. And all the slide's internal parts are machined from stainless steel billet.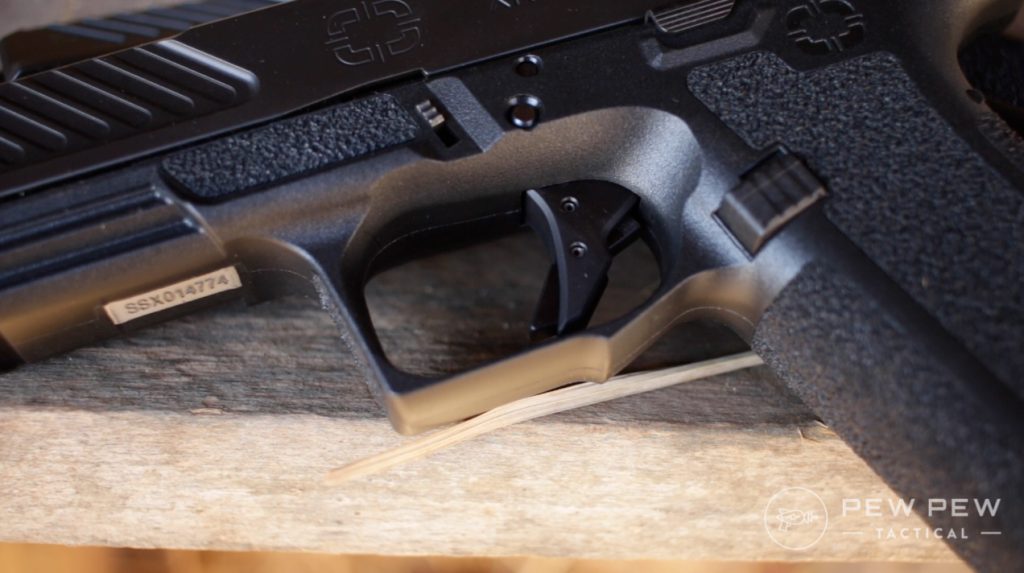 What about the sights, though? We all know the OG Glock sights leave a lot to be desired…but does Shadow System shake it up with a better set?
You bet! They are solid. You get a box in the back and a bright night sight up front.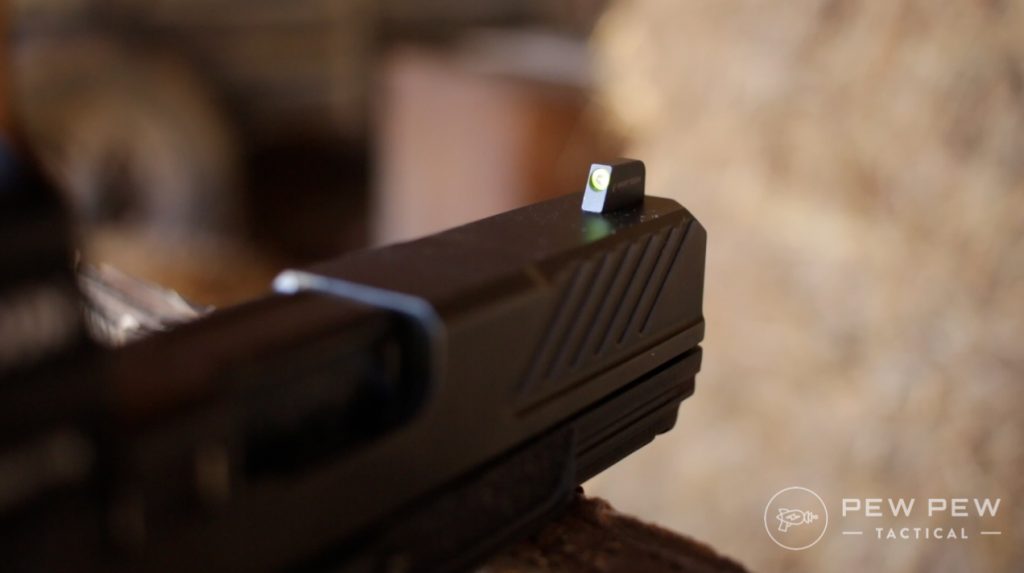 They come with a box and a soft carry case – a nice bonus for toting these guns to the range. You also get three backstraps and a pair of Magpul magazines.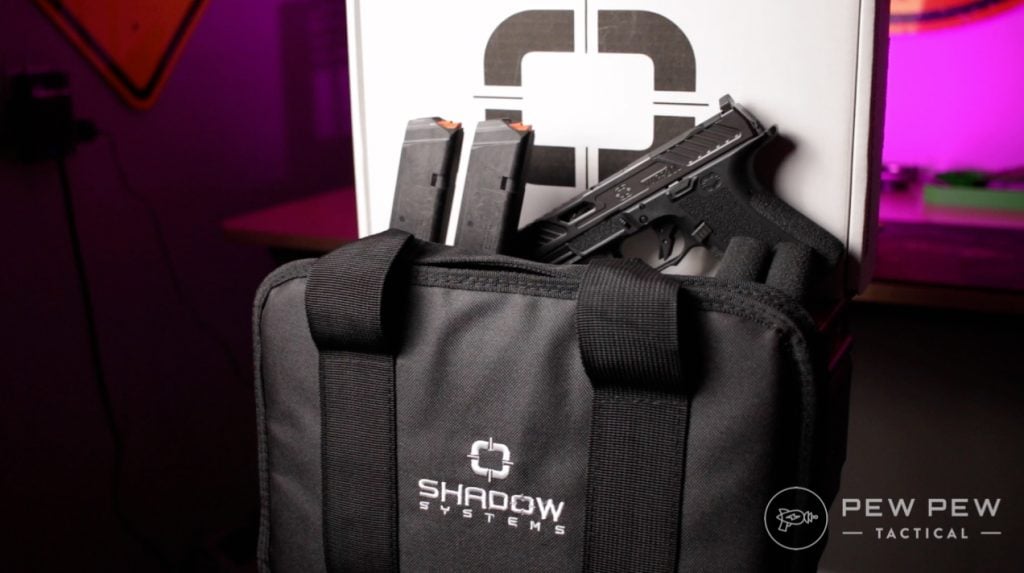 Street price right now for the XR920 in the combat package is about $900, while the MR920L Elite hovers around $1,000.
979
at Guns.com
Prices accurate at time of writing
Prices accurate at time of writing
To the Range
I used every Glock-style magazine I could get my hands on for this test. I loaded them up with Blazer Brass, and I let 'er rip.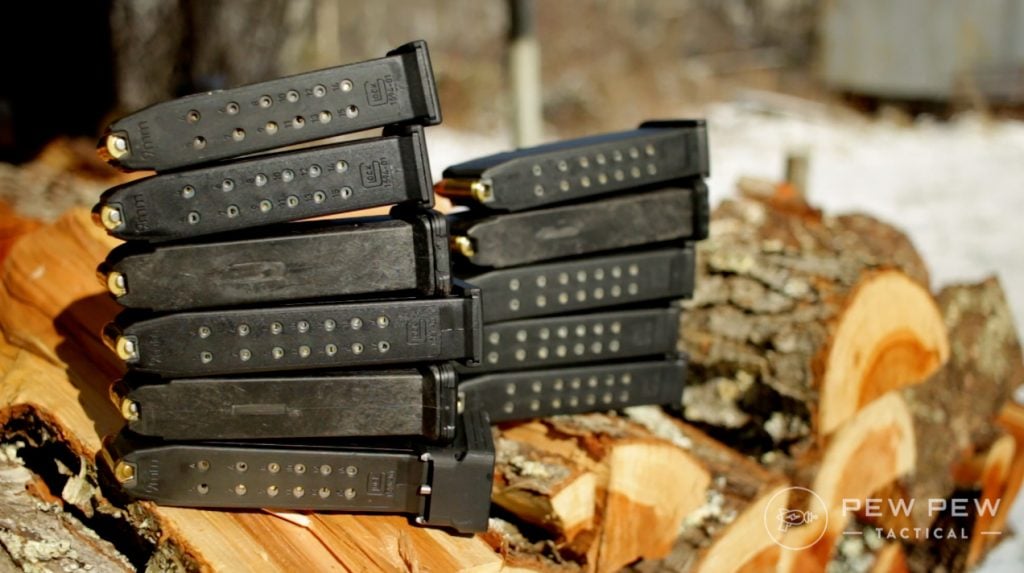 Shadow Systems says their guns have a 150 to 200 round break-in period. So, I was testing these guns literally during their first rounds.
That's worth noting because I did experience a stovepipe on one and a failure to feed on the other during their respective first mags. But they both smoothed out right after those first mags.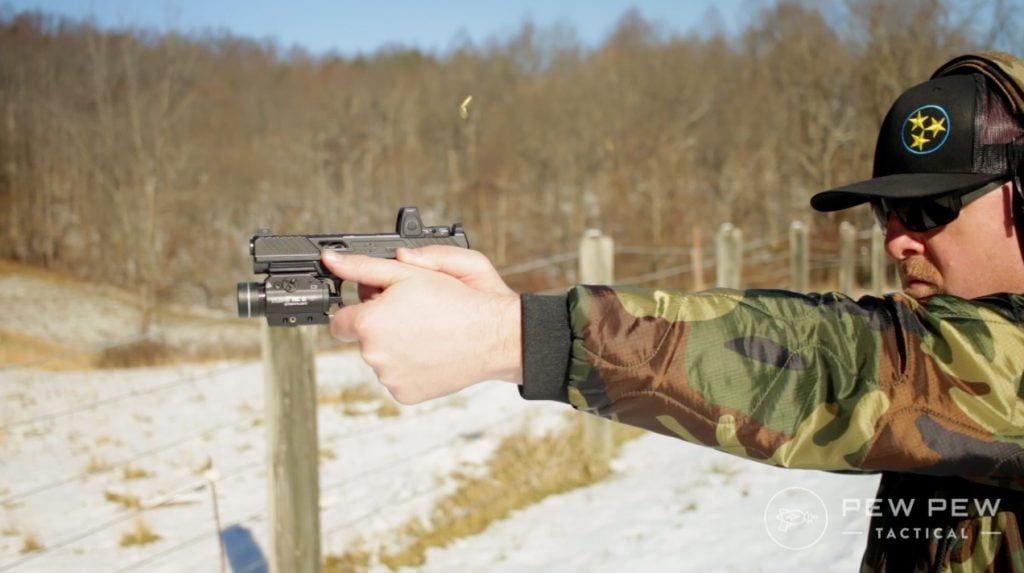 Aside from that minor issue to start, they ran absolutely great!
I added a Holosun optic and a Trijicon RMR. Both optics worked great and were nice additions to these pistols.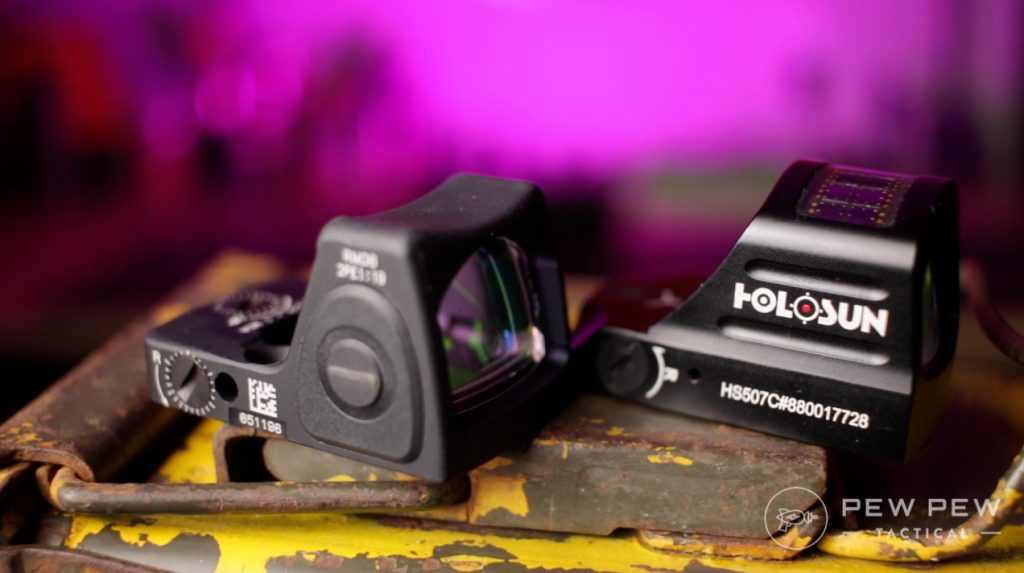 The trigger felt outstanding with an aluminum and flat-faced design. It broke at about 5 pounds, and the break and reset feel so crisp. You can definitely tell where you are in the travel.
Let's be real; many guns in this category need trigger work on day one…not this one. The trigger stays as it is.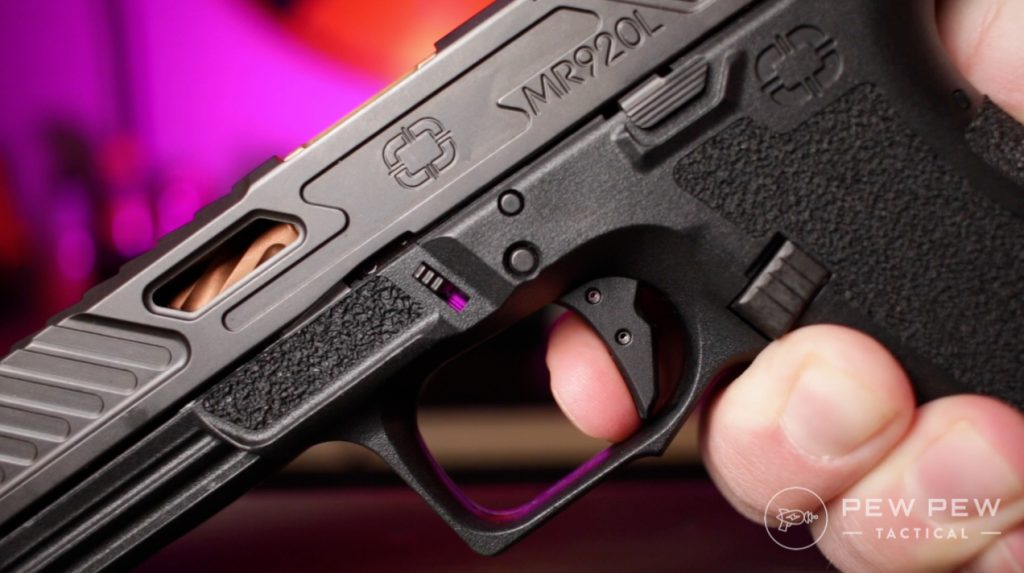 Other than the size of the grip and capacity, I really couldn't tell the difference between these.
They both ran well, like really well. Let me use the word crisp again — just crisp at the range.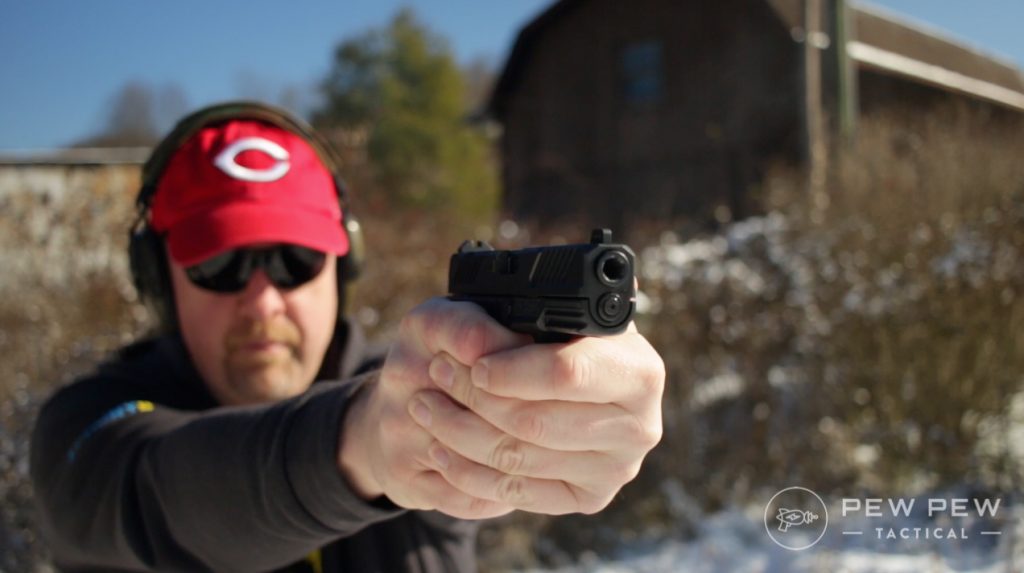 My shots all landed on target. The guns ran clean, and ejection was consistent. And they lock back every time on empty.
In short, they do what they're supposed to do.
Bottom Line
First, I like that the slide is already serrated and cut for your optics.
I also like the huge aftermarket options.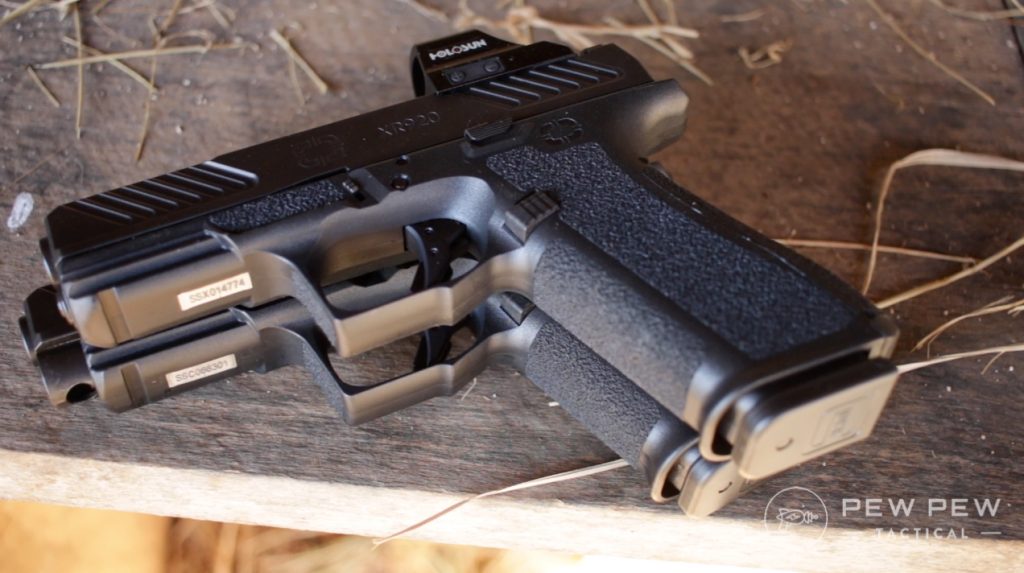 Shadow Systems keeps their models close enough to the Glock family that you can use holsters made for Glocks.
And beyond that, you can do whatever you want to dial these guns in if you want to – lots of Gen 4 options on the market.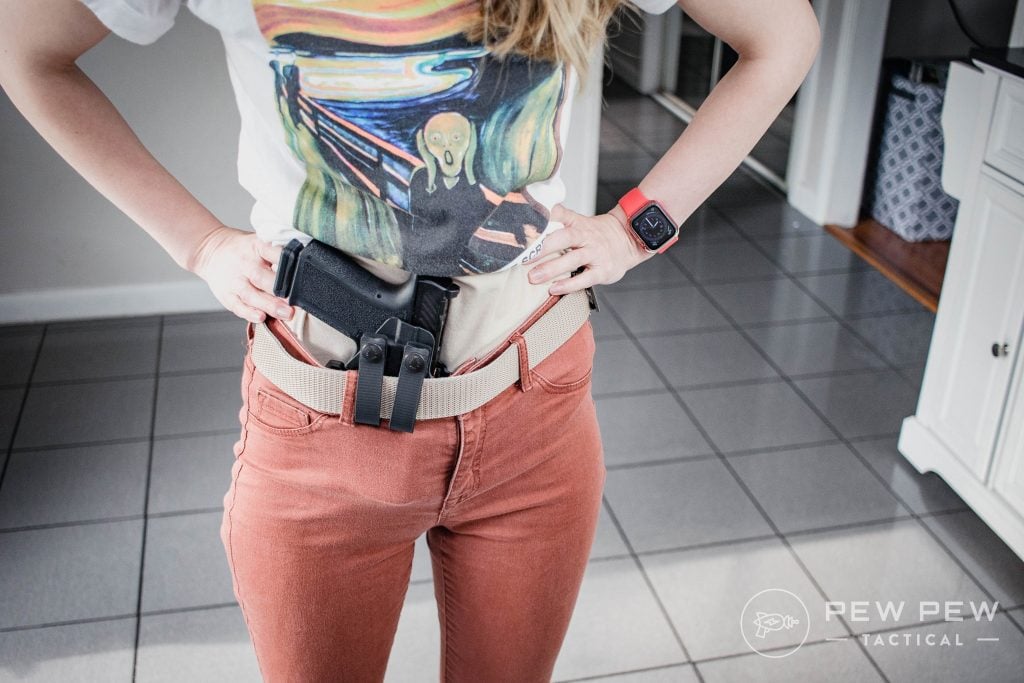 Next, I love the extended beavertail. I get slide bite and burns from nearly every gun I shoot, but not with this one. It's a great little detail that makes range time better.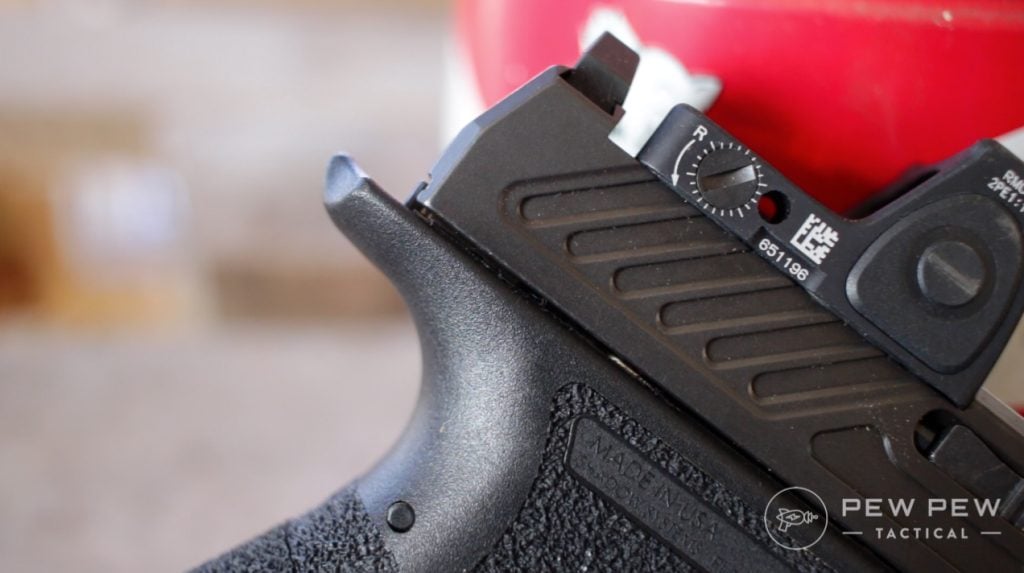 I also like the grip and all the tactile and ergonomic stuff. The grip texture feels good, and the double undercut guard is nice as well — great thumb rest, legit trigger, and palm swell options…all great things on these guns.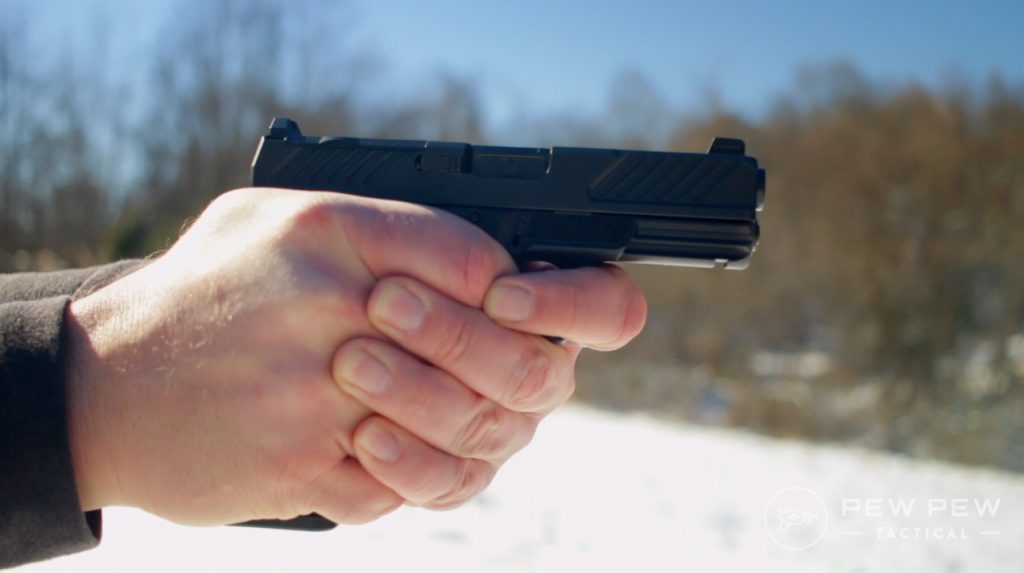 Finally, we come down to price. Many companies are doing the Gucci thing right now. But for complete guns or kits with this many features, most are in the $1,500 to $2,000 range.
And where Shadow Systems comes in, I will call these the most affordable of the top-shelf pistols that take Glock magazines.
As far as shortcomings, the only issue I had was the MR920L did not like one of my magazines.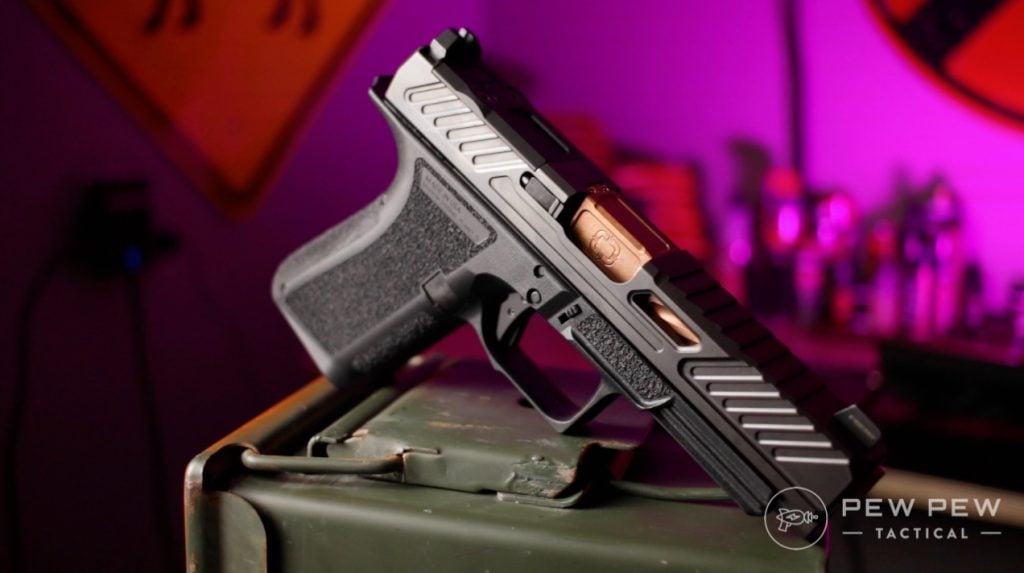 It's an OEM Glock mag with a Faxon 5 round extendo on it — that MR hated this magazine. Not really sure why.
And speaking of magazines, for this price, I wouldn't complain if Shadow Systems threw in another mag. Three would be sweet.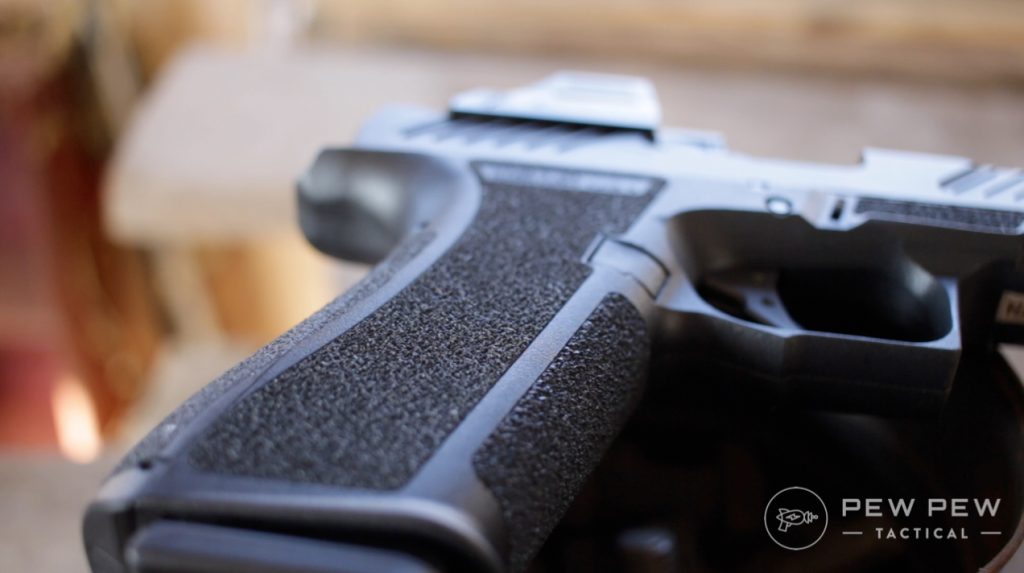 Keep in mind I did not run these in warm weather or get either gun blistering hot. And I did not fire either gun suppressed. So, there are, of course, some limitations to my test.
But overall, I can say that they both lived up to the hype and ran great.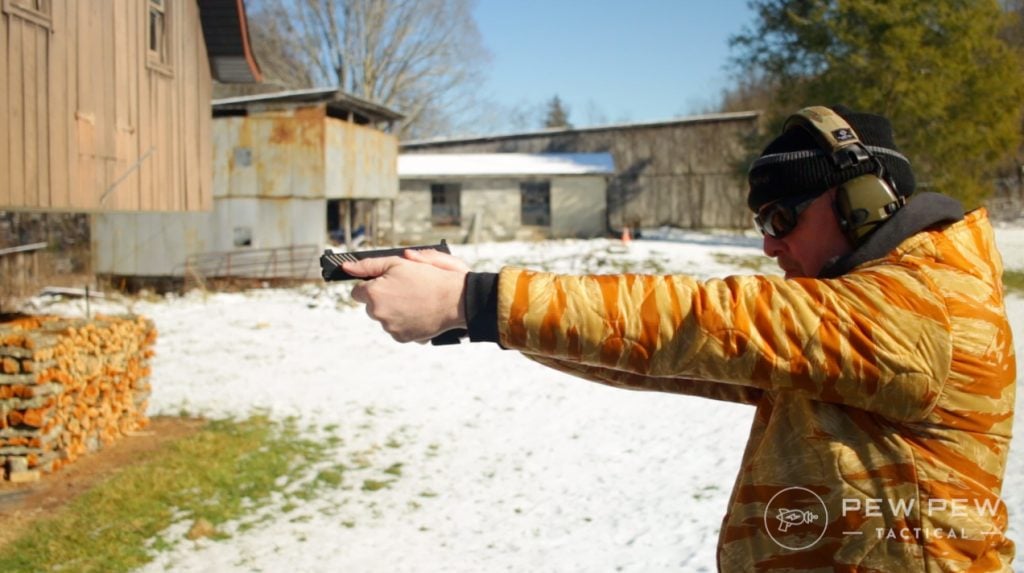 By the Numbers
Reliability: 5/5
Sample size of two, but both of these ran beautifully.
Ergonomics: 5/5
Great angle. Good thumb rest. Fantastic grips. And perfect serrations. Your hands will be happy.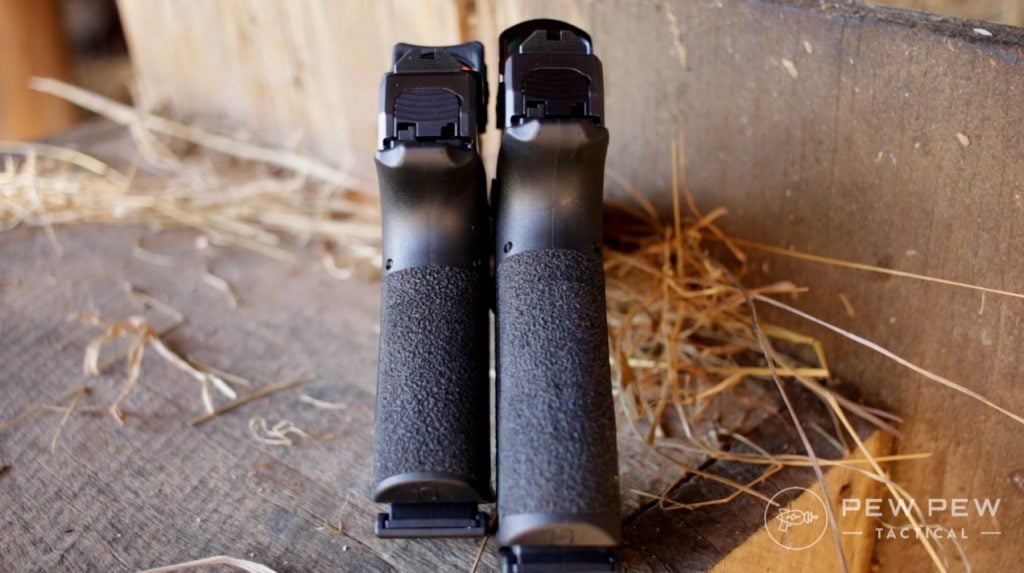 Accuracy: 4/5
I think a better shooter could tell the difference between the compact and long slide guns, but I could not. Both were good groups for me. Consistently on target at defensive distances.
Customization: 5/5
I believe it's the most customizable platform in the short gun market. Have fun.
Value: 4/5
For a pistol with this many features, the Shadow Systems are the most affordable of the top-shelf guns in this category.
999
at Gunprime
Prices accurate at time of writing
Prices accurate at time of writing
Overall: 4.5/5
I want to get a few thousand more rounds downrange with these, but as of now, I believe these may be the best striker-fired polymer pistols I've ever worked with.
Conclusion
You may have already said to yourself; it's just another Glock Gen 4 clone. But again, Shadow Systems' reputation is solid, and even some of our staff here at PPT have strong opinions on the Shadow Systems lineup.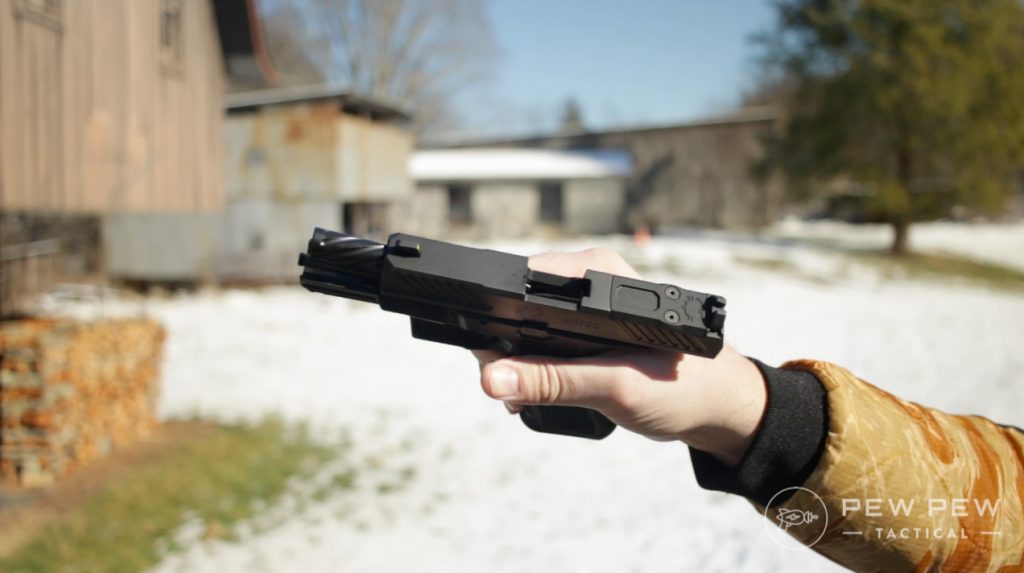 People like 'em and with good reason.
The XR920 and MR920L are Glock Gen 4 clones, but the tolerances are much tighter.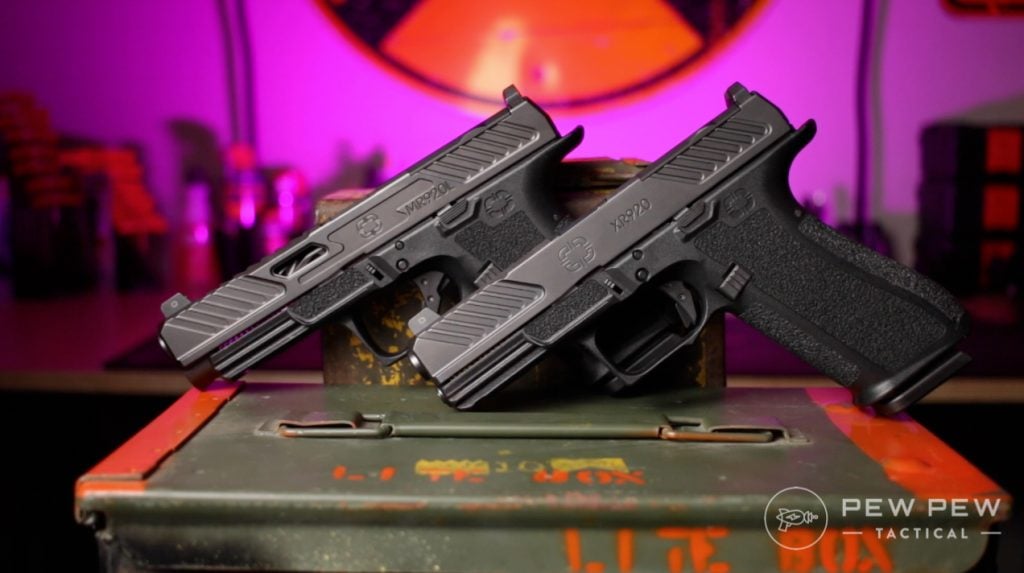 The slides and barrels are manufactured with better material. And everything that Glocks need to have fixed after purchase — like an undercut trigger guard, slide cuts, plastic sights — all of that is already done.
999
at Gunprime
Prices accurate at time of writing
Prices accurate at time of writing
Now usually, on a test like this, I'm supposed to tell you which one I prefer.
But I don't really have a strong opinion either way. Personally, I like the larger grip on the XR, but I think regular-sized people will prefer the compact grip.
979
at Guns.com
Prices accurate at time of writing
Prices accurate at time of writing
Other than that, both guns ran and felt almost identical. So, if you're shopping for a Shadow Systems, get the one that feels better in your hand. I think you'll be happy.
To see the Shadow Systems side-by-side, watch my full video review below.
What do you think of Shadow Systems' lineup? Let us know in the comments below. Want more Glock look-alikes? Check out our round-up of the Best Custom Glock Clones.